Scroll down for English explanations - alternates with German explanations.

Sicher ist sicher: Ein Bild vom Hafenagenten und von der Adresse des Hafens in Chinesisch. Falls man mal von der Gruppe getrennt wird und einem Taxifahrer zeigen muss, wohin man will.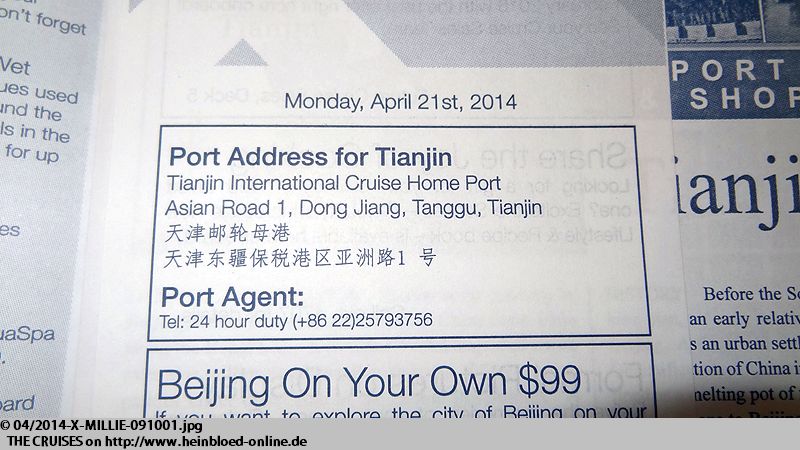 Better safe than sorry: A picture of the port agent and the address of the port in Chinese. Just in case you get split from your group and need to show a taxi driver where to go.

Finally we made it. Vanessa and Paul had luck that they were allowed to leave the ship and were stopped by the Onboard Marketing Manager. And they were not listed as ship's tour participants.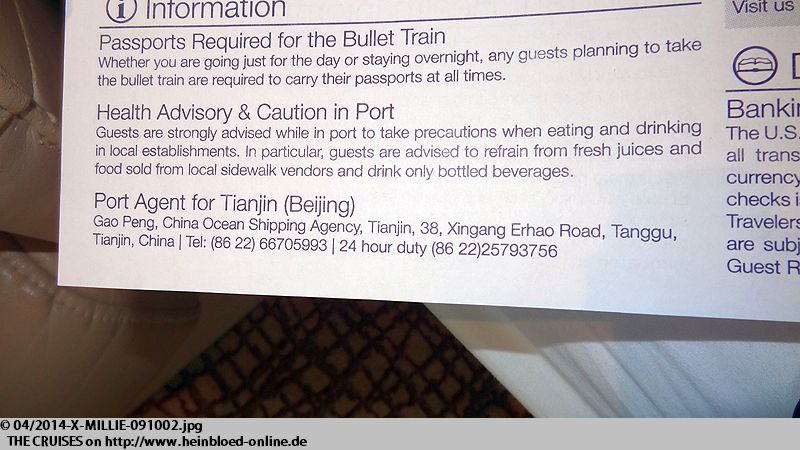 Wir haben es endlich geschafft. Vanessa und Paul hatten Glück, dass sie durchgelassen wurden und nicht vom Onboard Marketing Manager gestoppt. Und sie waren nicht gelistet als Schiffsausflugsgäste.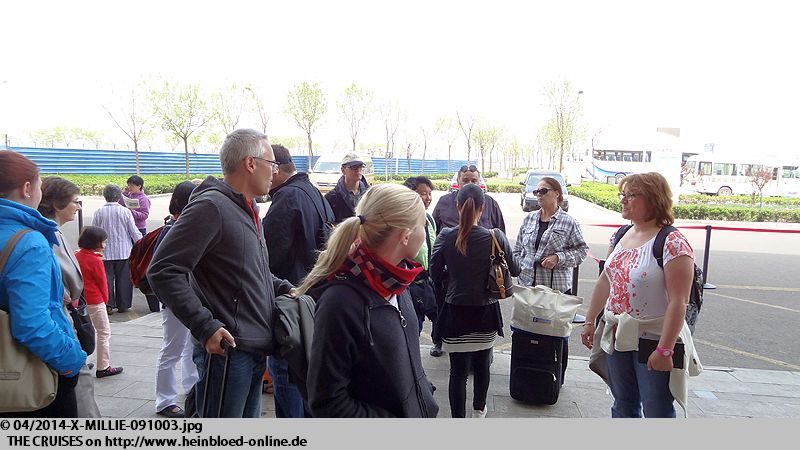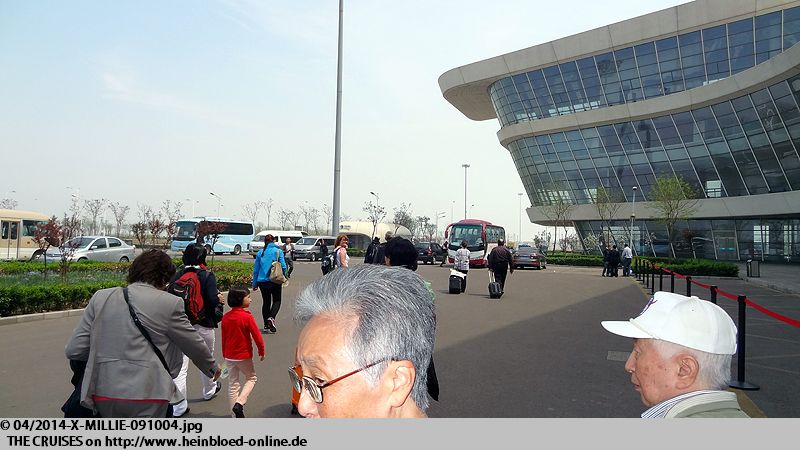 Ist das normalerweise ein Linienbus von Beijing nach Tianjin?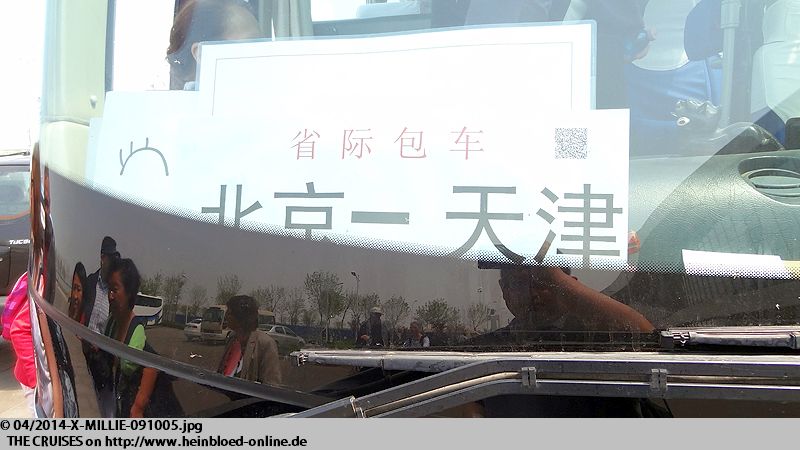 I this normally a scheduled service from Beijing to Tianjin?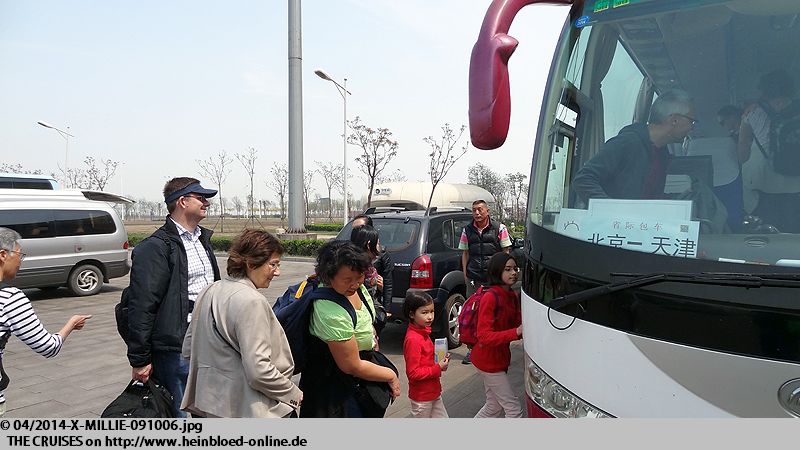 Den Bus können wir mit dem Kennzeichen uns sehr einfach merken.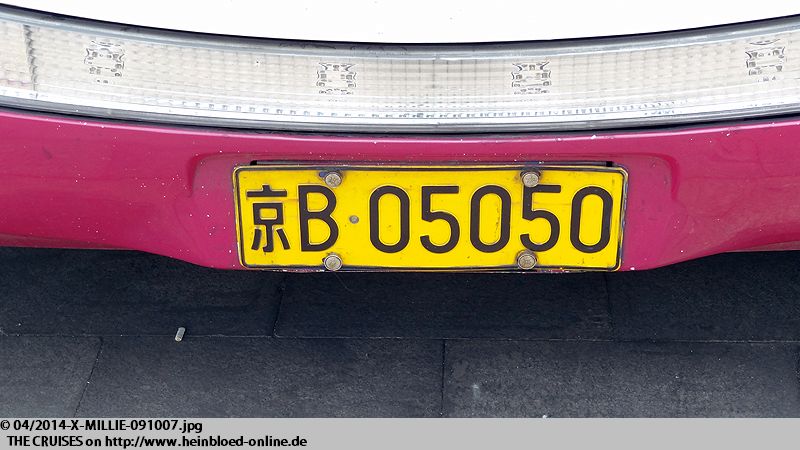 We could easily remember our registration plate.

Our tour guide Hanna spoke German. Our driver was Mr. Li. We booked directly with CTS in Beijing and paid the major amount by international bank remittance in advance. We got quite good prices like all the big international tour operators would get. We knew CTS from our tour in 2000 and it worked very well. And so we knew that they have access to German speaking tour-guides. For the future Hanna offered us that we could contact her first to compile the right tour. She knew better the city and all the locations and might plan everything more smooth for us.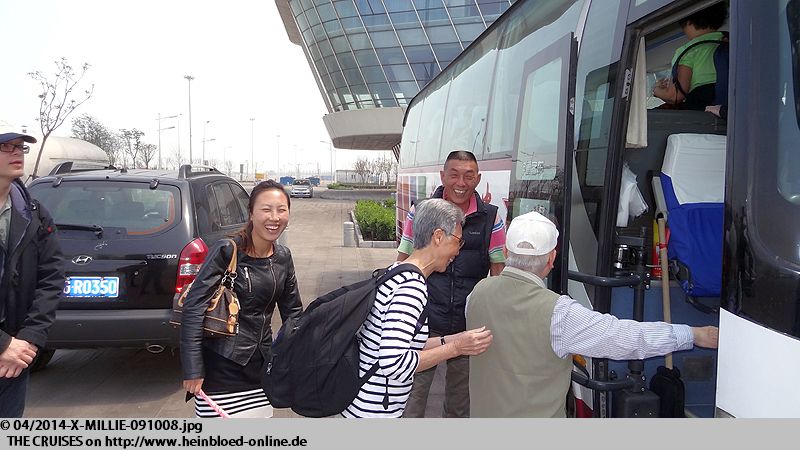 Unsere Fremdenführerin
Hanna
spricht Deutsch. Unser Fahrer ist Mr. Li. Wir hatten bei
CTS in Beijing
direkt gebucht und den größten Teil per Banküberweisung vorher bezahlt. Dafür haben wir so ziemlich gute Preise bekommen, wie sie auch die großen Reiseveranstalter bekommen. CTS kennen wir eben von der Abwicklung unserer Reise im Jahre 2000. Damals hatte es ziemlich gut geklappt. Und wir wussten, dass sie Zugriff zu deutschsprachigen Reiseführern haben. Für die Zukunft hat Hanna aber angeboten, dass wir sie zunächst selbst kontaktieren dürfen, um uns eine passende Tour zusammenzustellen. Sie kannte sich doch besser aus, was so die räumlichen Zusammenhänge betrifft und konnte so besser alle optimieren.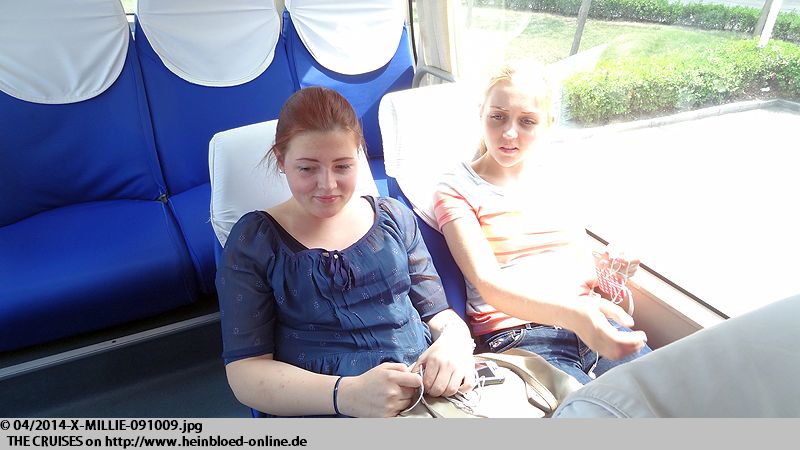 Hanna explained that our lunch was cancelled because of our delay.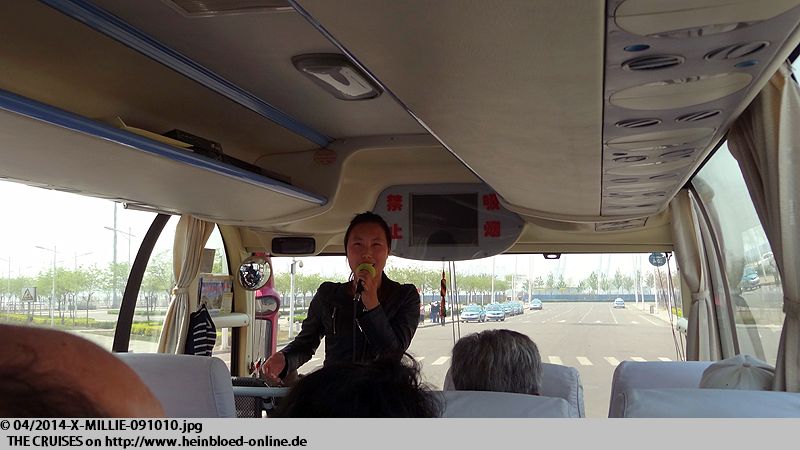 Hanna erklärt uns, dass leider unser Mittagessen wegfallen muss, weil wir so spät sind.
Unterwegs holen wir Teigtaschen an einer Tankstelle für wenige Euro-/US-Cent. Es waren die leckersten der ganzen Reise.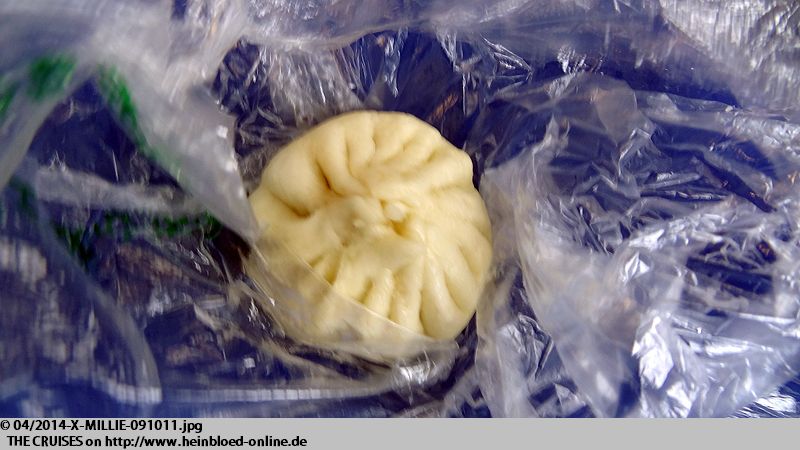 On the way we just bought some dumplings at a service station for few Euro-/US-Cent. They were the most yummy on the whole tour.

The traffic in Beijing became more and more congested. We lost the hope that you could do any programme so we were happy to discover the small things of life: like a streetname which was named after our family's garden.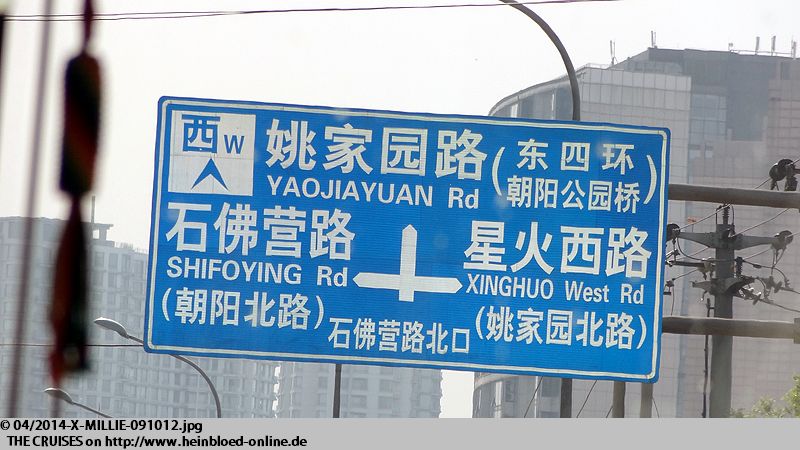 Der Verkehr in Beijing wurde immer dichter. Die Hoffnung einigermaßen ein Programm machen zu können, wurde zerstört. So freuen wir uns über die kleinen Dinge des Lebens: z. B. einen Straßennamen der nach einem Garten unserer Familie benannt ist.
Zuletzt waren wir im Jahr 2000 in Beijing, aber damals war es noch nicht so voll. Mehr Fahrräder und Rikschas, die jetzt in der Minderheit sind.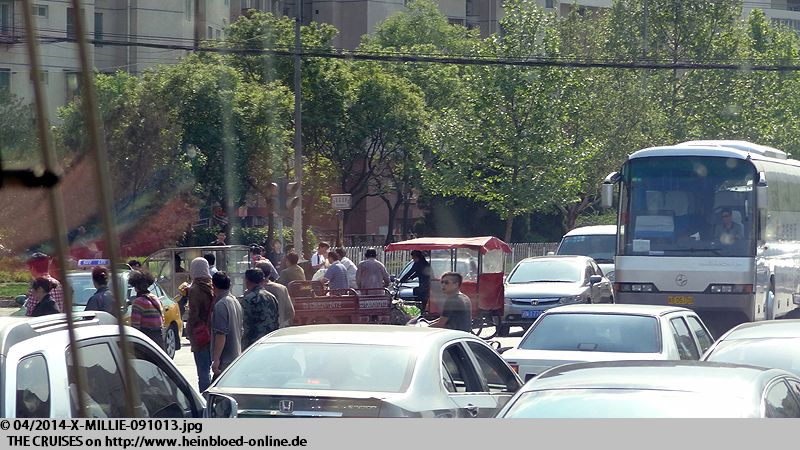 Our last visit was 2000 in Beijing but it was not so crowd then. More bicycles and Rikshaws which are now in minority.

And again one accident on bike but occured by another bike-rider. But the other wanted to escaped and was caught by other pedestrians around...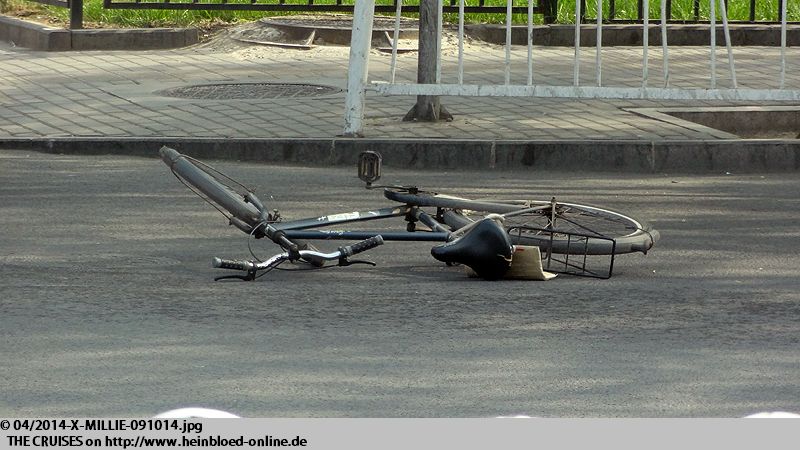 Und wieder blieb jemand mit seinem Fahrrad auf der Strecke, der allerdings von einem anderen Radfahrer gestreift wurde. Nur der andere wollte Fahrerflucht begehen und wurde jedoch von Passanten festgehalten...
Es geht daher nur noch in den Altstadtbezirk Hutong. Das sollte eigentlich schon abgerissen sein, aber man hat wohl gemerkt, dass man auch ein Stück historisches Beijing braucht. Hier hat CTS für uns eine Rikscha-Fahrt gebucht. Vanessa und Paul sind kurzentschlossen auch für unsere Tour geblieben, weil deren Tourguide sonst hätte noch länger warten müssen. So besorgt Hanna schnell für sie auch eine Rikscha. Weil alle dringend auf Toilette müssen und aber unbedingt westliche Toiletten brauchen, gibt es noch einen Stopp an einer Behindertentoilette im westlichen Stil. So sind alle glücklich und erleichtert... Ein Fremdenführer fährt mit und gibt uns Erklärungen zur Architektur und soziales Leben hier im Hutong-Viertel. Ein wirklich schöner Einstieg für Beijing.

So the only place we saw the day was the old town district of Hutong. It should be destroyed but obviously they reminded that they also need a piece of the historical Beijing. CTS booked for us a Rikshaw-Tour. Vanessa and Paul decided short-notice to join us because otherwise their tour guide need to wait longer. So Hanno got them a Rikshaw too. Because all of us need to see toilets but we need some Western. So we made a stop at a handicapped toilet Western style. So everyone was relieved and happy... A tour guide was joining us and gave us some explainations of architecture and social like in the Hutong-district. A very nice entry for Beijing.

During the tour we were allowed to visit a family at home. Most of us were exited because of the birds.

Im Rahmen der Tour dürfen wir auch bei einer Familie zu Hause reingucken. Die meisten von uns, waren von den Vögeln sehr fasziniert.
Da alle Hunger hatten und das Restaurant, in dem wir abends bestellt haben, nur 15 Minuten die Reservierung hält, ist schnell beschlossen, dass ein weiterer Besichtigungspunkt entfällt. Wir fahren bei KFC vorbei. Immer wenn KFC in China Fisch verkauft, ist erhöhte Alarmstufe für Vogelgrippe...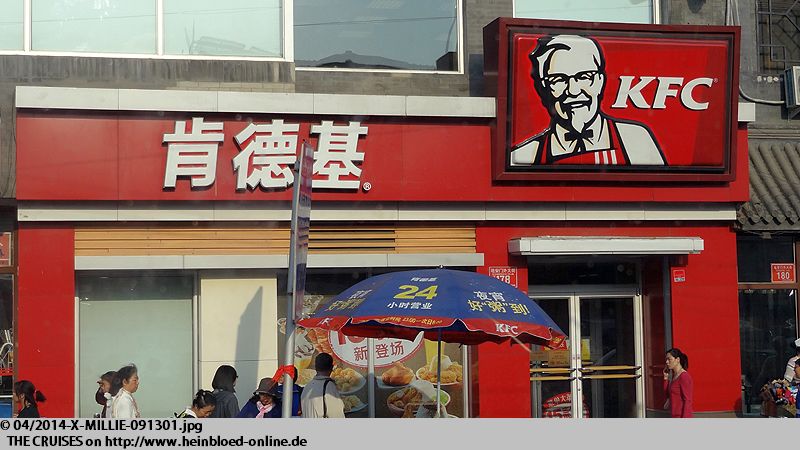 As everyone was hungry and the restaurant we booked only keep the bookings for 15 minutes we quickly decided to skip the next attraction point too. We passed by KFC. Everything KFC is selling fish in China they have higher alert for bird flu...

But that did not look like that you get any food here.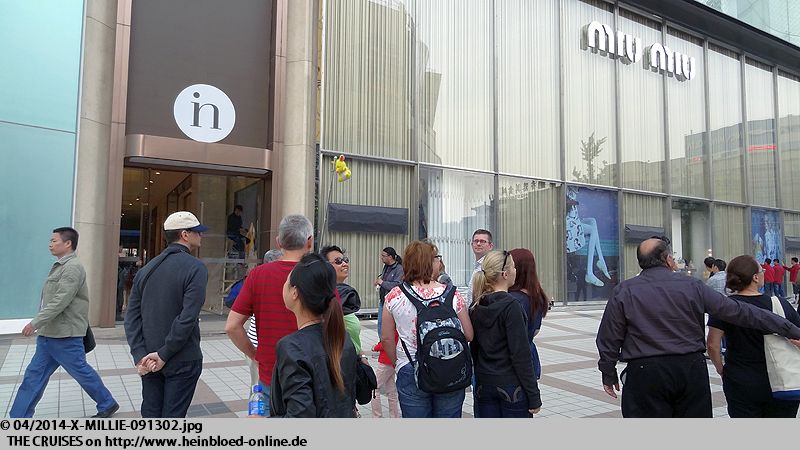 Aber sieht nichts danach aus, dass man essen kann.
Ich hatte kein "Frühstück bei Tiffany's" gebucht, sondern Abendessen!!!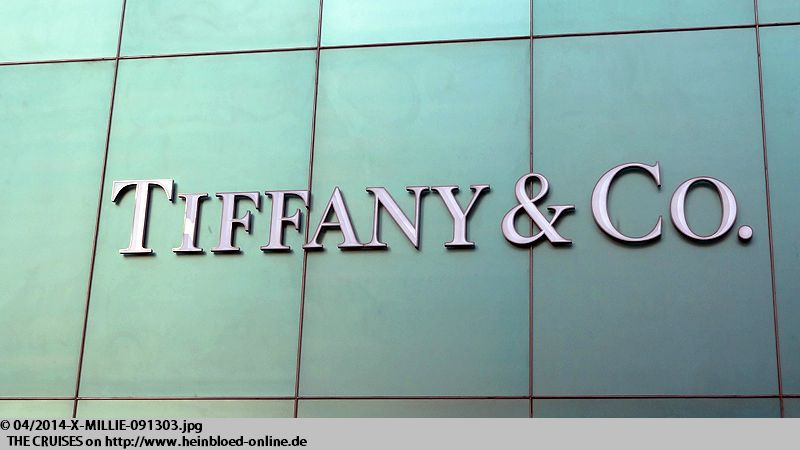 I did not booked "Breakfast at Tiffany's" but a dinner!!!

But we had to enter just next to Tiffany & Co.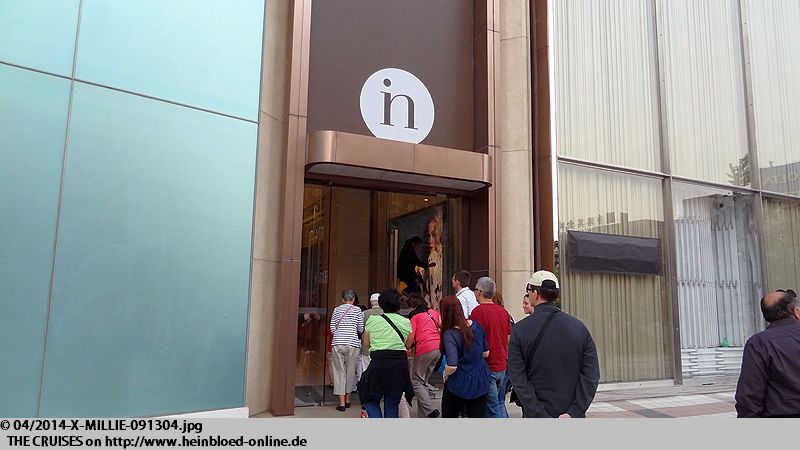 Trotzdem müssen wir hier direkt neben Tiffany & Co. rein.
Es geht in den 8. Stock hoch.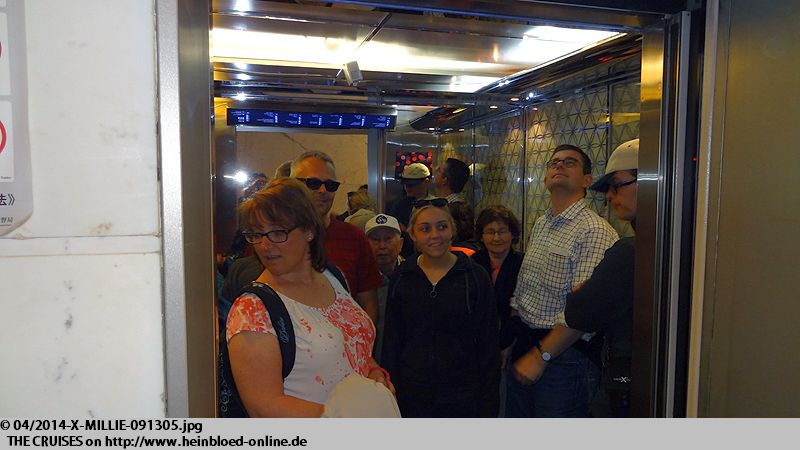 Up to the 8th floor.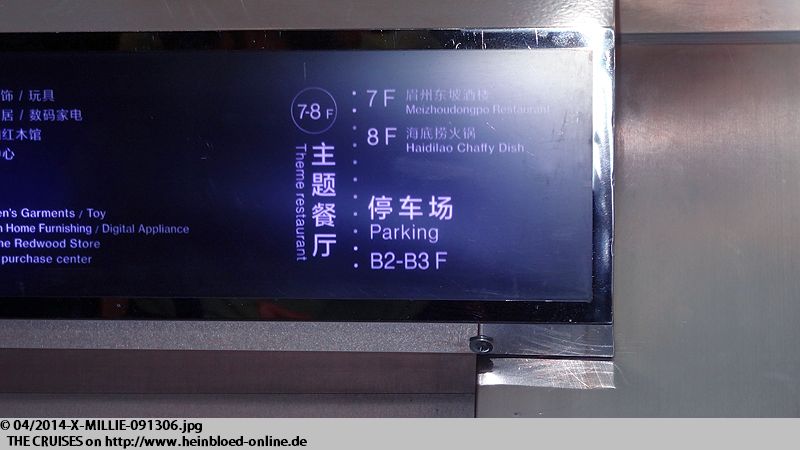 Es geht zu
HaiDiLao Feuertopf (Chinesisches Fondue)
. War echt gut. Ich hatte bislang noch nie Tomatensuppe als Fonduegrundlage, aber das war richtig lecker. Übrigens Nr. 12 von 9.360 Restaurants in Beijing auf TripAdvisor.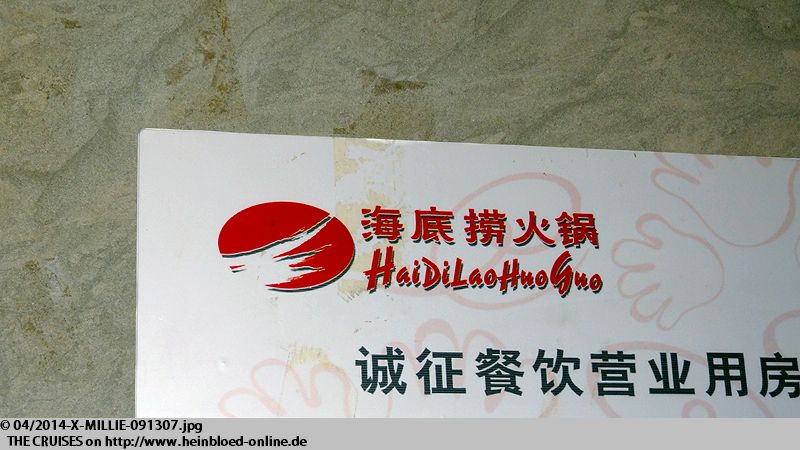 We went to HaiDiLao FirePot (Chinese Fondue). It was really good. I have never had before tomato soup as base for fondue but that was really yummy. Buy the way No. 12 of 9,360 Restaurants in Beijing on TripAdvisor.

As no table was available for 16 persons we had to allocate to two tables at 8. We (Hanna for the one table and me on the other table) the meat, the vegetables and the sides we liked to have.

Da es für 16 Personen keinen Tisch gab, mussten wir uns auf zwei 8-er Tische aufteilen. Für jeden Tisch bestellen wir (Hanna an dem anderen Tisch und ich an unserem Tisch) die Fleisch-, Gemüsesorten und Beilagen, die wir mögen.
Später kommt noch der Nudelmacher an den Tisch und macht aus einem Teigkloß frische Nudeln, die auch in die Brühe kommt.

Later the Noodle Maker came by to our tables and made of one little ball of dough fresh made noodles which were put in the broth too.

From here we had a nice view of the sunset over Beijing.

Von hier oben hatten wir einen schönen Blick auf den Sonnenuntergang über Beijing.
Auf jeden Fall hat es allen Spaß gemacht und wir haben alle gut gegessen.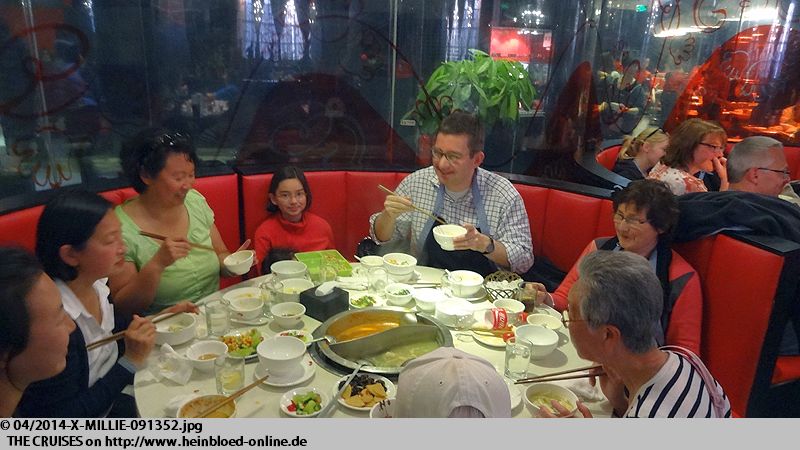 Anyhow all of us had fun and we ate very well.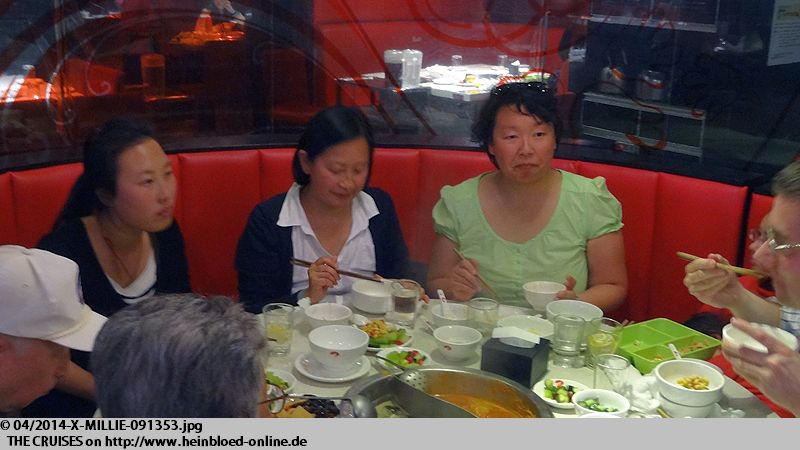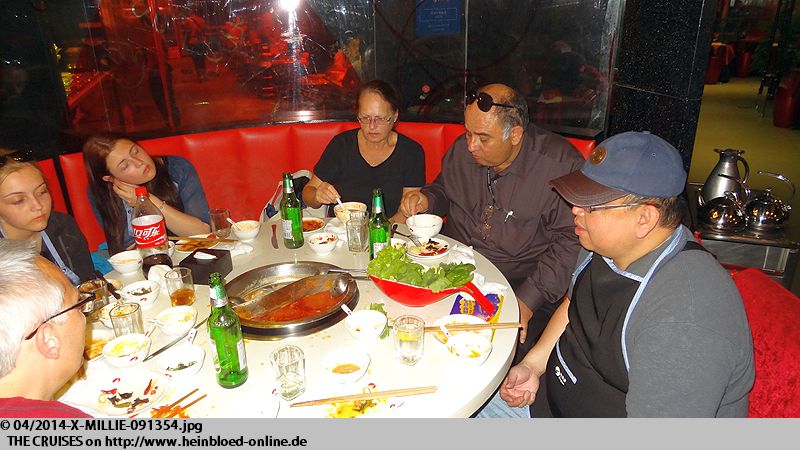 Later we had the typical Chinese desserts... but it was too warm to have them...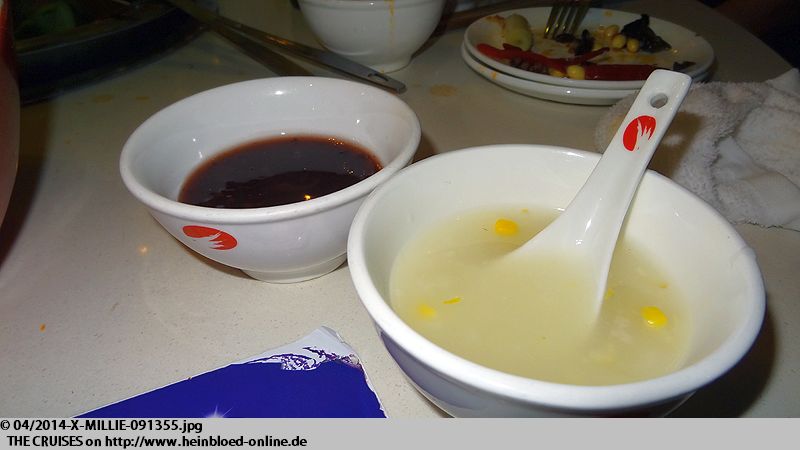 Es gab dann noch die typisch chinesischen Nachtische... aber dafür war es zu warm...
Meine Mutter versorgt noch Uwe mit chinesischen Früchten...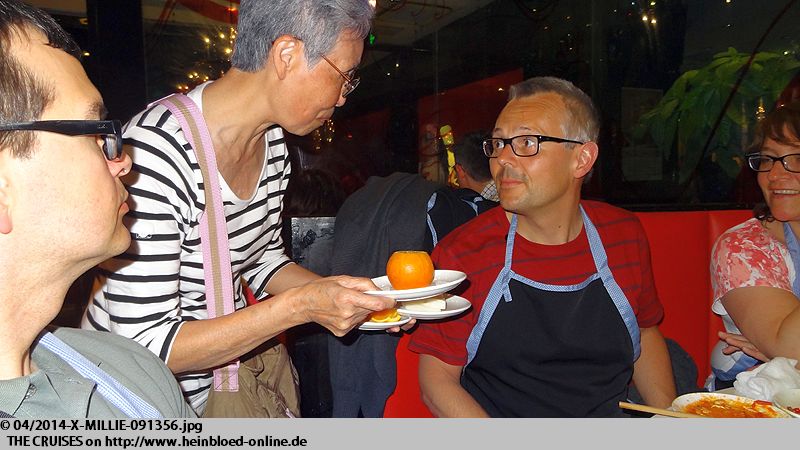 My mother got some Chinese fruits for Uwe.

We were not sure if it was vegetable or fruit. But it was nice.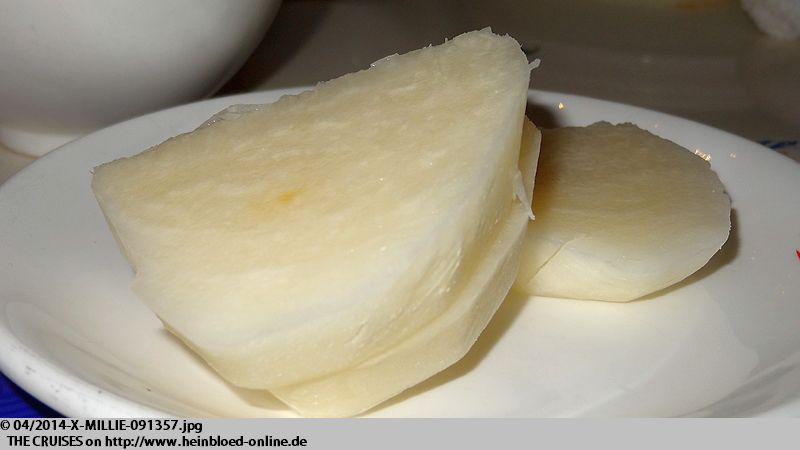 Hier waren wir uns nicht sicher, ob es Obst oder Gemüse war. Aber es schmeckte allen.
Und die Preise waren echt gut. Wir haben uns wirklich satt gefressen und für so wenig Geld.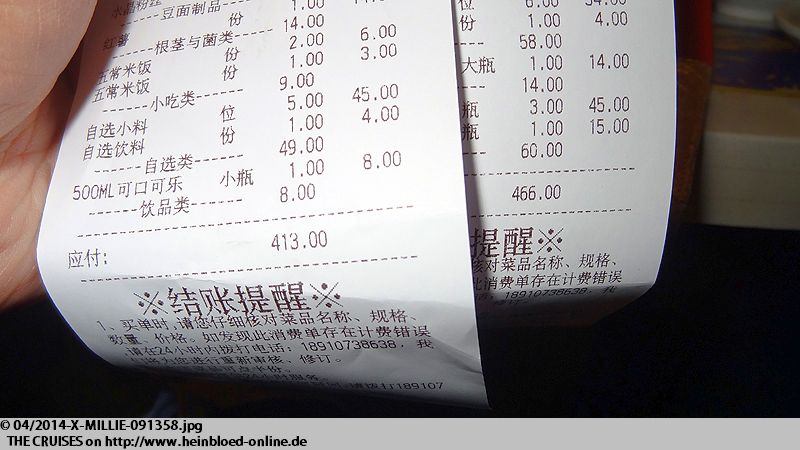 And the prices were really good. We were totally full and only for little money.

And even you had a Western Shopping-Center with many Western brands: it was for the local customers. So we were the only Western tourists which I could discover so far in the restaurant. Who would go to the 8th floor without seeing from outside what you should expect? A very good recommendation of Chrissie of CTS who could not join us because the progress of her pragnency did not allow it. Sofar our best wishes nad greetings from here - even she might not be able to read my blog - if you do not have any access to a VPN-access.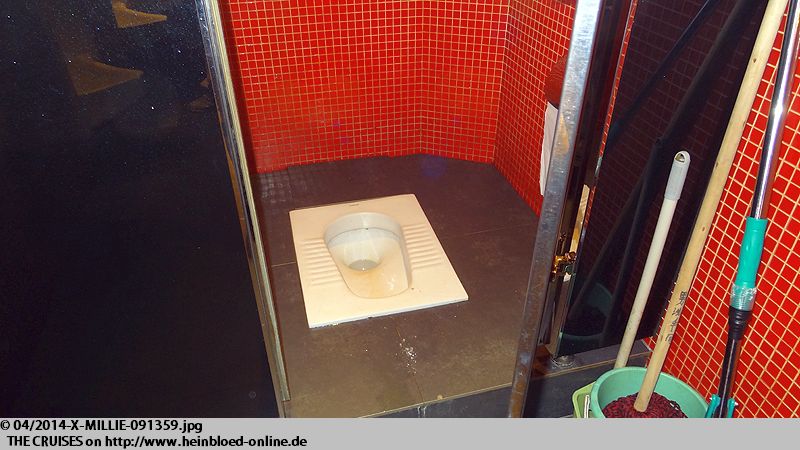 Und obwohl wir uns in einem westlichen Shopping-Center mit westlichen Marken befinden: es ist für das heimische Publikum. So waren auch wir nur die einzigen westlichen Touristen, die wir im Restaurant entdeckt haben. Wer fährt schon in den 8. Stock hoch, ohne dass man von unten außen sehen kann, was einen erwartet? Ein echt guter Tipp von Chrissie von CTS, die leider nicht mit uns essen konnte, weil Ihre fortgeschrittene Schwangerschaft es nicht mehr zuließ. Daher die allerbesten Grüße und Wünsche von dieser Stelle, auch wenn man in China meinen Blog nicht lesen kann - wenn man keinen VPN-Zugriff hat.
Alle Mädels versammeln sich für ein Gruppenfoto bei Tiffany & Co.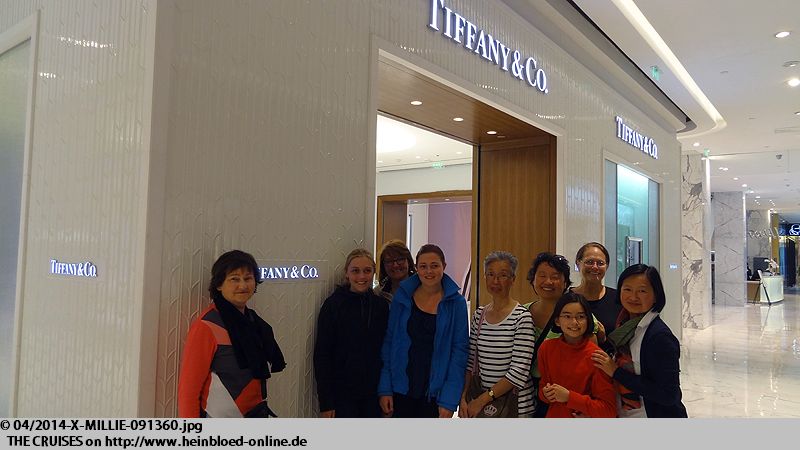 All girls were assembling for a picture with Tiffany & Co.

Due to equal rights we also want to have picture in front of Tiffany & Co. But Bruno did not buy anything for me there...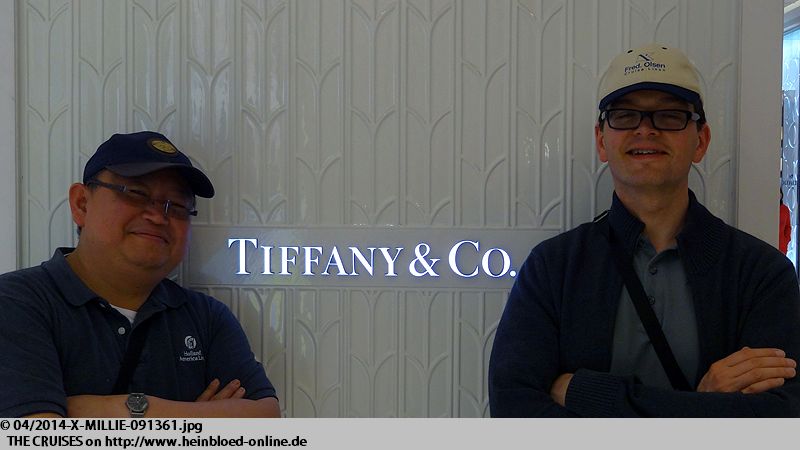 Im Zuge der Gleichberechtigung lassen wir uns auch vor Tiffany & Co. fotografieren. Nur Bruno hat mir dort nichts gekauft...
Draußen setzt die Dunkelheit und es sieht so aus, wie in Ginza in Tokio, 5th Avenue in New York oder Avenue des Champs-Elysées in Paris.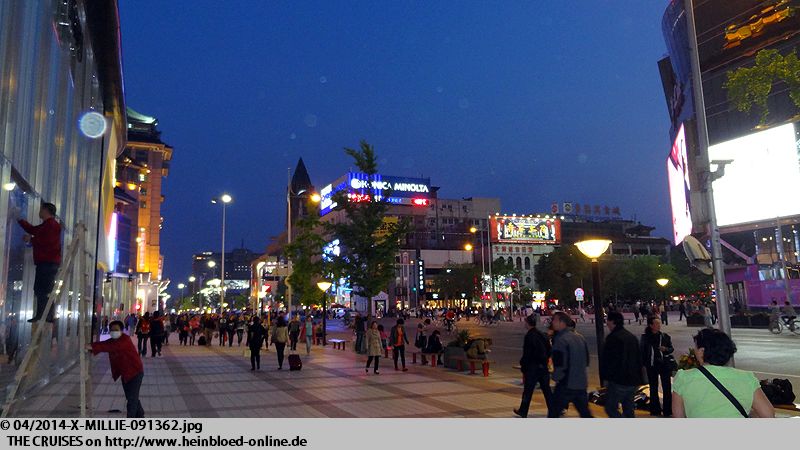 Outside it became dark and it looked like the Ginza in Tokyo, Japan, 5th Avenue in New York City or Avenue des Champs-Elysées in Paris, France.

Did we fier the workers? They let the paper blinds falling down.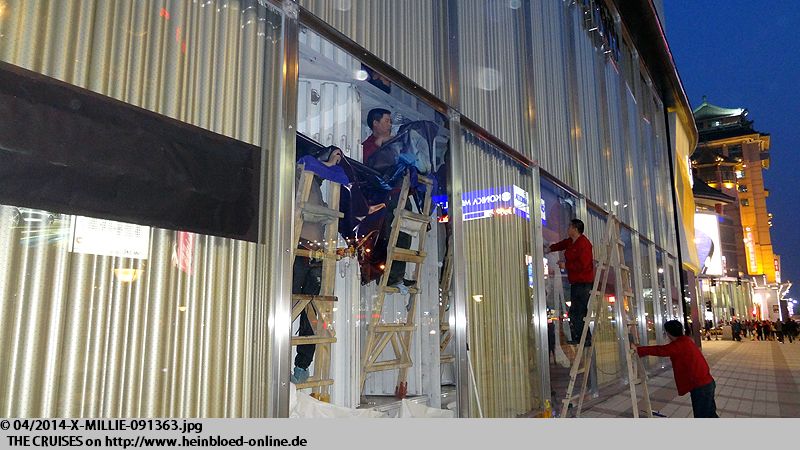 Haben wir die Leute erschreckt? Sie lassen auf einmal den Sichtschutz aus den Papierrollen fallen.
Und da ist der größte Apple Store in ganz Asien: Wanfuqing Road in Beijinger Bezirk Dongcheng. Aber hier kann es zum Problem werden, wenn man hier ein Apple-Gerät sich holt: nicht alles funktioniert so, wie wir es im Westen gewohnt sind, da z. T. andere Frequenzbänder installiert sind und manche Apps ganz ausgeschlossen werden.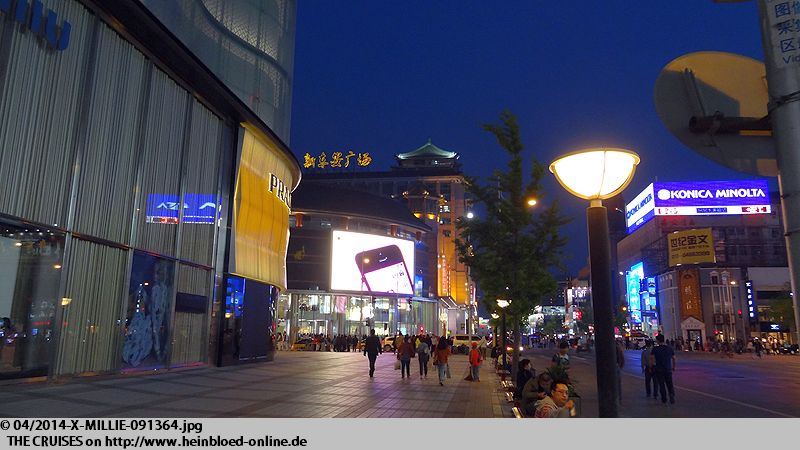 And this is the largest Apple Store all over Asia. Wanfuqing Road in the Beijing District Dongcheng. You may get trouble if you buy an Apple-Device here: not everything might work later in the Western Hemisphere like you are used to use it and partly they use different frequencies and some apps are blocked for using.

We booked the Marriott Beijing City Wall: 1. Because it was close to the Railway Station and 2. because I still had some certificates to redeem.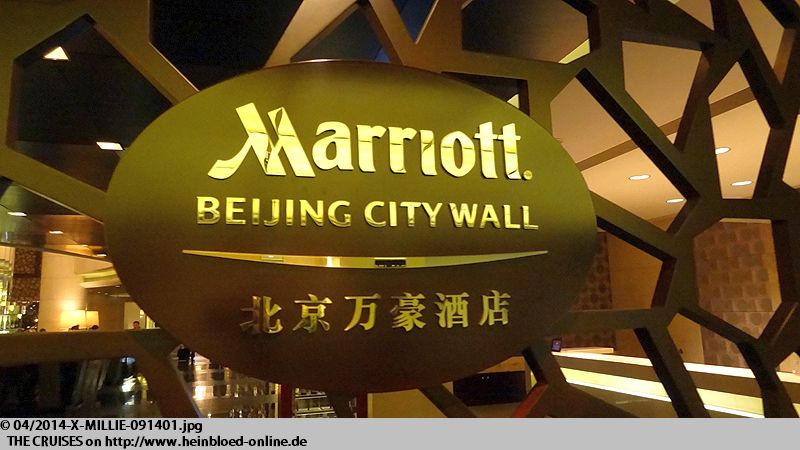 Ich habe uns im
Marriott Beijing City Wall
gebucht: 1. weil es in der Nähe des Hauptbahnhofes war und 2. weil ich noch Zertifikate hatte, die ich einlösen konnte.
Schon beim Reingehen sind wir sehr beeindruckt, aber die meisten sind hundemüde, um den Anblick wirklich zu genießen.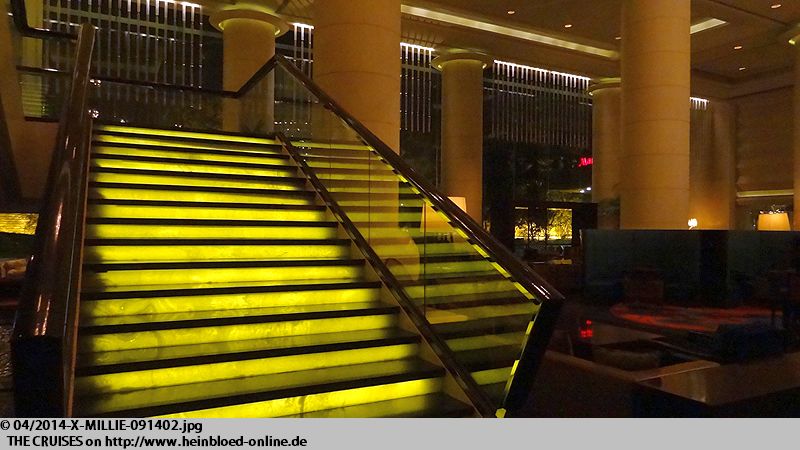 Just when we got in we were deeply impressed but most of us were only tired to enjoy seriously the view.

We were happy to have a real giant sleeping room.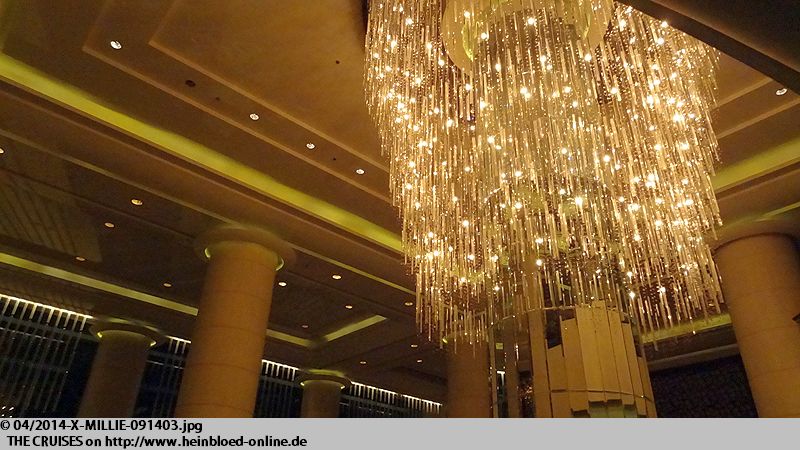 Wir freuen uns mal zunächst über unser richtig großes Schlafzimmer.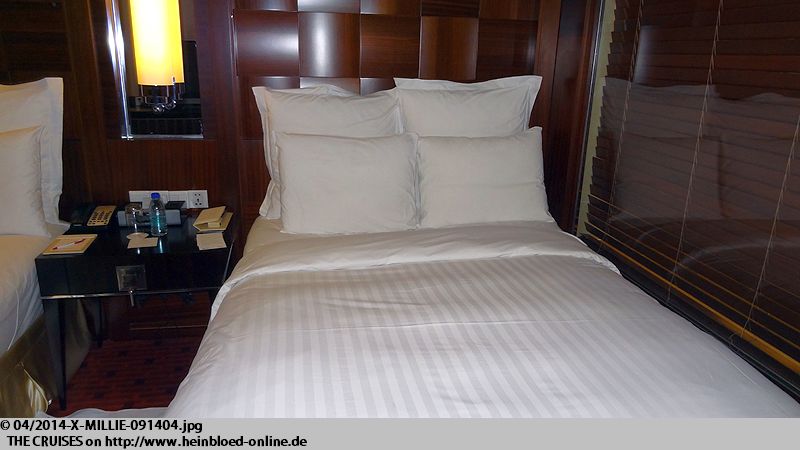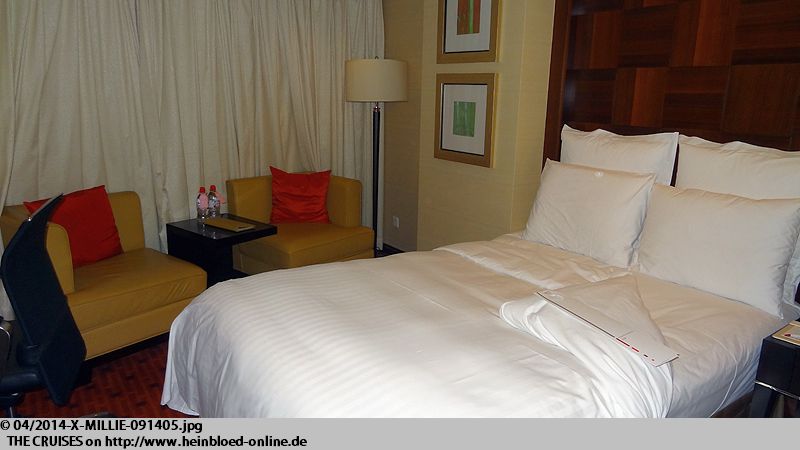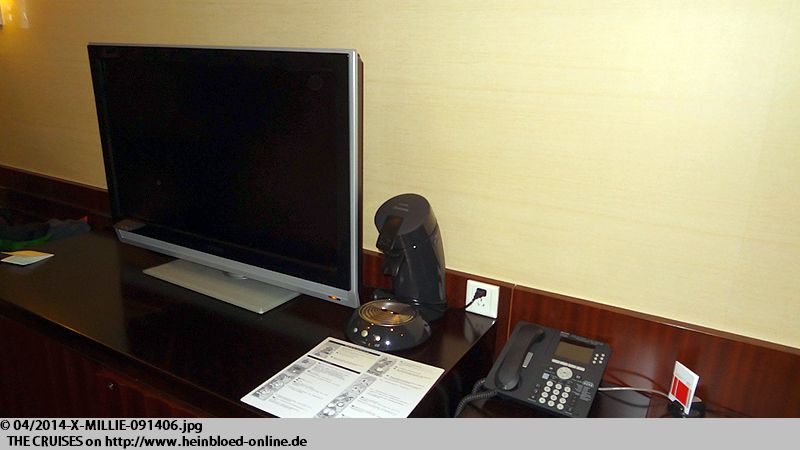 A wonderful bathroom where the air absorption was working. And a lot of space.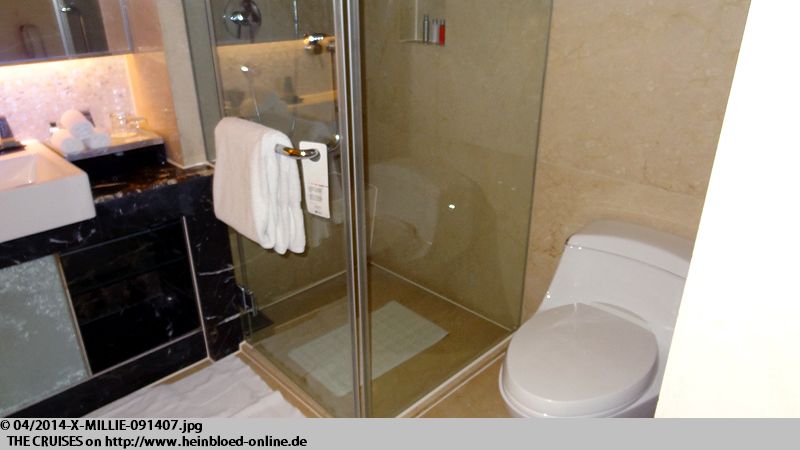 Ein wunderbares Badezimmer, in dem die Abluft funktioniert. Und viel Platz.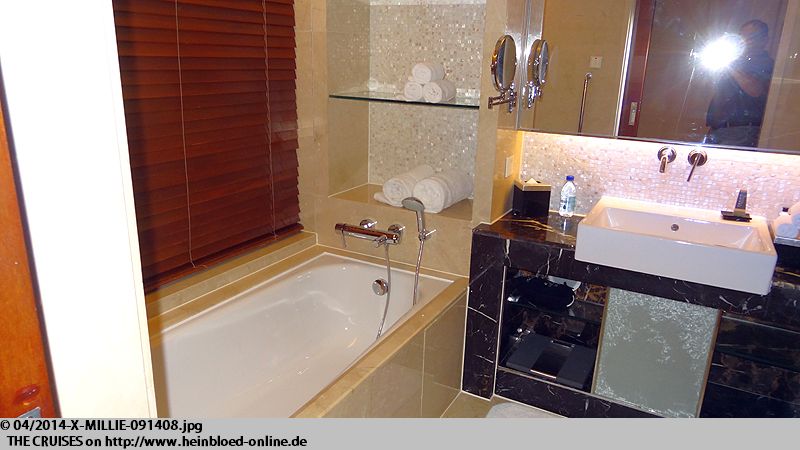 I went to buy some small goodies for the night. Downstairs was an ice-cream outlet in the lobby.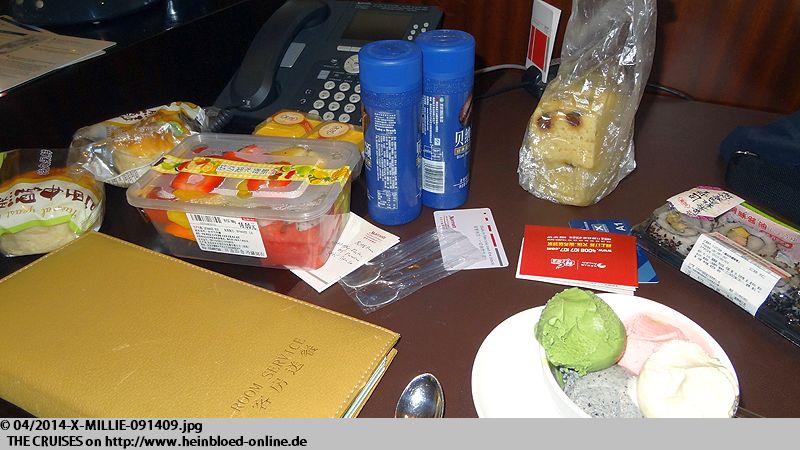 Ich gehe mal ein paar Kleinigkeiten für die Nacht besorgen. Unten gibt es einen tollen Eisstand in der Lobby.
Als ich mit dem Eis den Fahrstuhl betreten will, drückt ein anderer Gast auf "Tür zu": Die Tür schlägt so schnell zu, dass mir die Schale vom Teller geschleudert wird. Das Hotel entschuldigt sich sofort und schickt Hilfe. Obwohl sie haben ja gar nicht auf den "Tür zu"-Knopf gedrückt. Dem anderen Gast im Fahrstuhl ist es noch nicht einmal unangenehm. Mir bieten sie ein neues Eis an und dass jemand es für mich hoch bringt. Es war ja so lecker. Ich muss irgendwann mal dem flottenweiten Chefkoch von Norwegian etwas davon mitbringen. Hier könnte er lernen, wie ein leckeres Grüner-Tee-Eis schmecken müsste...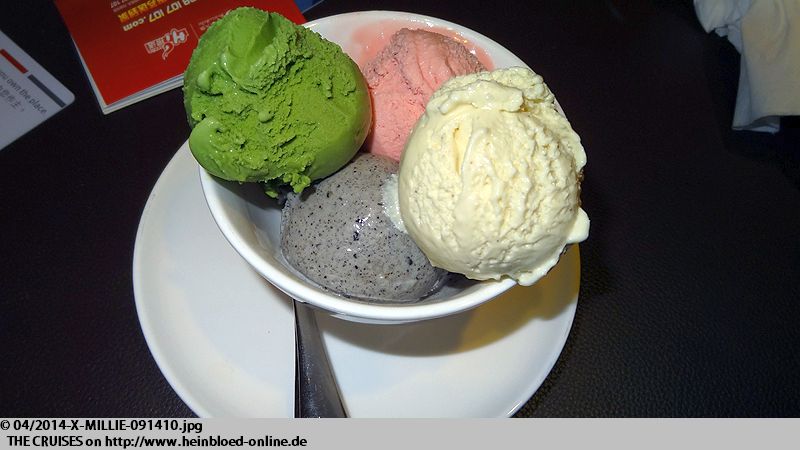 When I entered with my ice-cream the elevator a guest pressed the "Door close" button: The door hit me so quickly that my bowl was catapulted from the plate. The hotel apologied immediately and offered their help. Although it was not them who pressed the "Door close"-botton. The other guest in the elevator did not feel uncomfortable with the situation. They offered a new ice-cream and someone who should take it for me to my room. It was so yummy. I need to get some for the fleetwide Chef of Norwegian so he could learn how a wonderful Green Tea ice cream should taste...

We had all power outlets we need.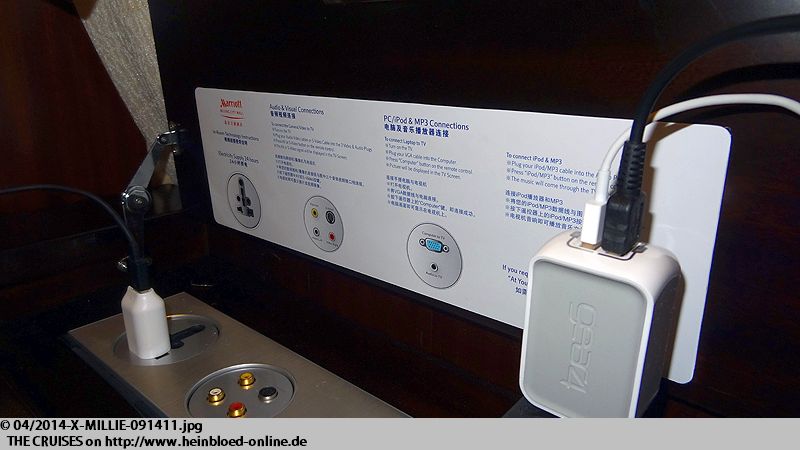 Wir haben alle Steckdosen, die wir brauchen.
Vor allem schnelles Internet und VPN-Zugang in die USA. Nun können endlich die Bilder auf Facebook hochgeladen werden und wir können mal in Ruhe Tagesschau gucken, um mal zu erfahren, was zu Hause passiert ist. Und zu Hause später ist es fantastisch, dass ich nicht auf die Europäischen Seiten oder Preise umgeleitet werde, sondern die USD-Preise in den USA sehen kann.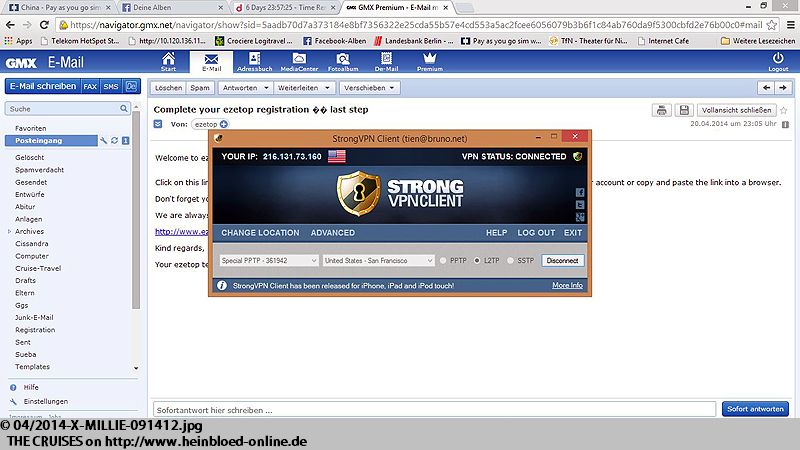 Especially a fast internet and VPN-access to the US. Now we can finally upload the pictures on Facebook and we could see news on German TV to see what happened in the world. And later at home it is great that you will not diverted to the European websites or prices and could see the original USD-pricess in the US.