Scroll down for English explanations - alternates with German explanations.

Der Abschied dürfte mir nicht allzu schwer fallen. Mir fehlt ein Glas. Es fällt keinem auf. Und jedes Mal, wenn jemand von der Crew vorbeilief, trinke ich demonstrativ aus der Flasche. Aber das interessierte keinen.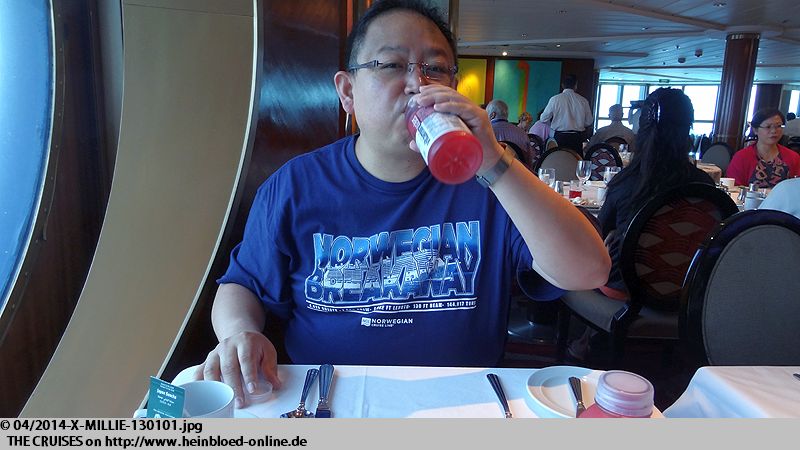 It would not become very difficult to leave the ship. I missed a glass. And nobody took notice. Everytime when someone from the crew walked by, I drank out of the bottle. But that did not bother anyone.

No more Fine Food Tea. We have our own tea with us.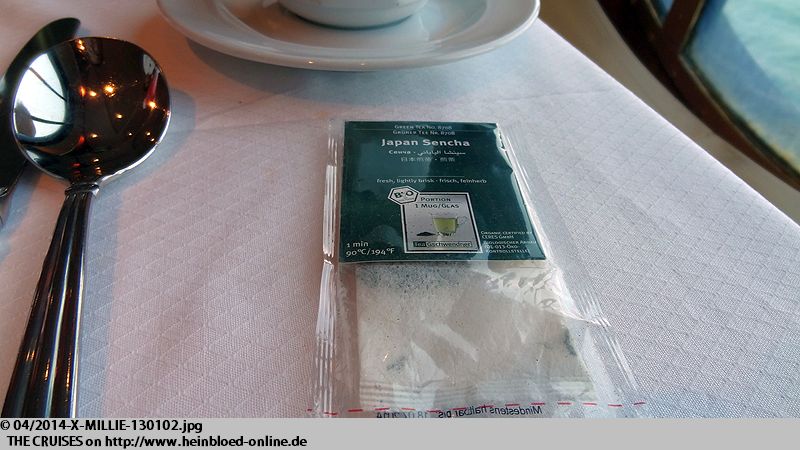 Nase von vom Fine Food Tee. Wir bringen unseren eigenen Tee mit.
Aber heute Morgen dauert es, bis dass wir das heiße Wasser bekommen.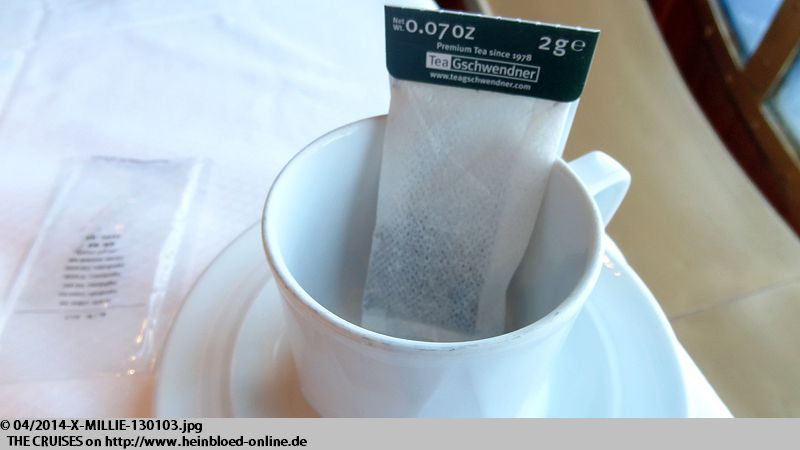 But it took a while until we could get some hot water.

Even the melon plate became humble.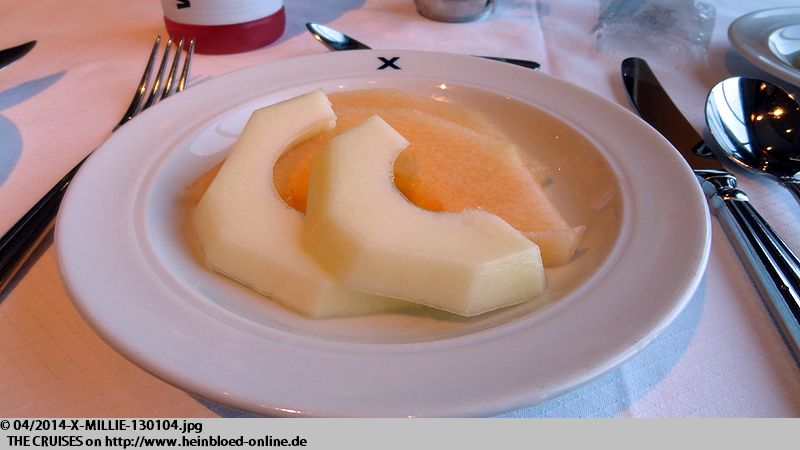 Der Melonenteller wird auch immer bescheidener...
Und kein Frühstücksgebäck...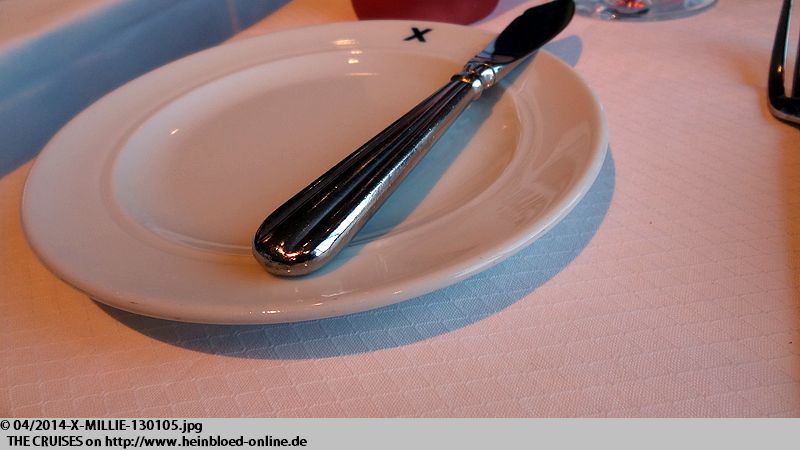 And no Danish...

Later I got a glass after nobody offered me any and I had to ask for...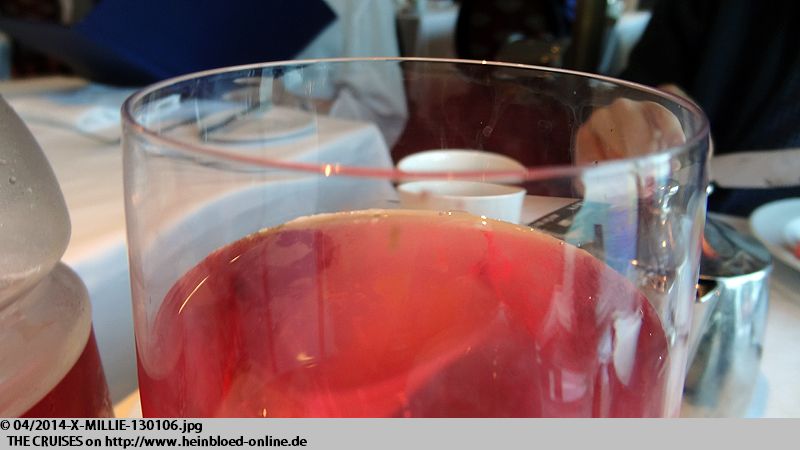 Irgendwann bekomme ich doch mal ein Glas, als immer noch niemand mir ein Glas anbot und dann ich nachfrage...
Allerdings was für eines. Es ist eben ein Standard, den wir von anderen nicht so gewohnt sind. Ich glaube schon, dass es bei denen anderen auch passiert. Nur wenn sonst alles stimmt und alle sehr freundlich sind und sich alle ein Bein ausreißen, dann hat man weniger Gelegenheiten so etwas wahrzunehmen.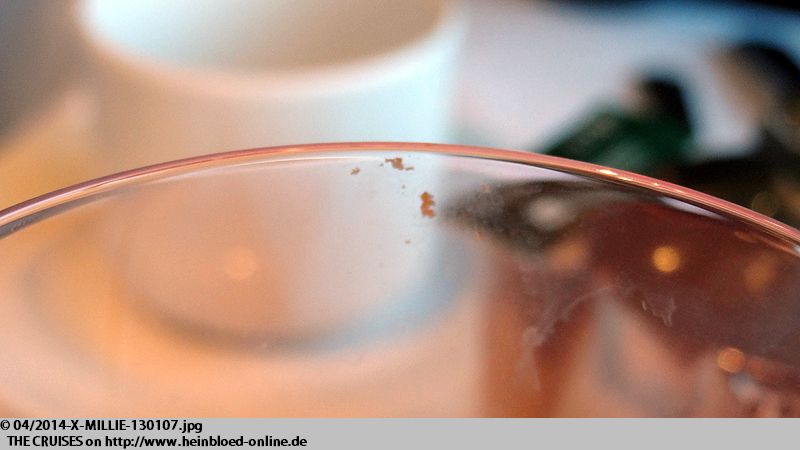 But what for a glass I got. It was a total different standard we were not familiar. I think that it might happen with other cruise lines too. But if anything else is perfect and everyone is friendly and walking an extra mile then you have less opportunities to notice such things.

Bruno got a blueberry-muffin... somewhere they must still have some blueberries.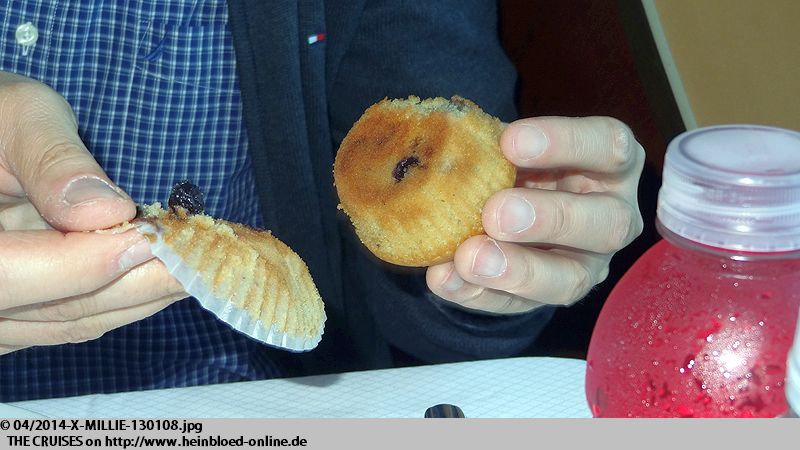 Bruno bekommt ein Blueberry-Muffin... irgendwo wird es wohl noch Heidelbeeren geben...
Ich bekomme ein Brioche-Brötchen - bei der dritten Runde... bei der ersten Runde ist keins drauf... Das Tablett wird wieder aufgefüllt, aber wieder ist keins drauf. Ich bekomme daher ein Croissant auf meinem Teller mit der Anmerkung "Das schmeckt wie Brioche!". Wer bin ich? Ein 7-Jähriger, der keinen eigenen Willen hat? Ich bin 48 Jahre alt und kann schon selbst bestimmen, was ich esse und was nicht. Man merkte wohl, dass die Bevormundung nicht so gut ankam und brachte mir eine Runde später doch noch ein Brioche - nach dem ich das Croissant aufgegessen hatte...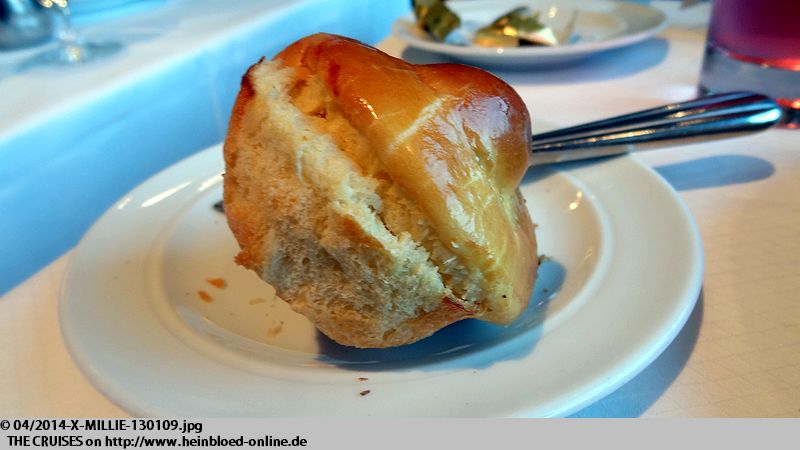 I got a brioche - with the third round... with the 1st round there was none on the tray... So they refilled the tray but again there was not any on the tray. So I got a croissant on my plate with the remark "This taste exactly like a brioche!". Who am I? A 7-years boy who had no own desire? I am 48 years old and can decide by myself what I like to eat or not. They noticed that it the paternalism was not a very good idea and got quickly with the next round my brioche - after I ate the croissant.
As I felt love with the English mustard I asked again for some when they served my breakfast...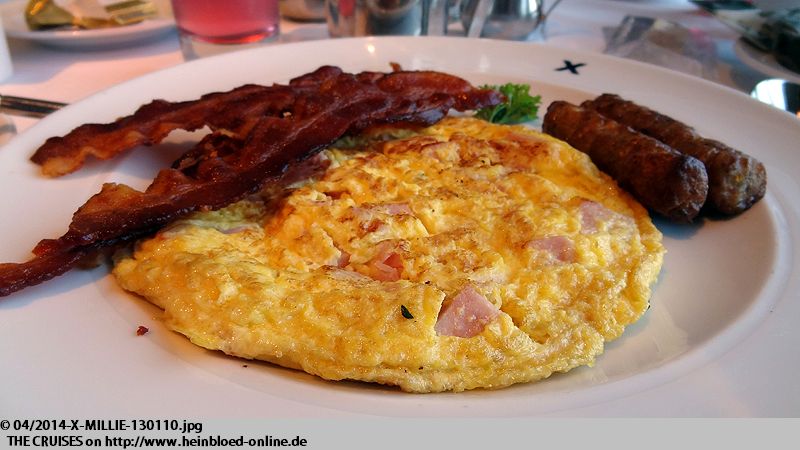 Da ich mich in den englischen Senf verliebt habe, bitte ich um etwas Senf, als mein Frühstück serviert wird...
Meine Eier habe ich aufgegessen... Nur immer noch kein Senf da...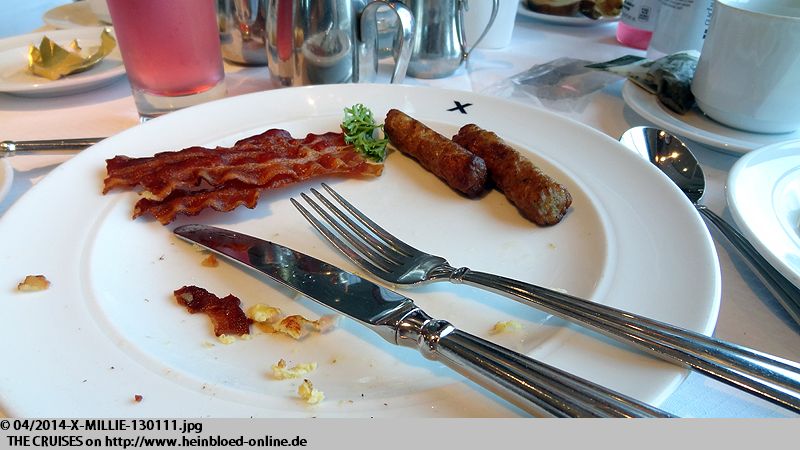 I ate all my eggs... but still there was no mustard...

But finally it came... even everything was cold meanwhile... but never mind... we are off the ship the next day.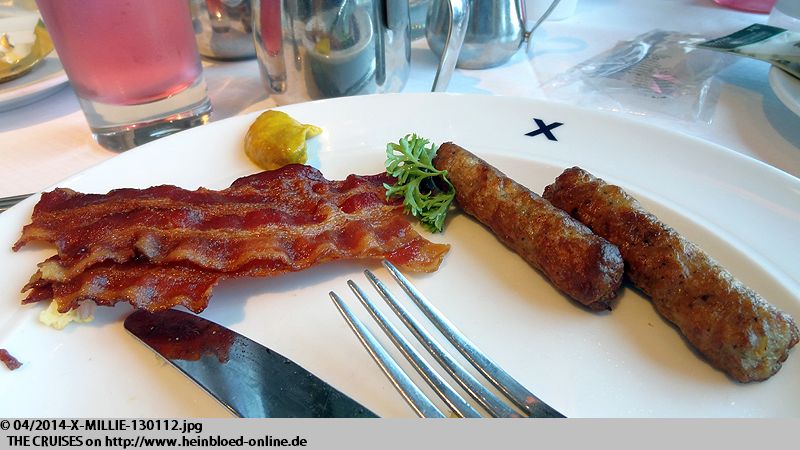 Aber irgendwann kommt er auch... als alles schon kalt war... aber es war alles eh egal... Morgen sind wir endlich von Bord.
Nicole und Uwe sitzen etwas weiter weg...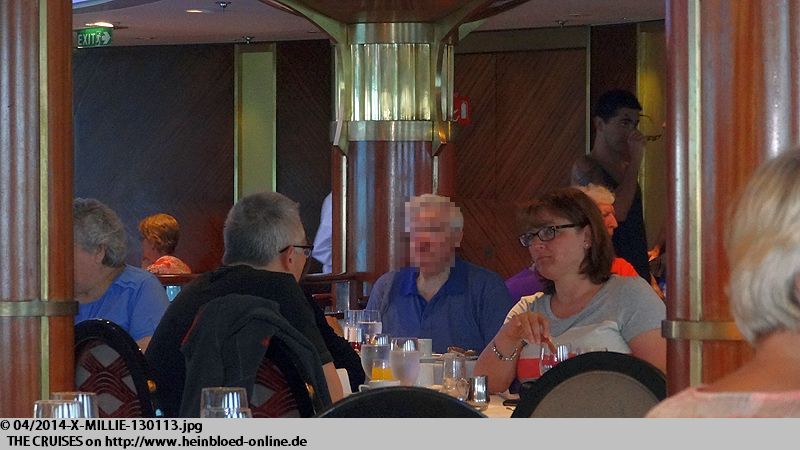 Nicole and Uwe were seated a little away...

We went to Café al Bacio and some tea again... and we became whitness of an unpleasant situation with Russians: A group was sitting two tables away. Some of them wanted to have a cup of coffee and so the waitress asked for the card and someone else with a sticker handed over his card. She said very friendly that these cards are for personal use only. The Russian started to shout: "What is the problem to serve a cup of coffee".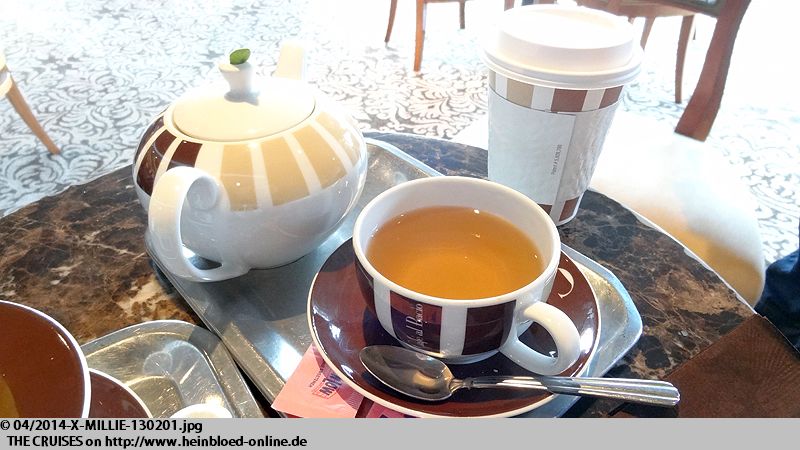 Wir gehen ins Café al Bacio und trinken wie üblich Tee... und werden Zeuge einer unliebsamen Begegnung mit Russen: Eine Gruppe sitzt zwei Tische weiter. Jemand möchte Kaffee und als die Kellnerin um die Karte bittet, gibt jemand anders seine Karte mit Getränkesticker. Sie weist sehr freundlich darauf hin, dass die Karte für die persönliche Nutzung vorgesehen ist. Sie wird von dem Russen angebrüllt: "Worin besteht das Problem eine Tasse Kaffee zu bringen".
Meine Schwester kommt und wir bestellen einen Tee auf meiner Karte. Zwei Minuten zuvor hatte ich gerade einen Tee bekommen. Unsere Kellnerin setzt gerade an, als ich sie unterbreche, und ihr sage, dass es o.k. ist, wenn sie den Tee berechnet. Mit großer Erleichterung bedankt sie sich für mein Verständnis. Sie ist wohl neu dabei...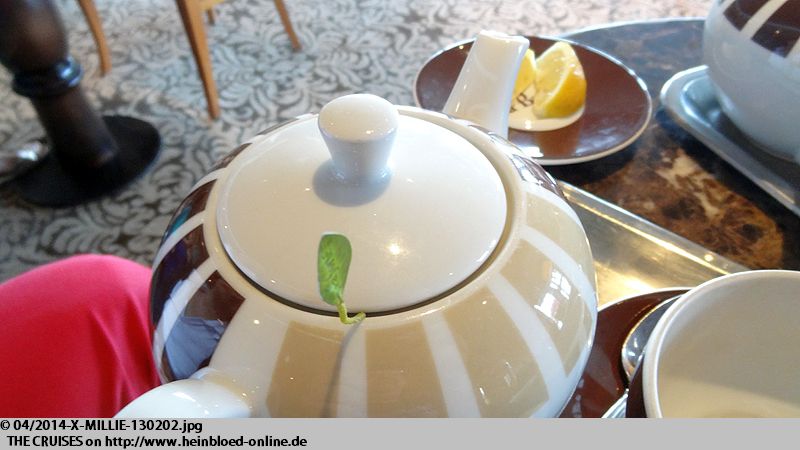 My sister came and we ordered another tea on my card. Just two minutes ago I got another tea. Our waitress was starting to explain the same again when I interrupted her and told that it was o.k. to charge the tea. With a great relief she thanked for my understanding. Obviously she was new in the business...

Finally at day 13 - although we were sitting there all night and all day: someone came by with a box...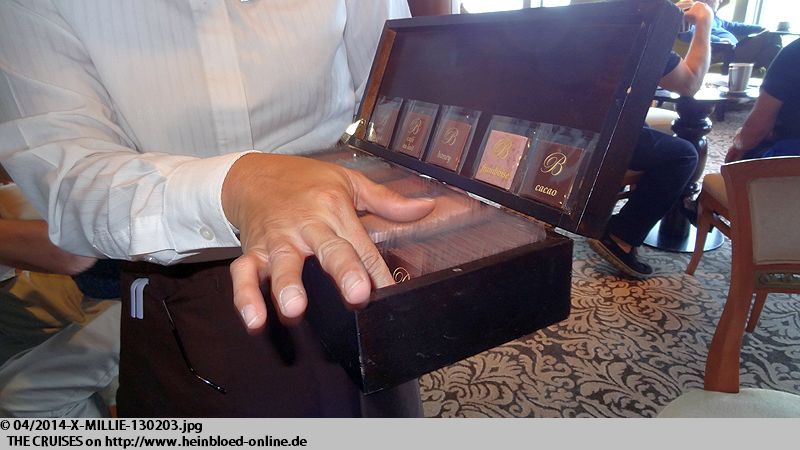 Und am Tag 13 - und obwohl wir fast zu jeder Tages- und Nachtzeit hier sitzen: es kommt jemand mit er Kiste vorbei...
Es gibt Schokolade für alle. Das sind die Kleinigkeiten, die die Unterschiede einer Kreuzfahrtgesellschaft im Standard-Massen-Segment und im Premium-Segment machen. Sehr viele kann ich allerdings an Bord davon nicht entdecken... Schade, dass es von so etwas leider nicht mehr gibt.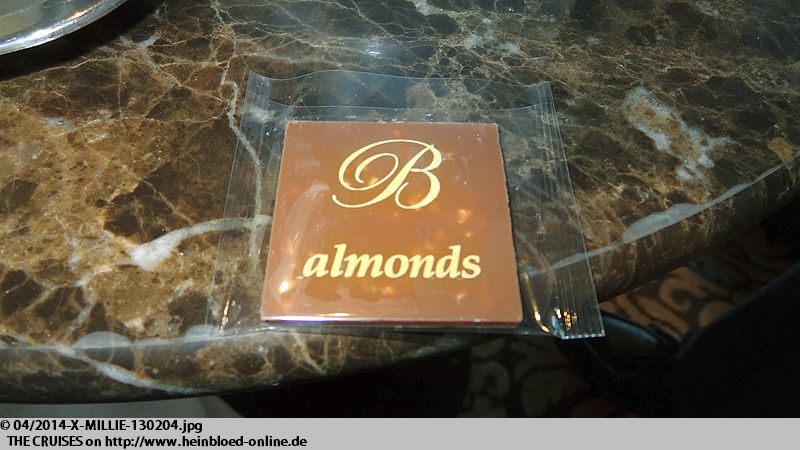 They had chocolate for everyone. The small things which made the big difference between the stardard-mass-market and a premium line. But I could not discovered a lot of them... So sad that there was not any more which I could discover when we were onboard.

With Holland America you could also get such goodies if you stayed in the lounge for coffee specialities.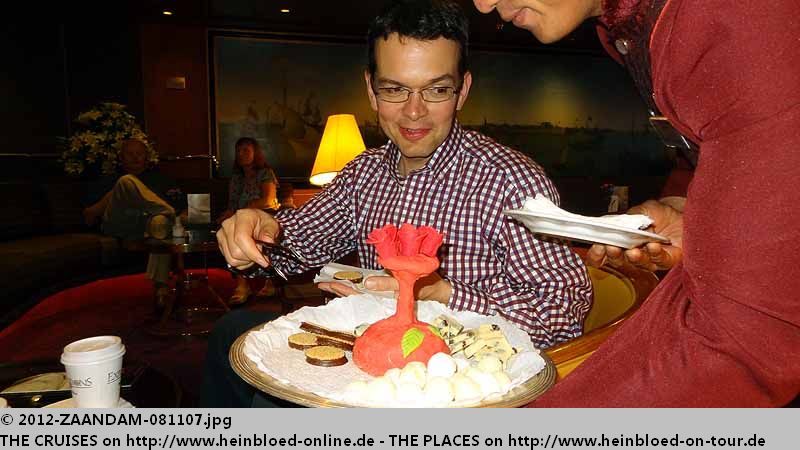 Auch bei Holland America gibt es ein Leckerli, wenn man sich in einer bestimmten Lounge Kaffeespezialitäten bestellt hat.
Und das beste: vor dem Abendessen, wenn es die Dim Sum oder andere Kleinigkeiten in allen Bars gibt, um den Abend einzuläuten. Das sind die Kleinigkeiten, die den Unterscheid ausmachen und für die ich bereit bin, auch gerne mal etwas mehr Geld zu zahlen.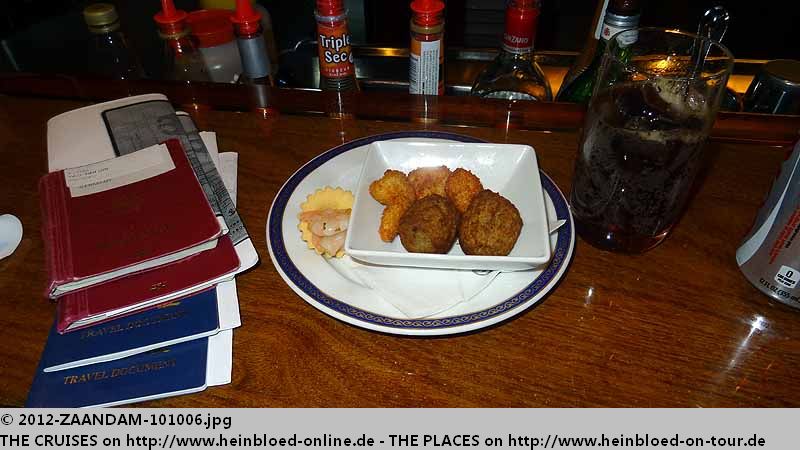 And the best before dinner when they served Dim Sum or other small bites to start the evening. The small things which make the difference and for which I am willing to pay some more money.

But so I was drinking my iced tea until my bladder burst... anyhow my kidneys were cleaned very well...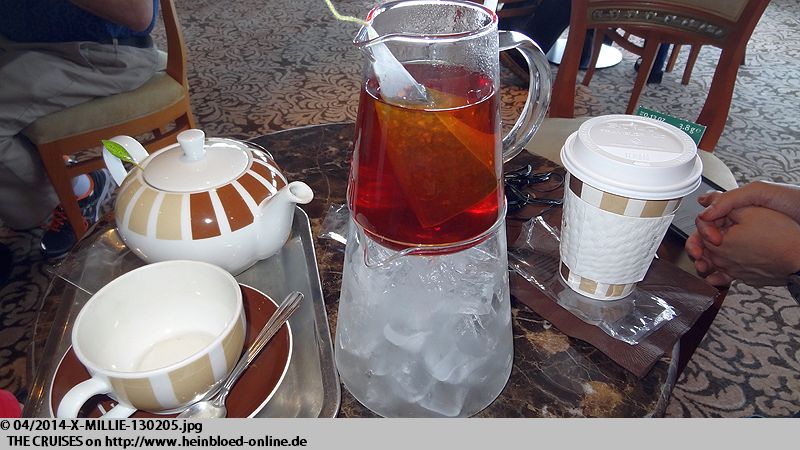 Aber so trinke ich weiter Eistee, bis dass die Blase platzt... auf jeden Fall waren meine Nieren sehr gut durchgespült.
Im Theater findet eine katholische Messe statt... Unter der Woche!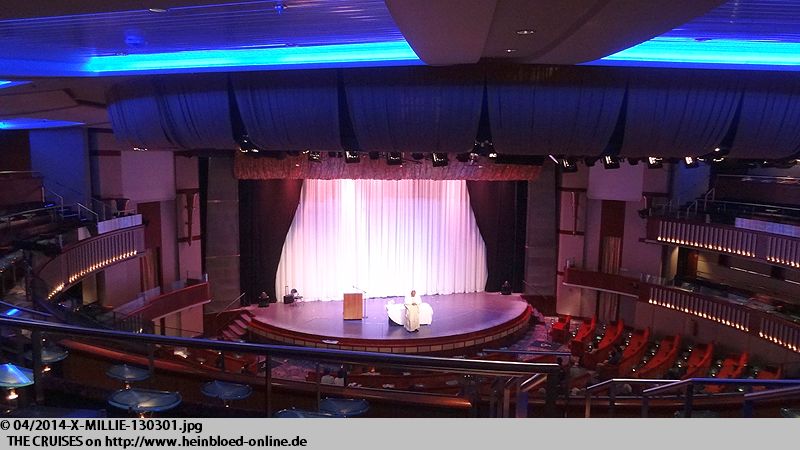 In the theater they had a Catholic service... During the weekdays!

And later at the same place they had the dance lesson.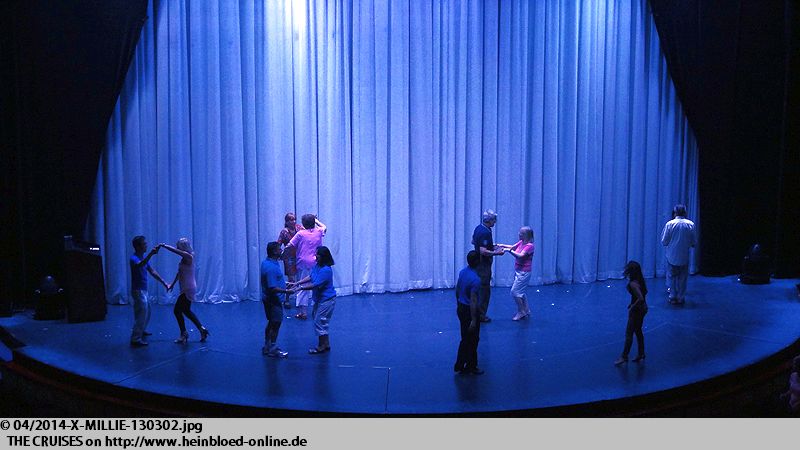 Und später an gleicher Stelle ist Tanzkurs.
Sehr gut: Ausdrucke kosten kein Geld. Allerdings stellen sie wohl das Internet auf besonders langsam, wenn alle anfangen sich einzuchecken und die Bordkarten auszudrucken. Mein neues Guthaben, das ich aus Kulangzgründen dafür bekommen habe, weil alles so extrem langsam ist, ist damit auch sofort aufgebraucht.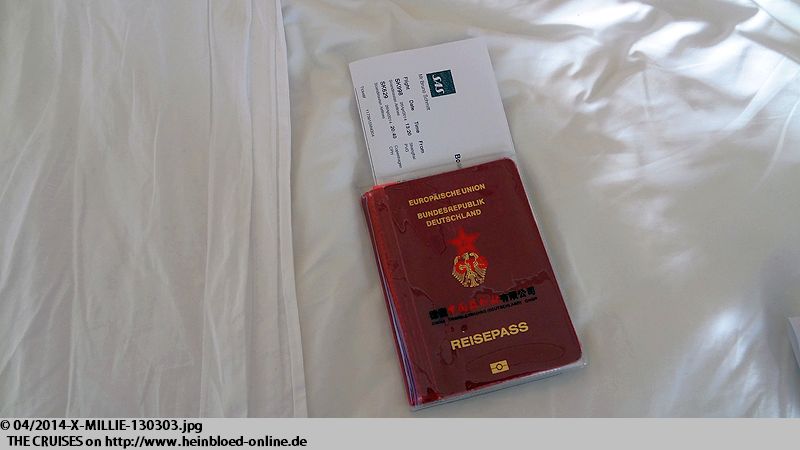 Very good: print-outs were complimentary. But they set the internet very slow that from beginning of check-in and printing out the boarding passes. All my new credit which I got got as compensation for being slow was all used up again immediately.

Dexter got some sweet treat from us. He was always very friendly to us.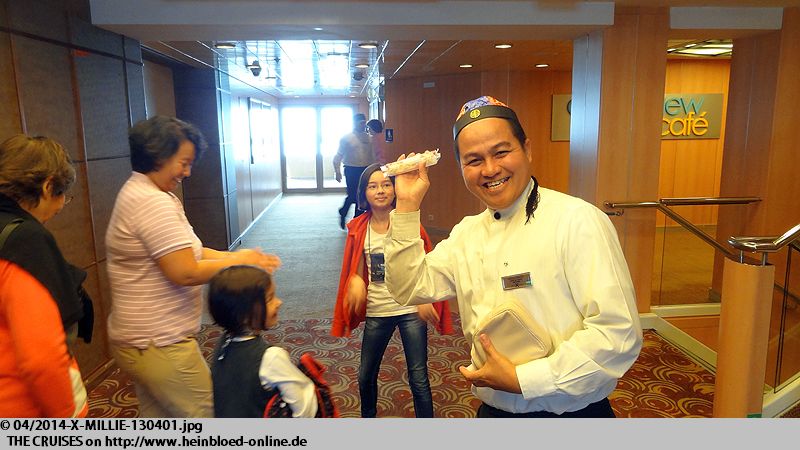 Dexter bekommt von uns auch ein paar Süßigkeiten. Schließlich war er auch immer sehr freundlich zu uns.
Da wir nicht ins Oceanview Café wollen, gehen wir runter ins Metropolitan. Kein Brot...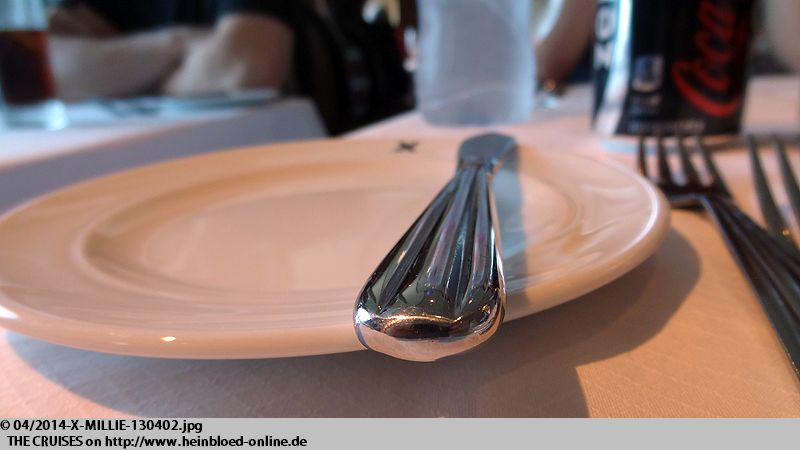 As we did not want to eat in the Oceanview Café we went down to Metropolitan. No bread...

The shrimps came - but they were o.k. this time...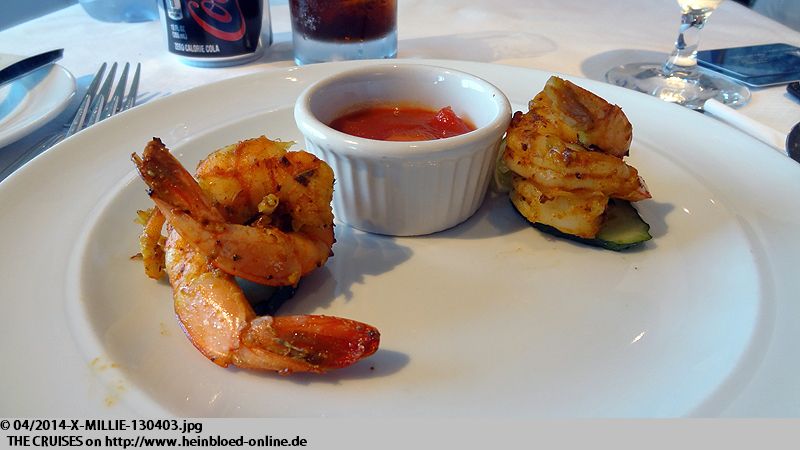 Die Shrimps kommen - waren dieses Mal aber o.k..
Und dann gibt es erst Brot auf Anfrage... wie bei Norwegian...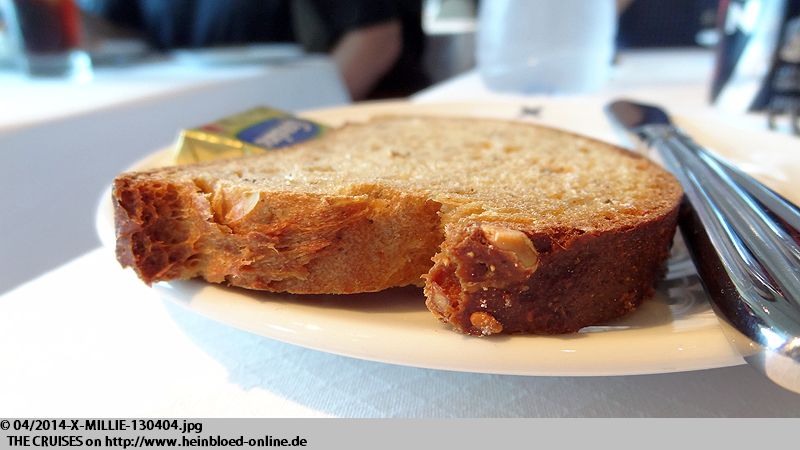 And then we got some on request... like with Norwegian...

My favourite salad with Celebrity...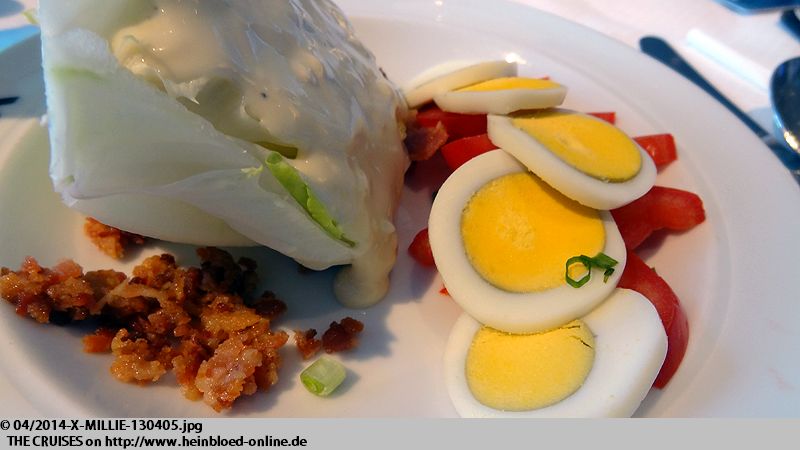 Mein Lieblingssalat bei Celebrity...
aber zukünftig auch nicht mehr... Die dürfen sich ruhig die Mühe machen, die vergammelten Stellen zu entfernen.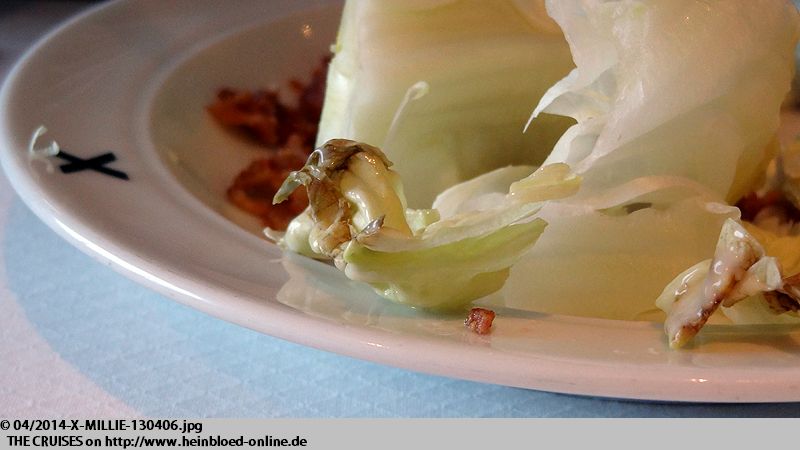 but not anymore in the future... They could spend more effort to remove the flea-bitten parts.

And now it started with the lunch too: the moved back the silverware from the plate to let you use one more time.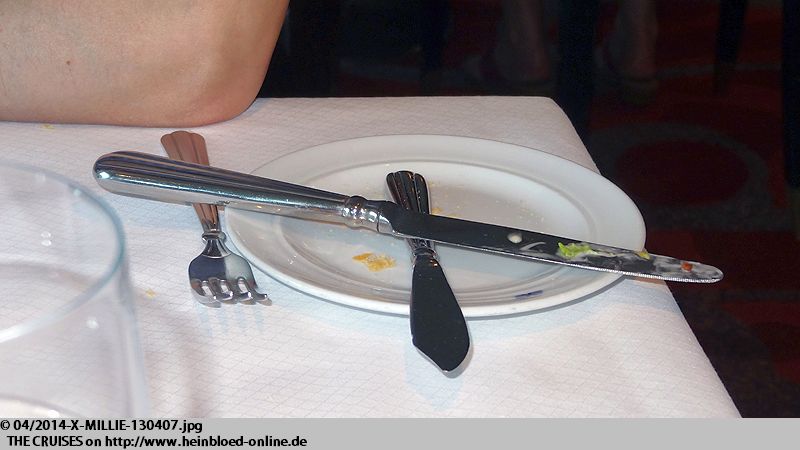 Und jetzt auch schon beim Mittagessen: das Besteck wird vom Teller wieder zur weiteren Benutzung zurückgelegt.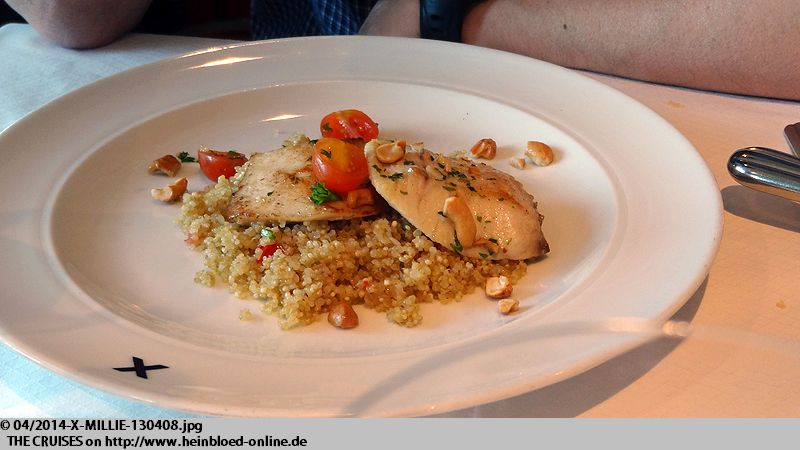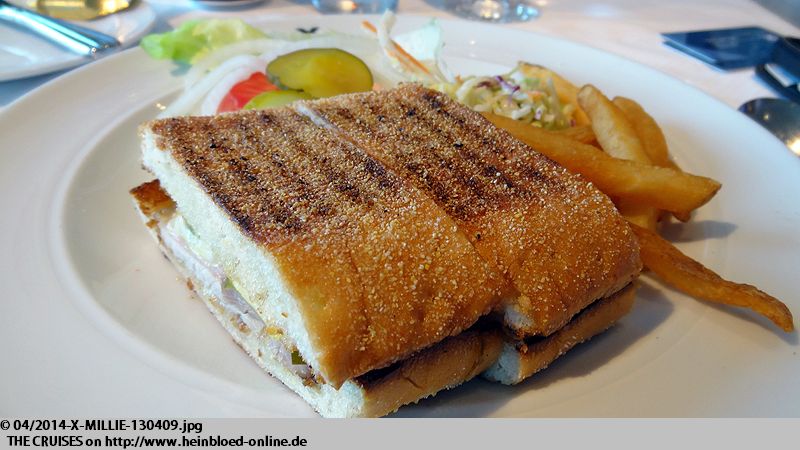 Irgendwie schmecken die Pommes Frites als ob sie in Diesel gebacken wurden.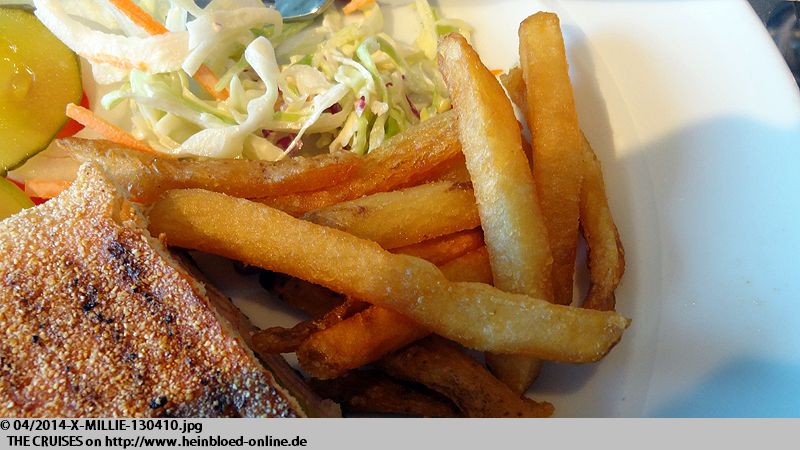 Somehow the French fries tasted like they were deepfried in diesel.

The few which I got were left. Somehow I did not feel very well thereafter.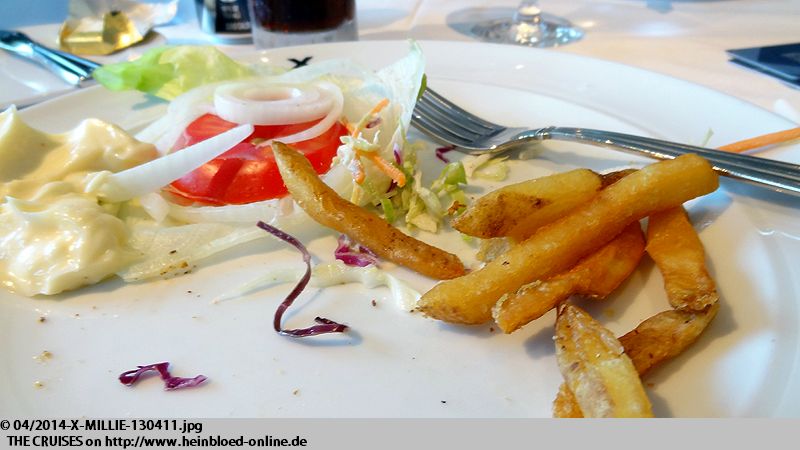 Die wenigen bleiben liegen. Irgendwie fühle mich mich danach nicht gut.
Einen bayerischen Apfelstrudel wollte ich doch mal gerne probieren, aber auch das hätte ich besser lassen sollen.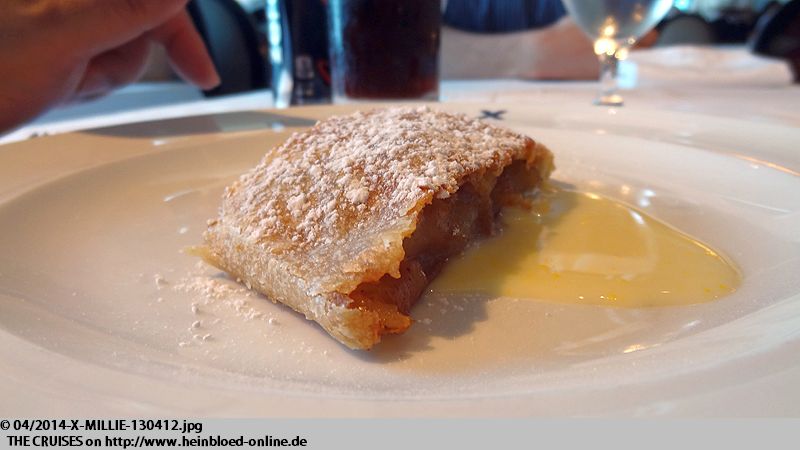 I wanted to try a Bavarian Apple Pie but I should kept distance to this idea.

My parents also went to the afternoon show.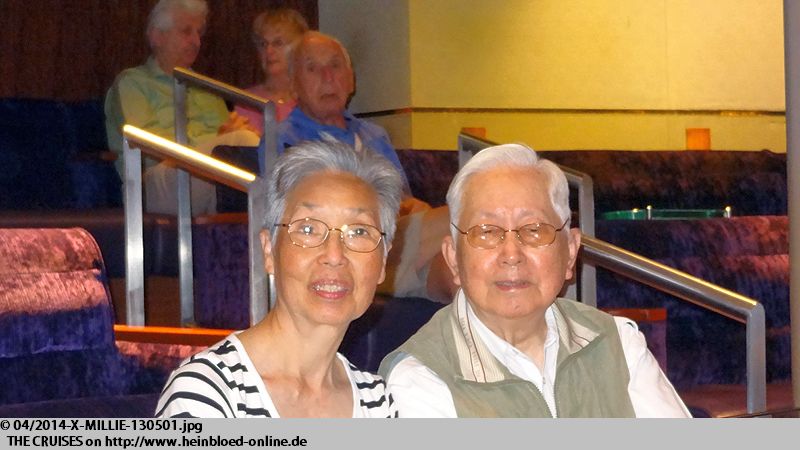 Meine Eltern sind auch in der Nachmittagsvorstellung.
Da ich dieses Mal keine Lust hatte, mich wieder mit Coke Zero im Theater abspeisen zu lassen, gibt es dieses Mal zumindest ein Ginger Ale.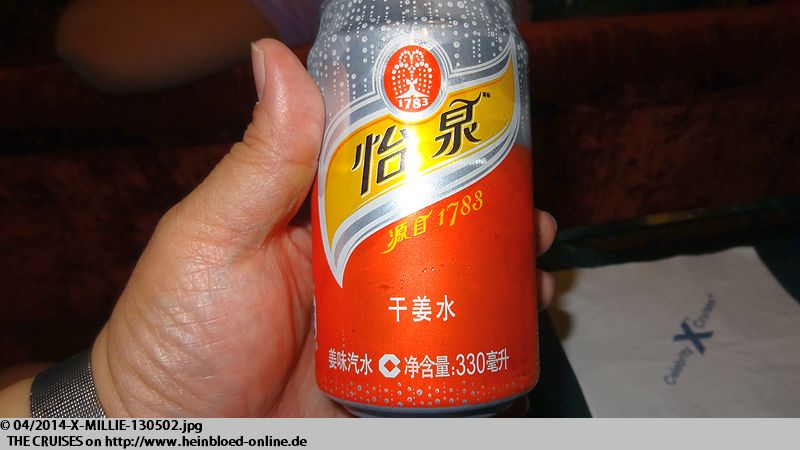 This time I did not want allow them to get me just a Coke zero in the theater so I got a Ginger Ale.

They presented the afternoon show in semi-play-back, i.e. no live music. The first time they did not convinced me. 1. The selection of the songs was second-class - all from famous movies or musicals but never THE song of the songs of a musical - more the less popular ones. 2. The technics did not work properly because they started the same some twice. 3. The voice did came so well and as explainations they told: "You should notice that we are singing live..." I think we would have noticed it if they would sing clear and hit the notes... As said before: it will be to difficult for us to say good-bye and the real production shows were excellent at all. And now the SD-card was enough to store all pictures.

Die Nachmittagsvorstellung findet im Halbplayback-Verfahren statt: d. h. keine Live-Musik. Zum ersten Mal bin ich nicht überzeugt. 1. Die Auswahl der Lieder ist so zweitklassig - alles bekannte Filme oder Musicals, aber selten immer DAS Lied der Lieder aus dem Filmmusical, sondern eher ein weniger bekanntes. 2. Die Technik versagt, weil dann eine Melodie zwei Mal eingespielt wird. 3. Die Stimmen versagen und als Begründung: "Damit Sie merken, dass wir live singen"... Das hätte ich allerdings auch gemerkt, wenn man die Töne gehalten und getroffen hätte... So machen sie mir den Abschied nicht so schwer. Denn die echten Production-Shows fand ich alle sehr gut. Und ausgerechnet jetzt reicht die SD-Karte, um alle Bilder zu speichern.
Irgendwie sieht es immer so aus, als ob alle Kabinenstewards "Gassi gehen". So eine Leine und da hängt ein Beutel dran. Als ich nachfrage, wird mir erklärt, dass aus Sicherheitsgründen, ein früherer Türmechanismus außer Betrieb gesetzt wurde, damit die Türen offen stehen, wenn sie die Kabinenreinigung durchführen. Sie bekamen dann Keile, die allerdings auch zu einem schweren Unfall führten, weil sie wohl nicht für diese Türen ausgelegt waren. Und nun gehen sie eben "Gassi" und dieser Beutel wird dafür benutzt, um die Türen offen zu halten.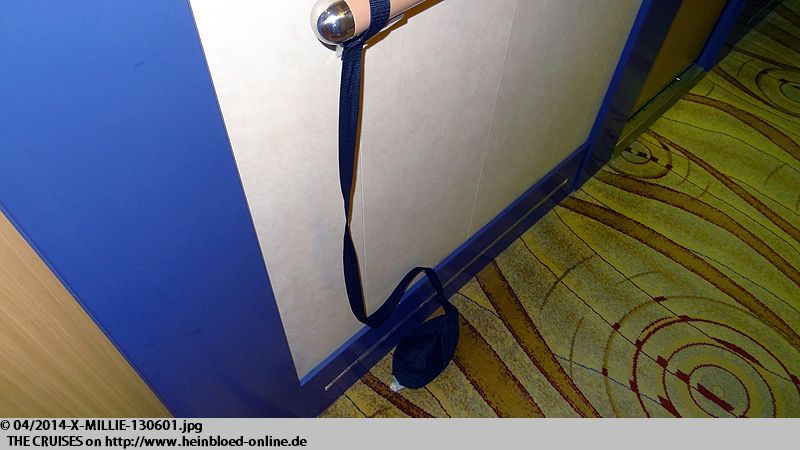 Somehow it looked always that all cabin stewards were walking a "dog". Such a long leash with a bag or something like this at the end. When I asked they explained that they took off the operation of a special door mechnism to keep the door open when they were cleaning the cabins. They got later wedges which occured a bad severe accident because they were not made for such kind of doors. And now they had to walk the "dog" and the bags were used to keep the doors open.

Normally I am the last-minute-packer. But my mind said that the you want to get off the ship and so we started to pack before dinner and placed the bags very early in front of the doors. Some Germans came by and said "They are crazy!"... As I did not knew them and we had nothing in common I did not comment the comment. Sometimes such people felt to have the commitment to talk with you... After twelve nights they have not completed the sanitizing of the baggage mats. We still had not anyone.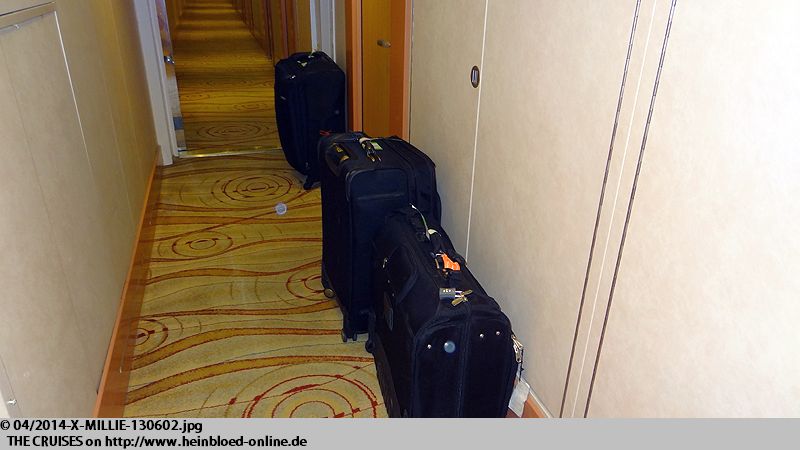 Normalerweise bin ich der Last-Minute-Packer. Aber der innere Wunsch endlich von Bord zu kommen, führte dazu, dass wir bereits vor dem Abendessen alles gepackt und vor die Tür gestellt haben. Ein paar Deutsche kommentieren das wie folgt: "Die sind ja verrückt!"... Aber da ich sie nicht kenne und nichts mit denen zu tun habe, kommentiere ich deren Kommentar nicht. Nicht dass sich dann solche Leute verpflichtet fühlen, ein Gespräch zu führen... Übrigens zwölf Nächte später, sind sie wohl mit der Desinfizierung der Gepäckmatten noch nicht fertig. Wir haben wieder keine.
Im Laufe der Nacht kommt dann auch die Schlussrechnung.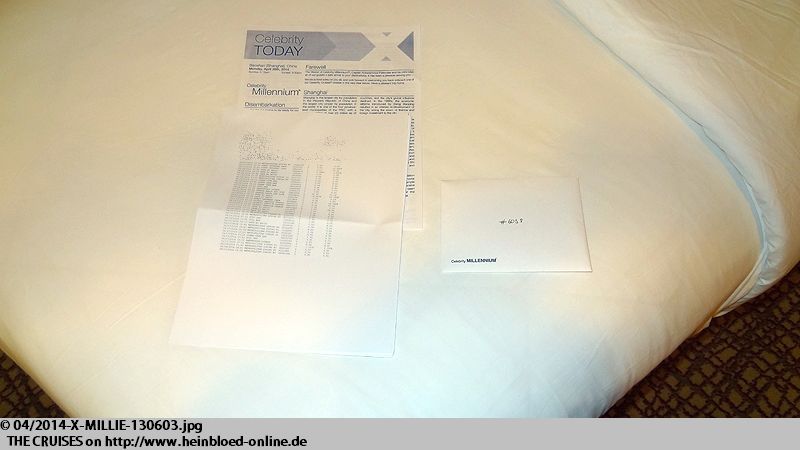 During the night later we had the final bill.

The kids want to have few prints for Monday to show their class- and kindergarten-mates. So we bought a photo-album which you can fill with 200 pictures and we ordered 200 prints. The selection was very difficult. We experienced so much. I wanted that the kids remembered all the crew-members who made sure that they had a great time on board. So I asked Shubert and Kevin to write a thought in their album as memory.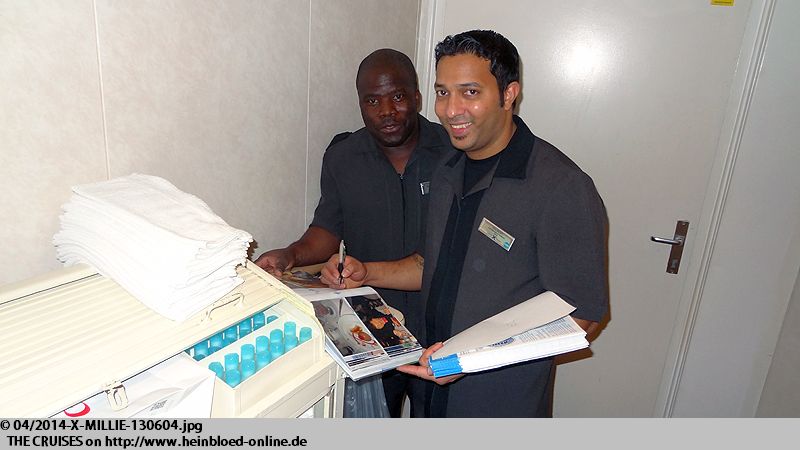 Die Kinder wollen unbedingt am Montag ein paar Bilder haben, um sie in der Schule bzw. im Kindergarten zu zeigen. Also kaufen wir ein Fotoalbum, in denen 200 Bilder reingehen und lassen 200 Bilder abziehen. Die Auswahl fällt verdammt schwer. Wir haben so vieles erlebt. Ich will, dass die Kinder sich an diejenigen Crew-Mitglieder erinnern, die dafür gesorgt haben, dass sie eine tolle Zeit an Bord hatten. Daher bitte ich Shubert und Kevin und viele andere sich in diesem Album mit einem Gedanken zu verewigen.
Viele sind sehr gerührt, als ich ihnen von meiner Idee erzähle und schreiben bereitwillig einen Gruß für die Kinder rein.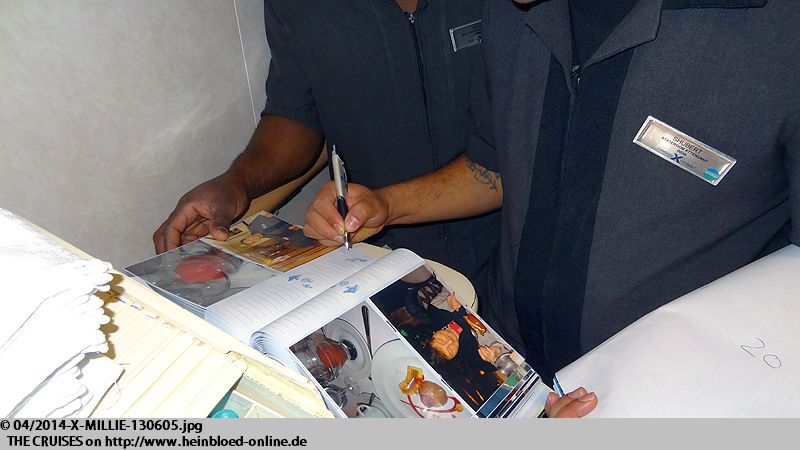 Many of them were very touched when I told them of my idea and loved to write a greeting for the kids.

The last nights we had no more beakers.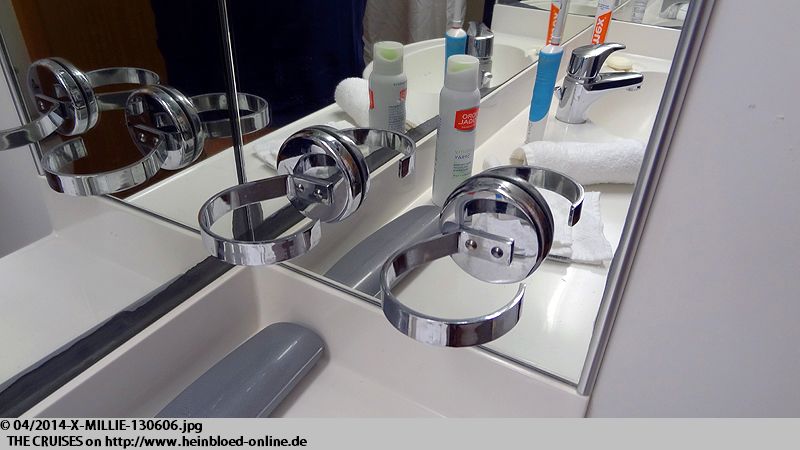 Am letzten Abend gibt es bereits keine Zahnputzbecher mehr.
Auch der Glasbehälter mit den Wattebäuschchen und Q-Tipps wurde bereits entsorgt. Nur hatte Bruno dort ja sein Nasenspülsalz reingepackt. Als wir nachfragen, hieß es, dass alles bereits vernichtet sei.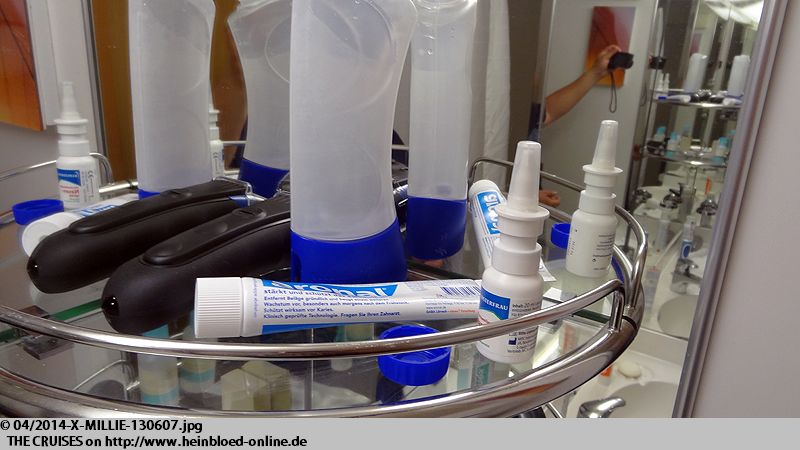 Also the glass container with the cotton swabs and pads were already disposed. But Bruno had his medical nosal saline salt in the container. When we asked for they only said that it was disposed.

We checked the balance and found out that the cover charge for The Olympic was on our bill although we were guests. So we asked in The Olympic for some corrections.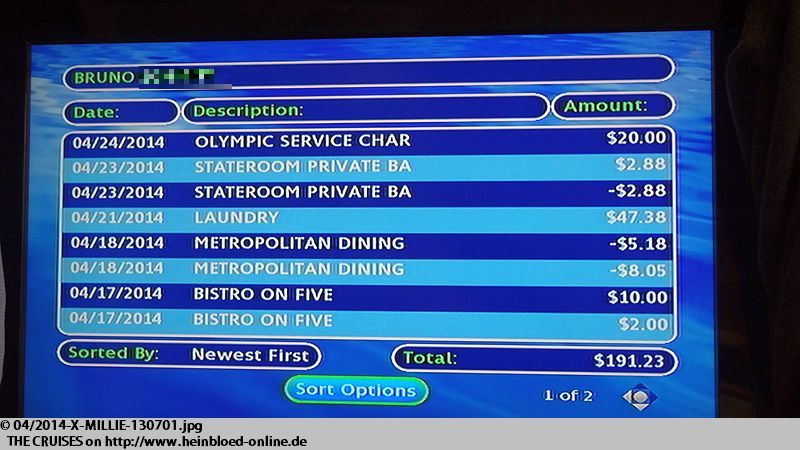 Bei der Durchsicht der Rechnung stellen wir fest, dass uns nochmals die Zuzahlung für The Olympic berechnet wurde, obwohl wir Gäste waren. So bitten wir in The Olympic darum, dass man das korrigiert.
Eine weitere Korrektur ist notwendig. Obwohl wir eigentlich erklärt haben, dass Bruno die Rechnung für ihn und mich übernimmt, ist zu unserem Erstaunen die Kreditkarte meines Vaters für unsere Rechnung hinterlegt. Das lassen wir ebenfalls korrigieren.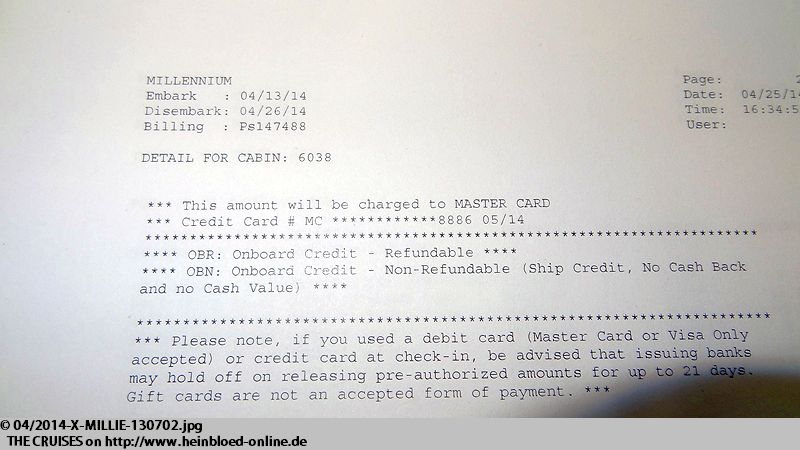 Another correction was necessary. Although we explained that Bruno will pay for me we were most surprised that my father's credit card appeared to pay our bill. So we had to let it corrected too.

Finally to the last supper. One thing was always strange to me: sometimes you could get something with sides and sometimes without. No idea how it worked in their galley.

Auf zum letzten Abendessen. Auf jeden Fall ist eine Sache merkwürdig: manchmal kann man alles ohne Beilagen haben, manchmal kann man Beilagen austauschen und manchmal nicht. Keine Ahnung, nach welchem Prinzip was wie möglich ist.
Eine Sache auf die ich mich sehr freue: eine Gulaschsuppe...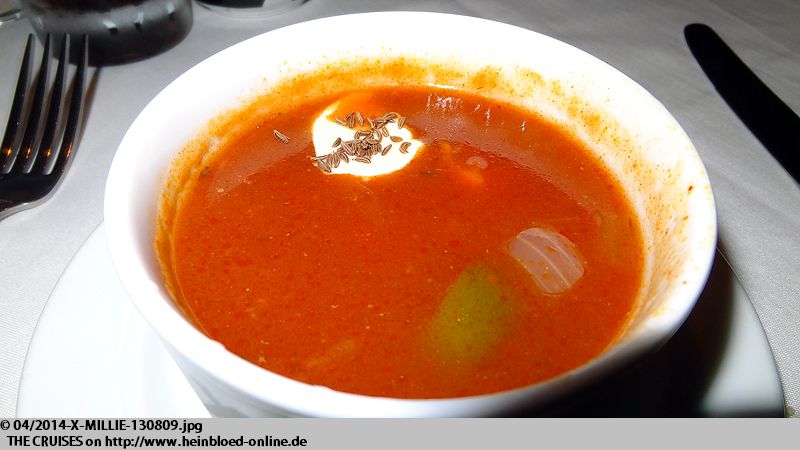 Something I was really looking forward for: a Goulash soup...

I think they took the Save The Waves environmental programme too serious. Obviously they recycled the Minestrone we had few days before.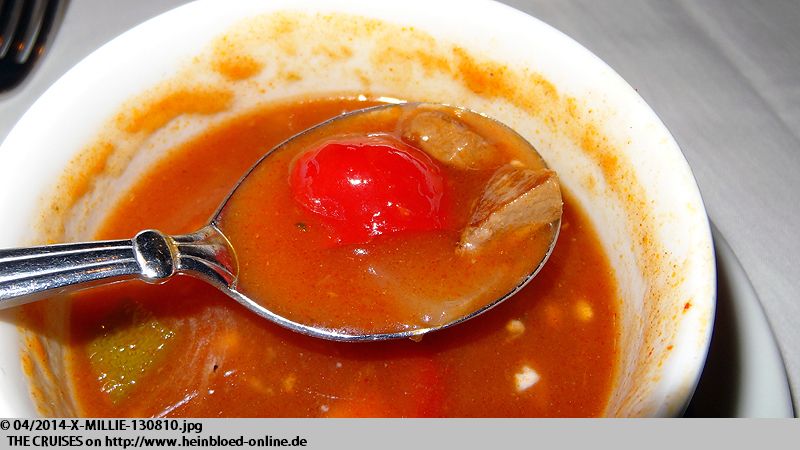 Sie nehmen das Save The Waves Umweltschutzprogramm zu wörtlich. Es wird anscheinend die Minestrone wiederverwertet, die es vor ein paar Tagen schon mal gab.
Fleisch finde ich so gut wie keines und für meinen Geschmack viel zu tomaten-lastig.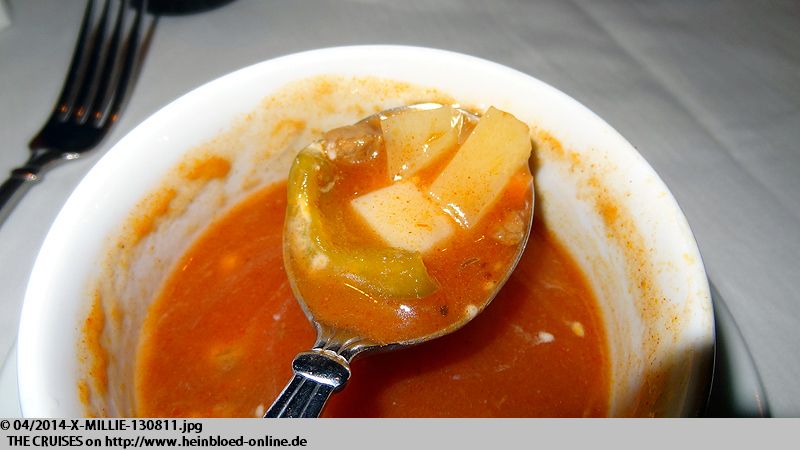 Meat was hard to find any and for my taste it was too much tomato-flavour.

We wanted to have some fish without sides but that worked only with the kid's menu...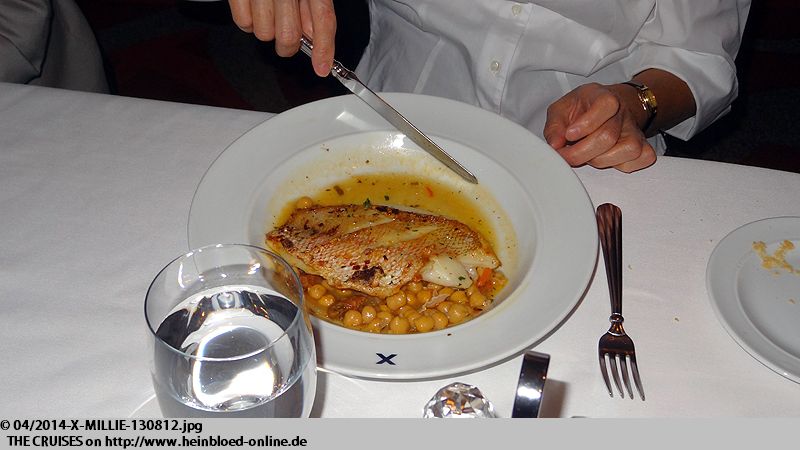 Wir wollten eigentlich nur einen Fisch ohne Beilagen, aber das funktioniert irgendwie nur bei den Kinderessen...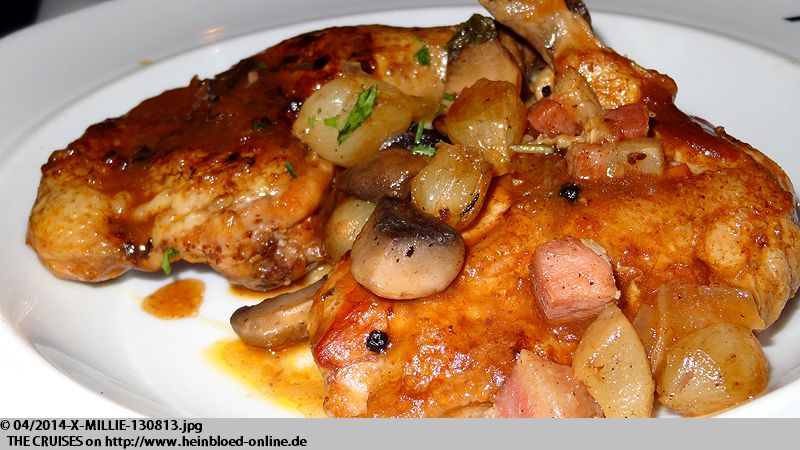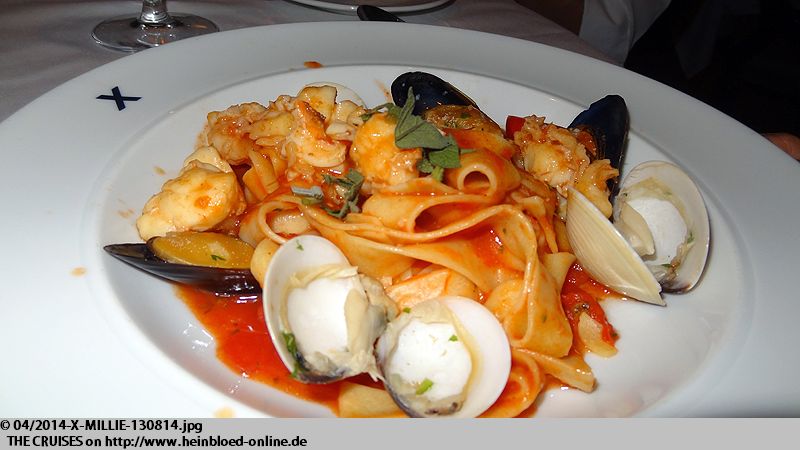 Das sollte ein T-Bone-Steak sein. Den Anteil mit dem Roastbeef (Rumpsteak) habe ich gefunden, aber den Anteil mit dem Filet konnte ich nicht finden, oder er war nicht in dem Zustand, dass ich ihn als Filet identifizieren konnte.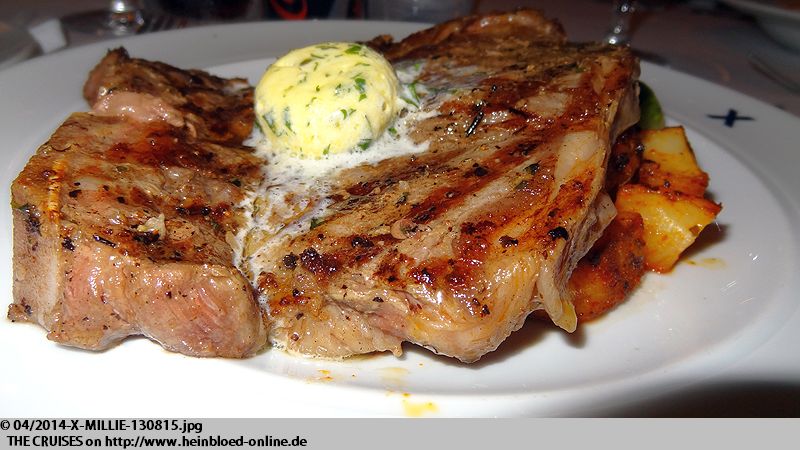 It should be a T-Bone-Steak. The part with the roastbeef (Strip steak) was easy to identify but the part of the fillet I could not find or it was not in a condition to be identified as fillet.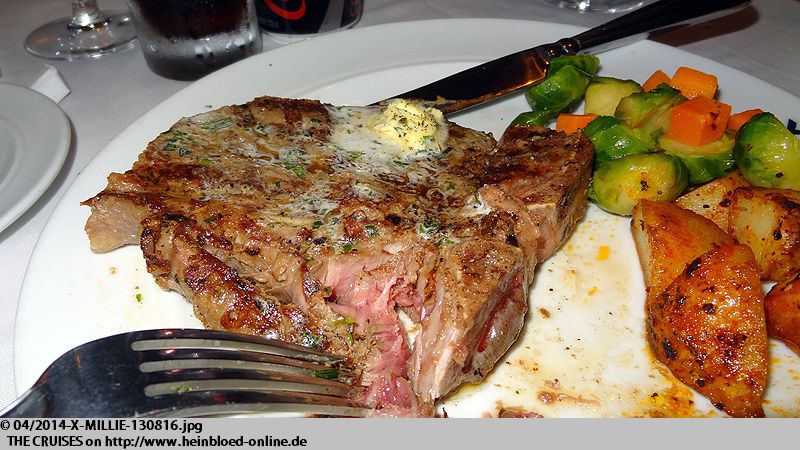 Da es einigen von uns wegen Seegangs nicht so gut ging, baten wir um grüne Äpfel. Aber dieses Mal bekamen wir sie direkt aufgeschnitten.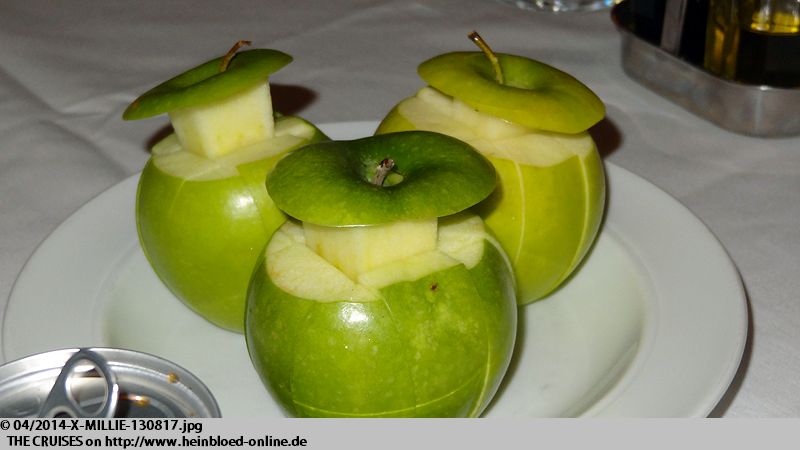 As few of us did not feel very well due to the sea movements we asked again for green apples. But that time they cut them for us.

To see the Illusionarium we must not go on NORWEGIAN GETAWAY. Azem and Cedrid did their best to entertain Christine until the dessert came.

Um das Illusionarium zu erleben, brauchen wir nicht extra auf die NORWEGIAN GETAWAY. Azem und Cedric tun ihr bestes, um Christine zu unterhalten, bis dass das Dessert kommt.
Die Desserts kommen. Ich nehme Käse. Aber irgendwie gab es ein Traubenmonster am Tisch. Meine sind auf einmal alle weg!

The desserts came. I took some cheese. But somehow there was a grape monster at the table. All were gone!

Thereafter we had more tricks to show. But adults only - which was part of the loyalty programme as the solution should be presented on our next cruise with Celebrity.

Danach gibt es weitere Tricks. Nur eine Rubrik für Erwachsene wird eröffnet als Loyalty Programm: die Auflösung gibt es auf der nächsten Fahrt mit Celebrity.
Später gehe ich noch ins Rendezvous. Aber irgendwie ist alles ausgestorben. Die Luft ist wohl raus!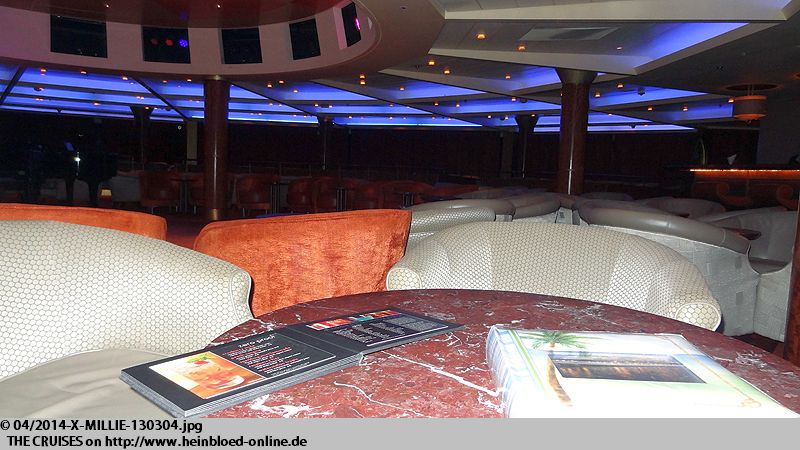 Later I went to the Rendezvous. Somehow it made an extinct appearance. The ship ran out of the steam.

The musicians who came later were part of my word. Hit songs in English... But most of all I was upset of the missing service. Someone got me the bar menu and placed a napkin on my table and disappeared. All other waiters skipped my table. So I did not like to wait any longer and I was told that I have to wait for the waitress who placed the napkin on my table. So the others turned away and kicked their heels. And later no chance again: a private conversation iwth a guest. Some dancemoves with a guest. No chance to order a second cocktail because she was the first who placed the napkin and I need to address to her. But as the music became worse it was not so bad. So I did not take any other cocktail and said good-bye from Nicole, Jacqueline, Michelle and Uwe who will start their next adventure on sea soon. Very nice cruise-mates - I can only recommend them very highly.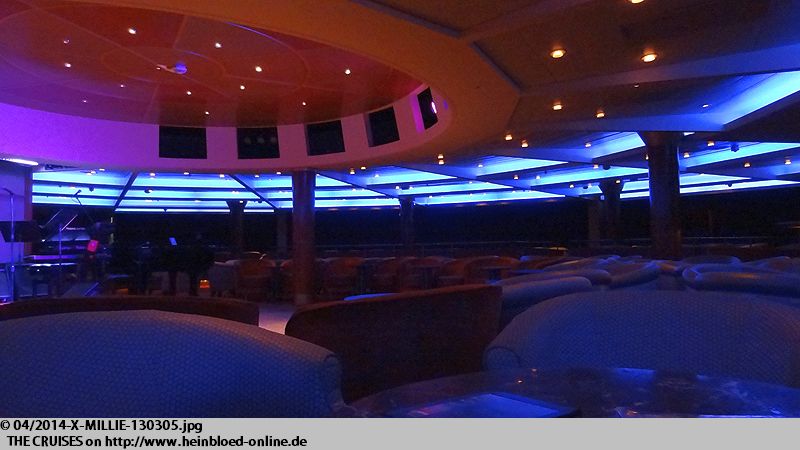 Die Musiker, die später kamen, waren dann nicht meine Welt. So Schlager, aber in Englisch... Am Meisten hat mich jedoch der fehlende Service geärgert. Jemand bringt mir die Getränkekarte und legt eine Serviette darauf und dann verschwindet sie. Alle anderen Kellner machen einen Bogen um meinen Tisch. Irgendwann mag ich nicht mehr warten und mir sagt man, dass ich auf diejenige Kellnerin warten muss, die mir die Serviette auf den Tisch gelegt hat und die anderen drehen weiter Däumchen. Und später aussichtslos: eine Privatunterhaltung mit einem Gast. Ein paar Tanzeinlagen mit einem Gast. Einen zweiten Cocktail zu bestellen: sinnlos und wie gesagt, alle anderen bedienen mich nicht, weil sie eben die erste war, die eine Serviette hingelegt hat und sagen mir immer, dass ich mich an sie wenden muss. Da die Musik immer schlimmer wird, ist es nicht weiter tragisch. So nehme ich keinen weiteren Cocktail mehr und verabschiede mich von Nicole, Jacqueline, Michelle und Uwe, die bald ja in ihr nächstes Kreuzfahrt-Abenteuer stürzen. Sehr nette Mitfahrer - kann man nur wärmstens weiterempfehlen.