Scroll down for English explanations - alternates with German explanations.

Weiter geht es zum Sumiyoshi Markt. Ein Markt für Einheimische. Wir waren die einzigen Touristen.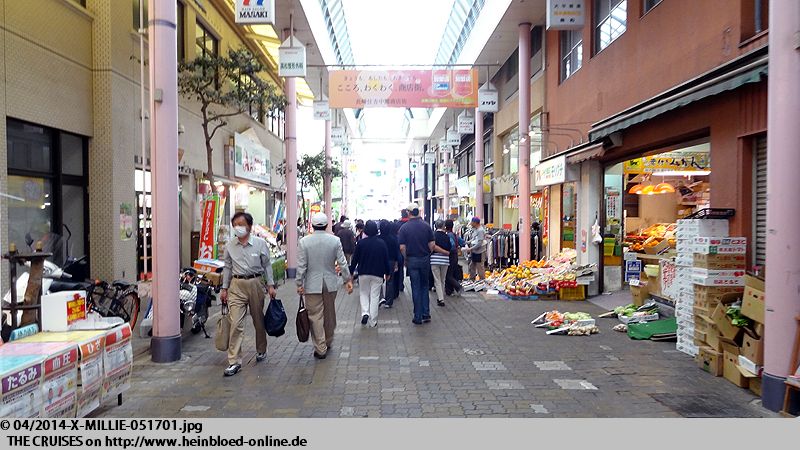 We headed to Suminyoshi Market. A market for locals. We were the only tourists.

Fresh fruits, fresh vegetables, fresh sea-food... And it was displayed so appetizing that you became hungry.

Frisches Obst, frisches Gemüse, frische Meeresfrüchte... Wirklich so appetitlich aufgebaut, dass man Hunger bekam.
Wir konnten ja an Bord nicht zu Ende essen, so kaufe ich ein paar mit Sushi-Reis gefüllte Tofu-Taschen. Die waren richtig lecker. Ich bin kein Tofu-Fan, aber die waren wirklich richtig gut. Der Sushi-Reis war auch richtig gut in Sushi-Essig getränkt worden. Wir hätten doch früher mit der Tour anfangen sollen und hier essen sollen. Das nächste Mal!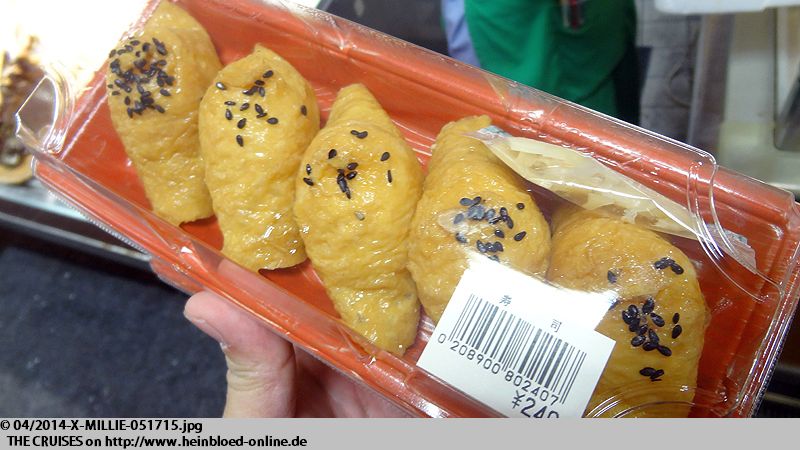 We could not complete our meal on board. So I bought some tofu-dumplings filled with sushi-rice. They were so yummy. I am not a tofu fan but they were really good. The sushi-rice was soaked full of real good sushi vinegar. We should earlier leave the ship and had here some food. Next time!

So many yummy treats and much more cheaper than in Tokyo. That was the main reason why I thought we should not have lunch ashore. And here we could get my beloved Bento-Boxes. Everything was freshly prepared.

So schöne viele Leckereien und viel billiger als in Tokio. Das hatte mich ja davon abgehalten, an Land zum Mittagessen zu gehen. Und hier hätte es meine geliebten Bento-Boxen gegeben. Alles frisch zubereitet.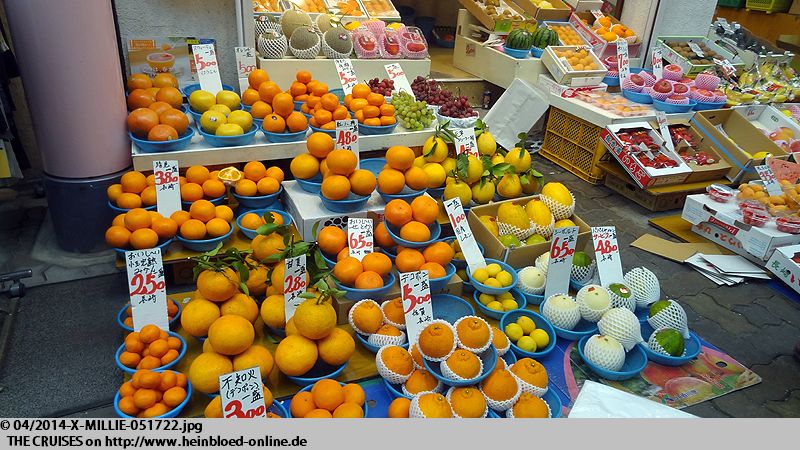 Tamagoyaki. Only to name it Japanese egg omelettes would not really describe the delicatessy.

Tamagoyaki. Es nur als japanisches Eieromelette zu bezeichnen würde der Sache nicht gerecht werden.
Und auch hier: ich muss sie probieren und sie waren wieder absolut perfekt. Hätte ich bloß in Hongkong die Tupperparty besucht: dann könnte ich jetzt davon mit etwas an Bord nehmen.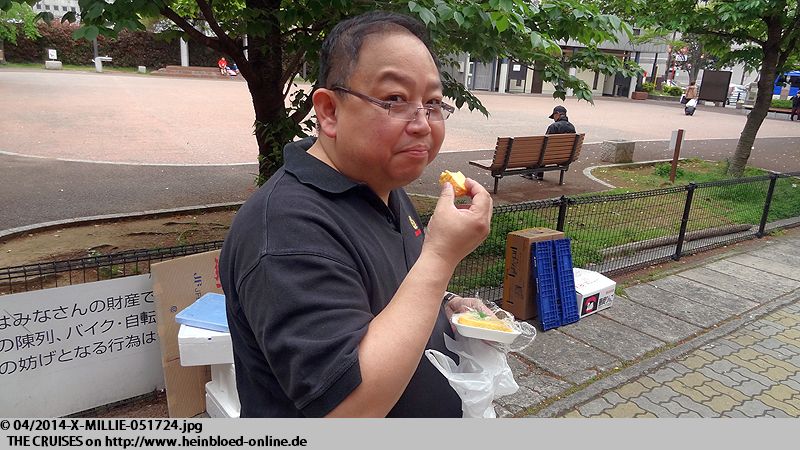 And here again: I had to try them and they were absolutely perfect. Why did not I attend a Tupperware-Party in Hong Kong: so I would be able to have some taken on board.

Interesting: a public electronic lock system for scooters etc.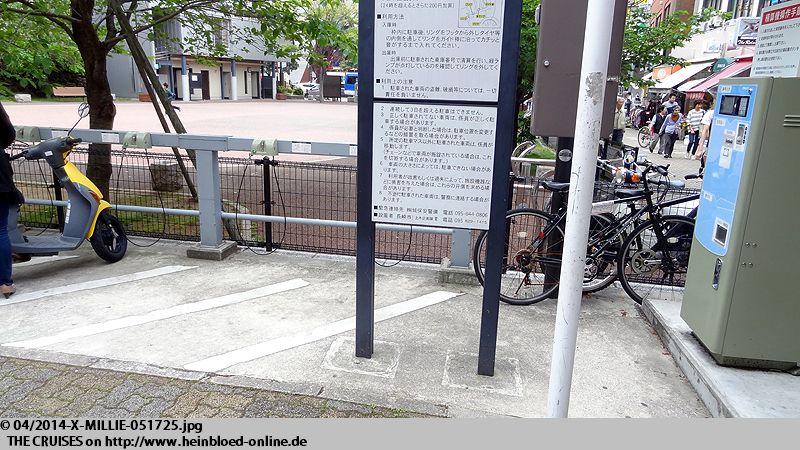 Interessant: ein öffentliches elektronisches Abschließanlage für Roller usw.
Ein kleines Problem hatten wir jedoch: Rund um den Glover Garden war es gar kein Problem mit USD zu bezahlen...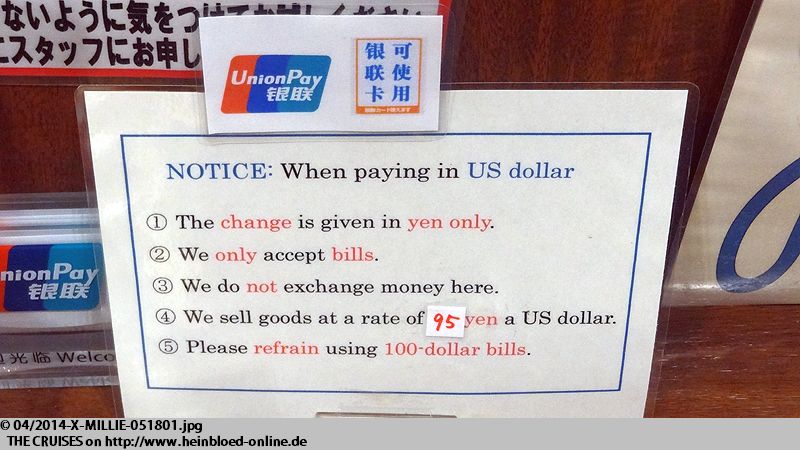 One more problem we had: around Glover Garden it was not any problem at all to pay in USD.

This became here a major problem: the Japanese banks were mostly not connected to the international Visa/MasterCard-network.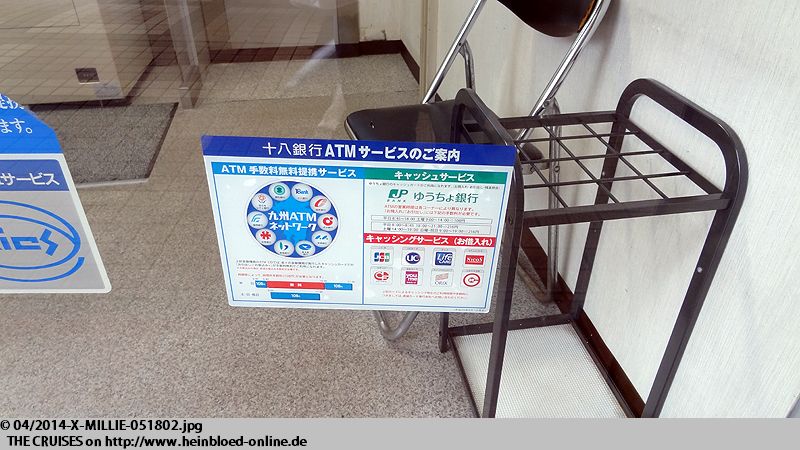 Hier entwickelte es sich zu einem großen Problem: Die japanischen Banken sind oft nicht an das internationale Visa-/MasterCard-Netz angeschlossen.
Nur bei der Postbank beispielsweise bekommt man Geld. Ärgerlicherweise war jetzt ausgerechnet das Paket im Bus unterwegs und fuhr immer um den Block...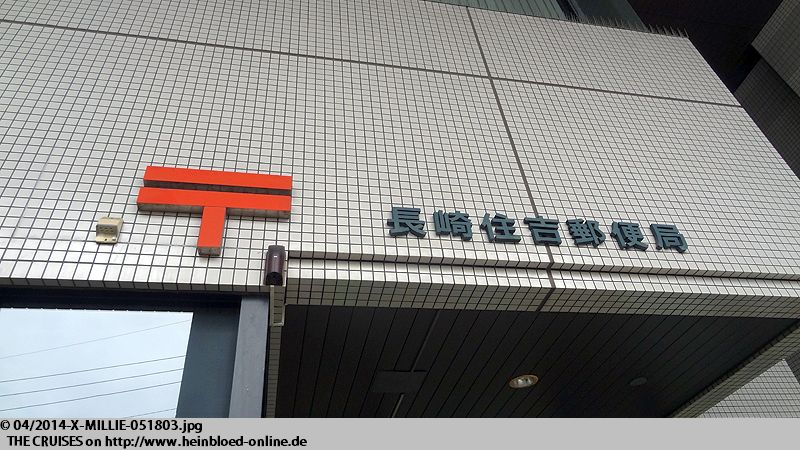 Like with the postal bank you could get some money. It was somehow angry that the box was in the bus and was driven all the time around the block...

Here with the postal bank were all international credit cards accepted.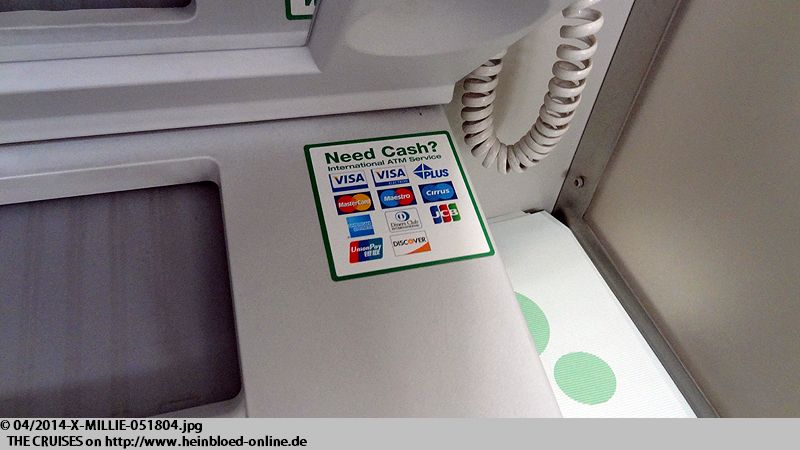 Hier bei der Postbank werden die internationalen Kreditkarten angekommen.
Weiteres Problem: selten rund um die Uhr.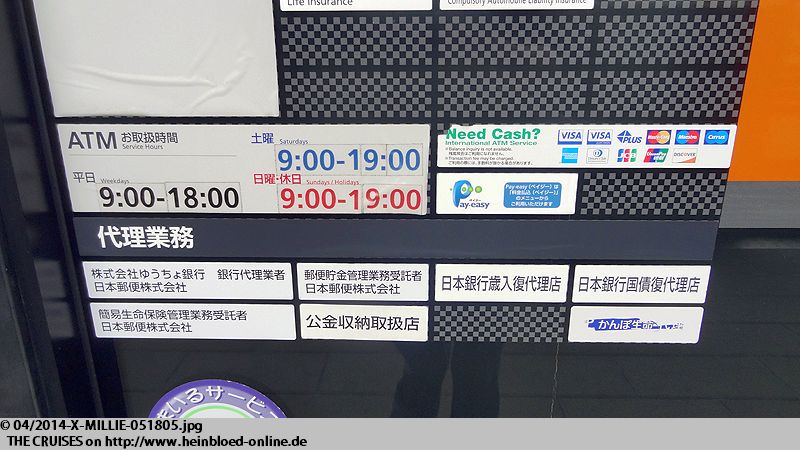 But another problem: not around the clock.
We headed for the
Chitopesia Town Plaza Shopping Mall
. Few minutes were left to find out what we could had here for lunch.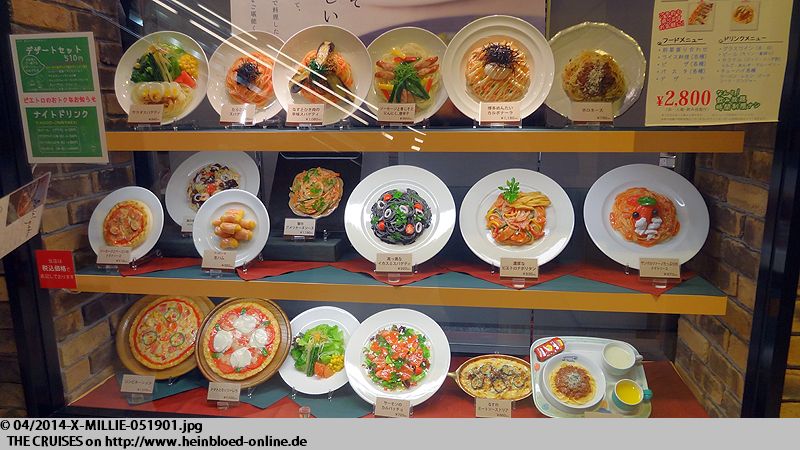 Weiter ging es in den
Chitopesia Town Plaza Shopping Mall
. Ein paar Minuten blieben, um zu sehen, was wir hier zu essen bekommen hätten.
Und ärgern, ärgern, ärgern...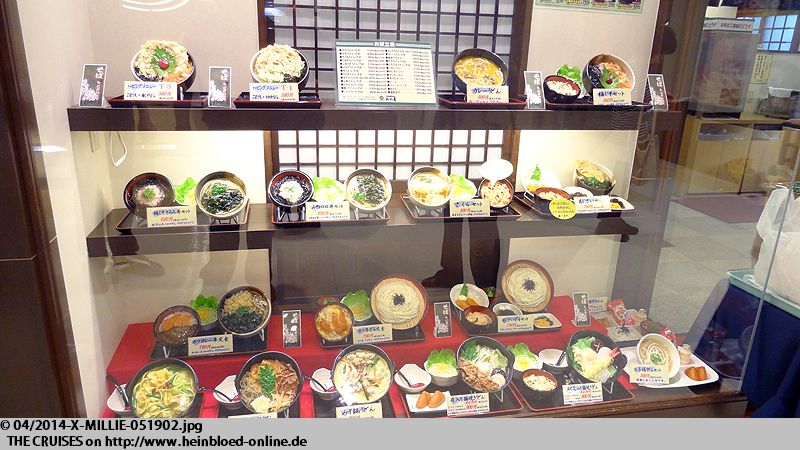 And anger, anger, anger...

They even had wonderful coffee stores.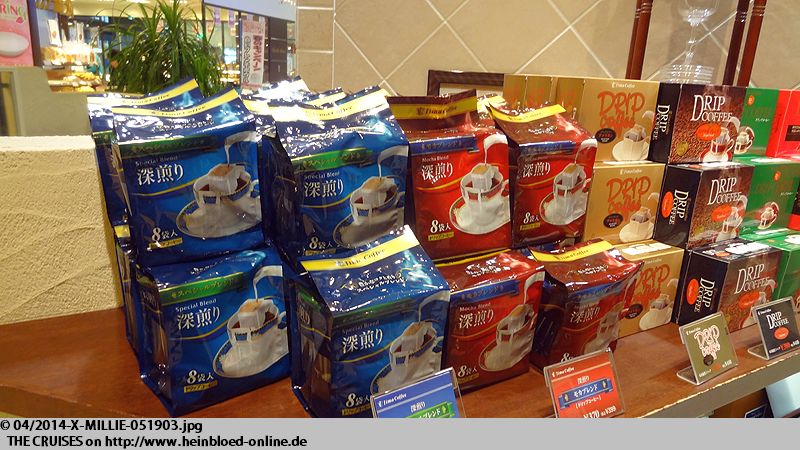 Es gab sogar ganz tolle Kaffeegeschäfte.
Ich liebe japanische Bäckereien. Hier die von
Hearth Brown
. Alles lacht einen an und schreit einem zu "Iss mich".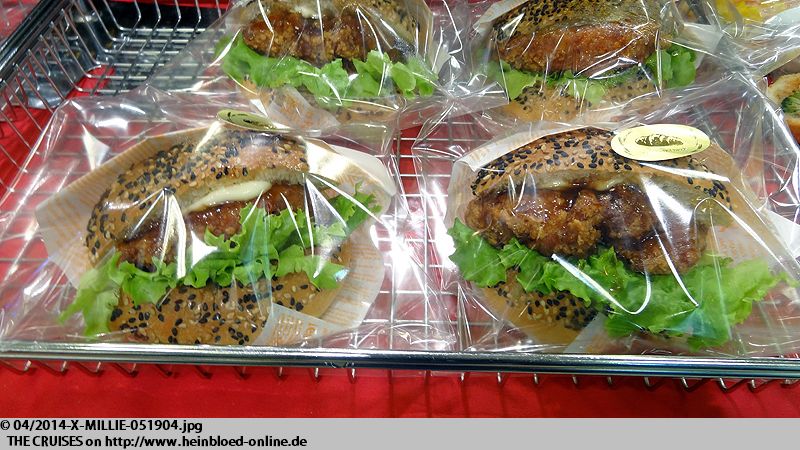 I love Japanese bakeries. Here like the one of Hearth Brown. Everything was smiling and crying "Eat me".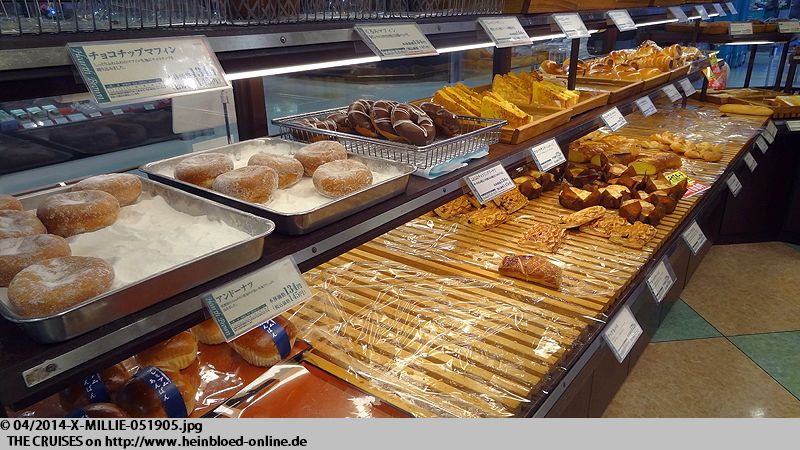 Und offensichtlich bin ich nicht der einzige, der bei dem Anblick sofort zuschlägt...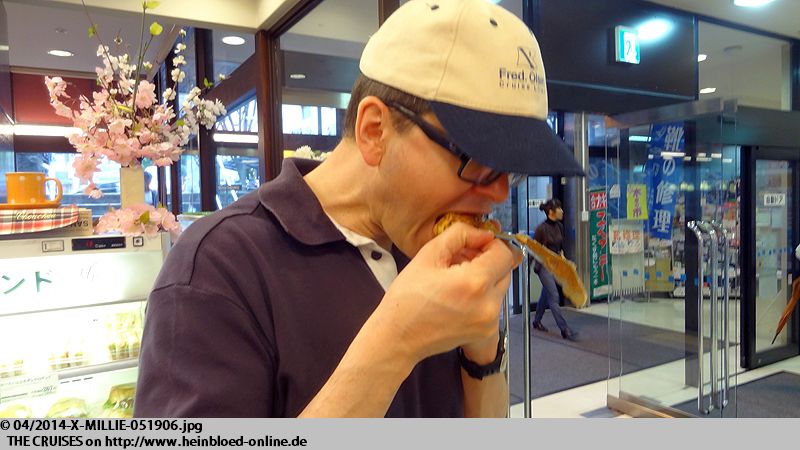 And obviously I was not the only person who gave up when seeing all things and knocked down.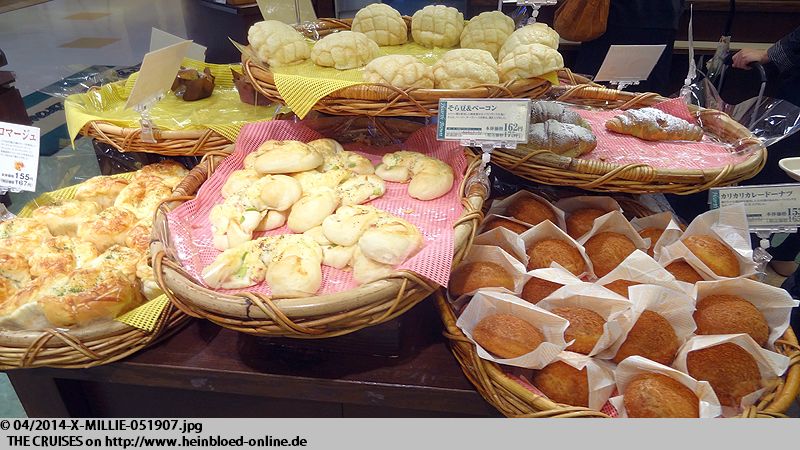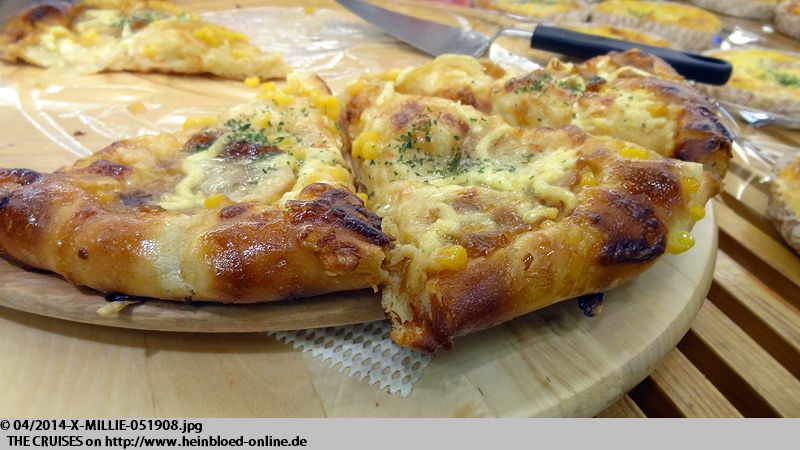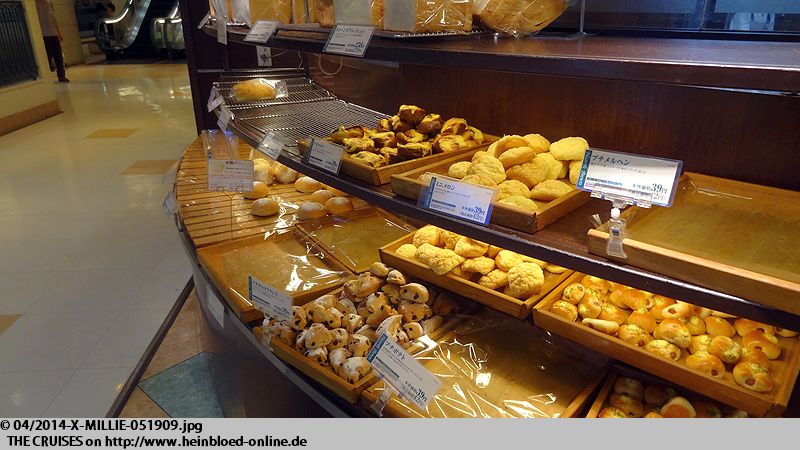 Die Sandwiches sind in Japan immer mit soviel Liebe und Leidenschaft belegt... ich muss was davon haben... und hatte keine Schwierigkeiten es später mit an Bord zu nehmen...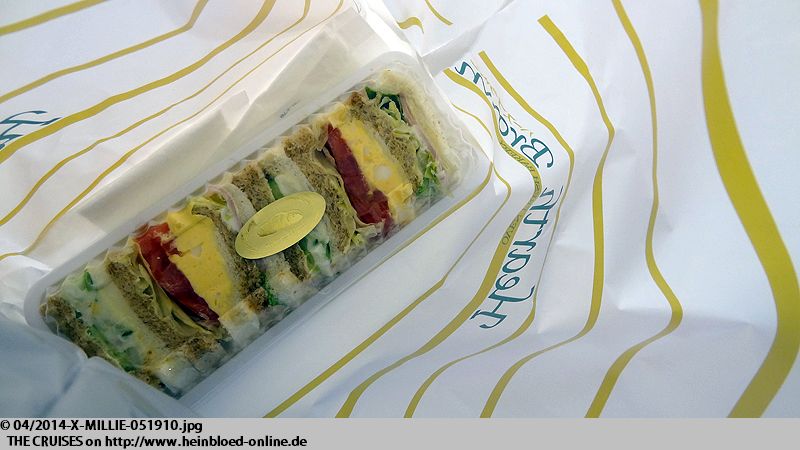 All sandwiches in Japan are prepared with a lot of love and passion... I need to have some... and I had no problem to have it carried onboard later...

Nagasaki Hatoshi Roll: shrimp wraps...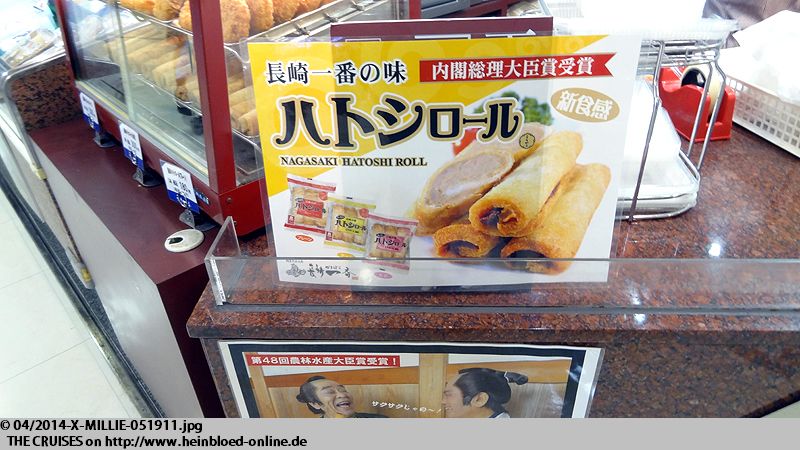 Nagasaki Hatoshi Roll: Krabben-Wraps...
Soviel konnte man gar nicht essen, wie hier bei
N-Ichiban
angeboten wurde... und die Zeit lief uns davon...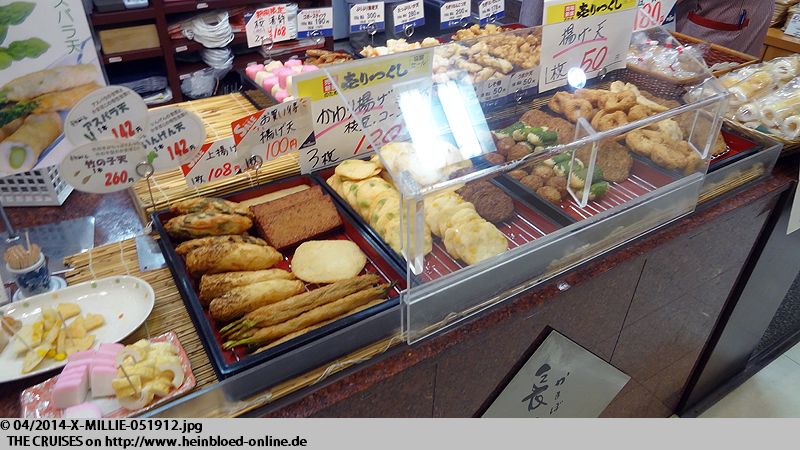 You could not eat so much as N-Ichiban offered... and the time went by...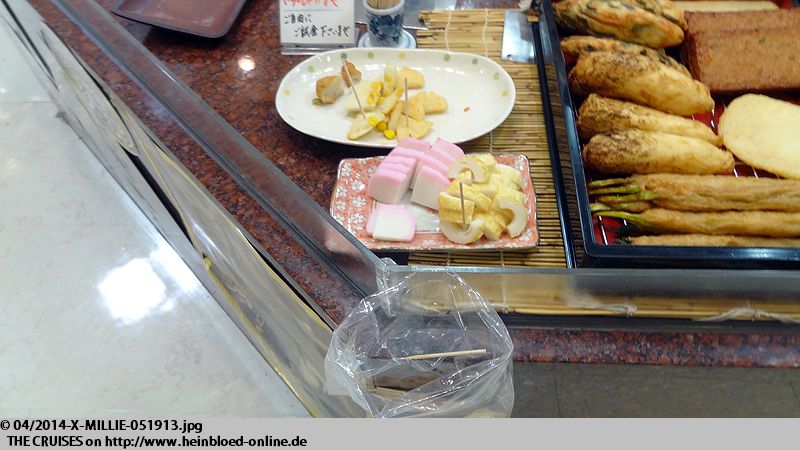 Das sind diese Fischpasteten...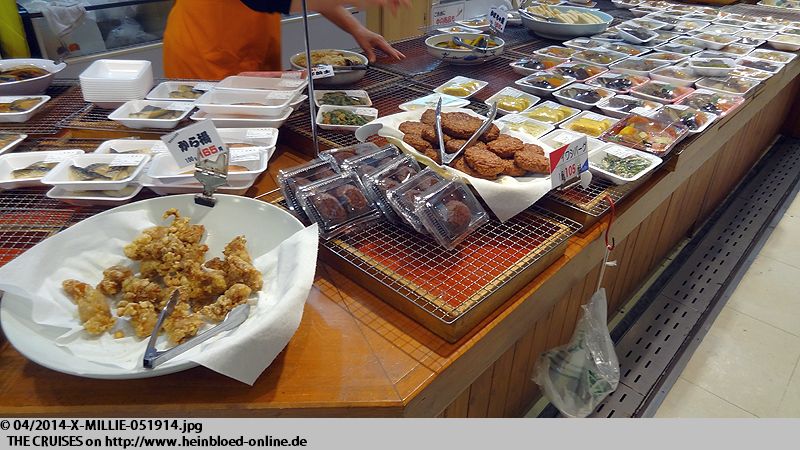 All the fish pies...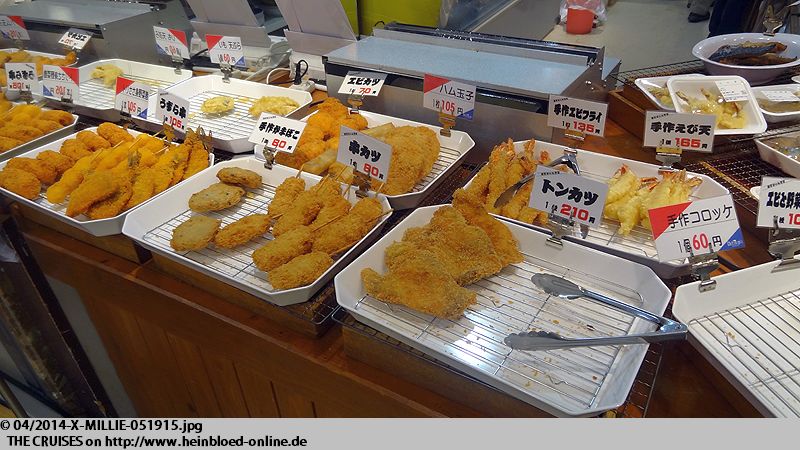 Wir nehmen nochmals eine Runde Teigtaschen... bei
Butaman
.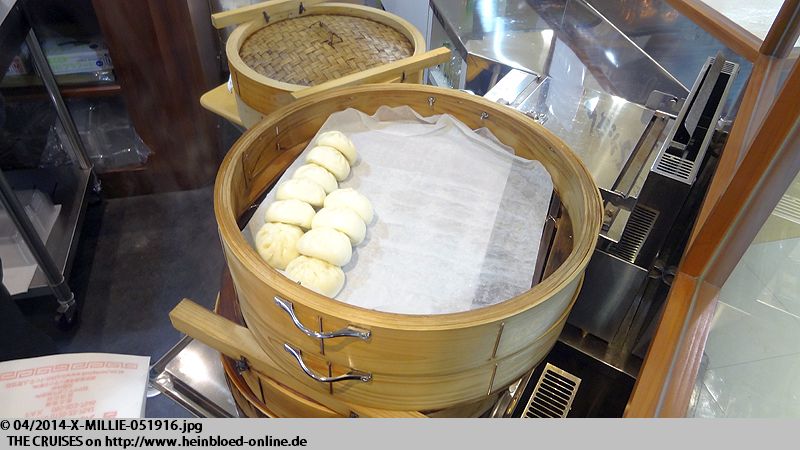 We took another round of steamed dumplings... with bei Butaman.

And it made more and more and more upset that we did not start our tour earlier and had lunch here instead of Bistro on Five onboard.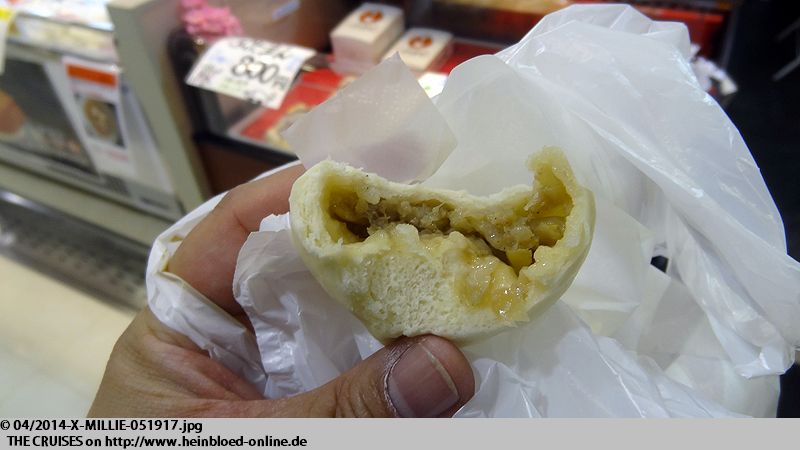 Und ich ärgere mich weiter, weiter, weiter, dass wir die Tour nicht doch früher gestartet haben und hier gegessen haben, statt in diesem Bistro on Five an Bord.
Vivian und ihre Mutter haben uns auf dieser Tour begleitet. Sie haben sich die Fischspezialitäten für das Schiff mitgenommen. Das sieht auch zu toll aus.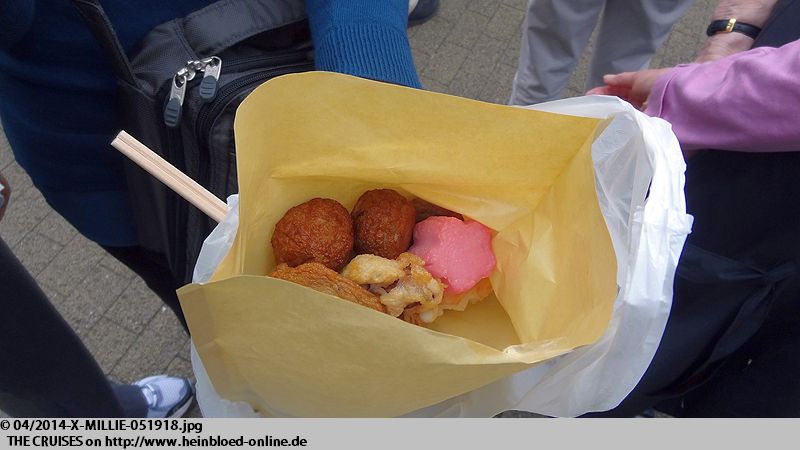 Vivian and her mother joined us on this tour. They bought some of the fish specialities on board. It looked too good.

We all were right on time at the bus stop and June thanked for our cooperation that we were there right on time. With us were also Alfred and his wife Ursula who joined already in Taipei. We took a different way and June told us some more stories about the nuclar bomb attack. She is a wonderful Ambassador. Nagasaki is on my list of ports you can call multiple times on the top.

Wir sind aber alle pünktlich an der Haltestelle und June hat sich für unsere Kooperation herzlichst bedankt, dass wir pünktlich wieder alle versammelt waren. Mit uns waren noch Alfred und seine Frau Ursula, die ja schon in Taipei dabei waren. Zurück fahren wir über eine Route und June erzählt uns doch etwas über die Geschichte des Atombombenabwurfes. Sie ist eine tolle Botschafterin. Nagasaki steht ganz weit oben auf der Liste der Häfen, die wir noch viele Male anlaufen können.
Mich fasziniert die Art, wie wir verabschiedet werden. Jeder mit Handschlag und unser Fahrer Kushima-san (Ehrenvolle Anrede) verbeugt sich vor jedem. Ich liebe dieses Land und bin jedes Mal begeistert. Wenn ich China und Japan im Rahmen einer Geschäftsreise kombinieren muss, dann nach Möglichkeit zuerst China und dann Japan - weil Japan einfach dann wie ein Besuch in einer Reha-Klinik wirkt, wo alles so entspannt und friedlich ist.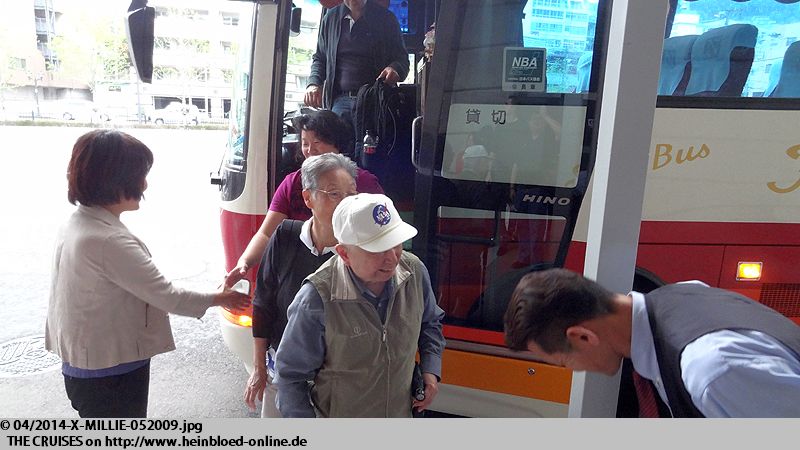 It was fascinating for me how they bid farewell. Everyone with a handshake and our driver Kushima-san (address of honor) took a bow to each of us. I love this country and every time I am totally exited. If I need to combine China and Japan during a business trip: if possible first China and then Japan because Japan is like a recreation place and visit is like a with in rehab hospital because everything is so relaxed and peaceful.

I was upset on me because I forgot to take the gifts for June and Kushima-san from our cabin. So I went quickly on our ship to get them while June escorted Bruno to the 7 Eleven to send the box to this co-worker. She was surprised that you could send any boxes from any 7 Eleven and so she asked a hotel for the next 7 Eleven. There they could not tell her where to find one close by. But we could not asked the post agents any more because the salespoint for stamps was already deinstalled. To find a solution for Bruno she started to look for a post office and took him there to send the box. We were in total exitement because of June, Kushima-san, Nagasaki and Japan. But at this point we did not know that there was still some potential to increase our exitement for Nagasaki and Japan.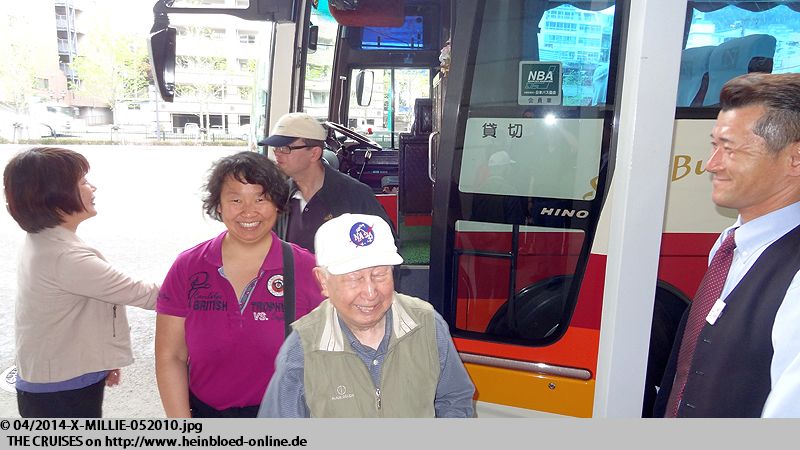 Ich ärgere mich, weil ich beim spontanen Aufbruch die Geschenke für June und Kushima-san in der Kabine belassen habe. Daher gehe ich schnell an Bord und hole sie und June begleitet Bruno zum 7 Eleven, um sein Paket für seine Kollegin aufzugeben. Sie findet es etwas ungewöhnlich, dass man einem eim 7 Eleven ein Paket aufgeben kann und fragt in einem Hotel nach dem 7 Eleven. Dort kennt man kein 7 Eleven in der Nähe. Wir können aber bei den Postangestellten nicht mehr nachfragen, weil sie bereits ihren Verkaufsstand für Briefmarken abgebaut haben. Kurzerhand sucht sie für Bruno eine Postfiliale und hilft ihm das Paket zu versenden. Wir sind von June, Kushima-san, Nagasaki und Japan einfach begeistert. Aber zu diesem Zeitpunkt wissen wir noch nicht, dass sich die Begeisterung für Nagasaki und Japan noch steigern lässt.
Es fängt an zu regnen und wir kommen zu einem der wenigen Highlights der Kreuzfahrt: der Regenschirmservice. Am Ende dieses Tunnels gibt es für jeden Gast einen Regenschirm, den er bis zum Erreichen des Schiffs nutzen kann. Dort werden sie eingesammelt und wieder zum Ende des Tunnels zurückgebracht. Ich will mir ja nicht zum Vorwurf machen lassen, dass ich die Liftboys bei Princess extra erwähne und hier die Regenschirme bei Celebrity unterschlage... Ich bin allerdings ehrlich und hätte mir mehr Momente im Rahmen der Kreuzfahrt gewünscht, bei dem sie mehr an ihre Gäste als an sich gedacht hätten. Wäre ich derjenige, der das Geld und das Sagen hätte, um eine neue Kreuzfahrtgesellschaft zu gründen: das wäre eine Idee, die ich bestimmt klauen würde und an denen sich andere messen lassen müssen. Warum ist aber keiner da, der einfach von jeder Gesellschaft, von jedem Schiff die besten Ideen klaut und sie in einem Schiff zusammenfasst?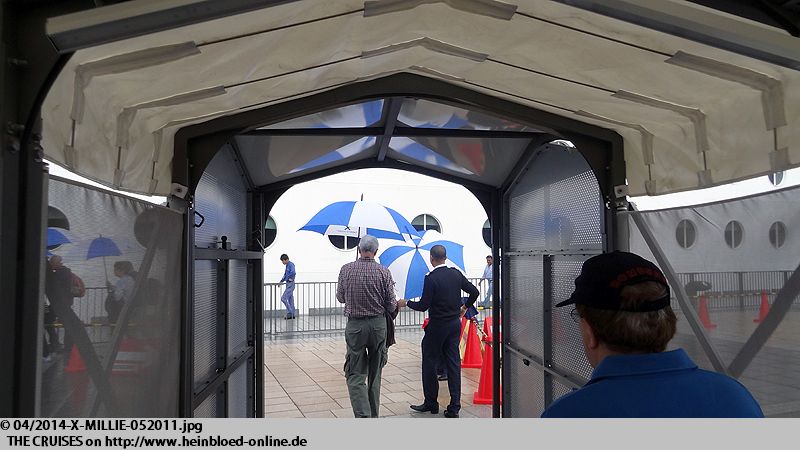 It started to rain and we came to one of the few highlights of the cruise: the umbrella-service. At the end of this tunnel every guest could get an umbrella which he might use until he reachs the ship. There you have have to return to their collection point to retake them to the release station. I do not want anyone reproaching me that I mentioned the liftboys with Princess but suppressed Celebrity's umbrellas... I need to be honest and wish to have more moments like this that someone was thinking more of their guests than I would ever expected. Would I have the money and the power to run a cruise line: one of the ideas I would steal and to set standards others need to beat. But why is not there anyone who steal all the best idea from any ship and put it on one single ship?

There are three places in the world which I appreciate very much because of their cordiality when they bid farewell: Travemünde, Germany, Rotterdam, The Netherland and Nagasaki, Japan! A student band played for our end of our visit. Many came to wave. Even the Samurai came. So set sail makes a lot of fun. They always cried "Good Bye - Thank you for visiting Nagasaki - See you again in Nagasaki". I replied and cried: "Sayonara" (Good Bye in Japanese) and "Domo-arrigato" (Thank you). My sisters were on the balcony next to me and were so exited too and suggested to cry again together. A very nice shore day went to the end. Thanks again to Hankyu, June, Kushima-san and of course Nagasaki.

Es drei Orte in der Welt, die wegen der Herzlichkeit bei der Verabschiedung eines Schiffes sehr schätze: Travemünde, Rotterdam und Nagasaki! Eine Schülerband spielt zum Abschluss. Viele sind gekommen, um zu winken. Sogar der Sumurai. So macht die Ausfahrt Spaß. Sie rufen immer "Good Bye - Thank you for visiting Nagasaki - See you again in Nagasaki". Ich rufe kurzerhand: "Sayonara" - und "Domo-arrigato" zurück. Meine Schwestern sind auf dem Nachbarbalkon und sind begeistert und schlagen vor, dass wir nochmals zusammenrufen. Ein wirklich schöner Landgang geht zu Ende. Vielen Dank nochmals an Hankyu, June, Kushima-san und natürlich Nagasaki.