Scroll down for English explanations - alternates with German explanations.

Runter geht es zu Deck 3.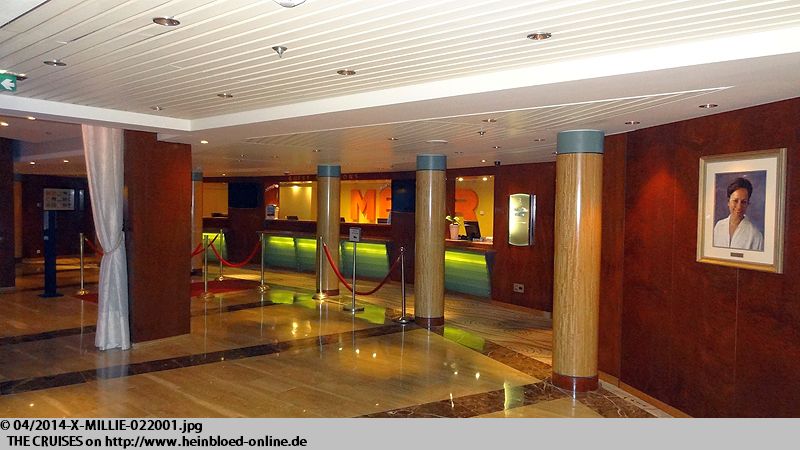 Down to deck 3.

The Godmother: No chance to take a better picture. You had the reflection of the flash or of the background.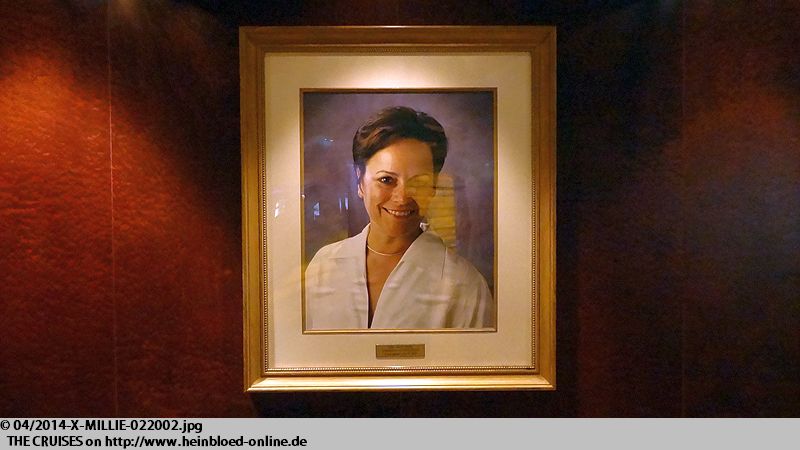 Die Taufpatin. Bekomme ich nicht besser hin. Entweder die Reflexion des Blitzes oder des Hintergrunds.
Robin Roux: Die Ehefrau von Michael Roux sen., dem Kochberater von Celebrity Cruises.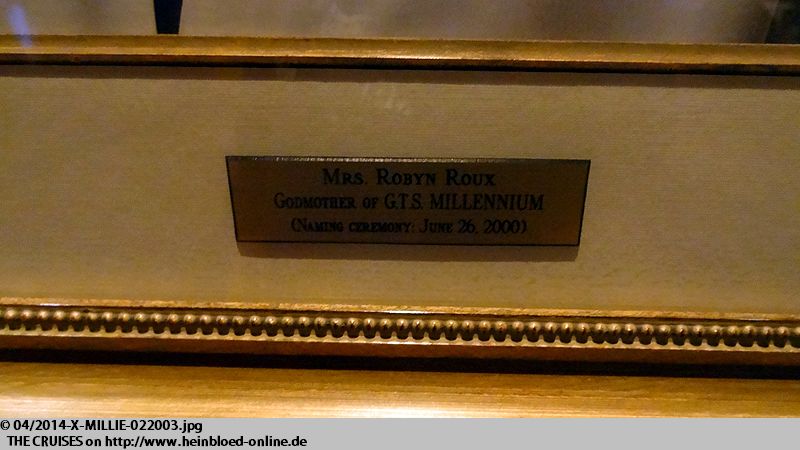 Robin Roux: Michael Roux sen.'s wife - the culinary consultant of Celebrity Cruises.

The German word "Meer" (for sea) was surprising me. I asked if this ship should be moved to TUI Cruises but I was told that it was a German designer who made this.

Das deutsche Wort "Meer" hat mich stutzig gemacht. Ich hatte nachgefragt, ob vielleicht das Schiff zu TUI Cruises sollte, aber man erklärt mir, dass ein deutscher Designer das gemacht hätte.
Hier finden wir die üblichen Treffen, Nur heißt es hier nicht "Friends of Dorothy" sondern LGBT. Leider fehlt uns die Zeit dafür.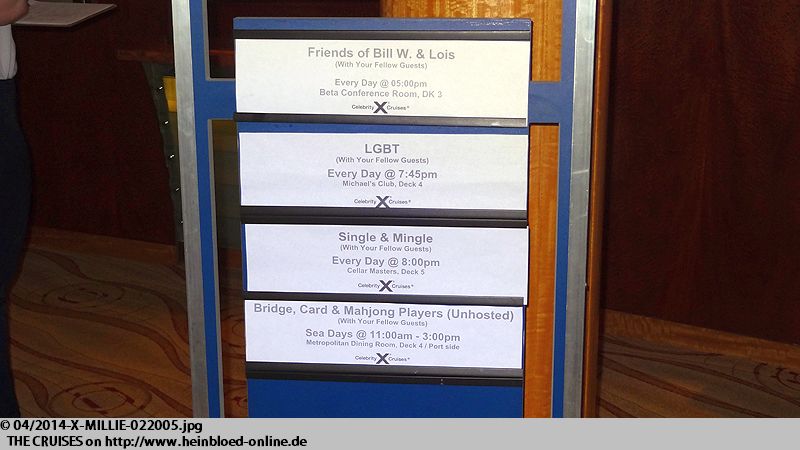 Here you find the usual meetings. But here they did not call it "Friends of Dorothy" but LGBT. Somehow we had no time to see.

But you need to check here every day because the events changed occassionally.

Man musste allerdings täglich gucken, weil sich das Angebot auch mal zwischendurch veränderte.
Einer von mehreren Geldautomaten an Bord.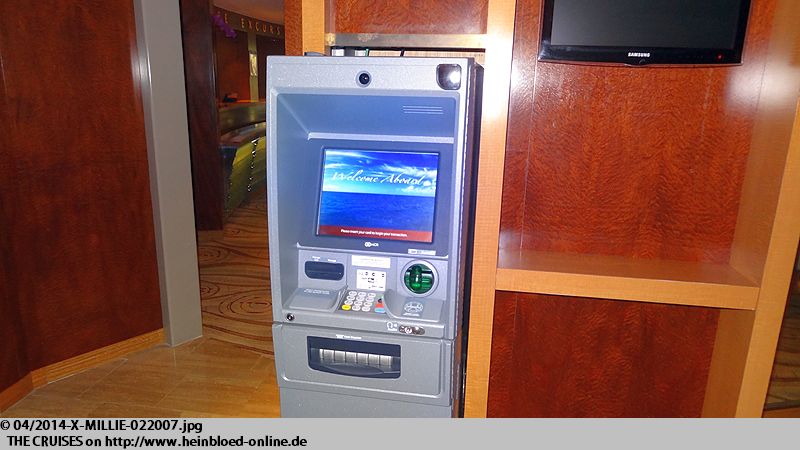 One of multiple ATMs on board.

There you had the shore excursion deck.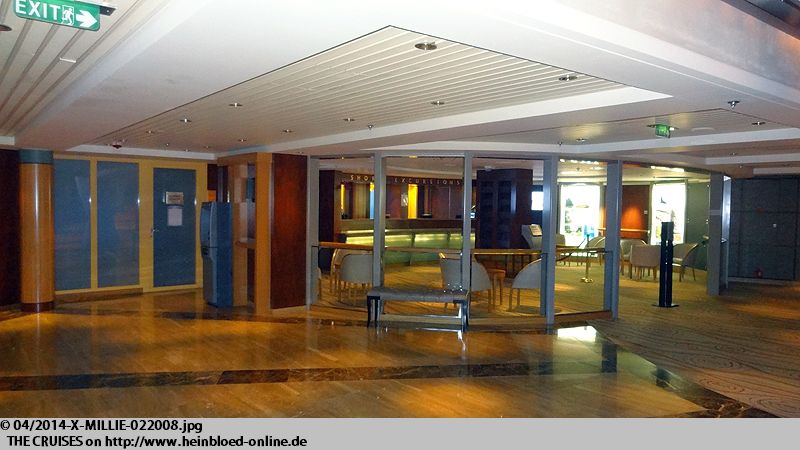 Drüben ist das Ausflugsbüro.
Und hier auch eine Anzeige der laufenden Position. Leider absolut ohne Zoomeffekte.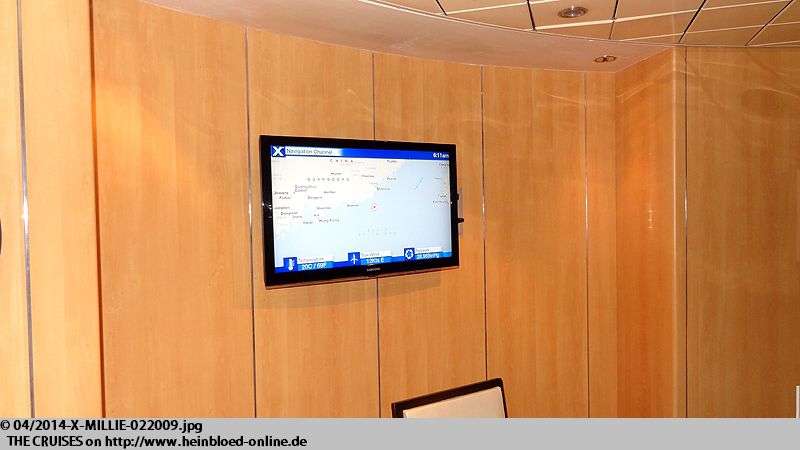 And here you had the display of the current position. But unfortunately without any zoom effects.

Like on ZAANDAM I had luc: a Canadian tour group is onboard.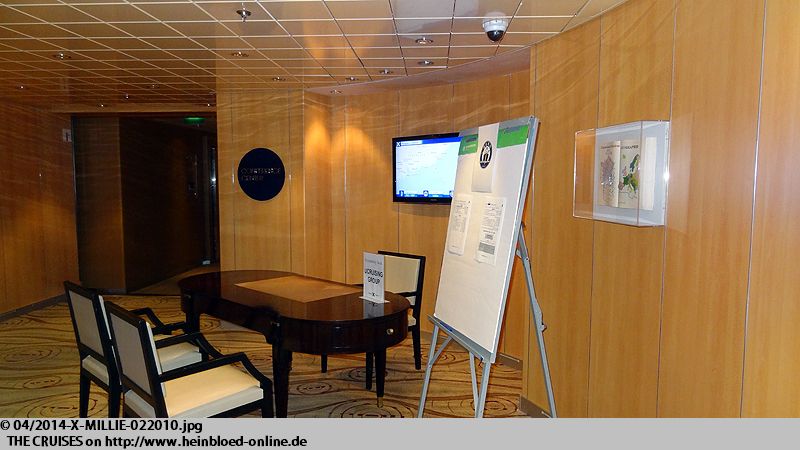 Wie auf der ZAANDAM habe ich Glück: eine kanadische Reisegruppe ist an Bord.
Hier werden immer die Programme ins Chinesisch übersetzt, weil Celebrity kein eigenes Angebot in Chinesisch hat.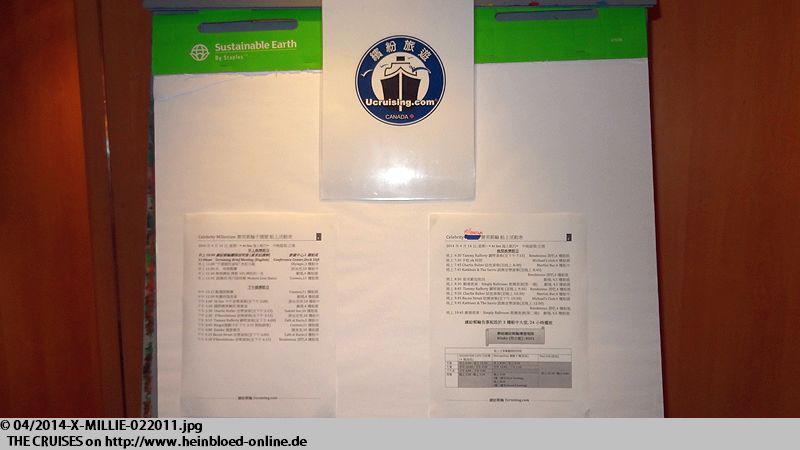 Here they translated the daily events to Chinese because Celebrity does not have any offer in Chinese.

And here you had few meeting rooms.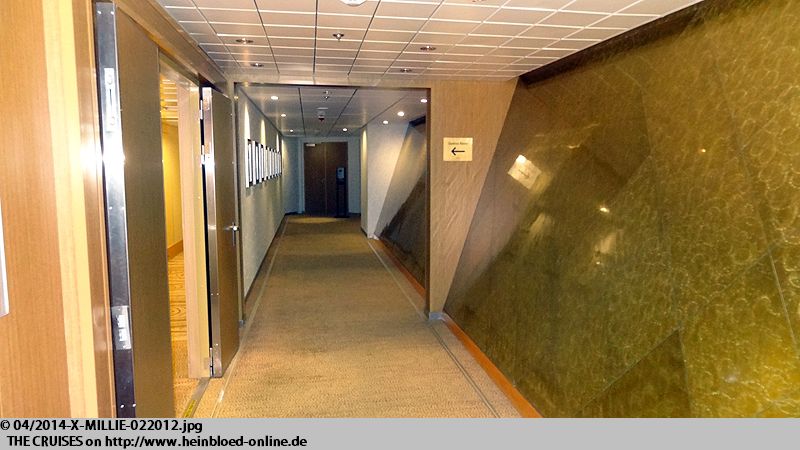 Hier gibt es noch ein paar Konferenzräume.
Deren Lagen werden hier auf dem Plan erklärt.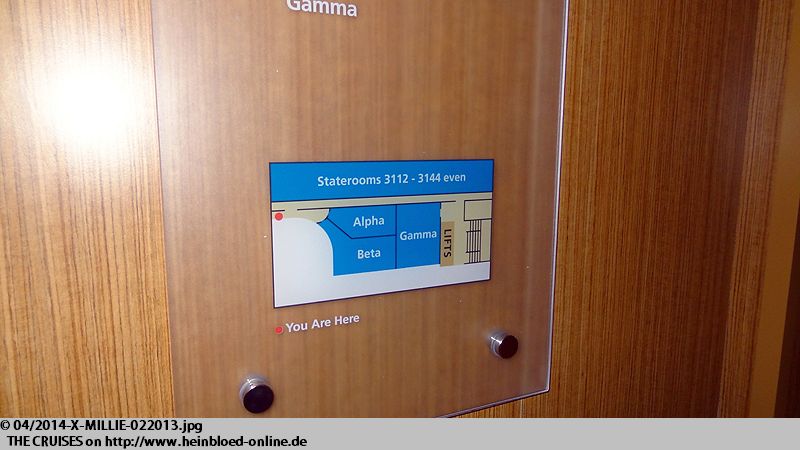 On this map they explained how to find them.

Interesting: on the deck map you cannot see that cabin 3112 is obviously larger as the access is directly from the end of the aisle.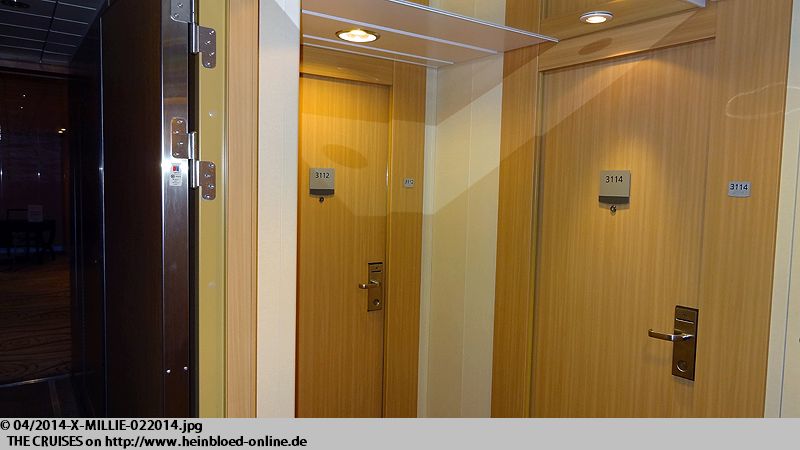 Interessant: auf dem Deckplan sieht man nämlich nicht, dass anscheinend die Kabine 3112 größer ist und einen anderen Zugang vom Gang her hat.
In unserer Kabine liegt ein Bogen mit Coupons. Normalerweise etwas, dem wir keine große Aufmerksamkeit schenken, seit dem Norwegian uns mit Coupons bombadiert hat, bei denen nur ihre Subunternehmer "bluten" müssen. So fällt erst bei der 2. Durchsicht auf, dass der eine oder andere Coupon doch nützlich sein könnte.

In our cabin we had a sheet of coupons. Normally something we do not care very much since Norwegian only release again and again those where their subcontractors had to pay for. So with the second reading we could see that one or the other might be very useful for us.

When we checked a 3rd time we noticed that we were two Captain's Club-Members in the cabin but got only one sheet of coupons.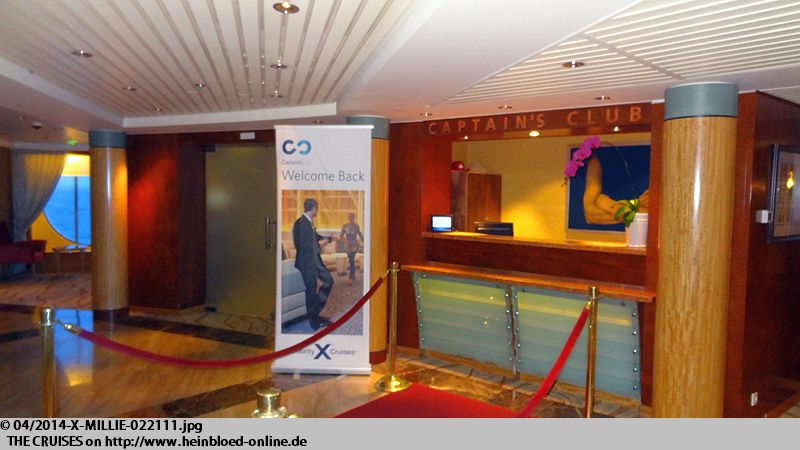 Bei der 3. Durchsicht fällt uns auf, dass wir zwar zwei Captain's Club-Mitglieder in der Kabine sind, aber nur einen Bogen haben.
So müssen wir doch mal zu dem Captain's Club-Schalter und lassen uns noch einen Bogen geben.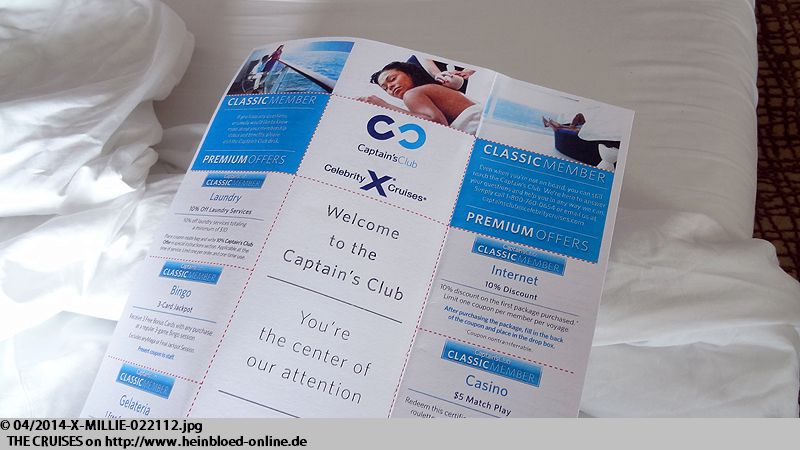 So we need to see the Captain's Club-desk and they gave us another sheet.

But a little strange: the sheet we had in cour cabin was perforated and now we need scissors because you need to cut yourself...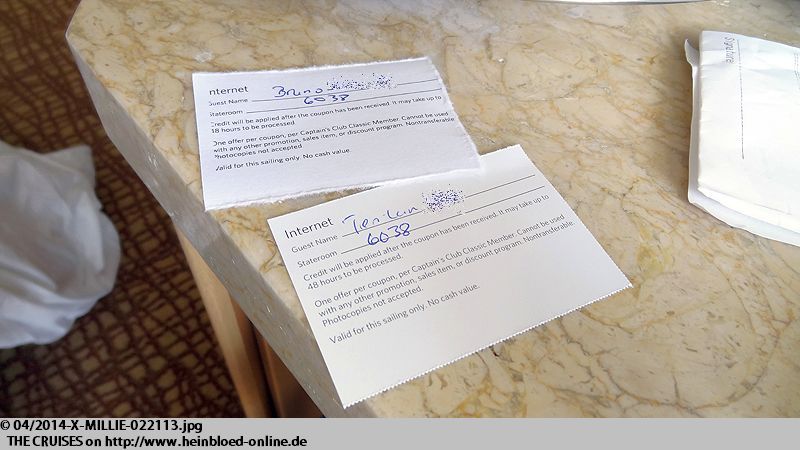 Nur etwas komisch: der Bogen in der Kabine war perforiert und nun bräuchten wir eine Schere, weil der zum Ausschneiden ist...
Auf das Zuzahlrestaurant "The Olympic" freue ich mich besonders. Die OLYMPIC war die Schwester der TITANIC. Die Zuzahlrestaurants der Millennium-Klasse sind daher OLYMPIC, UNITED STATES, NORMANDIE und OCEAN LINERS (mit der Inneneinrichtung der ILE DE FRANCE). Leider haben wir keinen Besuch geplant, da Kinder unter 12 Jahren nicht willkommen sind.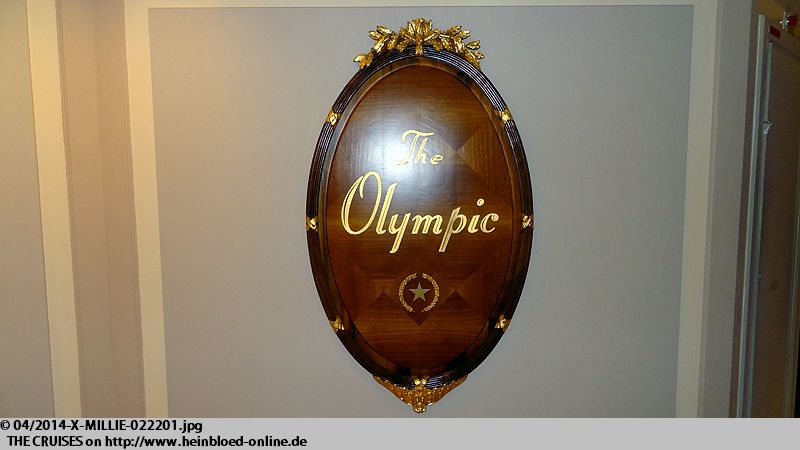 I was looking forward for the alternative dining venue "The Olympic". OLYMPIC was the sister of TITANIC. The alternative dining venues of the Millennium-Class are OLMYPIC, UNITED STATES, NORMANDIE and OCEAN LINERS (which includes the interior of ILE DE FRANCE). Unfortunately we did not plan any visit since children under 12 years are not welcome.

In front of the restaurant a well-known "acquaintance" explained the correlation: John Maxtone-Graham.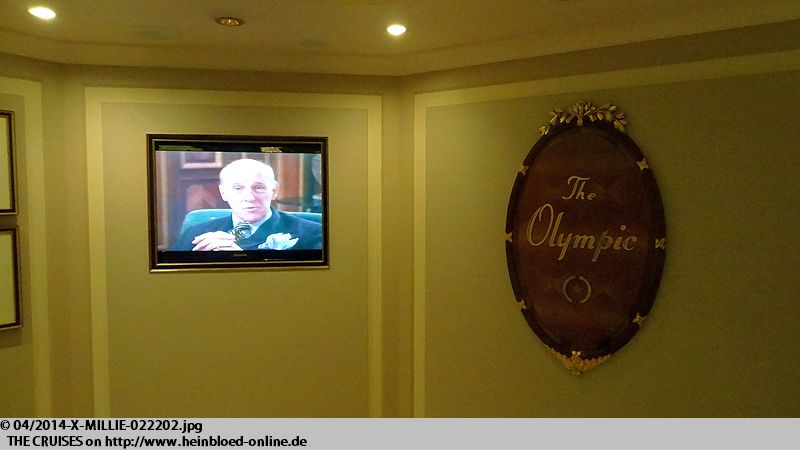 Vor dem Restaurant erklärt ein guter alter "Bekannter" die Zusammenhänge: John Maxtone-Graham.
Ihn haben wir zuletzt auf der ROYAL PRINCESS gesehen und wir kennen ihn von einer Reise auf der QUEEN VICTORIA, als er dort Vorträge über die historischen Cunard-Schiffe gehalten hat.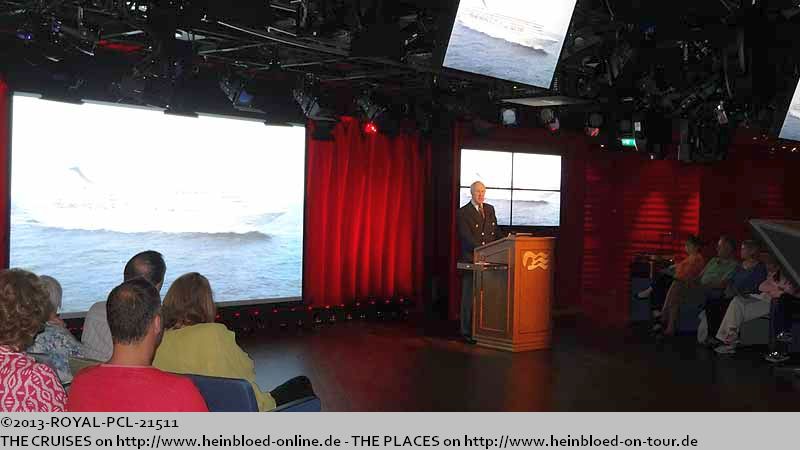 Last time we saw him on ROYAL PRINCESS but we knew him from a voyage on QUEEN VICTORIA when he had a lector programme on the historical Cunard-ships.

Inside it looked wonderful. Silver napkin rings, mobile stoves, serving trolleys - it must be wonderful to dine her. The TITANIC book... it is always good if you could read on a cruise ship what happened then... and I was wondering: the damage at the light: is it historic and maybe that was the reason why it was never repaired.

Drinnen sah es richtig toll aus. Silberne Serviettenringe, mobile Herde, Servierwagen - das muss toll sein, hier mal zu essen. Das TITANIC-Buch... immer gut, wenn man auf einem Kreuzfahrtschiff nachlesen kann, was damals passiert ist... und ich frage mich eins: ist der Schaden an der Lampe auch historisch und wird deswegen nicht repariert.
Die berühmten gläsernen Fahrstühle der Millennium-Klasse.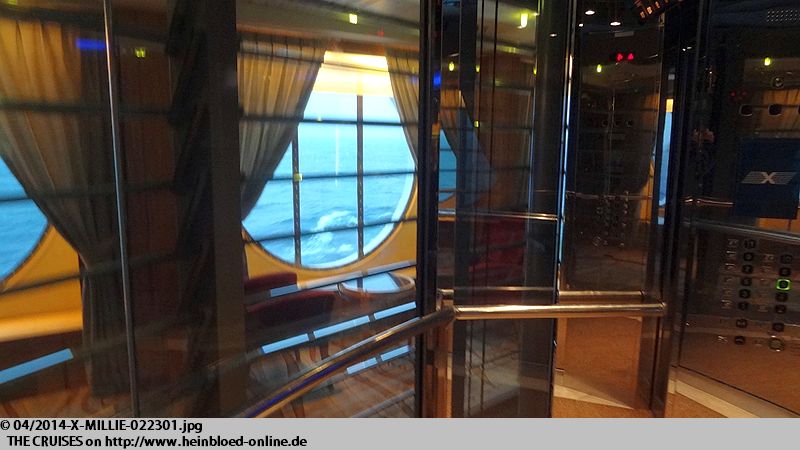 The famous glass elevators of the Millennium-Class.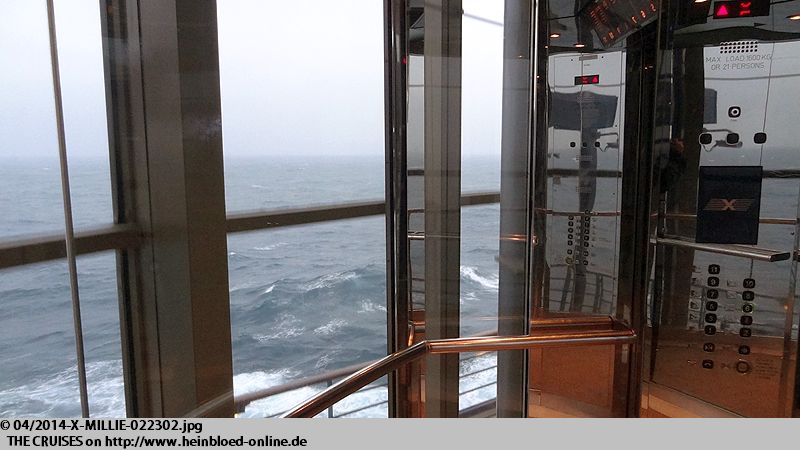 Und wozu dient dieser Schacht?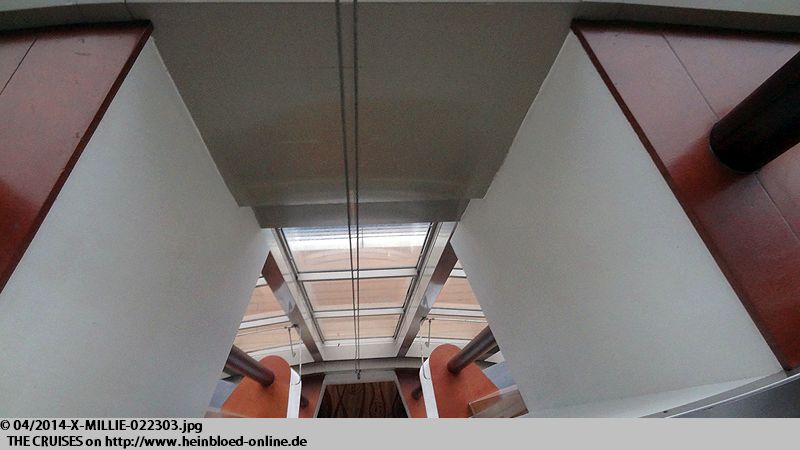 What was this funnel for?

Back to the cabin...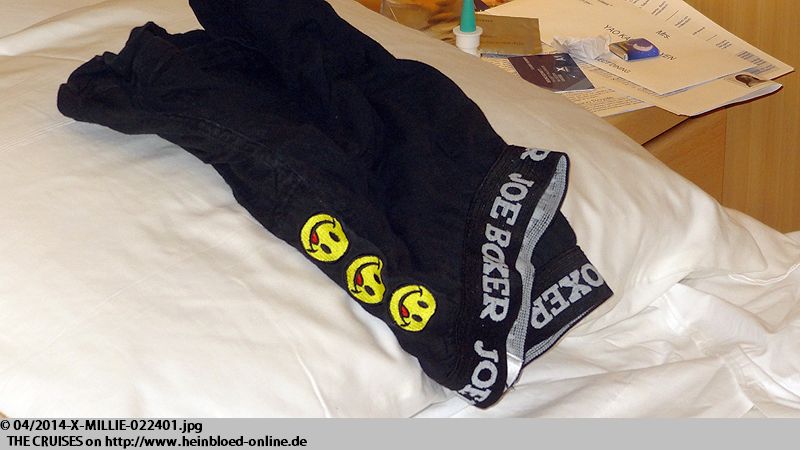 Zurück in der Kabine...
Schade, selbst bei MSC wurde die Nachtwäsche schön gefaltet. Den Test hat jetzt Celebrity nicht bestanden. Und ein Handtuchtier gibt es wohl auch nicht - wegen Norovirus. Und darauf komme ich später zurück: Sogar die Pässe wurden auf der MSC MUSICA in die Kabinen gebracht.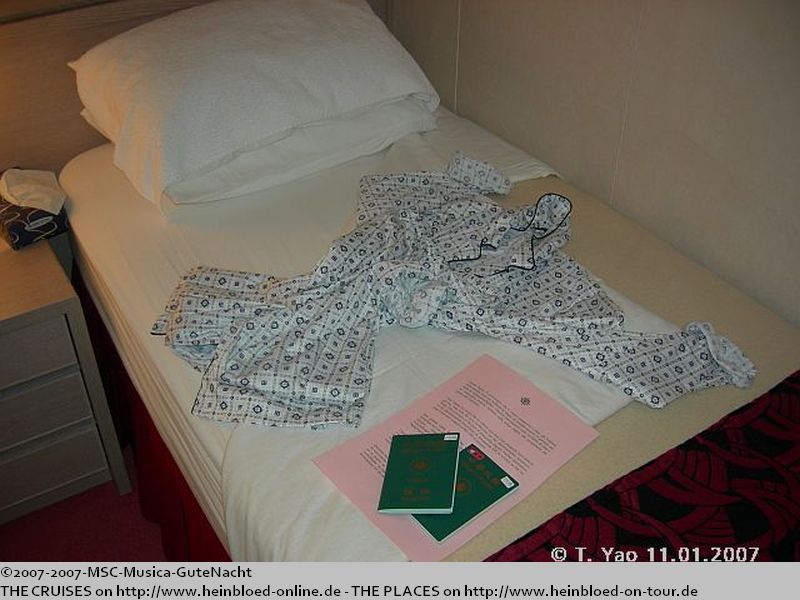 So sad: even with MSC they folded nicely the night garments. Celebrity did not pass the test. And we got no tower animal either - due to norovirus. One point I will revert later: On MSC MUSICA they delivered the passports to the cabin.

We received the programme for the next day.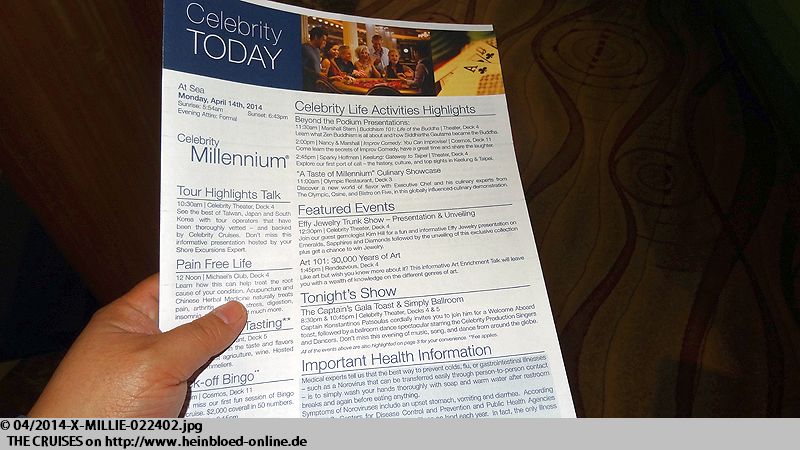 Wir bekommen schon das Programm für den nächsten Tag.
Erstaunlicherweise bekommen wir die deutsche Übersetzung vor dem englischen Original.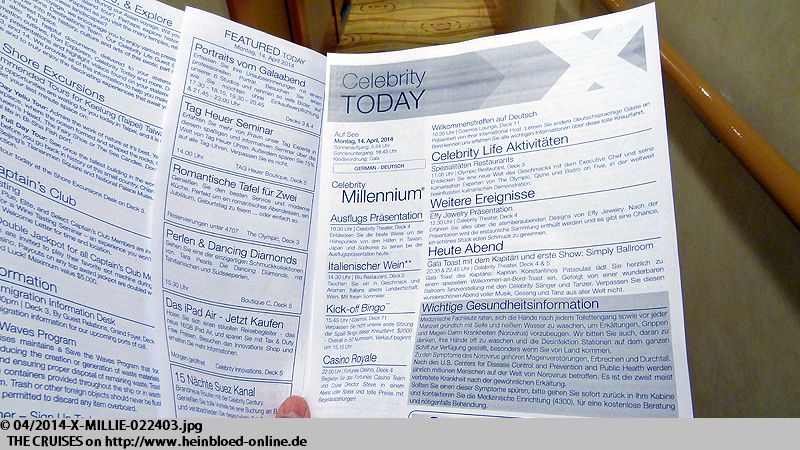 To our surprise we received the German translation earlier but the English original.

We had an antenna for mobile phones with us and hoped to get an improved and stronger shore side signal.

Wir haben uns mal eine Antenne für den Mobilfunk mitgebracht und hoffen dadurch das landseitige Signal besser einfangen zu können.
Mein Behälter für meine Nadeln kommt in einer Riesengröße.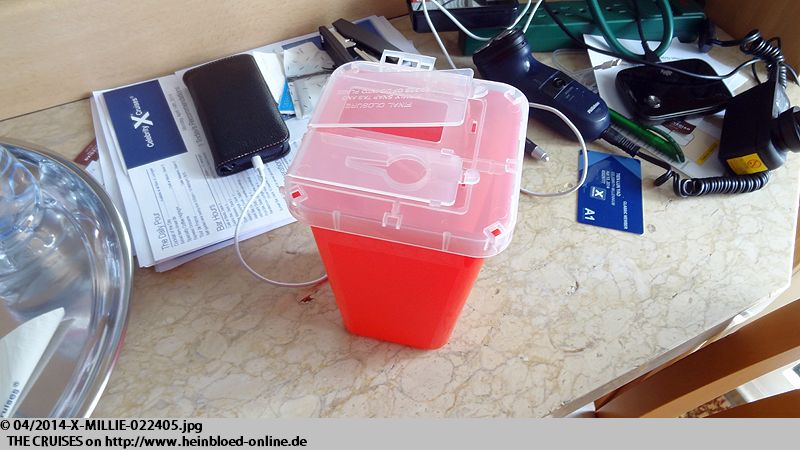 My sharp box came in a giant size.

We wanted to reuse the towels but it did not make any sense since it was so humid in the bathroom that the towel did not become dry.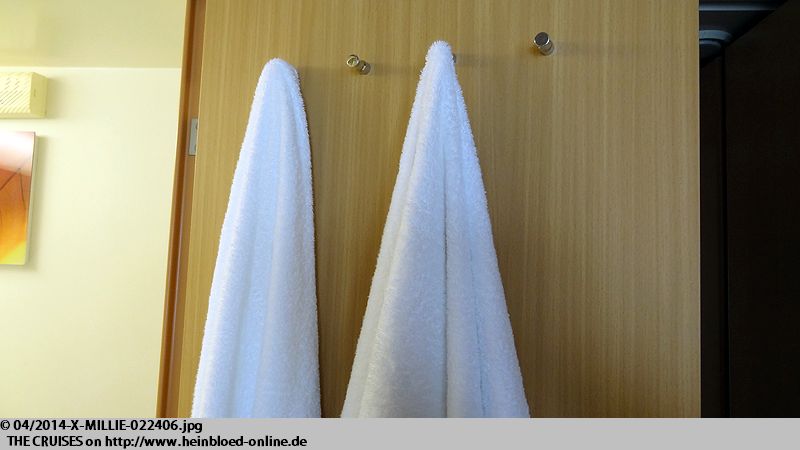 Wir wollten die Handtücher wiederbenutzen, aber es macht keinen Sinn, weil es so feucht im Bad ist, dass die Handtücher nicht trocknen.
Das Bild habe ich auf der ROYAL PRINCESS aufgenommen. Meine Lieblingsform: Duschgel und Shampoo im Spender. Und da hatten wir die günstigste Balkonkabine gebucht.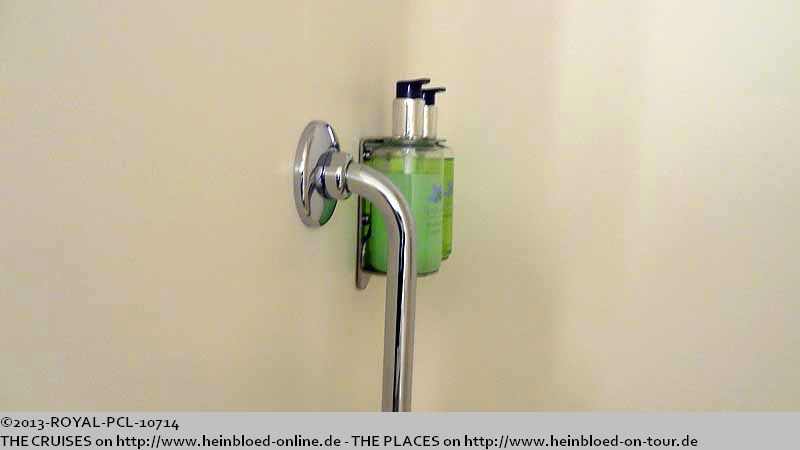 This picture was taken on ROYAL PRINCESS. My preferred offer: body wash and shampoo in dispensers. And we booked the cheapest balcony cabin.

And if you have no dispensers like on ISLAND PRINCESS you just ask your cabin steward and normally you get some. So the steward made sure that he had a satisfied guest who might want to put his name on the next questionnaire and also gratuity is already included in the service charge the guest might want to tip some extra.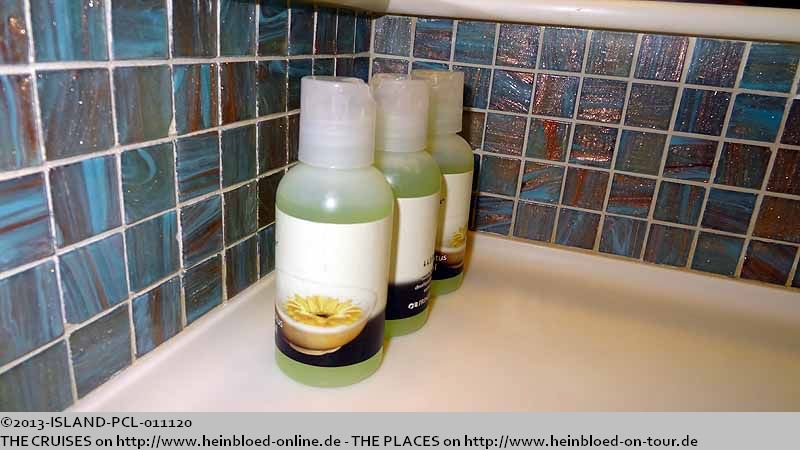 Und wenn es mal keine Spender gab, wie auf der ISLAND PRINCESS, dann frage ich einfach unseren Kabinensteward und in der Regel bekomme ich welches. Dadurch sichert sich der Steward einen zufriedenen Gast, der seinen Namen gerne im nächsten Fragebogen lobend erwähnt und obwohl die Servicegelder bereits entrichtet sind, ihm gerne auch zusätzliches Trinkgeld zukommen lässt.
Bei Celebrity ist das eine andere Welt. Zunächst einmal ist es so, dass es Celebrity-Fanatiker gibt, die nichts in Frage stellen. Alles was angeboten wird akzeptiert, egal wie schlecht oder gut es ist und was nicht angeboten wird, wird halt nicht angeboten und auch das wird akzeptiert. Dann gibt es noch Juristen, die mich darauf hinweisen, dass ich mich den Allgemeinen Geschäftsbedingungen unterworfen habe und daher akzeptieren muss, dass es in meiner Kabinenkategorie kein Duschgel gibt. Ich werde im nächsten Prozess gegen Celebrity das beachten, dass der Anspruch auf Duschgel nicht einklagbar ist. Trotzdem kann ich ja mal die Servicebereitschaft testen und sehen, ob die Gesellschaft auf meine individuellen Wünsche eingeht, um mich glücklich und zufrieden zu machen. Sie macht es nicht. Unser Steward teilt mir mit, dass es kein Duschgel für mich gibt, da in meiner Kategorie nicht vorgesehen. Später wird die Aussage von einem Senioroffizier wiederholt. Wir reden über einen Gegenstand, der wenige Cent kostet und eh an Bord ist. Ich wollte nicht jeden Morgen Kaviar zum Frühstück haben. Muss man das mit dem Gast ausdiskutieren? Ich bin eh darauf vorbereitet und habe mein eigenes mit. Aber ich stelle einfach für mich fest, dass andere Gesellschaften, wie Princess bei individuellen Wünschen entgegenkommender sind. Diese große Anzahl von Kleinigkeiten macht für mich den großen Unterschied zwischen Princess und Celebrity aus.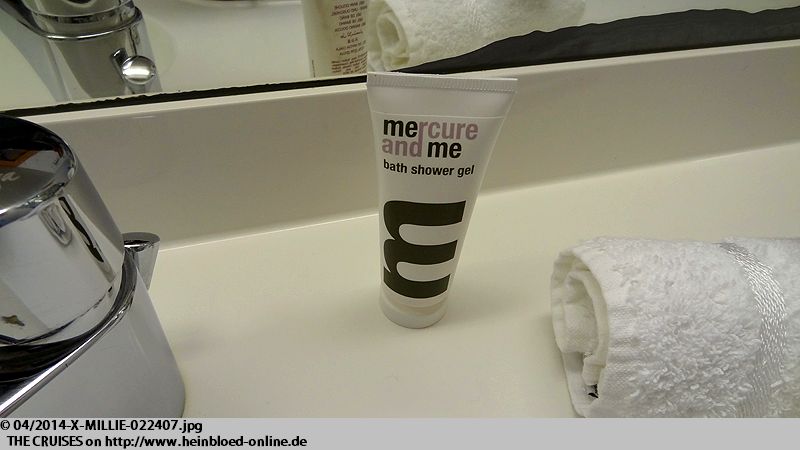 Well Celebrity is a total different world. First of all you have the hardcore Celebrity-Fanatics who do not put anything in question. Everything they offer would be accepted - no matter how bad or how good is. And if something is not offered than it is not offered. Then you have jurists who are telling you that you sail der the small prints and you have to accept that you cannot sue for some body wash. Nevertheless I can test their service orientation and see how the company deals with my individual requests to make me happy and satisfied. They do not do it. Our steward told me that I cannot get any bath gel as in my booking category there should be any body wash. Later a Senior Officer repeated this statement. We are talking about something which costs cents. I did not ask for caviar every morning for breakfast. Is there a need to discuss this matter with the guest? I am well prepared and had some of my own with me. But I found out that other companies like Princess are willing to accomodate the individual requests for their guest. The huge number of small differences makes the big difference between Princess and Celebrity.

Especially: if nobody is interested for the wishes of their guests: why do you ask? "Love for details". I was asked what they could do that I feel totally good. My answers: body wash, laundry bag offer like we had on CELEBRITY EQUINOX and that my cabin steward should clean my cabin barefeet to notice the humidity of my carpet and he should clean the bathroom at least 30 minutes to find out that the air absorption was not working. He is always cleaning the mirror immediately and does not take a shower to test that the mirror would be still steamed up for the next 20-30 minutes.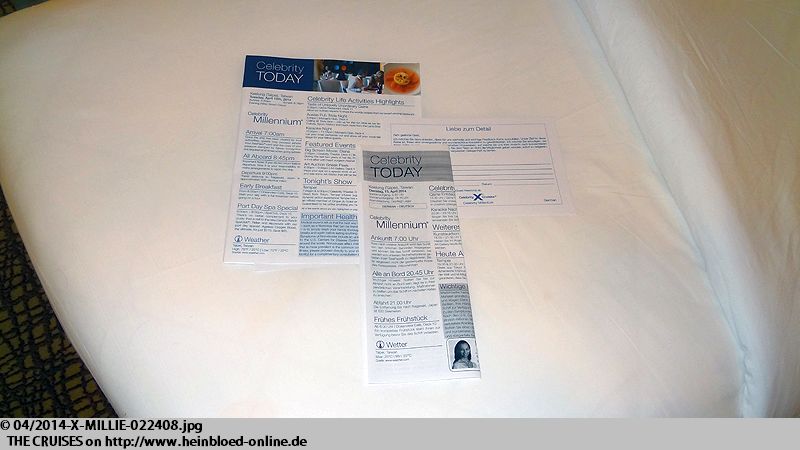 Vor allem: warum fragt man eigentlich den Gast, wenn es eh nicht interessant ist. "Liebe zum Detail". Ich werde gefragt, was sie noch verbessern könnten, damit ich mich rund um wohl fühle: Meine Antworten Duschgel, Wäschesackangebot wie damals auf der CELEBRITY EQUINOX und noch, dass mein Steward bitte meine Kabine barfuß putzen möge, um feststellen, wie feucht eigentlich der Teppichboden ist sowie dass mein Steward das Bad mindestens 30 Minuten putzen möge, um festzustellen, dass die Abluft gar nicht funktioniert. Er putzt ja immer sofort den Spiegel sofort sauber und macht ja kein Probeduschen, um festzustellen, dass dann 20-30 Minuten später der Spiegel immer noch beschlagen ist.
Ferner kommen noch Passkopien. Nur leider in die falschen Kabinen. Wir mussten uns ja kabinenweise aufstellen und kabinenweise die Pässe übergeben. Das haben wir gemacht und zwar so, wie wir zusammenwohnen. Keine Ahnung, wer wieder so schlau war, alles so zu ändern, wie wir es mal ursprünglich gebucht hatten. Ich schreibe einen großen Zettel, um dieser Abteilung mitzuteilen, wer in welcher Kabine wohnt und sie sind nicht in der Lage bis zum Ende der Reise das auch in ihren Unterlagen einzuarbeiten. Aber wir sind es selbst Schuld, auch wenn wir es richtig zugeordnet alles übergeben haben und nochmals den Sachverhalt schriftlich nochmals schildern. Diese Abteilung arbeitet fehlerfrei.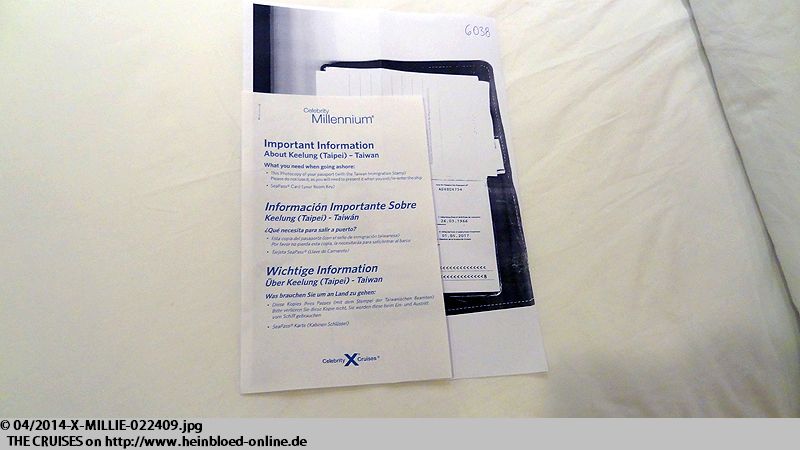 Let us come to the copies of the passports. Again in the wrong cabin. We were asked to hand over the passports cabin by cabin. That was what we did - exactly cabin by cabin as we lived there. No idea who was smart again to change everything according to the original booking. I wrote a large sheet of paper to inform the department who is staying now in which cabin and they were unable to handle it until the end of the cruise and to alter the information accordingly. It was our mistake to allocate evereything correctly and explain again in written form that we moved. This department is working error-free.

Bruno used the gym. Not everything he would like to have was available. But the location was nice as you had a forward view.

Bruno nutzt das Fitness-Studio. Nicht alles ist da, was er sich wünscht. Die Lage ist sehr schön mit Blick nach vorne.