Scroll down for English explanations - alternates with German explanations.

So schön ruhig. Warum hätte es nicht gestern so sein können?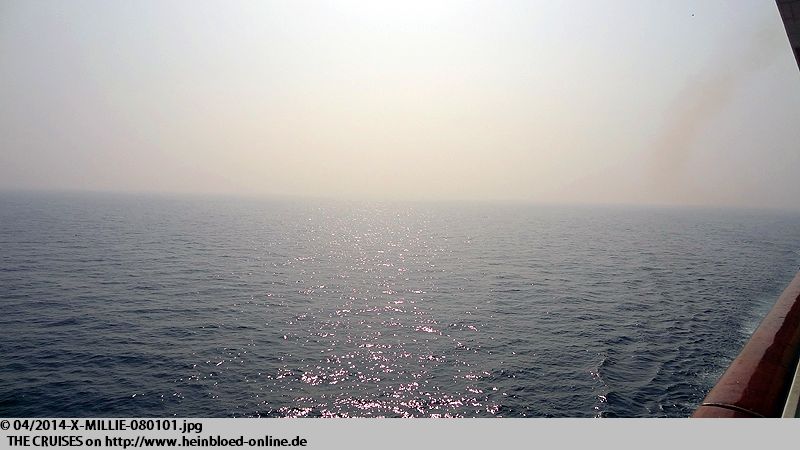 So nice and calm. Why could not we have this weather the day before?

Well... looked like we had Carnival on board...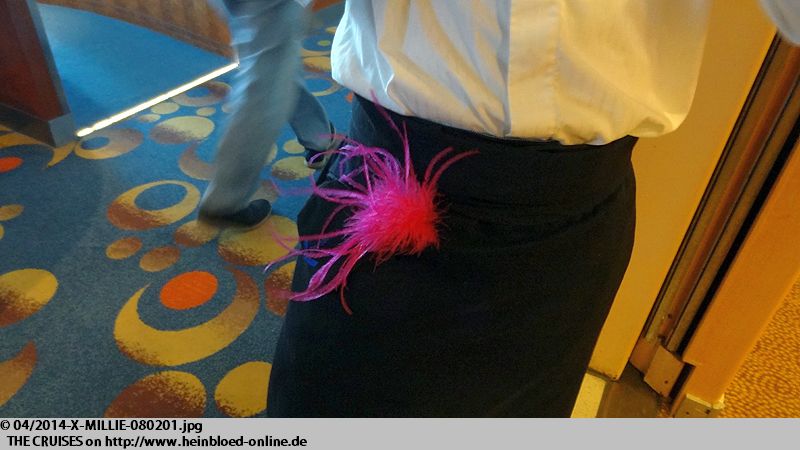 Aha... irgendwie haben wir Karneval an Bord...
Jason zieht mit seiner Feder die Aufmerksamkeit an sich, um den Gästen des Oceanview Cafés das Handdesinfektionsmittel in die Hand zu drücken. Uns wünscht man "Frohe Ostern", aber es ist nichts österliches an Bord.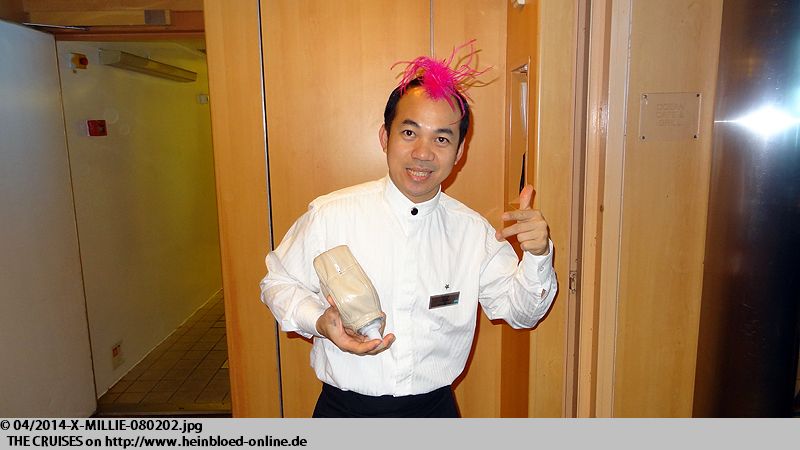 With the feather Jason attracted the attention of the guests to him so that could easier put them some sanitizers in their hand when they entered the Oceanview Café. They wished "Happy Easter" but we could not find anything onboard which reminded us to Easter Holidays.

Finally we understood: The elevators at the aft would take you to deck 12 but can access them only from starboard side because the access to the portside is locked.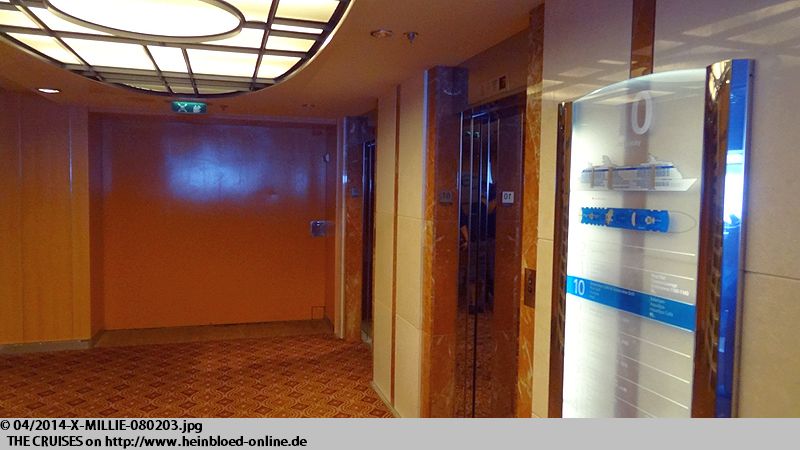 Nun verstehen wir endlich: Der Heckfahrstuhl führt doch auf Deck 12, aber man kommt nur auf die Steuerbordseite, weil der Zugang vom Treppenhaus zur Backbordseite geschlossen ist.
Um 08.50 Uhr gehen wir zum Frühstück in das Metropolitan-Restaurant. Mit einem Male fühle ich mich wieder wie damals bei der CENTURY, als sie damals ja "gestreikt" hatten. Ein Kellner guckt so demonstrativ auf die Uhr und Körpersprache sagt mir: "Muss das noch sein, dass Sie jetzt und hier Frühstück wollen? Jetzt fängt meine Pause noch später an".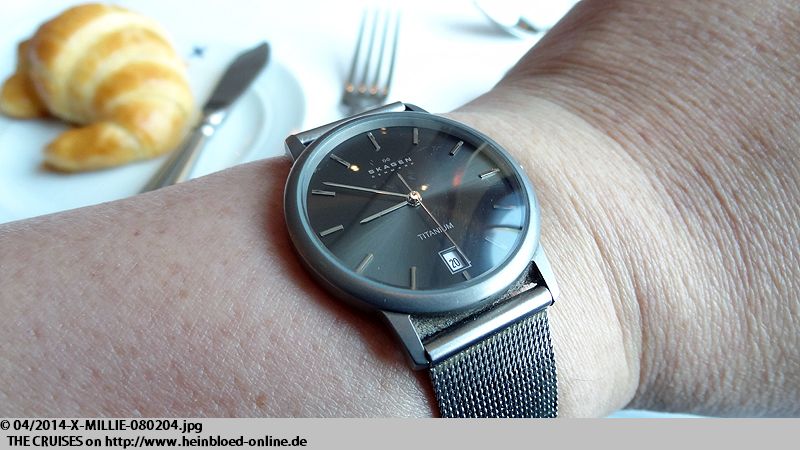 We went at 08.50 hrs for breakfast to Metropolitan-Restaurant. With this little move we were taken on CENTURY when they had their "strike". One waiter was checking the actual time with ostentation and his body language said: "Is there really a need that you have now and here breakfast? Now my break will start later".

We had the norovirus on board. And the moved the used silverware back on the table cloth. And the next guest does not get a new table cloth. So we had all the dots of the previous guests on our table cloth.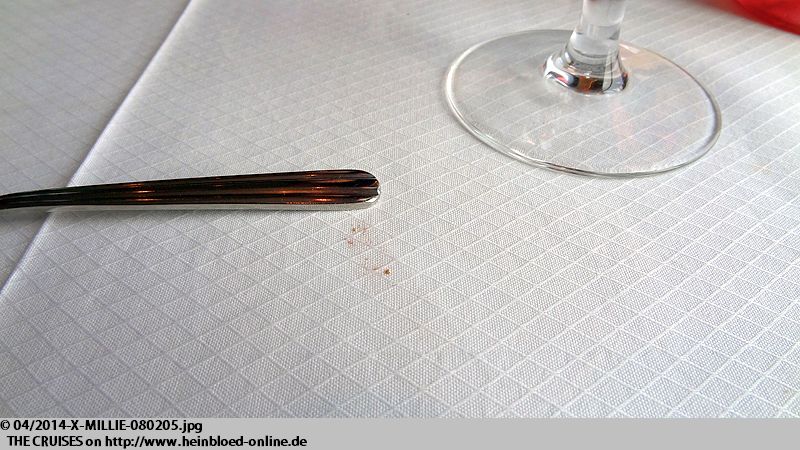 Wir haben Norovirus an Bord. Das benutzte Besteck wird ja immer auf die Tischdecke gelegt. Und der nächste Gast bekommt ja keine frische Tischdecke. So haben wir die Flecken vom Vorgänger auf der Tischdecke.
Sie machen sich nicht einmal die Mühe die Krümel der Vorgänger wegzumachen.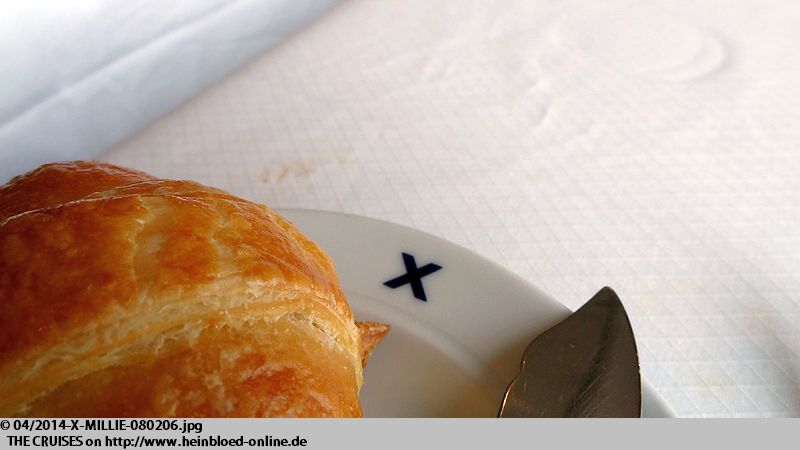 They even did not spend any effort to remove the bread crumbs of the previous guests.

That I had no cup nobody noticed.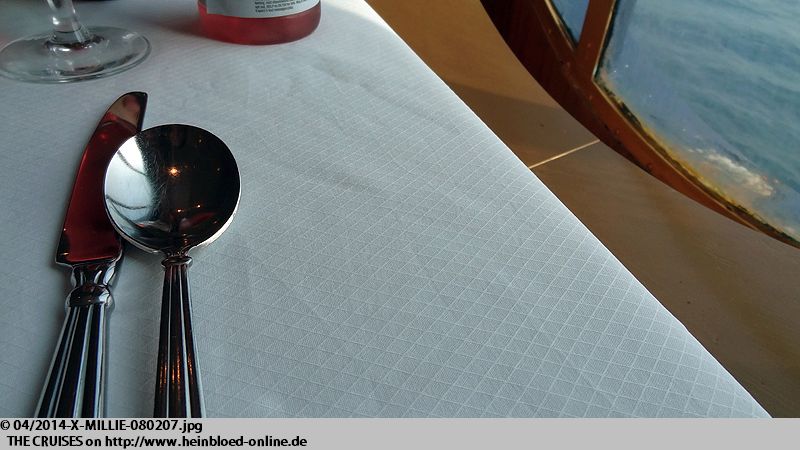 Das ich keine Tasse habe, fällt auch nicht weiter auf...
Ich nehme wieder ein Croissant. Die sind lecker. Übrigens sind die Croissant bei Celebrity besser.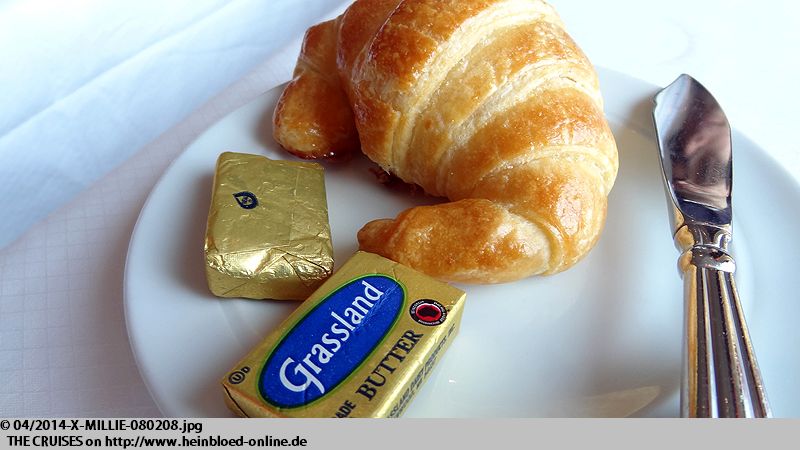 I take again a croissant. Very yummy. By the way the croissants were better with Celebrity.

By the way: should you use the criteria for a premium-luxury-line the availability of Nutella you have to count Norwegian aslo as premium-luxury-line... Or is Celebrity just became Celebrity so much down from their level that you need to check if they compete to Norwegian nowadays? With Norwegian you can ask any waiter for Nutella (or any other special). I do not to address any Maître for a special request. And it is a question of the company policy: Do I want to keep special requests small: I do not like on Celebrity: just let the waiter say no and the guest should find a Maître to get it. Or I do it like others: As a waiter I cannot solve problem and make the guest happy - I get now my supervisor that he can try to find a solution for the guest. No matter if body wash, Nutella or dark bread: the guest should feel bad by asking a second time: it was part of the corporate culture on board of CELEBRITY MILLENNIUM. Who thinks that I am "upset" now does not know me well enough! I just notice such experiences and they get on a list with reasons to book a company again or not.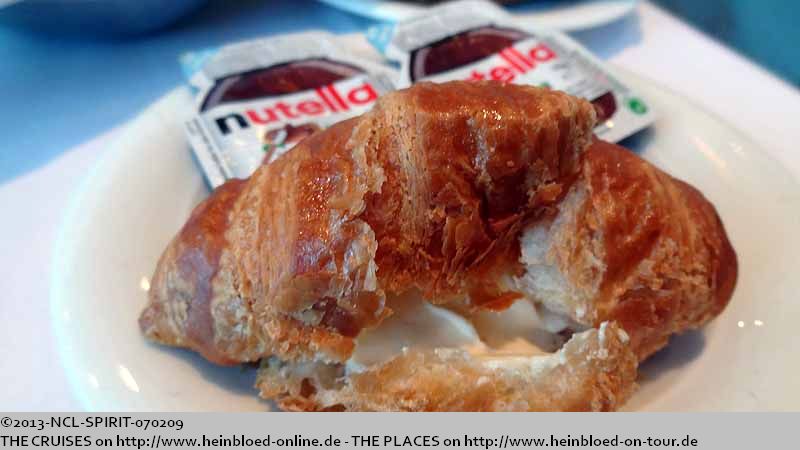 Übrigens, wenn man die Verfügbarkeit von Nutella als Kriterium dafür nimmt, ob man mit einer Premium-Luxus-Linie unterwegs ist oder nicht, dann müsste man Norwegian auch als Premium-Luxus-Linie bezeichnen... Oder ist Celebrity einfach vom Niveau her mittlerweile so weit unten, dass man sie eher als Konkurrenten von Norwegian halten muss? Bei Norwegian hätte ich einfach jeden Kellner nach Nutella (oder jeden anderen Sonderwunsch) fragen können. Ich muss für einen Sonderwunsch nicht auch noch zusätzlich selbst einen Maître ansprechen. Es ist eine Frage der Unternehmensphilosophie: will ich solche Anfrage klein halten, dann lass ich einfach meine Kellner antworten, dass es das nicht gibt und er soll sich selbst einen Maître suchen, um das vorzutragen. Oder suche ich mir einen Vorgesetzten, wenn ich die Anfrage selbst nicht erfüllen kann, und er kann sich darum kümmern, dass der Gast zufrieden gestellt wird. Und egal ob Duschgel, Nutella oder dunkles Brot: der Gast soll sich blöd vorkommen, wenn er eben zwei Mal fragen muss und dabei immer weiter nach oben gehen muss. Es ist halt die Unternehmenskultur an Bord der CELEBRITY MILLENIUM. Und wer glaubt, dass ich mich darüber "aufrege", kennt mich nicht! So etwas wird einfach mit festgehalten und kommt eben auf die Liste mit Gründen, ob man eine Gesellschaft wieder bucht oder nicht.
Wir bekommen etwas kommentarlos an den Tisch gestellt, was wir nicht bestellt haben. Später erfahren wir, dass es Osterbrötchen sein sollen... Aha...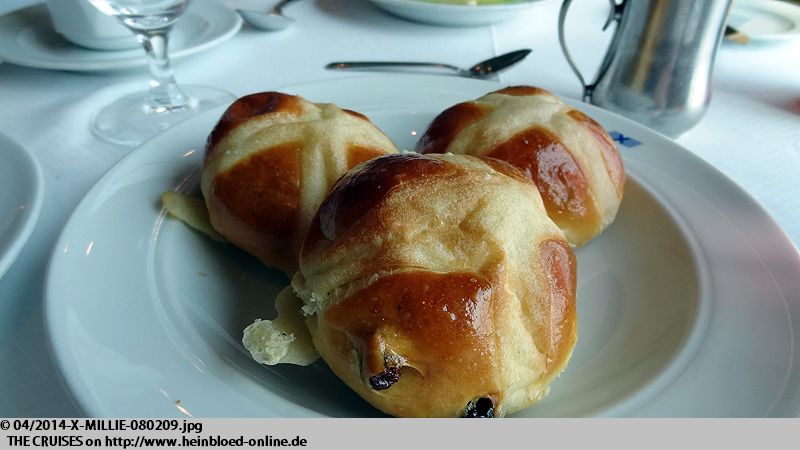 We got something delivered we did not ordered before. Later we learned that this should be Easter rolls... Well...

My cold cut plate became smaller and smaller.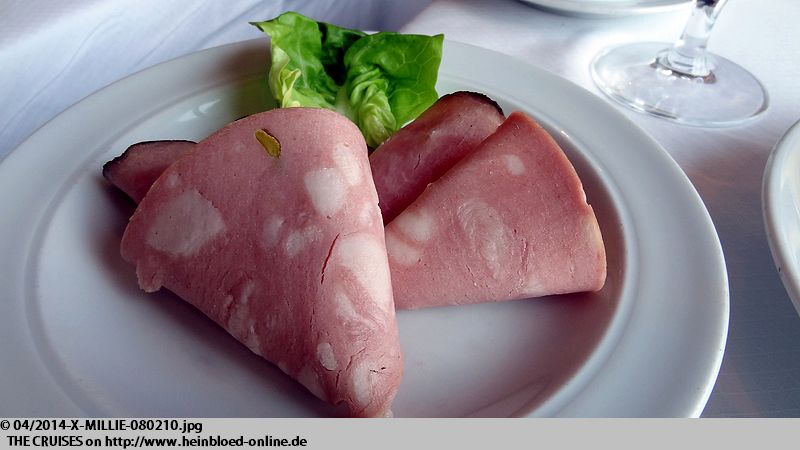 Meine Wurstplatte wird immer kleiner.
Bruno nimmt eine Melonenplatte, weil keine Beeren an Bord sind. Es hieß beim letzten Mal, dass sie damit wieder beladen wurden, aber offensichtlich hat der Provantmeister sie bislang noch nicht wiedergefunden und sie werden auch bis zum Ende der Reise nicht wiedergefunden.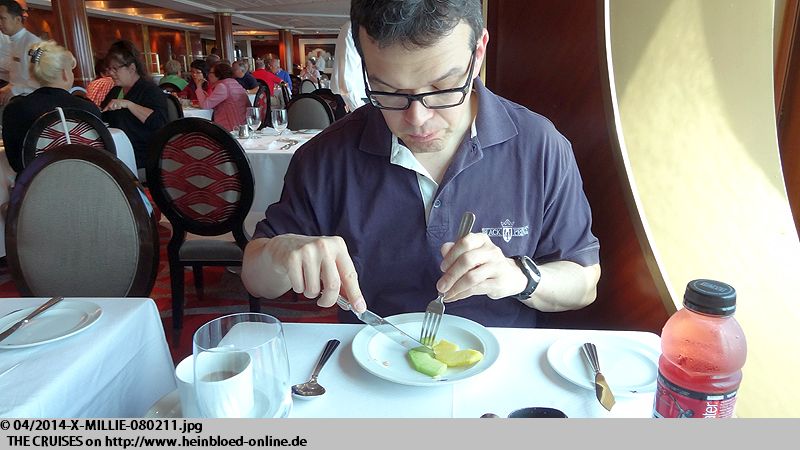 Bruno took a melon plate because there were not any berries available. Last time he was told that they should be loaded but obviously the Provision Master had not found them yet and they were not found until the end of the cruise.

While other cruise lines always ask Bruno if they should pour the milk into the cereals they just place the glass next to the bowl.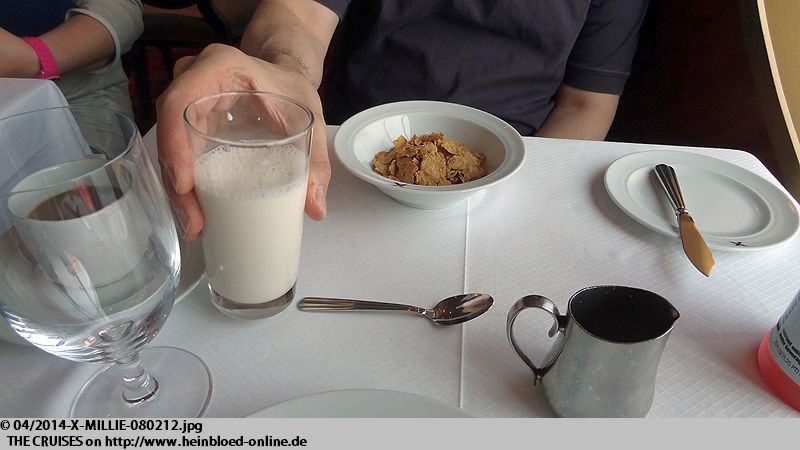 Während die meisten anderen Gesellschaften Bruno fragen, ob sie die Milch in die Cerealien gießen sollen, wird das Glas einfach daneben gestellt.
Ich habe wie üblich nach einer Drachenfrucht gefragt, in der Hoffnung, dass sie an Bord geladen wurden, aber offensichtlich wird bei Celebrity nichts lokal beschafft. Aber unser Kellner kommt wieder und bringt mir als Alternative Papaya mit. Er meinte, dass ich wohl gerne exotische Früchte hätte und sonst leider nichts anderes da wäre. Darüber freue ich mich sehr. Auch für so etwas gibt es immer Extra-Trinkgeld zum Frühstück.

As usual I asked for a dragon fruit and I hoped that they would load something like this onboard but obviously Celebrity does not do any local purchases. But our waiter came back and got me some papayas as alternative. He said that I would prefer exotic fruits and nothing else would be available. This made me very happy. For such gestures someone will always get some extra tips for breakfast.

Then on ZAANDAM. In the self-service restaurant everybody could take as many dragon fruits as he liked. I love dragonfruits but especially I love to know that they obviously accept local fresh supply generally.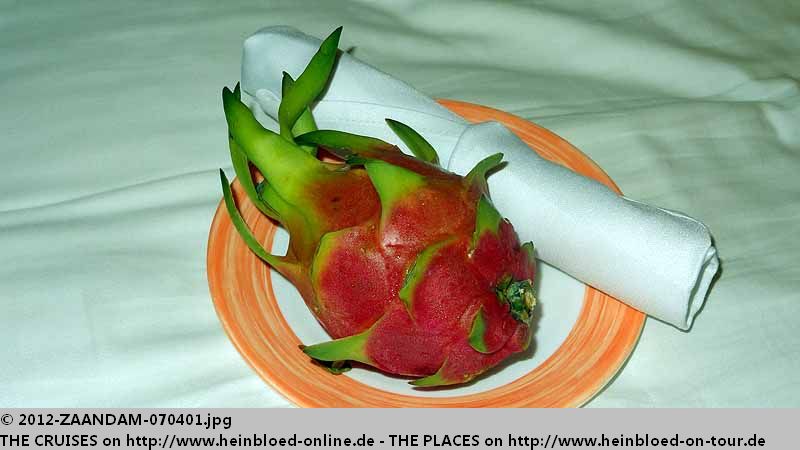 Damals auf der ZAANDAM: Im SB-Restaurant konnte jeder soviele Drachenfrüchte nehmen, wie er wollte. Ich liebe Drachenfrüchte, vor allem aber liebe ich die Erkenntnis, dass überhaupt frisch vom lokalen Markt beschafft wird.
Und als wir im Hauptrestaurant der ZAANDAM danach gefragt haben, war es selbstverständlich uns eine von oben zu holen und vorher aufzuschneiden. Eine Gesellschaft, die es gewohnt ist, die Wünsche ihrer Gäste zu erfüllen: Holland America. Und nicht wie hier, immer alles ablehnt und die Gäste selbst hochschicken, damit sie sich etwas holen.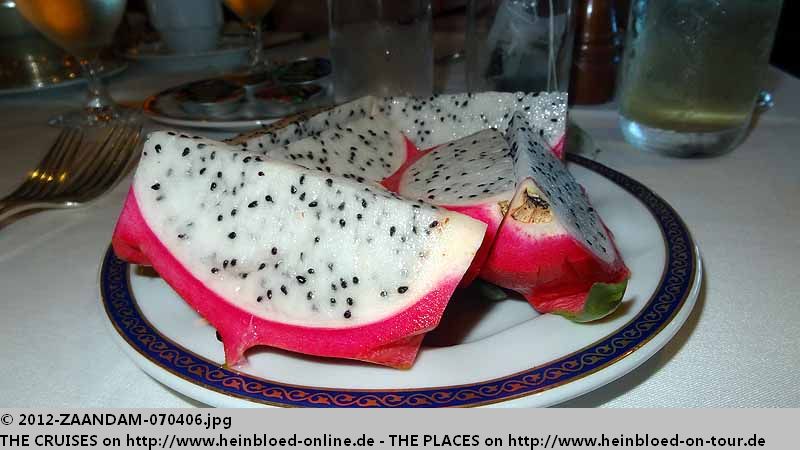 When we asked in the Main Dining Room on ZAANDAM it of course somebody walked up to get us some and cut them before. A company who is used to accept their guests' special requests: Holland America. And not like here to say no and send their guest away that they should get it by themselves from the top.

And when we asked on board of ISLAND PRINCES if might have some congee on board Maître Maurizio went and got some from the crew mess. We have never got more yummy before. It was made for the crew... ingredients you normally only serve when you had a home made but restaurant version.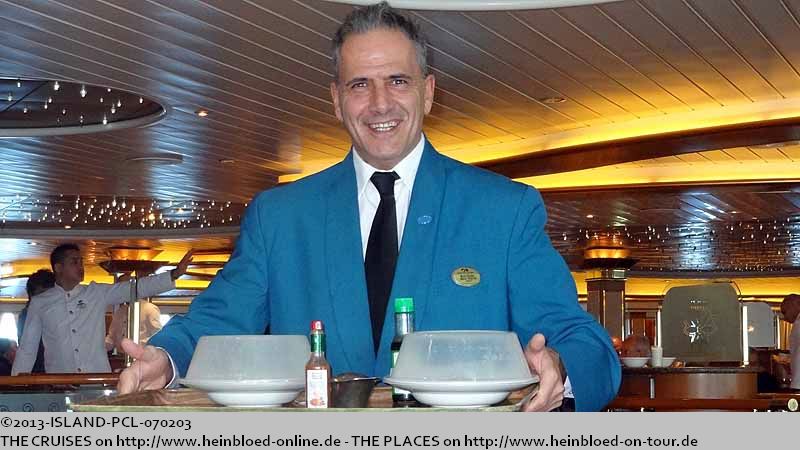 Und als wir auf der ISLAND PRINCESS gefragt hatten, ob sie vielleicht Congee an Bord hätten, dann hat der Maître Maurizio einfach welchen aus der Crew Messe besorgt. So leckeren hatten wir noch nie vorher bekommen. Das war eine Hausmacher und keine Restaurantversion, bei den Zutaten, die drin waren.
Damodar Hari Bandodkar hat meiner Mutter auf der NORWEGIAN SPIRIT einen grünen Tee aus einem anderen Restaurant besorgt, weil sie ihn lieber mochte. Eine Selbstverständlichkeit, die wir auf der CELBRTIY MILLENNIUM nur in Ausnahmefällen erlebt haben. Es gibt zwei besondere Sonderwünsche bei anderen Gesellschaften, von denen wir keine Bilder haben, damit niemand Ärger bekommt: In einem Zuzahlrestaurant wird der Kaffee in Bodum-Kannen serviert. Wir wollten uns eine ausleihen, damit Bruno selbst steuern kann, wie er den Kaffee möchte, weil er den im Hauptrestaurant nicht mochte. Darauf hin haben sie uns angeboten bei den Suitengästen zu frühstücken, weil dort der Kaffee besser sei. Ein anderes hatte ich im Zuzahlrestaurant angemerkt, dass ein Essen so toll schmeckte, dass ich es am liebsten zum Frühstück, Mittagessen und Abendessen möchte. An einem Seetag wurde ich dann überrascht und ich bekam das Essen zum Frühstück. Materialeinsatz 5 USD vielleicht aber die Sicherheit, dass diese Linie bei der Auswahl an Fahrten immer einen Platz ganz weit oben bekommt. Und das sind alles Gründe, die auf die Liste kommen, damit wir sie wiederbuchen: EURODAM 2015 - 14 Nächte Transatlantik, NORWEGIAN STAR - 12 Nights rund um die Britischen Inseln und DIAMOND PRINCESS 2016 - 14 Tage von Singapur nach Japan und vor 2022 ist Celebrity vor mir sicher!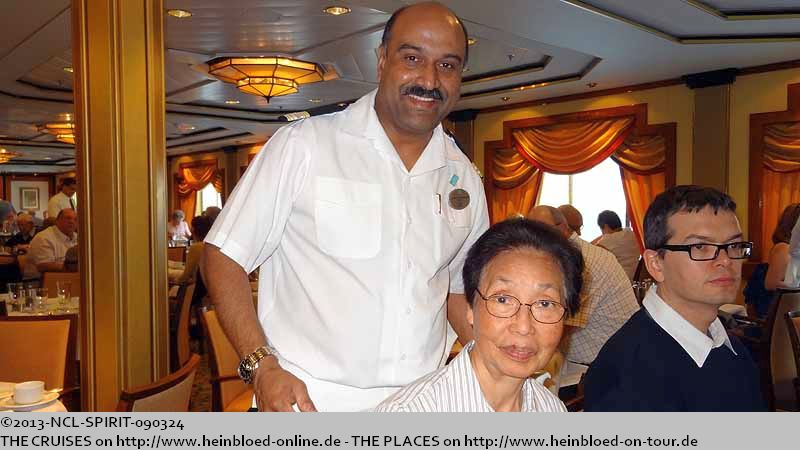 Damodar Hari Bandodkar got my mother on NORWEGIAN SPIRIT some green tea from another restaurant because she liked it more. A matter of course which we experienced on CELEBRITY MILLENNIUM by exception. We had two special requests with others for we had to promise not to show as pictures that nobody gets in trouble: In one speciality restaurant they serves coffee in French Press. We wanted to borrow that Bruno could control the brewing time himself as he does not like the coffee in the Main Dining Room. Thereupon they offered us to have breakfast with the suite guests because they get better coffee. Another time I mentioned in an alternative dining that a dish was so good that I would like to have it for breakfast, lunch and dinner. On a day at sea they surprised me and I got the dish for breakfast. Material input of 5 USD with beeing safe that this line will be always on the top of my of list whenever I pick the next cruise. And these are reasons how they get on the list to book them again: EURODAM 2015 - 14 nights Transatlantic, NORWEGIAN STAR - 12 nights around the British Isles and DIAMOND PRINCESS 2016 - 14 nights from Singapore to Japan and Celebrity is safe on me before 2022!

So the only dragonfruit I got during the whole cruise is the one in bottles.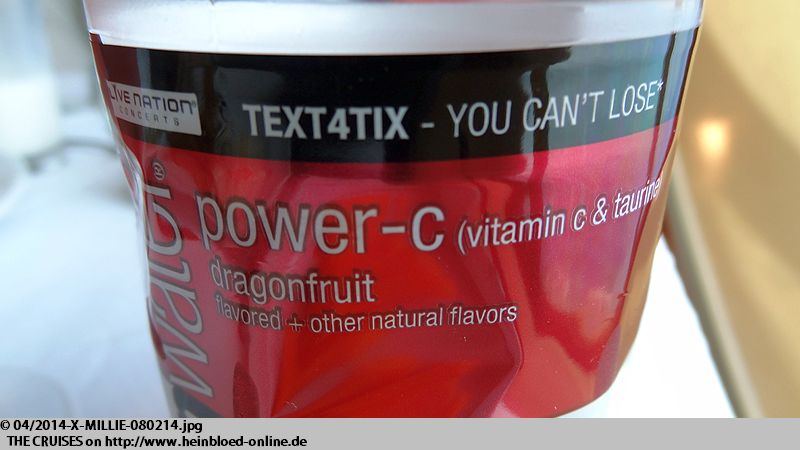 So bleibt die einzige Pittahaya (Drachenfrucht), die ich auf der Kreuzfahrt bekomme, die in der Flasche.
Ich baue mir wieder meinen Strammen Max.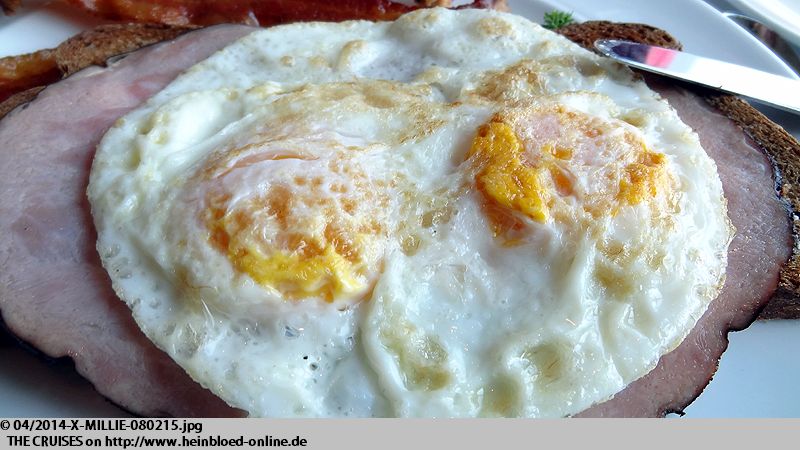 I built up again a "Strammer Max" again.

You get some fresh queezed orange juice downstairs too. They they do not advertise for it. I saw that the table next to us got some so I asked also for some. The waiter was not much exited of my idea.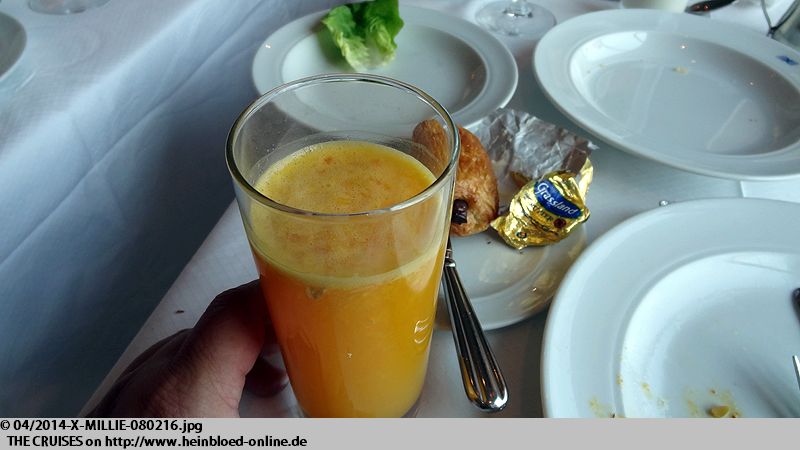 Auch unten gibt es frisch-gepressten Orangensaft. Aber es wird nicht offensiv beworben. Ich hatte gesehen, dass es am Nachbartisch serviert wurde und darauf hin habe ich auch einen bestellt. Das löste bei dem Kellner wenig Begeisterung aus.
Die Pain au Chocolat waren auch sehr gut.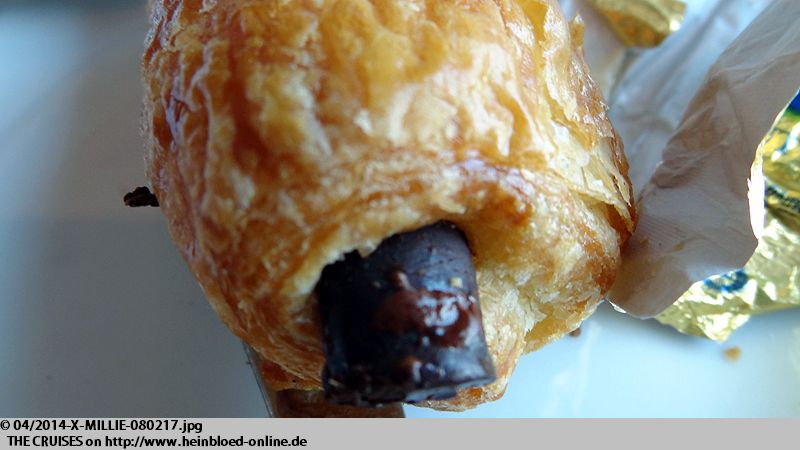 The chocolate croissants were good too.

Other took care of their own tea... instead of having Fine Food by Metro... and Stevia... also something they did not know on board either.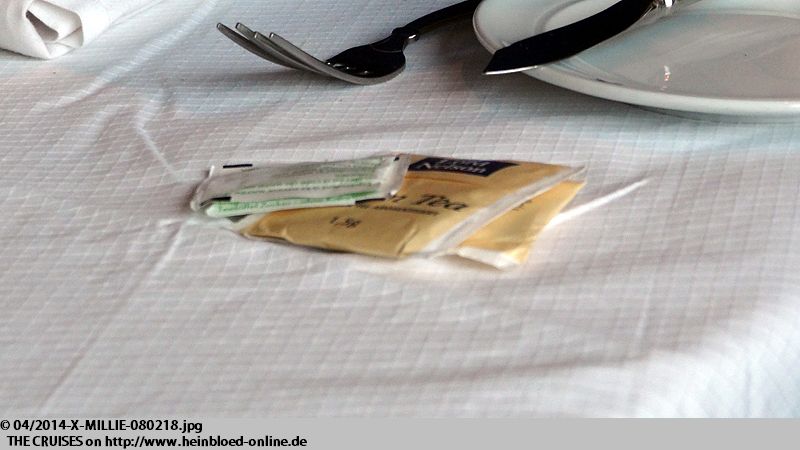 Andere versorgen sich selbst mit eigenem Tee... statt Fine Food von Metro... und Stevia... kennt man anscheinend an Bord auch nicht.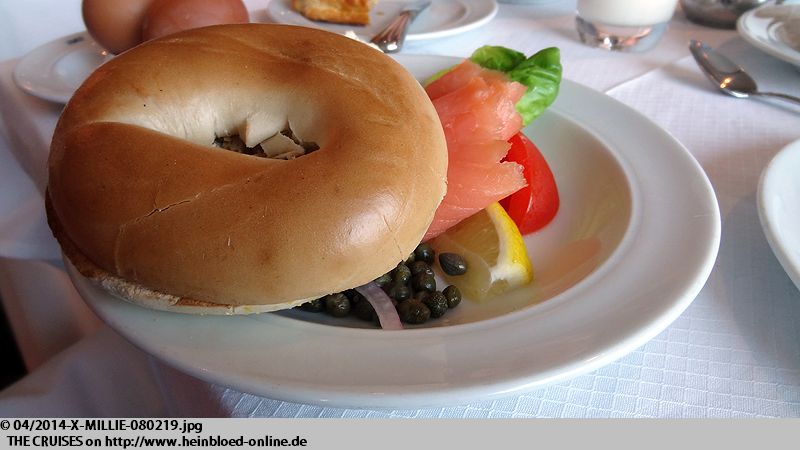 As Americans normally serve eggs only pairwise (as fried or scrambled) they did have any idea how to serve boiled eggs.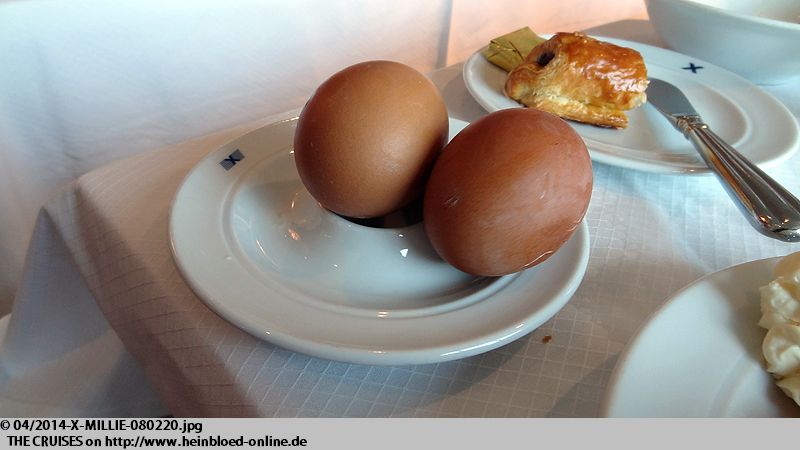 Da Amerikaner immer grundsätzlich mindestens Eier als Spiegel- oder Rühreier paarweise servieren, hat man nun keine vernünftige Idee, wie man dann gekochte Eier servieren sollte.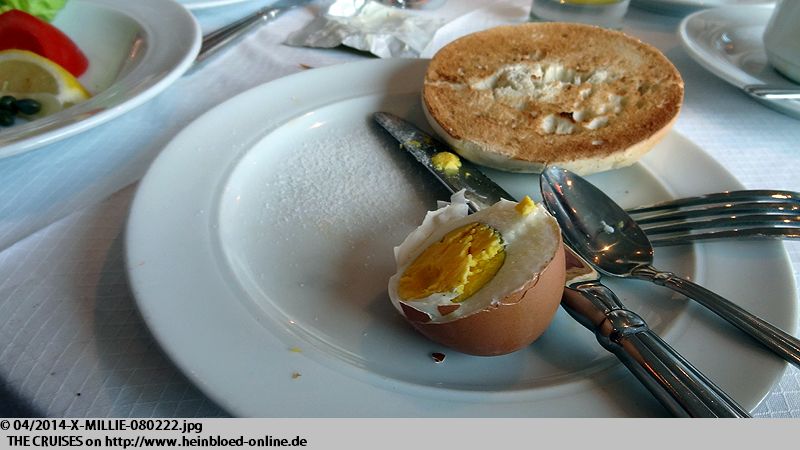 Here were again Uwe and Nicole. And next was Tanja also from Germany.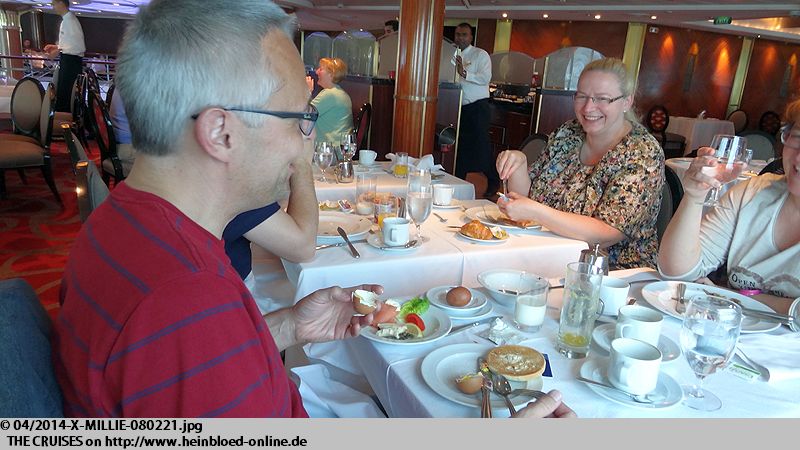 Hier sind Uwe und Nicole. Und direkt daben Tanja aus dem Westerwald.
Und Marc. Hatten schon mal Rücken an Rücken bei uns sitzen, so dass wir wussten, dass sie auch aus Deutschland sind.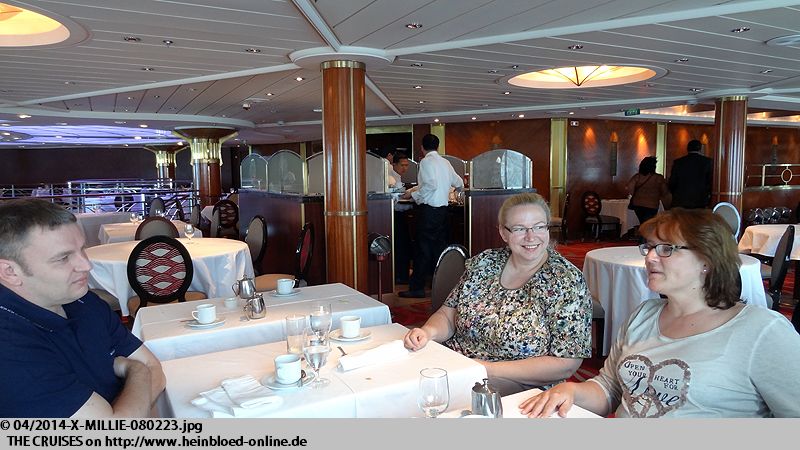 And Marc. We sat before back to back so we knew that they were from Germany too.

I assume that Bruno thought that now the subjects became too female...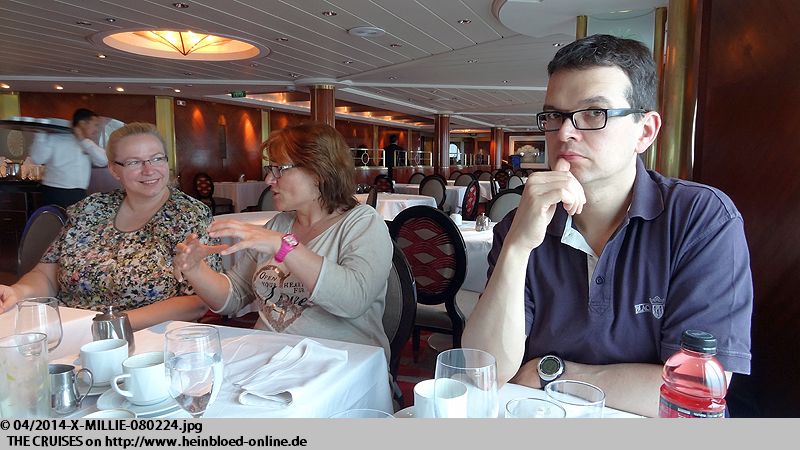 Nun werden wohl die Themen zu weiblich für Bruno...
So mal ein Blick aus dem Fenster: da sieht man schon: auch hier müsste mal wieder der Schutzanstrich erneuert werden.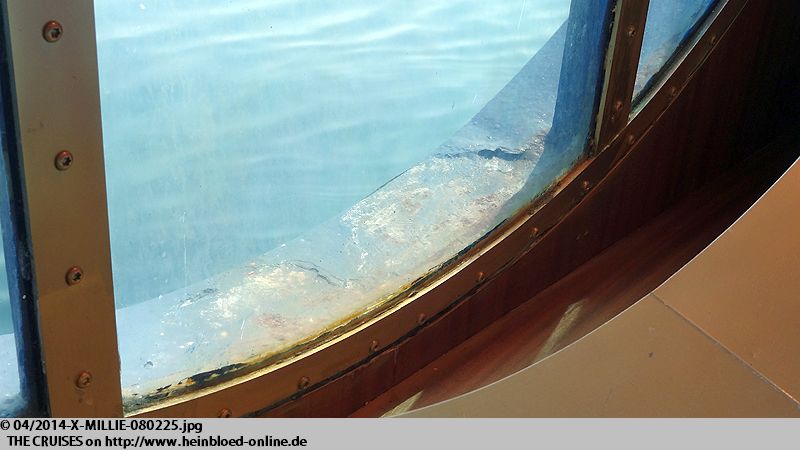 Such a view out of the window: you see - time to renew the protective coat.

No idea what was going on. In front of the shops you had admission only blockwise like passage of tunnels through the Alps.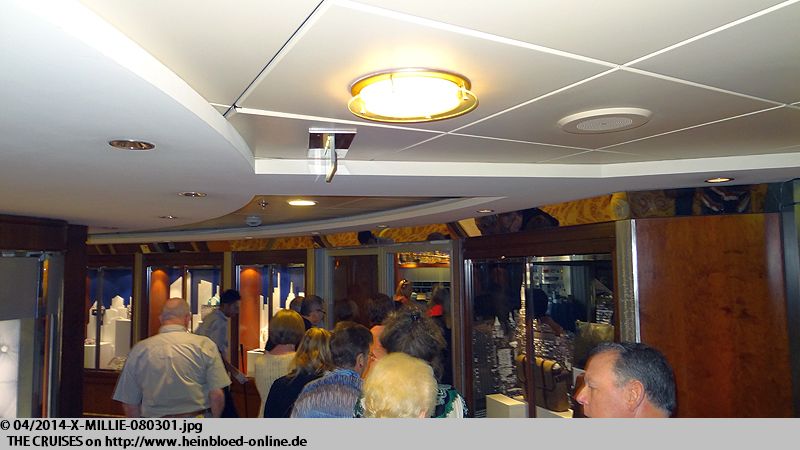 Keine Ahnung was los ist. Vor den Geschäften findet eine Blockabfertigung wie im Tauerntunnel statt.
Im Theater wird erklärt, wie die Orte zueinander liegen.

In the theater they explained how the places are located.

I wanted to buy some picutres. A package with all pictures was 199.95 USD (April 2014). But they did not want to sell me because our family had six rooms so I should buy six photo packages to get all pictures. So I told them to destroy all pictures. I do not support such robber barons.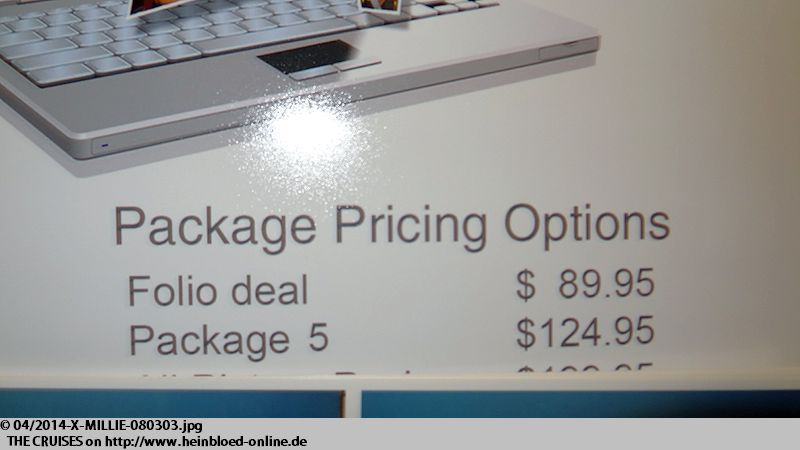 Ich wollte eigentlich ein paar Fotos kaufen. Ein Package mit allen Bildern kostet 199,95 USD (April 2014). Das will man mir allerdings nicht verkaufen, weil wir als Familie mit 6 Kabinen auch 6 Fotopackages kaufen sollen, um alle Bilder zu bekommen. Darauf hin fordere ich sie auf alle Fotos von uns zu vernichten. Solche Raubritter unterstütze ich keinesfalls.
Auf der Jeju Tour haben sich die Mädels zum Tischtennis verabredet.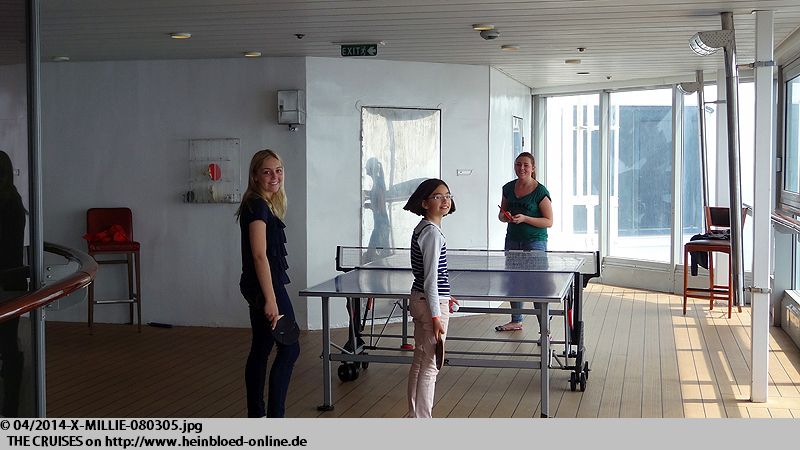 During the Jeju-Tour the girlies said that they would play table-tennis together.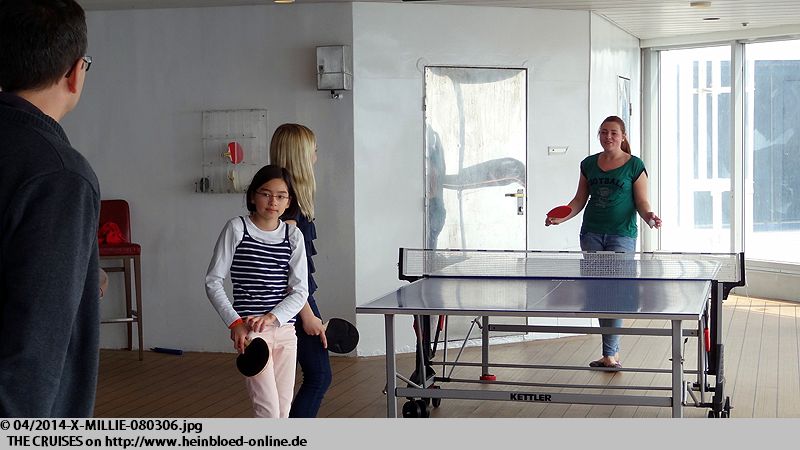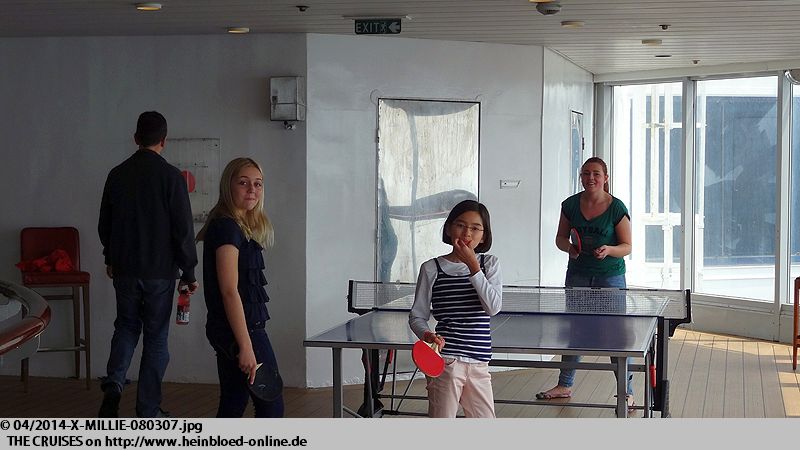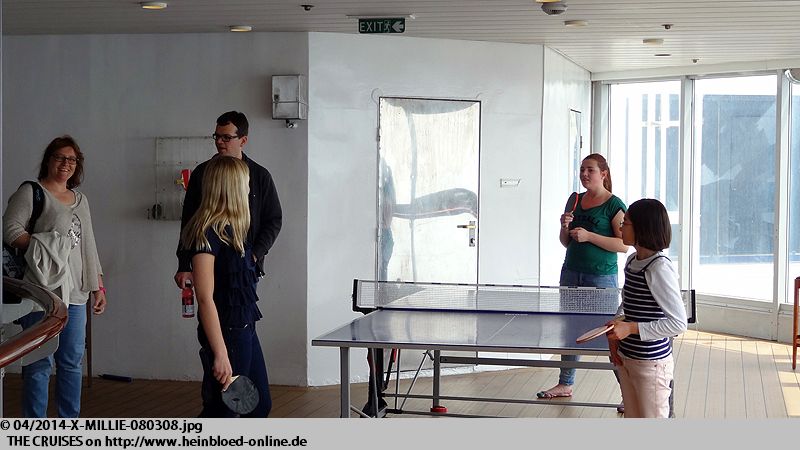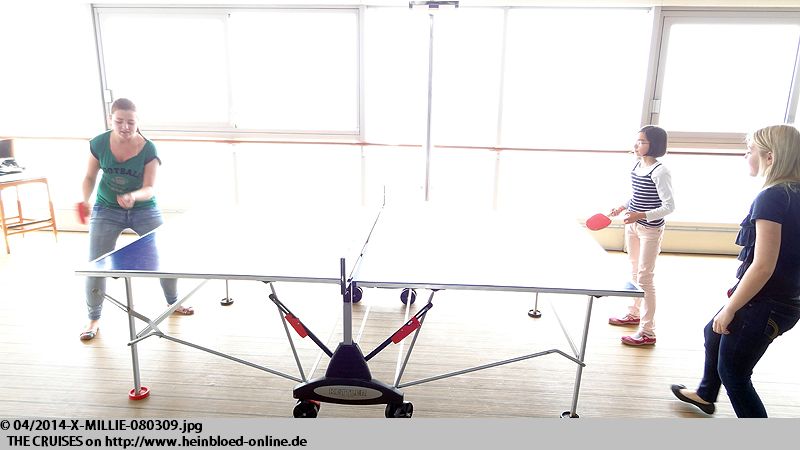 In the theater they had a matinee show. My sister and my niece said that it was very good.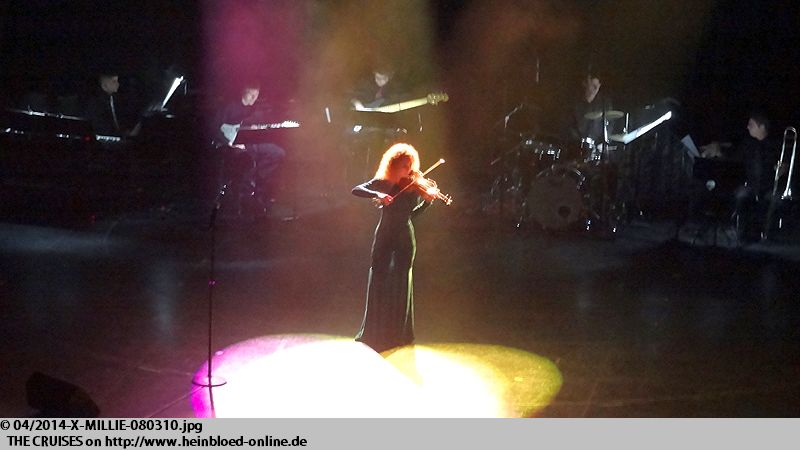 Im Theater findet eine Matinee statt. Sie soll sehr gut gewesen sein, berichten meine Schwester und meine Nichte.
Auf den Kabinendecks merkt man gar nichts von Ostern. Außer an dieser Tür. Das scheint aber eine Privatinitiative zu sein.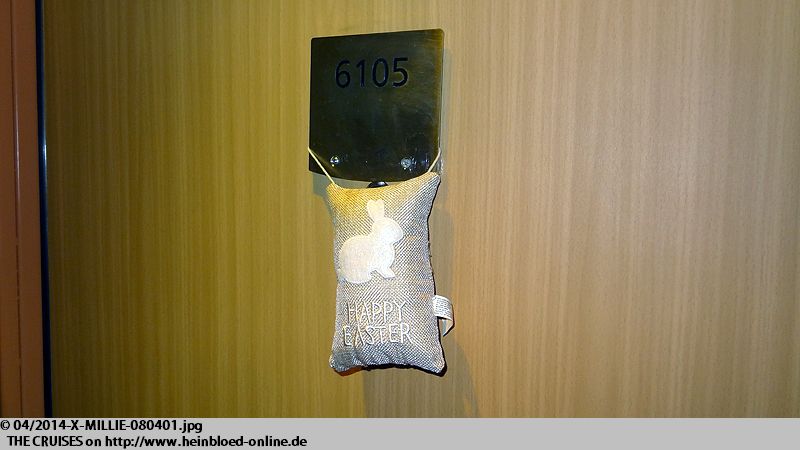 On the cabin decks you did not notice any kind of Easter feelings. But on this door due to private initiative.

Bruno tried to get some Chinese mobile phone signals.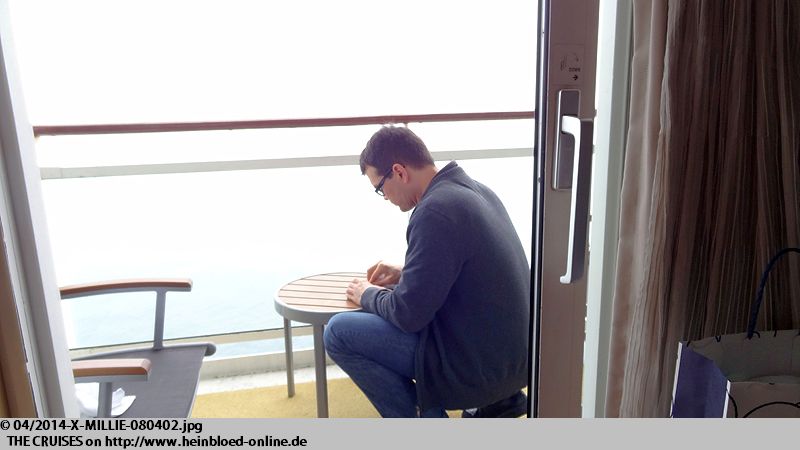 Bruno versucht auf dem Balkon chinesisches Mobilfunknetz zu bekommen.
Aber da es wohl kein Standard an Bord ist, die Balkone zu reinigen, greift Bruno selbst zu den Handtüchern und putzt selbst.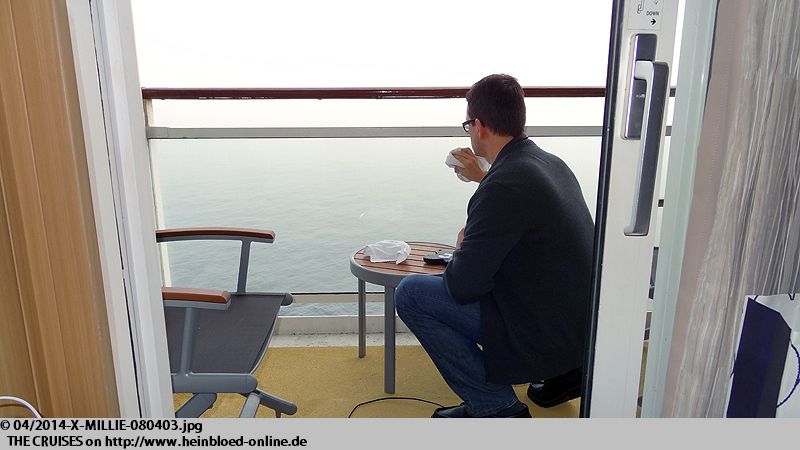 As it was not a standard to clean any balcony on board Bruno took a towel and started to clean by himself.

So we installed the outdoor antenna for the mobile WiFi Router.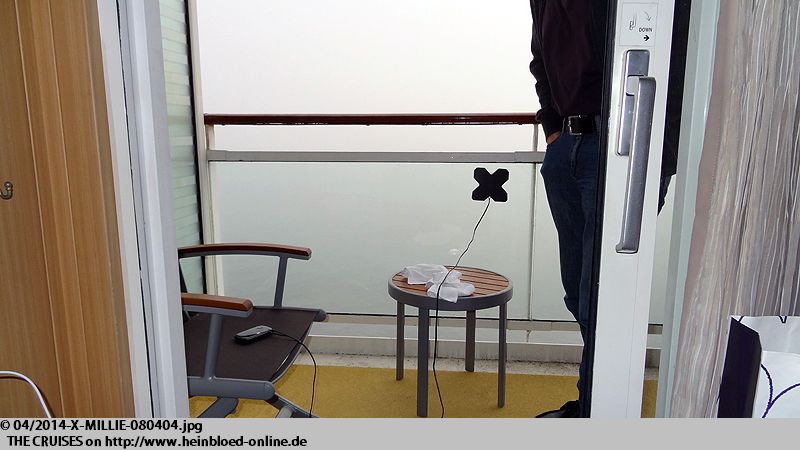 So haben wir eine Außenantenne für den mobilen WLAN-Router installiert.
Hier hat der Balkon schon lange keinen Wasserschlauch mehr gesehen.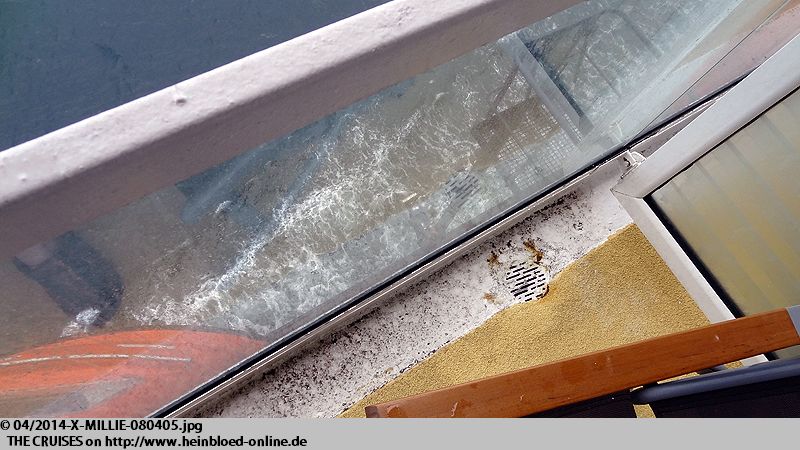 It looked like that the balcony had not seen any water pipe for a long long time.

The floor mat - I guess available for 1 USD in China - need to be from the period when the ship was still MILLENNIUM and belonged to Chandris (X ist the Greek letter for Chi - that is why you have the logo X with Celebrity).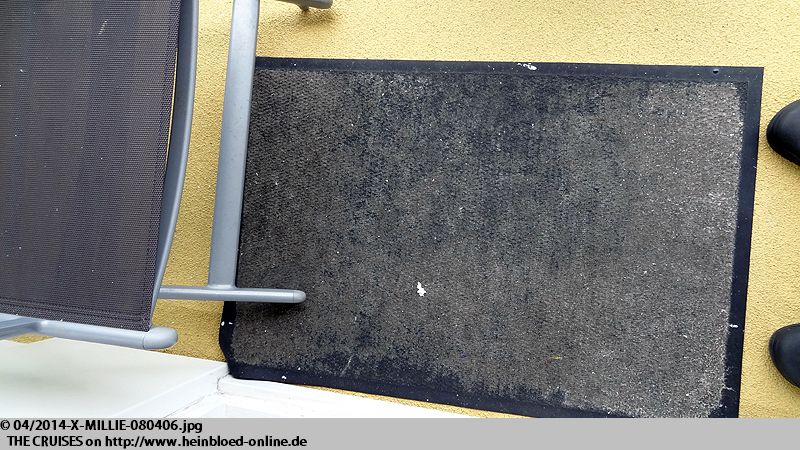 Die Fußmatte - vermutlich für 1 USD in China erhältlich - muss wohl noch aus der Zeit stammen, als das Schiff nur MILLENNIUM hieß und noch zu Chandris gehörte (X ist der griechische Buchstabe Chi - deswegen das X im Logo von Celebrity).
Weil es keine Strandbadetücher in den Kabinen gibt, kann man noch nicht einmal die total verdreckten Stühle auf dem Balkon nutzen. Aber wie gesagt: das lag wohl nicht an unseren Stewards. Sondern das ist wohl einfach Standard bei Celebrity. Wir sind es bei Holland America, Princess and Norwegian gewohnt, dass sie zumindest mal alle zwei Tage vorbeikommen und auch mal die Railing, Tisch und Stühle abwischen.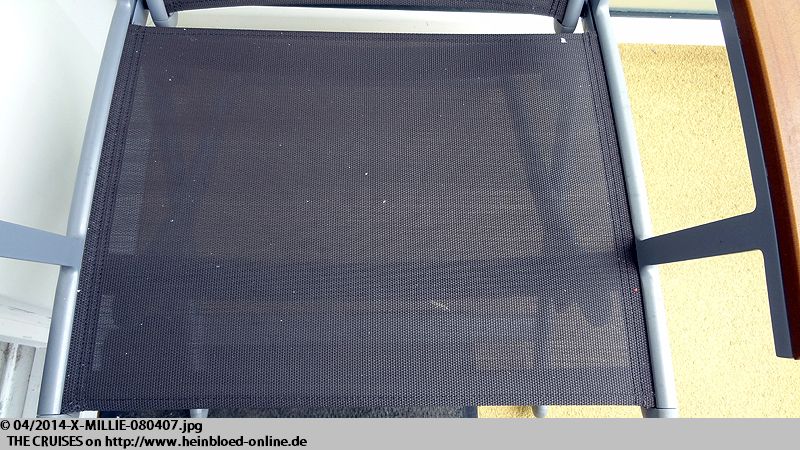 Because they had no beach towel in the cabins you cannot just cover the seats on the balcony. But that was not because of our stewards. That was the standard with Celebrity. We are used to have our balconies, railing, tables and chairs cleaned at least every two days when we are going Holland America, Princess and Norwegian.

Money... I asked the other cruise-fellows who would use my airport-transfer in Shanghai to give me the 20 USD prior to our arrival so I can spend them while we were onboard.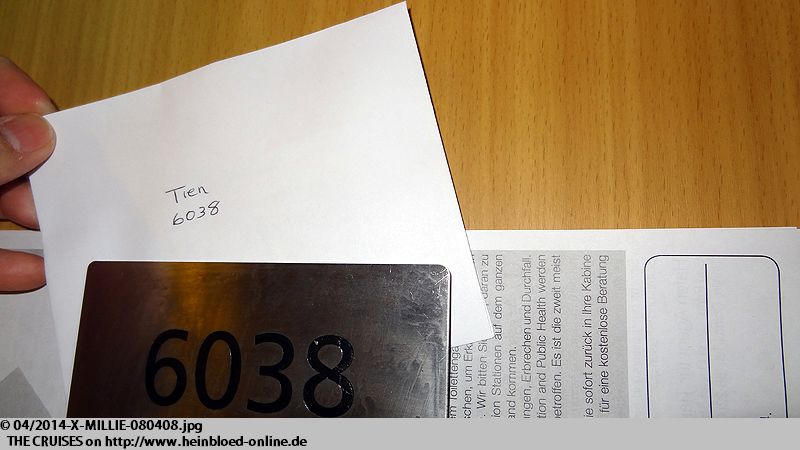 Geld... ich habe die Mitfahrer in meinem Flughafentransfer in Shanghai gebeten, mir die 20 USD vorab zu geben, damit ich sie an Bord ausgeben kann.