Scroll down for English explanations - alternates with German explanations.

Als wir zum Schiff zurückkommen, wird hier gestrichen.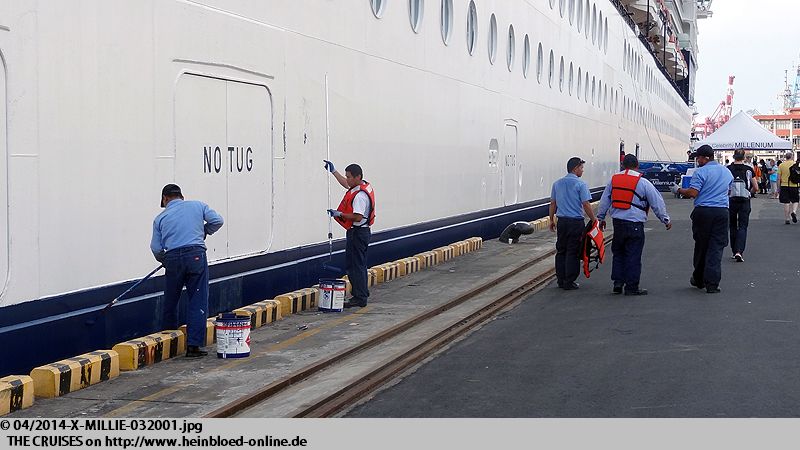 When we returned to the ship they were painting.

But you could see you better do not come too close with them unless you want get some paint on you.

Aber wie man sieht: man darf denen nicht zu nahe kommen, wenn man keine Farbe abbekommen will.
Hier gibt es etwas zu trinken und ein feuchtes Tuch.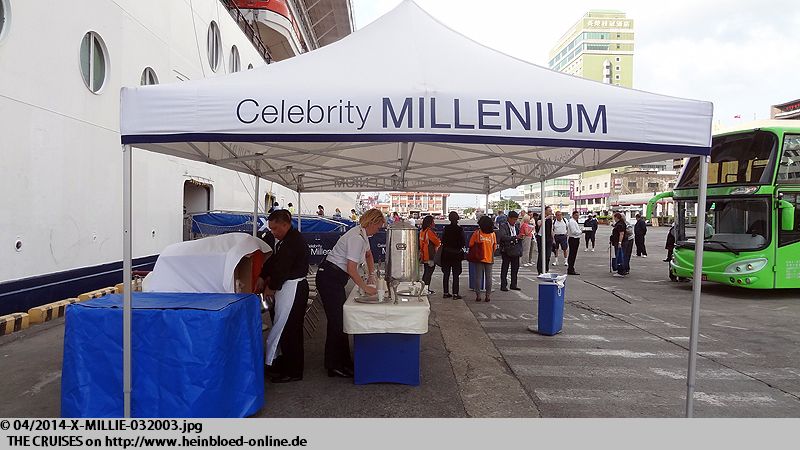 Here you had something to drink and a wet towel.

Something what I love because it is exemplary: A Hotel Director who is not only representing but give her hands. That reminded me to one of my favourite hotels: The Adler in Asperg, Germany. The senior boss (then around 70s) saw a fluff on the carpet. He did not call a page boy but he bent himself down to pick up by himself the fluff. I love such people because normally they exemplify a great and special style. But unfortunately CELEBRITY MILLENNIUM is not a small family-run enterprise but a big cruise ship.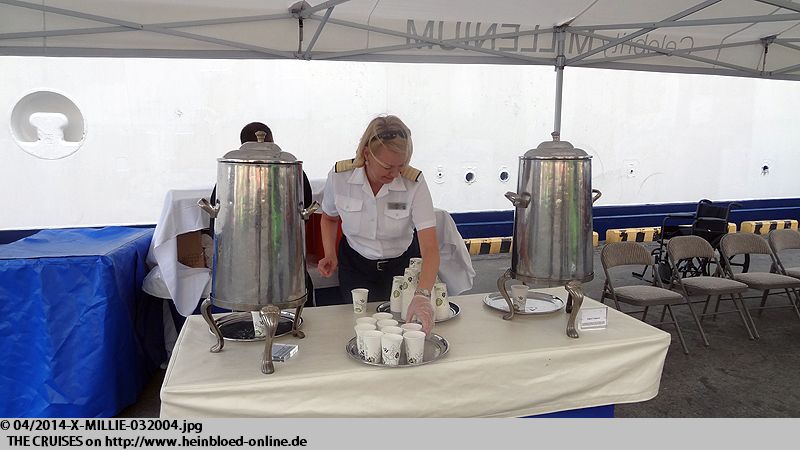 Und so etwas finde ich immer sehr vorbildlich: Eine Hoteldirektorin, die nicht nur repräsentiert, sondern selbst Hand anlegt. Das erinnert mich an einem meiner Lieblingshotels: Das
Adler in Asperg
bei Stuttgart. Der Seniorchef (damals um die 70) sieht einen Fussel auf den Teppichboden. Er ruft nicht einen Pagen, um den Fussel zu entfernen, sondern beugt sich selbst auf den Boden, um es zu entfernen. Ich liebe solche Leute, weil sie normalerweise einen besonderen und guten Stil vorleben. Aber leider ist die CELEBRITY MILLENNIUM kein kleines Familienunternehmen, sondern ein großes Kreuzfahrtschiff.
Die Passkopien werden hier einfach eingeworfen. Da ich aber nochmals an Land will, behalte ich meine Kopie.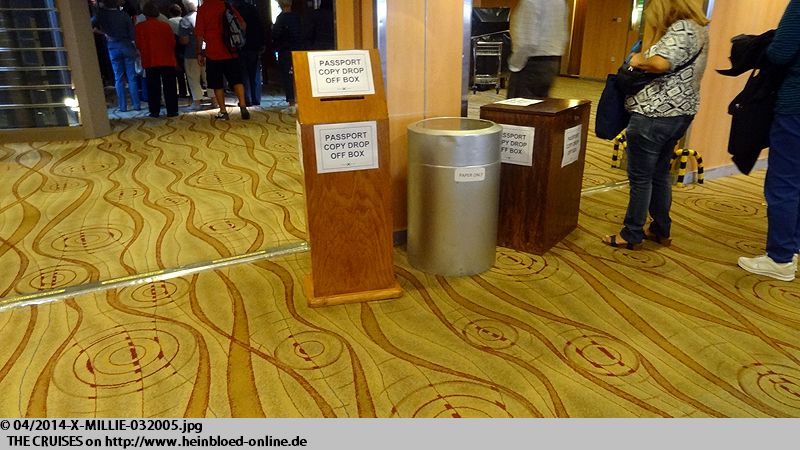 You just drop in the copies of your passport into the box. But as I wanted to go ashore again you just keep your copy.

And the moment came I really wished that we had a liftboy like Princess use them in such situation (when everyone returns from the ship or leave the ship): Two guests overloaded the elevator so you get an acoustic signal and did not start. They gave up, left the cabin but started to order for a cabin immediately so the lift did not start again. It took few time and in those moments you were happy to have a liftboy who controls how quickly they could leave. You cannot move to another elevator in the forward or aft. Only the elevator in the center takes to you deck 1. With my father it was impossible to walk up one deck and find another elevator on deck 2. As said before: there are many small things which make your life as passenger more pleasant - where you have people who think what is best for the guest and not just how we can keep it most simple for the crew. But people who never have gone with Princess and Holland America will never understand it.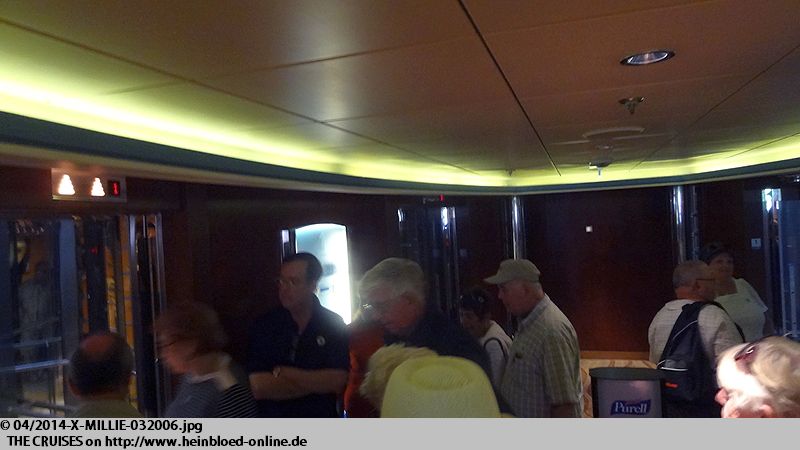 Und das sind die Momente, bei denen ich mir den Liftboy herbeisehnen würde, der in solchen Fällen (wenn alle gleichzeitig zum Schiff zurückkehren oder das Schiff verlassen) bei Princess eingesetzt wird: Zwei Gäste überladen den Fahrstuhl, so dass er nur den Warnton abgibt und nicht losfährt. Sie geben irgendwann auf, steigen irgendwann aus und drücken sofort wieder auf den Knopf, so dass der Fahrstuhl immer noch nicht abfährt. Das dauert und in solchen Momenten ist man froh, wenn man den Liftboy wie bei Princess hat, der kontrolliert, dass man schnell wegkommt. Man kann auf Deck 1 leider auch nicht auf die vorderen oder hinteren Fahrstühle ausweichen. Es führt nur dieser mittlere Fahrstuhl zu diesem Ausgang. Mit meinem Vater kann ich auch nicht eine Etage die Treppe hochlaufen und auf Deck 2 einen anderen Fahrstuhl suchen. Wie gesagt: es sind die vielen Kleinigkeiten, die mir mein Leben als Passagier erträglicher machen - wo es einfach Leute gibt, die an den Gast denken und nicht nur daran, wie die Crew es am Einfachsten haben. Aber das werden Leute nicht verstehen, die nicht mit Princess und Holland America gefahren sind.
Überall wird desinfiziert. Unsere Türgriffe mehrfach am Tag.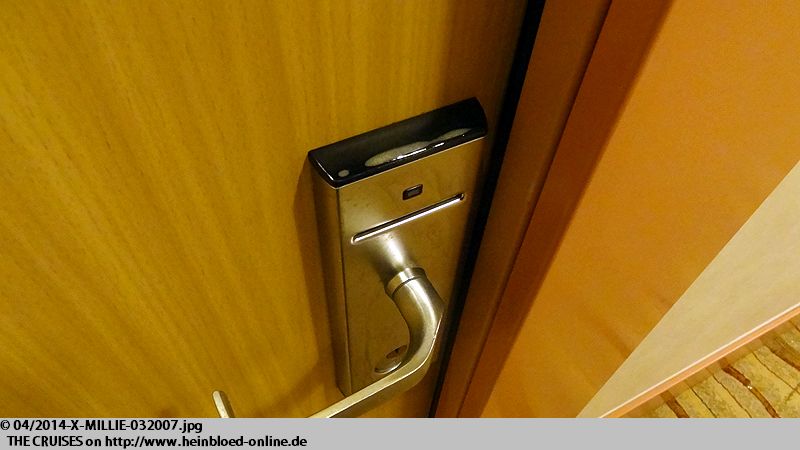 They were sanitizing everywhere. With our door handles multiple times a day.

And I got some body wash.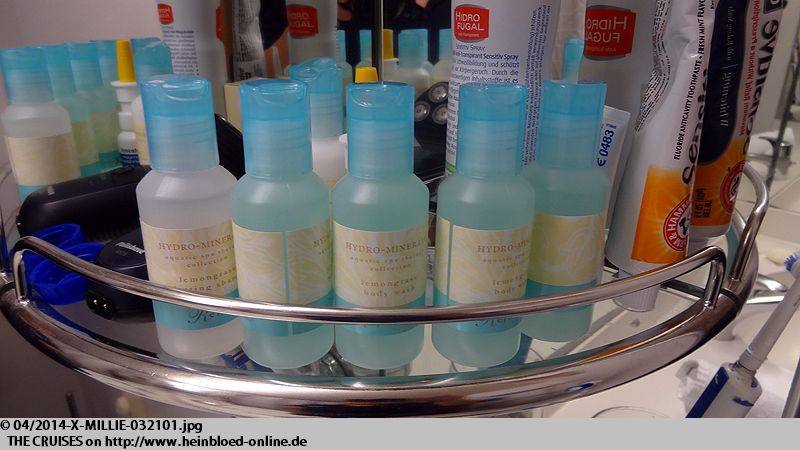 Das Duschgel habe ich bekommen.
Grr... Die Klimaanlage haben sie auf eiskalt gestellt... Der Teppich wurde getrocknet...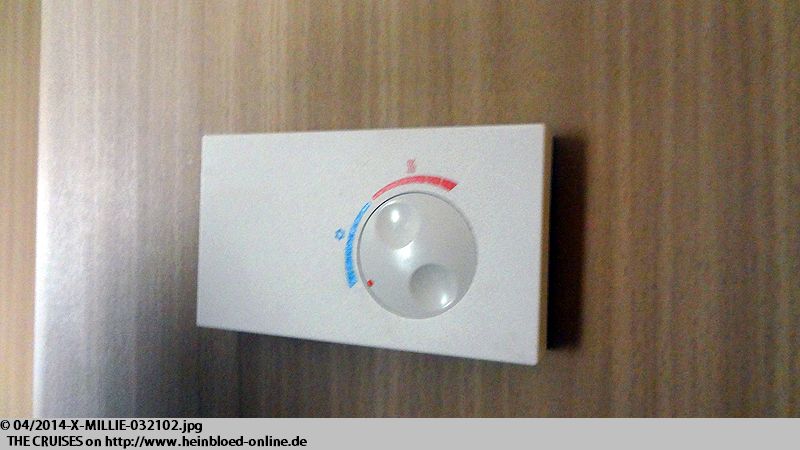 Grr... they put the air-condition on ice cold... So the carpet was dried...

I was thanking Hotel Director Nina.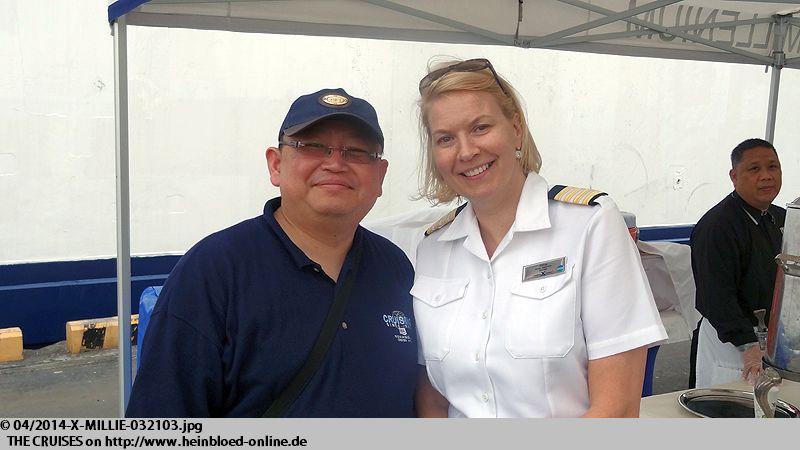 Ich bedanke mich bei Hoteldirektorin Nina.
Sie sagt aber, dass ich alles House Keeping Manager Patricia zu verdanken habe. Ich sah später noch eine Notwendigkeit zu erklären, dass in manchen Punkten auch Missverständnisse gab: ich sehe darin keinen Fehler unseres Stewards. Weder putzt er unsere Kabine barfuß, um festzustellen, dass unser Teppichboden feucht ist und wenn der Spiegel eben nach dem Putzen beschlagen ist, putzt er ihn sauber. Er bleibt einfach nicht lange genug im Bad, um festzustellen, wie feucht es eigentlich noch ist. Außerdem war meine Frage nach dem Wäschebeutel keine Kritik, dass der Wäschebeutel fehlte, sondern warum es kein Wäschebeutel-Angebot mehr gibt, wie damals auf der CELEBRITY EQUINOX 2010.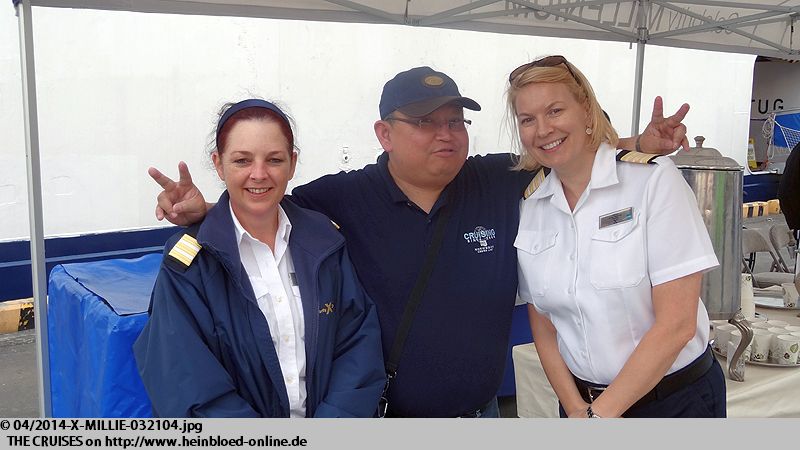 But she only said that I need to thank House Keeping Manager Patricia. I saw later a need to clear few misunderstandings: I do not see any fault of our cabin stewards. As said: he is not cleaning barefeet to experience our humid carpet and if he see in the bathroom that the mirror is steamed he will clean it clear. He would not stay long enough time in the bathroom to find out how humid it is in the bathroom. My question regarding the laundry bag was no complaint that the bag itself was missing but the question why there is no laundry bag offer anymore like then on CELEBRITY EQUINOX 2010.

We got again mail.

Wir bekommen nochmals Post.
Sie versichern uns, dass am sich bemüht haben, die Situation in unserer Kabine zu verbessern und bitten um erneute Kontaktaufnahme, wenn noch etwas wäre.

They assured that they tried their best to improve the situation in our cabin and asked us to contact them again if there would be anything else.

My Grandmother a couple of years ago when I was in transit in Taipei and had a chance to visit her. Today would be the day to meet her for lunch in Taipei 101. It would be meeting of four generations. But unfortunately she passed away in February 2014.

Meine Großmutter vor wenigen Jahren, als ich im Transit in Taipeh sie mal kurz besucht habe. Heute hätten wir sie zum Mittagessen im Taipei 101 treffen sollen. Wir wären vier Generationen gewesen. Leider ist sie im Februar 2014 verstorben.
Mit meiner Tante und zwei Cousins Howard und Jason, die tagsüber arbeiten müssen, sind wir noch zu einem kurzen Kaffeetrinken verabredet. So gehen wir nochmals raus und warten am Terminal.

We met for a quick cup of coffee with my aunt and my cousins Howard and Jason as they had to work during the daytime. So we went out again and waited at the terminal.

Opposite of the port administration building there was a little coffee shop and here we sat together. My mother was here recently for a longer period due to the funeral and my parents planned to be back here in Taipei for the summer.

Gegenüber von dem Gebäude der Hafenverwaltung gab es ein kleines Café und dort haben wir uns kurz zusammengesetzt. Meine Mutter war ja wegen der Beerdigung bereits im Februar längere Zeit hier und meine Eltern sind im Sommer wieder in Taipeh.
Da ja Martin und Marianne mit uns den ganzen Tag unterwegs waren, mussten wir bald zurück an Bord, damit sie zumindest gemeinsam in die Show vor dem Abendessen kommen. Ansonsten hätten sich Vater und Töchter an dem Tag außer zum Abendessen gar nicht gesehen. So begleiten uns unsere Tante und Cousins zurück zum Schiff und verabschieden uns vor der CELEBRITY MILLENNIUM.

As Martin and Marianne were all the day with us we had to return soon to the ship so they could go and see the show before dinner. Otherwise the kids could not see their dad all the day but for dinner. So my aunt and cousins took us back to the ship and could say good-bye in fron of CELEBRITY MILLENNIUM.

So we were able to take few pictures with a part of the family on the balcony and one part of the family down on the pier.

So konnten wir sogar noch ein paar Bilder machen, mit einem Teil der Familie oben auf dem Balkon und ein Teil der Familie auf dem Pier.
Während die Kinder mit den Eltern bei der Show sind, gehe ich nochmals raus, um das Schiff zu fotografieren:

While the kids and their parents attended the show I went out again to take few pictures of the ship.

I missed the tea-time in the Evergreen Laurel Hotel in the afternoon. So I went quickly to the Café Laurel to take some pictures. Unfortunately I could not ask them to switch off all lights in the café to avoid all reflections in the windows.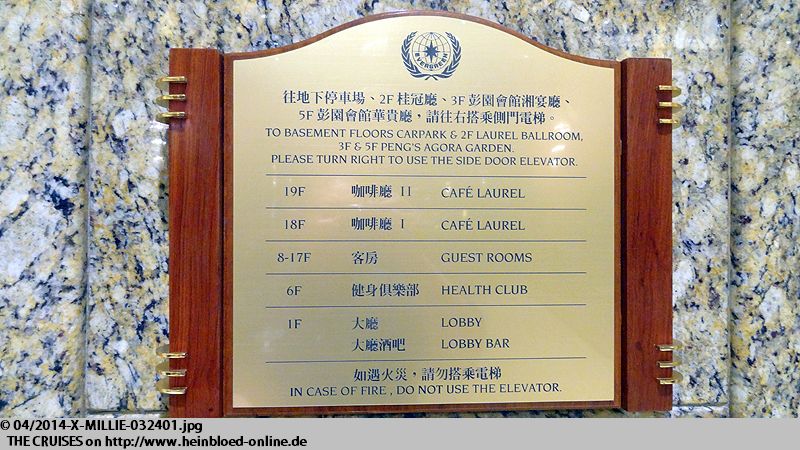 Die Tea-Time nachmittags habe ich im Evergreen Laurel Hotel verpasst. So fahre ich schnell in das Café Laurel hoch, um zu fotografieren. Leider konnte ich nicht darum zu bitten, alle Lichter im Café auszuschalten, um die Spiegelungen im Fenster zu vermeiden.
Ich laufe noch schnell bis zum Maritime Plaza um etwas von Keelung mitzubekommen. Zum Nachtmarkt schaffe ich es nicht mehr. Schade. Das nächste Mal.

I ran quickly to the Maritime Plaza to notice something from Keelung. No chance to see the night market. So sad. Maybe next time.