Scroll down for English explanations - alternates with German explanations.

Es geht daher direkt zum
Seongsan Ilchulbong Krater
. Da meine Mutter gerne mit hoch möchte und ich meinen Vater nicht gerne alleine im Bus lassen wollte, nehme ich ihn mit zum Kaffeetrinken. So hat Bruno diese Aufnahmen gemacht.

So went directly to the Seongsan Ilchulbong Crater. As my mother wanted to see it too and I did not like to leave my father alone back in the bus I went having some coffee with him. So Bruno took the pictures.

In the Café droptop I could upload my pictures because they had complimentary internet. Here they had some goodies by Fauchon from Paris, France. There is nothing but going out in style.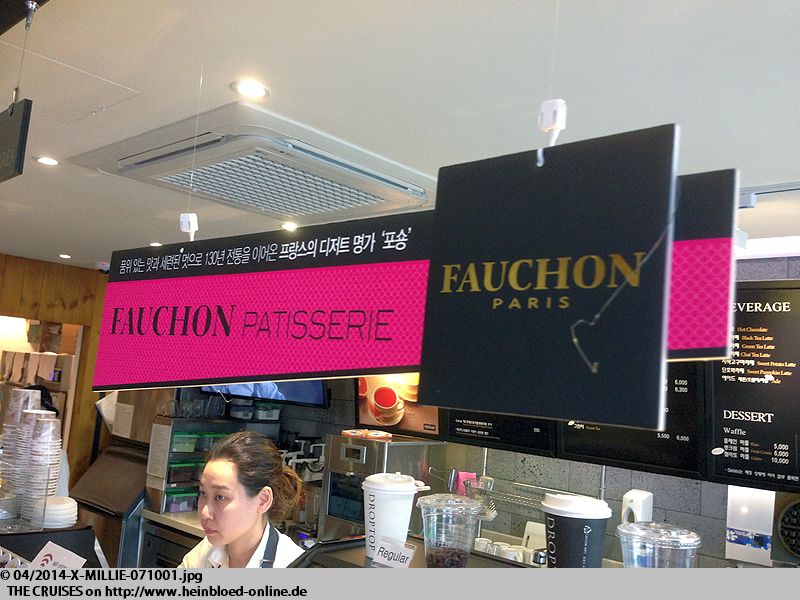 Im Café Droptop konnte ich dann zunächst einmal meine Bilder raufladen, weil es dort freies Internet gab. Hier gab es Kleinigkeiten von
Fauchon aus Paris
. Nobel geht die Welt zugrunde...
Und zu meiner Überraschung: Es gibt hier
Eistee von Tee Geschwender
. Ob die auch meine Payback-Karte akzeptieren?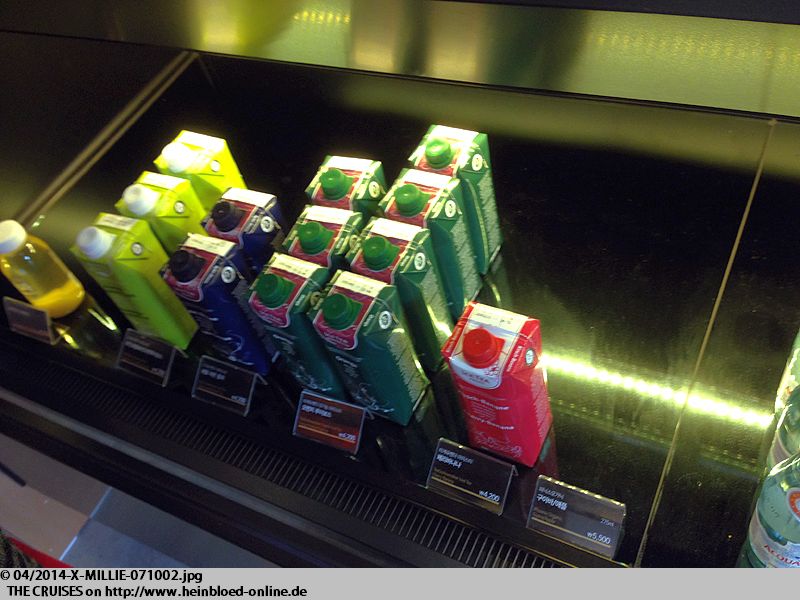 They had there Iced Tead from Tee Geschwender in Germany. Normally where we buy some tea and our loyalty card awarded. Would they accept my loyalty card here too?

It took a long while until we got our tea... As long as the transmission of the pictures worked it was fine but when we need to return slowly back tot he bus it became somehow angry. So I let them give me some cups to go so we could drink in the bus. Only little cake from Fauchon we ate there immediately. In Japan they would did suicided by Harakiri for the delay. But you are in Korea - so they did not care too much of some tourists who might miss their bus.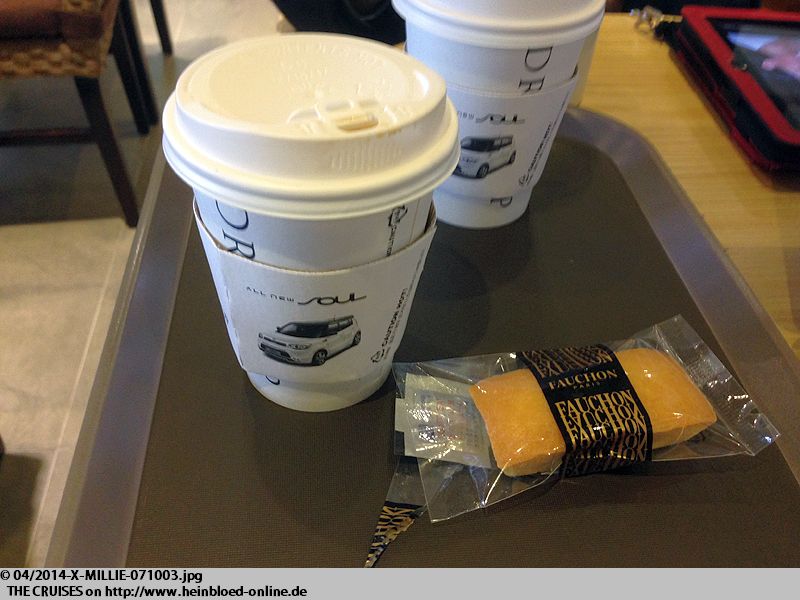 Bis dass wir den Tee hatten dauerte es eine Weile... Solange die Übertragung meiner Bilder lief: in Ordnung, als wir jedoch langsam zum Bus zurück müssen, war es schon ärgerlich. So lasse ich mir den Tee in Mitnahmebechern geben, so dass wir im Bus weitertrinken können. Nur das kleine Küchelchen von Fauchon essen wir dort direkt auf. In Japan hätten sie schon längst Selbstmord durch Harikiri für die Verspätung begangen. Aber hier in Korea ist es egal, ob der Tourist möglicherweise seinen Bus verpasst.
Es geht weiter nach Seopkikoji. Ein Küstenstreifen, der als Drehort von koreanischen Seifenopern herhalten muss. Wenn man sich umsieht und sieht, wie manche bestimmte Szenen nachspielen, muss das wohl so sein, als wenn wir die Schwarzwaldklinik in Glottertal besuchen. Der perfekte Ort um bestimmte Liebesszenen oder Dramen richtig zur Geltung zu bringen. Allerdings beschäftigen mich zwei Punkte: 1. Was für ein Glück, dass wir nicht auf der Insel Udo sind und ich daher mir keine Gedanken machen muss, wie wir wieder an Bord der CELEBRITY MILLENNIUM kommen und 2. was machen die Angler bei dem Wetter im Wasser? Auf jeden Fall ist es ganz schön kalt.

Next we went to Keopkioji. A coastal strip which was frequently used as film set for Korean TV-soaps. If you were looking around and see how some were playing obviously some scenes of the soaps I would assume it must be same like the visitor who went to Glottertal, Black Forest, Germany to see the film set of The Black Forest Hospital. The perfect location to support the storyboard for certain kinds of love and romance scenes. But I was wondering on two questions: 1. How lucky were we that we were not on Udo-Island and my part would be now to find out a way to get back onboard of CELEBRITY MILLENNIUM and 2. what were the fishermen doing there while we had this bad weather? It was quite cold.

We headed then to the restaurant Nammun in the Seongeup Folk Village. Due to the rain none of us was really interested in art and culture.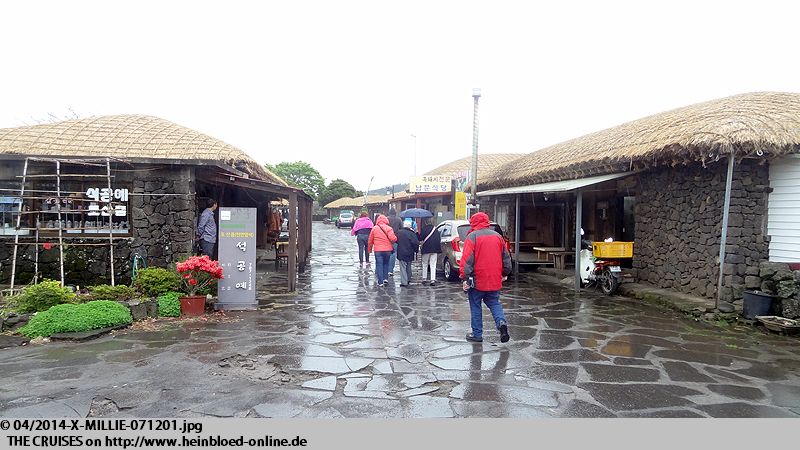 Es ging weiter in das Restaurant Nammun im Seongeup Folk Village. Wegen des Regens hatte keiner Lust auf Kunst und Kultur.
Ein Ort von Koreanern für Koreaner. Auf jeden Fall waren wir wohl die einzigen aus dem Westen. Alles war wieder gut vorbereitet: Suppe, Reis, die Vorspeisen inkl. kleiner getrockneter Fische.

A location by Koreans for Koreans. Any how we were the only Western guests for sure. Everything was well prepared: soup, rice, the starters incl. little dried fish.

Jeju was famous for their black pigs and the dishes made of.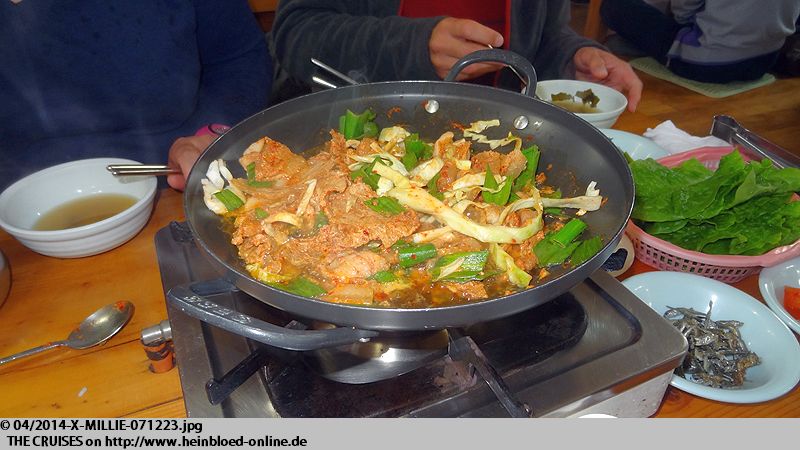 Jeju ist bekannt für seine schwarzen Schweine und die Gerichte daraus, so wie bei uns eben das Hällische Schwein aus Schwäbisch Hall bekann ist...
Obwohl alle anderen schon essen, zeige ich trotzdem mal wie es geht... Man nehme sich ein Blatt Salat...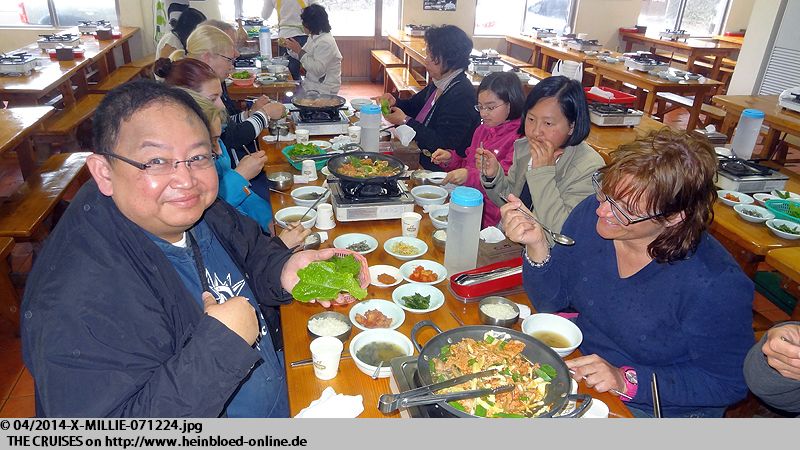 Although all other started to eat I took the time to show all others how to eat it... You take some lettuce...

... place it on your flat hand...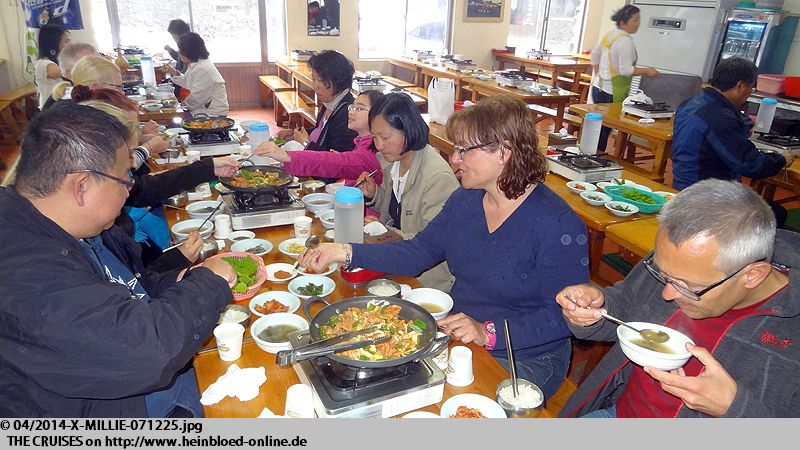 ... legt sich das auf die flache Hand...
... macht sich etwas Reis darauf...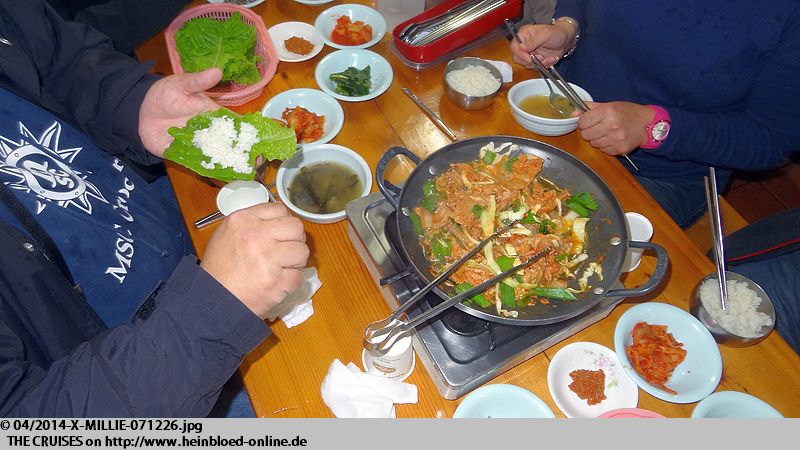 ... you add some rice on the top...

... and then some meat and vegetables...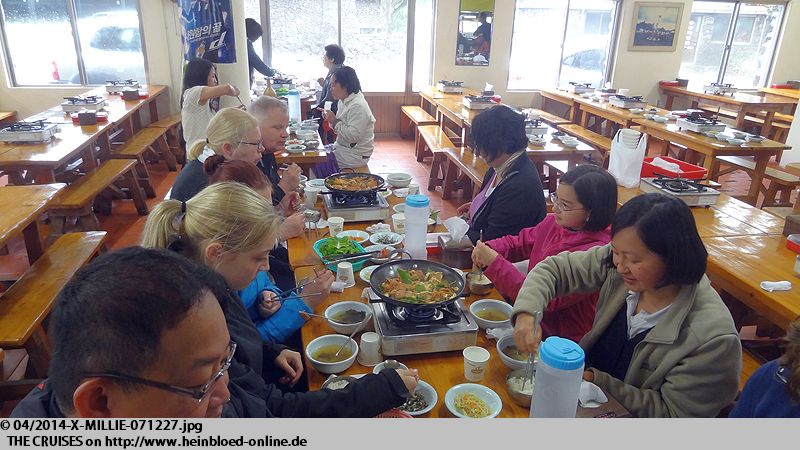 ... und eben Fleisch und Gemüse...
... rollt sich das ein und isst den Salat-Wrap mit den Händen...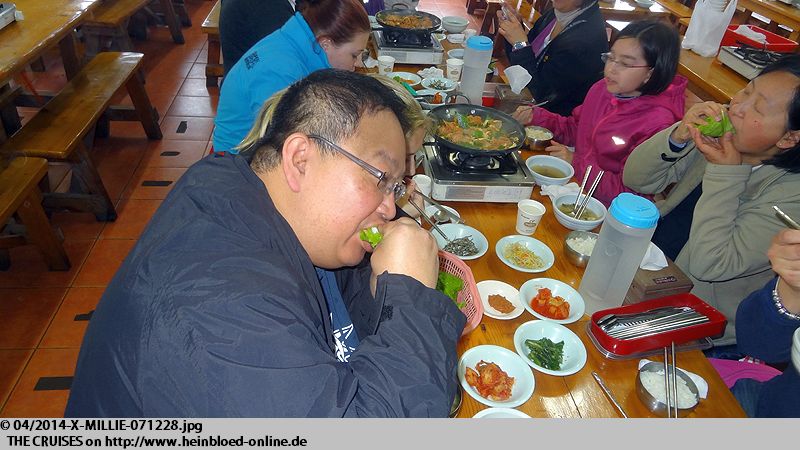 ... and you fold it like you would eat a salad-wrap in your hands...

It was too spicy for me... the older I became the less I could stand spicy dishes...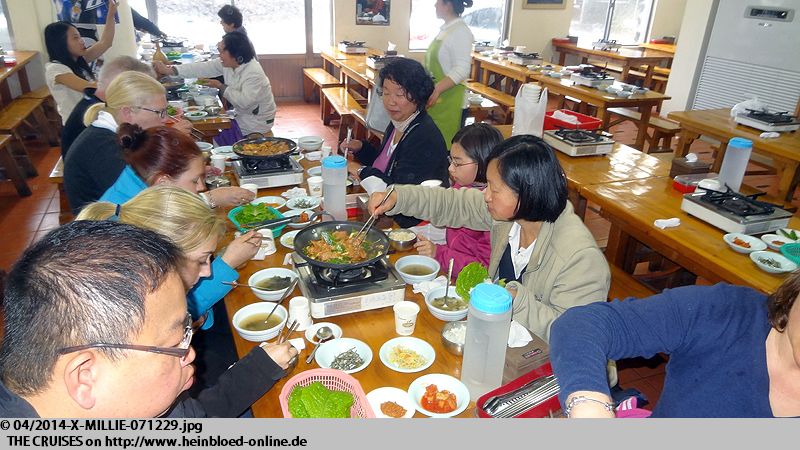 Mir persönlich war es zu scharf... Im zunehmendem Alter vertrage ich es nicht mehr so...
Aber die anderen koreanische Gruppen hatten ihre Freude. Sie hockten da im Schneidersitz und hatten einen Grill an, um das Fleisch zuzubereiten. Das roch richtig toll.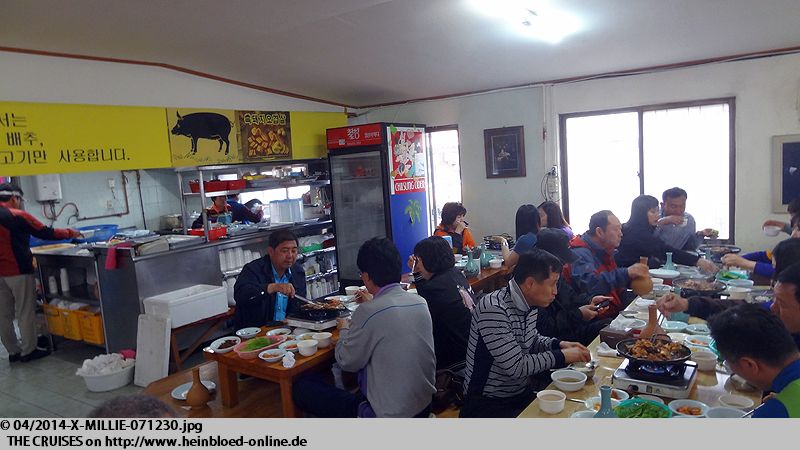 But the other Korean groups had real joy. They sit cross-legged on the floor and had a barbeque to prepare their food. It smelled so wonderful.

Across the restaurant you find the gas pipe to run the stoves.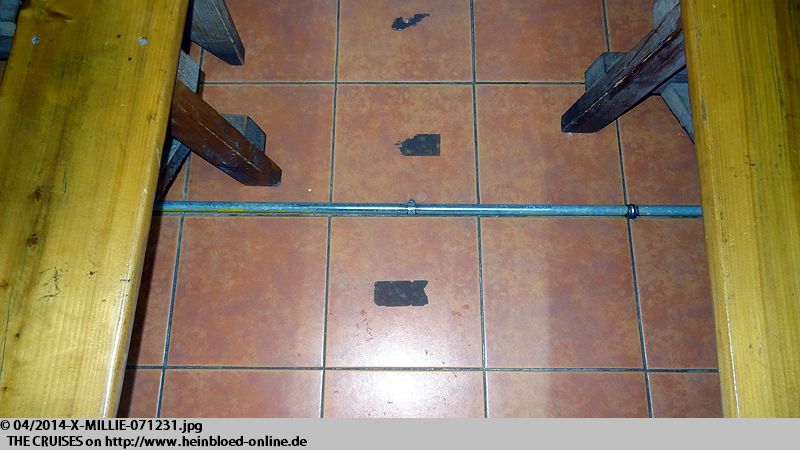 Quer durch das Restaurant verlief die Gasleitung um die Herdplatten zu betreiben.
Auf die Erklärungen hatte keiner von uns wirklich Lust... dafür war einfach der Regen zu stark, um sich die historischen Gebäude erläutern zu lassen. Übrigens waren wohl die Toiletten ebenfalls historisch.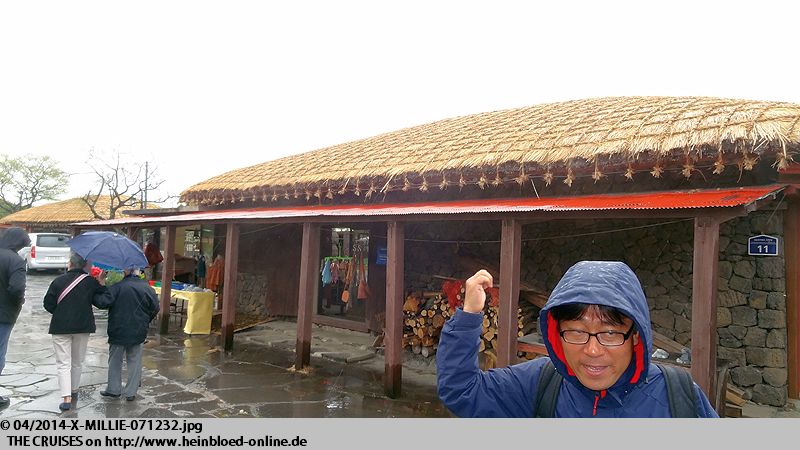 None of us was seriously interested to listen to any explanations... there was too much rain to listen for explanations for historical buildings. By the way someone said that the toilets were in a historical condition too.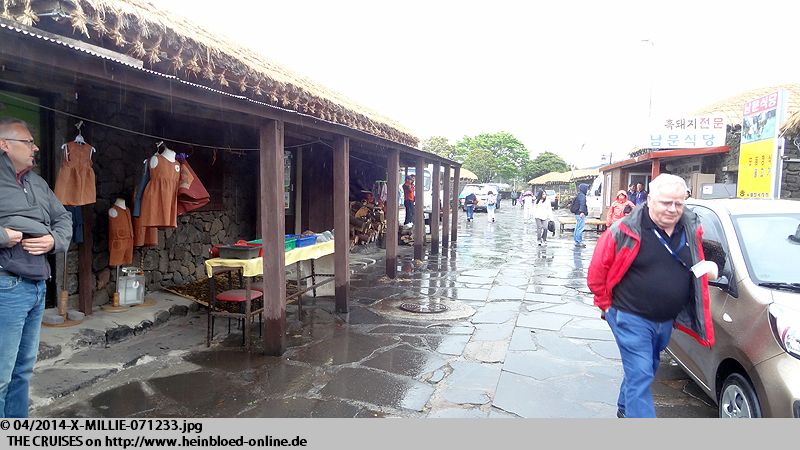 Alle gehen möglichst schnell zum Bus.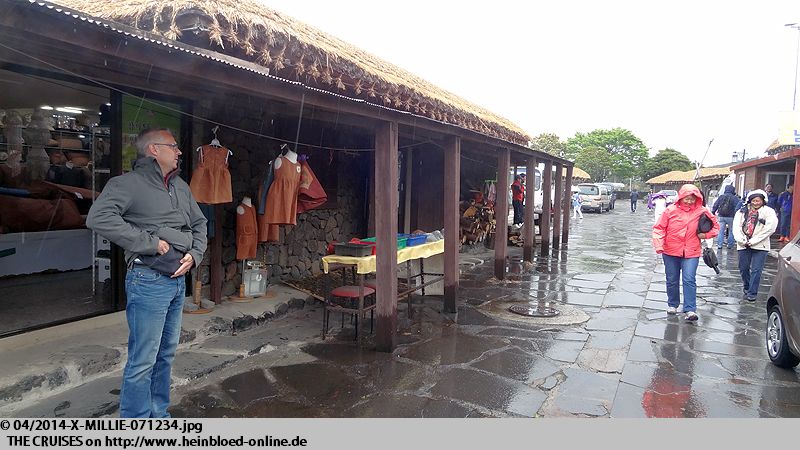 Everyone wanted to get as fast as possible to the bus.

At least we need to have one picture.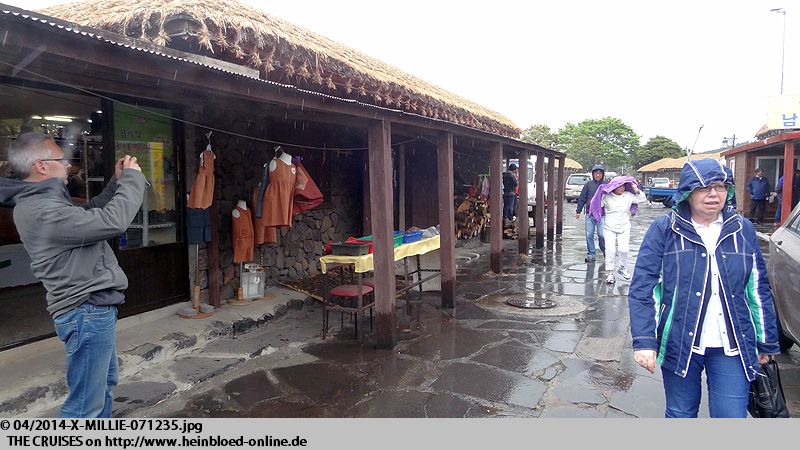 Aber ein Bild muss sein.
Es geht in das
Haenyeo Museum
. Meinem persönlichen Höhepunkt des Aufenthalts auf Jeju. Das Museum widmet sich den Taucherinnen, die nach Meeresfrüchten tauchen. Normalerweise hätten wir das live auf der Insel Udo erlebt. Aber dadurch, dass wir nicht hinfahren konnten, fand ich es gut, dass wir uns doch das Leben der Taucherinnen hier zumindest im Museum ansehen konnten. In einem kurzen Film wurden zunächst einige Zusammenhänge erläutert. Danach findet die Führung statt. Museumspädagogisch ist die Ausstellung sehr gut aufbereitet und kurzweilig.

We went then to Haenyeo Museum. My personal hightlight of the our Jeju-Tour. The museum is dedicated to the femal divers who went down to get seafood. Normally we would experience their life on Udo-Island. But as we could not get there I liked the idea very much that we could see their life at least in this museum. I a short movie explanations were given. Thereafter we had a tour. They must have a very good museum's education officer who prepared the exhibition very good and entertaining.

I liked the photo stoff very much.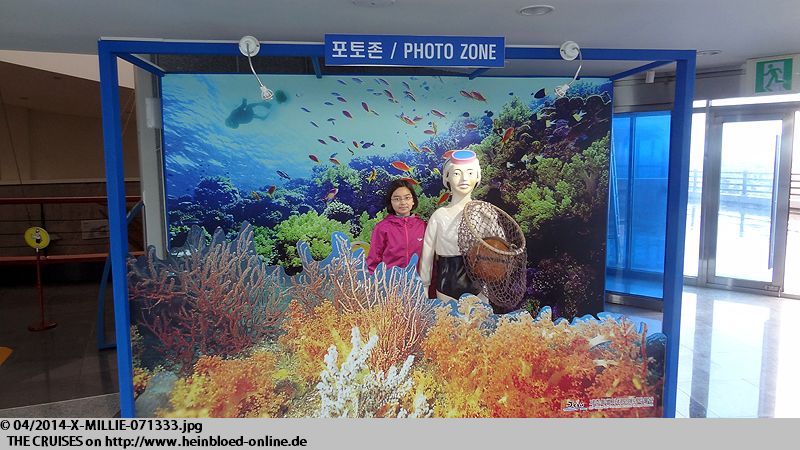 Den Fotostopp fand ich schön gemacht.
Ein Beruf nicht nur für junge Mädchen.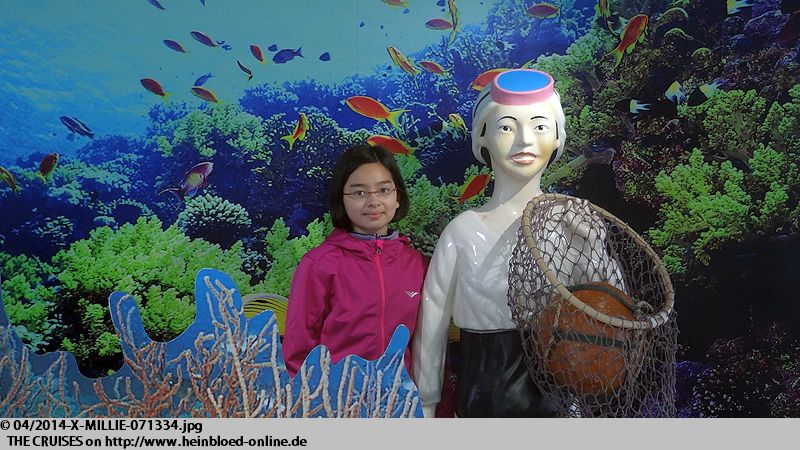 A job not just for young girls.

I am very much impressed that the women do their job even they reached a very high age and without any diving equipement. And if Ursula need to refinance another cruise: here she can exercise for a job as diver...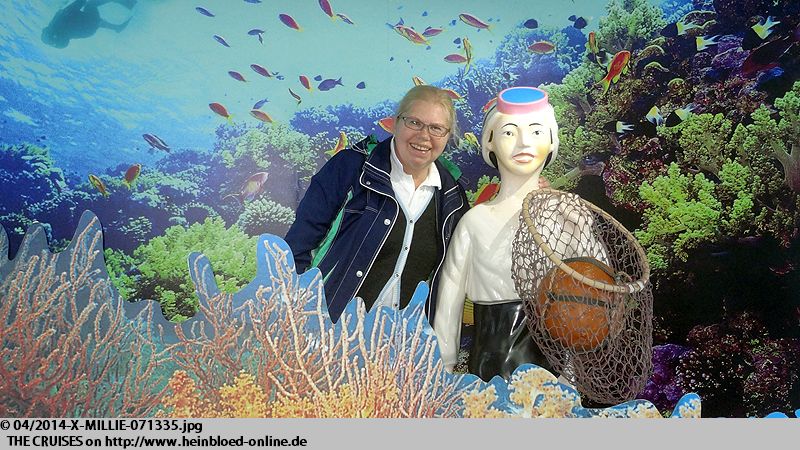 Am meisten hat mich beeindruckt, dass die Frauen bis ins hohe Alter ohne Tauchausrüstung diese Arbeit verrichten. Also falls Ursula noch eine weitere Kreuzfahrt mitfinanzieren muss: hier kann sie schon mal für eine Tätigkeit als Taucherin üben...
Oben gibt es eine Dachterrasse: das sieht nicht gut aus. Ich gehe noch nicht einmal raus, um von hier oben zu fotografieren. Der Regen und der Wind peitschen förmlich über die Terrasse. Dass unter diesen Umständen die DIAMOND PRINCESS nicht angelegt hat, finde ich schon fast verständlich. Wie oft haben wir schon erlebt, dass der Kapitän uns erklärt hat, dass er möglicherweise noch anlegen kann aber später nicht sicherstellen kann, dass er auch wieder gefahrlos ablegen kann.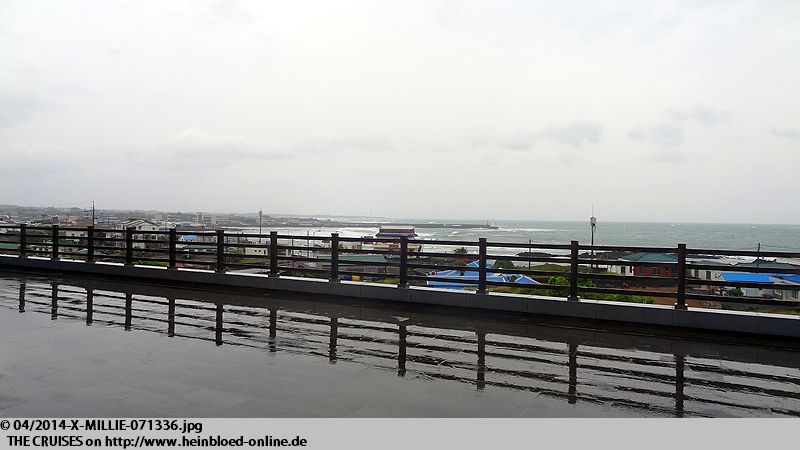 Above they had a roof terrace: that did not look good. I did not go out to take pictures. The rain and the the wind scourged over the terrace. I could fully understand that DIAMOND PRINCESS did not call the port. How many times did we experience that the Captain explain that he might dock but did not now how to leave the port later without any danger.

Then we continued our tour through the exhibition. By the way: they have very nice toilets.

Dann geht es auch weiter in der Ausstellung. Übrigens gibt es hier sehr schöne Toiletten.
Obwohl eigentlich unsere bezahlte Zeit abgelaufen ist, lässt es sich unser Fremdenführer nicht nehmen, uns noch durch die
Lavahöhle von Manjanggul
zu führen. Ein UNESCO-Welterbe, so wie der Seongsan Krater. Bruno ist ja nun der Vulkan-Fan und nimmt in diesem Bereich alles mit, so wie ich in jedem Hafen der Welt gerne Ship-Spotting mache. Nach Big Island (Hawaii), Lanzarote und Halong Bay fand er diese Höhle jedoch weniger interessant und auch relativ schlecht aufbereitet, so dass ihm der Besuch weniger Spaß gemacht hat, weil einfach der Boden zu uneben ist.

Although our paid time was already over our tour-guide did not let us back on ship without showing us the lava tube of Manjanggul. Another UNESCO World Heritag like the Seongsan Crater. Bruno is normally a big fan of vulcanos and if it is possible he takes every occasion to see everything like I like to go shipspotting. After Big Island (Hawaii), Lanzarote (Canary Islands, Spain) and Halong Bay (Vietnam) he said that this tube was less interesting and relative bad prepared for visitors as the floor was not very even and the visit was less fun.

I noticed that the food was too spicy and I need urgently something to drink. But the ice tea was not mine. We could not get any coffee for Ursula either who was joining me.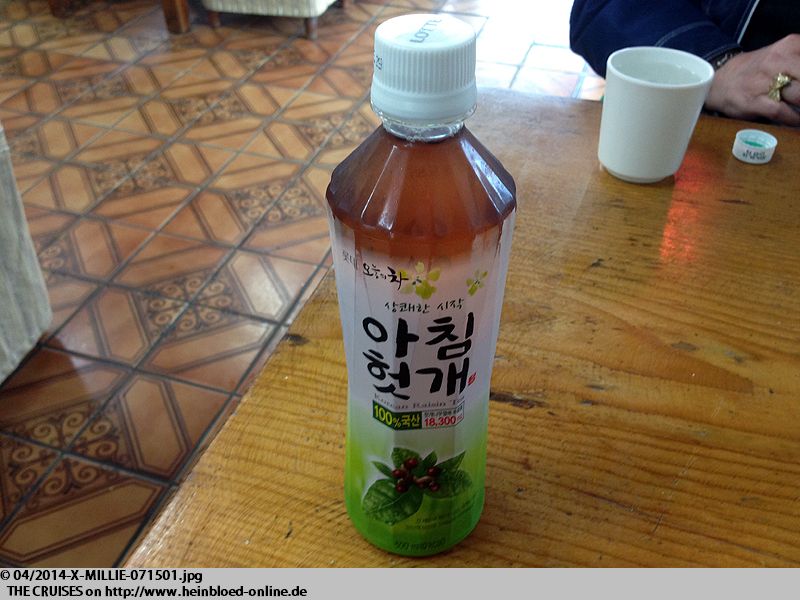 Ich selbst merkte, dass mir das scharfe Essen nicht mehr so gut bekommt und brauche dringend etwas zu trinken. Aber auch dieser Eistee entspricht nicht so meinem Geschmack. Leider bekommt man hier auch keinen Kaffee für Ursula, die mich begleitet.
Da ich unbedingt etwas brauche, was nicht scharf ist, bestelle ich mir noch ein koreanische Teigtaschen: Mandu. Die Füllung war mir zu vegetarisch. Aber der Teig war schön neutral, dass ich etwas wie Brot hatte, um das einfach zu neutralisieren.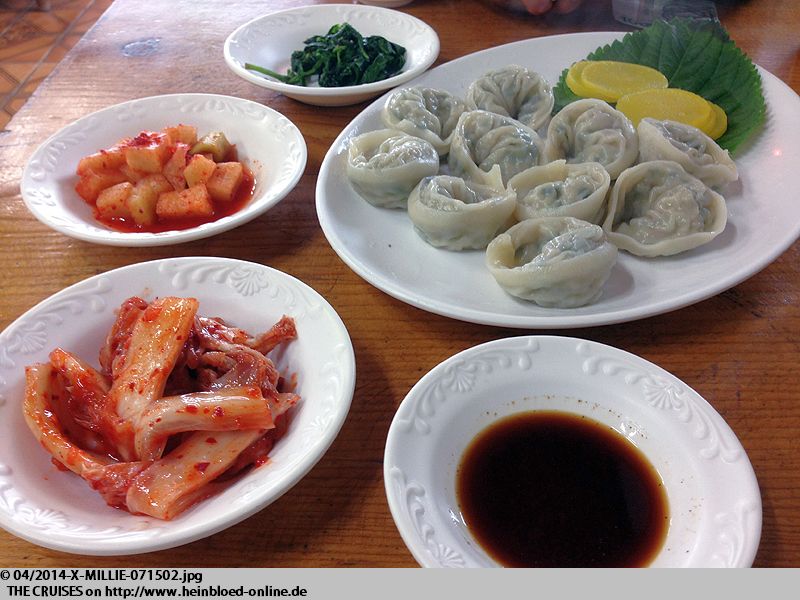 I need something what was not spicy so that I ordered some Korean dumplings: Mandu. But the filling was too Vegetarian for me. But the dough was very neutral so it was like bread which I could use to neutralize.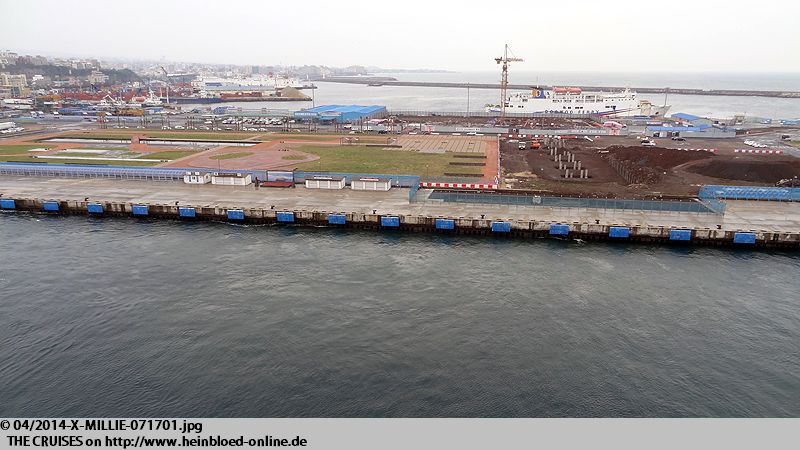 Leider fällt der Abschied von Korea im wahrsten Sinne des Wortes in den Regen. Nichts desto trotz hatten in den zwei Tagen zwei tolle Botschafter, die uns Lust auf mehr in Korea gemacht haben. Schön war der Kontrast: die Millionenmetropole Busan und die Natur auf Jeju. Ich kannte Korea bisher nur, weil ich zweimal am Flughafen Incheon umgestiegen bin. Und ich bin positiv überrascht.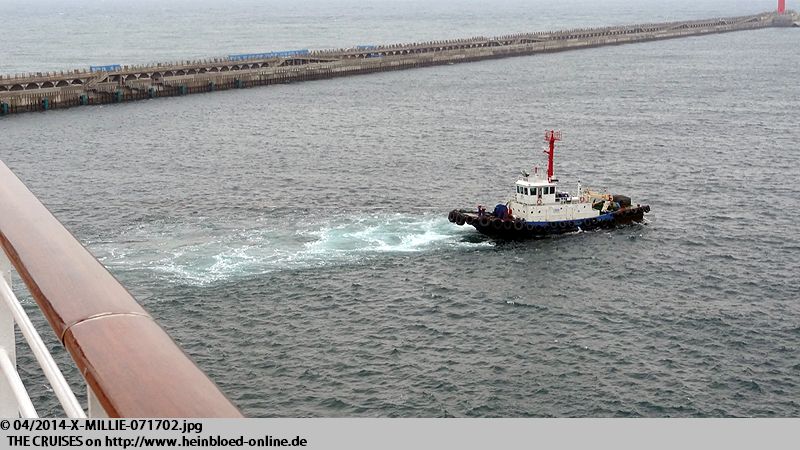 The farewell from Korea became very wet. But anyhow we had for two days two great ambassadors who made us wanting more of Korea. It was very nice to have the costrast: a mega city like Busan and the nature on Jeju. So far I knew Korea only because I had to transfer twice through Incheon Airport. But I was really nicely surprised.

Later the night the weather became so bad that they even had to close the outdoor-decks. As said: very sad that I had no chance to take any pictures of DIAMOND PRINCESS.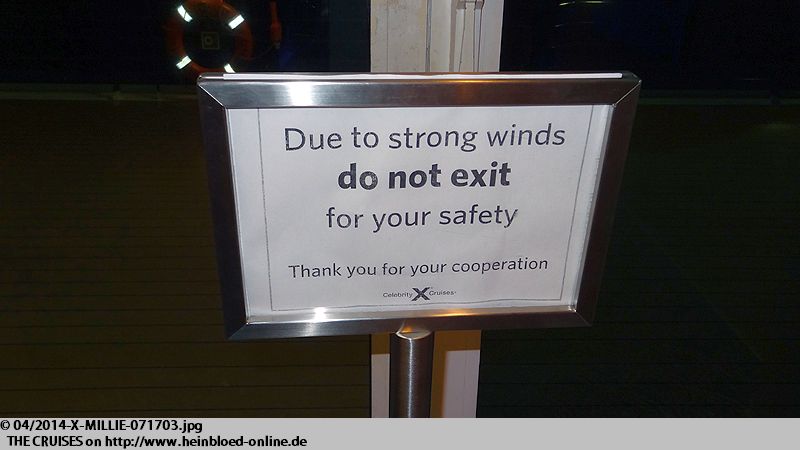 Im Laufe des Abends wird jedoch das Wetter so schlecht, dass sogar die Außendecks geschlossen werden mussten. Wie gesagt: schade bloß, dass ich dadurch die DIAMOND PRINCESS nicht fotografieren konnte.