Scroll down for English explanations - alternates with German explanations.

Direkt am Hafen ist das
Evergreen Laurel Hotel
. Dort gibt es wohl nachmittags schön Tea-Time.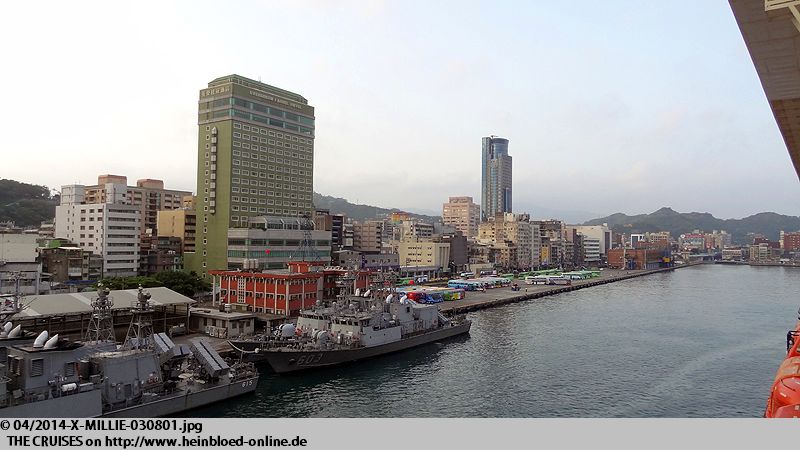 Right at the port you find the Evergreen Laurel Hotel. You have there nice tea-time in the afternoon.

The busses for the shore excursions were waiting.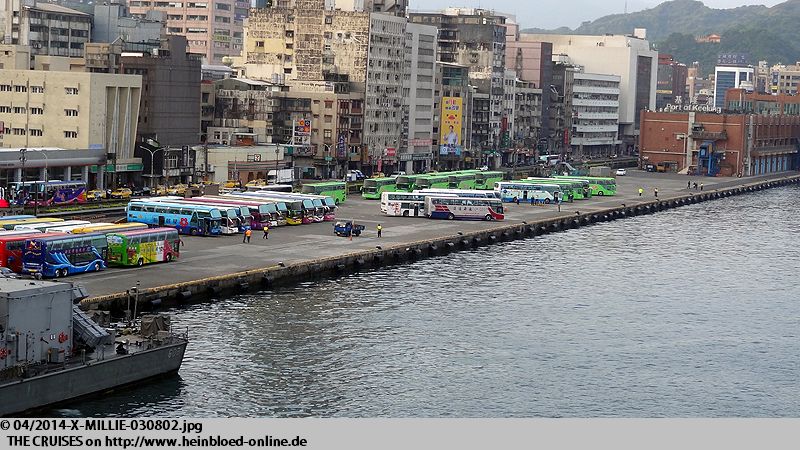 Die Busse für die Ausflügler warten schon.
Wir legen direkt vor dem Gebäude der Hafenverwaltung an.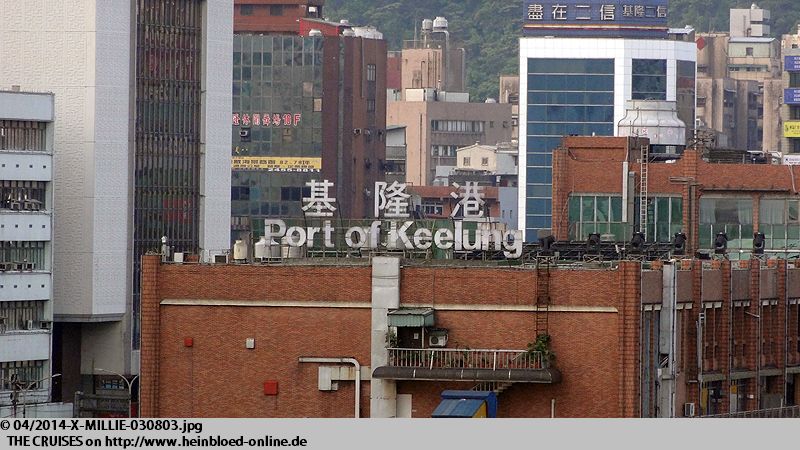 We just docked in front of the building of the port administration.

If you booked a private tour or transfer: the best would be to meet at the port administration.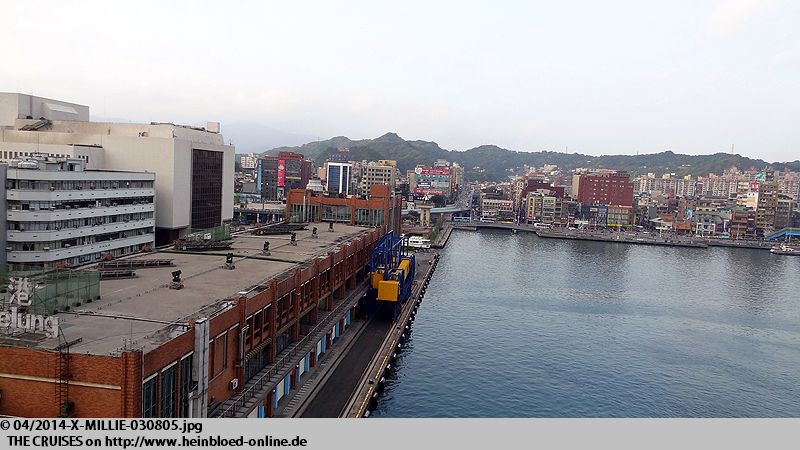 Wenn man einen Privatausflug oder -transfer gebucht hat: am Besten an der Hafenverwaltung verabreden.
Es gibt noch zwei weitere Tore. Aber u. U. wird man direkt zur Hafenverwaltung geschickt und nicht rausgelassen.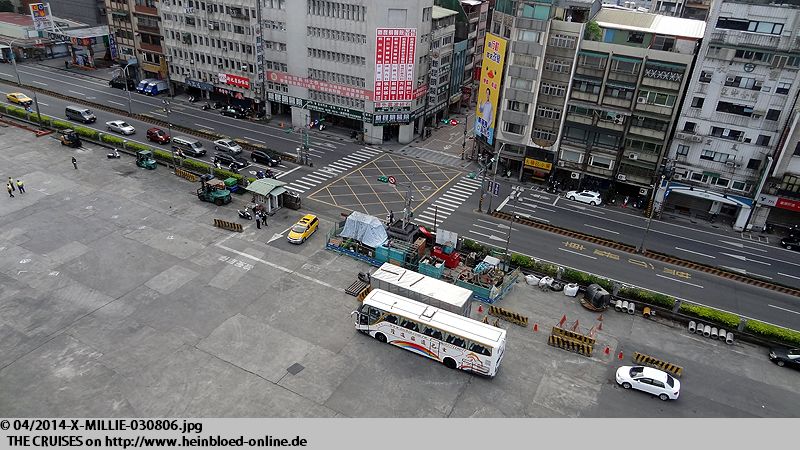 There were two more gates. But it could happen that they do not let you leave there and ask you to forward to the port administration.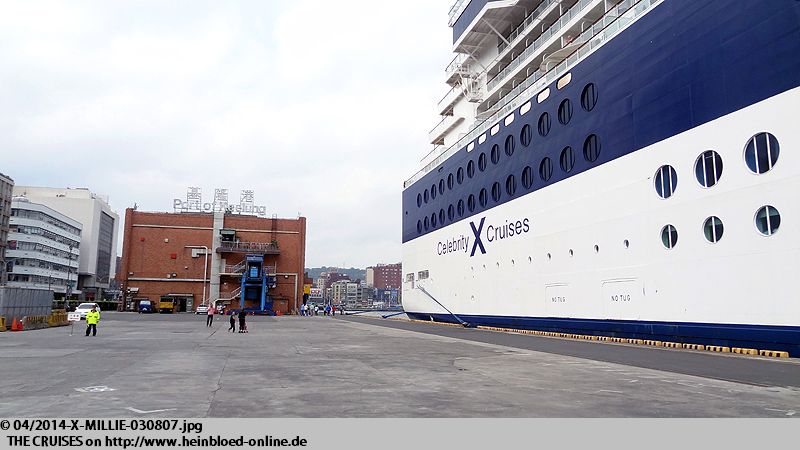 Es gibt morgens einen Shuttle vom Schiff zur Hafenverwaltung, obwohl es nur 3-5 Minuten zu laufen sind.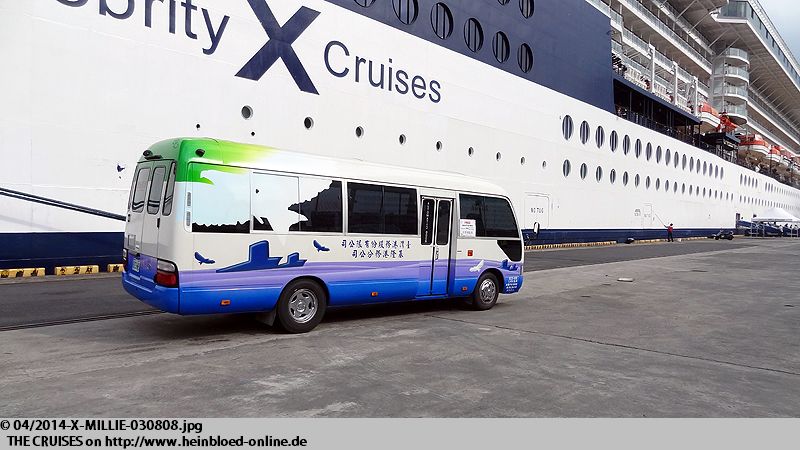 In the morning they ran a shuttle from the ship to the port administration although walking was only 3-5 minutes.

You could get some information in the port administration.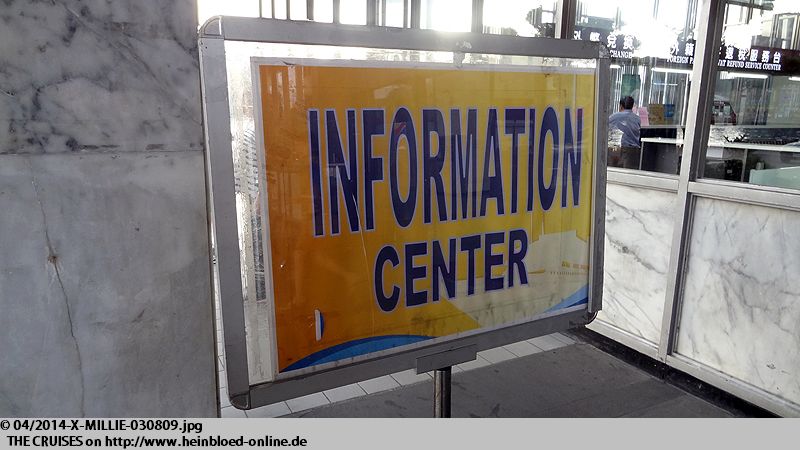 In der Hafenverwaltung gibt es Informationen.
Ein paar Einrichtungen.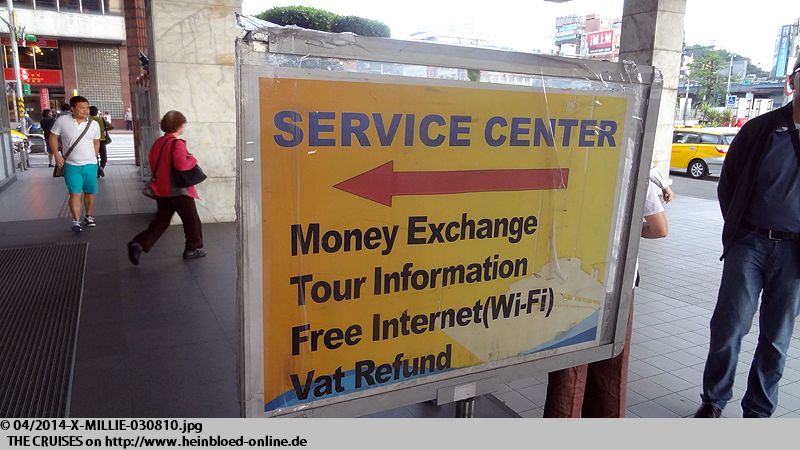 Few fascilities.

You also have an ATM inside.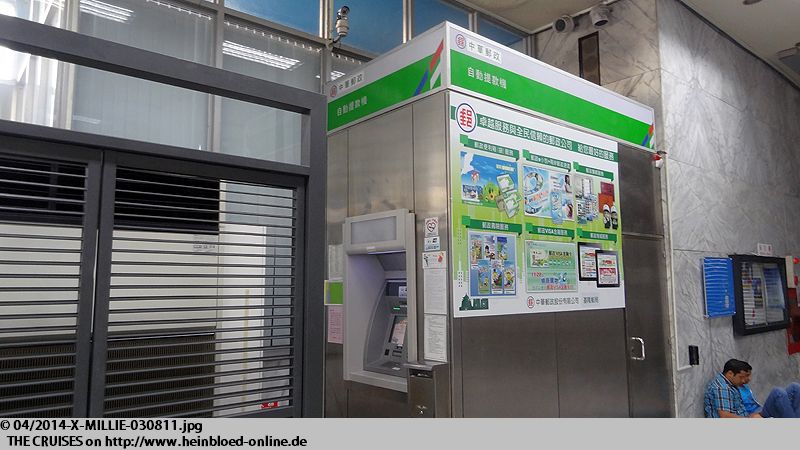 Sogar ein Geldautomat befindet sich im Terminal.
Und ein kleiner Laden.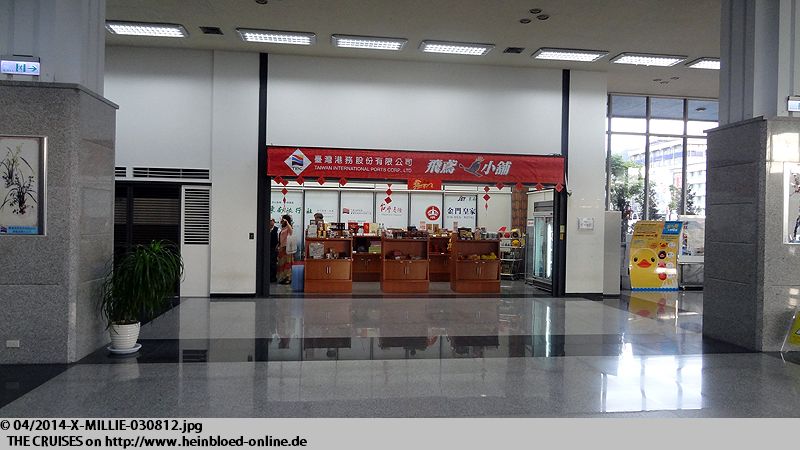 And a small shop.

If you want to do something good without spending any money: just drop your receipt into this box. To stop black market the Ministry of Finance runs a lottery and all receipts are lottery tickets. Here they collect the tickets for welfare purposes.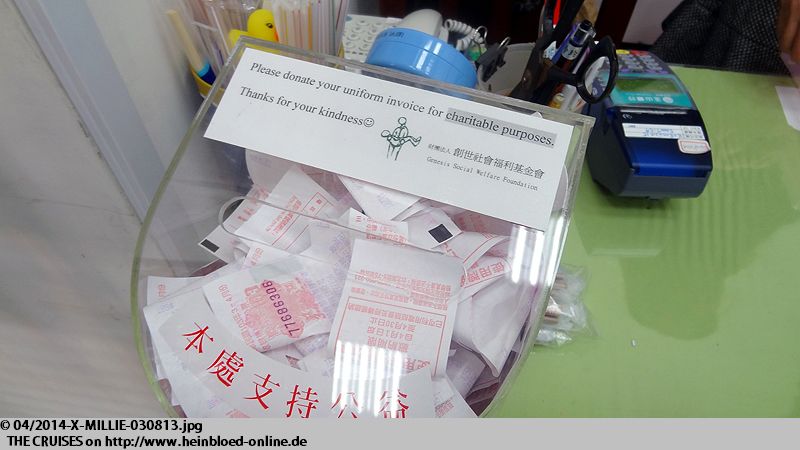 Wenn man gutes tun will, ohne Geld einzusetzen: Einfach den Kassenbon hier reinwerfen. Um Schwarzabsatz zu vermeiden, verlost das Finanzministerium auf alle Kassenbons Geldpreise. Hier werden potentielle Lose für einen gemeinnützigen Zweck gesammelt.
Hier bekomme ich noch eine Flasche mit dem Riesen-Entchen des niederländischen Künstlers Florentijn Hofman. Es schwamm zuletzt im Hafen von Keelung und ist leider Silvester geplatzt.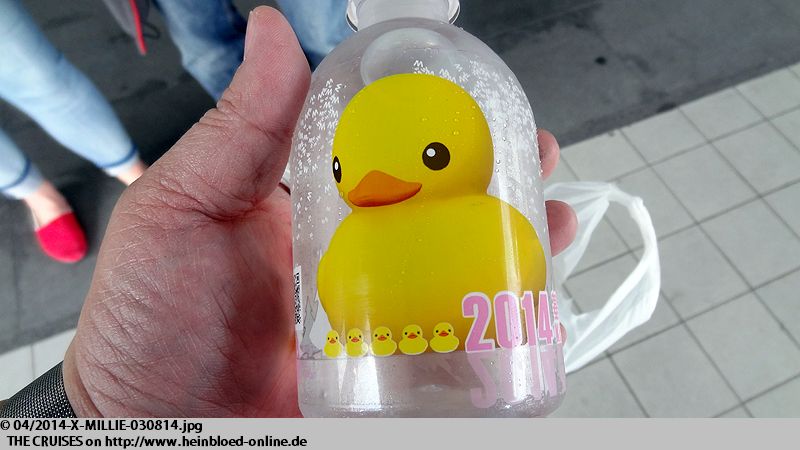 Here you can get a bottle with the big duckling of the Dutch artist Florentijn Hofmann. It was swimming in the port of Keelung but bursted on New Year's Eve.

Here you can see how it bursted. So sad that I cannot see it anymore here by myself.

Hier sieht man, wie sie platzt. Schade, dass ich sie nicht mehr hier selbst erlebe.
Vor dem Gebäude werden Taxitouren angeboten.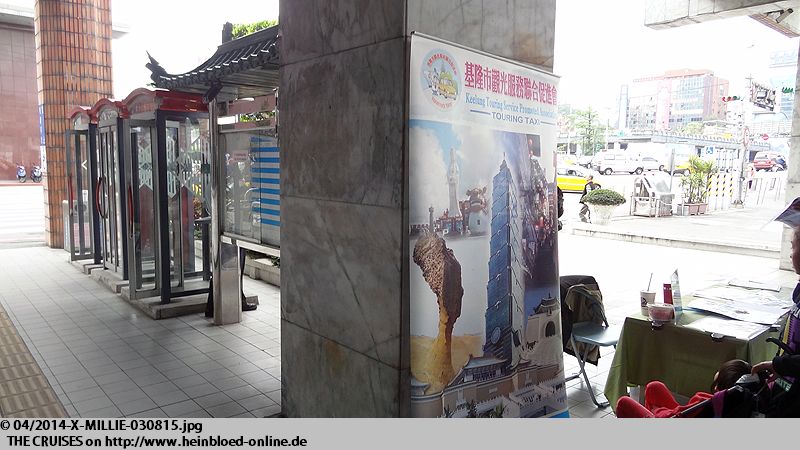 In front of the building they offered taxi tours.

We waited here for the vehicles we booked.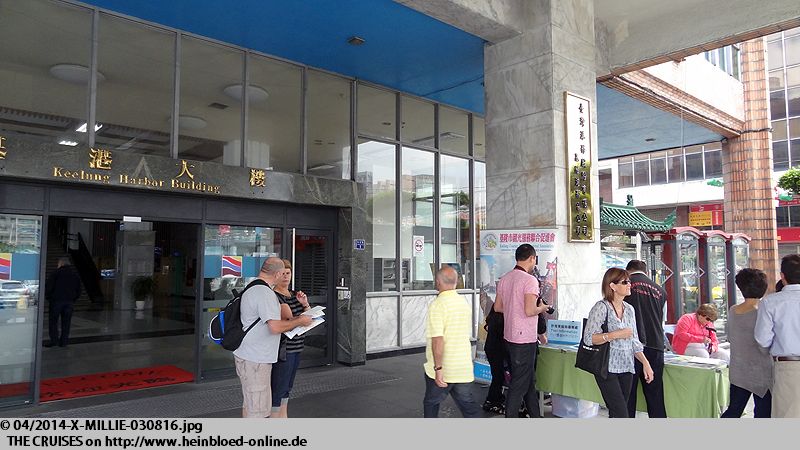 Wir warten hier auf unsere Fahrzeuge, die wir bestellt haben.
So nutze ich die Wartezeit, um das Schiff zu fotografieren.

So I used the waiting time to take some pictures of our ship.

Again overslept... We had luck that we did not have a common tour. So it was not too bad that they slept longer again.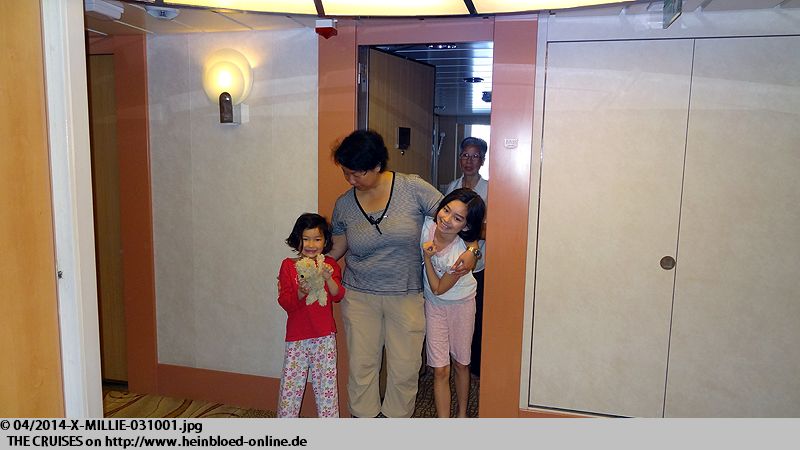 Schon wieder verschlafen... Zum Glück gehen wir nicht zusammen auf den Ausflug. So ist es nicht schlimm, dass sie mal wieder lange geschlafen haben...
Wir müssen wieder erst 20.45 Uhr zurück sein. Die Crew 15 Minuten früher. Bei anderen Gesellschaften muss die Crew 30 Minuten vor den Passagieren zurück sein.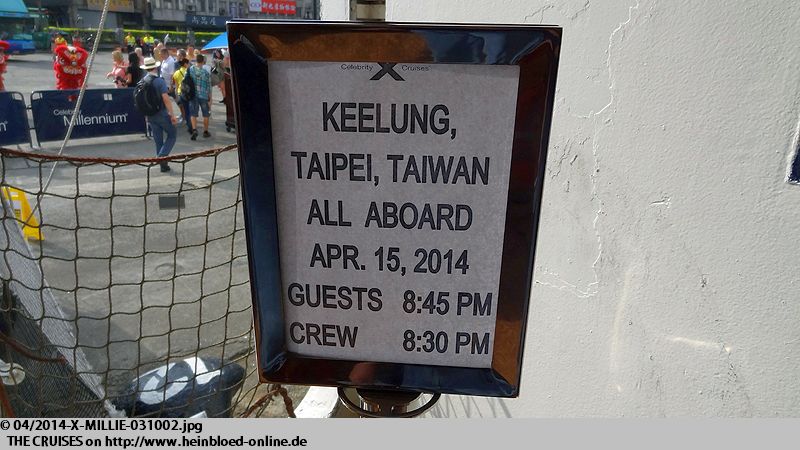 We need to be back at 20.45 hrs. The crew must be back 15 minutes earlier. With other cruise lines the crew must be back 30 minutes ahead of the passengers.

Bruno and Marianne have not been in Taipei before.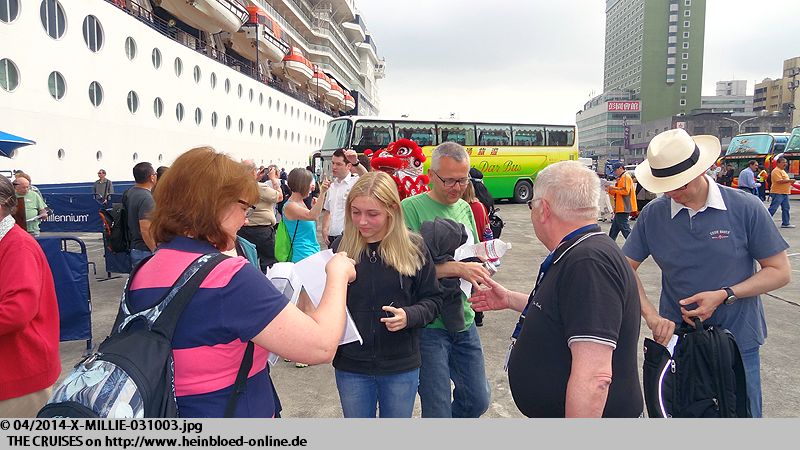 Bruno und Marianne waren noch nicht in Taipeh.
Mit uns kommen Alfred und Ursula sowie Nicole, Uwe, Jacqueline und Michelle.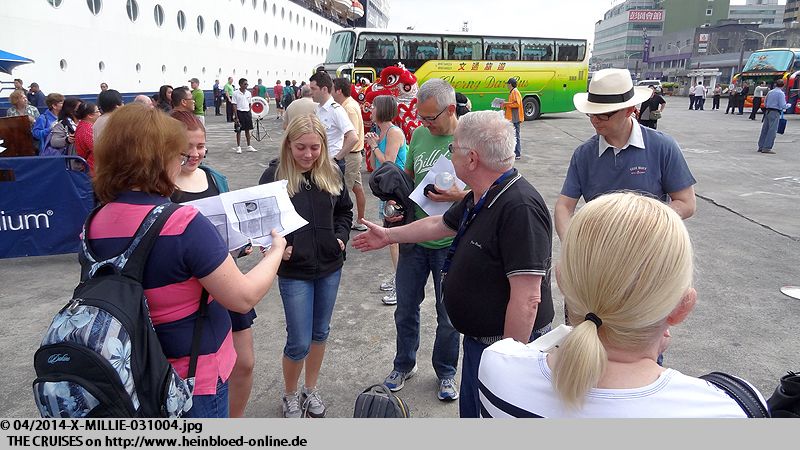 So we had Alfred and Ursula with us and furthermore Nicole, Uwe, Jacqueline and Michelle.

I was surprised that there were no checks that we get very quickly to the terminal building.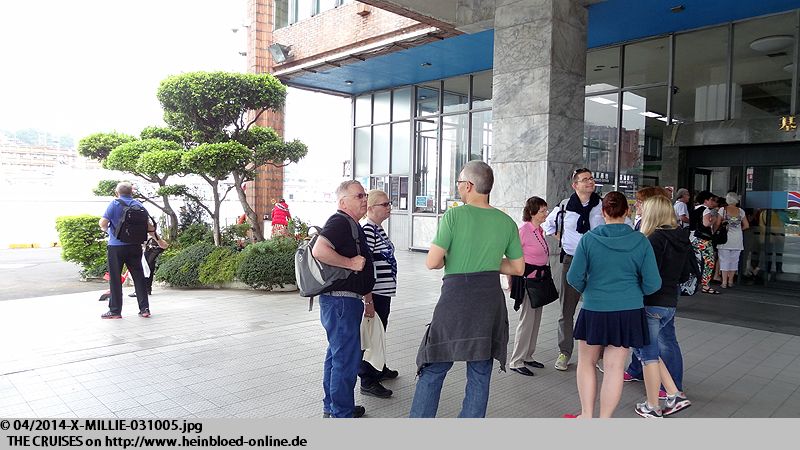 Zu unserem Erstaunen gibt es gar keine Kontrollen, so dass wir sehr schnell schon am Terminalgebäude sind.
Hier warten wir auf unsere Fahrzeuge.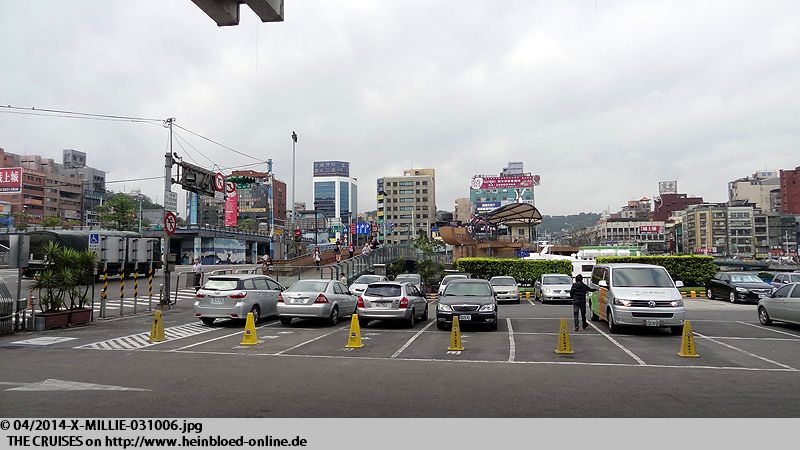 Here we waited for our vehicles.

As we had originally total different plans we booked two limousines with Hotai Motors. I booked two English-speaking drivers but both were hardly able to speak.

Da unsere Pläne ursprünglich komplett anders waren, haben wir bei
Hotai Motors
zwei Limousinen bestellt. Ich hatte zwar englischsprechende Fahrer bestellt, aber leider war keiner der beiden dazu in der Lage.
Durch die Straßen der 400.000-Einwohnerstadt geht es raus.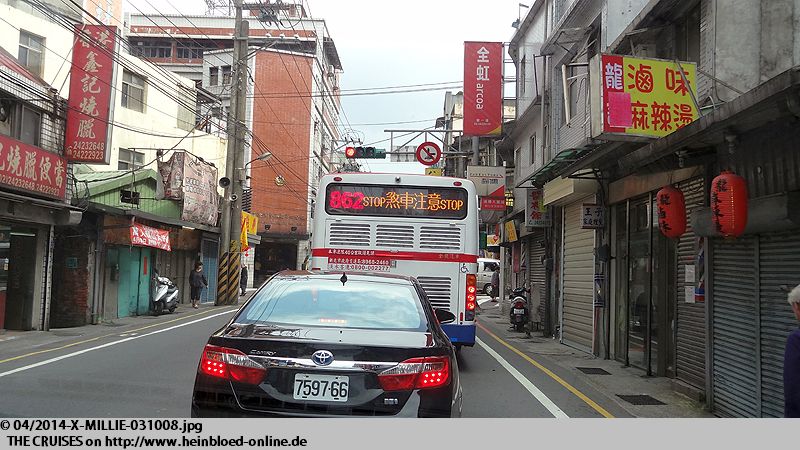 We had to leave a city of 400,000 inhabitants.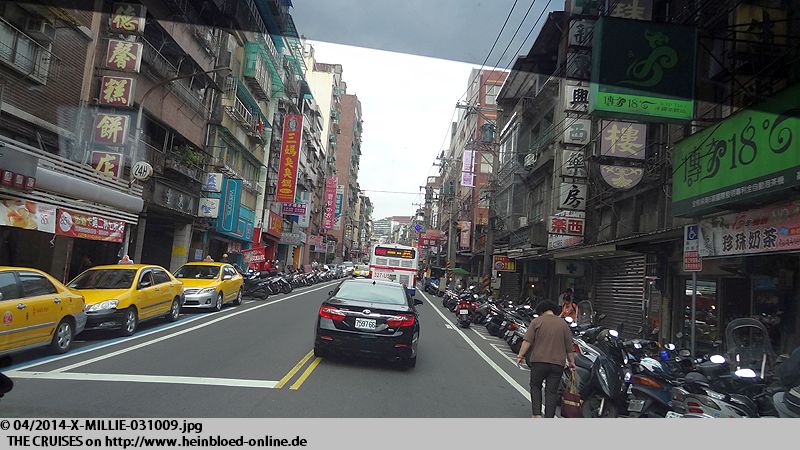 Auch später durch Taipeh.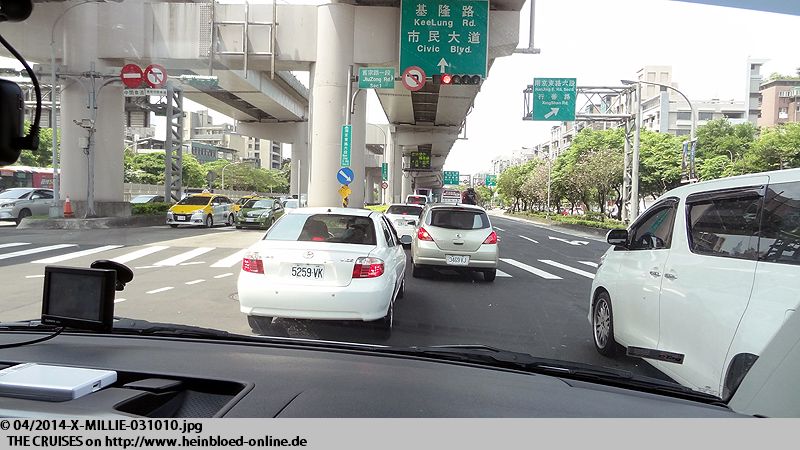 And had to drive through Taipei.

We were a nice group and liked each other.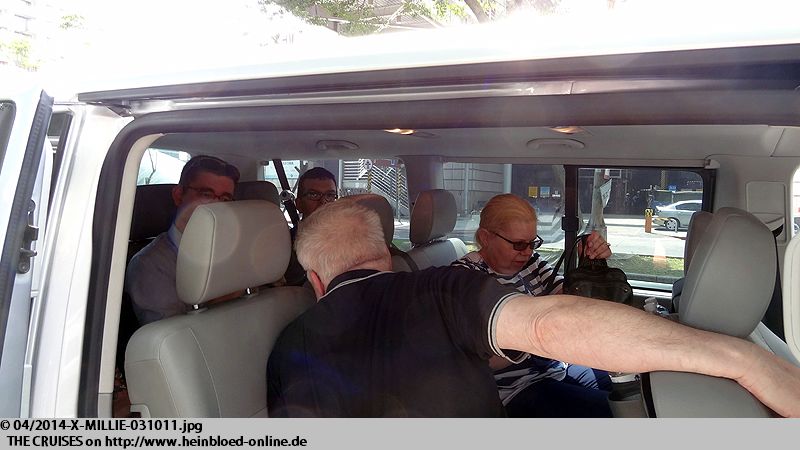 Insgesamt haben wir uns gut verstanden.
Aufgrund eines Missverständnisses fahren wir zunächst nach
Yehliu Geopark
, das sich in der Nähe von Keelung befindet. Meine Erinnerungen an meinen Großvater enden hier. Ich kann mich eben noch daran erinnern, dass er mit mir hier war, um mir das zu zeigen. Bekannt ist der Park wegen der Felsformation, die an die Form der
ägyptischen Königin Nofretete
erinnert, deren Büste auf der Museumsinsel in Berlin ausgestellt ist. Leider hat es nicht nur einen Teil meiner Familie erwischt, sondern hat auch bei unseren neuen Freunde aus Paderborn zugeschlagen. So waren wir froh, dass wir zwei Fahrzeuge hatten, so dass der große Teil der Gruppe zum Geopark fahren konnte und das kleine Fahrzeug zwei wieder zurück zum Schiff brachten. Vor dem Geopark wird Seetang zum Trocknen durch die Sonne auf dem Boden ausgelegt: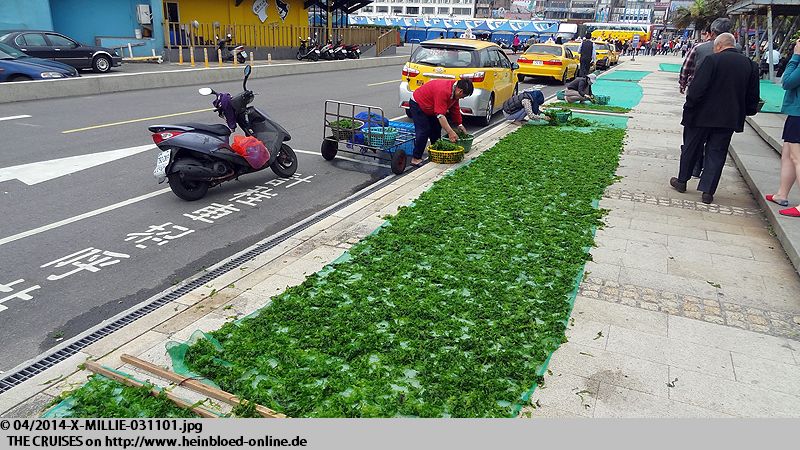 Due to a misunderstanding we went first to Yehliu Geopark, which is close to Keelung. My memories with my Grandfather terminates here. I can remember that he was here to show me everything. The park is famous for the rock formation which reminded to Egyptian Queen Nofretete. You can find her bust on Berlin's Museums' Island. Unfortunately not just my family was caught by sickness but also our new friends from Paderborn, Germany. So we were quite happy to have two verhicles with us so the majority could already go for the geo park and the small vehicle could take two back to the ship. In front of the geo park they palced seeweed on the floor to dry in the sun.

You get from one side in and normally you leave the park from another side.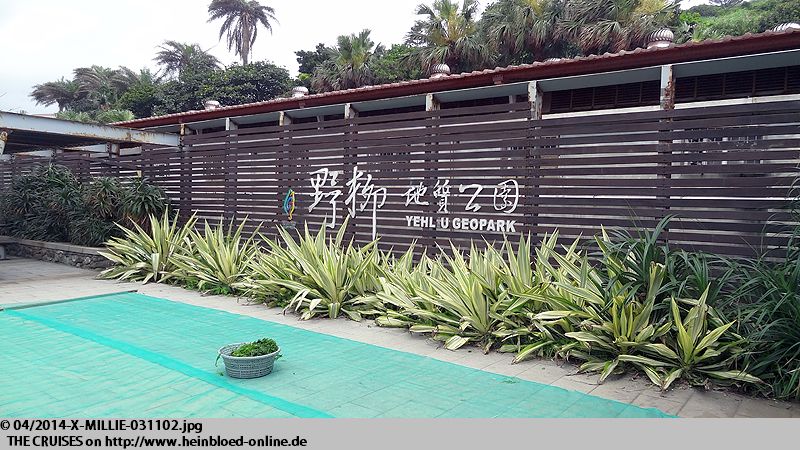 Es geht von der einen Seite rein und man kommt normalweise woanders wieder raus.
Gegenüber sind viele Verkaufsstände aufgebaut. Und es war voll. Viele Schüler- und Touristengruppen waren hier. Später erfahren wir, dass meine Rest-Familie ebenfalls hier war, weil es gegenüber eine Delphin-Show gab.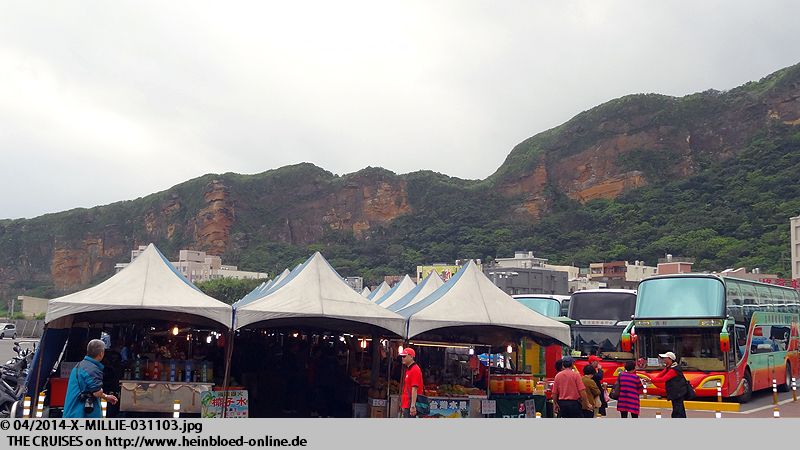 Adjustant you find many sales outlets. And it was crowd. Many student- and tourist-groups were here. Later we learned that also the other part of my family was here to see a dolphin-show.

The admission was 80 TWD (2014) per person. Before we returned to the ship with the small vehicle the driver of the Volkswagen van was so kind to ask for some Taiwan Dollar that he could buy the tickets for them.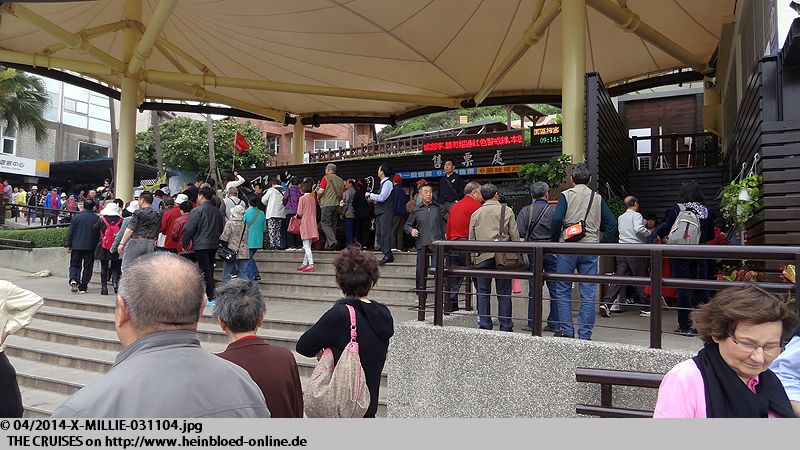 Der Eintritt kostete pro Person 80 TWD (2014). Bevor wir mit dem 2. Fahrzeug zurück zum Schiff gefahren sind, war der Fahrer des VW-Busses so nett, mich um Taiwan Dollar zu bitten und hat dann die Eintrittskarten besorgt.
Sie laufen durch den Park den Massen hinterher.

They just followed the crowds.

I did not walked in because the lines in front of the ticket booths were too long. But I called them to tell them to find "Nofretete" inside close to the seaside.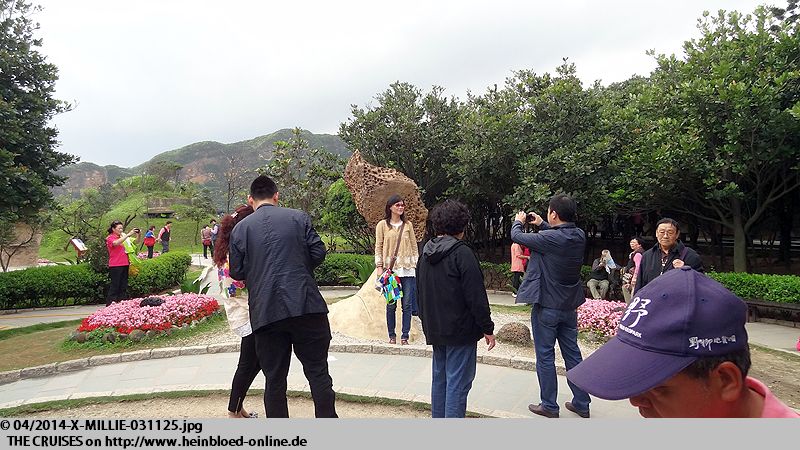 Ich habe darauf verzichtet reinzulaufen, weil die Schlangen am Eingang zu lang waren. Ich hatte denen allerdings zugerufen, dass sie unbedingt draußen am Meer nach der "Nofretete" Ausschau halten sollten.
Aber sie wurde zwischenzeitlich umplatziert und in den Park versetzt.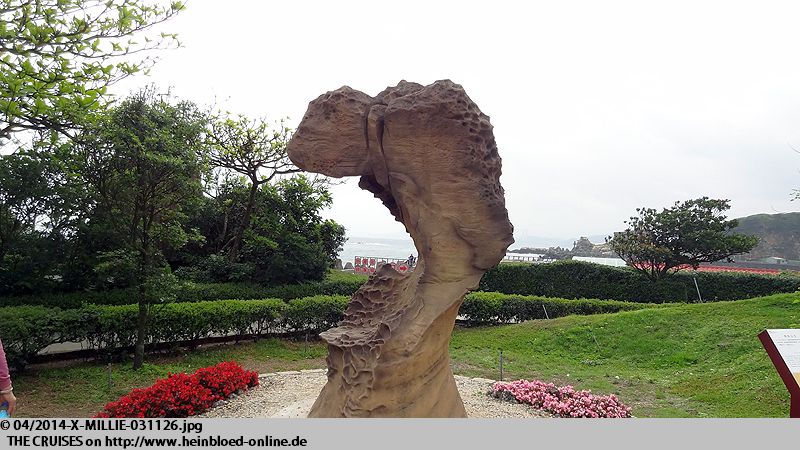 But meanwhile she was re-located into the garden section.

That was like I remembered her from my childhood, when "Nofretete" was located right on the beach.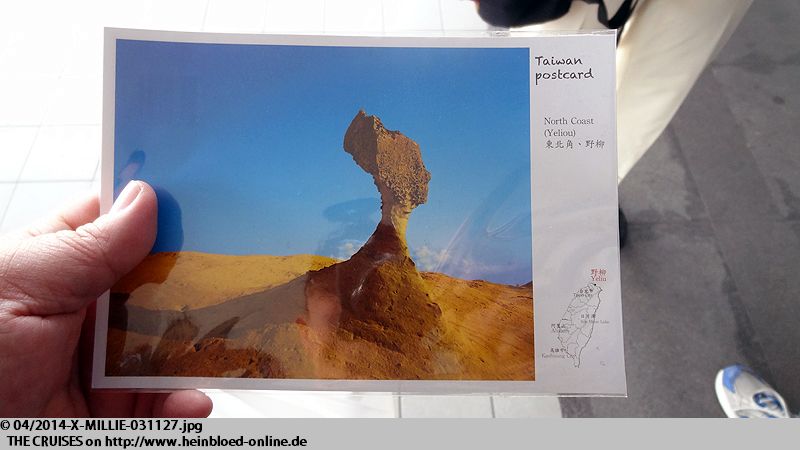 So hatte ich es richtig in Erinnerung aus meiner Kindheit, als die "Nofretete" noch am Sandstrand stand.
Nach dem sie wieder draußen fahren, führe ich sie durch die Verkaufsstände und erkläre ihnen ein paar von den chinesischen Spezialitäten.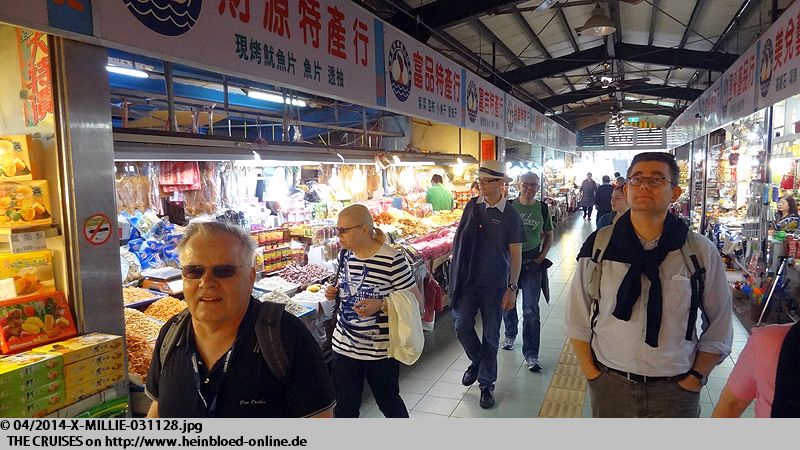 After they were out again I took them through some sales outlets and explained some Chinese specialities.

Dried seafood.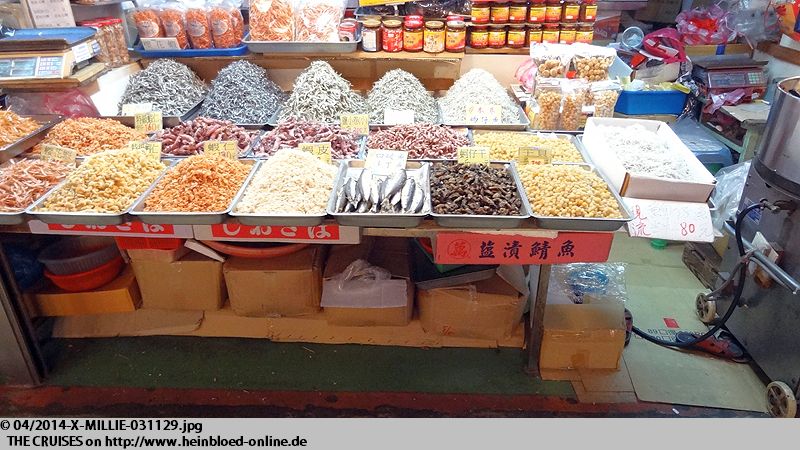 Getrocknete Meeresfrüchte
Leckeres chinesisches Essen.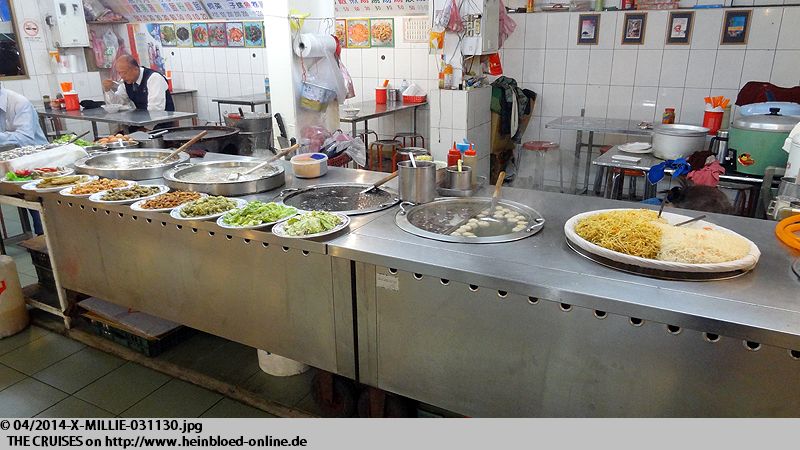 Yummy Chinese food.

Here they barbaqued the fish and pushed it later through the roll to make it flat.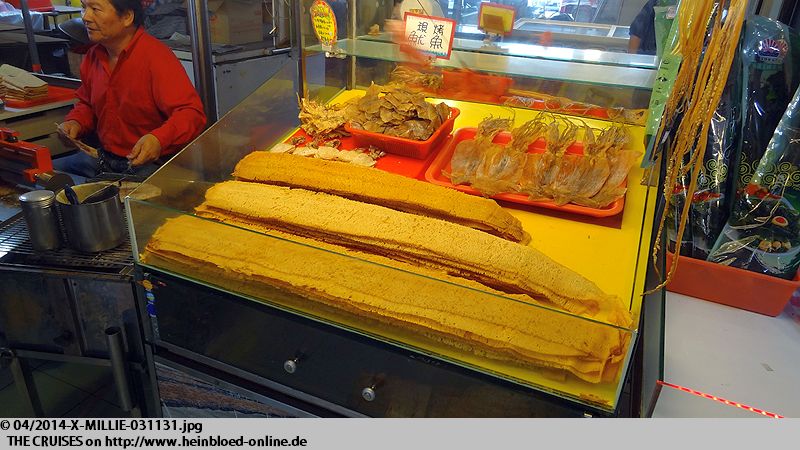 Hier wurde beispielsweise der Fisch gegrillt und anschließend platt gewalzt.