Scroll down for English explanations - alternates with German explanations.

Der nächste Morgen: ein schöner Sonnenaufgang erwartet uns.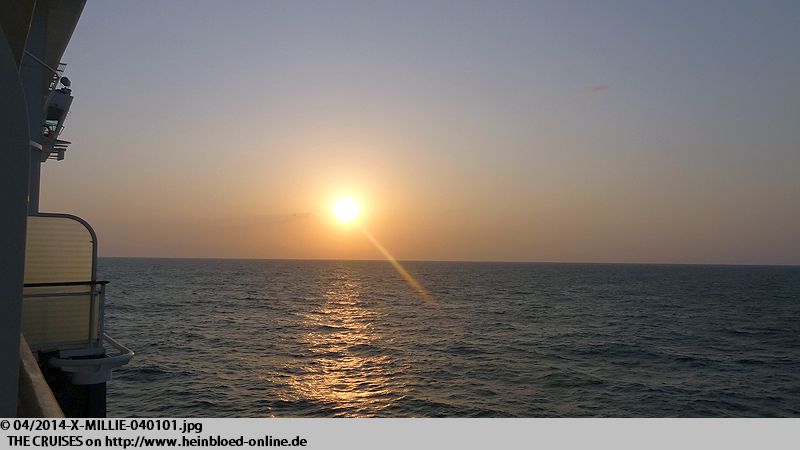 The next morning: a beautiful sunrise was waiting for us.

Time changes were announced very mall in the daily programme only...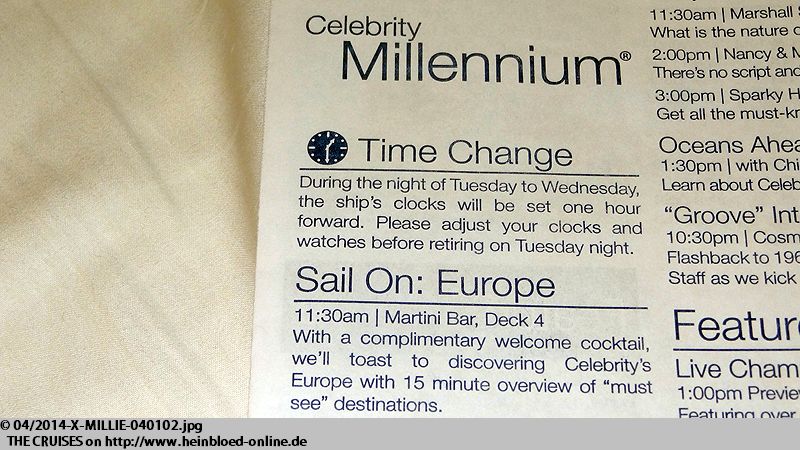 Die Zeitumstellung wird nur so ganz klein im Tagesprogramm angekündigt...
Warum eigentlich nicht noch zusätzlich kleine Zettel... nur mit der richtigen Richtung und nicht wie hier auf der ISLAND PRINCESS, dass man schreibt, dass man zurückstellen soll, aber der Pfeil nach vorne zeigt.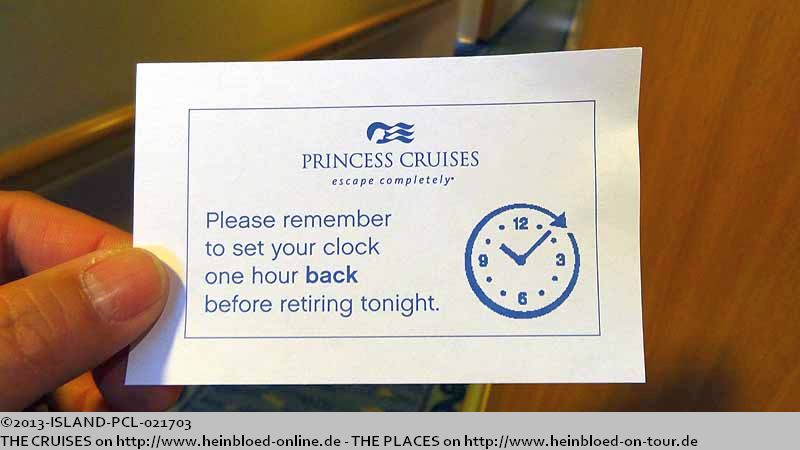 Why not having an extra little piece of paper... but with the correct direction but not like on ISLAND PRINCESS that you had to set your clock back but the arrow shows forward.

Or another way to attract attention like on CELEBRITY EQUINOX: when you had it on your screen. When you returned to your cabin you saw it immediately.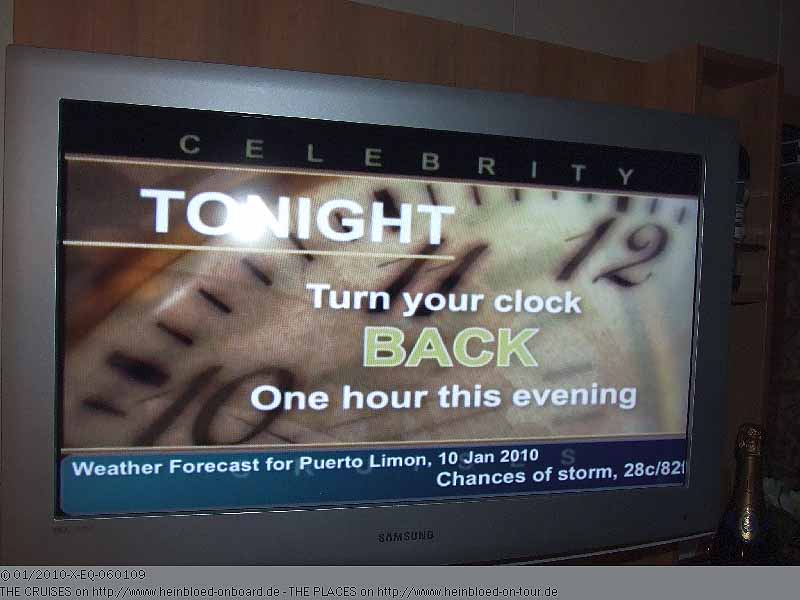 Oder macht es so schön auffällig, wie auf der CELEBRITY EQUINOX auf dem Bildschirm. Wenn man in die Kabine kommt, sieht man es sofort.
Ich bin morgens verwundert, wie "gut" meine Blutzuckerwerte sind, obwohl ich meistens einen Nachtisch nehme. Und oft nicht die zuckerfreien.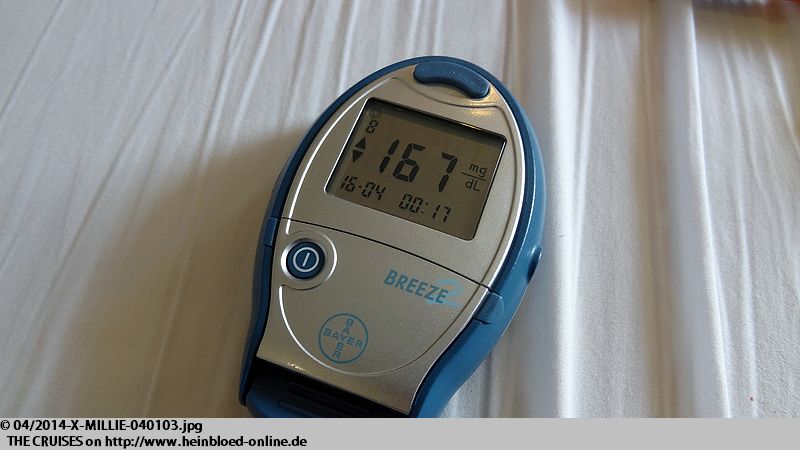 I was in morning always suprised how "good" my blood sugar was although mostly I took a dessert. And mostly not the sugar-free one.

In the public area they wanted to have a great appearance of the ship.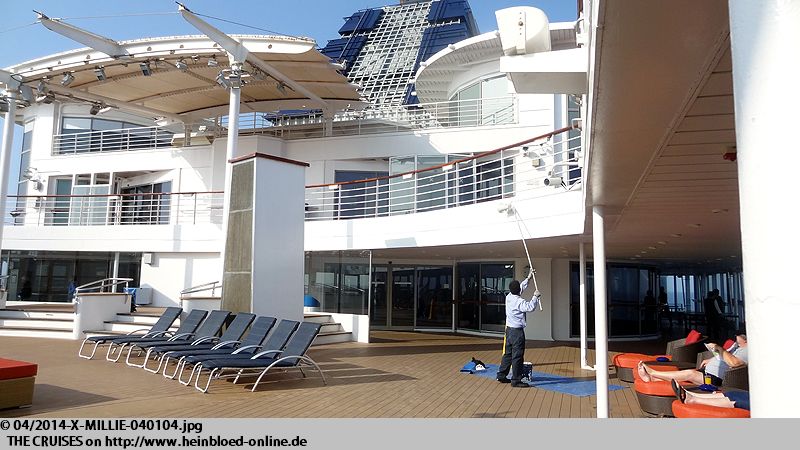 Im öffentlichen Bereich wird sehr darauf geachtet, dass das Schiff überall schön aussieht.
Und wieder haben die Kinder beschlossen lange zu schlafen. Bei meinen Eltern sind die Kinder immer sehr früh wach, weil sie wissen, dass sie dort Fernsehen können, aber hier liegt es wohl daran, dass das Programm in Englisch ist und daher nicht von Interesse ist und daher man nicht so früh aufsteht. Außerdem macht Seeluft ja bekanntlich müde und hungrig.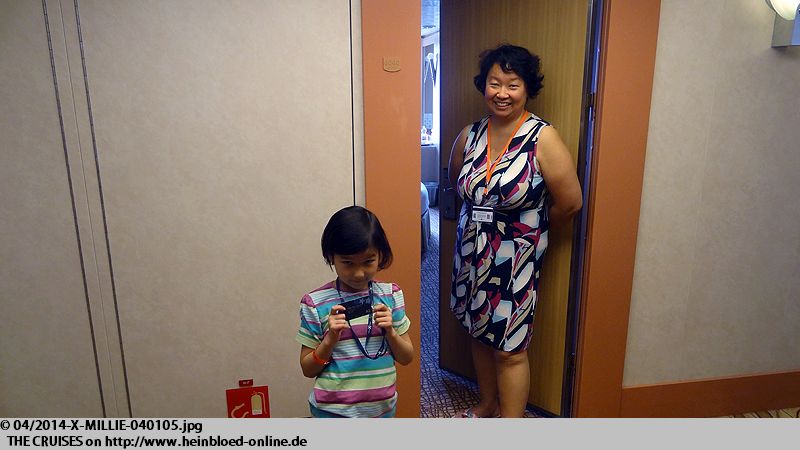 And the kids decided again to sleep long. With my parents the kids wake up early as they could watch TV but here you had only English programmes and those might not be interested and that was why they did not wake up so early. But you know that sea air makes hungry and sleepy.

Our toilet flush did not work. The botton just stacked.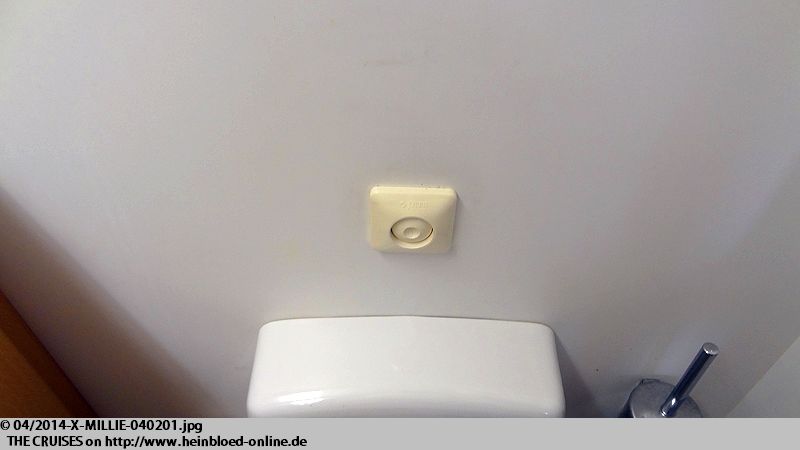 Unsere Toilettenspülung funktioniert nicht. Der Knopf bleibt einfach stecken.
Um 06.46 Uhr melde ich den Vorfall der Rezeption...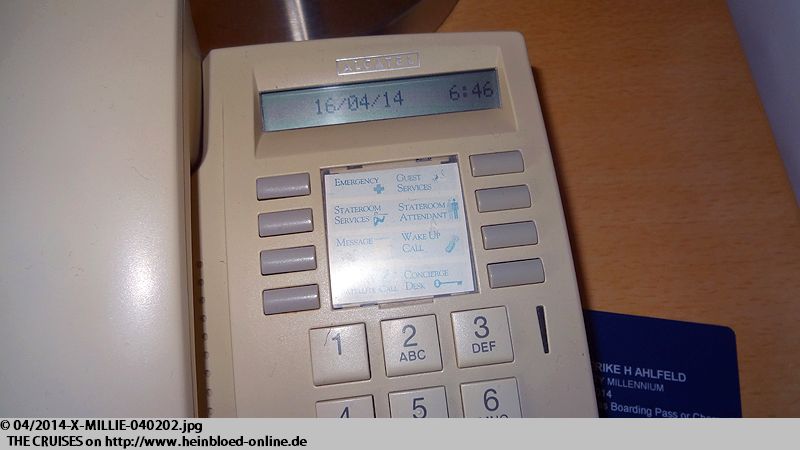 I called 06.46 hrs the front desk to report the incident...

And at 07.09 hrs I could here from the bathroom that it worked again - and without seeing anyone showing up here. Later we were used that this happened here occassionally and we did not panic anymore because we knew that we had to wait 23 minutes before it will flush... As long as none of us need to use the toilet in between...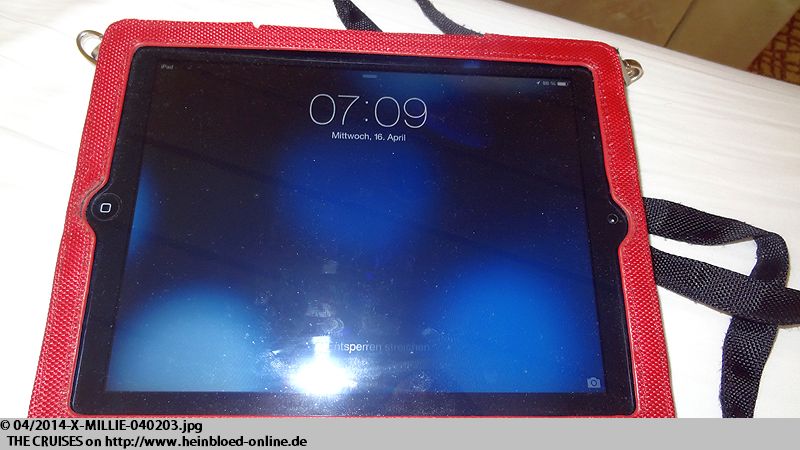 Und um 07.09 Uhr höre wie im Bad das wieder funktioniert - und das ohne, dass jemand hier war. Daran hatten wir uns später gewöhnt und gerieten nicht jedes Mal in Panik, wenn die Spülung nicht sofort spülte, sondern erst 23 Minuten später... Solange zwischendurch niemand die Toilette benutzen musste...
Na gut: eine schnelle Abluft ist etwas anderes. Die Situation hat sich verbessert, wenn auch nicht wirklich signifikant spürbar... Ich gehe einfach immer schon ein wenig früher duschen... Wir müssen uns einfach an die Gegebenheiten anpassen und man sollte keines erwarten, dass die Gegebenheiten an einen angepasst werden, in dem man mal das vernünftig wieder in Gang setzt.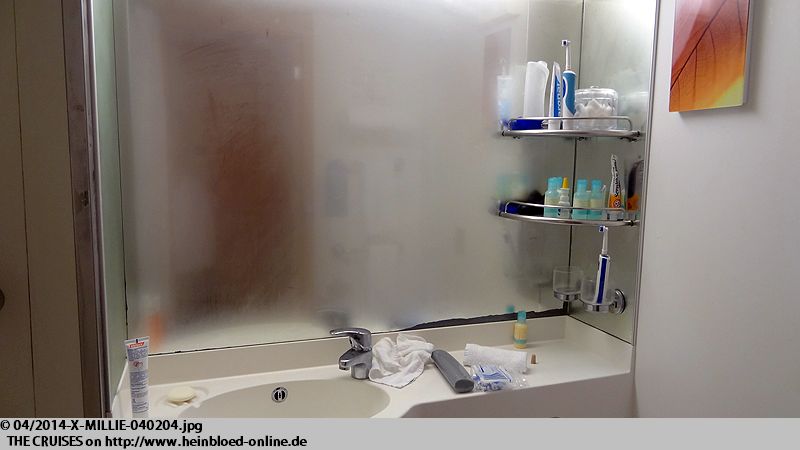 Well: a fast-working air absorbtion was something different. The situation was improved, even you cannot really feel it very much... I just started to go a little earlier to take my shower... We need to adopt to the conditions and you should expect that anyone will adopt the conditions to your wishes by fixing and repairing something.

We gave up the plan to use the towels more than one time. They did not became dry anymore.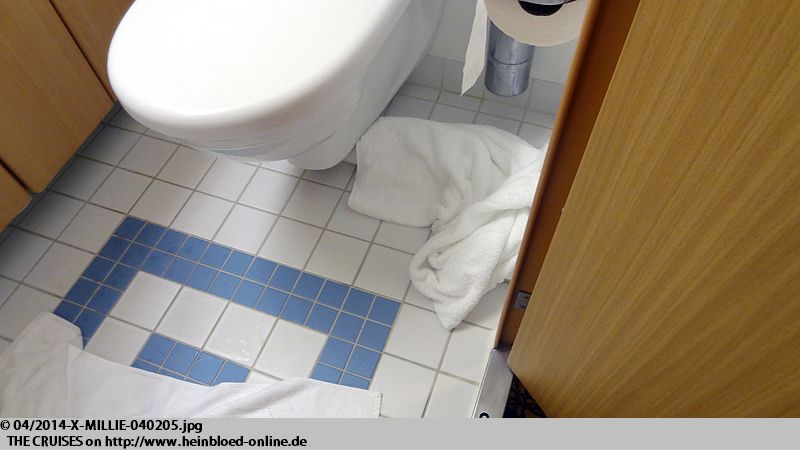 Wir haben den Plan die Handtücher mehrfach zu nutzen aufgegeben. Sie werden einfach nicht mehr trocken.
Immerhin haben sie uns eine Dichtung spendiert, so dass es durch die Balkontür nicht mehr zieht. Leider wird uns von anderen Gruppenmitgliedern nicht gemeldet, dass sie die selben Problem haben und es durch deren Balkontür zieht. So müssen sie bis zum Ende mit der undichten Balkontür leben und werden so krank. Also wer feststellt, dass die Balkontür undicht ist: immer sofort reklamieren und nicht erst hinterher.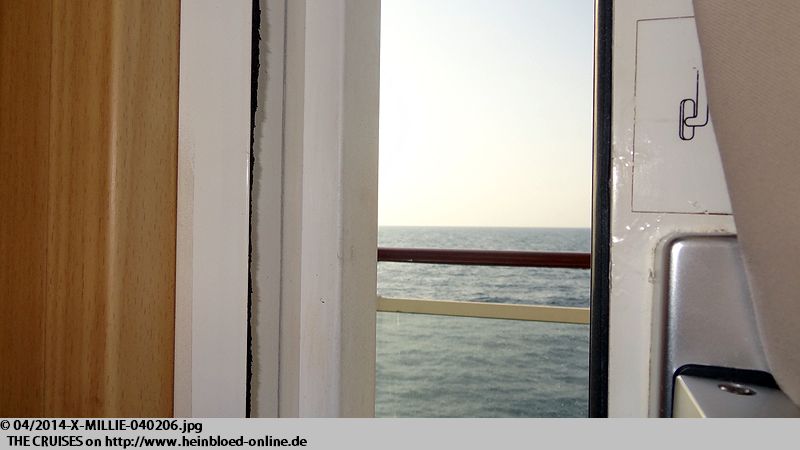 They made some investments for a new seal for the balcony door that it should not be breezy anymore. Unfortunately others of our group did not tell us that they had the same problem and it was breezy with them too. So they need to live with a balcony door until the end of the cruise which was was not dense and became sick. So found out that the balcony door is not dense anymore: report it immediately and not later.

This was my personal troubleshooter: Jean Pascal from Mauritius. He said that he knew Ritesh. We exchanged few words on French everytime we saw each other. He had the order to call me everyday and to ask if everything was o.k.. But from a certain point I only surrended and wanted to leave the ship because I could not see any success if someone shows up in the cabin who finds out that we are right... "Yes - you are right! The air absorption in the bathroom is really not strong enough..."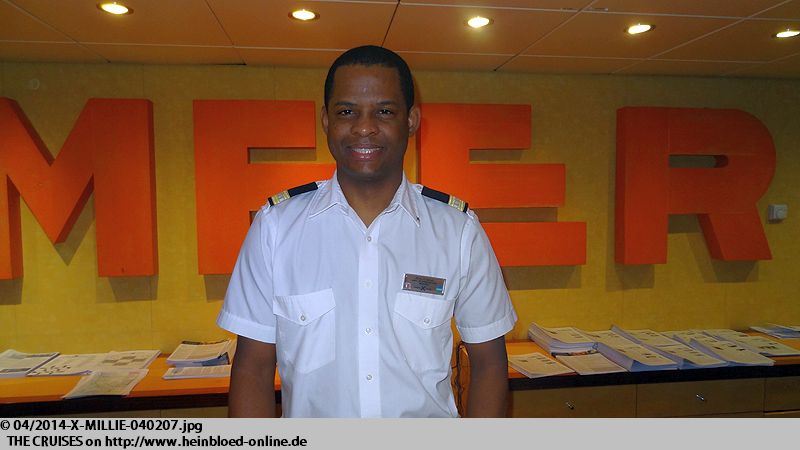 Das war nun persönlicher Kümmerer: Jean Pascal aus Mauritius. Er meint, dass er Ritesh kennt. Wir parlieren immer ein wenig auch auf Französisch. Er hat den Auftrag mich jeden Tag anzurufen, und nachzufragen, ob alles in Ordnung ist. Aber irgendwann habe ich kapituliert und wollte nur noch von Bord, weil ich keinen Sinn sah, dass er wieder jemand in unsere Kabine schickt, der dann feststellt, dass wir Recht haben... "Ja, Sie haben Recht! Der Abzug im Bad ist tatsächlich nicht stark genug..."
Es fällt mir auf, dass mein Magnetstreifen nicht geht. Der iLounge-Manager behauptet, dass die Türschlösser über diesen Barcode gelesen werden. Das ist abr totaler Blödsinn. Der Barcode wird nur beim Betreten und Verlassen des Schiffes genutzt, aber nicht für die Kabinentüren.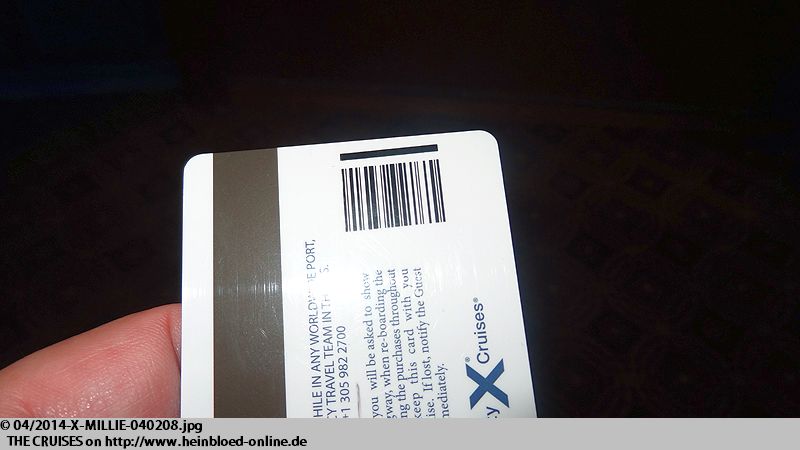 My magnet stripe did not work again. The iLounge-Manager stated tha thte cabin locks would work with the barcode. But that was total nonsense. The barcode is only used when you enter or leave the ship but not for the cabin doors.

I tried to get into the ship's internet with my own PC but with Google Chrome I had no luck. But with Mozilla Firefox either.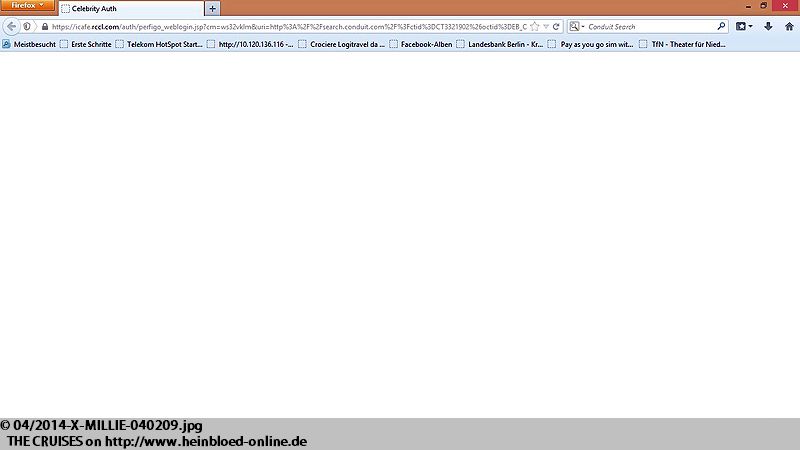 Ich versuche wieder mit meinem PC in das Bordnetz zu kommen, aber mit Google Chrome habe ich kein Glück. Mit Mozilla Firefox auch nicht.
Und auch nicht mit dem Internet Explorer.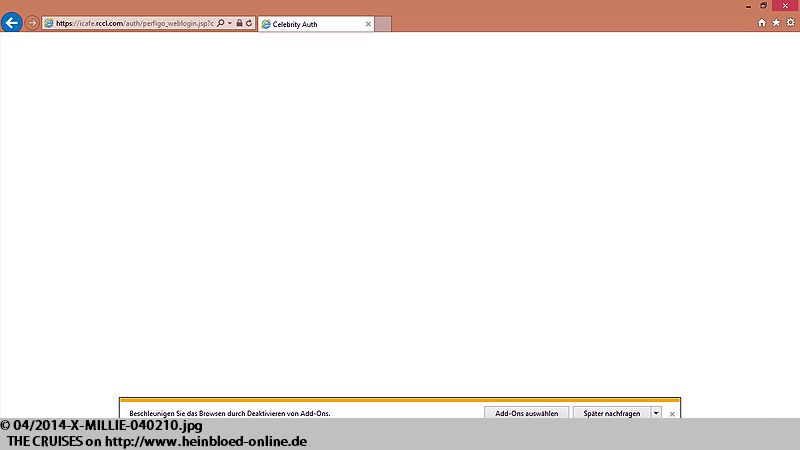 Also Internet Explorer did not work either.

More items did not work like the onboard TV...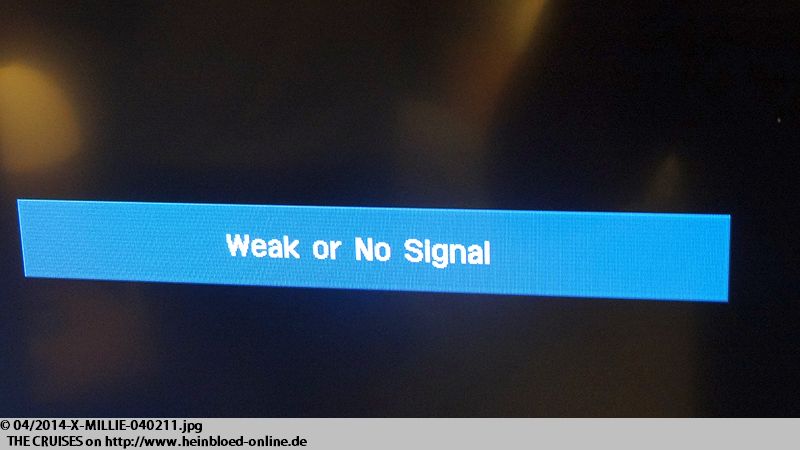 Aber es funktioniert noch mehr nicht, z. B. Bordfernsehen...
Nach drei Tagen ist bei Bruno der Getränkeumsatz immer noch nicht zurückgebucht.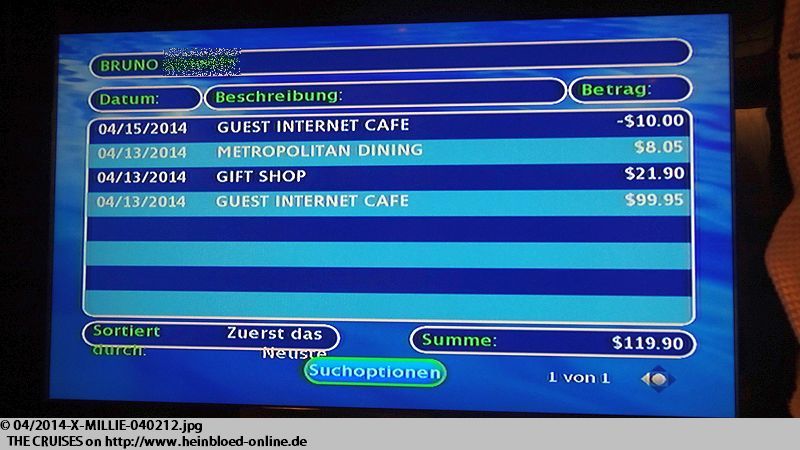 After three days the beverage revenue has not been cancelled at all.

I hate it if they work with folio-numbers. So you must always check your balance as you have occassionally revenues which you did not signed for. But at least my small revenue with Café al Bacio was cancelled. But I have never been in the Canyon Ranch Spa so far.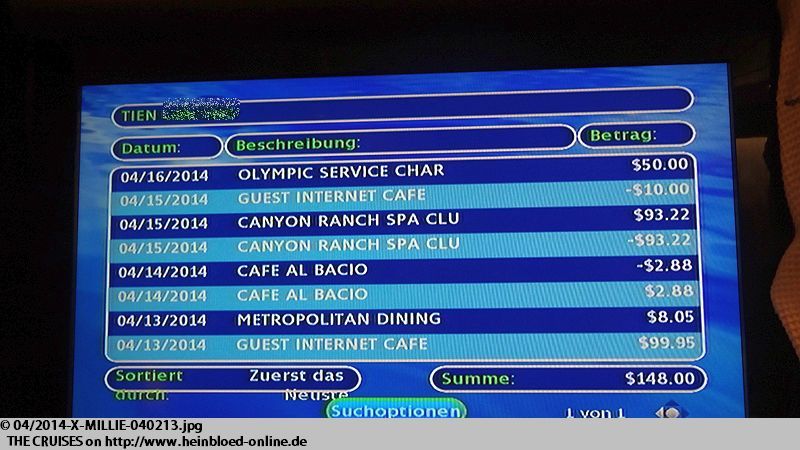 Und ich hasse es, wenn sie mit Folio-Nummern arbeiten. So geraten auch mal Umsätze, die man gar nicht getätigt hat, auf der Rechnung und muss ständig seine Umsätze kontrollieren. Wenigstens ist meine kleine Getränkerechnung vom Café al Bacio schon zurückgebucht worden. Aber ich war bislang noch nicht im Canyon Ranch Spa.
Irgendwie ist das System von der sprachlichen Seite nicht richtig eingestellt. Uns wird dieses Menü in Englisch angezeigt.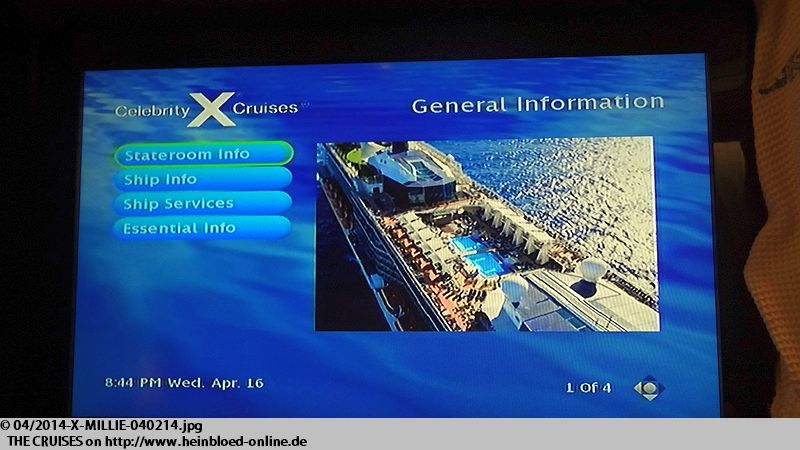 Somehow the system was not set properly with foreign languages. We could see this menu in English.

"Ausgang" is the German word for "Exit" - but exit the door when you leave a building... did not really fit here.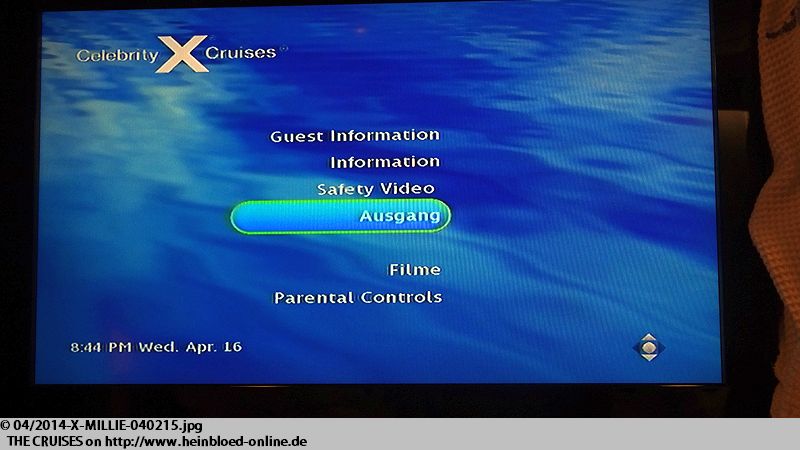 "Exit" wird also mit "Ausgang" übersetzt... hier vielleicht nicht so passend.
Man kann es also für die Kinder sperren.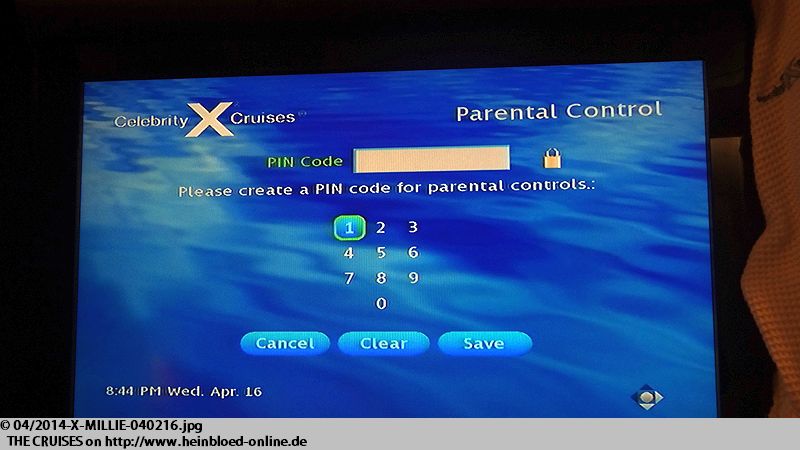 So you can lock the system for the kids.

Now everything was in German but "Parental Controls".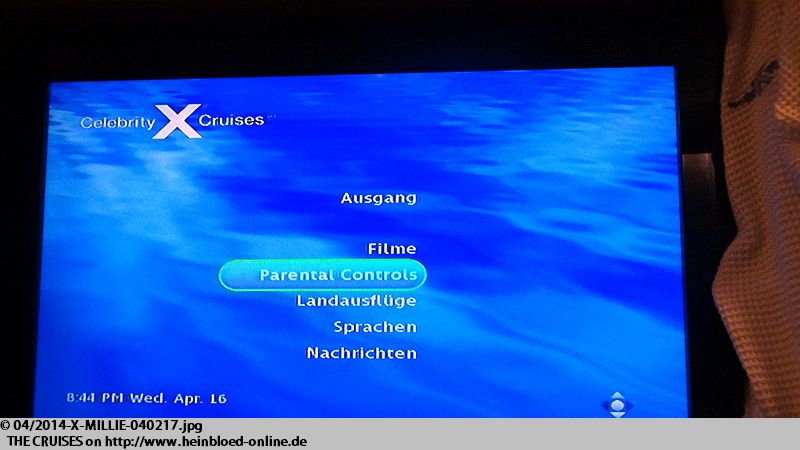 Und jetzt ist wieder alles in Deutsch. Nur die "Parental Controls" wieder nicht...
Was bedeutet jetzt wieder "Belasten"???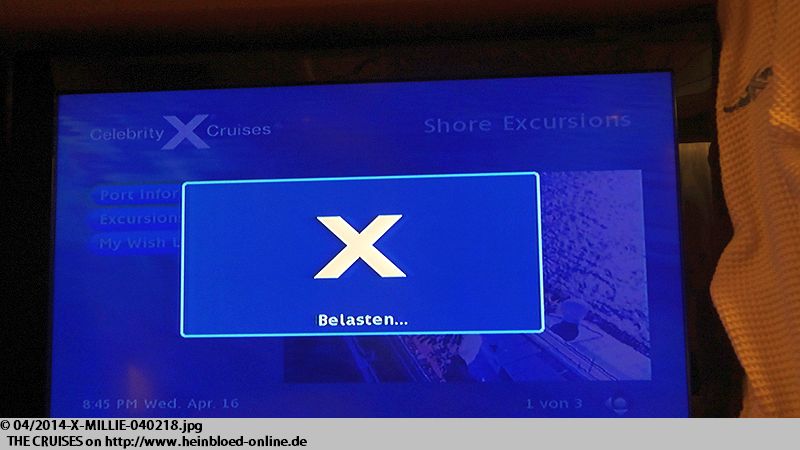 What does now "Belasten" stand for? Strain, stress, burden, charge...???

Oh - for few items you need to pay extra if you use the cabin service.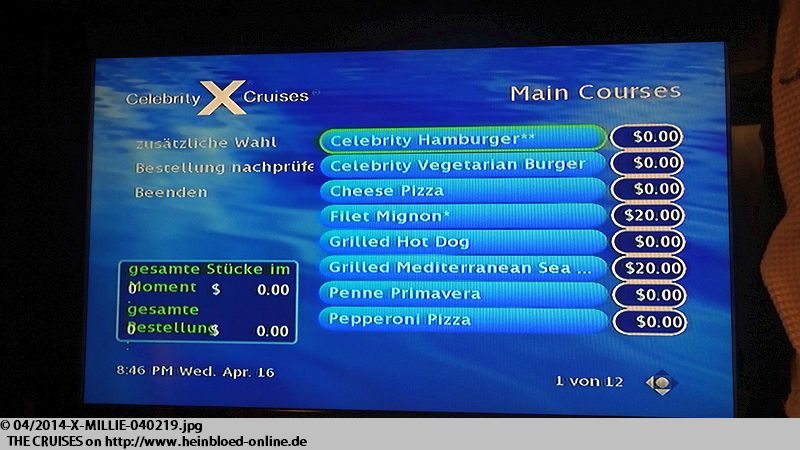 Oh - für mache Sachen muss man im Kabinenservice extra zahlen...
Irgendwie stimmt die Zeit aber nicht... PM für abends???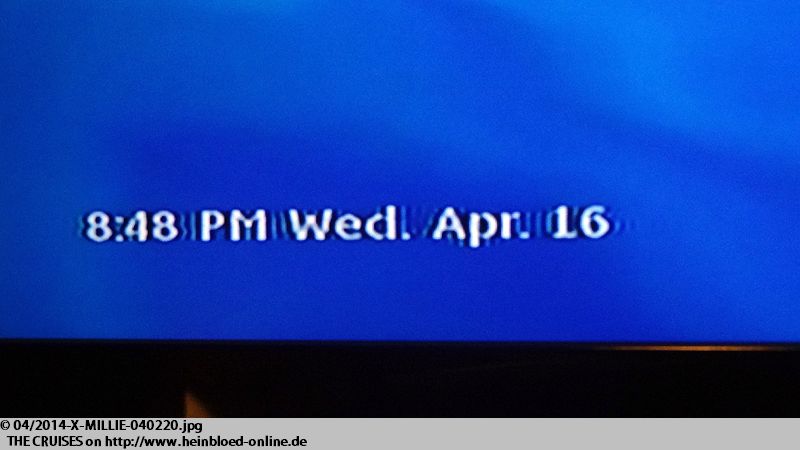 Somehow the actual time was not correct (PM ???)

And for actual movies you need to pay extra: 12.95 USD... it might be better to wait until you are home and see it in Full HD.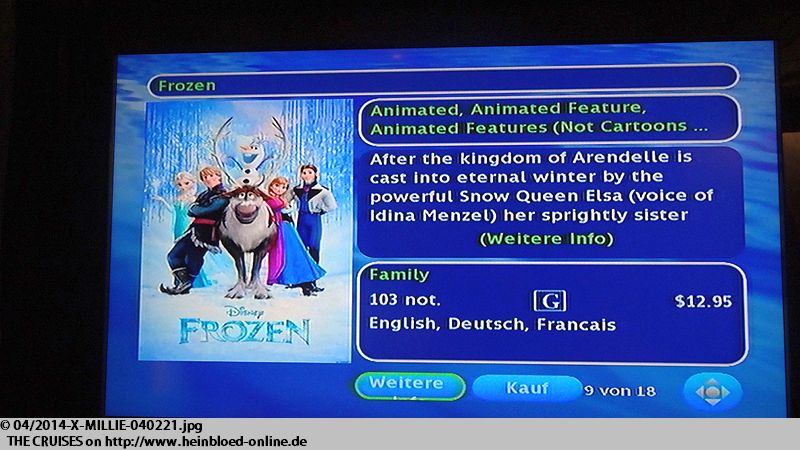 Und für aktuelle Kinofilme muss man auch noch extra zahlen: 12,95 USD... da gucke ich lieber zu Hause den Film auf Sky in HD...
Die Getränke in der Mini-Bar sind genauso teuer wie an der Bar selbst.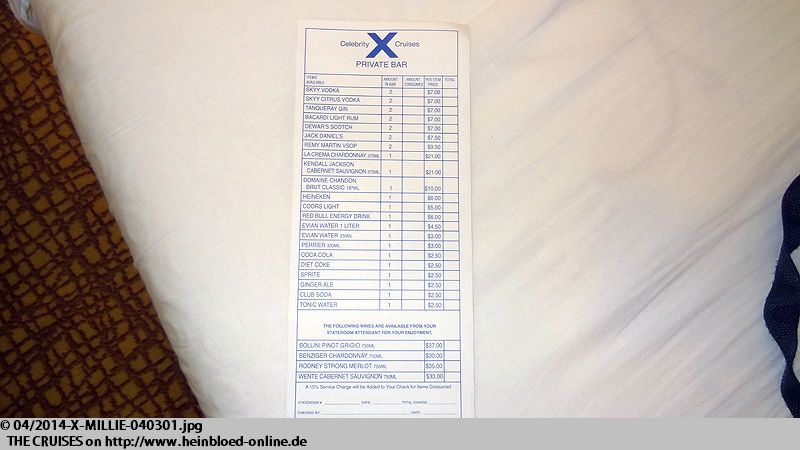 The beverages in the mini-bar were the same price like those at the bar.

On this channel you could here the announcements. And here you had the report from the bridge von the Captain at 10.00 hrs. But there were no variations. And everyday the same advise that the number of guests who reported illness in the medical station did not decrease and you should wash your hands as often as possible at least 20 seconds with hot water and soap.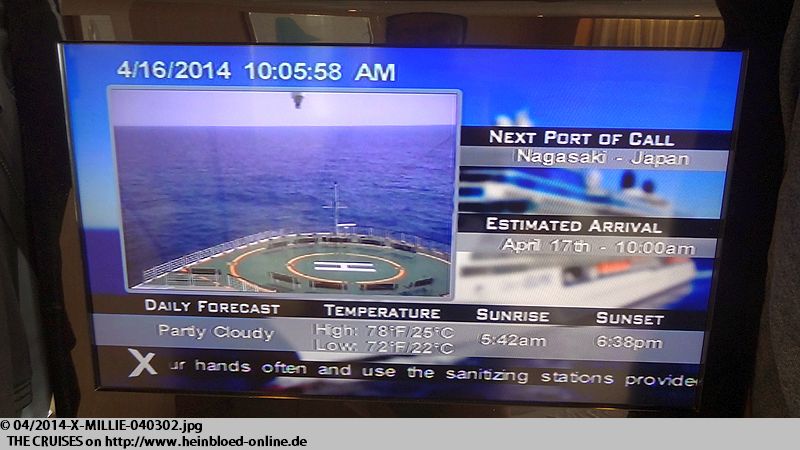 Auf diesem Kanal kann man auch die Ansagen hören. Und hier gibt es die Ansagen des Kapitäns immer um 10.00 Uhr. Aber es gibt keine große Abwechslung. Und jeden Tag der Hinweis, dass die Zahl der Gäste, die in der Krankenstation untersucht wurde nicht sinkt und man sich möglichst oft für 20 Sekunden die Hände mit warmen Wasser und Seife waschen soll.
Wenigstens wird in der Kabine der Kinder das Bärchen immer ordentlich platziert.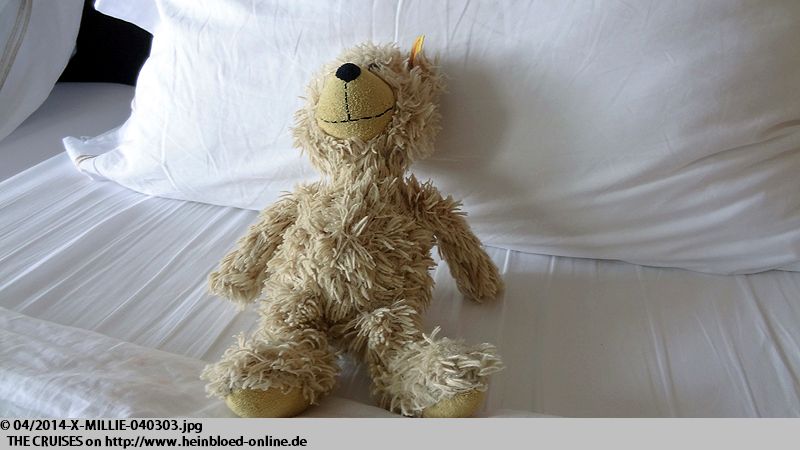 At least they placed the little teddy bear in the cabin of the kids to the right position.

And again we had fill out the customs declaration by ourselves. That was fine as we could it at the time of our convenience and at the writing desk and on the floor of the cruise terminal before embarkation.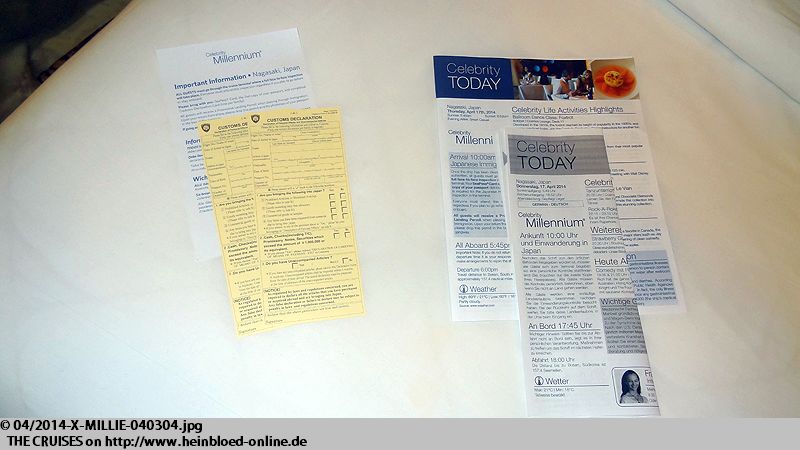 Und wieder müssen wir die Zollerklärungen selbst ausfüllen. Das war aber in Ordnung: hier können wir es tun, wann wir wollen und vor allem am Schreibtisch und nicht am Boden des Cruise Terminals vor der Einschiffung.
Das sind übrigens unsere beiden Kabinenstewards: Sasa und Muhammad.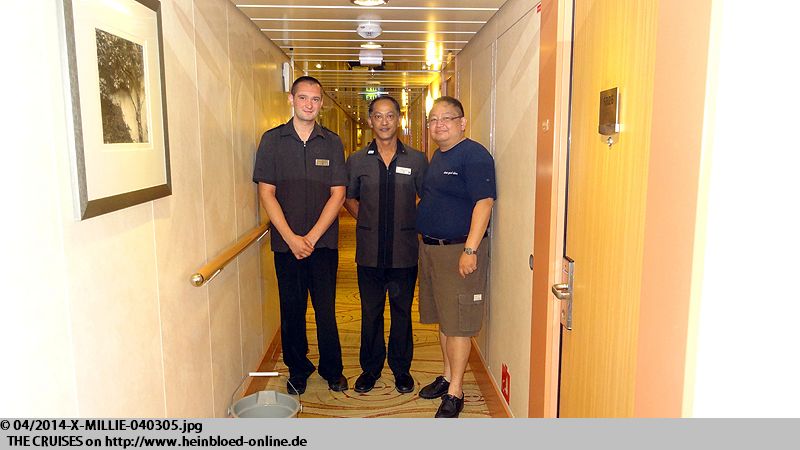 They were our cabin stewards: Sasa and Muhammad.

We went again to the SpaCafé to see. Exactly the same.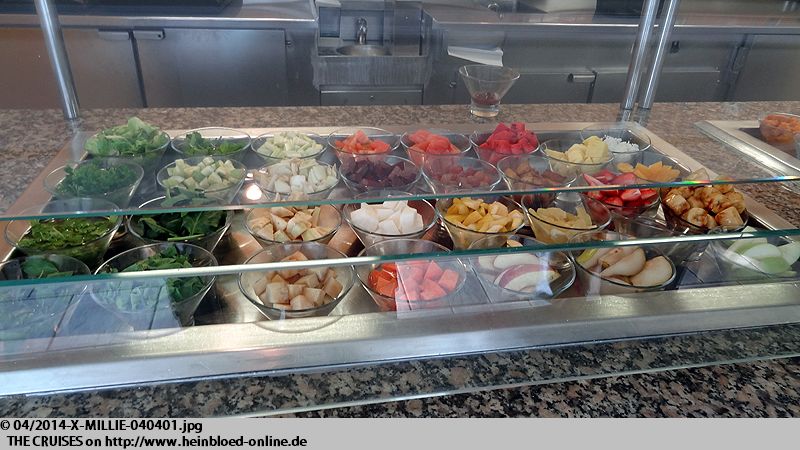 Wir gehen mal morgens wieder am SpaCafé vorbei. Alles gleich.
Nur das Obst wird schöner geschnitten.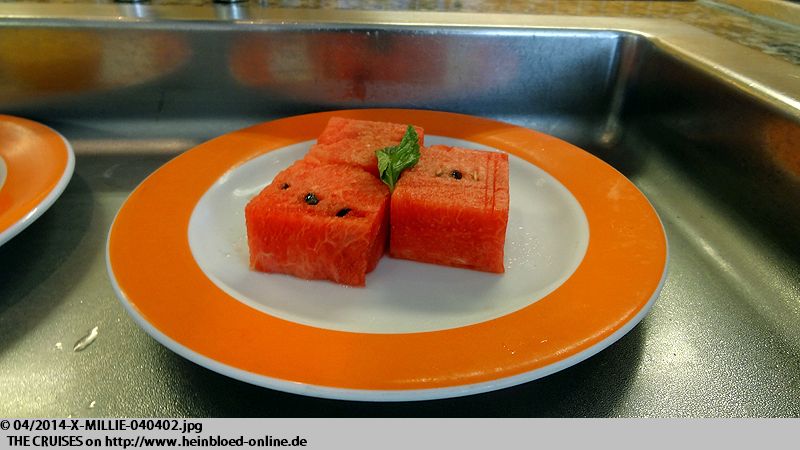 Only the way they cut the fruits here was much more nicer.

The muffins appeared only very large as I was using a macro. Those were mini-muffins.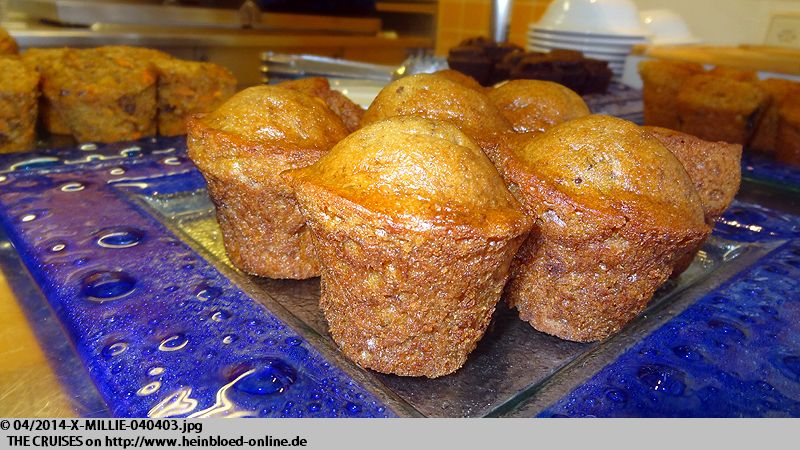 Und die Muffins wirken nur wegen des Makros so groß. Das sind Mini-Muffins.
Für die Smoothies und Yoghurt Parfaits müssen 5 USD (April 2014) entrichtet werden. Die Säfte kosten auch 3 USD (April 2014) extra. Als wir nochmals nachfragen, ob es nicht auch warmes gibt, weil es links unten noch steht, wird uns mitgeteilt, dass es gerade abgeschafft wurde und nur die neuen Karten noch nicht da sind.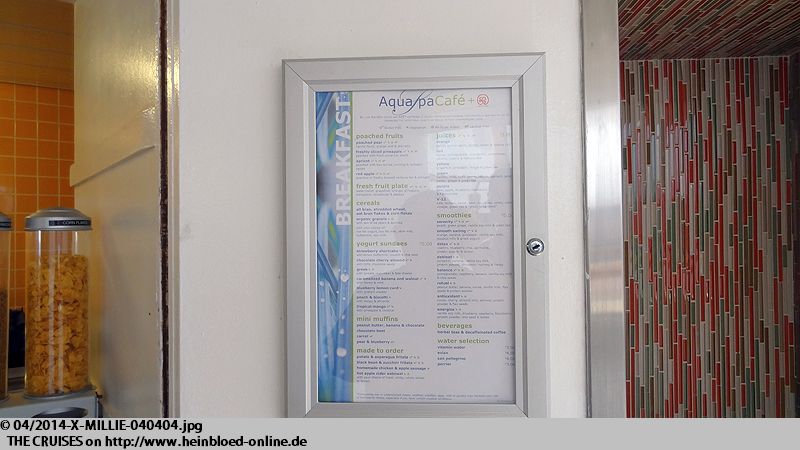 You have to pay for smoothies and yoghurt parfaits 5 USD (April 2014) extra. The juices were 3 USD (April 2014) extra. When we asked again if there was any hot dishes available because it was mentioned on the menu were were told that they were all withdrawn and they were only waiting for the new menu cards.

Here we should get VitaminWater but it depended to the mood of the bartender if you got some. If he/she had no desire you were just sent away. It did not play any role if it was part of the menu or not.

Hier sollte es auch VitaminWater geben, aber das hing immer vom Bartender, ob wir es auch bekamen. Wenn er/sie keine Lust hatten, dann wurden wir einfach fort geschickt. Ob es auf der Karte stand, spielte dabei eine untergeordnete Rolle.
Es klingt alles toll, aber trotzdem schade, dass es hier zu frisch ist und man hier eben nicht mehr viel bekommt.

Everything sounded very great but it was too cold and breezy and the offer was very limited to stay here.

If Princess said that their Seawalk like on ROYAL PRINCESS was their innovation then it was not true.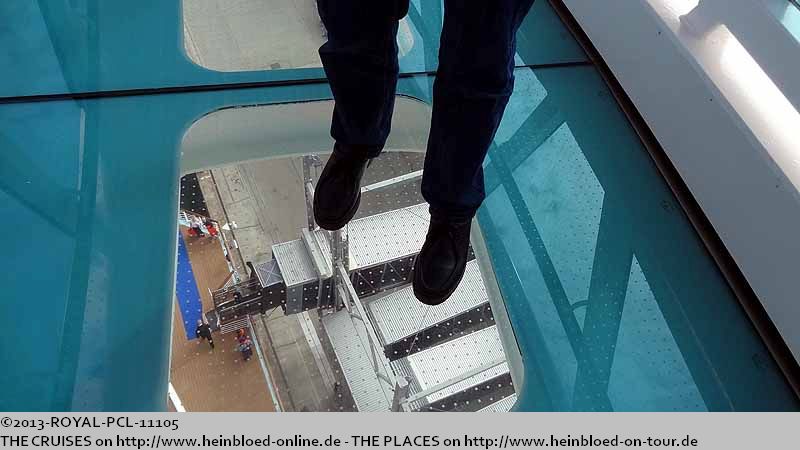 Wenn Princess behauptet, dass ihr Seawalk auf der ROYAL PRINCESS eine ihrer Innovationen sei, dann stimmt es nicht.
Im Oceanview Café gibt es ebenfalls die Möglichkeit direkt durch den Boden auf das Meer zu gucken.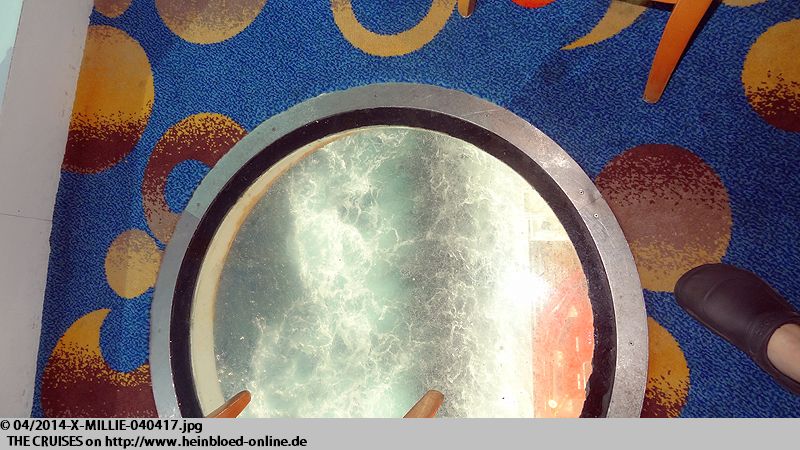 In the Oceanview Café you had also the chance to see down the sea.

Here I met from time to time my father.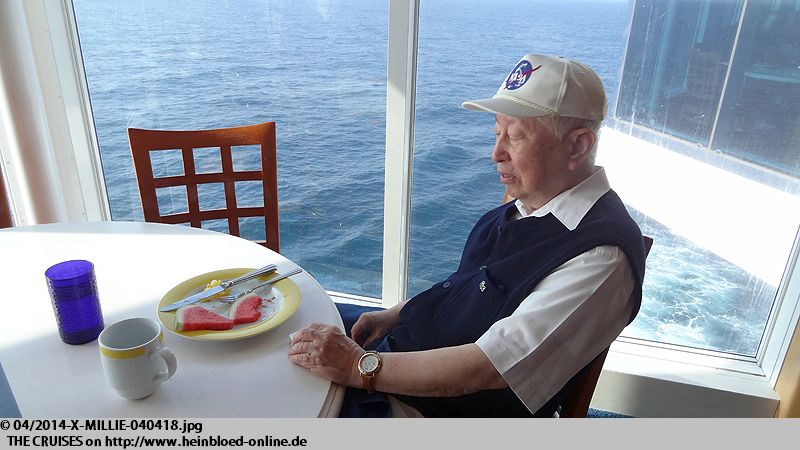 Hier treffe ich öfters meinen Vater an.
Der liebt diese Ecken hier.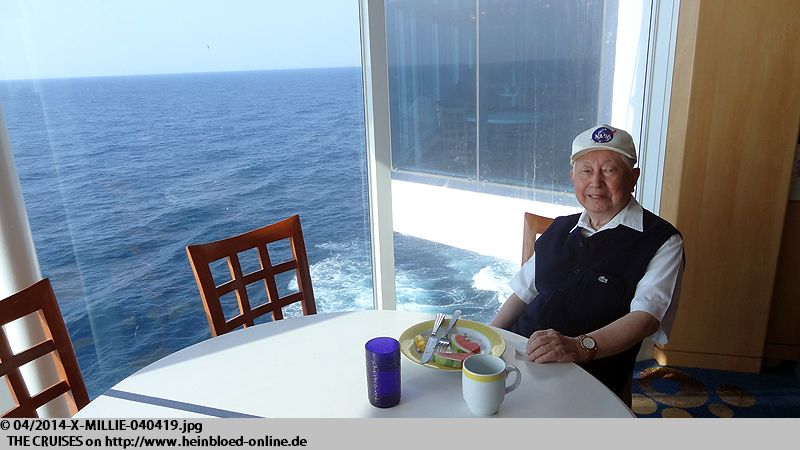 He loved those corners here around.

We went to Bistro on Five for breakfast. On the menu we discovered Wonton Soup. But they did not have it in the morning. It was inaugurated just one week before.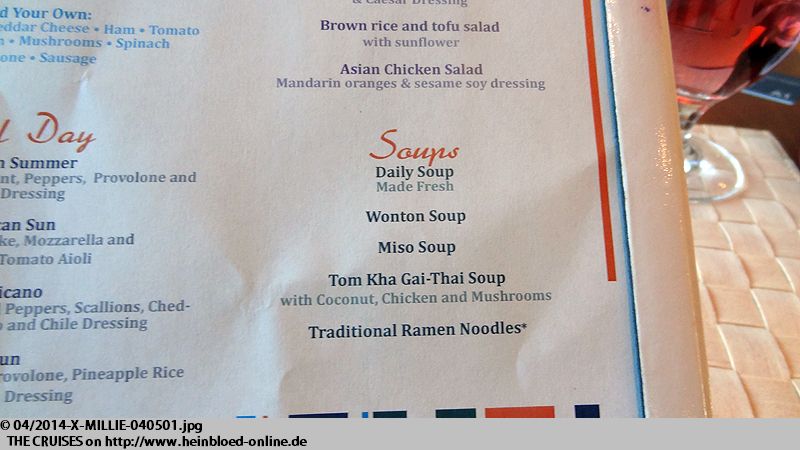 Wir gehen mal zum Bistro on Five zum Frühstück. Auf der Karte entdecken wir die Wan Tan Suppe. Aber die gibt es morgens nicht. Sie sei erst diese Woche eingeführt worden.
So bekommen wir einen schönen Tisch am Fenster.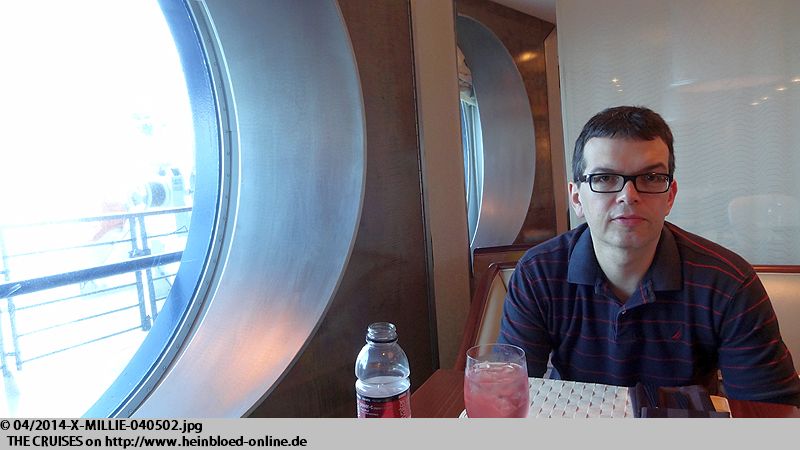 So we got a nice table at the window.

Bruno looked very satisfied. It was here very calm. The 5 USD (April 2014) cover charge were worth to have some silence around.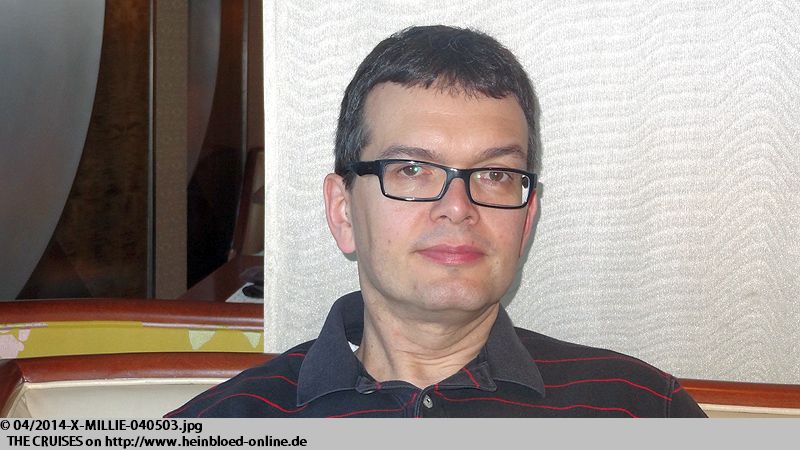 Bruno sieht zufrieden aus. Es ist so schön ruhig hier. Die 5 USD (April 2014) Zuzahlung wäre schon die Ruhe hier wert.
Ich bekomme ein Glas Eis für mein VitaminWater.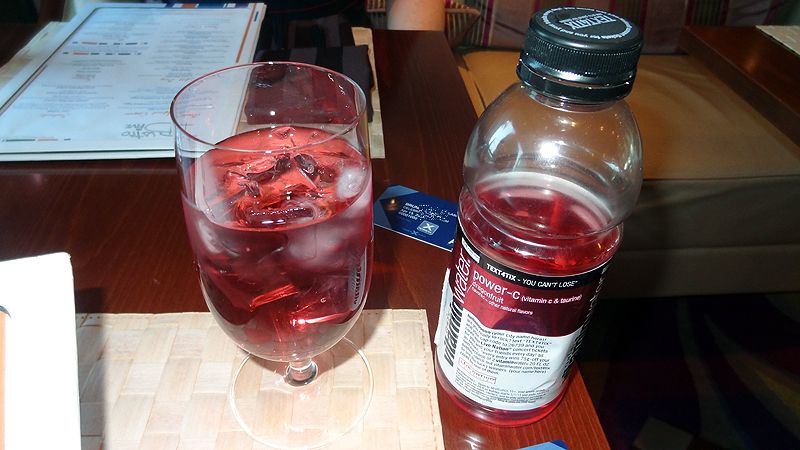 I got a glass of ice of my VitaminWater.

I got also some cranberry juice when I asked more seriously for some... You get it in the Main Dining Room for free but here you are paying 5 USD cover charge and you do not get it for breakfast?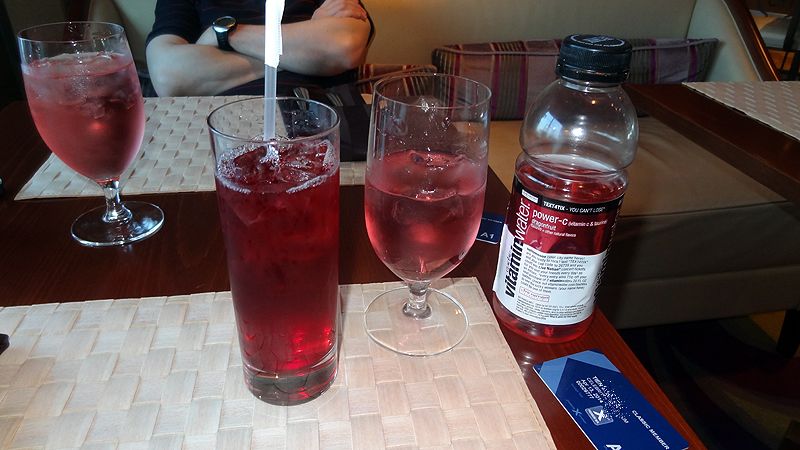 Den Cranberry-Saft bekomme ich, als ich nochmals energischer darum bitte... Gibt es im Hauptrestaurant kostenlos und hier zahle ich 5 USD Zuzahlung bekomme ihn nicht zum Frühstück?
Der erste Kaffee war für Brunos Verhältnisse etwas schwach. Das sagt er auch, als er gefragt wird, wie er den Kaffee findet. So bekommt er das Angebot, dass er beim nächsten Mal einen stärkeren Kaffee bekommt. Wo liegt eigentlich das Problem, den Kaffee jetzt gleich zu ersetzen? Sorry, aber ich komme mit gewissen Einstellungen auf diesem Schiff nicht klar. Als eine leichte Drohkulisse sich aufbaut, bekommt Bruno sofort einen neuen Kaffee. Ständig werden wir gefragt, wie wir etwas finden und wenn die Antwort nicht passt, interessiert das auch keinen.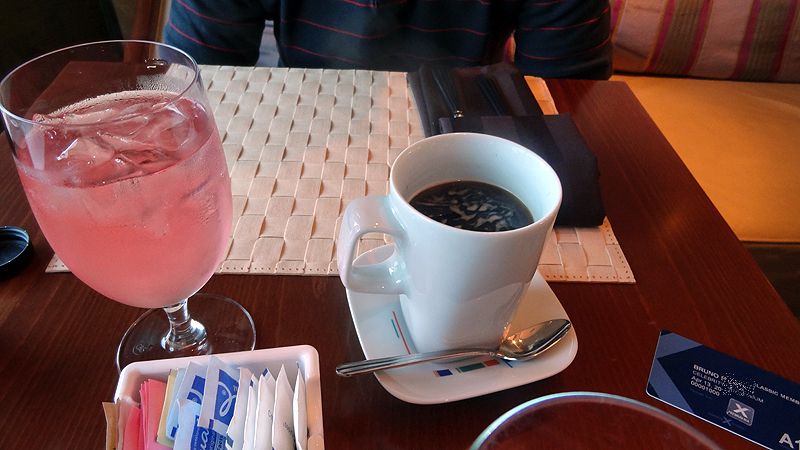 The first coffee was somehow too week for Bruno's taste. He said it when he was asked how he liked it. So he was offered to get a stronger one the next time. Where was the problem to replace the coffee immediately? Sorry - but I have problems to live with certain mental attitude on this ship. You need to create a certain credible threat of force before you get a fresh cup of coffee. Everyone wanted to know how liked it but if they do not hear the answer they would like to hear they did not care either.

How do we get a bowl of sugar if we have the norovirus onboard?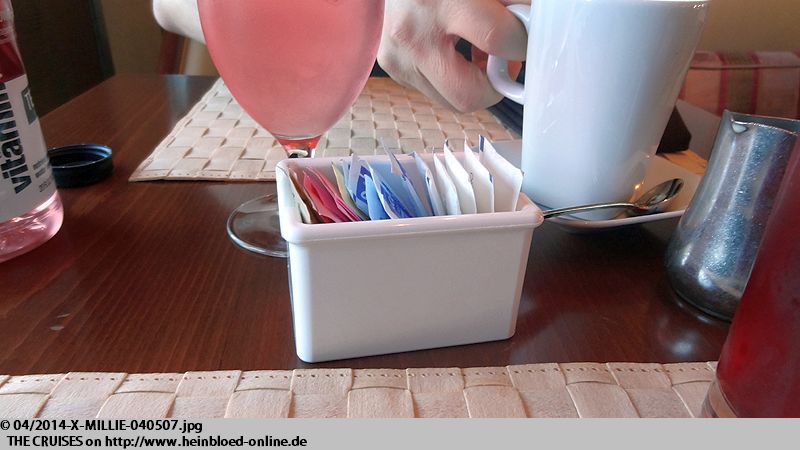 Wieso bekommen eine Schale mit Zucker, wenn Norovirus-Alarm herrscht?
Bruno und ich haben ausdrücklich die Crepes beide ohne Käse bestellt.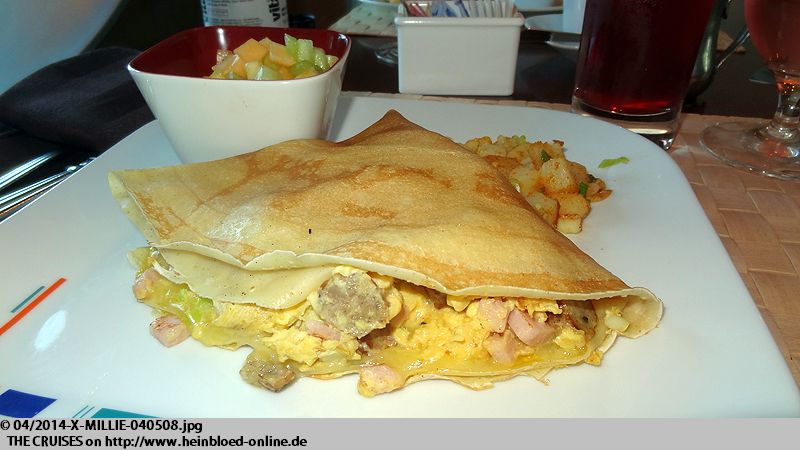 Both of us ordered both our crepes without any cheese.

And if you could see here: full of cheese. To avoid intestinal obstruction I always cancel the cheese in the morning with McDonald's. They apology for the mistake. We could here how someone shouted to the cook because cheese was in the crepe and as compensation we were offered to have fresh Wonton-Soup for breakfast the next morning and today they cover charge would be withdrawn.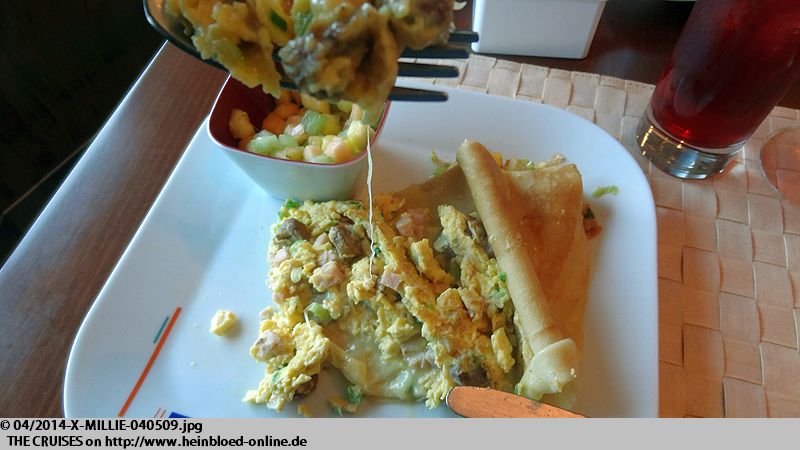 Aber man sieht es hier: alles voll Käse. Ich bestelle auch bei McDonald's morgens immer den Käse ab, um einen Darmverschluss zu verhindern. Den Fehler räumt man sofort ein. Wir hören noch wie der Koch angebrüllt wird, weil Käse im Crepes war und man bietet uns als Wiedergutmachung an, dass am nächsten Morgen Wan-Tan-Suppe für uns bereit steht und auch heute auf die Zuzahlung verzichtet wird.
Ich probiere mal das Nutella-Crepes...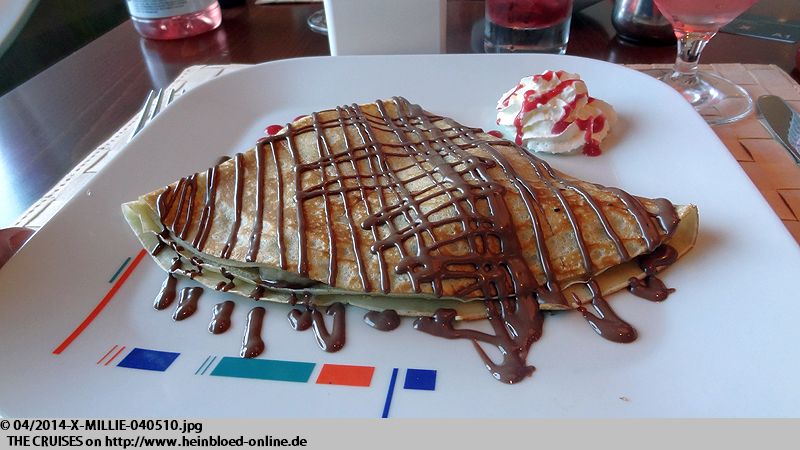 I tried the Nutella-crepes...

And the kids were right. it tasted a little sweeter than the German Nutella... maybe maples syrup was added as the Canadian love it???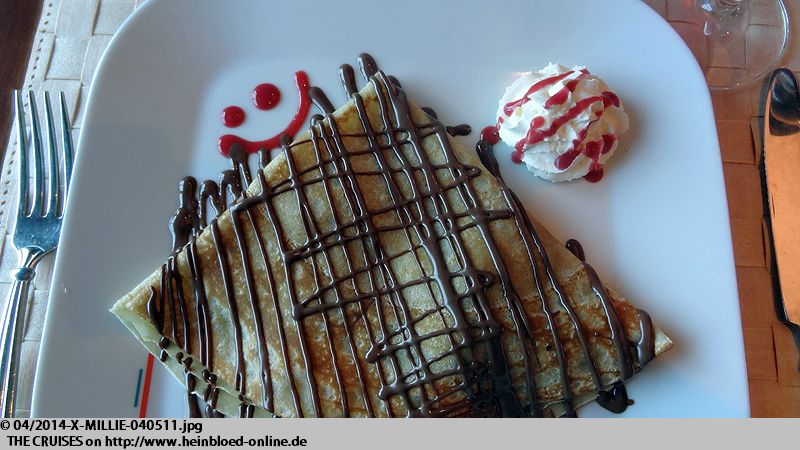 Die Kinder haben Recht: es schmeckt etwas süßlicher als das deutsche Nutella... vielleicht mit Ahornsirup gestreckt, so wie die Kanadier es lieben???
Und es schmeckt weniger schokoladig als in Deutschland.

And it tasted a little less chocolate than in Germany.

They tried to make all public room appearing nice. But sometimes they oversaw some details like spots on the curtain...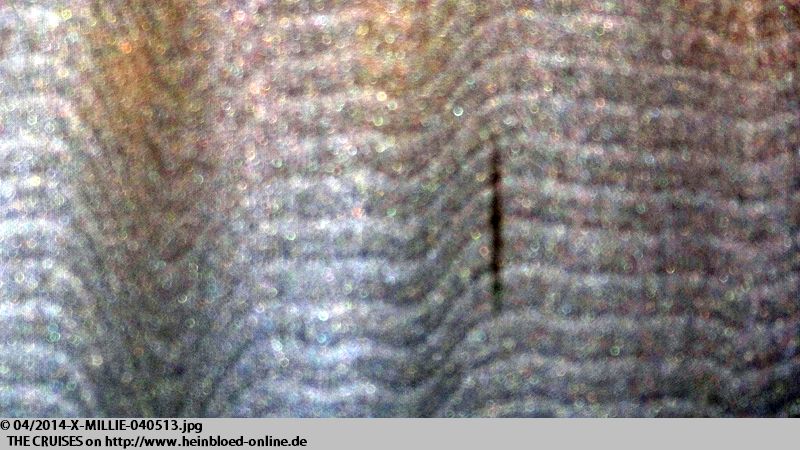 Sie bemühen sich ja doch die öffentliche Räume gut aussehen zu lassen. Aber manchmal werden dabei so Details übersehen, wie die Flecken auf dem Vorhang...
Oder man darf auch nie auf die Decken schauen. Irgendwie wird immer bloß bis zur Augenhöhe alles chic gemacht und so etwas wird vergessen.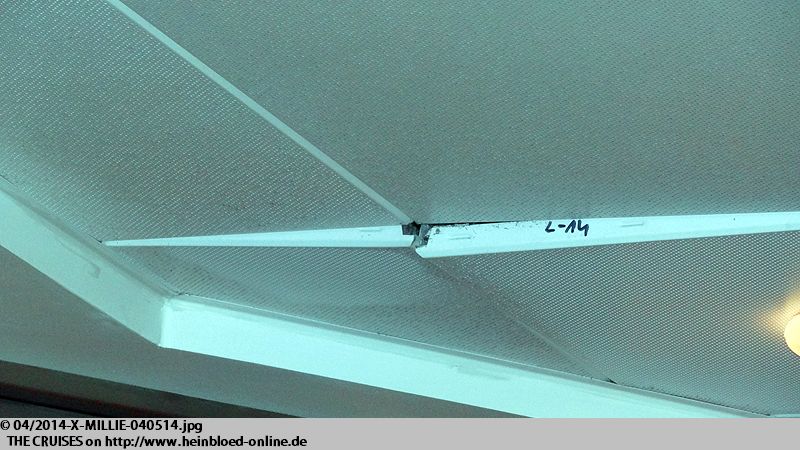 Or you should never see to the ceiling. Somehow they do everything only up to the eye level very nice and something was missing to do.

Actually The Olympic is a coffee lounge for high-tear members of the Captain's Club.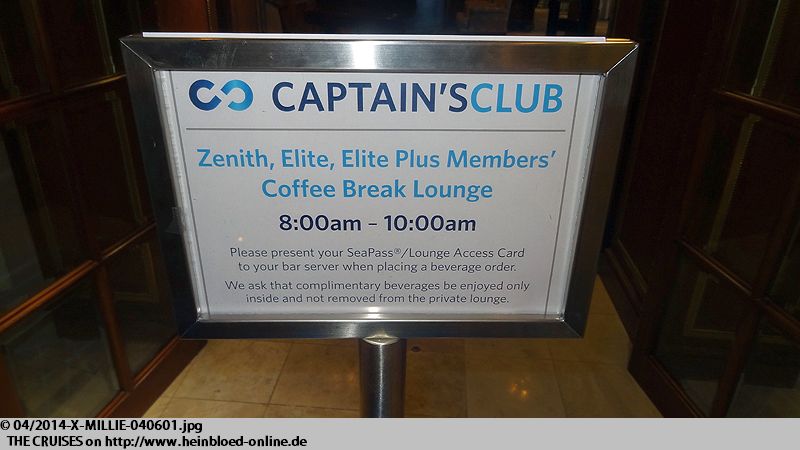 In The Olympic ist gerade eine Kaffee Lounge für die höhergestellten Mitglieder des Captain's Club.
Nun Tea-Time gibt es nur für Elite, Elite Plus und Zenith Mitglieder. Gleiches gilt für die Cocktail Party mit den Senior Offizieren, die die Select Mitglieder noch einschließt.

But Tea-Time you have only for Elite, Elite Plus and Zenith members. Same with the cocktail party with Senior Officers which includes the Select mebers too.

Well with Princess you have Tea-Time for everybody - no matter how many times you have already sailed with them.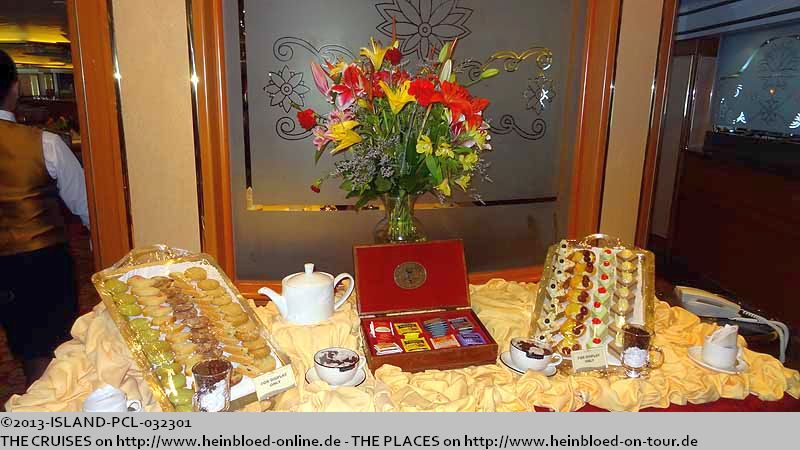 Nun bei Princess gibt es Tea-Time für alle - unabhängig davon, wie häufig man mit ihnen schon gefahren ist.
Gleiches gilt für Holland America. Besonders viel Mühe machen sie sich mit dem Royal Dutch High Tea. Auch für alle.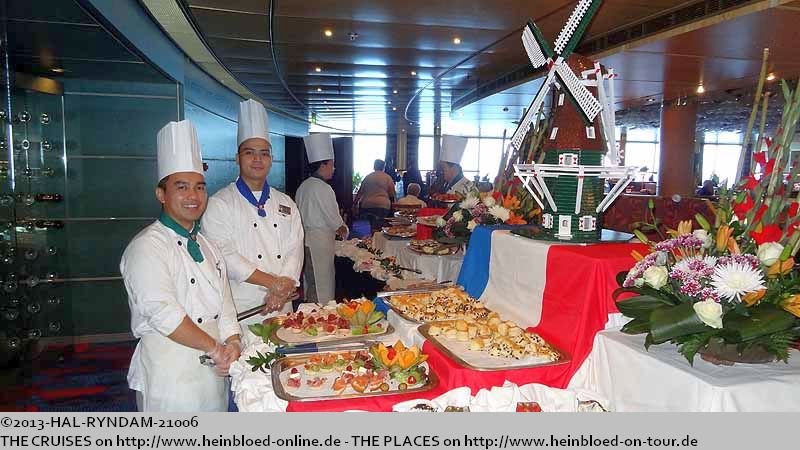 Same with Holland America. They spend a lot of efforts with their Royal Dutch High Tea. For everybody.

One highlight when you cruised with Celebrity was the brunch. They spend a lot of effort to offer this great event and it was just cancelled too.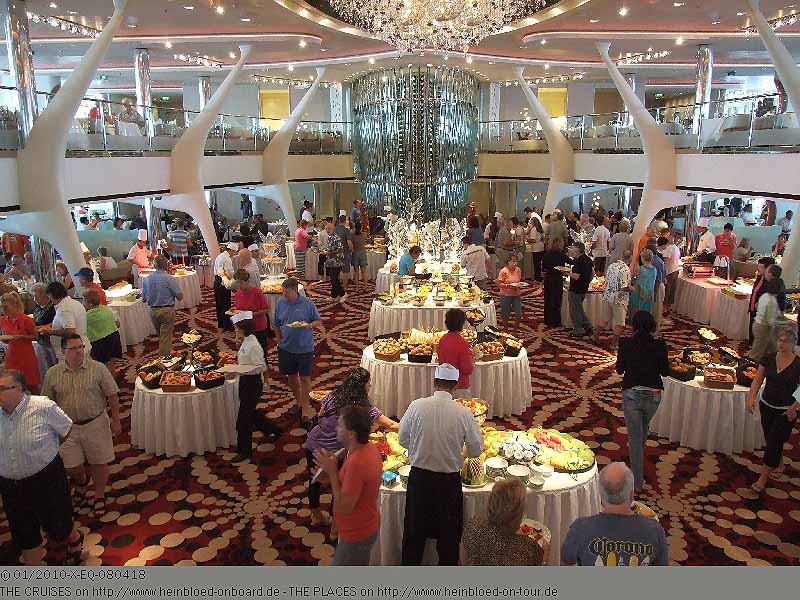 Und das einzig aufwändige war der Brunch bei Celebrity und dieser wurde auch gerade abgeschafft. Ich denke der Höhepunkt einer Reise mit Celebrity.
Mit der Entscheidung der Programmänderung bei Captain's Club fiel auch die Entscheidung, dass wir nicht mehr am Empfang teilnehmen, wie damals auf der CELEBRITY EQUINOX. Und wir werden nach dieser Kreuzfahrt nicht zu Select aufsteigen. Aber was soll's? Ich halte eh den 3* Mariner bei Holland America und Elite bei Princess erstrebenswerter als die Select Mitgliedschaft bei Celebrity.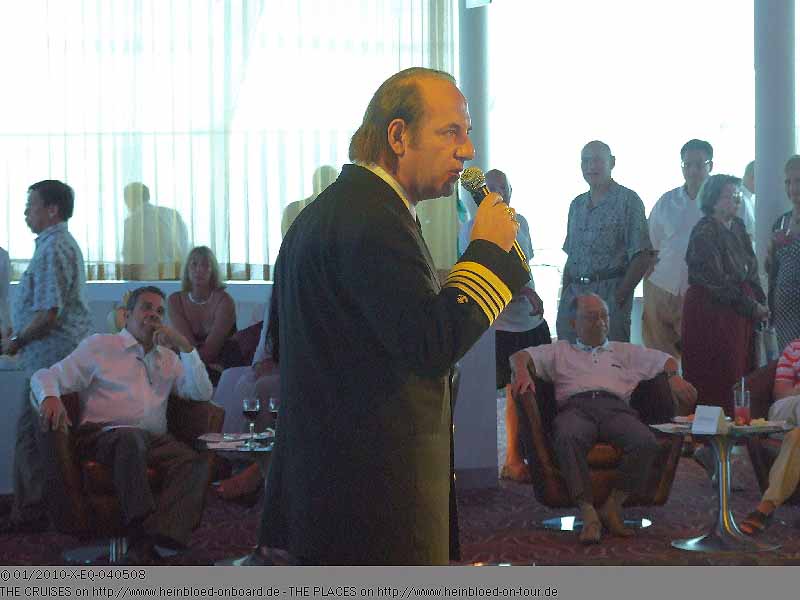 With their decision to change the programme of the Captain's Club they also decided that we will not see the Captain's Reception like we saw on CELEBRITY EQUINOX. And we will not become Select Members after this cruise. But who cares? I think it is worthwile to became 3* Mariner with Holland America or Elite with Princess than a Select membership with Celebrity.

We went again to Café al Bacio to have some tea.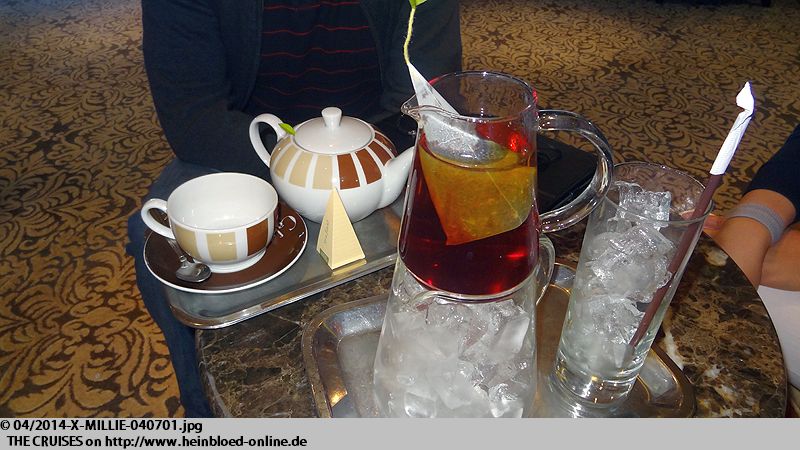 Wir gehen wieder ins Café al Bacio Teetrinken.
Friederike hat so eine Zubereitung von Eistee noch nie gesehen und ist sehr begeistert.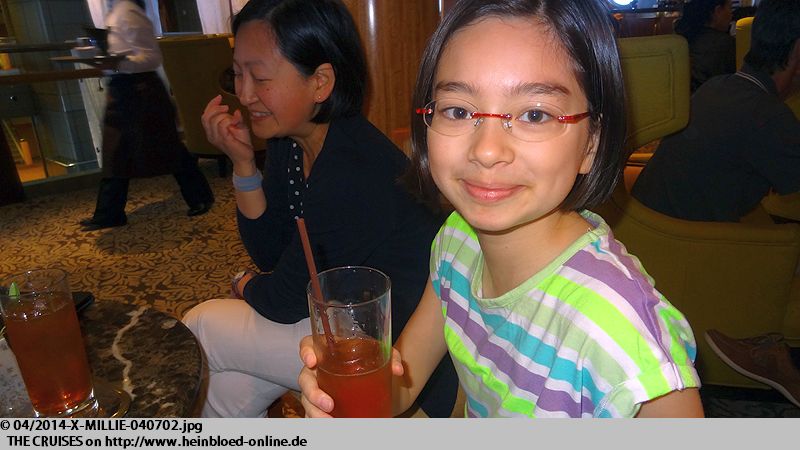 Friederike has never seen before the preperation of iced tea like here and was very exited.

I went with her on deck 12 to look around because so far nobody took her to this deck. There was not so much to discover. A combined court for Basket-, Volleyball and Soccer. A jogging lane which ended as dead end because they added some suites.

Ich gehe mit ihr über das Deck 12 spazieren, weil sie bislang noch keiner hierher gebracht hat. Viel gibt es aber nicht. Ein kombiniertes Basketball-, Fussball-, Volleyballfeld. Eine Jogging-Bahn, die jetzt als Sackgasse endet, weil man noch zusätzliche Suiten eingebaut hat.
Kurz besuche ich noch mit Friederike den Kinderclub. Hier läuft aber nichts ohne Unterschrift der Eltern. Sie zeigen Friederike, was hier alles möglich ist, aber ich darf nicht mit und vor allem: die Aufnahmen von Kindern im Kinderclub ist nicht gestattet.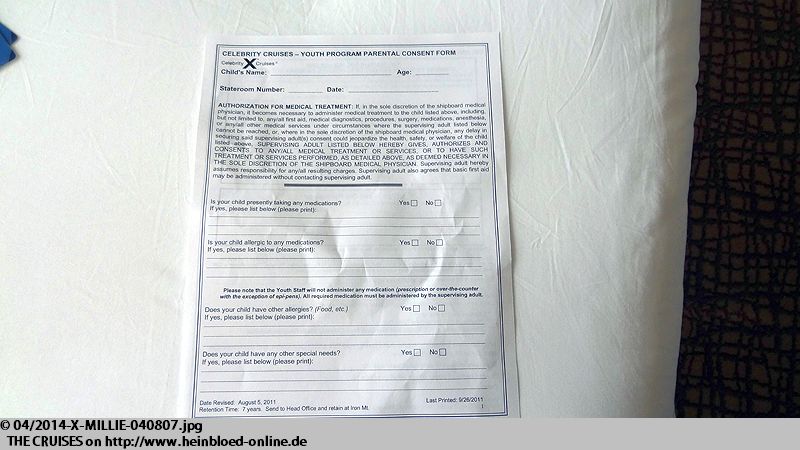 I went quickly with Friederike to the kids' club. But nothing happens without the signature of the parents. They showed Friederike around what they can do but I was not allowed ot join and especially I was not allowed to take any pictures of children in the kids' club.

That sounded very funny but obviously they had a lot of fun now too. The VIP-membership for the entire cruise was 200 USD (April 2014)... But if you do not use it all the time it does not make too many sense to buy them.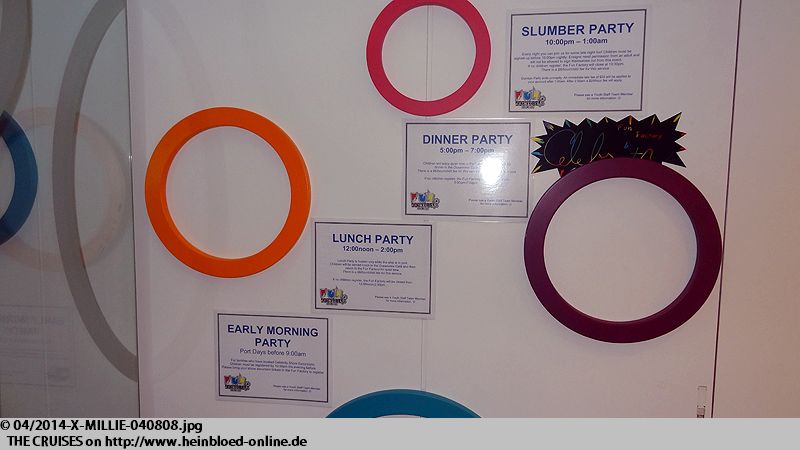 Das wäre bestimmt lustig, aber sie amüsieren sich im Moment auch so sehr gut. Die VIP-Mitgliedschaft kostet über 200 USD (April 2014)für die Dauer der Reise... aber wenn man es nicht durchgehend nutzt, bringt es wohl nichts.
Den Wettbewerb, wer schneller von Deck 11 auf Deck 6 wieder zurück ist, gewinne ich haushoch... Ich lasse niemanden gewinnen, auch meine Nichten nicht...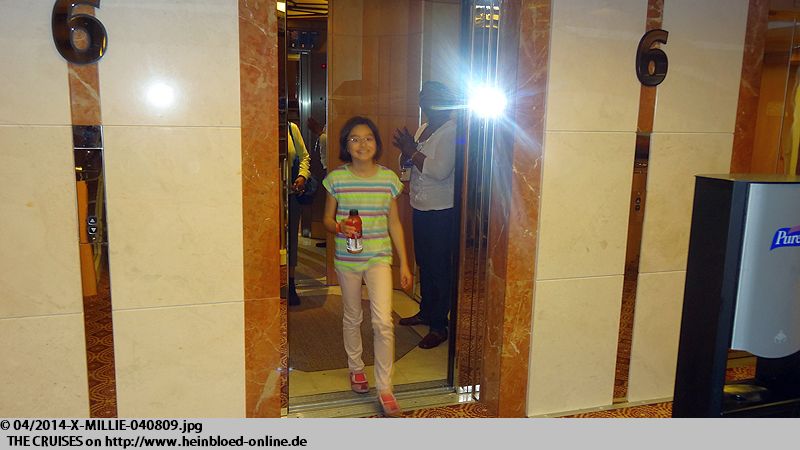 I won the competition who was faster down from deck 11 to deck 6... I never let someone else winning even not my nieces...

The big currency exchange started. But they did not publish the conversion rate so you could not compare.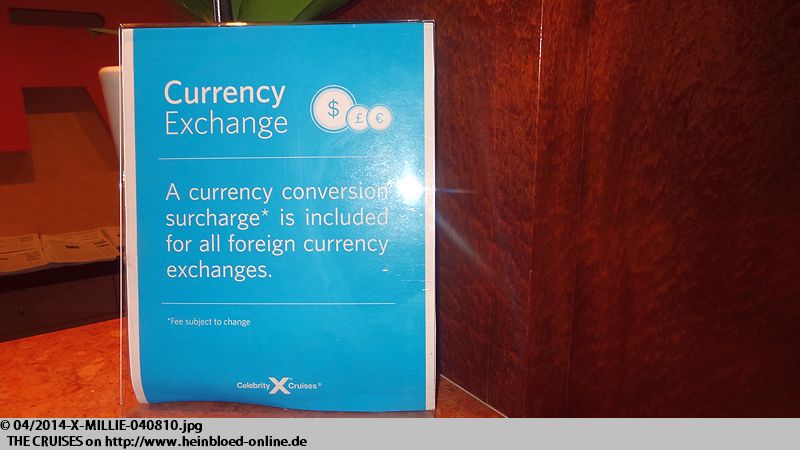 Das große Geldwechseln setzt an Bord ein. Nur die Kurse werden nicht veröffentlicht, damit man keine Vergleichsmöglichkeiten hat.
Und so lange nichts blank geputzt ist, weiß ich Bescheid. Immer noch Norovirusalarm. Das Desinfektionsmittel muss an der Luft trocknen.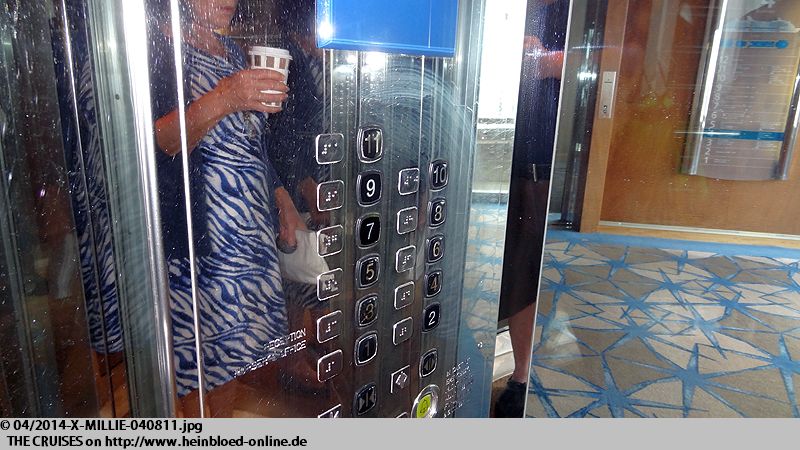 As long as nothing was polished clean and clear you know: You still had the norovirus alert. The detergent need to be air dried.