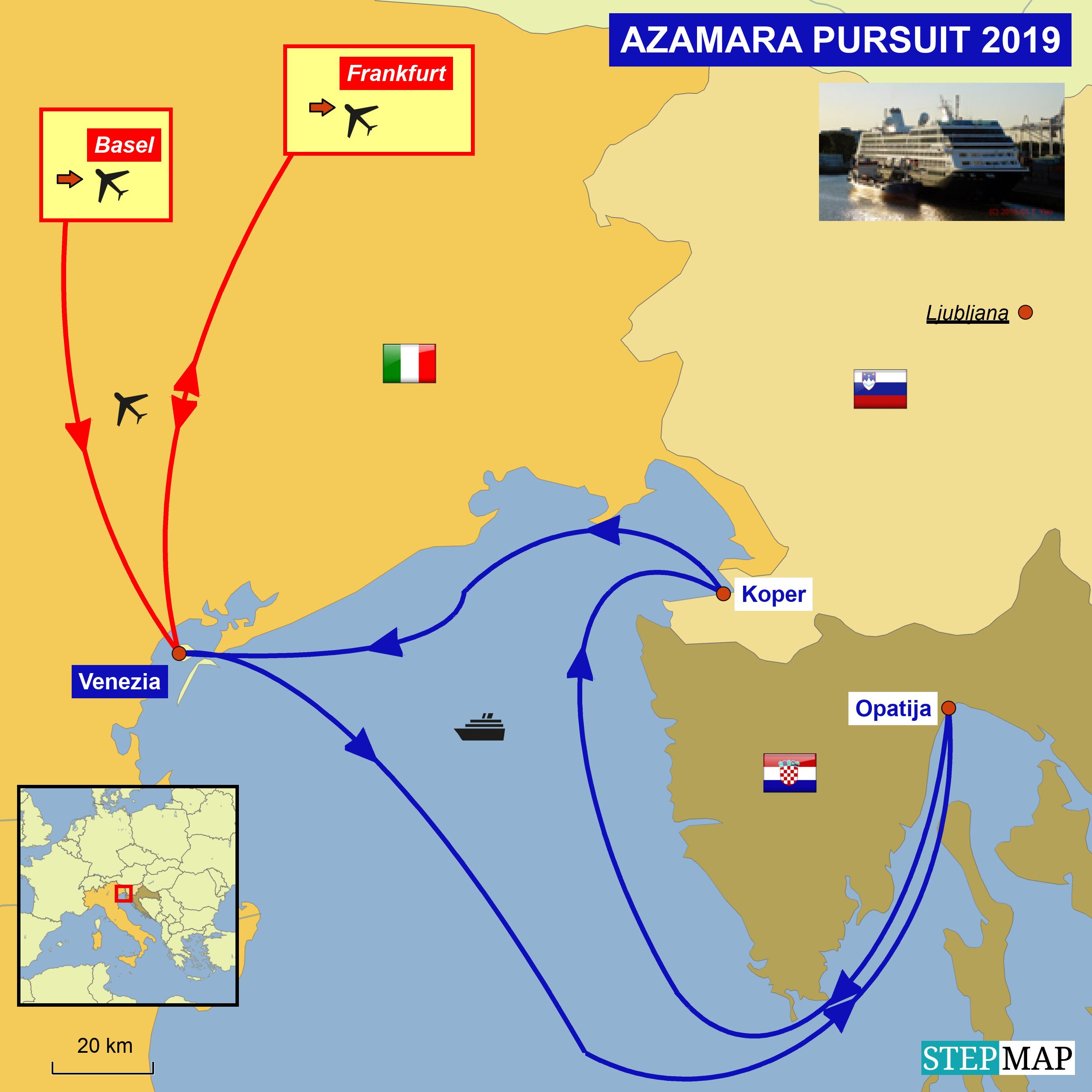 Ich bin viel zu aufgeregt, um weiter zu schlafen. Also gehe ich raus. Und wieder auf den Markusplatz, den ich fast für mich alleine habe.

I was too excited to go back to sleep. So I went out. And again to St. Mark's Square, which I had almost alone for myself.

I also used the emptiness of our Hotel Danieli to look around in peace.

Ich nutze auch die Leere unseres
Hotels Danieli
, um mich auch in Ruhe hier umzusehen.
Für 53,00 EUR/Person gönnen wir uns das Frühstück auf der Dachterrasse
Terrazza Danieli
. Der Ausblick ist ein Traum. Wir befinden uns direkt über unserem Zimmer. Hier haben sie auch eine kleine Auswahl asiatisches Frühstück. Man darf alle à-la-carte Frühstücksgerichte bestellen. So viel man will. Wir bleiben hier eine Stunde sitzen. Es ist schön warm. Das Frühstück im Zimmer wäre genauso teuer gewesen. Nur ohne diesen schönen Blick auf
San Giorgio
.

For 53.00 EUR/person we treated ourselves to the breakfast on the roof terrace Terrazza Danieli. The view was a dream. We were right above our room. Here you also had a small selection of Asian breakfast. You could order all à la carte breakfast dishes. As much as you want. We would stay here for an hour. It was nice and warm. The breakfast in the room would be just as expensive. Only without this beautiful view of San Giorgio.

And it was the perfect place to experience and photograph the arrival of MSC LIRICA. That alone was worth to spend the money. Too bad that only one ship entered today.

Und der perfekte Ort, um die Einfahrt der MSC LIRICA zu erleben und zu fotografieren. Dafür hat sich alleine schon das Geld auszugeben. Schade, dass nur ein Schiff heute einfährt.
Wir machen aus, dass wir bis 12:30 Uhr unser Zimmer räumen. So können wir noch ohne Handgepäck zur Besichtung des
Dogenpalastes
. Die Touren, die vom Museum angeboten werden, sind leider ausgebucht. Aber die Verkaufsstelle von
Venezia Unica
hat mir noch die Karten über
Venice Events
besorgt.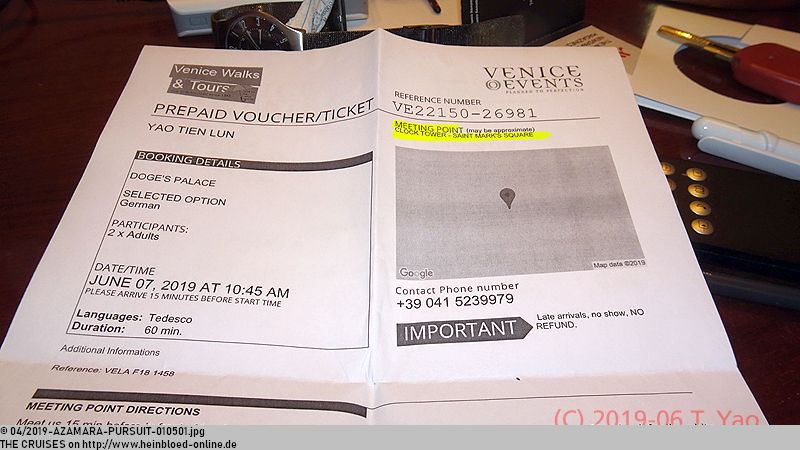 We expected to vacate our room by 12:30 hrs. So we could still visit the Doge's Palace without hand luggage. The tours offered by the museum were unfortunately fully booked. But the sales office of Venezia Unica got me the tickets from Venice Events.

We should wait until the clock tower.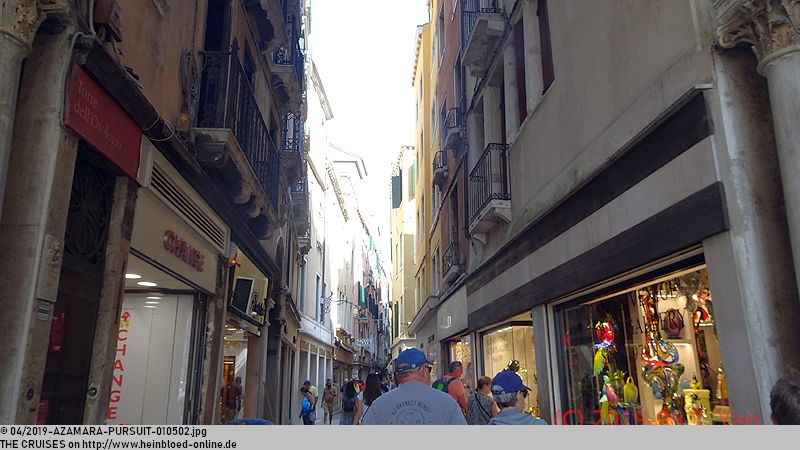 Wir sollen unter dem
Uhrenturm
warten.
Hier werden uns Empfänger für die Kopfhörer ausgeteilt.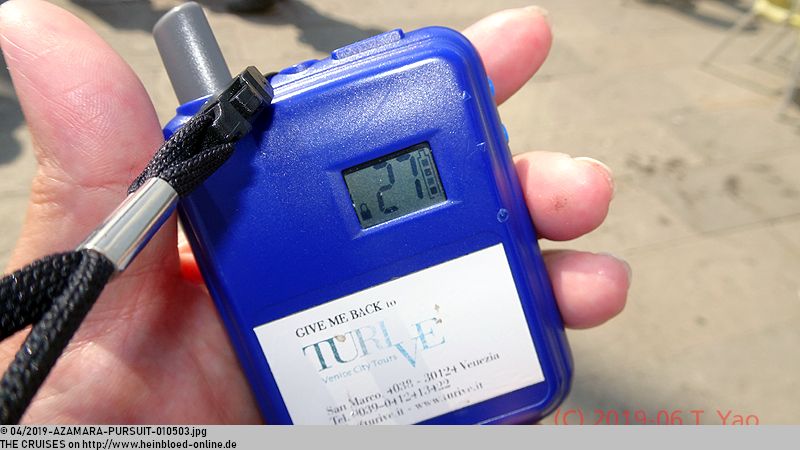 Here, our headsets with the receiver units were distributed to us.

We were still waiting.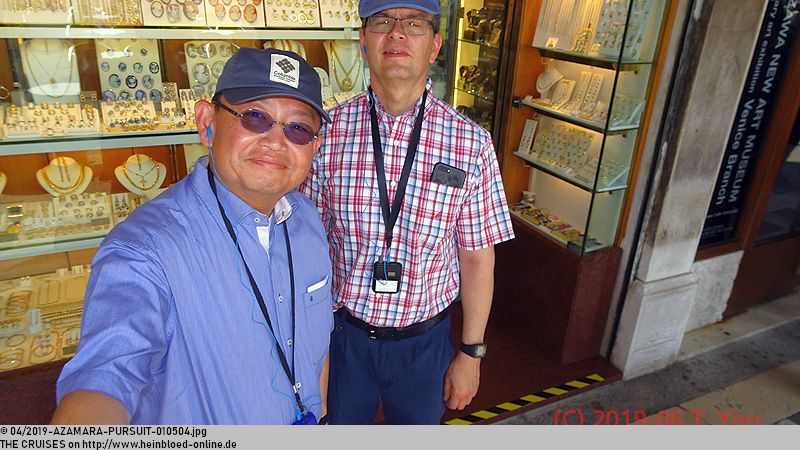 Wir warten immer noch.
Und dann wird endlich die 27 (= Kopfhörerkanal) aufgerufen.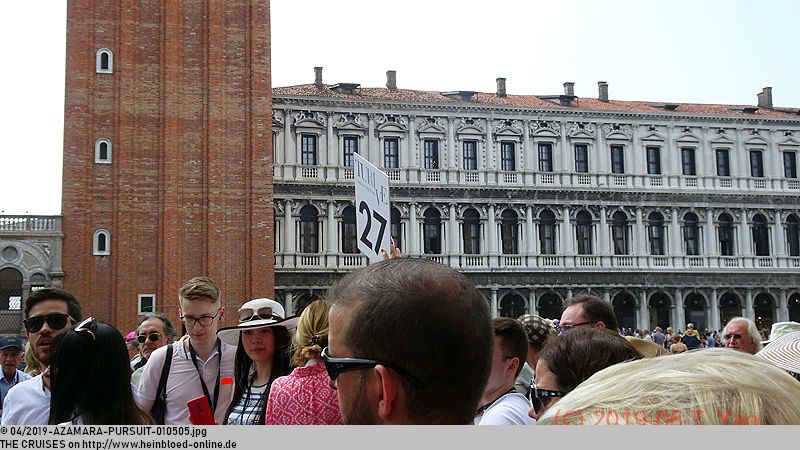 And finally, 27 (= channel of the receiver) was announced.

The world was small: we met again our tour guide, who guided us on a private tour in front of the NORWEGIAN JADE 2014 (2): Luigina Romor. She was a trained and authorized guide of Best Guides Venice. That was shortly before my stomach bypass surgery, and therefore, I looked a little different. She did not recognize me again. But I did not acknowledge her either, because she has a different hairstyle. Only when she mentioned that she came from Leer, Germany, I knew immediately that I knew her.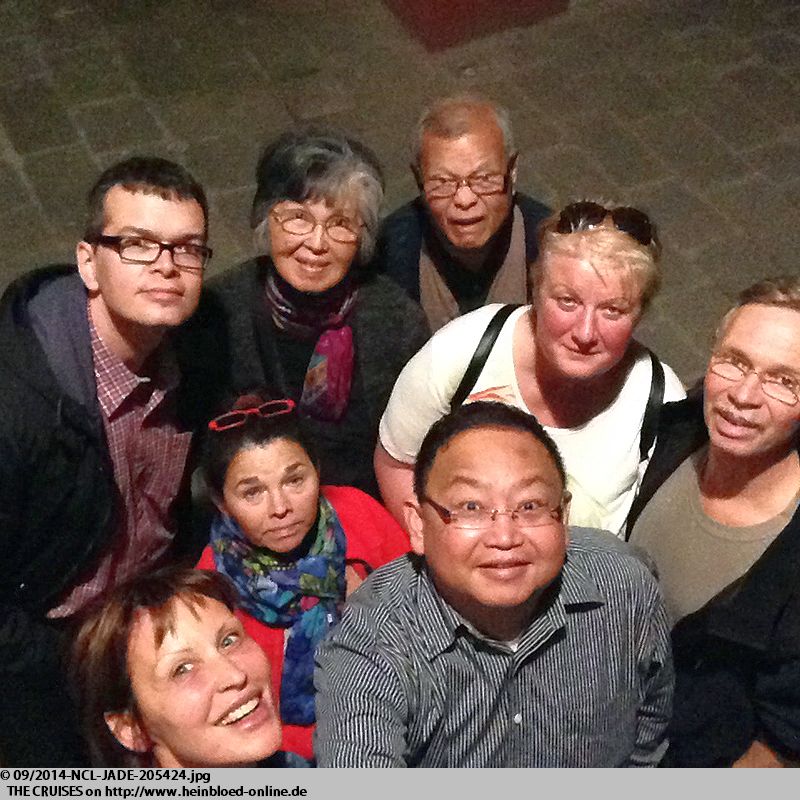 Die Welt ist klein: wir treffen unsere Fremdenführerin wieder, die uns in einer Privattour vor der
NORWEGIAN JADE 2014 (2)
geführt hat:
Luigina Romor
. Sie ist eine ausgebildete und authorisierte Führerin von
Best Guides Venice
. Das war ja damals kurz vor meiner Magen Bypass-OP und daher sehe ich noch etwas anders aus. Sie erkennt mich daher nicht wieder. Ich sie allerdings auch nicht, da sie eine andere Frisur hat. Erst, als sie erwähnt, dass sie aus Leer in Ostfriesland stammt, weiss ich sofort, dass ich sie kenne.
Unsere Tour sollte nur 60 Minuten dauern, aber wie damals auch:
Luigina
nimmt sich die Zeit, damit wir eine tolle Tour haben. Unsere Gruppe hat nur acht Gäste, so kann sie auf unsere Fragen eingehen. Vom
Dogenpalast
gucken wir auch rüber in unser Hotelzimmer im
Hotel Danieli
. Sie kam damals in Vertretung für eine andere Fremdenführerin. Daher hatte ich gar keine Kontaktdaten von ihr, um sie für eine private Tour zu buchen. Jetzt haben wir alle Daten ausgetauscht und freuen uns wieder auf einen nächsten Besuch in Venedig mit professioneller Führung.

Our tour should only take 60 minutes, but as she did then: Luigina took the time to let us have a great visit. Our group had only eight guests, so she could answer our questions. From the Doge's Palace, we looked over in our hotel room in the Hotel Danieli. At that time she came in substitution for another tourist guide. So I did not have any contact information from her to book her for a private tour. Now we exchanged all the data and looked forward to the next visit to Venice with professional guidance.

Luigina gave us a tip that we should go to the T Fondaco roof terrace to enjoy a spectacular view over the rooftops of Venice for free. But you needed to get tickets in advance with time window.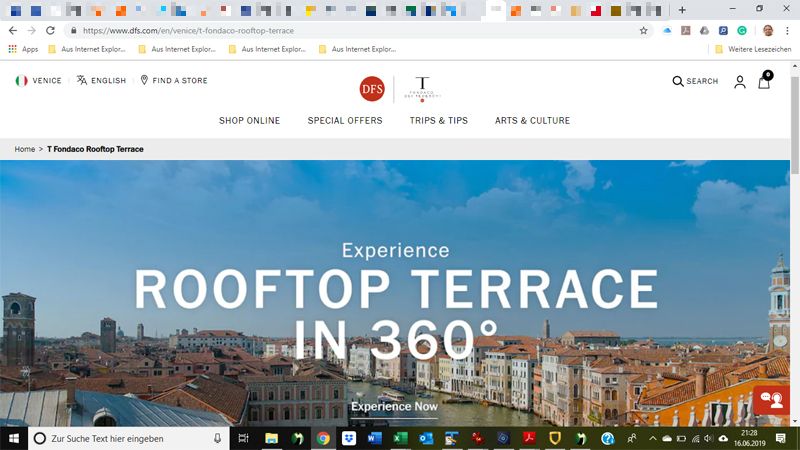 Luigina
gibt uns noch den Tipp, dass wir noch auf die
T Fondaco Dachterrasse
gehen sollten, um dort kostenlos einen spektulären Ausblick über die Dächer Venedigs zu genießen. Man muss sich aber Tickets vorab mit Zeitfenster besorgen.
Wir fahren ohne Gepäck mit der
Vaporetto Linie 2
nach
Tronchetto
. So können wir nochmals die MSC OPERA sehen und später noch von der AZAMARA PURSUIT aus.

We went without bags by Vaporetto Line 2 to Tronchetto. So we could see MSC OPERA again and later again from AZAMARA PURSUIT.

People Mover, we moved over to Stazione Marittima. Perfect that I could take more pictures. And finally a selfie with us in front of AZAMARA PURSUIT.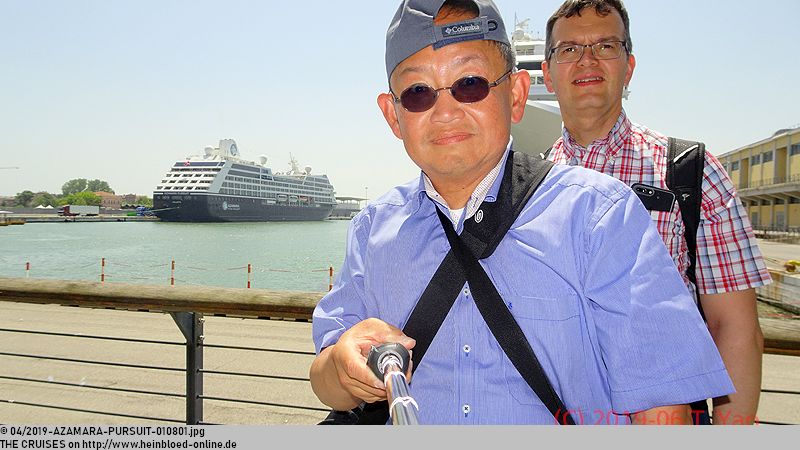 Mit dem
People Mover
geht es rüber zur
Stazione Marittima
. Perfekt, damit ich fotografieren kann. Endlich ein Selfie mit uns vor der AZAMARA PURSUIT.
Ich bin froh, dass wir nicht bis dahin das Gepäck schleppen müssen.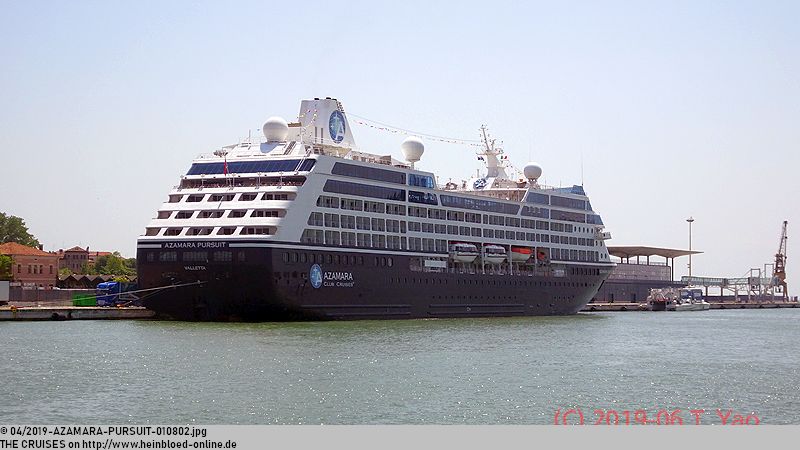 I was happy, that I did not need to carry all bags all the way.

We arrived at Isonzo 2-Terminal.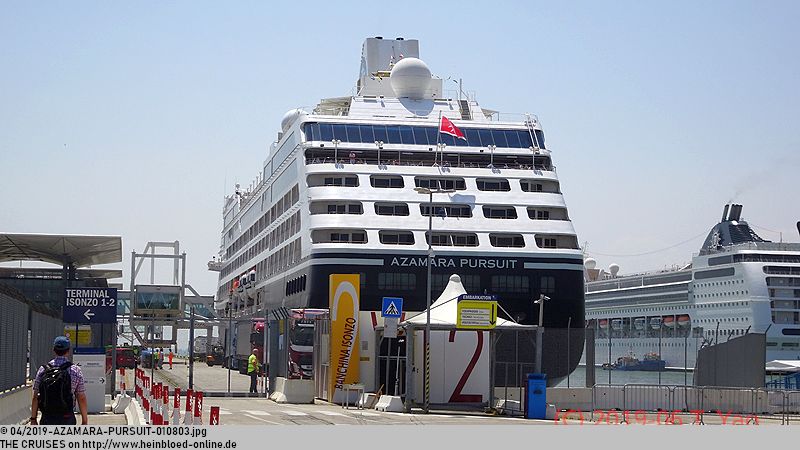 Wir kommen am
Isonzo 2-Terminal
an.
Und eine Regenbogen-Fahne am Schiff. Extra für uns?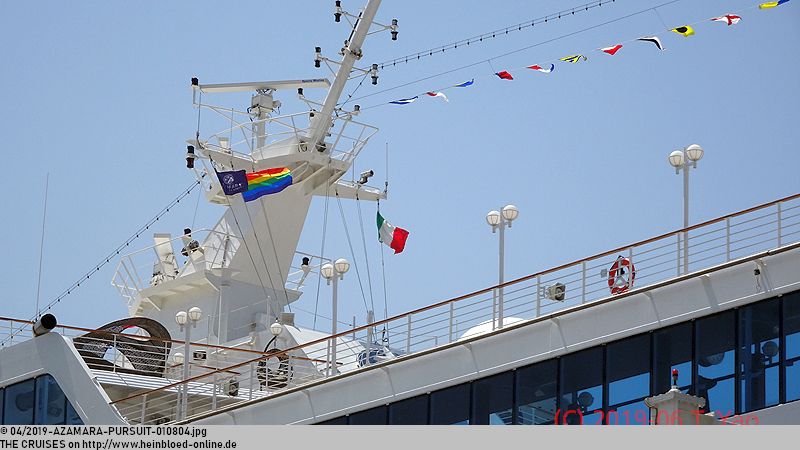 And a rainbow-flag onboard. Just for us?

AZAMARA PURSUIT, we were coming!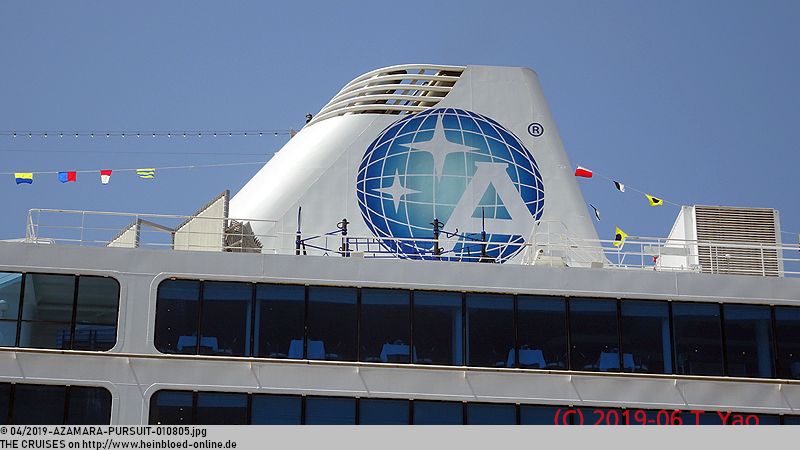 AZAMARA PURSUIT, wir kommen!
Zuvor passieren wir noch die MSC LIRICA.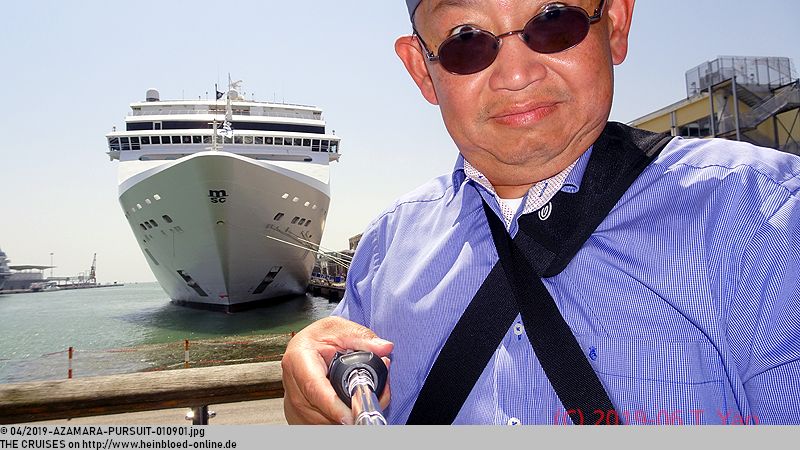 Before, we passed MSC LIRICA.

I took already earlier this morning a massive number of pictures.

Ich habe zwar heute Morgen schon sehr viele Bilder gemacht.
Auch, wenn ich mir derzeit nicht vorstellen kann, je mit ihr zu fahren. Ohne
MSC Yacht Club
wie auf der
MSC MERAVIGLIA 2017
und
MSC SEAVIEW 2018
werden wir wohl kaum auf eine MSC-Kreuzfahrt. Unsere geplante Dubai-Reise auf der MSC BELLISSIMA 2020 haben wir storniert, weil der
MSC Yacht Club
komplett verchartert ist und wir auf eine andere Reise umgebucht werden sollen und weil wir mit der CELEBRITY CONSTELLATION 2021 ab Dubai fahren wollen. Übrigens: das schon mal vorab: die ganze AZAMARA PURSUIT ist wie der
MSC Yacht Club
.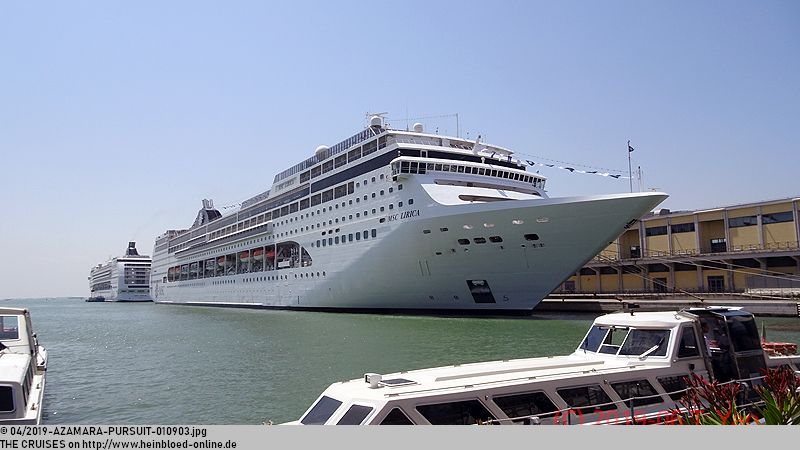 Even though I could not imagine ever travelling with her. Without MSC Yacht Club, such as the MSC MERAVIGLIA 2017 and MSC SEAVIEW 2018 had, we would hardly be on an MSC cruise. We canceled our planned Dubai trip on the MSC BELLISSIMA 2020 because the MSC Yacht Club would be completely chartered out. For that, we would need to rebook on another itinerary. Furthermore, we would like to travel from Dubai on CELEBRITY CONSTELLATION 2021. By the way: that is in advance: the whole AZAMARA PURSUIT is like the MSC Yacht Club.

Later again, from AZAMARA PURSUIT.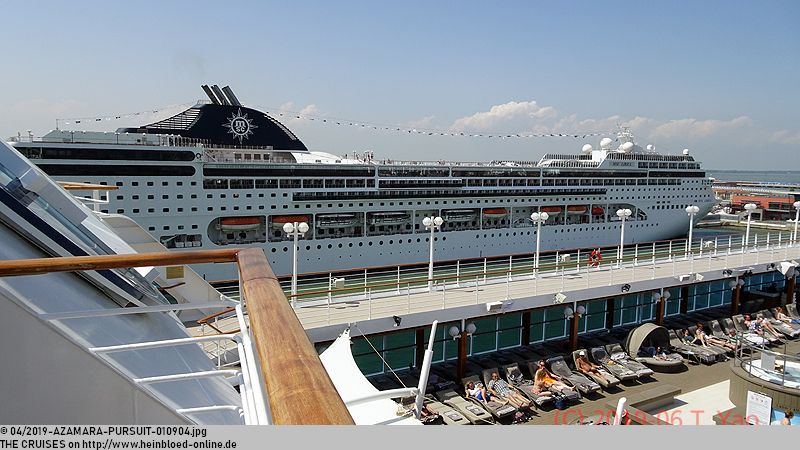 Später noch von der AZAMARA PURSUIT.
Leider fährt sie später los, während wir in der Seenotrettungsübung sitzen. Deren Passagiere sind allerdings alle mit Rettungsweste auf dem Promenadendeck und können so auch die Ausfahrt nicht ungestört miterleben. Hoffentlich sind sie bis zum Markusplatz mit der Seenotrettungsübung fertig.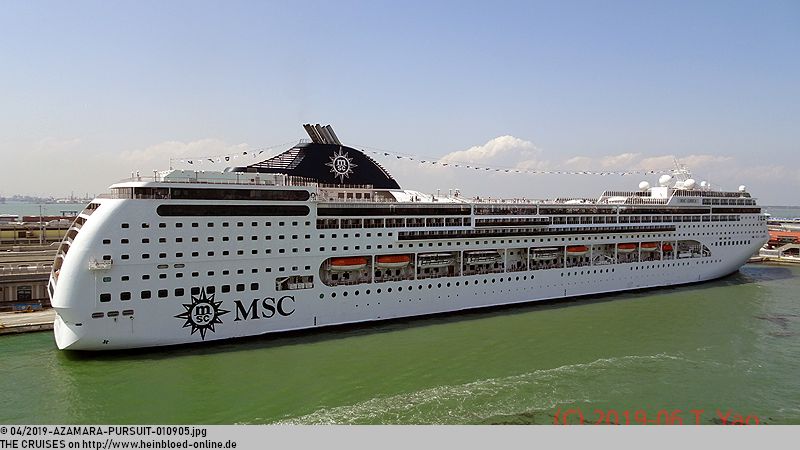 Unfortunately, she set sail later while we were in our life drill. Their passengers, however, all were with their lifejackets on the promenade deck and so could not experience the set sail undisturbed. Hopefully, they would be finished with their life drill, until they would come to St. Mark's Square.

The advantage of having walked: we saw more. So, there was a central pier for arriving water taxis.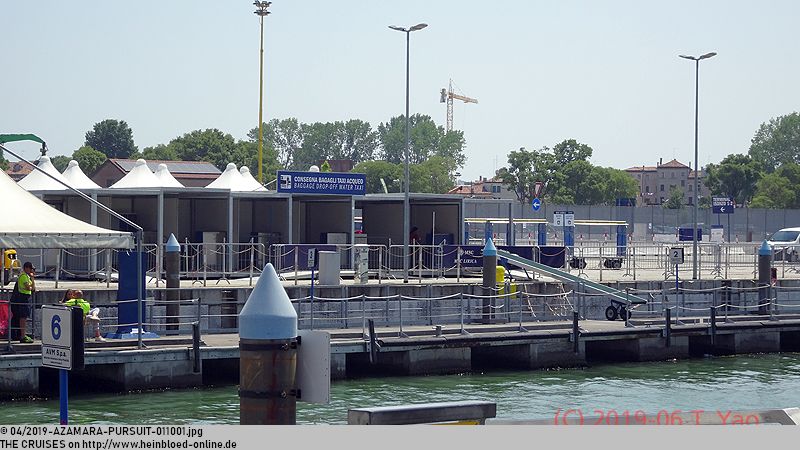 Der Vorteil, dass wir laufen: wir sehen mehr. Es gibt eine zentrale Anlegestelle für ankommende
Wassertaxis
.
Es gibt hier eine Gepäckannahme. Man muss also von hier sein Gepäck nicht bis zu den einzelnen
Terminals
zu schleppen.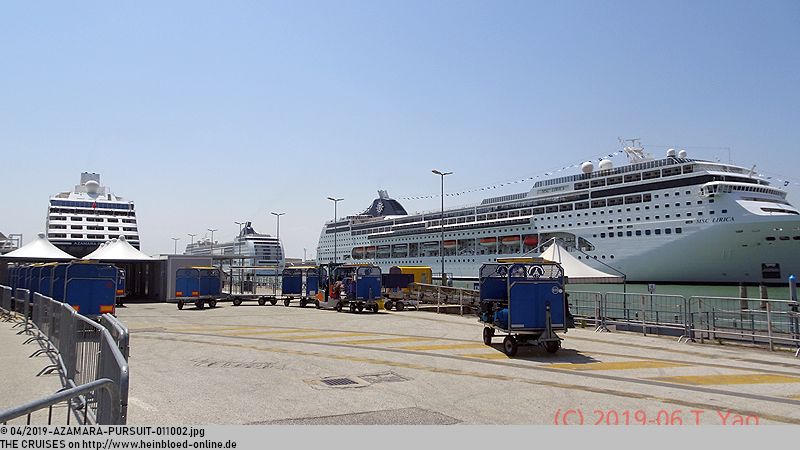 Here, they had a central baggage acceptance. There was no need to carry all the bags to the single terminals.

You were guided on a Zick-zack-way to the Isonzo 2-Terminal.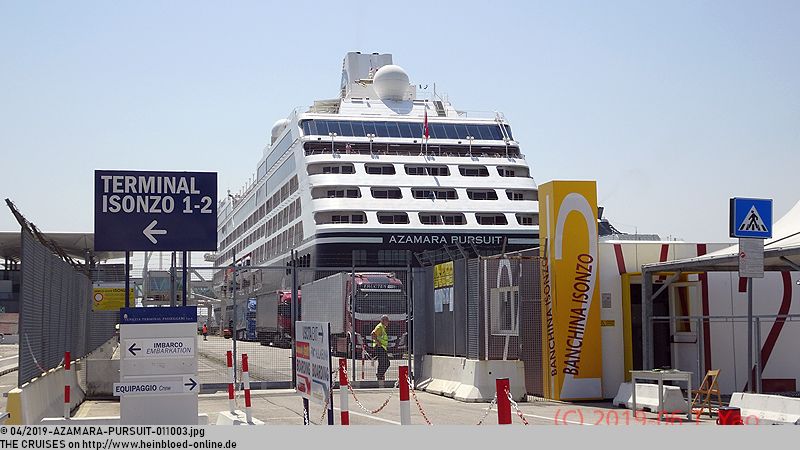 Man wird in einem Zick-Zack-Kurs zum
Isonzo 2-Terminal
guided.
Erstaunlich wenig Verkehr vor dem
Isonzo 2-Terminal
.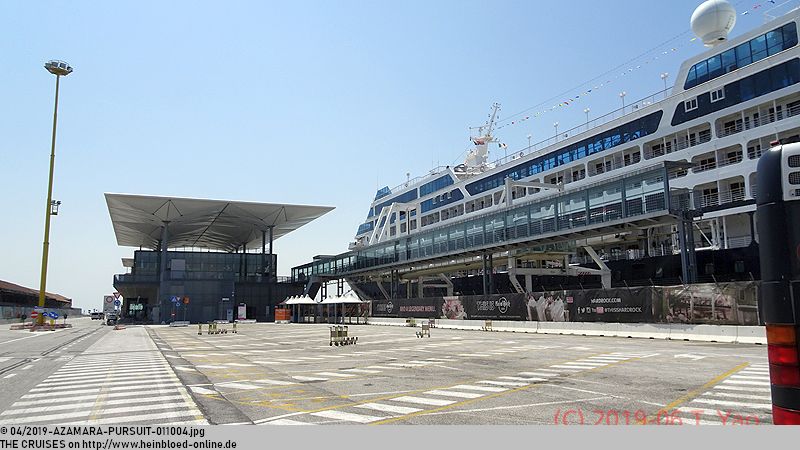 It was surprising that there was hardly traffic in front of the Isonzo 2- Terminal.

If you would arrive back by boat, you had to haul everything yourself to the Alilaguna Vaporetto or HoHo line. The HoHo line would also leave from here to the train station Venice-Santa Lucia, Hilton Hotel Molino Stucky, and San Marco. So you could buy a day pass, and could take your luggage away first and store and then continue.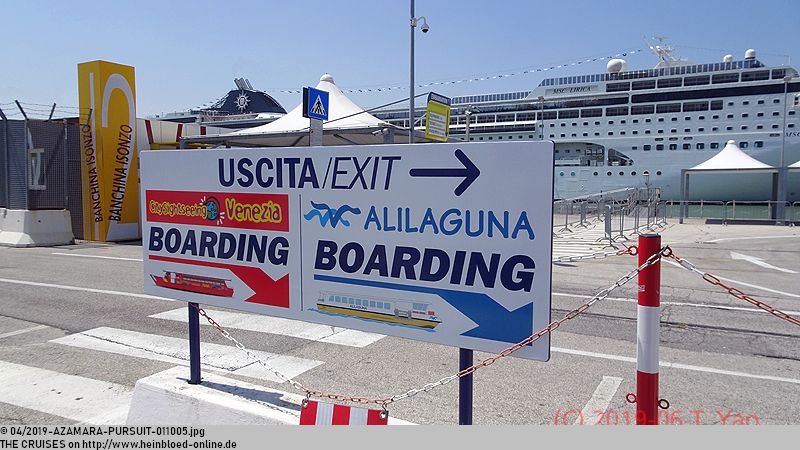 Wenn man wieder mit dem Schiff ankommt, muss man allerdings alles selbst zu den
Alilaguna-Vaporetto
oder
HoHo-Linie
schleppen. Die
HoHo-Linie
fährt ja von hier aus auch nach zum Bahnhof
Venedig-Santa Lucia
,
Hilton Hotel Molino Stucky
und San Marco: also kann man sich eine Tageskarte kaufen und sein Gepäck erst mal wegbringen und einlagern und dann weiterfahren.
Für die Einschiffung ist eigentlich alles ausgedruckt. Wir bekommen aber alles nochmals von Jens und Raoul von
Sonnendeck Seereisen
ausgedruckt, gebunden und die Gepäckanhänger fertig gefaltet und in entsprechenden Klarsichtetuis per Post zugeschickt. Bei
Sonnendeck Seereisen
muss man sich wie üblich, mich um nichts selbst kümmern. Wie üblich kommt das Angebot, dass wir durch Royal Caribbean den Rechnungsbetrag für 3% Zuschlag in Euro umrechnen und in Rechnung gestellt bekommen können. Das streichen wir AUSDRÜCKLICH durch, und wollen die Abrechnung in USD. Im
Isonzo-2-Terminal
werden wir bereits auf die
AZAMARA PURSUIT-App
hingewiesen, die wir sofort herunterladen. Online sind die Bordkarten bereits heruntergeladen, aber ich hätte sie auch mobil in der App sehen können. Aber das kommt jetzt zu spät.

Everything was printed out for embarkation. But we got everything printed out in a folder by Jens and Raoul of Sonnendeck Seereisen, and the luggage tag folded and delivered in appropriate transparent tagholders by mail. With Sonnendeck Seereisen, you would never need to worry and take care of anything, as usual. As usual, Royal Caribbean offered that they could convert the invoice amount for 3% surcharge in Euros. We EXPRESSLY overrode this and wanted to be billed in USD. In the Isonzo 2-terminal, we were already referred to the AZAMARA PURSUIT-App, which we downloaded immediately. The boarding passes were already printed out, but I could have seen them on the mobile app as well. But that was too late now.

Actually, Azamara was not my price category: Booking at 455.00 EUR/night in an inside cabin. For 500,00 EUR/night I could already stay in a balcony stateroom with Hapag-Lloyd like we did EUROPA 2014! For January 2020, SIRENA is booked with Oceania. Therefore, we were particularly interested in the differences between Azamara and Oceania. At Oceania, I could spend a week on SIRENA in Cuba, for the price of this 3-day trip here on AZAMARA PURSUIT. We quickly canceled a "test drive" at AIDAmar and booked AZAMARA PURSUIT. As a goodie, there were 200.00 USD spa credit and 500.00 USD excursion credit. However, we lost the excursion credit when we asked for prices adjustment. As a compromise, I took an outside cabin with view restriction for 437.00 EUR/night. But on board, there was quite a bit of confusion in this regard. The 500.00 USD excursion balance we did not get, although it said on the confirmation letter at embarkation. Very annoying: the prices went up in the meantime, incredibly. The trip was also available with similar arrangements in the Venice-Simplon-Orient-Express. Finally, the price dropped down again, enormously. There finally offered the balcony cabin for 699.00 EUR (233.00 EUR / night). Despite the intervention of Sonnendeck Seereisen: Azamara was not willing to grant an upgrade to a balcony cabin, which would be cheaper now than our outside cabin before. German booking conditions. Under US conditions, more customization options would be possible.

Eigentlich ist Azamara nicht meine Preisklasse: Buchung zu 455,00 EUR/Nacht in einer Innenkabine. Für 500,00 EUR/Nacht kann ich ja schon Balkon auf der
EUROPA 2014
mit Hapag-Lloyd fahren! Für Januar 2020 ist SIRENA mit Oceania gebucht. Daher interessieren uns die Unterschiede besonders zwischen Azamara und Oceania. Bei Oceania könnte ich für den Preis dieser 3-Tages-Reise auf der AZAMARA PURSUIT, eine Woche auf der SIRENA auf Kuba unterwegs sein. Schnell haben wir eine "Probefahrt" auf der AIDAmar abgesagt und AZAMARA PURSUIT gebucht. Als Bonbon gibt es 200,00 USD Spa-Guthaben und 500,00 USD Ausflugs-Guthaben. Das Ausflugs-Guthaben verlieren wir jedoch, als wir die Preise anpassen lassen. Als Kompromiss nehme ich eine Außenkabine mit Sichteinschränkung für 437,00 EUR/Nacht. Aber an Bord gibt es ganz schön Verwirrung diesbezüglich. Die 500,00 USD Ausflugs-Guthaben bekommen wir doch nicht, obwohl es auf dem Bestätigungsschreiben bei der Einschiffung draufsteht. Sehr ärgerlich: die Preise gingen zwischenzeitlich extrem mal nach oben. Die Reise gibt es auch mit entsprechenden Arrangements im
Venice-Simplon-Orient-Express
. Zum Schluss fielen auch wieder stark runter. Es hätte die Balkonkabine für 699,00 EUR (233,00 EUR/Nacht) gegeben. Trotz des Einsatzes von
Sonnendeck Seereisen
: Azamara ist nicht bereit uns ein Upgrade in eine Balkonkabine zu gewähren, die jetzt günstiger wäre, als damals unsere Außenkabine. Die deutschen Buchungsbedingungen eben. Bei den US-Bedingungen sind mehr Anpassungsmöglichkeiten möglich.
Aufgrund meiner Reisen mit Royal Caribbean auf der
JEWEL OF THE SEAS 2007
,
NAVIGATOR OF THE SEAS 2009
,
QUANTUM OF THE SEAS 2014
und
ALLURE OF THE SEAS 2015
habe ich den Status als Explorer in
Le Club Voyage
-Treueprogramm bei Azamara, aber nicht die Punkte. Es zählen jedoch die Punkte von Celebrity
Captain's Club
. Nach der Reise habe ich zwar 138 Punkte, und bin trotzdem schon Explorer.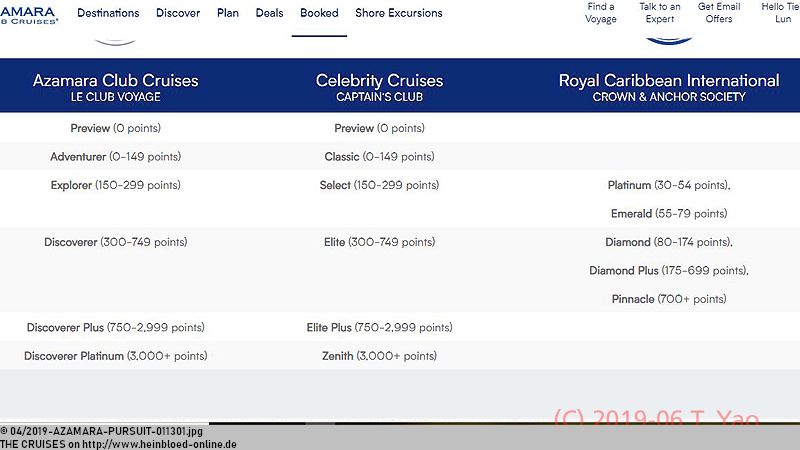 Due to my travels with Royal Caribbean on JEWEL OF THE SEAS 2007, NAVIGATOR OF THE SEAS 2009, QUANTUM OF THE SEAS 2014, and ALLURE OF THE SEAS 2015, I reached the status of Explorer in Le Club Voyage-Loyalty Program with Azamara, but not the points. However, it counted the balance of the Celebrity Captain's Club. Although I had 138 points after the trip, I still was already an Explorer.

The advantages that I enjoyed as Explorer. The 5% only applied to members who have at least the 150 points. Therefore not for me. I only got 3% off booking on board for my very first trip with Azamara.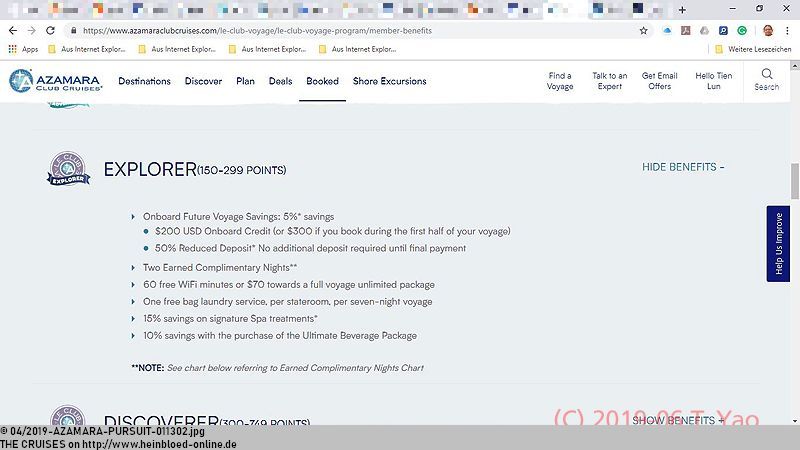 Die Vorteile, die ich als Explorer genieße. Die 5% gelten jedoch nur für Mitglieder, die mindestens die 150 Punkte haben. Daher für mich nicht. Ich bekomme nur 3% Rabatt bei der Buchung an Bord für meine allererste Reise mit Azamara.
Als
Le Club Voyage
Mitglieder werden wir entsprechend willkommen geheißen.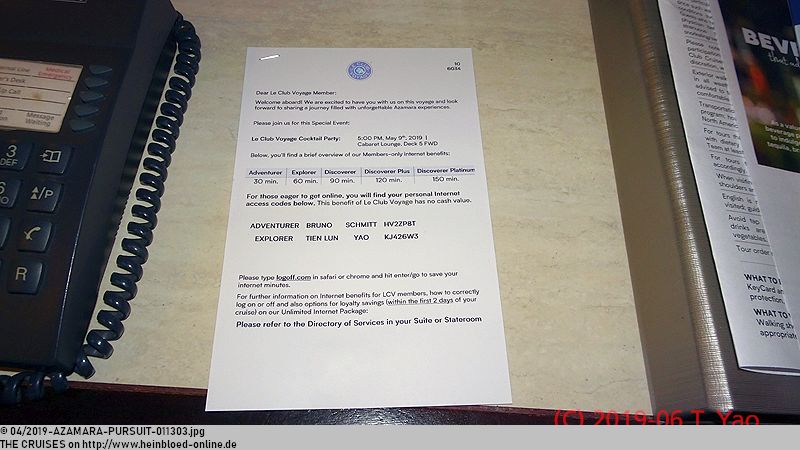 We were welcomed according as Le Club Voyage members.

I got the voucher for the laundry.

Ich bekomme den Wäschereigutschein.
Mich interessiert es brennend, in welchem Zustand mein NCL-T-Shirt zurückkommt oder ob ich ein Azamara-T-Shirt stattdessen zurückbekomme. Das war das T-Shirt, das ich auf der
NORWEGIAN SKY 2015
vom Hoteldirektor Jean-Michel bekommen habe, damit ich passend für die White Hot Party zum Anziehen bekommen habe. Wir wurden im Vorfeld über die White Night Party nicht informiert und daher haben wir nichts weißes mit. Das könnte ich ja anziehen, um passend zur White Night Party zu gehen. Aber es kommt erst nach der Party aus der Wäscherei zurück.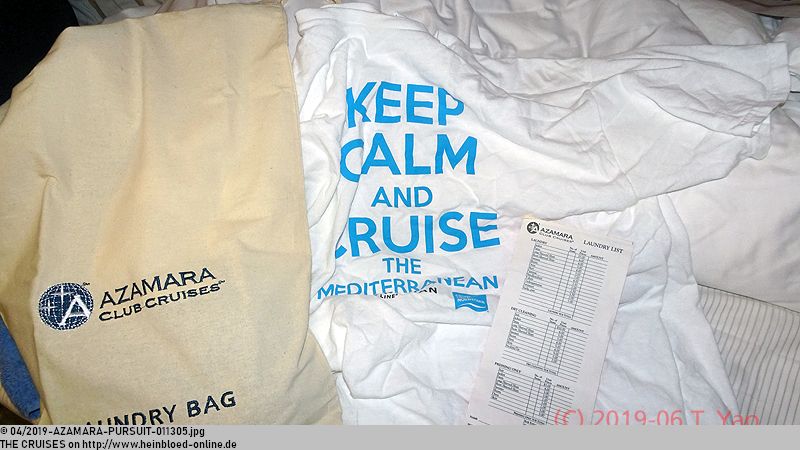 I was really interested in the condition, they would return my NCL T-shirt, or whether I would get back an Azamara T-shirt instead. That was the T-shirt I got on NORWEGIAN SKY 2015 from Hotel Manager Jean-Michel, so I got dressed to match the White Hot Party. We were not informed in advance about the White Night Party, and therefore we have nothing white with us. I could wear that to go to the White Night Party. But it did not come back from the laundry until the end of the party.

The general services: AzAmazing Evening was not available on this voyage. Service fee: perfect. Standard alcoholic: less interesting for us. Bottled water, soft drinks, coffee, and tea specialties: ok - but unfortunately the coffee here at the coffee bar did not taste that way, and Evian cost extra. Only "regular" bottled water was included. Self-service laundromat: that would make Bruno happy that he could laundry his sports clothes for free in between. Shuttle services: excellent. Concierge: we already used it quite seldom with the others. We were curious to see how we use it on a long journey.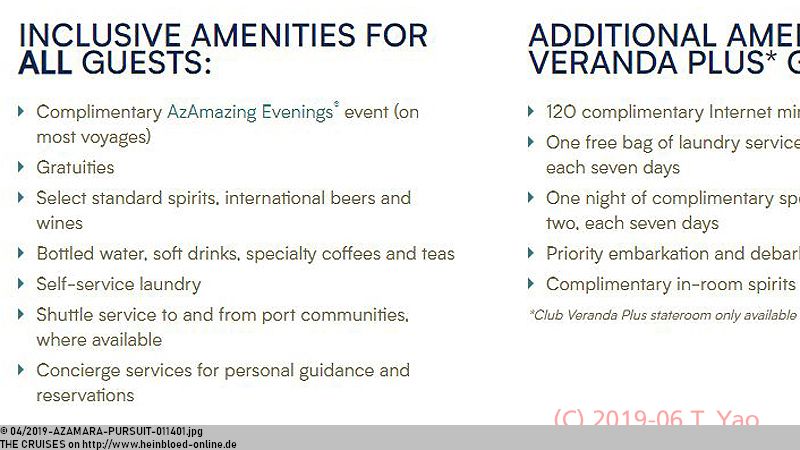 Die Inklusiv-Leistungen: AzAmazing Evening gibt es nicht auf dieser Reise. Servicegelder: sehr gut. Standard-Alkoholika: für uns weniger interessant. Wasser in Flaschen, alkoholfreie Getränke, Kaffee- und Teespezialitäten: ok - aber leider schmeckt der Kaffee hier an der Kaffeebar nicht so und Evian kostet extra. Nur "normales" Flaschenwasser ist inkludiert. SB-Waschautomat: das wird Bruno freuen, dass er seine Sportklamotten zwischendurch kostenlos waschen darf. Shuttledienste: sehr gut. Concierge: den nutzen wir schon bei den anderen recht selten. Mal sehen, wie wir ihn auf einer längeren Reise nutzen.
Interessant ist diese
Aufstellung
, die ich bei Oceania gefunden habe und die Inklusivleistungen gegenüber stellen.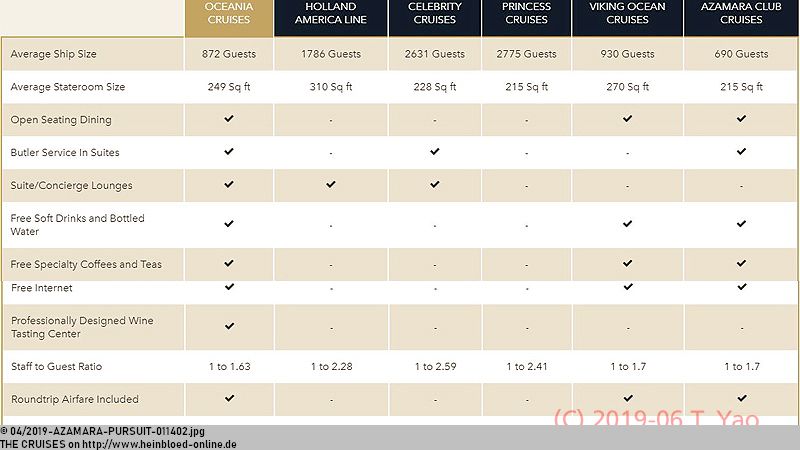 Interesting was this sheet that I found with Oceania and the included services.

So they told us immediately, we could clear the entire mini-bar.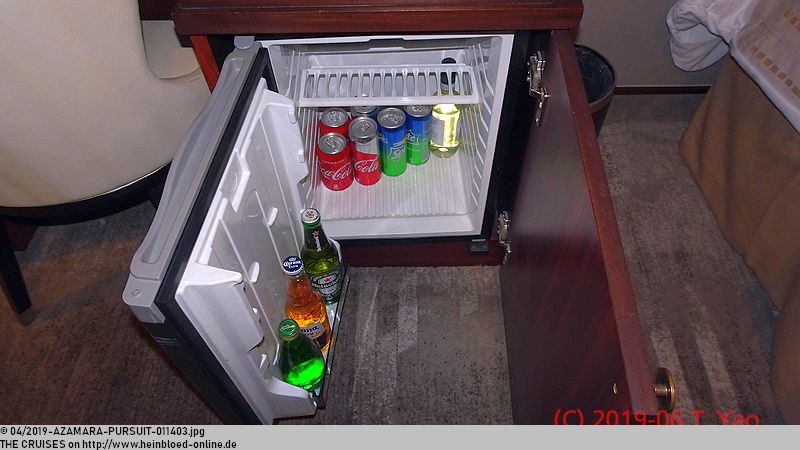 Daher sagt man uns direkt, dass wir die gesamte Mini-Bar ausräumen dürfen.
Nur diese Getränke auf der Liste aus der Mini-Bar werden berechnet. Für Azamara wird es billig: während der drei Tage nutzen wir nur die Wasserflaschen und eine Dose Cola.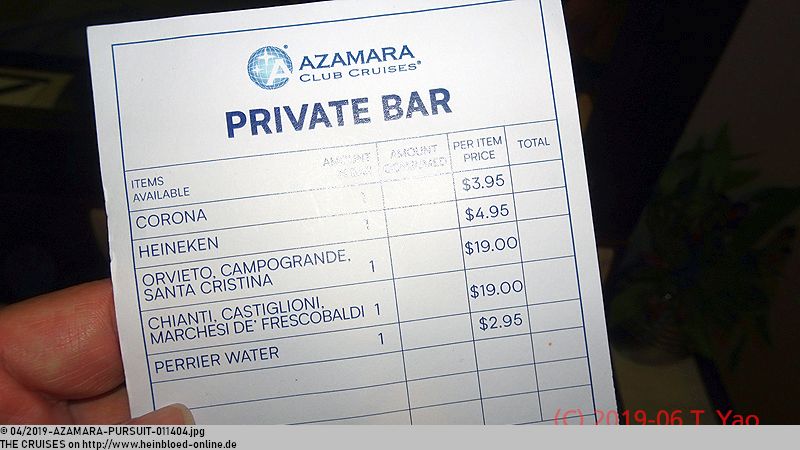 Only the listed beverages from the mini-bar would be charged extra. For Azamara, it became quite cheap: since we only took the bottles of water and one can of Coke in the three days.

In the original package, Internet access for one was included. When we rebooked, I expected it to be withdrawn. As a result, I ordered one which was not settled. I got an access code for it. Even though we got two access codes for the trip on board plus the free minutes as Le Club Voyage members (I as Explorer 60 minutes and Bruno as Adventurer 30 minutes). However, the request at the Azamara headquarters revealed: the other access was not charged: how should they? They never answered to my request and asked for my credit card number.

In dem ursprünglichen Paket war ein Internet-Zugang inkludiert. Als wir umgebucht hatten, hatte ich erwartet, dass der weggefallen ist. Daraufhin, habe ich einen bestellt, der nicht abgerechnet wurde. Für den bekomme ich einen Zugangscode, obwohl wir zwei Zugangscode für die Reise an Bord bekommen plus noch die Freiminuten als
Le Club Voyage
-Mitglieder (ich als Explorer 60 Minuten und Bruno als Adventurer 30 Minuten). Die Nachfrage bei der Azamara-Zentrale ergibt jedoch: der Extra-Zugang wurde nicht berechnet: wie auch? Sie haben sich ja nie auf die Anfrage sich zurückgemeldet und nach meiner Kreditkartennummer gefragt.
Willkomen an Bord.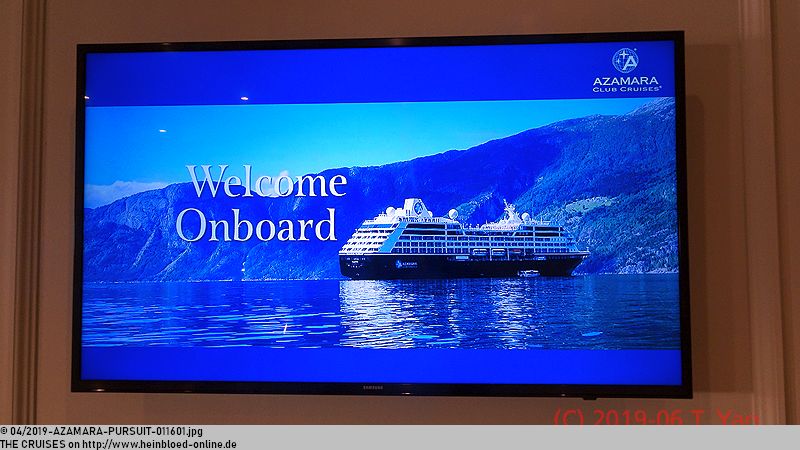 Welcome onboard.

I liked the mobile display boards.

Die mobilen Anzeigetafeln gefallen mir gut.
Es gibt zum Empfang Sekt und auch etwas nicht-alkoholisches.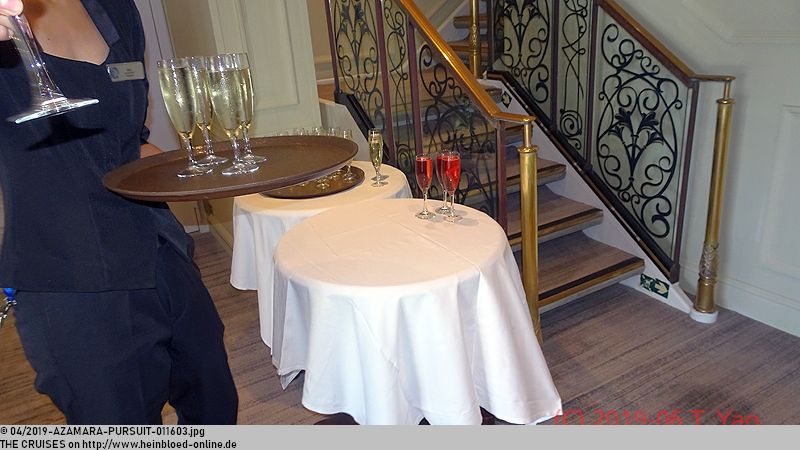 They had a reception with champagne and also something non-alcoholic.

We had the cabin 6034.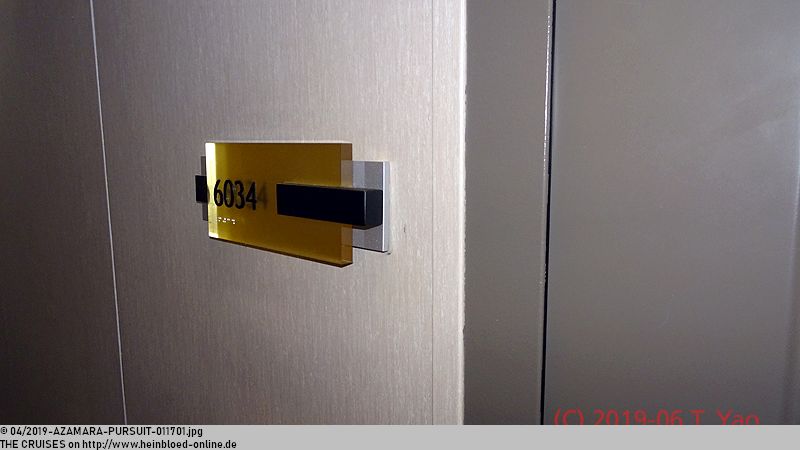 Wir haben die Kabine 6034.
Mit getrennten Betten, so wie angefragt. Wobei ich mich frage, wann und wo ich es überhaupt angegeben hatte. Denn für die Gäste nach uns, werden die Betten wieder zusammengeschoben.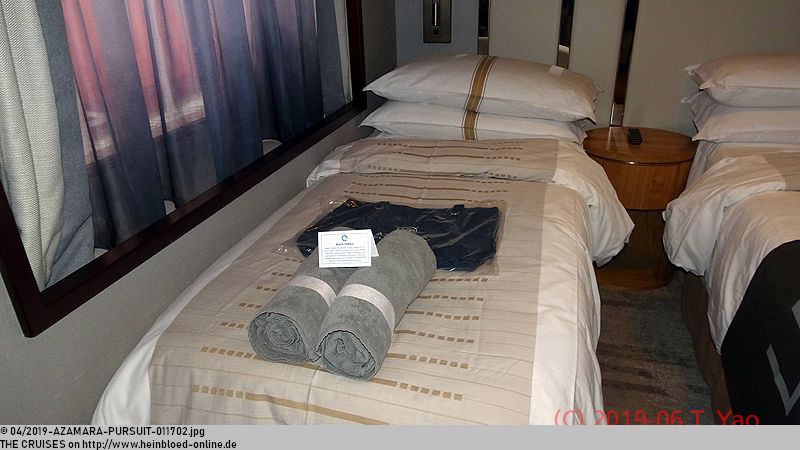 With separate beds, as requested. But I wondered when and where I had ever stated. Because for the guests after us, the beds were pushed together again.

Only the bedside tables were different.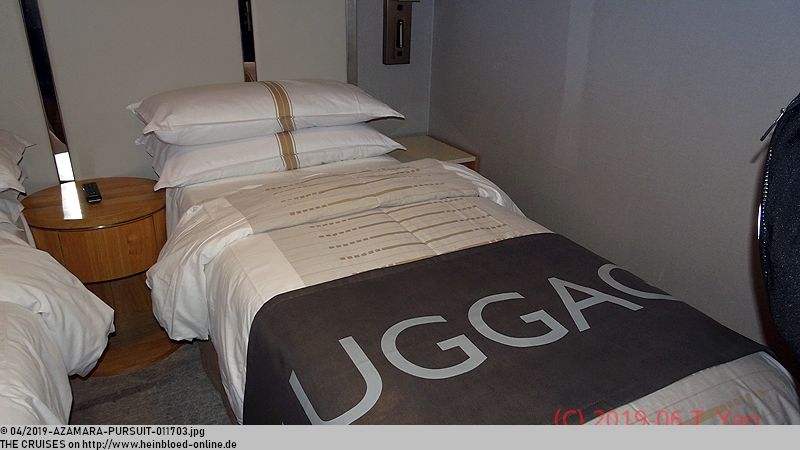 Nur die Nachttische sind unterschiedlich.
Wir haben kein Tenderboot, sondern ein Rettungsboot vor dem Fenster. D. h. wir sehen gar nichts während der Reise. Sehr viele kleine Details, die positiv auffallen: Europäische, UK- und US-Steckdosen. Es gibt einen USB-Port am Nachtlicht. Man sollte allerdings ein längeres Kabel mitführen. Hier wird noch zu zweit die Kabinen gemacht. Schön: normale Kleiderbügel mit normalen Haken. Ein Regenschirm zum Ausleihen. Viele Schubladen. Und ein Wäschesack aus Stoff, den man vollstopfen kann, ohne dass er droht zu zerreißen.

We did not have a tender boat, but a lifeboat in front of the window. I.e., we did not see anything during the trip. Many small details that attracted our attention positively: European, UK-, and US-power outlets. There was a USB port on the night light. You should, however, carry a longer cable with you. Here the cabins were made by teams. Nice: normal hangers with normal hooks. An umbrella to borrow. Many drawers. And a laundry bag made of fibers, which you could stuff without it threatening to tear.

The bathroom appeared freshly renovated. Not just freshened up.

Das Bad schein frisch renoviert zu sein. Nicht nur aufgefrischt.
Draußen in The Patio essen wir eine Kleinigkeit zu Mittag. Alles frisch zubereitet. Die Spieße werden frisch gegrillt. Sehr lecker: die Melonen und Ananas von der Salatbar.

Outside in The Patio we had a snack for lunch. Everything freshly prepared. The skewers were freshly grilled. Very tasty: the melons and pineapple from the salad bar.

Shortly before my embarkation, I saw that Princess presented itself with the rainbow colors. Also here on board, I had to take pictures first with the rainbow flag. Otherwise, I looked around on the open deck.

Kurz vor meiner Einschiffung sehe ich, dass Princess sich mit den Regenbogenfarben darstellt. Auch hier an Bord muss ich mich zunächst mit der Regenbogenfahne fotografieren. Ansonsten sehe ich mich auf dem offenen Deck um.
An der Mosaic Bar sehen wir uns die Getränke Angebote an. So richtig blicken wir nicht durch, welche Getränke man extra zahlen muss und welche nicht. Wir haben auf jeden Fall kein einziges Getränk später auf der Abrechnung stehen. Irgendwie hat das auch etwas sehr praktisches. Aber am Schluss finden wir auf der Karte doch eine Seite mit den kostenfreien Getränken. Wenn man also mit einem Gordon's oder Beefeater Gin Tonic klar kommt, dann wäre dieser kostenlos. Muss jedoch auf einer der anderen Gin-Sorten zurückgreifen, braucht man entweder eine unbegrenztes (U=unlimited) oder Premium (P)-Paket oder muss à-la-carte bezahlen. Beck's gibt es kostenlos und Warsteiner nicht. Nur die Kaffeespezialitäten schmecken für mich zu intensiv verbrannt - gar nicht mehr nach Kaffee. Leider gibt es keine Karte mit den angebotenen Kaffeespezialitäten: man soll einfach sagen, was man will. Wenn ich das gewusst hätte, wäre ich zuvor noch zu einem Starbucks gegangen und hätte die große Tafel mit den Kaffeespezialitäten fotografiert. Je nach Tageszeit, gibt es hier immer ein paar Kleinigkeiten zu essen.

At the Mosaic Bar we looked at the drinks offers. We really did not have any clue which drinks you had to pay extra and which not. We definitely got a single drink later on the billing. Somehow it had something efficient. But in the end, we found a page on the bar menu with the free drinks. So if you could get along with a Gordon's or Beefeater Gin Tonic, then it would be free. However, if you had to resort to one of the other gin varieties, you would need either an unlimited (U) or premium (P) package. Or you had to pay à la carte. Beck's was free, and Warsteiner was not. Only the coffee specialties tasted too intense for me - not even like coffee anymore. Unfortunately, there was no coffee menu with the offered coffee specialties: you should simply say what you want. If I knew that, I would go to a Starbucks before and photographed the large plate of coffees. Depending on the time of day, there were always a few little things to eat.

The stairways in the atrium appeared very contemporary. Classic and modern fit well together.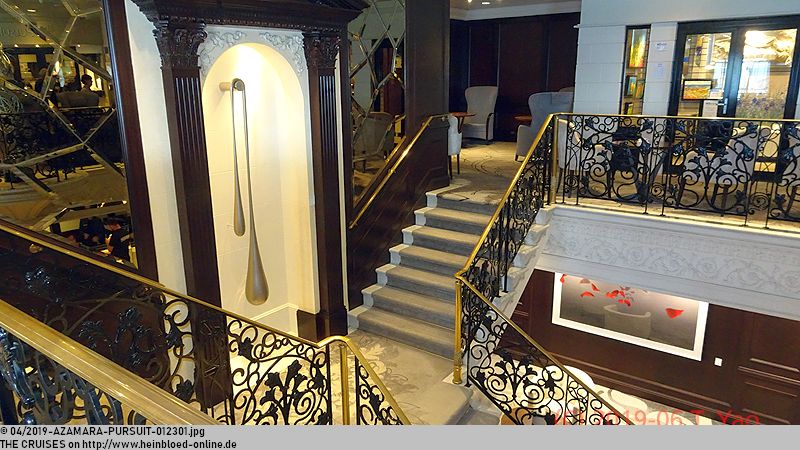 Die Treppe im Atrium wirkt sehr zeitgenössisch. Klassisch und modern passen gut zusammen.
Nicht so klassisch bzw. altbacken wie auf der
OCEAN PRINCESS 2010
und
OCEAN PRINCESS 2015
.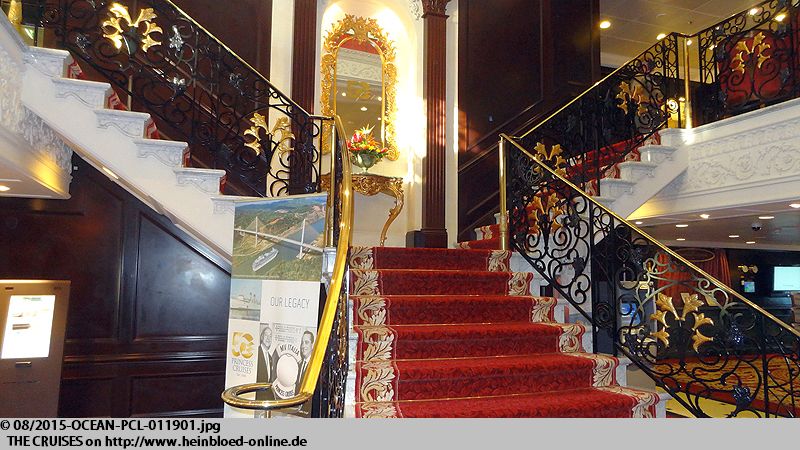 No so classic or old-fashioned like on OCEAN PRINCESS 2010 and OCEAN PRINCESS 2015.

Also on the public toilets, it looked very nobly: with cotton towels.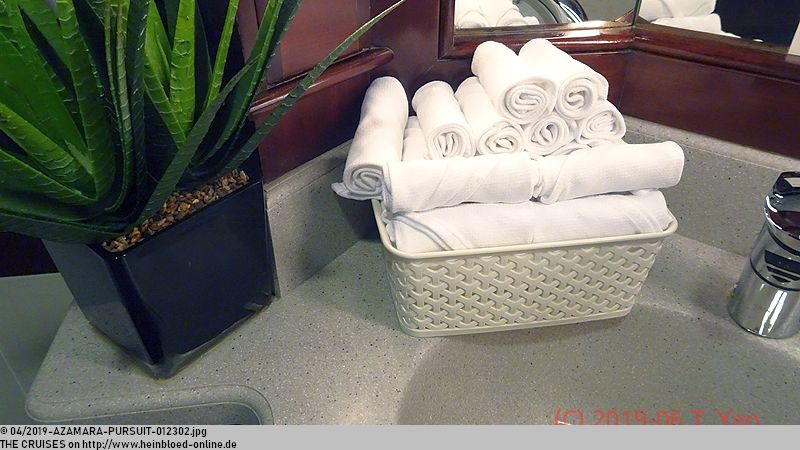 Auch auf den öffentlichen Toiletten wirkt es sehr edel: mit Stoffhandtücher.
Und hier auf der
OCEAN PRINCESS 2010
und
OCEAN PRINCESS 2015
gibt es so etwas leider nicht. Aber wir haben pro Nacht auch sehr viel weniger bezahlt als mit AZAMARA PURSUIT.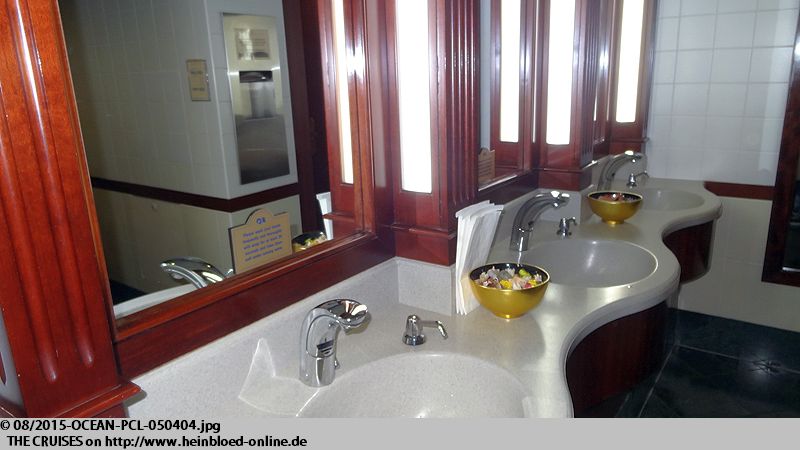 Unfortunately, this was not the case here at OCEAN PRINCESS 2010 and OCEAN PRINCESS 2015. But we also paid much less per night than AZAMARA PURSUIT.

The godmothers of AZAMARA PURSUIT.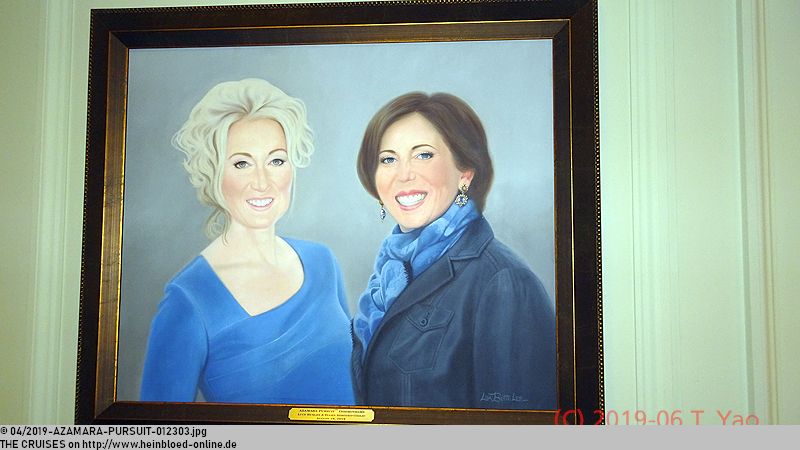 Die Taufpatinnen der AZAMARA PURSUIT.
Lucy Huxley
(von
Travel Weekly UK
) und
Ellen Asmodeo-Giglio
(von
AFAR Media
). Mir sagen weder die Damen noch die Zeitschriften etwas.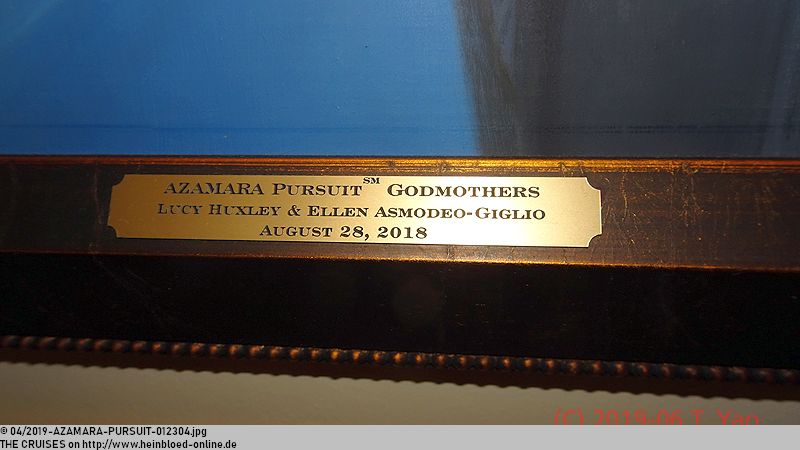 Lucy Huxley (from Travel Weekly UK) and Ellen Asmodeo-Giglio (from AFAR Media). I was not familiar with neither the ladies nor the magazines.

With Bruno, I went quickly to the spa, to see with the fitness-studio.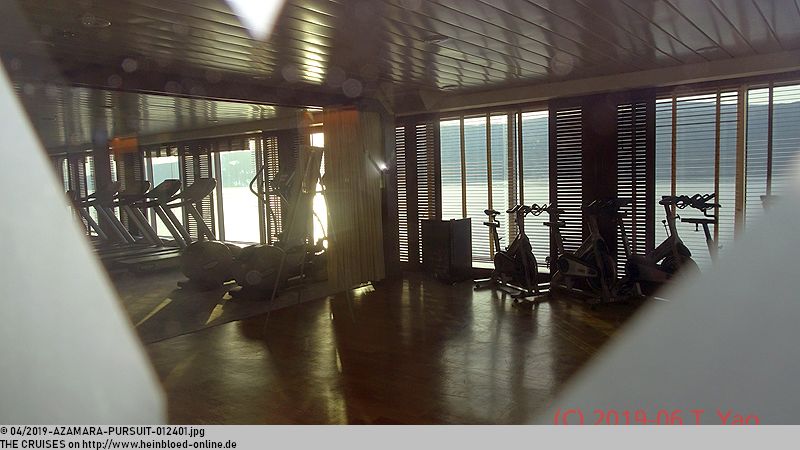 Mit Bruno gehe ich kurz zum Spa, um uns das Fitness-Studio anzusehen.
Man muss nichts aus der Kabine mitbringen: alles da!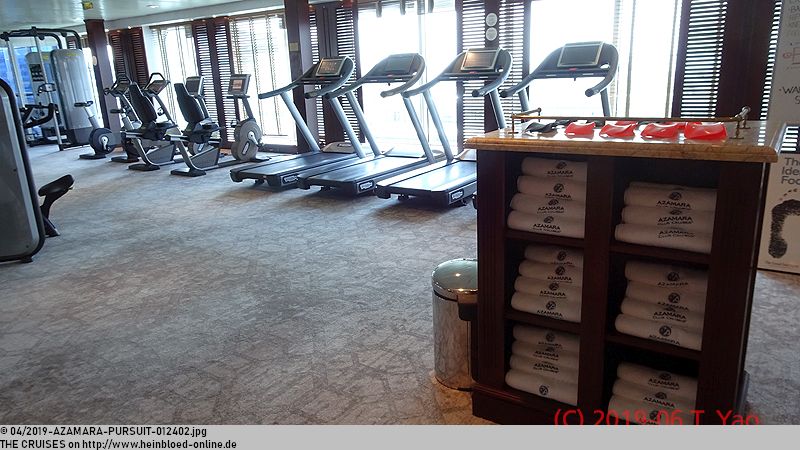 Nothing, you needed to carry from the cabin: everything was there!

Bruno reported late that they were also expertly looked around the devices, and not only as others tried to sell private training lessons.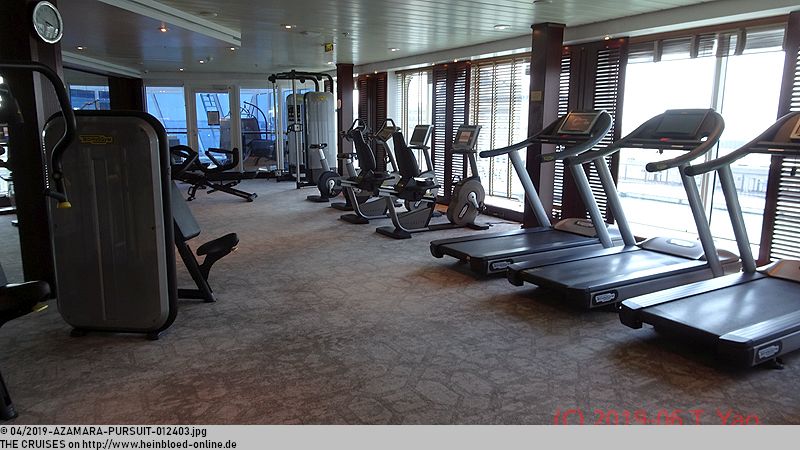 Bruno berichtet spätet, dass man dort auch fachmännisch an den Geräten betreut wird, und nicht nur wie bei anderen versucht wird, Privattrainingsstunden zu verkaufen.
Ich gehe kurz in den Saunabereich.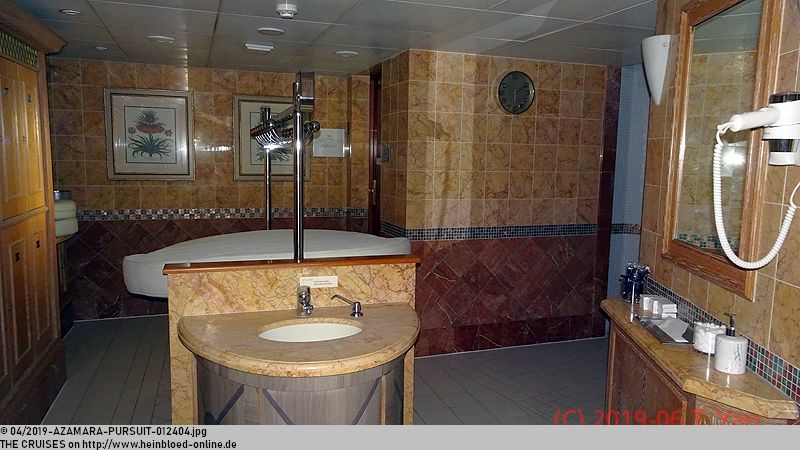 I went to look around in the sauna section.

And behind the treatment room at the bow, there was an exclusive sundeck for suite guests. You could probably buy for longer trips and passports.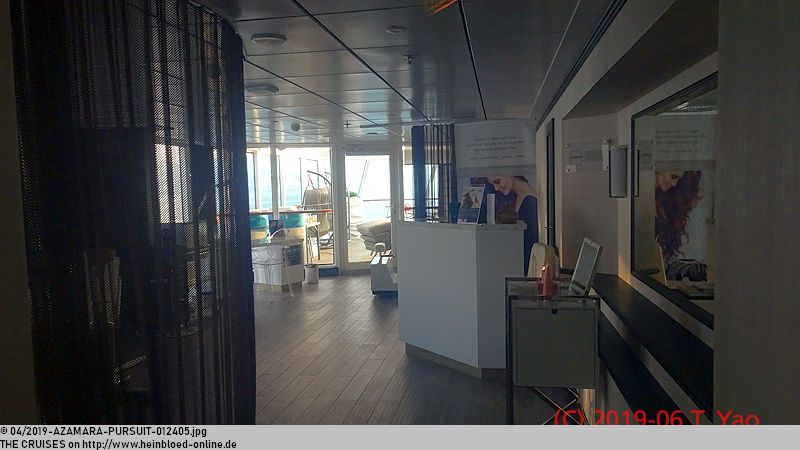 Und hinter dem Behandlungsraum ist am Bug ein exklusives Sonnendeck für Suitengäste. Man kann wohl bei längeren Reisen auch Pässe kaufen.
Unser Gepäck ist in der Kabine angekommen. Es hat super geklappt. Unser Concierge im
Hotel Danieli
hat bei
Trasbagagli
die Abholung und Zustellung unseres Gepäcks arrangiert. Die 45,00 EUR für die zwei Gepäckstücke hinterlegen wir in bar in einem Umschlag. Wir würden das in Zukunft wieder so machen, damit man den Vormittag noch nutzen kann, um etwas zu besichtigen und dann ohne Gepäck direkt zum Schiff zu fahren. Voraussetzung allerdings: wir brauchen die Original-Gepäckanhänger zum Zeitpunkt der Übernahme. Sicherheitshalber bekommen wir die Telefonnummer von
Trasbagagli
mit, damit wir hier direkt anrufen können, falls es nicht bis zu einem bestimmten Zeitpunkt kommt. An der Rezeption des Schiffes sagt man uns: wir sollen in den Panikmodus nach der Seenotrettungsübung schalten und uns beim Concierge an Bord wiedermelden. Aber schon vor der Seenotrettungsübung ist unser Gepäck in unserer Kabine.

Our luggage arrived in the cabin. It worked great. Our concierge at Hotel Danieli arranged the pick-up and delivery of our luggage at Trasbagagli. The 45.00 EUR for the two pieces of luggage we deposit in cash in an envelope. We would do it again in the future, so you could still use the morning to visit something and then went directly to the ship without luggage. Prerequisite, however: we would need the original luggage tag at the time of collection. To be on the safe side, we got the phone number of Trasbagagli so that we could call them directly if it would not come by a certain time. At the ship's reception, we were told to switch to panic mode after our life drill. After that, we should report with the concierge on board. But even before life drill, our luggage was in our cabin.

For this cruise, we had a roll-call on cruisecritic.com. But you could not register because of the length of the voyage (less than seven days). Because we had no sea day and because of the docking time, none of us expected an organized meeting. That was why I was totally surprised when the daily program showed a meeting 15 minutes before setting sail. I thought that hardly anyone would come: most of them would not discover the program, and many wanted to see our sailing through the Giudecca Canal. We already knew that. This was where Future Cruise Consultants Matthew and Fernando were waiting for us. Cruise Director Tony Markey and Guest Service Manager German Castro were also here for this event. Since our group was so small, we took a selfie on stage. The first selfie failed, however: in the three seconds of the timer, in which I ran back to the group, and I felt! But since I could still roll well from volleyball, and nothing happened to me. However, something should have happened to me - and certainly very bad if they would offer me lifelong free cruises as compensation for my pain. But no, so I could say that nothing happened to me. The second try worked. We were significantly spoiled by the restaurant waiter I Wayan and bar waiter Suhas. They always made more effort at Royal Caribbean than the others! I just had to acknowledge that. There were not only cookies, but delicious canapés and there was not only water, coffee or tea, but cocktails and other beverages. By the way, Suhas was the one with the fastest reaction: everyone was so shocked by my fall, but he was the first one to help me get to my feet.

Für diese Kreuzfahrt gibt es auf
cruisecritic.com einen Roll-Call
. Man konnte aber wegen der Kürze (unter sieben Tagen) sich nicht registrieren. Weil wir keinen Seetag haben und aufgrund der Liegezeiten, rechnet keiner von uns mit einem organisierten Treffen. Deswegen bin ich total überrascht, als im Tagesprogramm ein Treffen 15 Minuten vor Abfahrt angesetzt ist. Ich denke, dass kaum jemand kommen wird: die meisten werden den Programmpunkt nicht entdeckt haben und viele wollen die Ausfahrt durch den Giudecca-Kanal sehen. Wir kennen das ja schon. Hier erwarten uns die Future Cruise Consultants Matthew und Fernando. Außerdem sind noch Cruise Director
Tony Markey
und Guest Service Manager German Castro hier bei der Veranstaltung. Da unsere Gruppe so klein ist, machen wir auf der Bühne ein Selfie. Das erste Selfie missglückt jedoch: in den drei Sekunden des Selbstauslösers, in denen rückwärts zur Gruppe laufe, stürze ich! Weil ich jedoch vom Volleyball her, mich immer noch gut abrollen kann, ist mir nichts passiert. Mir wäre allerdings etwas passiert - und bestimmt ganz schlimm, wenn sie mir lebenslange kostenlose Kreuzfahrten als Schmerzensgeld angeboten hätten. Aber nein: also kann ich auch sagen, dass mir nichts passiert ist. Der zweite Versuch klappt. Wir werden toll vom Restaurantkellner I Wayan und Barkellner Suhas verwöhnt. Die machen sich bei Royal Caribbean immer sehr viel mehr Mühe, als die anderen! Das muss man einfach mal anerkennen. Es gibt nicht nur Kekse, sondern leckere Canapés und es gibt nicht nur Wasser, Kaffee oder Tee, sondern Cocktails und anderes. Suhas ist übrigens der mit dem schnellsten Reaktionsvermögen: alle sind so geschockt von meinem Sturz, aber er ist der erste, der mir hilft auf die Füße zu kommen.
Wir gehen raus und obwohl wir es von den Reisen auf der
NORWEGIAN JADE 2011 (2)
und
NORWEGIAN JADE 2014 (2)
kennen: es ist immer wieder schön und je nach Deck entdeckt man immer wieder etwas neues auf dem Land. Im Gegensatz zum letzten Mal: kein George Clooney, der in Venedig heiratet und dessen
Wassertaxi
-Konvoi wir zum Halten bringen.

We went out and although we knew it from the travels on NORWEGIAN JADE 2011 (2) and NORWEGIAN JADE 2014 (2): it was always lovely. Depending on the deck, you could always discover something new ashore. Unlike the last time: no George Clooney, who married in Venice and whose water taxi convoy we brought to a halt.

A charming area: The Den. The shore excursion office, the Future Cruise Consultants, the photo studio, and the Spirit Bar were housed here. At 18:30 hrs, a Friends of Dorothy meeting was scheduled, but everyone was outside and enjoying the set sail from Venice. There were other gays on board, but none showed up to a meeting.

Ein sehr schöner Bereich: The Den. Das Ausflugsbüro, die Future Cruise Consultants, das Fotostudio und die Spirit Bar sind hier untergebracht. Für 18:30 Uhr ist ein Friends of Dorothy-Treffen angesetzt, aber alle stehen draußen, und genießen die Ausfahrt aus Venedig. Es sind andere Schwule an Bord, aber zu einem Treffen kommt es nicht.
Wir gehen zum Abendessen in das Discoveries-Restaurant. Offen gesagt: bei anderen muss dafür schon im Zuzahlrestaurant essen, um das zu bekommen. Ich bekomme sogar Clamato-Saft. Und für einen Espresso Macchiato läuft man selbstverständlich zur Mosaic Bar, um ihn dort zu holen. Auch vom Service sind wir sehr begeistert. Sie besorgen mir sogar Stäbchen für die Singapur Reisnudeln. Die Lammsuppe ist mein absoluter Liebling. Hier auf der Fensterbank ist so ziemlich die einzige Stelle, an der ich sehe, dass das Schiff schon 18 Jahre alt ist und man nicht aus jeder alten Kuh noch ein zartes Kalbsfilet herausbekommt. Es gebe noch ein paar Alternativen: Italienisches Büffet im SB-Restaurant, Tapas in The Living Room und Kleinigkeiten im Mosaic Café. Man hätte wohl auch in der Kabine essen können, aber das habe ich nicht herausbekommen, wie das funktioniert: eine Karte für den Kabinenservice haben wir nicht gefunden.

We went to the Discoveries restaurant for dinner. Frankly, with others, you had to eat at an alternative dining venue to get the same. I even got Clamato juice. And for an espresso macchiato, of course, they went to the Mosaic Bar to get some there. Also, from the service, we were very excited. They even got chopsticks for the Singapore rice noodles. The lamb soup was my absolute favorite. Here on the windowsill was pretty much the only place where I could see that the ship was already 18 years old. And you could not get out of any old cow again a tender veal fillet. There were still a few alternatives: Italian buffet in the self-service restaurant, tapas in The Living Room, and little things in the Mosaic Café. You could probably eat in the cabin, but I could not figure out how it would work: we did not find a cabin menu.

The Card Room and The Living Room reminded me very much of Crow's Nest with Holland America, most recently at KONINGSDAM 2016. I liked the multifunctional lounges that promised a lot of variety. I tested the possibilities of resting in this lounge. This was more reminiscent of the Spinnaker Lounge back then at the NORWEGIAN PEARL 2007 when even crazier forms were up to date. And the whole thing reminded me of the Commodore Club on the QUEEN MARY 2 2018. That was exactly what I felt on the entire ship: someone stole MY IDEA! The best of all cruise ships of different companies taken and brought together on one ship. This was very well done here because I felt very comfortable on this ship.

The Card Room und The Living Room erinnern mich sehr stark an das Crow's Nest bei Holland America, so zuletzt auf der
KONINGSDAM 2016
. Ich mag ja die multifunktionalen Lounges, die sehr viel Abwechslung versprechen. Ich teste die Ruhemöglichkeiten in dieser Lounge. Das erinnert mehr an die Spinnaker Lounge damals noch auf der
NORWEGIAN PEARL 2007
, als noch verrücktere Formen aktuell waren. Und genauso erinnert das ganze an den Commodore Club auf der
QUEEN MARY 2 2018
. Genauso empfinde ich es auf dem gesamten Schiff: jemand hat
MEINE IDEE
geklaut! Das beste aus allen Kreuzfahrtschiffen verschiedener Gesellschaften klauen und auf ein Schiff zusammenbringen. Das ist denen hier sehr gut gelungen, denn ich fühle mich auf diesem Schiff rundum wohl.
Bevor man einkauft: man wird auf die 22% italienische Mehrwertsteuer hingewiesen. Zum ersten Mal sehe ich den Hinweis, dass Gäste mit Wohnsitz außerhalb der EU eine Mehrwertsteuererstattung bekommen können. Bei den anderen US-Gesellschaften habe ich das bislang noch nicht gelesen.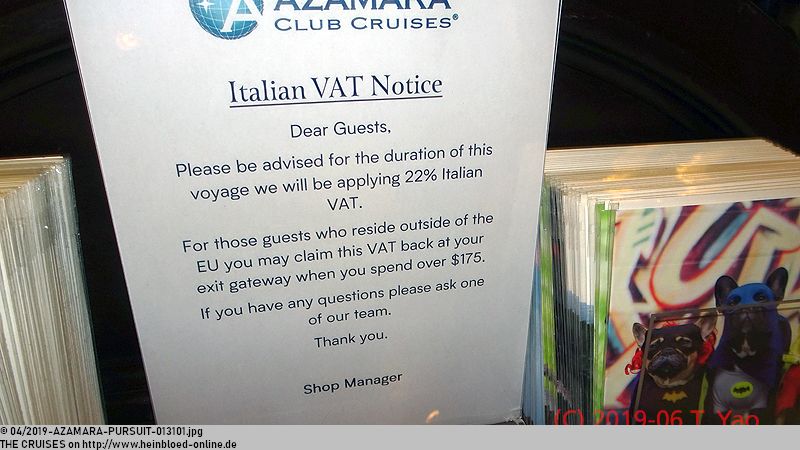 Before you start shopping: you were informed about the 22% Italian VAT. For the first time, I saw an indication that guests residing outside the EU could get a VAT refund. With the other US companies, I have never read that yet before.

I bought a t-shirt from Azamara. Always a sure sign of feel-good. That was what I would probably wear all the time on the SIRENA trip. On MARCO POLO 2019, I did not buy any shirt.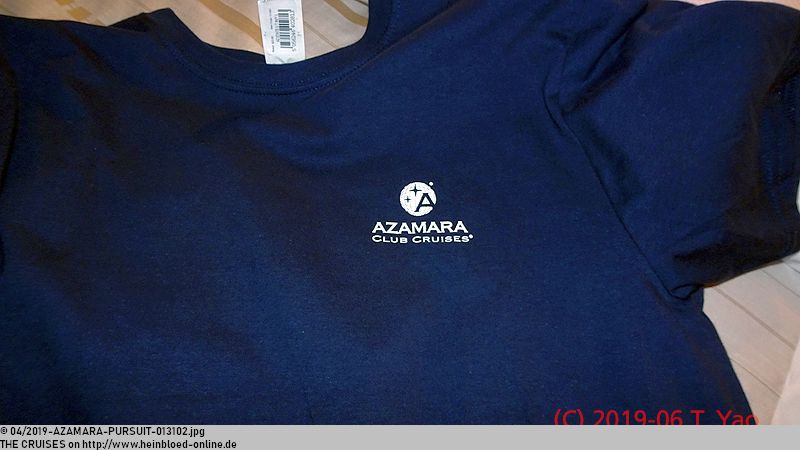 Ich kaufe mir ein T-Shirt von Azamara. Immer ein sicheres Wohlfühlzeichen. Das würde ich dann die ganze Zeit auf der SIRENA-Reise vermutlich anziehen. Auf der
MARCO POLO 2019
habe ich kein T-Shirt gekauft.
Es erinnert mich an die Shirts von Holland America. Mein Lieblingsshirt mit allen Schiffsnamen hatte ich mir ja auf der
EURODAM 2008
gekauft. Und jetzt habe ich wieder eines. Dann von Azamara.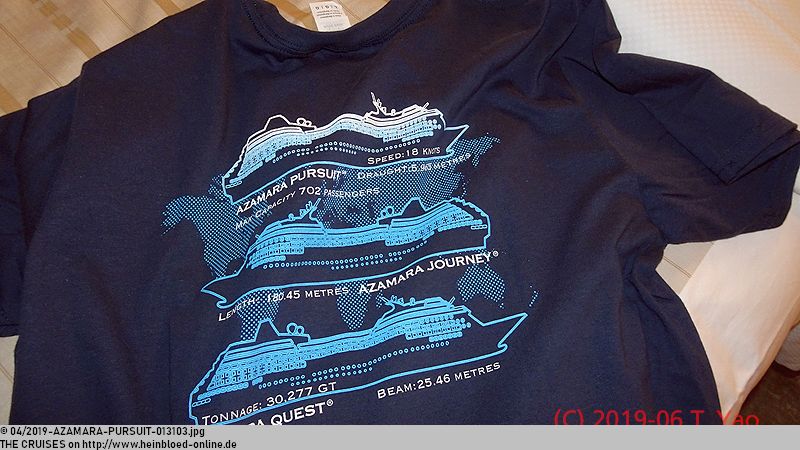 It reminded me of the shirts of Holland America. My favorite shirt with all ship names I bought myself at the EURODAM 2008. And now I had one again. This time from Azamara.

We went to the Captain's Welcome Toast. Since I did not drink alcohol, Rita worried me immediately something non-alcoholic, so I could toast with. Cruise Director Tony Markey welcomed us, introduced Captain Antonio Toledo and handed him over. He then presented his leadership team. Hotel Director Elisabeth Vogel immediately attracted our attention because she was from Heidelberg, Germany - our corner of Germany. Later she told us that she was born there. Further details were presented on the homepage for Chef Dhani Limboo. They were all very present, and all were approachable and usually, you had little chance as a guest to greet first. In the other companies, we often noticed that they walked around with the "Do not disturb"-sign from the cabin. I really liked it here. Later, Assistant Cruise Director Lee Hetherington also introduced the heads of "subcontractors" (= Partners) on board.

Wir gehen zum Captains Welcome Toast. Da ich keinen Alkohol trinke, besorgt mir Rita sofort etwas alkoholfreies, damit ich mit anstoßen kann. Cruise Director
Tony Markey
begrüßt uns, stellt
Kapitän Antonio Toledo
vor und übergibt an ihn. Er stellt dann sein Führungsteam vor. Hoteldirektorin
Elisabeth Vogel
fällt sofort auf, weil sie aus Heidelberg ist - unsere Ecke. Später erzählt sie uns, dass sie nur dort geboren ist. Näher vorgestellt wird auf der Homepage noch Chefkoch
Dhani Limboo
. Sie sind alle sehr präsent und alle sind ansprechbar und in der Regel hat man als Gast wenig Chancen, als erster zu grüßen. Bei den anderen Gesellschaften erleben wir ja oft, dass sie mit dem "Bitte nicht stören"-Schild aus der Kabine herumlaufen. Hier gefällt es mir wirklich gut. Später stellt stellvertretender Cruise Director Lee Hetherington noch die Leiter der "Subunternehmer" (= Partner) an Bord vor.
Sasha Kovalov und die Pursuit-Band begleiten die Veranstaltungen an Bord. Etwas ungewöhnlich: das Orchester ist auf zwei Seiten rechts und links von der Bühne verteilt.

Sasha Kovalov and the Pursuit band were accompanying the events on board. Somewhat unusual: the orchestra was split into two sides to the right and left of the stage.

After I posted on Facebook that I would be on AZAMARA PURSUIT, I got a message from Christina from Cyprus: I should definitely say hello to Sasha.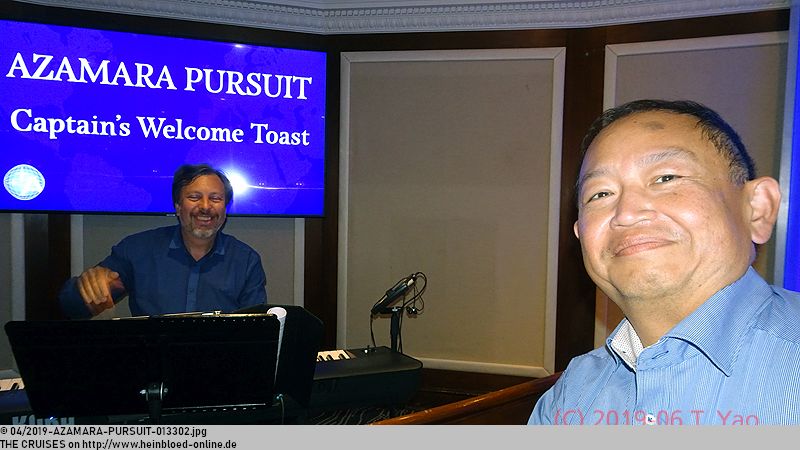 Nachdem ich auf Facebook gepostet habe, dass ich auf der AZAMARA PURSUIT bin, bekomme ich eine Zuschrift von Christina aus Zypern: ich soll Sascha auf jeden Fall von ihr grüßen.
Der freut sich so sehr über den Gruß, dass ich sofort als Bote fungieren muss. Holz und graviert? Sieht toll aus. Besser als jede Visitenkarte. Sollte ich vielleicht auch für meine Bewerbungsunterlagen besorgen, statt eine E-Mail zu versenden.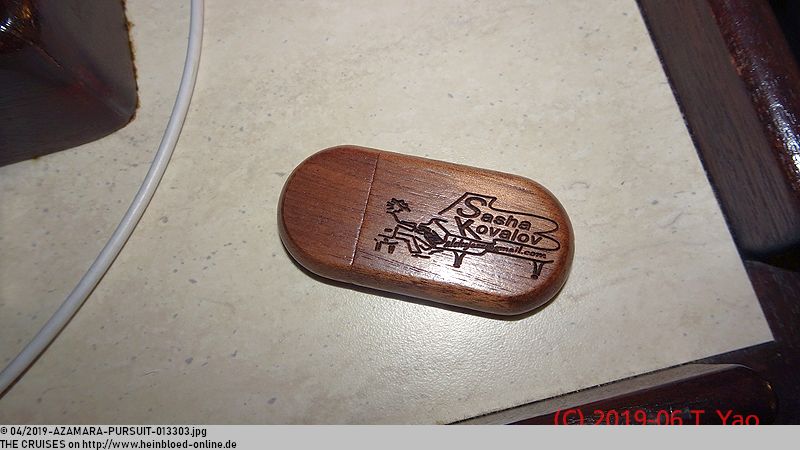 He was so happy about the greeting that I had to act as a messenger immediately. Wood and engraved? Looked great. Better than any business card. Maybe I should get it for my application, instead of sending an e-mail.

I was awake since 04:30 hrs and tired and just wanted to go to bed. However, the show "Four on the Floor" started the same way I loved shows: shows that captivated me from the very first second. The singer Kelsey Rae was on her birthday. Dance Captain Abbey Cox and her vocalists Nate Huntley and Luke Matherne and Kelsey were stronger than any monster drink or Red Bull! I was wide awake and later so full of adrenaline that I could not fall asleep immediately. They played everything that I loved. On NORWEGIAN SUN 2019, I sang "Viva la Vida" by Coldplay at karaoke and luckily they sang it for me ...

Don't stop me now, I'm having such a good time,
I'm having a ball
Don't stop me now
If you wanna have a good time, just give me a call
Don't stop me now ('cause I'm having a good time)
Don't stop me now (yes, I'm havin' a good time)
I don't want to stop at all.

Ich bin seit 04:30 Uhr wach und hundemüde und will nur noch ins Bett. Die Show "Four on the Floor" beginnt jedoch genauso, wie ich Shows liebe: Shows, die von der ersten Sekunde mich fesseln. Die Sängerin Kelsey Rae hat Geburtstag. Dance Captain Abbey Cox und ihre Sänger Nate Huntley und Luke Matherne und Kelsey wirken stärker, als jeder Monster-Drink oder Red Bull! Ich bin hellwach und später so voll Adrenalin, dass ich nicht sofort einschlafen kann. Sie haben alles gespielt, was ich liebe. Auf der
NORWEGIAN SUN 2019
habe ich noch selbst "
Viva la Vida
" von Coldplay beim Karaoke gesungen und jetzt wird zum Glück es für mich wiedergesungen...
Don't stop me now, I'm having such a good time,
I'm having a ball
Don't stop me now
If you wanna have a good time, just give me a call
Don't stop me now ('cause I'm having a good time)
Don't stop me now (yes, I'm havin' a good time)
I don't want to stop at all.
Am Schluss noch ein Bild von Luke: er springt in der Luft... es steht für die Energie, die hier auf der Bühne ausgestrahlt wurde. Nur diese Energie gab es überall an Bord. Um es vorab zu sagen: die drei Tage auf der AZAMARA PURSUIT ist ein Nonstop-Energy-Drink, den man zu sich nimmt.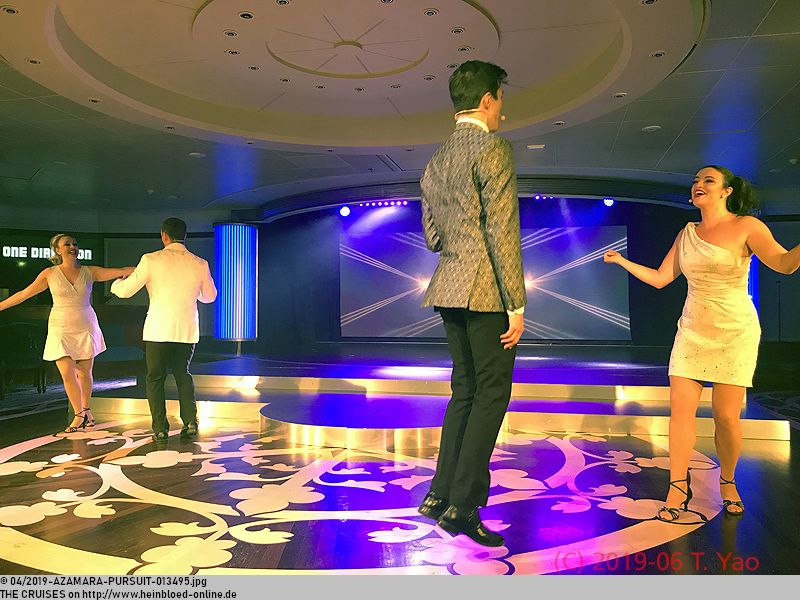 Finally, a picture of Luke: he jumped in the air ... it stood for the energy, which was delivered here on stage. Only this energy was everywhere on board. To say it in advance: the three days on the AZAMARA PURSUIT was a non-stop energy drink that I consumed.
Die anderen Reisen in diesem Blog/
The other voyages in this blog: