Scroll down for English explanations - alternates with German explanations.

Irgendwann schläft auch mal eine Stadt wie Hongkong.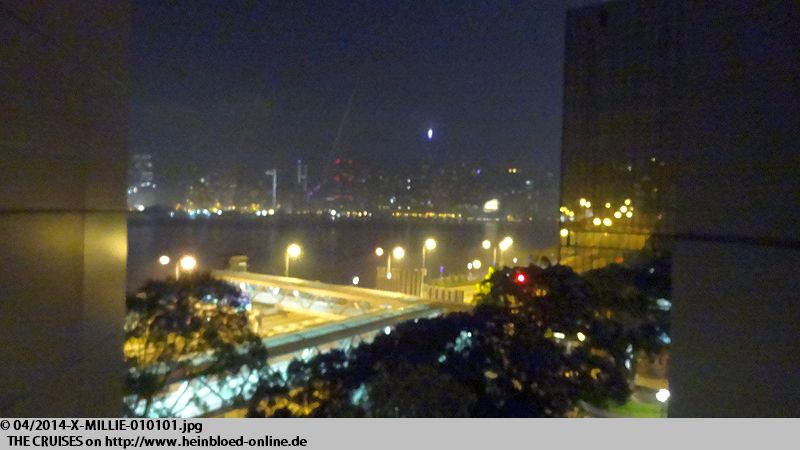 At a certain time even a city like Hong Kong need to sleep.

And at a certain time a city like Hong Kong wakes up.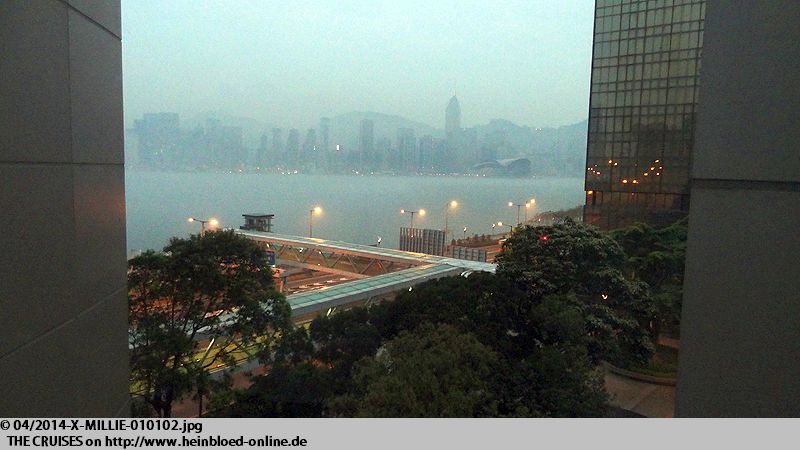 Und irgendwann erwacht sie auch wieder.
Ich nutze es, um rauszufahren und entdecke noch ein paar Punkte im Hotel, die ich so beim Einchecken nicht gesehen habe.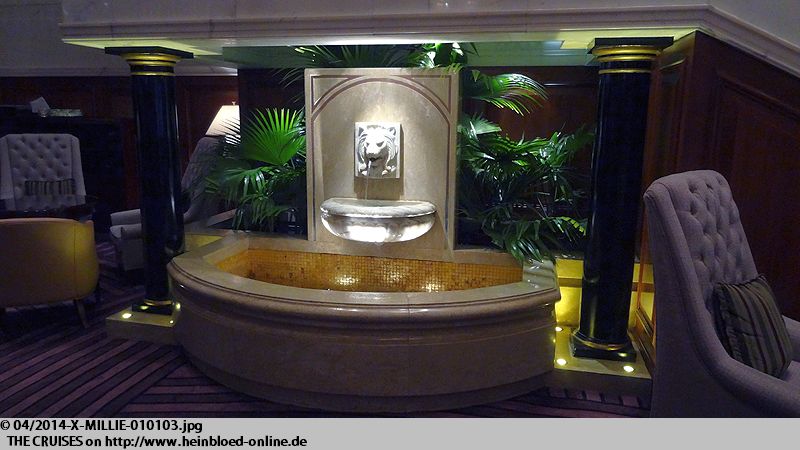 I used the early morning to leave and discovered some items in the hotel which I did not notice when we checked-in.

In the background you can see the station Hung Hom.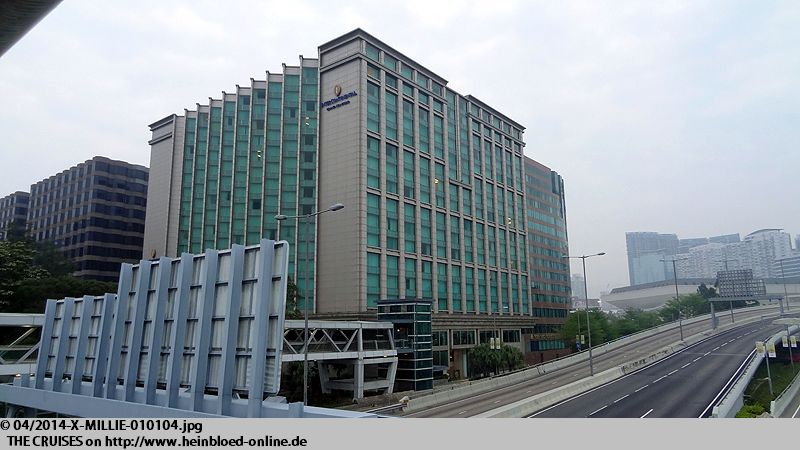 Im Hintergrund sieht man den Bahnhof Hung Hom.
Die Uferstraße war mal die alte Bahnlinie, die bis zum Peninsula Hotel ging. Deswegen steht dort noch der Glockenturm des Bahnhofs. Dort stieg man dann direkt vom Zug ins Hotel oder mit der Star Ferry rüber zur Insel Hongkong.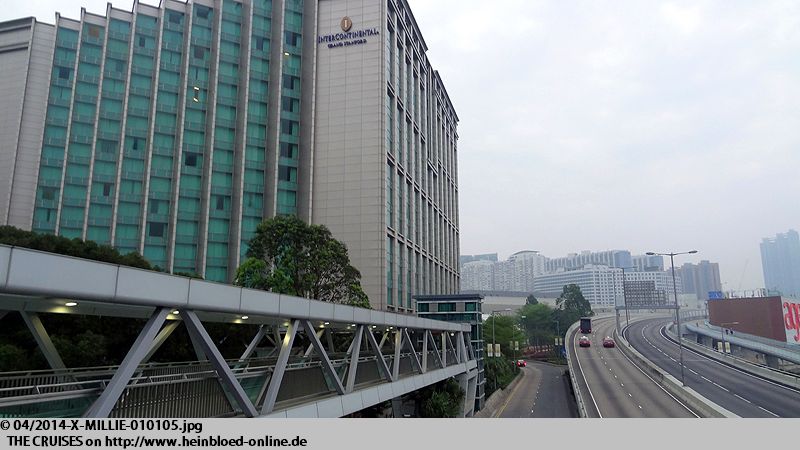 The promenade was the former rail line which took you to the Peninsula Hotel. That is why you still find there the clock tower of the former station. So you just left the train to enter your hotel or to board for the Star Ferry to get over to Hong Kong Island.

The newspaper were already at the doors when I came back from my walk.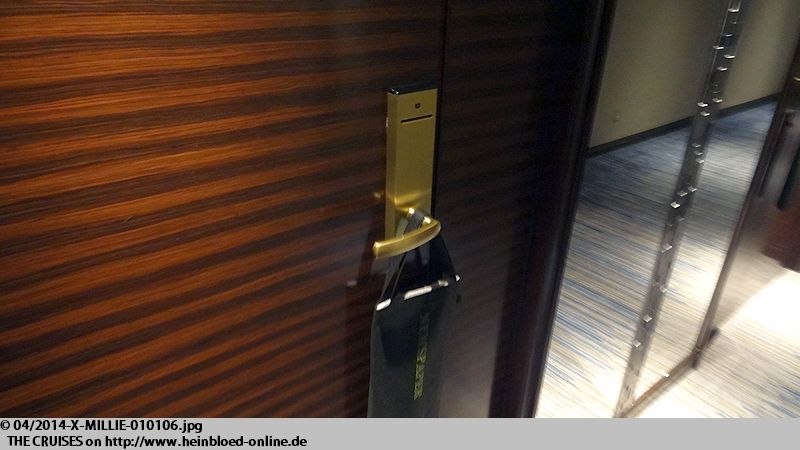 Die Zeitungen sind schon an den Türen, als ich vom Spaziergang zurückkomme.
Und beinahe nehme ich den Adapter mit, der im Schreibtisch ist... aber das ist ja gar nicht unser...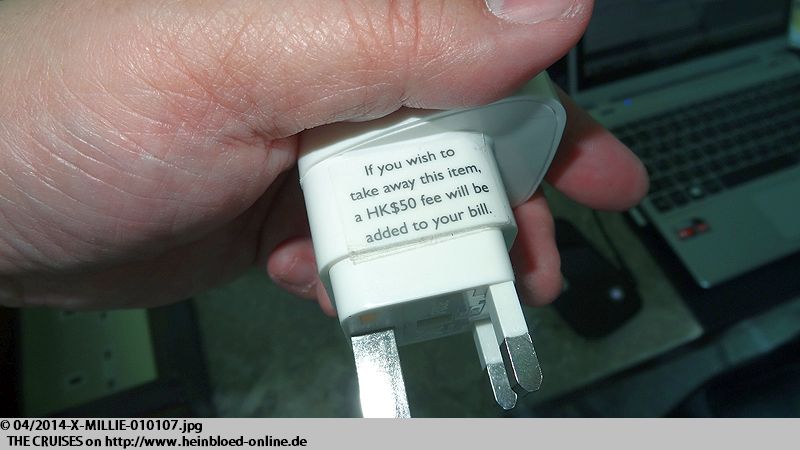 Nearly I was taking by mistake the adapter which was in the drawer... but it was not our at all...

On my walk I discovered NEW IMPERIAL STAR.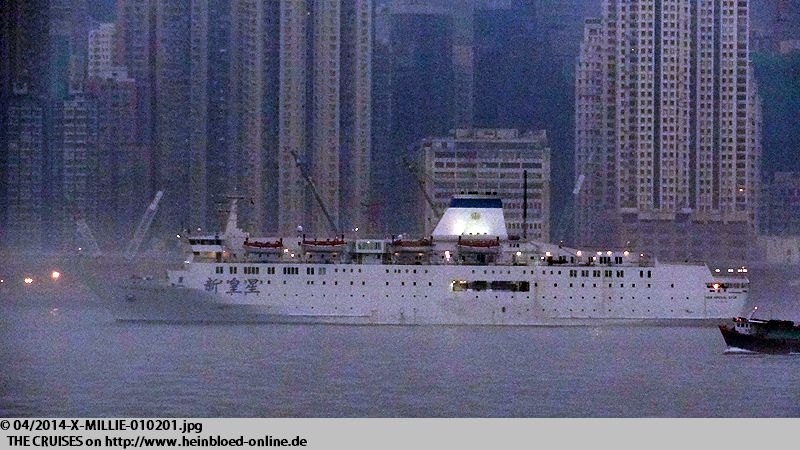 Auf meinem Spaziergang entdecke ich die NEW IMPERIAL STAR.
Und im Laufe der Recherchen entdecke ich, dass es sich um einen "alte Bekannte" aus Deutschland handelt: PALOMA I. So schließt sich der Kreis zur Kurzreise zur ATHENA. Dort hatte Herrn Axel Schmidt wiedergetroffen, den ich im Zusammenhang mit dem ZDF-Bericht über die SPD-Kreuzfahrt auf der PALOMA I kennengelernt habe.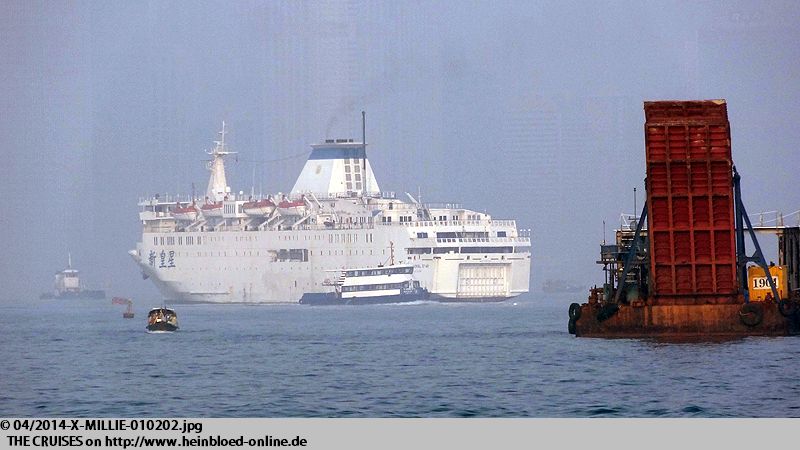 And during my researches I later discovered that it was an "old fellow" from Germany: PALOMA I. So the circle to our party-night was closed. I met there Mr Axel Schmidt whom I made acquaintance because of a TV-docu soap on PALOMA I in the German TV.

Straight ahead you are walking for the Star Ferry Terminal. But it was too humid to walk the way...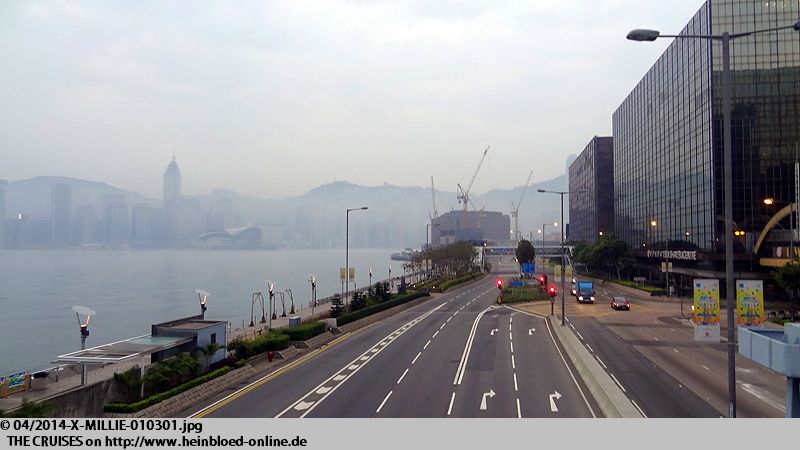 Immer gerade aus bis zum Star Ferry Terminal. Es ist aber zu schwül, um wirklich dahin laufen zu wollen...
Und leider ist es auch zu diesig, um schöne Bilder von der Hongkong-Seite machen zu können.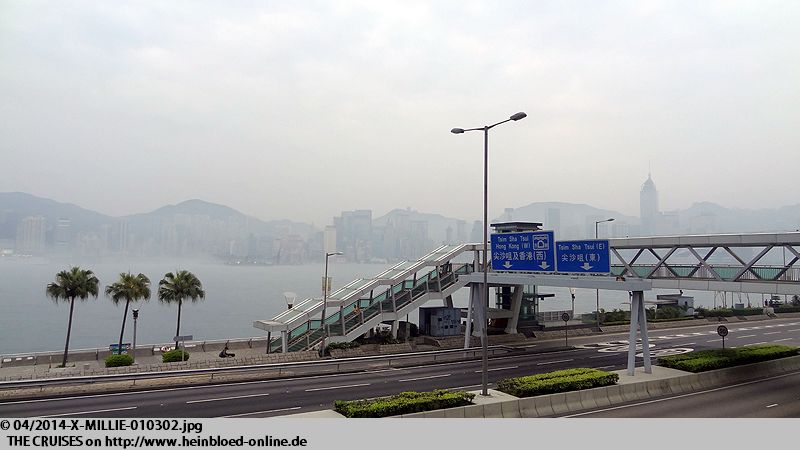 It was too misty to make nice pictures of the Hong Kong-side.

I took a taxi to Kwun Tong Pier to get to North Point by Fortune Ferry.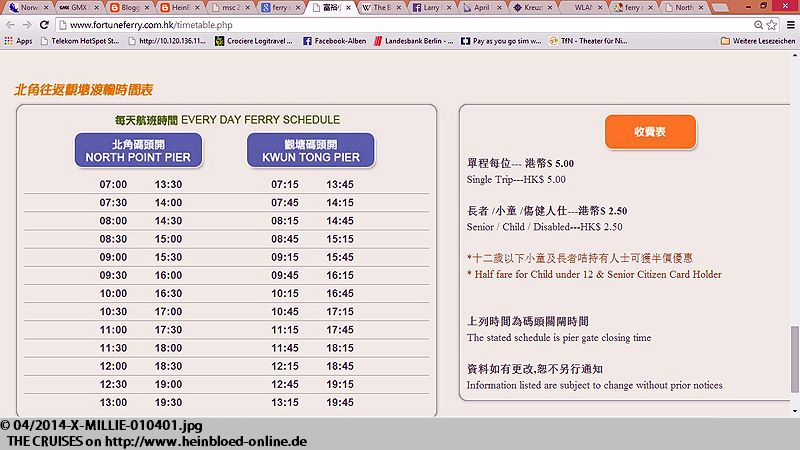 Ich nehme ein Taxi zum Kwun Tong Pier, um mit
Fortune Ferry
nach North Point rübersetzen zu können.
Viel zu früh komme ich an. Der Taxistand wird noch als Zeitungssortieranlage missbraucht.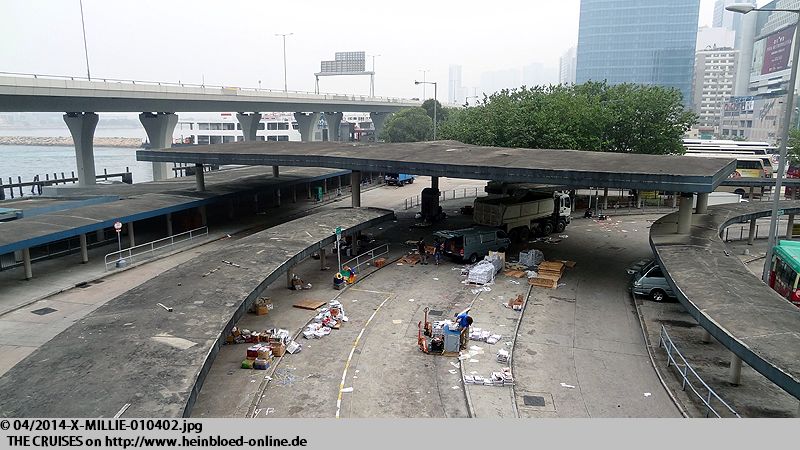 I arrived too early. The taxi rank was still misused as sorting fascilities for the newspapers.

The city was still sleeping.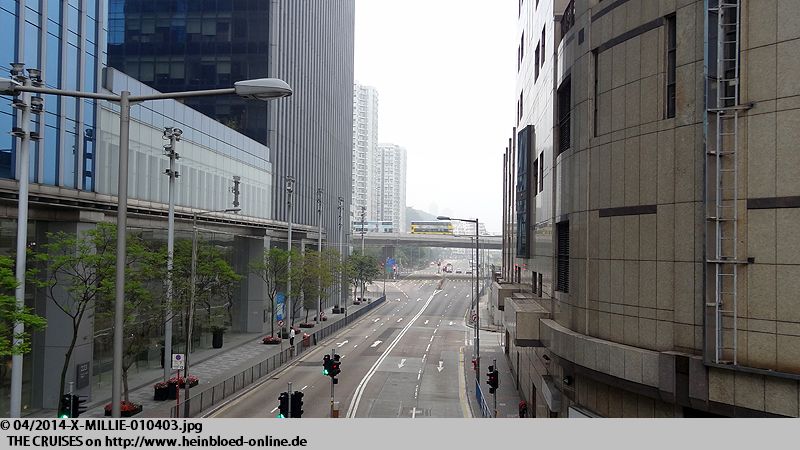 Die Stadt schläft hier noch.
So gucke ich von der Fußgängerbrücke zu, wie die Zeitungen sortiert werden.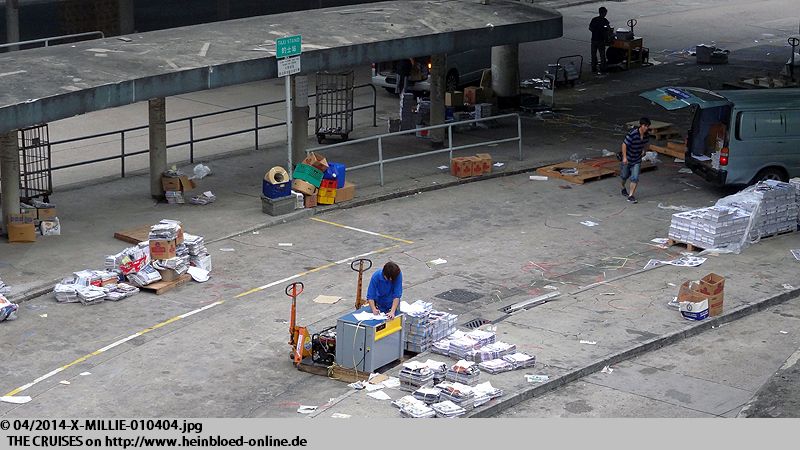 So I watched from the pedestrian bridge how they were sorting the newspapers.

This chafer (?) was accompanying me during my walk.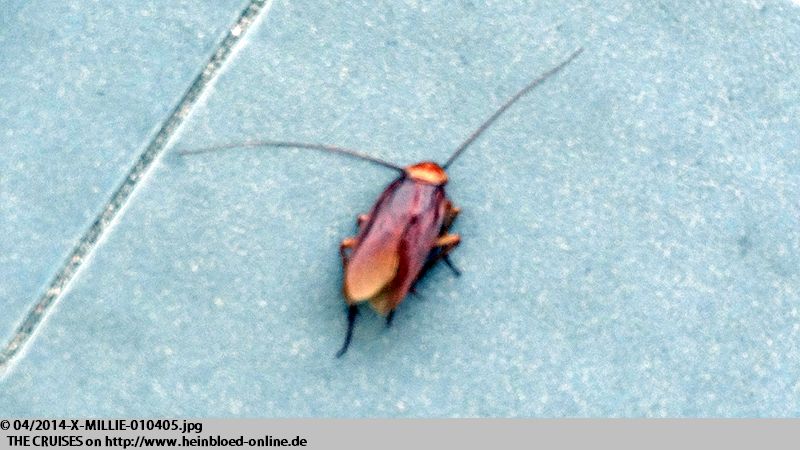 Dieser Maikäfer (?) begleitet mich beim Spaziergang.
Und auf der Brücke macht auch dieses ältere Ehepaar seinen morgendlichen Spaziergang, immer die Brücke hin und wieder zurück. So grüßen wir uns jedes Mal, wenn wir uns begegnen. Mich fasziniert der liebevolle Umgang, wie sie ihre Runden drehen und immer auf und ab... auf und ab...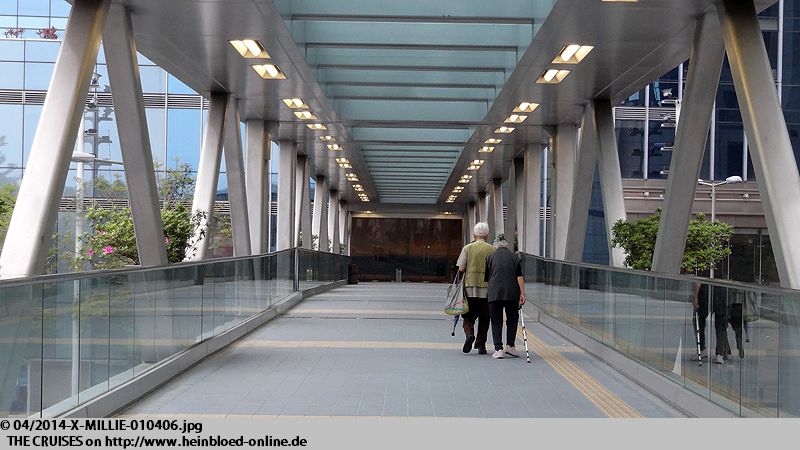 And on the bridge also an older couple made their morning walk - all the time the bridge forth and back. So we greeted each other every time we saw each other. It was fascinating to see their loving care for each other when walked all time up and down... up and down...

Anyhow I need to walk to down to the ferry terminal when I saw that they open the terminal.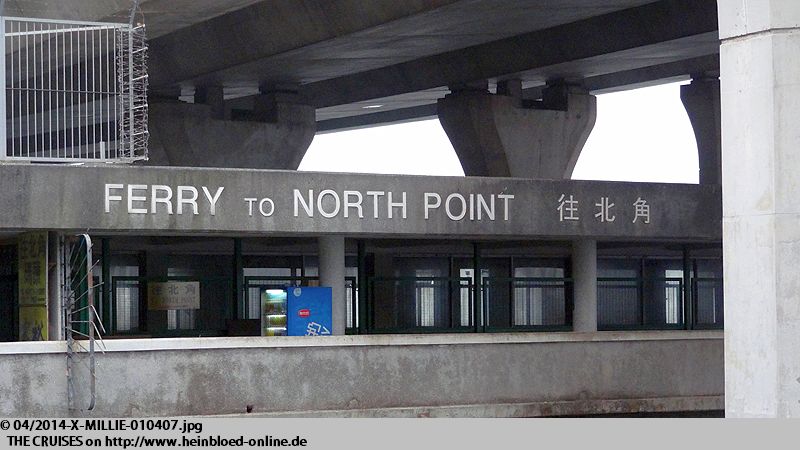 Irgendwann muss ich aber runter zum Fährterminal, als ich sehe, dass er aufgeschlossen wird.
Die große Blütezeit ist wohl seit dem Bau der U-Bahn vorbei.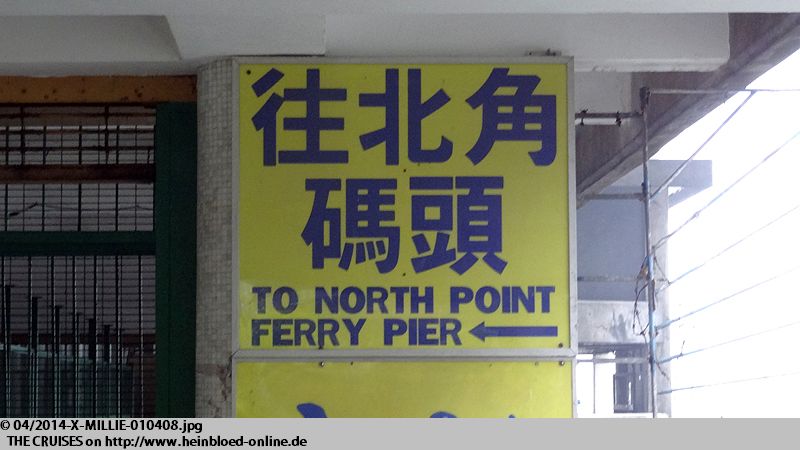 The golden years were gone since the subway was in operation.

First ride at 07.00 hrs... and it was only silence around.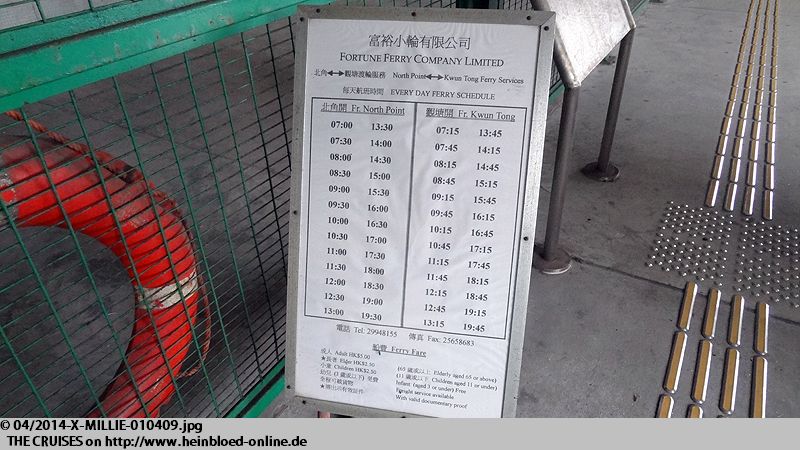 1. Fahrt um 07.00 Uhr... und es ist nichts los.
Damals wurde wohl auch auf zwei Etagen abgefertigt.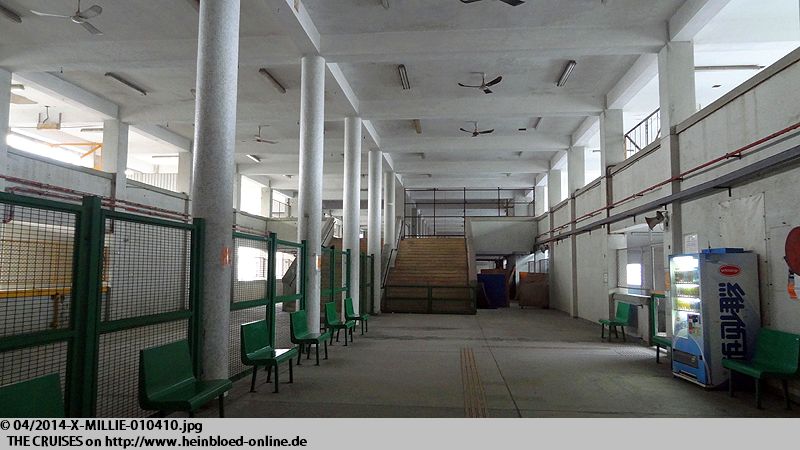 Then they handled all passengers on two levels.

Here you could head on easyly by bus. All the minibuses were waiting for those travellers arriving from North Point. But there was not anybody who left the ship. Obviously Hong Kong was still sleeping at 07.00 hrs on a Saturday morning.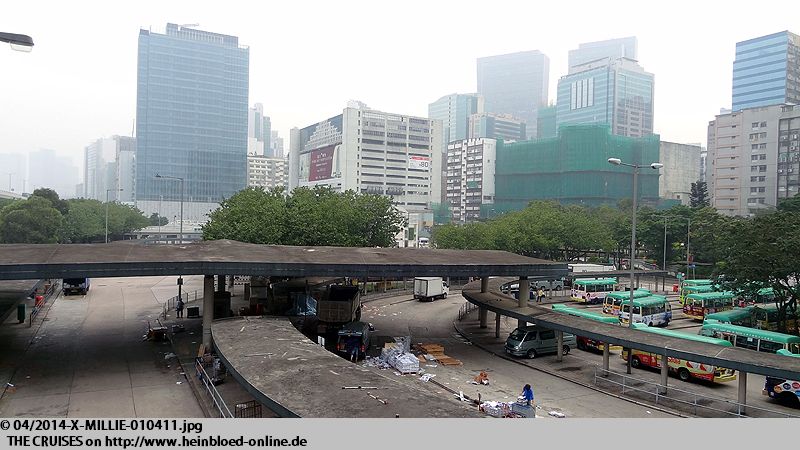 Man kann hier ganz einfach mit dem Bus weiterfahren. Die ganzen Kleinbusse warten auf die 1. Reisenden, die von North Point kommen. Nur steigt gar keiner aus. Samstag Morgen ist Hongkong anscheinend um 07.00 Uhr noch am Schlafen.
Ein Kassenhäuschen, das von einem Mitarbeiter geputzt wird, der gleichzeitig auch Karten verkauft.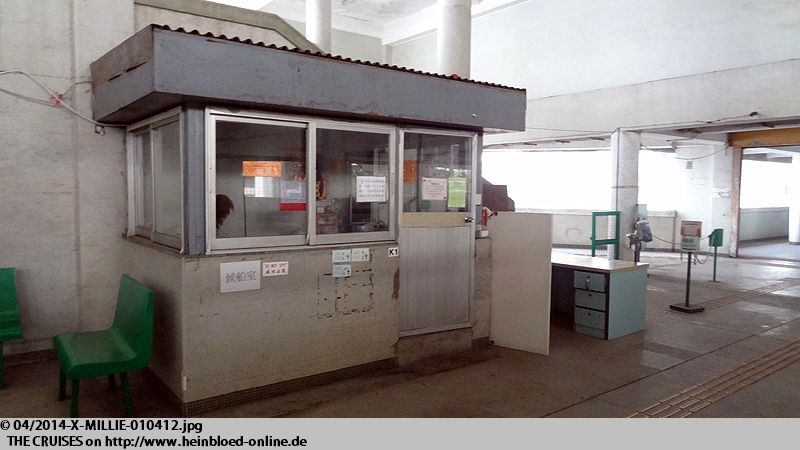 One ticket booth which was cleaned by one agent who also sold the tickets.

I wanted to buy something to drink but I had no change.

Ich wollte mir etwas zu trinken kaufen, aber leider habe ich kein Kleingeld.
Und so komme ich auf die Diskussion zurück, die im Forum geführt wurde, wozu eine Octopus-Karte alles nützlich ist. Z. B. um jetzt bargeldlos sich ein Getränk zu beschaffen...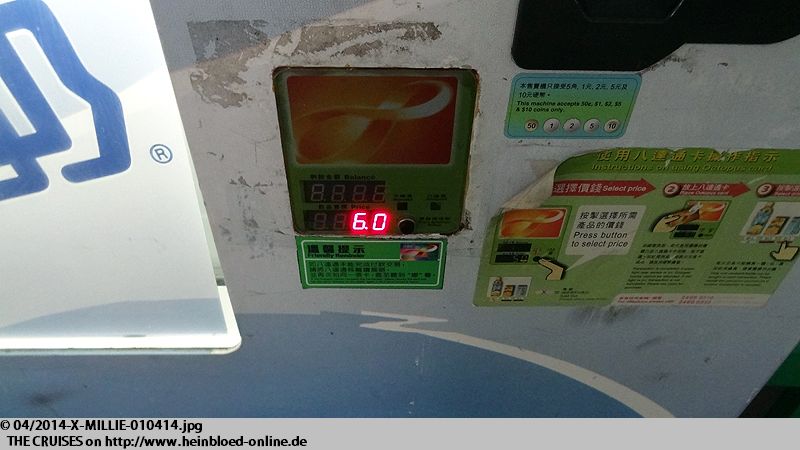 So I am back now to the discussion we had in the forum what for you still can use the Octopuc-Card. Like now to buy some beverages...

Somehow I had a very strange bill in my hand which I have not had before in my life.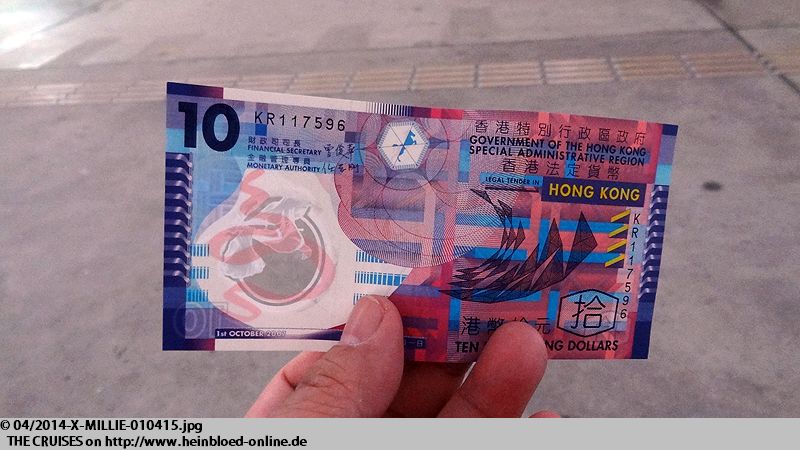 Irgendwie habe ich einen merkwürdigen Schein in der Hand, den ich bislang noch nicht kannte.
So mit Durchsichtfeldern, um das Fälschen zu erschweren.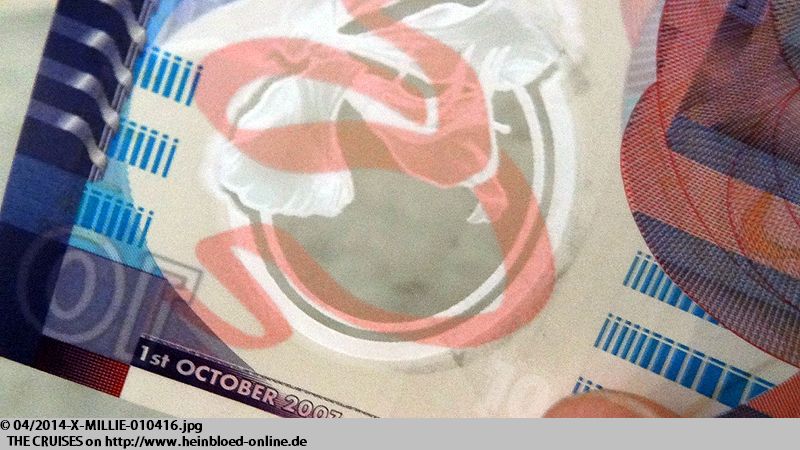 With windows to look through to make forgeries more difficult.

So far I thought that Hong Kong bills were only realeased by three banks: Bank of China, Hong Kong & Shanghai Banking Corp. and Standard Chartered Bank. But Money Authority???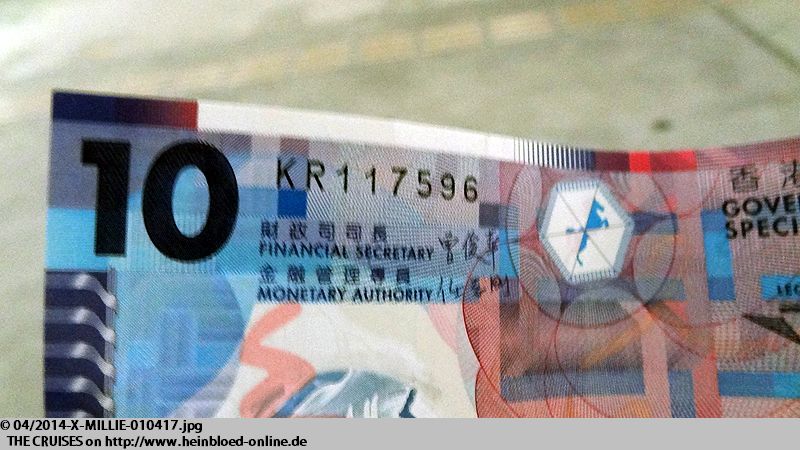 Bislang hatte ich immer gedacht, dass die Geldscheine in Hongkong von drei Banken ausgegeben werden: Bank of China, Hong Kong & Shanghai Banking Corp. und Standard Chartered Bank. Aber Monetary Authority???
Nun sehe ich den 10-HKD-Schein, der von der Hongkonger Regierung ausgeben wird.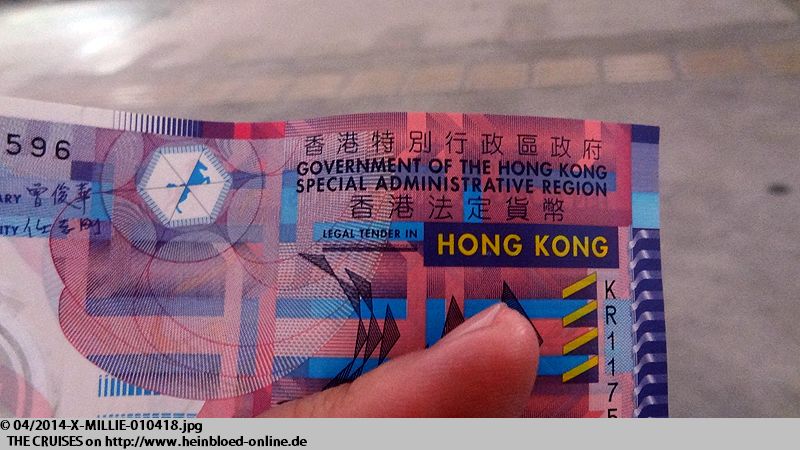 Now I could see that the 10-HKD-Bill was issued by the Hong Kong Government.

Well - the ride was only 5 HKD so I got exact change for my return journey.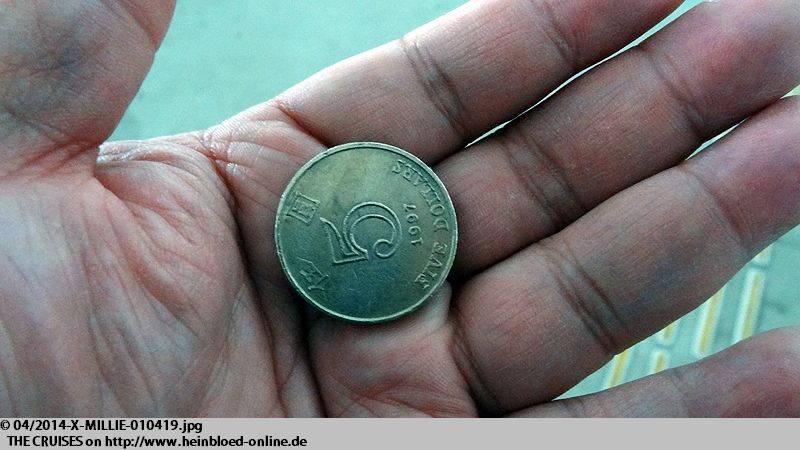 O.K. - Die Fahrt kostet 5 HKD (2014) und so bekomme ich für die Rückfahrt passend es zurück.
Na gut... sicher sieht anders aus... wobei nicht besser oder schlechter als zuletzt auf der Fähre von Piräus nach Salamina.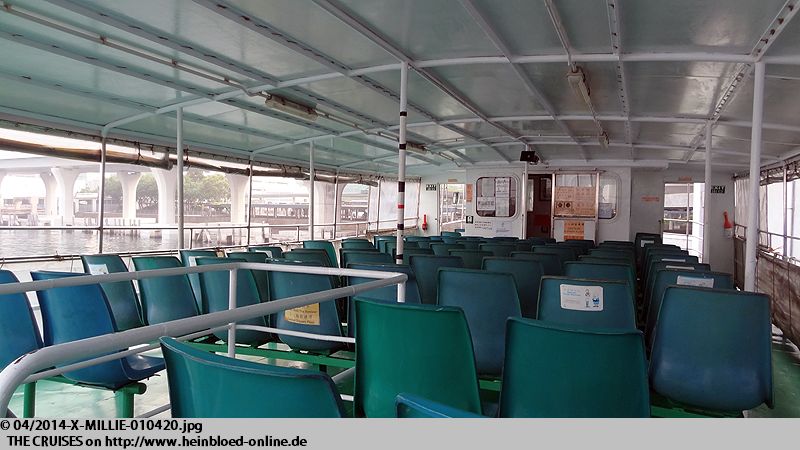 Well... looking safe looks different... but it was not worse or better than on the ferry I had recently from Piraeus, Greece to Salamina.

They still had truck-ferries for dangerous goods because they cannot use the tunnels.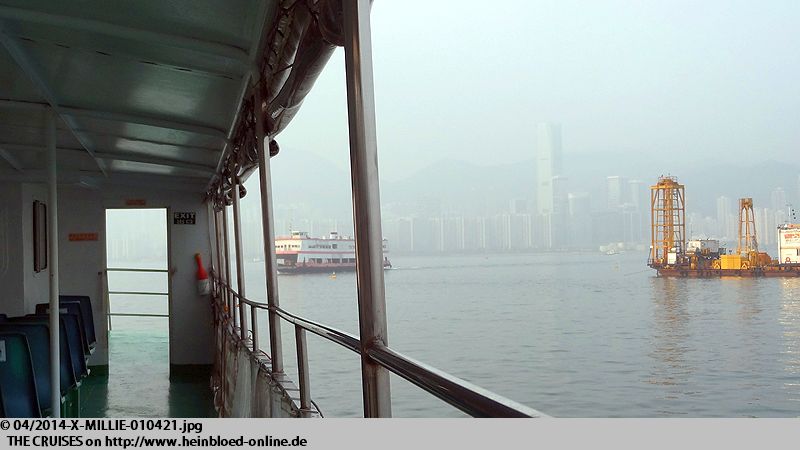 Und es gibt noch LKW-Fähren für Gefahrgüter, weil sie nicht durch die Tunnel dürfen.
Sieht aber auch nicht gerade nach dem neuesten Modell aus...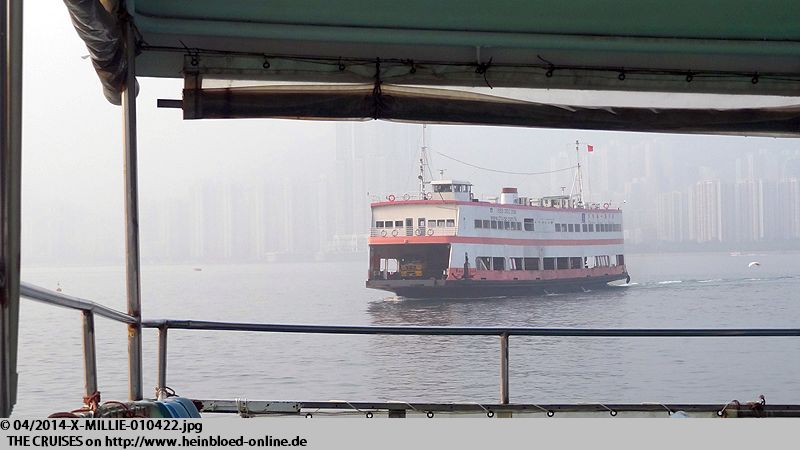 But did not look like the newest model either...

At North Pier I discovered that my ferry did not have any name.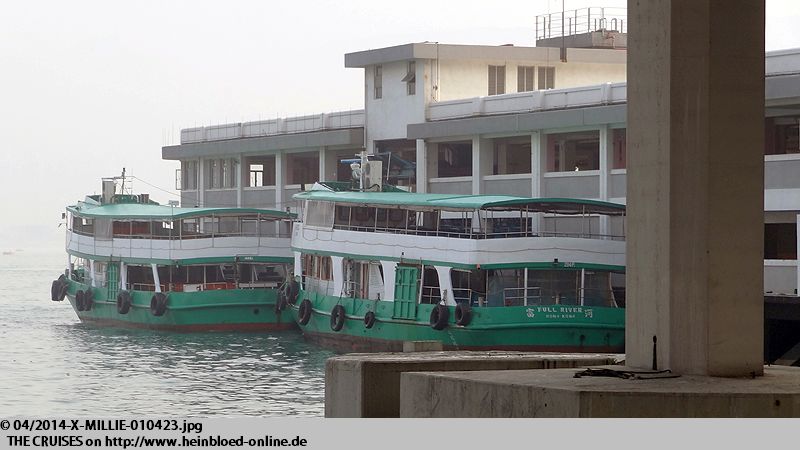 Am North Point sehe ich, dass meine Fähre noch nicht einmal einen Namen hatte.
Was mir gut gefällt: man kommt schön am neuen Kai Tak Cruise Terminal vorbei.

What I liked very much: you can pass easily the new Kai Tak Cruise Terminal.