Scroll down for English explanations - alternates with German explanations.

Zur Kabine wurde man nicht begleitet. Aber wir sind direkt auf Deck 4 durch zum vorderen Treppenhaus gelaufen und direkt waren wir an unserer Kabine. Ich mag mittlerweile sehr die Kabinen direkt am Treppenhaus. Andere Gäste hatten mehr Probleme ihre Kabine zu finden. Nur weil ich asiatisch aussehe, heißt es nicht, dass ich von der Crew bin und ich möchte dann auch freundlich angesprochen. Und selbst wenn ich von der Crew gewesen wäre: so möchte ich keinesfalls angesprochen werden. "Bitte" und "Danke" sollten das Minimum einer Grundlage der Kommunikation bilden - egal ob man Crew Mitglied oder Gast ist.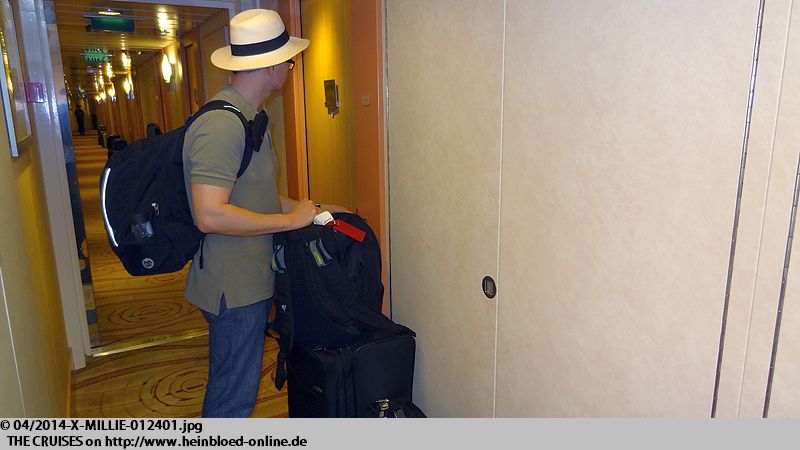 No escort service was provided t find your cabin. But we just walked through deck 4 to get to the forward elevators and found our cabin promptly. I liked very much the cabins located next to the stairways. Other guests had more problems to find their cabins. Only because I appear Asian it does not mean automatically that I am a crew member and so I prefer to be addressed in a friendly way. Even I would be part of the crew: I do not want to addressed that way. "Please" and "Thank you" should be minimum for a certain level of communication - no matter you are from the crew or you are guest.

Our bags had enough time to find their ways to our deck. Only one bag of my sister went to a second check because of some nail scissors. Brand new bag and somehow the combination lock was misplaced. No TSA-key was available on board. They did not insist to break up the bag so they let her testing all 1,000 options.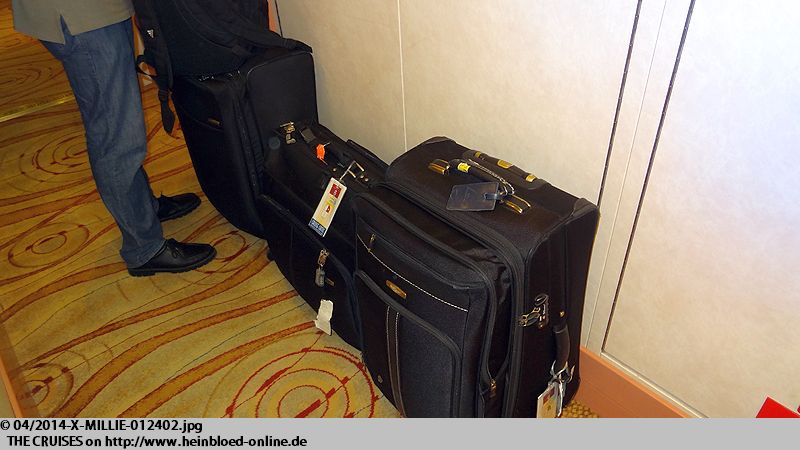 Unsere Koffer hatten soviel Zeit, dass wir sie schon oben waren. Lediglich ein Koffer meiner Schwester ist in die Kontrolle geraten, weil wohl eine Nagelschere auffällig war. Nagelneuer Koffer und die Kombination hat sich irgendwie verstellt. Einen TSA-Schlüssel gibt es an Bord nicht. Man besteht jedoch nicht darauf den Koffer aufzubrechen, aber dass man alle 1.000 Kombinationsmöglichkeiten durchprobiert.
Es war schon erholsam, wenn man mal in die Kabine kommt und fast keine Post einen erwartet.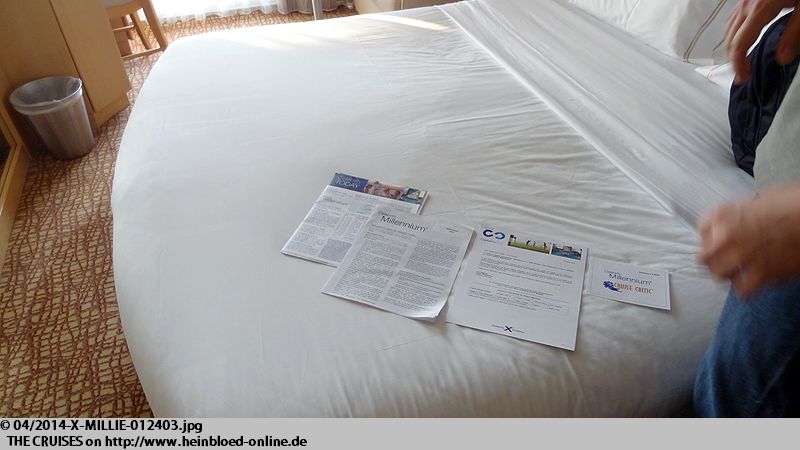 Somehow it was realaxing when you enter your cabin and you do not have so much paperwork to read.

Our little sofa...

Ein kleines Sofachen...
Wir müssen wohl unseren Steward bitten die Betten auseinander zu stellen.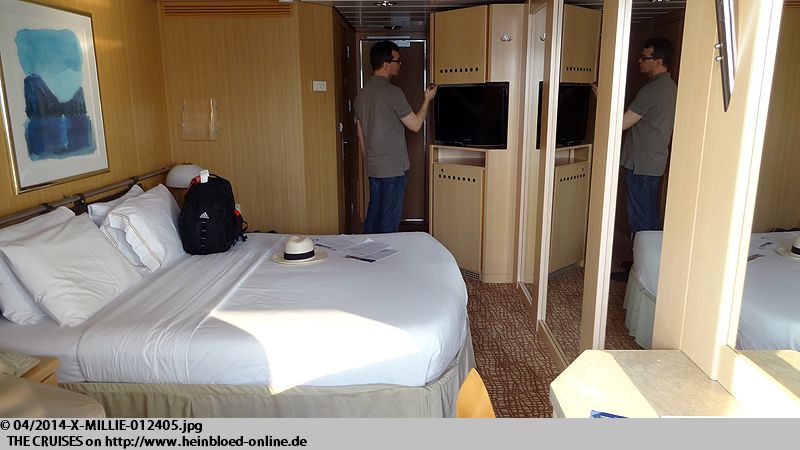 We need to ask our cabin steward to seperate the beds.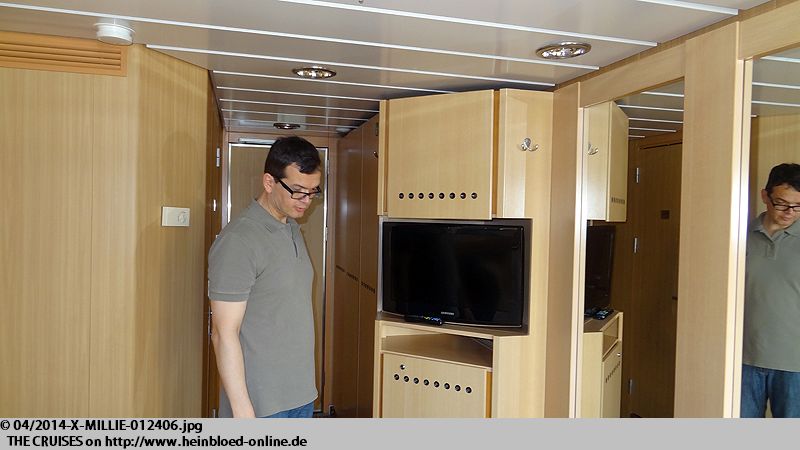 Ein Flachbildschirm.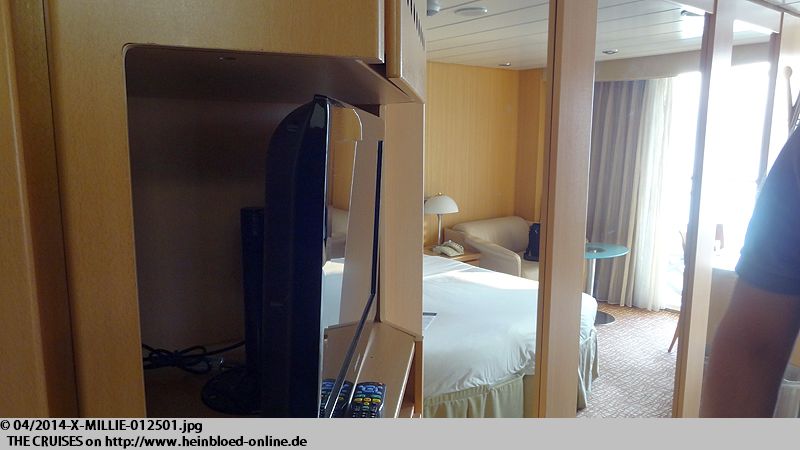 A flat TV.

Bathropes were available.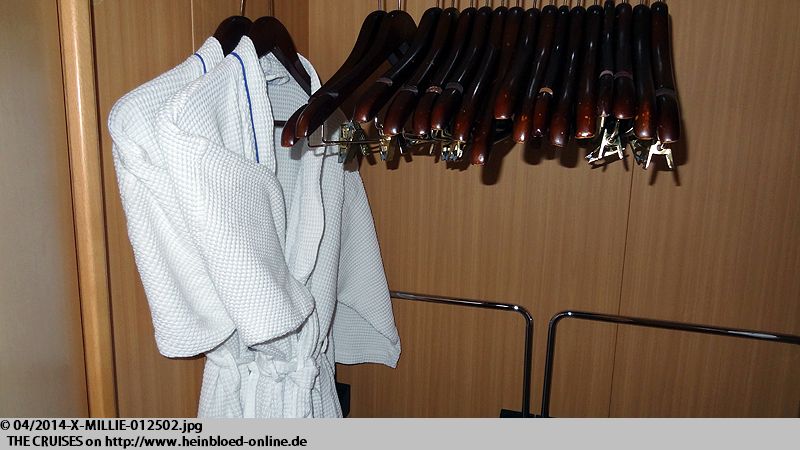 Bademäntel waren da.
Safe war auch gut: mit 6-stelligem Zahlencode - keine Kreditkarte...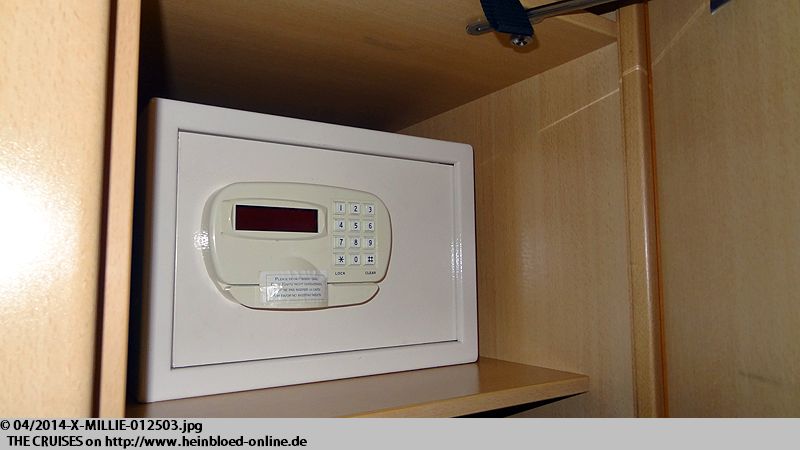 Safe was good too: worked with a 6-digit code - no credit card...

A few drawers.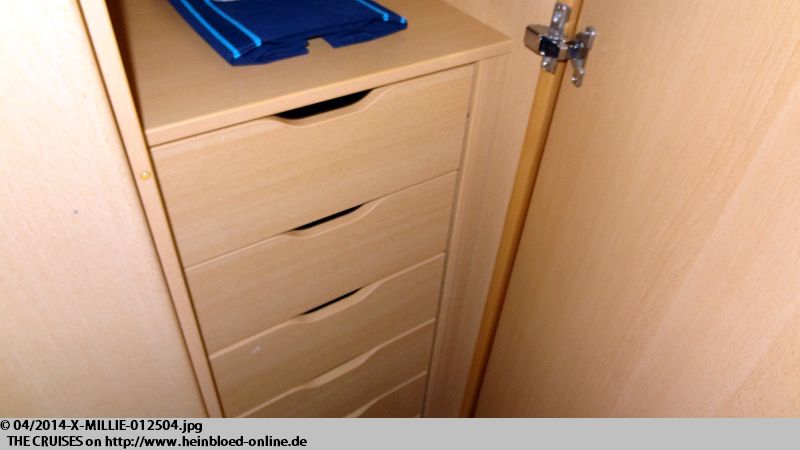 Ein paar Schubladen.
Telefon... nur gab es gar kein Telefonverzeichnis und kein Stift und kein Papier für Notizen.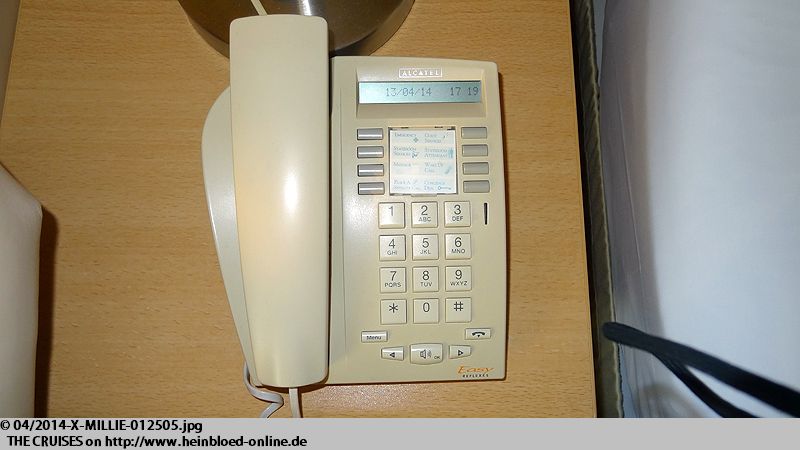 Telephone... you had no telephone register or any pen or any paper for notices.

In the night you get some chocolate.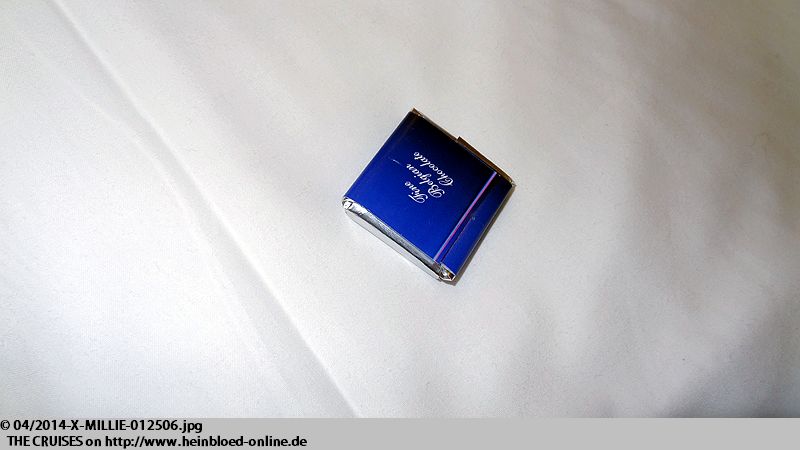 Nachts gab es die Schokolade.
Wir vermissen eine Gepäckmatte. Sie sind alle zur Desinfektion... und sie benötigt länger als 13 Nächte... Zur Aussichiffung gibt es immer noch keine. So montiert Bruno kurzerhand die Dekoelemente an der Wand ab.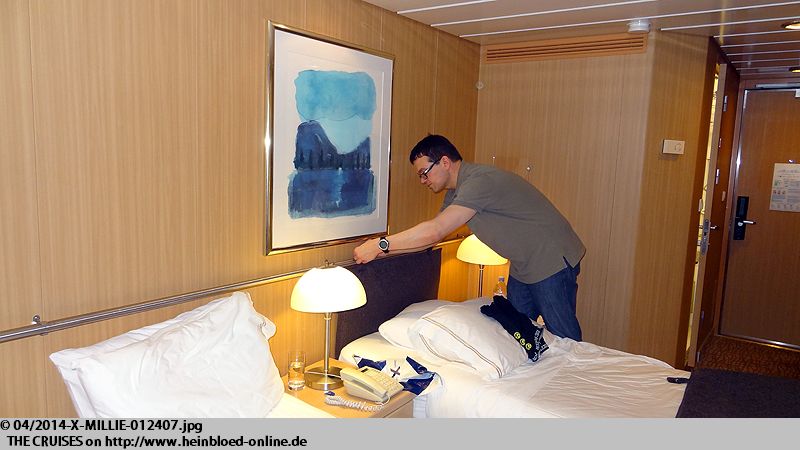 We missed a baggage mat. We were told they are all gone for sanitization... and they need longer than 13 nights to do. When we disembarked we still had none. So Bruno took off the decoration from the wall.

This part we used as baggage mat. By the way: you need more flat bags to have them fit under the bed. So you always need to lift up the beds.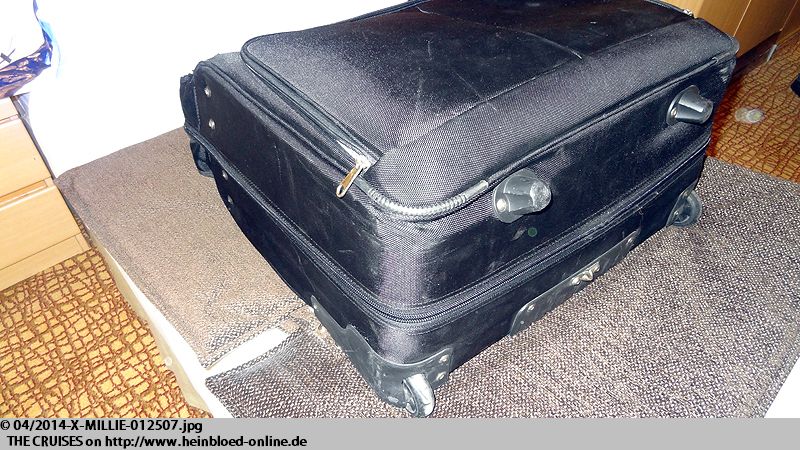 Und nutzen diese als Gepäckmatte. Übrigens: wir hätten flachere Koffer gebraucht, um sie unter den Betten unterzubringen, müssen wir immer die Betten anheben.
Eine Mini-Bar und eine Schublade zum Warmhalten von Essen...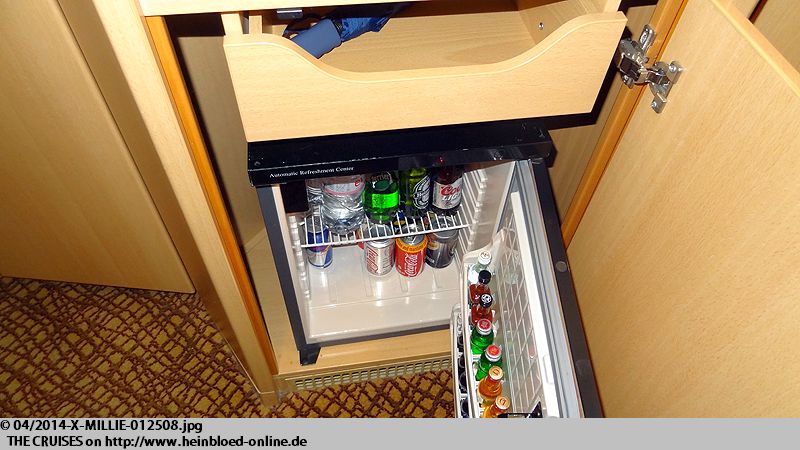 A mini-bar and a drawer to keep meals warm...

You have to keep the umbrella warm too otherwise you will have cold hands...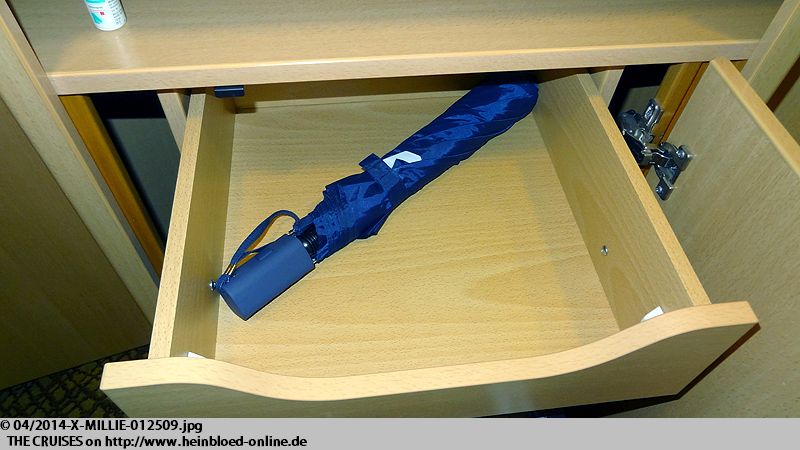 Den Regenschirm muss man auch warmhalten, weil man sonst kalte Hände bekommt...
Eine Klimaanlage, über die wir uns nicht sofort beschweren müssen. Noch läuft sie.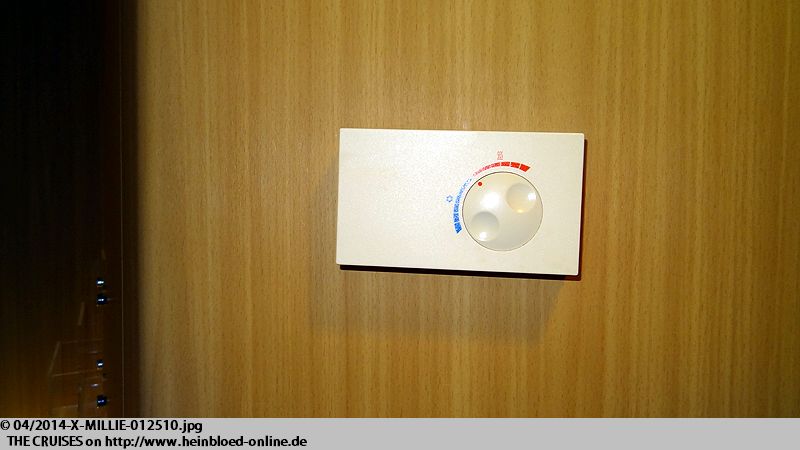 An air-condition we had no reason to claim immediately. It was still working.

Obviously they changed the design of the the air outlet so the flow was diverted to the ceiling and not directly down to your bed.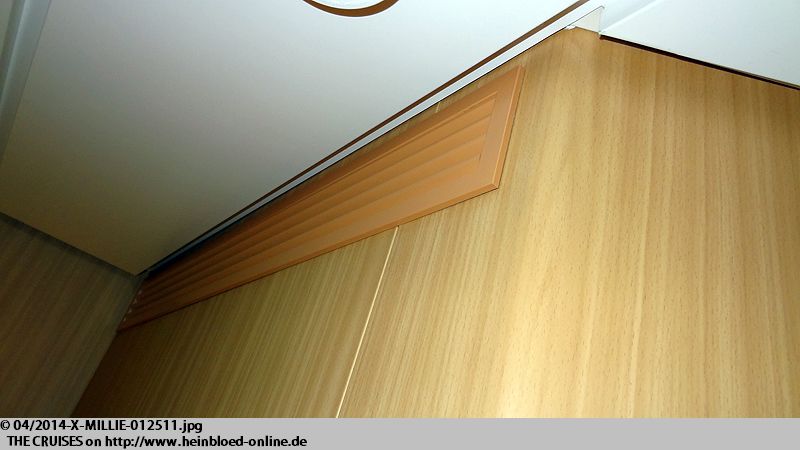 Und anscheidend sind die Düsen direkt so verändert wurden, dass sie auf die Decke ausgerichtet sind und entsprechend die Luft nicht direkt auf das Bett bläst.
2 US-Steckdosen und 2 Euro-Steckdosen. Trotzdem sind wir froh, dass wir unseren US-6-fach Dose mit Sicherung mithaben. Übrigens als wir den Koffer meiner Schwester abgeholt haben: Mehrfachdosen, die einen dubiosen optischen Eindruck machen sind direkt eingezogen worden.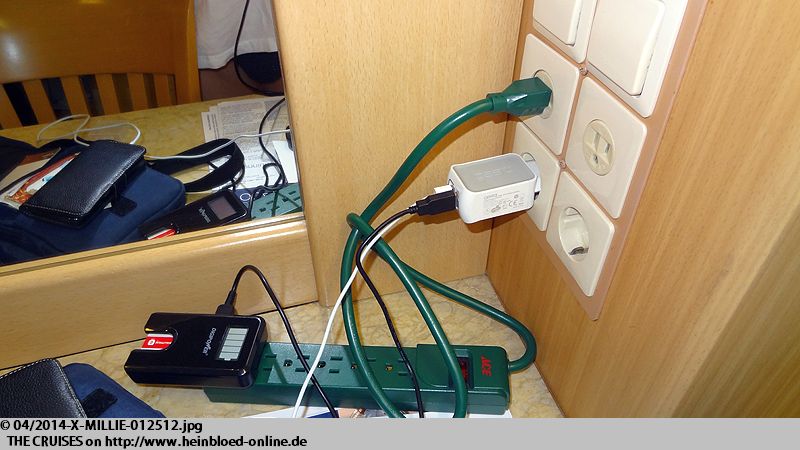 2 US power outlets and 2 European power outlets. But we were still glad to have our multiple-US-outlet with additional securing device with us. When we collected the bag of my sister: Multiple outlet which did not make a good optical appearance were confiscated immediately.

Here you find the hair dryer.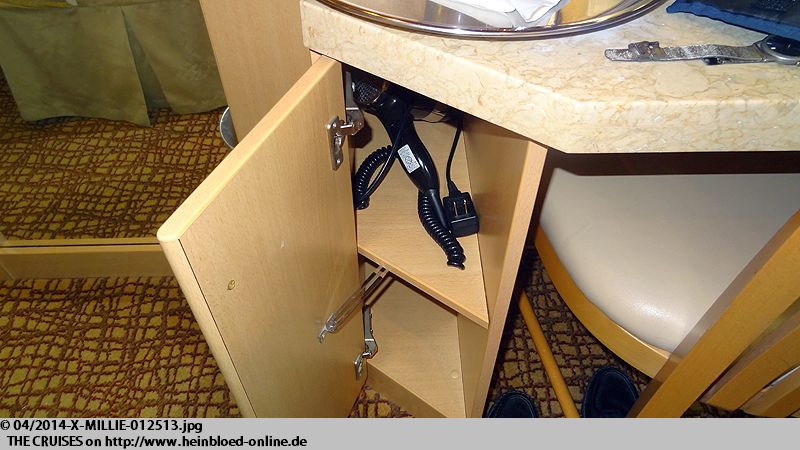 Hier ist der Fön.
Und eine wunderbare Ecke für unsere Hüte.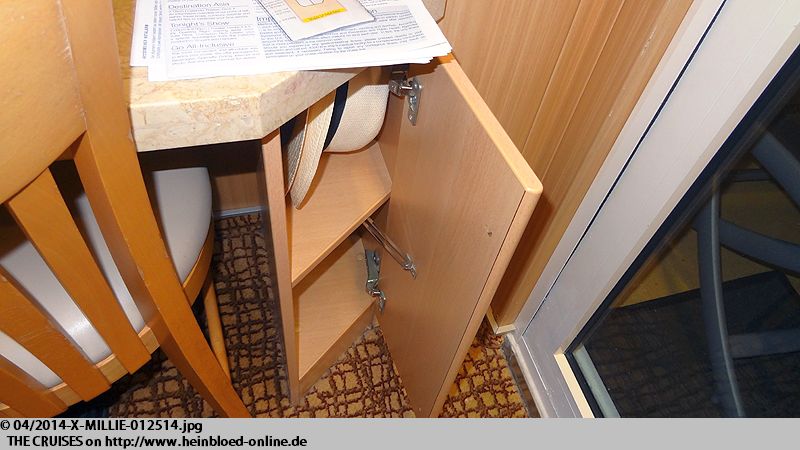 A wonderful corner for our hats.

Hmm... the rack was so empty... so I used it to place the night wear...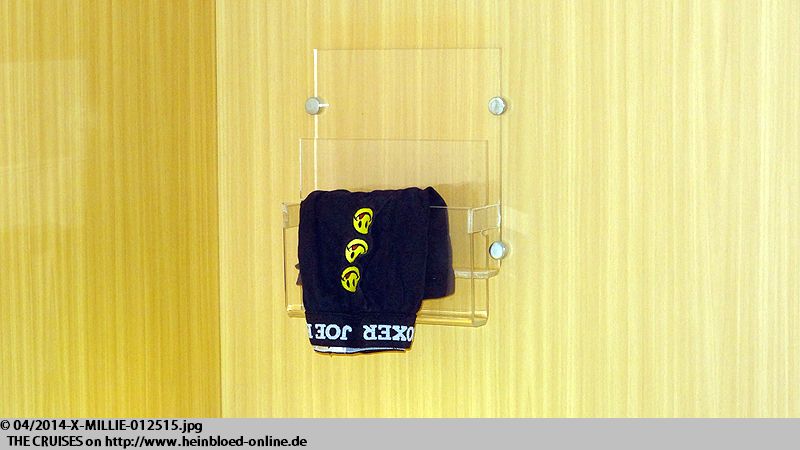 Hmm... der Ständer ist leer... so nutze ich für die Nachtwäsche...
Zum ersten Mal können wir die Magnete nicht einsetzen! Die Spiegel und Holzverkleidungen sind leider nicht magnetisch.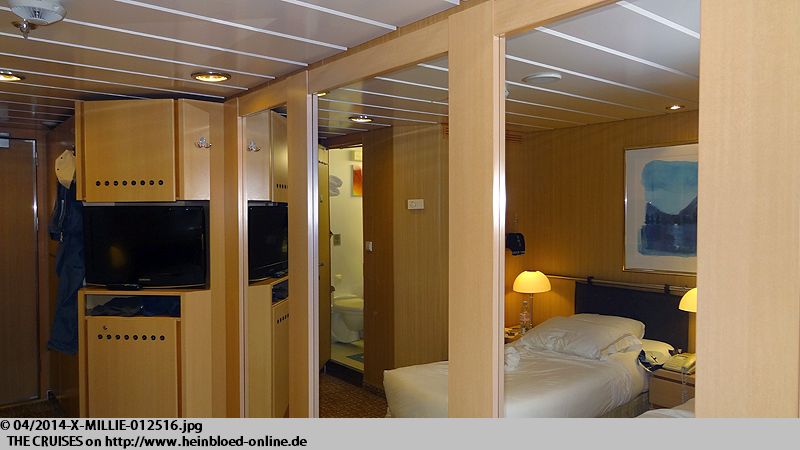 The very first time we cannot use our magnets! The mirror and the wood panelling were not magnetic.

Interactive TV.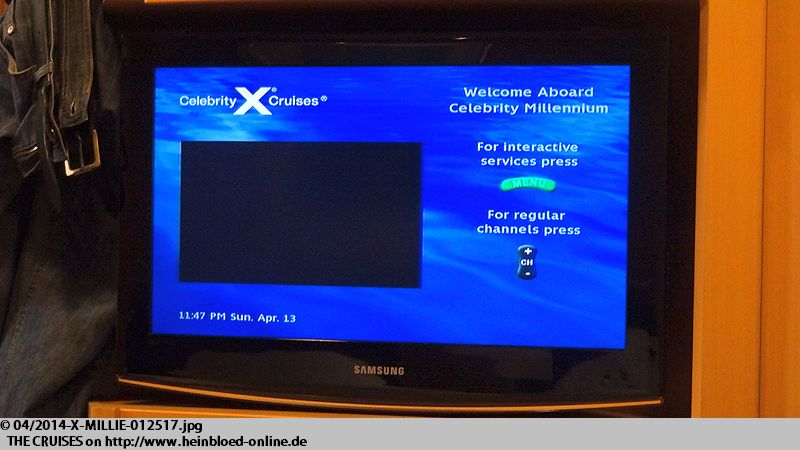 Interaktives Fernsehen.
Einfach auf MENU drücken.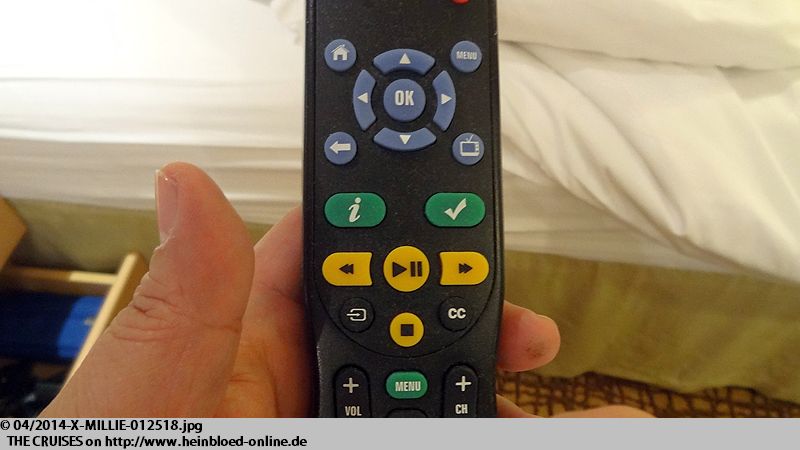 You should just press MENU.

But nothing happened...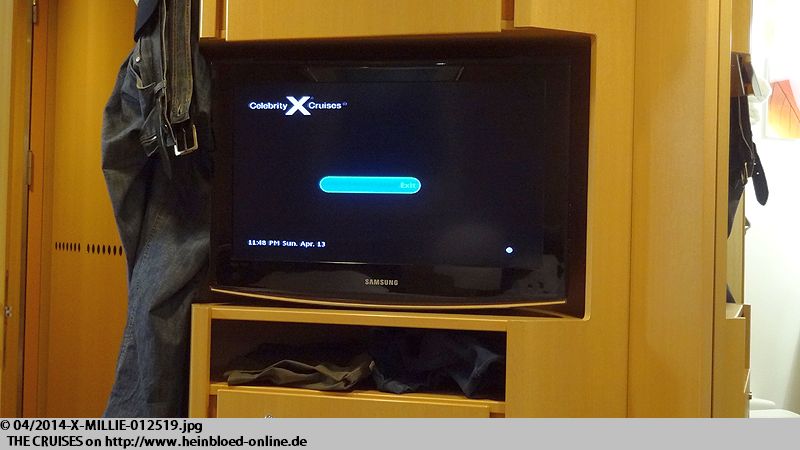 Aber es passiert einfach nichts...
Gar nichts...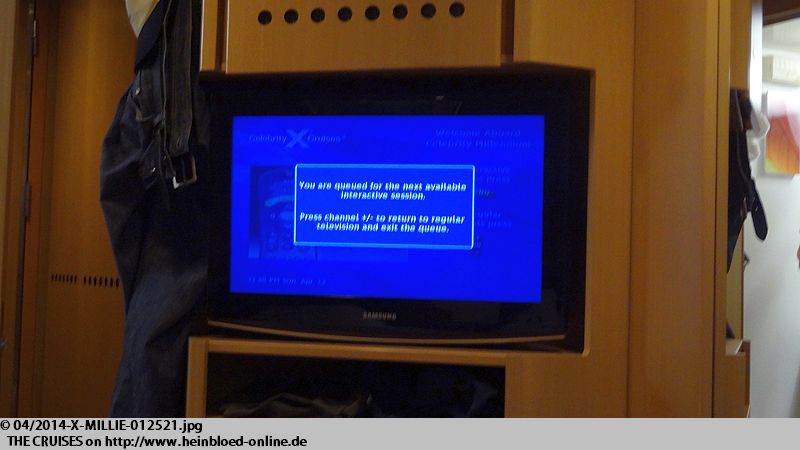 Absolutely nothing...

At least everything was 100% cotton.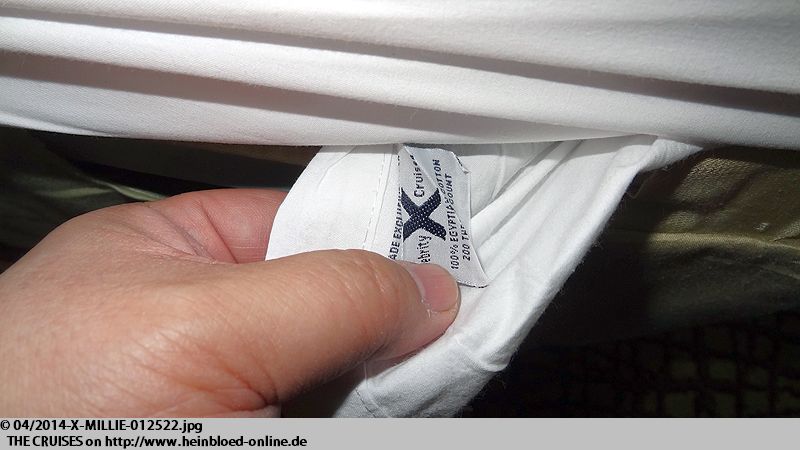 Wenigstens ist alles 100% Baumwolle.
Uns fiel beim Betreten der Kabine ein Modergeruch auf. Wir gehen davon aus, dass sie in Hongkong gelüftet haben und daher der Duft von draußen kommen könnte, weil die Tür nicht dicht ist.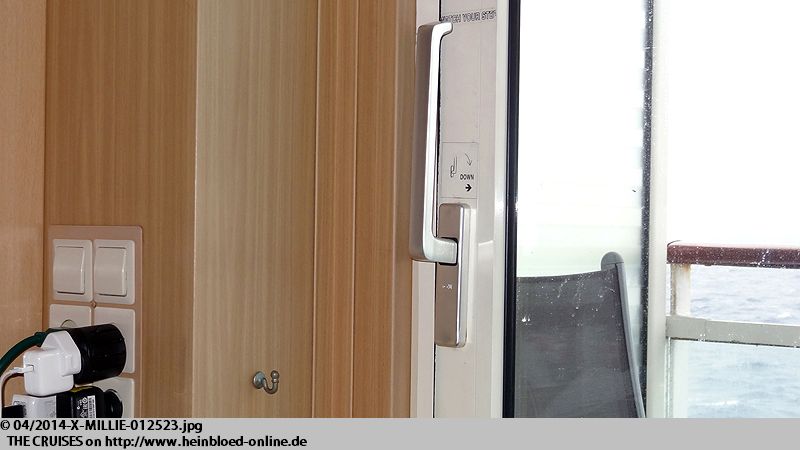 When we entered the cabin we experienced a musty smell. We assumed that they vented the cabin in Hong Kong and the smell came from outside because the door was not closed densely.

When I walked later barefeet on the carpet of the cabin I found out that everything was humid and the smell came from the carpet.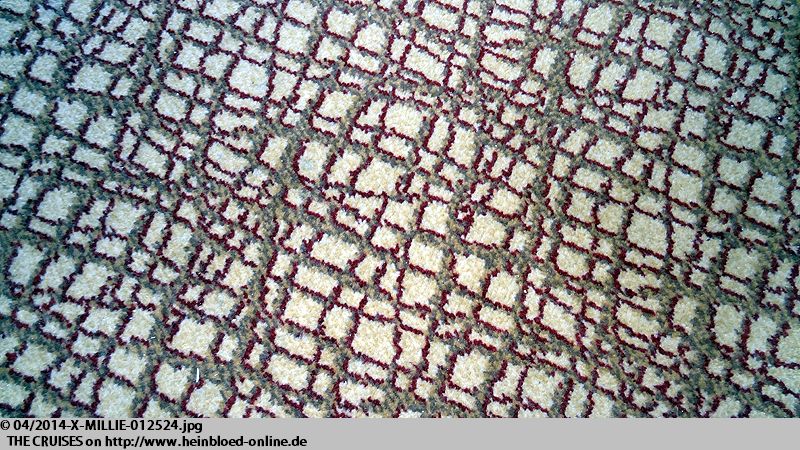 Als ich später barfuß in der Kabine laufe stelle ich fest, dass alles feucht ist und der Geruch vom Teppichboden kommt.
Einen Zentralschalter gibt es nur für einen von uns beiden. Und auch nur einen Dimmer für die gesamte Kabine.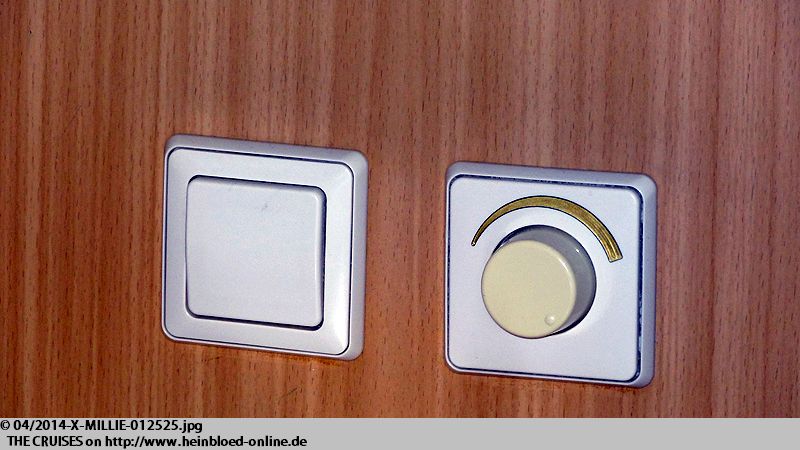 We had only one master switch and one dimmer switch for us.

In the bathroom everything appeared normal to us.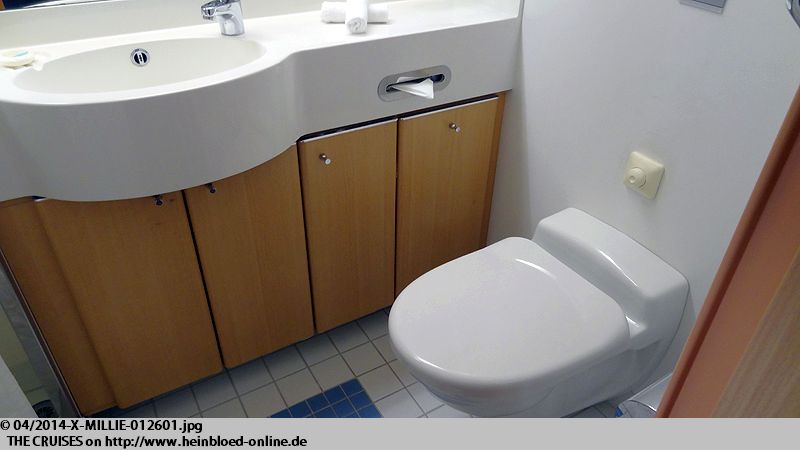 Im Bad wirkt fast alles normal.
Fläschchen gibt es, nur leider kein Duschgel. Sollte normalerweise kein Problem darstellen, wenn man Steward fragt. Funktioniert bei Princess ohne Probleme.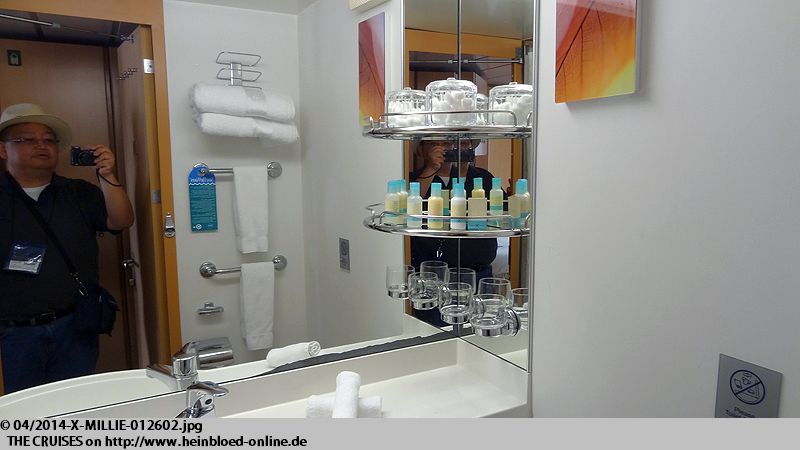 There were few little bootles but no shower gel. This should be normally no problem if you ask your cabin steward. Works with Princess this way.

I was nicely surprised that we had no wall-fixed shower head.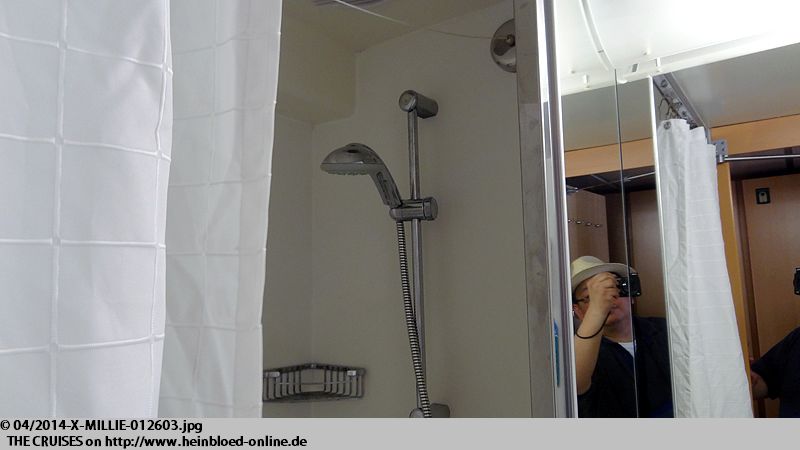 Mit Erstaunen stelle ich fest, dass wir keinen an der Wand befestigten Duschkopf hatten.
Das war ja damals auf der CELEBRITY EQUINOX anders. Erst mit der AquaClass gab es so einen mobilen Duschkopf. Sonst hatten wir ja den fest an der Wand montierten...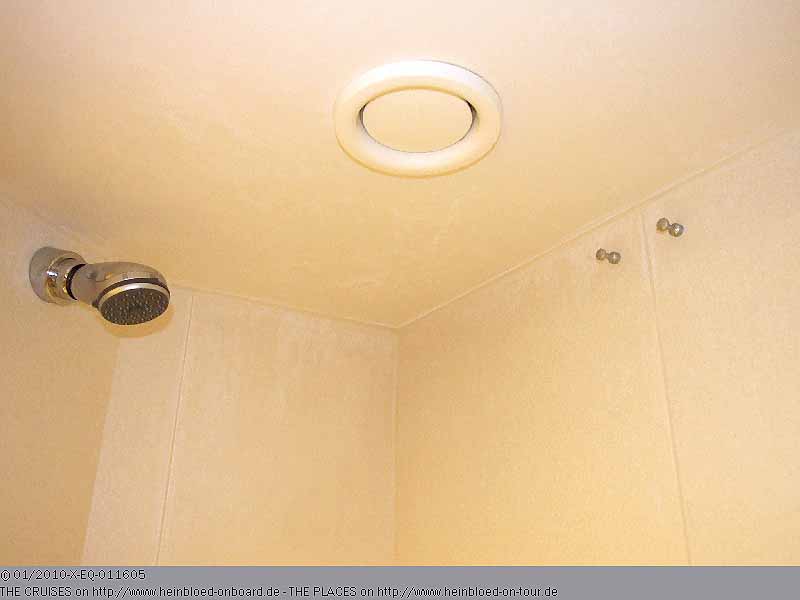 This was different when we sailed on CELEBRITY EQUINOX. Starting with AquaClass you get a mobile shower head. Otherwise it was fixed at the wall...

You could see that you were on an older ship and Celebrity/Royal Caribbean were not willing to spend more money than necessary. So the budget did not allow a complete bathroom refurbishment.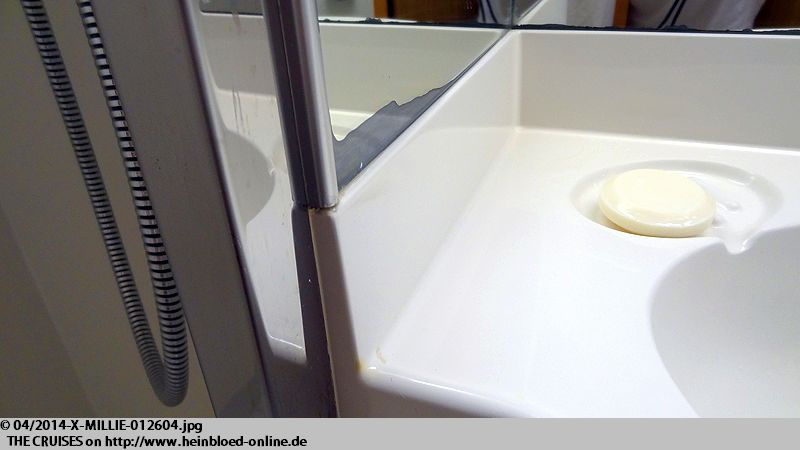 Man sieht schon, dass das Schiff älter ist und Celebrity/Royal Caribbean keine Lust mehr hat, Geld reinzustecken. Für eine vollständige Badsanierung reichte es nicht mehr.
Die Wäscheleine müsste auch mal ausgetauscht werden.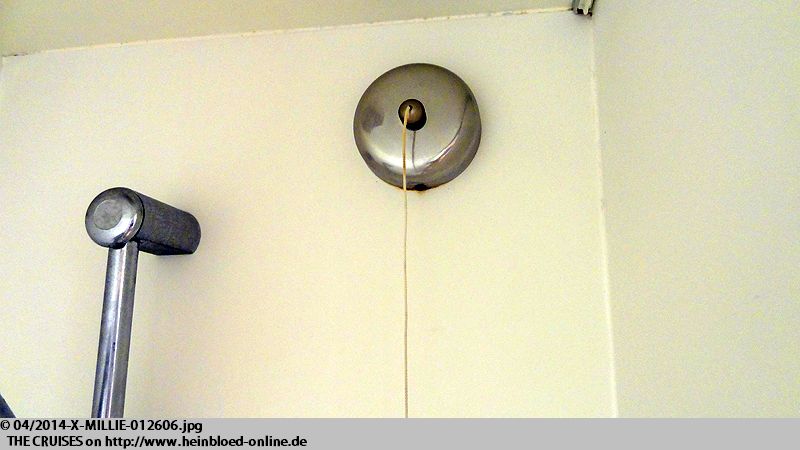 The clothes line need to be exchanged.

The question is if somehow the single containers are up-to-date or even a dispenser would be more resonable.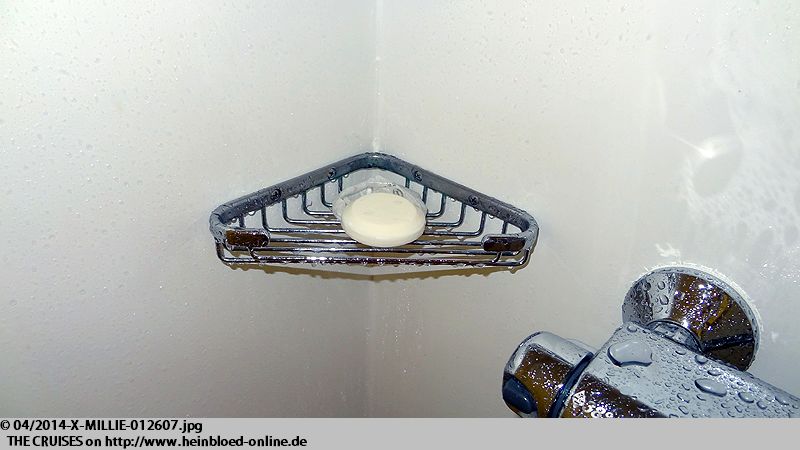 Die Frage ist, ob überhaupt Einzelpackungen von Seifen noch zeitgemäß sind oder eben nicht auch ein Spender sinnvoller wäre.
Darüber habe ich mich sehr gefreut: Sogar Nasenspülsalz unserer bevorzugten Marke stand bereit... bis dass später Bruno meinte, dass er den Behälter mit Wattestäbchen und Wattebäuschchen nutzt, um seinen Privatvorrat an Nasenspülsalz aufzubewahren.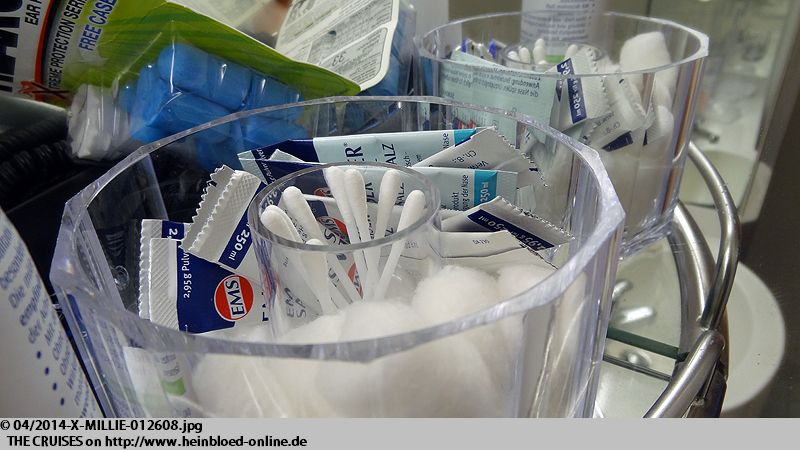 I was very happy to see: They even had our preferred salt for our nosal cleanser... but later Bruno told me that he placed his personal inventory in the container with the cotton buds and pads.

So far our suspicion that the humidity came from outside through the balcony door was replaced by the fact that air absorption in the bathroom did not work. We started to hang on the towels for another use but they just did not become dry. It did not help but you had to open the bathroom and the balcony door if you want to take soon after the other a shower.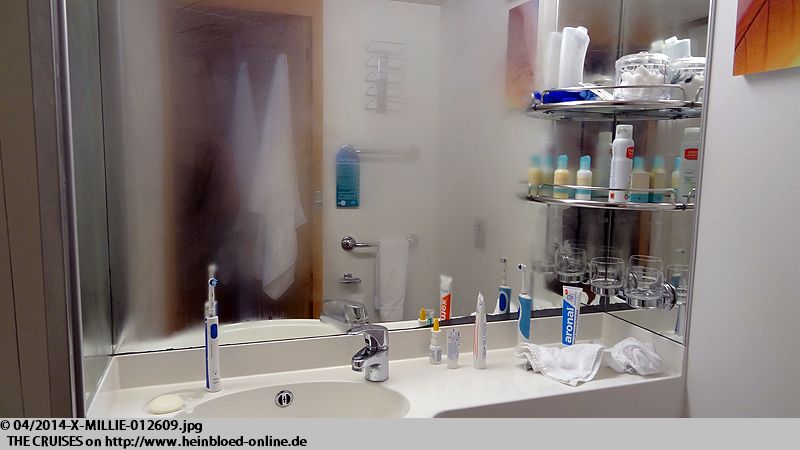 Unser bisheriger Verdacht, dass die Feuchtigkeit von außen durch die Balkontür kommt, wurde durch den Verdacht abgelöst, dass die Abluft im Bad nicht funktioniert. Zunächst hatten wir die Handtücher hängen lassen, um sie wiederholt zu nutzen, aber sie wurden einfach nicht trocken. Es half nichts: Damit der nächste zeitnah duschen konnte, musste man die Badezimmertür und die Balkontür aufreißen.
Wir haben es gemeldet. Zunächst beim Steward, der nur meinte, dass es nicht besser geht. Dann bei der Rezeption, die dann drei Leute rauf schickten, um das sich mal anzusehen und alle drei meinten, dass wir wohl Recht hätten und wohl die Abluft nicht funktioniert. Getan hat sich wenig bis etwas... Wir mussten nur noch 15 statt 20 Minuten warten, bis dass der nächsten wieder in Bad konnte, um sich im Spiegel zu sehen... nachdem einer von uns duschen war...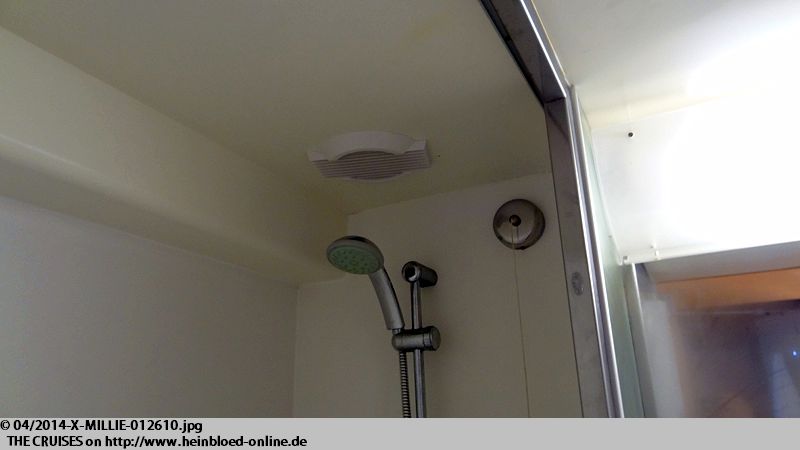 We reported it. First with our cabin steward but he told us that there is nothing better possible. Then we went to the front desk who sent three crew members to have a look on it and all three confirmed that we were right and that the air absorption did not work. No or very little changes only... We only need to wait 15 instead of 20 minutes before the next could see himself again in the mirror of the bathroom... after one took a shower...

We had no idea what that was and we did not find it out until today. Anyhow it did not absorp anything... But maybe you can discconect it and add there an power outlet which was missing in the bathroom. So you need to recharge your shaver and your electric toothbrush out of the bathroom...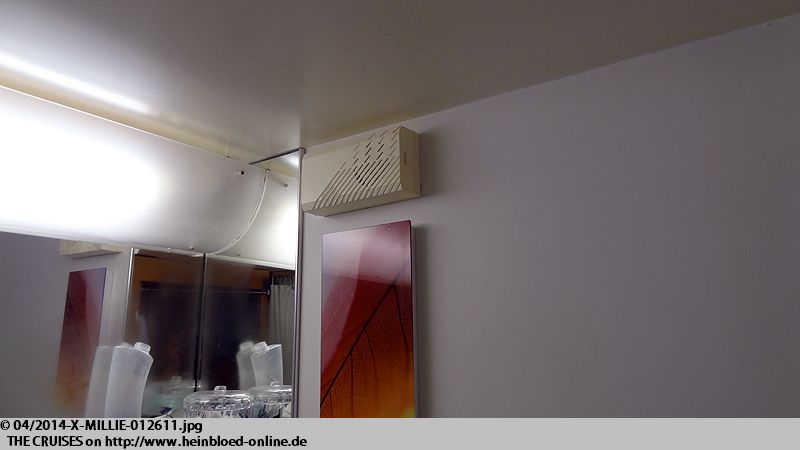 Was das wiederum war, haben wir bis heute nicht herausbekommen. Auf jeden Fall saugte es auch nichts weg... Aber vielleicht könnte man das ja abklemmen und stattdessen eine Rasiersteckdose setzen, die im Bad fehlt. So mussten wir immer außerhalb des Bades unserer Rasierer und Zahnbürsten aufladen...
Wir hatten eine Balkonkabine gebucht, aber im Moment war es viel zu warm und schwül, um sich dort näher umzusehen.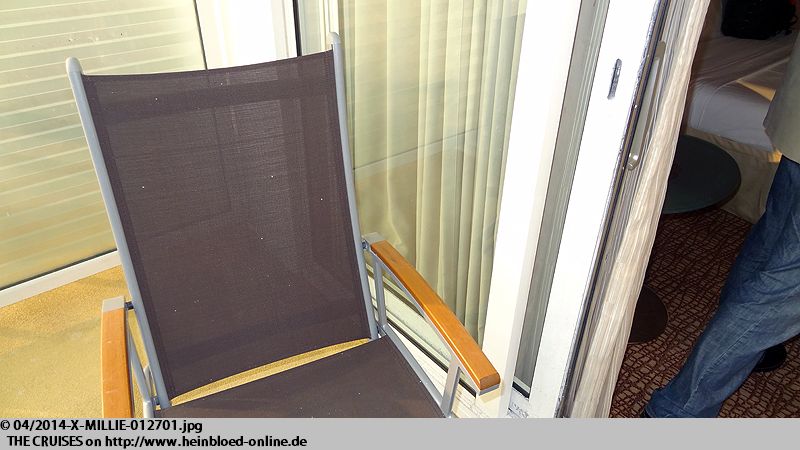 We booked a balcony cabin but at this moment it was too warm and too humid to stay there and to look around.

But we could see that they ran out of the tape for painters to protect the hand grip. Maybe we should leave our material here. If I would have known how much money I was pulling out by selling my 100 RCI-Shares after our CELEBRITY-EQUINOX-Voyage.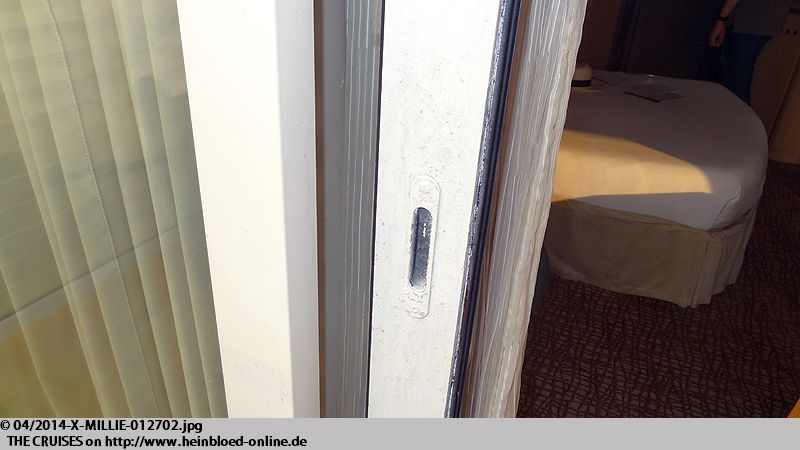 Wir sehen jedoch, dass denen wohl das Malerband ausgegangen ist, um die Türgriffe beim Übermalen abzukleben. Vielleicht sollten wir ihnen unser Material da lassen. Wenn ich gewusst hätte, wieviel Kapital ich denen entziehe, hätte ich meine 100 RCI-Aktien damals nach der CELEBRITY-EQUINOX-Reise nicht verkauft.
Für einen Moment gucken wir doch mal in die Papiere: 17.15 Uhr ist Seenotrettungsübung. Und vorher schreibt man die Kunden an, dass bis 18.00 Uhr bzw. 18.30 Uhr Check-In ist... Finde ich persönlich schon merkwürdig. Irgendwie fehlt der Hinweis, ob man nun eine Rettungsweste mitführen muss oder nicht.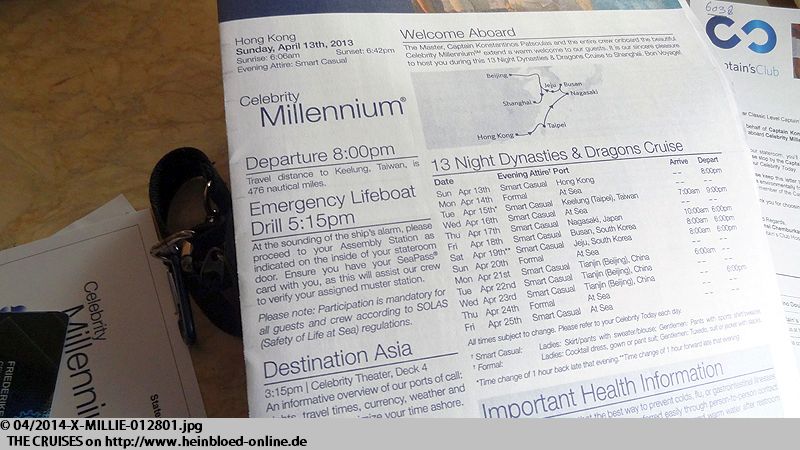 For a short moment we had time to have a look into the paperwork. Lifedrill is at 17.15 hrs. And before you write the guests that check-in was open until 18.00 hrs or 18.30 hrs... I found this very strange. Somehow I missed the information if we need to carry our life vests with us or not.

Well... Pay per view... they tried to make with everything money... But you cannot see the pictures anymore in your cabin.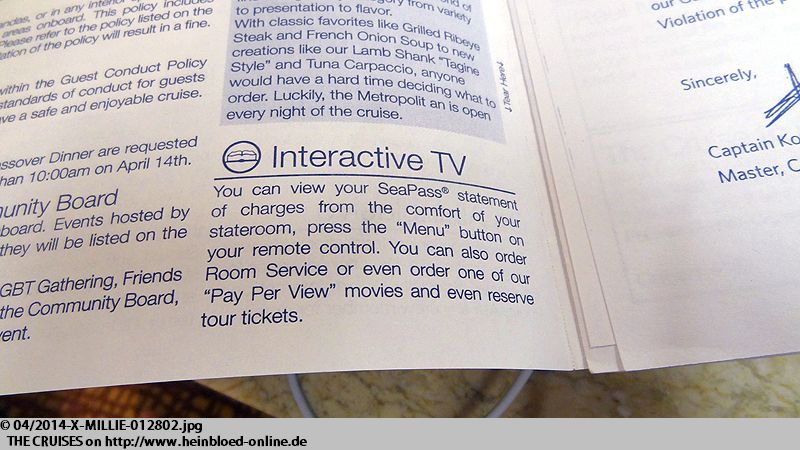 Naja... Pay per View... wirklich mit allem machen sie Geld... Nur die Fotos können nicht mehr in der Kabine anzeigt werden.
Und die Raucher haben noch wenige Rückzugorte. Mich wundert es, dass das Casino gar nicht als Raucherzone erwähnt wird.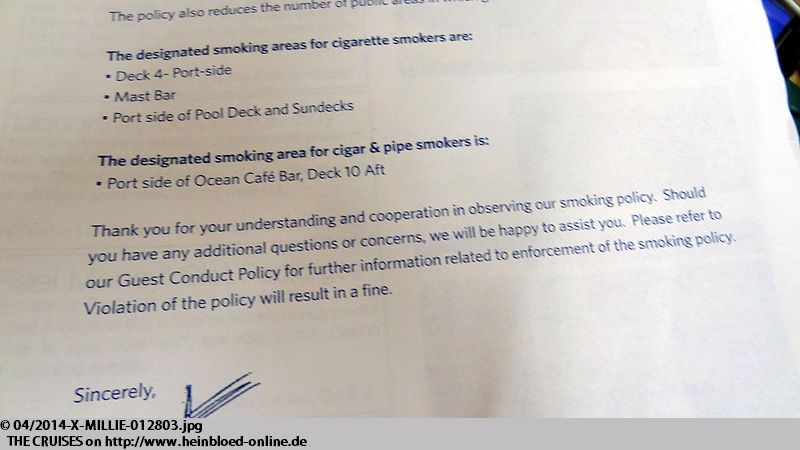 And the smokers have few locations where they could adjourn to. I was surprised that the casino was not listed as smokers' zone.

A lot of advertising.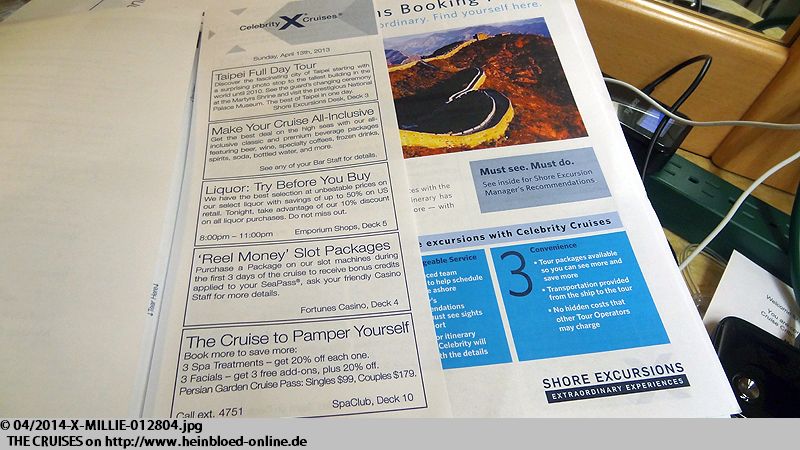 Jede Menge Werbung.
Und etwas Gutes: alle Einreiseinformationen auf einen Blick.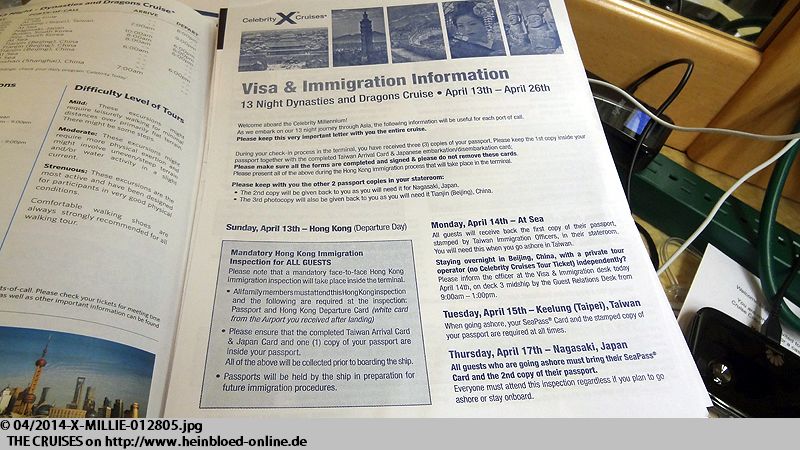 Something good: all information on immigration on one piece of paper.

Of course I had no time to go there at all to inform them about our independent plans.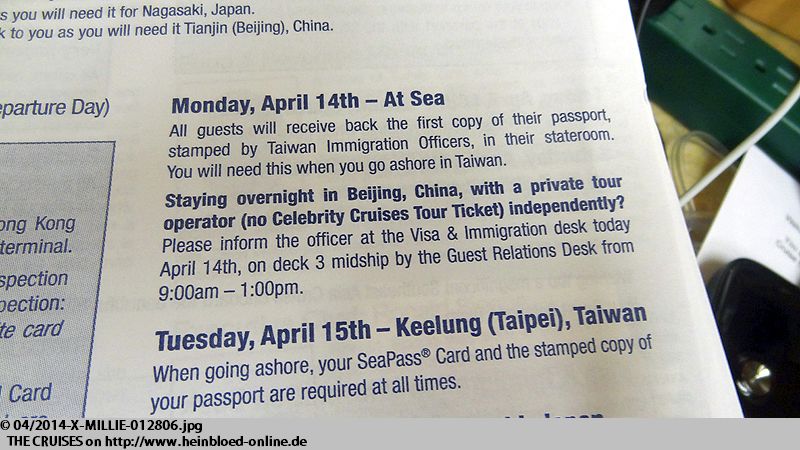 Natürlich hatte ich keine Zeit gehabt, ausgerechnet dann dorthin zu gehen, um sie über unseren unabhängigen Pläne zu informieren...
Für Keelung und Nagasaki klingt alles sehr klar.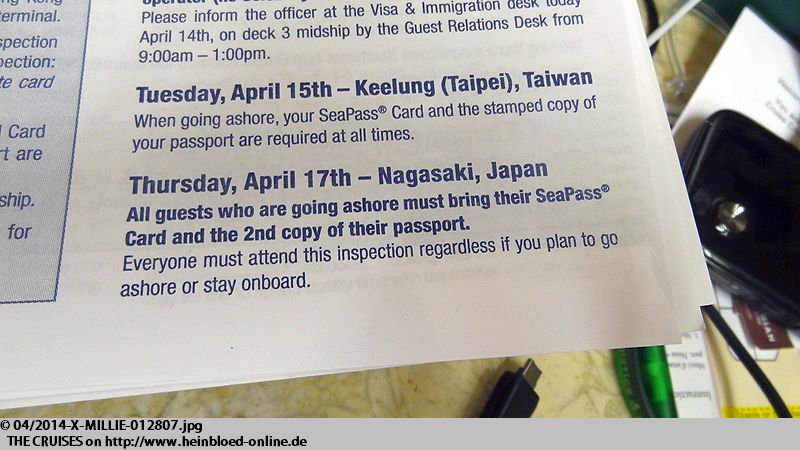 For Keelung, Taiwan and Nagasaki, Japan everything sounded very clear.

Nagasaki, Japan...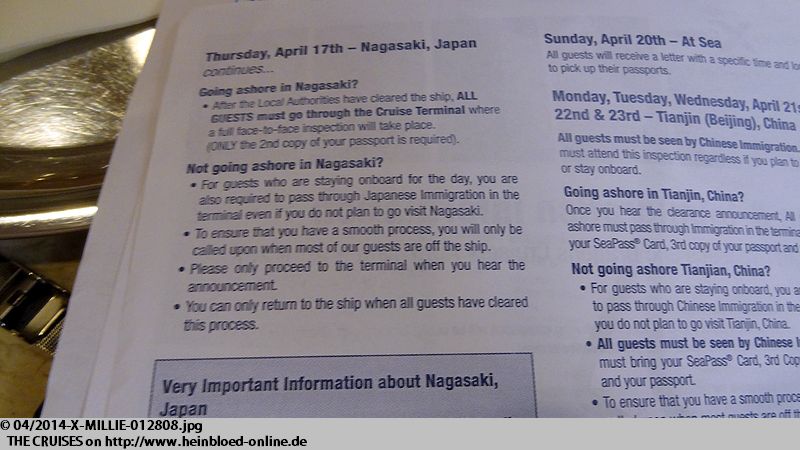 Nagasaki...
Nagasaki...

Korea sounded also very easy...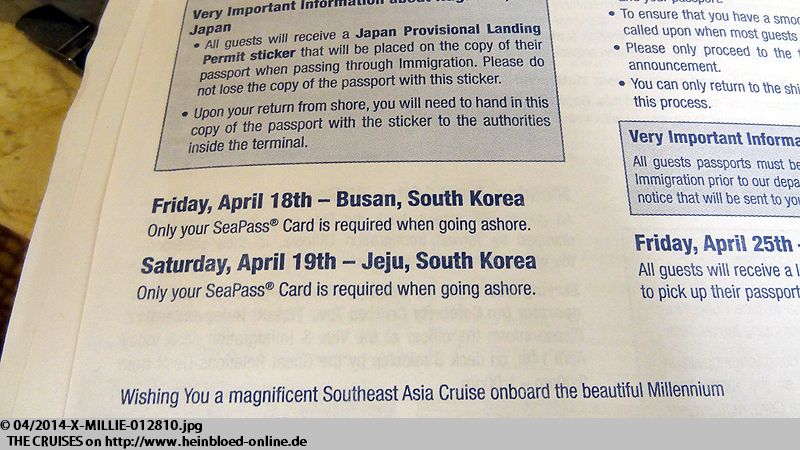 Korea klingt einfach...
Tianjin...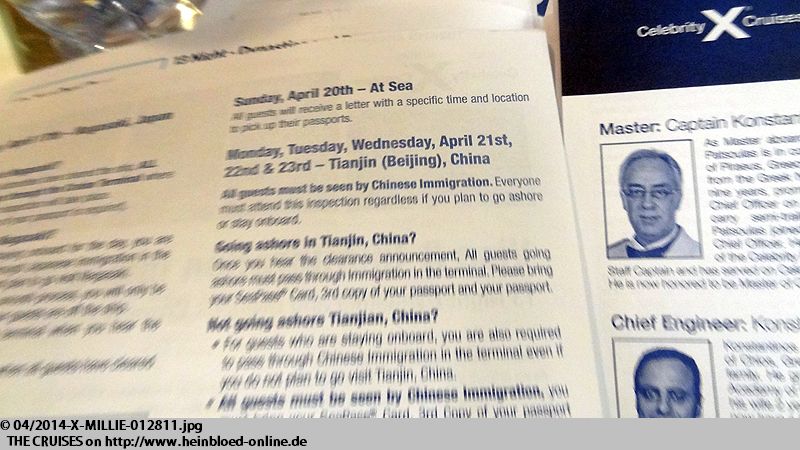 Tianjin, China...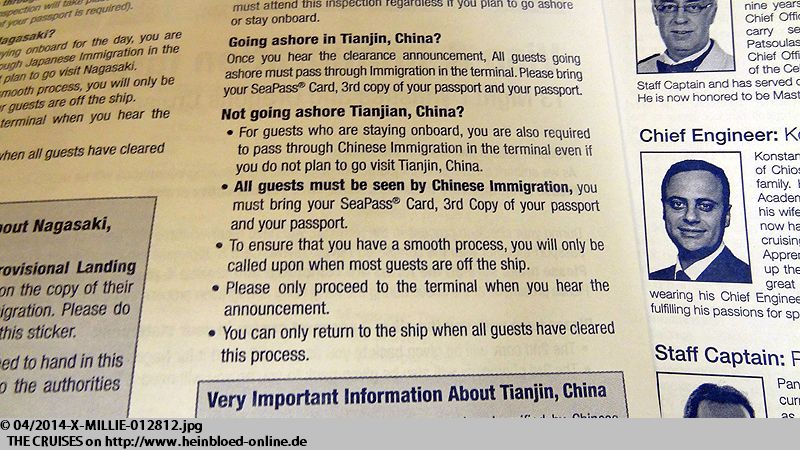 Tianjin...
Tianjin..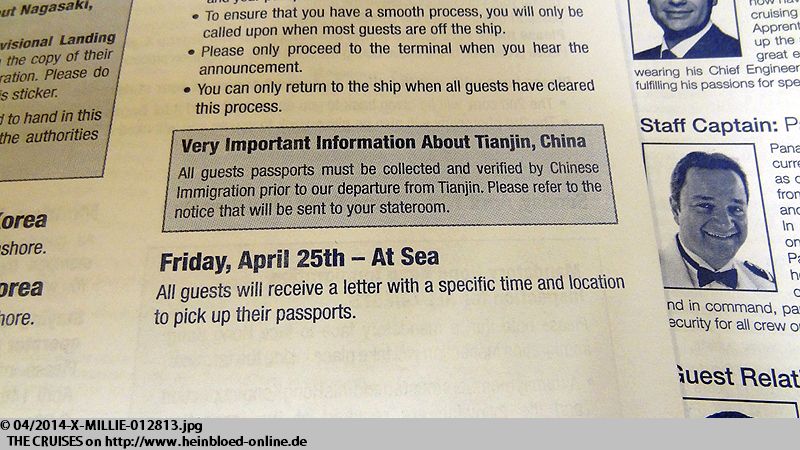 Tianjin, China...

I missed the deadline... and so I reported short-notice to the front desk that we will all go off the ship in Tianjin, China on an independent tour.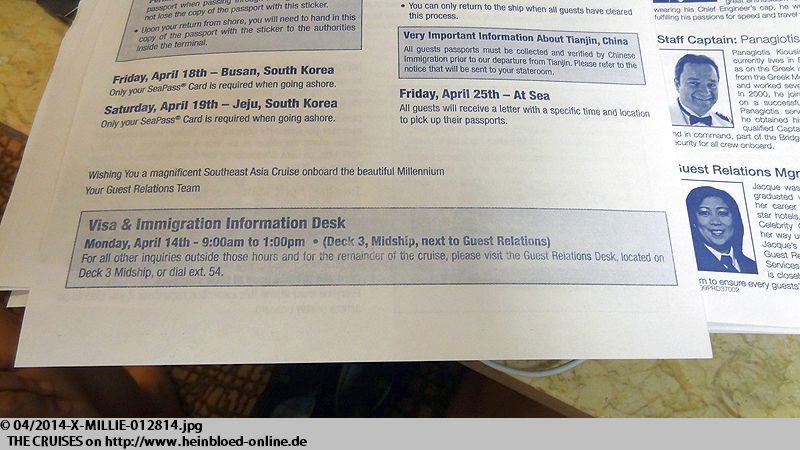 Ich habe den Termin verschlafen... und kurzerhand später der Rezeption gemeldet, dass wir alle unabhängig von Bord in Tianjin gehen wollen.
Komisch: Sabine hatte mir ein Tagesprogramm mal als Referenz geschickt und irgendwie sieht das Layout hier komplett anders aus und mit allen Terminen.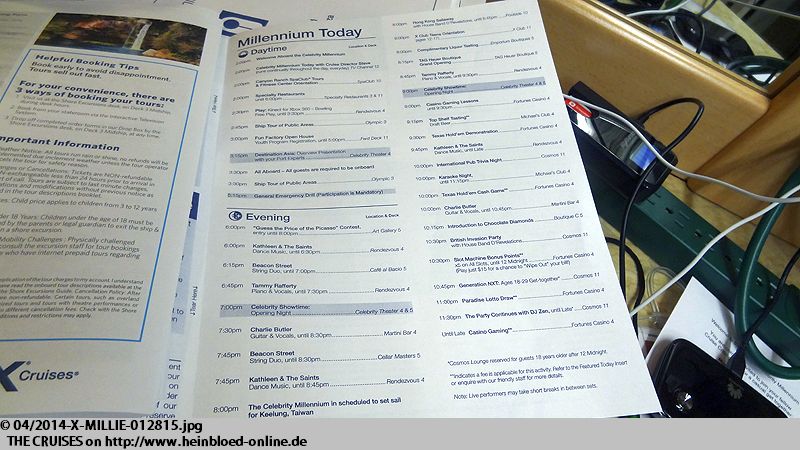 Strange: Sabine sent me a daily programme as reference but the layout looked totally different and it includes all events.

You could also get breakfast...

Frühstück gibt es auch...
Und sogar ein paar Besonderheiten, für die man extra Geld zahlen muss: Steak and Eggs... 7 USD... Schade, dass es so etwas nicht auch in den Restaurants gab...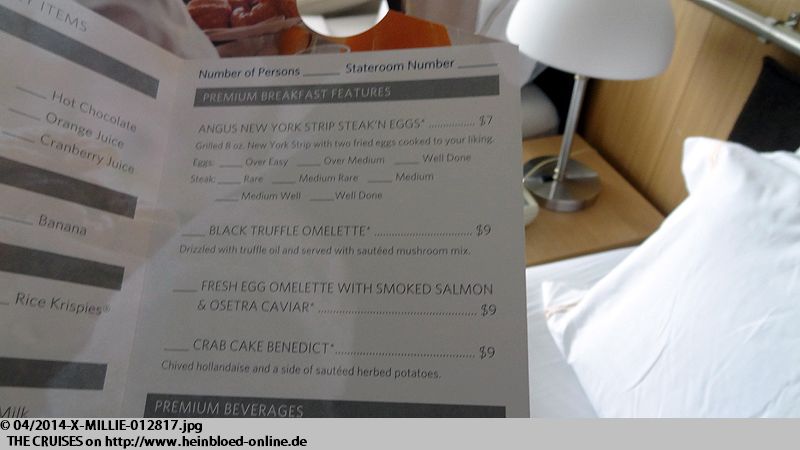 You have some specials you have to pay extra like Steak and Eggs... 7 USD... How sad that you cannot get this in the restaurants too...

Tea 4 USD...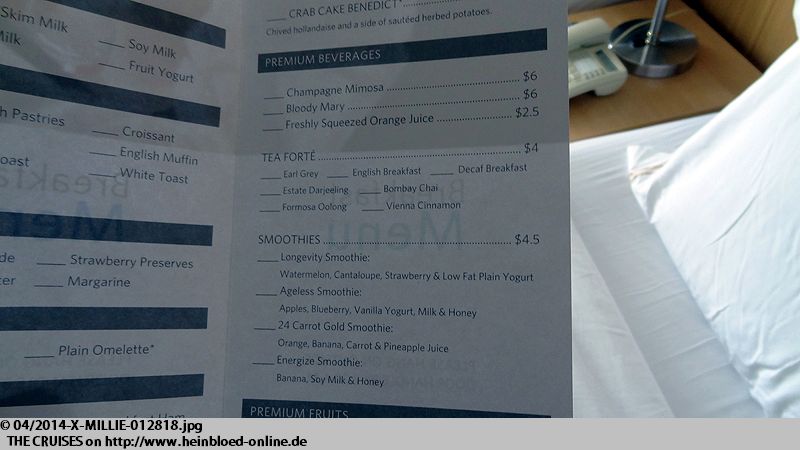 Tee 4 USD...
Früchteangebote mit Extraaufpreis...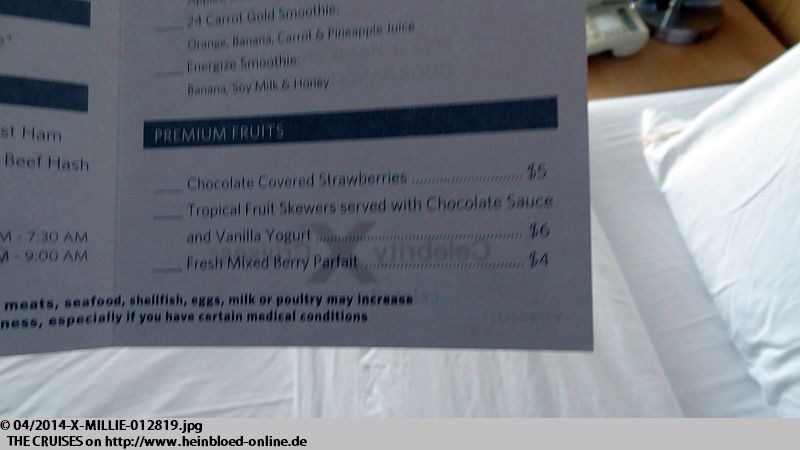 Fruit offers with extra payment...

And when we returned later from our dinner we found a letter addressed to my mother as I was originally booked to share the cabin with my mother. In this letter they explained us how Select Dining works with Celebrity.... Great timing...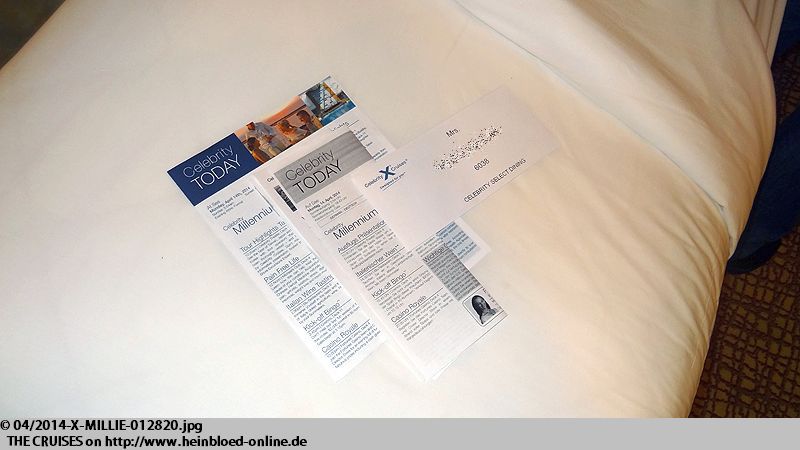 Und als wir später vom Abendessen wiederkommen, finden wir einen Brief an meine Mutter vor, die ja ursprünglich mit mir in dieser Kabine sein sollten, in dem uns erklärt wird, wie Select Dining bei Celebrity funktioniert... Timing ist alles...
Und was mich noch verwundert: für eine Premium-Linie gibt es gar kein Obst in der Kabine. Bei Holland America und bei Princess ist das Standard - dort wird man gefragt, welches Obst man gerne in der Kabine haben möchte. Hier auf der CELEBRITY MILLENNIUM besteht ein derartiges Angebot nicht.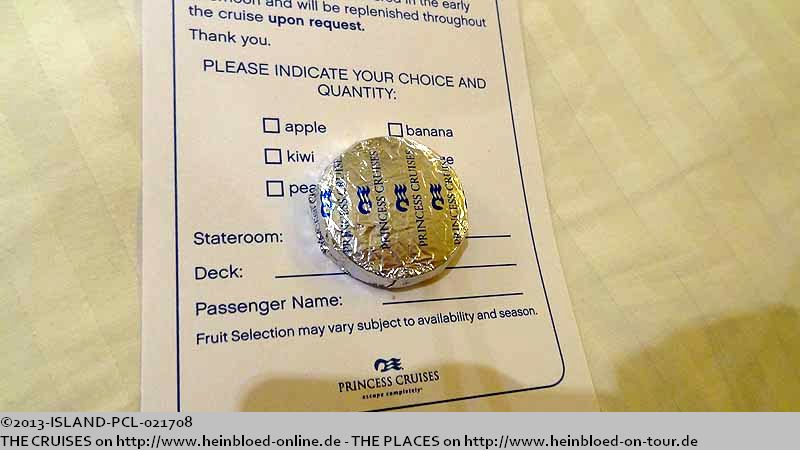 And I was surprised to learn that you do not have any fresh fruits in your cabin on a Premium Line. With Holland America and Princess this is standard - they ask you which kind of fruits you would like to have. Here on CELEBRITY MILLENNIUM we could not find any offer like this.