Scroll down for English explanations - alternates with German explanations.

Über der iLounge befindet sich die Bibliothek, die sich über die Decks 8 und 9 erstreckt.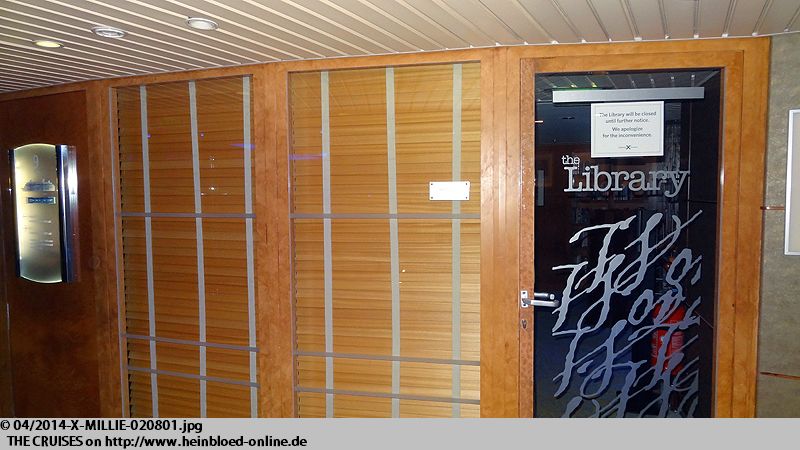 Above the iLounge you had the library which occupied the same area on deck 8 and 9.

But due to the norovirus it was closed.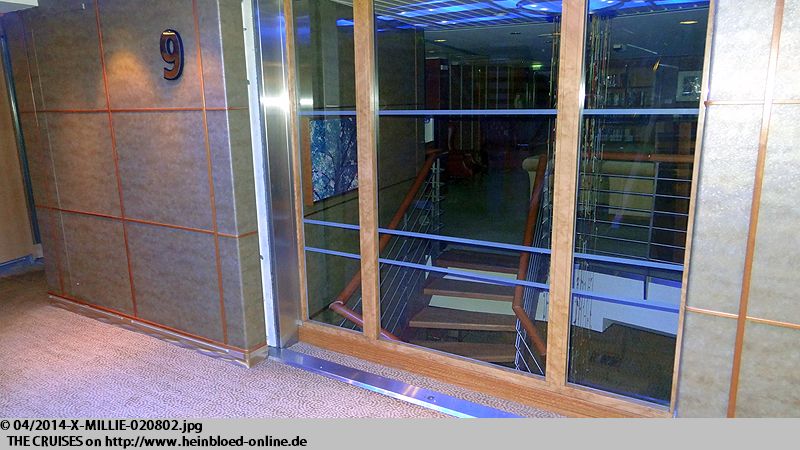 Leider war sie wegen des Norovirus geschlossen.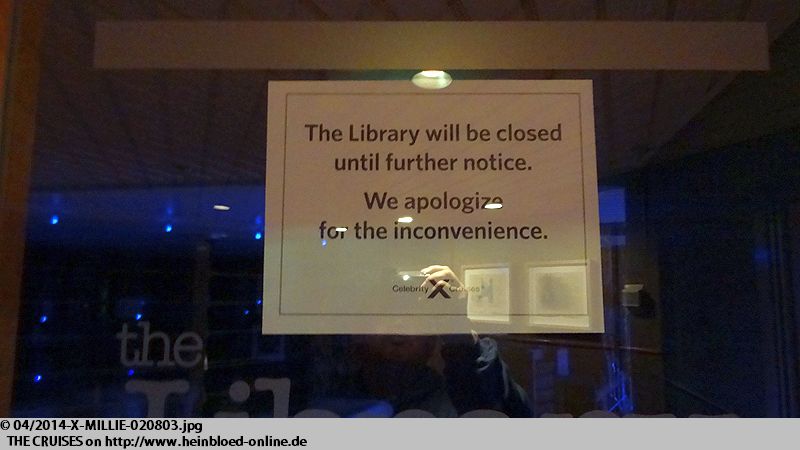 Below the iLounge you have further treatment rooms of the spa.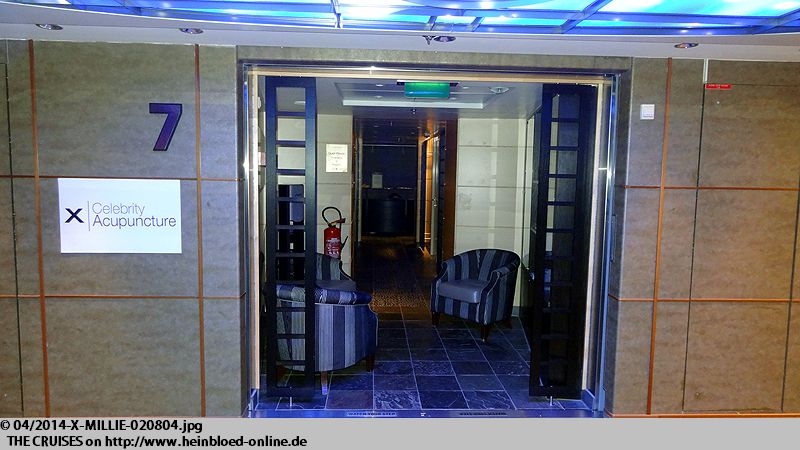 Unterhalb der iLounge befinden sich weitere Behandlungsräume des Spas.
Das Grand Foyer gefällt mir sehr gut.

I liked the Grand Foyer very much.

One of our favourite places on CELEBRITY EQUINOX: Bistro on Five.

Einer unserer Lieblingsplätze damals auf der CELEBRITY EQUINOX: Bistro on Five.
Direkt daran schließt sich der Cellar Master an mit den berühmt-berüchtigten Weinautomaten.

Just next you find the Cellar Master with the infamous wine dispensers.

On the portside of the Metropolitan Main Dining Room a part was sepatated for the guests of the AquaClass-Category and here the Blu was installed. Since then you can only access the Metropolitan Restaurant from the starboard side, even you will dine later at the portside area. If they need to find space for the restaurant for the suite guests you can only access from deck 4 and you need to walk up the grand stairs. I am curious to see how they would manage it.

Auf der Backbordseite des Metropolitan Hauptrestaurants wurde ein Teil für die Gäste der AquaClass-Kategorie abgetrennt und hier ist das Blu entstanden. Seit dem ist der Zugang zum Metropolitan Restaurant nur noch auf der Steuerbordseite möglich, auch wenn man eigentlich später im Backbordbereich isst. Wenn jetzt noch Platz für das Restaurant für die Suitengäste abgetrennt werden soll, bliebe ja nur noch der Zugang über Deck 4 und später dann über die große Treppe. Mal gucken, was sie sich einfallen lassen.
Von Deck 5 gibt es direkt einen Zugang zu den Rettungsbooten. Bei allen anderen Türen steht dran, dass der Zugang nur für die Crew ist.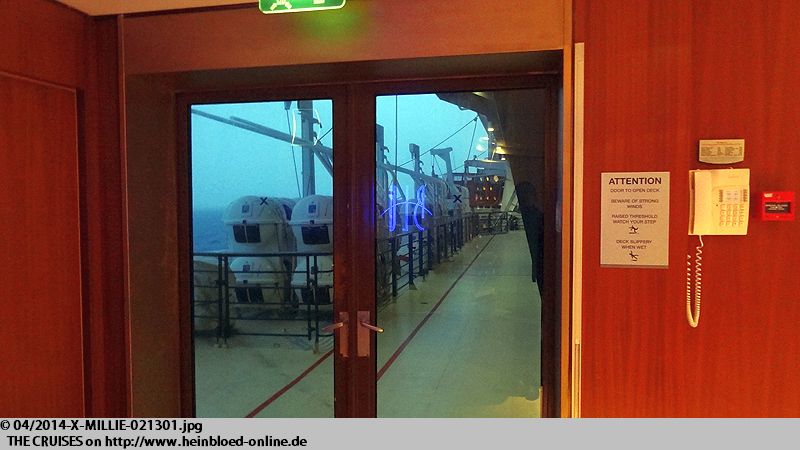 From deck 5 you had a direct access to the life boats. At all other doors it was marked that this access was exclusively for crew only.

It was nice to have an unobstructed view to the open sea from the promenade deck.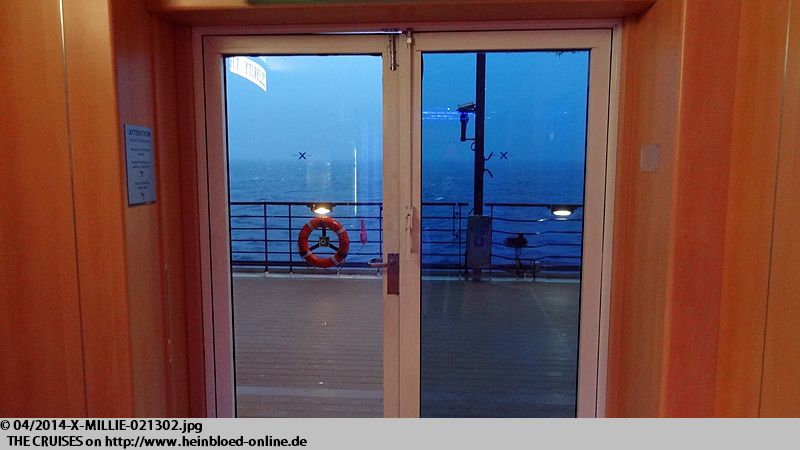 Schön, dass man vom Promanadendeck direkt ungehindert auf das Meer gucken kann.
Schön, dass man hier auch Liegestühle findet.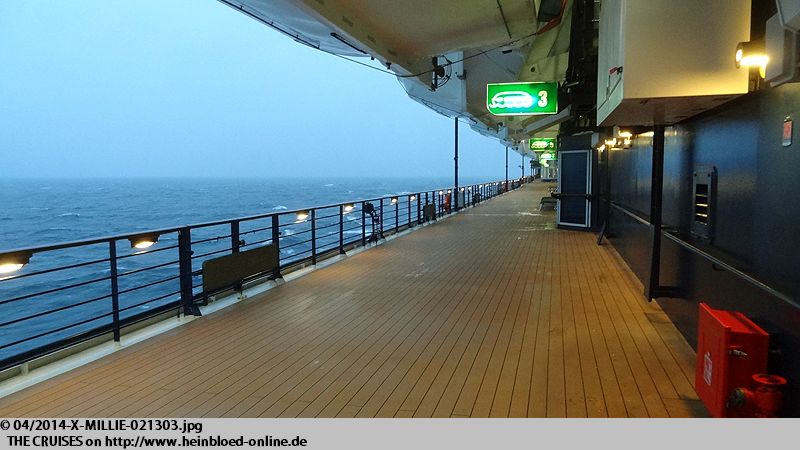 It was nice too that you could find some sun chairs here too.

But unfortunately you cannot walk once around.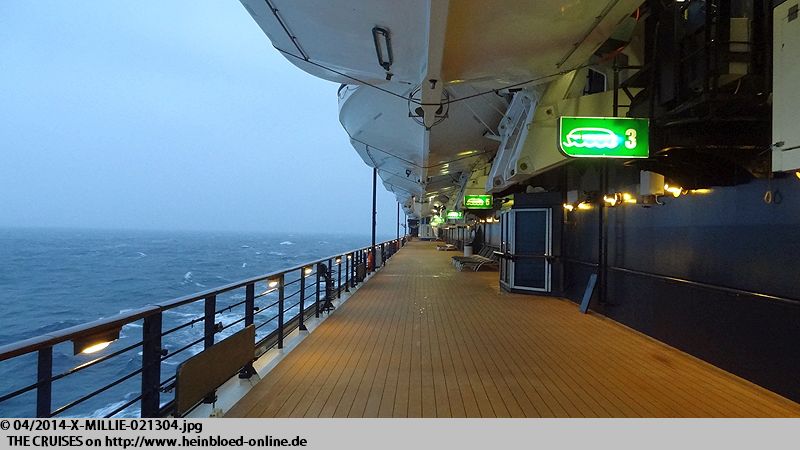 Nur leider kann man nicht rund herum laufen.
Schade.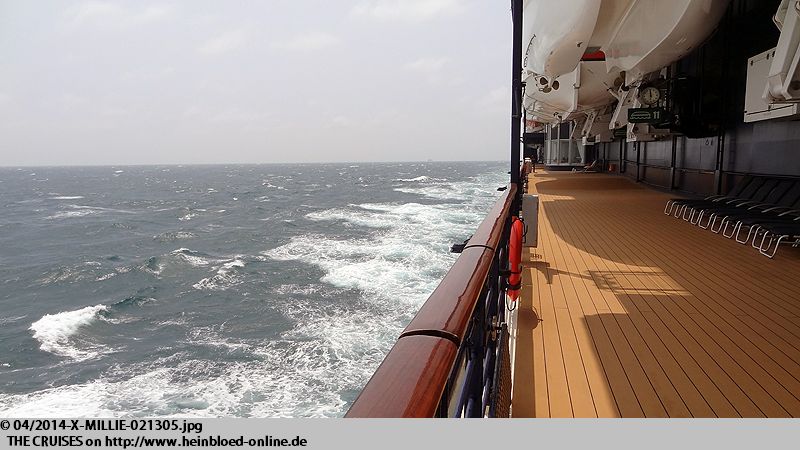 So sad.

The shopping options were placed into The Emporium. A small outlet you can also find in the spa-area. Even the sale of future cruises was integrated. With a lot of effort: 3 salesagent were stand-by to sell. What I could see so far: they moved away from the cheap-stuff like jewelry for 10 USD. But they also stop you walking to advertise their draw or promos you should join.

Die Einkaufsmöglichkeiten sind bei The Emporium zusammengefasst. Eine kleine Auslagerung gibt es aber noch im Spa-Bereich. Sogar der Verkauf zukünfiger Kreuzfahrten ist hier angesiedelt. Mit einem sehr hohem Aufwand: 3 Verkäufer stehen hierfür bereit. Was grundsätzlich auffällt: es geht wohl wieder weg vom Billig-Ramsch wie Schmuck für 10 USD. Leider wird man auch sehr aktiv angehalten und aufgefordert, an Gewinnspielen teilzunehmen.
Direkt darunter ist das Fotostudio angesiedelt.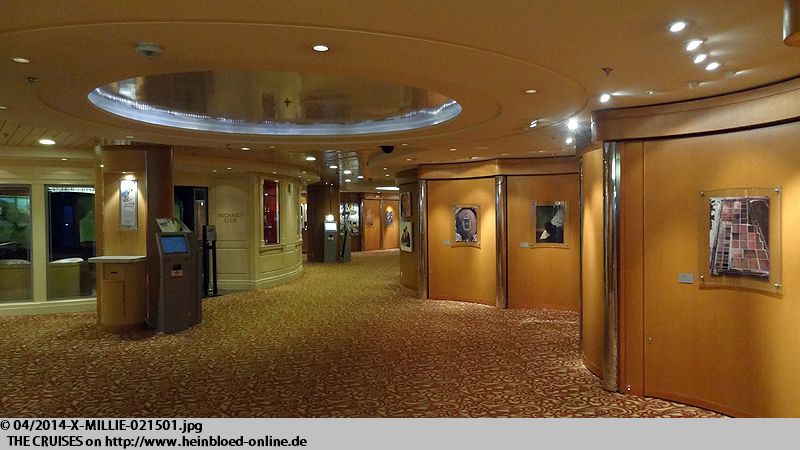 Just below you find the photo studio.

When they took pictures of us during embarkation they registered our cards. On CELEBRITY EQUINOX we could find our pictures on our TV-screen in our cabin. Here it was only possible at these kiosks.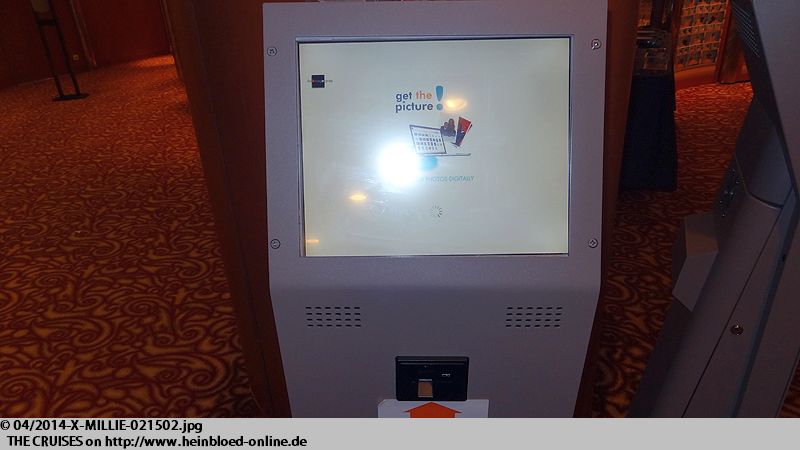 Bei der Einschiffung wurden wir fotografiert und die Karten eingelesen. Auf der CELEBRITY EQUINOX konnten wir uns dann die Bilder auf dem Fernseher in der Kabine ansehen. Hier geht es nur an diesen Kiosken.
Einmal haben wir es geschafft, uns sie hier anzusehen. Entweder funktionierte der Kiosk nicht oder meine Karte. Die Bilder überzeugten leider nicht. Es gab vier Aufnahmen von der Einschiffung und alle vier sind besch... Keines kann man für den weiteren Gebrauch nutzen - Schade.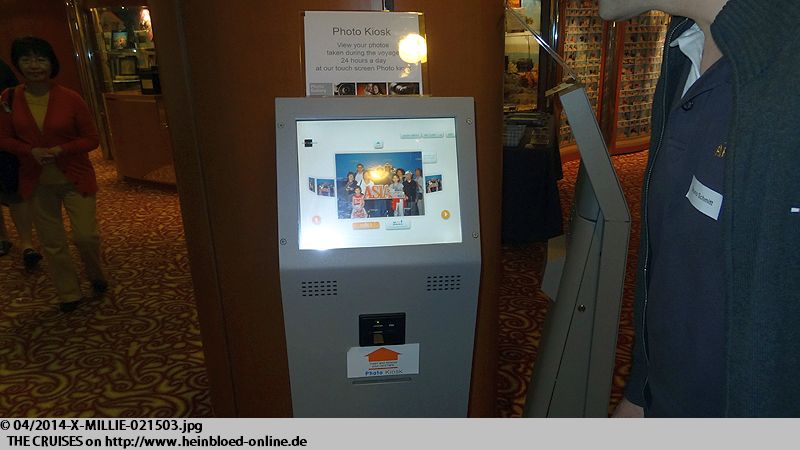 One time we made it to see them here. Before it was the kiosk did not work or my card did not work. The pictures could not convince us. They took four pictures of the embarkation and all four were just sh... None you could really use for further applications - too sad.

Sad too - a place you will not have anymore in near future: Michael's Club. Very soon it will become the new Suite Lounge for suite-guests. I found it very comfortable and a place I will miss in future.

Schade - ein Ort, den es bald nicht mehr geben wird: Michael's Club. Sehr bald wird das die neue Suite Lounge für Suite-Gäste. Es ist ein sehr gemütlicher Ort, den ich vermissen würde.
Einmal quer durch das Casino Fortunes. Ausnahmsweise mal keine Domäne für Raucher wie auf anderen Schiffen. Vielleicht sitzen sie doch in einer Ecke, die ich nicht sehe.

Crossing the Fortunes Casino. By exception no real place for smokers like on other ships. Maybe they sit in a corner I could not see.

I was heading to the Martini Bar / Crush.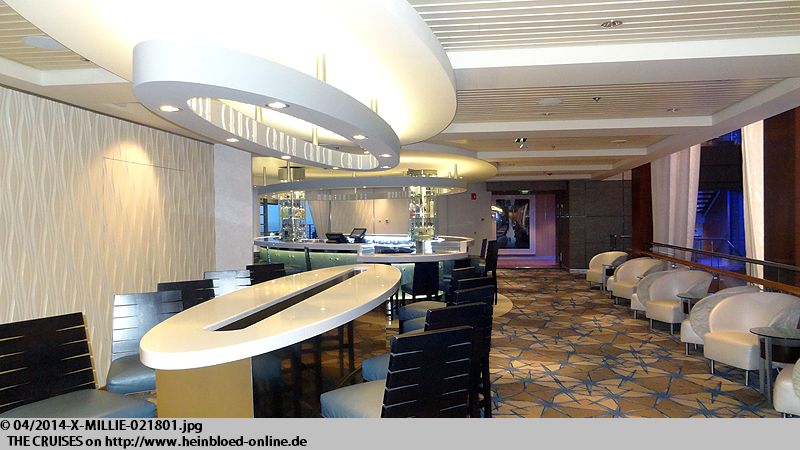 Weiter zur Martini Bar / Crush.
Als ich Tage später gerne etwas trinken wollte, bat ich um die Getränkekarte. Hier standen keine alkoholfreien Cocktails. Als ich nachgefragt habe, bekam ich als Antwort: "Wir sind die Signature Bar - Hier können Sie gerne eine Cola bekommen..."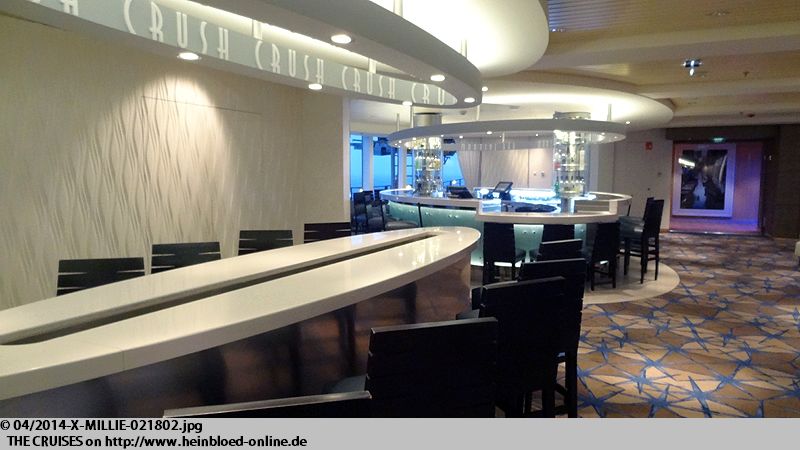 Few days later when I wanted to have something to drink, I asked for the bar menu. No non-alcohol cocktails were listed. When I asked for my options I got following answer: "We are the signature bar - you could have a Coke if you like..."

Well, they were so much "signature" that they did not see any need to clean the tables.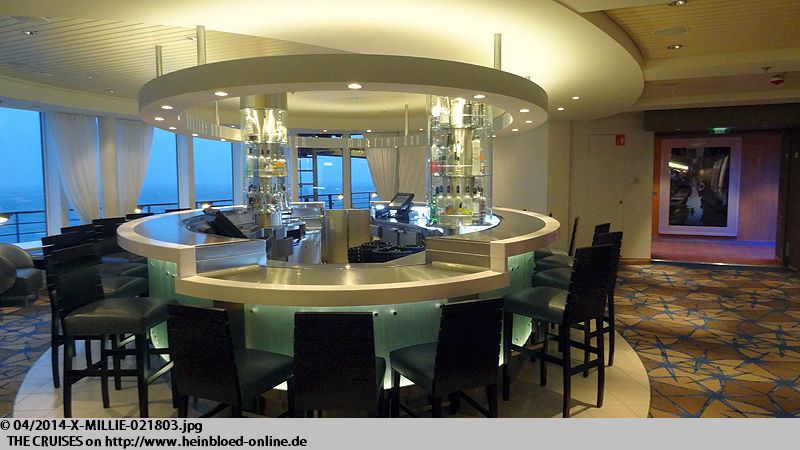 Sie waren so "Signature", dass sie es nicht für nötig hielten die Tische abzuwischen.
Und dabei haben wir den Norovirus-Alarm an Bord...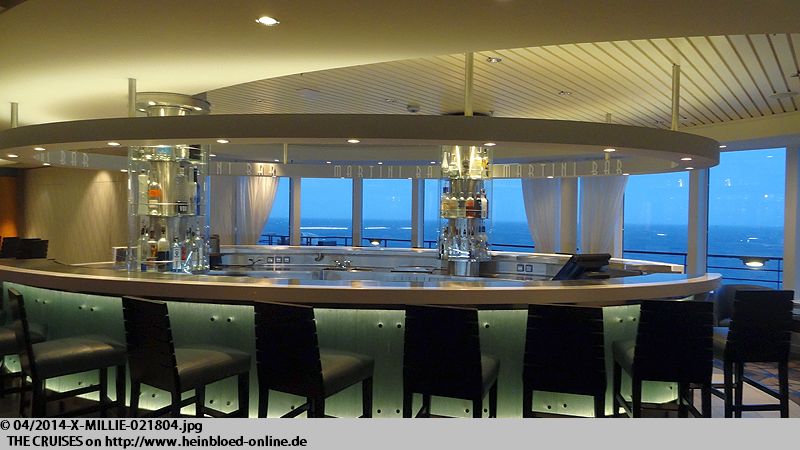 But we had the norovirus alert on board...

I had luck as the next bar was following: Rendezvous-Bar.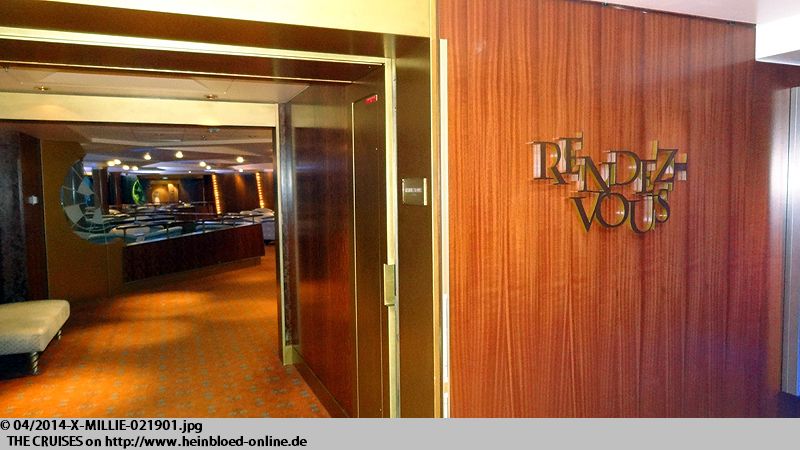 Zum Glück gab es aber direkt weiter ein paar Meter die Rendezvous-Bar.
Vielleicht lag es ja auch am Getränkepaket-Sticker, dass die Bereitschaft für den Gast einen Cocktail von einer anderen Bar zu besorgen besonders niedrig war.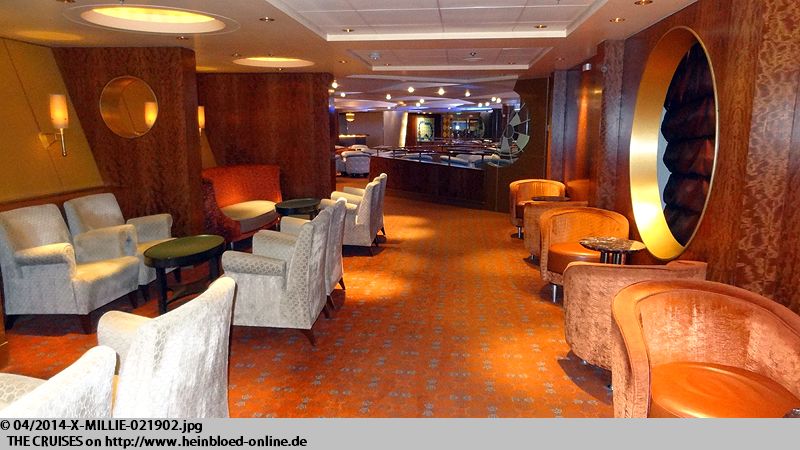 Maybe it was because of the beverage-sticker their motivation to get you another cocktail from a different bar was extremely low.

With Norwegian (but they play in a total different league) it was never a problem to ask for a cocktail which was not on the menu.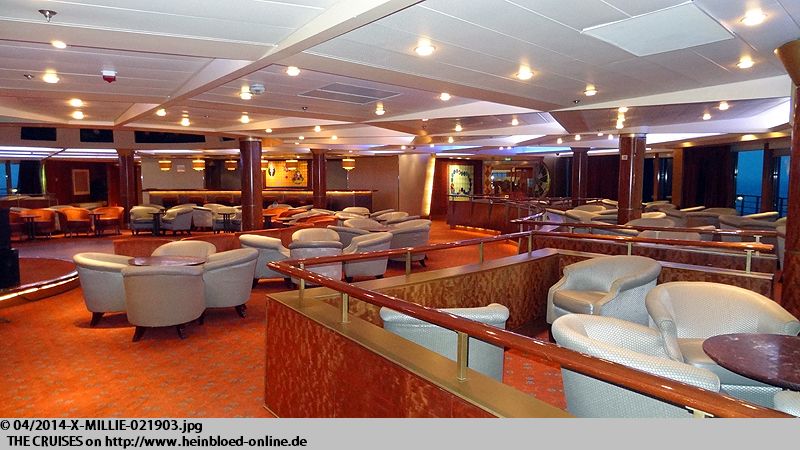 Bei Norwegian (und sie spielen nicht in der gleichen Liga) ist es nie ein Problem, wenn ich einen Cocktail will, der nicht auf der Karte steht.
Entweder er wird hier gemacht oder sie holen ihn von einer anderen Bar. Aber anscheinend arbeiten sie hier bei Celebrity nicht für Trinkgeld...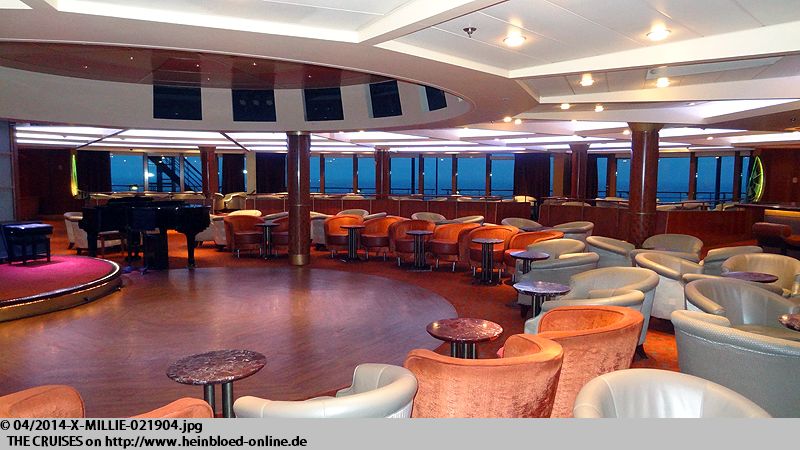 They could make it there or they just get it from another bar. But obviously they do not work for tips with Celebrity...