Scroll down for English explanations - alternates with German explanations.

Selbst wenn man keine Tour machen möchte: Es gibt wohl einen HoHo-Bus in Busan:
Busan City Tour

Even you do not like to make a tour. They had an HoHo-Bus in Busan: Busan City Tour

But first you need to get to the train station. From here they start in two loops.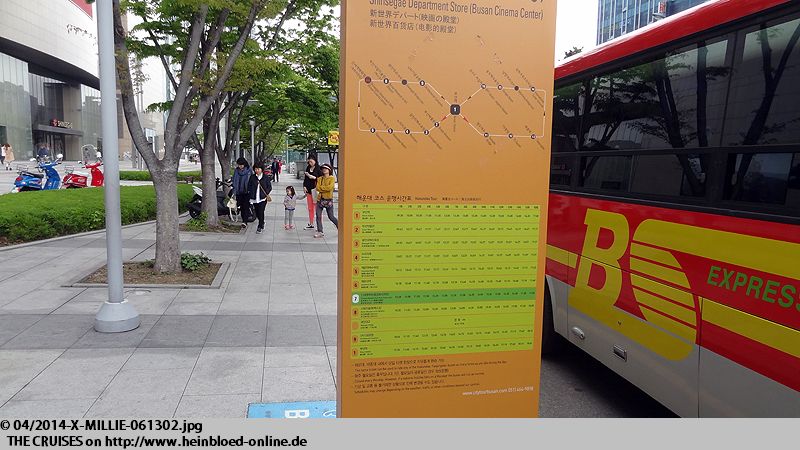 Man muss allerdings erst zum Bahnhof kommen. Von hier starten zwei Runden.
Es geht weiter Richtung Busan Tower. Wegen einer Veranstaltung dürfen wir allerdings nicht direkt mit dem Bus vorfahren, sondern müssen erst noch ein Stück laufen.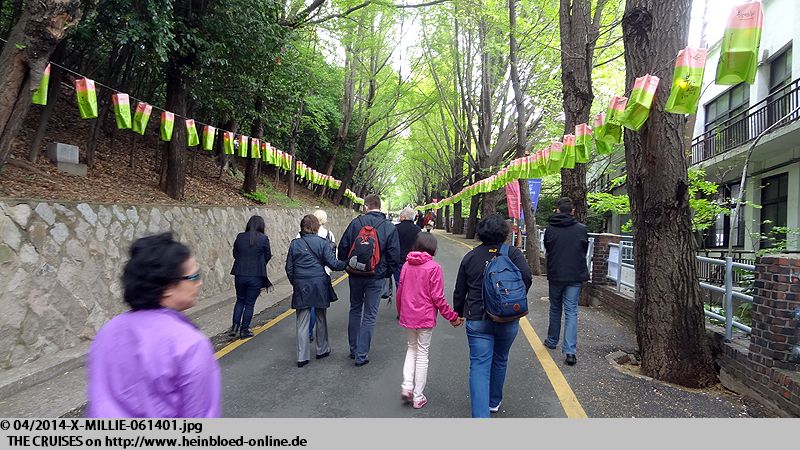 We headed to the Busan Tower. Due to an event we were not allowed to get there directly with our bus but need to was a certain distance.

They were preparing the Busan Lotus Lantern Festival which is celebrated every two years.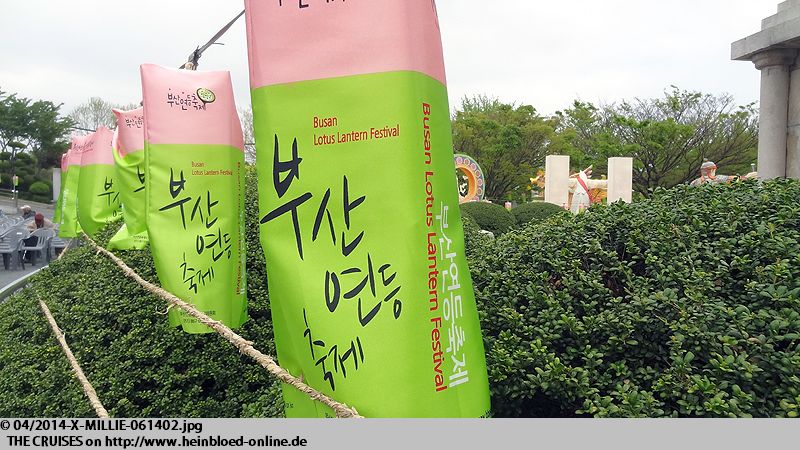 Es laufen die Vorbereitungen zum Busan Lotus Lantern Festival, das alle zwei Jahre stattfindet.
Alles ist aufgebaut. Leider ist die Mühe umsonst. Wegen des schweren Fährunglücks in Korea wurde die Veranstaltung dann kurzfristig abgesagt. Schade: das hätte bestimmt toll ausgesehen, wenn die ganzen Laternen von innen beleuchtet worden wären. Wir sind auf jeden ganz begeistert.

Everything was installed. But fortunately they worked for nothing. Due to the bad ferry accident in Korea the event was cancelled short-notice. So sad: I am sure that it looks very nice if all those lantern would be illuminated inside. Anyhow we were very exited.

We still wanted to see the Busan Tower in the Yosungdan Park.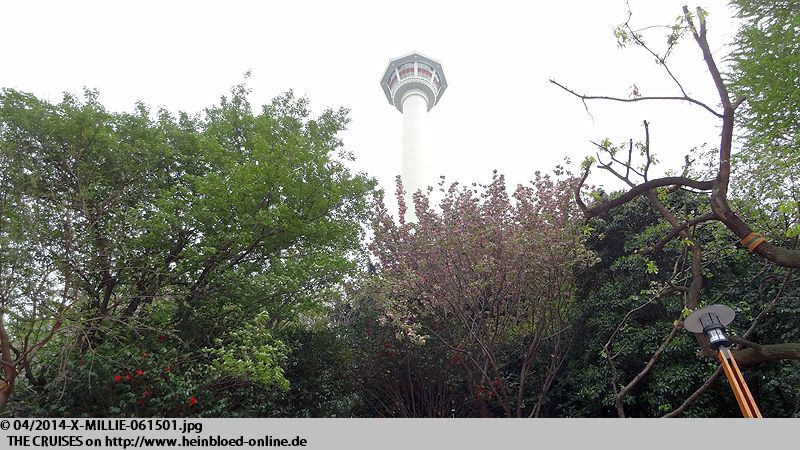 Wir wollen noch auf den
Busan Tower
im
Yosungdan Park
.
Die Laternen führen uns zum Busan Tower. Im Yosungdan Park ist es auch ohne Laternen attraktiv: z. B. die Blumenuhr und andere Skulpturen.

The lantern took us to the Busan Tower. But the Yosungdan Park would be even nice without the lantern: like the flower clock and other sculptures.

Finally we arrived at the entrance.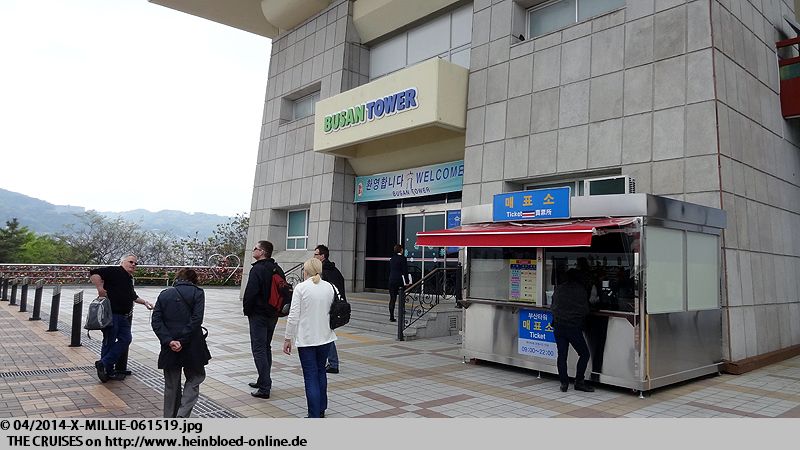 Endlich sind wir am Eingang angekommen.
Bis 22.00 Uhr haben sie geöffnet. Schade, dass wir bereits so früh wieder an Bord sein müssen. Wenn man von oben die beleuchteten Laternen sehen kann, wird es bestimmt richtig schön.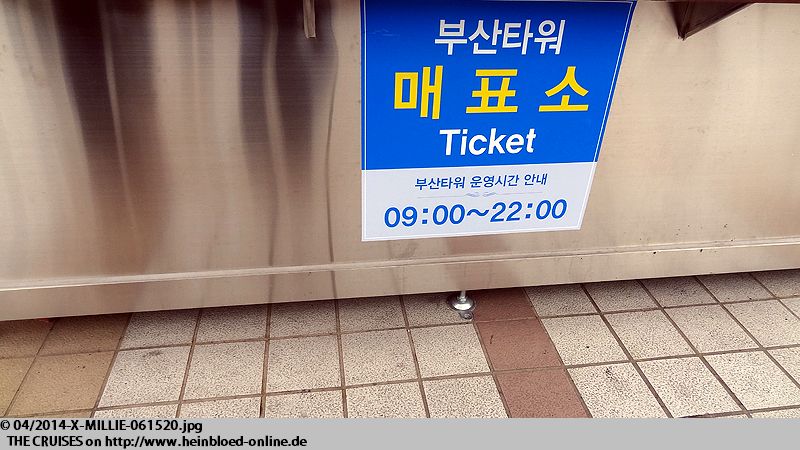 They are open until 22.00 hrs. So sad that we need to be back onboard so early. Watching the illuminated lanterns from here must be very magnificant.

Our tour-guide gave us our tickets.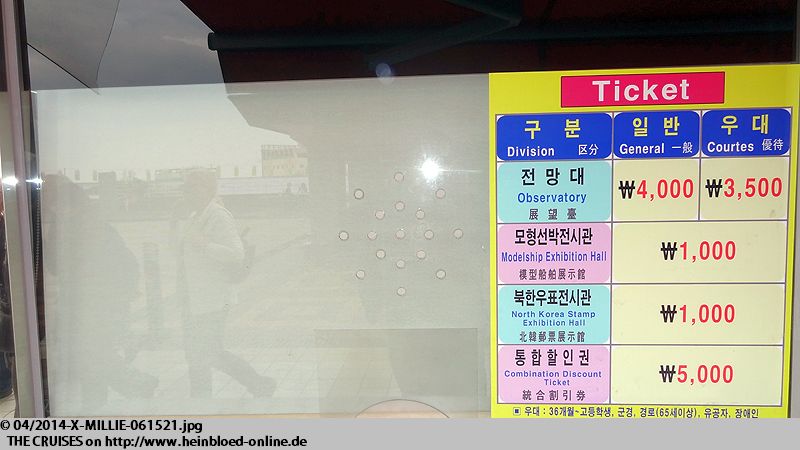 Unsere Fremdenführerin besorgt uns die Karten.
Nun geht es rauf zum Rundumblick über Busan. Oben wird auch das neue Kreuzfahrtterminalprojekt vorgestellt, wobei so große Schiffe, wie die DIAMOND/SAPPHIRE PRINCESS dürfen gar nicht am neuen Kreuzfahrtterminal anlegen, erklärt man uns. Unser Schiff sieht man von hier oben leider nicht.

We went up for the all around view over Busan. There above they also presented the new cruise terminal project although large ships like DIAMOND/SAPPHIRE PRINCESS may not call the new cruise terminal we were told. From here we had no chance to see our ship.

The Germans took rank 14 of the visitors of the Busan Tower.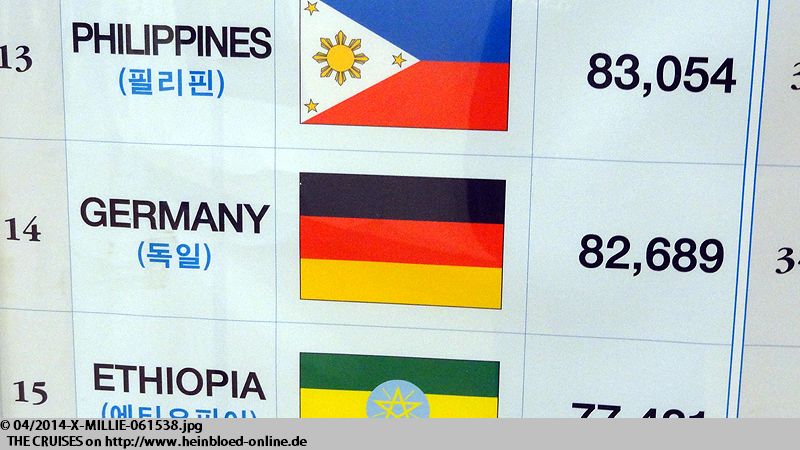 Die Deutschen nehmen Platz 14 der Besucher hier auf dem Busan Tower ein.
Zwei Fragen blieben jedoch unbeantwortet: 1. Was macht die TITANIC in Busan?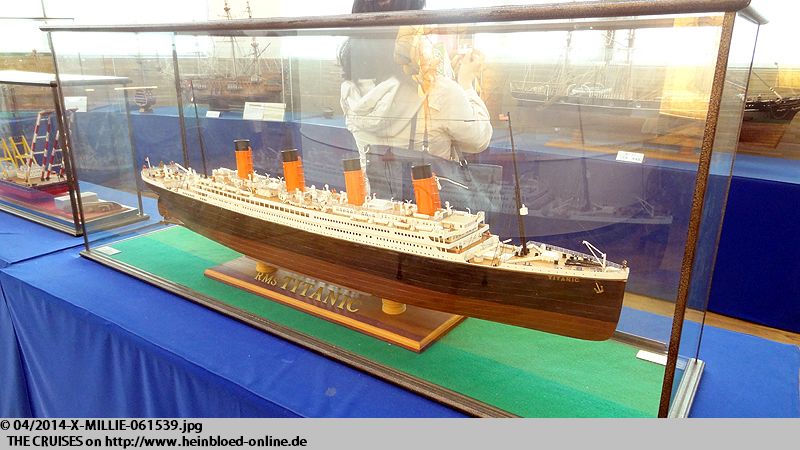 Two questions were still open: 1. What was TITANIC doing in Busan?

2. Who placed the ball into the dragon's claws?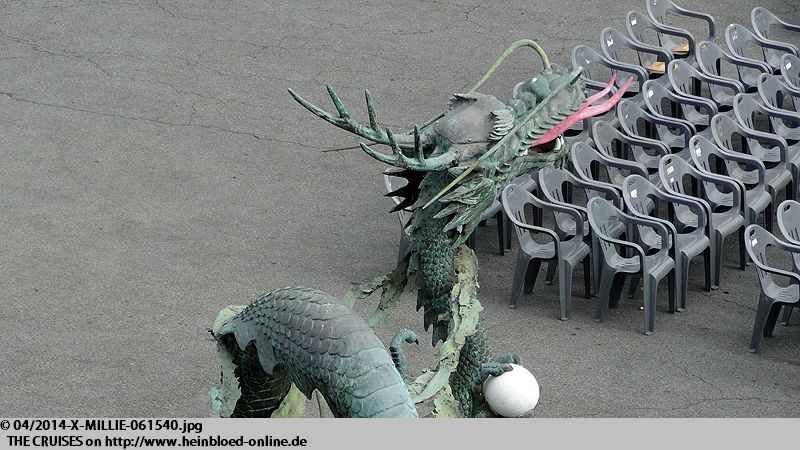 2. Wer hat diesem Drachen den Ball in die Krallen gelegt?
Ich muss unbedingt etwas trinken. Aber leider habe ich das Wort Mojito überlesen... Da wird doch nicht etwa tatsächlich Rum dringewesen sein...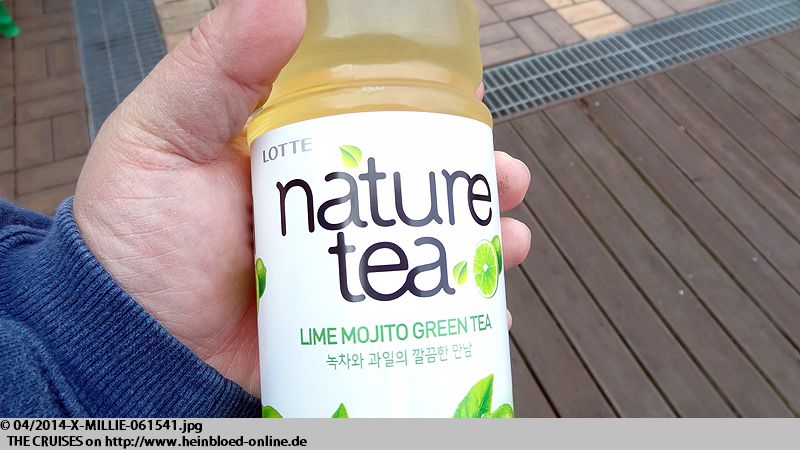 I need to drink something. But unfortunately I overread the word Mojito... I did not hope that any rum was inside in reality...

A very theme to a picture of.

Ein schönes Motiv zum fotografieren.
Es geht weiter. Zufällig an der Katholischen Kathedrale Junsang geht es vorbei.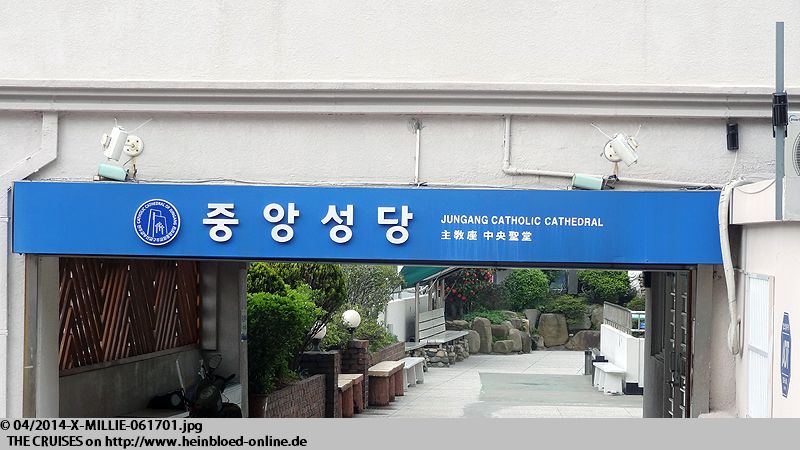 We were continuing. By coincidence we passed the Catholic Cathedrale Jungang.

If you are grown up next to the Cologne Cathedrale in Germany than you normally have a different picture of a cathedrale building in your mind.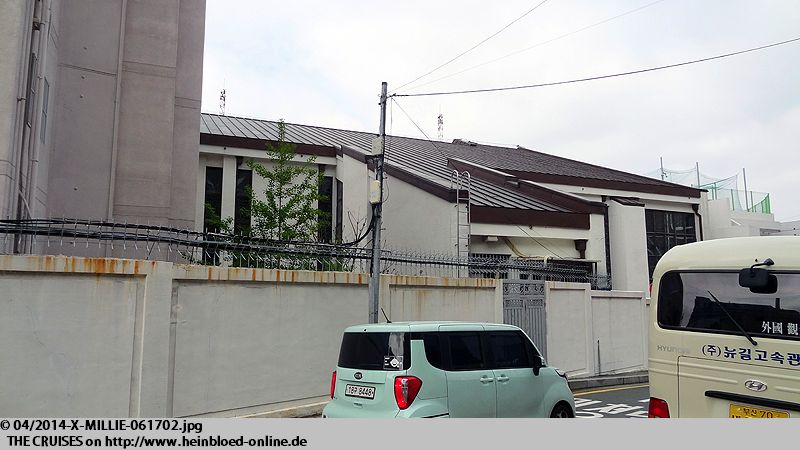 Wenn man so fast neben dem Kölner Dom aufgewachsen ist, dann hat man in der Regel eine andere Vorstellung von dem Bauwerk einer Kathedrale.
Es geht in die Innenstadt von Busan. Vor einem Laden mit Hundebabies werden wir abgesetzt.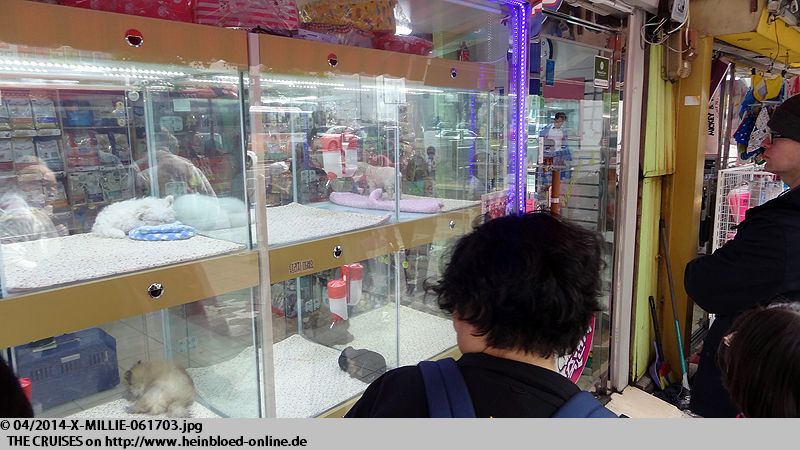 We went to the downtown area of Busan. In front of a store with dog puppies we were dropped off.

Of course everyone had to look.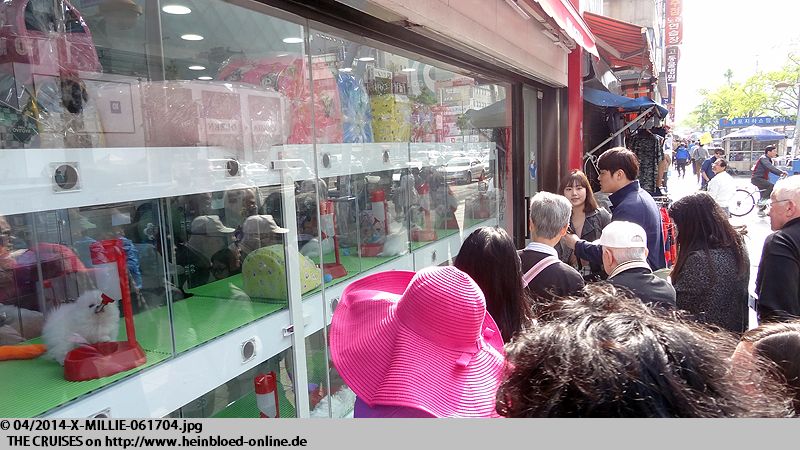 Da muss natürlich jeder von uns gucken.
Und dann geht es um die Ecke.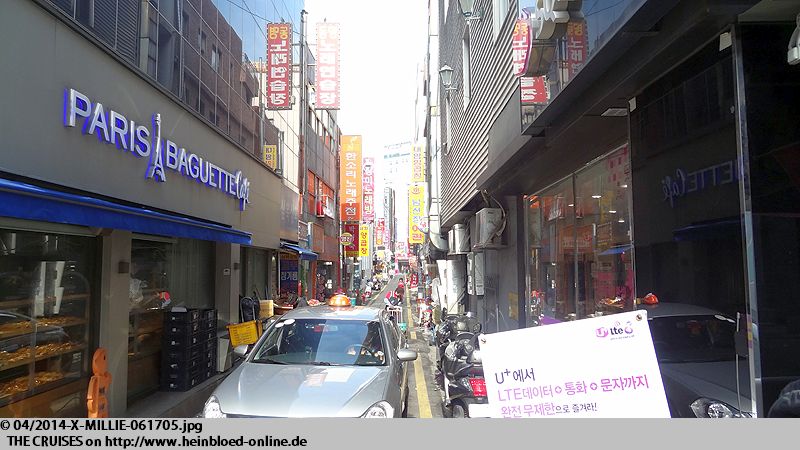 And then we went around the corner.

We went to the second largest fish market in the world after Tokyo, Japan: Jagalchi. The street dealers were part of the market. Here they had my most hated seafood: See cumumber.

Es geht zum zweitgrößten Fischmarkt der Welt nach Tokio:
Jagalchi
. Ein Teil des Marktes findet auf den Straßen statt. Hier gibt sogar die von mir verhassten Seegurken.
Danach geht es in die Halle. Ein Ort an dem jede Kreuzfahrtgesellschaft, die etwas auf sich hält, frisch beschaffen sollte, wenn sie Busan anläuft. Das würde Eindruck hinterlassen und ich würde sogar mal Fisch essen, wenn ich wüsste, dass er von hier kommt, so lecker, wie alles präsentiert wird.

Later we went to the hall. A place where purchase is a commitment for every cruise line who calls Busan and who thinks they have a certain higher reputation. That would impress every one and I even I would eat fish if I would know that it is from here. It looked so yummy the way they presented it.

When we were back at the fresh air we got further explanations. They had more but just fish on the fish market.

An der frischen Luft bekommen wir weitere Erklärungen. Es gibt nicht nur Fisch auf dem Fischmarkt.
Da ich ja keine mehr Schneidefolie habe, versuche ich erfolglos und verzweifelt einen Mobilfunkgeschäft zu finden, das eine Stanze für eine nano-SIM hat. Aber man merkt, dass man in Korea mehr SAMSUNG-getrieben ist und daher nano-SIM-Karten für ein iPhone eher verpönt sind und keiner helfen kann. Derweil sind die anderen auf dem Gukje Internationalen Markt, auf dem es einfach alles gibt... vielleicht sogar eine Stanze für die nano-SIM-Karte...

As I had no cutting foil anymore I tried without success and very desperated to find a mobile phone store who had a cutter for a nano-SIM-card. But you can easily feel that Korea is more SAMSUNG-driven and none was very much interested in a nano-SIM-card which is for an iPhone. So none was able to help. Meanwhile the others went to teh Gukje International Market where you can get everything... maybe also a cutter for a nano-SIM-card...

Nutella...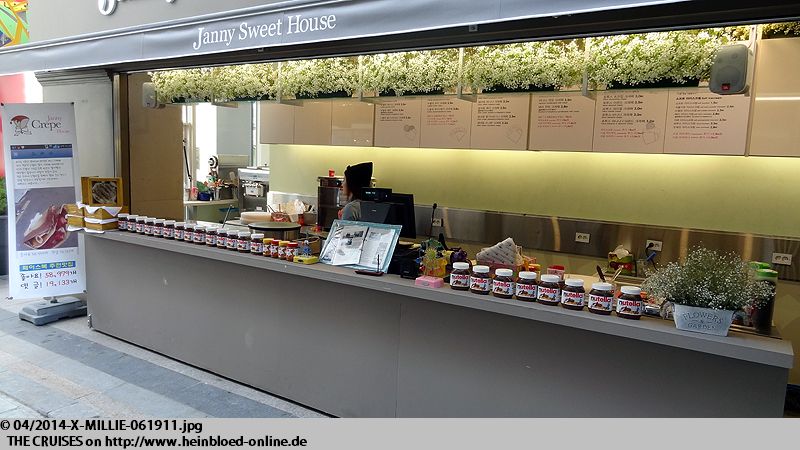 Nutella...
Ob wir hier ein Glas kaufen sollten, um es dem Schiff wiederzugeben?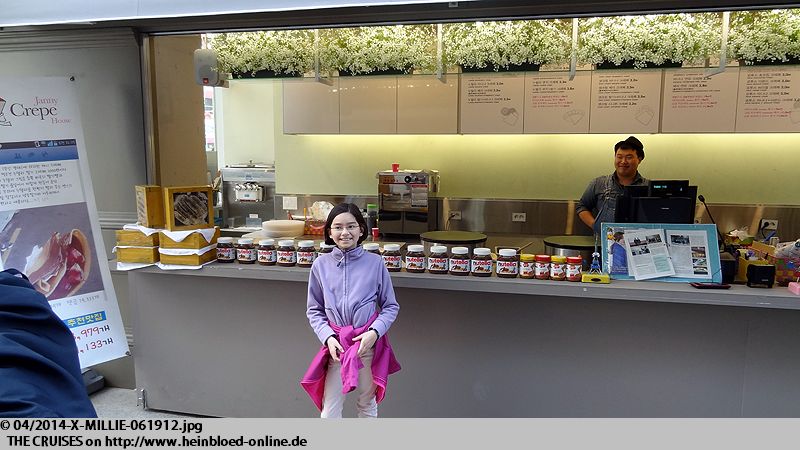 Should we buy here a glass and return it to the ship?

Anyhow we had to make a souvenir picture for Friederike.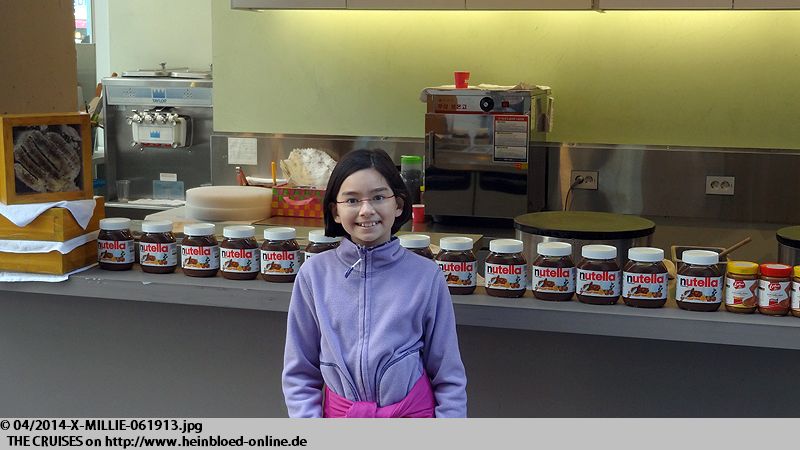 Auf jeden Fall gibt es ein Erinnerungsfoto für Friederike.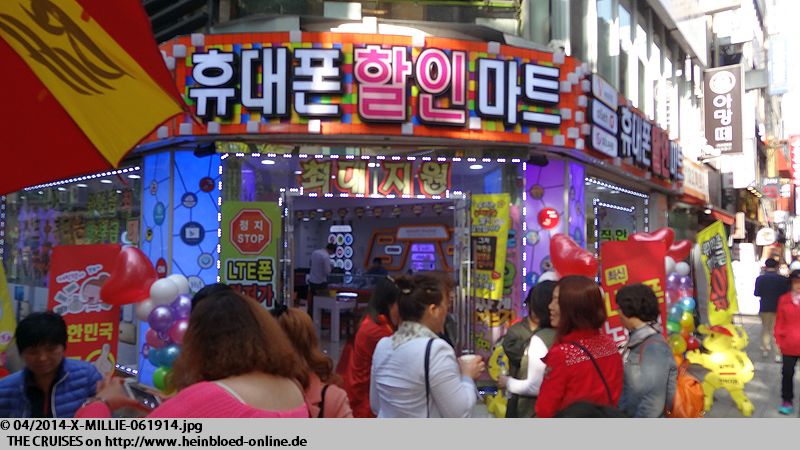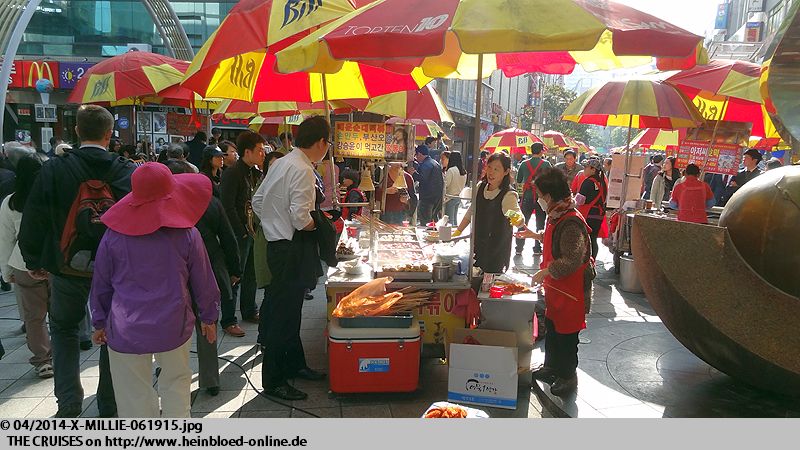 Hier gibt es allerdings Essen aus aller Welt und die Schlangen waren endlos, wie Bruno meinte. Und er sagte, dass alles richtig toll duftete.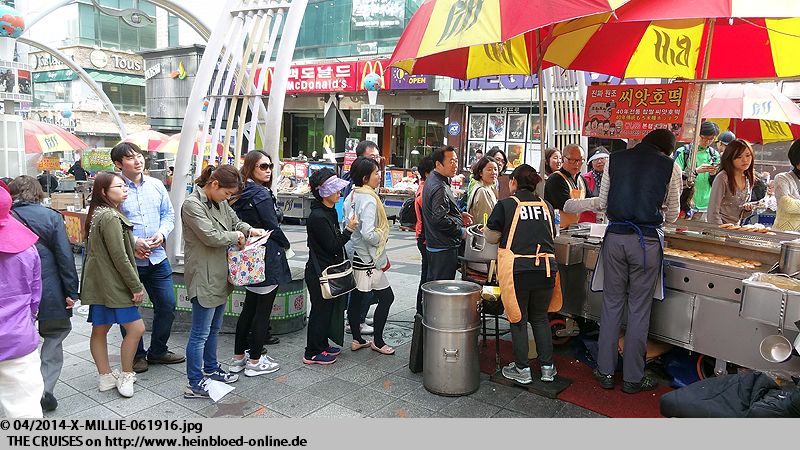 Here they had food from all over the world and queues were long, Bruno said. And he said also it was smelling so good.

For those who did not book a tour: the Port Authorities supplies a shuttle bus service. A very nice way to be taken to the bus.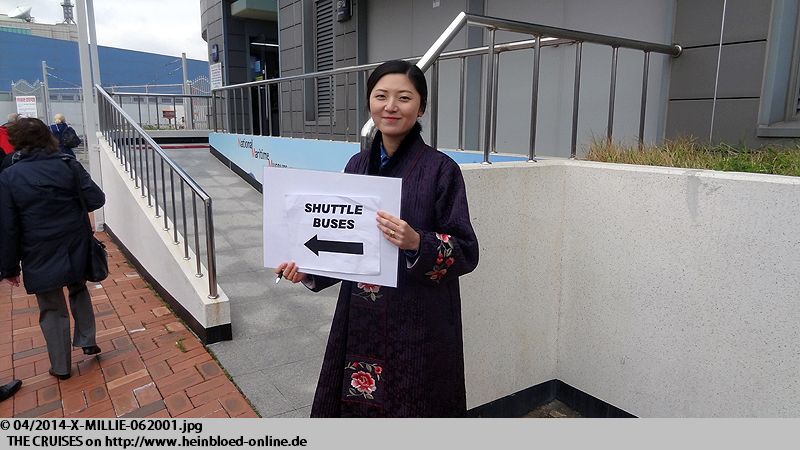 Für diejenigen, die keine Tour gebucht haben: Die Hafenbehörden stellen einen Shuttle-Bus-Service. Man wird so nett zum Bus geführt.
Auch er startet am Busparkplatz am Cruise Terminal.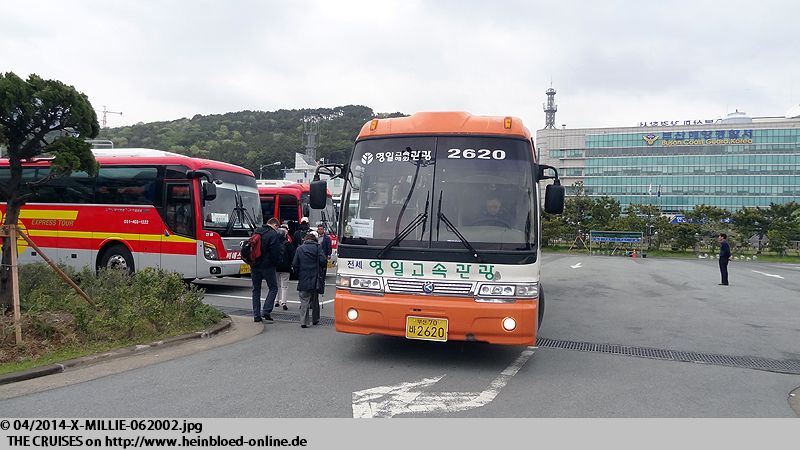 It was starting as well from the bus parking at the cruise terminal.

And bus took you directly to the tourism zone.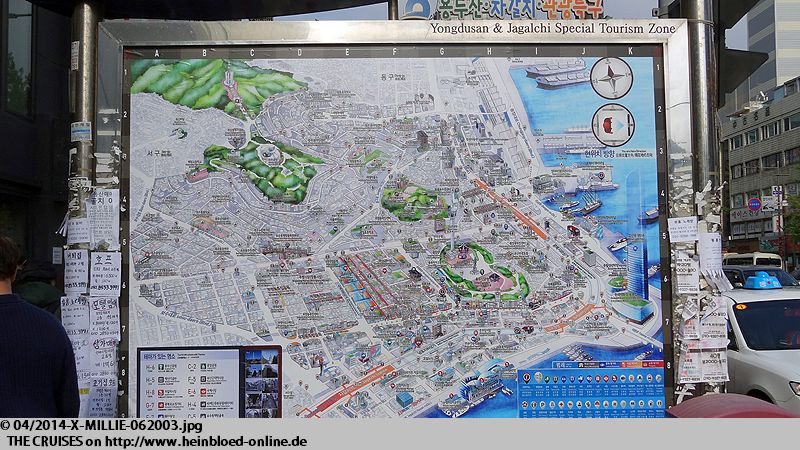 Der Bus bringt einem direkt ins Touristenviertel.
Die Einsteigehaltestelle erkennt man ganz einfach... die einzige Schlange...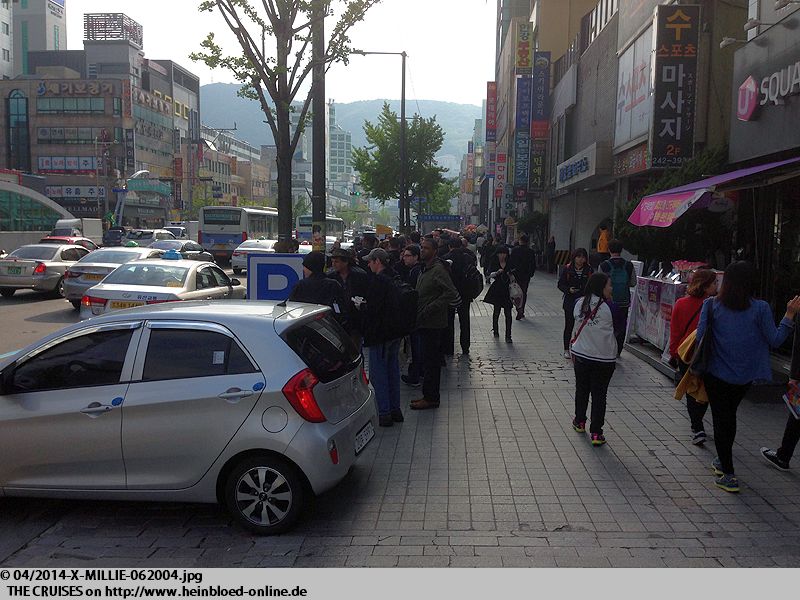 It was very easy to identify the boarding point... just find the only and single queue...

Just in front of the Phoenix Hotel. Here you find a location map.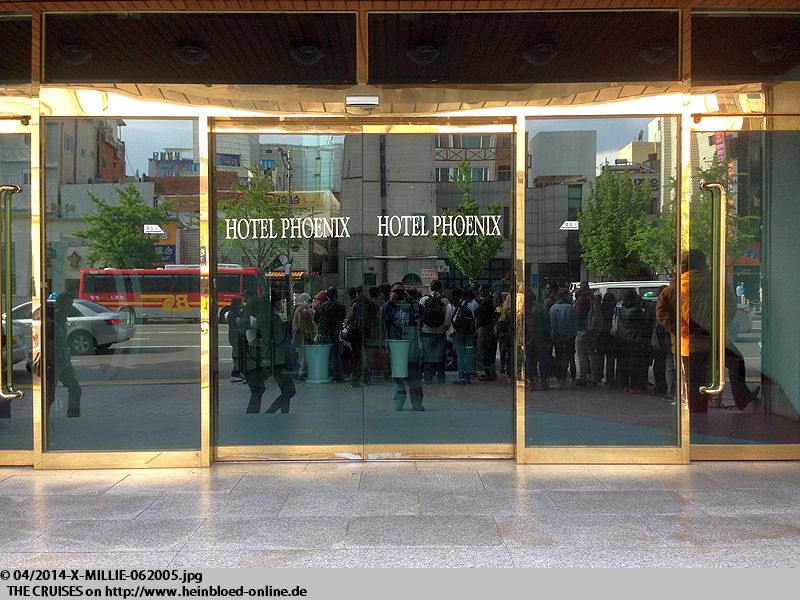 Direkt vor dem Hotel Phoenix. Hier ist der
Lageplan
.
Hier ist man richtig.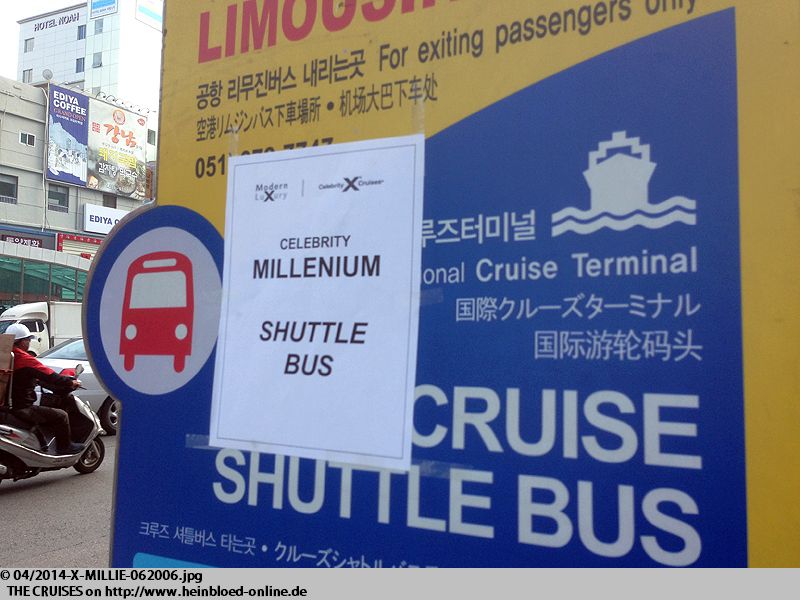 Here you were right.

Just opposite my bus was waiting. But in the queue I could not identify anyone who I knew.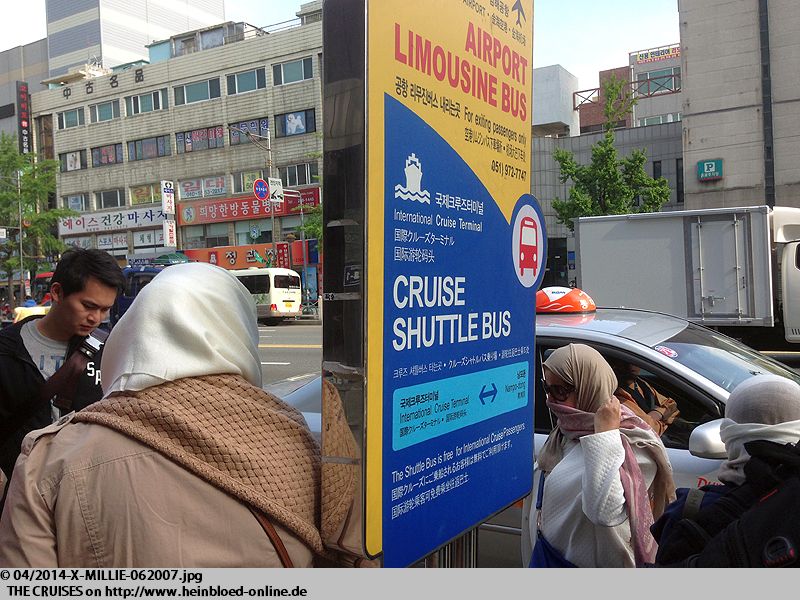 Direkt gegenüber steht ja mein Bus. Aber es war niemand in der Schlange, den ich kannte.
Und ich wollte mal sehen, was eigentlich nach 16.00 Uhr passiert. Demnach fährt der letzte Shuttle um 16.00 Uhr... Ob noch etwas kommt, weiss ich nicht, weil wir kurz nach 16.00 Uhr mit eigenem Bus losfahren.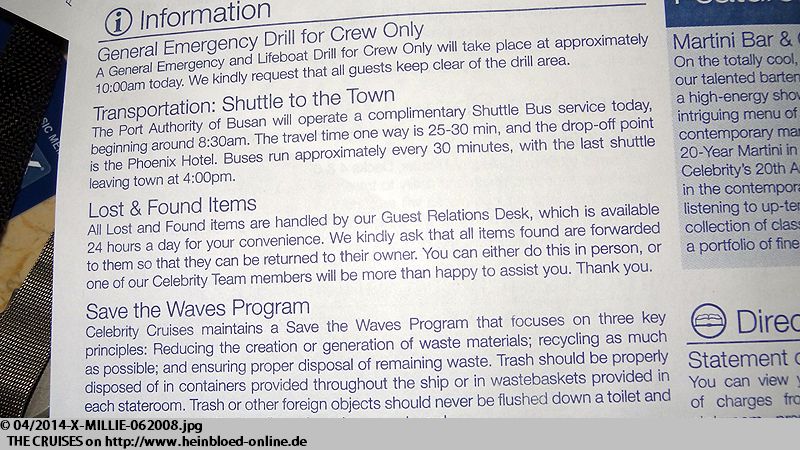 And I wanted to see what happened after 16.00 hrs. According to this the last bus would leave 16.00 hrs... No idea if any bus appeared later since we left just right after 16.00 hrs with our own bus.

With a very nice sunset we said good-bye to Busan.

Mit einem sehr schönen Sonnenuntergang verabschiede ich mich von Busan.

Unsere Wäsche ist zurück...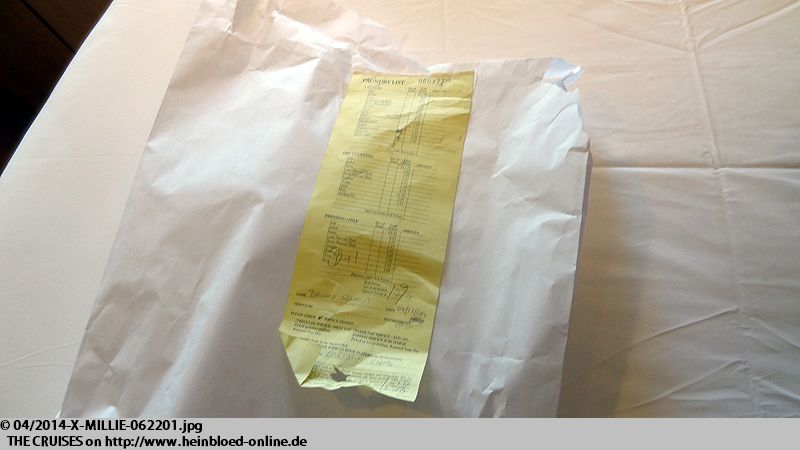 Our laundry was back.

Should not we use the back which we found from our voyage on CELEBRITY EQUINOX? It did not make any sense since no laundry back offer was available.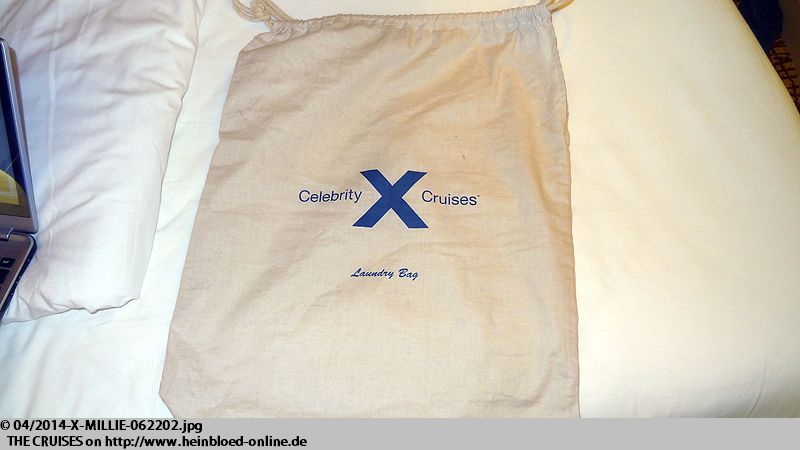 Hätten wir vielleicht diesen Sack nutzen sollen, den wir noch von unserer Reise auf der CELEBRITY EQUINOX wiedergefunden hatten? Aber es bringt wohl nichts, wenn es kein Wäschesackangebot gibt.
Das Abendessen verläuft unspektakulär. Nur die frittierte Hähnchenroulade von gestern, gibt es anscheinend heute wieder. Sieht zumindest genauso aus, wie das Hähnchen-Saltimbocca von gestern. Ob sie heute die andere Füllung mit der Pinzette rausgeholt haben und anderes reingepackt haben? Man versteht gar nicht meine Kritik, dass es zwei Tage lang hintereinander frittierte Hähnchenrouladen gibt. Schließlich hätte man 14 verschiedene Tagesmenüs, die ja so abwechslungsreich wären... Gut die Chance ist ja nur 1:13, dass es an zwei Tagen hintereinander frittierte Hähnchenroulade gibt. Und jemand hat die Aufgabe gut gelöst, wie man die 14 Tagesmenüs so zusammenstellt, dass sich alles möglichst schnell wiederholt. Und wie üblich keine Suppe hat es heiß zum Schiff geschafft.

No nice surprises with the dinner. Only the deep-fried chicken-roulade was again available that night. Looked exactly like the chicken-saltimbocca we had last night. Wondering they use any tweezers to get out the previous filling and replace it by a new one? They did not understand my complaint that you had two consecetive days a deep-fried chicken-roulade. They had 14 different menus which all were so diversified. And someone solved very well the order to place the 14 menus in an order that you have most quickly all repeats. And as usual no soup made it hot to the table.

Now I had to spend my concentration to my SIM-card.

Nun habe ich mich genauer mit der SIM-Karte befasst.
Warum habe ich eigentlich eine andere Nummer? Aber zum Glück sehe ich sie im Klartext auf meinem Mobiltelefon.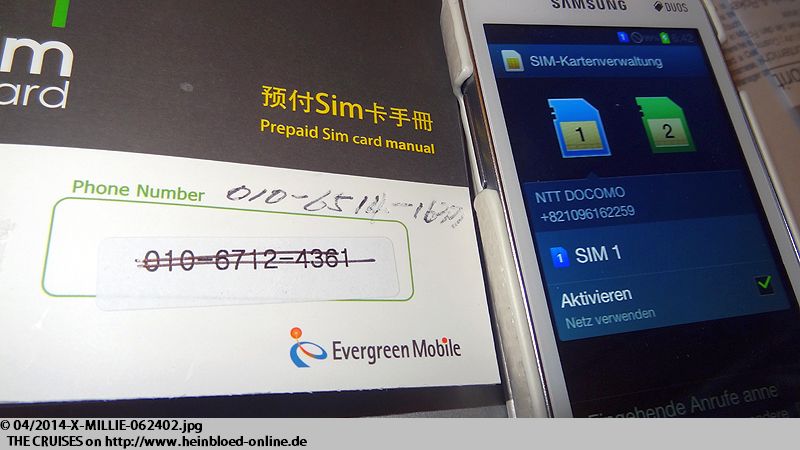 Why did I have a different number? But I had luck I could read all numbers of my mobile phone.

That was great: I could check on the internet my consumption.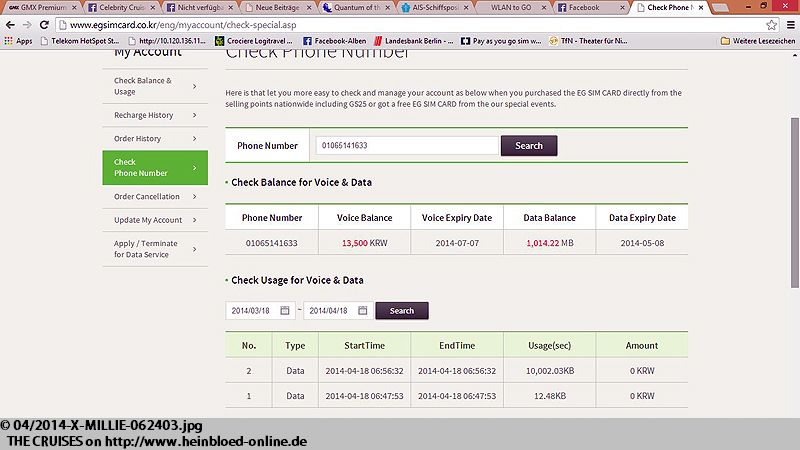 Und das war super: ich konnte im Internet meinen Verbrauch sehen.
Nun kann ich schon perfekt koreanisch: Diese Geste heißt in Korea: Nein - nein können nicht dabei helfen, aus der Standard-SIM-Karte eine nano SIM-Karte zu machen...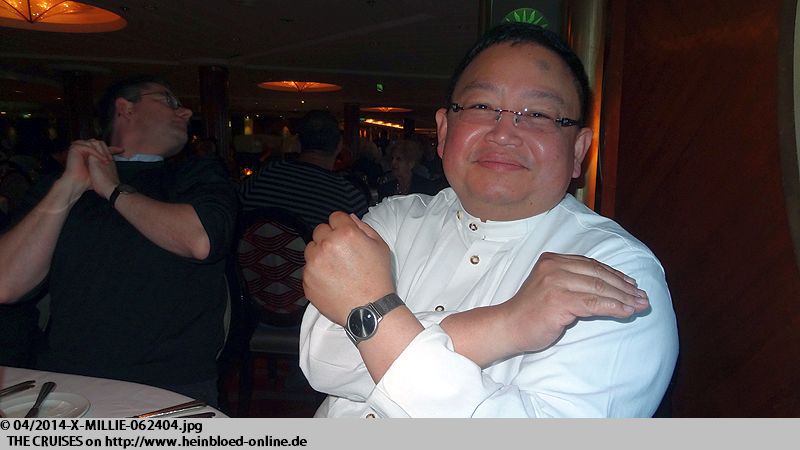 And I could perfectly communicate in Korean: This gesture mean in Korea: No - no we cannot help you to make a nano SIM-card out of your standard-SIM-card...

Well - an open heart-surgery... if I am unlucky I have no more use of this card the next day in Jeju...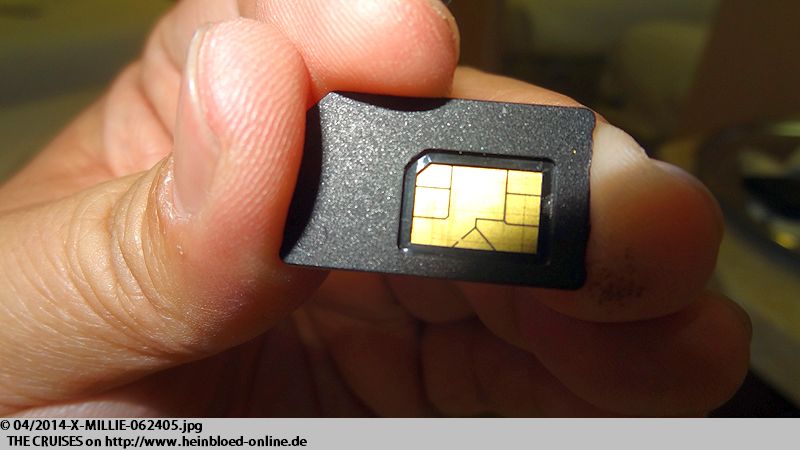 Na gut - Operation am offenen Herzen... wenn ich Pech habe, kann ich morgen die Karte in Jeju nicht mehr nutzen...
Aber ja... ich habe es geschafft... und so kann ich die Bilder für Facebook im koreanischen Mobilfunk übertragen.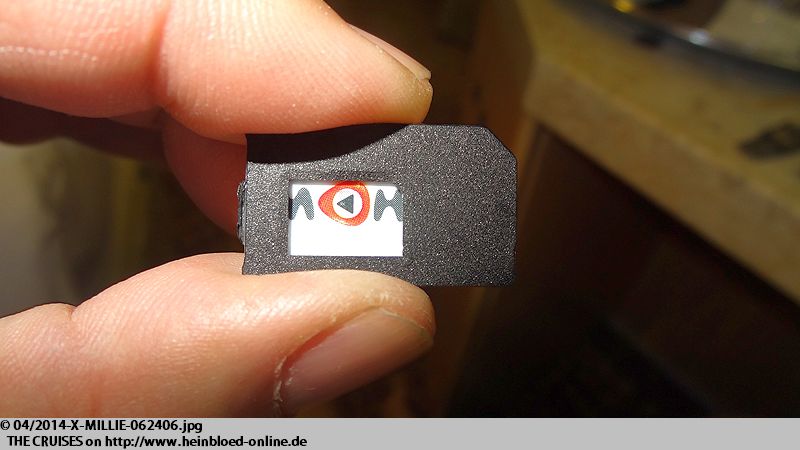 But yes... I made it... So I could upload my pictures on Facebook through the Korean mobile phone network.

Finally we got the daily programme for the next day on Jeju-Island, South Korea.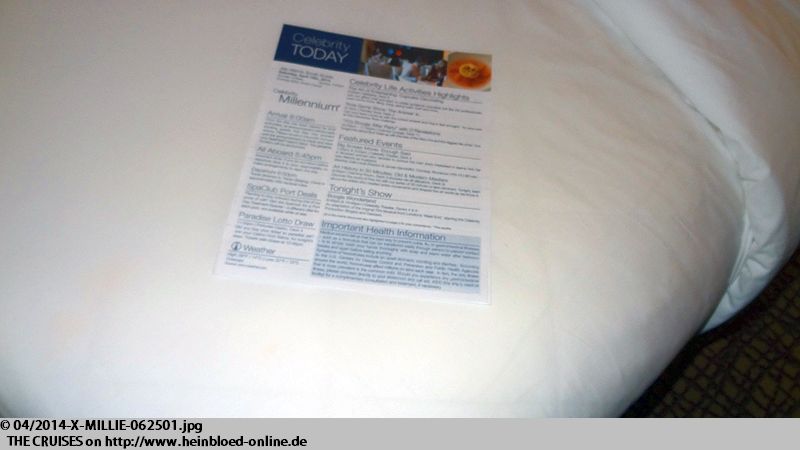 Zum Ende des Tages gibt es auch das Programm von morgen auf der Insel Jeju.