Scroll down for English explanations - alternates with German explanations.

Wir freuen uns mal wieder auf ein anderes Frühstück. Jeden Tag gibt es an Bord das gleiche. Aber leider ist es nicht ganz so toll wie im Inter-Continental in Hongkong.

We were glad to have a different breakfast. On board we got everyday the same. But it was not as great as we had in the Inter-Continental in Hong Kong.

Unfortunately it took a while to pay our breakfast. I said already in the restaurant that the bill was wrong. They did not correct it until we left. I told them that I would go immediately to the front desk to check out. When I arrived there they had nothing. And when they finally got they charged me the amount in Euro. I saw it in the last moment that the credit card reader showed something in Euro. So they had to cancel it and charge again in CNY. It took totally about 25 minutes.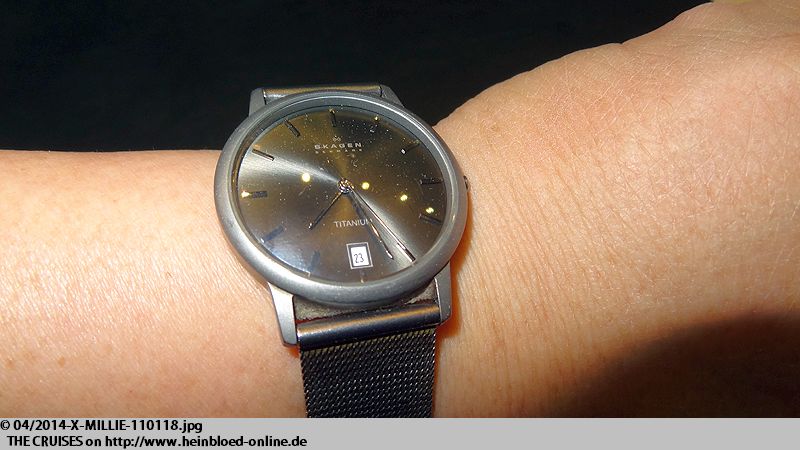 Leider dauert es sehr lange, bis dass ich unser Frühstück zahlen kann. Im Restaurant fiel mir schon auf, dass der Beleg falsch war. Er wurde nie korrigiert, bis dass wir gegangen sind. Dort hatte ich Bescheid gegeben, dass ich direkt zum Bezahlen an die Rezeption gehe. Dort lag nichts vor. Als es endlich vorlag, haben Sie mir einfach den Betrag in Euro abgerechnet. Das habe ich so im letzten Moment einen Euro-Betrag auf dem Kreditkartenterminal gesehen. Und da musste es wieder storniert werden und ich dann nochmals in CNY alles abrechnen lassen. Und das hatte dann 25 Minuten gedauert.
Am Platz des himmlichen Friedens (Tian An Men) erwartete uns ein Rollstuhl, den Hanna für uns organisiert hat.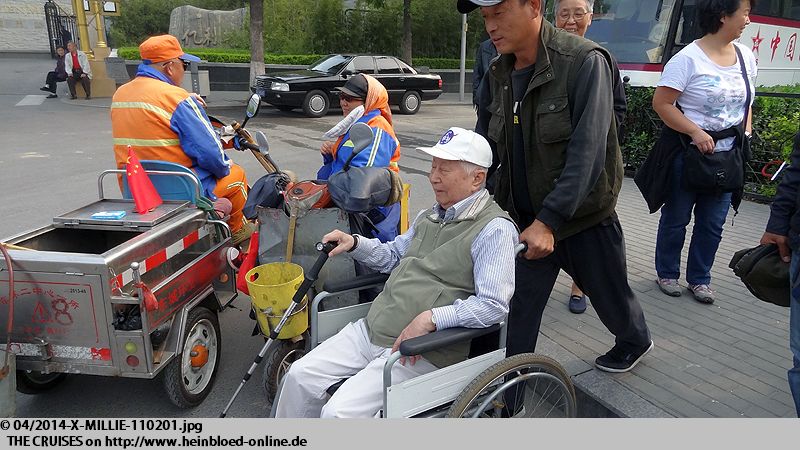 At the Tian An Men Square a wheelchair was waiting for us which Hanna got us.

Also our Paderborn friends Nicole, Jacqueline, Michelle and Uwe arrived there. You cannot get to their hotel by bus. Only problem: our bus stood in a no-parking-zone and could not wait any longer. So they need to get their bag into the bus but Hanna and Uwe made it very quickly.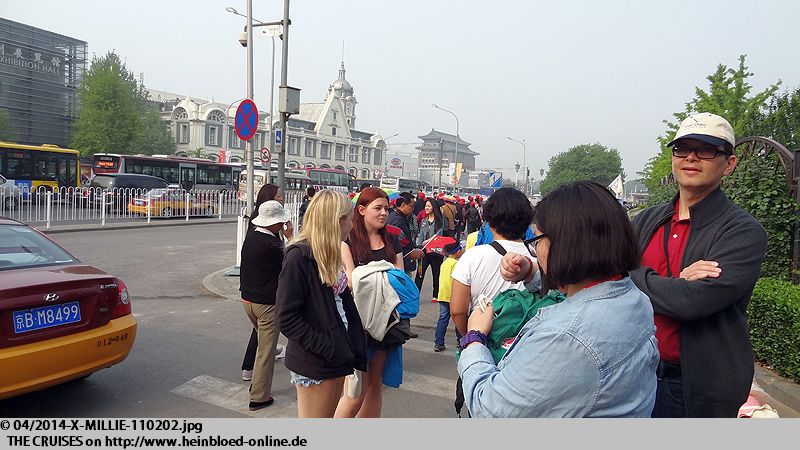 Auch unsere Paderborner Freunde Nicole, Jacqueline, Michelle und Uwe haben sich dort eingefunden. Ihr Hotel kann man nicht mit dem Bus erreichen. Einziges Problem: unser Bus stand im Halteverbot und konnte nicht warten. So müssen wir schnell noch das Gepäck zum Bus irgendwie bekommen, aber das schaffen Hanna und Uwe sehr schnell.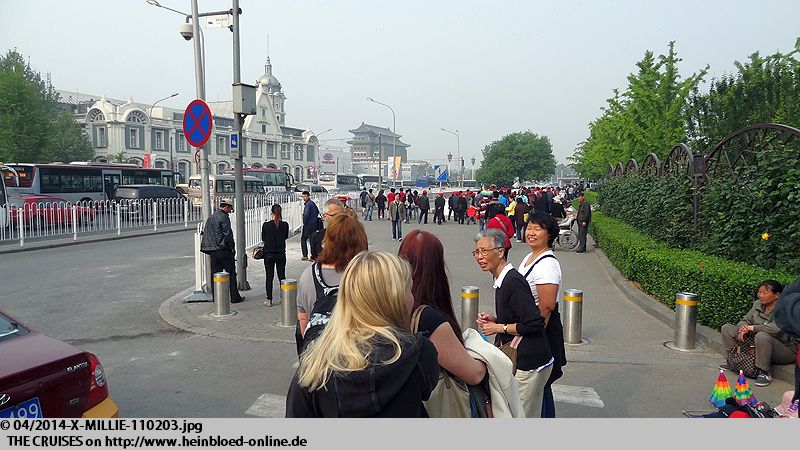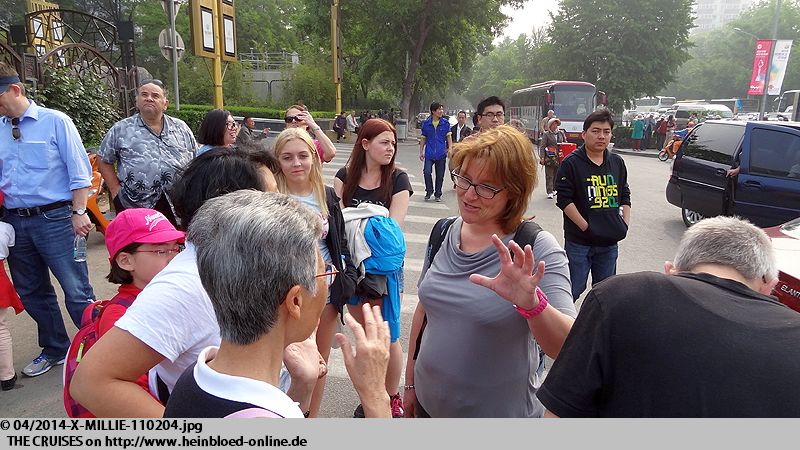 Vielleicht hätte ich doch lieber hier frühstücken sollen: Das duftet so richtig toll...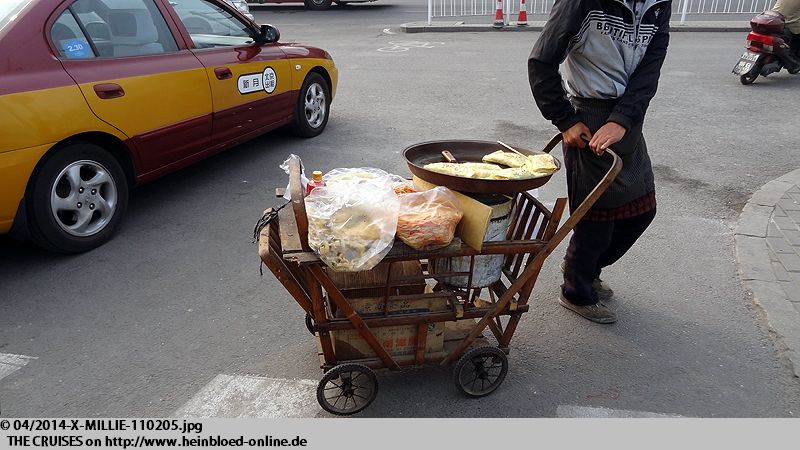 Maybe I should better have breakfast here: it was smelling so good...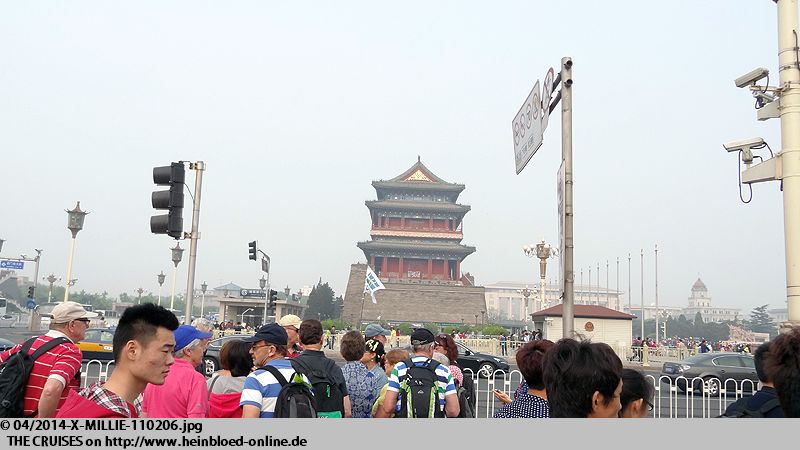 Mein Vater wird eben durch die Gegend geschoben und ist begeistert.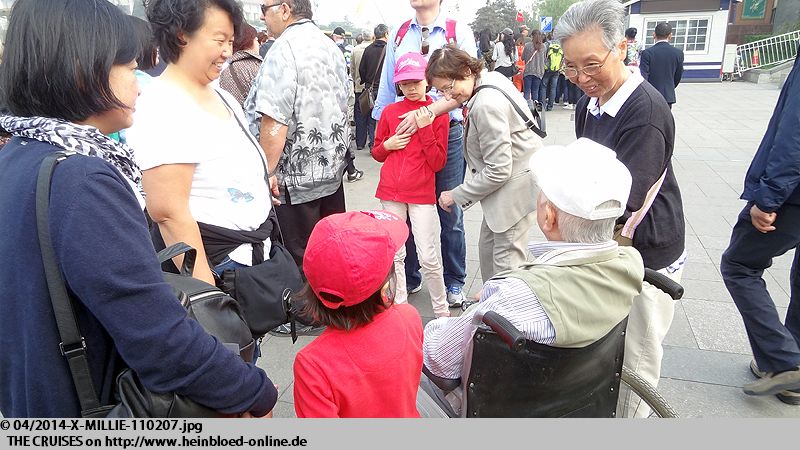 My father was exited that someone pushed him all the way.

Vanessa and Paul joined us again so we must not find anyone at the end of the tour and return to the ship. So they got their own tour guide: Lady Gaga or correctly Jia Jia. She speaks wonderful English with a slight American accent (although she has hever lived in the US). Also she offered that you can first discuss a great itinerary for Beijing with her before you finalize your booking. Vanessa and Paul were exited too to have her.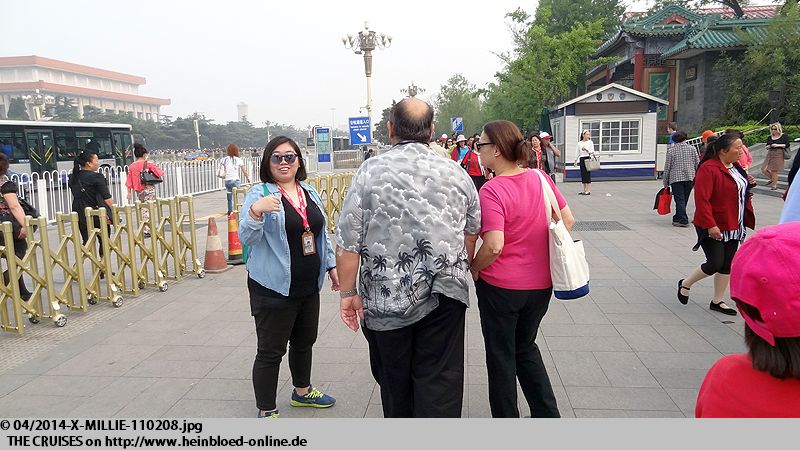 Vanessa und Paul begleiten uns wieder, damit wir später niemanden suchen müssen, wenn wir uns wieder auf die Fahrt zum Schiff begeben. Sie bekommen eine eigene Führerin: Lady Gaga oder
Jia Jia
, wie sie korrekterweise heißt. Sie spricht ein ganz tolles Englisch mit leicht amerikanischem Slang. Auch sie bietet an, dass im Vorfeld alles schon für eine tolle Tour in Beijing in ihr besprechen kann. Vanessa und Paul sind von ihr ganz begeistert.
Zunächst bewegen wir uns über den Tian An Men. Dort beginnen die Schlangen für den Besuch des Mao-Mausoleums. Deswegen muss man zunächst durch eine Sicherheitskontrolle wie auf einem Flughafen. Da für das Mausoleum eine bestimmte Kleiderordnung vorgeschrieben ist und man keinerlei Gepäck mitführen darf, gibt es auf dem Platz sehr viele Haufen mit Rucksäcken und anderen Taschen, auf denen aufgepasst wird. Als wir 2000 hier waren, konnten wir uns freier hier bewegen.

First we moved across the Tian An Men. There the lines for visiting the Mao-Mausoleum started. You need to pace an airport-style security screening. As you need to follow a certain dresscode to visit the Maosoleum and no bags are allowed you see a lot of accumulations of bags someone was watching on. When we were here in 2000 you could move more easier.

My father was very exited to the see building in the background as he was invited here before with my mother for dinner banquette. He was Member of Parliament in Taiwan when they start to set up the new relationship between Beijing and Taipei.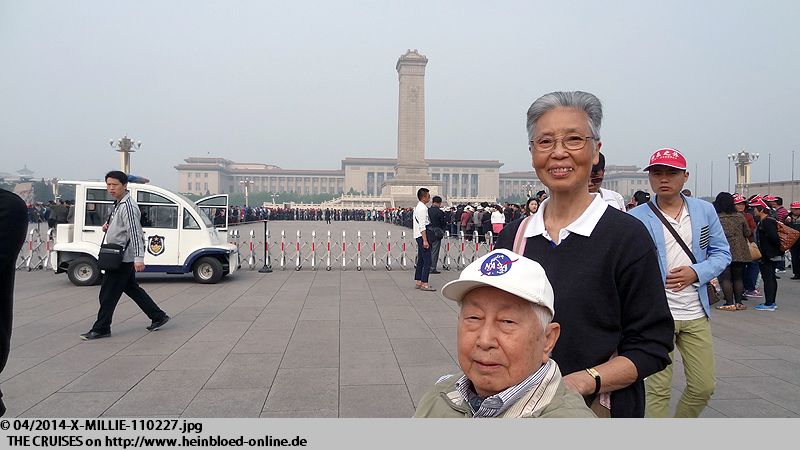 Mein Vater erzählt mir ganz aufgeregt, dass er schon mit meiner Mutter an einem Staatsbankett teilgenommen hat, das in einem der Gebäude im Hintergrund stattfand. Er war im Parlament von Taiwan Abgeordneter als die heiße Phase der Annäherung zwischen Beijing und Taipeh losging.
Wir müssen noch auf die andere Straßenseite zur
Verbotenen Stadt
. Hanna führt noch eine Lautsprecheranlage mit, aber ich kenne das eigentlich nur mit Kopfhörer. So ist bei dem Verkehr rund um Tian An Men es sehr schwierig sie zu verstehen.

We had to cross over the other side of the street to the Forbidden City. Hanna had a loudspeaker device with her but I only knew the system with headsets. So it was quite difficult to understand due to the heavy traffic around Tian An Men.

Before we reached the ticket office there were a lot to explain and to see.

Bevor wir überhaupt den Kartenverkauf erreichen, gibt es schon so viel zu sehen und zu erklären.
Während Hanna gerade die Karten kauft, entsteht so ziemlich das einzige Gruppenbild der ganzen Reise.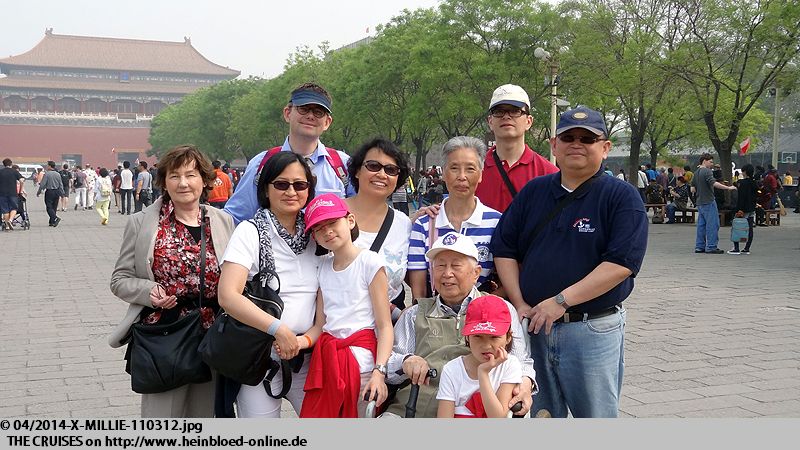 While Hanna went to buy our tickets the only group picture of the whole voyage was taken.

Hanna said that it was quite "empty". I did not want to know what was her meaning of "full". We had to walk again through the security check. Some Western thought that they could urging in our group because they had tickets. As if we did not have any tickets. But unfortunately you meet such stupid people around the world. After that you could rent an audio-guide. That was originally offered to Vanessa and Paul. But with a private tour guide it was totally different class of experience when you could ask something and who knew all short-cuts etc....

Hanna meint, dass es ziemlich "leer" sei. Ich möchte lieber nicht wissen, wie es ist, wenn es "voll" ist. Wir müssen wieder durch eine Sicherheitskontrolle. Ein paar Westler meinen, dass sie sich zwischen drängeln können, weil sie ja Tickets hätten. Als ob wir nicht bezahlt hätten. Aber solche blöden Leute trifft man leider überall auf der Welt. Im Anschluss daran könnte man sich auch einen Audio-Führer leihen. Das hatte man auch Vanessa und Paul angeboten. Aber mit so einem privaten Führer ist es doch eine ganz andere Klasse, wenn man den etwas fragen kann und der auch alle Abkürzungen usw. kennt.
Wir halten direkt zum ersten Stopp für die Toilette. Hanna hat uns immer gesagt, wenn es westliche saubere Toiletten gab. Wir wissen, dass die Zeit für die verbotene Stadt knapp bemessen ist. So müssen wir auf viele Punkte verzichten, um sie von innen zu sehen. Für mich persönlich ist es nicht weiter schlimm, da wir ja gestern in Shenyang waren. Es ist so, als ob der Kaiserhof 1644 einen guten Deal mit ihrer Hausratversicherung abgeschlossen haben: wir ziehen um und zünden das Haus nicht an. Ihr zahlt uns aus und kaufen in Beijing alles neu... Spaß beiseite: In Shenyang war alles kleiner, aber dadurch das es ruhiger war, konnten wir alles intensiver erleben. Wir waren ja 2000 schon hier. Nur damals ohne Marianne und die Kinder. Die sollen einfach etwas hiervon mitnehmen und selbst beurteilen, ob es sich nochmals lohnt später nochmals wieder zu kommen. Aber die Schlangen vor den einzelnen Palästen waren zum Teil endlos. Und wie gesagt: Hanna sagt, dass es "leer" sei... Meine Eltern werden oft an den Palästen seitlich vorbeigeschoben, weil die Treppen bei den Menschenmassen einfach zu beschwerlich sind. Zwischendurch schnappen wir uns noch Führer und Karten. So können wir zu Hause nochmals alles nachlesen.

We stopped for the first time to see the toilets. Hanna said that they had clean Western toilets here. We knew that our time for the Forbidden City was very limited. And so there were many spots we cannot see from inside. For me personally it was not too bad since we saw yesterday Shenyang. It was like the Royal Court made a good deal with their insurance company 1644: we move to Beijing and do not burn down the buildings. But you pay us to buy everything new in Beijing... No more joking: In Shenyang everything was smaller and much more calmer. So we had more intensive experience. We were here already in 2000. But with Marianne and the children. They should just have their own impression and could later decide if it is a place to see again. The lines in front of some buildings were endless. And as said before: Hanna said it was "empty"... My parents by-passed most palaces because the stairs with all the crowds in front of the palaces were to streneous. Meanwhile I got some maps and guides so we could read once we are back home.

We continued and from time to time we stopped and Hanna explained with a certain to the buildings what we would see inside and occasionally we had a chance to get closer and to have a look inside.

Weiter geht es und von Zeit zu Zeit halten wir an, und Hanna erklärt uns in einem kleinen Abstand zu dem einzelnen Palast die Inhalte und wir können gelegentlich mal näher rankommen und reingucken.
Da hat sich wohl jemand vertippt oder absichtlich falsch geschrieben, um in kein Markenrechtsstreit reinzukommen. Ob ich mir dann bewusst mit dieser Schreibweise so etwas kaufen würde???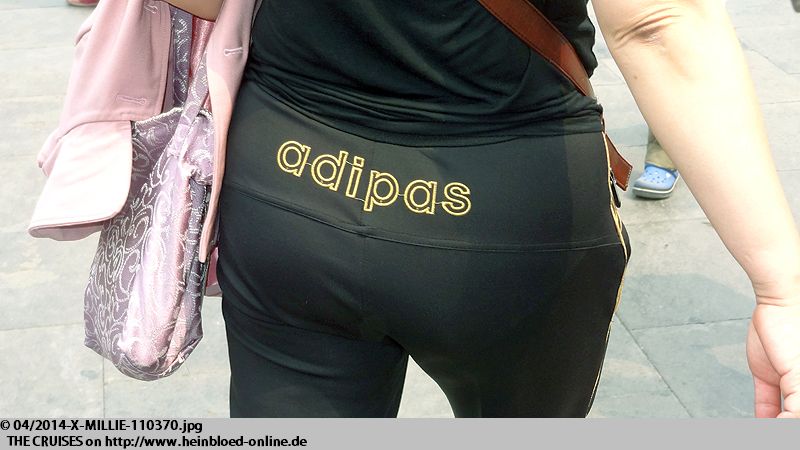 Somehow it might be a typo or spelling intentionally wrong to avoid trouble with the brand owners. I am not sure if I would buy something with this spelling???

Somehow I could not see any palaces anymore and especially no more crowds. And also I could not see any mist anymore. The problem: you cannot walk back as you walk in from the front side of the yard and you leave from the back side. So I had absolutely no idea where to find the bus to sit in and wait.

Irgendwie konnte ich keine Paläste mehr sehen. Vor allem konnte ich keine Menschenmassen mehr sehen. Und den Dunst wollte ich auch nicht mehr. Das Problem: man kann nicht zurücklaufen, sondern geht von der einen Seite der Anlage rein und hinten wieder raus. Daher habe ich auch keine Ahnung, wo unser Bus wäre, in dem nach sich schon reinsetzen könnte.
Es wollten wieder alle eh auf Toilette.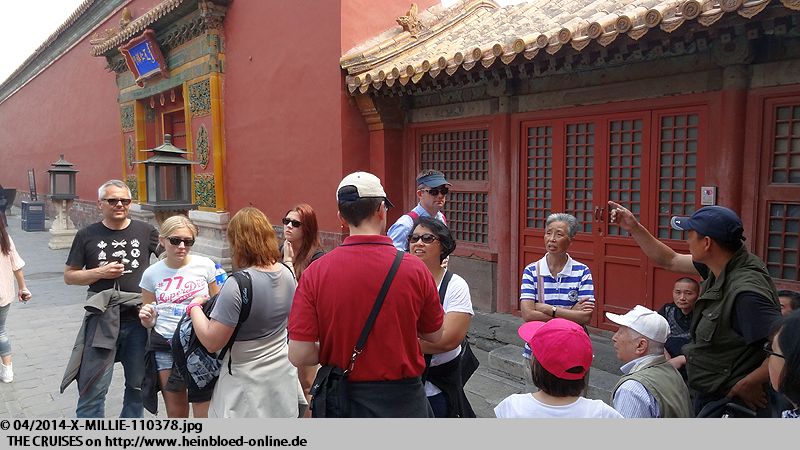 Anyhow everybody wanted to see anyway the restrooms.

Die Damen haben sich allerdings beschwert, was diese Auszeichnung sollte, weil sich schon unbewertete Toilettenanlagen in Beijing aufgesucht hatten, die in einem besseren Zustand waren.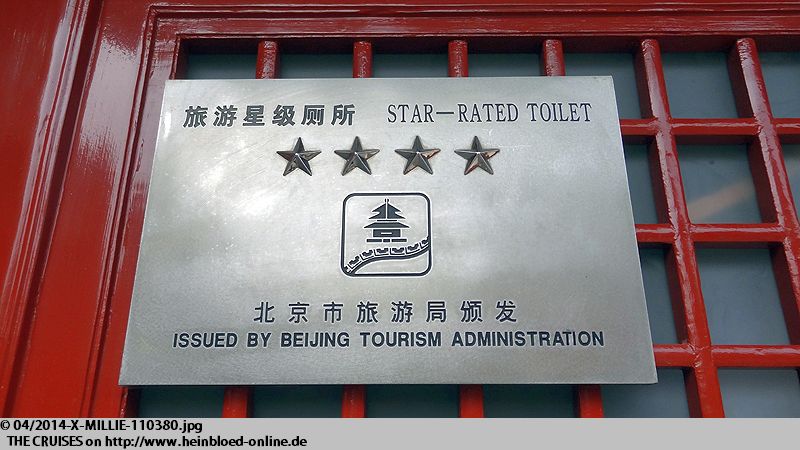 The ladies were claiming and wondering about the award because the saw unrated toilets which were in much more better condition.

We were watching the kids of the American School who sat down on the floor. I would never sit here on the floor... due to reasons of hygiene and I definately do not want to tell why.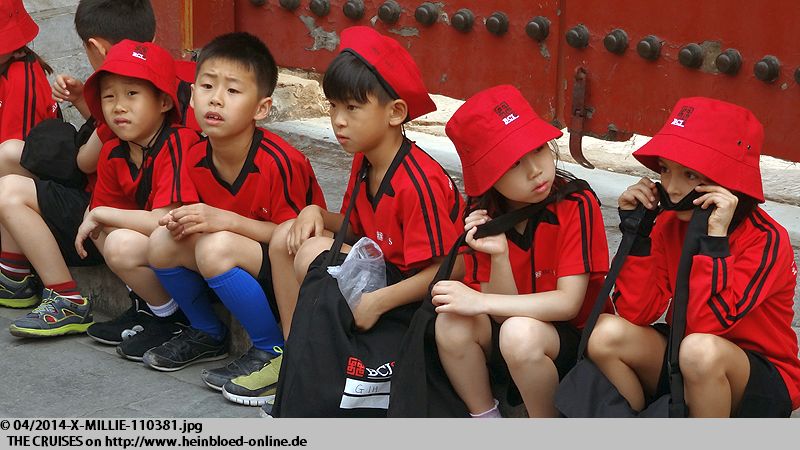 Wir gucken den Kindern von der Amerikanischen Schule zu, die sich hier hingesetzt haben. Nur würde ich mich nie im Leben auf den Boden setzen... aus hygienischen Gründen und das möchte ich lieber nicht näher beschreiben.
Gegenüber gibt es aber eine lange Sitzbank, auf der man sitzend die Wartezeit verbringen kann.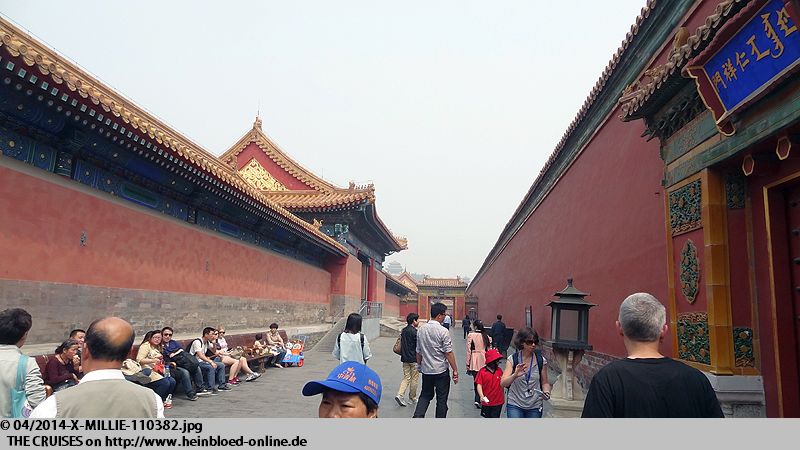 Opposite they had a long bank to sit so it was a good place to spend the waiting time.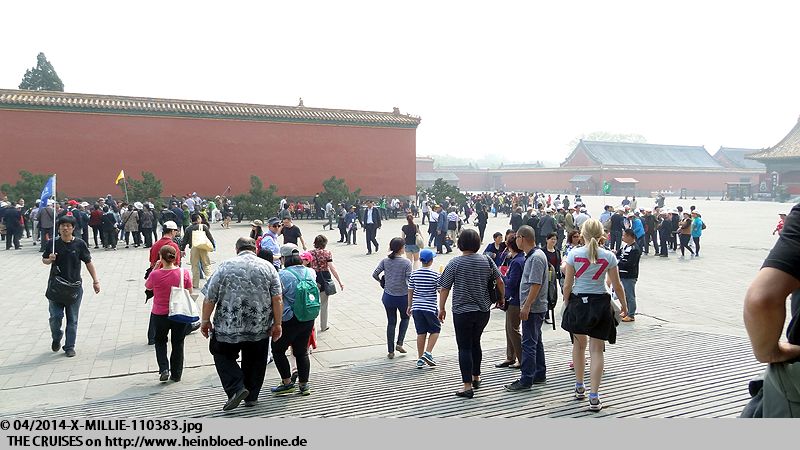 Wir gehen weiter zur Schatzkammer. Ein zusätzlicher Eintritt wird hierfür fällig. Davon bekommen wir inhaltlich nicht viel zu sehen. Leider ist es auch nicht behindertengerecht gebaut.

We headed for the treasure chamber. You need for an extra ticket. But we did not see so much. Unfortunately they were not prepared for visitors in wheelchairs.

You need to remember: Somehow the paint was not spread plain.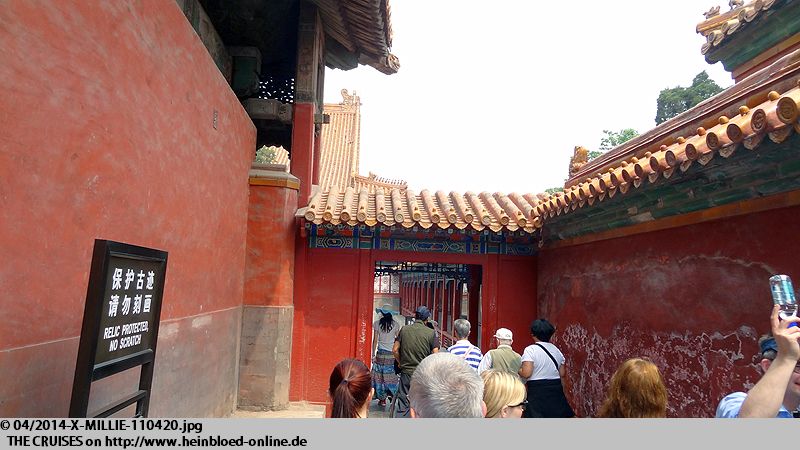 Das muss man sich mal merken: Irgendwie ist die Farbe nicht gleichmäßig aufgetragen.
Die Malerfirma hat wohl dann anschließend das Schild "Relikt geschützt, kein Kratzer" aufgestellt, damit niemand reklamieren kann...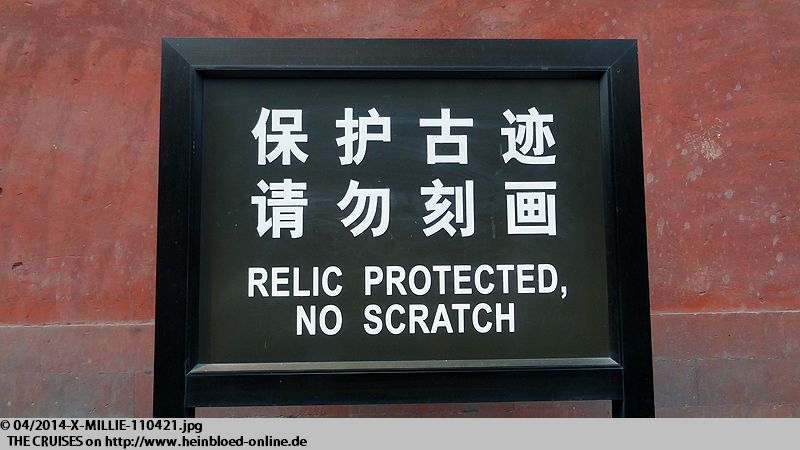 The company which made the paint work obviously added the sign "Relict protected, no scratch" that nobody could complain.

For me it looked more like sloppy work...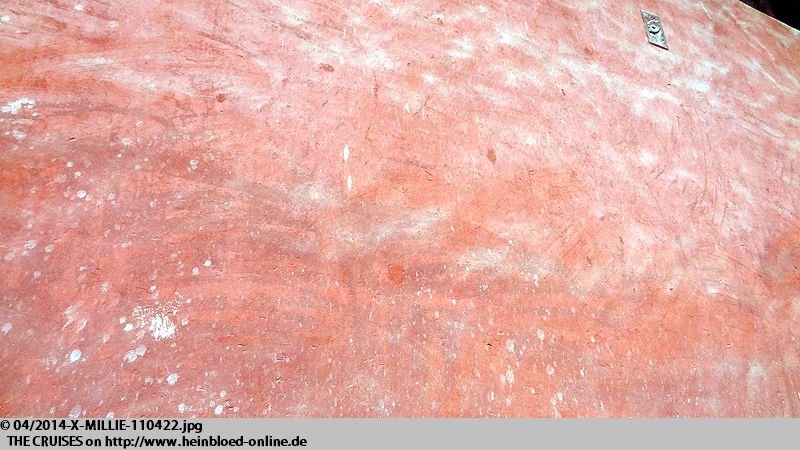 Für mich sieht es nach schlampiger Arbeit aus...
Bald sind wir durch. Warum gibt es diese Tour nicht als Segway-Tour?

Soon we completed the tour. Whey do not they offer this tour as Segway-Tour?

Christine had luck. From time to time she could just smooch with my father and go with him...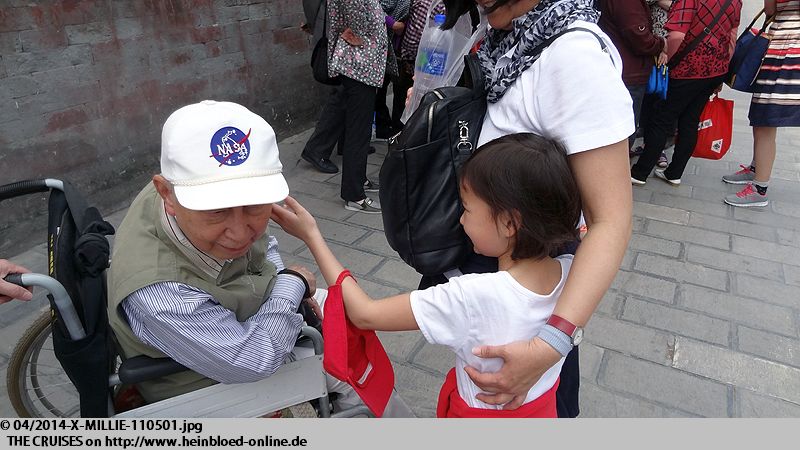 Christine hatte Glück: sie konnte ab und zu mit meinem Vater schmusen und so mitfahren...
Der lang ersehnte Ausgang.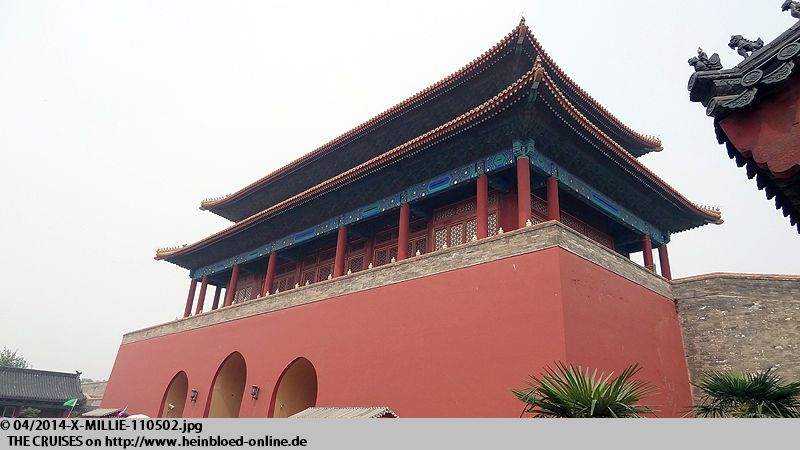 Finally the exit.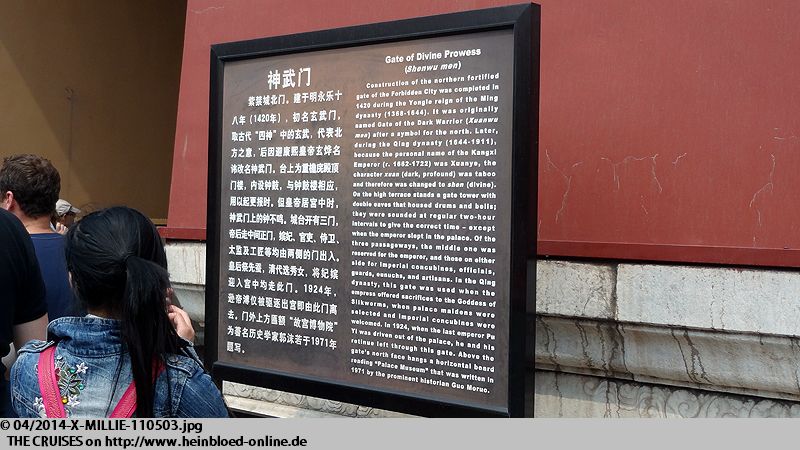 Und gegenüber ist der Park, den wir gestern verpasst haben. Von dort aus, hätten wir auf die verbotene Stadt schön runtergucken können. Das nächste Mal.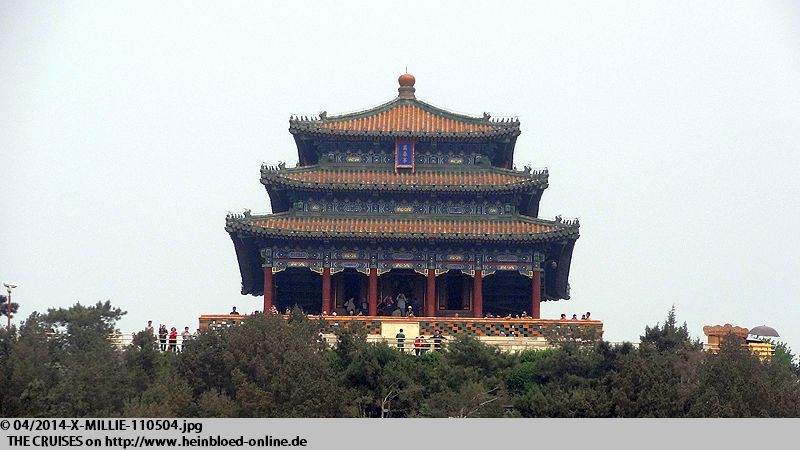 And opposite the park we missed the day before. From here we should have a wonderful view on the Forbidden City. Next time.

We walked along the outer fascility to reach the bus.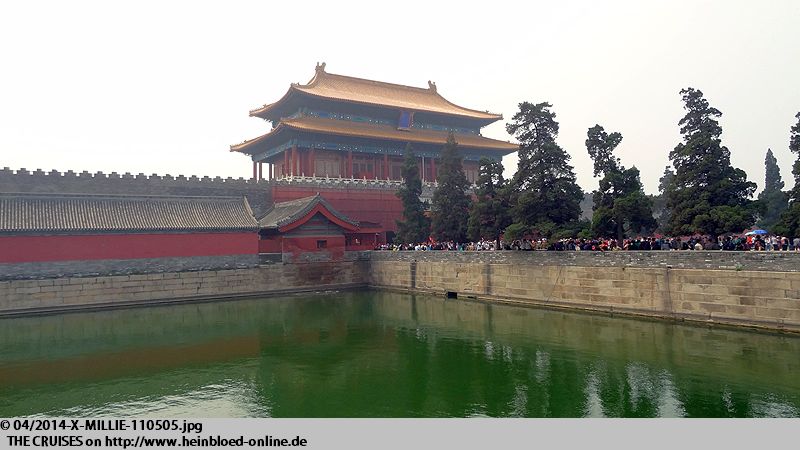 Entlang der Außenanlagen laufen wir, um zum Bus zu gelangen.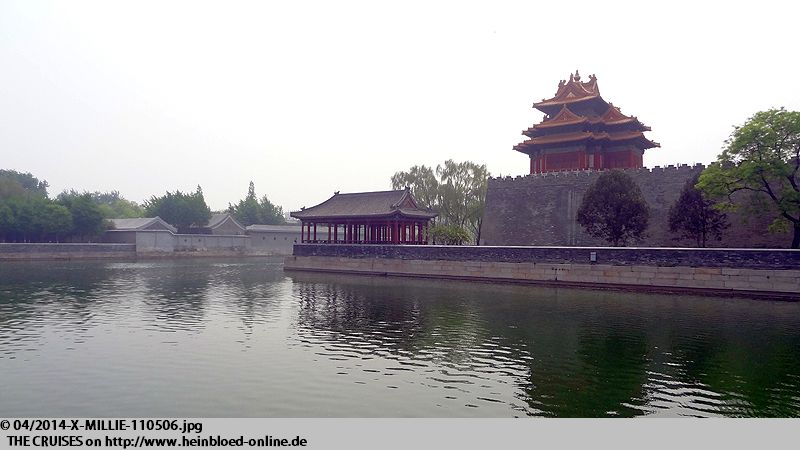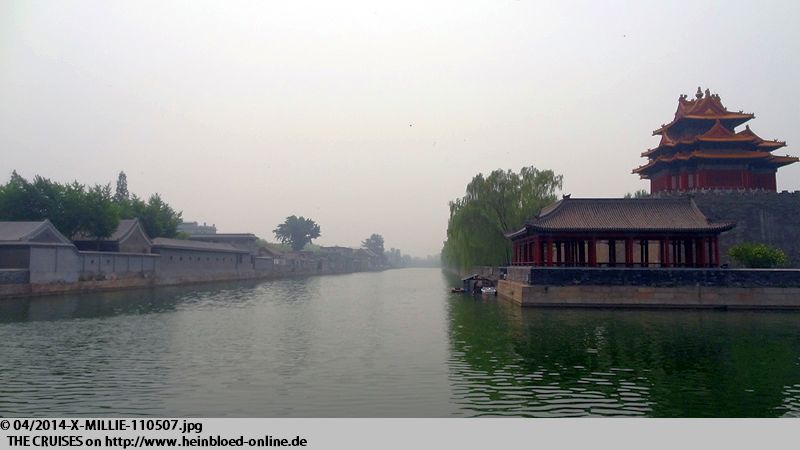 Anscheinend ein beliebtes Motiv für Hochzeitsbilder.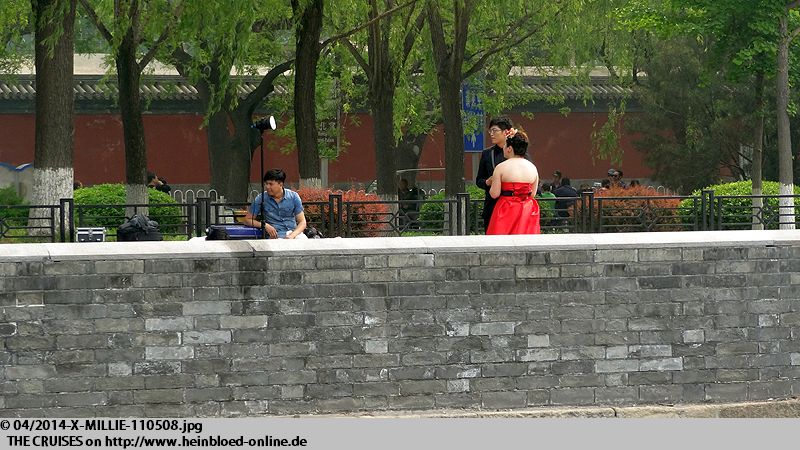 Obviously a popular place to take wedding pictures.

We had lunch in No. 6 Restaurant. A typical tourist-groups-feeding-station which was located very central to the Forbidden City and outside you find many streetdealers who knew that you had all the tourist groups here. It was not the master piece experience of Chinese cuisine but more P.F. Chang's favourites. I only go this place if I did not find anything else. And some of us did not feel very well because only P.F. Chang's favourites were served which means: mostly deep-fried in hot oil...

Das Mittagessen findet im No. 6 Restaurant statt. Eine typische Touristengruppen-Abfütterungsstätte, die sehr zentral zur Verbotenen Stadt liegt und von allen möglichen Straßenhändlern außen belagert wird, die wissen, dass hier Touristengruppen abgefüttert werden. Es war jetzt keinesfalls eine Meisterleistung der chinesischen Küche, sondern erinnerte eher an
P.F. Chang's
(eine US-Restaurantkette) beliebteste Gerichte. Ich gehe eigentlich nur hin, wenn ich nichts anderes finde. Und einige von uns fühlten sich nicht besonders wohl, weil eben nur die beliebtesten Speisen von P.F. Chang's serviert wurden, d. h. viel in Fett ausgebacken...
Die Rückfahrt erfolgt sehr unspektakulär. Entweder man unterhält sich selbst mit Hilfe von iPhone und iPad. Oder man schläft. Ich hätte es gerne meinem Vater ermöglicht einmal an der Straßenkreuzung vorbeizufahren, in dem früher sein Elternhaus stand, um dort ein Foto zu machen, aber Tianjin liegt ca. 70 km vom Kreuzfahrtterminal entfernt. Ich beschwere mich nie wieder wegen der Entfernung von Rom nach Civitavecchia. Mr. Li und Hanna erklären uns, dass es zu lange dauern würde, und bitten um Verständnis. Ansonsten haben sie im Großen und Ganzen es toll gemacht. Wir haben viel zu sehen bekommen, auch wenn wir nicht soviel sehen konnten, wie wir bezahlt hatten. Aber das lag nicht an CTS, die eine gute Arbeit geleistet haben. Ich bekomme noch einen USB-Stick als Geschenk und alle anderen ein kleines Lied von Hanna.

The return journey was not spectacular at all. You could entertain yourself on your iPhone or iPad. Or you sleep. I wanted to make it possible for my father to see the street corner in Tianjin with his family's house to take a picture. But Tianjin was about 44 miles away from the cruise terminal. I will never say anything again he distance between Rome, Italy and Civitavecchia, Italy. Mr. Li and Hanna deeply regret but it would take too much time. Nevertheless both did generally a great job. We saw a lot even we could not see as much as we paid for. But that was not the fault of CTS who did a good job. I got an USB-sticker as gift and little song from Hanna.

After 1 1/2 hours we were back at the cruise terminal. There we looked a little around and especially: we were glad to have Western toilets. The new homeport of Costa and Royal Caribbean.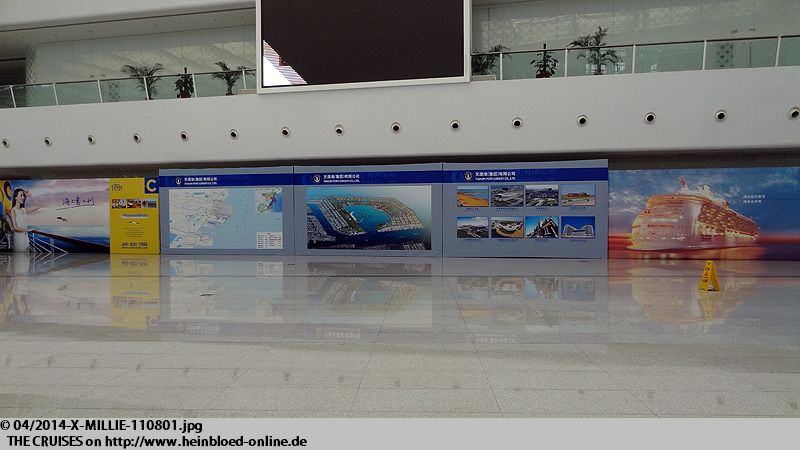 Nach ca. 1 1/2 Stunden sind wir bereits am Cruise Terminal. Dort sehen wir uns noch ein wenig um und vor allem: wir freuen uns auf saubere westliche Toiletten. Der neue Heimathafen für Costa und Royal Caribbean.
Ein paar Informationen gibt es über die Gegend.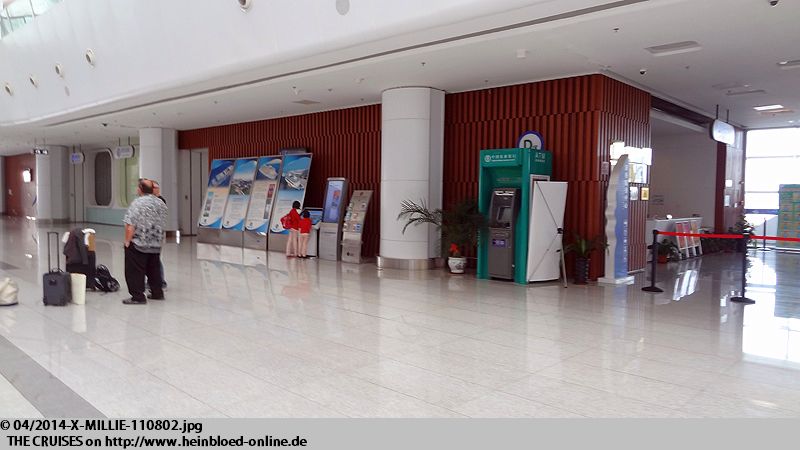 Few information on our area.

And an ATM. There was not much more to discover.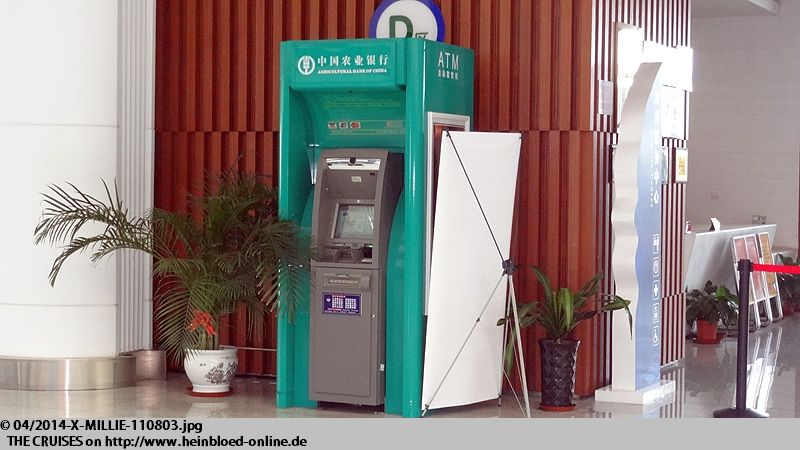 Und einen Geldautomaten. Viel mehr gibt es hier nicht.