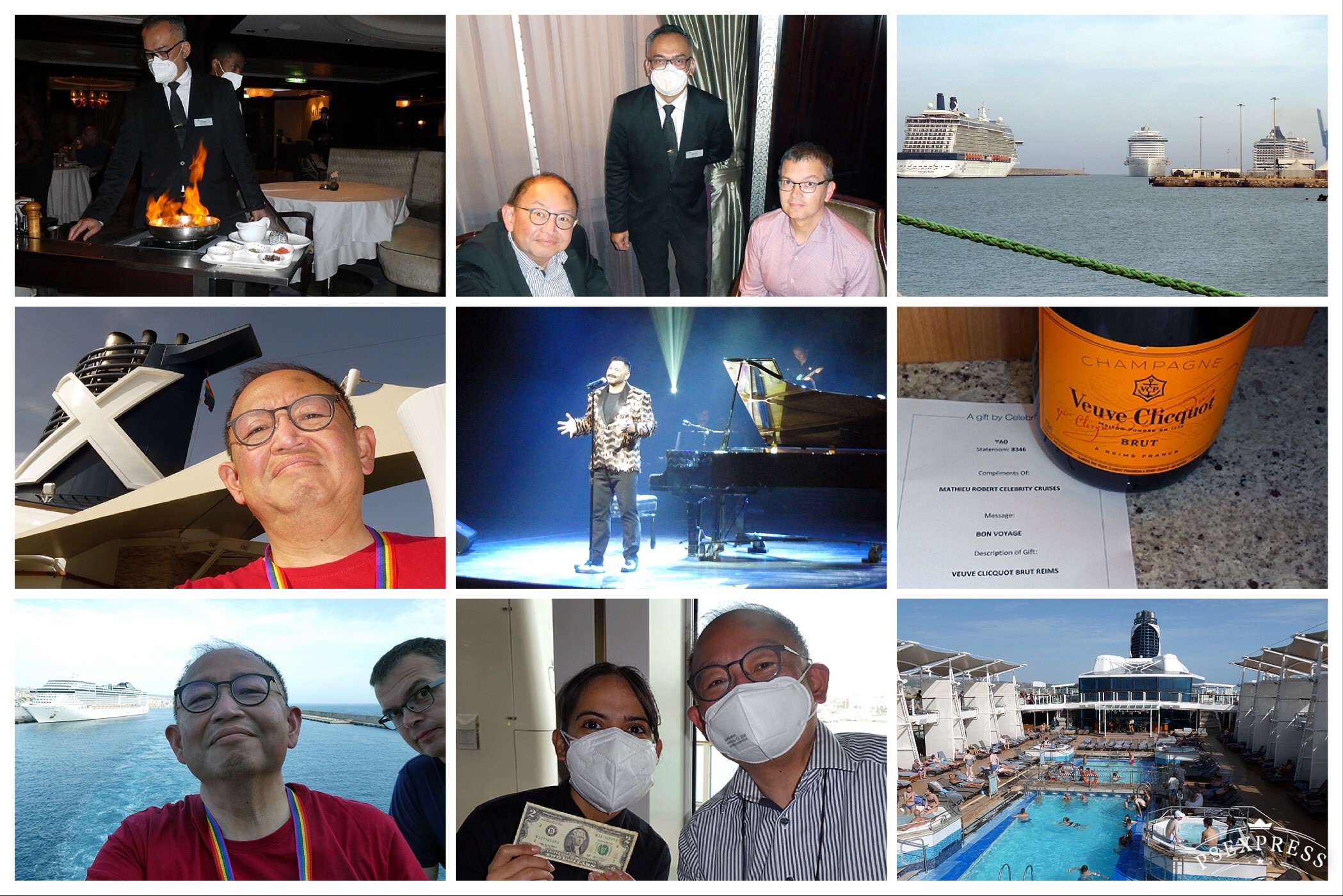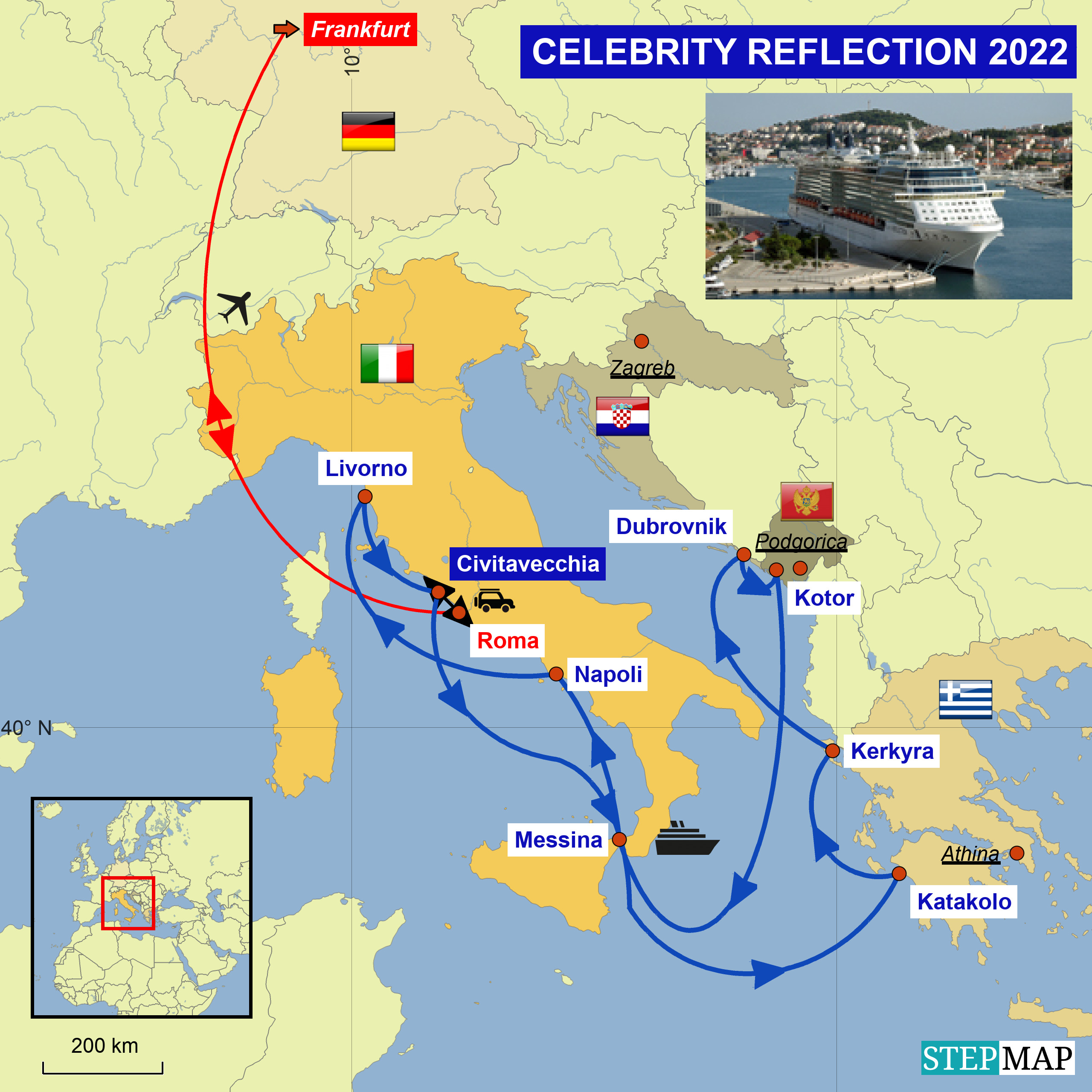 Wo liegt der Hafen MEDEVAC? Und wo liegt der Flughafen FRAGILE? Ich verzweifle: ich will ja bloß wissen, wann die Schiffe reinkommen. MSC SPLENDIDA zeigt nichts an und CELEBRITY REFLECTION zeigt auch nur Neapel an. Dort ist sie aber gerade losgefahren. Überraschend konnte ich vor 05:00 Uhr auch in keinem der Seitenzugänge in den Hafen rein. Letztes Jahr vor Ankunft der
MSC SEASIDE 2021
war es kein Problem für Hundebesitzer, Jogger, Angler und Shipspotter vor 05:00 Uhr in den Hafen zu kommen. So kann ich leider um diese Zeit nicht an meinem Stammplatz sein. Da ich später keine Lust habe ständig zwischen meinem Stammplatz und dem Hotel hin und her zu laufen, bleibe ich den ganzen Morgen stehen und werde Zeuge, wie im Yachthafen ein Schlauchboot absäuft und es wieder geborgen wird. Viel konnte ich nicht sehen, weil mir die einlaufenden Schiffe wichtiger waren. Auf dem Weg zurück zum Hotel habe ich auch mal Zeit mir die ausgestellte Skulpturen anzusehen. Und neu: der heruntergefahrene Zaun zur Promenade hin: so muss ich nicht zum Hafentor, sondern kann so querfeldein laufen.

Where is the port of MEDEVAC? And where is FRAGILE Airport located? I despair: I want to know when the ships are coming in. MSC SPLENDIDA does not display anything, and CELEBRITY REFLECTION only shows Naples, Italy. But she just left there. Surprisingly, I couldn't get into the side entrances to the port before 05:00 hrs. Last year, before MSC SEASIDE 2021 arrived, dog owners, joggers, anglers, and ship spotters had no problem getting into port before 05:00 hrs. So, unfortunately, I can't be at my regular place at this time. Since later, I don't feel like running back and forth between my traditional location and the hotel, I stand there all morning and witness how a rubber dinghy sinks in the marina and how it is salvaged again. I couldn't see much because the incoming ships were more critical. On the way back to the hotel, I also have time to look at the sculptures on display. And now: the lowered fence to the promenade: I don't have to go to the harbor gate but can walk across the yard.

She's coming in! MY CELEBRITY REFLECTION. At first, I could only watch them from the city wall, and later I could look from Pier 8A to there.

Sie kommt rein! MEINE CELEBRITY REFLECTION. Anfangs kann ich sie nur von der Stadtmauer beobachten und später kann ich zum Pier 8A und von dort aus weitergucken.
Zum Hotel zurück und nach 15 Minuten wieder zurück? Ich bleibe bis die MSC SPLENDIDA reinkommt. Und später freue ich mich, dass wir vor ihr rauslaufen und an ihr vorbeifahren.

Back to the hotel and back again after 15 minutes? I'll stay until the MSC SPLENDIDA comes in. And later, I'm happy that we set sail ahead of and passed her.

It's a quick way back to the hotel; from there, I can see from our room when we have to leave again. I'm getting tired again, but I have to stay awake until COSTA SMERALDA arrives, and later we have a box seat when we leave the port and COSTA SMERALDA behind.

Kurz geht es zum Hotel zurück und von dort aus kann ich aus unserem Zimmer sehen, wann wir wieder losmüssen. Ich werde zwar langsam wieder müde, aber ich muss wachbleiben bis dass die COSTA SMERALDA einläuft und später haben wir direkt einen Logenplatz, als wir auslaufen und die COSTA SMERALDA hinter uns lassen.
Das Frühstück im Hotel war unterirdisch. Aber wie gesagt: wir sind ja bald an Bord und hoffentlich lecker essen. Ich würde aber trotzdem hier wieder wohnen, wenn ich die Wahl zwischen
Hotel Mediterraneo
und
Hotel de la Ville
hätte. Frühstück in Italien bedeutet mir nicht so viel. Aber da das Hotel hier keinen Restaurantbetrieb abends hat, gibt es hier auch keine Barista-Maschine.

The breakfast at the hotel was abysmal. But as I said: we'll be on board soon, and hopefully, we'll eat well. I would stay here again if chosen between Hotel Mediterraneo and Hotel de la Ville. Breakfast in Italy doesn't mean that much to me. But since the hotel doesn't have an evening restaurant, there's no barista machine here either.

Taxi for 22 EUR (2022) or walk one block to the train station and catch a bus there for 6 EUR (2022)? We walk and are lucky: it is probably one of the last operating days of the direct service from the train station to the ship: when we return a few days later, the bus no longer goes to the ship, but only to Largo della Pace. We are approached by a Civitatours employee in front of the bus, who draws our attention to their offers. I ask if they even drive from Largo della Pace, and she says no. So even she doesn't know yet that on our return trip on July 4th, 2022, everything is already running via Largo della Pace.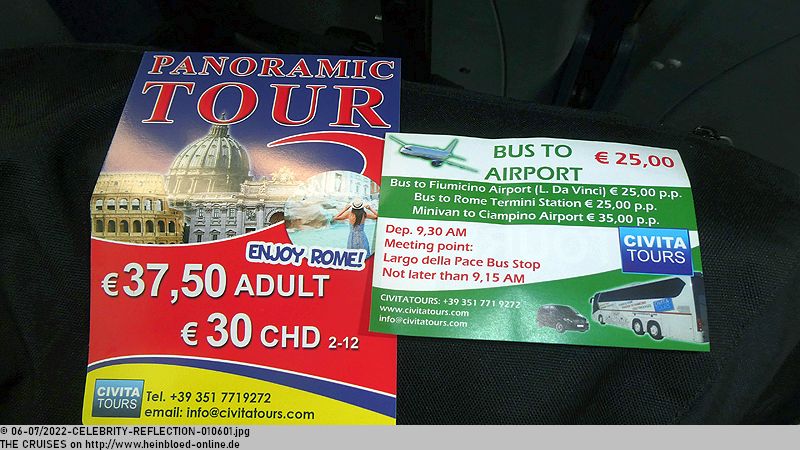 Taxi für 22 EUR (2022) oder einen Block zu Fuß zum Bahnhof und dort mit dem Bus für 6 EUR (2022)? Wir laufen zu Fuß und haben Glück: es ist wohl einer der letzten Betriebstage des Direktdienstes vom Bahnhof zum Schiff: als wir wenige Tage später wiederkommen, fährt der Bus nicht mehr bis zum Schiff durch, sondern nur noch bis Largo della Pace. Wir werden vor dem Bus von einer Mitarbeiterin von
Civitatours
angesprochen, die uns auf deren Angebote aufmerksam macht. Ich frage nach, ob sie überhaupt ab Largo della Pace fahren und sie verneint. Selbst sie weiß also noch nicht, dass bei unserer Rückfahrt am 04.07.2022 bereits wieder alles über Largo della Pace läuft.
Es gibt jedoch keinen richtigen Gepäckraum im Bus. So muss Bruno beim Gepäck stehen bleiben und sichern.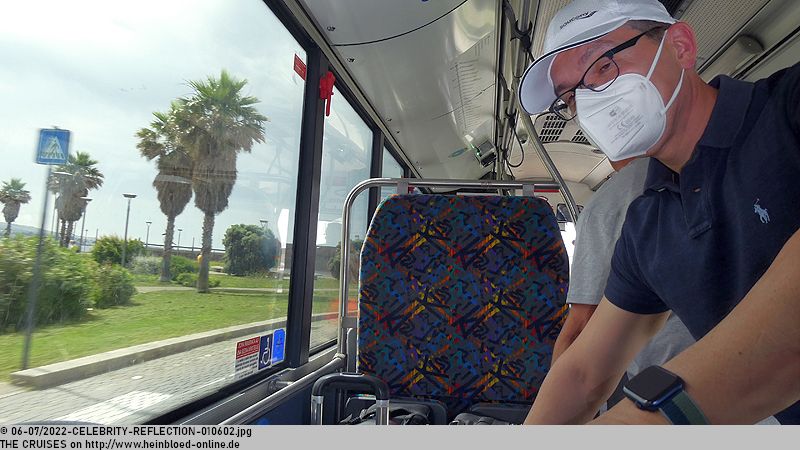 However, there is no actual luggage space on the bus. So Bruno has to stop and secure the luggage.

The health issues. No one else was as complicated as Celebrity. Until Celebrity accepted our vaccination certificates, I had to assemble the certificate myself. The others probably have a scanner for the QR code and were able to take the QR code; Probably not Celebrity. There are three checks in the terminal to ensure we are tested and vaccinated before we board.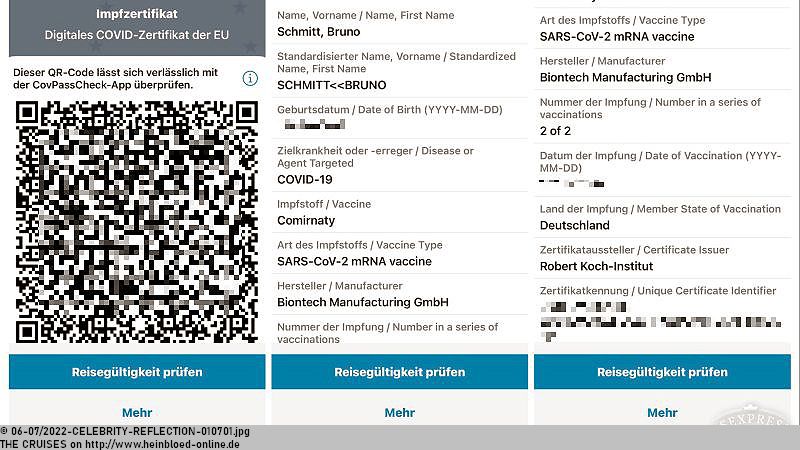 Die Gesundheitsfragen. So kompliziert, wie bei Celebrity war es bei keinem anderen. Bis dass unsere Impfnachweise akzeptiert wurden, musste ich selbst den Nachweis zusammenbauen. Die anderen haben wohl einen Scanner für den QR-Code und konnten den QR-Code akzeptieren; Celebrity wohl nicht. Im Terminal finden drei Kontrollen statt, ob wir getestet und geimpft sind, bevor wir an Bord kommen.
Für diejenigen, die es nicht geschafft haben, sich innerhalb von zwei Tagen vor Einschiffung, testen zu lassen, werden vor Ort für 55 USD (2022), Tests angeboten. Es wird über das Bordkonto abgerechnet. Aber was ist eigentlich beim Positivtest? Dann schifft man doch auch nicht ein und hat gar kein Bordkonto - oder?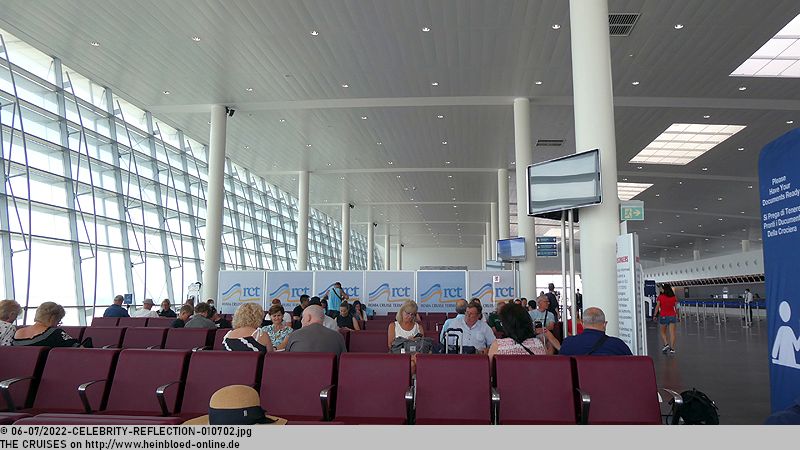 For those who have not been able to get tested within two days of embarkation, on-site testing is available for 55 USD (2022). It will be billed to the onboard account. But what about the positive test? Then you don't embark and don't have an onboard account - right?

We get a note telling us that Covid-19 is actual on board and that positive cases have already been identified and isolated on board.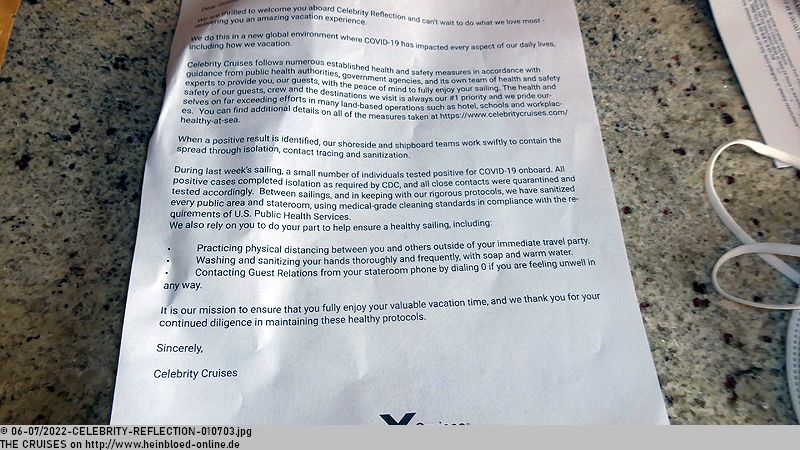 Wir bekommen noch einen Zettel, in dem wir hingewiesen werden, dass Covid-19 an Bord real ist und auch bereits positive Fälle an Bord festgestellt und isoliert wurden.
Mein iPhone meldet sich mit meiner Bordkarte, damit ich sie schnell finde und mit dem Sicherheitsvideo, das ich mir ansehen soll. Das ist sehr praktisch. Obwohl wir bereits weit vor 11:30 Uhr da sind: wir sind "nur" Einschiffungsgruppe 3. Zum Schalter müssen wir nicht, es läuft alles im Vorbeilaufen am Tablett des Check-In-Mitarbeiters, die sich einem in den Weg zum Schiff stellen. in den VIP-Bereich dürfen wir nicht. Zuletzt waren wir hier bei unserer
MSC SEASIDE 2021
-Reise. Getränke im Mehrwegbecher gibt es am anderen Ende des Terminals.

My iPhone comes up with my boarding pass so I can find it quickly and the security video to watch. That is very convenient. Although we are there well before 11:30 hrs: we are "only" embarkation group 3. We don't have to go to the counter; everything happens while walking past the check-in employee's tablet, who stands in your way to the ship. We are not allowed in the VIP area. Most recently, we stayed here on our MSC SEASIDE 2021 voyage. Drinks in reusable cups are available at the other end of the terminal.

When boarding, we are amazed at the number of loaded provisions.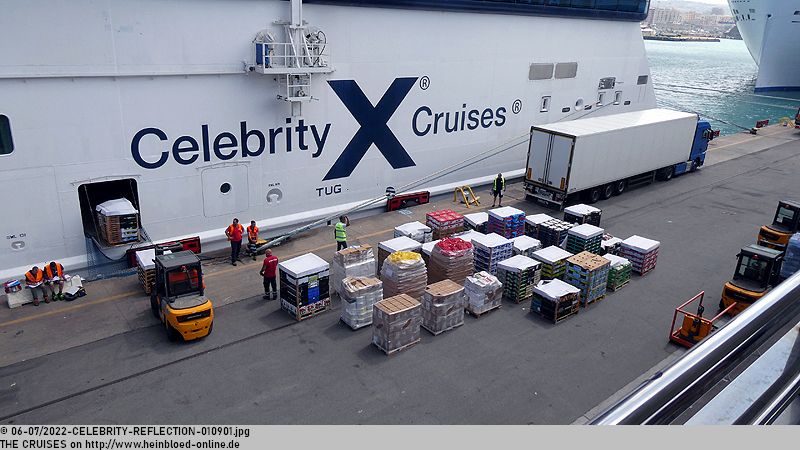 Beim Einsteigen staunen wir über die Mengen Proviant, die geladen werden.
Etwas ungewohnt: die Paletten mit den silberfarbigen Metallflaschen. Was mag das sein?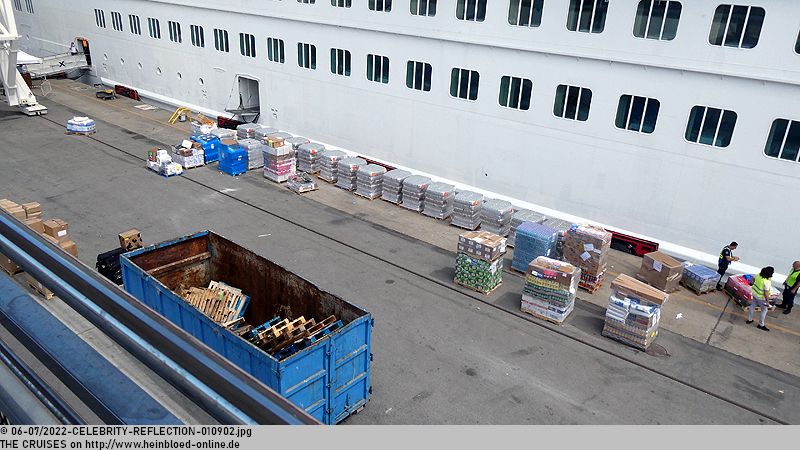 Something unusual: the pallets with the silver-colored metal bottles. What could that be?

We like that we are asked directly to go to our cabin. We look forward to getting rid of our hand luggage first and locking up valuables.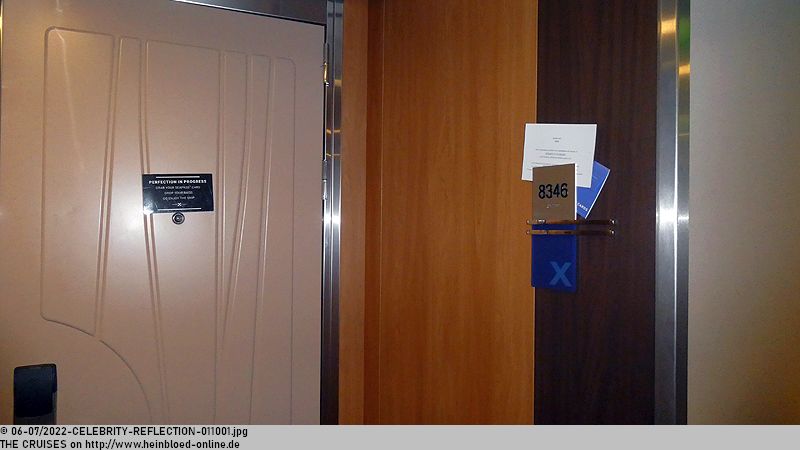 Sehr gut gefällt uns, dass wir direkt aufgefordert werden, unsere Kabine aufzusuchen. Wir freuen uns darauf, dass wir zunächst unser Handgepäck loswerden und Wertsachen einschließen können.
An der Tür lesen wir: sie sind noch nicht fertig, aber wir sollen unsere Taschen da lassen und die Schlüsselkarten mitnehmen und das Schiff genießen. Nicht wie bei der Halbschwester
MEIN SCHIFF 2 2012
, bei der wir dafür gerügt wurden, dass wir vorab die Kabine betreten haben, weil wir das gleiche machen wollten: unser Handgepäck loswerden.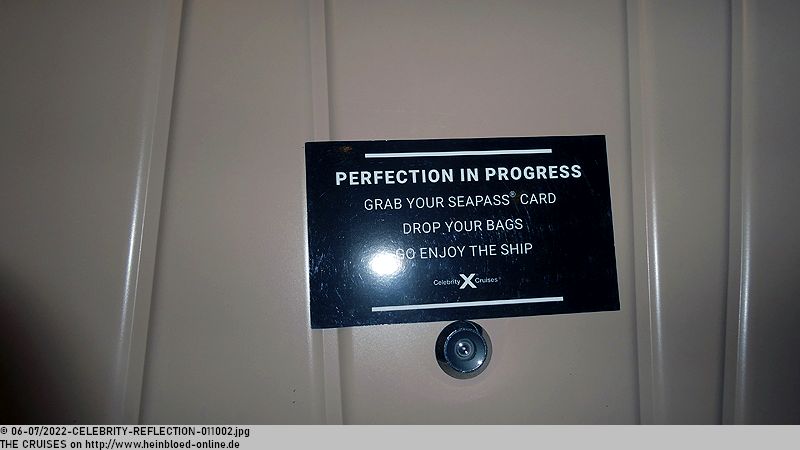 We read on the door that they are not ready yet, but we should leave our bags, take the key cards with us, and enjoy the ship. Not like the half-sister MEIN SCHIFF 2 2012, where we were reprimanded for entering the cabin early because we wanted to do the same thing: get rid of our hand luggage.

A large blanket for two. Bruno refuses! I want to test whether I sleep better at night...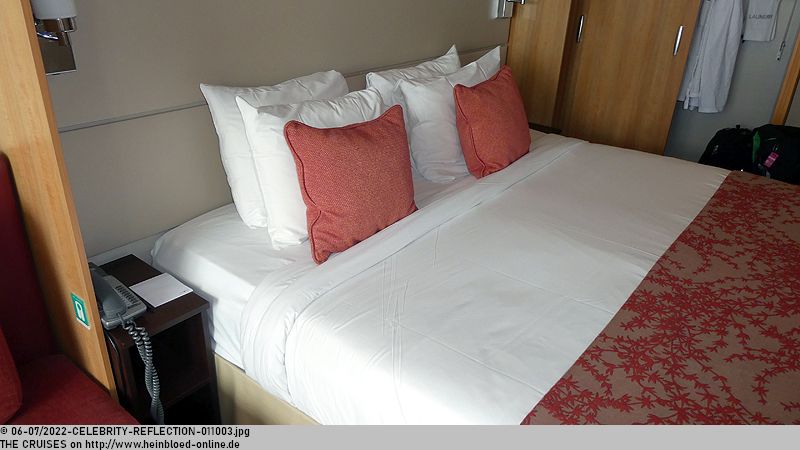 Eine große Decke für zwei. Bruno weigert sich! Ich würde ja gerne austesten, ob ich tatsächlich nachts ruhiger schlafe...
Ansonsten entspricht das doch mehr unserem Geschmack als die spartanisch eingerichtete Kabine auf der
VALIANT LADY 2022
.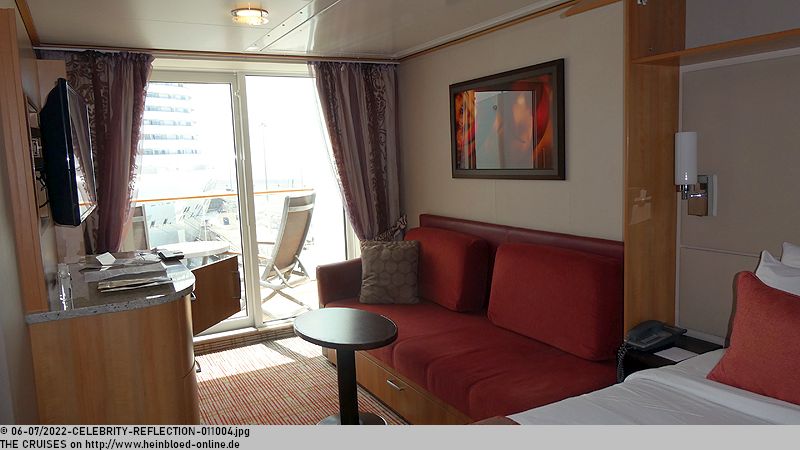 Otherwise, this is more to our liking than the spartan cabin on the VALIANT LADY 2022.

We find our cards here. But somehow, we already miss the medallions like on REGAL PRINCESS 2022. You should be able to open the doors with the app, but somehow it works so rarely that we quickly give up. You really appreciate the Princess medallion principle when you have your full hands. Then it is also more challenging to get the iPhone out and open the door. I destroy my card within five minutes because I'm punching it to fit me... Greetings from Celebrity Canada: Mathieu Robert follows my activities on Facebook. He's happy that I'll be there again with Celebrity. Too bad: he is on CELEBRITY BEYOND and always a few days ahead of me in many ports that we also call. He's a good celebrity and travel ambassador: following him on his Facebook page creates cravings. We look at the papers: the usual and fortunately everything again as paper. We get masks with Celebrity logos and disinfectants. We'll keep them for the next time we're out with others. Bathrobes in the closets, but no bath towels for the balcony. But is the closet everything? We were at CELEBRITY EQUINOX 2010. But I had the impression that we had more and better storage options. We always need a lot of space because we have a lot of technology and goodies for the crew. We can't use the storage space under the bed like that because it is used on the ship side. We will survive it; somehow, it works: we use small suitcases as drawers and place them under the bed.

Wir finden hier unsere Karten. Irgendwie vermissen wir aber schon die Medallions wie auf der
REGAL PRINCESS 2022
. Angeblich soll man mit der App die Türen öffnen können, aber irgendwie klappt es so selten, dass wir es schnell a
ufgeben. Wenn man die Hände voll hat, schätzt man sehr das Medaillion Prinzip von Princess. Dann ist es auch schwieriger das iPhone rauszuholen und die Tür zu öffnen. Innerhalb von fünf Minuten zerstöre ich meine Karte, weil ich sie mir passend stanze... Ein Gruß erwartet mich von Celebrity Kanada: Mathieu Robert verfolgt meine Aktivitäten auf Facebook. Er freut sich, dass ich auch mal wieder mit Celebrity dabei bin. Schade: er ist auf der CELEBRITY BEYOND unterwegs und immer vor ein paar Tage vor mir in vielen Häfen, die wir auch anlaufen. Er ist ein guter Celebrity- und Reisebotschafter: es weckt Gelüste, wenn man ihn auf seiner Facebook-Seite folgt. Wir gucken uns die Papiere an: das übliche und zum Glück auch nochmals alles als Papier. Wir bekommen Masken mit Celebrity-Logos und Desinfektionsmittel. Die heben wir uns auf, wenn wir das nächste Mal mit anderen unterwegs sind. Bademäntel in den Schränken, aber keine Badehandtücher für den Balkon. Aber ist der Schrank alles? Wir waren ja auf der
CELEBRITY EQUINOX 2010
. Aber da hatte ich den Eindruck, dass wir mehr und bessere Staumöglichkeiten haben. Wir brauchen ja immer viel Platz, weil wir jede Menge Technik und Goodies für die Crew mithaben. Wir können den Stauraum unter dem Bett nicht so nutzen, weil er schiffsseitig genutzt wird. Wir werden es überleben: irgendwie geht es doch: wir nutzen kleine Koffer als Schubladen und diese platzieren wir unter dem Bett.
Was uns im Wohnbereich fehlt, finden wir im Bad: Staumöglichkeit!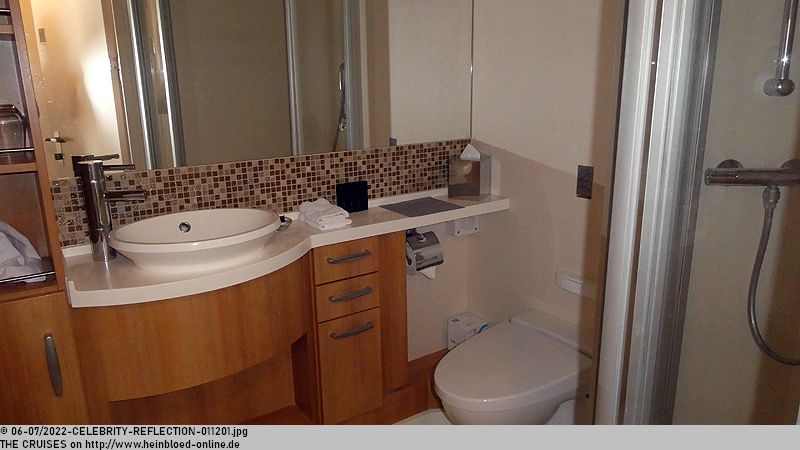 What we lack in the living area, we find in the bathroom: storage space!

All good: plenty of space in the shower. Not like at VALIANT LADY 2022.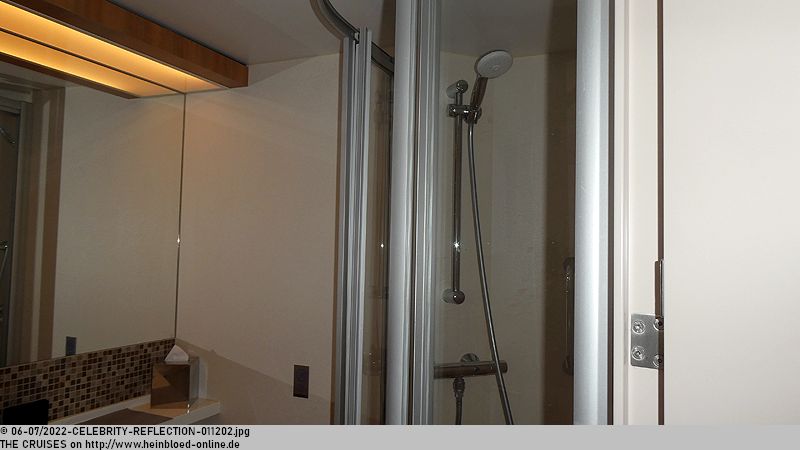 Alles gut: viel Platz unter der Dusche. Nicht wie auf der
VALIANT LADY 2022
.
CELEBRITY MILLENNIUM 2014
: wir hatten damals nur eine "normale" Balkonkabine. Es gab nur Seife und Shampoo. Ich habe die Hoteldirektorin nach Duschgel gefragt: "Sir, Sie sind nicht berechtigt Duschgel von uns zu bekommen!" Ein 10 Cent-Artikel! Und dafür bin ich jetzt acht Jahre nicht Celebrity gefahren, weil ich bei jedem Anfrage auf Anfrage auch Duschgel bekommen habe. Nun bekomme ich ohne Anfrage Duschgel, Shampoo, Body Lotion, Spülung. Ohne Buchung der Concierge Class oder Aqua Class.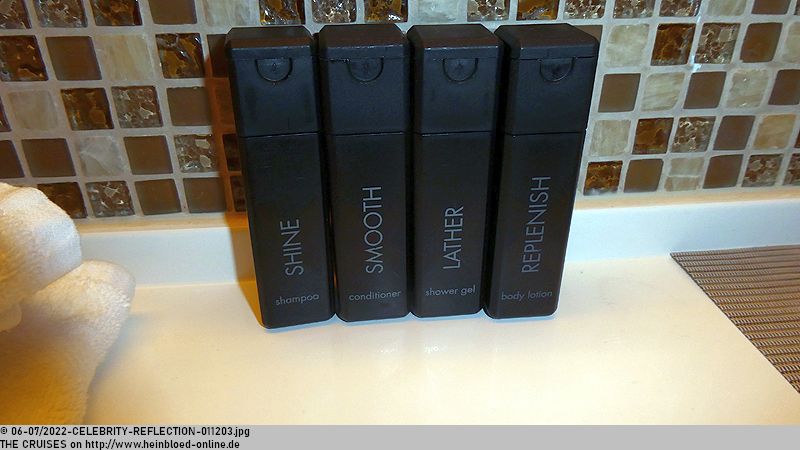 CELEBRITY MILLENNIUM 2014: back then, we only had a "normal" balcony cabin, and there was only soap and shampoo. I asked the hotel manager for shower gel: "Sir, you are not authorized to get shower gel from us!" A 10-cent item! And that's why I haven't sailed with Celebrity for eight years now: I got shower gel with every request. Now I get shower gel, shampoo, body lotion, and conditioner without request. Without the need to book Concierge Class or Aqua Class.

I still get the soap.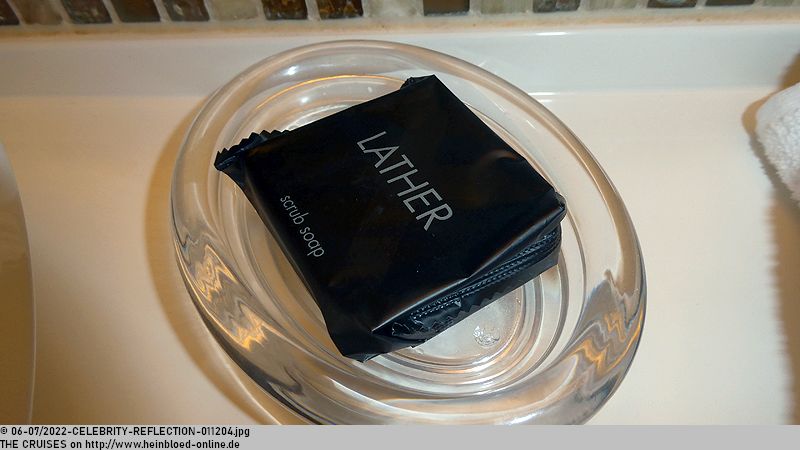 Die Seife bekomme ich trotzdem.
Wir haben uns kurzfristig entschlossen, doch noch für eine Balkonkabine mitzubieten. Wir bieten das Mininum (500 USD) und bekommen den Zuschlag. Daher ziehen wir von ganz vorne nach ganz hinten. Wir haben nur für eine Heckbalkonkabine gebucht. Unser Mindestgebot war wohl höher, weil wir ja ursprünglich nur für 7 Nächte auf der CELEBRITY INFINITY bezahlt haben und daher einen niedrigen Basispreis berechnet bekommen haben.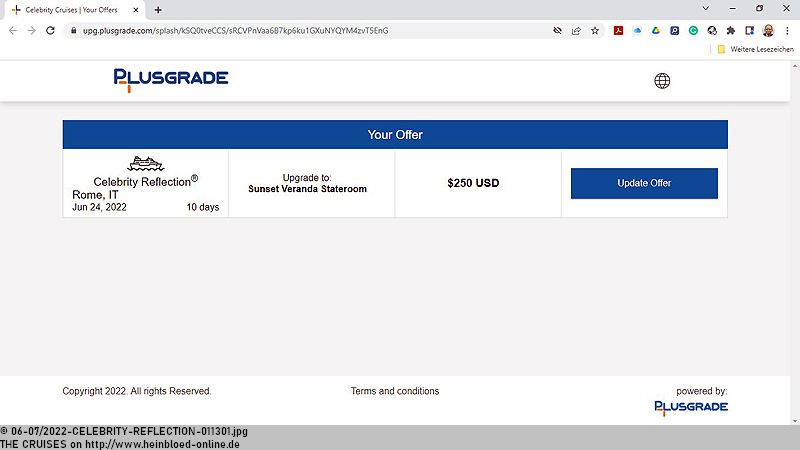 We decided at short notice to bid for a balcony cabin after all. We bid the minimum (500 USD) and won. Therefore we draw from the very front to the very back. We only booked for a rear balcony cabin. Our minimum bid was probably higher because we originally only paid for seven nights on the CELEBRITY INFINITY and were therefore charged a low base price.

We had thought about whether we could use The Alcoves, but at 249 USD per sea day (2022) and two sea days, we might as well bid for 500 USD for the entire voyage for a stern balcony cabin. Back in the stateroom, we still find clues for our dinner in the main dining room and tomorrow's program. Instead of one large blanket, we now have two single blankets.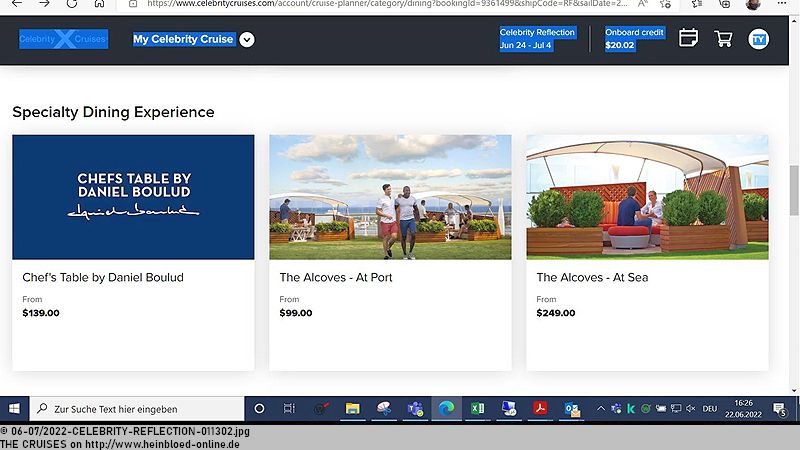 Wir hatten uns überlegt, ob wir uns ggfls. The Alcoves gönnen, aber bei 249 USD pro Seetag (2022) und zwei Seetagen, können wir genauso gut für 500 USD für die gesamte Reise für eine Heckbalkonkabine bieten.
So haben wir doch noch eine schönen Heckbalkon mit Blick auf die COSTA SMERALDA.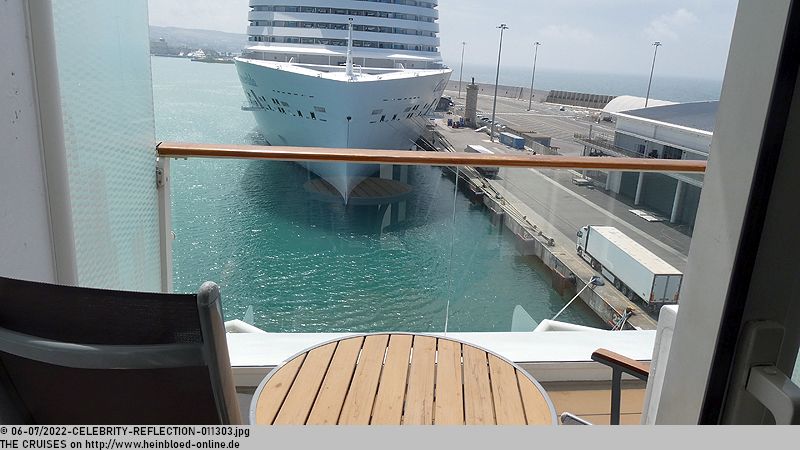 So we still have a beautiful rear balcony with a view of COSTA SMERALDA.

If you imagine: how little we paid at ALLURE OF THE SEAS 2015 and how great the internet was! I fell backward when I got the internet upgrade offer from our travel agency cruisebrothers.com. We may only want to take a 24-hour pass for the two days at sea on board: but it's not worth it to me either. The basic offer is doing better than I expect. I could even upload pictures to Facebook. But it's more complicated because it rarely runs on the desktop, only on the iPhone. However, uploading photos from a desktop via iPhone is more complicated. But it works. There is no VPN via the basic offer: so rest from the company!

Wenn man sich vorstellt: wie wenig haben wir auf der
ALLURE OF THE SEAS 2015
bezahlt und wie toll das Internet lief! Ich bin rückwärts umgefallen, als ich das Internet-Upgrade-Angebot von unserem US-Reisebüro
cruisebrothers.com
bekommen habe. Wir wollen vielleicht nur für die zwei Seetage an Bord jeweils einen 24-Stunden-Pass nehmen: aber auch das ist es mir nicht Wert. Das Basisangebot läuft besser als ich erwarte. Ich könnte sogar DOCH Bilder auf Facebook hochladen. Es ist aber komplizierter, weil es über den Desktop kaum läuft, sondern nur über das iPhone. Über das iPhone die Bilder vom Desktop hochzuladen ist jedoch kompizierter. Aber es funktioniert. VPN gibt es über das Basisangebot nicht: also auch Ruhe von der Firma!
Obwohl wir auf dem Schwesterschiff
CELEBRITY EQUINOX 2010
waren: irgendwie haben wir es gar nicht so schön in Erinnerung. The Hideaway ist Teil unserer Etage. So viele schöne ruhige Ecken auf den einzelnen Etagen. Wir hätten heute Abend sogar Public Viewing oben auf dem Rasen. Und heute Abend wäre auch das Friends-of-Dorothy-Meeting (ich bin nun mal altmodisch!), aber für 20:00 Uhr haben wir eine Buchung im Murano.

Although we were on the sister ship CELEBRITY EQUINOX 2010, we don't remember it that well. The Hideaway is part of our deck. So many nice quiet corners on each floor. We'd even have a public screening of a German National Team soccer game up on the lawn tonight. And tonight would also be the Friends of Dorothy meeting (I'm oldfashioned!) but we have a booking at the Murano for 20:00 hrs.

We go to the Oceanview Cafe for lunch. We like the offer very much. There is something for every taste. You are served. You can take only a few pre-portioned dishes for yourself. At the table, you are served with drinks from the bar. Although this is a "branch" of Café Al Bacio, it's slightly different here. There is no lactose-free milk here either, but I had a lovely waitress who quickly fetched my lactose-free cappuccino for me from downstairs. As for that: they go the extra mile here! Being sent away somewhere is very, very rare. Somehow we already feel very comfortable on board.

Wir gehen ins Oceanview Café zum Mittagessen. Das Angebot gefällt uns sehr gut. Für jeden Geschmack ist etwas dabei. Man wird bedient. Nur wenige vorportionierte Gerichte kann man sich selbst nehmen. Am Tisch wird man bei den Getränken von der Bar bedient. Obwohl es hier sich um eine "Filiale" von Café Al Bacio handelt: es ist hier etwas anders. Auch gibt es hier keine laktosefreie Milch, aber ich hatte eine sehr nette Bedienung, die mir meinen laktosefreien Cappuccino kurzerhand von unten für mich geholt hat. Was das betrifft: sie laufen hier wirklich Extrameilen! Dass man irgendwo weggeschickt wird, passiert sehr sehr selten. Irgendwie fühlen wir uns jetzt bereits sehr wohl an Bord.
Zurück in der Kabine versuchen wir das Sicherheitsvideo zu finden und zu bestätigen, dass wir es gesehen haben.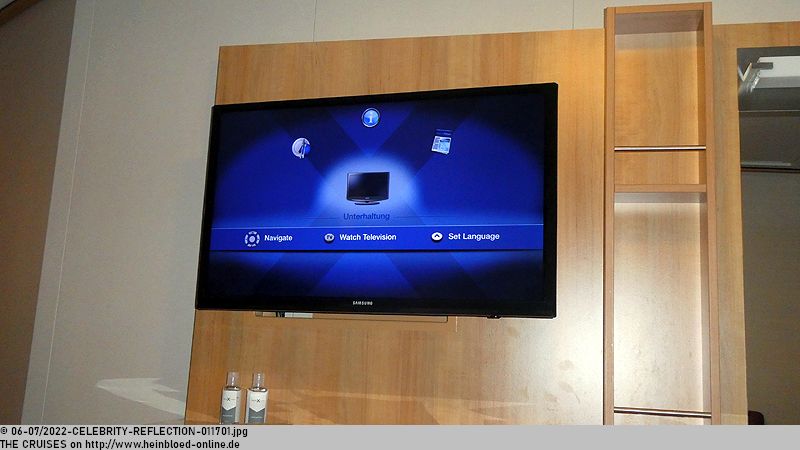 We tried to find and confirm that we watched the security video in the cabin.

At some point, we discover that we don't have to confirm it on the TV but on the app we've seen.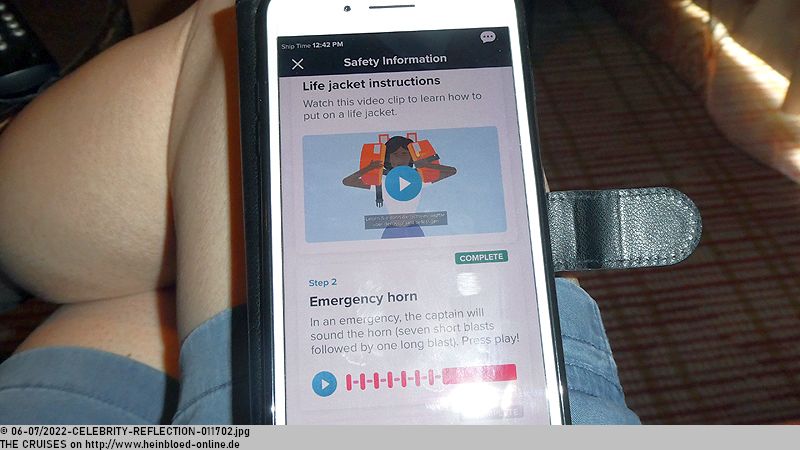 Irgendwann entdecken wir, dass wir es nicht auf dem Fernseher sondern auf der App bestätigen müssen, dass wir es gesehen haben.
Dann müssen wir zur Sammelstation und uns dort zeigen.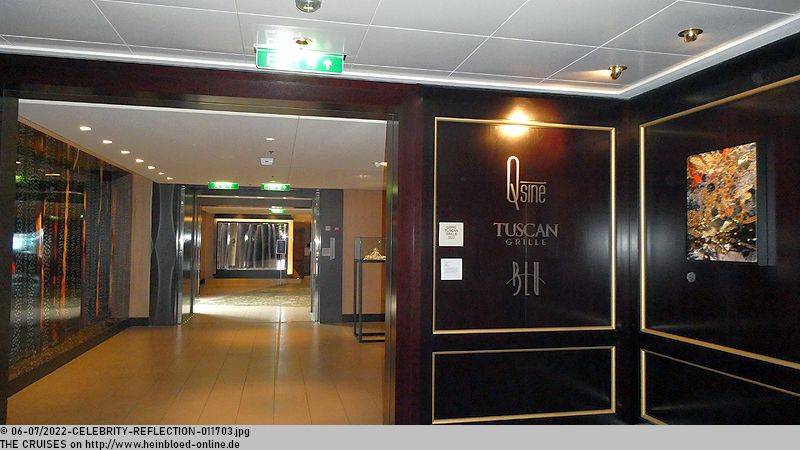 Then we have to go to the muster station and show ourselves there.

There we are received and our visit recorded.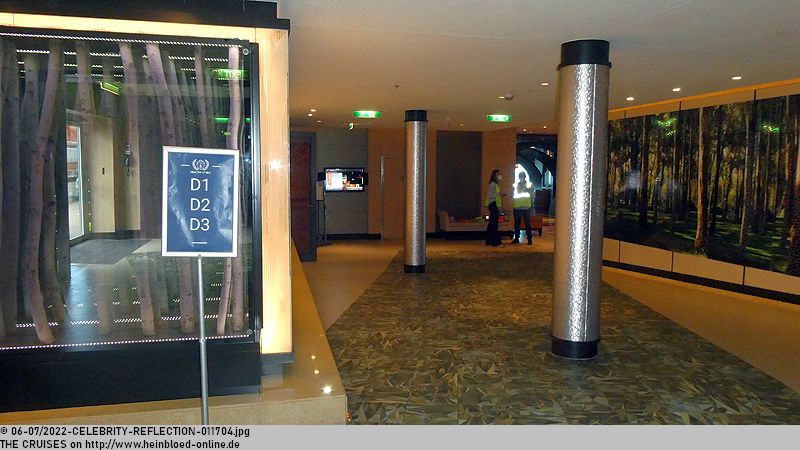 Dort werden wir empfangen und unser Besuch erfasst.
Auf dem Smartphone müssen wir uns das Notfallsignal anhören.

On smartphones, we have to listen to the emergency signal.

We immediately discover our favorite place: Café al Bacio. There is also frappé here. And I am happy about Maru's comment: she is pleased about the 2 USD bill as a tip. When traveling on the REGAL PRINCESS 2022, a US fellow cruiser told me that I would not please the staff with the 2 USD bills, and I can't find it here. Despite the included gratuities and drinks package: we usually add a little something on top, if someone is treating us nice.

Sofort entdecken wir unseren Lieblingsort: Café al Bacio. Es gibt hier auch Frappé. Und ich freue mich über Marus Kommentar: sie freut sich sehr über die 2-USD-Note als Trinkgeld. Bei der Reise auf der
REGAL PRINCESS 2022
sagte man mir, dass ich dem Personal mit den 2 USD-Noten keine Freude machen würde. Hier kann ich es nicht feststellen. Trotz inkludierter Servicegelder und Getränkepaket: wir legen i.d.R. eine Kleinigkeit oben drauf, wenn uns jemand freundlich behandelt.
Wir gehen kurz zum Fitnessstudio. Eine Anmeldung ist nicht notwendig.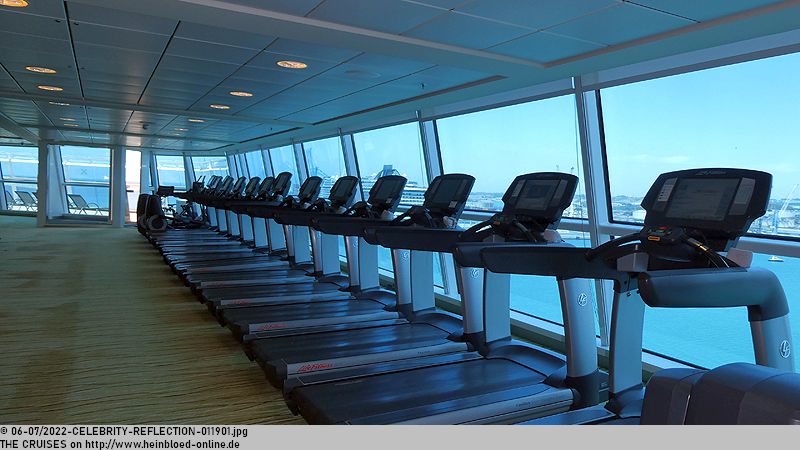 We're going to the gym for a sneak view. Registration is not necessary.

I am interested in yoga. But at 08:00 hrs in the morning? Before getting up?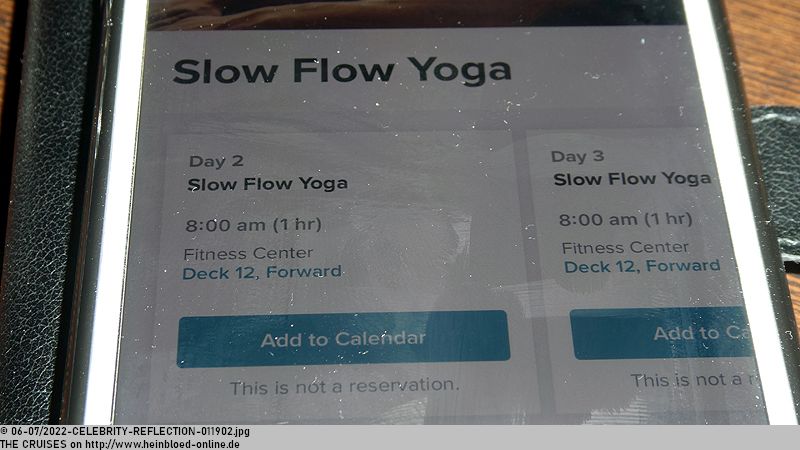 Ich interessiere mich für Yoga. Aber um 08:00 Uhr morgens? Vor dem Aufstehen?
Über die App ist es nicht möglich, die Kurse zu buchen! Sie sind kostenpflichtig: 20,00 USD (2022). Mir wird angeboten, dass ich einen Pass für alle Kurse während der gesamten Kreuzfahrt kaufe (69,00 USD - 2022), aber wir haben nur zwei Seetage.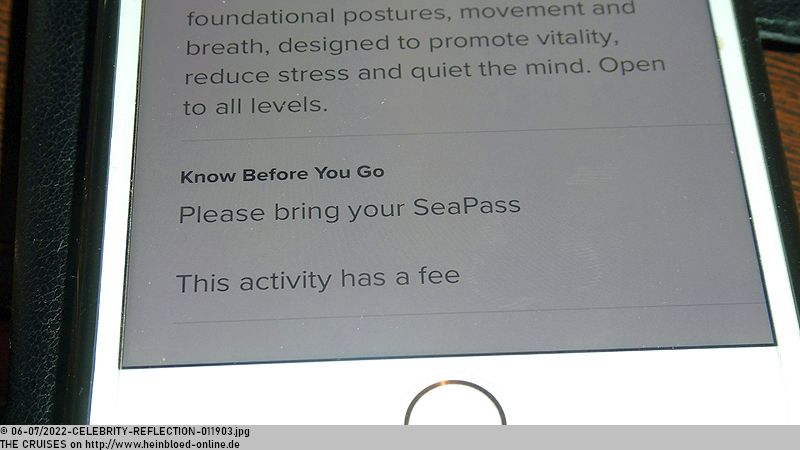 It is not possible to book the courses via the app! They are chargeable: 20 USD (2022). I am being offered to purchase a pass for all classes throughout the cruise (69 USD - 2022), but we only have two days at sea.

Also, on the second day at sea, there is only the 08:00 hrs class. Too bad. I think it's too expensive here that I don't even ask for private lessons like I did on REGAL PRINCESS 2022.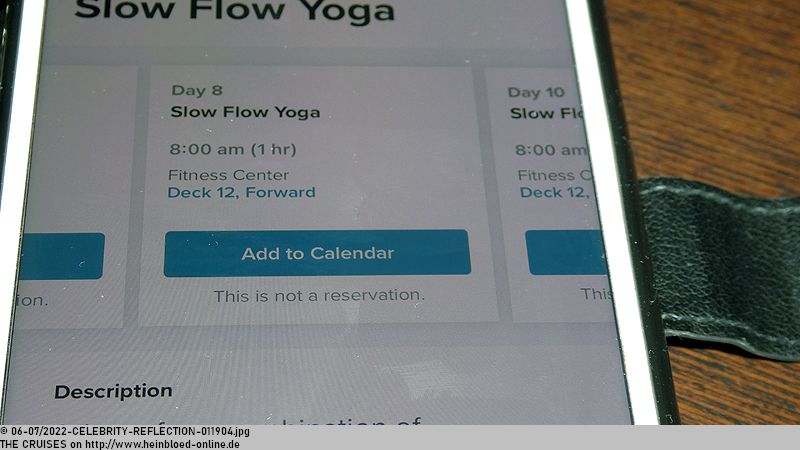 Auch am zweiten Seetag gibt es nur den 08:00 Uhr Termin. Schade. Ich finde es einfach hier zu teuer, dass ich schon gar nicht nach Privatstunden frage, wie damals auf der
REGAL PRINCESS 2022
.
Ich gucke mich auf den Außendecks um: ich freue mich über die Regenbogenflagge am Schornstein. Uns gefällt es ausgesprochen gut. Da nur 1.700 Gäste an Bord sind, verteilt es sich sehr schön. Die Rasenfläche auf Deck 15 ist faszinierend. Wie üblich bei Royal Caribbean: die Pflege der Holzrailings wird immer leider vernachlässigt. Da das Heck sehr stufig angelegt ist, können wir von oben in unseren Balkon reingucken und wir können von uns aus auch alles sehen. Der Heckbalkon ist einfach schön.

I look around on the open decks: I'm happy about the rainbow flag on the funnel. We like it very much. Since there are only 1,700 guests on board, it is spread out very nicely. The lawn on deck 15 is mesmerizing. As usual with Royal Caribbean: the care of the wooden railings is unfortunately always neglected. Since the rear is very stepped, we can look into our balcony from above and see everything from ourselves. The rear verandah is just beautiful.

So these are the metal bottles we discovered on the pier when boarding the ship. The water bottles are made of tin.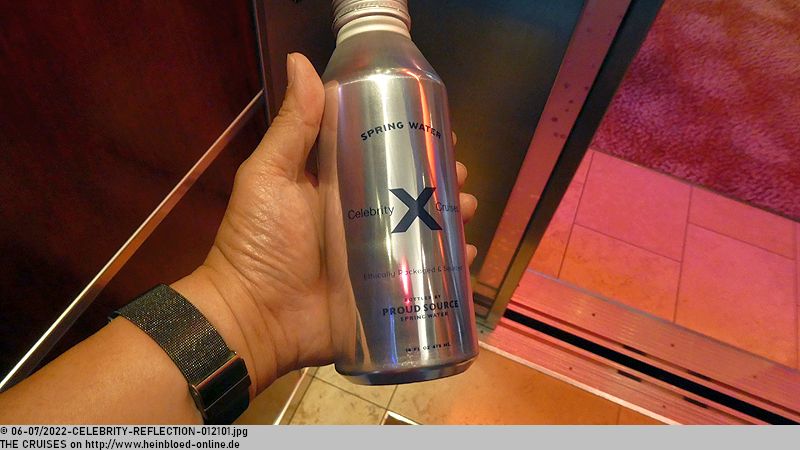 Das sind also die Metallflaschen, die wir am Pier beim Betreten des Schiffes entdeckt hatten. Die Wasserflaschen sind aus Blech.
Wir gehen zunächst in die Show. Im Theater und im Casino gilt eigentlich Maskenpflicht lt. Homepage. Es gibt am Eingang Hinweise, aber niemand macht in den Ansagen darauf aufmerksam und niemand setzt es durch.
King Jamsheed
kenne ich von unserer
RYNDAM 2013
-Reise. Damals war er dort der Barpianist. So freue ich mich, dass er hier auftritt. Das Programm entspricht meinem Geschmack. Ich freue mich über das Programm.

We go to the show first. According to the homepage, masks are compulsory in the theater and casinos. There are notices at the entrance, but nobody calls attention to it in the announcements, and nobody enforces it. I know King Jamsheed from our RYNDAM 2013 trip. At that time, he was the bar pianist there. So I'm glad he's performing here. The program suits my taste. I am happy about the program.

We walk through the Ensemble Lounge and marvel at the tones that emanate from the walls and ceiling as we walk through.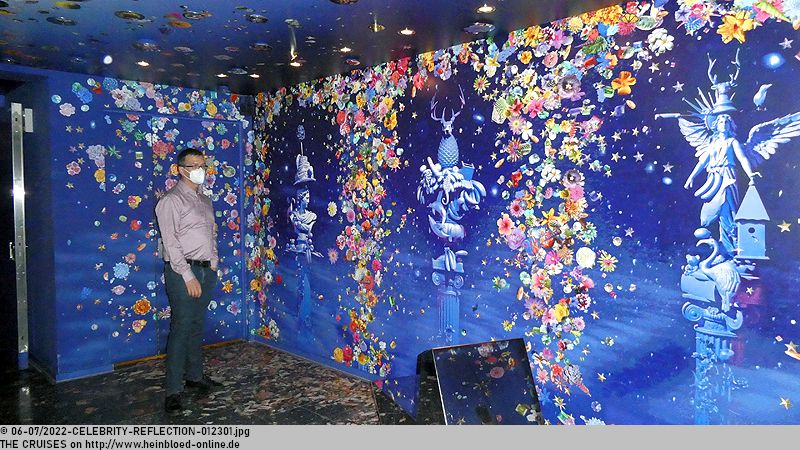 Wir laufen durch die Ensemble Lounge und staunen über die Töne, die beim Durchlaufen von den Wänden und Decken ertönen.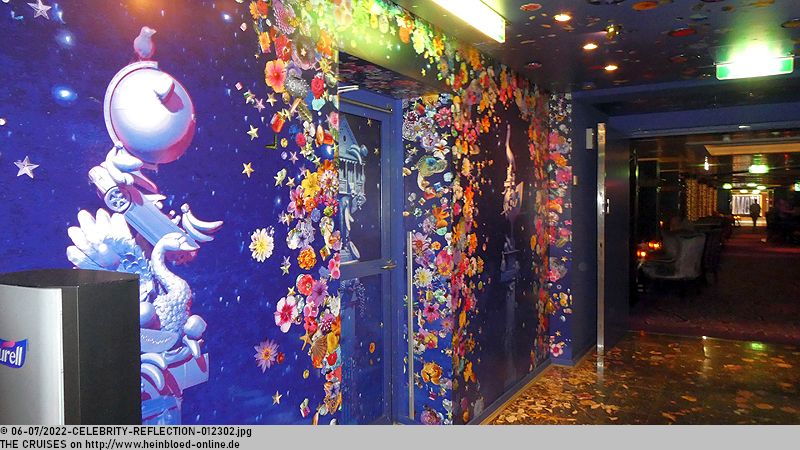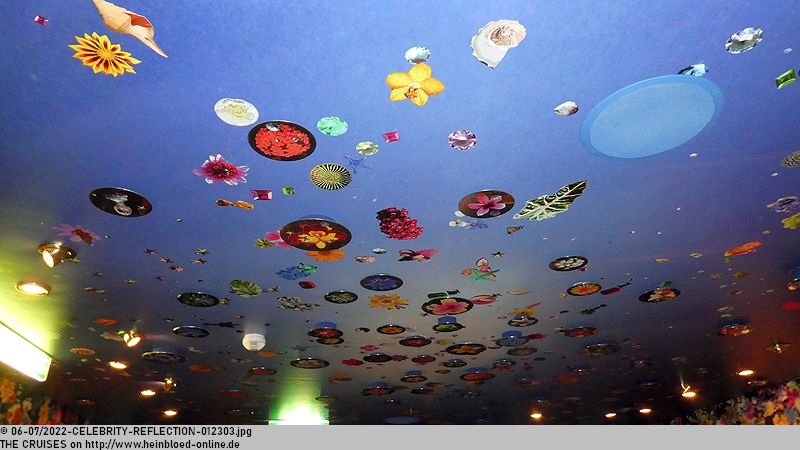 Vorab konnte man für den 1. Abend mit 30% Rabatt für das Murano buchen. Man konnte es vorab mit seinem Bordguthaben (200 USD) verrechnen und muss nicht wie bei anderen in Vorlage treten. Wir genießen einen sehr schönen Service durch Yandhi: mit Zubereitung am Tisch usw. Allerdings stellen wir später fest: Bruno und ich essen das Gleiche, wie damals im Olympic auf der
CELEBRITY MILLENNIUM 2014
: Lobster Bisque, Schweinebauch und Lobster. Da ich nicht mehr für sechs verschiedene Dessertproben offen bin, nehme ich dieses Mal das Soufflée. So geht ein toller erster Tag an Bord der CELEBRITY REFLECTION zu Ende.

You could book the Murano in advance for the first evening with a 30% discount. You could offset it against your onboard credit (200 USD) in advance, and you don't have to prepay it like others. We enjoy a charming service from Yandhi: preparation at the table, etc. However, we find out later: Bruno and I eat the same as we did at the Olympic Specialty Restaurant on CELEBRITY MILLENNIUM 2014: lobster bisque, pork belly, and lobster. Since I'm no longer open to six different dessert samples, I'll go for the soufflé this time. This is how a great first day on board the CELEBRITY REFLECTION ends.

Back in the cabin, we still find clues for our dinner in the main restaurant and tomorrow's program. Instead of one large blanket, we now have two single blankets.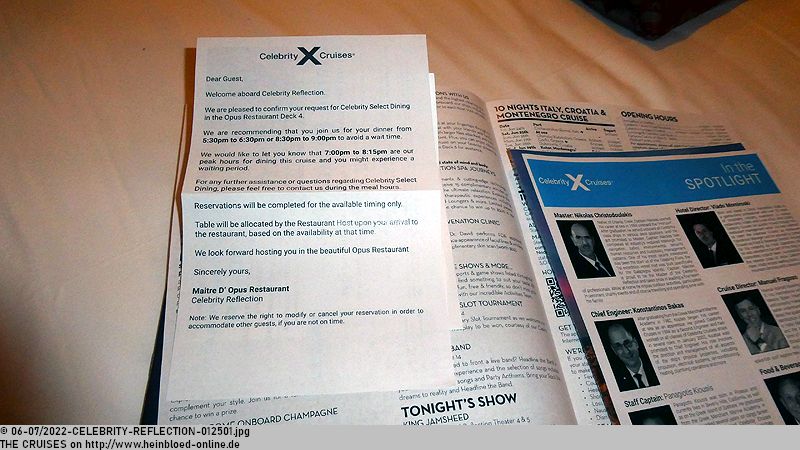 Zurück in der Kabine finden wir noch Hinweise für unser Abendessen im Hauptrestaurant, sowie das morgige Tagesprogramm. Statt einer großen Decke, haben wir jetzt zwei Einzeldecken.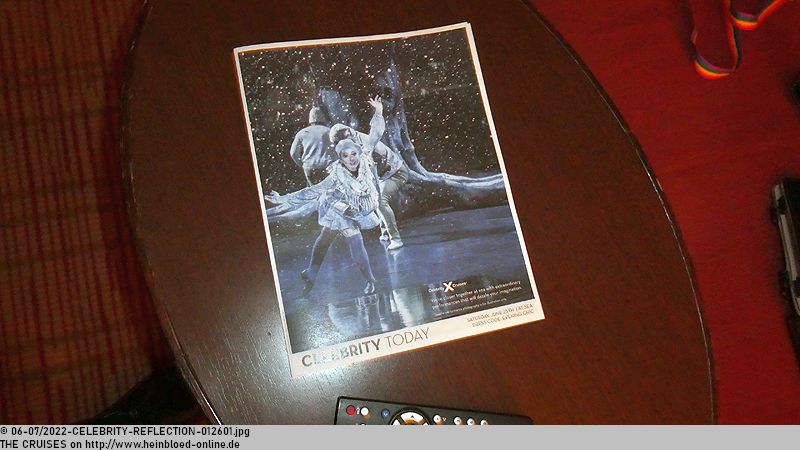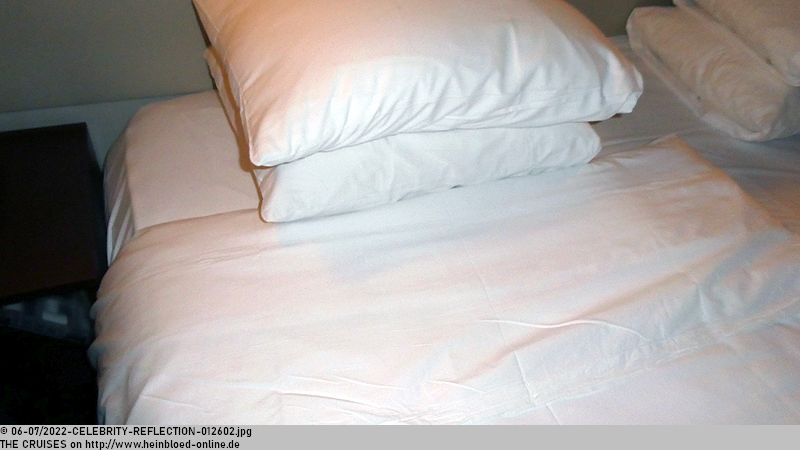 Die anderen Reisen in diesem Blog/
The other voyages in this blog: