Scroll down for English explanations - alternates with German explanations.

Unser Kreuzfahrt begann dieses Mal in Frankfurt. Weil wir noch dringend eine neue Ersatz-SIM-Karte von Telekom brauchten, blieb uns weniger Zeit für die Lufthansa Senator Lounge. Aber es gab eh nichts besonders leckeres.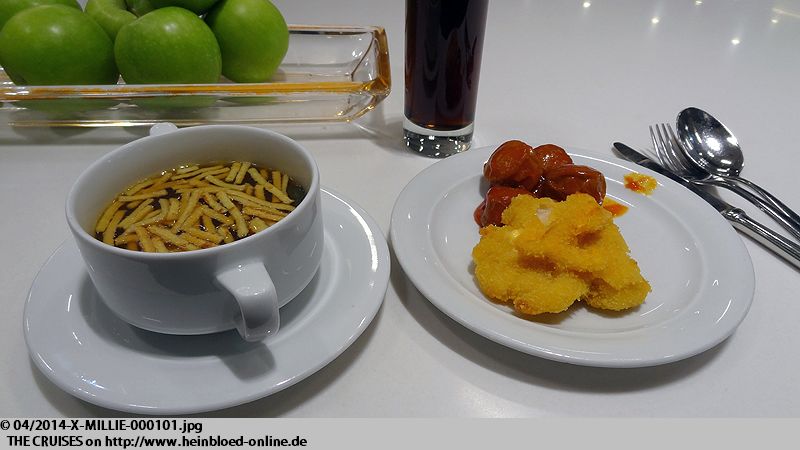 Our cruise started this time in Frankfurt. Because we need a replacement for a SIM-card we did not have so much time to stay in the Lufthansa Senator Lounge. But anyway there was nothing yummy available.

A last bread with some liver paté and some "Curry-Wurst" (fried saussage with some spicy tomato sauce and curry powder) for the the next two weeks.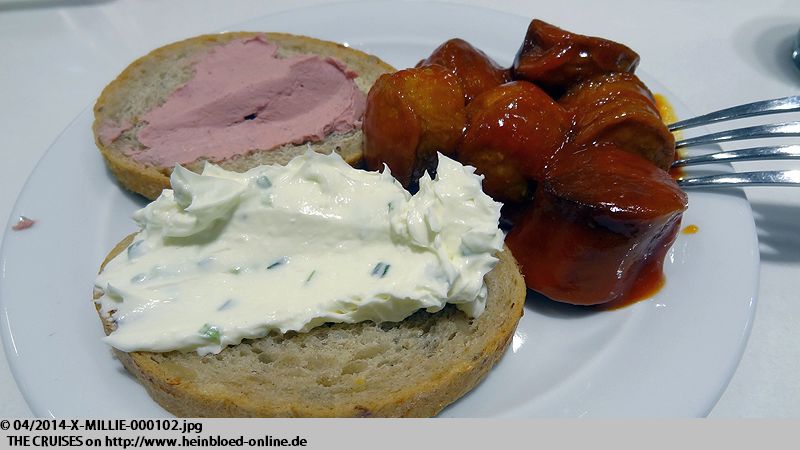 Ein letztes Leberwurstbrot und etwas Curry-Wurst für die nächsten zwei Wochen.
Es geht dann mit Lufthansa nach Zürich. Wir sind froh, dass die Streiks im Moment unterbrochen sind. Wären wir vor wenigen Tagen geflogen, wären wir jetzt wohl im ICE unterwegs nach Zürich.

We went then with Lufthansa towards Zurich, Switzerland. We were quite happy because the strike was suspended for a moment. Few days earlier we need to take the ICE high-speed-train to Zurich.

Alfons (a French comedian who tested Lufthansa for some commercials) was right: there was no key for red wine at the gate.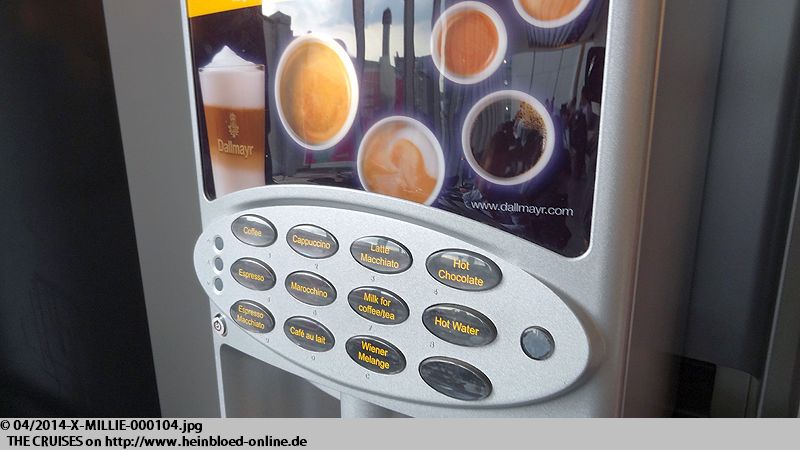 Alfons
hat Recht: Es fehlt die Taste Rotwein am Getränkeautomaten am Ausgang.
Es gibt ein paar Fischlis...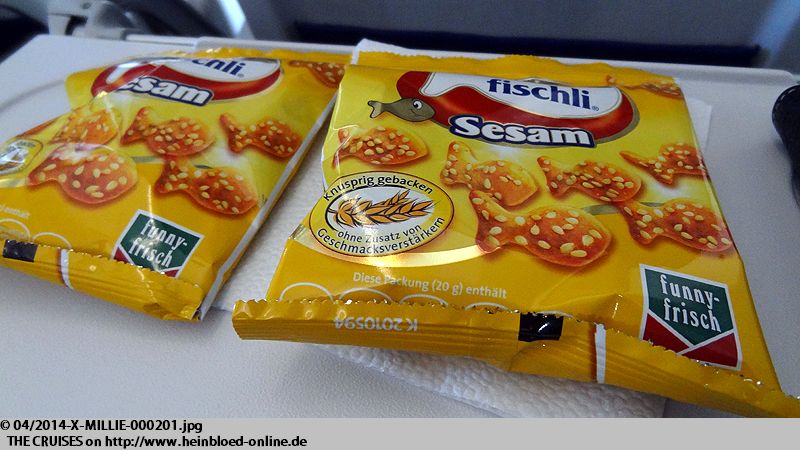 Some fishy snacks...

and some tomato juice...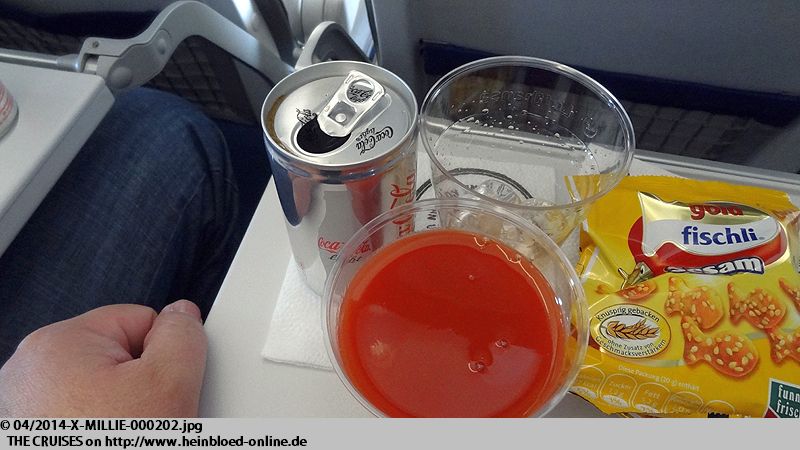 Und Tomatensaft...
In Zürich haben wir noch viel Zeit. So gehen wir jetzt nochmals in die Senator Lounge. Cranberry-Juice... gut für den Einstieg für eine Kreuzfahrt.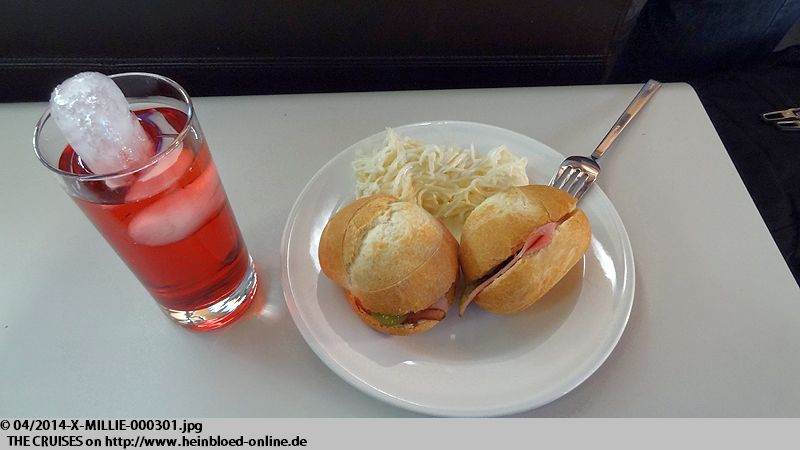 In Zurich we had plenty of time. So went to th Senator Lounge. Cranberry-Juice is a good start-up for the following cruise.

Here we waited for the rest of the family.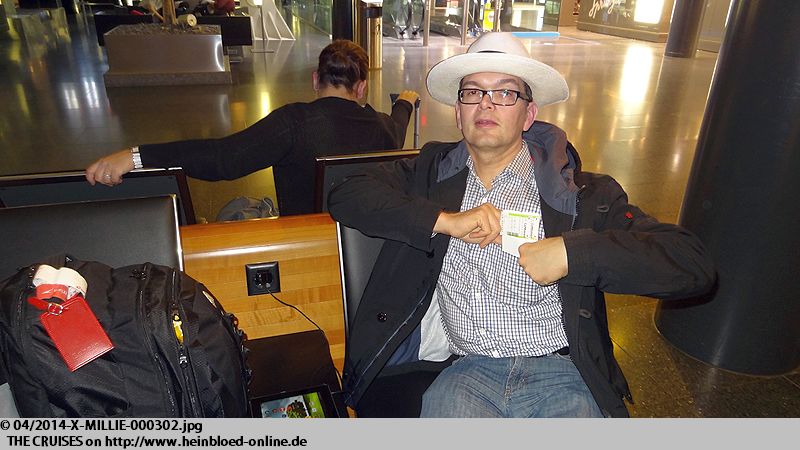 Wir warten hier auf den Rest meiner Familie.
Die Hüte sind sehr praktisch... meine Familie rennt einfach den Hüten hinterher.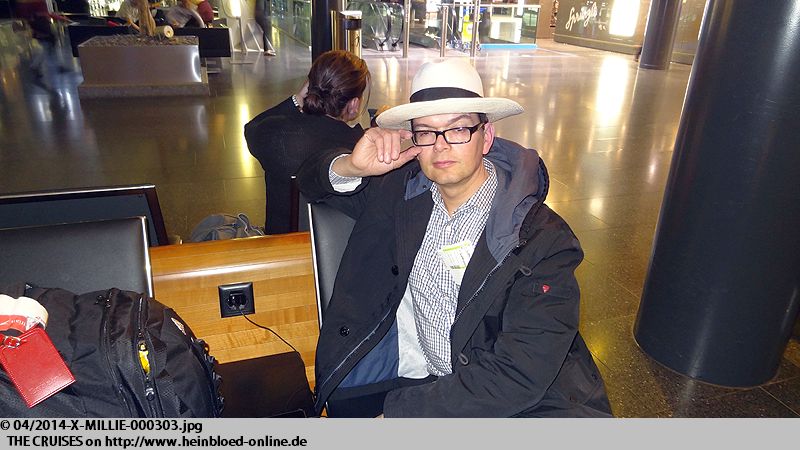 Our hats were great... my family just follow the hats.

My parents arrived from Dusseldorf, Germany.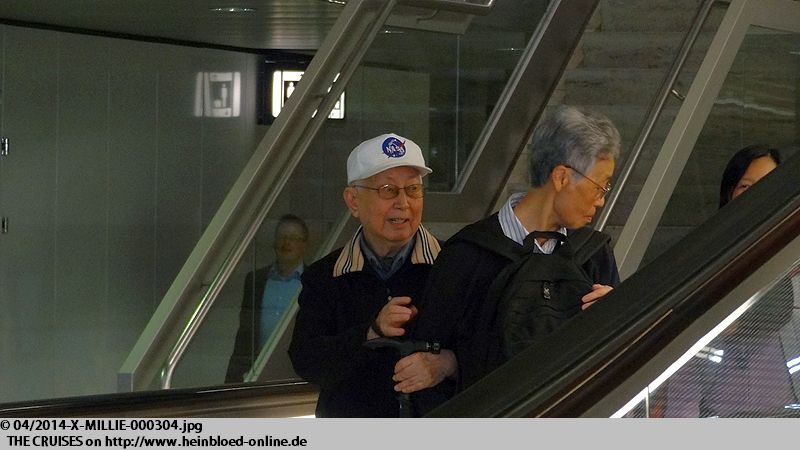 Meine Eltern sind da: aus Düsseldorf.
Im Schlepptau: meine ältere Schwester (jünger als ich) Tien-Chih, den Kindern Friederike und Christine, mein Schwager Martin sowie seine Mutter Marianne.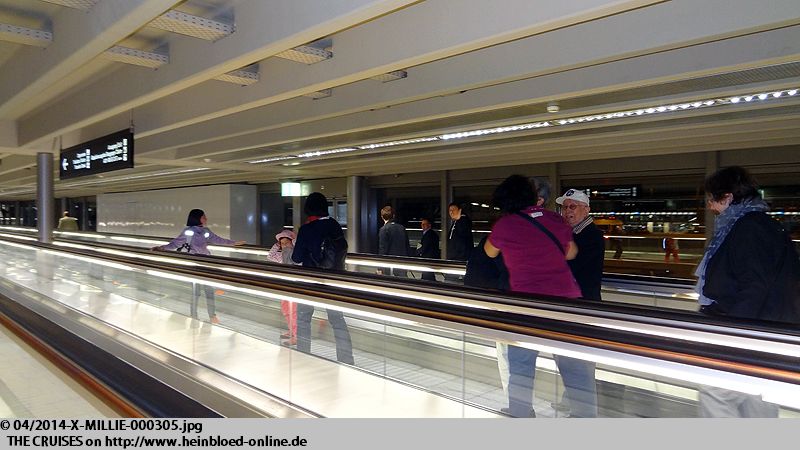 With them: my elder sister (but younger than me) Tien-Chih, her kids Friederike and Christine, my brother-in-law Martin and his mother Marianne.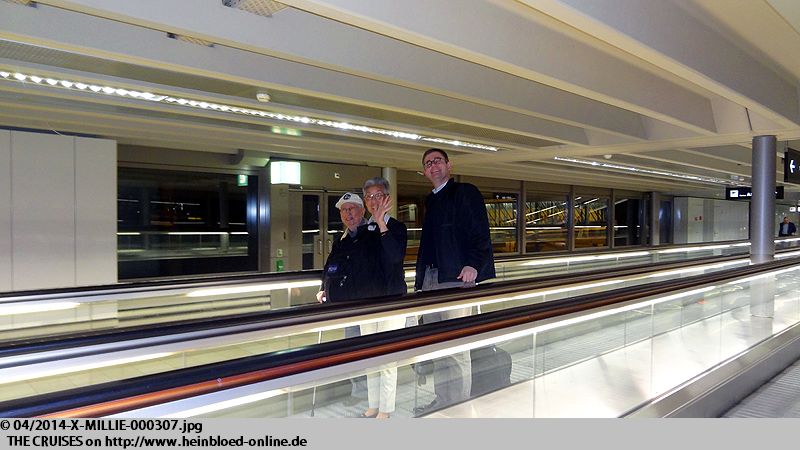 Furthermore my younger sister Tien-Lo arrived from Stuttgart, Germany and she was with us already on MSC MUSICA and NORWEGIAN GEM.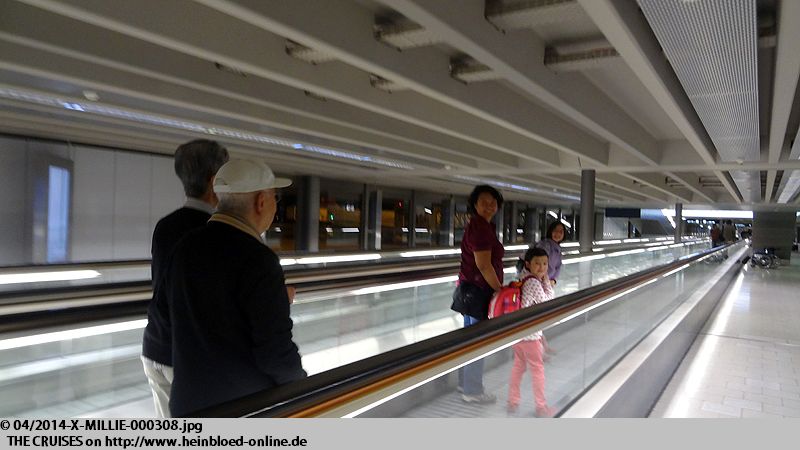 Außerdem noch meine jüngere Schwester Tien-Lo aus Stuttgart eingeflogen, die schon auf der MSC MUSICA und NORWEGIAN GEM mit war.
Die Familienzusammenführung hier in Zürich haben wir
Emporium Travel in Berlin
zu verdanken, die sich toll um die Buchung gekümmert hat. Sie sind eigentlich auf Business Class Tickets spezialisiert, aber für unsere Konstellation waren wir schon froh, dass wir ein sehr günstiges Angebot in Anspruch nehmen konnten. In Zürich geht es direkt zum Gate im Terminal E weiter, nach dem wir die Ausreise aus dem Schengen-Gebiet und eine Bahnfahrt hinter uns haben. Solange wir die Laufbänder haben, fällt es meinem Vater leicht mitzuhalten. Aber später wird es doch sehr beschwerlich, und so fordern wir doch spontan Hilfe von Swiss an. So dürfen wir später als erster einsteigen - mit allen. Merci vielmals an Herrn Patierno von der Swiss - das war wirklich klasse.

The reunion of my family was arranged by Emporium Travel in Berlin who took care of our bookings. Normally they are specialized for bookings of Business Class tickets but for our constellation I was quite happy to get such a great bargain. In Zurich we headed immediately to Terminal E by a little terminal train after leaving the Schengen-area. As long as we have moving walkways it was easy for my father to join us. But later we noticed it became more difficult for him so we asked Swiss spontaneously for assisitance. So we were allowed to pre-board together with all of us. "Merci vielmals" (Swiss way to thank someone) to Mr Patierno of Swiss - it was really great of you.

I would prefer to go in Premium Economy or Business. But on these routes it was too expensive. This would be the future Premium Economy of Lufthana. I could see it recently on ITB (Travel Exhibition) in Berlin. I think that this should become our future home for long-distance flights. Unfortunately not available so far. Available in winter 2014 on Boeing 747-8 aircrafts.

Ich wäre ja lieber Premium Economy oder Buisness geflogen. Aber auf den Routen viel zu teuer. So wird also die Premium Economy bei Lufthansa. Die konnte ich mir vor kurzem auf der ITB in Berlin ansehen. Das wird bestimmt unsere künftige Heimat für Langstreckenflüge. Leider noch nicht jetzt verfügbar. Erst ab Winter in der Boeing 747-8.
Und nach dem Pech auf dem Flug von Denver nach Frankfurt im vergangenen Mai bin ich endlich mal in der neuen First Class von Lufthansa - wenn auch nur im Modell auf der ITB Berlin.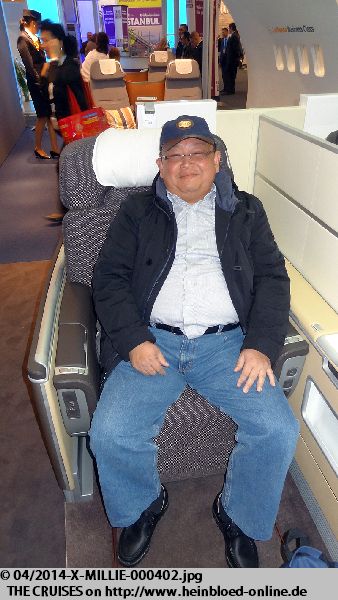 After our unluck on our Denver - Frankfurt flight last year's May I was finally in Lufthansa's new First Class - even it was only a showroom on ITB Berlin.

Our travel agency pre-booked the seats for us but Lufthansa had problems during the check-in. So three of the Dusseldorf passengers were put on the same seat and need to travel on the top of each other... 3 x on seat 38K... this should become fun.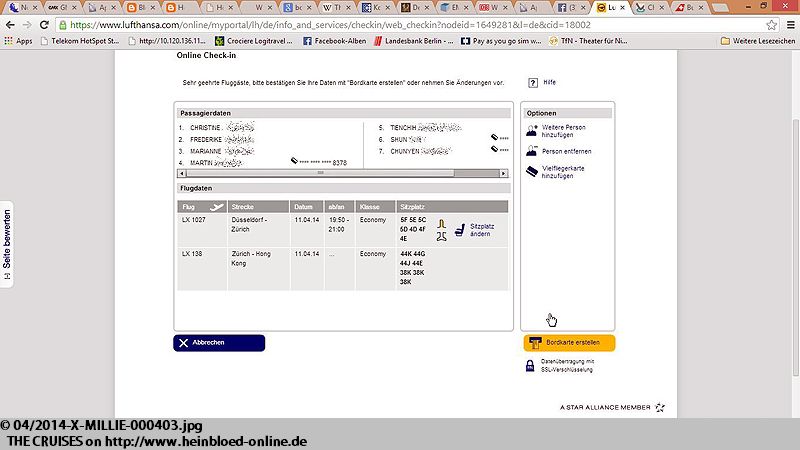 Unser Reisebüro hat ja schon die Plätze für uns vorgebucht, aber bei Lufthansa gibt es Probleme beim Einchecken: So werden drei von den Düsseldorfern kurzerhand auf den selben Platz gesetzt und müssen wohl nun übereinander reisen... 3 x auf Sitz 38K... Das kann ja lustig werden.
Das Problem entsteht aber dadurch, wenn man über Lufthansa einchecken muss... aber in der Realität ist alles in Ordnung. Wir bekommen 5 2er-Reihen hintereinander. Alles ist gut. Sogar alles in drei Sprachen. Sogar alles mit Speisekarte und Menüauswahl. Sogar mit Mini-Senator-Betreuung. Und dank meines neuen Schweizer Nackenkissens kann ich etwas schlafen.

This problem only occurs if you need to check with Lufthansa... but in reality everything was fine. We had 5 consecutive rows of 2. Everything was fine. Everything you got in three languages. Even you had a menu card and menu selection. And some small extra care for Senators. And I was able to sleep a little due to my new Swiss neck pillow.

Mrs Hess-Steiner and Maître de Cabine Douioui were really taking very well care of us - especially they treated the kids very nice.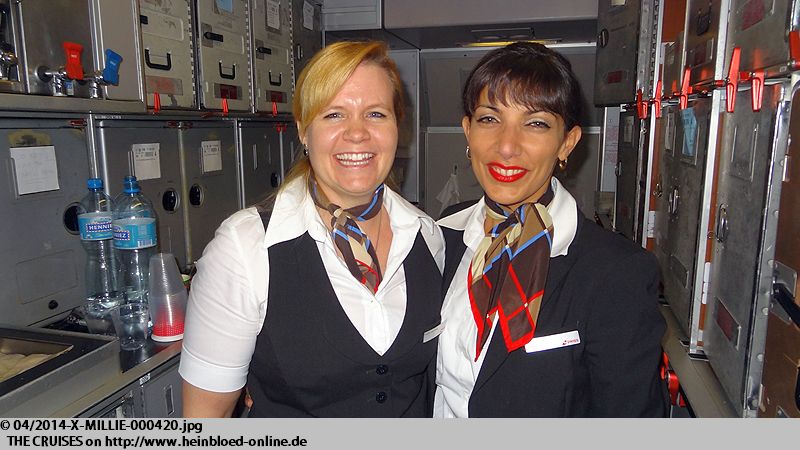 Frau Hess-Steiner und Maître de Cabine Douioui haben sich liebevoll um uns, insbesondere die Kinder gekümmert.
Zwischendurch konnte man sich immer etwas in Galley holen. So wie ein Süppchen.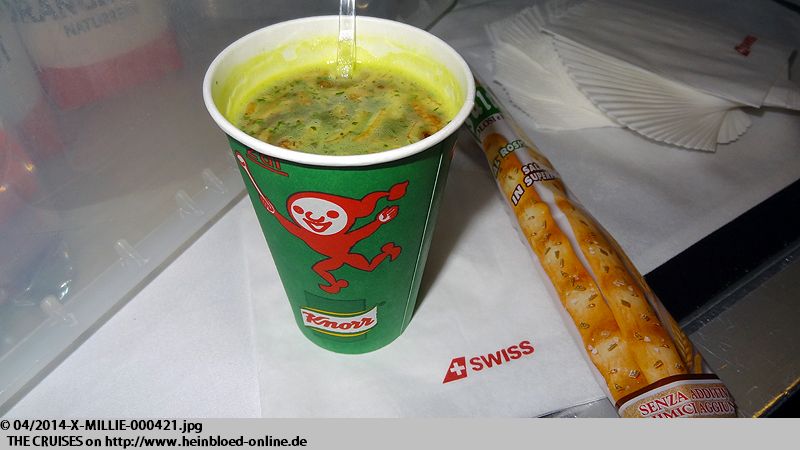 In the meantime you could always get something in the galley. Like a soup.

At any time you could get something to drink.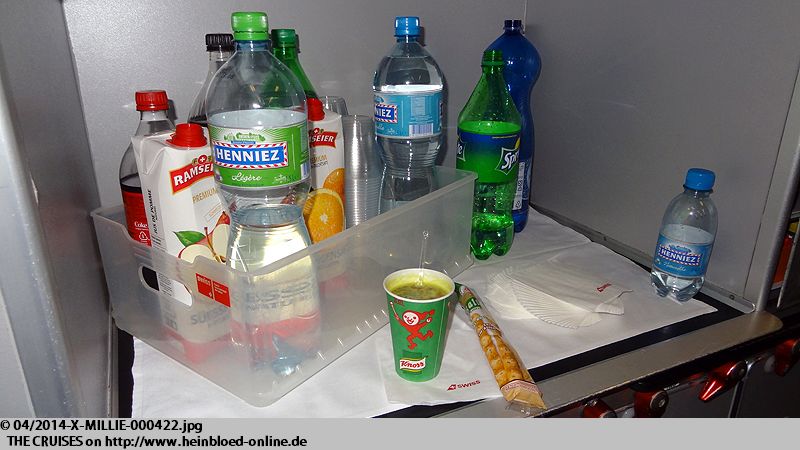 Getränke konnte man sich jederzeit auch holen.
Nur nervig war der Entertainment-Kasten unter dem Vordersitz. Aber der Airbus 340 ist ja bald Geschichte bei der Swiss. Die neuen Boeing 777 sind bestellt.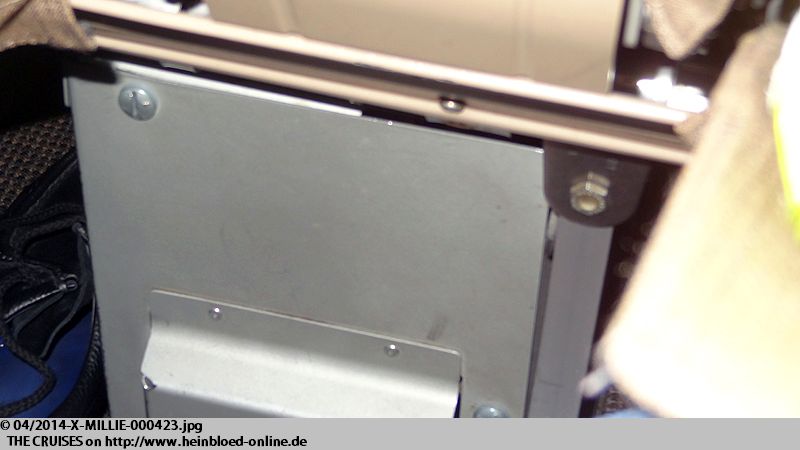 Somehow only the entertainment box under the front seat was annoying. But Airbus 340 would be history soon with Swiss. The new Boeing 777 are already ordered.

I was watching "Frozen" and so I could listen to the German version of the Oscar-awarded song "Let it go" by Idina Menzell.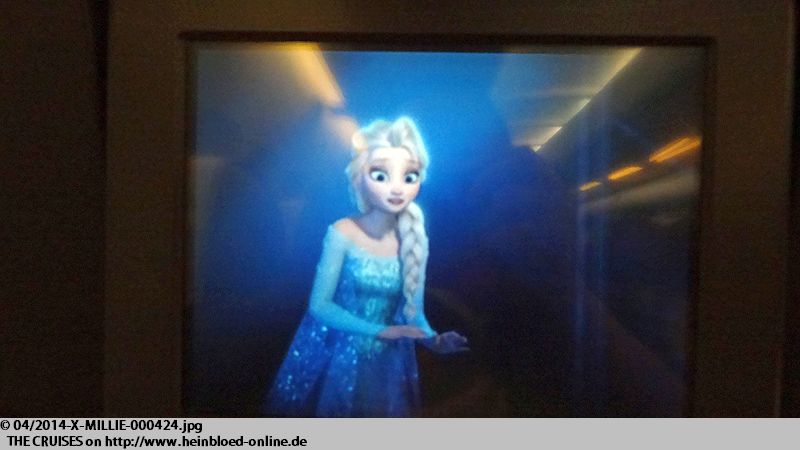 Ich gucke "Frozen (Die Eiskönigin - völlig unverfroren)" und dank der Sprachenauswahl weiß ich jetzt, dass der Oscar-prämierte Titel "Let it go" (gesungen von Idina Menzell) auf Deutsch "Ich lass los" heiß.
Aber gelegentlich muss das System neu gestartet werden. Das Reset ist jedoch erfolgreich.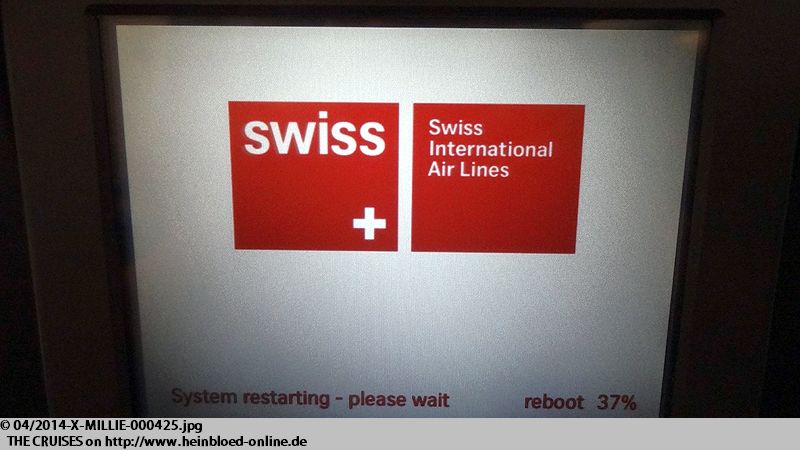 But occasionally you need to restart the system again. But the reset was successful.

I missed only some meat with the snack before landing.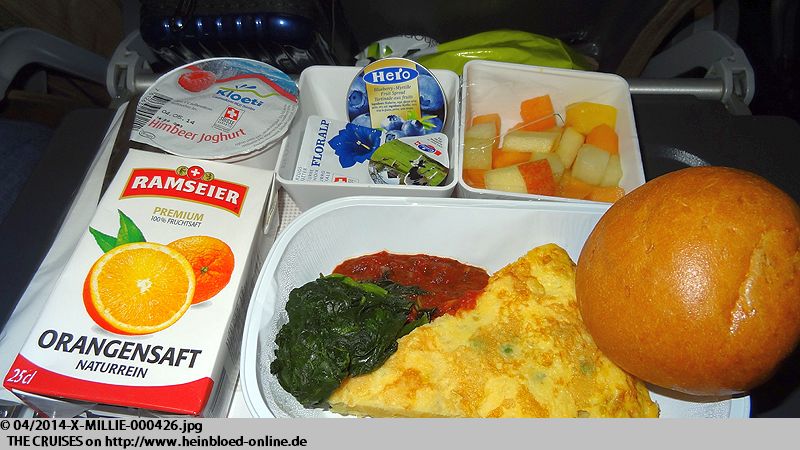 Nur beim Snack vor der Landung vermisse ich das Fleisch.
So eine Tasche habe ich früher als Kind noch nie bekommen. Für die Kinder gab es sogar ein Kindermenü, das Milchprotein-frei war.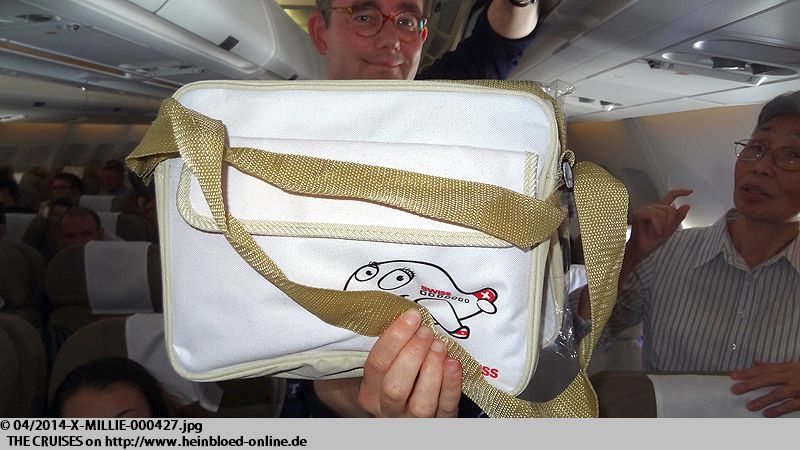 I never got such a bag when I was a child. They even had milk-protein-free children menu.