Scroll down for English explanations - alternates with German explanations.

Endlich wieder Land in Sicht. Wir kommen in Keelung an.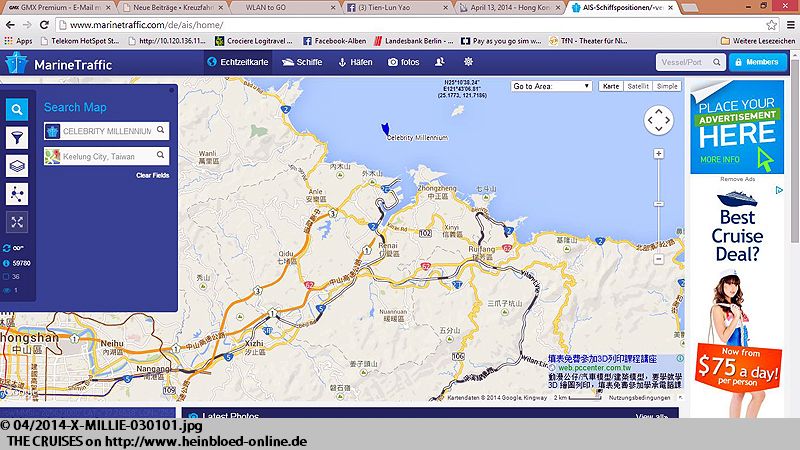 Finally you should land. We arrived in Keelung, Taiwan.

I enjoyed how we entered the port. Here I took a picture for Sigi and Nils who are still working for Yang Ming Line and I worked for them too before. And also very beautiful the sunrise above the port.

Ich genieße die Einfahrt. Hier fotografiere ich einen Gruß für Sigi und Nils, die ja noch heute noch für Yang Ming Line arbeiten und für die ich auch mal gearbeitet habe. Und auch sehr schön: der Sonnenaufgang über den Hafen.
Man sieht viel, wenn man reinfährt.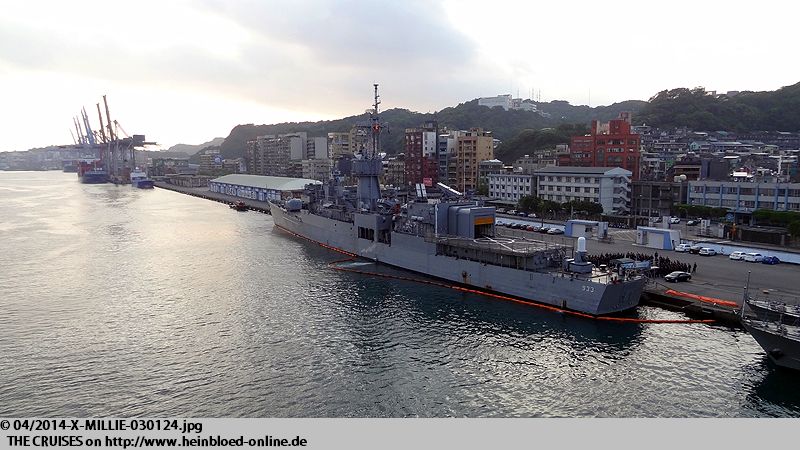 You saw a lot, wenn you entered the port.

Here you had the morning muster of the navy soldiers.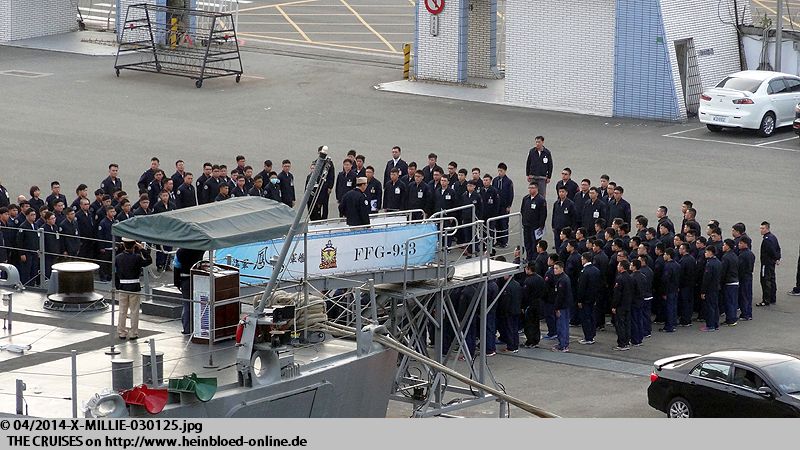 So wird hier schon vor dem Schiff der Marine der Morgenappell gehalten.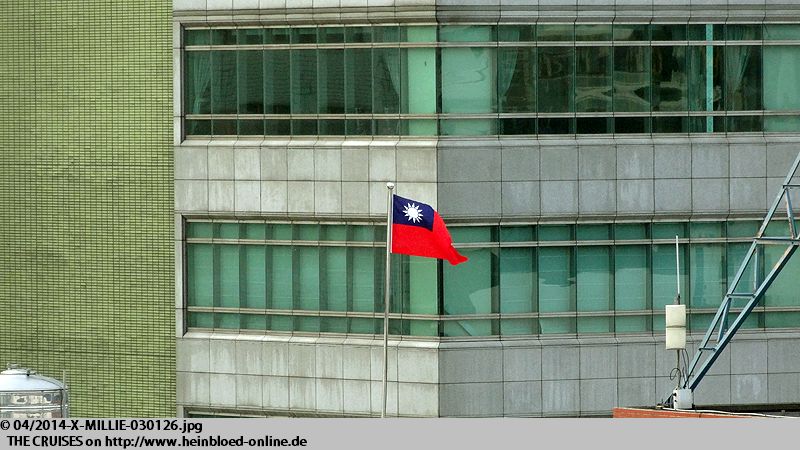 Just above the cruise terminal: the tallest statue in the world of the Goddess of Mercy in the Zhongzehng Park.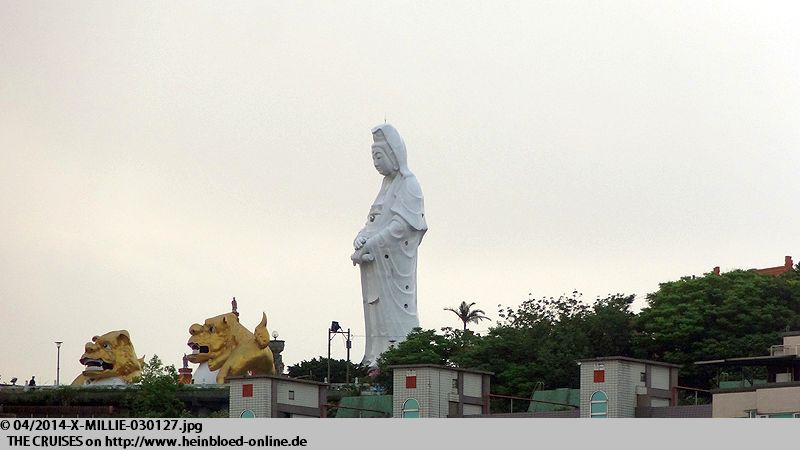 Direkt überhalb des Kreuzfahrtterminals: die größte Statue der Welt der
Göttin der Gnade im Zhongzheng Park
.
Und im gleichen Parkkomplex der Guanhai Pavillon. Eine sicherlich schöne Alternative, wenn man nicht nach Taipeh fahren will.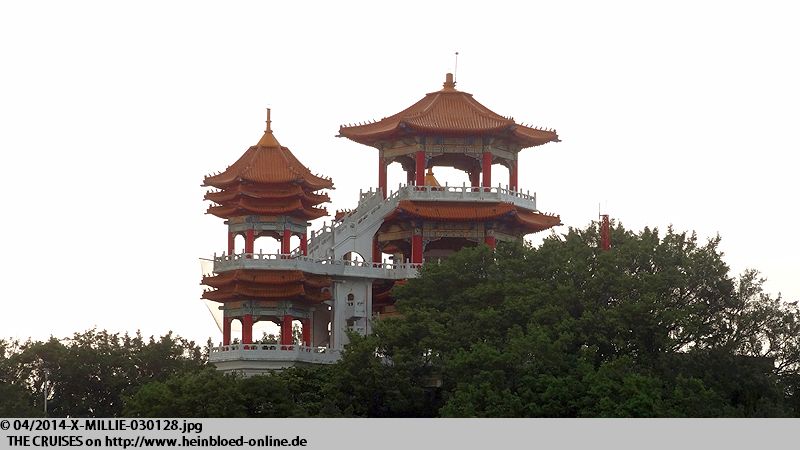 And in same park area you find Guanhai Pavillion. A nice alternative if you do not want see Taipei.

You just arrive in the heart of Keelung.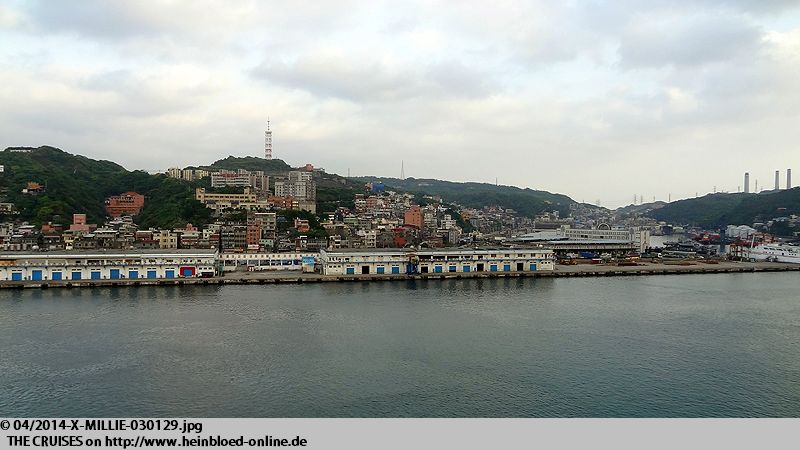 Man legt mitten in Keelung an.
Auf der anderen Seite des Hafenbeckens ist der Bahnhof. Von hier fahren die Vorortzüge nach Taipeh. Zuletzt erinnere ich mich, dass als Kind vor über 30 Jahren mit meinem Großvater hier war.

On the other side of the port bay you find the train station. From here the commuter trains towards Taipei depart. I remember that I was taken by my grandfather over 30 years ago from here.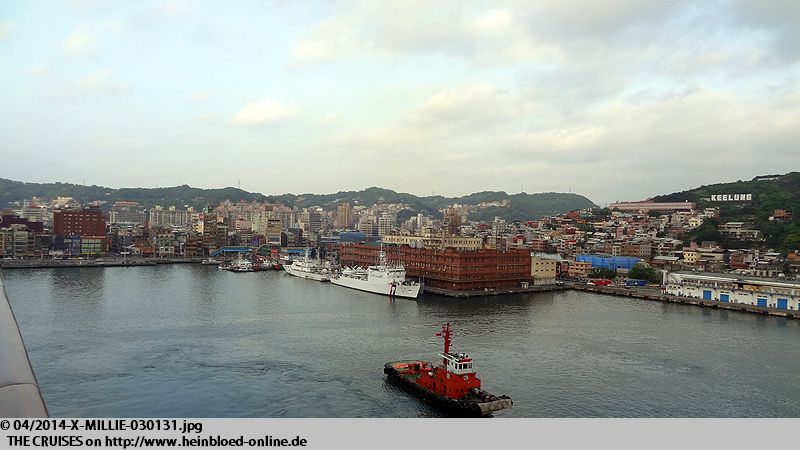 Hollywood lässt grüßen.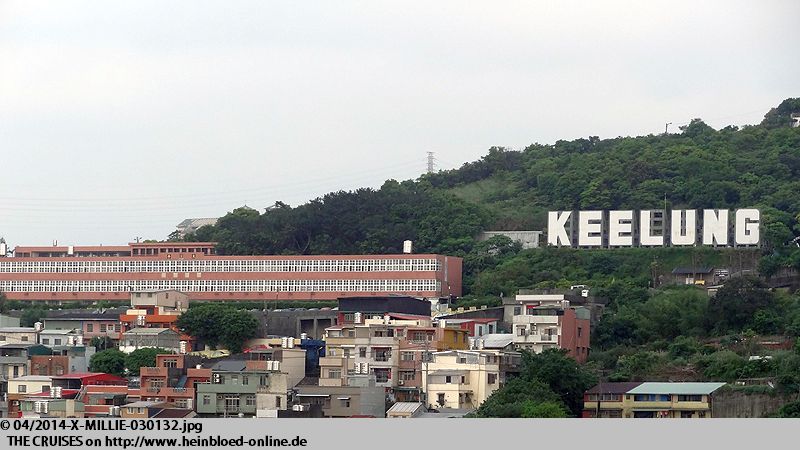 Greetings from Hollywood.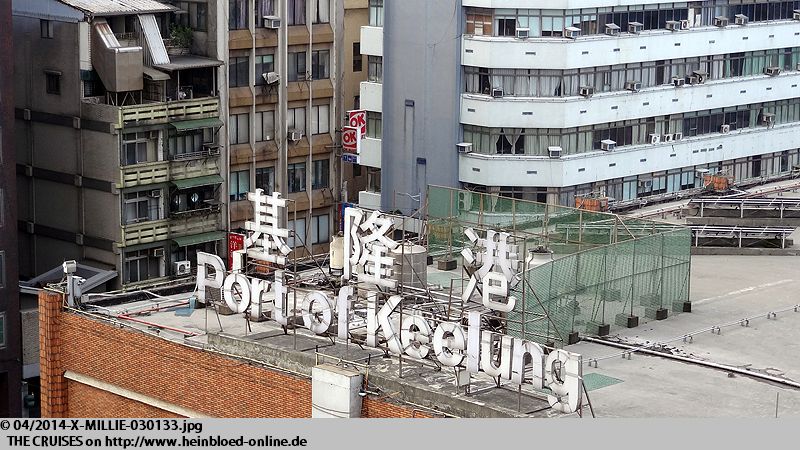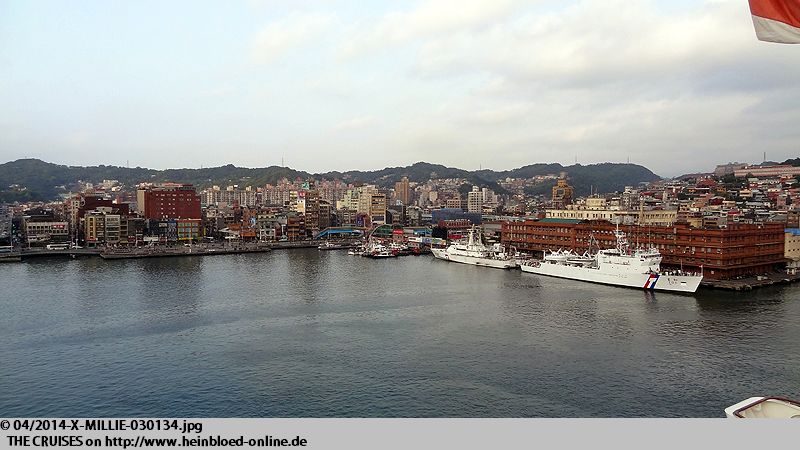 There you find the city center of Keelung.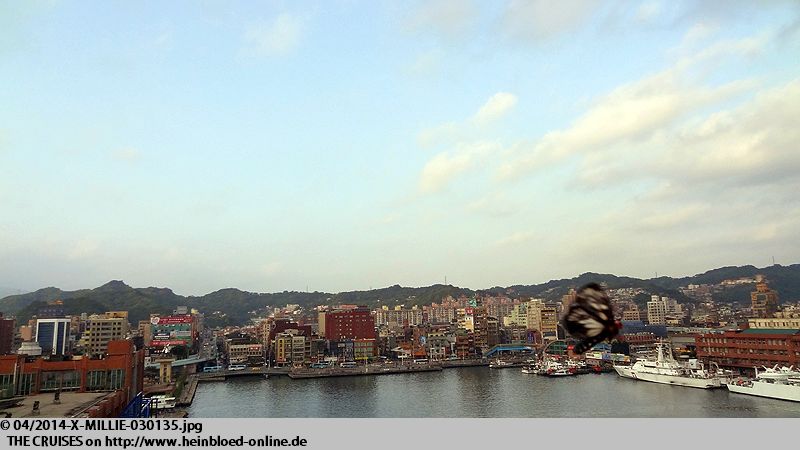 Dort ist bereits die Innenstadt von Keelung.
Richtig klasse: meine SIM-Karte von Taiwan Mobile, die mein Cousin für mich besorgt hat.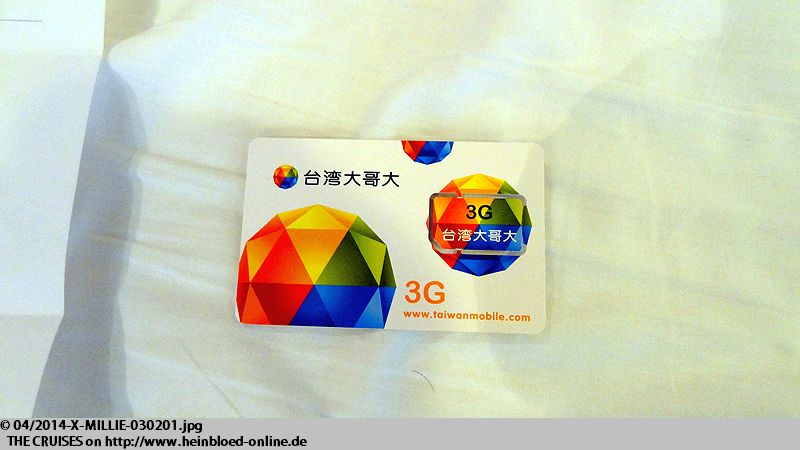 Very great: my SIM-card of Taiwan Mobile which my cousin got for me.

Here I could easily browse and use our mobile WiFi-device.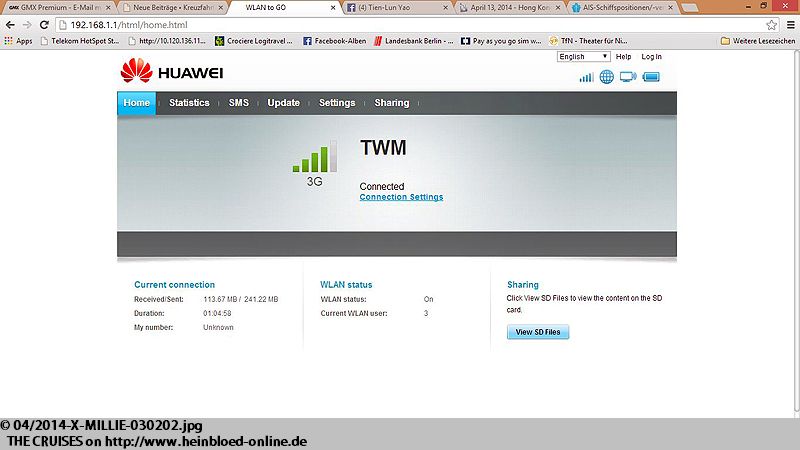 Hier kann ich ohne Schwierigkeiten surfen und unsere mobiles WLAN nutzen.
Vom Balkon aus gucke ich runter und stelle fest, dass ich ja gar nicht direkt auf die Promenade runtergucken kann.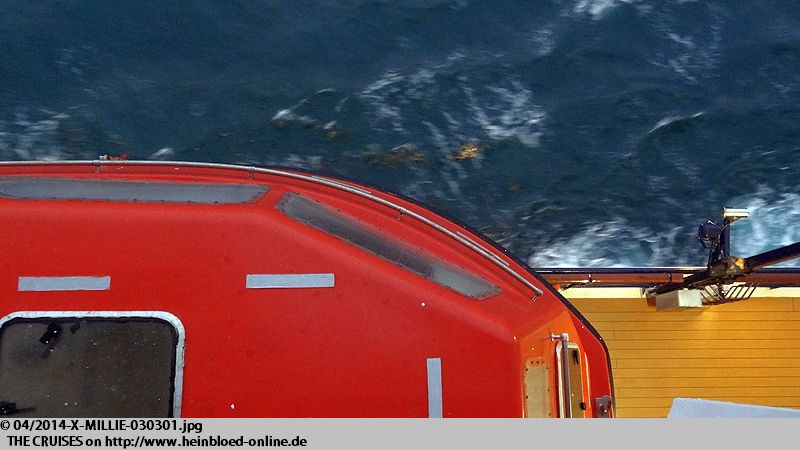 I looked down from our balcony and saw that you cannot see directly down to the promenade.

Well... now I found a way to find the location of our cabin - just above the first two life boats.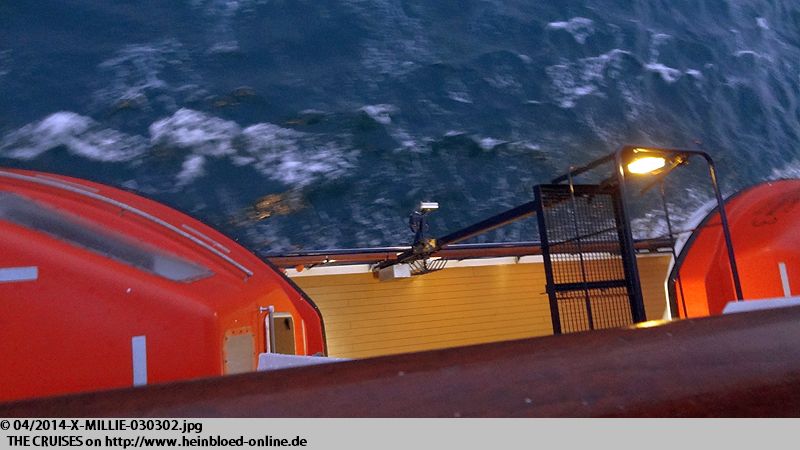 Aha... ich weiss jetzt, dass unsere Kabine direkt über den ersten zwei Rettungsbooten liegt.
Und wenn ich hochgucke, dann sehe ich auch, dass z. T. die Balkons auch mal von überhängenden Decks mehr im Schatten liegen, als man es gerne hätte.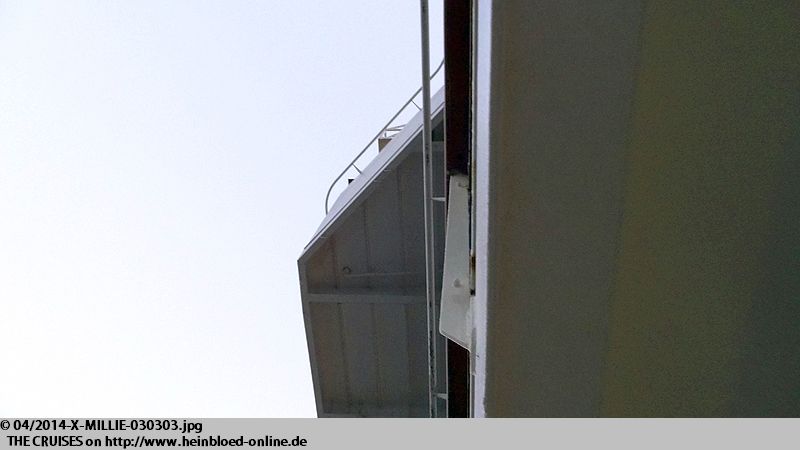 And when I looked to the top I could see that that your balcony might be more in the shadow than you might expected as few decks above your balcony you had overrising decks which gives you more shadow.

We just had day 3 of your voyage and they wanted already to know when we want to leave the ship. They charge for the airport-transfer 54 USD (April 2014) per person... and I arranged one transfer for 20 USD per person... You should enter your preferred time between 07.30 hrs and 09.30 hrs... Funny because later the first group which could leave the ship is 07.45 hrs.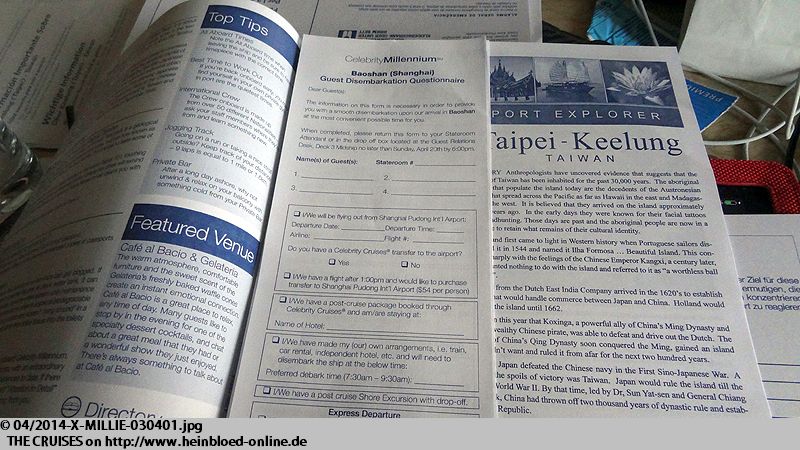 Wir haben Tag 3 der Reise und sie wollen schon wissen, wann und wie wir wieder von Bord wollen. Für den Flughafen-Transfer wollen sie 54 USD (April 2014) pro Person haben... und ich habe ihn für 20 USD pro Person organisiert... Man soll seine bevorzugte Zeit zwischen 07.30 Uhr und 09.30 Uhr angeben... Witzig, weil später herauskommt, dass die erste Gruppe erst um 07.45 Uhr das Schiff verlassen soll.
Schöner ist es bei Holland America gelöst: es werden Zeitfenster angegeben und so suchen wir uns das passende aus. Das ist klar und präzise und führt zu keinen Missverständnissen.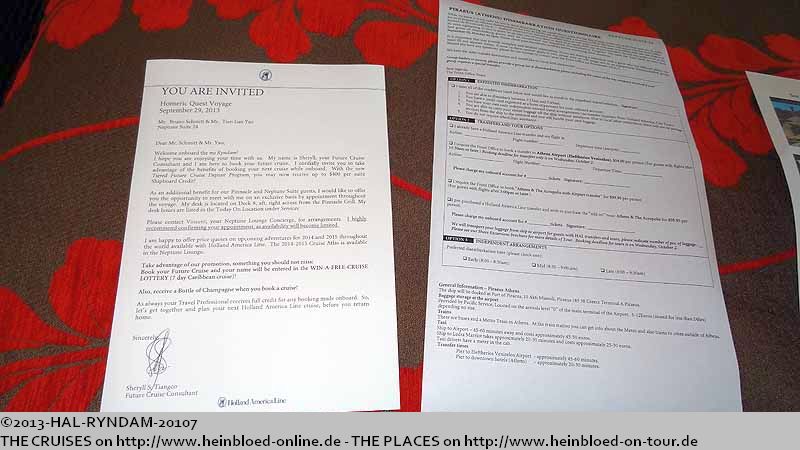 Solved much more better: they offered time slots and you pick the best suitable for you. That is clear communication and no misunderstandings.

Our stewards always pull out the sockets out of the power outlet. But one time we need to ask them to leave them plugged: while we were going for breakfast but uploading pictures on Facebook.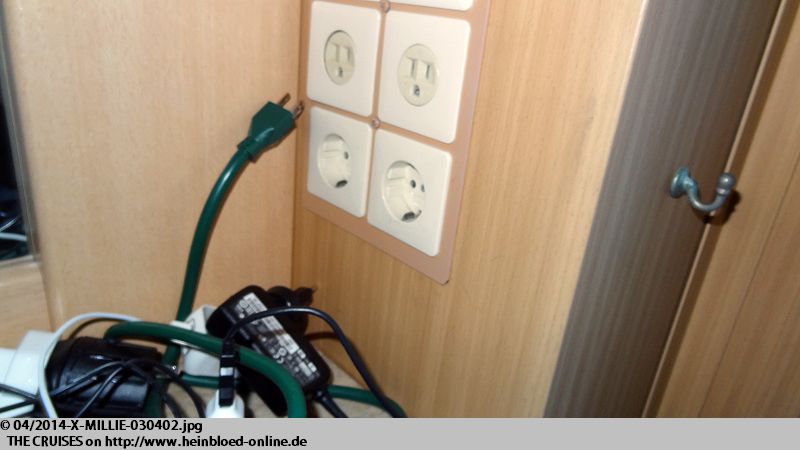 Unsere Stewards ziehen regelmäßig unsere Stecker aus der Wand raus. Einmal müssen wir sie jedoch bitten, dass die Steckdosen drinlassen: während wir Bilder auf Facebook laden und gerade frühstücken sind.
Und ein weiterer Tag wird angekündigt.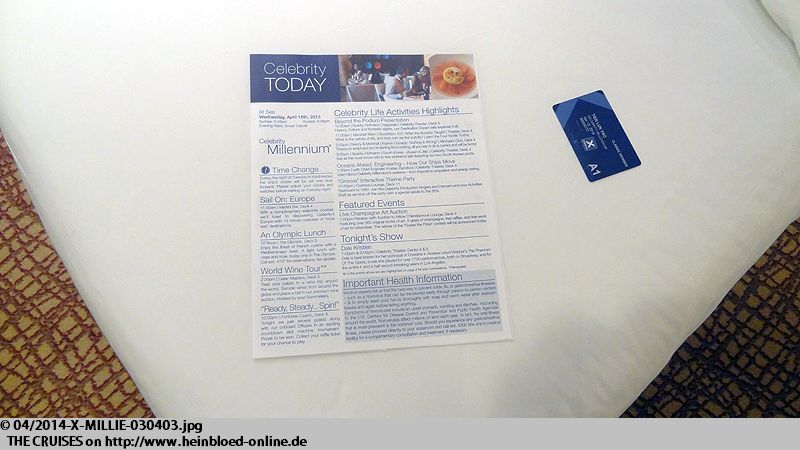 Another day is announced.

What I do not like with Celebrity and with Princess either: the table for 2 which were placed very narrow one to each other. We sat at the window. A white older man and his wife were escorted to the table next to us. Before he reached the seats he started to cry that he did not like to be sit next to a Chinese because they cannot speak any English. Well on 64 cruises I have never experienced before such prejudices and racist attack. I did not see a need to proof my English skills to an arsehole. But I really wished that the waiter would give a body language signal that he regretted the unpleasant situation and maybe call the Maître to report the incident and he might say some words of regret and ask the other passenger to limit his opinion while he is in the public. But I found out that the crew did not care for anything. Nothing happened. Professional dealing with such subjects I would really expect with a premium-line.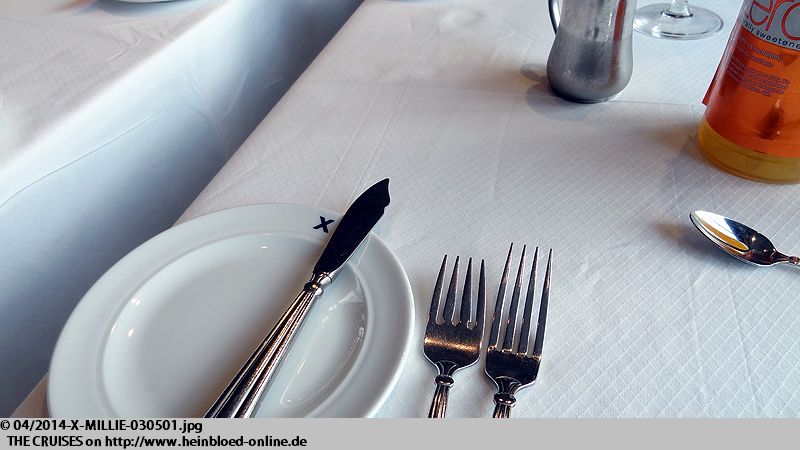 Was ich bei Celebrity und bei Princess nicht mag: die 2-er Tische, die sehr eng beieinander stehen. Wir sitzen am Fenster. Es wird ein weißer älterer Herr mit seiner Frau an den Nachbartisch geführt. Bevor er den Platz neben mir erreicht, schreit er, dass er nicht neben einem Chinesen sitzen möchte, weil sie kein Englisch könnten. Auf 64 Kreuzfahrten bin ich noch nie in meinem Leben mit solchen Vorurteilen und rassistischen Anfeindungen konfrontiert worden. Ich sehe keine Notwendigkeit diesem Arschloch zu beweisen, wie gut mein Englisch ist. Ich hätte mir jedoch sehr gewünscht, dass der Kellner durch seine Körpersprache gezeigt hätte, wie sehr ihm das leid tut, ggfls. einen Maître den Vorfall gemeldet hätte und er vielleicht mit ein paar Worten des Bedauerns vorbeigekommen wäre und den anderen Gast gebeten hätte, sich mit seinen Äußerungen in der Öffentlichkeit zu mäßigen. Aber so stelle ich nur fest, dass so etwas offensichtlich bei der Crew gleichgültig ist. Nichts passiert. Professioneller Umgang mit solchen Themen würde ich bei einer Premium-Linie schon wünschen.
Genauso wenig passiert etwas bei den Frühstückskarten. Es bleibt alle 13 Nächte gleich. Keine Änderungen, wie bei Princess, bei denen am jeden Morgen sich einige Angebote ändern und durch einen Einleger bekanntgegeben werden: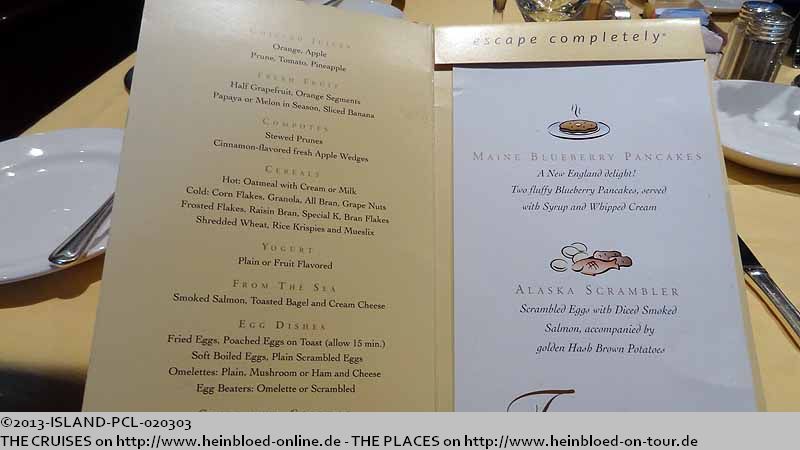 Also nothing happened with the breakfast menu. We got for all 13 nights the same one. No changes like with Princess and you had the right side with an inlay for the daily changing selection.

However: the cups were upside down: normally a sign for all waiters that you do not want anything and you had no spoons.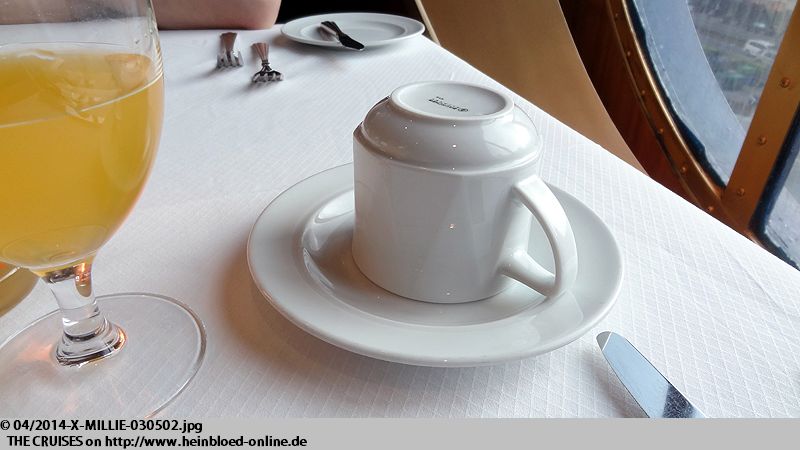 Warum auch immer: die Tassen sind umgedreht: ein Zeichen eigentlich, dass man nichts will und es gibt keine Kaffeelöffel.
Cranberry-Saft ist kein Thema bei Celebrity. Gibt es immer.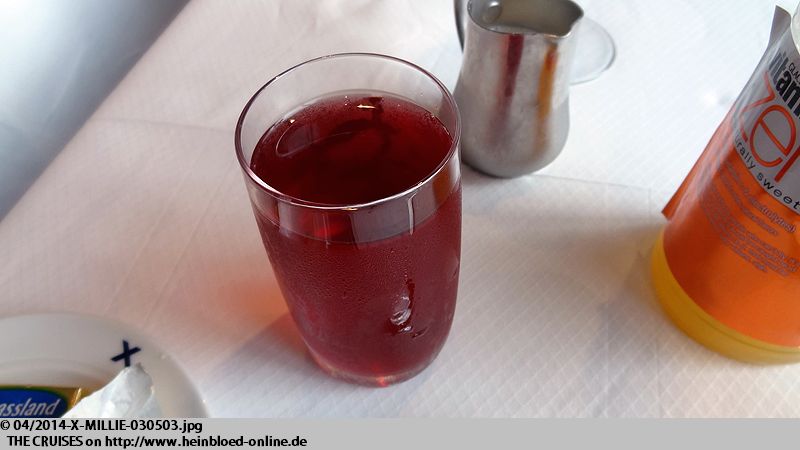 Cranberry juice is not a problem with Celebrity: Something you can have all the time.

Since 07.00 hrs we were sitting there and it was 07.20 hrs and still none was offering any hot beverages to me.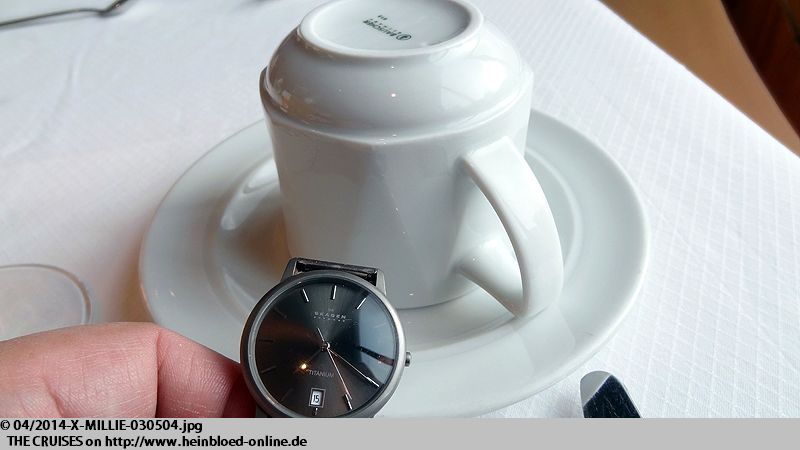 Seit 07.00 Uhr sitzen wir hier und um 07.20 Uhr werde ich immer noch nicht gefragt, ob ich vielleicht ein Heißgetränk haben möchte.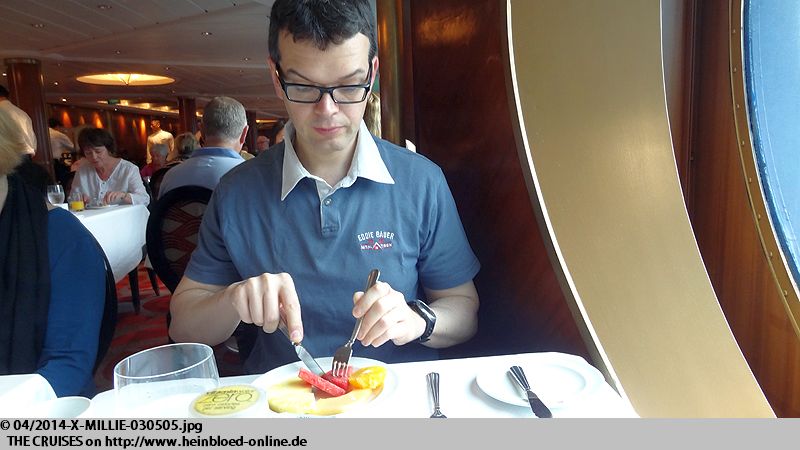 I took again a cold cut plate.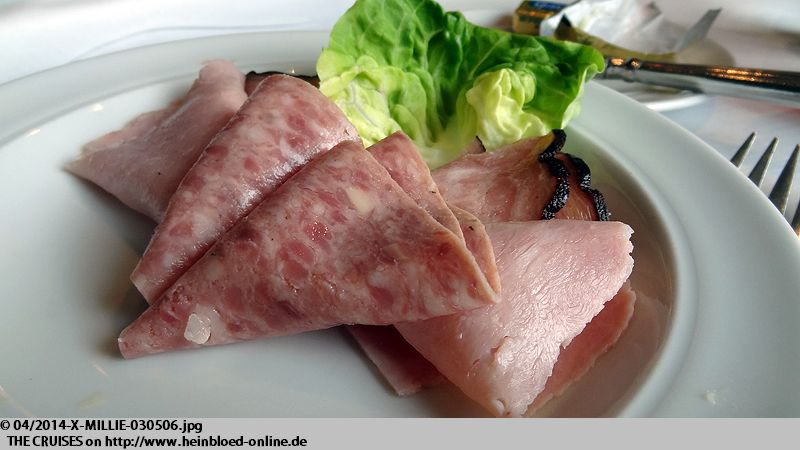 Ich nehme wieder eine Wurstplatte.
Und irgendwann bekommt Bruno auch seinen Tee...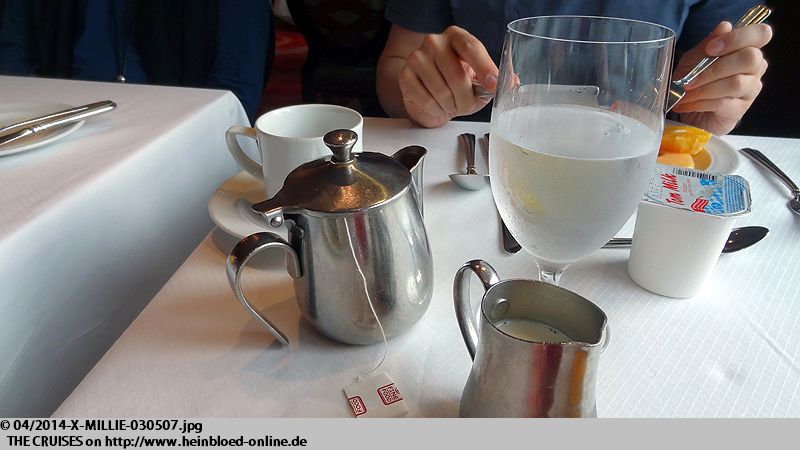 And somewhen Bruno's tea arrived...

And I built again my "Strammer Max" (tight Max = open face sandwich with ham and fried eggs). But still no Multi-Grain-Bread on request.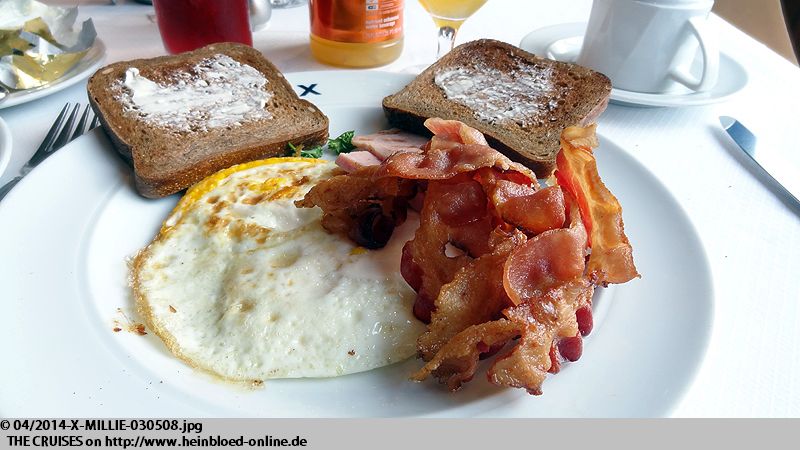 Und ich baue mir wieder meinen Strammen Max. Nur gibt es immer noch kein Multi-Grain-Brot.
Das kann ja noch heiter werden... jeden Morgen dasselbe Angebot. Modern Luxury auf einer Premium-Linie... Nicht Norwegian... nein: Celebrity...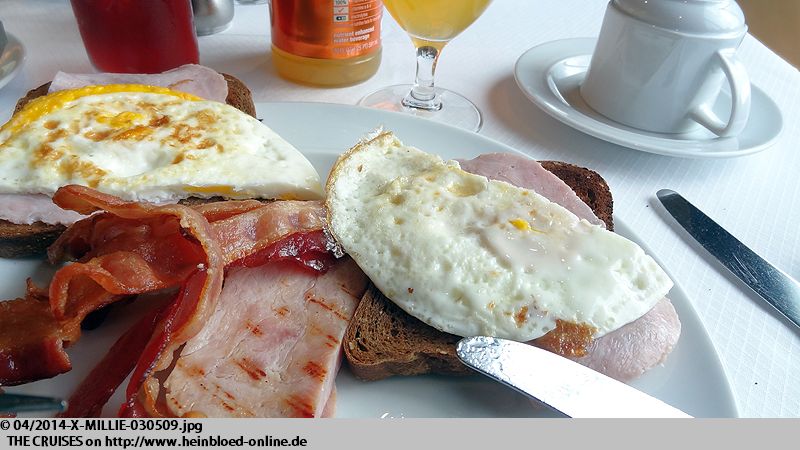 This could be become very funny to have every morning the same selection. Modern Luxury on a premium-line... not Norwegian... no: Celebrity...

Friederike and Christine need some Nutella (nut-nougat-spread) to be happy. So far I always thought that should be onboard. So far we went obviously with cruise lines where Nutella is part of the daily breakfast offer. At least I knew that Bistro on Five should have it and I remember that on another ship it was served in a glass on a plate. So I asked the night before if it would be possible to get some for the children. We started the ususal discussion and then I offered them to charge me the amount of the cover charge for the Bistro on Five 5 USD (April 2014) and they should just give me some Nutella. After that they said that they will try to do whatever they can do. Why always the same discussion? As no kid appeared for breakfast I went up to the Oceanview Café and asked if it worked. One go it and two others wanted to have it back for their own consumption... We should carry the glass to our cabin and if we forget it will disappear in the stomach of crew members... Thanks to I Kadek Ariyasa, Fresi and Alex for finding it... I need to ask if we really got a particulary used glass or if they used the chance to nibble...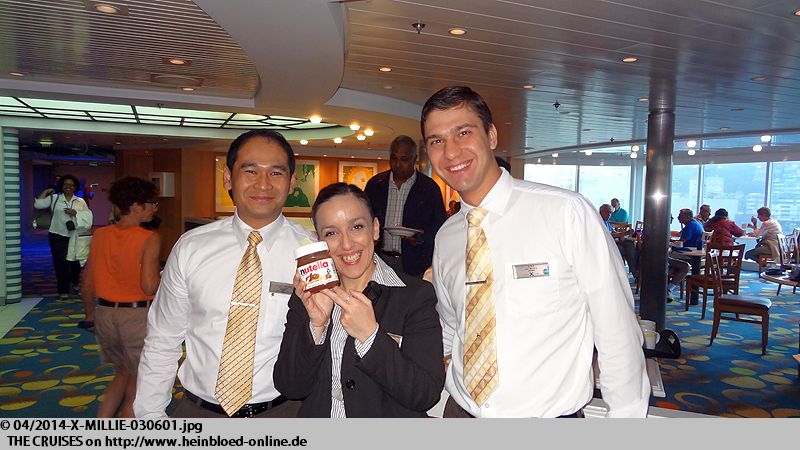 Friederike und Christine brauchen ihr Nutella, um glücklich zu sein. So dachte ich bislang, dass das eigentlich etwas ist, was es an Bord gibt. So sind wir wohl bislang mit Gesellschaften unterwegs, die es als normales Frühstücksangebot haben. Zumindest wusste ich, dass es im Bistro on Five verfügbar sein müsste und ich weiss auch, dass auf einem anderen Schiff ein Glas auf einem Teller serviert wurde. So frage ich am Vorabend nach, ob es möglich wäre, das für die Kinder zu bekommen. Es kommt zur üblichen Diskussion und ich biete an, dass Sie mir für 5 USD (April 2014) die Zuzahlung beim Bistro on Five berechnen sollen, und dafür will ich nur Nutella haben. Man will dann doch sehen, was man tun kann. Warum immer erst eine Diskussion? Da nun leider die Kinder im Oceanview Café frühstücken, gehe ich kurz hoch, um zu fragen, ob es geklappt hat. Einer hat es gefunden und zwei wollen es mir wieder abjagen... weil sie es selbst zum Frühstück wollen... und der einzige weibliche Maître oder Head Waiter an Bord will es sogar sofort mit dem Löffel alles aufessen... Wir sollen aber bitte das Glas immer mit auf die Kabine mitnehmen, wenn es stehenbleibt, dann verschwindet der Inhalt im Magen der Crew... Vielen Dank an I Kadek Ariyasa, Fresi und Alex für das Suchen und Finden... Ich müsste mal nachfragen, ob wir wirklich ein angebrochenes Glas bekommen haben oder doch schon vorher genascht wurde...
Friederike und Christine sind jedoch Feinschmecker und schmecken sofort heraus, dass es nicht so schmeckt wie in Deutschland... Kein Wunder: es ist aus Kanada und wohl etwas weicher in der Konsistenz. Soweit geht die Liebe des Onkels zu seinen Nichten nicht: Es wird gegessen, was auf dem Tisch kommt. Dass ich jetzt die Schiffsvorräte nach deutschem Nutella durchgehe, kommt nicht in Frage...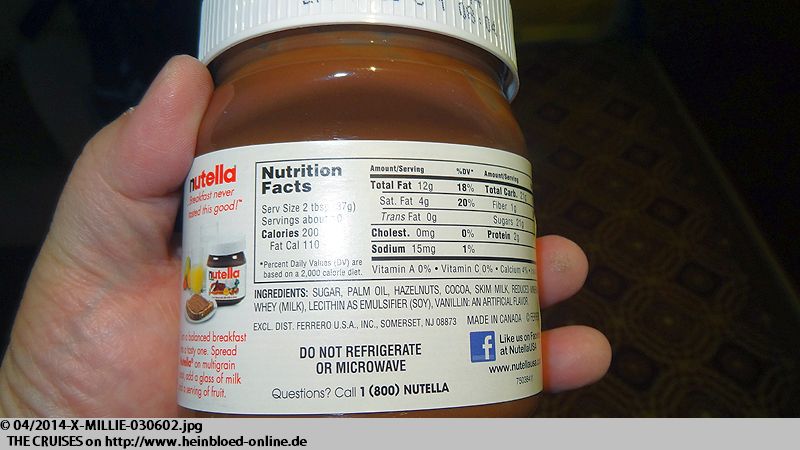 Friederike and Christine were true gourmets and tasted the difference to a Nutella from Germany... No wonder: it was from Canada and it was obviously a little more softer. But my love to the kids was not as big that I started to search on the ship for some Nutella from Germany. They had to eat what they got!

In the front we met some from the Blue Man Group... Richard, Dexter and Sharon...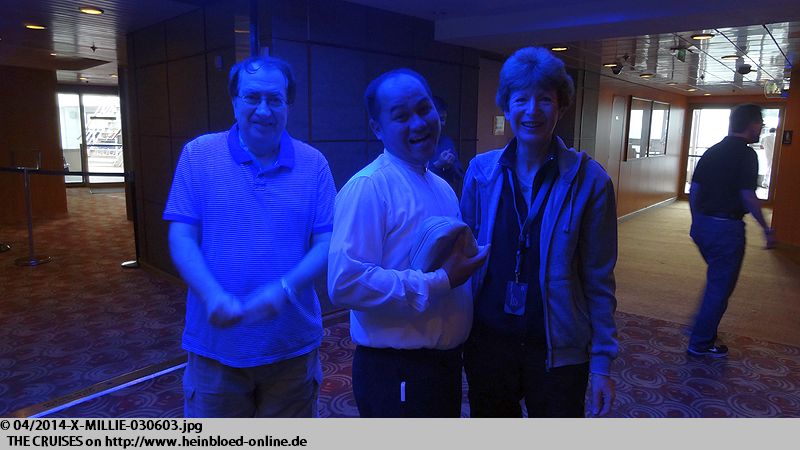 Vorne treffen wir die Blue Man Group... Richard, Dexter und Sharon.
Sehen doch fast so aus, wie auf der NORWEGIAN EPIC... - oder???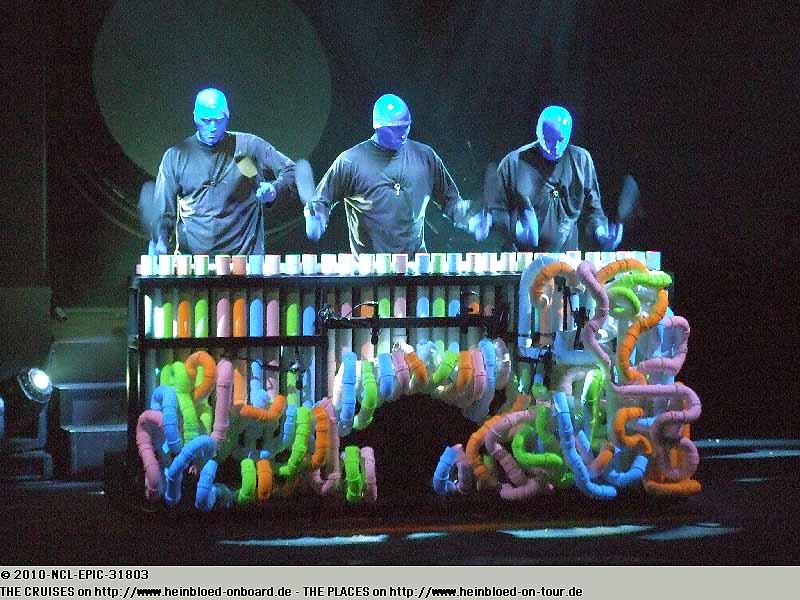 Do not they look like on NORWEGIAN EPIC... - or???

Occassionally the light became blue and so everyone looked like a blue-paint...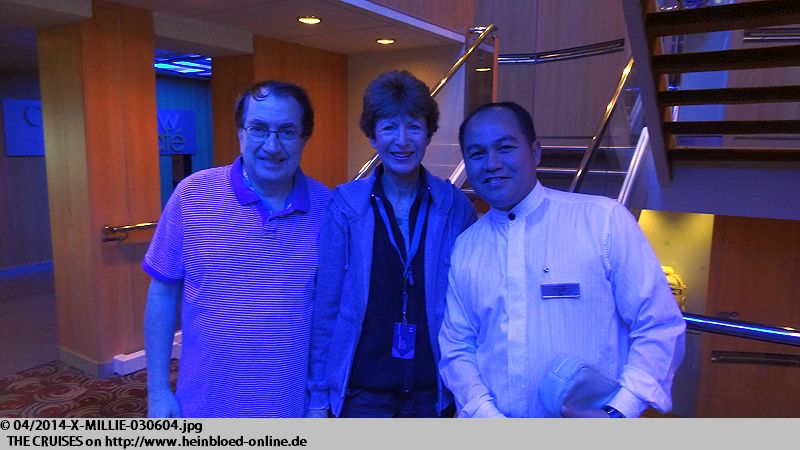 Hin und wieder ist eben das Licht blau und dann sehen eben alle so blaugefärbt aus...
Und eine Kleinigkeit zum Frühstück gibt es auch immer im Café al Bacio. Gibt es kostenlos, auch wenn dort keinen Kaffee trinkt.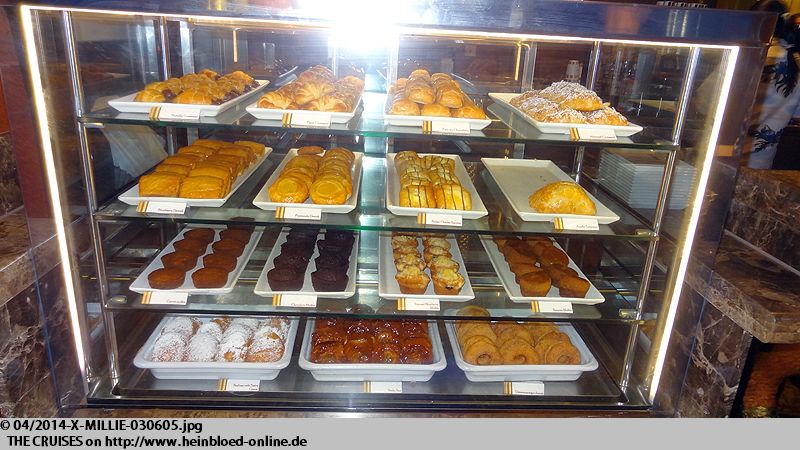 If you need only a small bite for breakfast you can always visit Café al Bacio. You could get for free even you are not drinking some coffee.

They sealed all stores.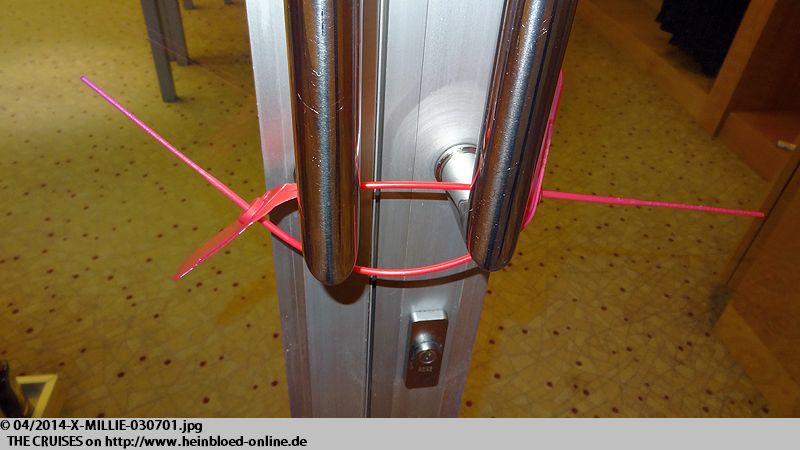 Alle Geschäfte sind versiegelt.
Man muss hier erst 15 Minuten vorher zurück sein. Bei den anderen sind es 30 Minuten.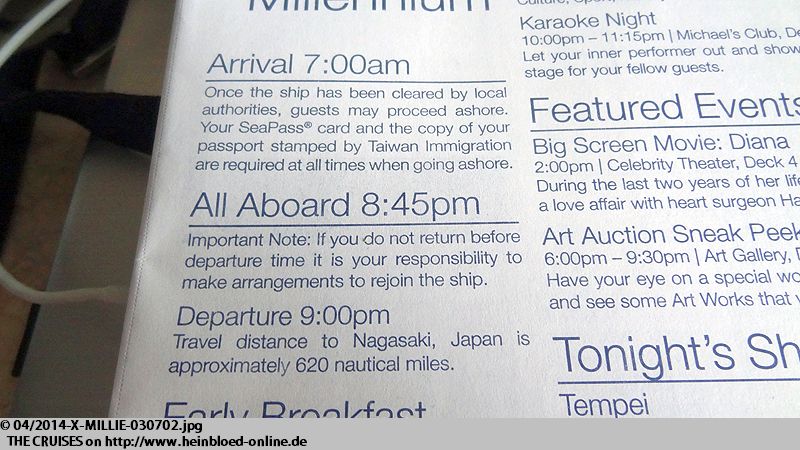 Here you need to be back 15 minutes ahead. With the others it is always 30 minutes.

To be safe I took this picture.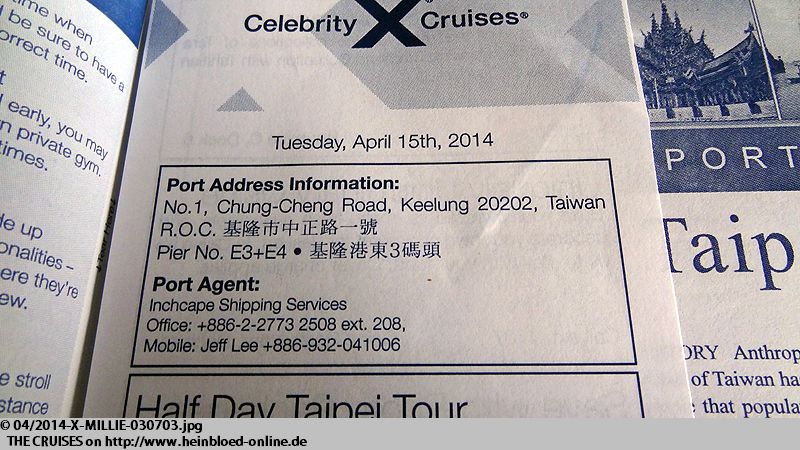 Sicherheitshalber abfotografiert.
Auf Deck 1 geht es raus.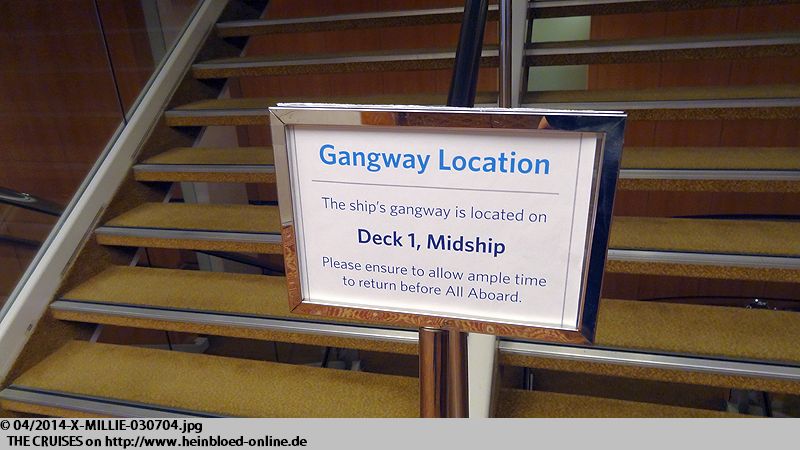 We had to leave from deck 1.

For the shore visit you only need your ship's card and the stamped copy of your passport. Almost perfectly organised. If they would not delivered the passport copies to the wrong cabins. Later I made a list with all actual cabin numbers for the appropiate special department but they were not very much interested. They did not change anything and until the end of the cruise they still allocate us to the wrong cabins.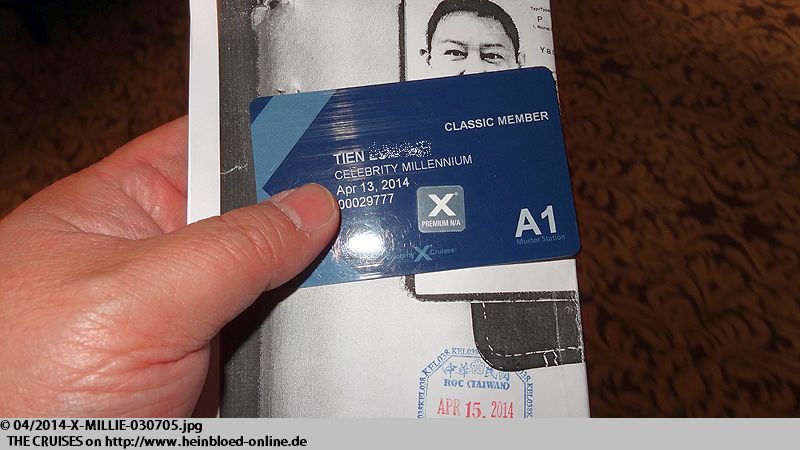 Für den Landgang werden nur die Bordkarte und abgestempelte Passkopie gebraucht. Fast perfekt organsiert. Wenn sie die Passkopien nicht in die falschen Kabinen zugestellt hätten. Später erstelle ich extra eine Liste mit den aktuellen Kabinennummern für die zuständige Fachabteilung, aber das interessiert sie nicht. Sie ändern nichts und ordnen uns noch bis zum Ende der Reise den falschen Kabinen zu.