Scroll down for English explanations - alternates with German explanations.

Ich bin mal wieder nachts unterwegs und entdecke vor der Bordklinik diesen Automaten.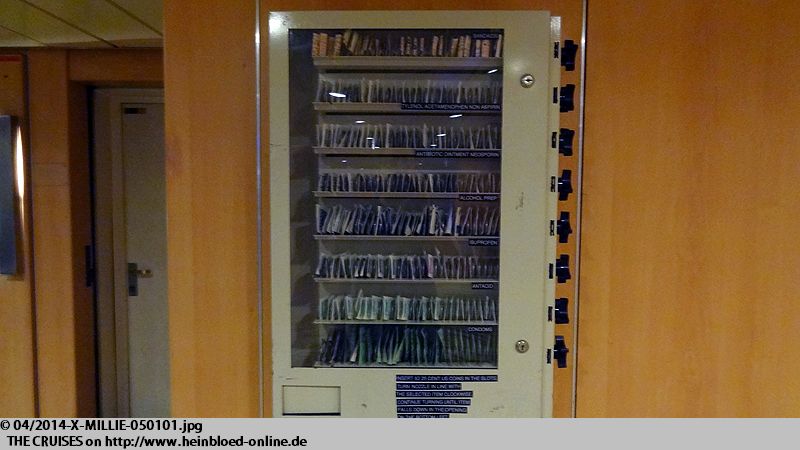 I was again in the night time browsing around the ship and discovered this vending machine in front of the medical center.

You need Quarters. You do not get some pills but also condoms...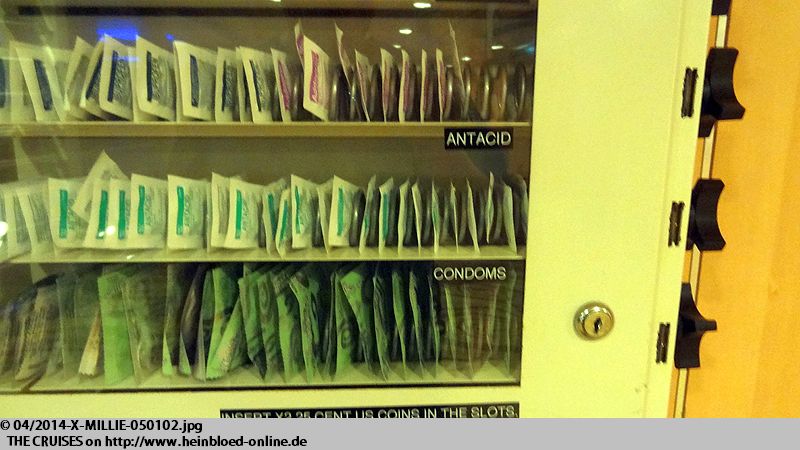 Hierfür braucht man Quarters (25 US-Cent-Münzen). Nicht nur Medikamente gibt es hier, sondern auch Kondome...
Mir ist gar nicht aufgefallen, dass das Schiff so stark bewegt hätte...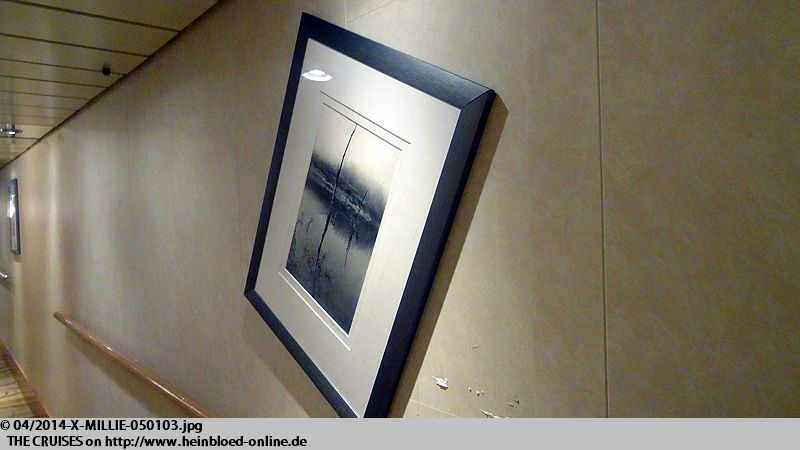 I did not noticed that the ship was moving so heavily.

Well now Japan came slowly in sight...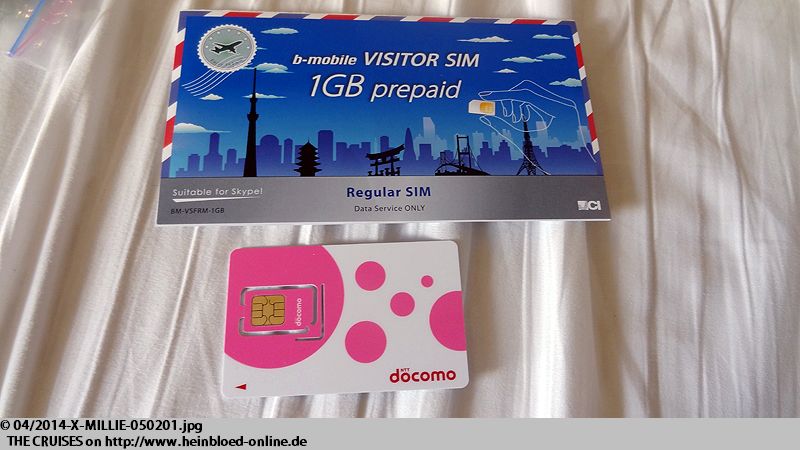 So langsam kommt Japan in Sicht...
Leider kann sich der mobile WLAN nicht in das Netz einwählen, obwohl ein 3G-Signal vorhanden ist.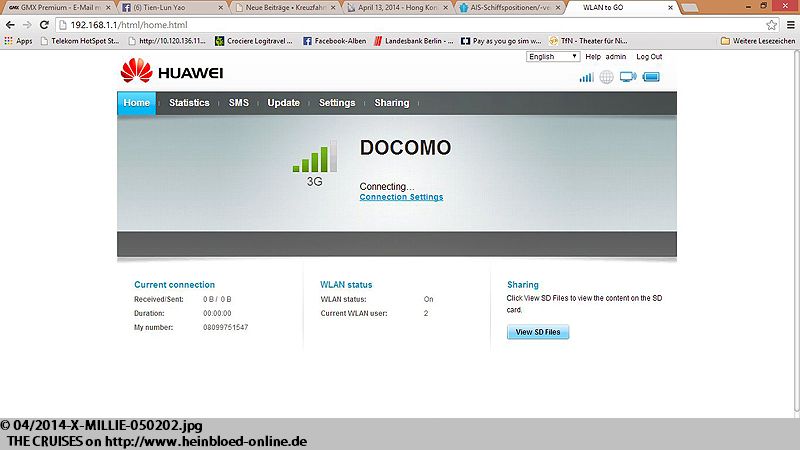 Unfortunately you cannot book into the network on our mobile WiFi although we have a 3G-signal.

But I had luck that also the iPhone showed that you get a 3G signal.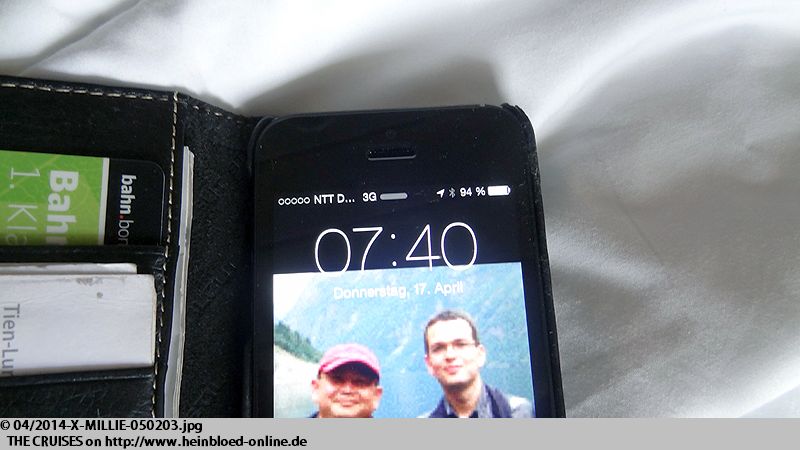 Aber zum Glück zeigt auch das iPhone an, dass es ein 3G-Signal bekommt.
Ich habe zum Glück noch eine Folie bei, die ich einmalig nutzen kann, um aus einer normalen SIM-Karte eine nano-SIM-Karte zu schneiden. Ich muss leider zur Rezeption. Man durfte ja keine Scheren an Bord nehmen.

I was lucky that I had one foil with me to use one time to cut from a standard SIM-card to a nano-SIM-card. I had to see the front desk. You were not allowed to have scissors with you.

Very bad: the customer service which is only available 4 hours a day.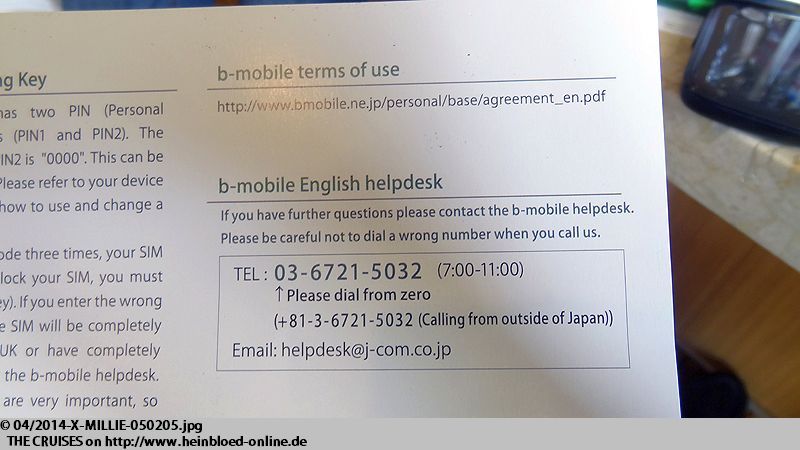 Ganz schlimm ist jedoch der Kundendienst, der nur vier Stunden am Tag besetzt ist.
Und man zahlt 2,99 EUR pro Minute, um diese verdammte Hotline zu erreichen...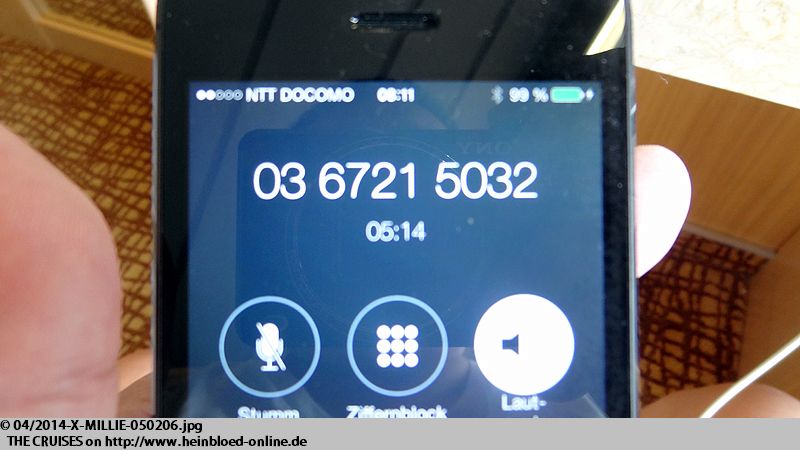 So you had to pay 2.99 EUR per minute to get this damned hotline.

For a lot of money I got at least the information what I need to add as information to run my iPhone as personal hotspot: You have to add the APN-information with the "Personal Hotspot" too and then it works. The best: All for nothing: since we are back in Germany we can just book for non-European countries like Japan, Korea, China and Taiwan it costs as much as using internet in Europe. So we can save the efforts to get foreign SIM-cards in the future.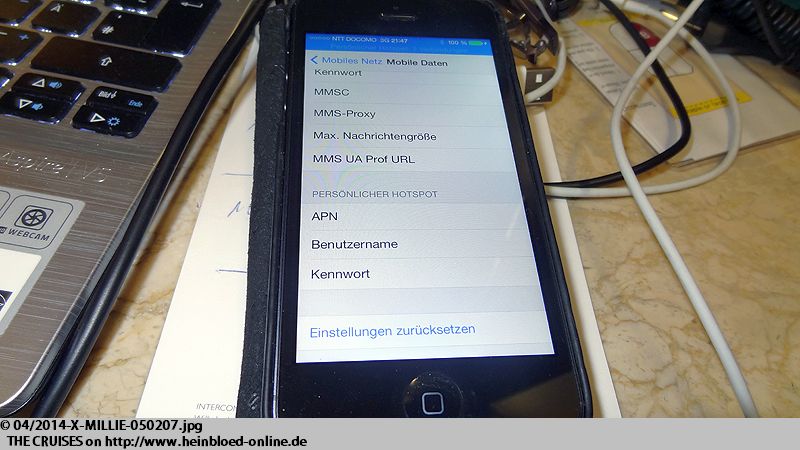 Für viel Geld bekomme ich zumindest den Hinweis, was ich noch eintragen muss, damit mein iPhone als persönlicher Hotspot funktioniert: Im Feld "Persönlicher Hotspot" müssen ebenfalls die APN-Zugangsdaten eingetragen werden und schon funktioniert es. Das beste: Alles vergeblich: seit unserer Rückkehr nach Deutschland gilt für unseren Tarif: Internet in den Ländergruppe 2 und 3 zu denen auch Japan, China, Korea und Taiwan kosten genauso viel wie innerhalb Europas. Also können wir uns den ganzen Mist mit den Auslands-SIM-Karten künftig sparen...
Was ich sehr praktisch übrigens fand: das Notlicht im Bad. So sah man immer durch den Türschlitz, wo die Tür zum Bad war.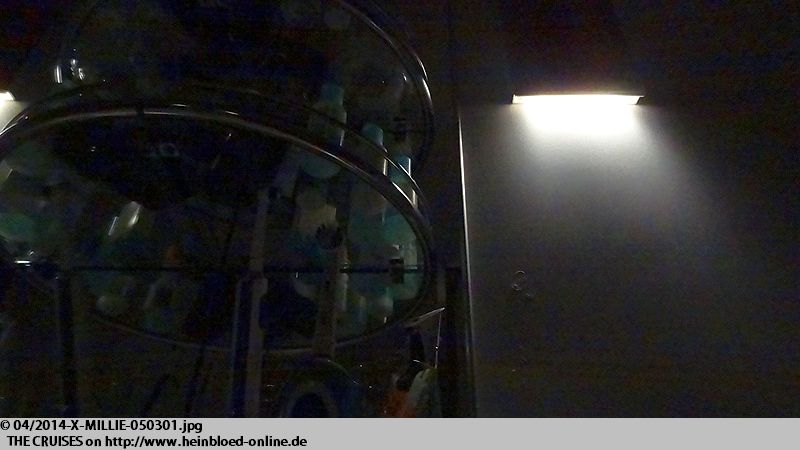 What was very practical: the emergency light in the bathroom. So you always see some light through clearance between the door frame and the door leaf for orientation.

There are our cabins but nobody was there to wave.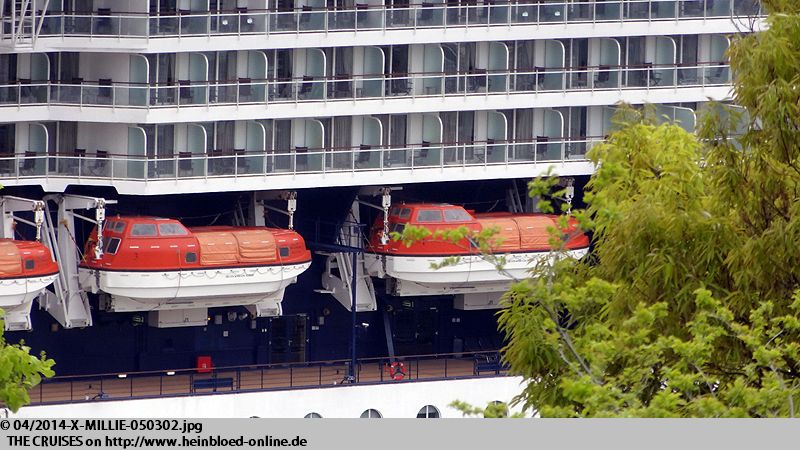 Da ist unsere Kabine, aber niemand da zum Zurückwinken...
Kevin und Shubert waren für meine Nichten, meine Eltern und meine Schwester und mein Schwager zuständig, die auf der Backbordseite wohnen.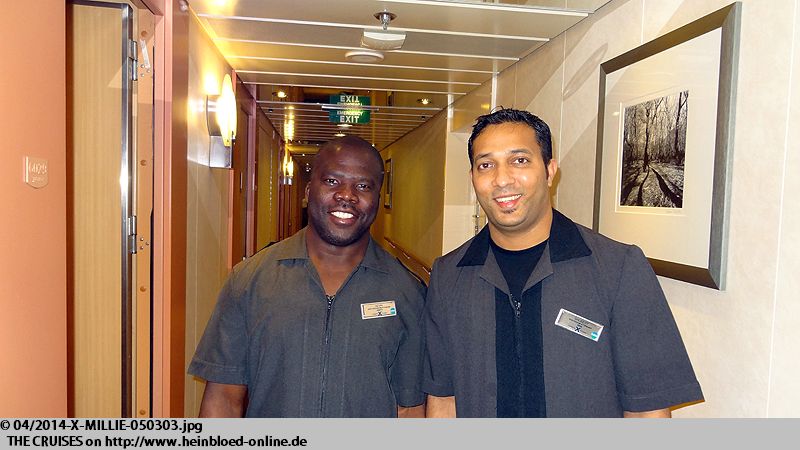 Kevin and Shubert were in charge on the portside for my nices, my parents and my sister and her husband.

The kids were disappointed because there was not any towel animals as I promised them. Unfortunately it was due to the norovirus. But they did one that the kids could see what I was talking about and they were very happy to see.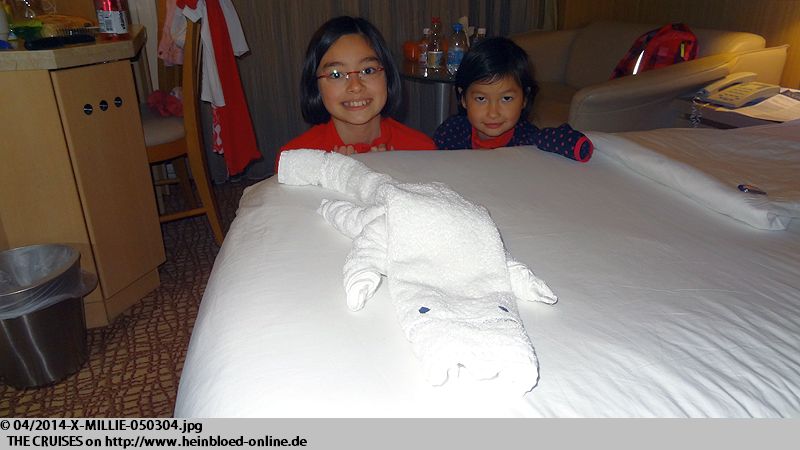 Die Kinder waren enttäuscht, weil es bislang kein Handtuchtier gab, das ich denen versprochen hatte. Leider ging es nicht wegen des Norovirus. Aber eines haben sie mir dann doch gemacht, damit die Kinder wussten, was ich meinte und sie haben sich sehr darüber gefreut.
Wir müssen mal waschen lassen.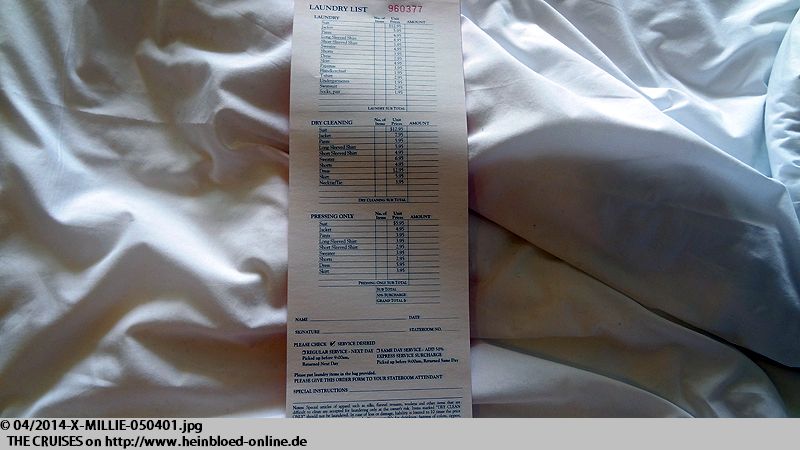 We need to use the laundry.

We could use the 10% discount-coupon which we got as Captain's Club member.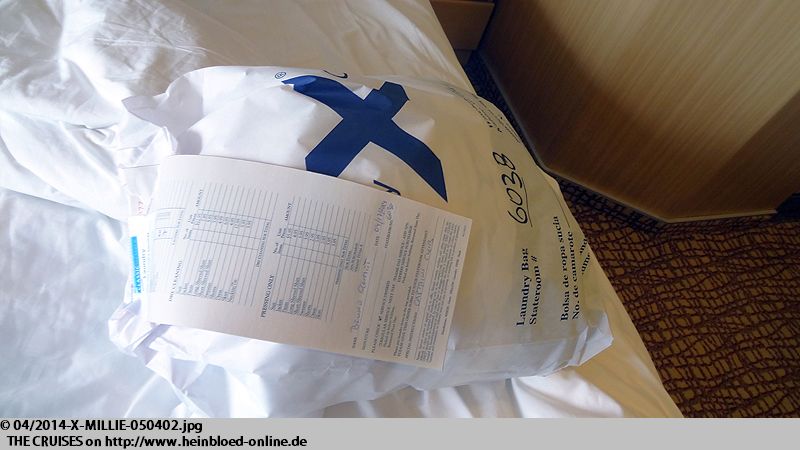 Wir konnten einen 10% Coupon Nutzen, den wir als Captain's Club Mitglied bekamen.
Damals auf der CELEBRITY EQUINOX noch bekam man einen Coupon, damit man einen Wäschesack für 29 USD waschen lassen konntest und wenn man wie damals so einen ganz netten Kabinensteward hatte, besorgte er einen Stoffsack, in dem alles reinging...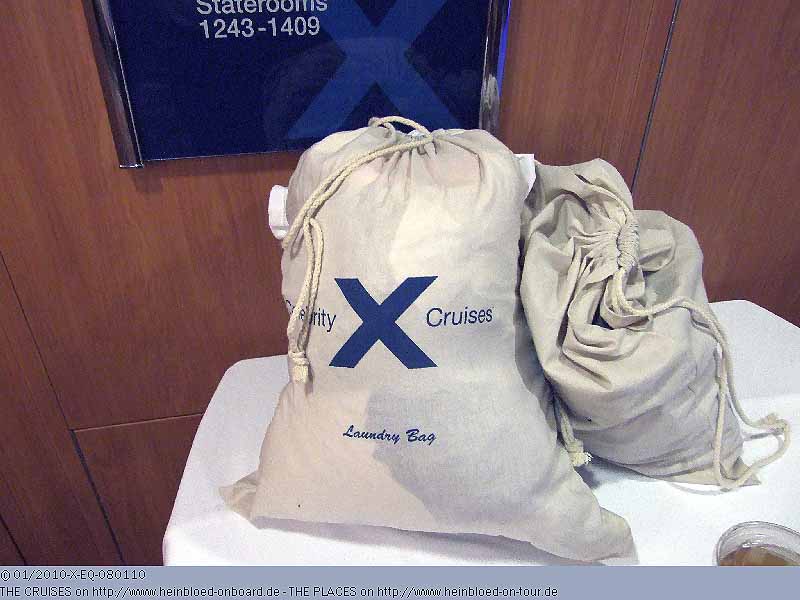 Then on CELEBRITY EQUINOX we had a coupon for use a laundry bag for 29 USD and if you had a great steward like us: he got a fabric laudry bag where you got more inside.

I the age of limitations of free baggage shipments in the aviation you are happy to have a cruise line who thinks of their guests and has an offer to ease my life. Like: Holland America und his laundry and ironing flat: for about 150 USD we had two weeks unlimited laundry and ironing on ZAANDAM. We would not have travelled more comfortable if you only need four daily sets of underwear as you could ask every day for laundry and ironing.

Im Zeitalter von Beschränkungen beim kostenlosen Gepäcktransport in der Luftfahrt, freue ich mich, wenn eine Kreuzfahrtgesellschaft an mich als Gast denkt und mit einem Angebot mir das Leben erleichtert. Zum Beispiel: Holland America und seine Wäscherei- und Bügelflat: Für ca. 150 USD konnten wir damals auf der ZAANDAM zwei Wochen lang alles waschen und bügeln lassen. Noch bequemer wären wir noch nie gereist, wenn nur vier Satz Unterwäsche brauchst, weil du alles täglich waschen lassen kannst.
Willkommen im Land der aufgehenden Sonne: Japan.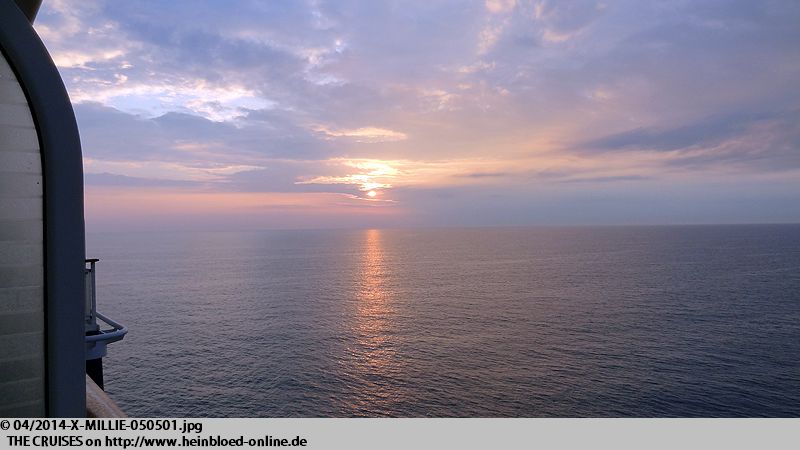 Welcome to the land of the rising sun: Japan.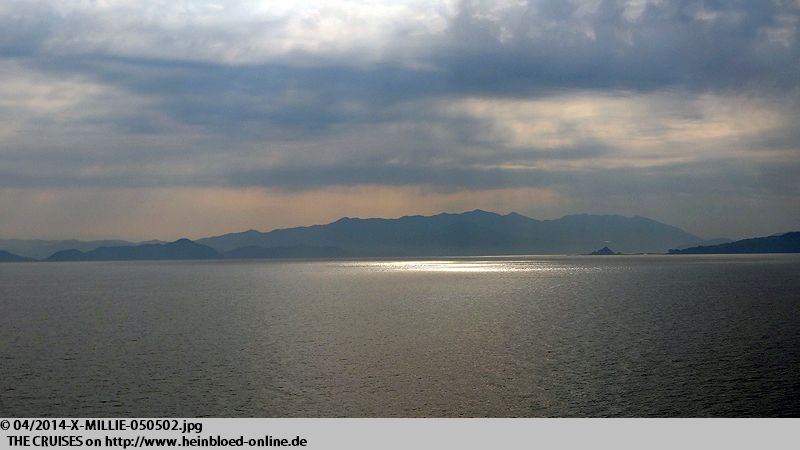 Langsam fahren wir in Nagasaki auf der Insel Kyushu am westlichen Ende Japans ein. Wir müssen unter der Megami-Brücke durch: 880 m lang, Höhe über dem Meeresspiegel 170 m... und nirgendst eine Angabe über die Höhe der CELEBRITY MILLENNIUM... Ich finde es schon ganz schön knapp...

Slowly we headed to Nagasaki on the island of Kyushu at the Western edge of Japan. We need to pass slowly the Megami-Bridge: 2,887' lenght, 558' altitude above sea level... and I do not find anywhere an information of the height of CELEBRITY MILLENNIUM... To me it looked quite close...

We passed a shipyared of the Mitsubishi Heavy Industries.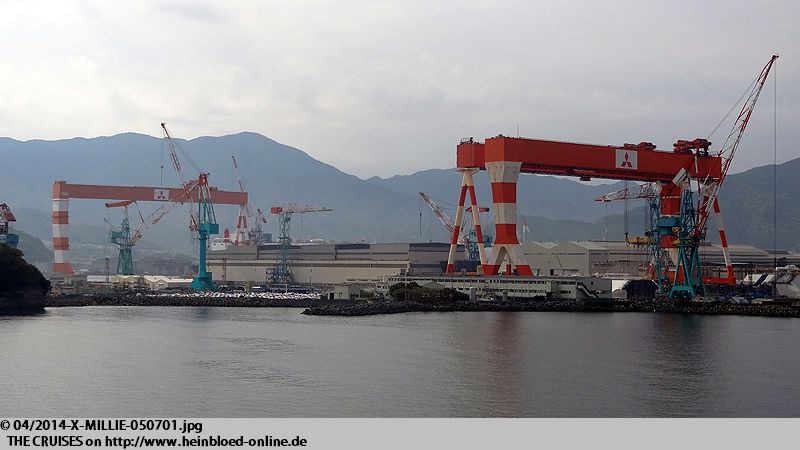 Wir kommen an einer Werft der
Mitsubishi Heavy Industries
vorbei.
Ich hatte sie angeschrieben, ob man eventuell die AIDAprima sehen könnte, aber keine Antwort.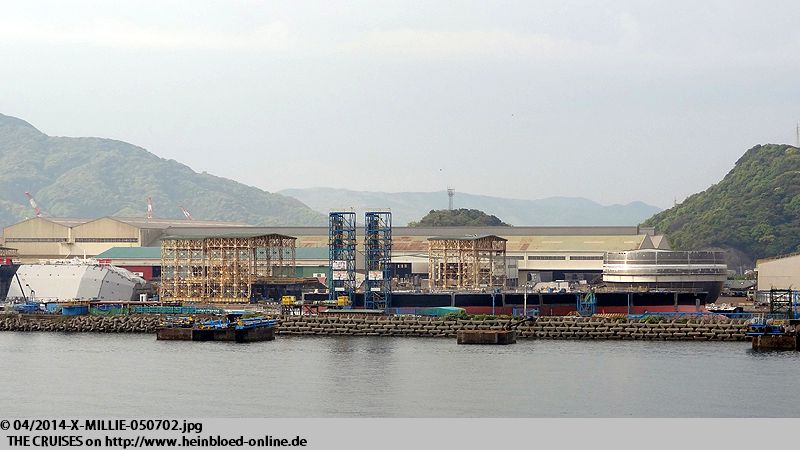 I wrote them an e-mail to ask if there would be any chance to see AIDAprima but no reply.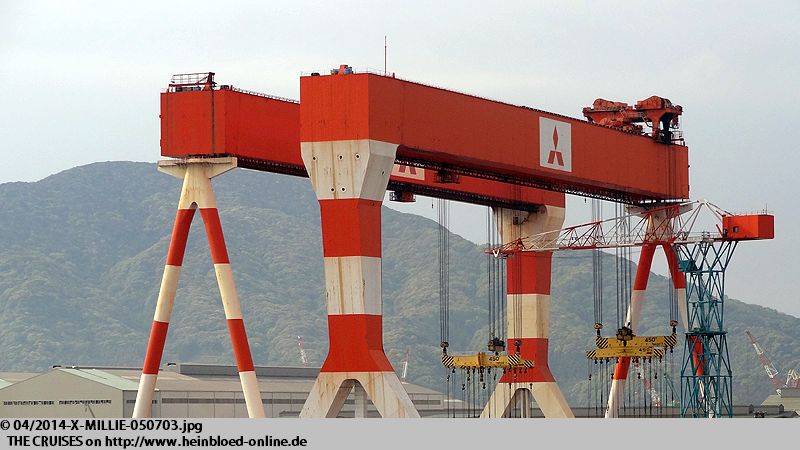 Nichts von einem Kreuzfahrtschiff zu sehen.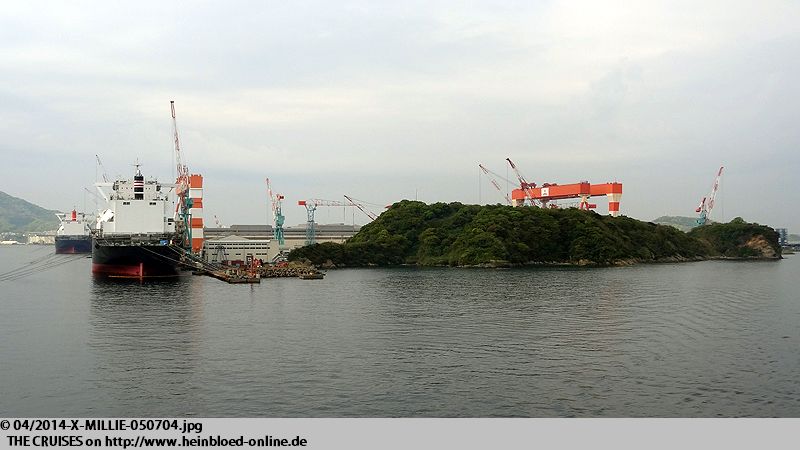 You could not see anything which looked like a cruise ship.

When I tooked a picture of Bruno it looked like there was something glittering in the background. Looked like a parking garage with a funnel... or more like a cruise ship like AIDAprima. And was this true that she will be delivered in 1 1/2 year?

Als ich dann ein Bild von Bruno mache, sehe ich irgendwas im Hintergrund schimmern. Sieht aus wie ein Parkhaus mit einem Schiffsschornstein... oder doch ein Kreuzfahrtschiff, wie die AIDAprima. Und die soll tatsächlich erst in ca. 1 1/2 Jahren ausgeliefert werden?
Wir kommen dann am Cruise Terminal an. Es liegt am südlichen Ende der Innenstadt.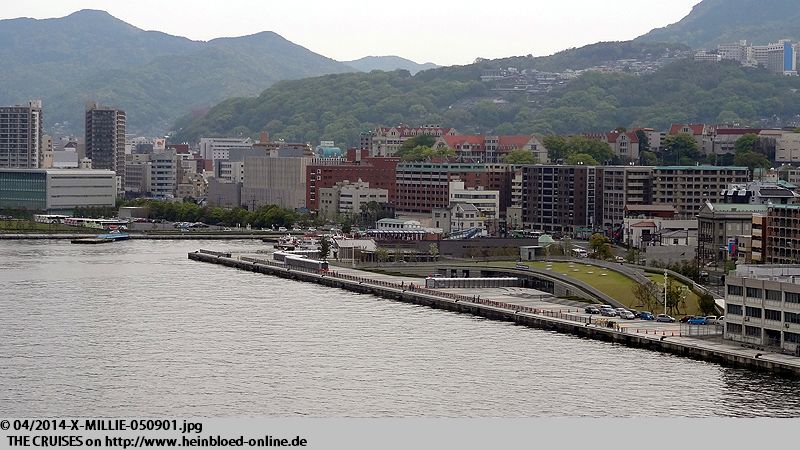 We arrived finally at the cruise terminal. It was at the Southern edge of the city center.

They even installed a weather protection.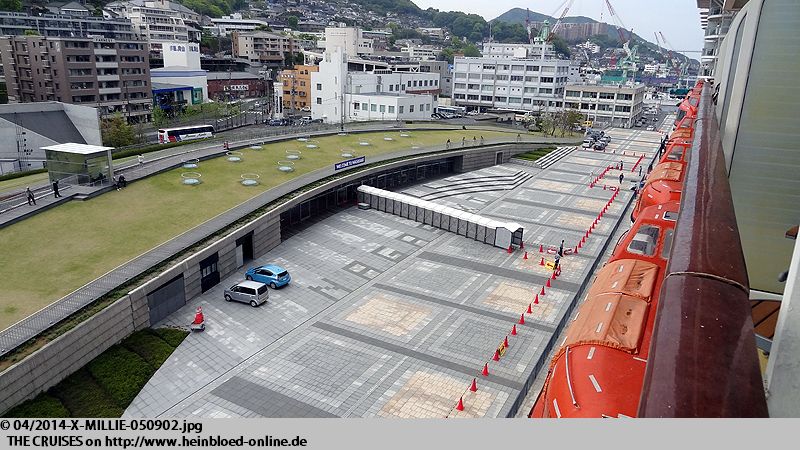 Es wird sogar ein Wetterschutz aufgebaut.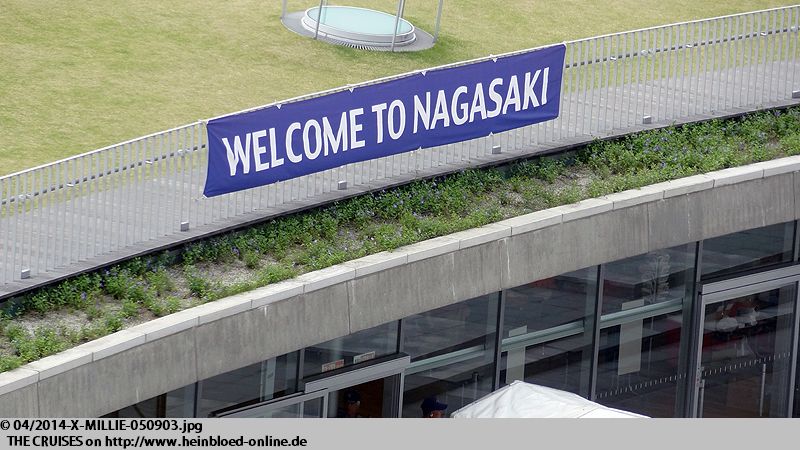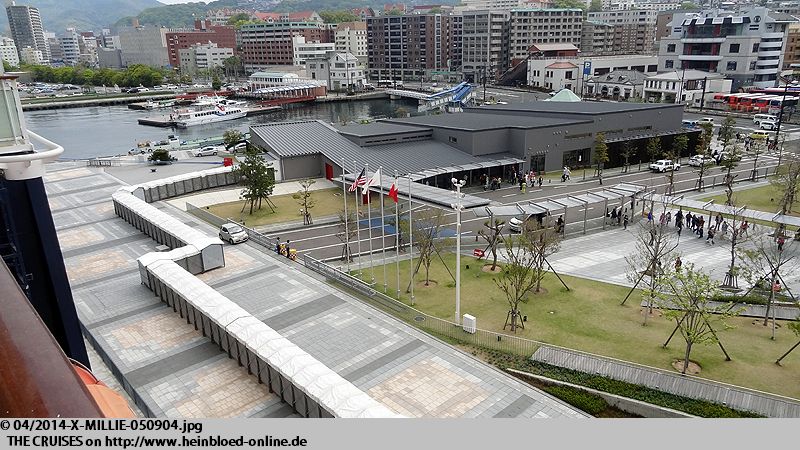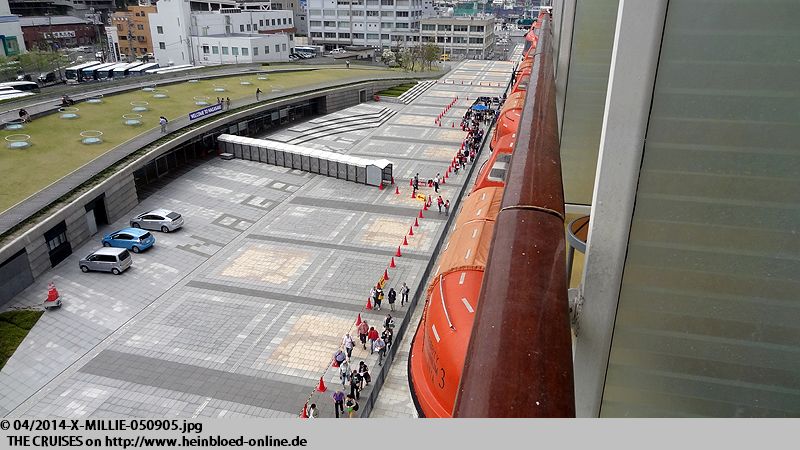 Many wanted to use the tramways but that was not anything for my parents.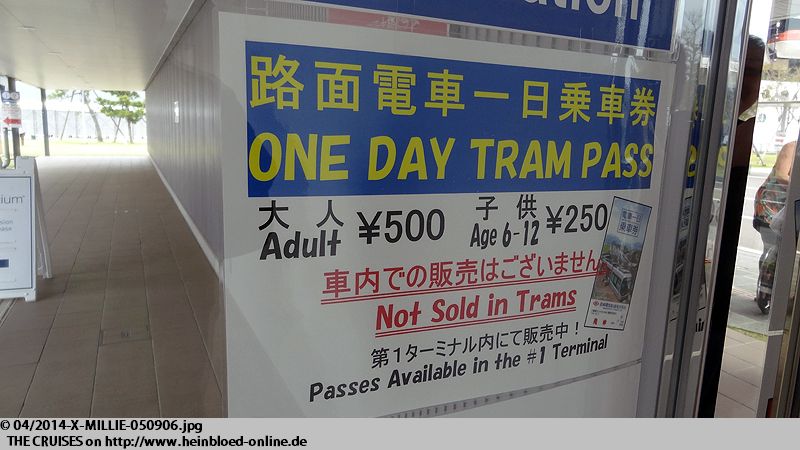 Viele wollen mit der Straßenbahn weiter, aber das nichts mehr für meine Eltern.
Hier gibt es direkt ein paar Informationssäulen.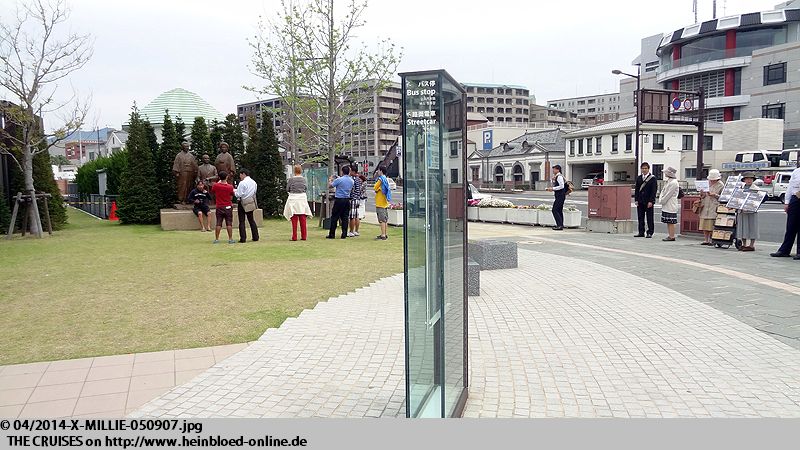 Here you had some info coloumns.

So you read how to move forward by busses.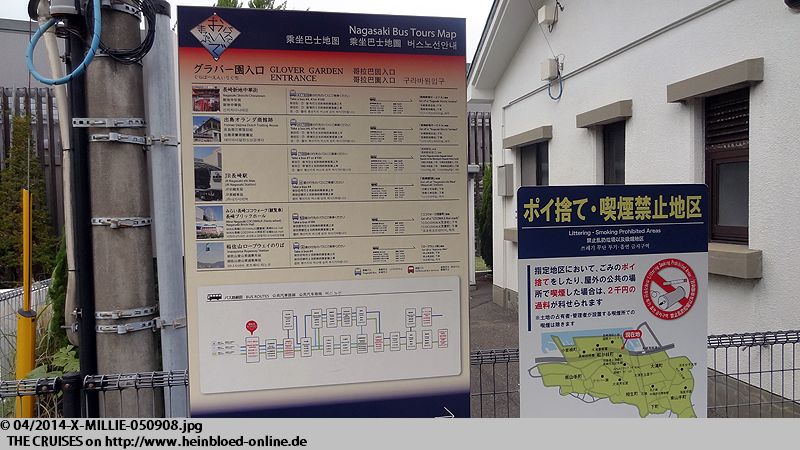 Hinweise, wie man mit den Bussen weiterkommt.
Und eine große Karte.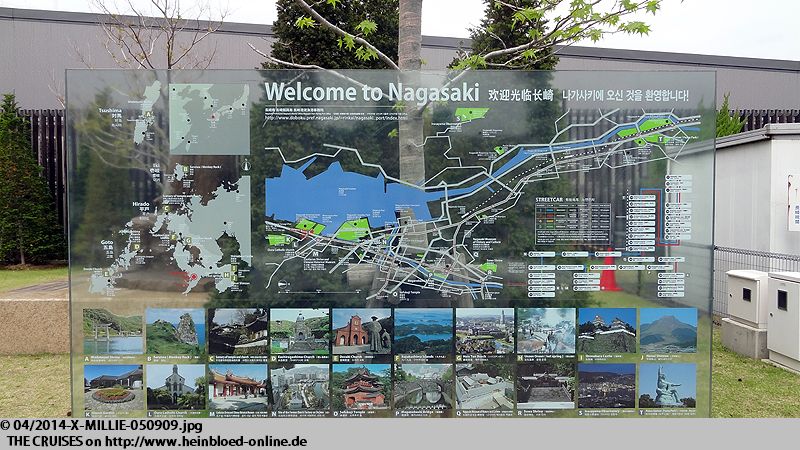 And a giant map.

In the cruise terminal you could buy tickets for the tram. A little post office was installed. But not for the dispatch of boxes but letters and post cards only. We were told to see a 7 Eleven which would be only 300 yards apart. They can arrange the mailing of a box... For Bruno's co-worker who arranged the collection of our SIM-card we souvenir box of Frankfurt Äppelwoi (Apple wine). By the way no problems to get it on the ship - no claim. But any way we were allowed to have two bottles of wine with us but we had only one.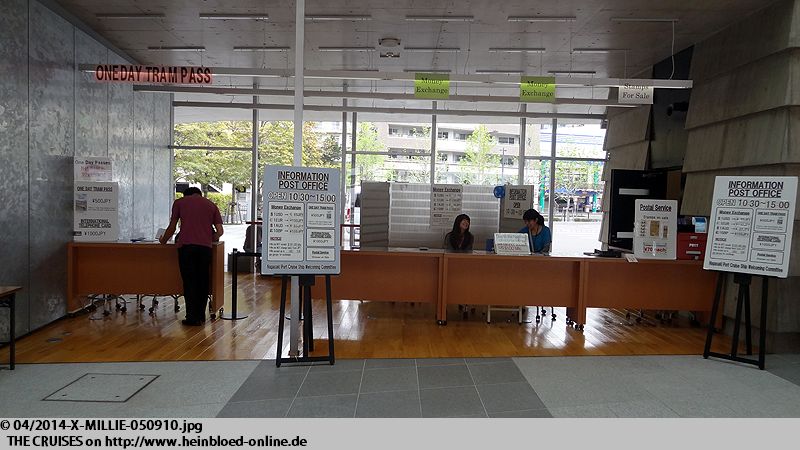 Im Cruise Terminal kann man die Fahrkarten für die Straßenbahn kaufen. Ein kleines Postamt ist aufgebaut. Leider nicht für den Versand von Paketen, sondern nur für den Versand von Briefen und Postkarten. Aber man sagt uns, dass sich 300 m weiter ein 7 Eleven befindet. Dort könne man das Paket abgeben... Für Brunos Kollegin, die für uns die SIM-Karte entgegen genommen hat, hatten wir ein Paket mit Bembel, Äppelwoi und Äppelwoi-Glas mitgeschleppt. Wurde übrigens von der Gepäckkontrolle des Schiffes nicht entdeckt oder beanstandet. Aber es dürfen ja eh zwei Flaschen mit an Bord gebracht werden...
Und falls wir noch ein Problem haben: Die Polizei ist direkt daneben...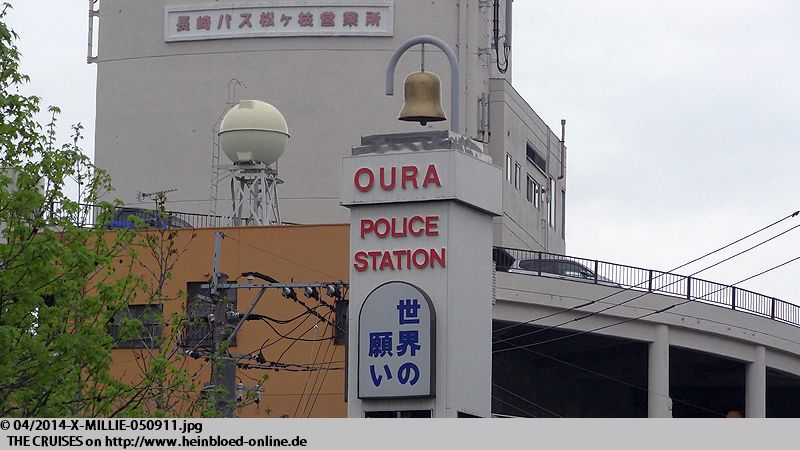 Just in case we might have a problem: the police was just next door.

When we returned later in the afternoon a complete shopping area was installed in the cruse terminal.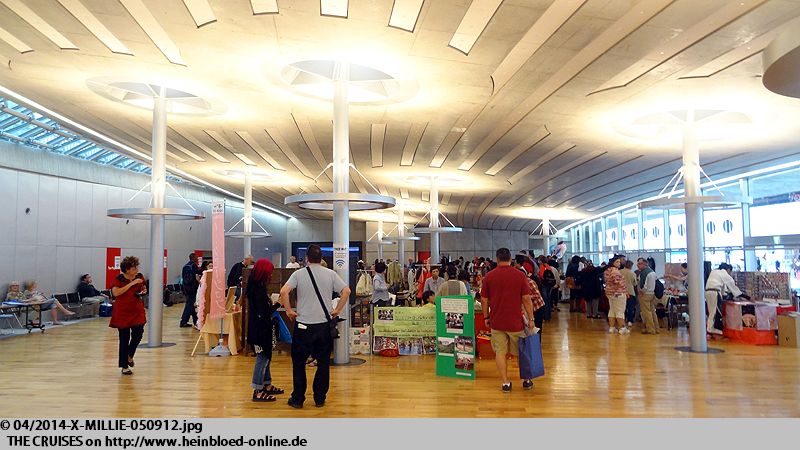 Als wir spät nachmittags wieder zurück sind, ist im Cruise Terminal ein ganzer Shopping Bereich aufgebaut worden...
Aber so weit sind wir noch nicht, sondern zurück an Bord beim Frühstück im Bistro on Five wieder: Bruno ändert seine Bestelltaktik: statt eines Cappucinos bestellt er einen Double Shot Espresso mit Milchschaum...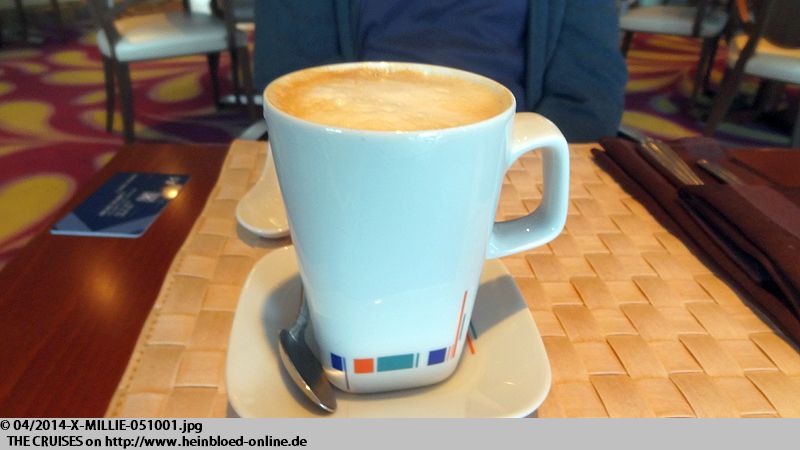 But let us go back to the breakfast on board in Bistro on Five as we did not go so far so far: Bruno changed his order strategy: instead of a Cappucino he ordered a Double Shot Espresso with some milk foam...

Now he looked satisfied.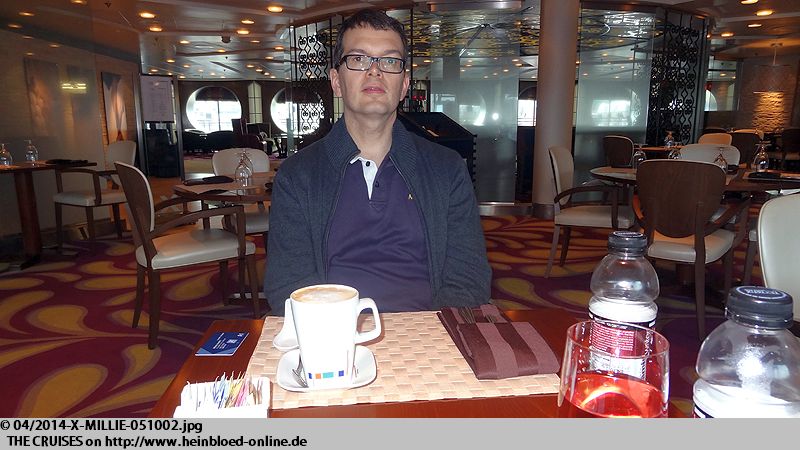 Jetzt sieht er doch zufrieden aus.
Bruno hat übrigens eine sehr einfache Folionummer, die ich mir sogar merken kann. So kann ich immer seine Nummer nennen, wenn ich ein zweites Getränk mir an der Bar geben lassen will. Er hat nämlich 1.000.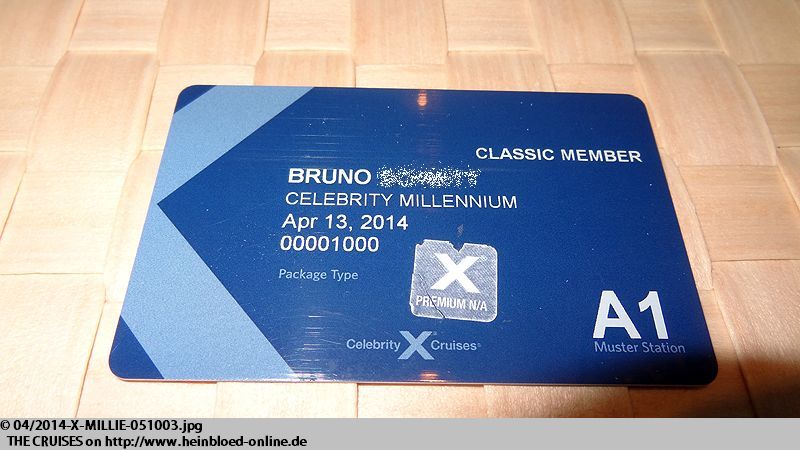 By the way Bruno had a very simple folionumber which even was able to remember. So I could always tell his folio number if I need to have a second beverage at the bar. He had namely 1,000.

That morning they had the Won-Ton-Soup for us ready. The Won-Tons were very good. The broth tasted a little oily and for my taste a little too much soy-sauce... but it was an alternative. If they would order it every morning I would consider to pay 5 USD every morning to have Won-Ton-Soup for breakfast...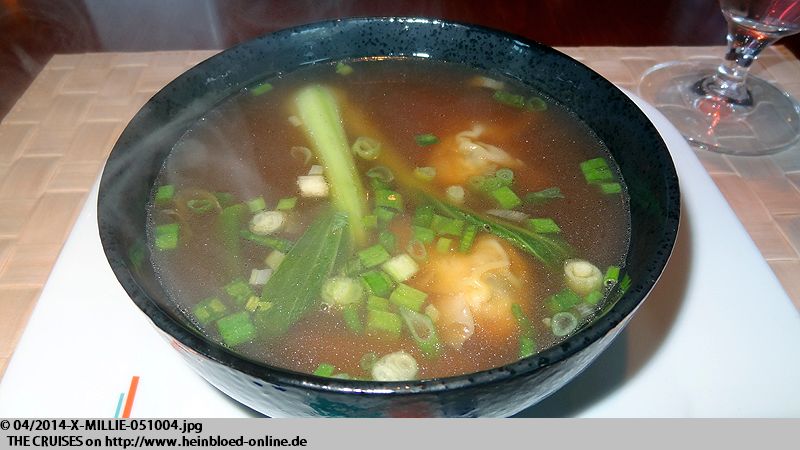 Heute morgen ist tatsächlich die Wan-Tan-Suppe für uns bereit. Die Wan-Tans sind sehr gut. Die Suppe schmeckte etwas fettig und für meinen Geschmack etwas zuviel Sojasoße... aber eine schöne Alternative. Wenn sie sie jeden Morgen hätten, würde ich sogar in Erwägung ziehen für 5 USD jeden Morgen hier meine Wan-Tan-Suppe zum Frühstück einzunehmen...
So sieht (und schmeckt) meine perfekte Wan-Tan-Suppe... z. B. im
Dim-Sum-Haus Restaurant China
gegenüber dem Hamburger Hauptbahnhof neben dem Schauspielhaus.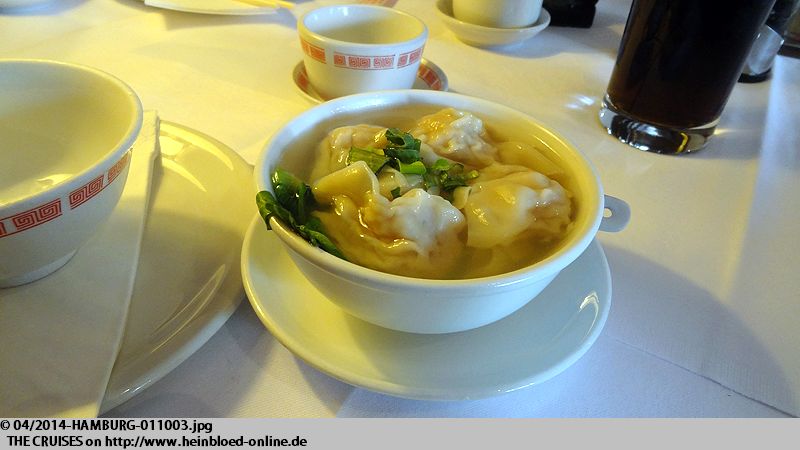 That is how a perfect Won-Ton-Soup looks (and tastes) like... like in the Dim-Sum-House in Hamburg, Germany.

The perfect broth for me: no soy sauce, no drop of grease.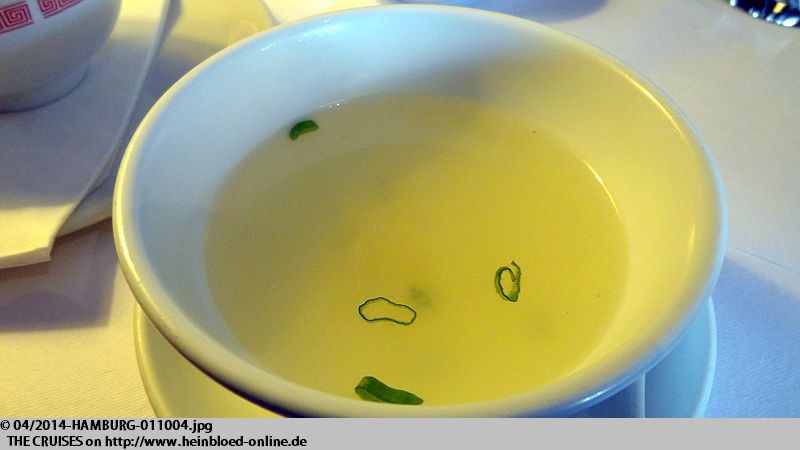 Eine für mich perfekte Brühe: keine Sojasoße, kein Fettauge.
Die haben hier auch Tische, die man flexibel vergrößern kann. Klasse.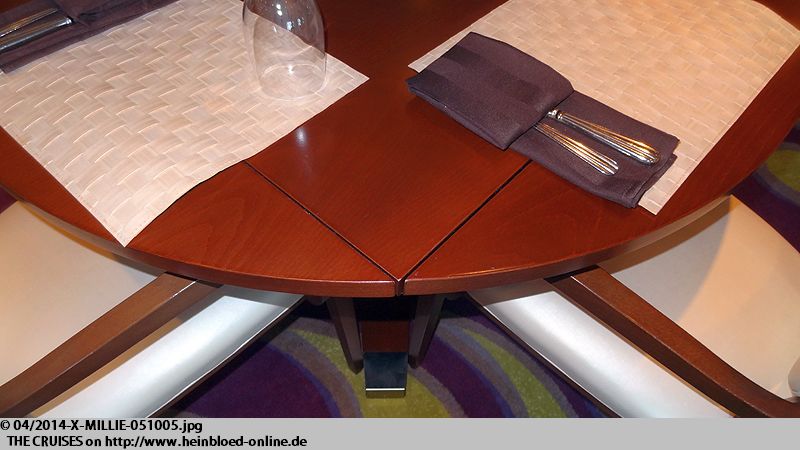 They had also tables you can extend flexibly. Great.

As we wanted to leave the ship at 13.00 hrs I booked for 11.00 hrs a table in Bistro on Five to have here some food before we leave the ship.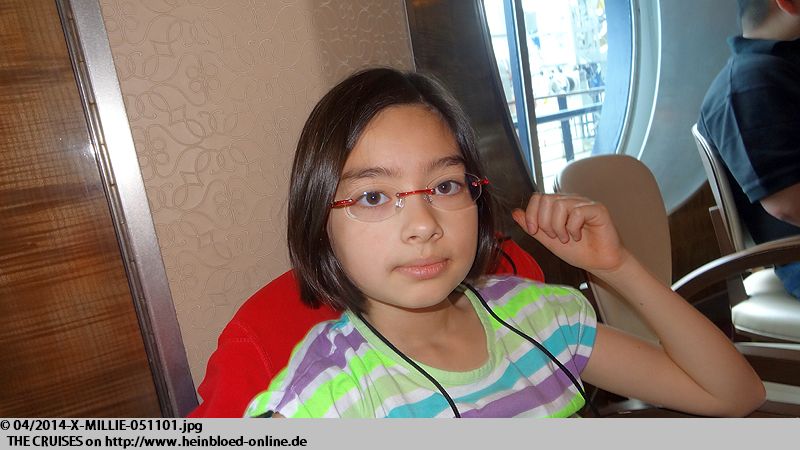 Da wir erst um 13.00 Uhr von Bord wollen, bestelle ich für 11.00 Uhr noch einen Tisch im Bistro on Five, um hier noch etwas zu essen, bevor wir von Bord gehen.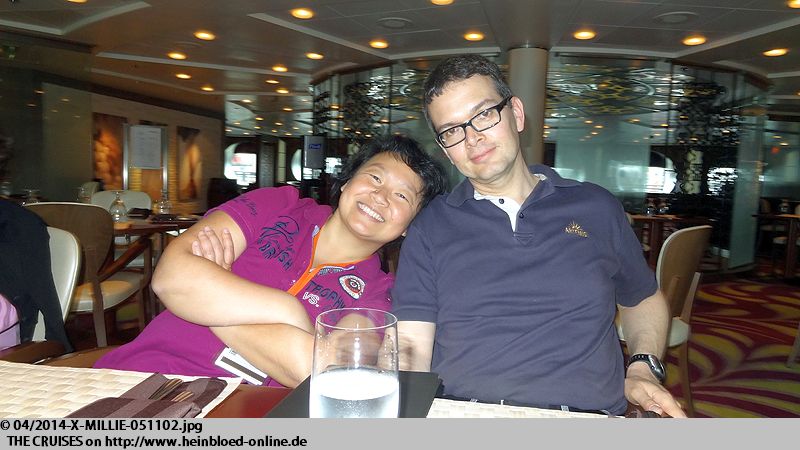 They had patrons who came here every day and they got a special treatment. So we got few Shrimp-Tempuras to bridge the time.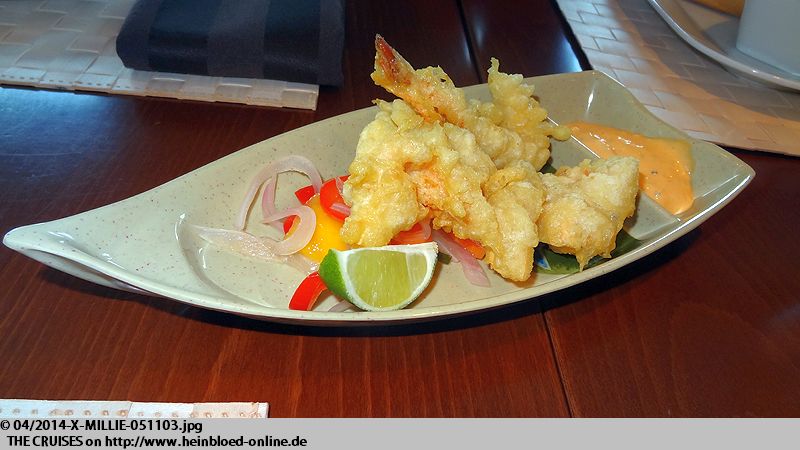 Es gibt wohl auch Stammgäste, die immer hier essen und sie werden bevorzugt behandelt. Und so bekommen wir ein paar Shrimp-Tempuras, um die Zeit zu überbrücken.
Zu den Crepes wird immer ein leckerer Obstsalat gereicht.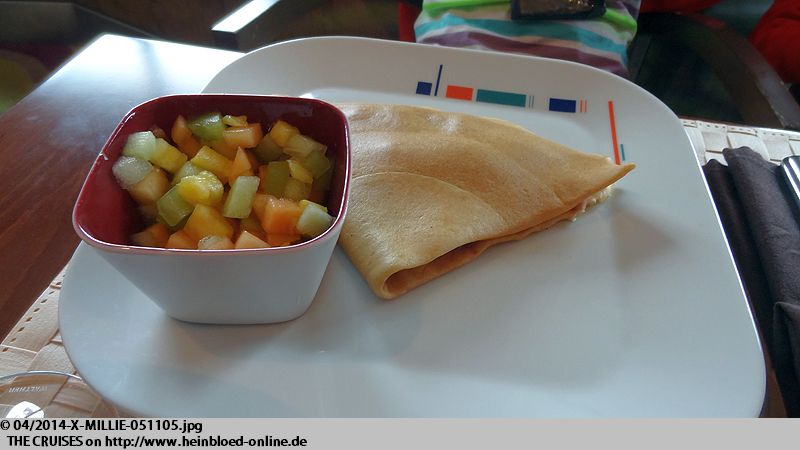 You get some nice fruit salad as side to your crepes.

With the salad you get some yummy garlic bread.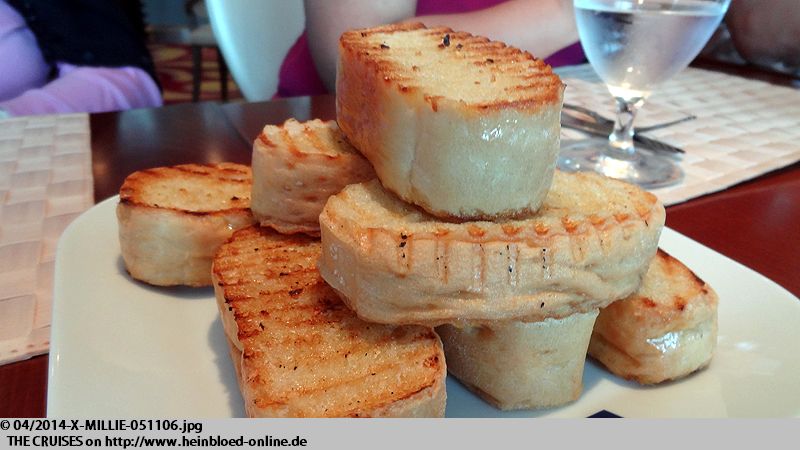 Zu den Salaten gibt es leckeres Knoblauchbrot.
Und die Salate sehen auch sehr nett aus.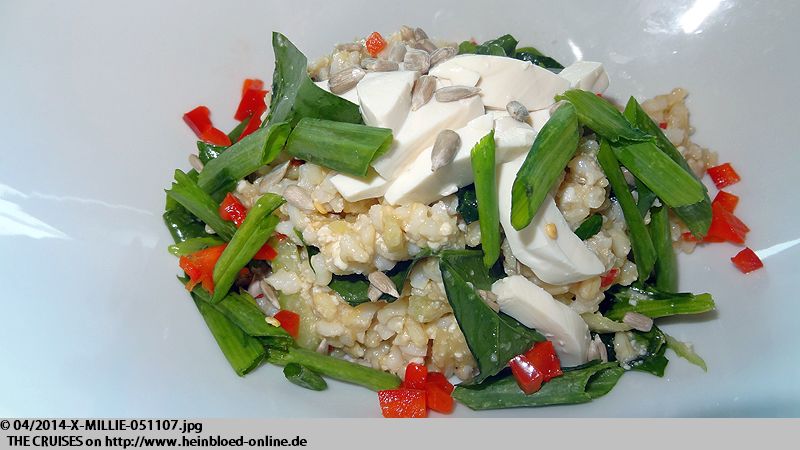 And the salads all looked very nice.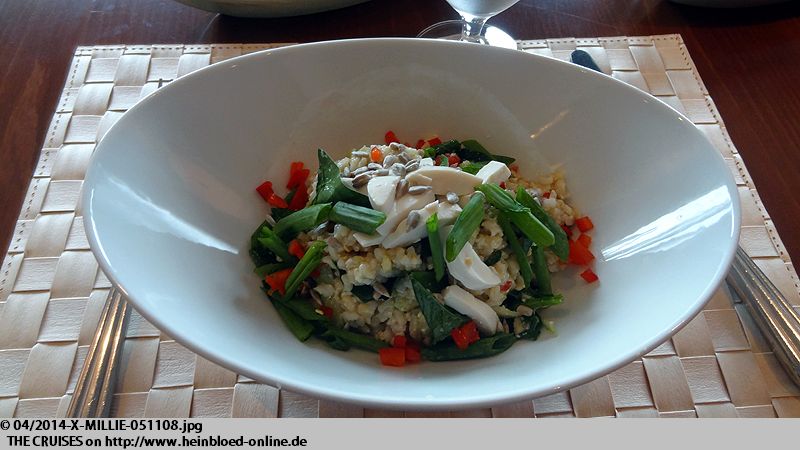 Die Kinder nehmen zu meinem Erstaunen kein Nutalla-Crepe sondern Schinken-Käse-Crepe und solche herzhaften Sachen. Sie gucken dem Koch beim Herstellen der Crepes zu.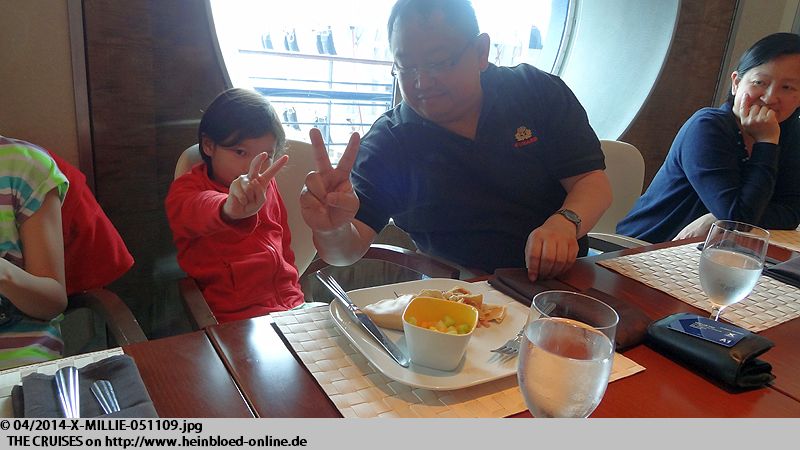 I was very surprised to see that the kids did not take a Nutella-Crepes but a ham-and-cheese-crepes and other hearty things. So they had a chance to the cook when he was preparing the crepes.

I took again a Won-Ton-Soup as they were so yummy... But I did not take any broth.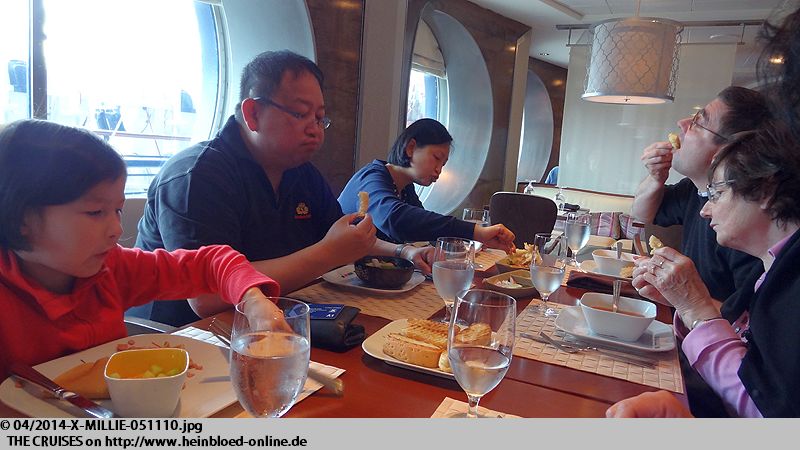 Ich nehme wieder eine Wan-Tan-Suppe ohne Suppe... Die Wan-Tans sind einfach zu lecker...