Scroll down for English explanations - alternates with German explanations.

Während wir auf dem Weg nach Busan waren, regnete es Bindfäden.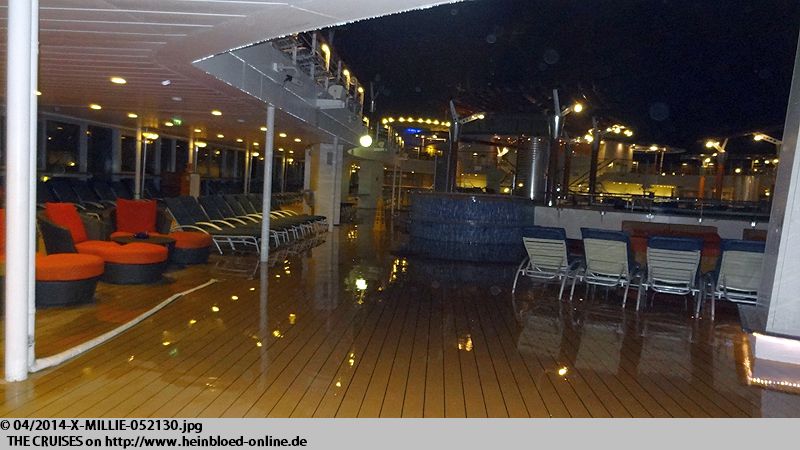 While we were on the way to Busan it started to rain cats and dogs.

Even you were walking under the roof: it was difficult to reach the forward ship.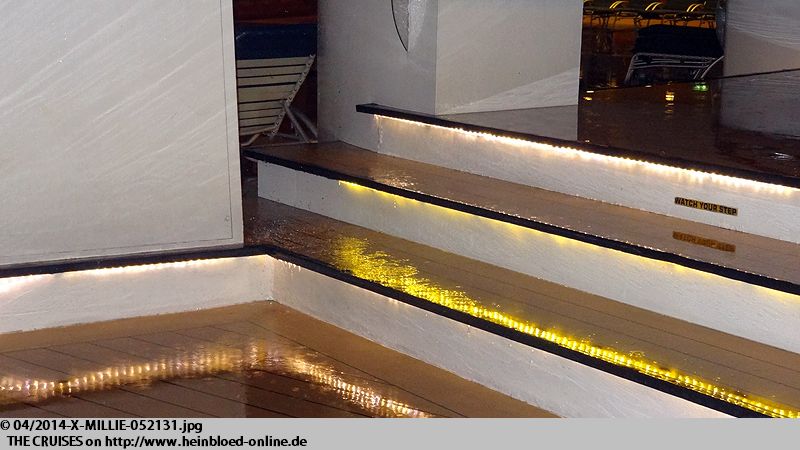 Selbst wenn man unter dem Dach entlanglief: es war schwierig trocken zum Vorschiff zu kommen.
Ich hatte von der Post im Cruise Terminal für die Kinder diese Bastelbögen mitgebracht, die dort auslagen...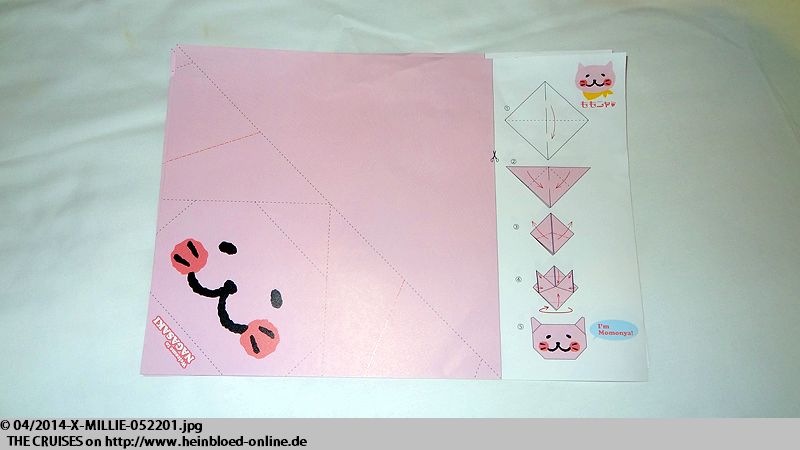 I had from the post office in the cruise terminal those sheet of construction paper which you could just take away...

But there was no need... Tonight we had entertainment at the table... Assistent Maître D' Azem came by and took a moment time to entertain the kids.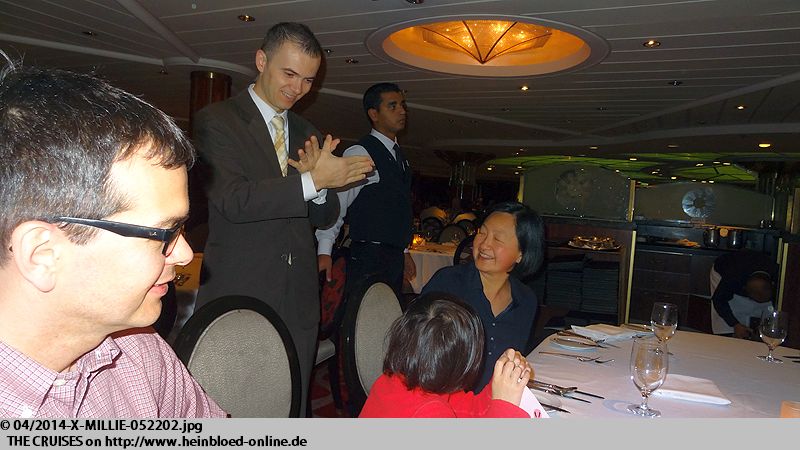 Aber das hätte ich gar nicht gebraucht... Heute Abend gab es Unterhaltung am Tisch... Assitent Maître D' Azem kam vorbei und nahm sich ein Moment Zeit die Kinder zu bespaßen.
Sah doch nett aus...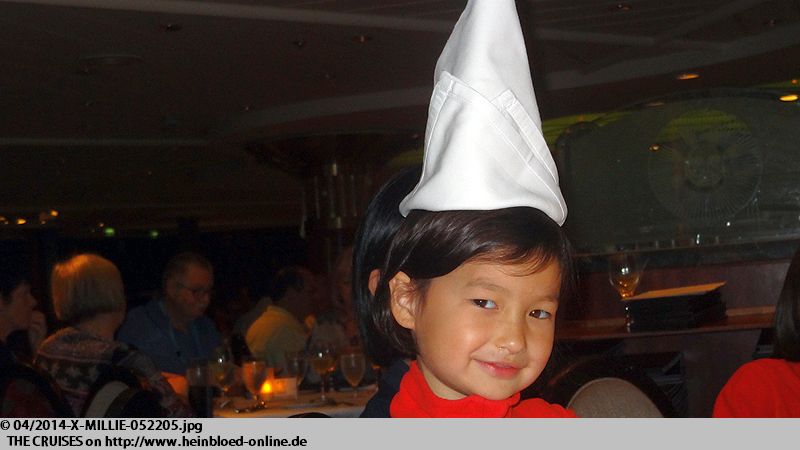 Looked very nice...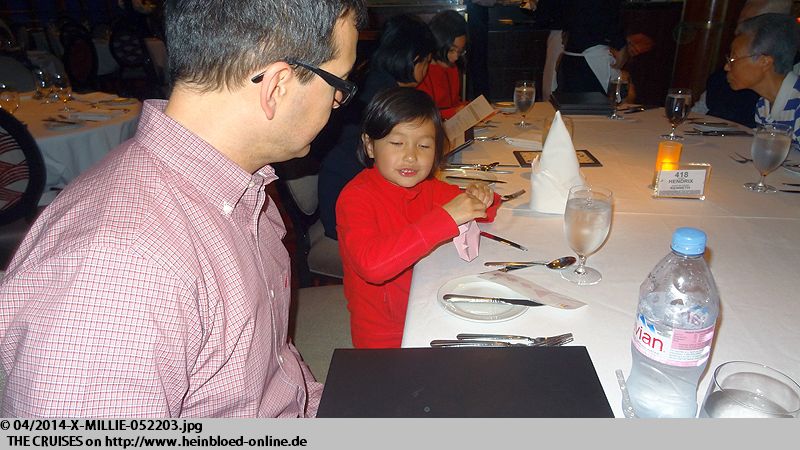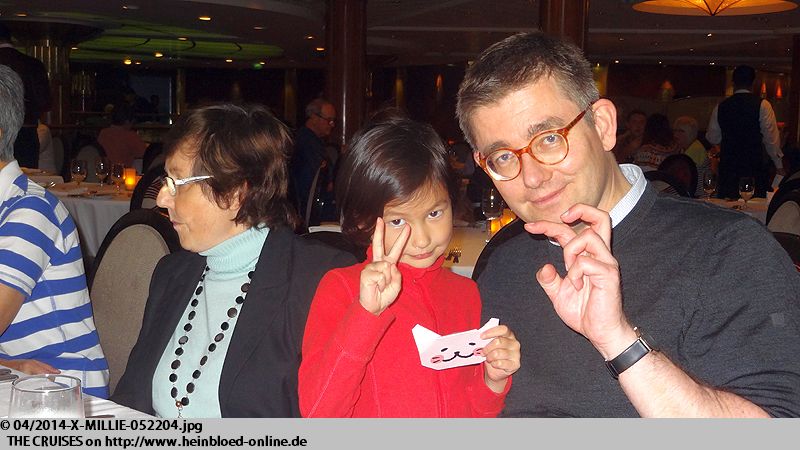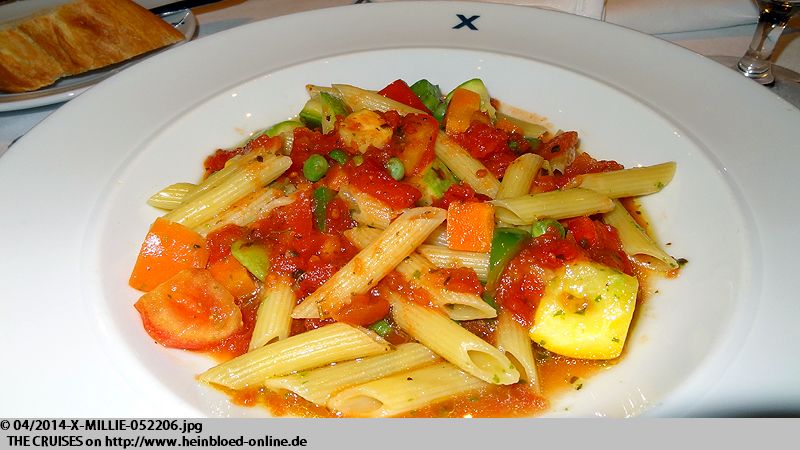 Carpaccio haben sie immer gut hingekriegt...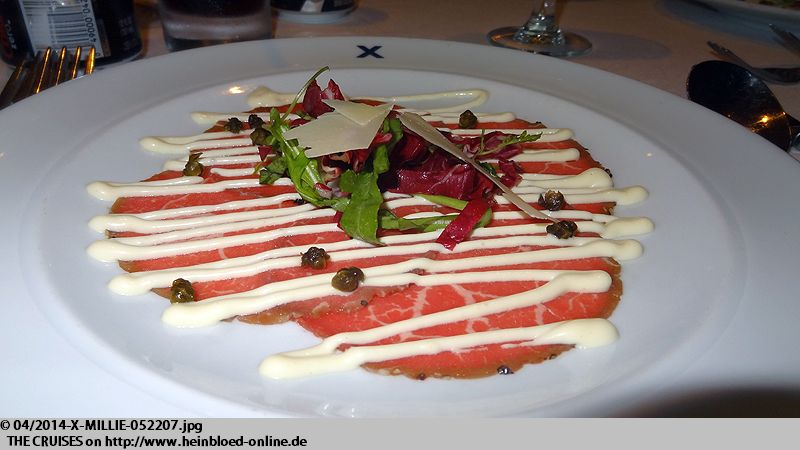 Carpaccio they always prepared well...

Whatever this was... later I was unable to taste what it was...

Was immer das auch war... ich habe es hinterher nicht mehr rausschmecken können...
Hier überlege ich mir gerade, ob ich die Makro-Funktion an hatte oder sie keine Lust hatten, es kleiner zu schneiden...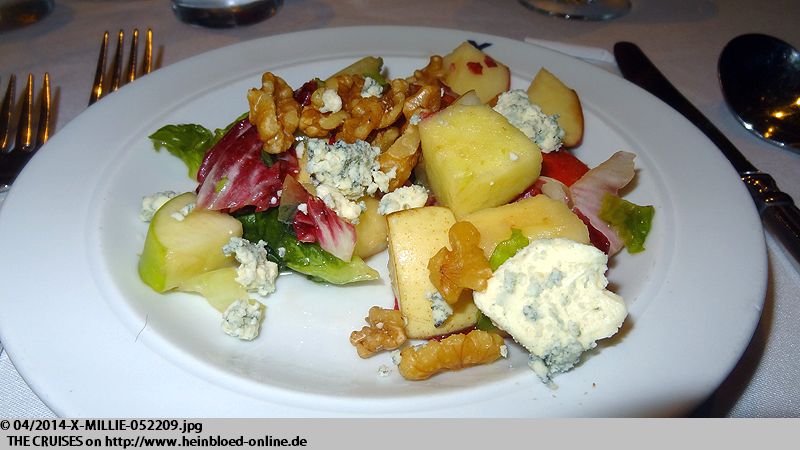 I was thinking whether I used the macro function of the camera or if they did not like to cut in smaller pieces...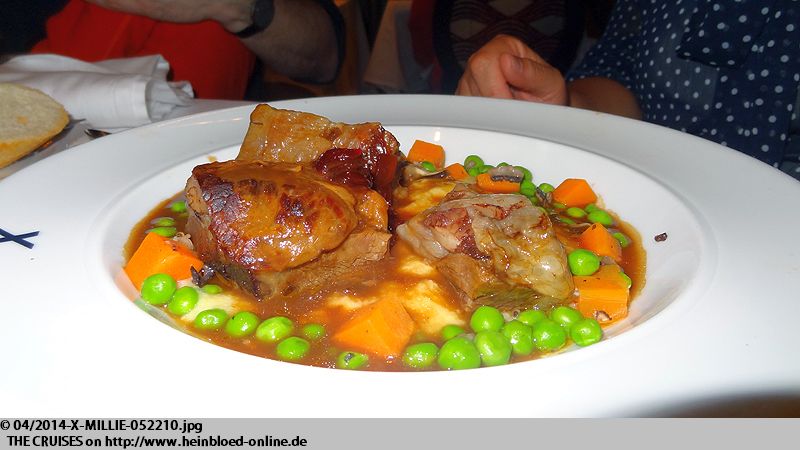 So wie auf der MSC FANTASIA sollte Saltimbocca aussehen und schmecken.

Saltimbocca should look and taste like here on MSC FANTASIA.

And that was it looked like on CELEBRITY MILLENNIUM... I never had this in my life before and I do not want to have it again in my life.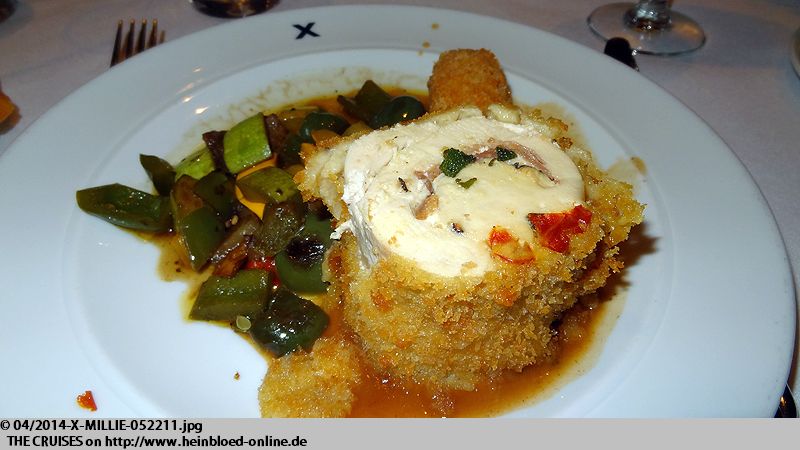 Und so sah es auf der CELEBRITY MILLENNIUM aus... Habe ich in meinem Leben noch nie gesehen, vor allem möchte ich in meinem Leben auch nie wieder essen.
Auch auf der ISLAND PRINCESS gab es mal Saltimbocca vom Huhn. Nur das sah aus wie Saltimbocca und schmeckte auch wie Saltimbocca... nur eben vom Huhn.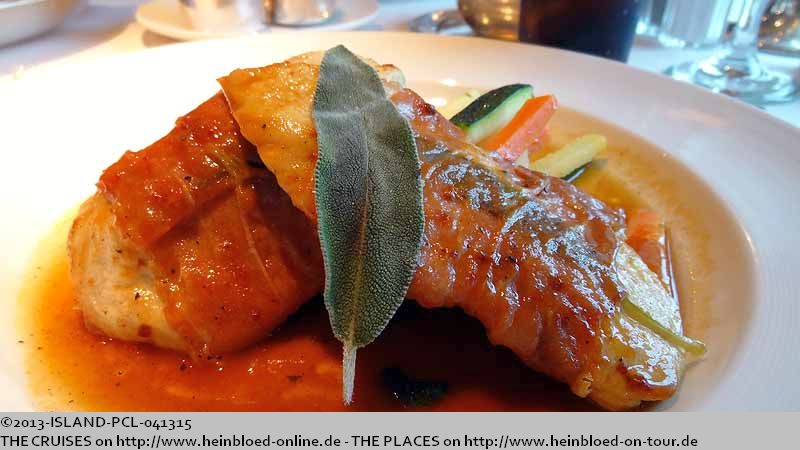 We had Saltimbocca of chicken on ISLAND PRINCESS too. But it looked at least like Saltimbocca and also tasted like Saltimbocca... but of chicken.

Pork loin on red cabbage... I did not think that this was very smart and lavish... I even can prepare something like this when I am home...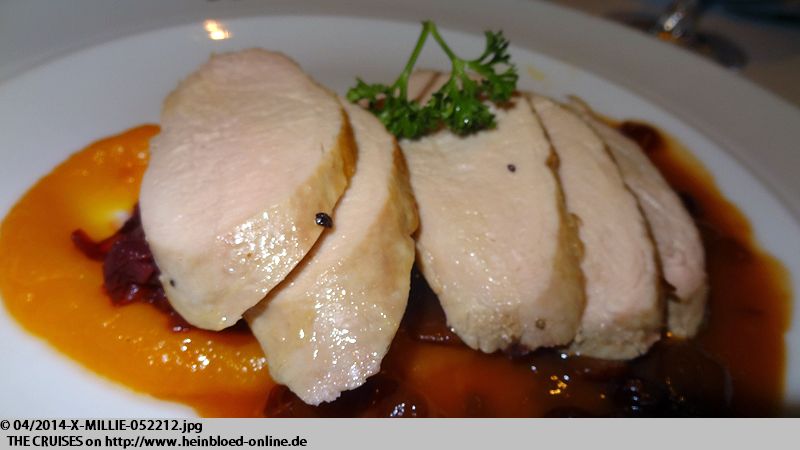 Schweinelende auf Rotkohl... besonders pfiffig und aufwändig finde ich das nicht... bekomme ich sogar zu Hause hin...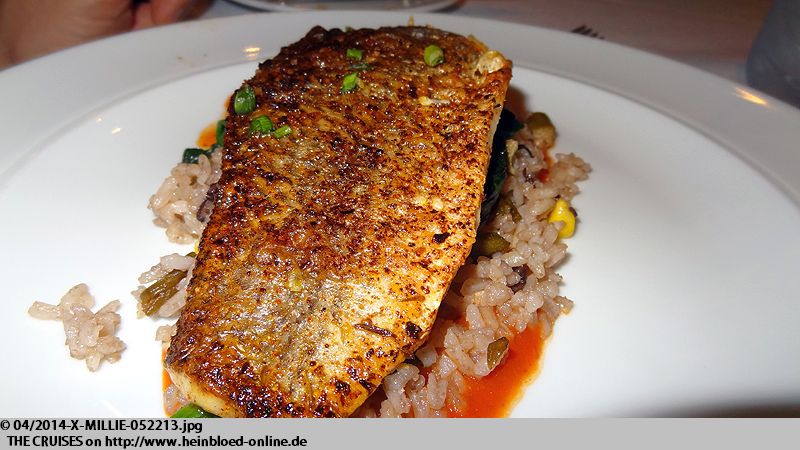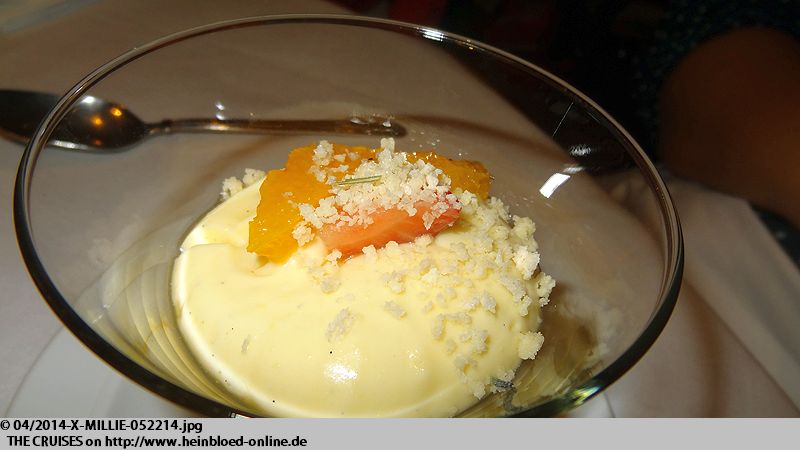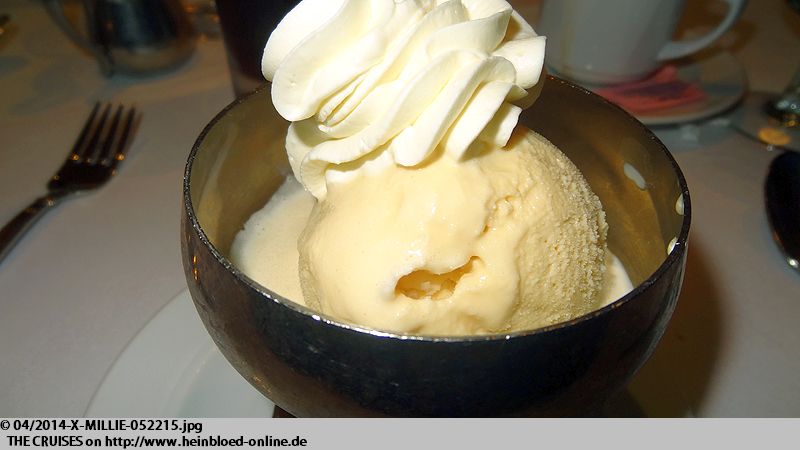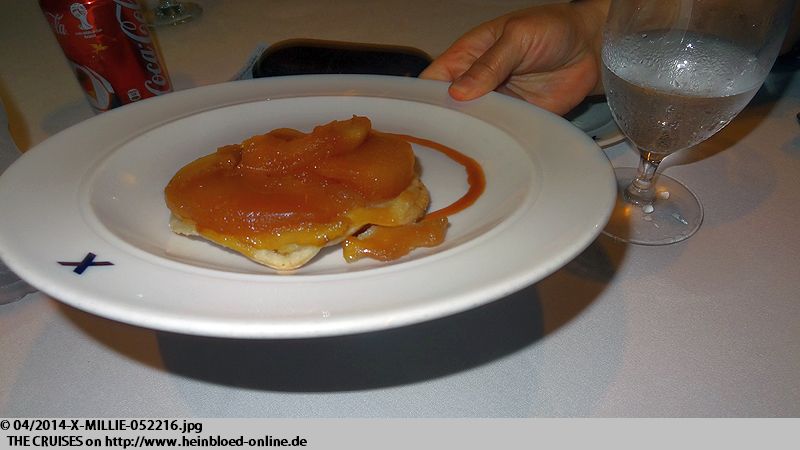 Meine Eltern baten um Orangen zum Nachtisch. Keine besondere Herausforderung. Eine Selbstverständlichkeit, wenn man auf dem asiatischen Markt unterwegs ist und Asiaten als Gäste hat. Ein Wunsch, der bei Norwegian so erfüllt wird... Anscheinend haben sie eine ganze Abteilung, die nichts anderes macht, als Sonderwünsche ihre Gäste zu erfüllen. Ich finde das klasse!!!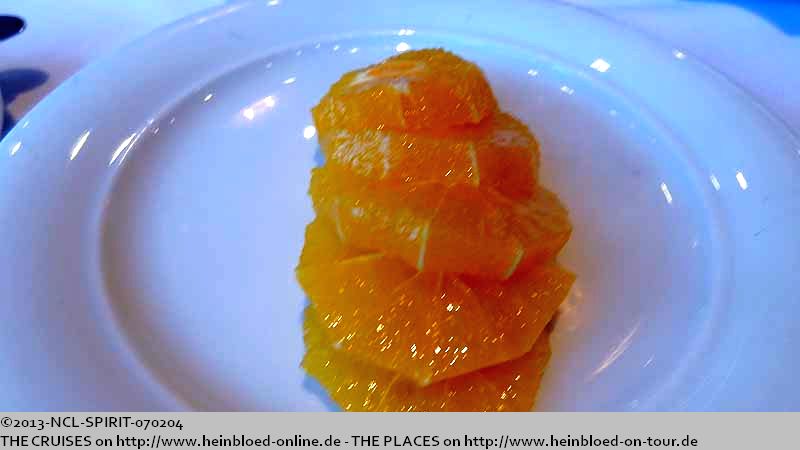 My parents asked for oranges for dessert. No big challenge. A matter of course if you are moving on the Asian market and you have Asians as guests. A request Norwegian easily accepts like this... Obviously they run a complete departement who is doing nothing else but to execute their guests' special requests. I like it very much!!!

And her on CELEBRITY MILLENNIUM... they got their oranges too,...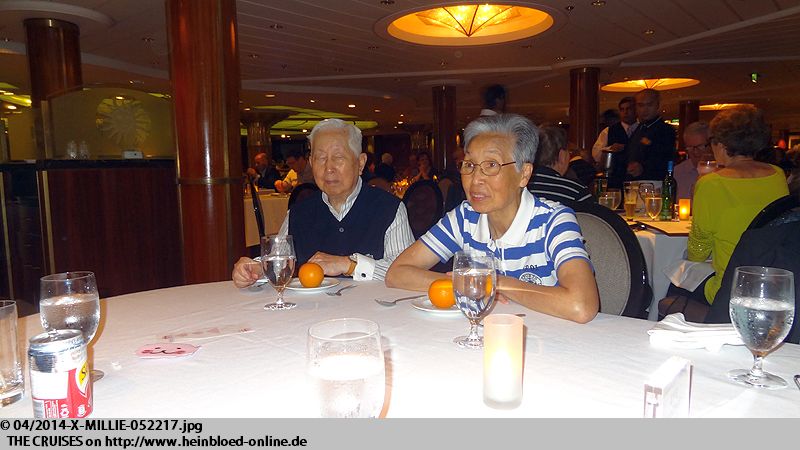 Und hier auf der CELEBRITY MILLENNIUM... bekommen Sie auch ihre Orange,
aber als Bausatz, damit man sich das selbst zurecht machen kann, wie man will... Ich denke mal, sie wären nur durch easyCruise mit ihren Mandarinen aus der Dose unterboten worden... Premium-Luxus-Line...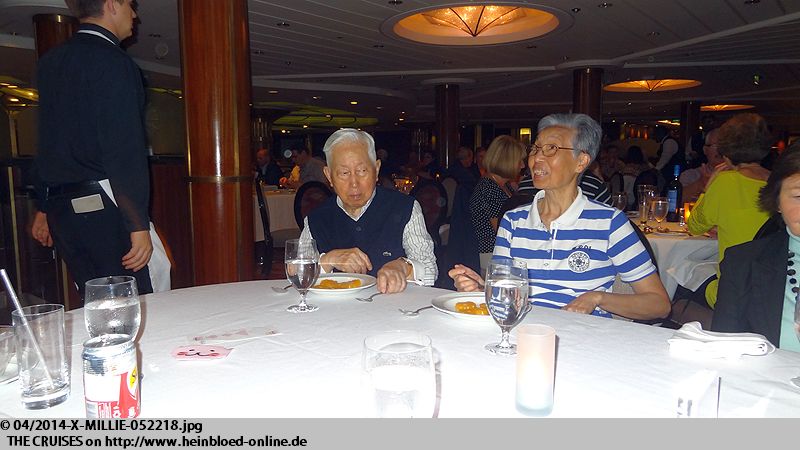 but as construction kit to do it your self - however you like it... I think only easyCruise and their canned tangarines can undercut them... Premium Luxury Line...

The kids made it...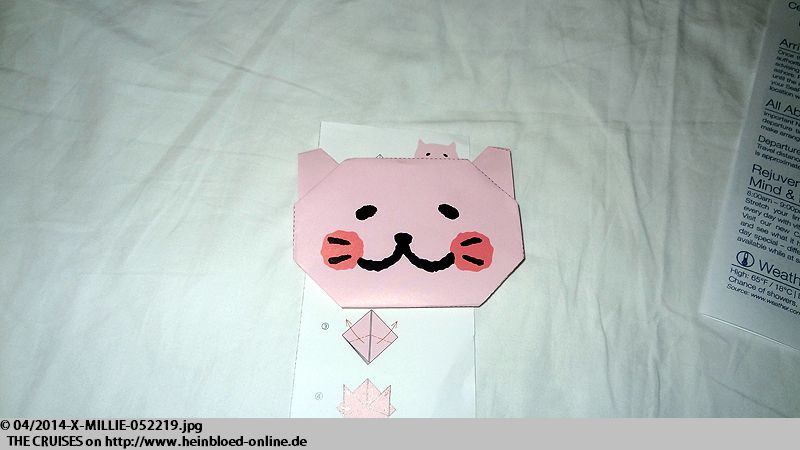 Die Kinder haben es geschafft...
Ich gehe nochmals kurz oben gucken, was es im Oceanview Café gegeben hätte.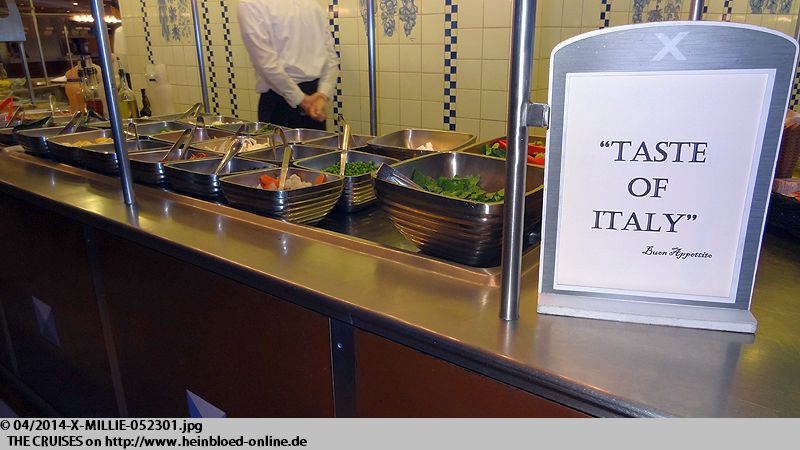 I went upstairs to see what the had in the Ocenview Café for dinner.

Their offer did not look bad.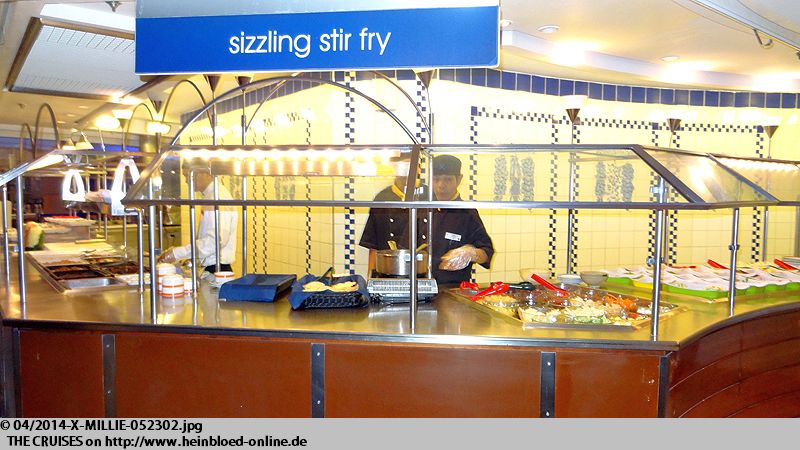 Schlecht sieht das Angebot nicht aus.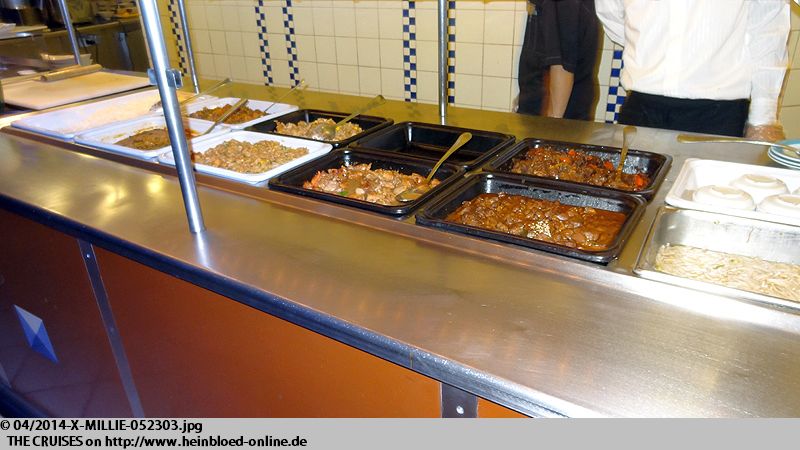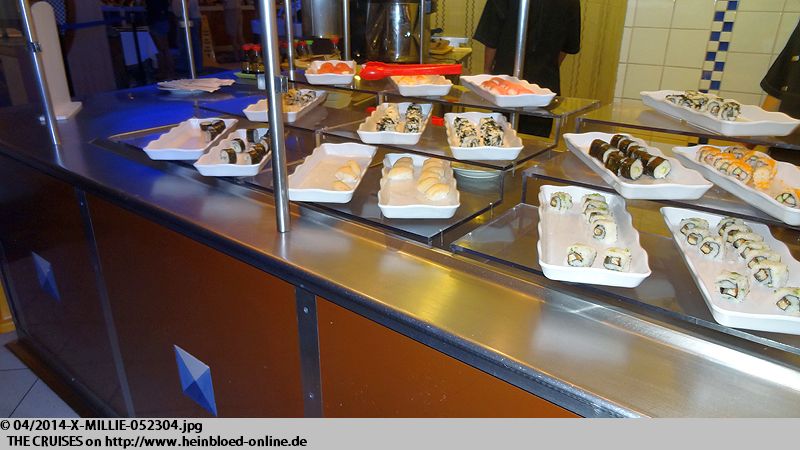 Everybody took food out. No sign could help.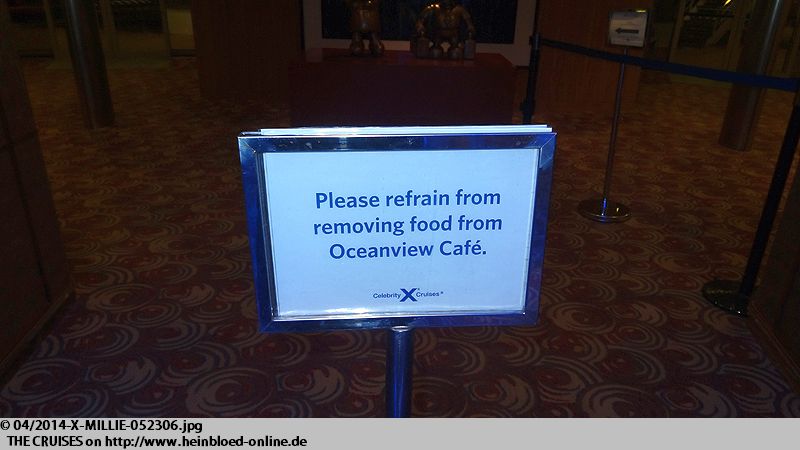 Jeder nimmt Essen mit raus. Da hilft auch das Schild nichts.
Draußen regnet es weiter.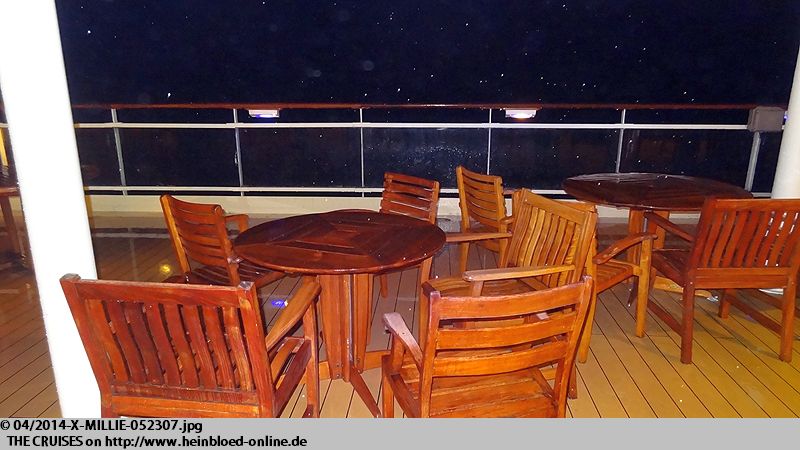 Outside it was still raining.

But no way: only the aft bar on the open deck was still open to get some VitaminWater. But I need to become wet...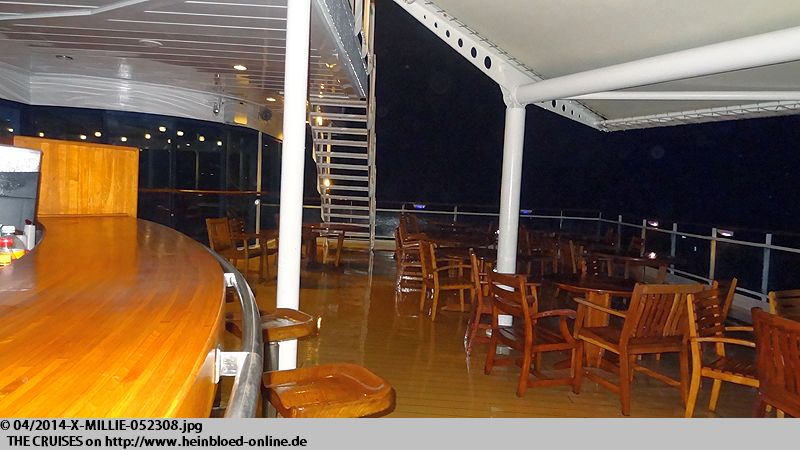 Hilft aber nichts: nur an der Heckbar am offenen Deck gibt es jetzt noch VitaminWater. Also muss ich nass werden...
Bei Norwegian kann man sich diese Tafel ansehen, wenn man wissen will, wer das Schiff leitet.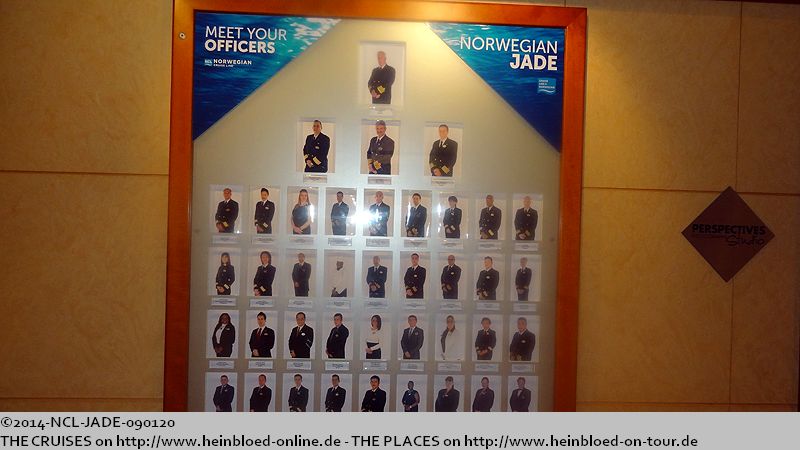 With Norwegian I need to find this board if you want to know who is managing the ship.

With Holland America you have everything electronic. On this touchscreen you can check the single senior officer.

Bei Holland America gibt es das alles elektronisch. An einem Touchscreen kann ich mir die Senioroffiziere angucken.
Eine Tafel fehlt mit den entsprechenden Senioroffizieren an Bord der CELEBRITY MILLENIUM. Es gibt nur diesen Zettel.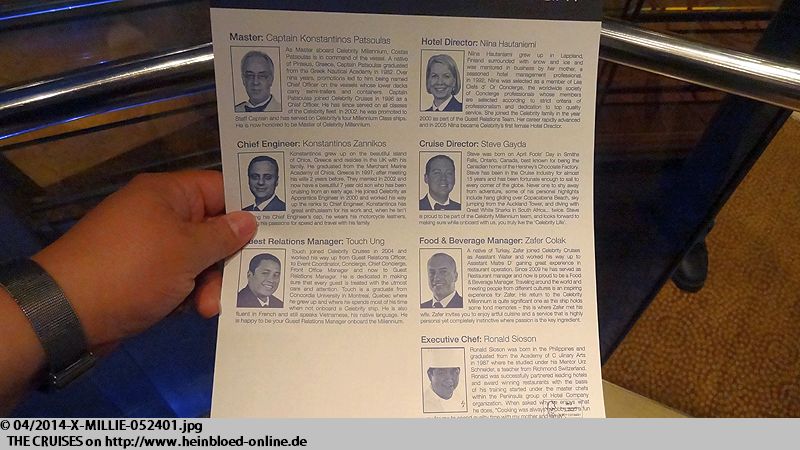 There was no board with all senior officers in charge. You only get this sheet of paper.

But somehow one was missing on the actual version compared to the version we got at the day of embarkation. I did not expected my wear would be so giant although I felt that I was quite harmless. And I had nothing to do with the Staff Captain. Obviously he disappeared. No wonder that everybody on board did or did not do what they wanted...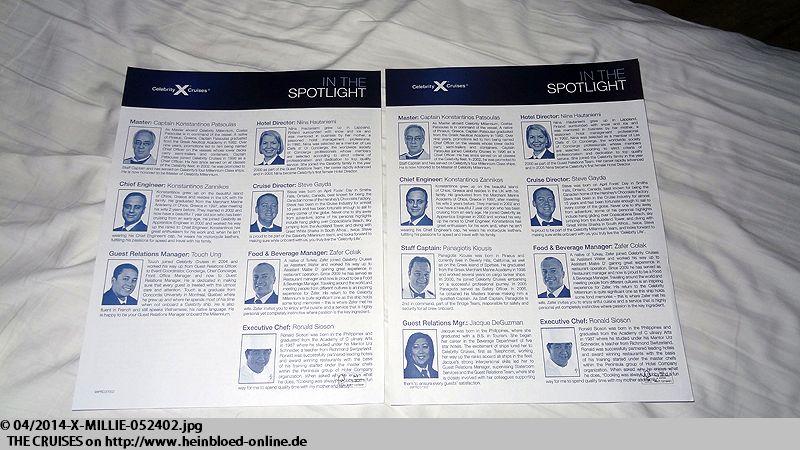 Aber es fehlt schon einer im Vergleich zu der Ausgabe, die wir am Tag der Einschiffung bekommen hatten. Ich hätte nicht geahnt, dass mein Verschleiß so hoch ist, obwohl ich wirklich noch harmlos bin. Und mit dem Staff Captain habe ich gar nichts zu tun. Und der ist anscheinend weg. Kein Wunder, dass jeder jetzt hier tut und lässt, wozu er Lust hat...
Es spielen zwei Streicher im Café al Bacio... viele Grüße an meine rumänsichen Streicherfreunde von der ZAANDAM, wenn sie das hier lesen...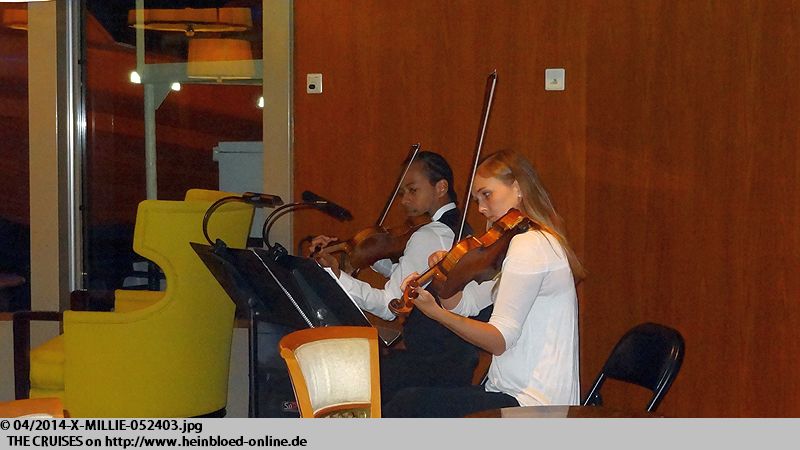 They had two string-players in Café al Bacio... many greetings to my Romanian string-player-friends of ZAANDAM if you read this here...

A service for Sabbath. I was interested to join but I did not know if I can just walk in. And it was true: Easter is soon... very soon.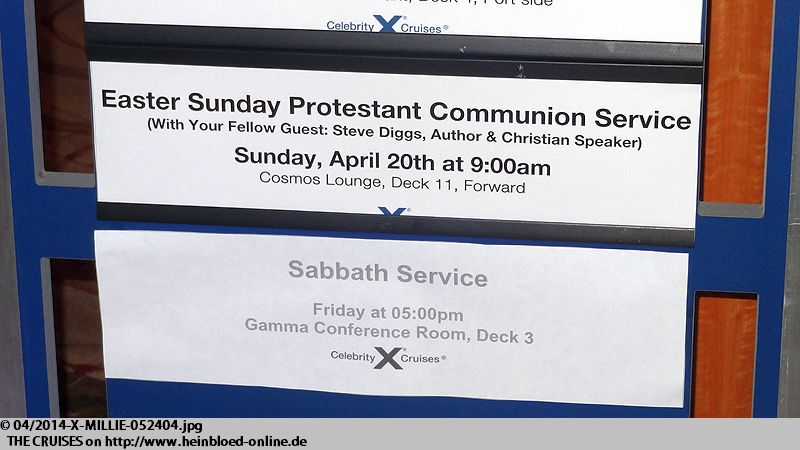 Ein Gottesdienst zum Sabbat. Das würde mich interessieren, aber ich weiß nicht, ob ich einfach da so reinplatzen sollte. Und tatsächlich: wir haben ja Ostersonntag... bald...
Auch ist mein Douglas Ward zurück - mit Unterschrift und Stempel.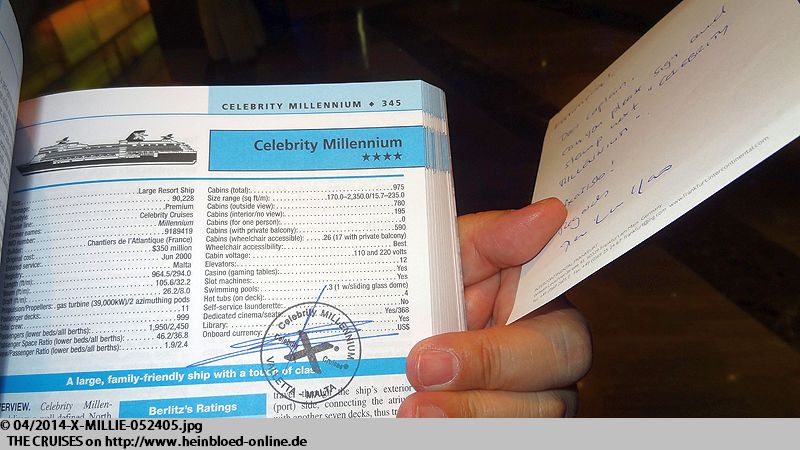 My Douglas Ward was back too - with signature and stamp.