Scroll down for English explanations - alternates with German explanations.

Während wir beim Essen saßen kommen folgende Ansagen: "Alle Gäste, die geplant, nicht an Land zu gehen, müssen bis 12.00 Uhr im Kreuzfahrt-Terminal durch die Immigration". Wir hatten unseren Ausflug für 13.00 Uhr geplant. Im Tagesprogramm steht nichts davon, dass alle um 12.00 Uhr von Bord müssen. Wir fühlen uns nicht angesprochen. Warum akzeptieren sie für 11.00 Uhr noch Tischreservierungen, wenn um 12.00 Uhr keiner mehr an Bord sein soll? Man hat also der eigenen Crew nicht gesagt, wie es laufen soll und die hat nämlich unsere weiteren Gänge vorbereitet, die wir nicht aufessen dürfen, weil wir von Bord müssen. Und trotzdem müssen wir die 5 USD zahlen. Damit hatte sich für mich das Thema, ob ich nochmals dort Umsatz mache, erledigt.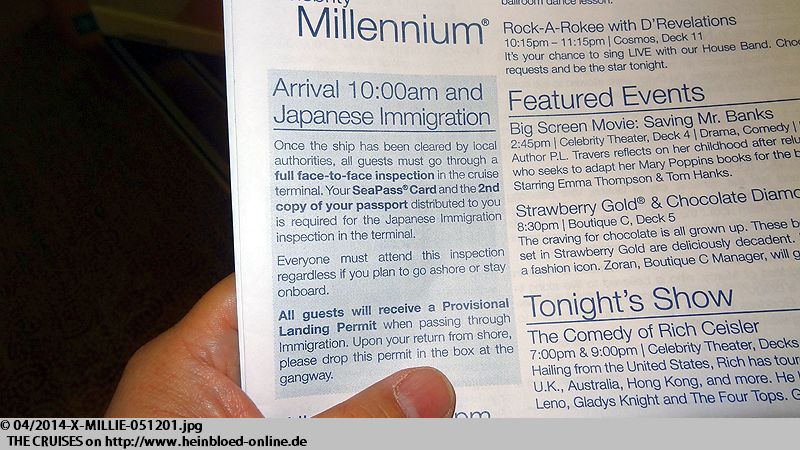 While we were eating following announcement was made: "All guests who are planned not to leave the ship must clear immigration before 12.00 hrs in the cruise terminal". We planned a tour starting for 13.00 hrs. In the daily programme there was no time limit of 12.00 hrs mentioned to be off the ship. We did not feel addressed. Why did they accept table bookings for 11.00 hrs if everybody need to be off the ship by 12.00 hrs? They did not tell their own crew how it should run and so they prepared all other courses which we were not allowed to eat anymore because we need to get off the ship. Still then they insisted that we had to pay 5 USD cover charge. So there was no reason anymore to make further revenue there.

As we thought that we should save time and would return for the next course we walked to our cabins to grab our belongings. But they were already on the phone and told us to leave the ship asap.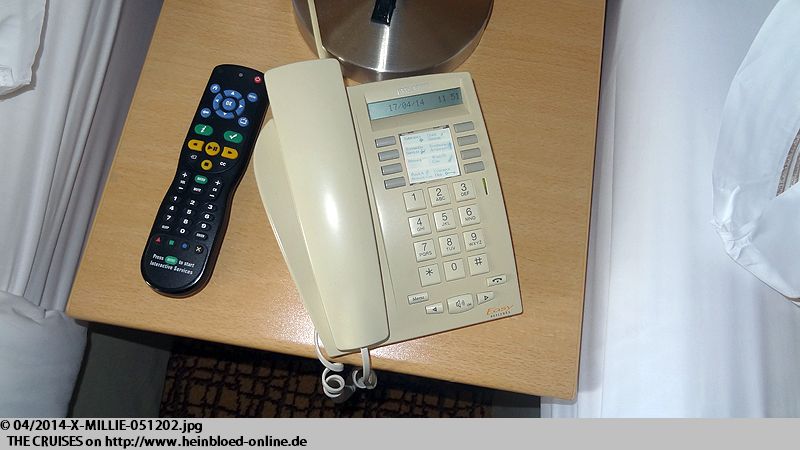 Da wir davon ausgehen, dass wir noch den weiteren Gang essen können, gehen wir kurz in die Kabine hoch, um die Sachen für den Ausflug zu holen. Dabei rufen sie uns bereits an, damit wir sofort das Schiff verlassen.
Wir gehen zur Immigration.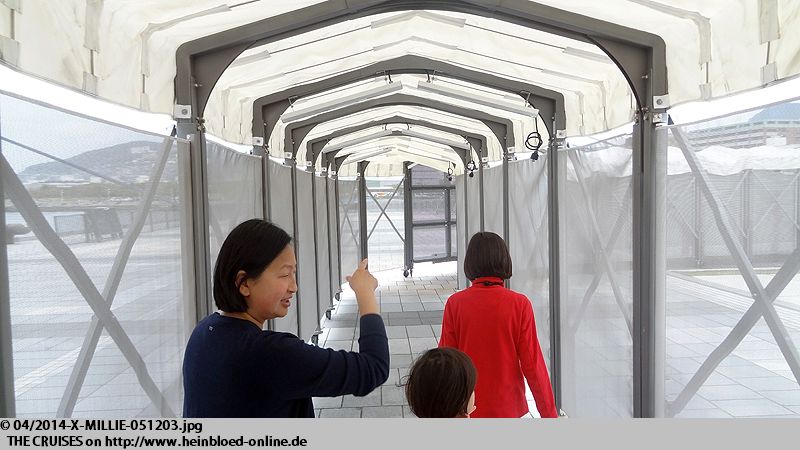 We went to immigration.

It took only seconds as nobody was there anymore but us.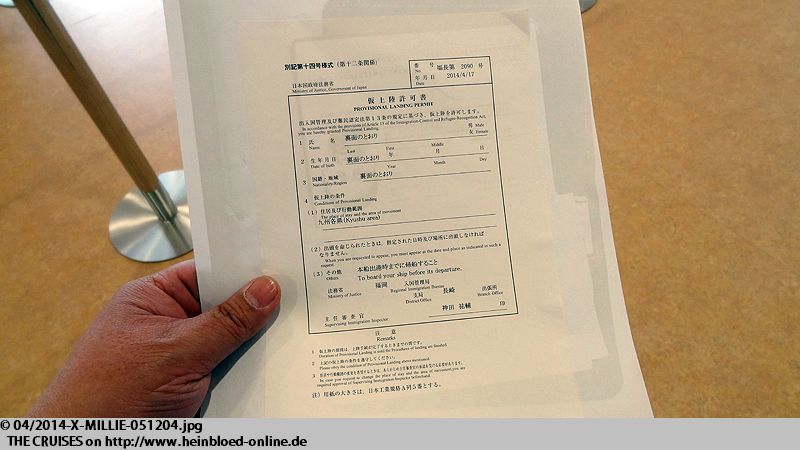 Das dauert nur wenige Sekunden, weil niemand mehr da ist, außer uns.
Wie üblich ein Bild des Hafenagenten, damit wir wissen, wen wir anrufen können, wenn wir in Schwierigkeiten sind. Bisher haben wir es nur einmal gemacht: damals auf der OCEAN PRINCESS...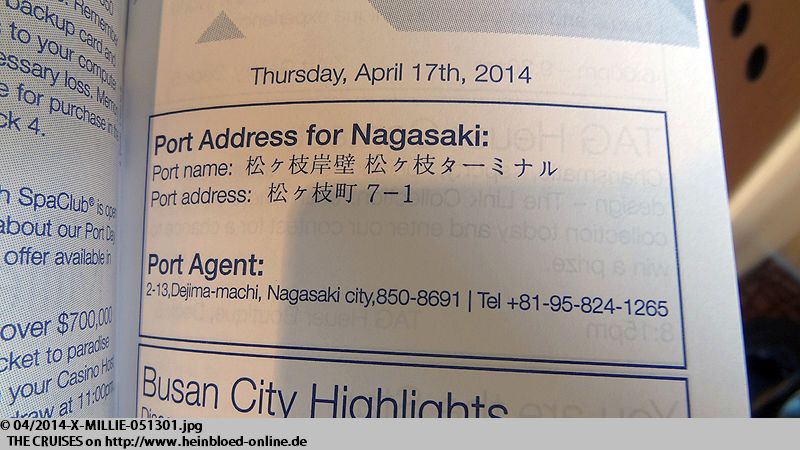 As usual a picture of the port agent that we knew whom to call if we get in trouble. So far we had to do it once: then on OCEAN PRINCESS...

We need to be back on board at 17.45 hrs but crew already 16.00 hrs instead of 17.30 hrs...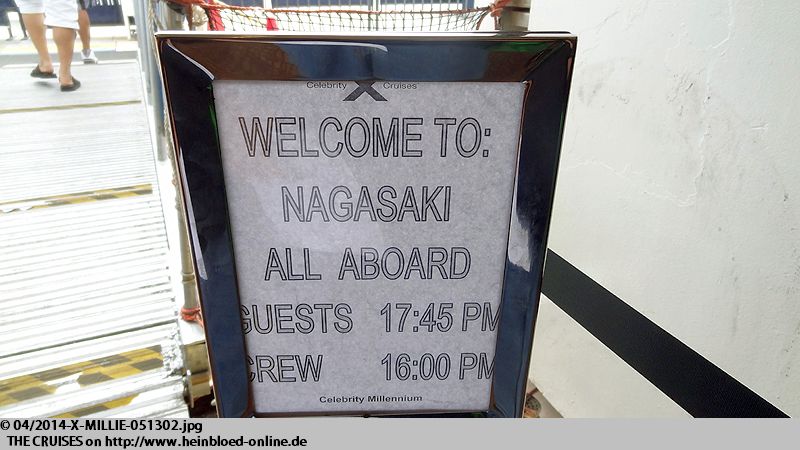 Wir müssen um 17.45 Uhr erst an Bord sein, aber die Crew bereits schon um 16.00 Uhr statt 17.30 Uhr...
Es war echt ein Problem eine Incoming-Agentur in Japan zu finden. Es waren nur zwei, die angeboten haben, nachdem selbst das
japanische Fremdenverkehrsamt in Frankfurt
herhalten musste, jemanden zu finden. Ich hatte Kontakt mit dem
Verband der Fremdenführer in Nagasaki
: Fremdenführer ja, Fahrzeug nein. Das
Fremdenverkehrsamt in Nagasaki
konnte gar nicht helfen. Die kannten sich in ihrer eigenen Stadt nicht aus. Einer der beiden, die anboten war
Hankyu Travel
, die ich dann auf der ITB in Berlin besuchen wollte... aber die waren leider dann weg zum Mittagessen. Aber wenigstens gab es sie. Wenn wir schon vorab internationale Zahlungen machen, dann sollten sie schon existent sein. Später hatte ich dann zwei Herren getroffen, die allerdings mit meinem Vorgang nichts zu tun hatten.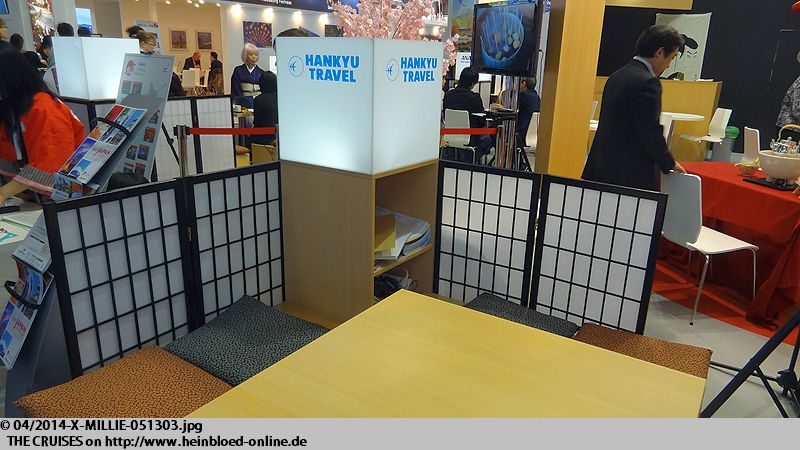 It was a real problem to find an incoming-agency in Japan. Only two were willing to quote after even the Japanese National Tourism Organisation in Frankfurt, Germany need to find some. I had contact with the Nagasaki Interpreter-Guide Association: interpreter yes - vehicle no. The tourist information in Nagasaki itself was totally unable to help. They did not know their own city. One of the two companies who quoted was Hankyu Travel, whom I wanted to meet on ITB Internation Tourism Exhibition in Berlin, Germany... but they were just gone for lunch. At least they were existing. We made ahead some international money transfers and so I want to be sure that they exist. Later I met two gentlemen who were not in charge for my issue.

We had to wait few time as we had to leave the ship much more earlier. I contacted our tour guide but the bus was not available yet so that we could not start earlier. But right at the scheduled time I got a call that she was waiting for uns in the cruise terminal: June Furakuwa.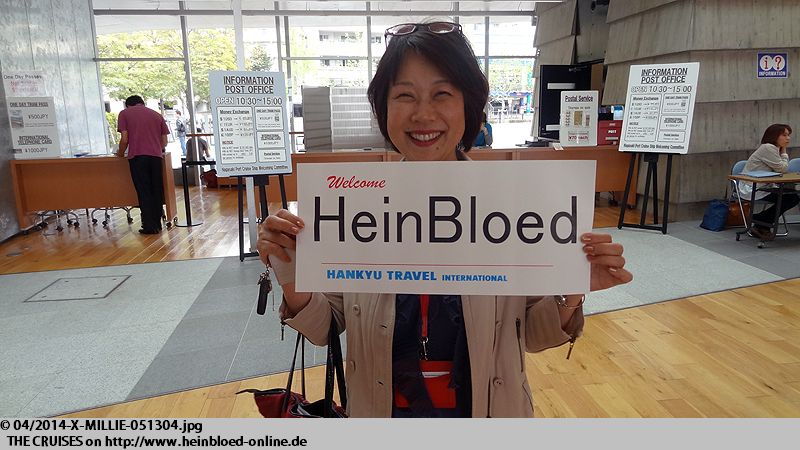 Wir mussten nun leider eine Zeit warten, weil wir ja früher von Bord mussten. Ich hatte unsere Fremdenführerin kontaktiert, aber der Bus war noch nicht da, so dass wir auch nicht früher beginnen konnten. Aber pünktlich zur abredeten Zeit bekam ich einen Anruf, dass sie uns im Cruise Terminal erwartet:
June Furakuwa
.
Für uns wartete ein kleiner Bus.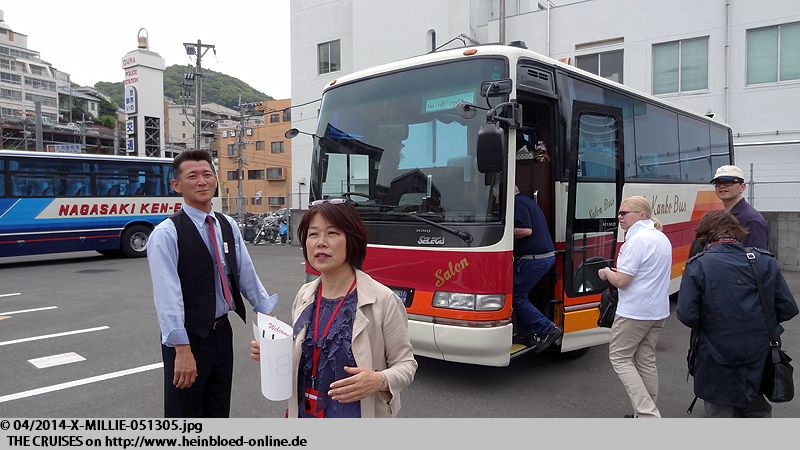 A small bus was waiting for us.

As promised everything was marked with "HeinBloed".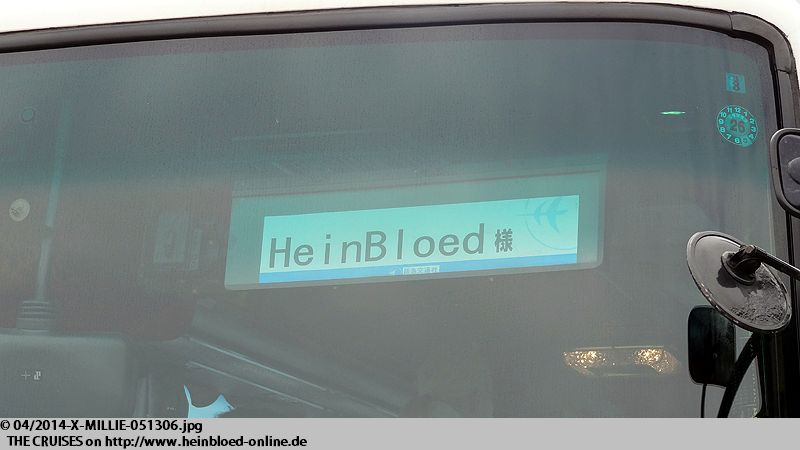 Wie versprochen ist alles mit "HeinBloed" gekennzeichnet.
Im Bus ist alles liebevoll hergerichtet.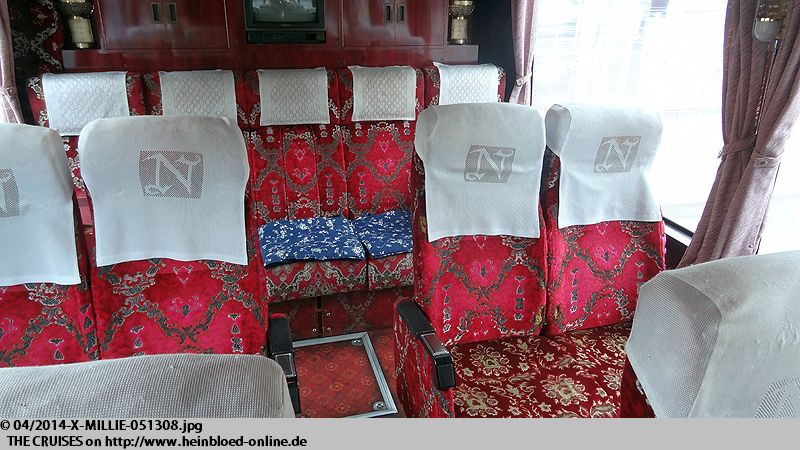 In the bus everything was set with a lot of passion.

June was a wonderful ambassador for Japan: First she introduced herself.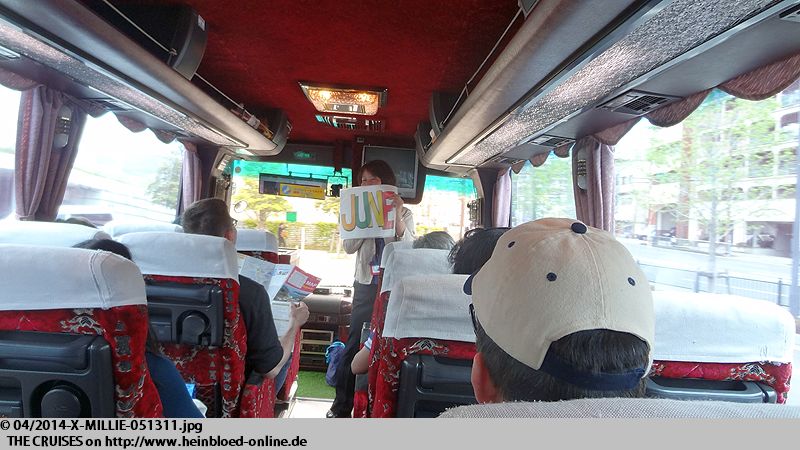 June ist eine ganz tolle Botschafterin für Japan: Sie hat zunächst einmal sich vorgestellt.
Danach hat sie Japan vorgestellt und danach die Zusammenhänge bis dass wir geistig in Nagasaki waren.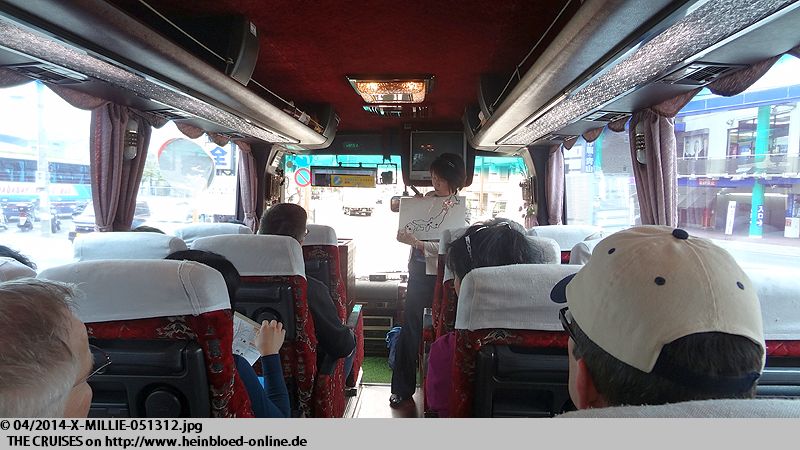 Later she introduced Japan and then the interrelation until we arrived with our minds in Nagasaki.

One thing made the tour very personal: a little thing which was not much money...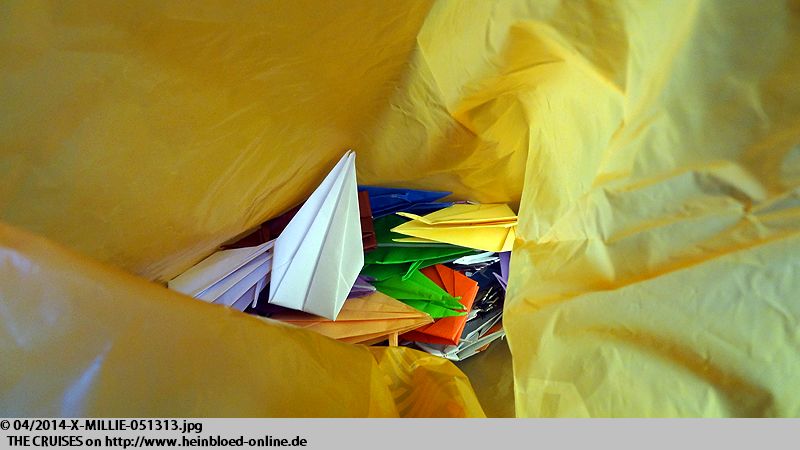 Eine Sache hat die Tour sehr persönlich gemacht: eine Kleinigkeit, die nicht viel kostet...
Aber die Geste, uns einen Friedenskranich zu schenken, hat mich persönlich sehr berührt.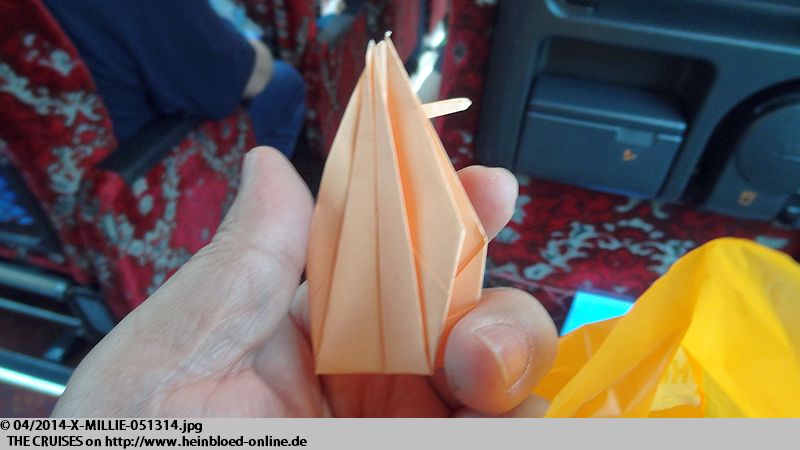 Her gesture to give us a peace crane touched me personally very much.

The first part of our tour was only 200 yards air-line: just to the parking of Glover Garden. Unfortunately we could see from the parking that this would not be anything for my father as you had to walk upwards to the main entrance.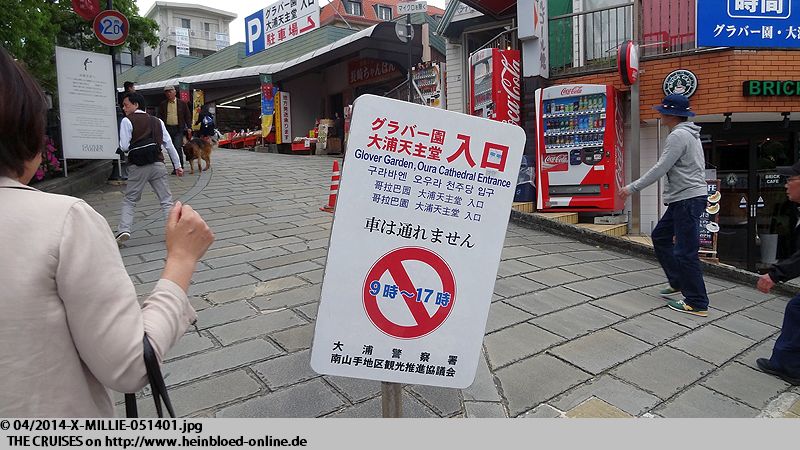 Die erste Fahrt hat eine Länge von 200 m Luftlinie: bis zum Parkplatz des
Glover Gartens
. Leider sehen wir schon vom Parkplatz aus, dass das nichts mehr für meinen Vater ist, da es bergauf bis zum Haupteingang geht.
June erklärt uns, was die Händler hier so verkaufen. Sie macht uns darauf aufmerksam, wo man das beste Eis bekommt, wenn wir später es probieren möchten.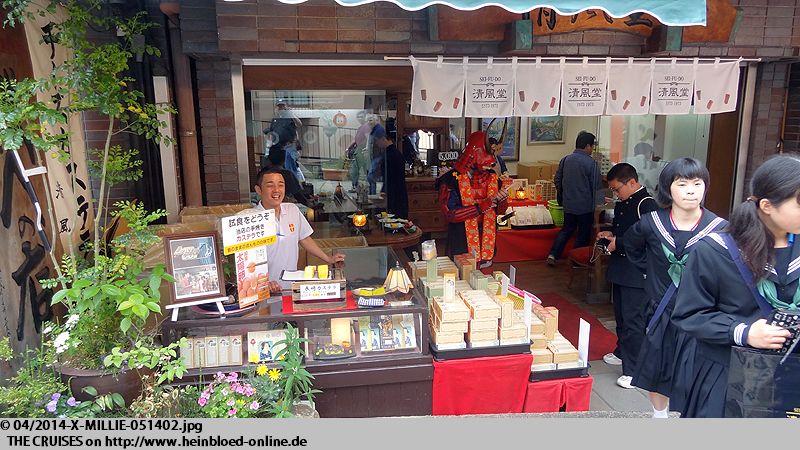 She explained what the dealers were selling. She attracted our attention to a place where we could buy the very best ice-cream if we would like to try later.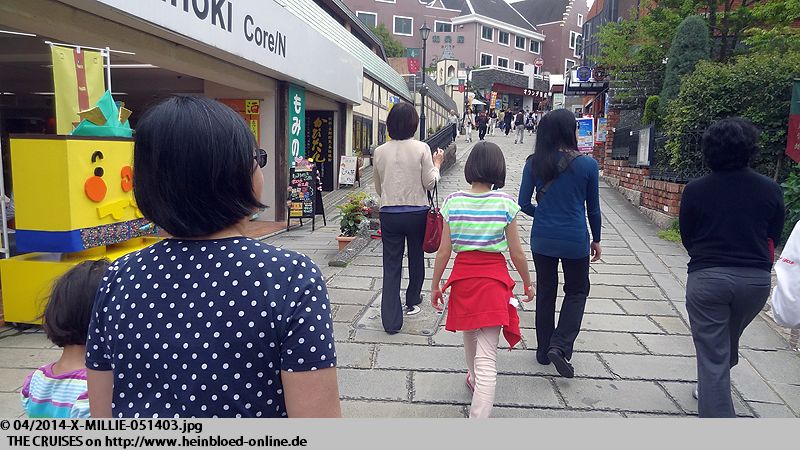 Für die Kinder sind Schuluniformen etwas vollkommen neues. Sie staunen nur.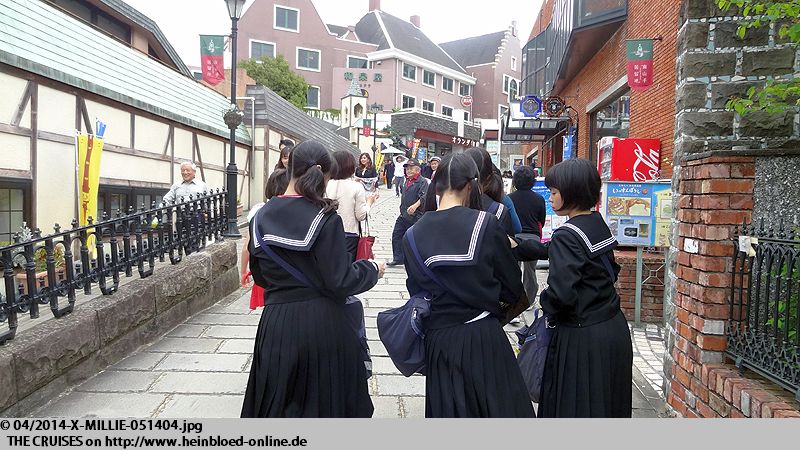 For the kids school uniforms were something totally new. They were astonished.

In the center of the crowd a Samurai appeared.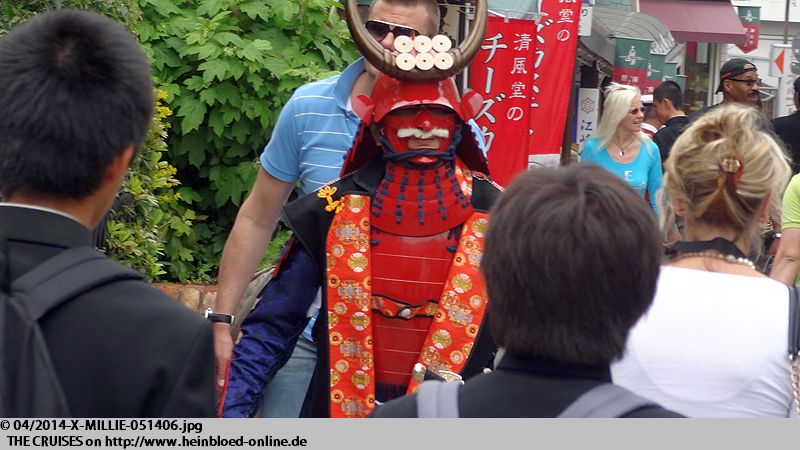 Mitten im Gewühl taucht ein Samurai auf.
Typisch für Hafenstädte der Welt: eine römisch-katholische Kirche: Die Oura Kirche, die wir nicht besuchen.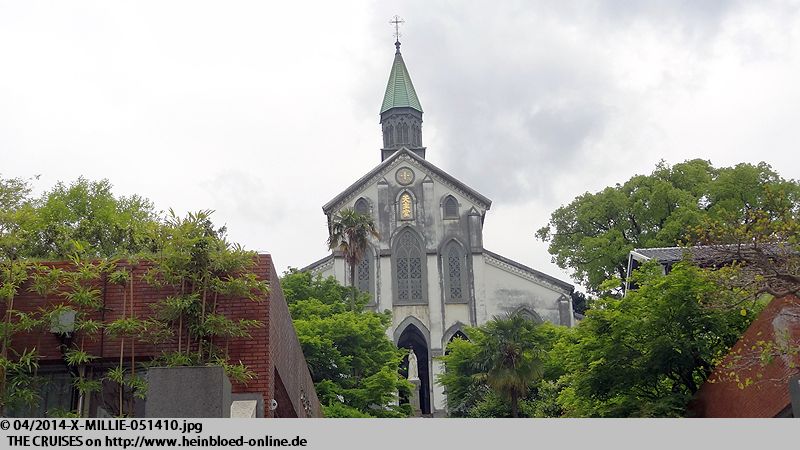 Typical for any port city in the world: a Roman-Catholic Church: The Oura Church which we did not visit.

June gave us some explanations for Oura Church.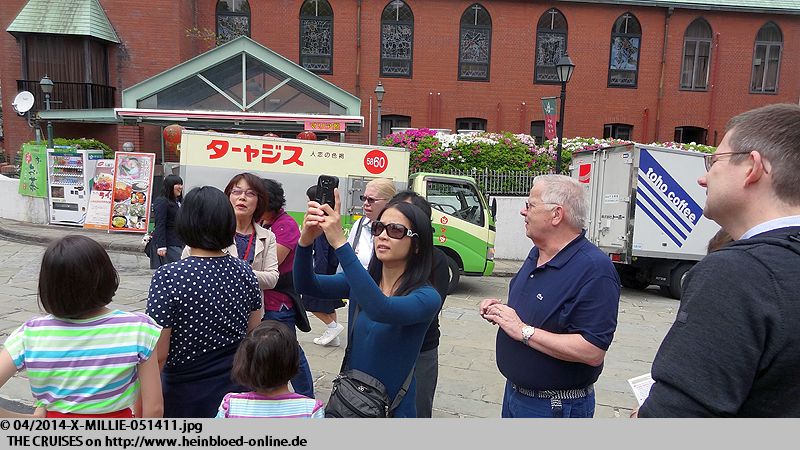 June gibt uns einige Erläuterungen zur Oura Kirche.
Der Samurei stellt sich gerne für ein gemeinsames Foto zur Verfügung.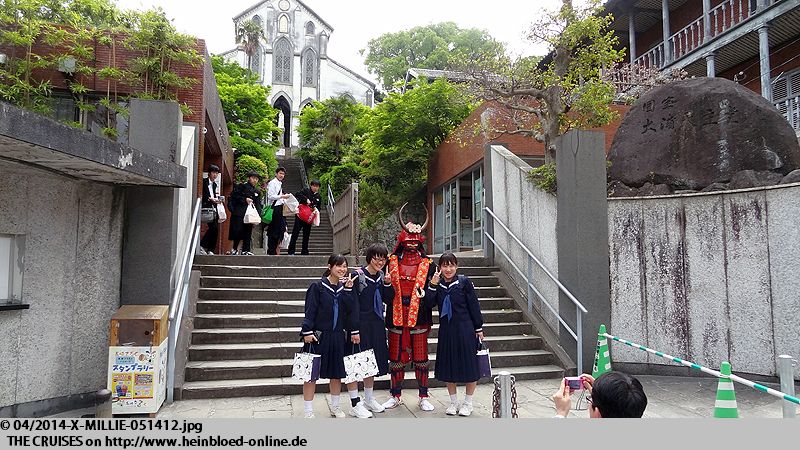 The Samurei was willing to pose for a common picture.

That was not the Hollywood Boulevard but Japan. So you get such a common picture for a smile and a "Domo-arriato" and for cash.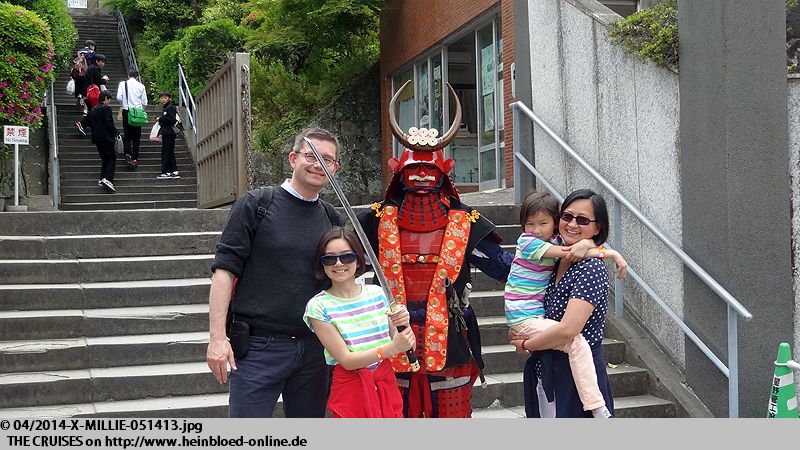 Das ist nun mal nicht der Hollywood Boulevard, sondern Japan. So ein gemeinsames Bild gibt es für ein Lächeln und "Domo-arrigato" und nicht für Bares.
Erläuterungen zum Viertel gibt es auch in Englisch.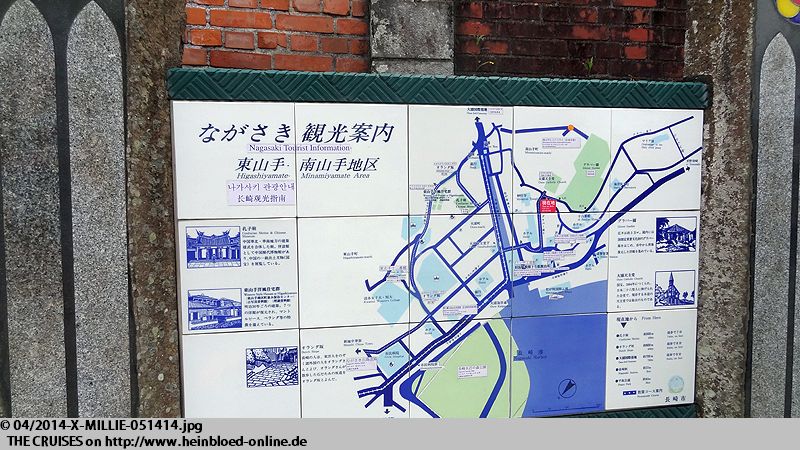 Explanations to this neighbourhood were also available in English.

After a small ascent we reached the main entrance of Glover Garden.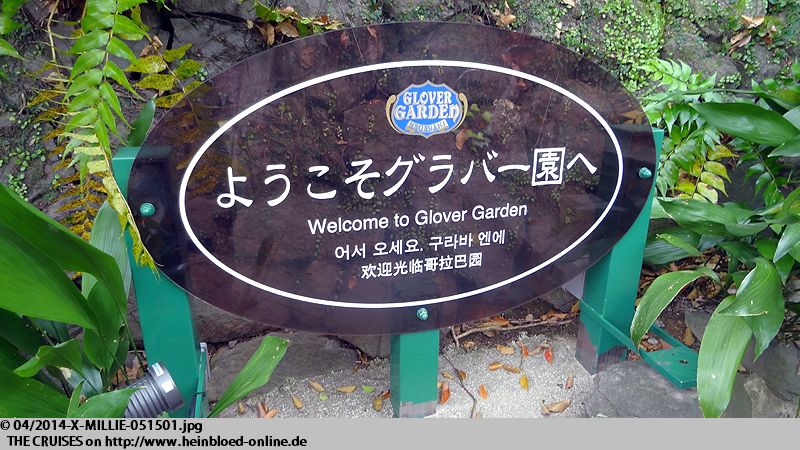 Nach einem weiteren kleinen Aufstieg erreichen wir den Haupteingang zum Glover Garden.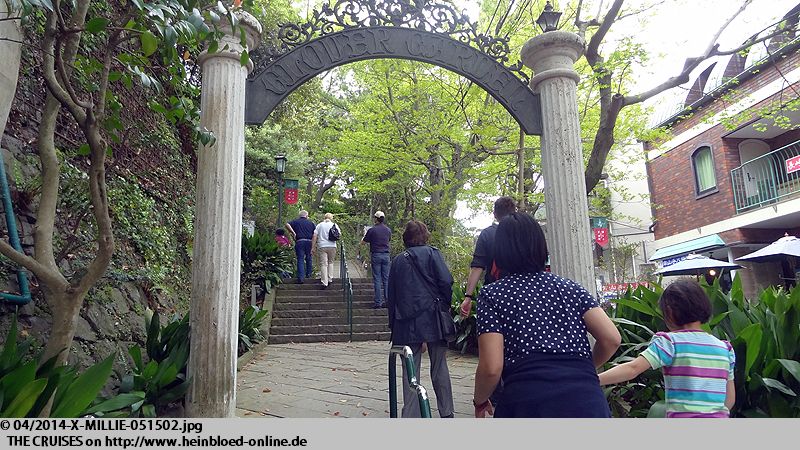 In the park you had escelators which ease the ascent. But June knew that the last escelator was not available so far and so it was good that my parents were not with us.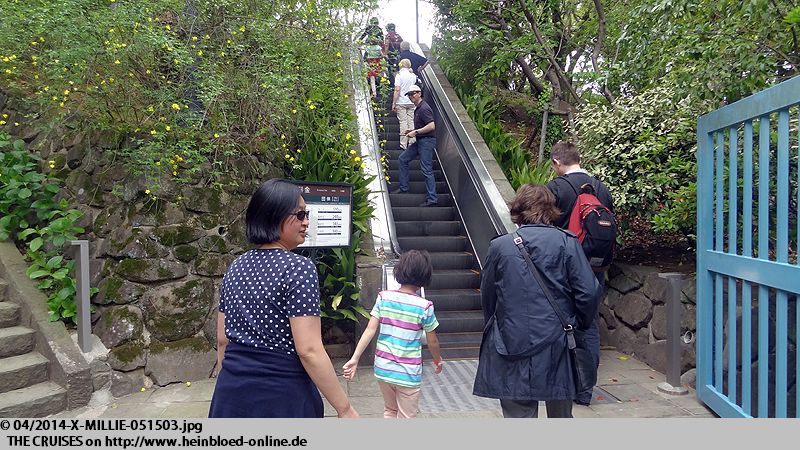 Im Park gibt es Rolltreppen, die den Aufstieg sehr erleichtern. Aber June wusste, dass die letzte Rolltreppe derzeit nicht zur Verfügung steht und so war es gut, dass meine Eltern nicht dabei waren.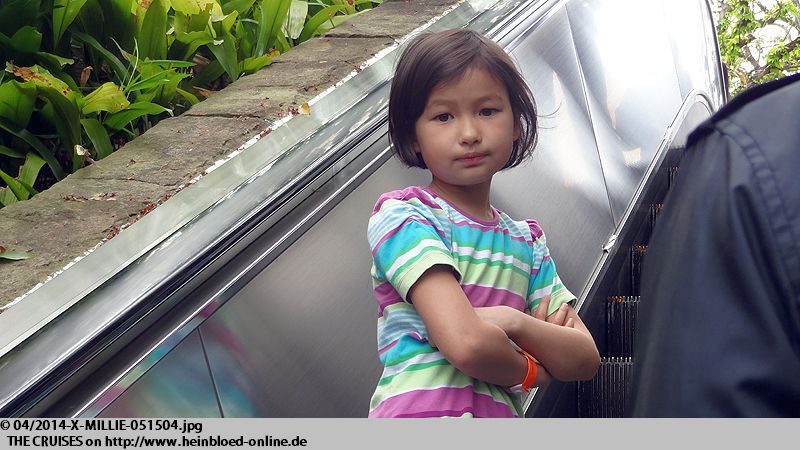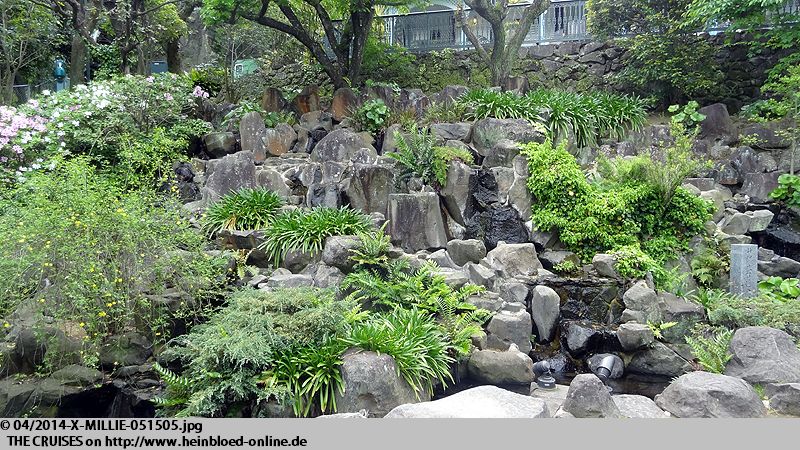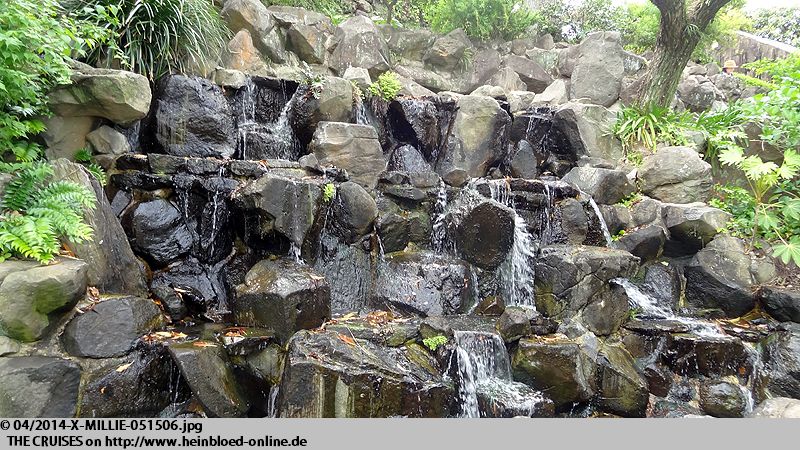 Vor einer Karte erläutert June, was wir jetzt besuchen werden.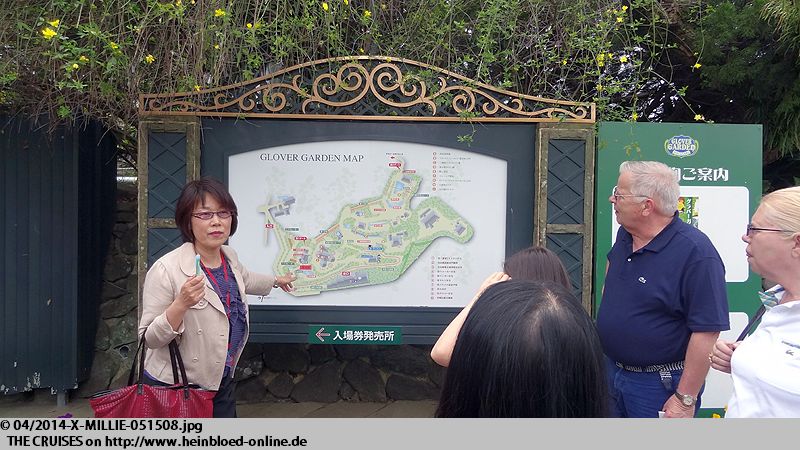 In front of a map June explained what we would visit now.

She got us the tickets and Martin repeated for his mother and his kids what we were told so far.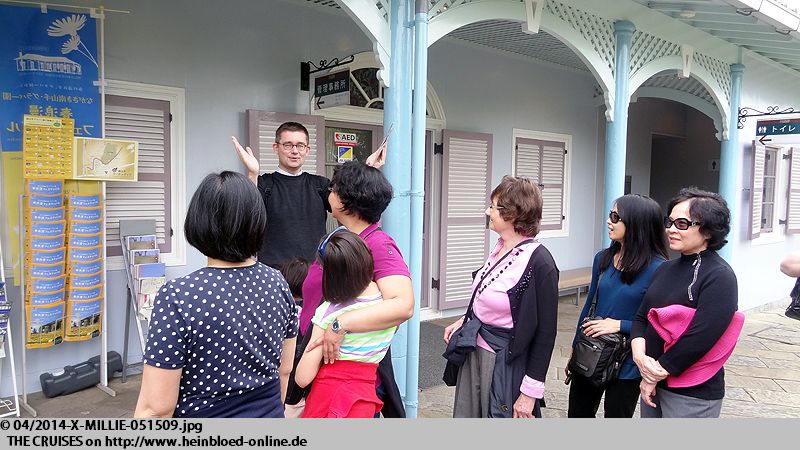 Sie besorgt uns die Karten und so reflektiert Martin nochmals für seine Mutter und die Kinder, was bisher erläutert wurde.
Es geht durch den Park und durch die Gebäude in denen June uns vieles erklärt was wir wissen sollten. Leider fängt es kurz an zu regnen, aber zum Glück war es nur ein kurzer Schauer.

We went through the park and the buildings and June explained us what was worth to know. Unfortunately it started to rain but it was only a quick short rain shower.

In the garden there were two stones in a shape of a heart. Who would find both stones would get the entire love.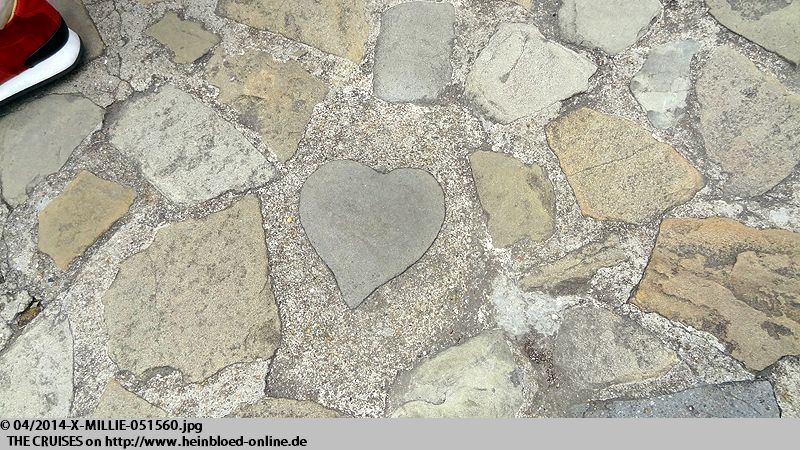 Im Garten befinden sich zwei Steine in Herzform. Wer beide Steine findet, dem gehört die gemeinsame Liebe für die Ewigkeit.
Das müssen wir doch im Bild festhalten.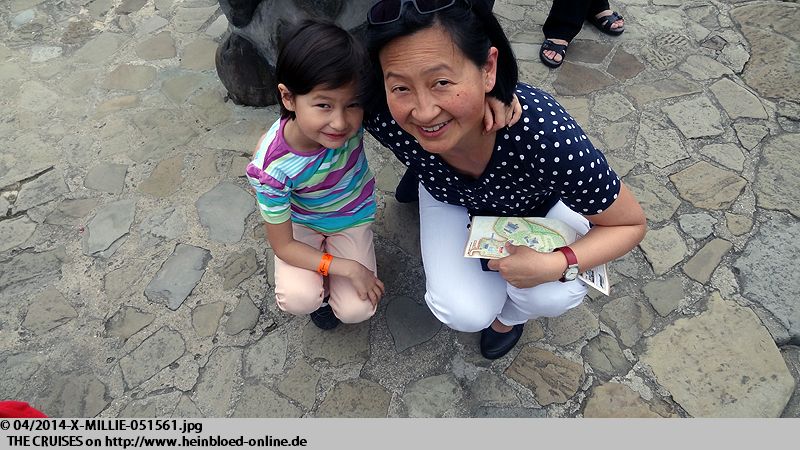 That was what we need to take a picture of.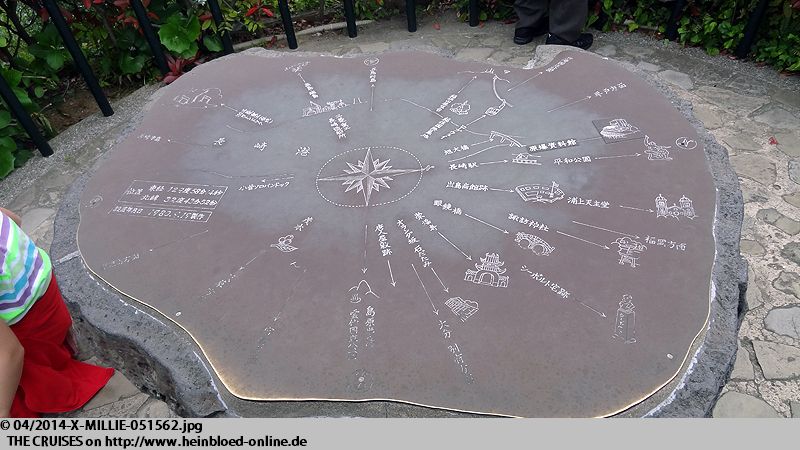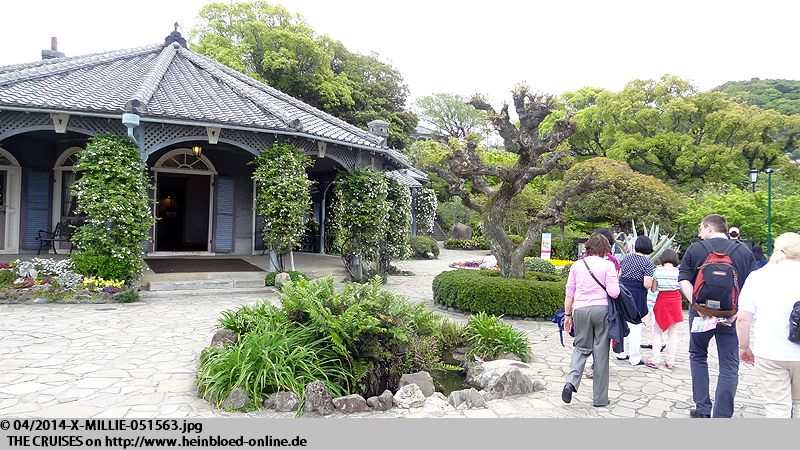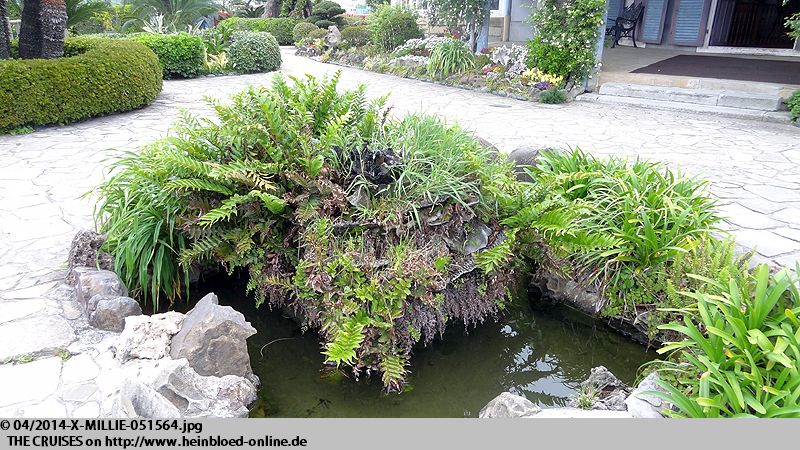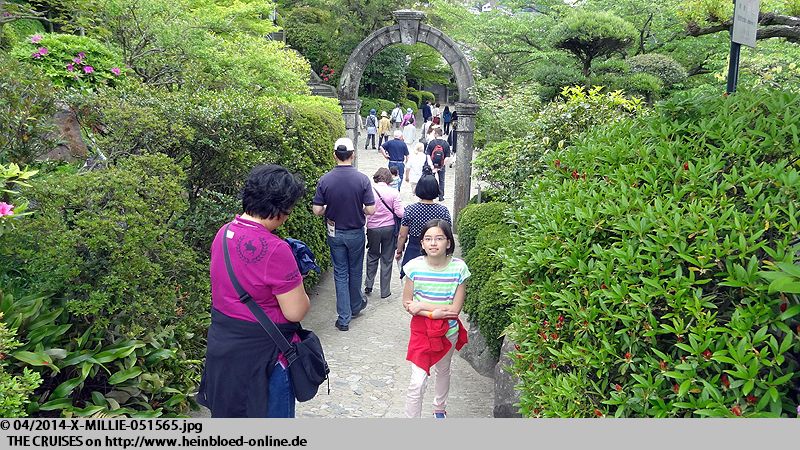 And soon the second heart was found.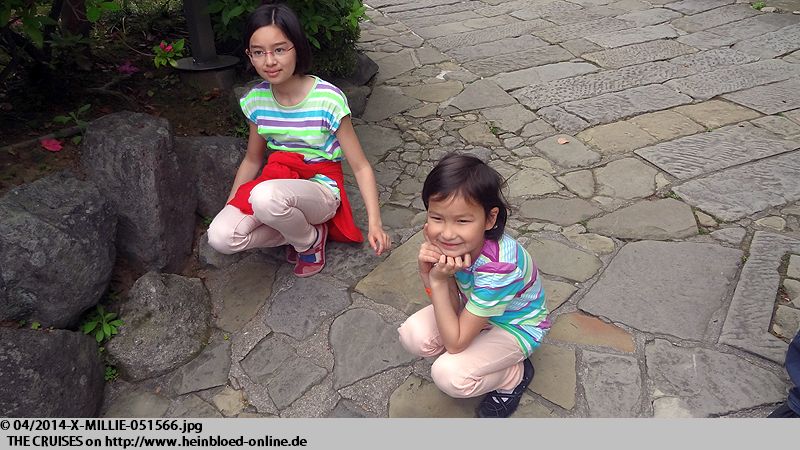 Bald wurde auch das zweite Herz gefunden.
Am Schluss geht es noch in eine Ausstellung und kleine Filmpräsentation.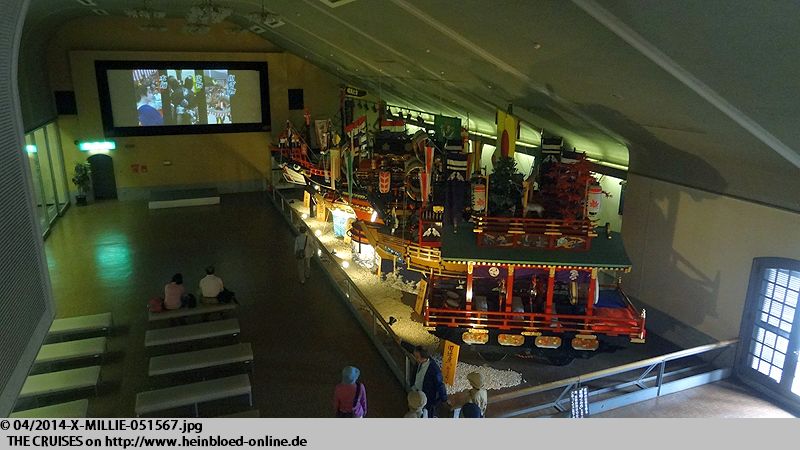 At the end you had an exhibition and small movie presentation.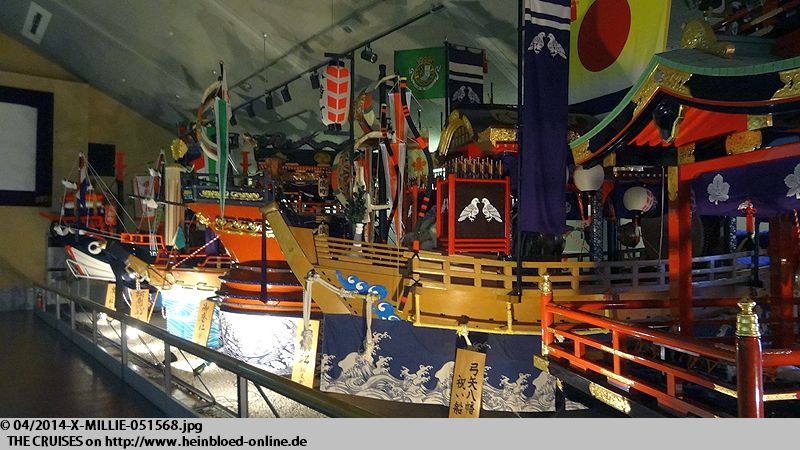 Sieht der Wal nicht niedlich aus?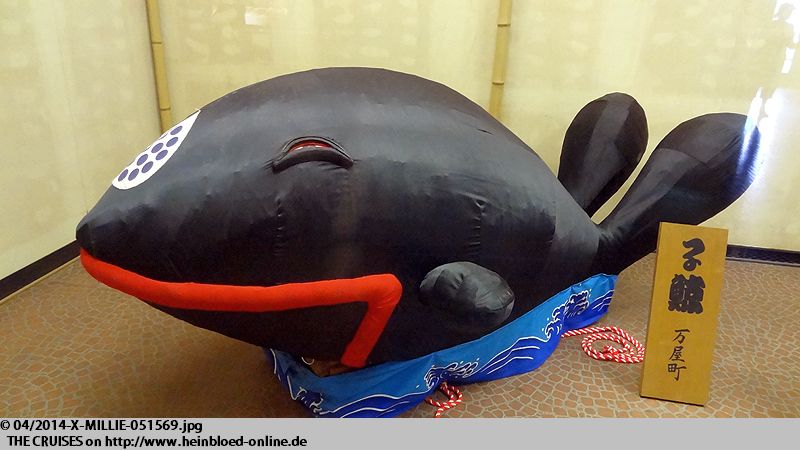 Does not this whale look cute?

On the way back we passed again all the shops.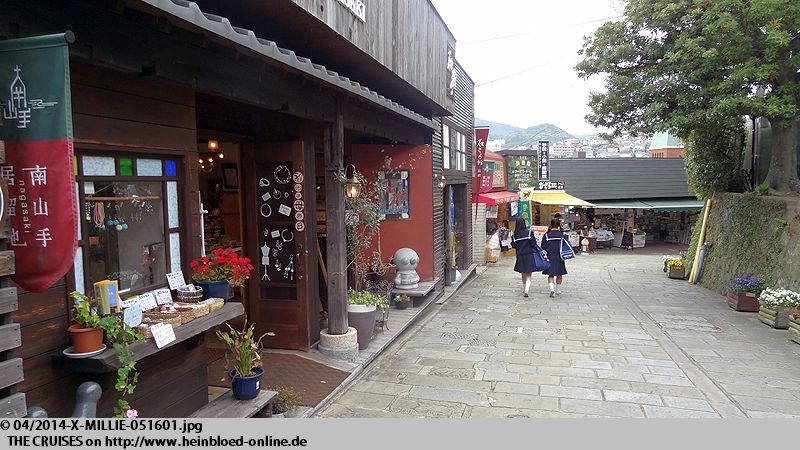 Auf dem Weg zurück geht es wieder an den ganzen Geschäften vorbei.
Getränke bekommt man in Japan an jeder Straßenecke: Heiß- und Kaltgetränke.

You get beverages in Japan at every street corner: hot or cold beverages.

I tried to buy me an ice-cream.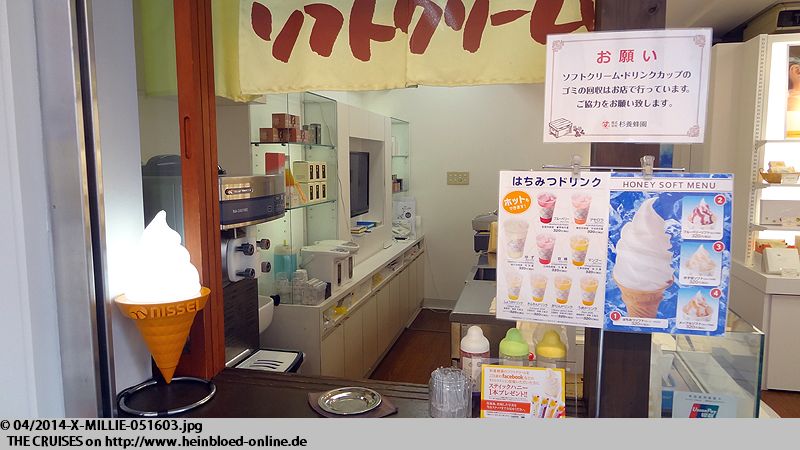 Ich versuche ein Eis kaufen.
Aber im Laden ist nur eine Verkäuferin und ein paar amerikanische Touristen beschäftigen sie sie sehr intensiv. Daher gebe ich auf.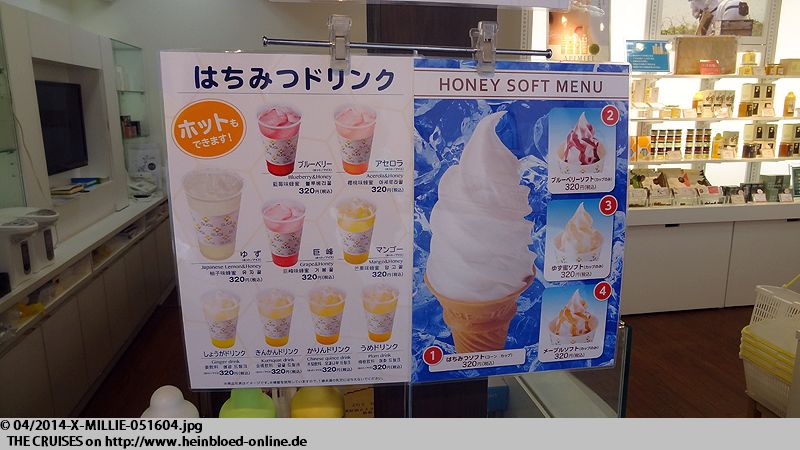 But the store had only one sales agent and few American tourists kept her very very busy. So I gave up.

We went to buy some speciality from Nagasaki: Nagasaki Castella is a Portuguese/Spanish sponge cake. But we had absolutely no idea in which store we bought the cake. I found the store in Google Street View but I cannot find out the name of the store.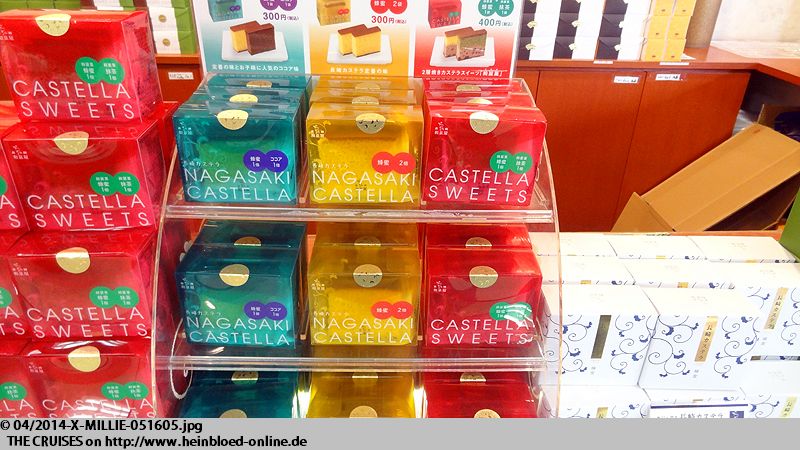 Wir gehen noch ein paar Spezialitäten aus Nagasaki kaufen: Nagasaki Castella ist ein portugiesisch/spanischer Schaumkuchen. Leider haben wir keine Ahnung, in welchem Geschäft wir eigentlich eingekauft haben. In Google Street View finde ich es wieder, aber leider bekomme ich nicht den Namen des Geschäftes raus.
Typisch japanisch perfekt: wir bekommen Edeltüten, falls wir es weiterverschenken wollen. Und normale Tüten, falls wir uns das aufteilen wollen. Einkaufen in Japan macht einfach Spaß. Die Freundlichkeit und Höflichkeit des Volkes begeistert mich jedes Mal.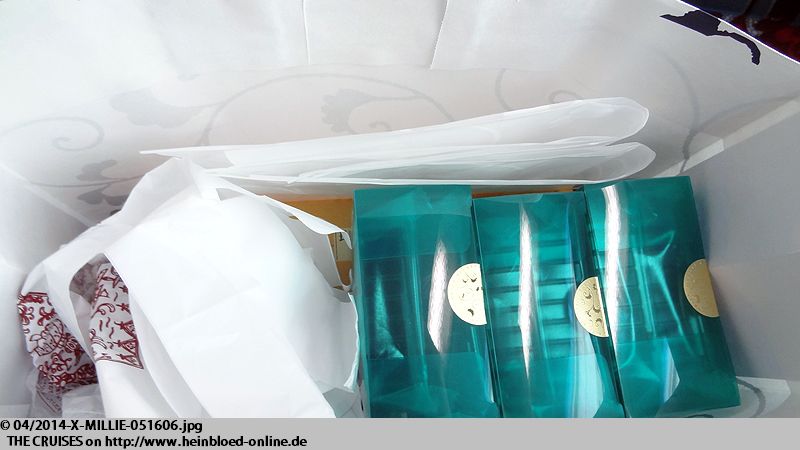 Typical for Japanese perfectionism: we got elegant bags in case it might be a gift and regular bags in case we want to share. Shopping in Japan makes fun. I am always very exited to experience the friendliness and politeness of the people.