Scroll down for English explanations - alternates with German explanations.

Ich hatte eigentlich für 20.00 Uhr den Tisch für heute Abend bestellt. In meinem Kalender stand allerdings 20.30 Uhr. So rufe ich kurz vor 20.00 Uhr unter der angegebenen Nummer 4734 an, um zu fragen, ob wir schon um 20.00 Uhr kommen könnten. Mir wird erklärt, dass ich nicht beliebig kommen kann, wie ich will, da ich schließlich die 2. Tischzeit gebucht hätte. Ich erkläre, dass ich Select Dining hätte und man meinte, dass ich ruhig eher kommen könnte. Gerade als wir die Familie einsammeln wollen, ging das Telefon los. Ständig rief einer an und wollte etwas, so dass wir erst um 20.15 Uhr am Empfang des Metropolitan an. Dort hieß: "Wir haben die ganze Zeit auf Sie gewartet und Ihren Tisch weggegeben. Sie werden sich heute auf zwei Tische aufteilen müssen.". Einen kleinen Moment... hatte ich nicht gerade erst angerufen und mitgeteilt, dass wir gleich kommen? Der Dame, die gestern noch eine Riesenpackung Mon Cheri (und ohne, dass ich das Korkgeld entrichtet hätte) bekommen hat, weil sie den 10-er Tisch für uns organisiert hat, sagt mir, dass wir uns heute aufzuteilen haben? Ansicht nicht so schlimm, nur störte mich die Wortwahl. Sterben MUSS ich. Und eine Restaurant Hostess sagt mir nicht, was ich zu tun habe, sondern fragt mich bitte, ob ich damit einverstanden wäre. Die Situation wird von einem Kollegen bemerkt, der mich an die Seite bittet und mir für den gleichen Abend einen 10-er Tisch auf Deck 4 besorgt und für die nachfolgenden Abende verspricht, dass das nicht wieder vorkommt. Aber die Restaurant Hostess gibt noch nicht auf und meinte, dass wir uns ruhig doch aufteilen könnten.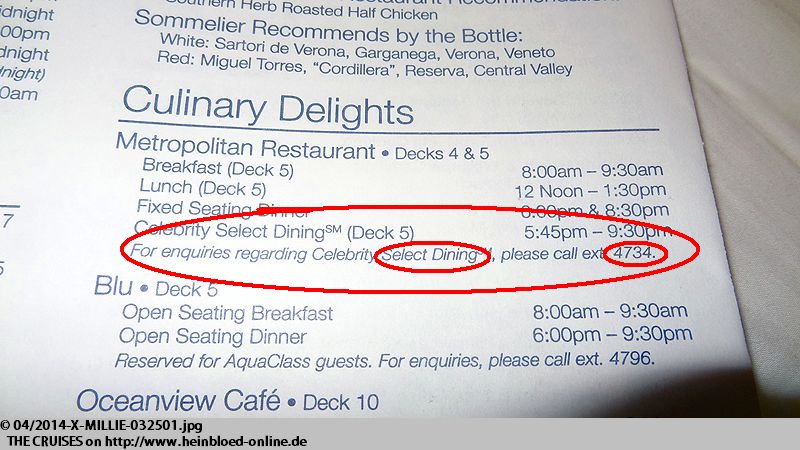 I ordered a table for 20.00 hrs originally for tonight but in my calender I wrote 20.30 hrs. So called just before 20.00 hrs unter the mentioned number 4734 to ask if we could show up already a little earlier at 20.00 hrs. I was told that I cannot come and go as I like as I booked the 2nd seating. I explained that we are participating Select Dining and they said that we could come now. Just when I start to collect my family to go, the phone rang. All the time someone called and so we made it 20.15 hrs when we arrived at Metropolitan. There we were told: "We waited all the time for you and I gave your table away. You must sit on two different tables tonight.". Just one moment... did not I just call to tell them that we will show up immediately? I gave this lady for the circumstances that she arranged the table of 10 a large box of Mon Chéri (German version - incl. alcohol and I forgot to pay the corkage fee! US-version has no alcohol inside) and this lady told me that we had to allocate to two tables? Normally it would be fine, but I did not like her wording. I HAVE TO die. And a Restaurant Hostess will never tell me what I have to do but to ask me if I could accept her solution. Another collegue noticed the situation and asked me to come aside. He got me a table of 10 on deck 4 and promised for the following evenings that this would not happen again. But the Restaurant Hostess did not give up and asked why we could not just sit at two tables.

Few minutes before 20.30 hrs we were escorted to the table on deck 4. Other guests who were waiting in line got upset because they still need to wait in front of the closed door. It would be better to use the inside stairs - but so my father could use the elevator. Because our escort did not notice that my father could not walk so fast the last of our group were asked by few waiters to leave the restaurant because it was not open yet.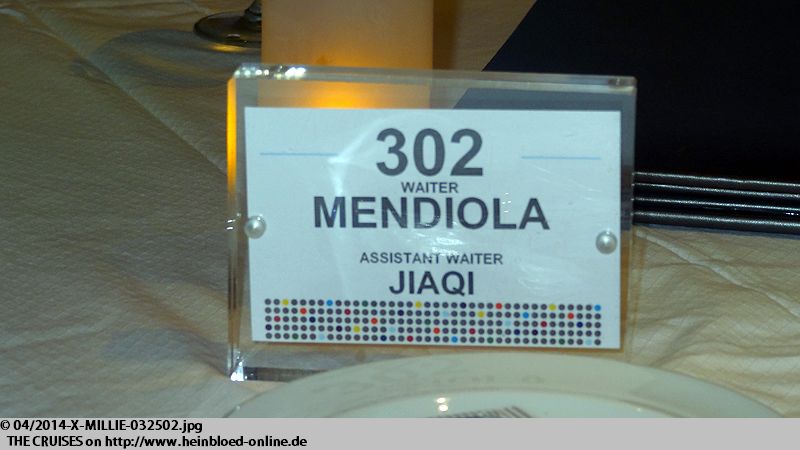 Kurz vor 20.30 Uhr werden wir schon zum Tisch auf Deck 4 geführt. Das sorgt für Unmut bei denen, die vor der geschlossenen Tür warteten. Es wäre besser gewesen uns über die innen liegende Treppe runterzuführen, aber so konnte mein Vater den Fahrstuhl benutzen. Weil unser Begleiter nicht mitbekommt, dass mein Vater nicht so schnell gehen kann wie er, werden die letzten von Kellnern angesprochen, dass wir wieder das Restaurant verlassen sollen, weil es noch nicht geöffnet sei.
Es war ein schöner 10-er Tisch am Heck direkt an der Servicestation. Zu unserer Überraschung halfen zunächst noch Kellner aus, die eigentlich zu anderen Tischen gehörten.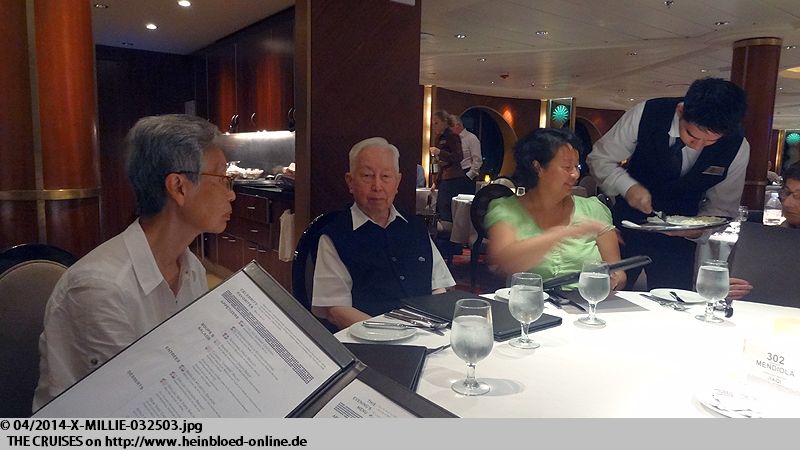 It was a nice table at 10 at the aft directly next to a service station. To our surprise other waiters from other section helped at the beginning.

The kids were missing one set of silverware so I gave them my silverware as their food already arrived and I ordered some chop-sticks.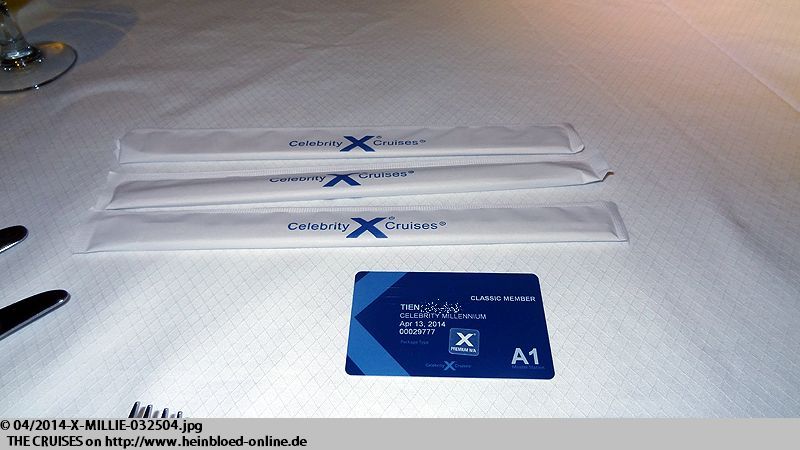 Bei den Kindern fehlt ein Satz Besteck und so gebe ich mein Besteck weiter, weil ihr Essen schon da ist und ich bestelle mir ein paar Stäbchen.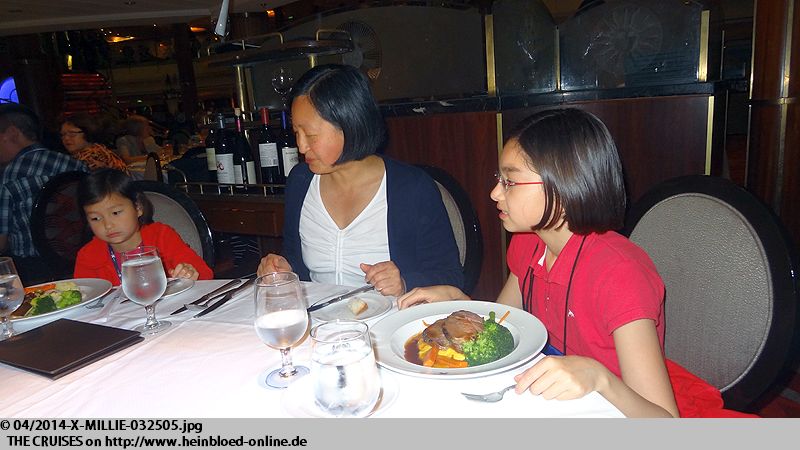 Nick was really very nice to the kids: He always addressed them by LITTLE PRINCESS... But I did not know this ship... the newest one is REGAL PRINCESS... Should not they address here on board their little guests with LITTLE CELEBRITY?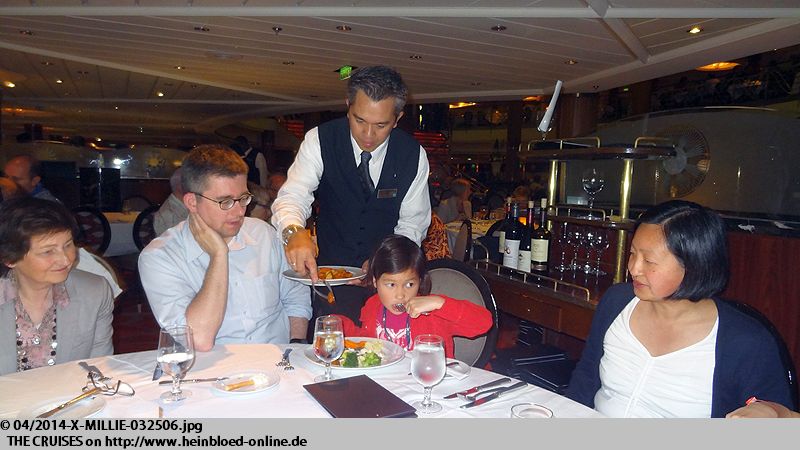 Nick war wirklich toll zu den Kindern: Sie wurden mit LITTLE PRINCESS angesprochen... Das Schiff kenne ich gar nicht... das neueste heißt doch REGAL PRINCESS... Müssten die hier an Bord nicht eher mit LITTLE CELEBRITY angesprochen werden?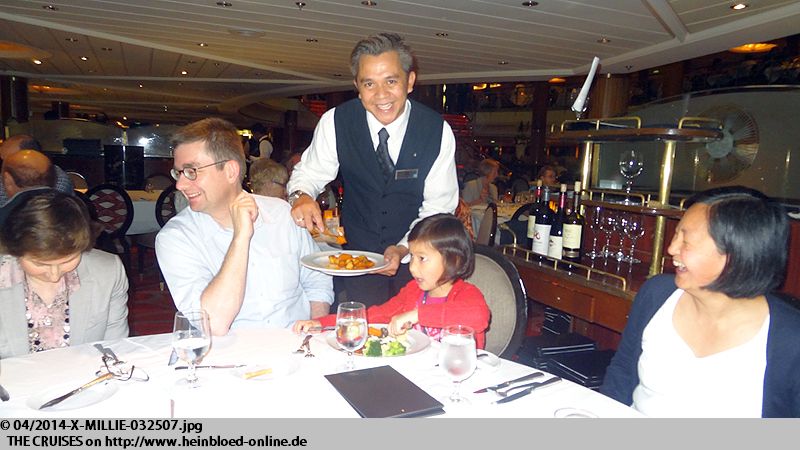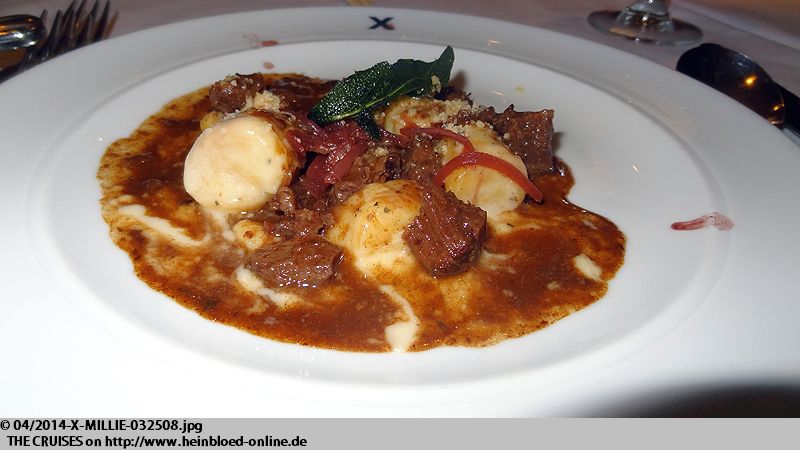 Ich nutze die Stäbchen, um damit zu essen und dieser Ragoutgang war sehr lecker - Er sah nur so übel und recyclet aus...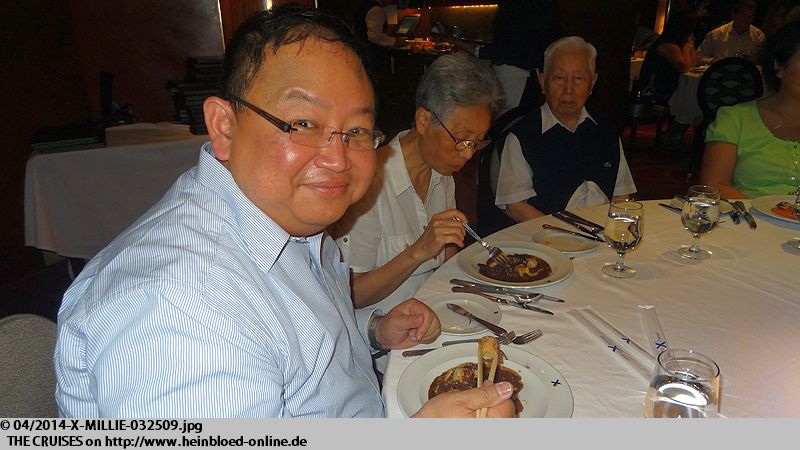 I used the chop-sticks to eat the ragout-course which was very yummy - It looked only so bad and if it was recycled...

Bruno wanted to use the steam of the soup to open his nose...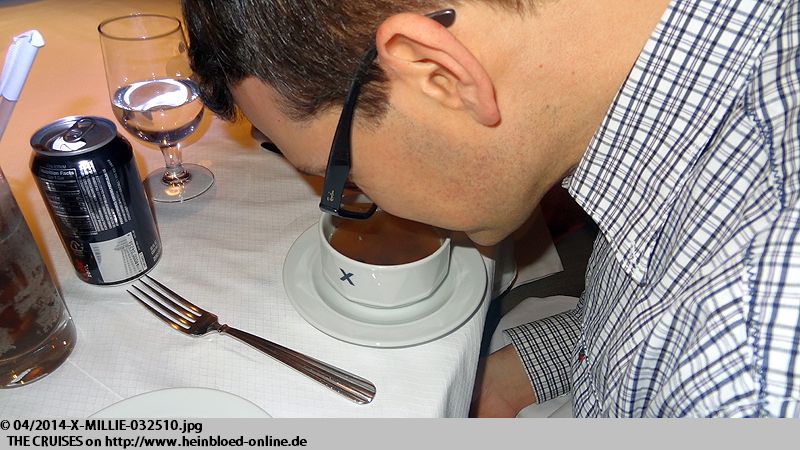 Bruno wollte mit dem Dampf der Suppe etwas seine Nase öffnen...
Aber leider ist auch jetzt die Suppe nicht heiß genug, um ein Dampfbad zu machen.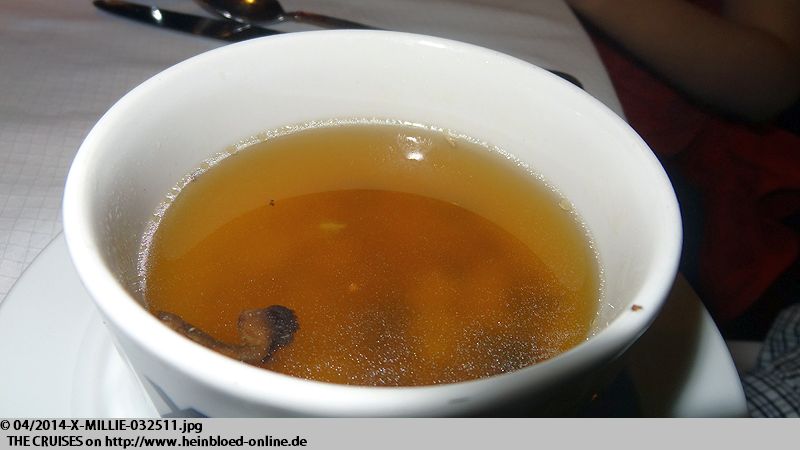 But again the soup was not hot enough to make a steam bath.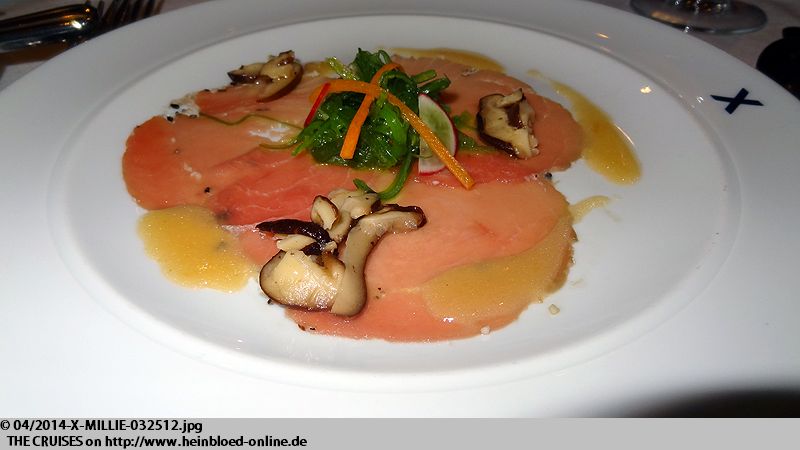 Bei Norwegian wurde ja zuletzt eine Jacobsmuschel durch vier geteilt hatte. Das sind die vier kleinen weißen Dinger am Tellerrand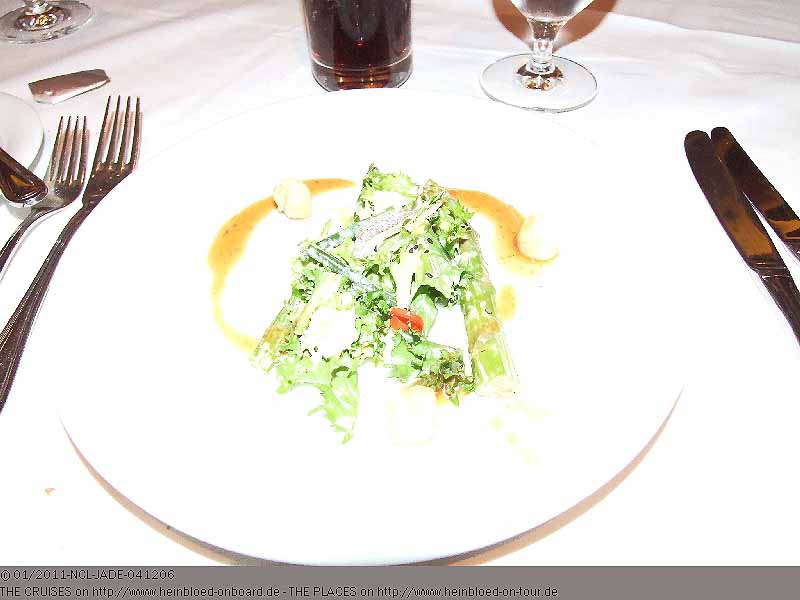 Recently with Norwegian: they cut one scallop to four pieces. The four little with item at the edge of the plate.

Now today we found out here: they did the same: but horizontal... You really must not copy every bullsh... from other lines, even either how to decorate most unclean.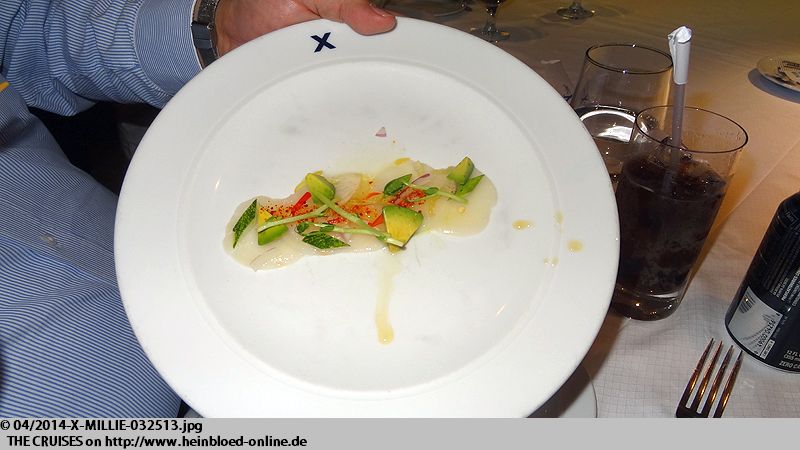 Hier stellten wir fest: das machen sie hier auch: nur eben längst... Man muss sich nun wirklich nicht jeden Mist von anderen Gesellschaften abgucken, auch nicht wie man unsauber dekoriert...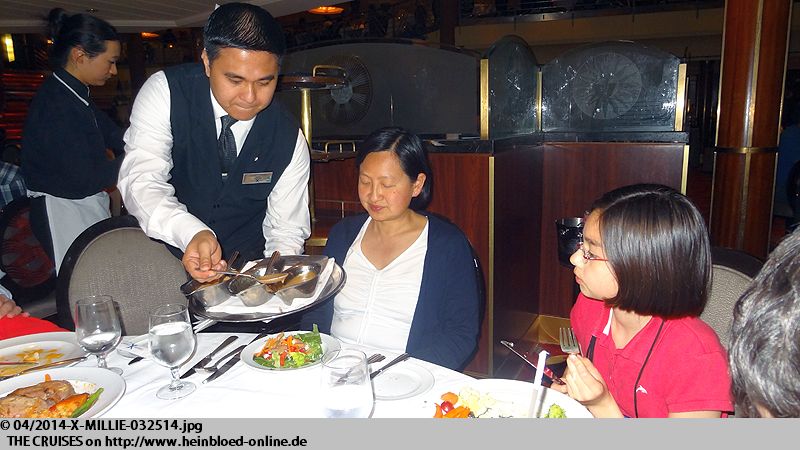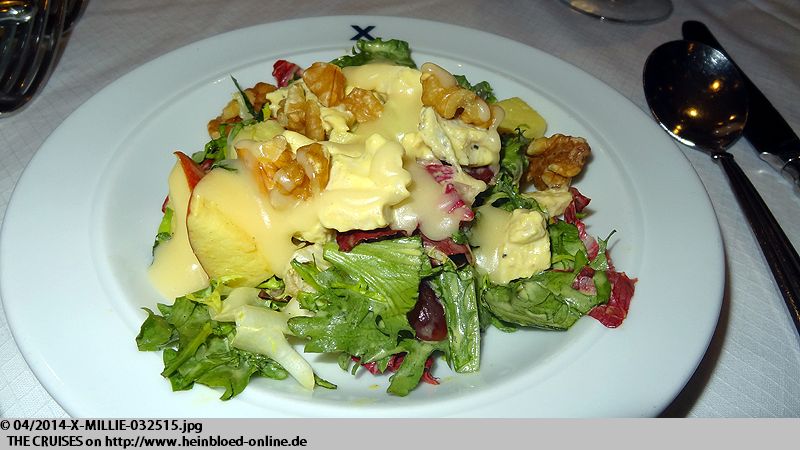 Das war der Prime-Rib, den ich erst vorgestern hatte.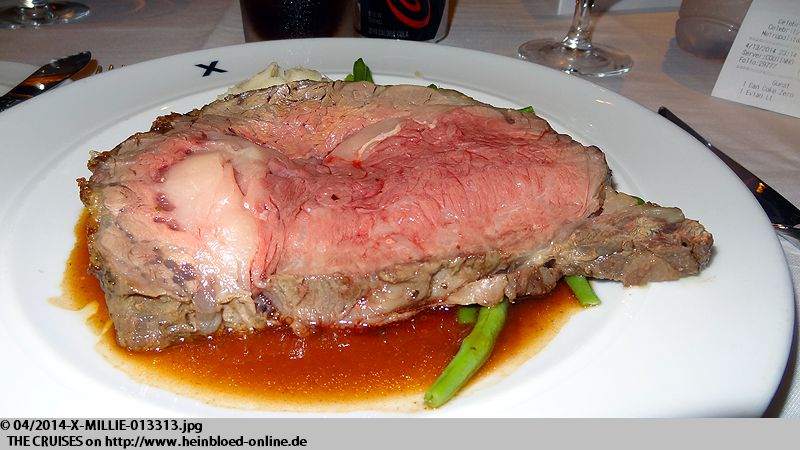 This was the pirme-rib I had two days before.

Looked like they put into the oven again for few minutes.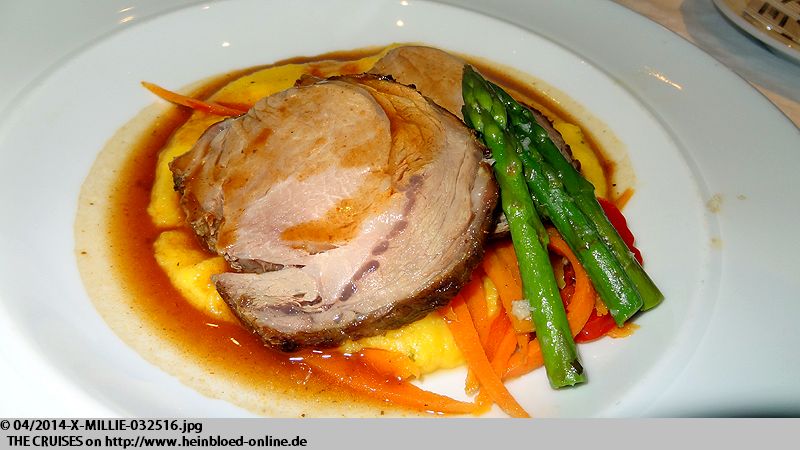 Sieht aus, als ob sie ihn einfach wieder in den Ofen mal kurz geschoben hätten.
Und das sah auch aus, wie von gestern - nur mit Reis...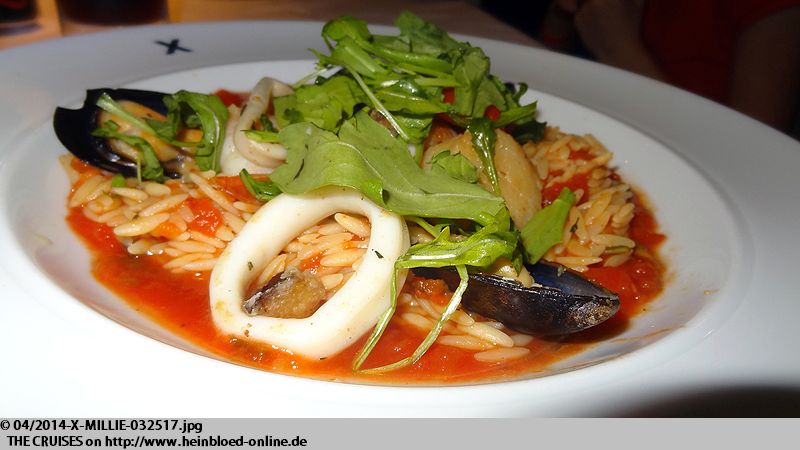 Looked also like from yesterday, but with rice...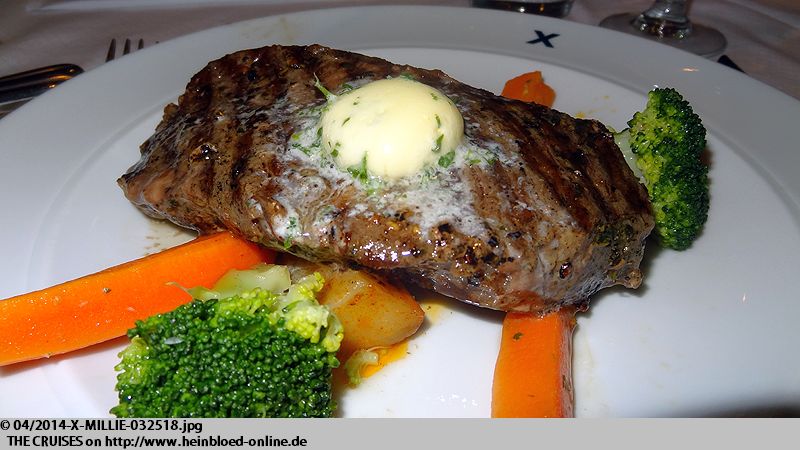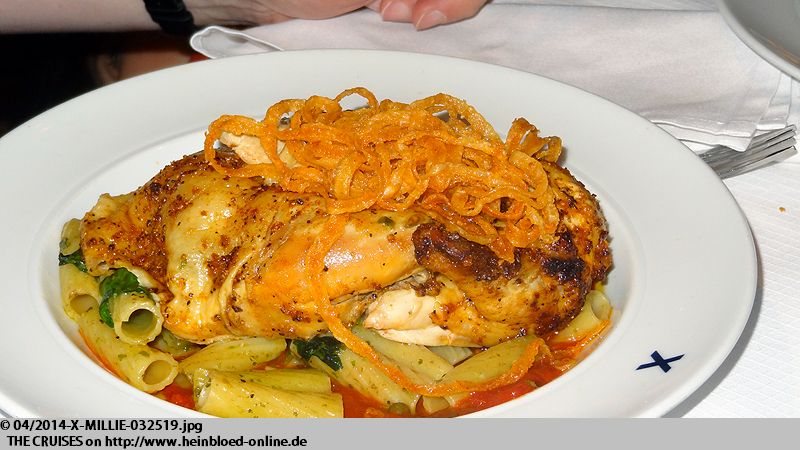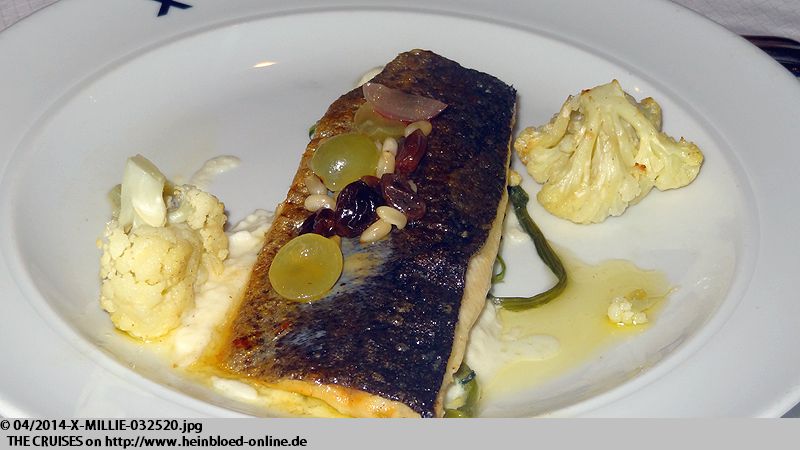 Keine Ahnung, worüber Friederike sich erschrocken hat...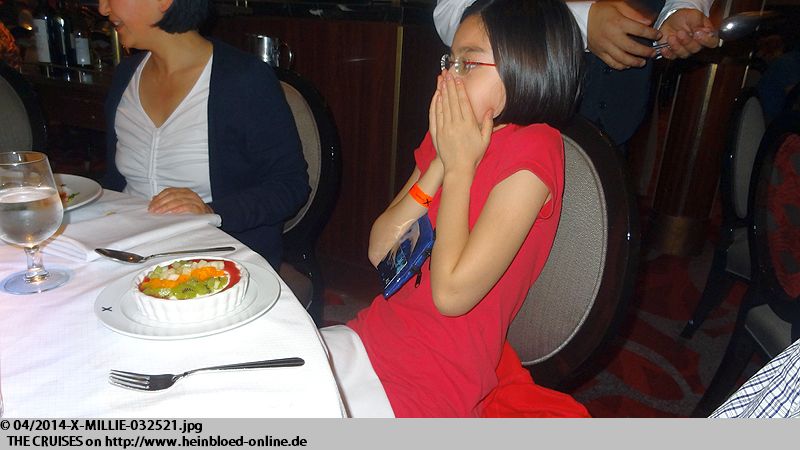 No idea why Friederike looked so shocked...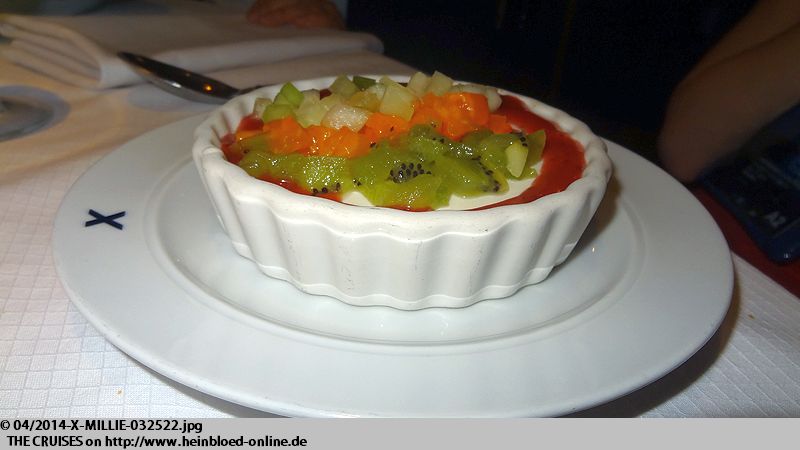 Auf jeden Fall war sie ganz scharf auf die Himbeersauce und Jiaqi hat ihr eine Schale ganz alleine für sie besorgt.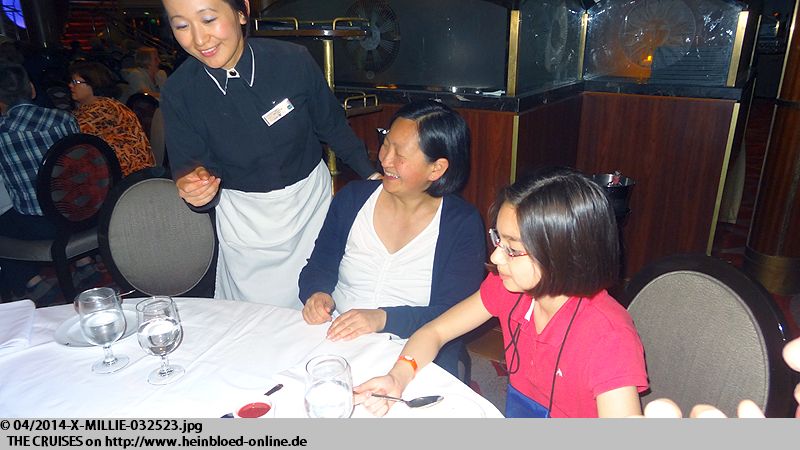 Anyhow she was looking forward to have more of the rhasberry sauce and Jiaqi got her some more just for her.

She waited that the must not eat the rhasberry sauce without the cream. That reminds to an incident earlier this morning with breakfast: A couple was obviously the very first time on a cruise. They picked Celebrity as the very best is just good enough for them. He asked for a special potato dish and they did hot have it this morning. So he claimed and continued to eat. The Maître came to serve him his potatoes exactly the style he liked it. But now he complained with the Maître because he is not used to eat only potatoes. All other staff he had eaten already. And Friederike waited...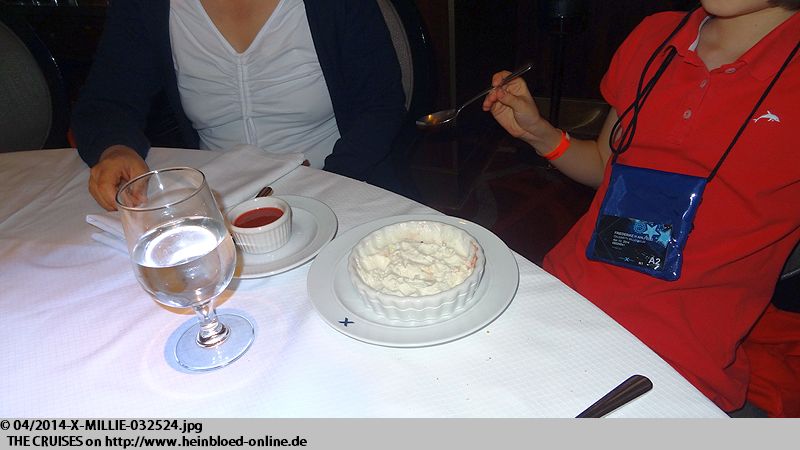 Sie hat extra gewartet, damit sie die Himbeersauce auch nicht ohne Creme essen konnte. Das erinnert mich an einen Vorfall, den ich morgens beim Frühstück beobachtet hatte: Ein Paar ist zum ersten Mal auf Kreuzfahrt. Sie haben wohl Celebrity gewählt, weil wohl das Beste gerade gut genug für sie ist. Er hatte wohl morgens einen Sonderwunsch bei der Zubereitung der Kartoffeln und an einem Morgen gab es sie nicht. Er beschwert sich darüber und isst weiter. Der Maître bringt ihm später die Kartoffeln, so wie er sich die wünscht. Nun wird der Maître runtergeputzt, weil er es nicht gewohnt die Kartoffeln alleine zu essen. Denn das andere hat er schon zwischenzeitlich aufgegessen. Und Friederike hat gewartet...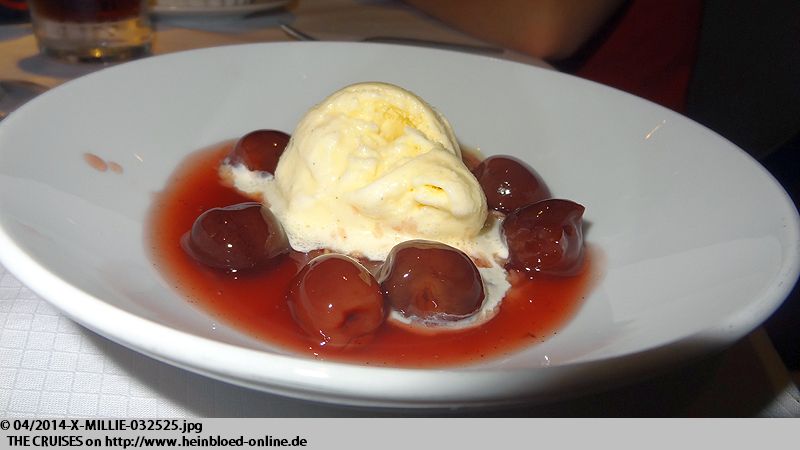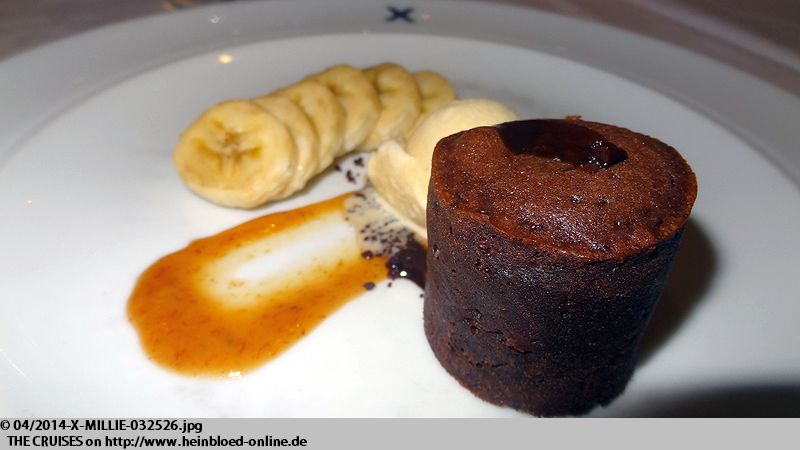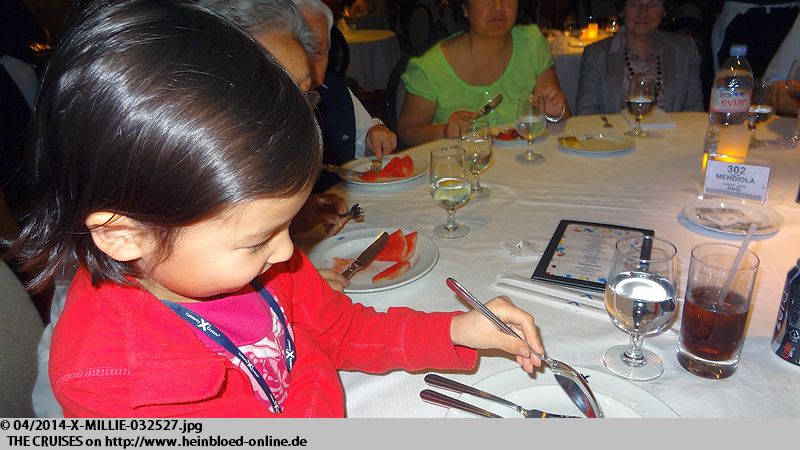 Our waiter Joenar de Borja showed something special for the kids and folded from a paper napkin a paper rose. At the end he offered us that we could sit here every night because the table would be available anyway. I had to say no although I liked it here very much: 1. I dislike it to show up right on a fixed time at the table and 2. it is the 2nd seating. We only started later with dinner because of the late set-sail from Keelung and that was why were eating so late. Anytime else we were much more earlier for dinner. Later another Maître came again and offered us the table. It was the one who received our letter from Sabine and said that this should not be a problem but he was also the one who was mentioned by name in some negative reviews because he said: "I only serve the meal!". But to us he was always friendly.

Unser Kellner Joenar de Borja zeigt den Kindern noch etwas besonders und faltet ihnen aus einer Papierserviette eine Papierrose. Im Anschluss bietet er uns an, dass wir jeden Abend hier sitzen könnten, weil der Tisch eh frei wäre. Das lehne ich jedoch ab, obwohl es mir sehr gut hier gefällt: 1. mag ich es nicht, dass ich pünktlich zur festen Tischzeit sein muss und 2. ist es die zweite Tischzeit. Nur weil heute die späte Ausfahrt aus Keelung war, sind wir so spät mit dem Essen. Ansonsten sind wir früher beim Abendessen. Später kam noch ein Maître vorbei, der nochmals den Tisch uns anbot. Er war derjenige, der den Brief von Sabine annahm und meinte, dass es kein Problem sei und er war aber auch derjenige, der in manchen Reviews sehr schlecht weggekommen ist, weil er beispielsweise auf eine Beschwerde antwortet: "Ich serviere das Essen nur!". Aber zu uns war er immer sehr nett.
Wir treffen uns noch kurz mit Nicole, Uwe, Michelle und Jacqueline. Allen geht es wieder gut. So trinken wir noch etwas im Café al Bacio.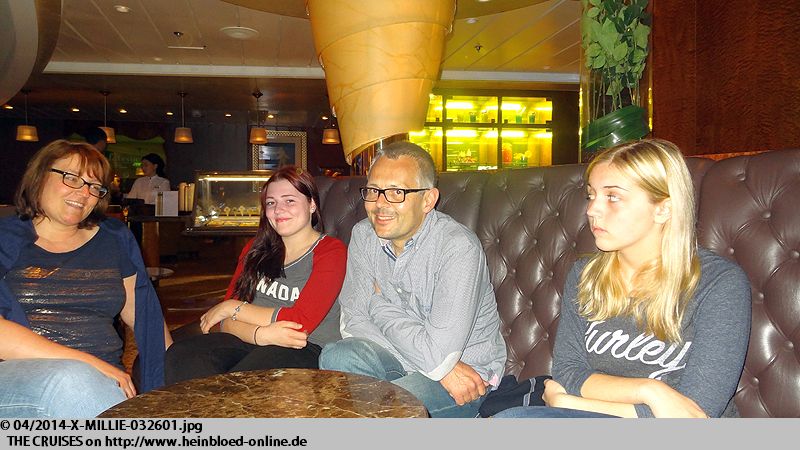 We met for a moment with Nicole, Uwe, Michelle and Jacqueline. Everybody was fine again. So we had a drink in Café al Bacio.

We talked again of the our day on Taiwan before we went to bed.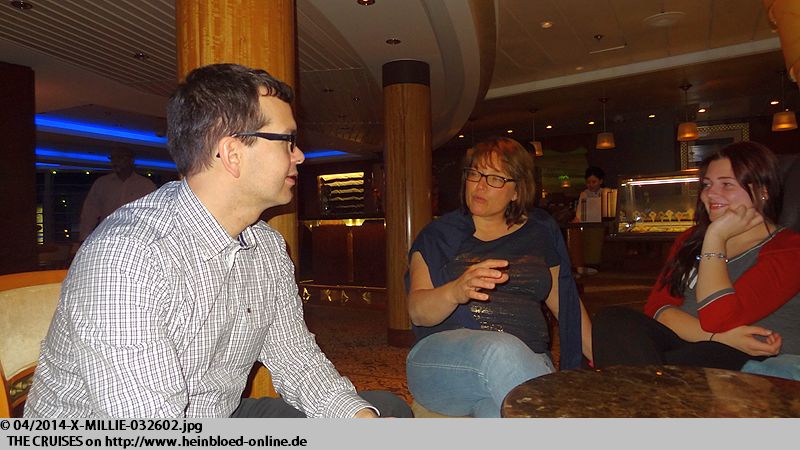 Wir sprechen nochmals über den Tag auf Taiwan bevor es ins Bett geht.
Und ich muss meinen Umsatz von 20 USD zu machen... wenn bloß nicht die Blase wäre, die den Umsatz bemerkt und wieder loswerden will...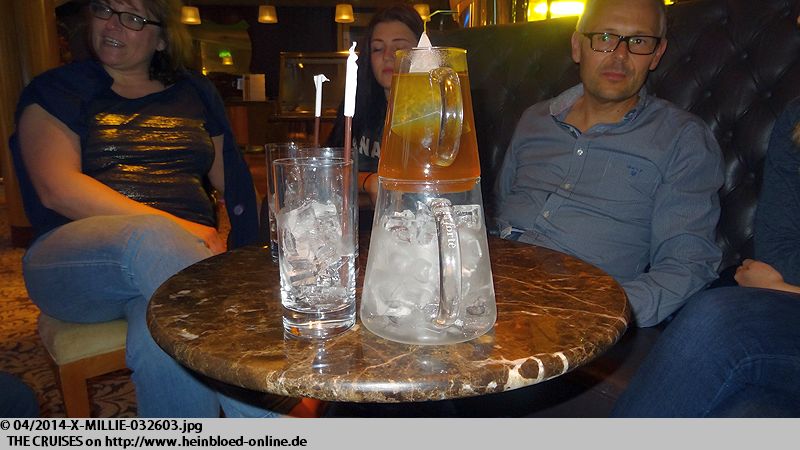 And I need to consume my revenue of 20 USD... but my bladder noted the revenue and wanted to release it...