Scroll down for English explanations - alternates with German explanations.

Auf dem Anflug überfliegen wir das Cruise Terminal. Leider so schnell, dass man kein klares Bild mehr bekommt. Aber das müsste die SILHOUETTE... von der CELEBRITY MILLENNIUM sein... Schade, dass der Pilot nicht für mich nochmals eine Runde dreht.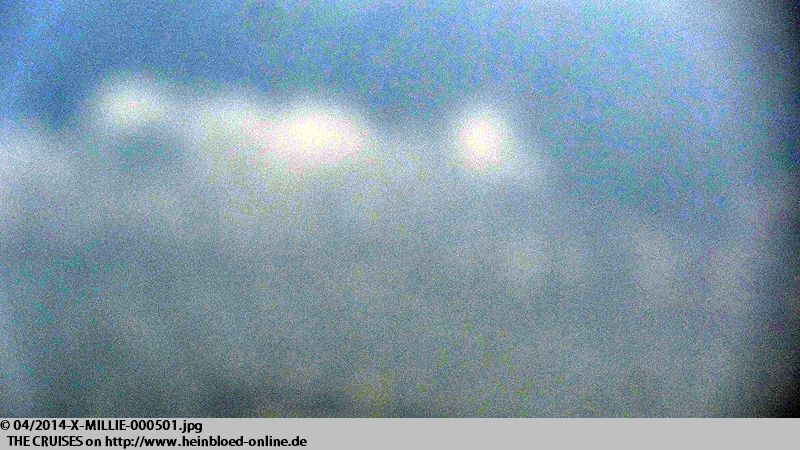 While we were approaching we flew over the Cruise Terminal. But unfortunately so quickly that we had no chance to have a clear picture. But this should be the SILHOUTETTE... of CELEBRITY MILLENNIUM... so sad that the pilot could not fly another loop for me.

They came in Hong Kong and met my father with the wheelchair. Worked properly.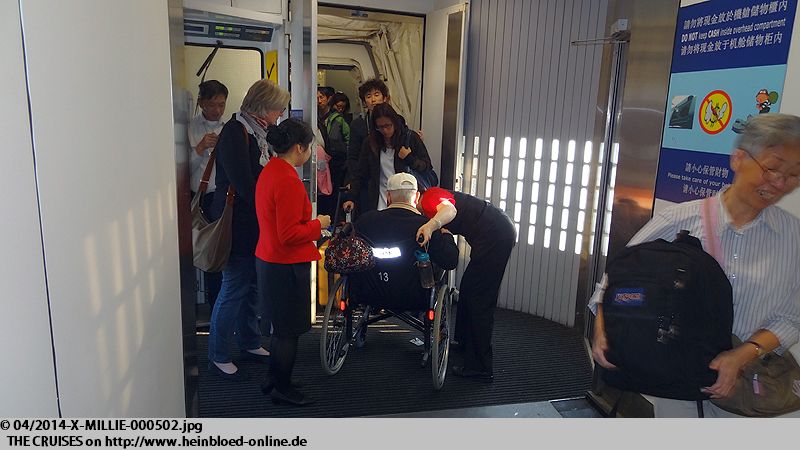 In Hongkong wird mein Vater mit dem Rollstuhl abgeholt. Hat super geklappt.
Alle sind ziemlich müde. War ja auch ein anstrengender Nachtflug.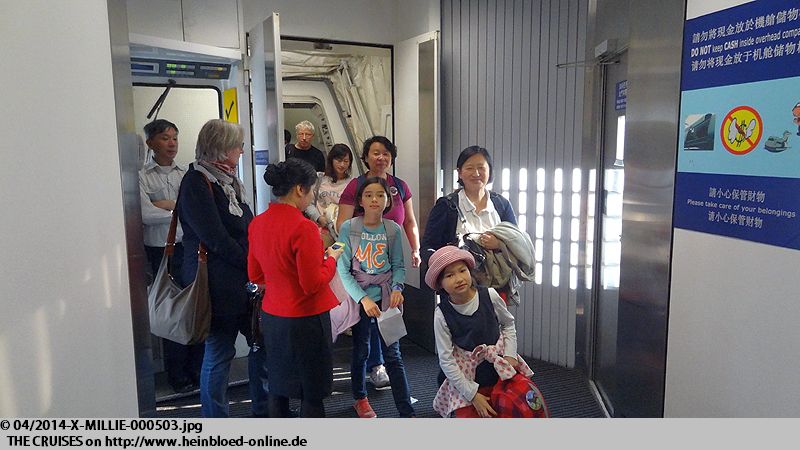 Everybody was very tired. It was a strenuous night flight.

We made it so quickly through immigration. Our bags already arrived. But unfortunately BA 027 from London was late. Should arrive ahead of us. Our cruise-fellows should be in this aircraft whom we met int he internet forum.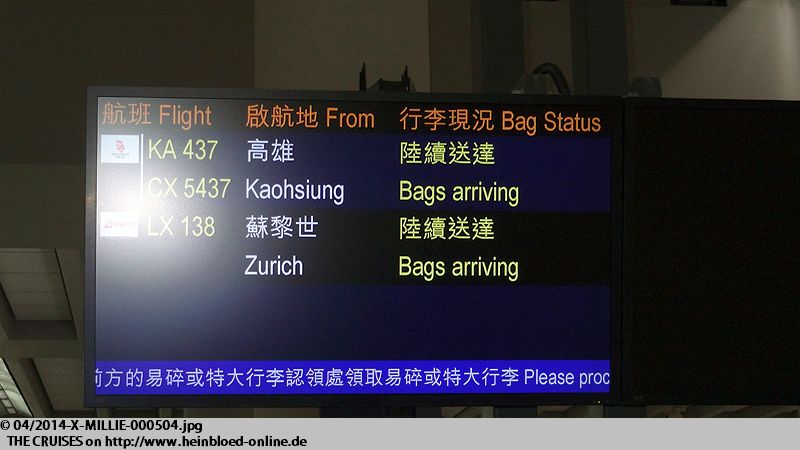 Wir waren so schnell durch die Immigration, dass unser Gepäck schon da war. Nur leider war die Maschine BA 027 aus London verspätet. Sie hätte eigentlich vor uns ankommen sollen. Unsere Mitfahrer sind auf dieser Maschine, die wir im Forum kennengelernt haben.
Am Schalter unseres Hotels wartet man bereits auf uns, um uns zum Hotel zu bringen. Es gibt zwei Ankunftshallen A und B. Daher müssen wir erst mal alle rüber zu A und den Schalter A 13 finden.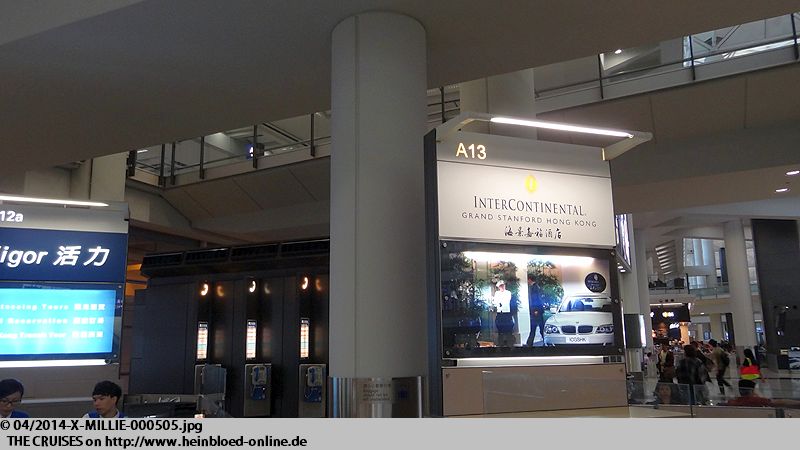 At the counter of our hotel they were waiting already for us to take us to our hotel. There were two arrival halls A and B. So we had to move to A and to find A 13.

So we were escorted directly to our private bus which was not much more but bus tickets for a group of ten. But it departed according to our need.

So werden wir direkt zum Privatbus geführt, der kaum teurer war, als eine entsprechende Anzahl von Bustickets direkt zum Hotel. Nur fuhr er dann, wenn wir ihn brauchten.
Unsere neuen Freunde Nicole, Uwe, Michelle und Jacqueline nehmen wir bis zu ihrem Hotel mit. Das große Gepäck von denen nehmen wir zu unserem Hotel mit, und lassen es mit dem Großteil unseres Gepäcks aufbewahren.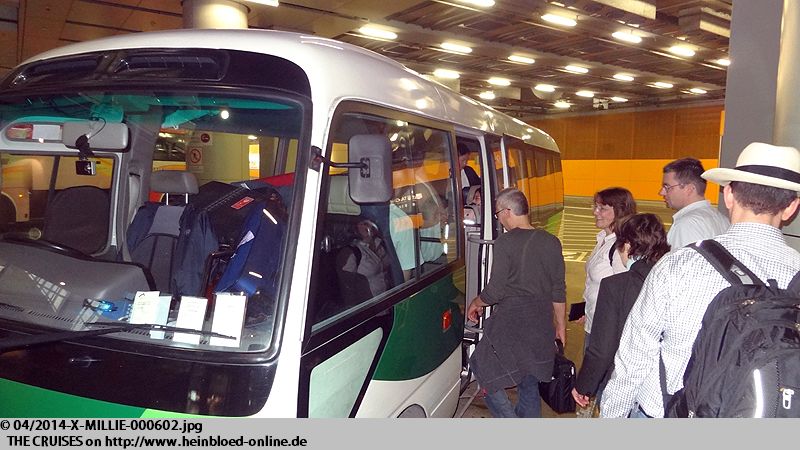 We took our new friends Nicolce, Uwe, Michelle and Jacqueline to their hotel with us. Their big bags we took with us to our hotel and let them store everything with most of our bags.

Like normal in China: you had no seperate compartment for the baggage. So our bags had to go with us in our cabin. But we were lucky that we were advised to have only 50% of the seats taken.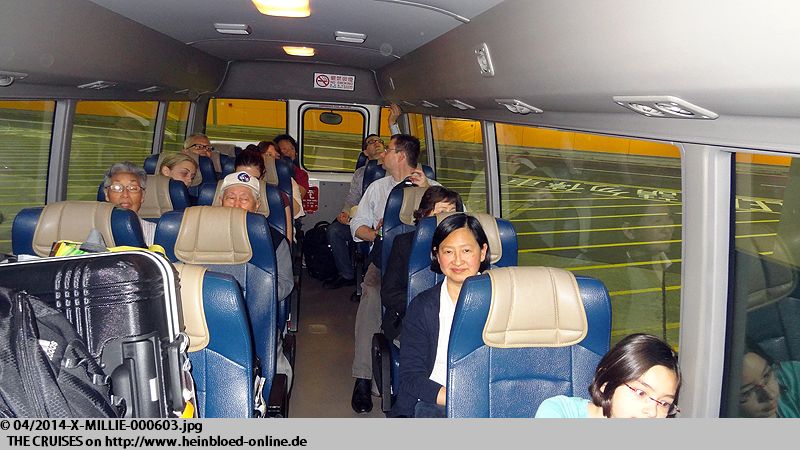 Wie in China oft üblich: es gibt selten Kammern für Gepäck. So fährt das Gepäck oben mit. Zum Glück waren wir vorgewarnt, dass wir immer nur 50% der Plätze nutzen sollten.
Nachdem wir unsere neuen Freunde abgesetzt haben, fahren wir weiter nach East Tsim Tsa Tsui auf der Kowloon-Seite.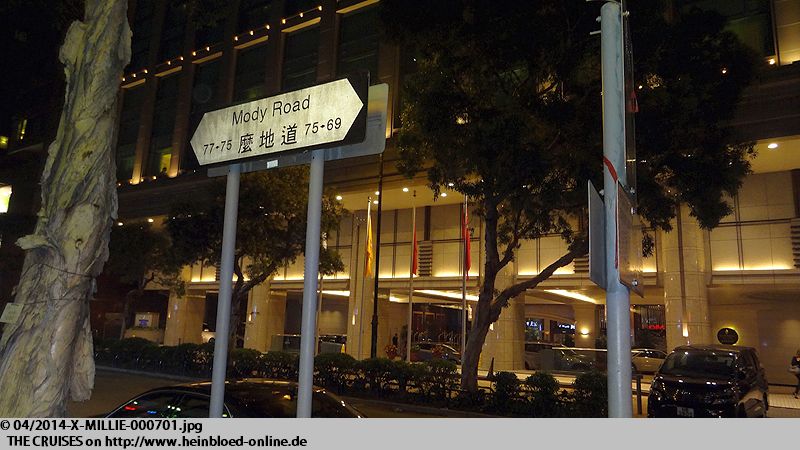 After we dropped off our new friends we headed on for East Tsim Tsa Tsui on Kowloon.

I think that this might be the last grand voyage for my parents and the first grand voyage for many others. So we did not want to start our voyage far away from the central spots and I choosed InterContinental Grand Stanford. Bruno and I had a very nice upgrade, as I am Ambassador Member.

Ich denke mal, dass es die letzte große Reise für meine Eltern sein wird, und die erste große Reise für andere. So wollen wir die Reise nicht unbedingt weit weg vom Schuss beginnen und ich habe das
InterContinental Grand Stanford
gebucht. Bruno und mich erwartet ein nettes Upgrade, da ich Ambassador Mitglied bin.
So viele Papiere... Na gut... Kleine Geschenke und Kurierpost... Ich bin aber so kaputt, dass ich im Moment noch nicht nachgucken mag.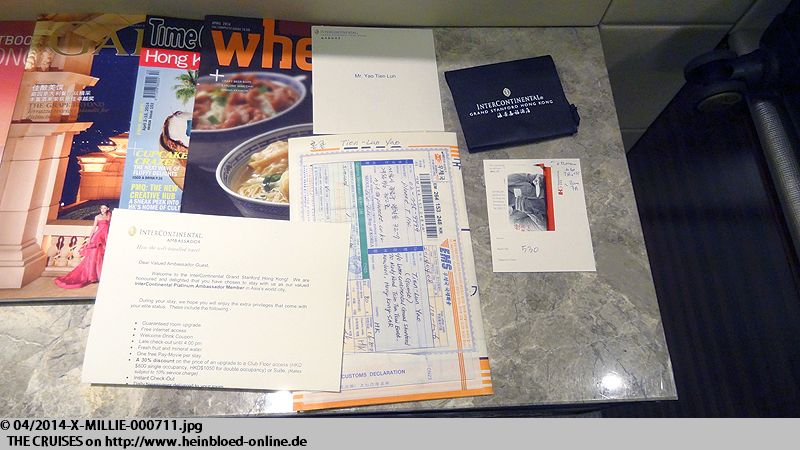 So many papers... Well... Small gifts and courier mail... I was so tired that I was not interested to read that all immediately.

We tried to follow the Symphony of Lights from our room. Unfortunately one building was obstructing the view. To walk to the banks we were too hungry and too tired. So we stayed for some minutes in our room and saw what we could see from here. The view of the Chineses Tshunk made us very happy.

Wir versuchen die
Symphony of Lights
bei uns im Zimmer zu folgen. Nur leider steht ein Gebäude im Weg, so dass wir nur sequentiell etwas mitbekommen. Um zum Ufer zu laufen sind wir zu hungrig und zu müde. Deswegen bleiben wir nur wenige Minuten im Zimmer und sehen das, was wir sehen können. Über den Anblick der Tschunke habe ich mich sehr gefreut.
Wir gehen rüber neben an ins
Tsim Tsa Tsui Center
und wollen dort zu Abend essen. Aber nicht ausgerechnet bei "Brotzeit"... Ich hatte doch gerade erst noch Leberwurstbrot in der Lufthansa Senator Lounge in Frankfurt...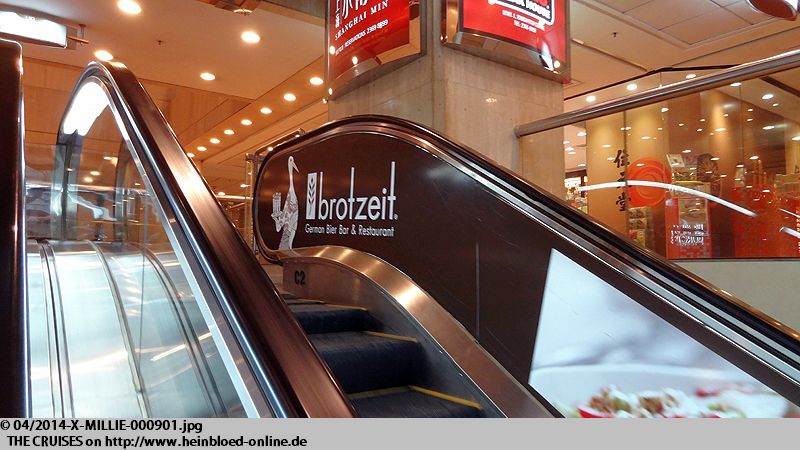 We walked over into the Tsim Tsa Tsui Center to have our dinner. But not with "Brotzeit" (= "Time to have some bread" in German - mostly a break for a second breakfast or afternoon snack in Bavaria or Austria)... I just had a liver paté sandwich in Frankfurt with the Lufthansa Senator Lounge...

I read a lot of Shanghai Min and therefore I was interested to see.

Ich habe viel über Shanghai Min gelesen und das hat mich interessiert.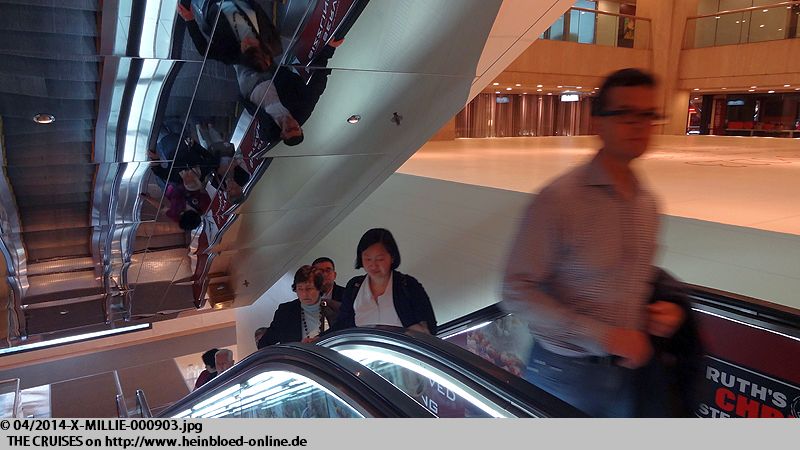 I love those dumplings and for them I was looking for.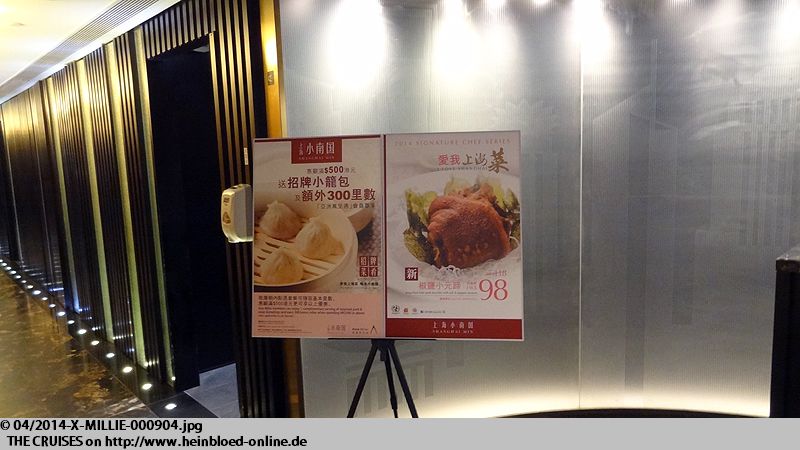 Die Teigtaschen waren genau nach meinem Geschmack. Genau die habe ich gesucht.
Eine Cola Light gibt es leider nicht.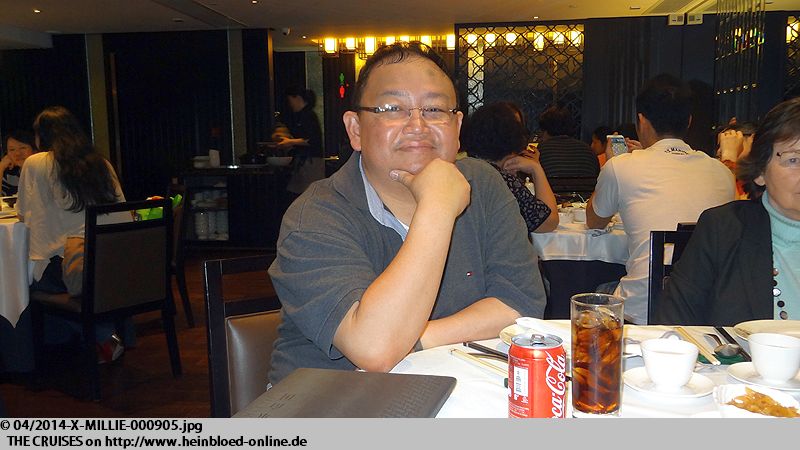 Unfortunately no Diet Coke.

We had to split our group for two tables as there was no table for 10 available. But the tables were next to each other.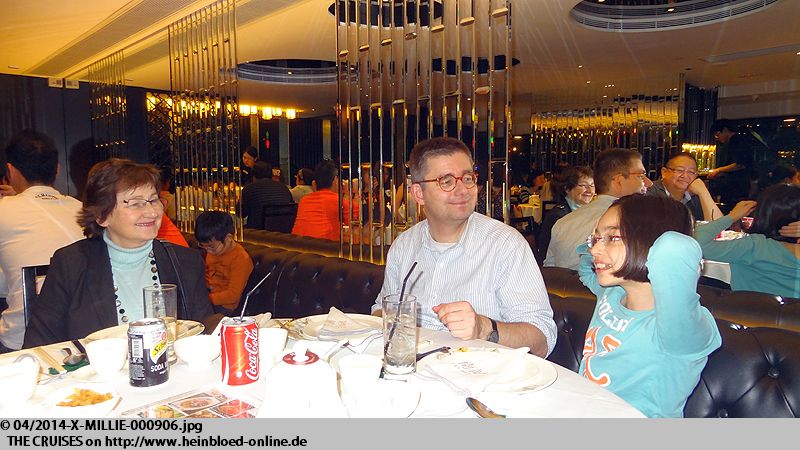 Wir müssen uns auf zwei Tische verteilen, weil es keinen 10-er Tisch gibt, aber zumindest sind sie direkt nebeneinander.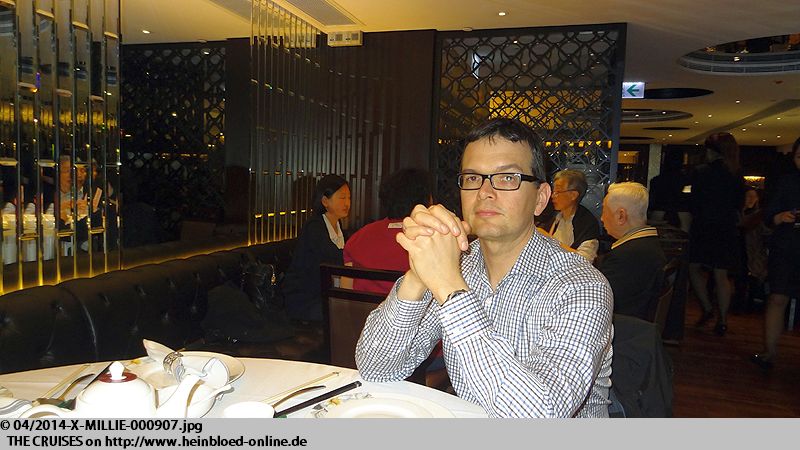 Very stylish... few chop-sticks for your personal use and some dark as carving set.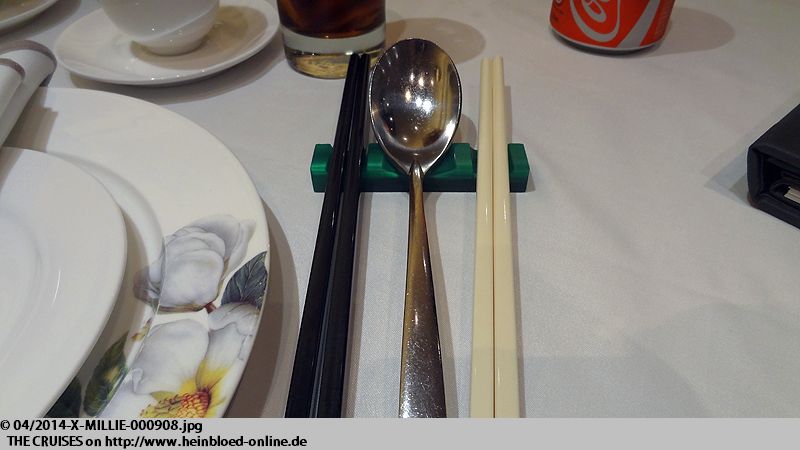 Mit Stil... ein paar Stäbchen für den persönlichen Gebrauch und ein paar dunkle als Vorlegebesteck.
Kleiner Tipp im China-Restaurant: wenn man mehr Wasser für die Teekanne möchte: einfach den Deckel schief raufsetzen...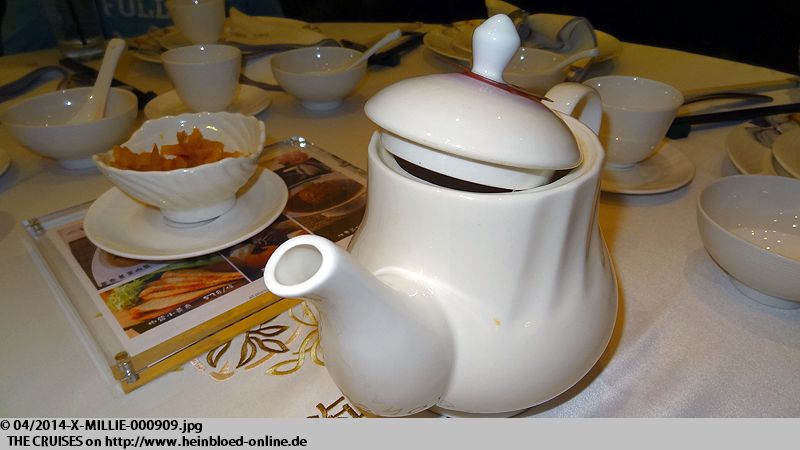 Just a small advise in a Chinese Restaurant: if you need more hot water in your tea pot: just place the cover inclined on the pot...

Well... tea bags... in Hong Kong...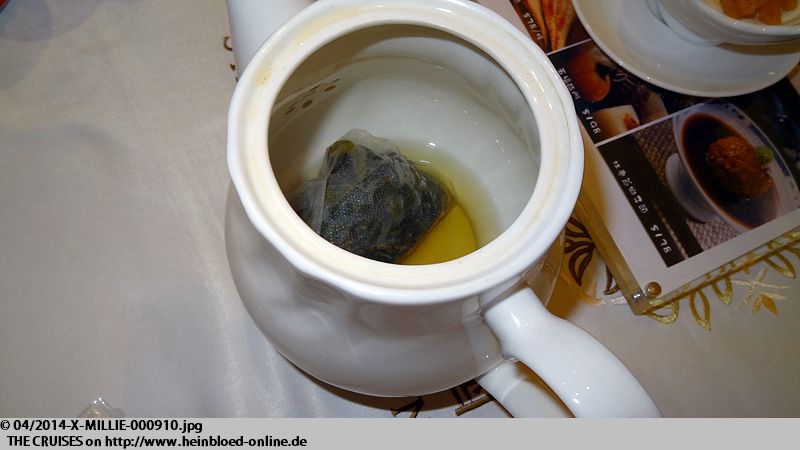 Hmm... Teebeutel... in Hongkong...
Auf jeden Fall essen wir lecker und so geht es bald auch schon für die anderen ins Bett.

Anyhow the food was very yummy and soon all others went to bed.

Bruno and I went to Festival Walk to buy something. Unfortunately we did not have enough time to have a cup of coffee with Cova as it was closed in Milan, Italy when we were there. So sad.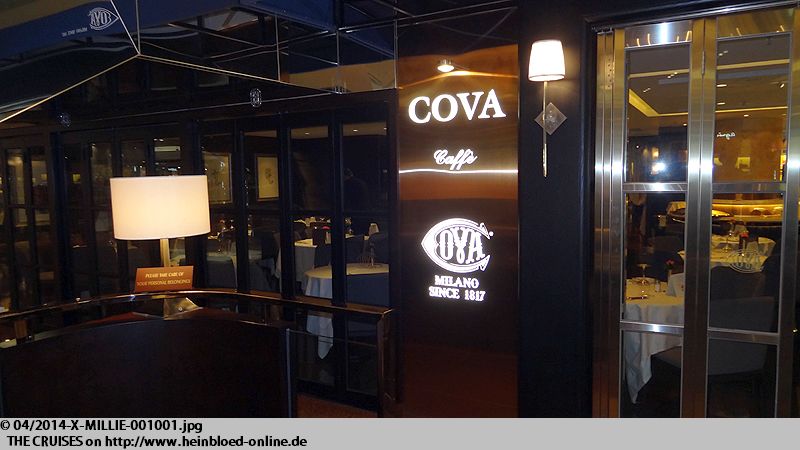 Bruno und ich fahren zum
Festival Walk
um noch etwas zu besorgen. Leider reicht die Zeit für ein Kaffee bei
Cova
nicht mehr, da es in Mailand ja zuletzt geschlossen hatte. Schade.
Für die Rückfahrt nehmen wir die S-Bahn, da sie direkt in die Nähe des Hotels fährt. Für 3,40 HKD (2014) fahren wir direkt zurück. Wir könnten nochmals umsteigen, aber das kostet direkt doppelt so viel. Und wir haben ja von unserer letzten Reise gelernt, dass ein sog. "Concession Ticket" nur für Senioren und Kinder gilt.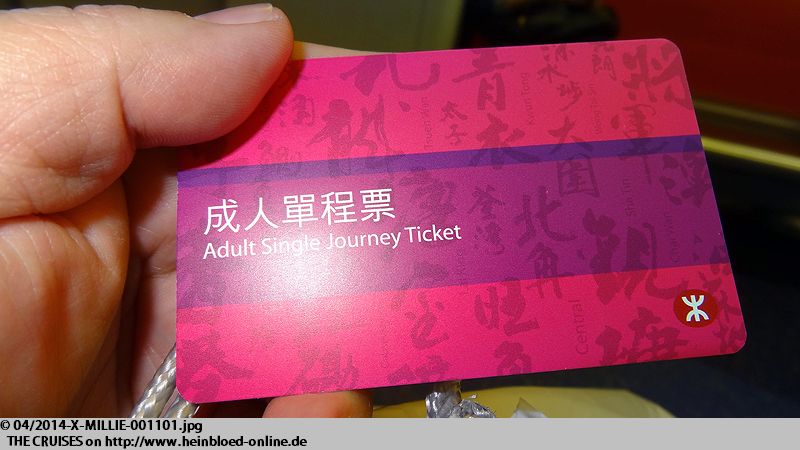 For our return trip we used the commuter train as it goes near our hotel. For 3.40 HKD (2014) we went straight back. We could transfer for another stop but this would cost double. And we learned from our last voyage that the "Concession Ticket" is only for seniors and children.

Here you had also the long-distance-express trains passing the station from Guangdong, China (Canton).

Hier fahren auch die Schnellzüge aus Guangdong (Kanton) durch.
So stellen wir uns auf... Ein Erbe der britischen Kolonialherren...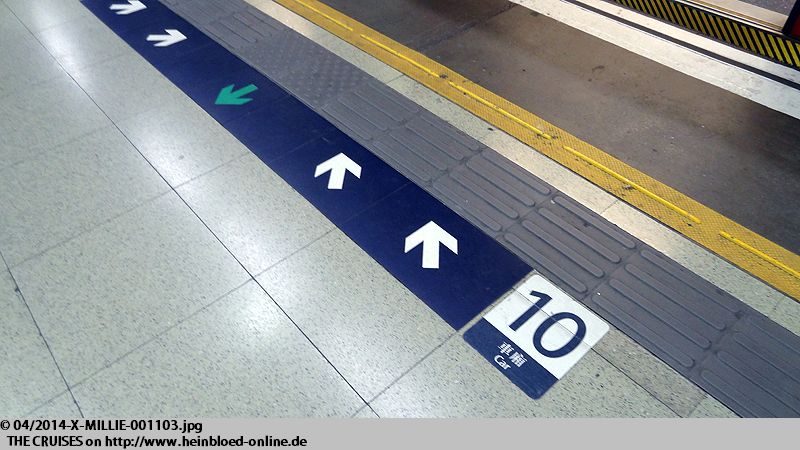 So we lined up properly... A heritage of the era when Hong Kong was a British colony...

Soon our train should arrive.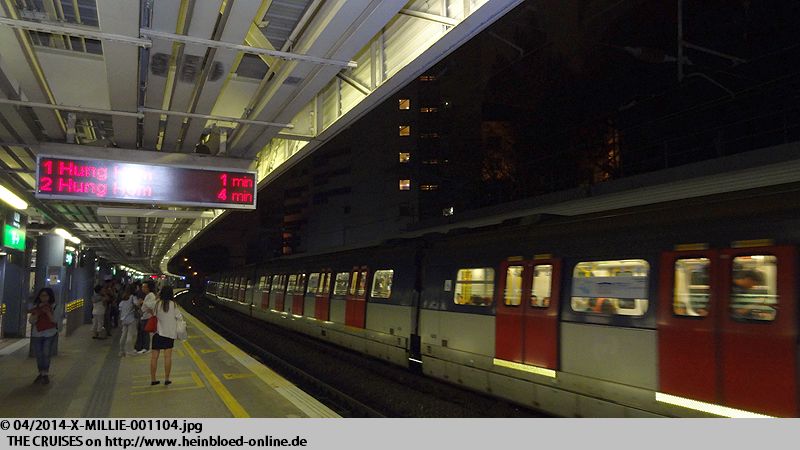 Gleich soll ja auch unsere Bahn kommen.
Und am Bahnhof Hung Hom finden wir schnell den richtigen Ausgang zu unserem Hotel: D.

When we arrived at Hung Hom station it was easy for us to find the right exit towards our hotel: D.

So you had to insert single tickets and Octopus-passes you had to touch towards the RFID-scanner on the top. Otherwise you cannot leave the station.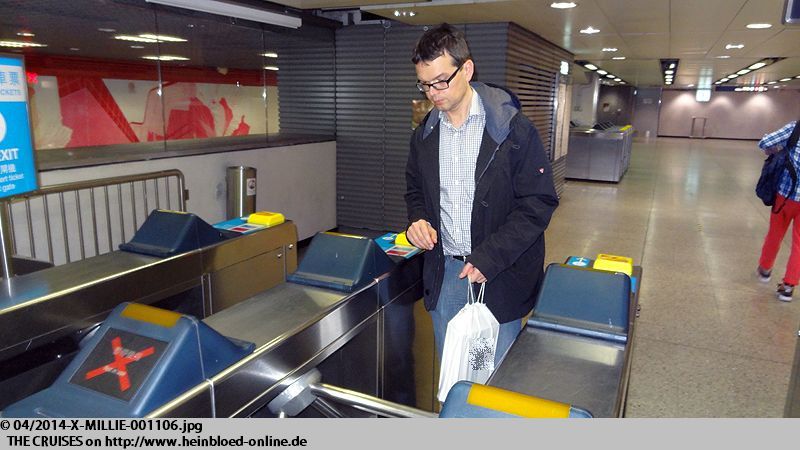 Also Einzeltickets einschieben und Octopus-Pässe oben am RFID-Leser führen. Sonst kommt man nicht raus.
Bei D1 geht es raus.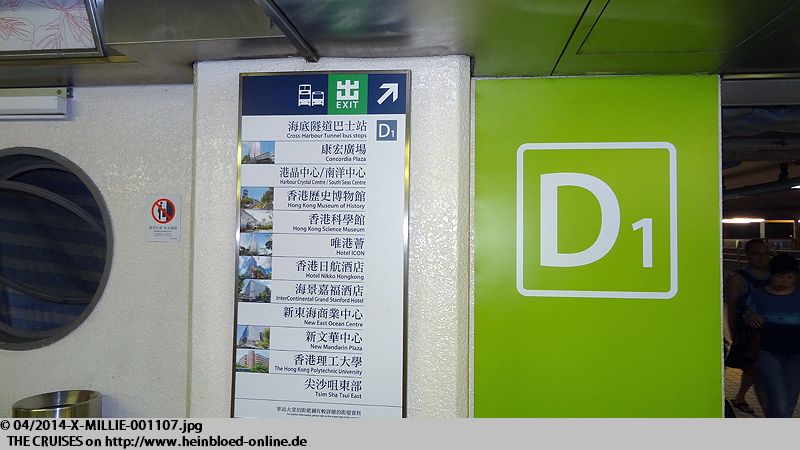 We had to leave at D1.

On a zick-zack-shaped way we need to return to the hotel.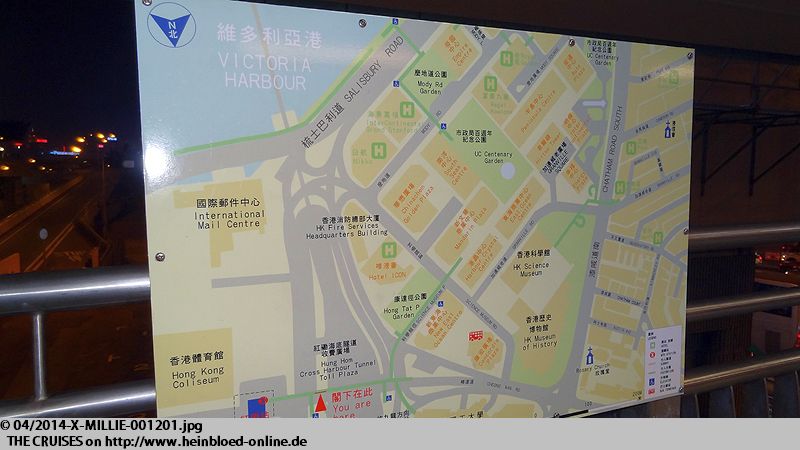 So im Zick-Zack-Kurs geht es zurück zum Hotel.
Chatham Road klingt schon mal gut.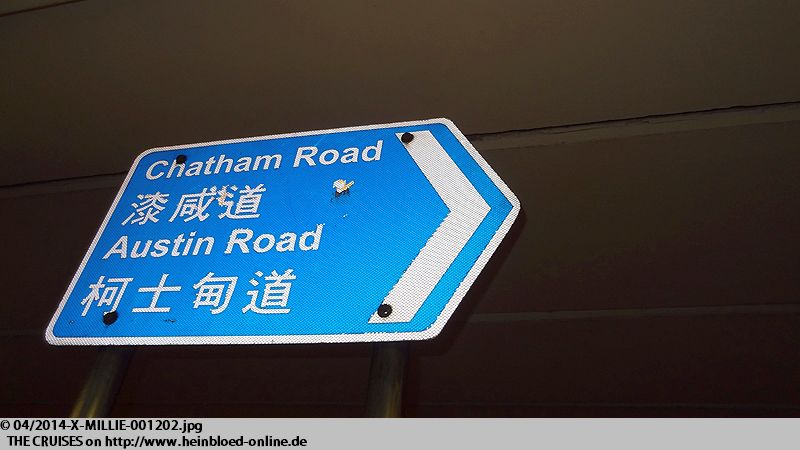 Chatham Road sounded great to us.

For 22.30 hrs it looked quite wild in the Cross Harbour Tunnel.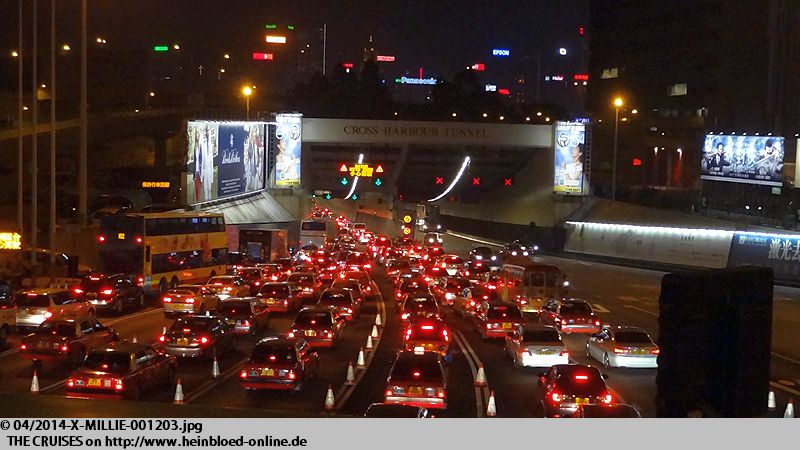 Für 22.30 Uhr sieht es ganz schön wild im Cross Harbour Tunnel.
Hier müssen auf der Brücke links abbieben.

Here at this bridge we had to make a left turn.

During my jetlag I normally wake-up in the middle of the night and I am hungry. So just in case I bought something for the night.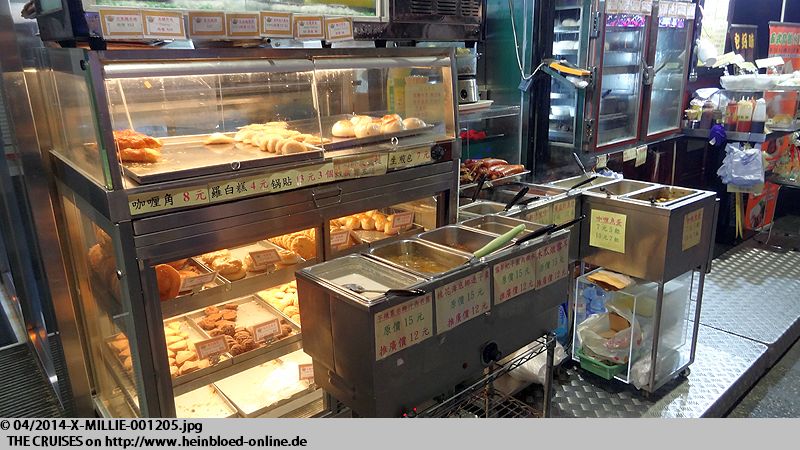 Da ich immer bei Zeitumstellung nachts aufwache und Hunger bekomme, besorge ich mir schon mal etwas für die Nacht.
Ich liebe kantonesisches Essen und hätte alles aufkaufen können.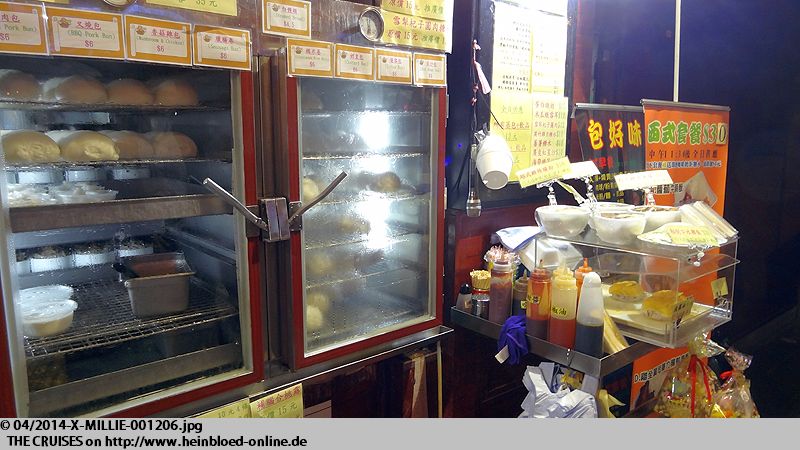 I love Cantonese food and I really could eat everything.

Now I was ready to open the courier mail. My Korean SIM-Card arrived.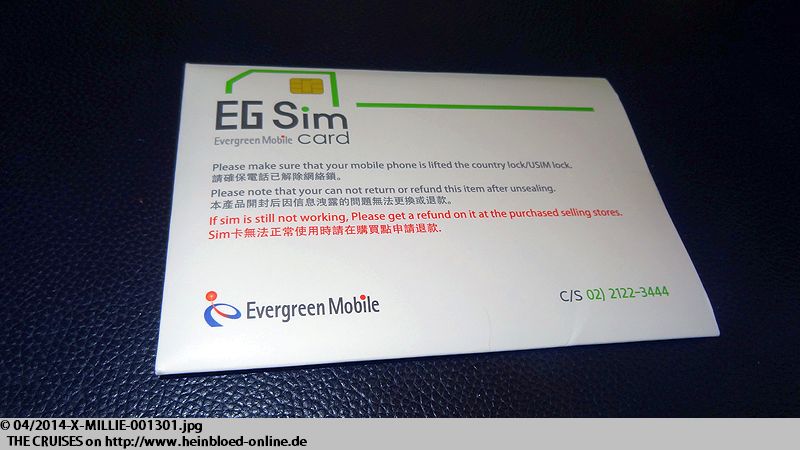 Nun komme ich dazu, die Kurierpost zu öffnen. Meine koreanische SIM-Karte ist gekommen.
Klasse Service von
AMS-Distribution
aus den Niederlanden. Die Karte wäre nicht rechtzeitig in Deutschland gewesen. Also wurde sie direkt von Korea nach Hongkong geschickt. Die Kommunikation ist etwas gewöhnungsbedürftig, aber wenn man es nicht eilig hat, dann klappt es irgendwie. Und die Konkurrenz aus Schweden suchte Tester, aber nach einer Mail brach der Kontakt ab. Ich hätte ja sogar bezahlt. Aber nichts. Schade.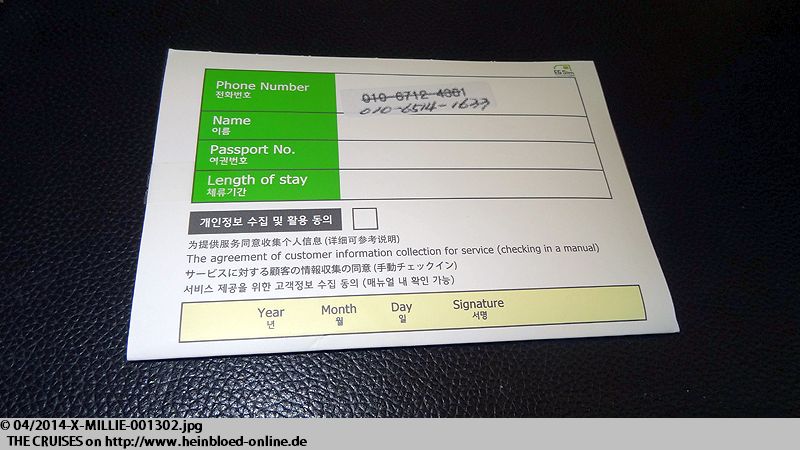 A great service of AMS-Distribution in the Netherlands. They would not had it with me in Germany on time. So they sent it directly from Korea to Hong Kong. The communication with them was a little strange but if you are not under time pressure it worked somehow. And the competitors from Sweden were looking for testers but after one mail we had no further communication. I would have paid. But nothing. Sorry.