Scroll down for English explanations - alternates with German explanations.

Ich komme am Fährhafen Kowloon City an.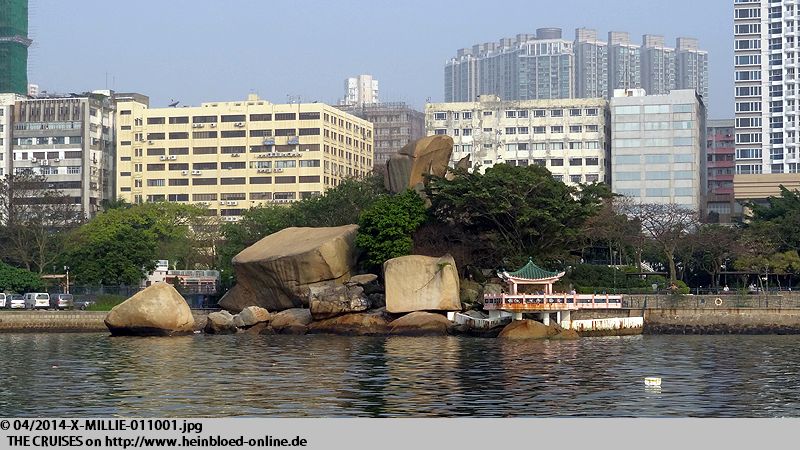 I arrived in the perry port of Kowloon City.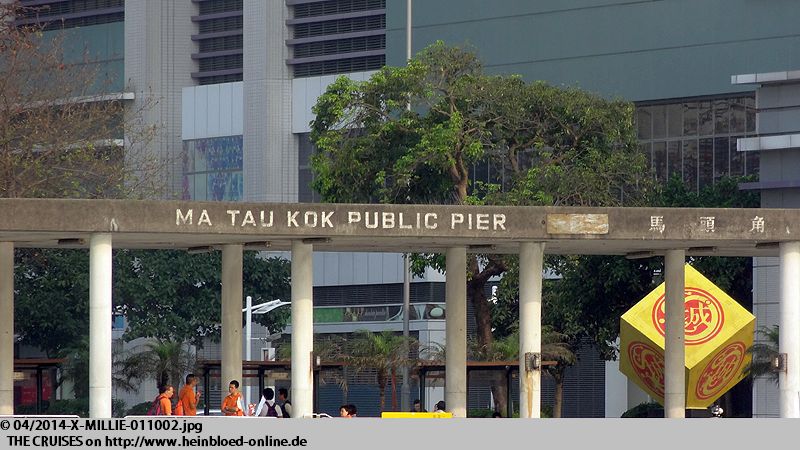 Es sieht nicht gerade nach deutscher Sicherheitsvorschrift aus... aber die Bambusstangen sind wohl genauso massiv, wie bei uns die Stahlgerüste.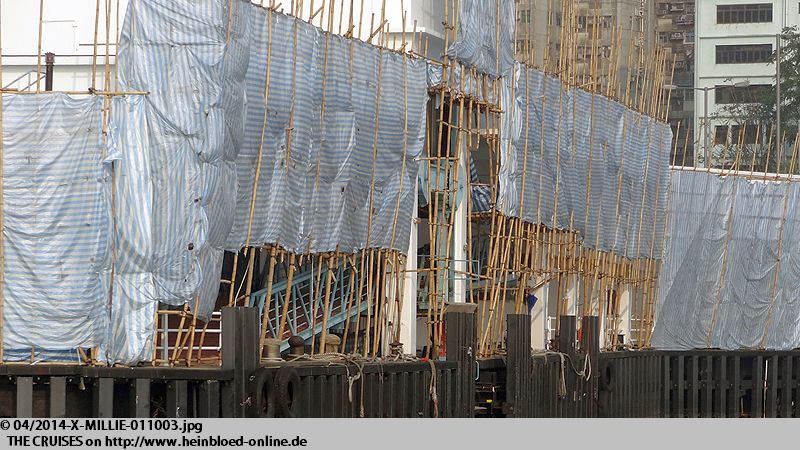 Well it did not look like German safety standards... but I heared that the bamboo constructions work as solid as our steel constructions.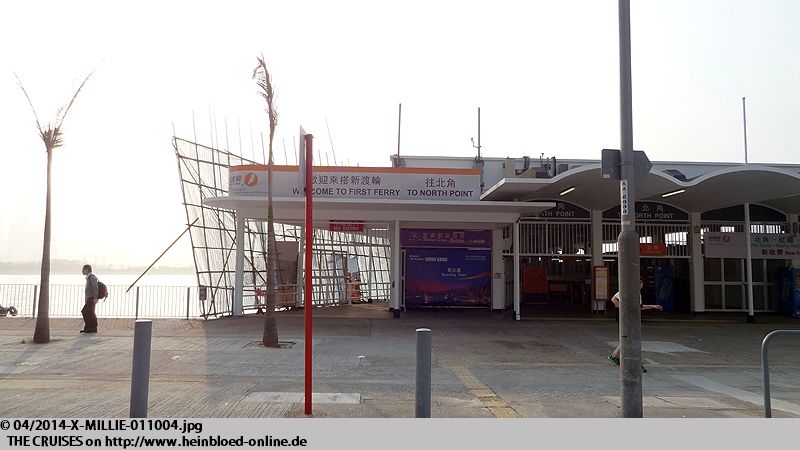 Direkt gegenüber wartet ein Taxi.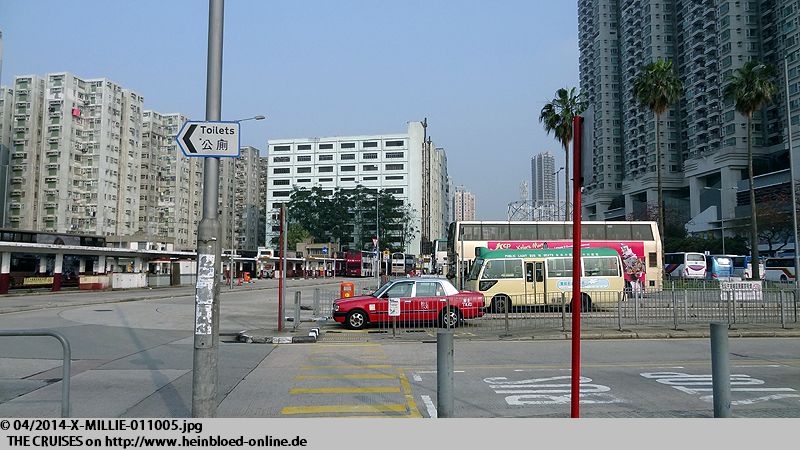 Just adjustant a taxi was waiting.

I showed the address and the place on the map I wanted to be taken to.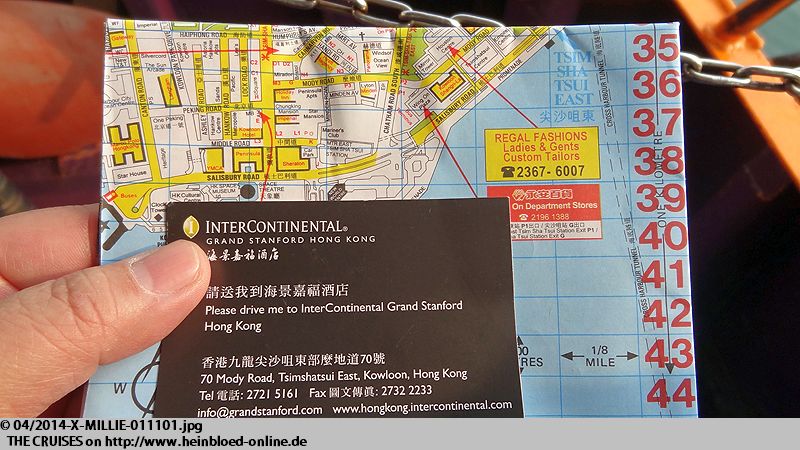 Ich zeige die Anschrift und zeite auf der Karte, wo ich hin will.
Die Türe brauche ich aufgrund des Mechanismus nicht mal selbst zu schließen.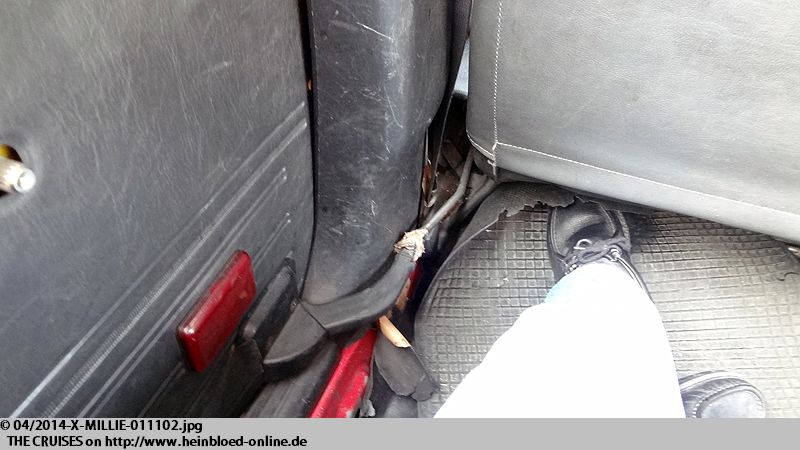 No need to close the door yourself due to the special construction.

Recently they increased the rate for a taxi ride in Hong Kong. And my driver thought that he need to treat me like a fool and made a big detour via Nathan Road and so I just kept one part of the fare and he agreed as he obviously saw that he should not treat me like someone who is stupid.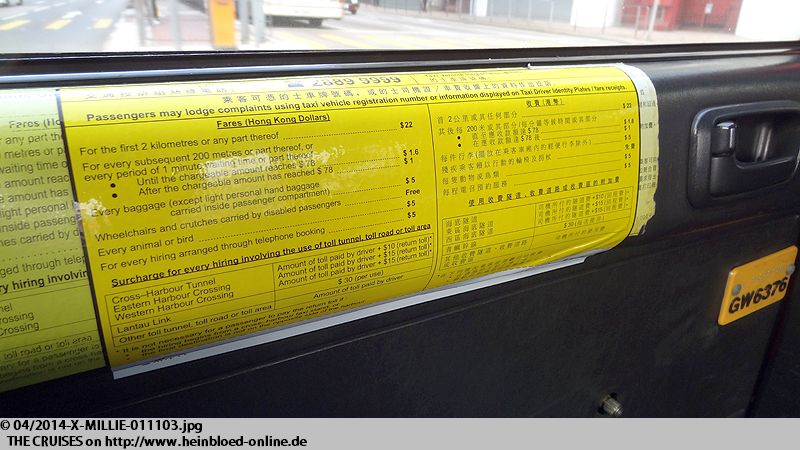 Seit kurzem ist es etwas teurer in Hongkong Taxi zu fahren. Und mein Fahrer meint, dass er mich für blöd verkaufen muss und einen Umweg über die Nathan Road macht und darauf hin behalte ich einfach einen Teil des geforderten Fahrpreises ein und er ist damit einverstanden, weil er wohl einsieht, dass ich erkannt habe, dass er mich für blöd hält.
Meine Reste vom gestrigen Abendeinkauf muss ich zunächst aufessen. Das war echt lecker.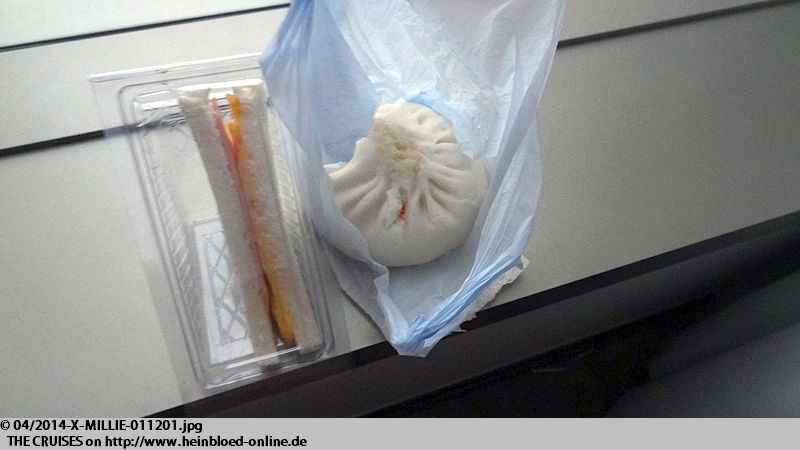 Some was left from last night's shopping and I ate it all. It was so yummy.

We went for breakfast. As some of the family members overslept we cancelled the morning walk and ferry ride on Star Ferry. A great breakfast buffet was waiting for us. WITH EVERYTHING what I love - incl. dragonfruits.

Wir gehen zum Frühstück. Den morgendlichen Rundgang und Fahrt mit der Star Ferry sagen wir ab, weil einige der Familienmitglieder verschlafen haben. Uns erwartet ein ganz tolles Frühstücksbüffet. MIT ALLEM, was mein Herz begehrt - inkl. Pittahayas/Drachenfrüchte.
Von Mitreisenden, die bereits seit Singapur an Bord sind, erfahren wir, dass viele Bord krank sind und die Erkältungsmittel an Bord ausverkauft sind. So besorgen wir uns zunächst einmal einen persönlichen Vorrat an Vitamin C, Zink, Hustenmittel (die knallharten US-Dinger), Nasenspray usw.. Und notfalls haben wir ja zum Glück meine Schwester dabei. Als Apothekerin mit zwei kleinen Kindern hat sie ihren halben Arbeitsplatz mitgebracht...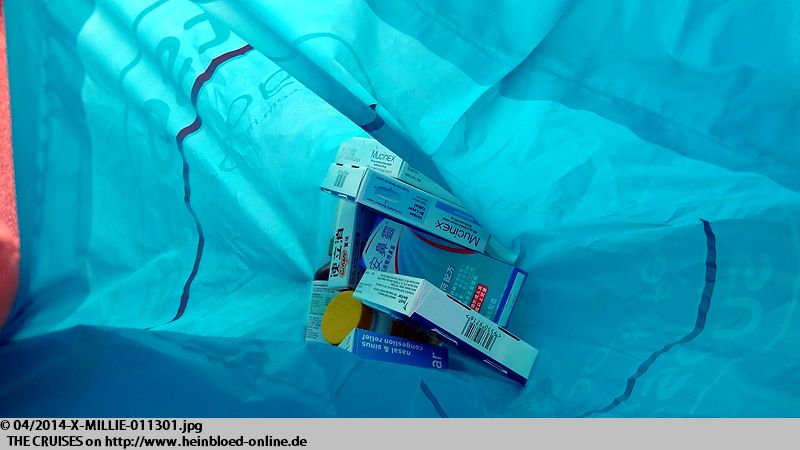 Some cruise fellows who were already since Singapore on board told us that many guests onboard were sick and they ran out of medication agains cold. So we went to buy some personal stock of Vitamin C, Zinc, cough suppressant, nose spray etc. And for the worst we have my sister with me. As she is pharmacist with two little children she carried half the inventory of her pharmacy with her...

I was on the run to find a thermometer... So I went quickly to Harbour City which includes the Ocean Terminal (of course to take some pictures of SUPERSTAR VIRGO).

Ich bin eigentlich noch auf der Suche nach einem Thermometer... So fahre ich mal kurz in die
Harbour City
mit dem Ocean Terminal (Natürlich auch um die SUPERSTAR VIRGO zu fotografieren).
Dort wartet Spiderman auf mich.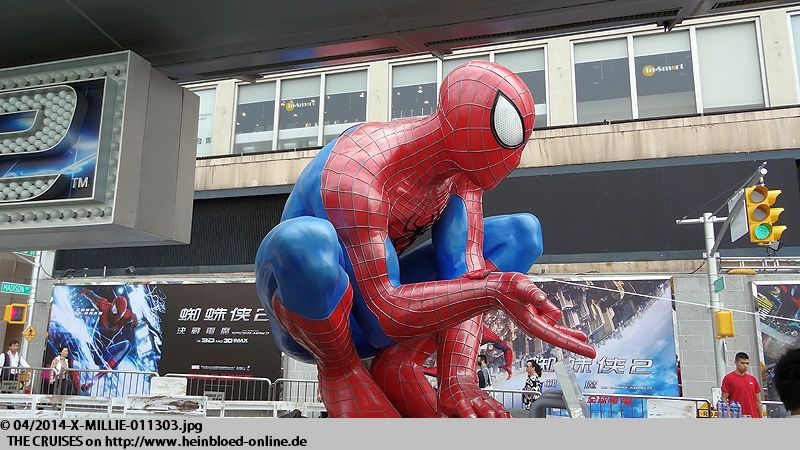 There Spiderman was waiting for me.

No chance to get inside the building as everyone wanted to take pictures with Spiderman.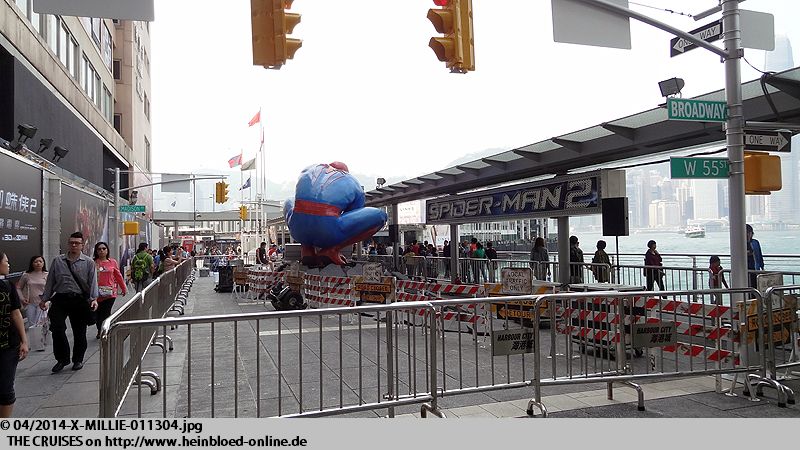 Aber ich komme kaum rein, weil sich jeder mit Spiderman fotografieren lassen will.
So gebe ich es bald auf, das Thermometer zu finden. Wir hätten eh keines gebraucht, da die Temperatur in der Kabine konstant war und es keinen Grund gab, sich diesbezüglich zu beschweren.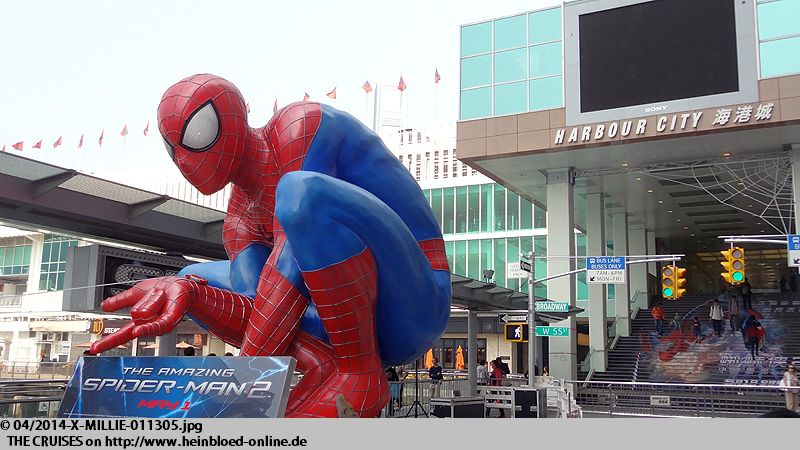 So I gave up to find a thermometer. But anyhow there was no need as the temperature in the cabin was constant and no reason to claim.

I really wished to have a ferry ride with the most popular ferry in the world Star Ferry but there was absolutely no time.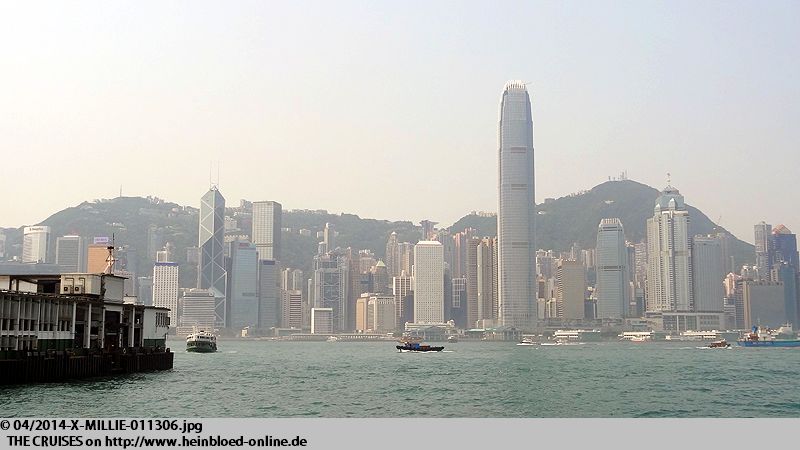 Ich hätte so gerne eine Fährfahrt noch mit der berühmtesten Fähre
Star Ferry
gemacht, aber dazu fehlt die Zeit.
Zurück erwartete uns ein neuer Bus. Dieses Mal mit Gepäckraum und Made in Germany von MAN und weil wir auch zwei Personen mehr erwarteten.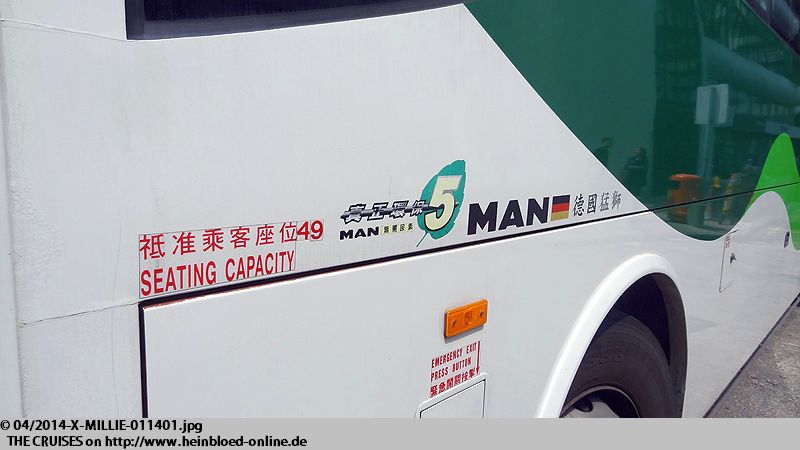 Coming back a new bus was waiting for us. This time we had baggage compartment and Made in Germany by MAN and because we expect two more persons with us.

Everyone of us need to check-out by noon and officially the check-in for the ship should start at 14.00 hrs. Since our Alaska-cruise we like it more calm and to show up later.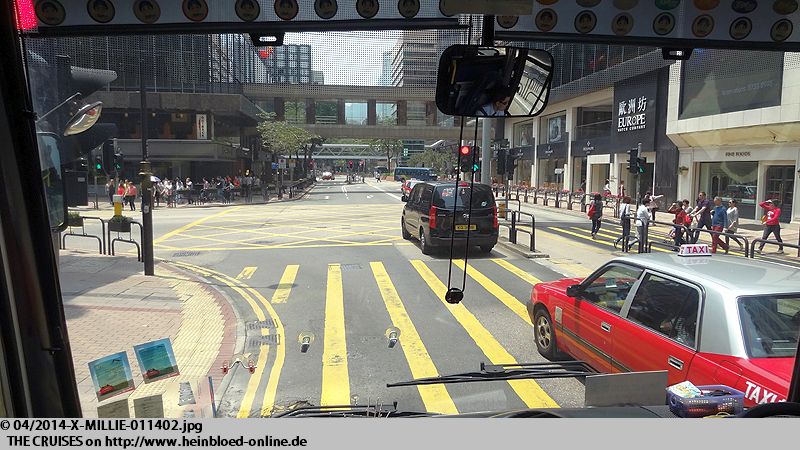 Alle von uns mussten ja um 12.00 Uhr ihr Zimmer räumen und offiziell sollte der Check-In für das Schiff um 14.00 Uhr beginnen. Seit unserer Alaska-Kreuzfahrt mögen wir es lieber ruhiger und kommen daher später.
Die Minimum-Mietzeit betrug 3 Stunden und so passte es wunderbar. Aufgrund einiger Erkenntnisse aus dem Forum, haben wir die Mietzeit jedoch bis 16.00 Uhr sogar verlängert, damit wir noch später erst an Bord sind.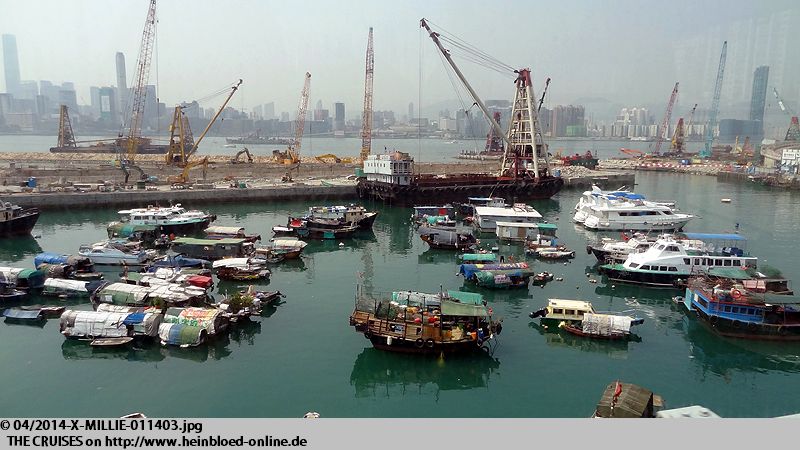 The minimum rental was 3 hours and so it fit perfectly. Due to information we had from the forum we extended the rental time until 16.00 hrs so we should arrive more late on board.

So we cruised a little bit through the town and I enjoyed the view of the city cemetery.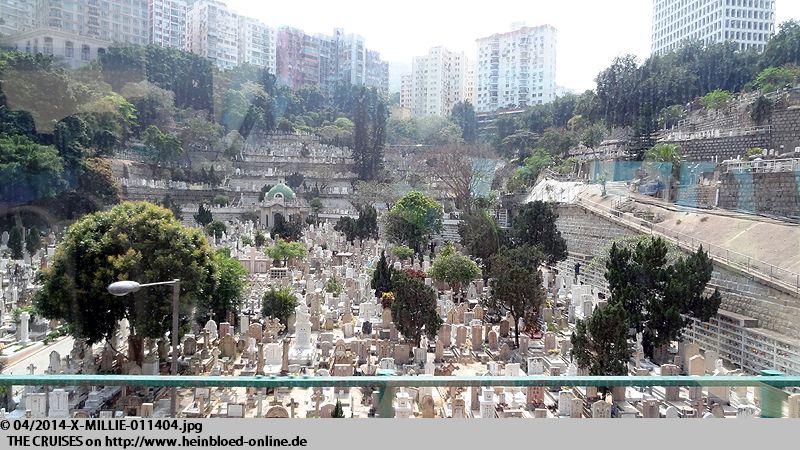 So fahren wir ein wenig durch die Stadt und ich genieße den Anblick des Stadtfriedhofs.
Und vom Bus können wir schon auf das Schiff gucken.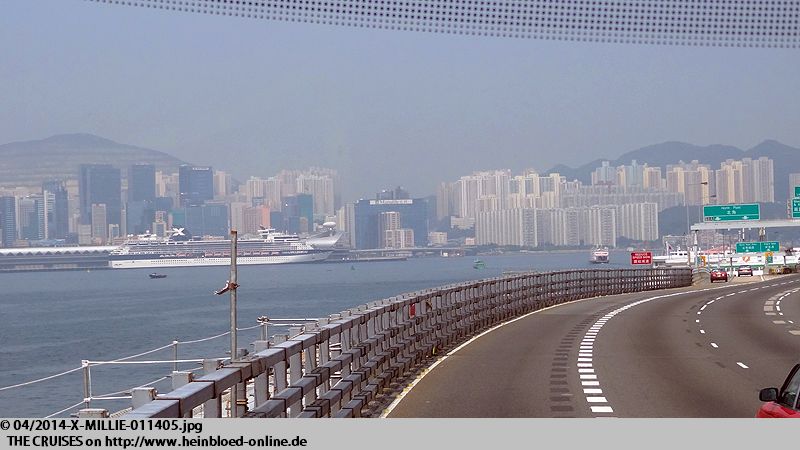 And from the bus you could already see our ship.

First we went up to the Peak and enjoyed the view over Hong Kong. With us again were our friends from Germany Nicole, Uwe, Jacqueline and Michelle and our new friends from Australia Sharon and Richard.

Zunächst fahren wir zum
Peak
hoch und genießen von dort aus die Aussicht auf Hongkong. Mit uns sind wieder unsere Freunde aus Paderborn Nicole, Uwe, Jacqueline und Michelle sowie neue Freunde aus Australien Sharon und Richard.
Weiter fahren wir nach Aberdeen. Hier ändert sich alles so schnell. Früher war der ganze Hafen voller alter chinesischer Fischerboote und heute moderne Yachten. Viel ist von dem alten Fischerdorf nicht mehr übrig. Nur das schwimmende Restaurant Jumbo bleibt. Man bietet uns eine Fahrt mit den Fischerbooten an, aber dafür reicht die Zeit nicht.

We headed on for Aberdeen. Here you could see how quickly everything changed. Then the port was full of old Chinese fishermen boats and today you have the modern yachts. There is not so much left of the old fishermen village. Only the floating restaurant Jumbo is still existing. They offered us a tour on the fishermen boat but our time did not allow it.

Originally we should continue for a href="https://www.hk-stanley-market.com/">Stanley Market
. Due to our time restrictions our driver told us that we will not make it until 16.00 hrs at the Cruise Terminal. So I sent my group on the ferry to Kwun Tong so they could see enroute closely the ship and could smell the flavour of cruising. And so they could have a nice view to Victoria Harbour too.

Eigentlich sollte es zum
Stanley Market
gehen. Aufgrund der zeitlichen Situation meint allerdings der Fahrer, dass wir das nicht mehr schaffen, wenn wir bis 16.00 Uhr am Cruise Terminal sein wollen. So schicke ich meine Gruppe kurzerhand auf die Fähre rüber nach Kwun Tong, damit sie schon mal hautnah am Schiff vorbeifahren und schon den Duft der Kreuzfahrt erschnuppern sollten. Außerdem haben sie einen schönen Blick über den Victoria Harbour.
Und so bekomme ich nochmals eine kleine Serie von Schiffsbildern von der CELEBRITY MILLENNIUM von Bruno aufgenommen, weil ich mit dem Busfahrer zum Busbahnhof nach Kwun Tong fahre. Wäre schon blöd, wenn er es nicht findet und wir auf kantonesisch erklären müssten, wo wir eigentlich auf ihn warten.

And so I got another series of ship pictures of CELEBRITY MILLENNIUM which were taken by Bruno because I went with the bus driver to the bus terminal in Kwun Tong. Would be somehow stupid if he could not find it and we need to explain in Cantonese where we were waiting for him.