Scroll down for English explanations - alternates with German explanations.

Wir laufen Busan an.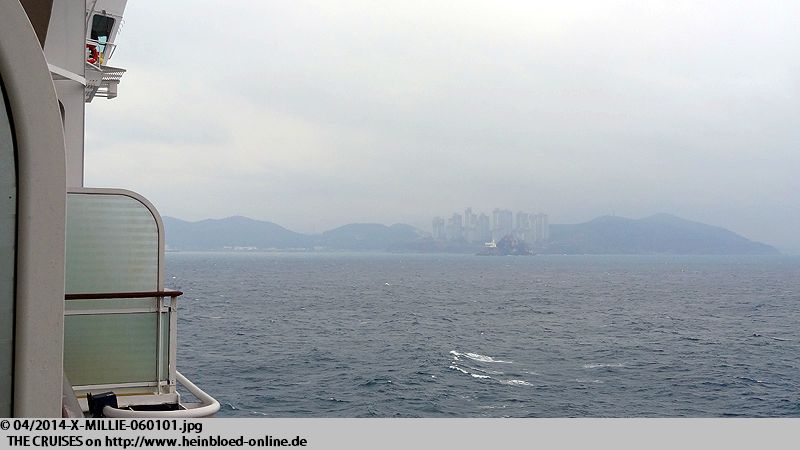 We approached for Busan, South Korea.

Soon the pilot came onboard.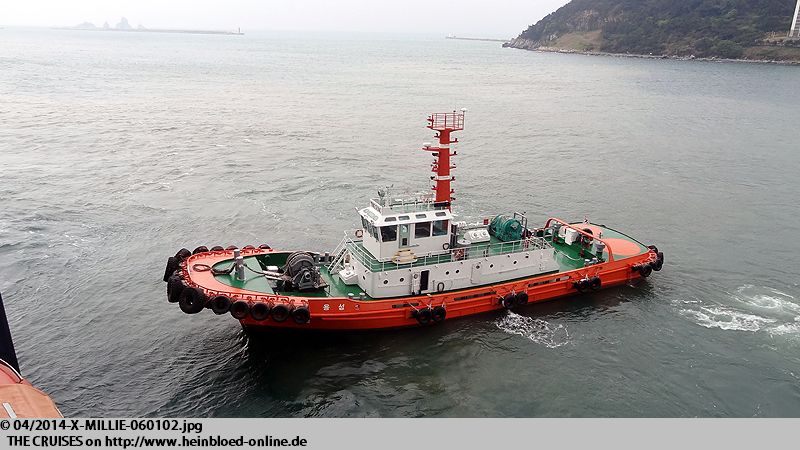 Bald kommt schon der Lotse an Bord.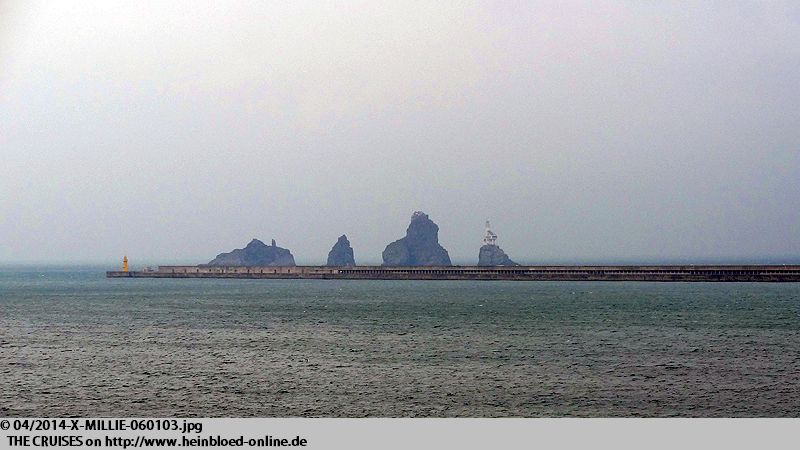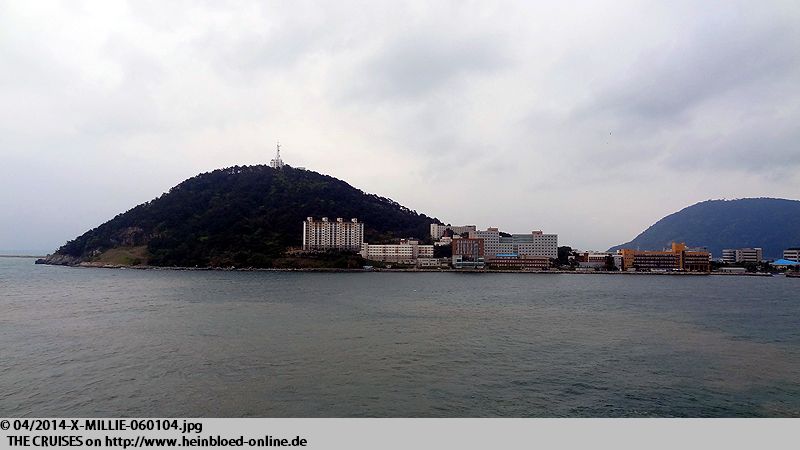 Haben alle einen Einlauf bekommen? Wir sind in einer anderen Welt. Innerhalb der ersten fünf Minuten: Wasser, Croissant, Butter und Tee... Was ist los? Haben sich noch mehr Leute beschwert?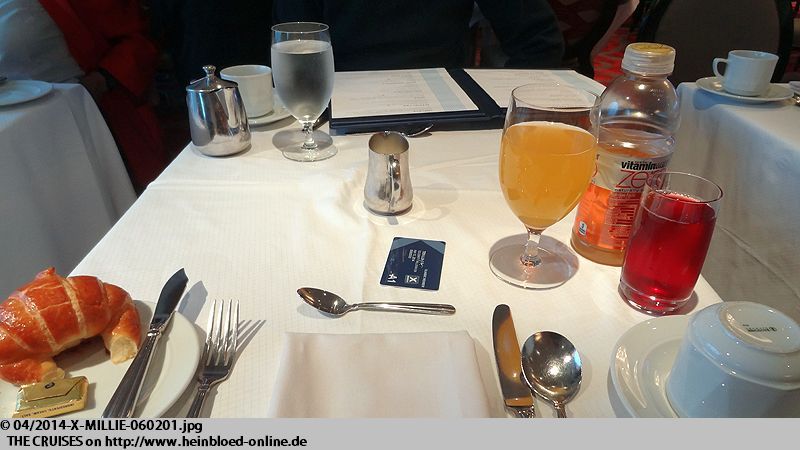 Had everyone got a clyster? We arrived in a different world. Within five minutes: water, croissant, butter and tea... What was going on? Had more guests complained?

Always the same... I would say again the same breakfast. With the sausages: no variation.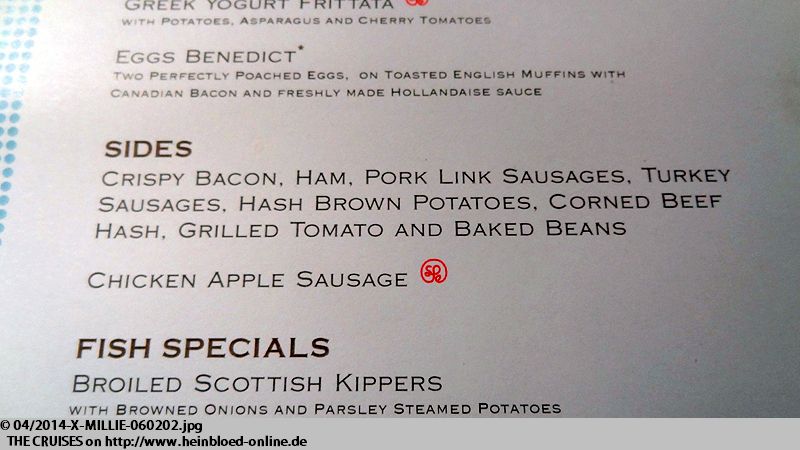 Immer noch das gleiche... ich bin geneigt zu sagen das selbe Frühstück. Bei den Würstchen: keine Abwechslung.
Wenigstens bekomme ich ein Brioche...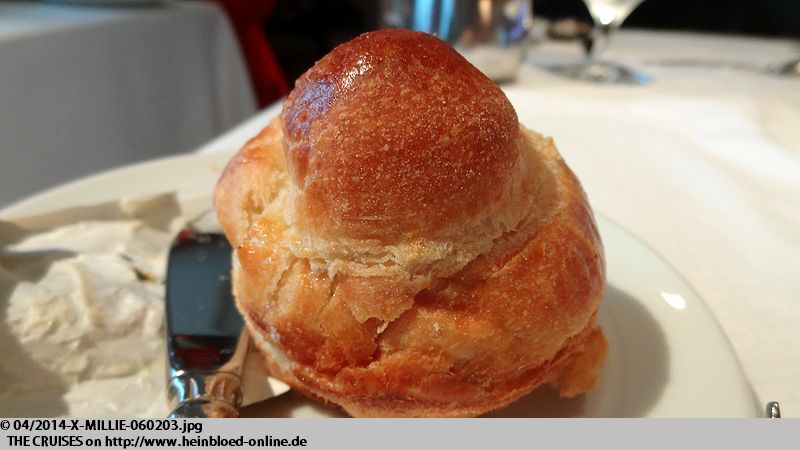 At least I got a brioche.

Cedric was Bruno's last hero because he got the very first time berries. Some were ordered but they did came until the end of the cruise. And we had day 6.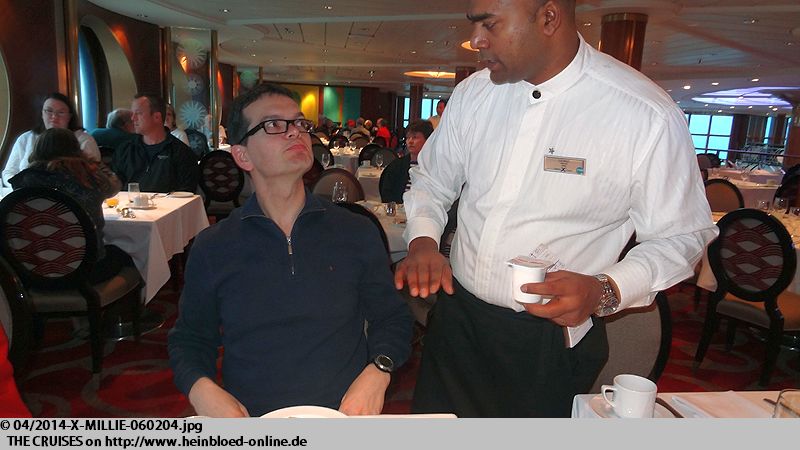 Cedric ist dann auch Brunos letzter Held: zum allerletzten Mal gibt es Beeren. Es sollen zwar welche bestellt sein, aber sie kommen bis zum Rest der Reise nicht mehr. Und wir haben Tag 6.
Bruno hat sich einen grünen Tee bestellt...
Fine Food... die Billig-No-Name-Marke von Metro
...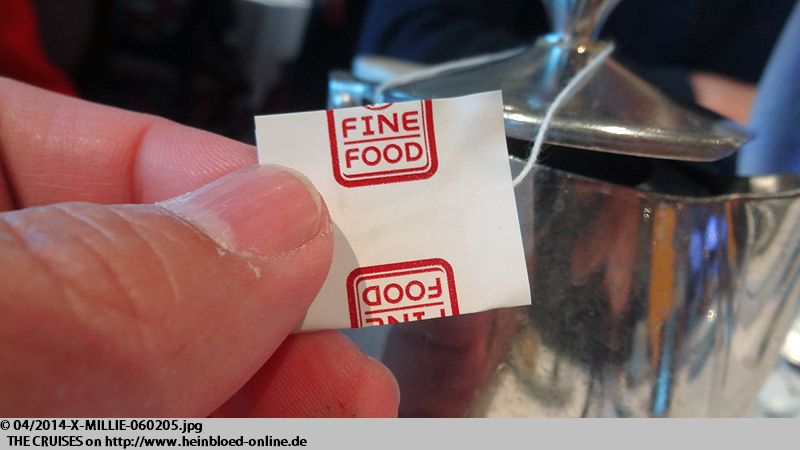 Bruno ordered a green tea... Fine Food... the economy no-name-brand of the cash and carry market Metro (only available in their German markets)...

He asked me to try it but they only the waste of the waste was grinded you cannot have any flavour in this tea. It was almost clear like the water.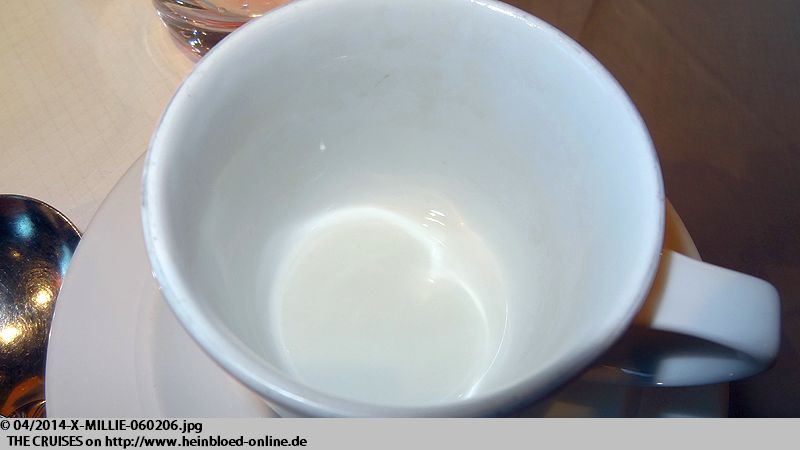 Er bittet mich mal zu probieren, aber da ja nur der Abfall der Abfälle zermahlen wird, kann kein Geschmack mehr entstehen. Es war fast so klar, wie das Wasser.
Nicht einmal die goldene Farbe entsteht, wenn man es sehr viel länger ziehen lässt...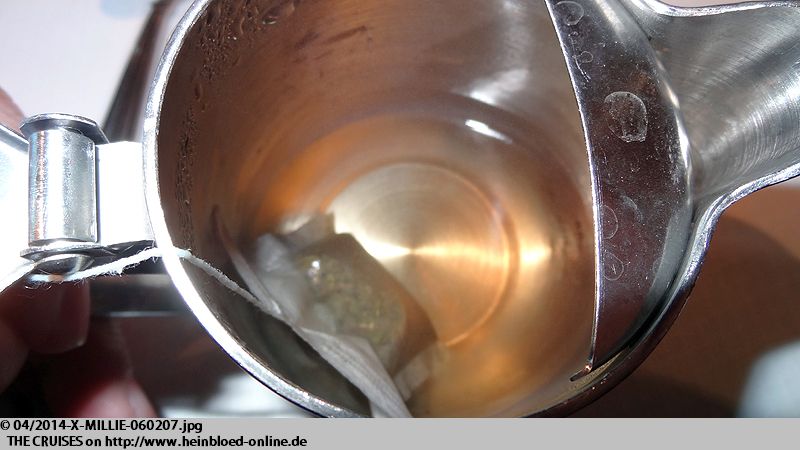 You even did not get a golden color when you extend the brewing time.

That was how yoghurt was served with Princess.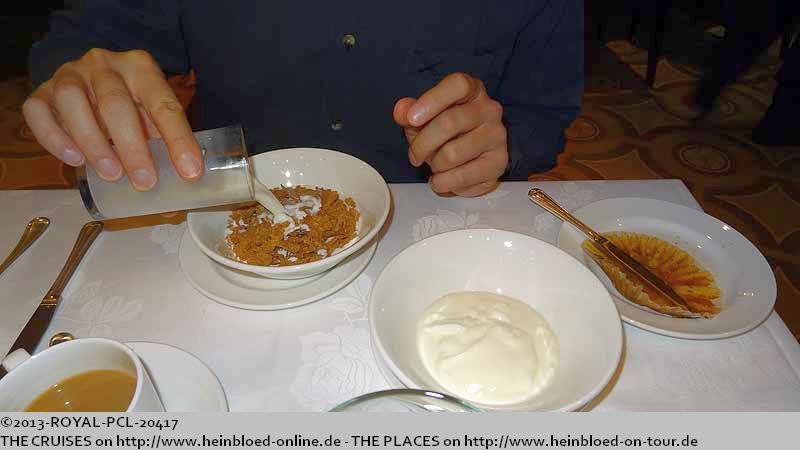 So wird der Joghurt bei Princess serviert.
Und so bei Holland America.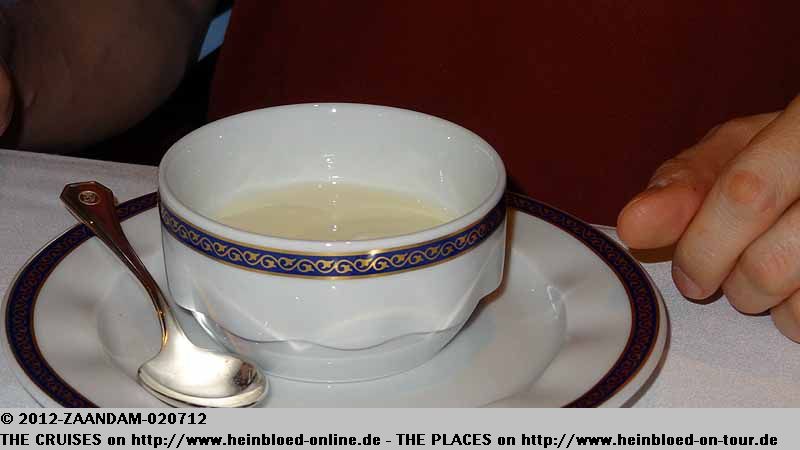 That was how it was on Holland America.

And on a Premium-Modern-Luxury-Ship like CELEBRITY MILLENNIUM you got it this way.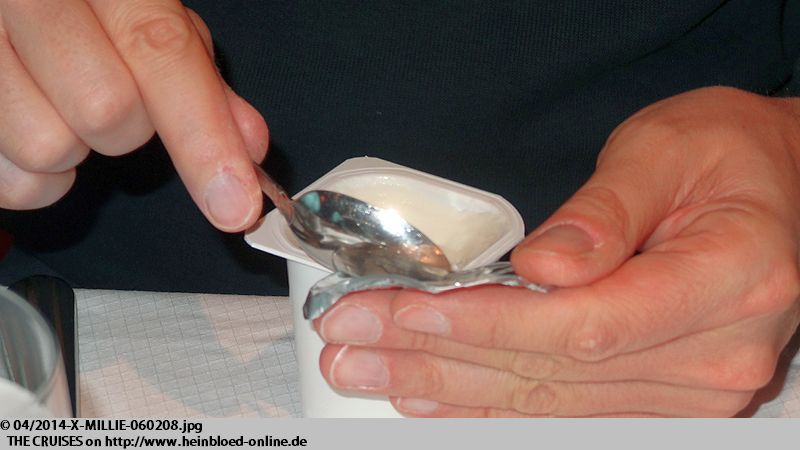 Und so auf einem Premium-Modern-Luxury-Schiff wie der CELEBRITY MILLENNIUM.
Über Facebook erreicht mich die Nachricht, dass ich umbedingt mal das Corned Hash Brown probieren soll...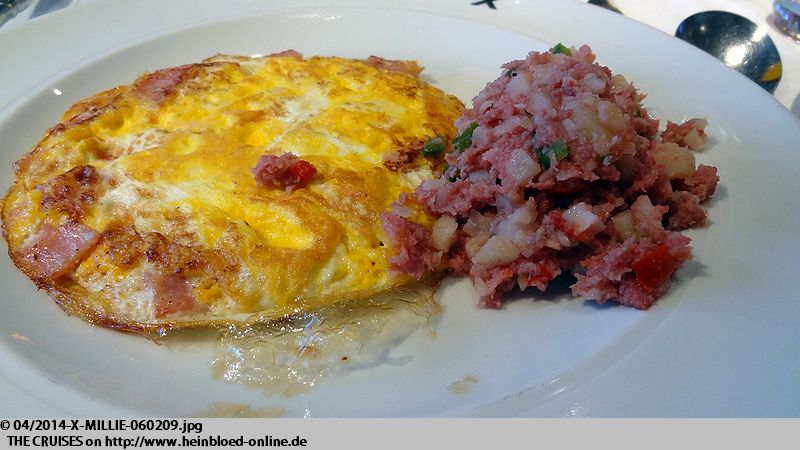 I got on Facebook a message that I had to try the Corned Hash Browns...

Well I like it more mashy... and it tasted like Labskaus (Hamburg seamen food: mashed potatoes with corned beef, onions and red beet juice... looks like recycled but most yummy if you used the best ingredients)...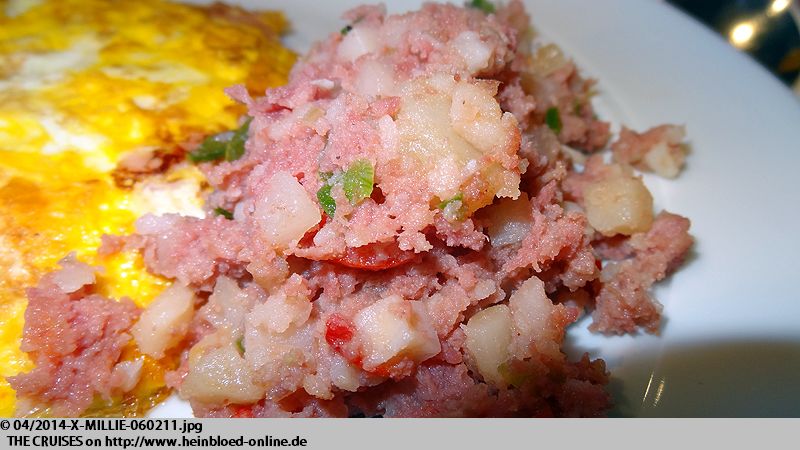 Ich mag nun mal das aus Pürree lieber... schmeckt nach Labskaus...
Übrigens: wenn man die Eiweißanteile sieht, dass spricht es sehr dafür, dass jemand ein echtes Ei aufgeschlagen hat... und keine Lust hatte es gründlich zu verquirlen...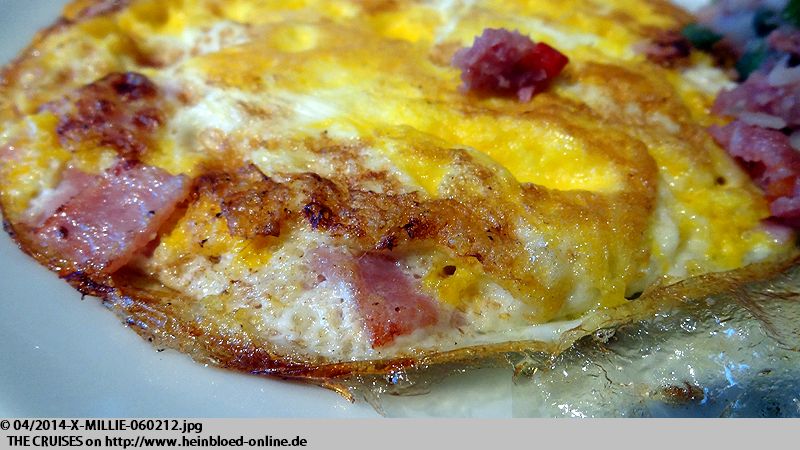 By the way: if you see how much egg white you had in your omelette you know immediately that this was made of a fresh true egg... but obviously it was not stired very well...

And if it is a bright yellow color and homogeneously in term of color, like here with Bruno...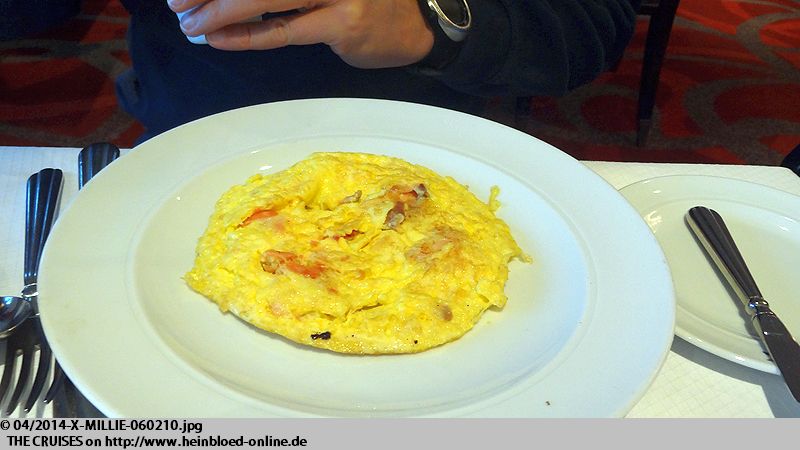 Und wenn es leuchtend gelb und farblich homogen ist, wie bei Bruno...
dann kann man davon ausgehen, dass hier Flüssigei aus der Packung verwendet wurde... oder sie haben es einfach besser verrührt...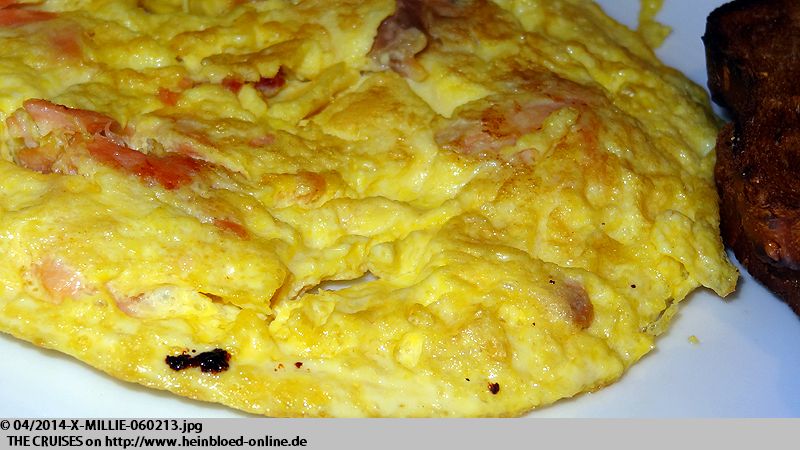 you can normally expect that liquid eggs from the box was used... or they simply just spent more effort to stir the egg...

I was very interested to follow the two ships on the opposite side of the bay. It did not look like real cruise ship but ferry boats either.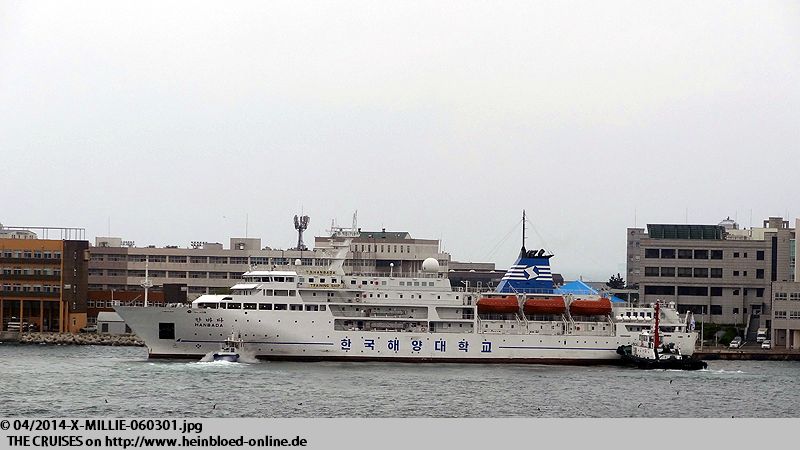 Mit Interesse verfolge ich die zwei Schiffe gegenüber. So richtige Kreuzfahrtschiffe scheinen das nicht zu sein. Aber auch keine Fähren.
HANBADA... Ein Trainingsschiff der Korea Maritime Universität.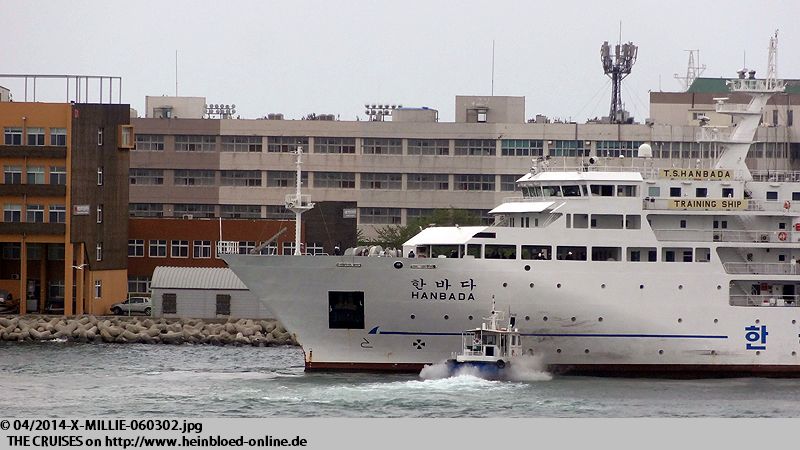 HANBADA... a training ship of the Korea Maritime University.

And later also HANNARA came.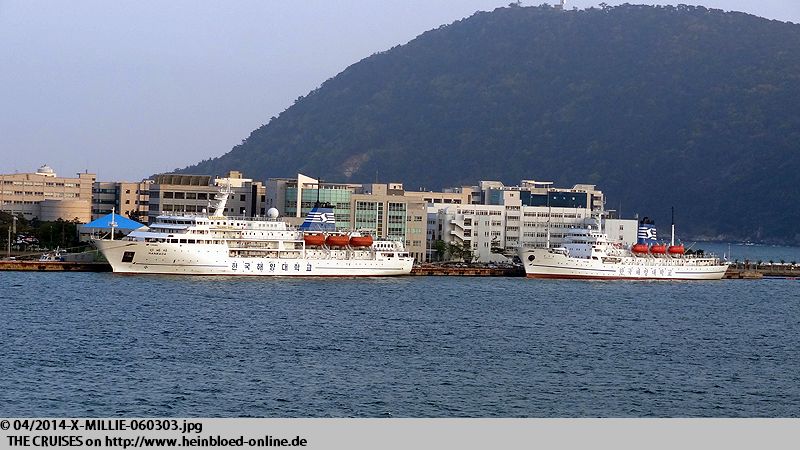 Und später kommt noch HANNARA.
Ich wünsche mir den Liftboy... viele Lifte stoppen unnötigerweise auf dem Weg nach unten und sind allerdings voll. So fahren wir erst nach oben, um dann wieder nach unten zu fahren. Das blöde: er einzige Weg um Deck 1 zu erreichen. Wie gesagt: wir haben auch ältere dabei, die keine Treppen mehr laufen können.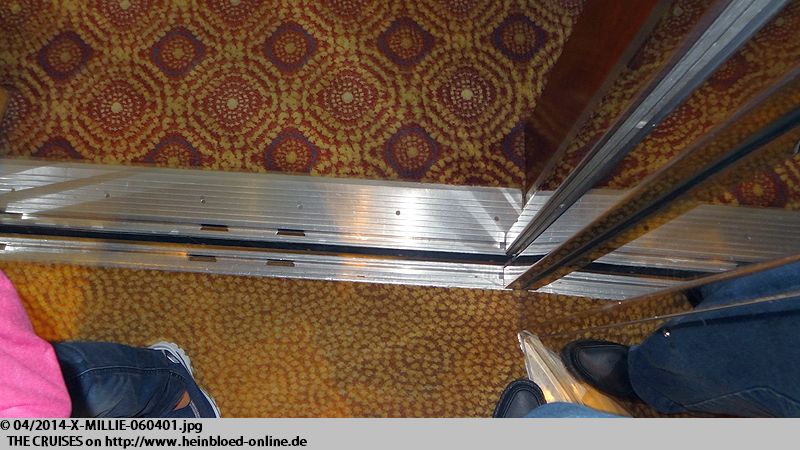 I wished we would have lift boys... many elevator stopped unnecessarily on the way down but were full. So we had go up and then down. The stupid: the only way to reach deck 1. As said before: we had also some older people who cannot walk the stairs anymore.

Obviously then can only load long-term ordered food supply: Maersk-container and no refrigerated trucks... and no reefer container either... so nothing perishible!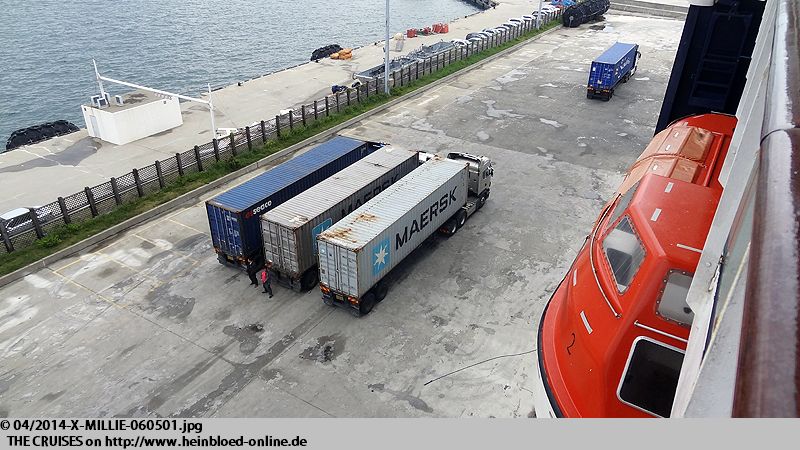 Offensichtlich kann nur langfristig neue Lebensmittel geladen werden: Container von Marsk und keine Kühl LKWs... und auch keine Reefer-Container... also nichts Frisches!
Besonders einladend wirkt es ja nicht...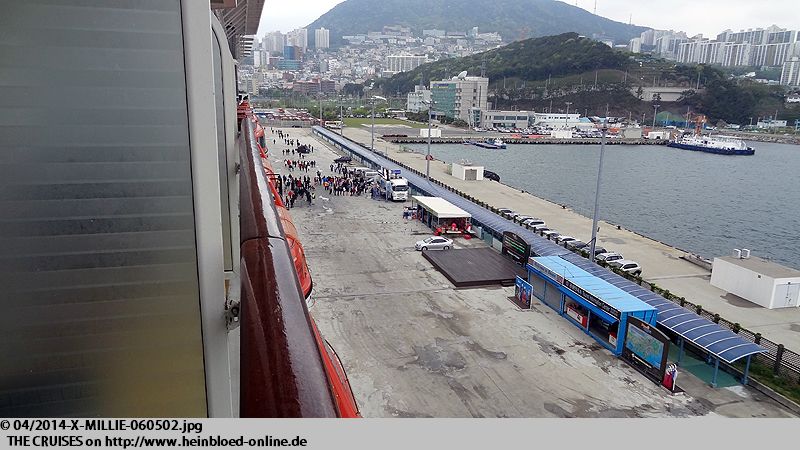 It did not look very inviting...

But they had an information booth installed.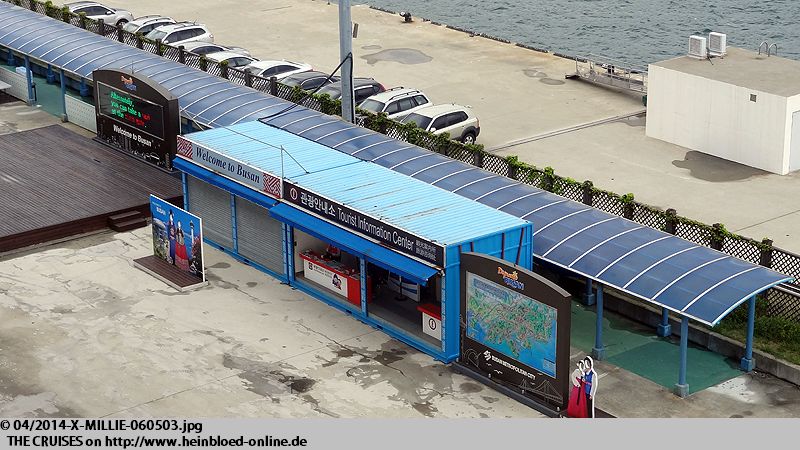 Aber es ist ein Informationsstand aufgebaut.
Ganz schön was los.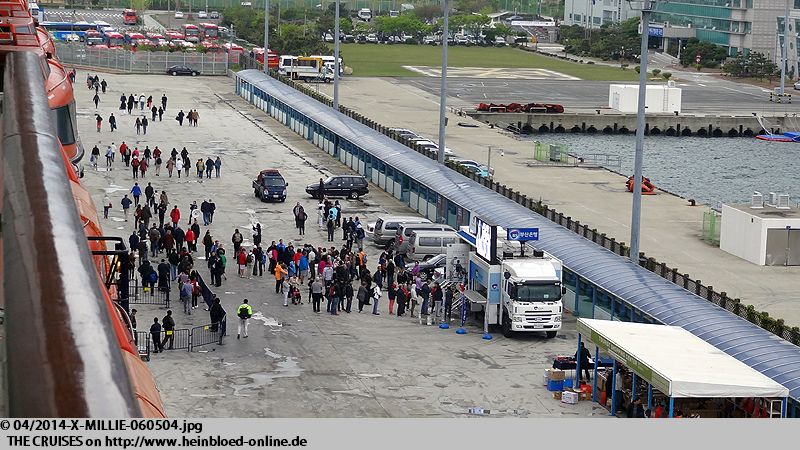 It looked very busy.

Here you could get actual information for potential activities.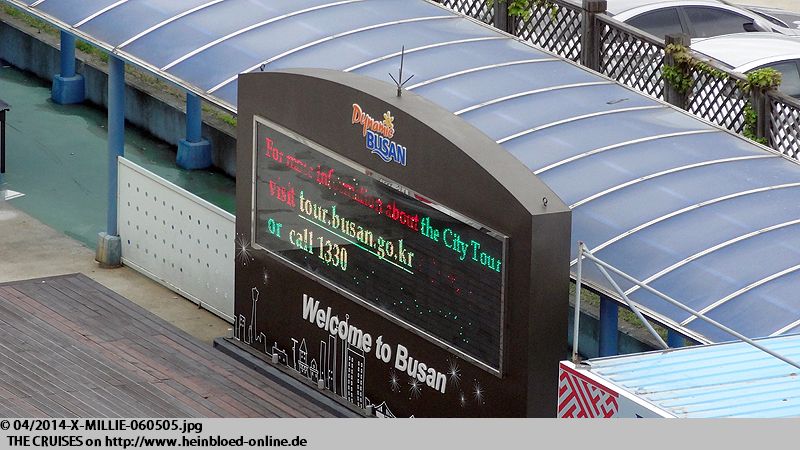 Hier gibt es aktuelle Informationen zu möglichen Aktivitäten.
Auf der Bühne ist nichts los. Keine Musiker. Keine Tänzerinnen. Wie schade.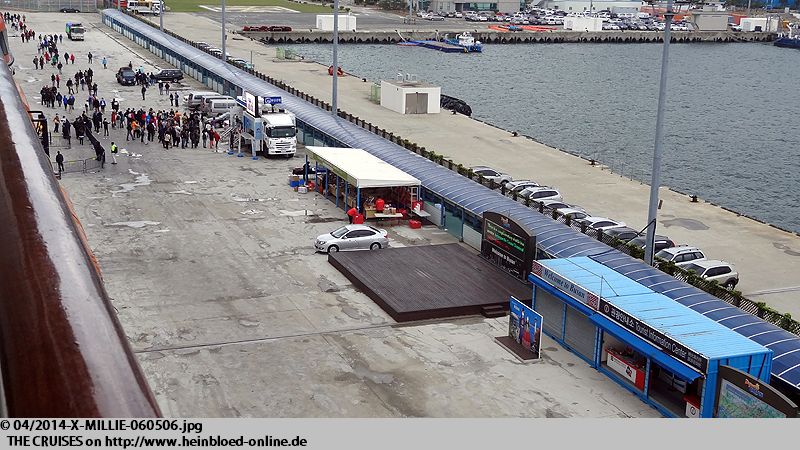 No action on the stage. No musician. No dancers. How sad.

A mobile bank banch was provided.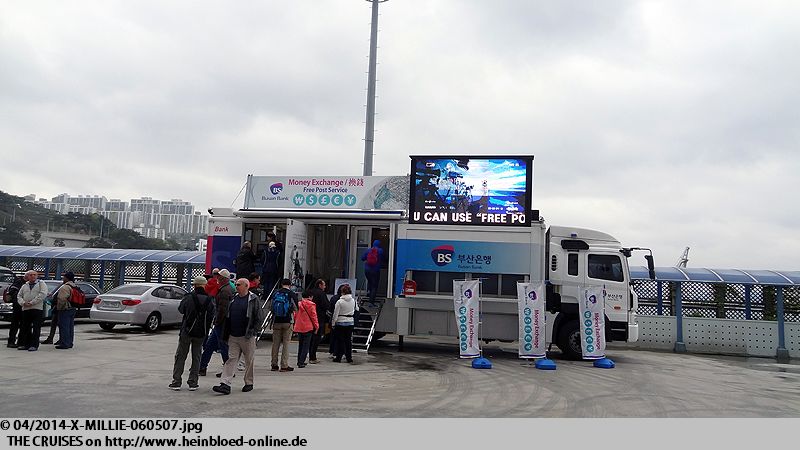 Eine mobile Bankfiliale ist aufgebaut.
Das war wirklich super gemacht.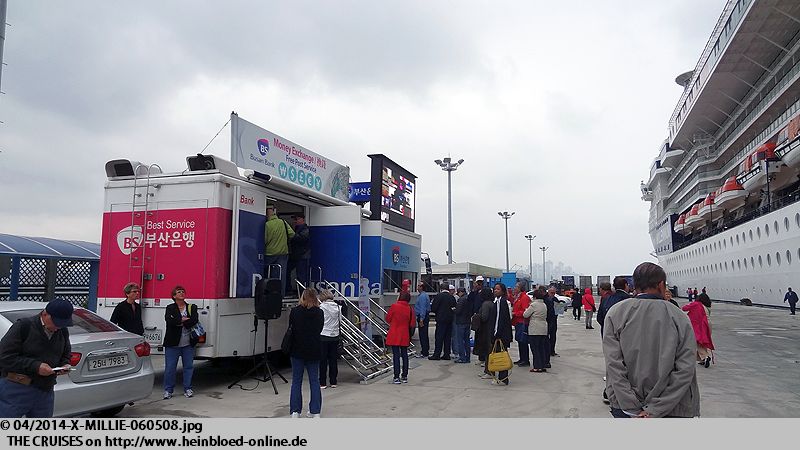 They made it very well.

Even two ATMs were available. A clerk of the bank helped everyone to run the withdrawl at the ATM. And one advise how much 1,000 KRW, 10,000 KRW and 100,000 KRW were about in USD that you had a rough idea how much you need to withdraw.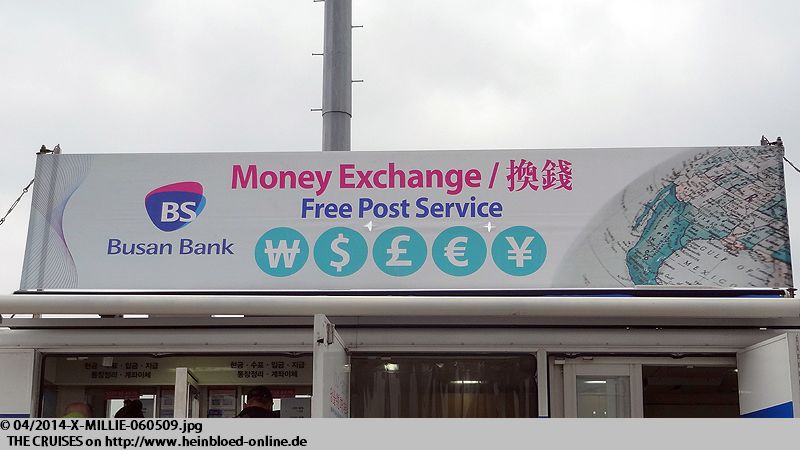 Sogar zwei Geldautomaten waren aufgestellt. Eine Mitarbeiterin der Bank half jedem den Geldautomaten zu bedienen. Und ein Hinweis, wieviel Pi mal Daumen 1.000 KRW, 10.000 KRW und 100.000 KRW etwa Wert sind in USD, so dass man einen Anhaltspunkt hatte, wieviel man abheben muss.
Es folgt noch ein Cruise Terminal aus dem alle herausmüssen, weil zumindest im Vorbeilaufen die Temperatur gemessen wird. Aber ansonsten wird man sehr in Ruhe gelassen.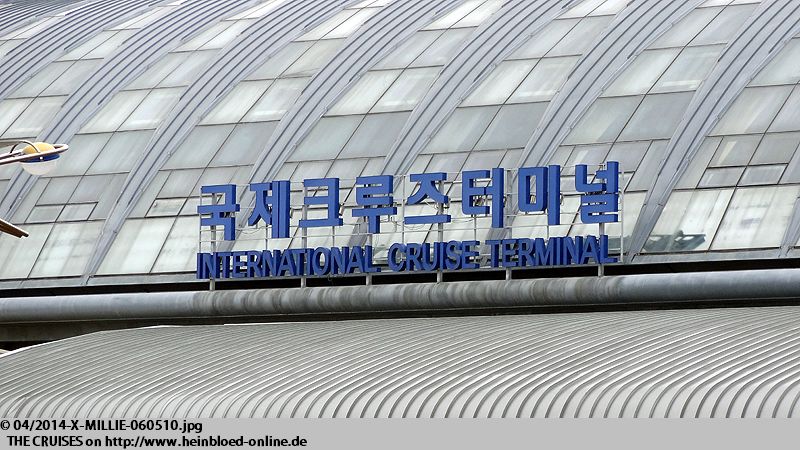 All of us had to transit trough the cruise terminal because the controled your body temperature while you were passing by. But no further formalities.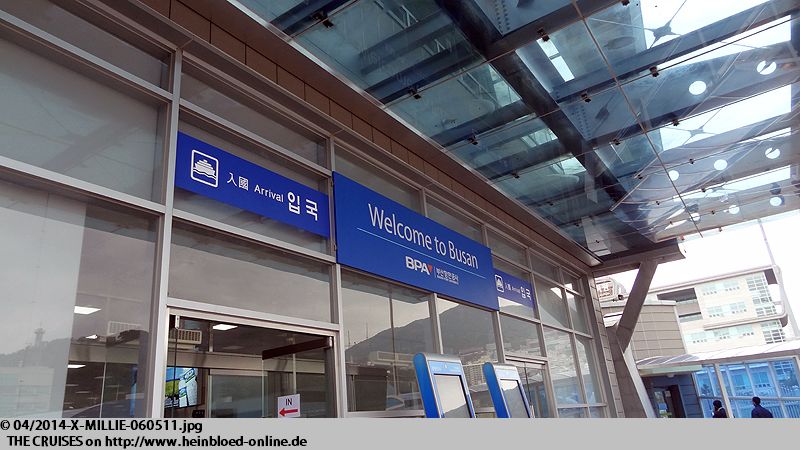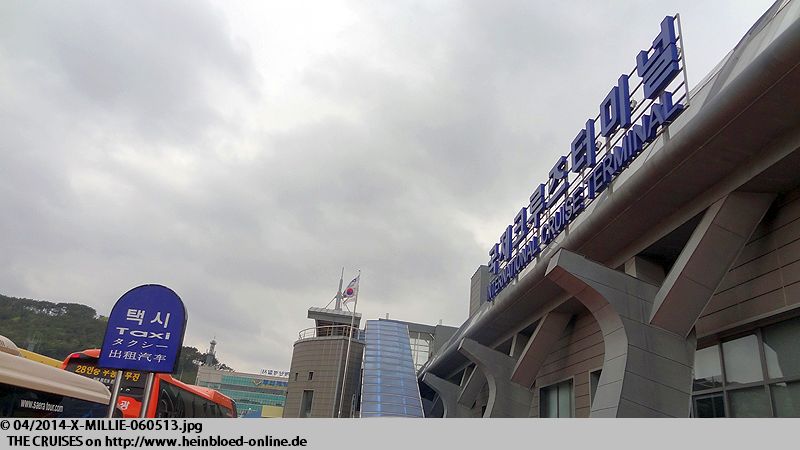 Here you had a terminal map. There were not any shops. Nothing...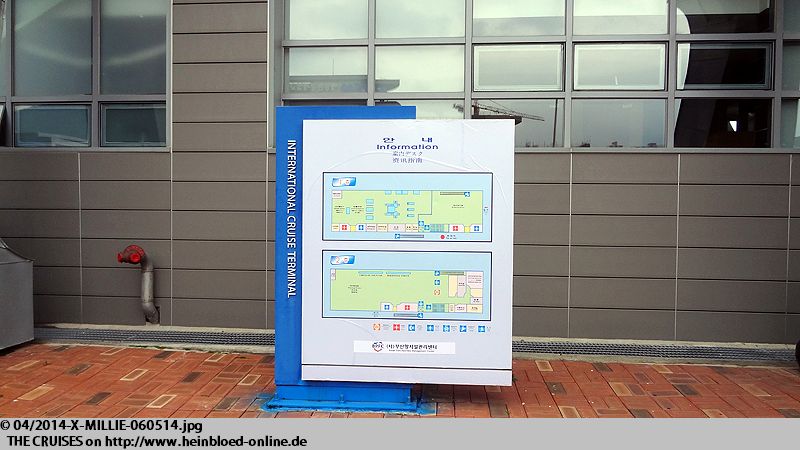 Es gibt einen Terminalplan. Aber es gibt keine Geschäfte. Nichts...
Die Zufahrt zum Parkplatz sieht nett aus.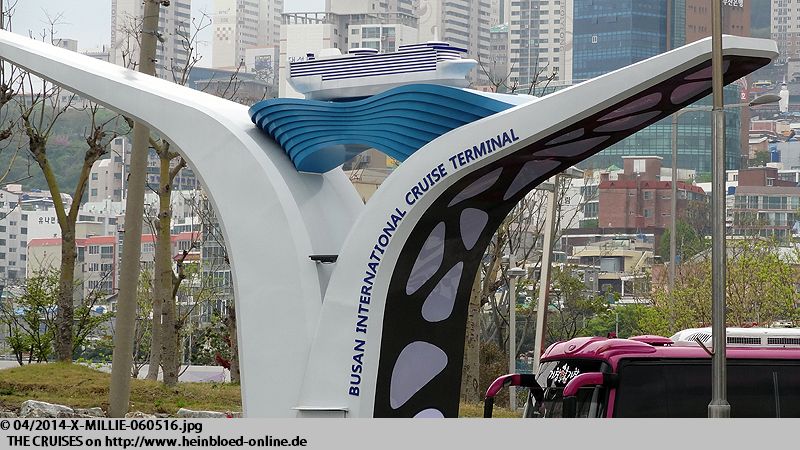 The admission to the parking looked nice.

Looked very much like a Princess-ship - or... but with a Royal Viking Lounge in the center... well...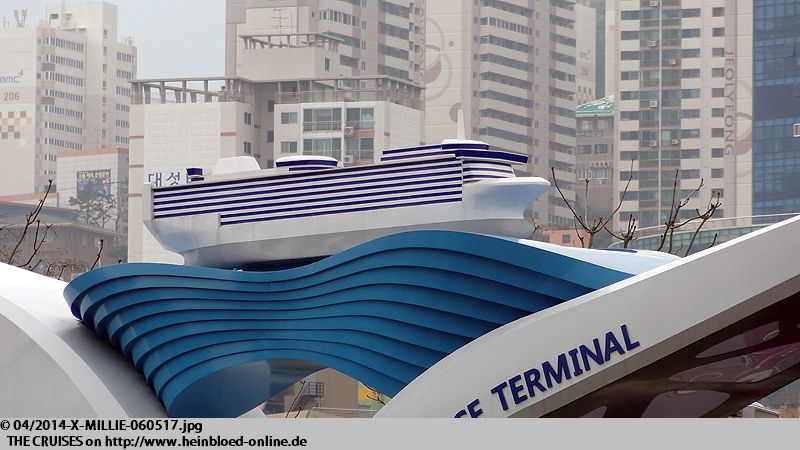 Sieht sehr nach einem Princess-Schiff aus oder... aber mit einer Royal Viking Lounge in der Mitte... hmmm...
Das Plakat der Zollbehörden fand ich witzig, dass man kein Obst von Bord mitbringen darf...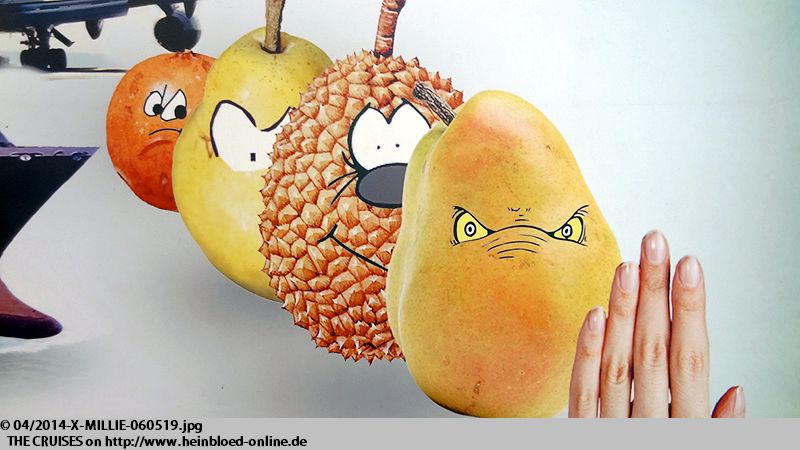 The poster of the customs authorities was very funny to tell you that you cannot take any fruits from the ship...

Just next to the cruise terminal you find the National Maritime Museum.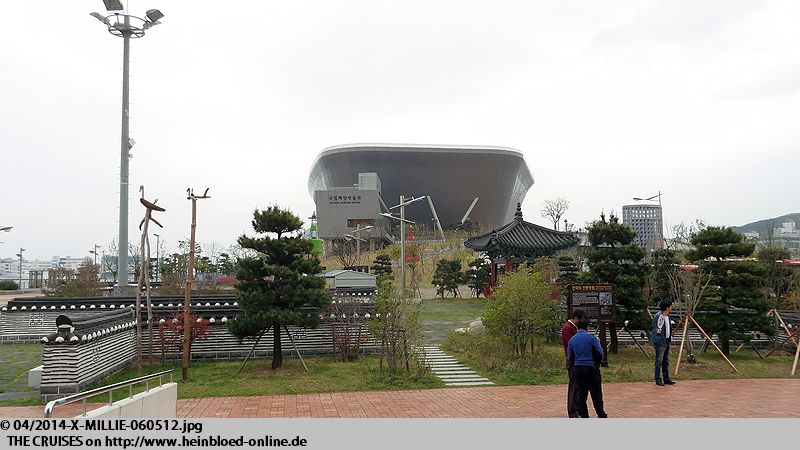 Direkt neben dem Cruise Terminal liegt das National Maritime Museum.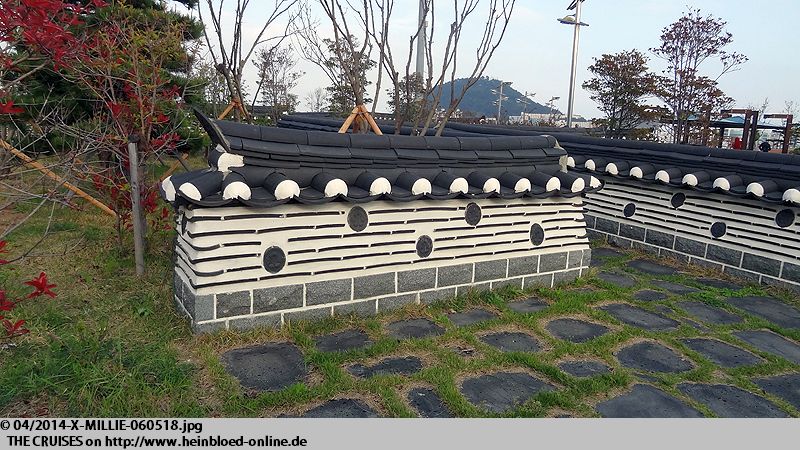 Here you could get some information on the area here.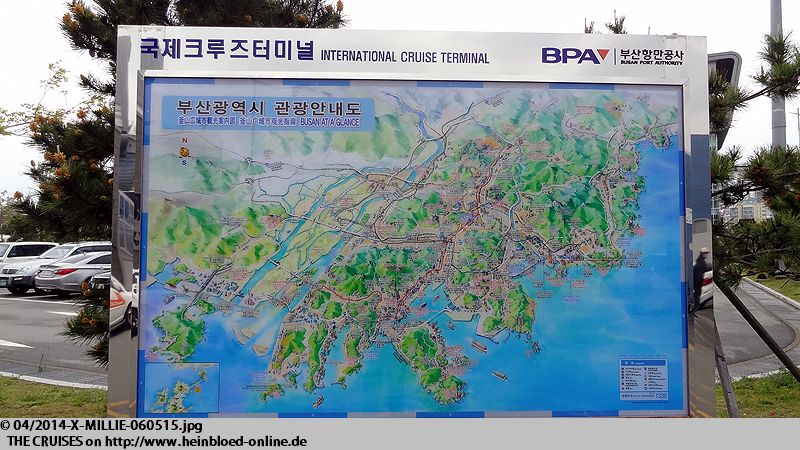 Hier konnte man sich über die Gegend informieren.
Zurück gab es später Bouillon zum Aufwärmen...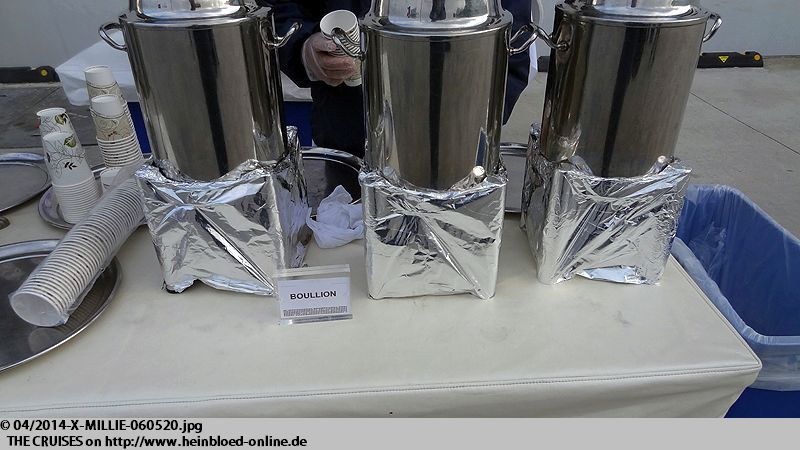 When we came back later you got some bouillon to warm up...

A time travel: 1976... my junior high school in Germany. My mathematics teacher caught me during a visit of the restrooms that I bought during some lessons a cup of bouillon at the vending machine... and exactly it tasted like this... A home-prepared broth tastes totally different... Sorry... I might not can tell anything about wine (if other speak all the time of the bad changes in the Cellar Master: sorry unable to comment)... but I must say that I am a soup lover and never buy a bouillon cube and normally I prepare all my soups by myself... Chicken or bones and meat, vegetables, spices... and boiling for a couple of hours... yummy... for the worst case maybe a glass of concentrate... but never a bouillon cube...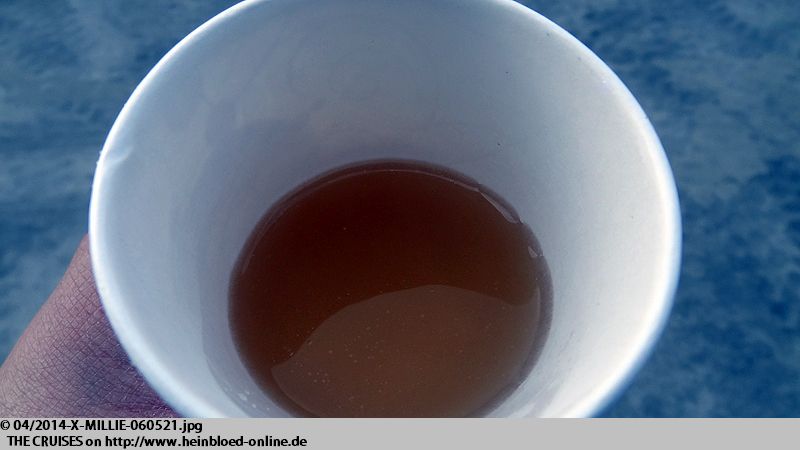 Eine Zeitreise: 1976... Math.-Nat. Gymnasium in Mönchengladbach. Mein Mathelehrer erwischt mich während des Toilettengangs während der Schulstunde am Getränkeautomaten mit einem Becher Brühe... und genauso schmeckt sie... Eine selbstgekochte Brühe schmeckt anders... Sorry... ich kann bei Wein nicht mitreden (wenn andere ständig über die negativen Veränderungen im Cellar Master sprechen: ich kann dazu nichts sagen!)... aber ich stehe dazu, dass ich Suppenkasper bin und auch selbst keine Brühwürfel kaufe und jede Suppe normalerweise selbst mache... Hühnchen, oder Knochen und Suppenfleisch, Gemüse, Gewürze... stundenlang kochen... lecker... im Notfall ein Glas Konzentrat... aber niemals einen Brühwürfel...
Hier entstehen aber noch ein paar Bilder vom Schiff. Muss eigentlich der Gast in der Heckkabine eigentlich immer auch die Flagge heißen?

Here I could take some more pictures of the ship. The guest at the aft cabin: does he have to fly the flag?