Scroll down for English explanations - alternates with German explanations.

Viel früher als geplant erreichen wir wohl Tianjin.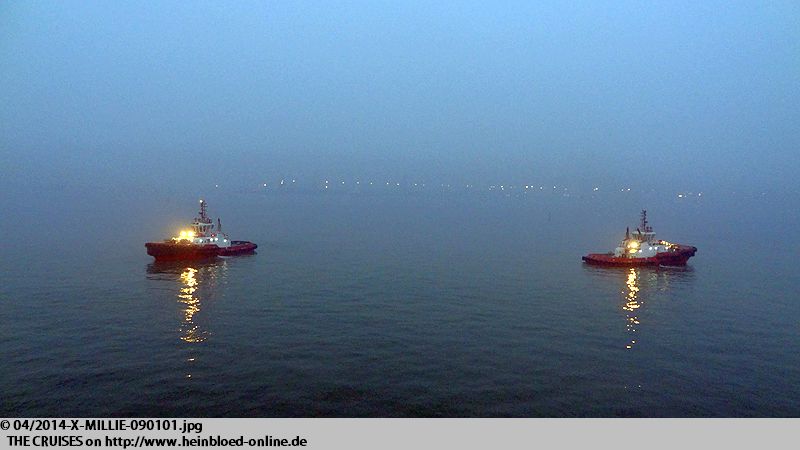 We arrived much more earlier in Tianjin than scheduled.

But here I really did not to swim...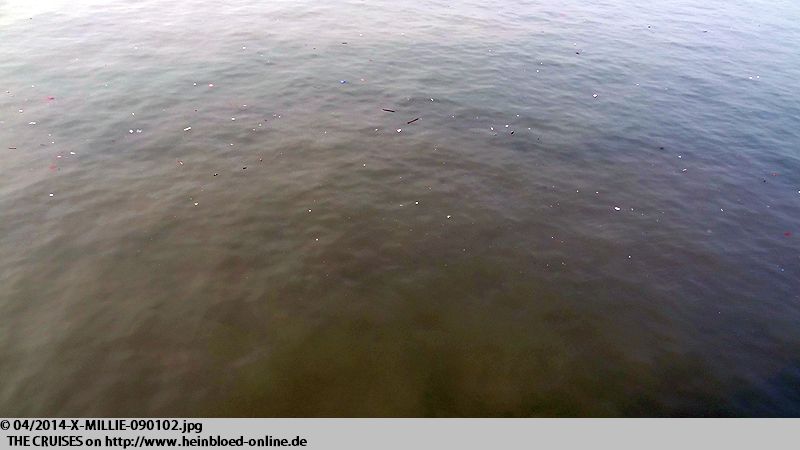 Hier möchte ich allerdings nicht baden...

I used my SIM-card which I bought with Internationale SIM. They just changed the provider. So I was the first who got the new card. So I got it quite blank. 300 MB were included and then you need to recharge.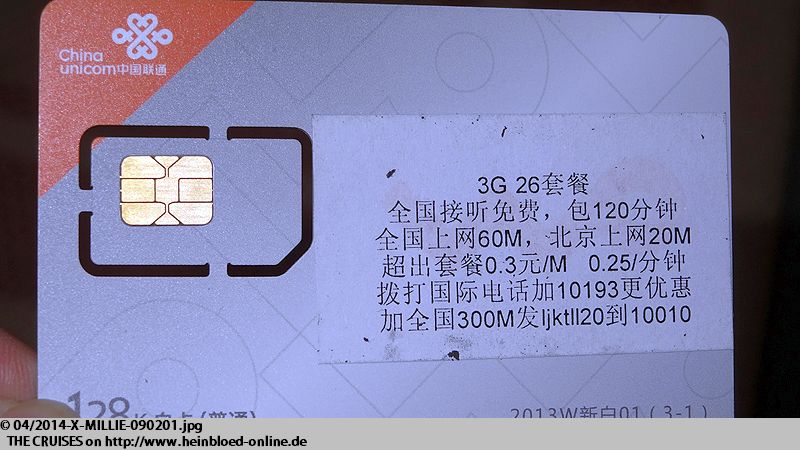 Ich setze meine SIM-Karte ein, die ich bei
Internationale SIM
gekauft habe. Er hat gerade den Anbieter gewechselt. So bin ich der erste, der die neue Karte hat. So bekam ich quasi das Ding vollkommen nackt. 300 MB habe ich frei und dann muss ich aufladen.
Facebook ist in chinesischen Netzen gesperrt.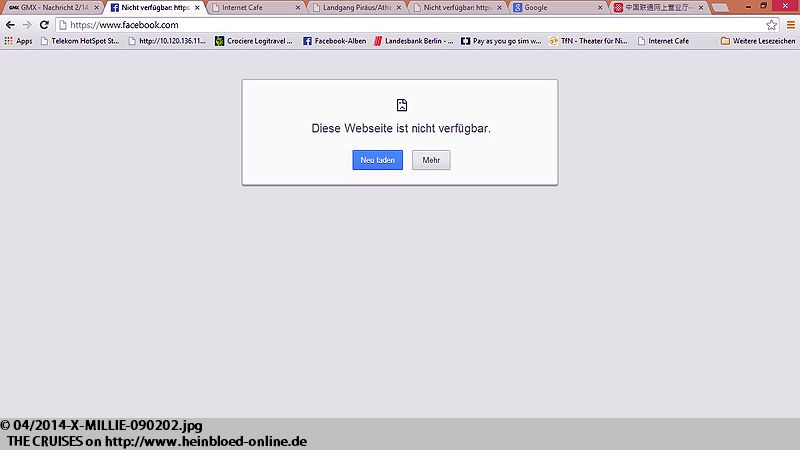 Facebook is blocked in Chinese networks.

I checked if I was really in a Chinese networ
k.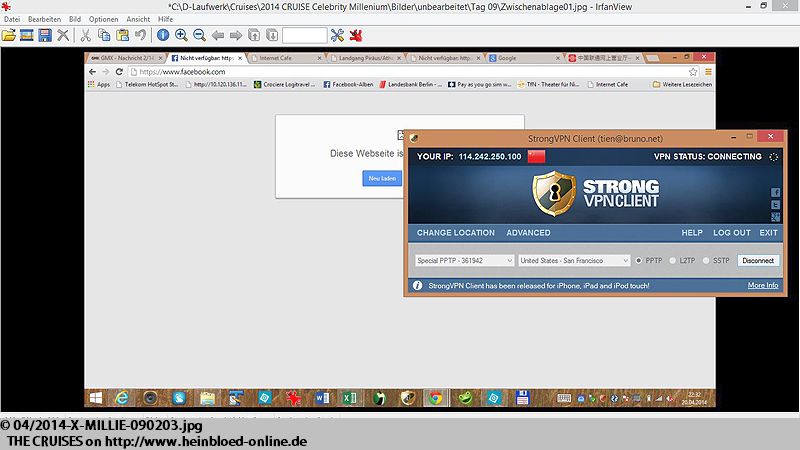 Ich prüfe nach: ja ich bin korrekt im chinesischen Netz.
Bevor Internationale SIM in die Osternfeiertage ging, teilten sie noch mit, dass man hier bei
ezetop
aufladen kann.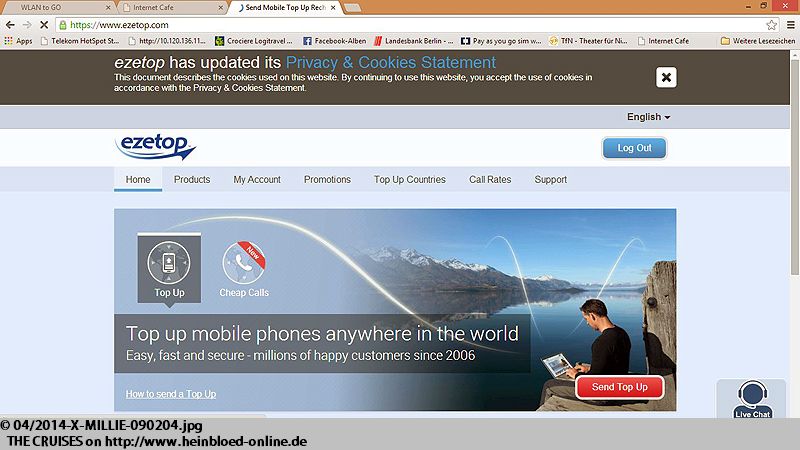 Before Internationale SIM went off for Easter Holidays they told me that I could recharge here: ezetop.

We made it exactly one time. Even later when Bruno tried it to set up an account with other creditcards: we could made it to load more money on the card.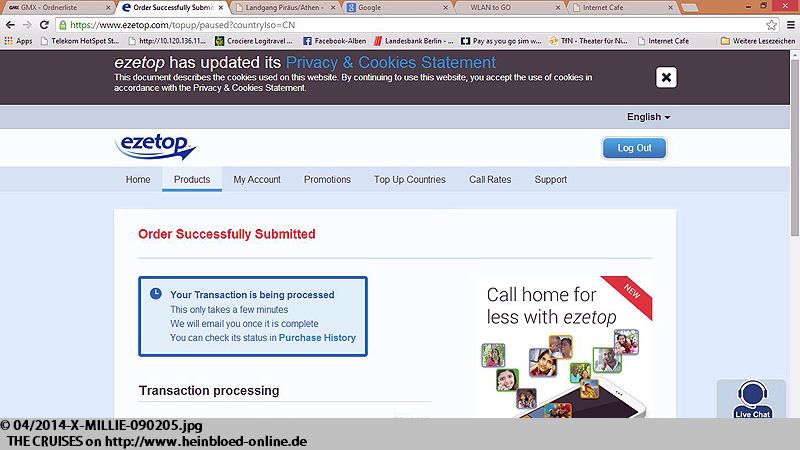 Das gelingt uns genau einmal. Auch später, als Bruno versucht ein Konto für sich anzulegen, mit anderen Kreditkarten: uns gelingt es nicht, noch mehr Geld auf die Karte zu laden.
Nun bekomme ich diese SMS: obwohl ich nicht alles verstehe, meine ich das Prinzip zu verstehen.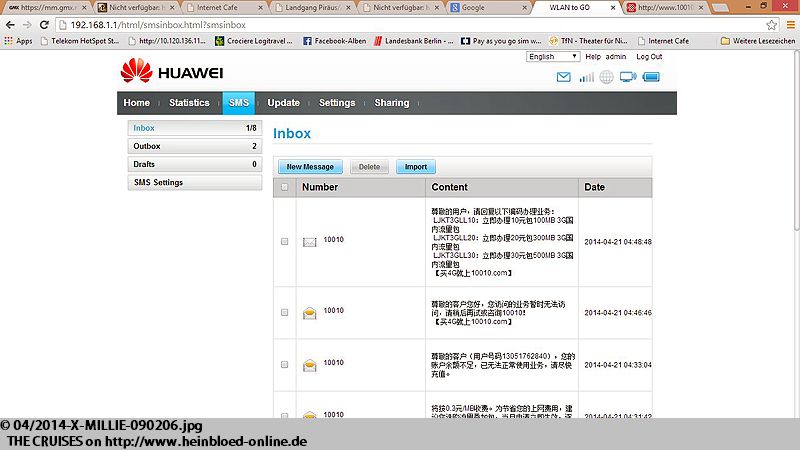 Now I got this text-message: although I did not understand anything I think that the way is quite easy.

So I send a text message with a textcode to 10010 and got quickly a confirmation that 30 CNY was booked for a pass of 500 MB.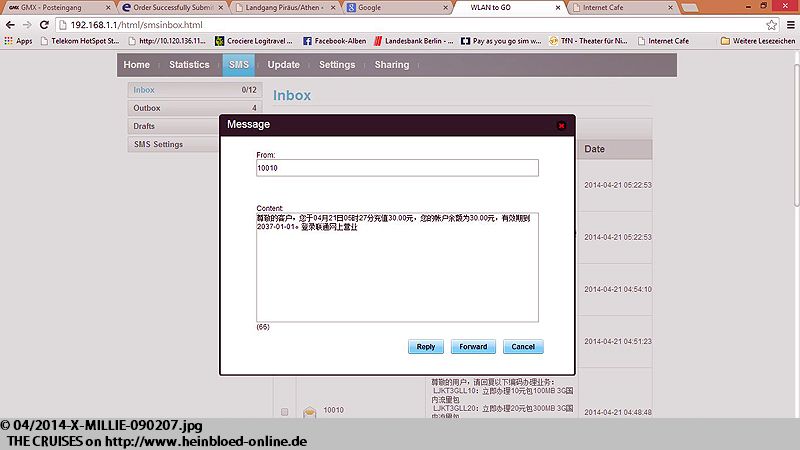 So sende ich eine SMS mit einem Textcode an 10010 und bekomme schnell die Bestätigung, dass ich für 30 CNY einen Pass für 500 MB gebucht habe.
Und in der Tat: ich komme mit dem
Strong VPN
in das US-Netz rein und habe Zugriff auf Facebook, Youtube, Google usw.. Ich bin für einen Moment überglücklich. Leider merkt meine Geräte auch, dass sie wieder im Internet sind und fangen an, sind Updates runterzuladen und bevor ich irgendwie das Internet intensiv nutzen kann, sind meine 500 MB weg und leider keine Chance einen neuen Pass zu buchen.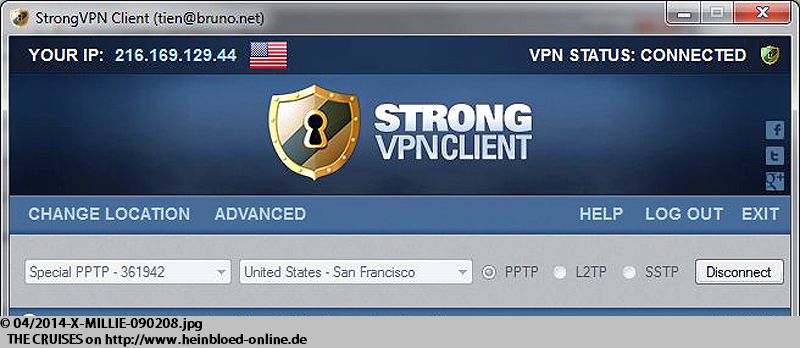 And indeed: I could get access to the US-network by the use of Strong VPN and so had access to Facebook, Youtube, Google etc.. For one little moment I was quite happy. Unfortunately my devices also noticed that were back in the internet and started to downloads all updates and before I can start with my applications my 500 MB were gone and no chance to buy a new pass.

Always with the background that we have the norovirus onboard.. it is good that they had sanitizing towels in the gym. Bruno said that only few guests were using them.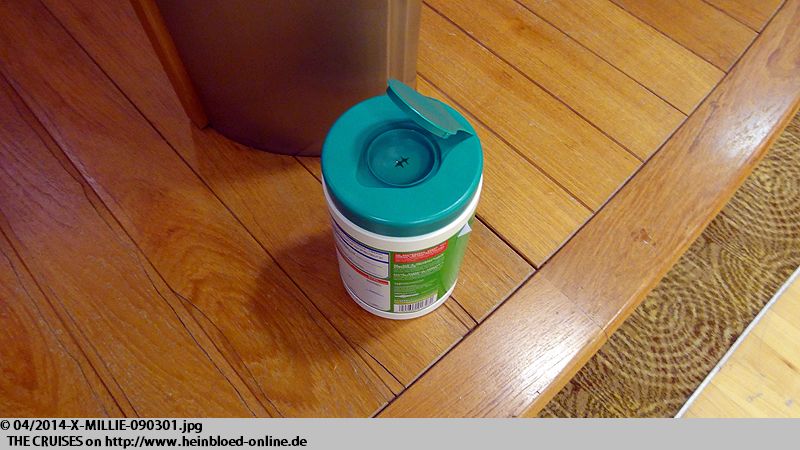 Immer mit dem Hintergrund, dass wir den Norovirus an Bord haben... Es ist gut, dass es Desinfektionstücher im Fitness-Studio gibt. Bruno sagt nur, dass nur wenige das auch nutzen.
Hier gibt es einen Trinkbrunnen.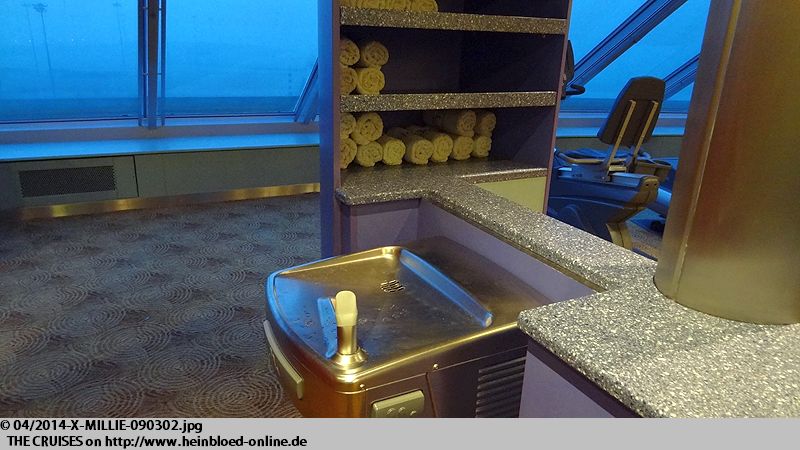 You had a drinking fountain.

Bruno said that had very loud events (like Zumba) inside.

Bruno sagt, dass hier auch sehr laute Veranstaltungen (wie Zumba) stattfinden.
Allerdings sind die Proteste wohl so groß, dass sie zwischenzeitlich die Lautstärke runter reguliert haben.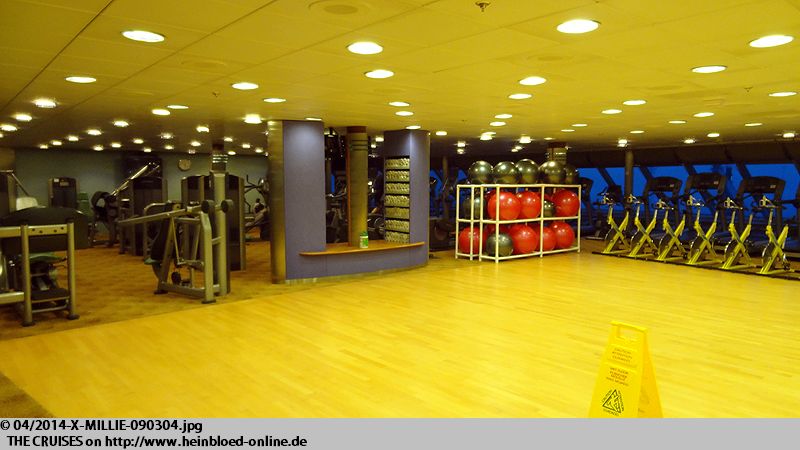 But obviously the number of complaints were so high that they meanwhile lower the volume.

We had the norovirus onboard and nobody was cleaning here... In the steps for the shoes they never vacuum cleaned or wiped. Even not between the devices and on the mats the divices were standing on.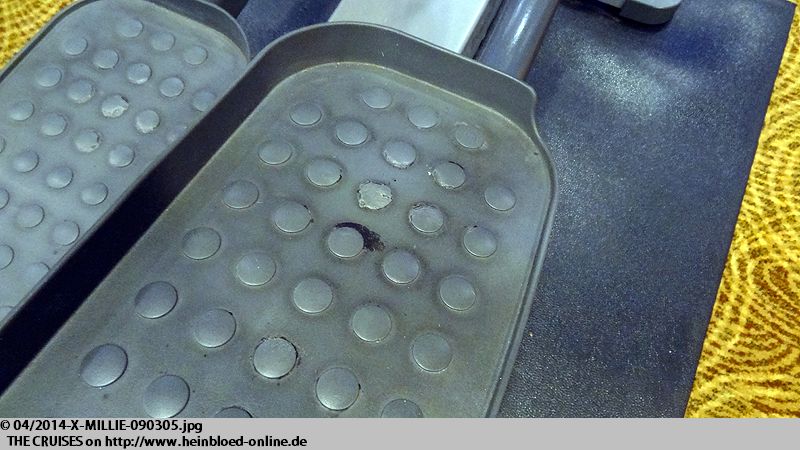 Wir haben den Norovirus an Bord und hier putzt keiner... In den Schuhauflagen wird nichts gesaugt oder gewischt. Genauso wenig zwischen den Geräten oder auf den Matten auf denen sie stehen.
Drinnen findet man Dreck, Staub, Schweißtropfen und Körperhaare... und keiner putzt hier - trotz Norovirus an Bord. Und so bringt Bruno dieses Zeug mit seinen Schuhen in unsere Kabine mit dem feuchten Teppichboden.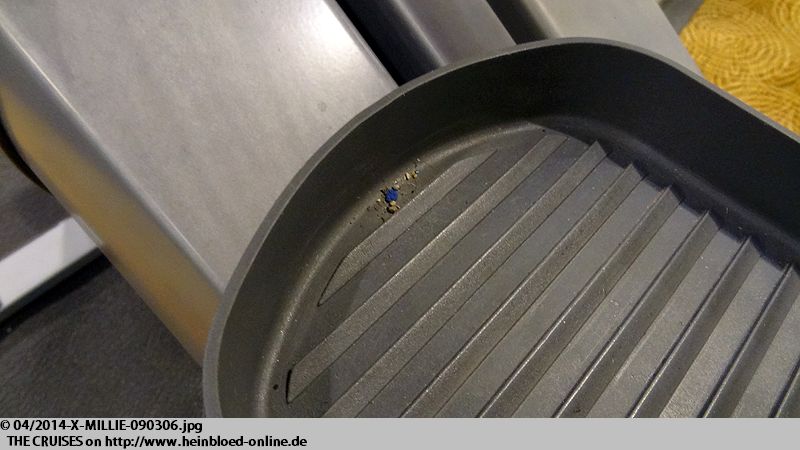 So inside you find dirt, dust, tears of sweat and body hairs... and nobody was cleaning here - and even you had norovirus on board. And Bruno had it all on this shoes and carried it to our cabin with the humid carpet.

The bucket in the center of the room reminded me very much to COSTA CLASSICA.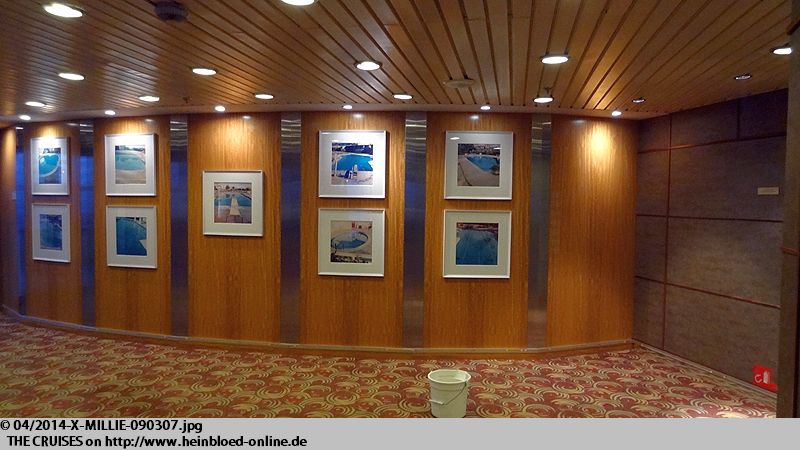 Der Eimer so mitten im Raum erinnert mich sehr an die COSTA CLASSICA.
Damals wurde das Wasser gesammelt, das von der Decke tropfte. Aber das kann ich hier auf der CELEBRITY MILLENNIUM nicht erkennen, weil der Eimer in einem abgesperrten Bereich steht.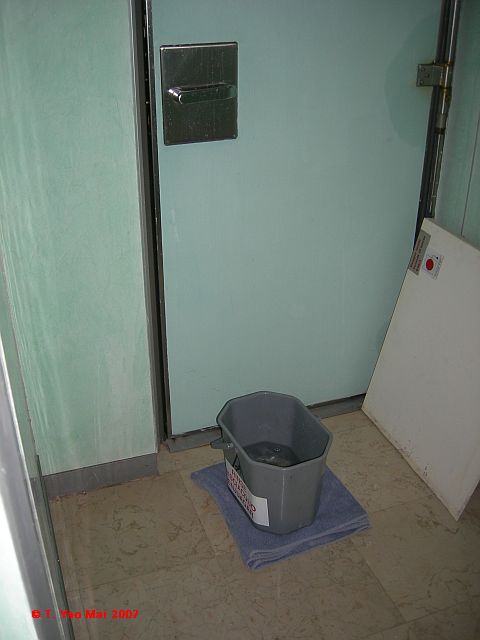 There they collected the water which was pouring from the ceiling. But I could not see what they were collecting on CELEBRITY MILLENNIUM because the bucket was in a blocked area.

Our elevator was also out of order and nobody was there to set an "out of order"-status.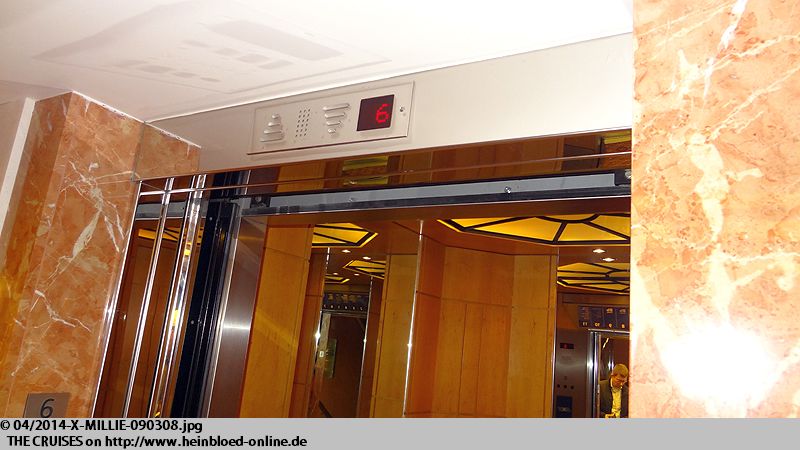 Unser Fahrstuhl ist auch defekt und leider wird der nicht außer Betrieb gesetzt.
Er fährt los: lt. Anzeige... Es blinkt nach unten...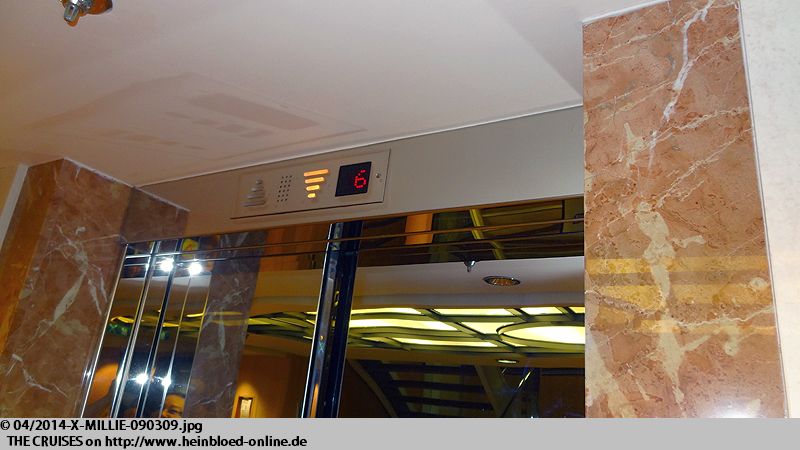 It started: according to the display... I showed it went went down...

Showed that it was already down on 5... but that was not real... now the door opened and you were still on 6.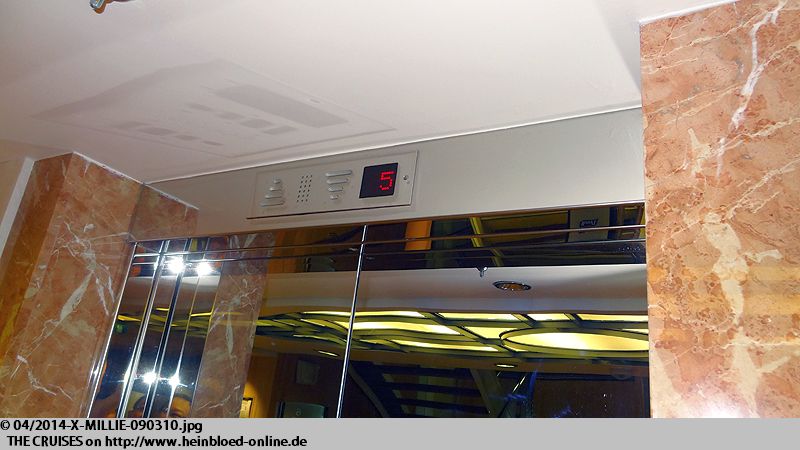 Zeigt auch an, dass er bis 5 schon unten sei... was allerdings nicht stimmt... Sofort geht danach die Tür auf, und man ist nach wie vor auf 6.
So richtig hell wird es nicht, weil es sehr diesig ist. Später teilen uns Cruiser mit, die an Bord blieben, dass es auch nicht heller wurde, weil direkt neben der CELEBRITY MILLENNIUM Kohle verladen wurde und die Luft voll mit Kohlenstaub war.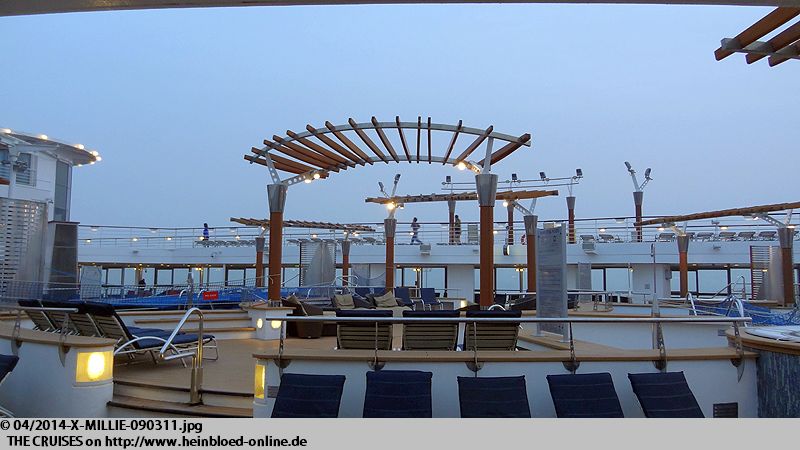 It did not became real bright because it was really dizzy. Later other cruisers told us who stayed on board that it did not become brighter because just next CELEBRITY MILLENNIUM they were loading cole and the air was full of coal dust.

Here you found some towel animal: at the towel outlet at the pool.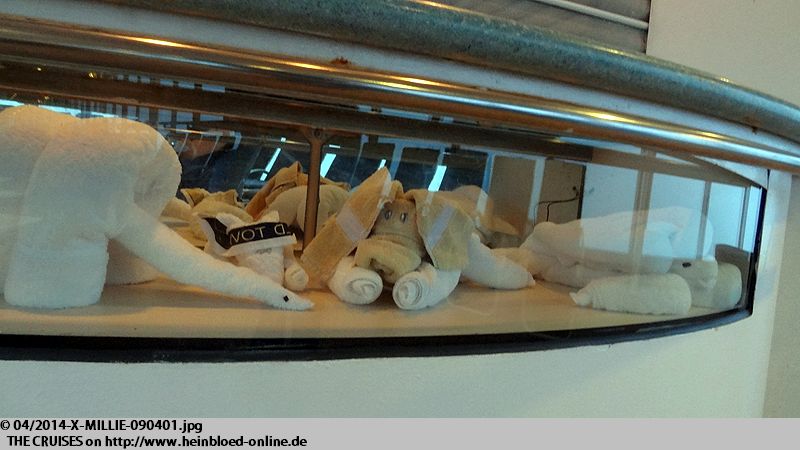 Hier gibt es noch Handtuchtiere: an der Handtuchausgabe am Pool.
Die Wäschereizeichen werden ausgerechnet dort angebracht, wo man es nicht mag: am Kragen. Dort kratzen sie immer. Die anderen machen die Schilder an weniger auffälligen Orten.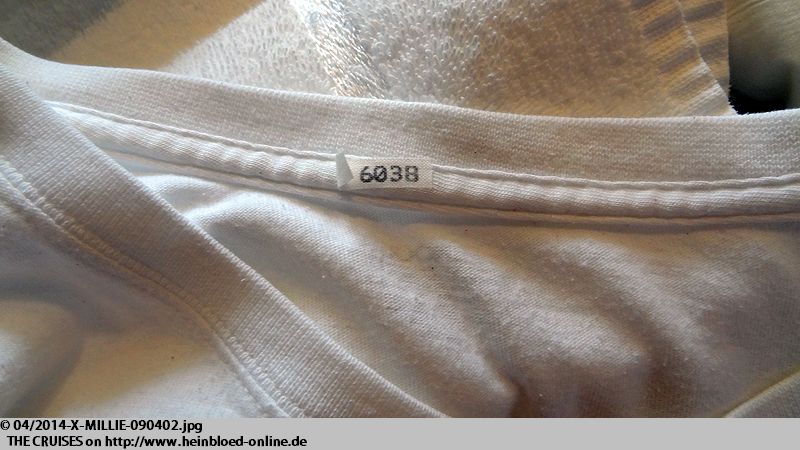 The laundry signs were placed there where I personally did not like them: at the collar. They were scratching. Others put them somewhere less obstrusive.

At 05.30 hrs Oceanview Café was already opened. But as we were told that none of us could get off the ship before 09.00 hrs who should come so early to have breakfast. Later we learned that they asked guests for the ship's own tours to assemble very early in the theater.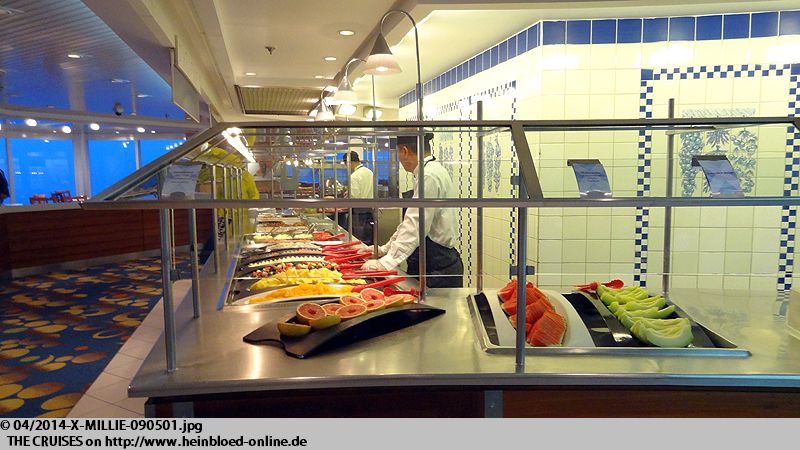 Um 05.30 Uhr ist bereits das Oceanview Café auf. Aber bloß für wen, wenn die eh nicht erwarten, dass man vor 09.00 Uhr von Bord darf. Später wissen wir, dass die Gäste für die schiffseigenen Touren sehr früh im Theater sich sammeln sollen.
Ich nehme wie üblich etwas Congee.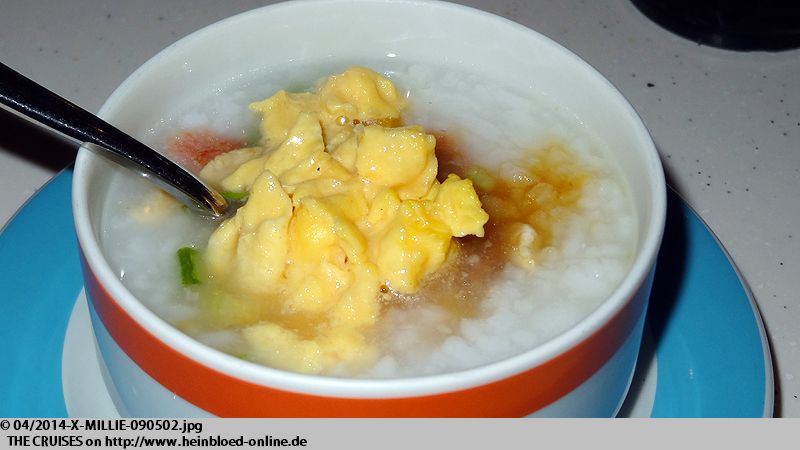 As usually I took some congee.

Still again...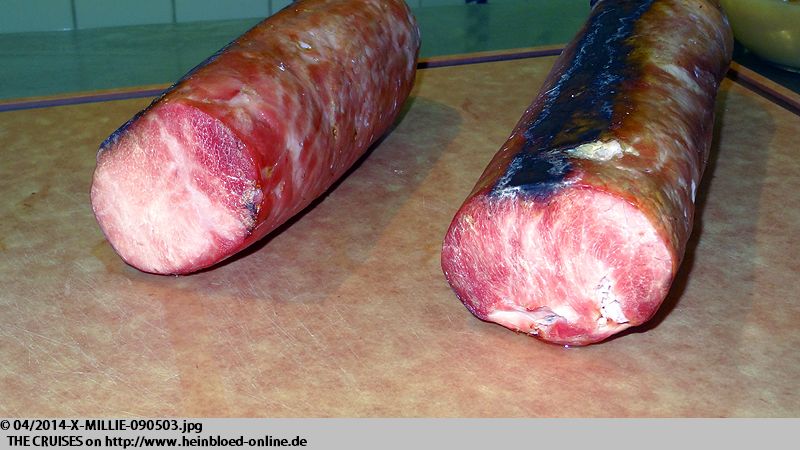 Noch immer...
Erst wenn alles aufgegessen ist, gibt es etwas neues. Es gibt absolut keine Abwechslung.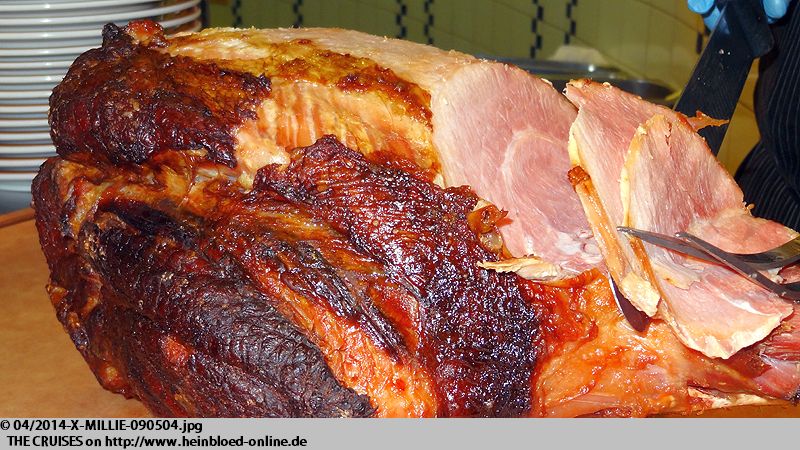 Once everything was eaten you got something fresh. Absolutely no variation.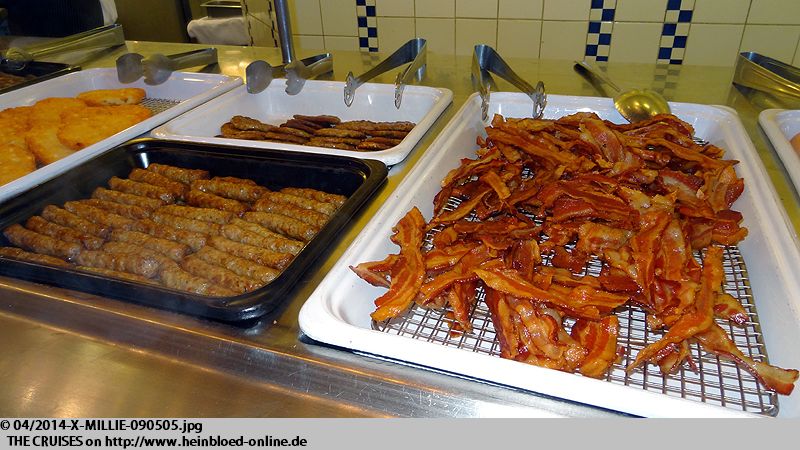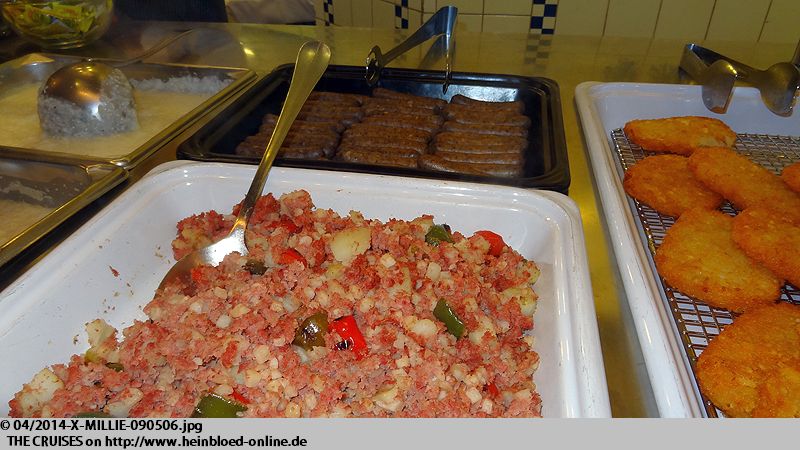 Everything was signposted in four languages.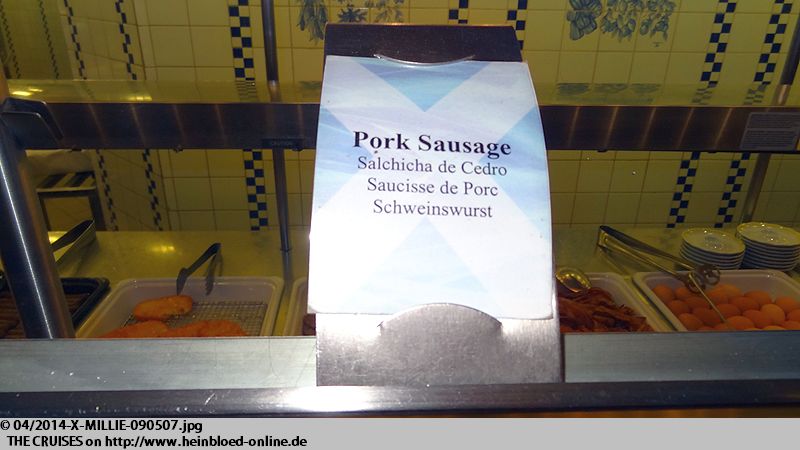 Schilder gibt es in vier Sprachen.
Wir wachen oft auf, weil eine Tür ständig zufällt. Das kann nur die Tür vom Theater sein.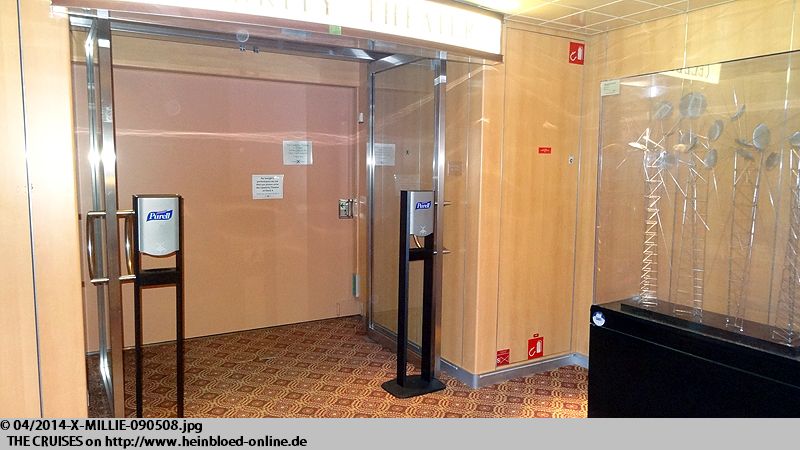 Sometimes we woke up because one door was closing all the time. Could be only the door to the theater.

Bruno changed to coffee again.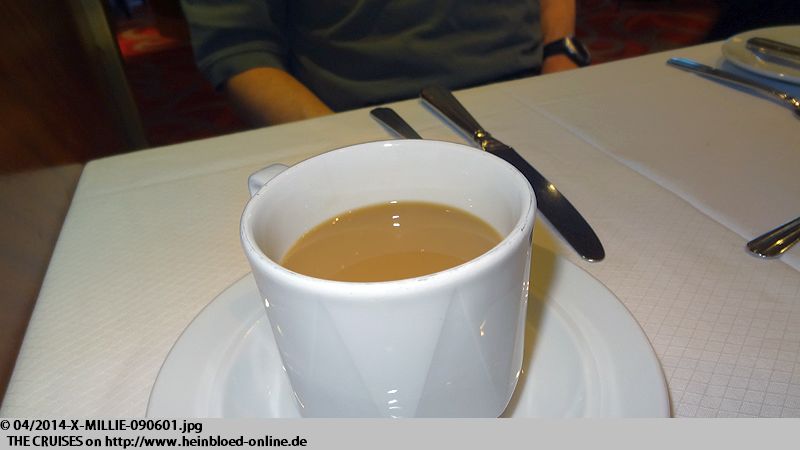 Bruno ist wieder auf Kaffee umgestiegen.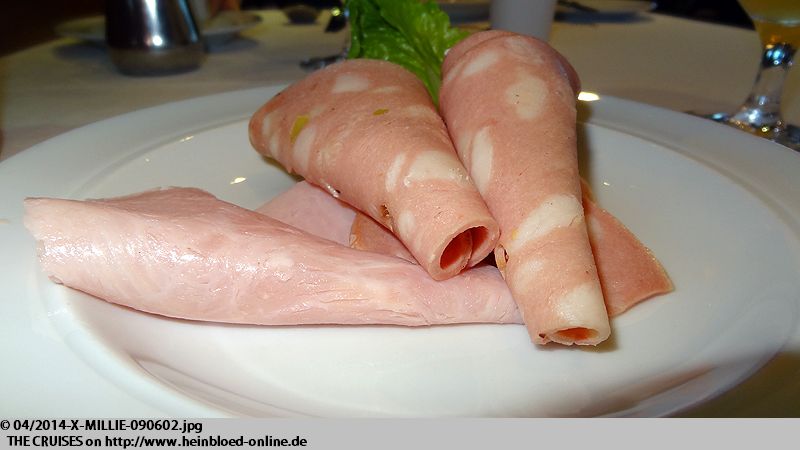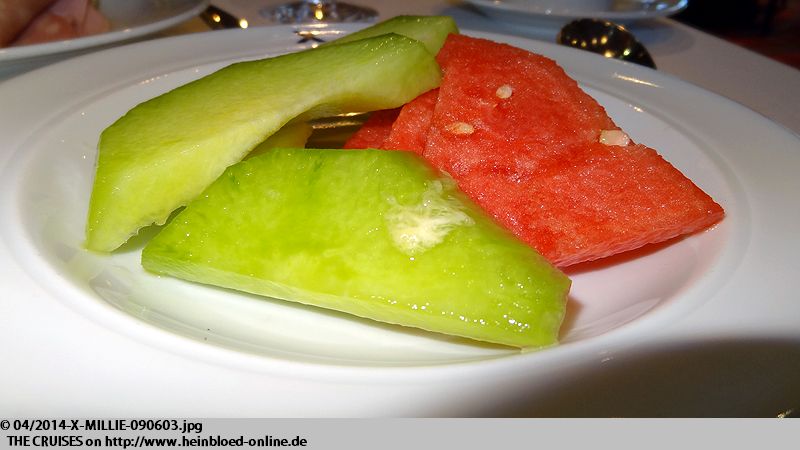 Und ich lege mein Besteck wieder auf den Obstteller...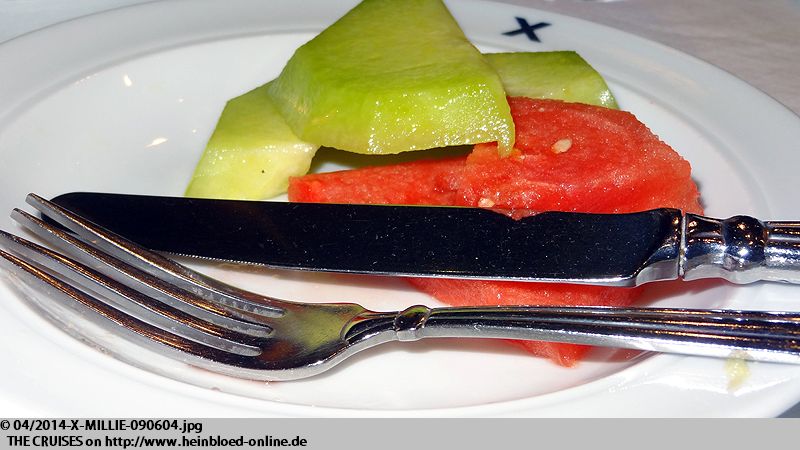 And I put again the silverware on the plate of fruits...

And they put it back on the table cloth on this Modern Luxury-Premium-Ship with norovirus...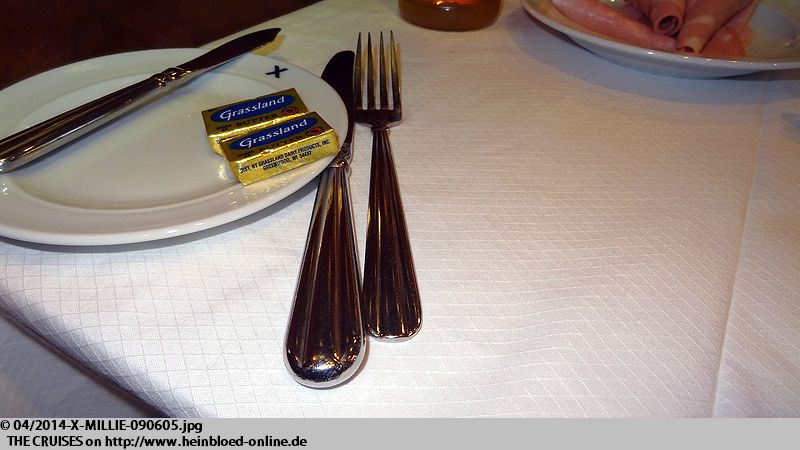 Und wieder wird auf diesem Modern Luxury-Premium-Schiff mit Norovirus mein Besteck auf die Tischdecke gelegt....
Ein Gruß für den nächsten Gast an diesem Tisch.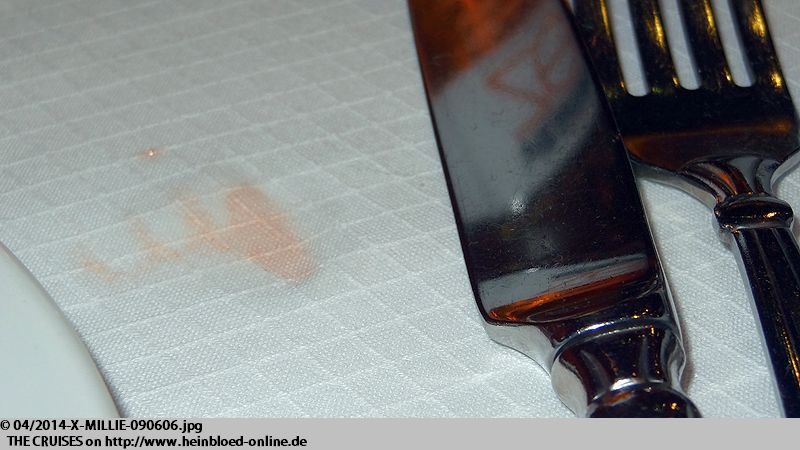 A greeting for the next guests sitting at this table.

And again you get the brown toast. Nobody with Celebrity would walk for you an extra mile to get other bread. You have to accept with Celebrity what they got for you.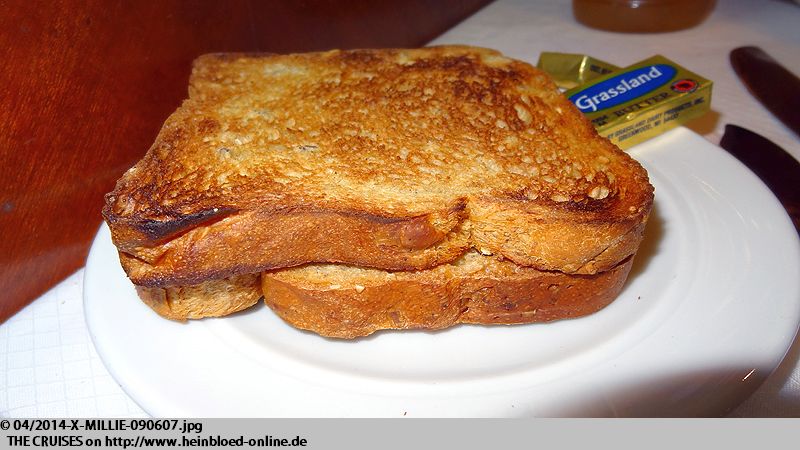 Und wieder gibt es nur das braune Toast. Es läuft bei Celebrity niemand los, um ein anderes Brot zu bekommen. Man muss bei Celebrity das nehmen, was man bekommt.
Bruno bestellt sich nun doch mal vom Getränkepaket einen vernünftigen Espresso.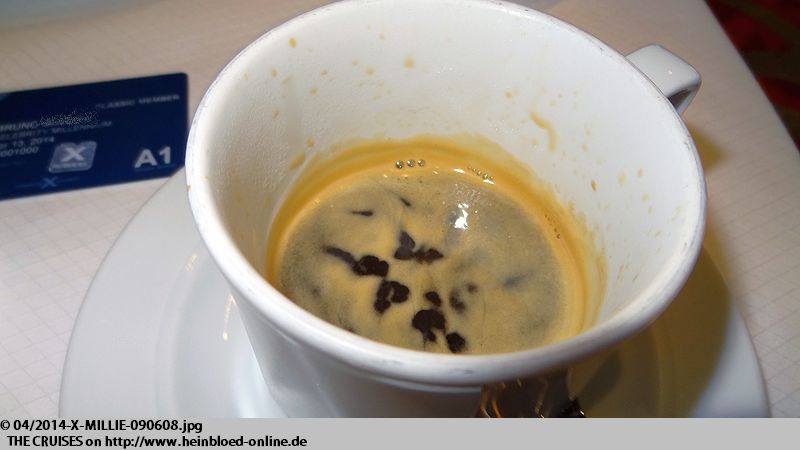 Bruno ordered from the beverage package an Espresso.

Everything was still dark. Obviously nobody was working. Later they told us that the Chinese authorities were surprised to have us so early here. The shift normally starts at 08.00 hrs...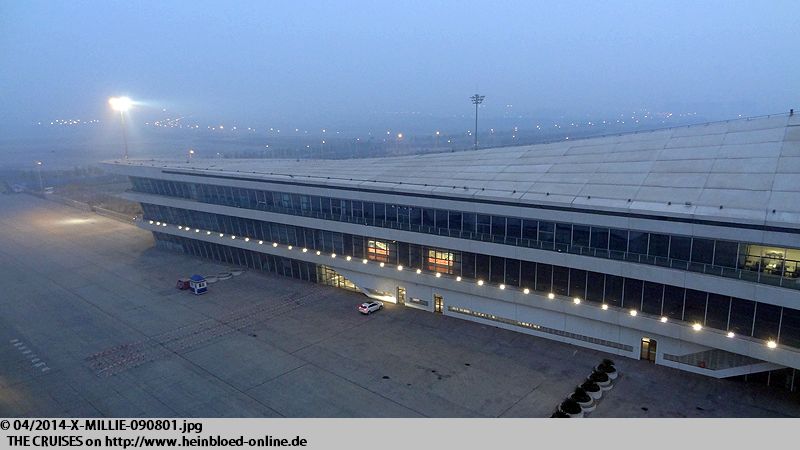 Alles dunkel. Da scheint aber niemand zu arbeiten. Hinterher hatte man uns erzählt, dass man seitens der chinesischen Behörden gar nicht wüsste, warum das Schiff so früh angekommen wäre. Schichtbeginn ist nämlich erst um 08.00 Uhr...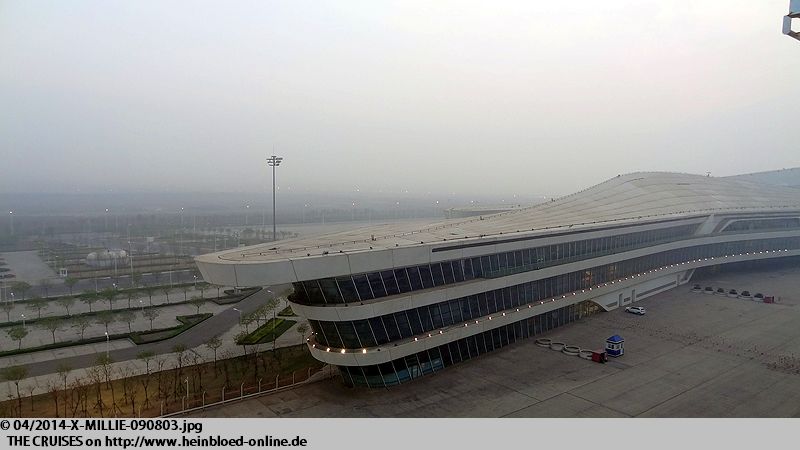 Meine Eltern erzählen ganz aufgeregt, dass alle Aktivitäten auf den Balkonen von einer Drohne beobachtet werden. So wären sie heute morgen schon stehen geblieben, als meine Eltern auf dem Balkon standen.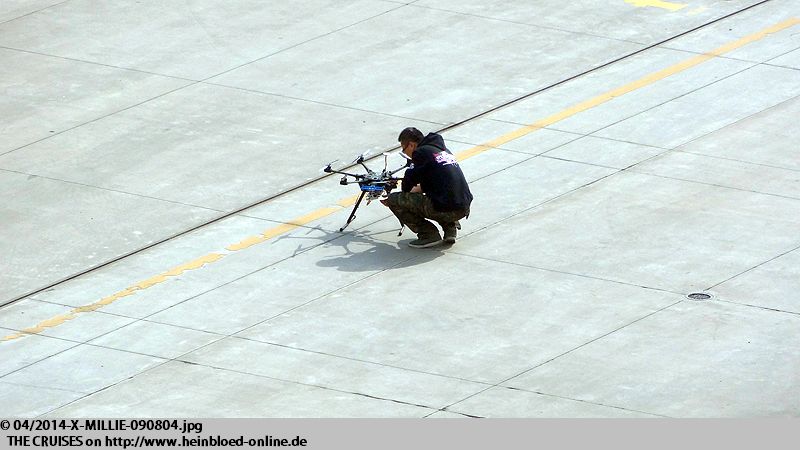 My parents told me very exited that all activities on the balconies were observed by aerial drones. So they stood in the air while my parents were on their balcony.

In between I saw it flying. But only for few minutes. Then she was on the ground again and they started to fix something.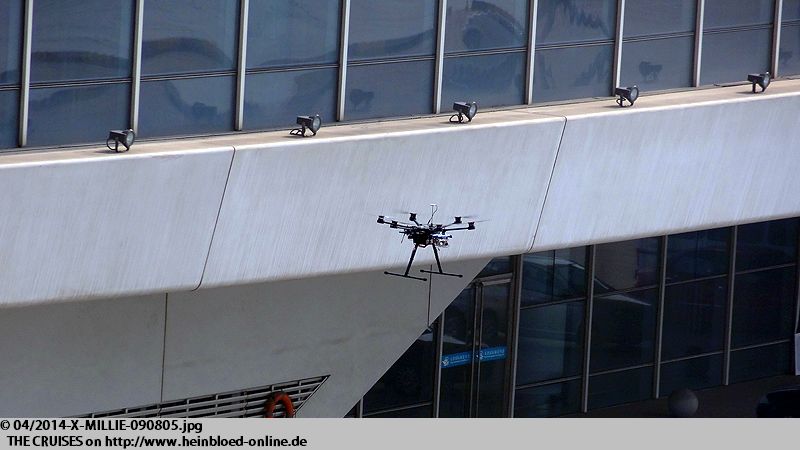 Zwischendurch sehe ich sie mal fliegen. Aber immer nur für wenige Minuten. Dann ist sie wieder auf dem Boden und sie schrauben dann wieder herum.
Als ich dann diese Schlange fotografiere, und die Drohne nicht funktioniert, werde ich mit einem Teleobjektiv vom Boden aus fotografiert. Nur frage ich mich, was sie unten machen. Es kommt dann eine Ansage, dass im Moment nur Gäste der Ausflüge nach Xian (Terrakotta-Armee) abgefertigt werden.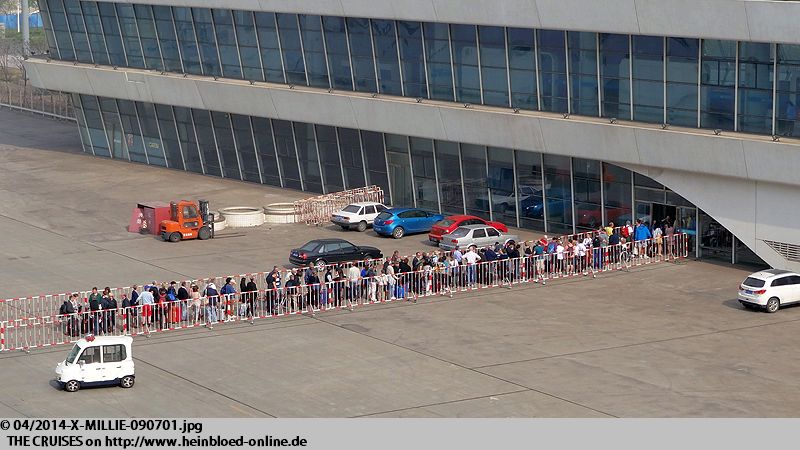 When I started to take pictures of this queue while the aerial drone was not working somebody took immediate a telephone lense to take pictures of me. I was wondering what they were doing there. An announcement was made that those were only guests who booked a shore excursion to Xian (Terracotta-Army) who would be handled.

It was strange that the lines did not get shorter. And no further announcements were made.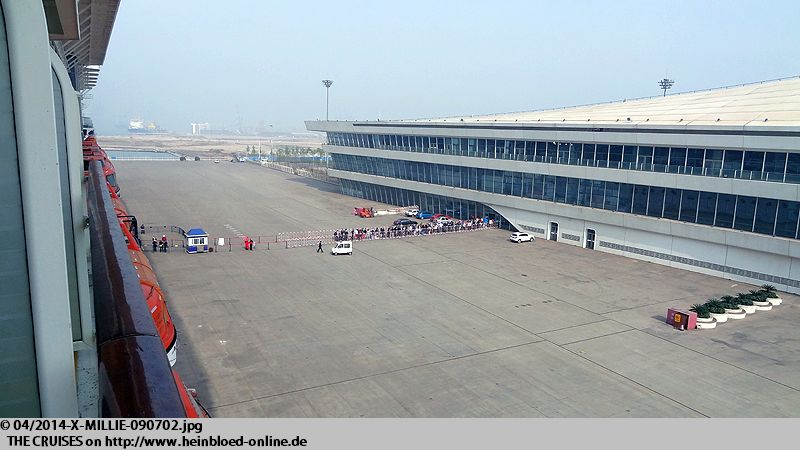 Komischerweise wird die Schlange nicht kürzer. Und keine weitere Ansagen werden gemacht.
10.10 Uhr und ich mache mir langsam Gedanken, weil unsere Reiseleiterin seit 08.30 Uhr auf uns wartet. Der Ausflug nach Xian kostet soviel wie die 14 Tage Kreuzfahrt. Ich kann mir unmöglich vorstellen, dass soviele nach Xian wollen. Damals als wir nach Angkor Wat gefahren sind, gab es auf dem ganzen Schiff nur eine einzige Passagierin, die zu dem Preis auch da hin wollte.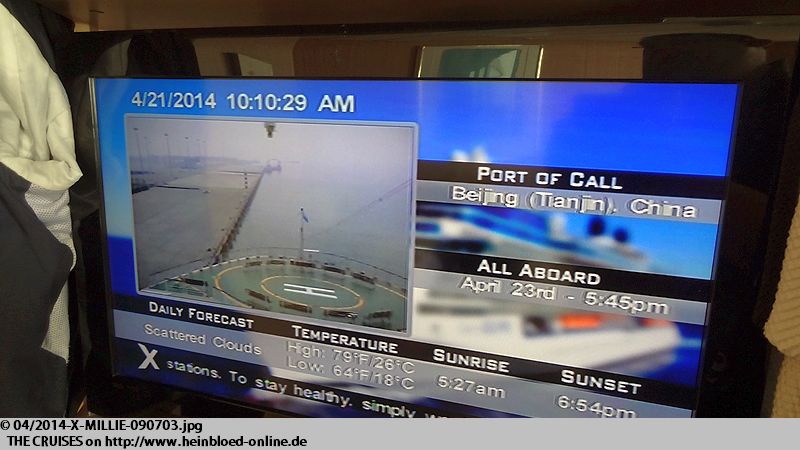 Around 10.10 hrs I was wondering because our tour guide was waiting for us since 08.30 hrs. The shore excursion to Xian costs as much as 2 weeks cruise. I could not imagine that there would be so many guests to Xian. I remember that there was exactly one guest who wanted to see Angkor Wat, Cambodia on the whole ship for that price.

Just for fun I went down to the theater because they made an announcement that all guests booked with Celbrity should stay in the theater as stated on their tickets.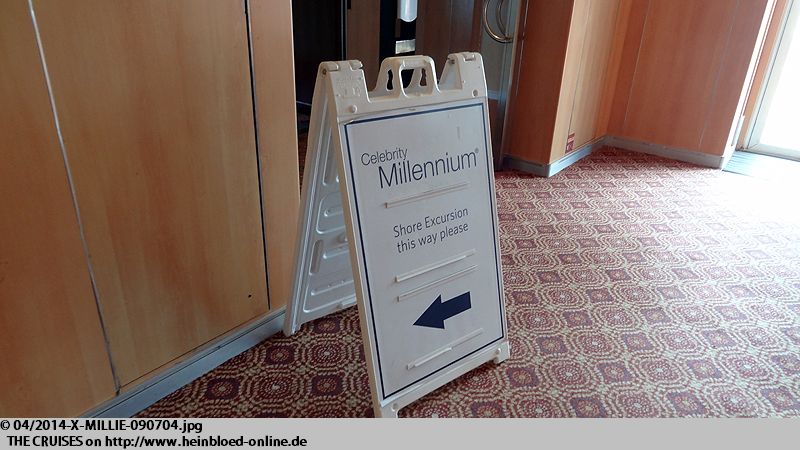 Spaßeshalber gehe ich mal zum Theater, weil die Ansage kam, dass alle Gäste, die Touren mit Celebrity gebucht haben, bitte an dem auf dem Ticket angegebenen Ort warten sollen.
Als ich dort ankomme, wird gerade Gruppe 24 aufgefordert das Schiff zu verlassen. Die Ansage ist nur im Theater zu hören. Die Schweinebacken haben also nur die Leute im Theater aus dem Schiff gelassen und sind nicht mutig genug das laut auf dem ganzen Schiff zu sagen.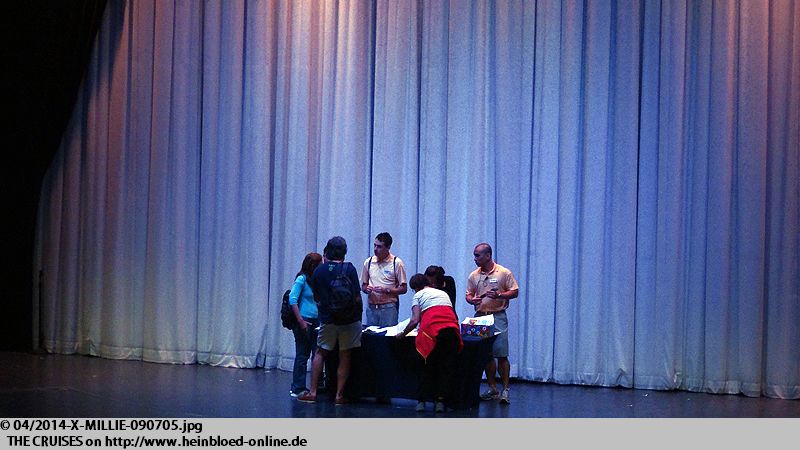 When I arrived there they were just paging group 24 to leave the ship. The announcements was only available in the theater. The bastards only let those guests of the ship and was not honest enough to tell everyone on the ship.

At 10.20 hrs I called the Guest Relation. They assured that still only guests booked for Xian were leaving the ship. Group 24? They could twit someone else. At the phone they allowed us to leave the ship. When we arrived at the exit the Onboard Marketing Manger forbid us to leave the ship and told that all statements of the guest relation were not valid. We should move upwards and queue up again. The atmosphere became very poisoning. We knew from other independent tour participants that they were already behind the immigration and we also knew that they were LYING: It was not true that the Chinese immigration had only lists of guests who were going on a ship's tour and only them were handled. EVERYTHING WAS OUT OF WHOLE CLOTH!!! I asked at the front desk to talk with the supervisor of the Onboard Marketing Manager but he/she was outside at the pier. One crew member who obviously observed the situation with the Onboard Marketing Manager came and told us to go now for the exit because it would a good moment.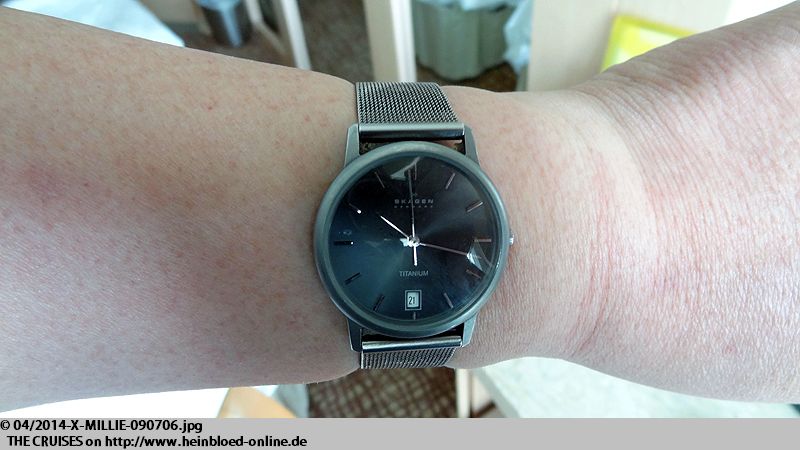 Um 10.20 Uhr rufe ich unten an der Rezeption an. Dort versichert man mir, dass es nach wie vor nur die Gäste für Xian sind, die das Schiff verlassen. Gruppe 24? Verarschen können sie jemand anderen. Am Telefon gestattet man uns, dass wir von Bord dürfen. Als wir am Ausgang ankommen, verbietet uns der Onboard Marketing Manager von Bord zu gehen und sagt, dass die Aussagen der Rezeption ungültig sein. Wir sollten nochmals nach oben fahren und uns erneut anstellen. Die Stimmung wird langsam giftig. Von anderen unabhängigen wissen wir, dass sie bereits hinter der Immigration sind und wir wissen auch, dass man hier BELOGEN wird: Es stimmt nämlich nicht, dass der chinesische Grenzschutz Listen der Schiffsausflügler führt und nur die abgefertigt werden. ALLES ERSTUNKEN UND ERLOGEN!!! An der Rezeption möchte ich gerne den Supervisor des Onboard Marketing Managers sprechen, aber der steht draußen auf dem Pier. Ein Mitarbeiter, der wohl die Szene mit dem Onboard Marketing Manager beobachtet hat, sagt uns Bescheid, dass wir jetzt zum Ausgang gehen sollen, weil es jetzt günstig wäre.
In der prallen Sonne warten wir darauf, dass wir rein dürfen.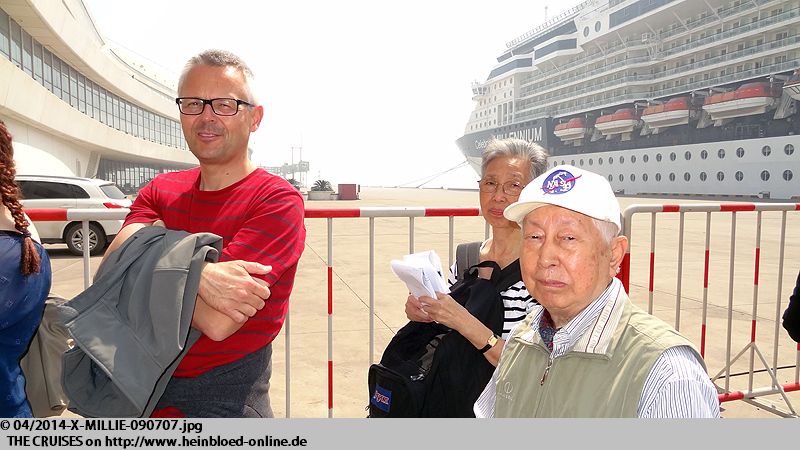 In the heat of the sun we were waiting that we could get in.

My father remembered that it was like arriving home. Now when we arrived in Tianjin he remembered that he lived here for eight years of this live. My Grandfather was obviously Deputy Port Commissioner. So it meant a lot to him to arrive here by a ship in Tianjin.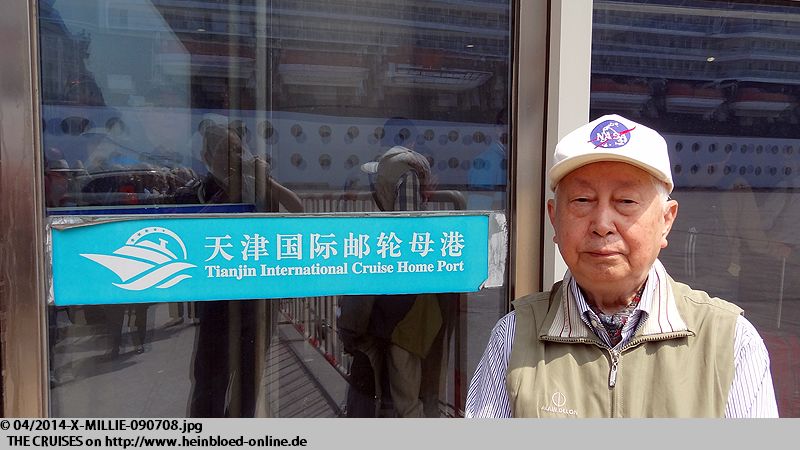 Meinem Vater fällt ein, dass es für ihn wie ein Nach-Hause-Kommen ist. Jetzt wo wir in Tianjin sind, fällt ihm ein, dass er acht Jahre lang seines Lebens hier verbracht. Mein Großvater war in der Zeit wohl stellvertretender Hafenkommandant. Und so bedeutet es ihm sehr viel, dass er ausgerechnet mit einem Schiff in Tianjin ankommt.
Die Wartezeit zieht sich hin. Für meinen Vater finden wir einen Stuhl. Aber die meisten von uns müssen stehen. Kein Wasser. Keine Toiletten. Kein Schatten draußen. Gar nichts. Celebrity-Crew Mitglieder versuchen ihre Ausflügler an allen anderen Wartenden vorbeizuschleusen. Die Stimmung ist aber so angespannt, dass er damit rechnen muss, gelyncht zu werden, so dass er das Vorhaben aufgibt und seine Ausflügler um Geduld bittet. Schon alleine der Satz "I will try to let you by-pass..." hat dazu geführt, dass viele sich aufgebäumt haben und ihm so mit einem Blick gedroht haben, dass er sich nicht mehr getraut hat.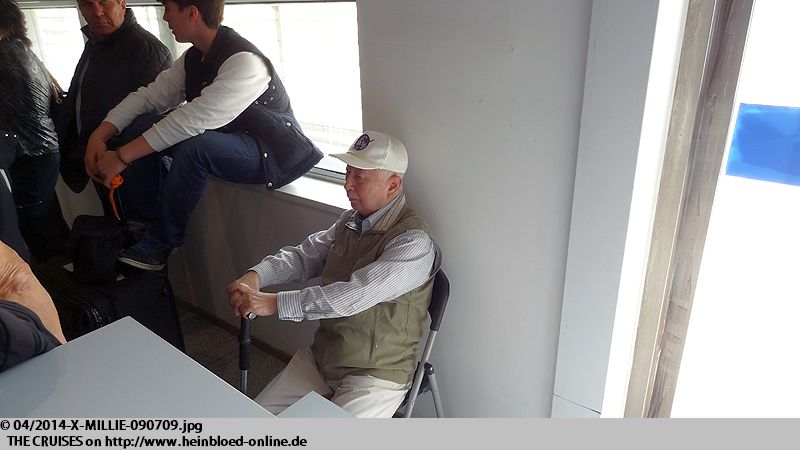 The waiting time took very long. For my father we could find one single chair. But most people need to stand. No water. No toilets. No shadow outside. Nothing. Crew members from Celebrity tried to by-pass their guests for their shore excursions. But the atmosphere was full of tension in the air that he need to expect to be lynched. So he gave up and asked his guests for their patience. Even just the words: "I will try to let you by-pass..." made that most in line were standing up and watched him with a thereatening view that he gave up and did not try to do it.

At 12.16 hrs we made it finally out of the customs hall. Many items are pros for another voyage on Holland America: 1. The S-/R-class-ships are smaller - you can just feel that you are 800 guests less. 2. Then they arranged immigration in Sanya, China so smooth that we were out within minutes. Even when I handed over my passport to my mother who went earlier back to the ship they were able to help me.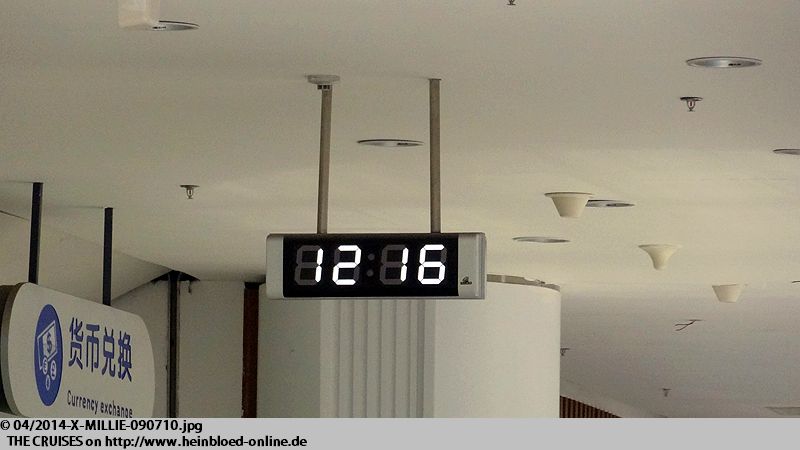 Um 12.16 Uhr schaffen wir es endlich aus der Zollabfertigung. Vieles spricht für eine erneute Reise mit Holland America: 1. Die S-/R-Klasse Schiffe sind kleiner - da machen sich 800 Gäste weniger einfach schnell bemerkbar. 2. Sie haben die Einreise damals nach Sanya so gut organisiert, dass wir innerhalb von Minuten draußen waren. Ich hatte damals sogar meinen Pass irrtümlich meiner Mutter gegeben, die früher an Bord gegangen ist und man war da in der Lage mir zu helfen.
Nur auf der deutschen Internet-Seite von Celebrity war ein Hinweis zu finden, dass man nur ein Visum für eine einmalige Reise brauchte. Für die US-Bürger war es nicht so tragisch, dass sie es nicht wussten, weil in den USA ein einmaliges und ein zweimaliges Visum das selbe kostet. Wäre es ein US-Bürger gewesen, der in Deutschland das chinesische Visum beantragt hätte, hätte man sich sehr gefreut, weil hier die Preise weit auseinander liegen. Den US-Visadienst, den Celebrity empfiehlt antwortet einem überhaupt nicht, wenn man die etwas fragt.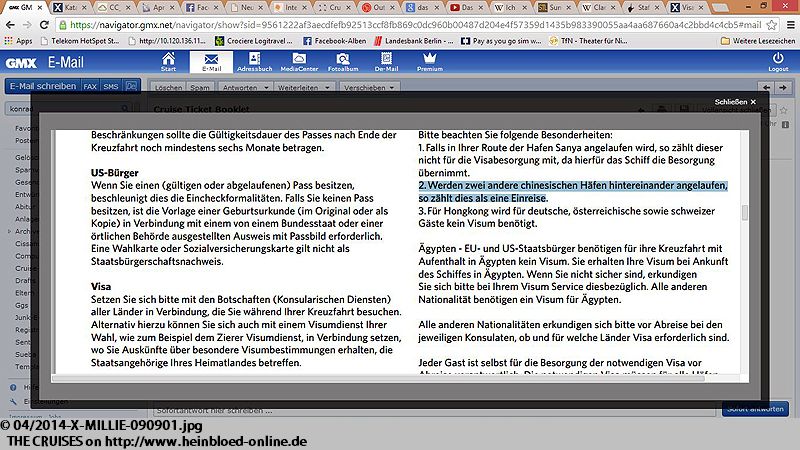 Only on the German website of Celebrity you find some information that you only need a visa for a single entry. For US-citizens it was not so important that they did not know as you pay in the US for a single or double entries the same fee. Only US-citizens who applied in Germany might be happy to know that the prices were very different in Germany. The US-visa services which was recommended by Cebrity ignored any kind of requests.

We asked CTS (China Travel Service) in Frankfurt, Germany to arrange the visa for us. It is the State owned travel agency - with the best connections. They were just adjustant from Frankfurt Central Station and so it was easy for me that they took care of the visa on my behalf and I must not see the visa agency.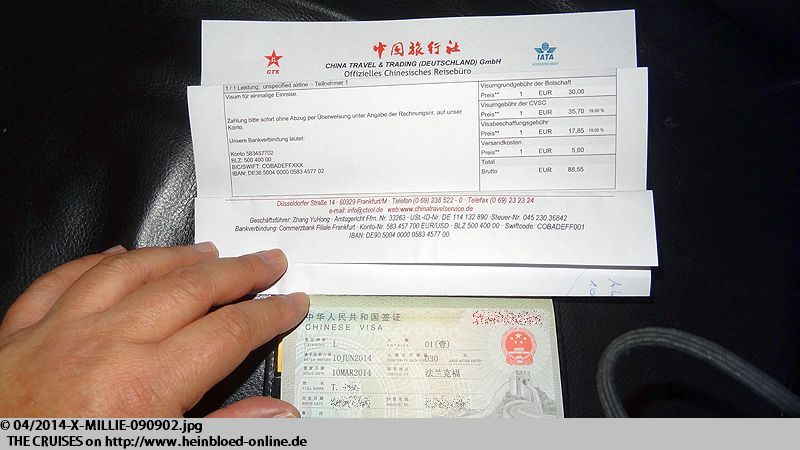 Wir haben
CTS in Frankfurt
mit der Visumsbeschaffung beauftragt. Es ist das staatliche chinesische Reisebüro - also mit besten Verbindungen. Sie sind direkt am Hauptbahnhof in Frankfurt und so hat es mir das Leben erleichtert, dass sie sich darum gekümmert haben und ich nicht selbst zur Visumagentur musste.
Nur die chinesischen Reisedokumente für meine Eltern mussten wir selbst besorgen. Damit reisen sie offiziell nach China ein. Weil aber Celebrity nicht zuhört, wenn man denen etwas erklärt und sie immer sagen, dass sie alles längst wüssten, haben sie leider nicht die richtige Kopie erstellt, was zu weiteren Verzögerungen bei der Abfertigung führt. Wir sind aber wohl nicht die einzigen, bei denen Celebrity Bockmist gebaut hat. Celebrity besteht darauf, dass die taiwanesischen Pässe mit vorgezeigt werden. Hier wollten die chinesischen Grenzbeamten wissen, warum wir diese zeigen, weil sie in China nicht gültig sind und die Einreise ausschließlich auf Basis der chinesischen Reisedokumente erfolgt. Und hier sieht man auch, wie es bei Holland America lief, als wir 2012 mit dem Schiff nach China eingereist sind: Nur das chinesische Reisedokument. Kein Taiwan-Pass und die korrekte Fotokopie.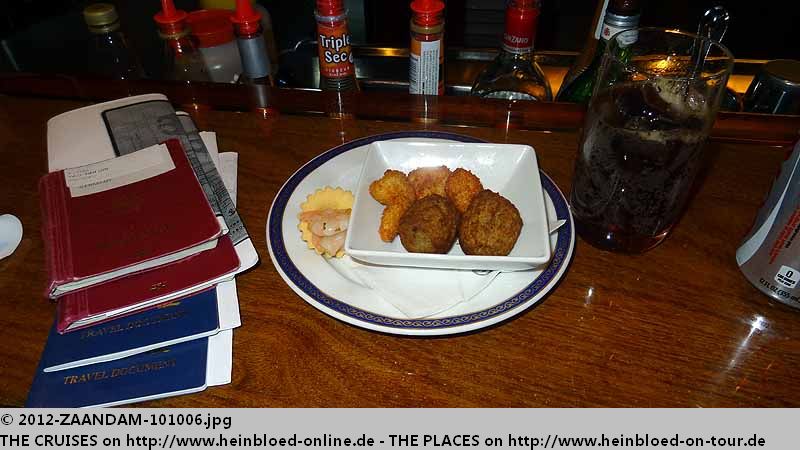 Only the Chinese Travel Document for my parents need to be arranged by us personally. This is the document they need to access into China. Because Celebrity was not listening if you explained them something and they only said that they already knew everything they did not make the right photocopies which delayed the immigration. But we were not the only one they made rubbish. Celebrity insisted us to have the Taiwan-Passes presented together with the other document. So the Chineses immigration officers were asking why they showed them because they are not valid to enter China and the entry should be only made with the Chinese Travel Document. And here you could see how it worked with Holland America when we entered China 2012 by ship: only the Chines Travel Doument. No Taiwan-Pass and the correct photocopy.