Scroll down for English explanations - alternates with German explanations.

Auf zu unserer Tour. Wie üblich eine Aufnahme vom Hafenagenten, damit wir die Nofallnummer auf der Kamera haben.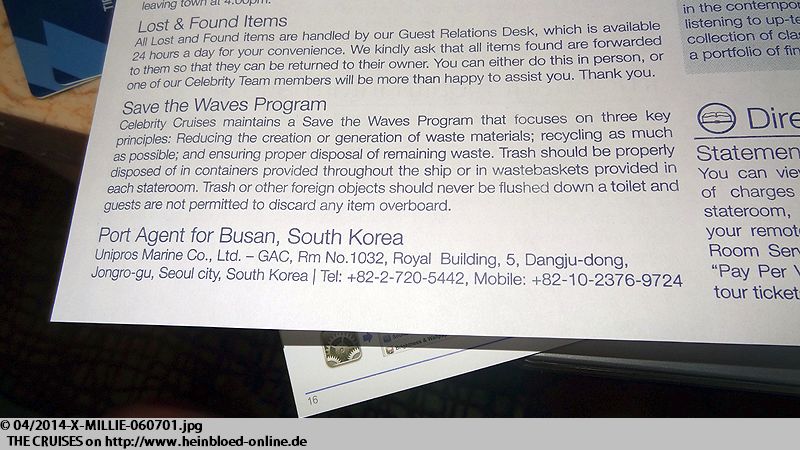 Let us start our tour. As usual a picture of the port agent so we had his phone number on our camera too.

Again 15 minutes difference between crew and guests.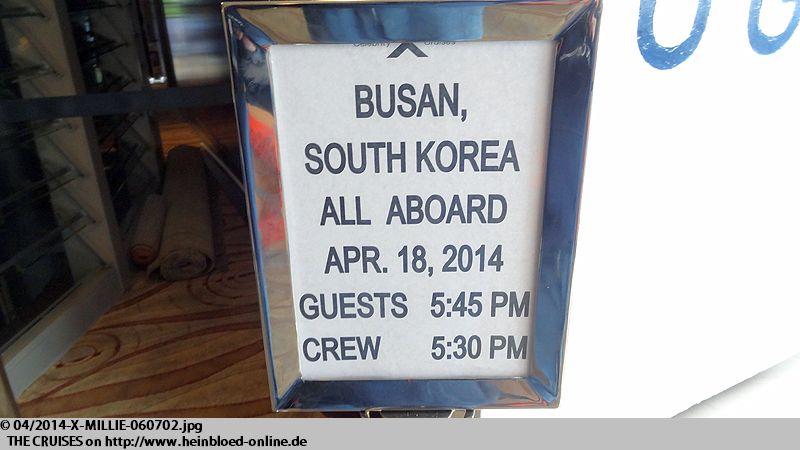 Hier wieder nur 15 Minuten Abstand zwischen Crew und Passagieren.
Für Korea gab es ein anderes Problem: es gab so viele gute Anbieter, so dass wir uns für unterschiedliche für Busan und Jeju entschieden haben. Alle Angebote waren sehr gleichwertig. Für Busan haben wir uns für
Korea Business Travel
entschieden. Auf der ITB in Berlin konnte ich Eigentümer James treffen und auch einen sehr vorteilhafte Zahlungsmöglichkeit finden. Außerdem ist er sehr kinderfreundlich.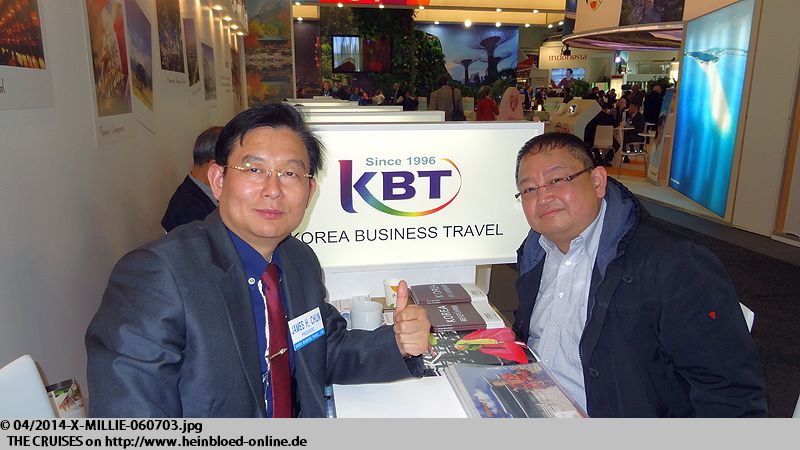 For Korea we had total different problem: we had so many great suppliers that we decided to have different in Busan and on Jeju. All offers were very similiar. For Busan I decided to take Korea Business Travel. On ITB in Berlin I could meet the owner James and found a very advantage way to pay the tour. By the way he is also very children-friendly.

So we were found already by our tour guide: Bu-Gyeong Choi. Vivian and her mother were joining us again and they found her immediately too.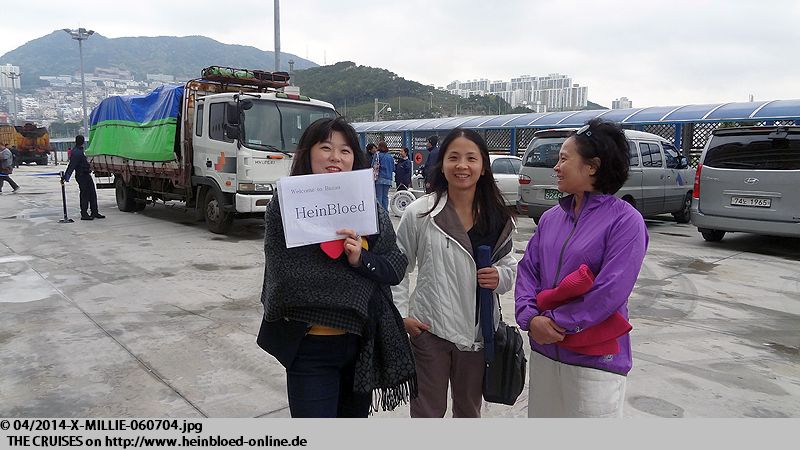 So wurden wir schon von unserer Führerin gefunden:
Bu-Gyeong Choi
. Vivian und ihre Mutter sind wieder dabei und haben sie auch sofort gefunden.
Dort steht unser Bus. Innen wieder sehr nett eingerichtet und unser Fahrer... Die Chancen stehen sehr hoch seinen Namen herauszufinden: Kim, Park oder Lee... und in dem Fall Mr Lee.

There was our bus. Inside it was decorated very nice and our driver... High chances to find out his name: Kim, Park or Lee... and here it was Mr. Lee.

We went to Haedong Yonggung Tempel at the seaside. It was located outside the city limits of Busan. Busan was a "small city" for Asian dimensions: "only" 3.5 million inhabitants.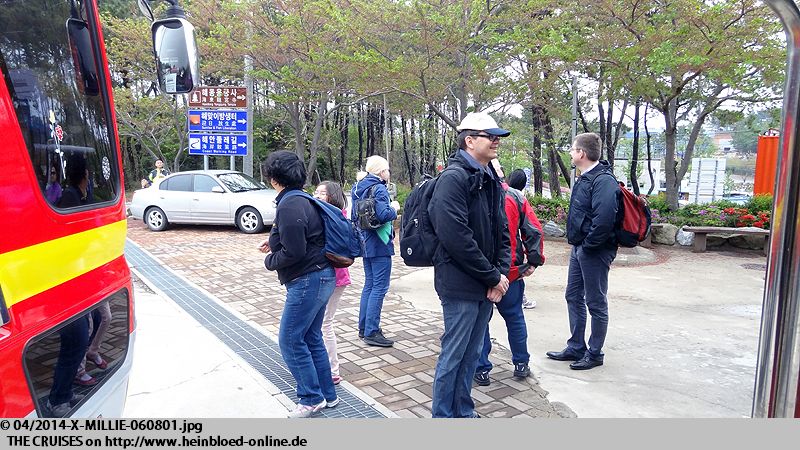 Es ging zum
Haedong Yonggung Tempel
am Meer. Es liegt außerhalb Busans. Busan ist eine "Kleinstadt" für asiatische Verhältnisse: "nur" 3,5 Mio. Einwohner.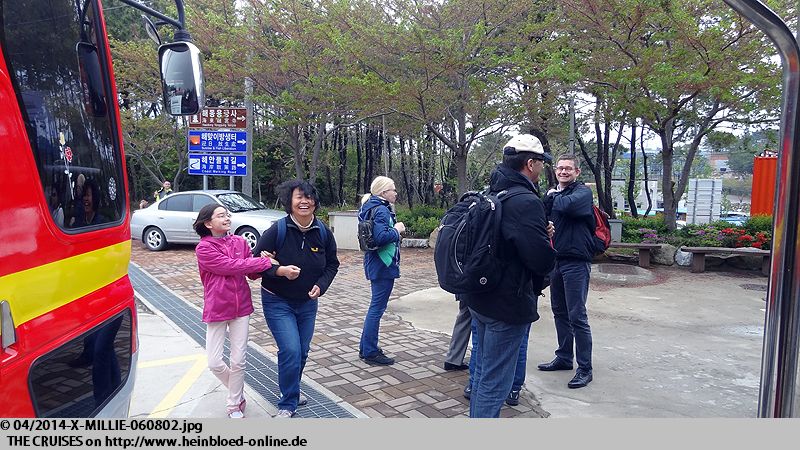 On the way to the temple there were many sales outlets. Especially with food.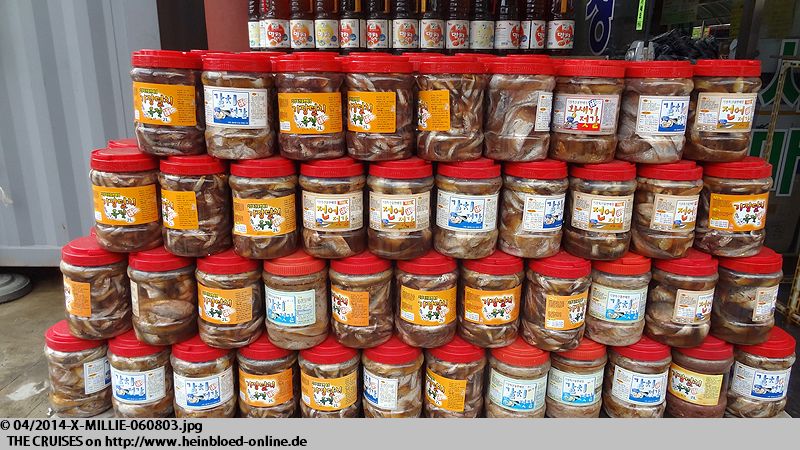 Auf dem Weg zum Tempel sind viele Stände aufgebaut. Vor allem mit Essen.
Und überall duftete es herrlich.

Everywhere it was smelling so wonderful.

Memories of my childhood in Taipei: Hot Dog on a stick deep-fried in a corn dough... Yummy... Maybe this should be the new business I should open in Germany...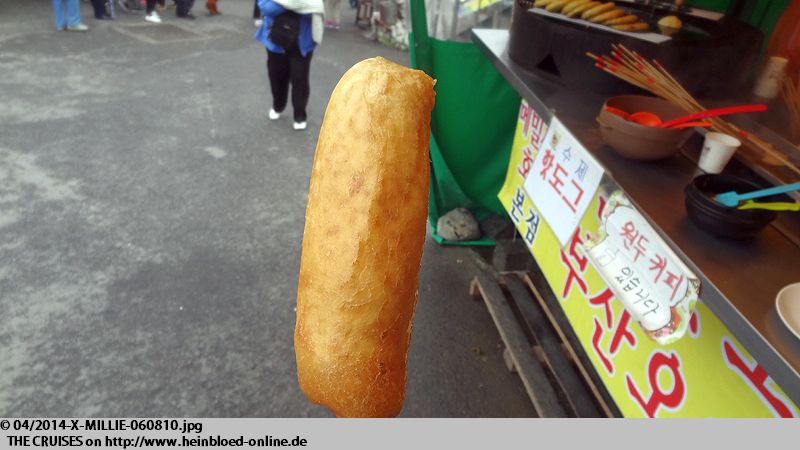 Kindheitserinnerungen an Taipeh: Hot Dog im Maisteig am Spieß ausgebacken... Lecker... Vielleicht ist das ja das neue Geschäft, das ich in Deutschland einführen sollte...
Man kommt wohl auch mit öffentlichen Verkehrsmitteln hin. Nur den Fahrplan habe ich nicht verstanden...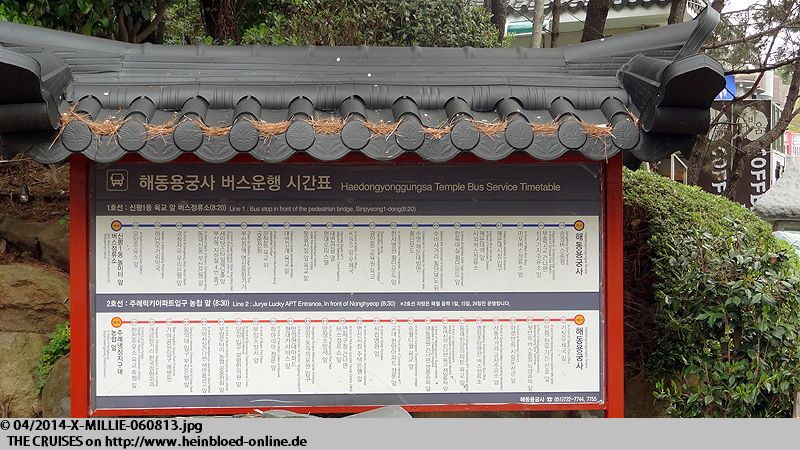 You could also get there by public transport. But I did not understand the schedule...

We went to a kind of sculpture garden.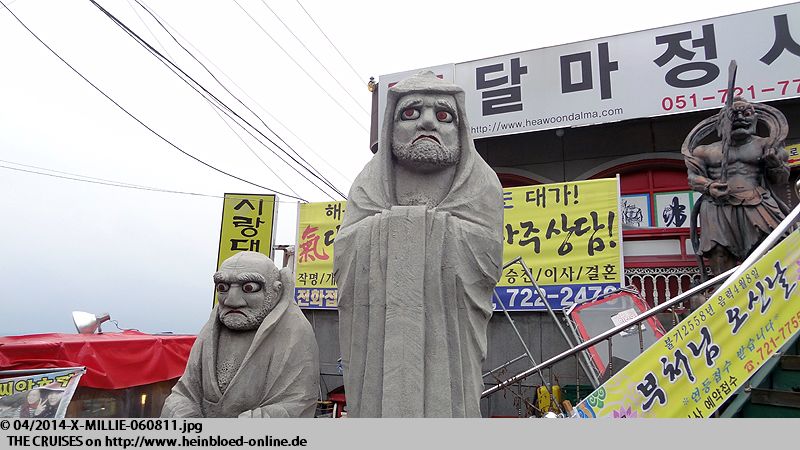 Es geht dann in einen Skulpturengarten.
Hier sind die zwölf Sternzeichen dargestellt. Allerdings die asiatischen.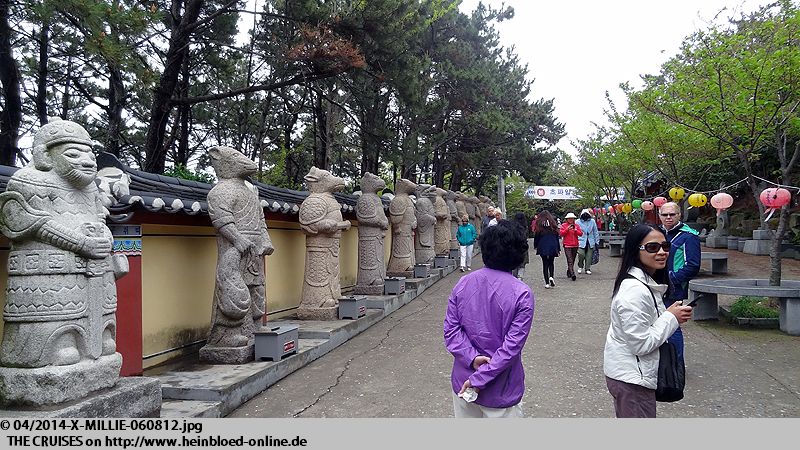 Here the twelve zodiac signs were presented. But the Asians.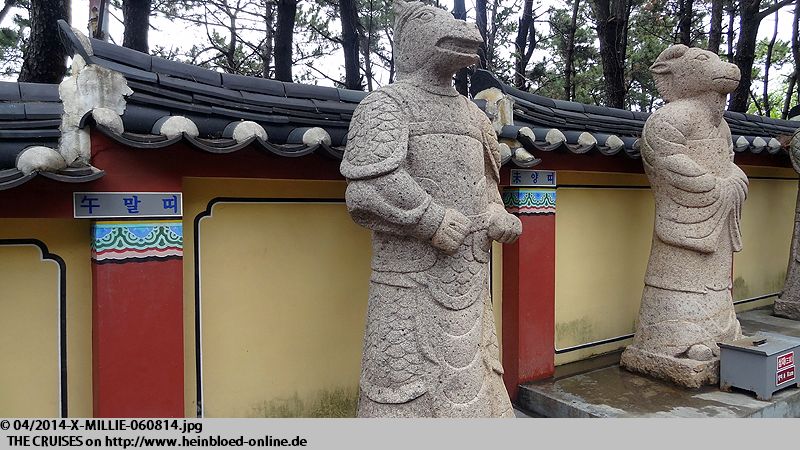 Alfred outet sich als Affe...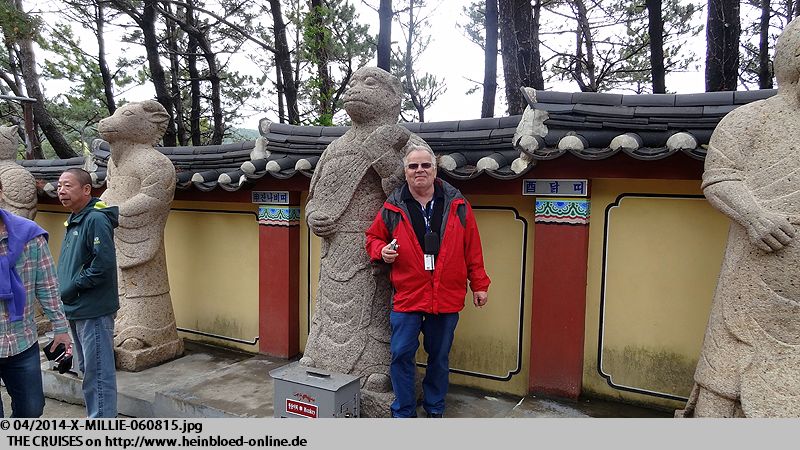 Alfred outet himself as Monkey...

So did Bruno...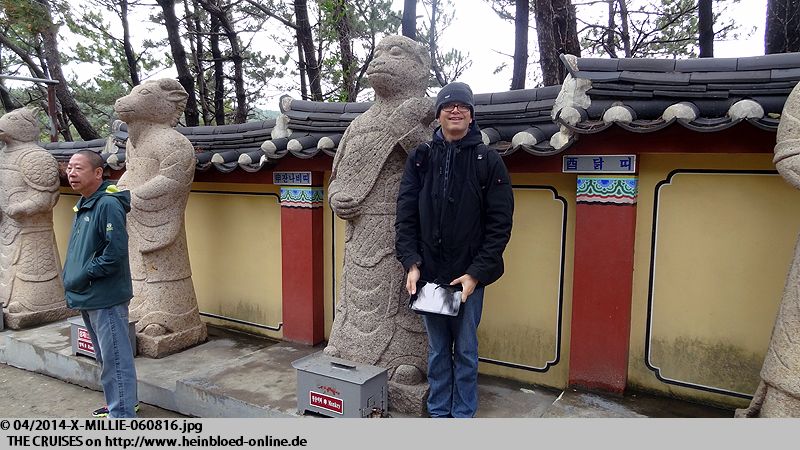 Bruno auch...
Und es geht weiter...

And we headed on...

Should we ever come back again in a warmer season: we could also see a beach to go swimming...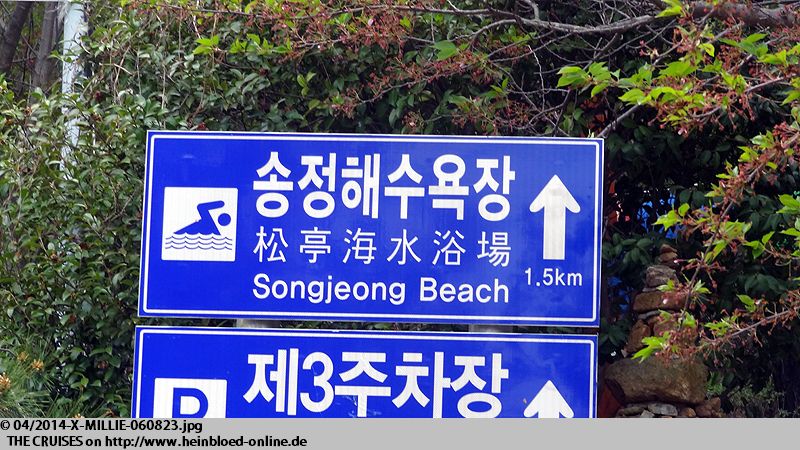 Falls wir mal in einer wärmeren Jahreszeit kommen, kann man ja auch an einem Strand schwimmen gehen...
Irgendwann nach dem Besuch des Tempels ging es auch wieder zurück.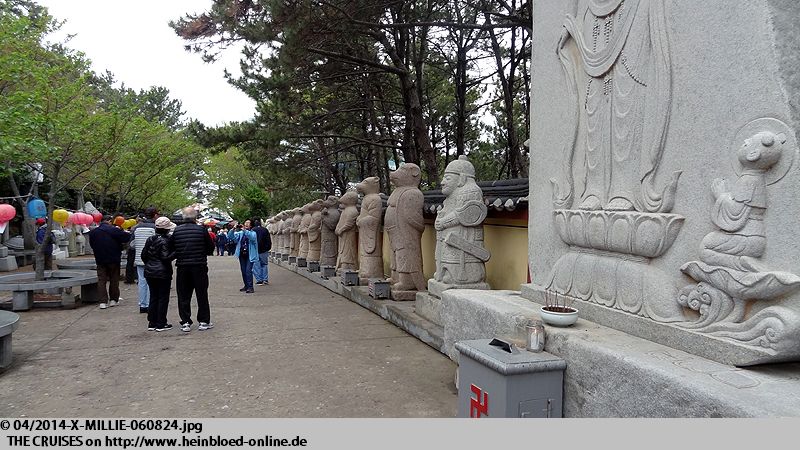 Somewhen later after the visit of the temple we had to walk back.

There I discovered a board which explains the story of the temple.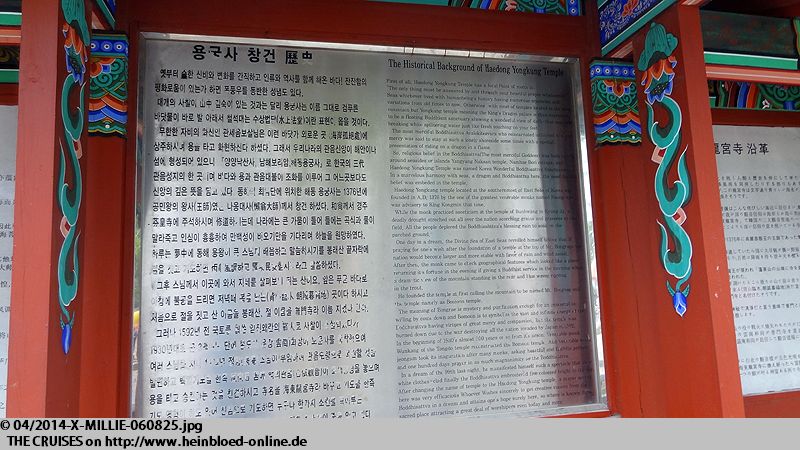 Dort entdecke ich auch die Tafel mit einigen Erläuterungen zum Tempel.
Danach entdecke ich diese Wurzeln.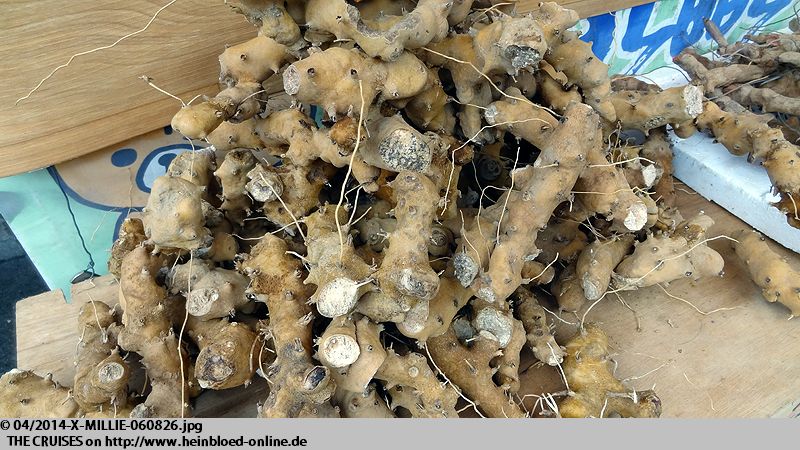 Thereafter I discovered those roots.

When they were dried they looked like this.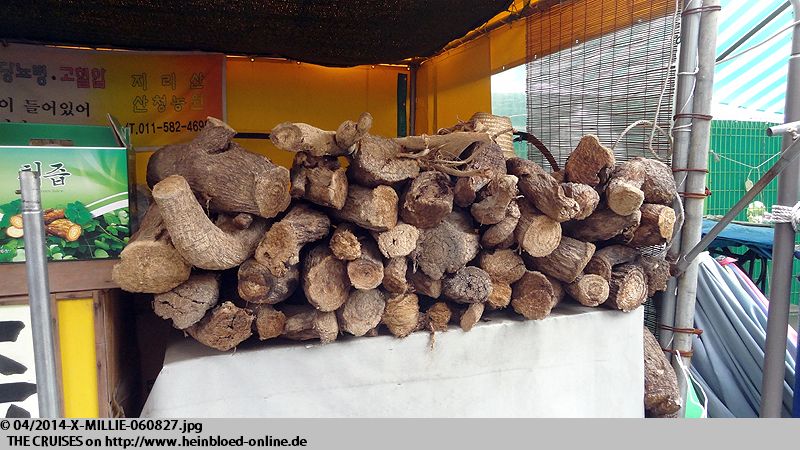 Getrocknet sieht es dann so aus.
Und es wird daraus Pfeilwurz Saft. Bei uns nimmt man es zum Eindicken.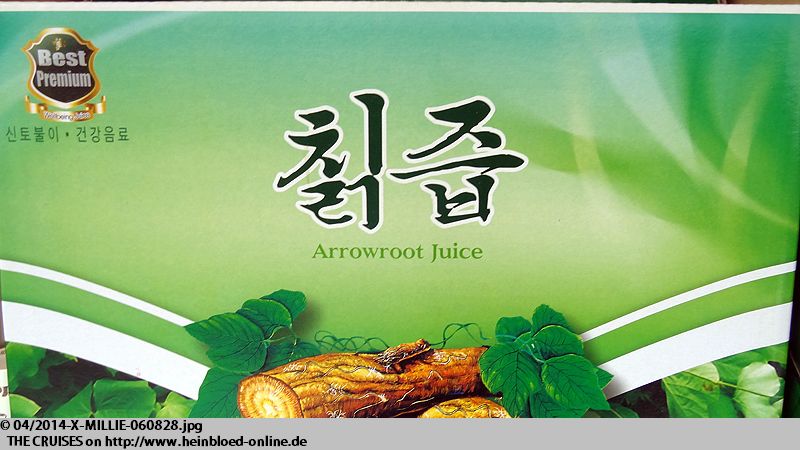 Arrowroot Juice was made of this.

For my father I wanted to buy some pieces of oranges but that was already the preparation for freshly-squeezed orange juice.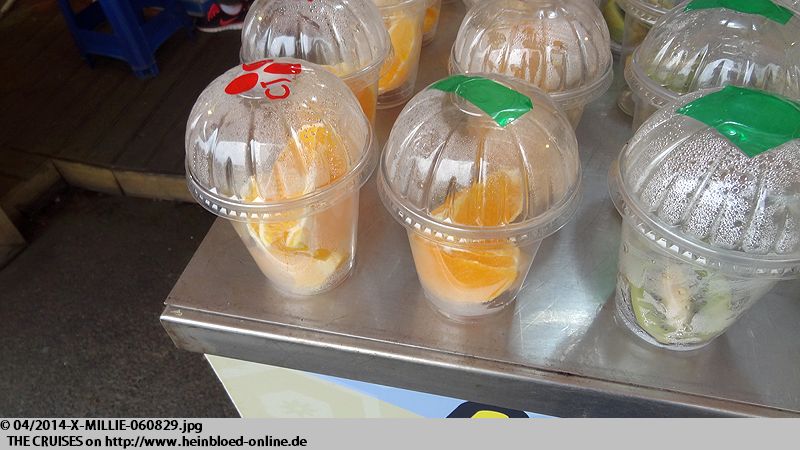 Für meinen Vater will ich ein paar Orangenstücke kaufen, aber das ist bereits die Vorbereitung für den frisch-gepressten Orangensaft.
Und dann kaufe ich doch mal so eine Teigtasche, aber sie ist süß... also nichts für mich.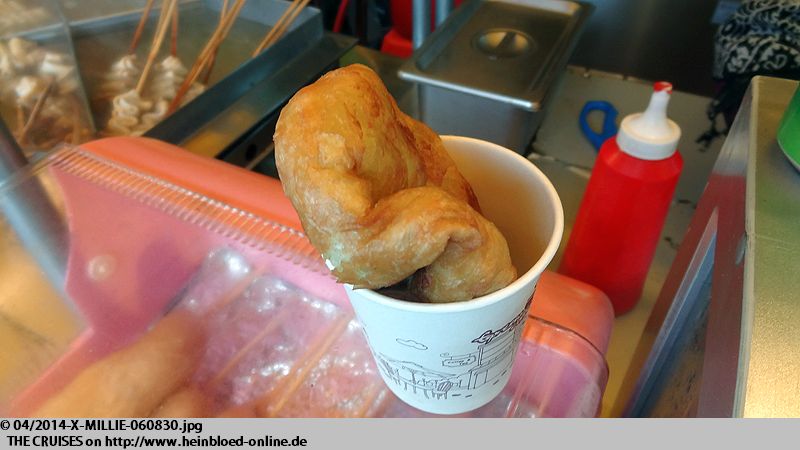 And later I bought one of the dumplings but it was sweet... so nothing for me.

Because I had already the status as wholesaler und did not want any juice I got some slices of oranges extra...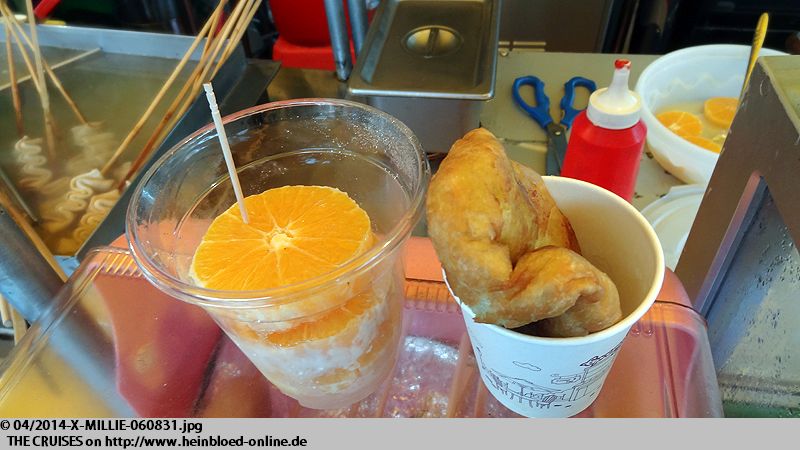 Weil ich schon Großkunde bin und kein Saft will, bekomme ich noch ein paar Orangenscheiben mehr...
Ein paar chinesische Zeichen erkenne ich: die zweite Reihe: hai... wie aus Shang hai... also das Meer... und in Koreanische Hae... Dong... wie der Osten (allerdings das Langzeichen, wie in Hongkong und auf Taiwan üblich)... Also Mandarin Hai Dong... und Koreanisch Hae Dong... Es geht zunächst über viele und vor allem unebene Stufen runter... (die muss man später auch wieder hoch...)... Alles ist sehr eng und sehr viele Besucher...

I could identify few of the Chinese characters: the second row: hai... like from Shang hai... so the sea... and in Korean Hae... Dong... like East (but in the traditional characters like they are still in use in Hong Kong and on Taiwan)... So in Mandarin Hai Dong... and in Korean Hae Dong... We had to walk down on many many uneven steps down... (you need to walk them up again later)... and everything was quite narrow and many many visitors...

Here downstairs you had a sculpture holding a bowl.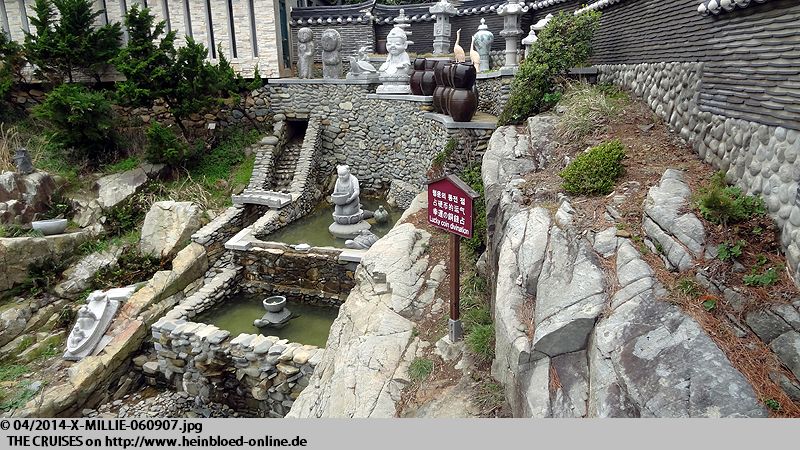 Hier unten gab es diese Figur mit der Schale.
Das haben schon viele zum Anlass genommen, um den Versuch zu starten, einige Münzen in die Schale zu packen. Friederike bekommt von mir ein paar Münzen. Und sie trifft fast. Aber so nah, dass sogar Besucher stehen bleiben und zugucken.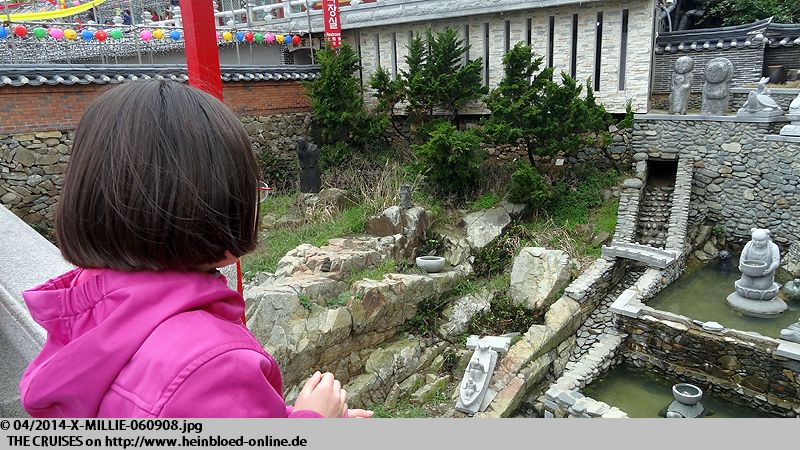 Many used the occasion to try to throw some coins into the bowl. Friederike got few pennies. And most of them hit very close. So close that other visitors stood by and watched if she would make it.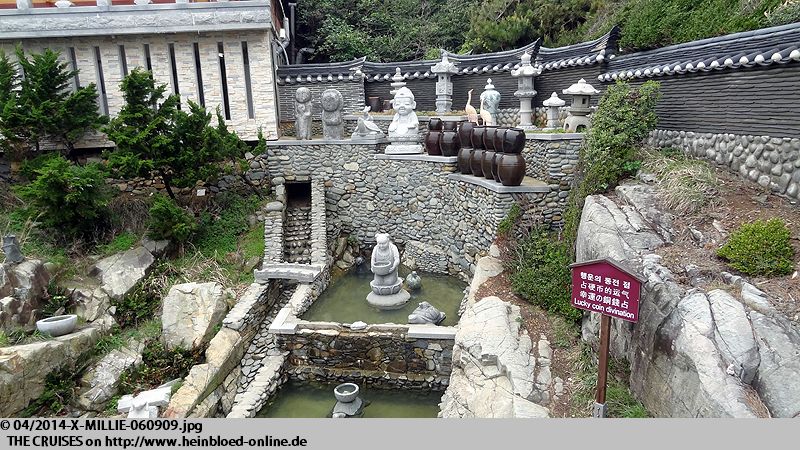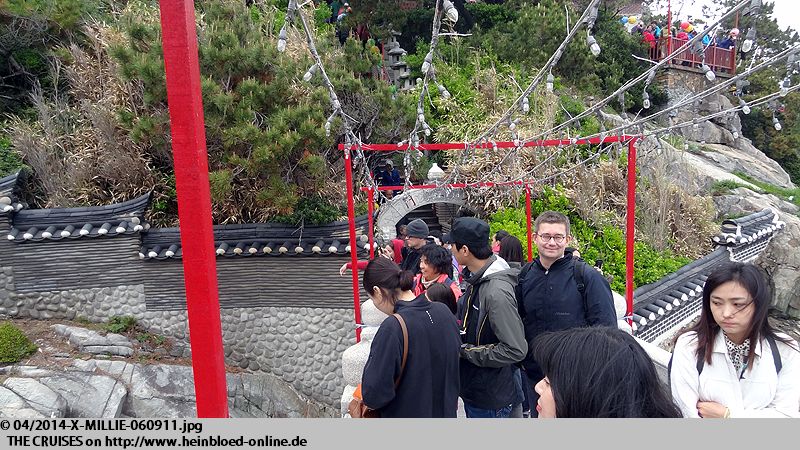 Now you could see very why this location is called temple at the seaside.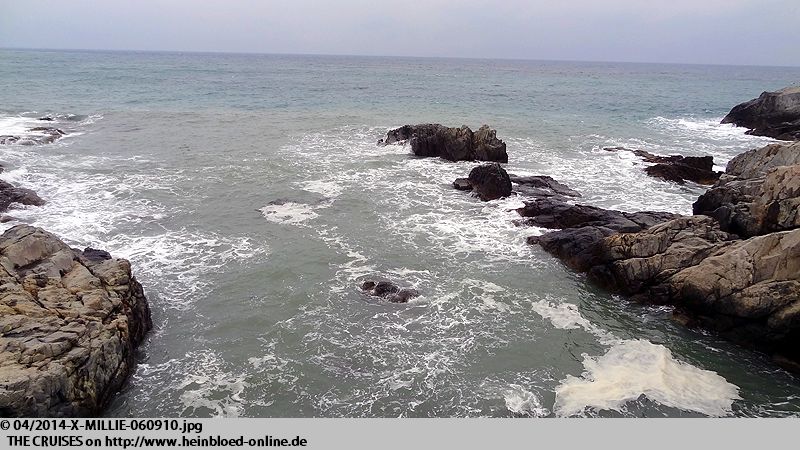 Nun sieht man sehr schön, warum dieser Ort Tempel am Meer heißt.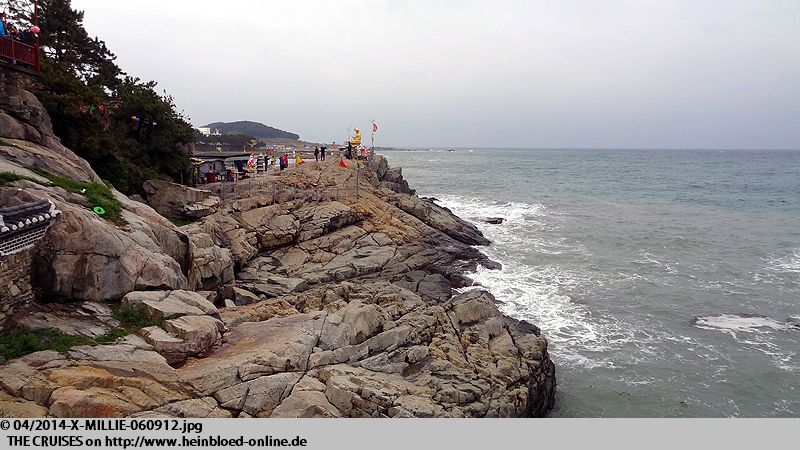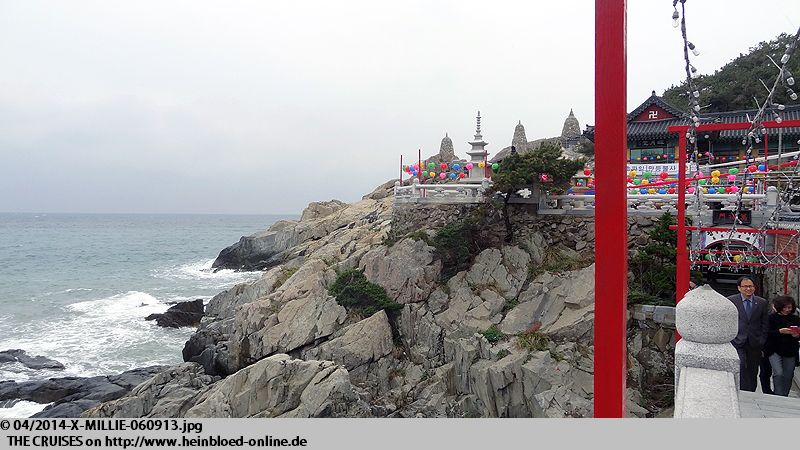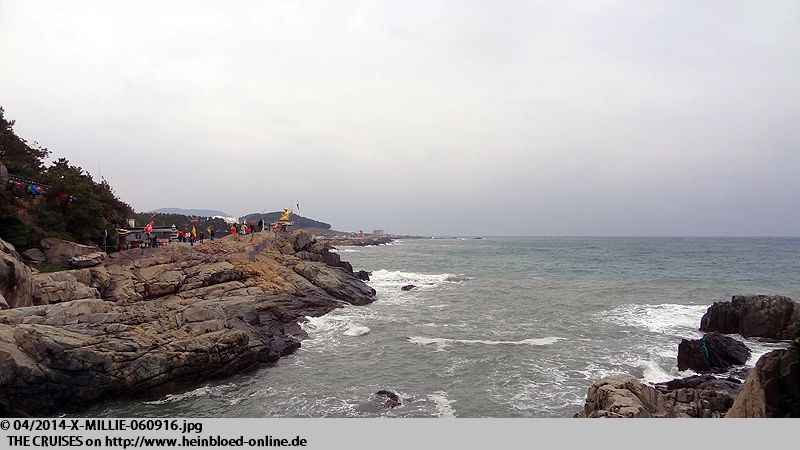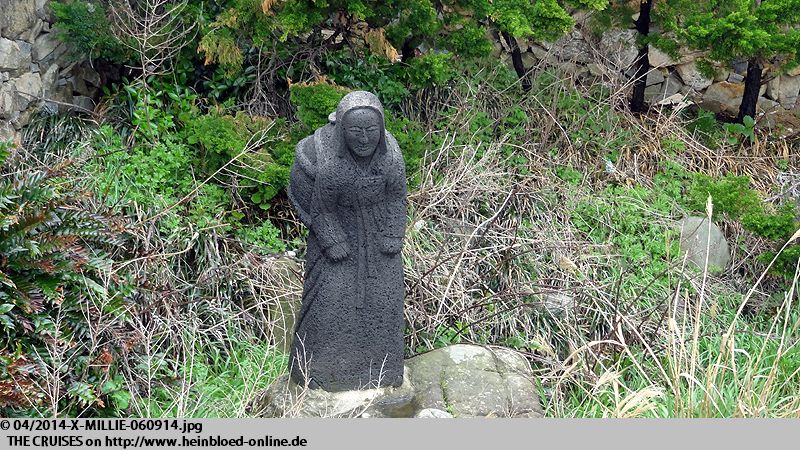 Es ging dann wieder bald hoch. Nur ein paar Schritte.

Soon you had to walk upwards again. But only few steps.

Again a narrow stairway and with a lot of hype and electric bulbs so you never had a chance to take good pictures of the temple.

Wieder eine enge Treppe und mit viel Rummel und Glühbirnen, so dass man eigentlich die Tempel nie vernünftig fotografieren konnte.
Es sollte noch weiter nach oben gehen... auf zur Pagode... Ich habe zum Glück dafür einen Höhenbeauftragten: Bruno... Ohne Standseilbahn oder Rolltreppe, gehe ich da nicht hoch... Man hatte allerdings einen sehr schönen Blick von oben.

It should go further to the top again... up to the pagode... I was lucky that I have a dedicated person for all higher missions: Bruno... No ropecar - no escalator - no - I am off... But you had a nice view from the top.

When everyone was back at the bottom few still took some pictures. Other were looking independently for the restroom... before our tourguide could warn them that you should have a nose cramp and some eau de cologne with you or you would be able to close all body outlets until you can walk back to the bus parking without problems... but that warning came too late for some of us...

Als alle wieder unten waren, haben manche noch fotografiert. Andere haben sich selbständig zur Toilette gemacht... bevor unsere Fremdenführerin noch warnen konnte, dass man entweder eine Nasenklammer und 4711 dabei haben sollte oder man sollte doch alle Schließmuskeln für alle Körperöffnung (re-)aktivieren, damit man unbeschadet bis zur Toilette am Busparkplatz kommt... Aber diese Warnung kam für manche zu spät...
Übrigens dieses Hakenkreuz ist keines der Nationalsozialisten (ist spiegelverkehrt, damit man theoretisch SS lesen kann und steht einer Ecke): Es heißt Swastika und ist ein (Glücks-)Symbol der Buddhisten in ganz Asien und hat die gleiche Bedeutung wie das Kreuz in der christlichen Welt, der Halbmond in der islamischen Welt oder der Davidstern in der jüdischen Welt.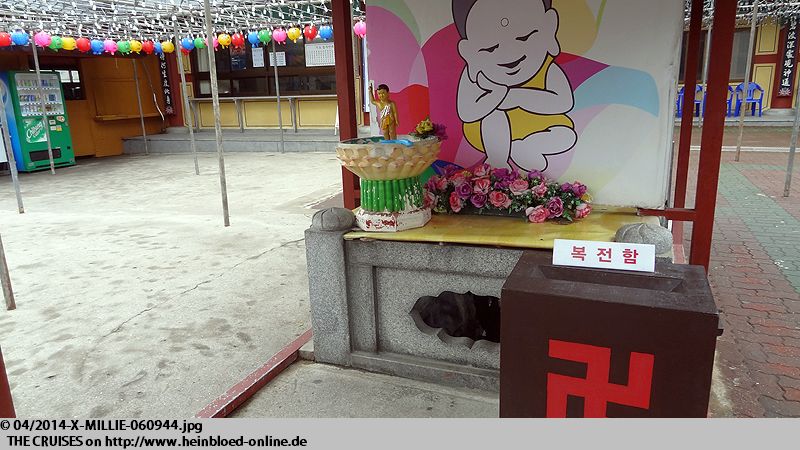 By the way: this swastika is none from the German Nazis (is mirror-inverted so you could read SS and it stands on the tip) but it is a symbol of luck of the Bhuddists all over Asia and had the same meaning like the cross with the Christian, the crescent with the Muslims or the Star of David with the Jews.

Pigs are symbols of luck too... So I joined them.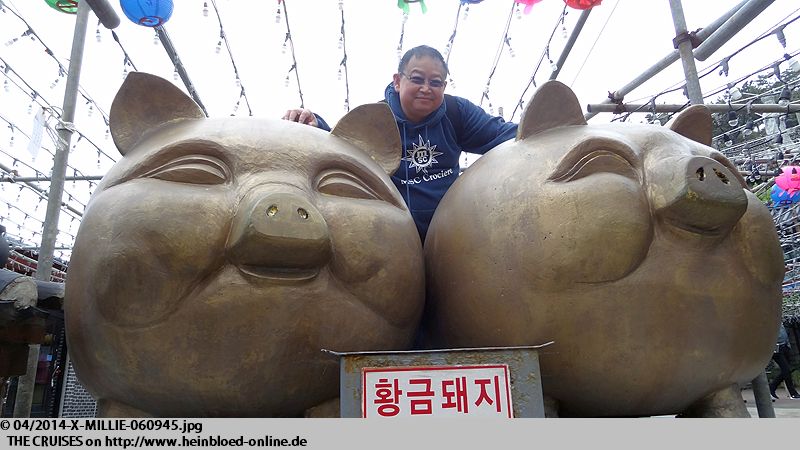 Schweine sind ja auch Glückssymbole... also stelle ich mich mal dazu.
Für ein paar Minuten geht es noch weiter zu einem Aussichtspunkt an der Küste, bevor wir weiterfahren.

For few minutes we went also to an observation point at the coastside before we continued with our tour.

Next we went to Nurimaru APEC House in the Dongback Pack. 2005 the APEC summit was hosted here. Those were the countries of the Asia Pacific region who are working together for their economy.

Es geht zum Nurimaru APEC Haus im Dongback Park. Hier fand 2005 der APEC-Gipfel statt. Das sind die Staaten des Asien-Pazifik Raumes, die wirtschaftlich zusammenarbeiten.
Einige von uns warteten im
Westin Chosun Hotel
.

Some of us were waiting in the Westin Chosun Hotel.

I need to be honest: I expected a fishermen village with the handling of few containers. But I never expected such a skyline.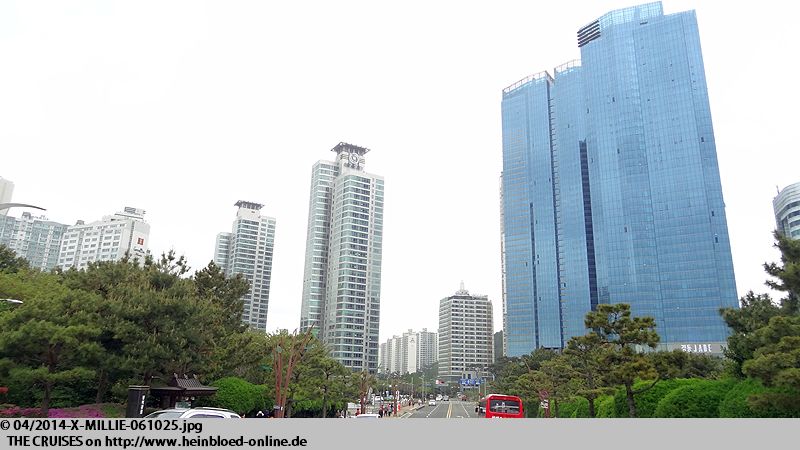 Ich bin ehrlich: ich hätte ein Fischerdorf erwartet, in dem ein paar Container umgeschlagen werden. Mit so einer Skyline habe ich nicht gerechnet.
Weiter geht es zur nächsten Superlative, wieder eines, das von Guiness auch aktueller Weltrekord festgehalten ist: Das größte Kaufhaus der Welt:
Shinsegae Centum City
. Ein Luxus-Kaufhaus. Wir mussten ganz nach oben des Gebäude.

We headed to the next superlative - another which is also listed as actual Guiness World Record: the world's largest department store: Shinsegae Centum City. A luxury department more. We had to go far far to the top of the building.

Well... all producers have their own customer service stations in case you have problems after the purchase.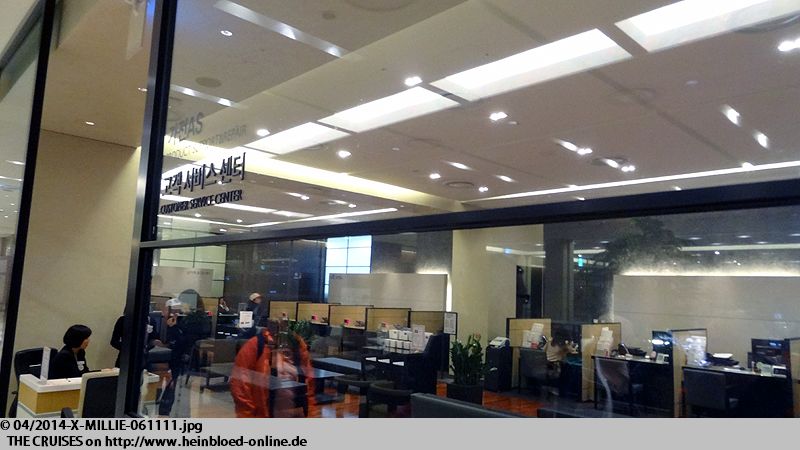 Aha... die Hersteller haben eigene Kundendienstbüros im Kaufhaus, falls man Probleme nach dem Kauf hat.
Und wie schön: hier gibt es anscheinend etwas zu essen.

And how nice: obviously you get something to eat here.

We went here for lunch. I was unable to read what was the name of the restaurant.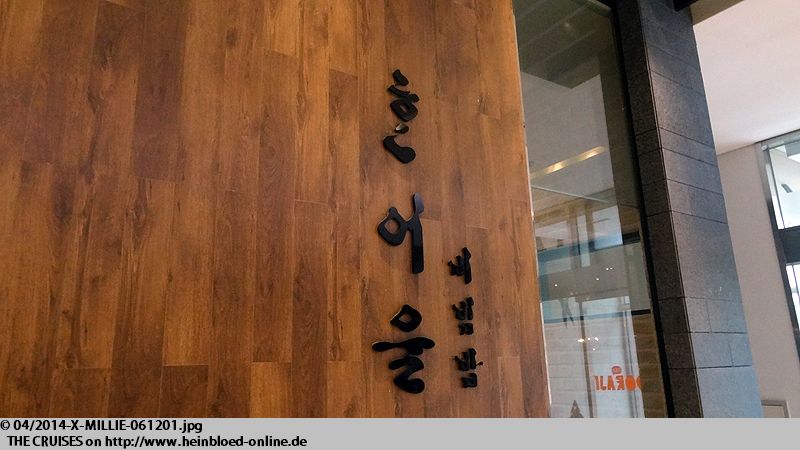 Es geht hier zum Mittagessen. Leider kann ich nicht lesen, wie das Restaurant heißt.
Wir sind die einzigen "Ausländer". Für uns hat man einen großen Tisch reserviert. Wasser gibt es immer kostenlos. Wie üblich beim koreanischen Essen: eine große Auswahl von kleinen Vorspeisen. Mir ist das meiste zu scharf: insbesondere die koreanische Nationalspeise: Kim-Chi - der eingelegte Kohl. Wir bekommen zunächst alle eine leckere Brühe. Und dann gibt es Bibimbap - leider fleischlos... ein Potpourri aus Gemüse, Reis und Ei. Man sollte ggfls. noch etwas scharfe Soße reinmachen und schön alles mischen... Ist gar nicht so einfach, wenn man chinesische viereckige Holzstäbchen gewohnt sind. Koreanische Stäbchen sind flach, aus Metall und ziemlich schwer in der Hand. Die sind schwer zu handhaben. Aber das Essen war sehr lecker!!!

We were the only "foreigners". They reserved a big table for us. Water you had always complimentary. Us usual with Korean food: a high selection of little appetizers. Most of them were too spicy for me: especially their Korean national dish: Kim-Chi - marinated cabbage. We all got for the start a very yummy broth. And then we had Bibimbap - unfortunately meatless... a compilation of various vegetable, rice and egg. You may add some spicy sauce and stir and mix everything... That was not so easy if you are used to eat with the Chinese wooden squared chopsticks. Koreans are flat, made of metal and are quite heavy when you have them in your hands. They are very difficult to handle. But anyhow: the food was so yummy!!!

Vivian ordered something extra. But in a quantity which all should try from the group. We grew together for a very nice group. This omelette was very yummy too.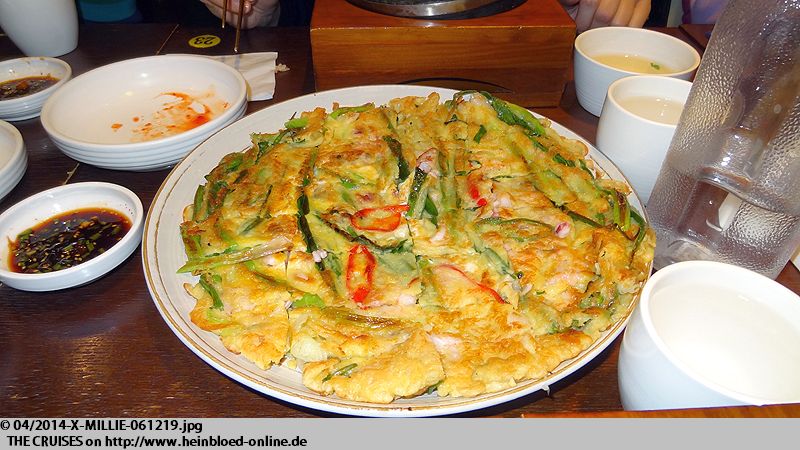 Vivian bestellt doch etwas dazu. Aber in meiner Menge, dass alle aus der Gruppe probieren konnten. Irgendwie sind wir schon zu einer netten Gruppe zusammengewachsen. Dieses Omelette war auch sehr lecker.
Insgesamt hat es allen geschmeckt.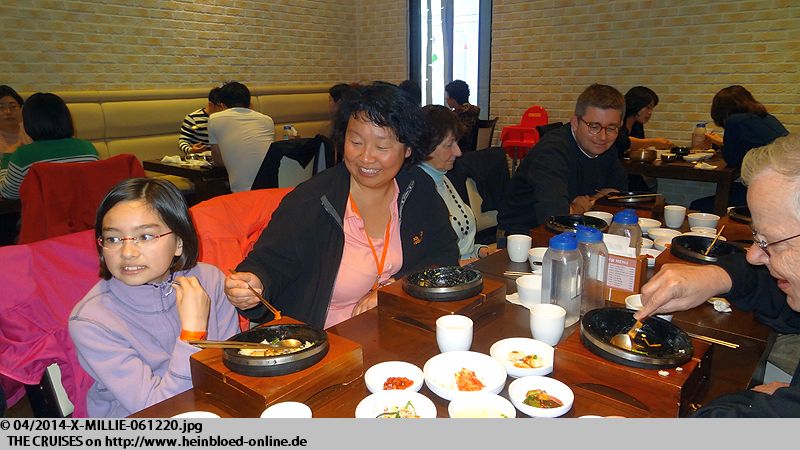 Everybody liked the food.

With the help of the card I hope to find back again to this restaurant.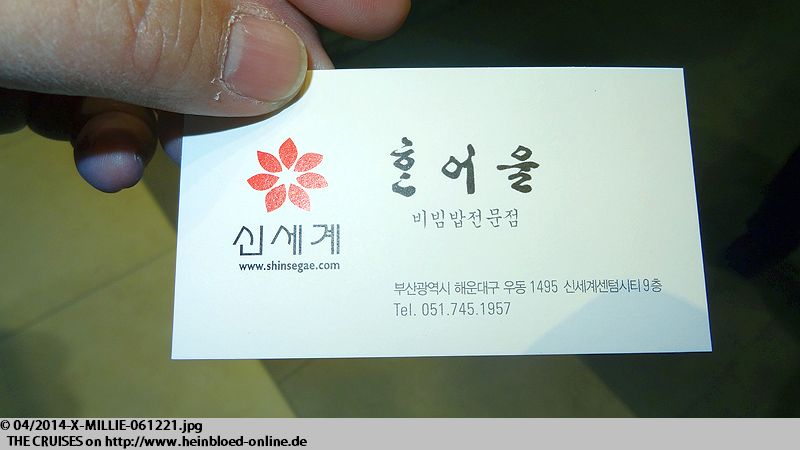 Mit Hilfe dieser Karte werde ich hoffentlich das Restaurant wiederfinden.
So schön wird hier Eis am Stiel präsentiert.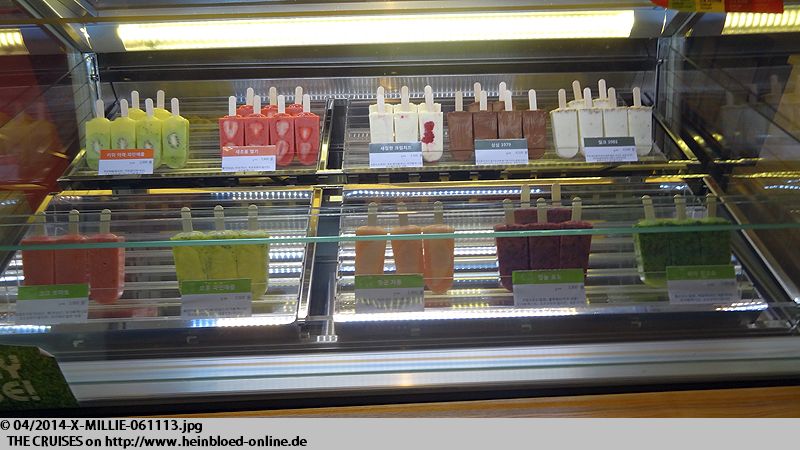 So nice how they presented the ice-cream.

So nice they sold the ice-cream.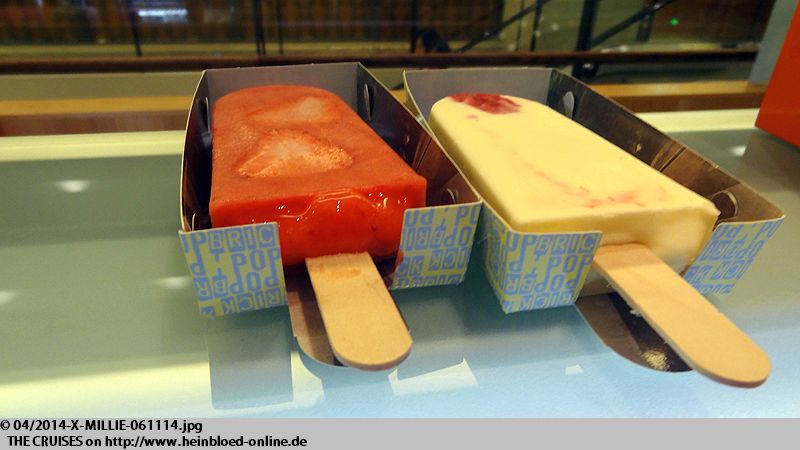 So schön wird hier Eis am Stiel verkauft.
Wir müssen es einfach probieren - zumal wir kein Dessert hatten...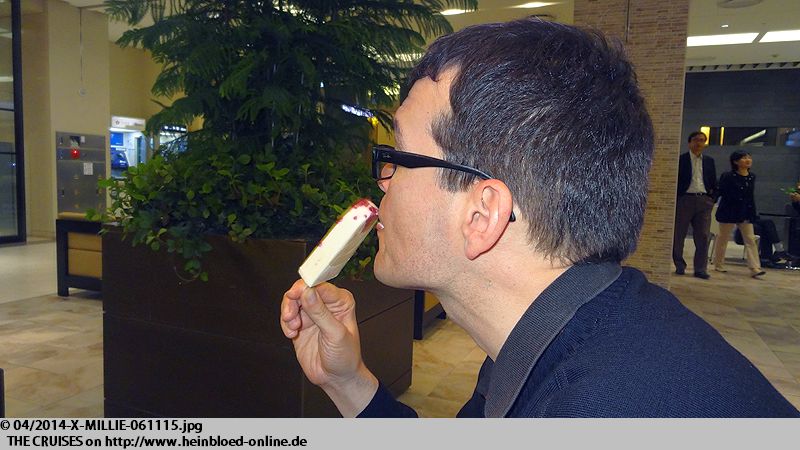 We had to try it especially as we had no dessert...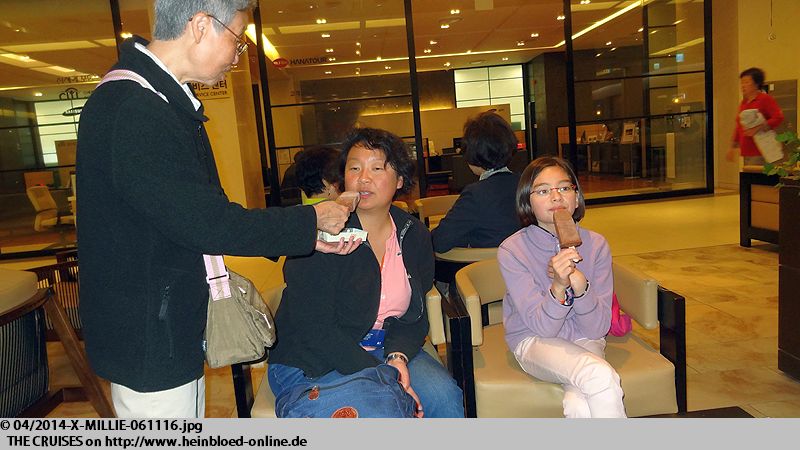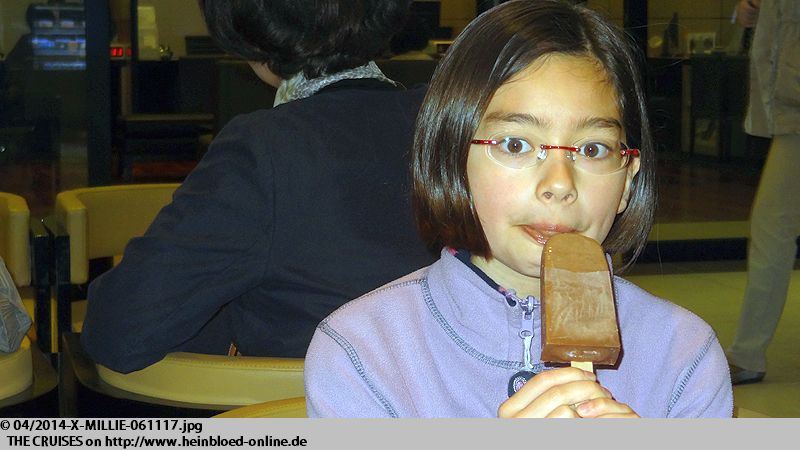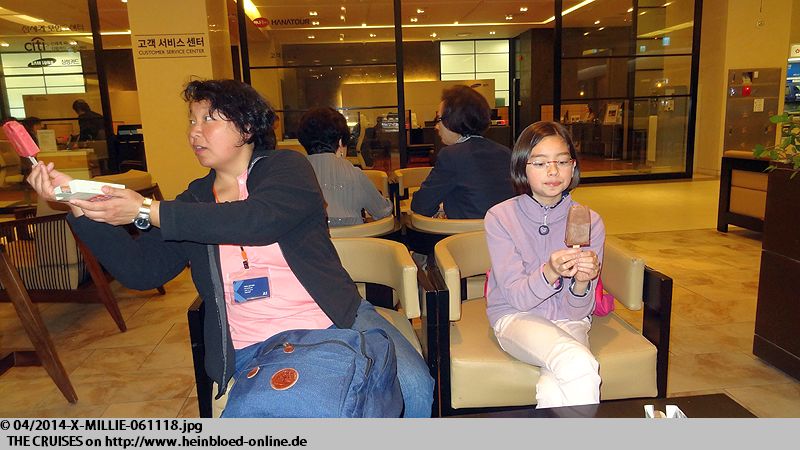 Ich wollte ein paar einfache Briefumschläge kaufen. Aber hier gibt es nur Edel-Briefumschläge. So kaufe ich zwei Edel-Dankkarten. Dabei suche ich diese roten Beutel, die man für Geldgeschenke nutzt. Oder auch für Trinkgelder.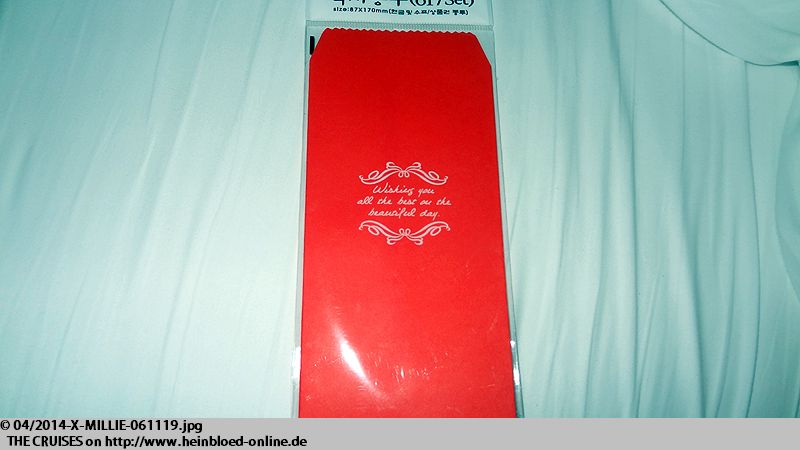 I only wanted to buy some simple envelops. But they had only noble envelops. So I bought two noble thank-you-cards. Originally I was looking for those red bags which you normally use for money gifts. Or for tips.