Scroll down for English explanations - alternates with German explanations.

Man muss 10-15 Minuten bis zum Bahnhof laufen. Aber da ich das den Kindern und meinen Eltern nicht zumuten will, nehmen wir zwei Taxis. Ein Riesenfehler. Weil man nicht wenden kann, muss man eine Riesenrunde drehen, bevor man wieder ankommt. Und weil der Hauptbahnhof in Beijing nicht Hauptbahnhof heißt, sondern nur Beijing Bahnhof, kommt es beinahe zu einem großen Missverständnis. Aber wir schaffen es doch.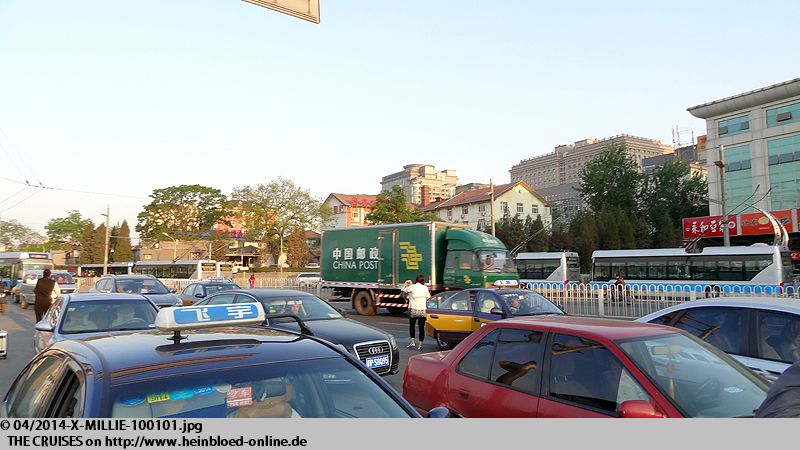 You need to walk about 10-15 minutes to the station. But with the kids and my parents I did not like the idea. So we took two taxis. A really big mistake. You cannot make any U-Turns so you had to go giant loop before you arrived. And because the Central Station in Beijing does not call Beijing Central Station but just Beijing Station we were about to have a big misunderstanding. But we made it.

So far I thought that going on trains in the US, Canada or Spain was complicated but in China you met a total different. Due to a small error we need to exchange tickets. At least those of my parents because there were not the correct passport numbers on the tickets. We felt it was ridiculous but here it was a serious problem. Before we arrived at the ticket hall we had to pass an airport-style baggage check.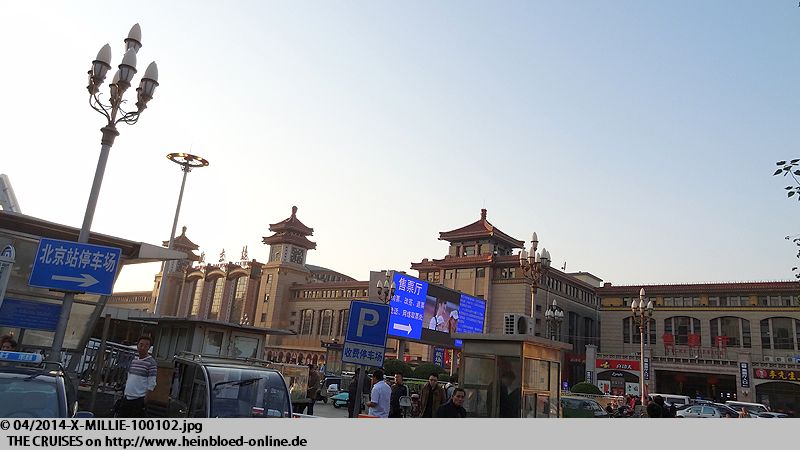 Bis jetzt dachte ich immer, dass Bahnfahren in den USA, Canada und Spanien kompliziert wäre, aber in China war es komplett anders. Aufgrund eines Fehlers müssen wir die Fahrkarten umtauschen. Zumindest die von meinen Eltern, weil eine falsche Ausweisnummer auf dem Ticket ist. Für uns absolut lächerlich, aber hier ist es ein ernsthaftes Problem. Bevor wir überhaupt zur Fahrkartenhalle kommen, müssen wir alle durch eine Gepäckkontrolle wie am Flughafen.
An einem Schalter wird Englisch gesprochen. Aber da ist die längste Schlange. Ich frage an einem anderen Schalter nach: man darf die Tickets nicht einfach umschreiben. So müssen wir neue Tickets kaufen. Alle sitzen im Wagen 1 - nur meine Eltern jetzt im Wagen 8. Was soll: wir probieren es einfach mal. Die alten Tickets sollen an einem anderen Schalter wieder uns auszahlen lassen - natürlich mit Abzug einer Bearbeitungsgebühr. Vor dem Schalter nimmt mir jemand die Tickets ab und gibt mir Bargeld. Er sagt mir, dass es mehr ist, als wenn ich zum Schalter gehe... was soll es... Geld ist Geld.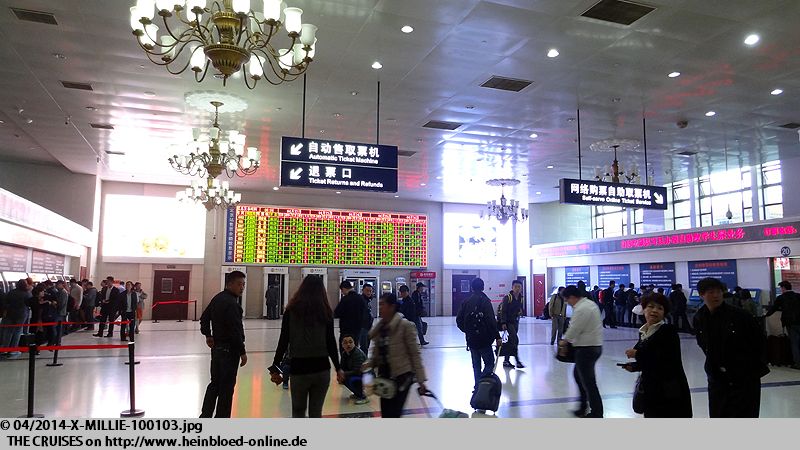 At one counter they spoke English. But there was the longest line. I checked on another counter but you cannot just alter the tickets. You had to buy new tickets. Everyone was booked for car 1 but my parents were booked now in car 8. Who cared - we tried it. But you need to go to a different counter to get the refund - after you paid a cancellation fee. In front of this counter someone took away my tickets and gave me cash. He said it would be more than I would get on the counter... who cares... money is money.

You cannot get directly from the ticket hall to the departure hall.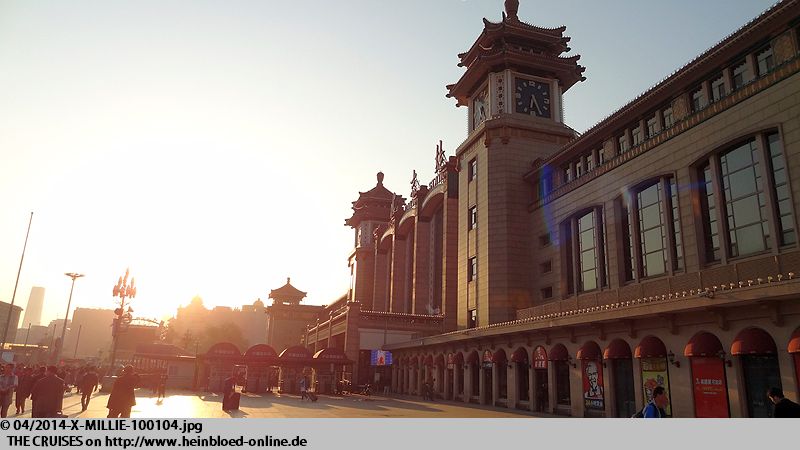 Man kann nicht direkt von der Fahrkartenhalle in die Abfahrtshalle.
Es geht durch eine Pass- und Fahrkartenkontrolle. Deswegen ist es wichtig, dass die Passnummer auf der Fahrkarte korrekt ist.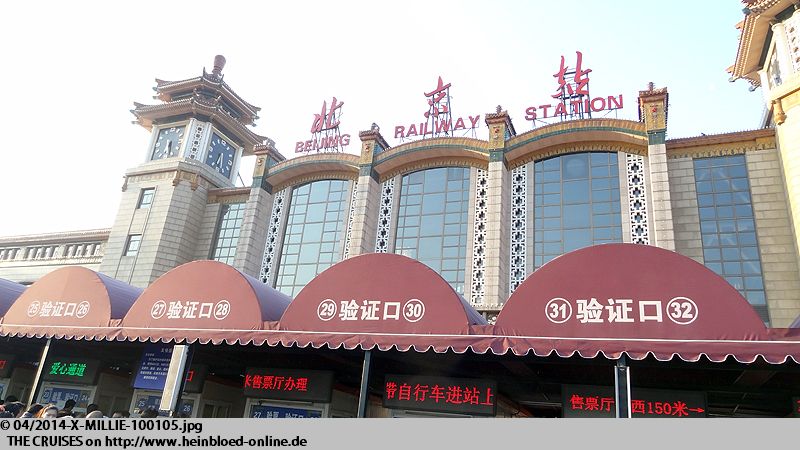 You had to pass a passport and ticket check. That was why it was so important that passnumber on the tickets were correct.

Inside everything was only displayed in Chinese.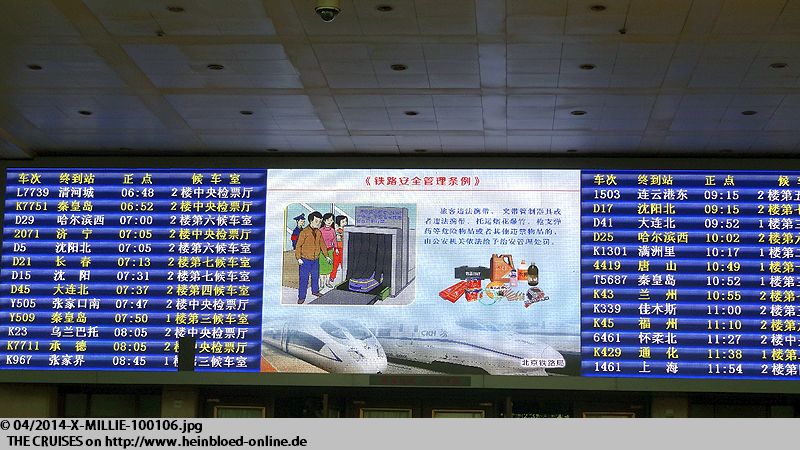 Innen alles auf chinesisch.
D5 nach Shenyang Nord... keine Ahnung...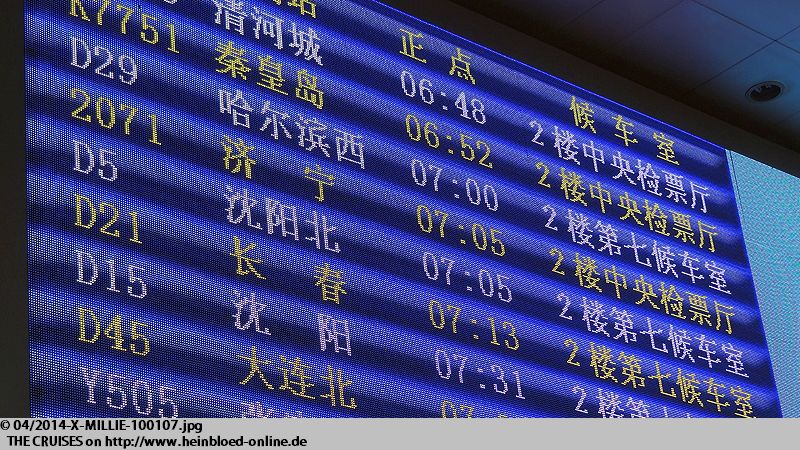 D5 towards Shenyang North... no idea...

We had luck that Chrissie of CTS gave us the instructions to be 45 minutes ahead of the departure to be at the station. As frequent traveller of German Railways I would only smile of this recommendation and missed the train.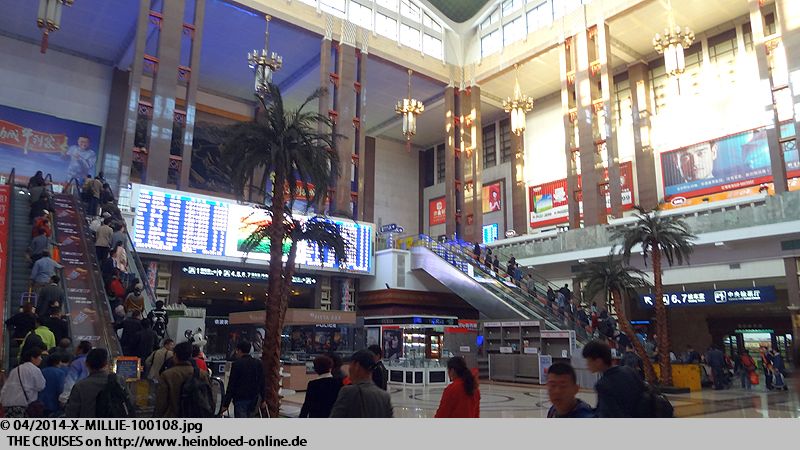 Zum Glück hatte uns Chrissie von CTS extra darauf hingewiesen, dass wir 45 Minuten vor Abfahrt im Bahnhof sein sollten. Als BahnCard 100-Nutzer der Deutschen Bahn würde ich darüber lachen und den Zug verpassen.
Man muss sich seinen Wartesaal suchen.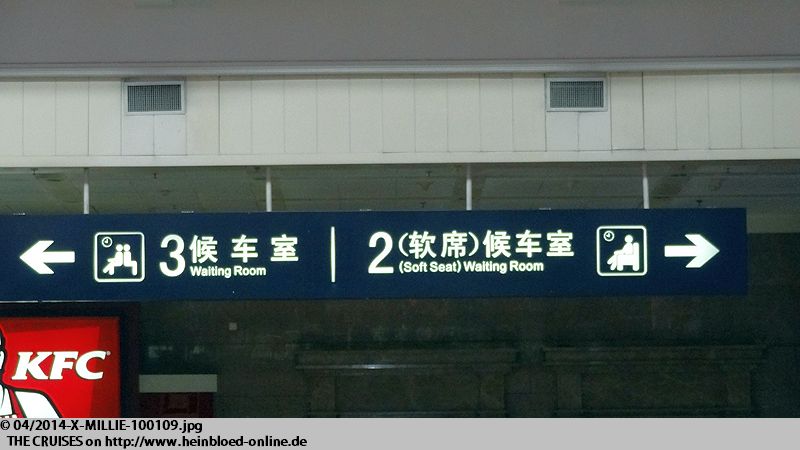 You need to find your appropiate waiting lounge.

Enroute I bought some dumplings for breakfast.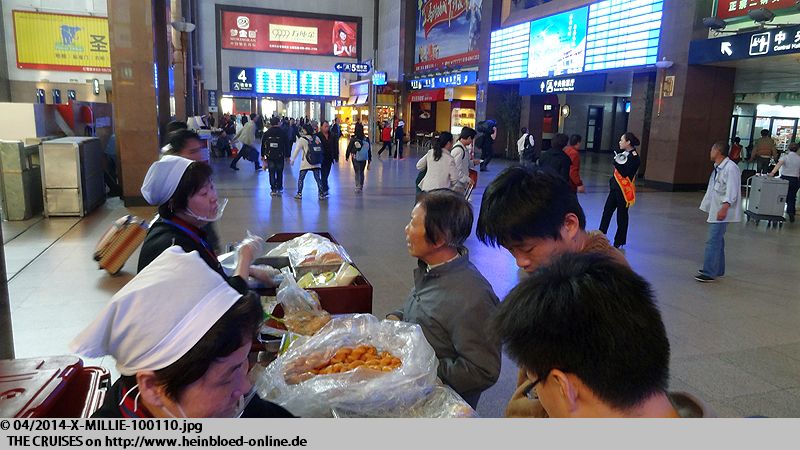 Unterwegs kaufe ich noch Teigtaschen zum Frühstück.
Hier werden wir dann zum 4. Mal heute kontrolliert.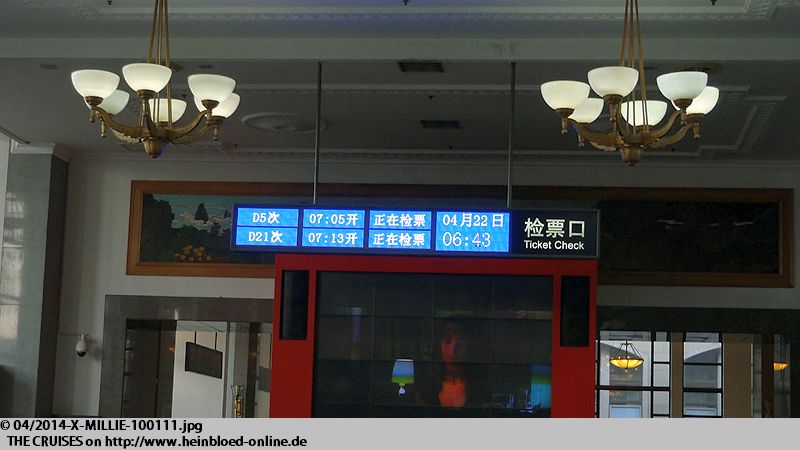 Now we were checked the 4th time.

This train goes to Ulan-Bator, Mongolia... But it was Russian and what else? I learned later in Wikipedia that the Mongolian language use Kyrillic characters too.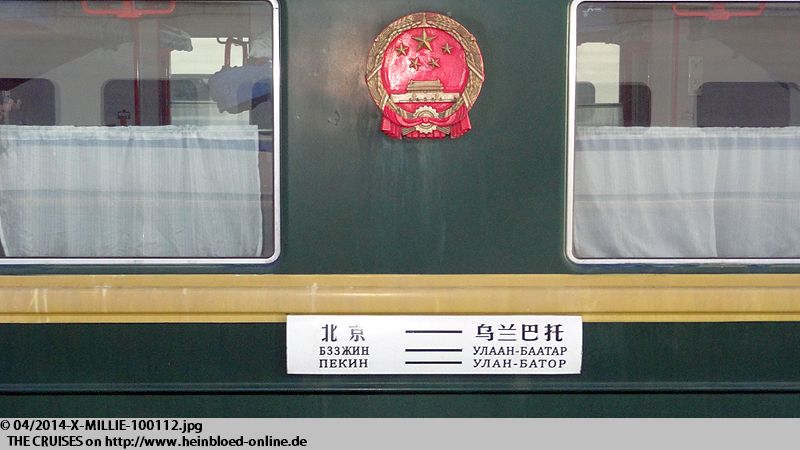 Der Zug fährt nach Ulan-Bator, Mongolei... aber alles steht auf Russisch und was sonst noch? Ich lerne in Wikipedia, dass auch Mongolisch in kyrillisch schreibt.
Die Tickets meiner Eltern für Wagen 8.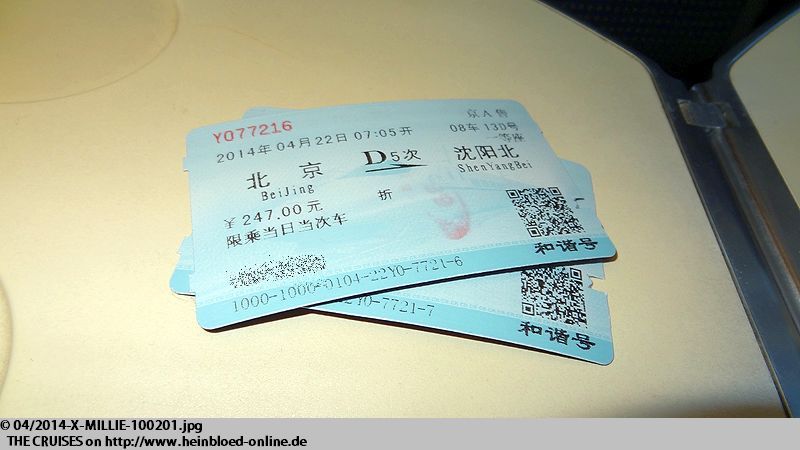 The tickets for my parents in Car 8.

My father was somehow unsure if it was a good idea to go to his birthplace.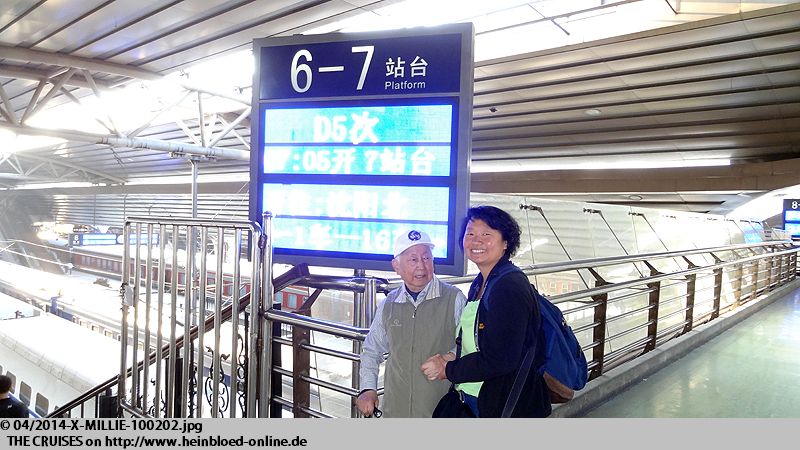 Mein Vater ist ein wenig verunsichert, ob die Idee in seinen Geburtsort zu fahren eine gute Idee ist.
Das sieht ja nun hochmodern aus.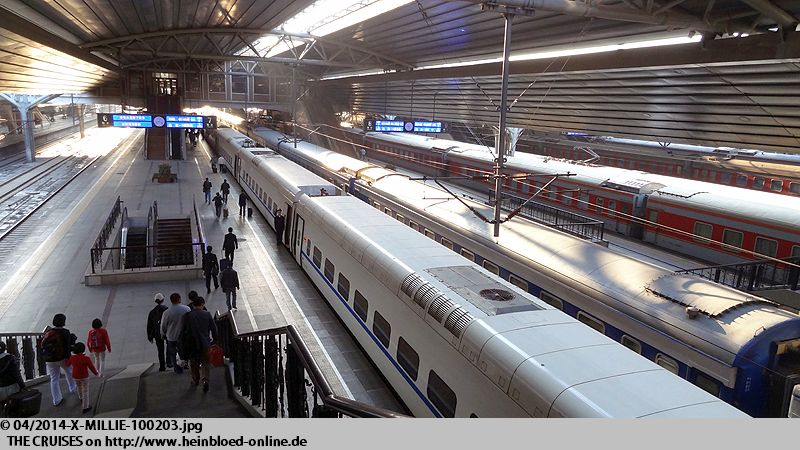 This looked very modern.

We had to go very far to the front.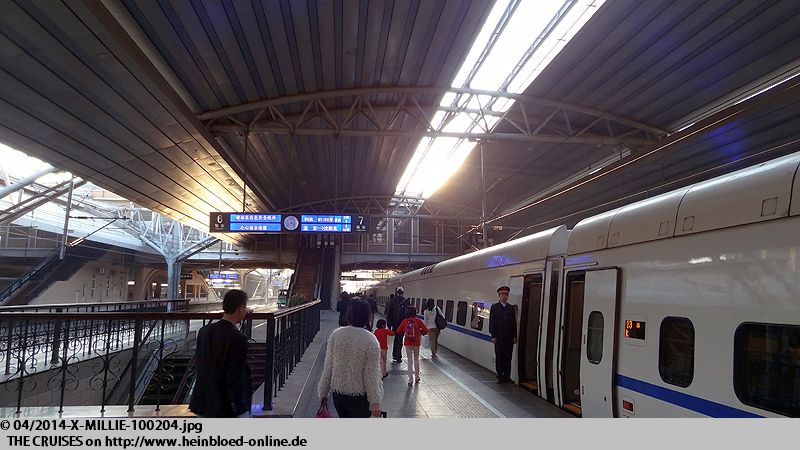 Wir müssen ganz nach vorne.
Noch 15 Minuten bis zur Abfahrt. Es gibt einen Golfwagen, der Passagiere nach vorne fährt. Aber der Fahrer weigert sich meinem Vater zu helfen.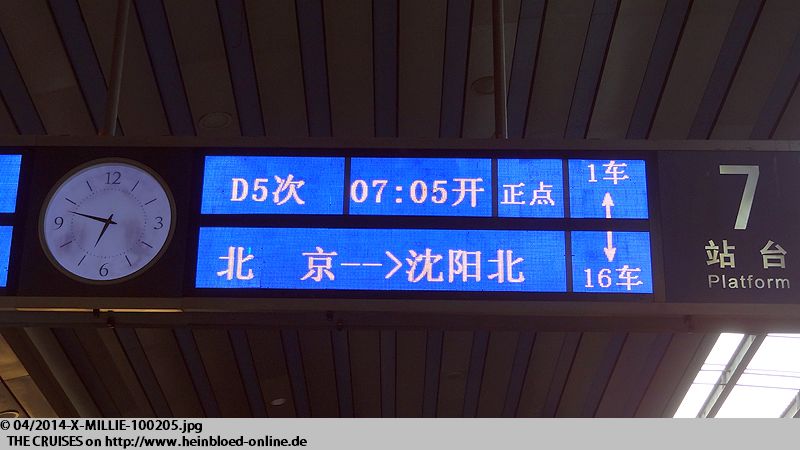 Still 15 minutes until departure. There was golf caddy who took passengers to the front. But the driver refused to help my father.

The Chinese high-speed-train I knew already from Japan.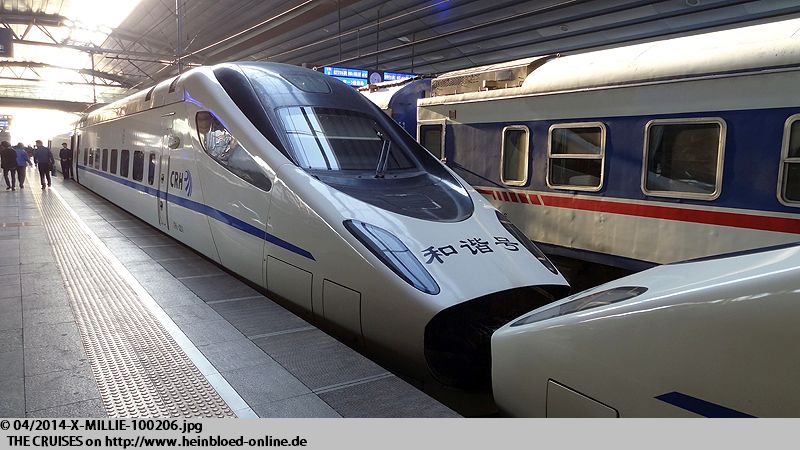 Die chinesischen Hochgeschwindigkeitszüge kenne ich aus Japan.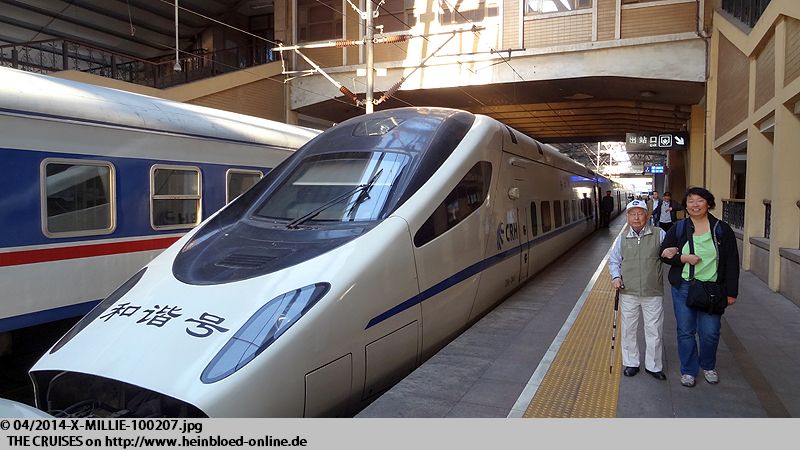 In the train some guests were willing to change their seats so we could sit together. We started with our breakfast. But we could also buy everything in the train. They had a board programme. Everything was more narrow than in Germany: In the 1st class you had a 2-2-seat-configuration and in the 2nd class 3-2. So I was lucky to book everything in 1st class. Bruno cleaned but that was not necessary because someone in the train was walking through the train to keep the cars clean. While we were in the suburbs of Beijing the train did not go very fast but later upto 127 m/h... for us it was quite "slow". Due to safety reasons all trains were slowed down. Before all trains need one hour less to Shenyang. At the seats there were no power outlets so you need to find a baggage rack to load your electric devices. You had the incentive vendors with the Chinese Railways. Always there was someone who checked if the bags were properly stowed on the racks and moved it appropiately if it was not - like a handle or a belt which was overlapping the edge of the racks. You had a ticket inspection in the train but an inspection of the inspection too...

Im Zug sind einige Fahrgäste bereit zu tauschen, damit wir zusammensitzen können. Wir fangen mit dem Frühstück an. Wir hätten aber auch alles im Zug kaufen können. Es gibt ein Bordprogramm. Alles ist enger als in Deutschland: In der 1. Klasse gibt es eine 2-2-Sitzkonfiguration und in der 2. Klasse 3-2. Zum Glück habe ich 1. Klasse gebucht. Bruno putzt, aber das wäre nicht notwendig, weil ständig jemand durch den Zug läuft und alles sauber wischt. Die Züge fahren im Bereich von Beijing nicht besonders schnell, aber später geht es bis 205 km/h hoch... für uns doch sehr "langsam". Aus Sicherheitsgründen wurden die Züge verlangsamt. Früher ging es eine Stunde schneller nach Shenyang. Leider gibt es an den Sitzen keine Steckdosen, so dass man nur an den Gepäckfächern seine Geräte aufladen kann. Ein Eis passt immer rein. Impulsverkäufer gibt es auch bei der chinesischen Eisenbahn. Ständig wurden die Gepäckstücke auf der Ablage zurecht gerückt, wenn etwas hervorschaute, wie ein Griff oder ein Gurt. Neben der Fahrkartenkontrolle im Zug gab es aber auch die Kontrolle der Kontrolle...
Praktisch waren die Heißwasserspender an den Wagenenden.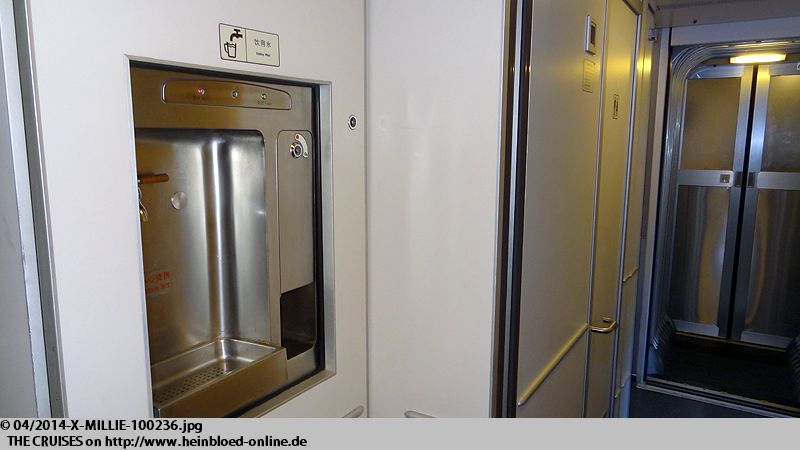 Very nice were the hot water dispensers at every end of the cars.

So Bruno could brew a hot tea. Most others used it to prepare instant-noodle cups.

So kann sich Bruno einen heißen Tee machen. Andere füllen ihre Instant-Nudelbecher.
Alles ist wirklich sehr sauber in den Zügen.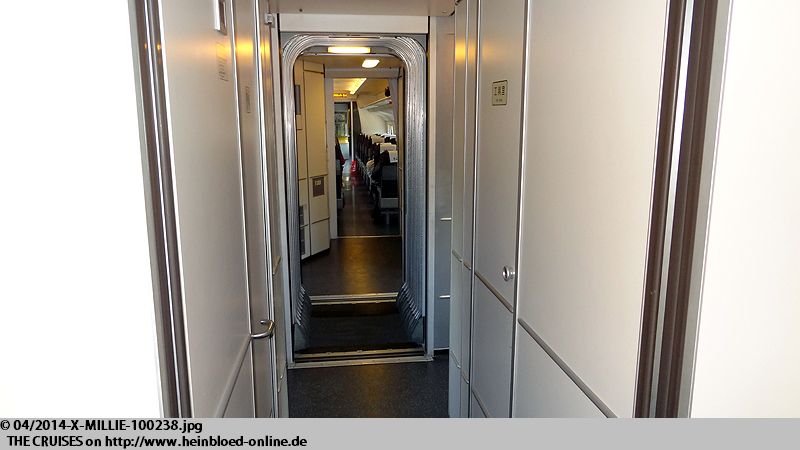 Everything in the train was very clean.

But you had everywhere the squad toilets.

Nur sind überall die Hocktoiletten.
Aber alles elektronisch.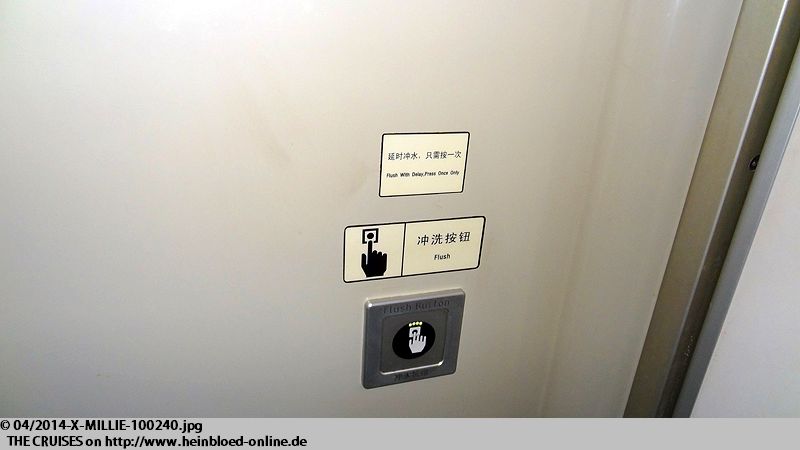 But everything was electronic.

Toilet paper was available. So need to have your own with you.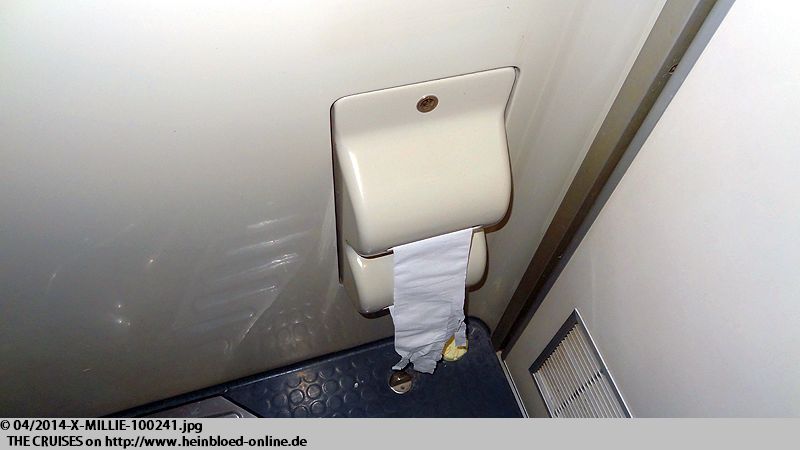 Toilettenpapier ist da. Man muss kein eigenes mitbringen.
Man kann sich die Hände waschen und alles kontaktlos.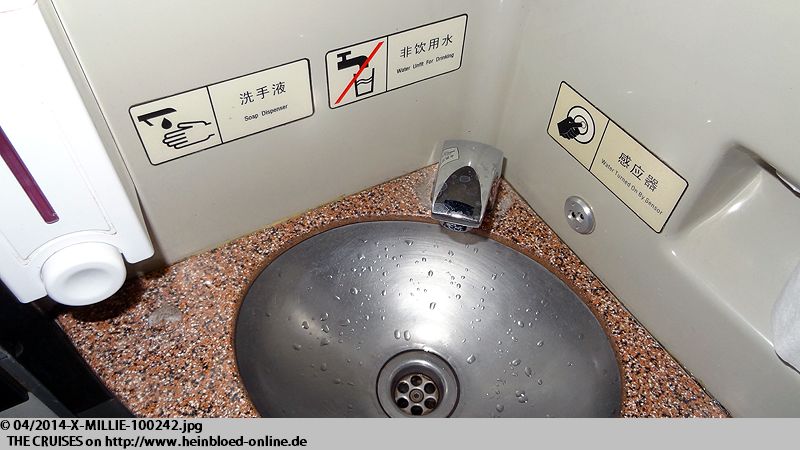 You can wash your hands and everything was contact-free.

And in car no. 7 you had a handicapped toilet. So my parents prefered to stay at "their" seats in car 8 so my father had an easy access to the toilet. For the return way we had luck: all of us were booked in car 8.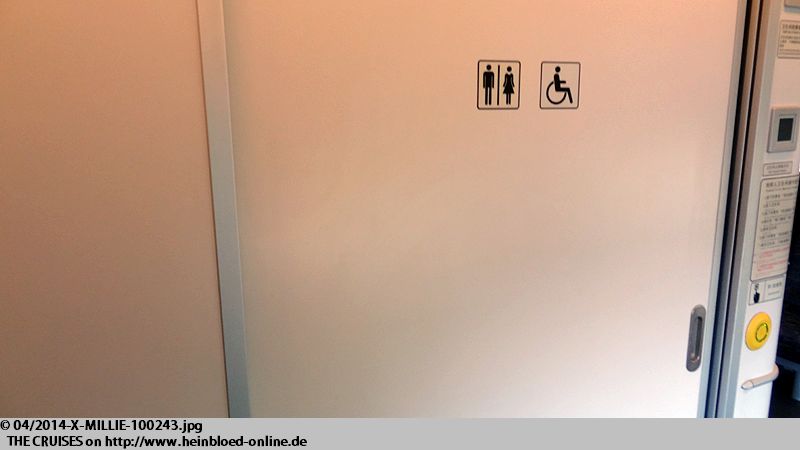 Und in Wagen 7 befindet sich eine Behindertentoilette. So setzen sich meine Eltern doch auf "deren" Plätze in Wagen 8, damit mein Vater in der Nähe der Toilette ist. Für den Rückweg haben wir Glück: dort sind wir in Wagen 8 gebucht.
Nach fast fünf Stunden kommen wir in Shenyang Nord an.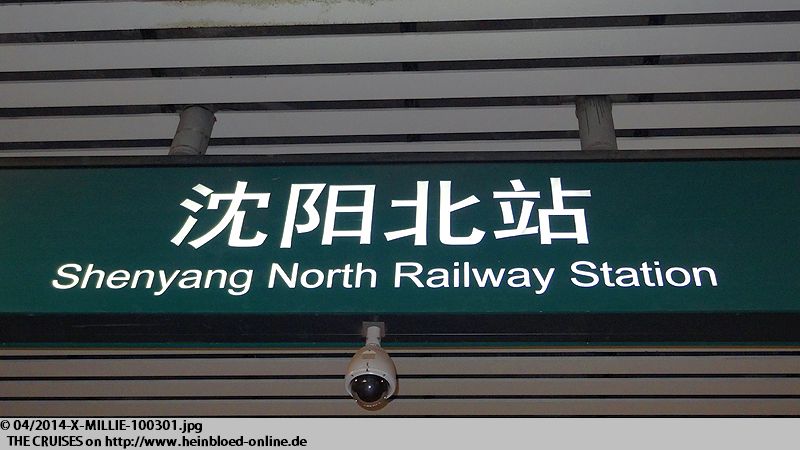 After about five hours we arrived at Shenyang North.

As we walked within the train to our parents to meet them in car 8 we get off in the center of the platform.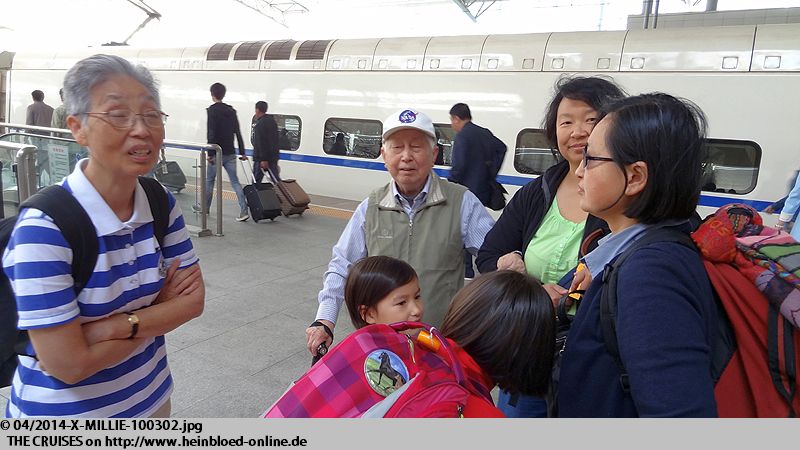 Da wir im Zug zu unseren Eltern laufen, um sie im Wagen 8 abzuholen, kommen wir in der Mitte des Bahnsteigs raus.
So verpassen wir unseren Reiseführer, den wir auf Chinesisch bestellt haben, damit mein Vater am Meisten davon hat: Mr Zhao.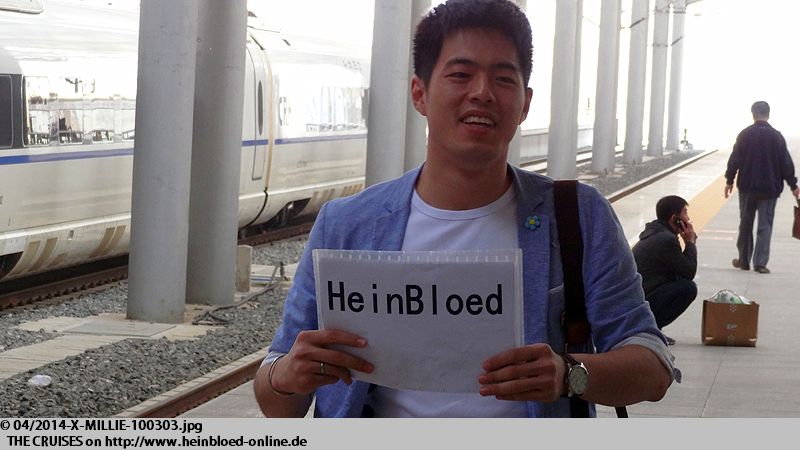 So we missed our tour guide Mr Zhao which we ordered in Chinese for my father that he could ask most to learn as most as possible.

With great interest we had to learn that on Chinese train stations they seperate the flow of arriving and departing passengers. So we were escorted out through subways.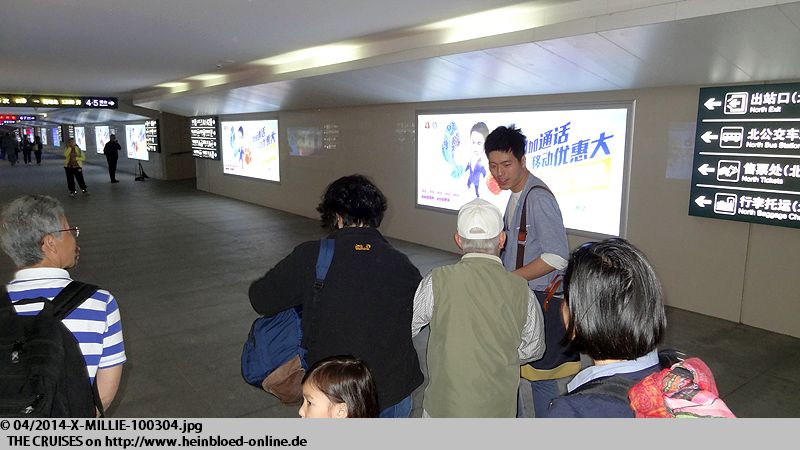 Mit Interesse stellen wir fest, dass auf chinesischen Bahnhöfen der ankommende und abreisende Fahrgaststrom getrennt werden. So werden wir unterirdisch aus dem Bahnhof geführt.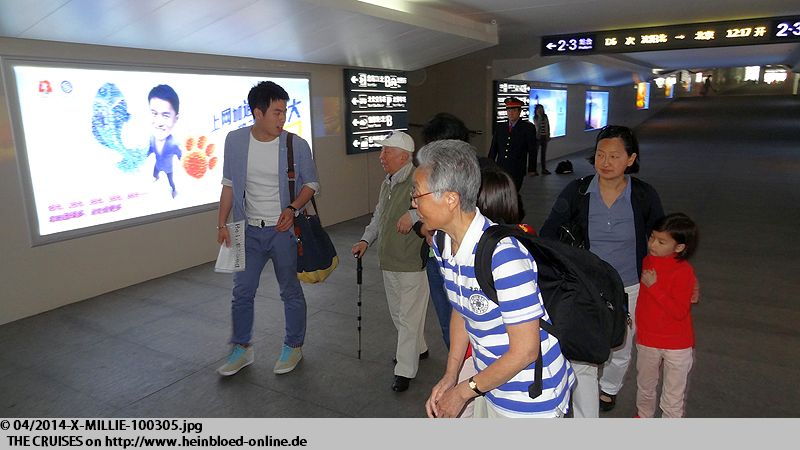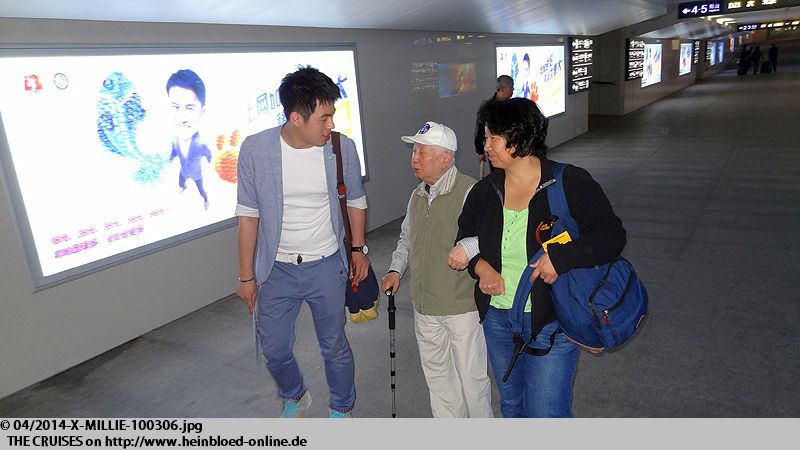 Vor dem Bahnhof gibt es jede Menge Stände, an denen Spezialitäten aus Taiwan verkauft werden.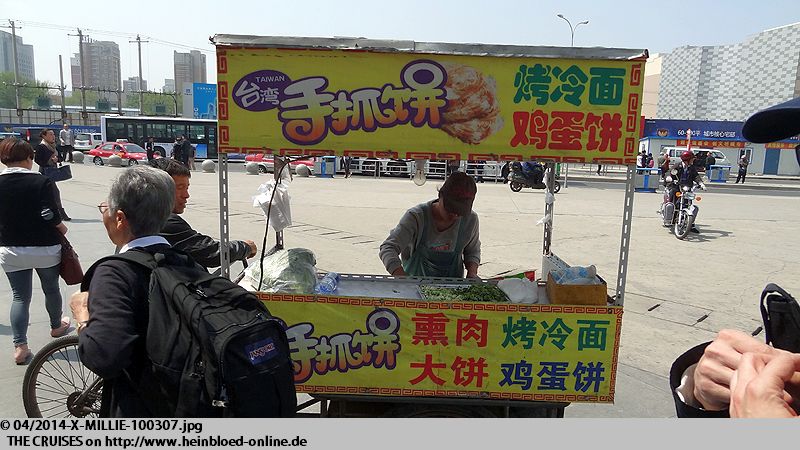 In front of the station you had many stands selling Taiwanese specialities.

My father was very happy to be back in his hometown after more than 70 years.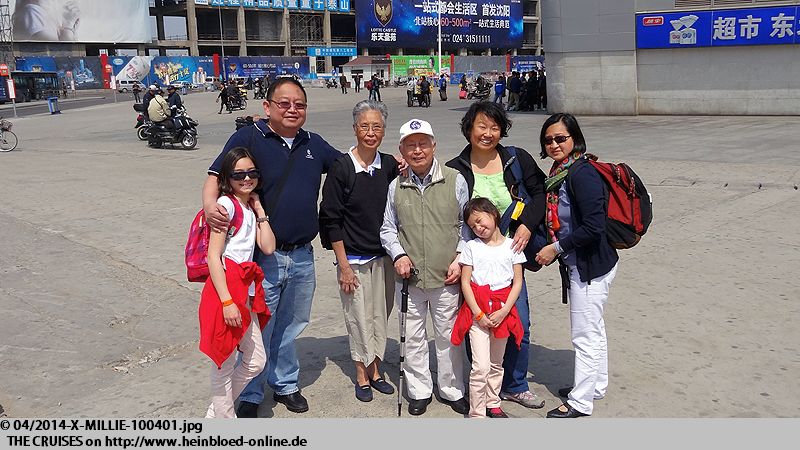 Mein Vater ist doch sehr glücklich, endlich nach über 70 Jahren wieder in seinem Heimatort zu sein.
Ein Mini-Bus wartet auf uns.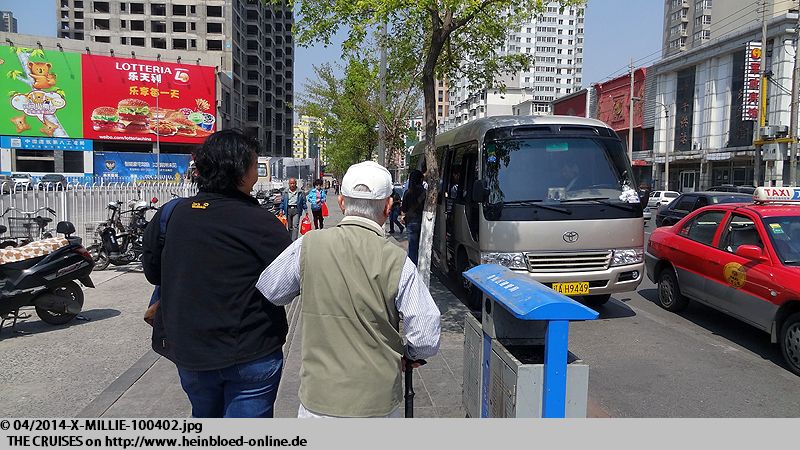 A small bus was waiting for us.

First we went for lunch.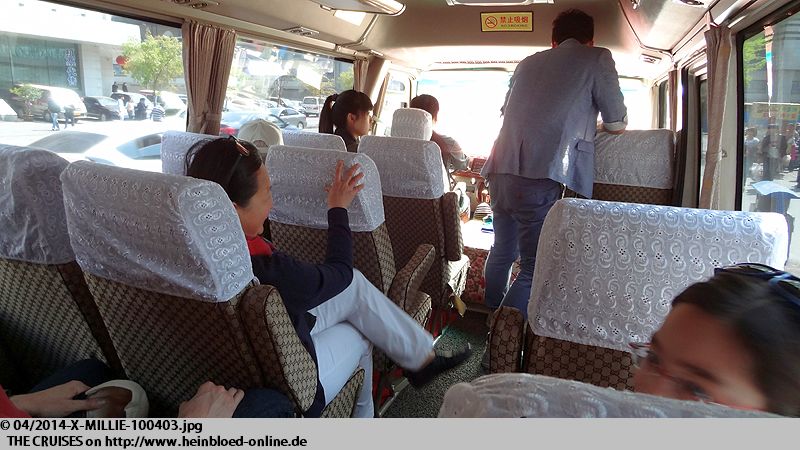 Zunächst fahren wir zum Mittagessen.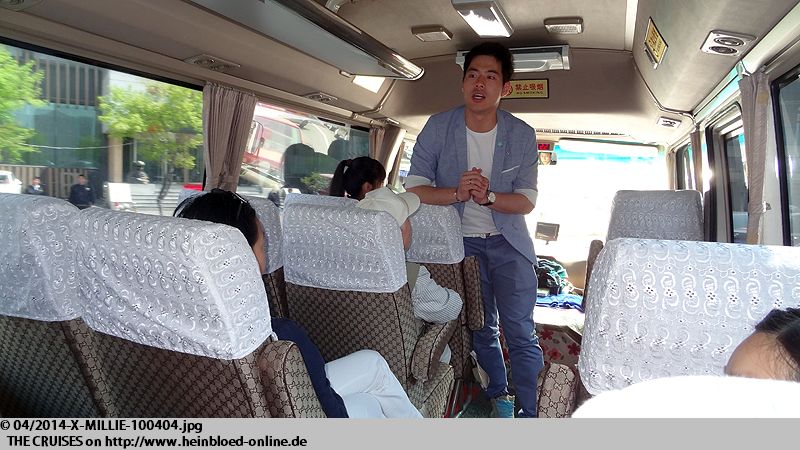 The Fangyuang Building which was built after the shape of a coin. It is listed within the Top 10 of the most ugliest buildings in the world.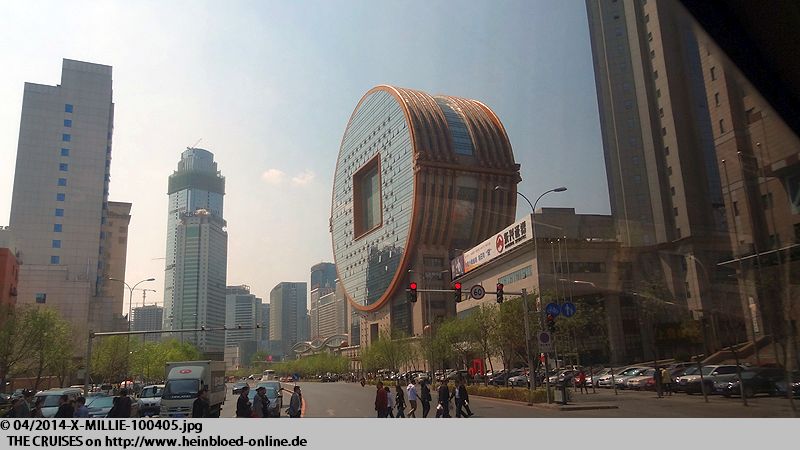 Das Fangyuang-Gebäude, das einer Münze nachgebildet ist. Es ist der in der Top 10 der hässlichsten Gebäude der Welt.
Was haben die Schuhe an der Autoantenne zu bedeuten?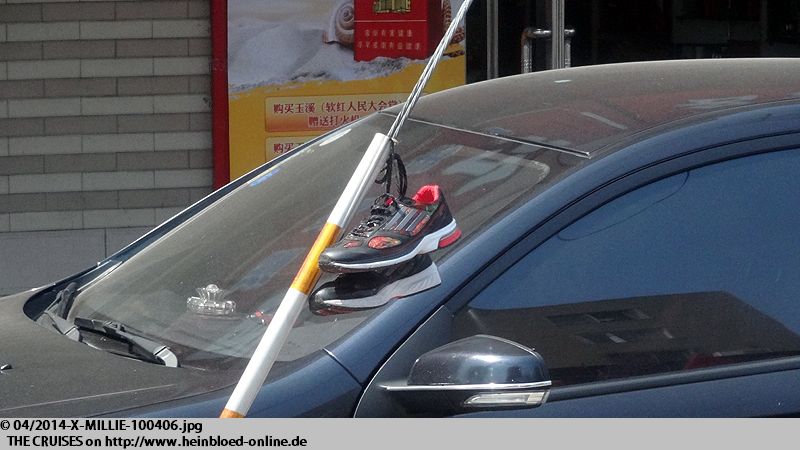 What did the shoes mean at the antenna?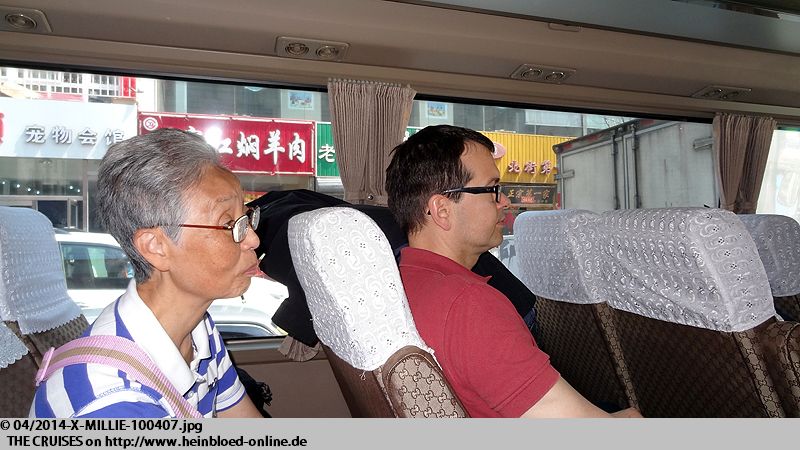 Wir kommen an einer großen belebten Kreuzung an. Ein Teil ist Fußgängerzone.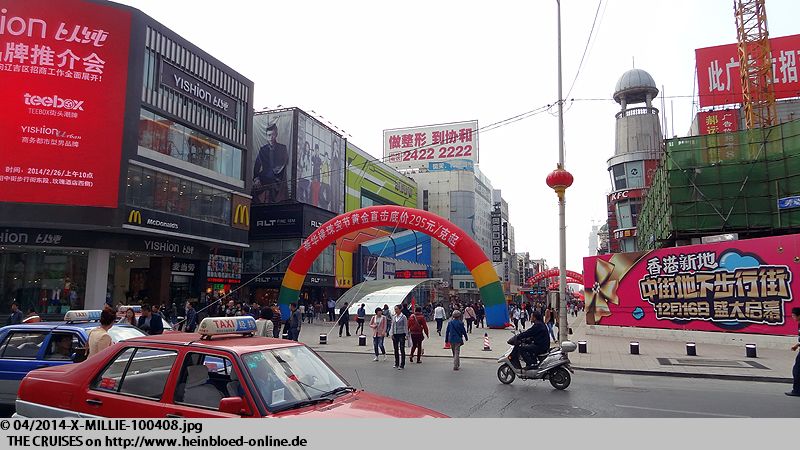 We passed a very busy intersection. One part is pedestrian zone.

My father told the tour guide that Shenyang was famous for the most busy business streets in China and mentioned the name. The tour guide explained my father that he was just on the street. But they broadened the street in 1997 and since the Communists took over the government they changed the name as the former Imperial name was not appreciated.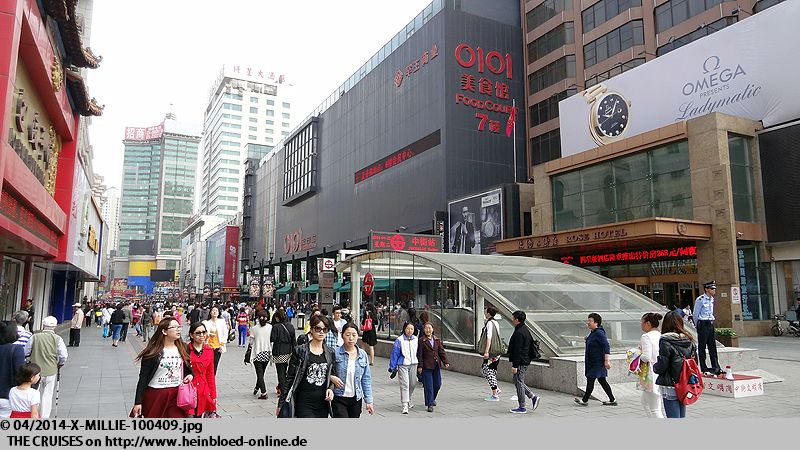 Mein Vater erzählt dem Führer, dass Shenyang schon früher einer belebtesten Geschäftsstraßen China hatte und erwähnt den Namen. Der Führer erklärt meinem Vater, dass er sich auf der Straße befindet. Nur hat man sie 1997 verbreitert und seit Herrschaft der Kommunistischen Partei umbenannt, weil der kaiserliche Name nicht mehr erwünscht war.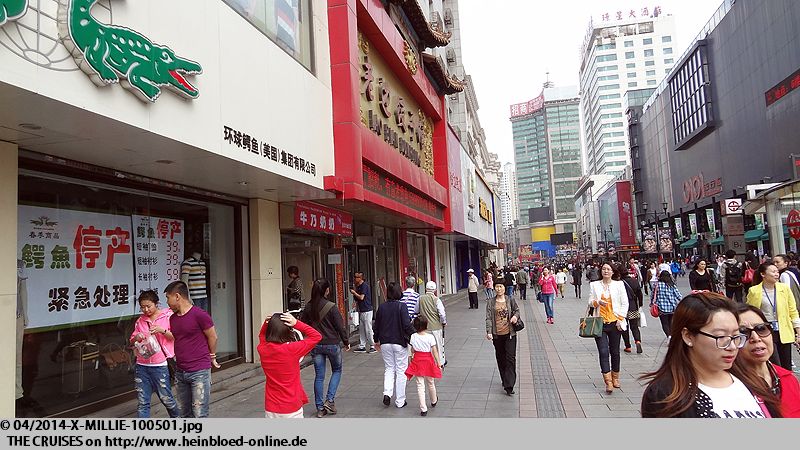 Until 1997 they had many historical shops in this street. Since the changes unfortunately not anymore. One of the stores was Lao Bian Dumpling. It was selected by Chrissie of CTS: No. 20 of 1,502 on Tripadvisor
.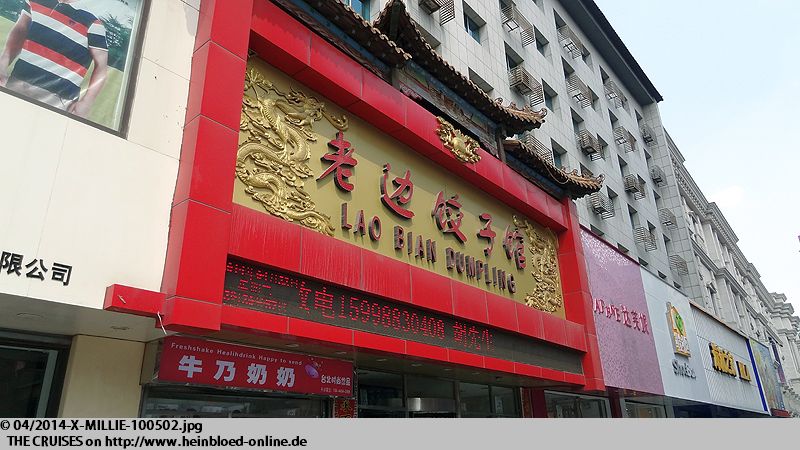 Bis 1997 gab es in dieser Straße noch sehr viele historische Läden. Seit dem Umbau leider nicht mehr. Einer der Läden ist Lao Bian Dumpling. Das hat Chrissie von CTS für uns auswählt: Nr. 20 von 1.502 auf Tripadvisor.
Das Restaurant gibt es seit 1829. Mein Vater erinnert sich, das er das Restaurant vom Hörensagen her kennt. Es ist als historische Marke seitens des Ministeriums eingetragen.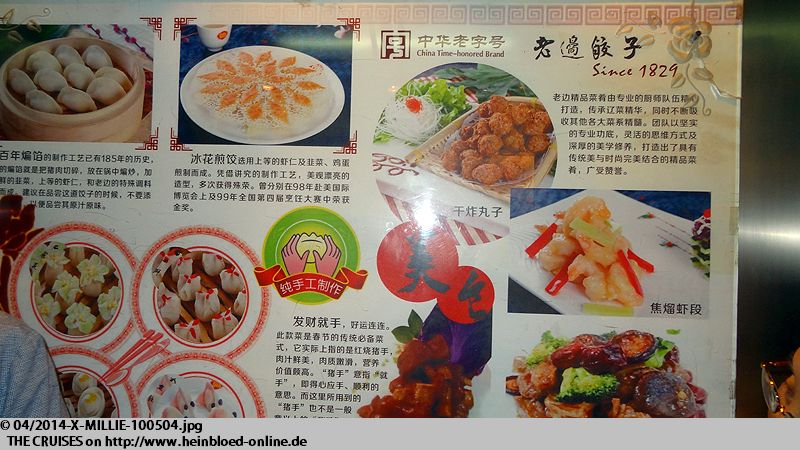 The restaurant was founded 1829. My father remembered he was told of this restaurant. It registered by the Ministrity as historical name.

We went upstairs.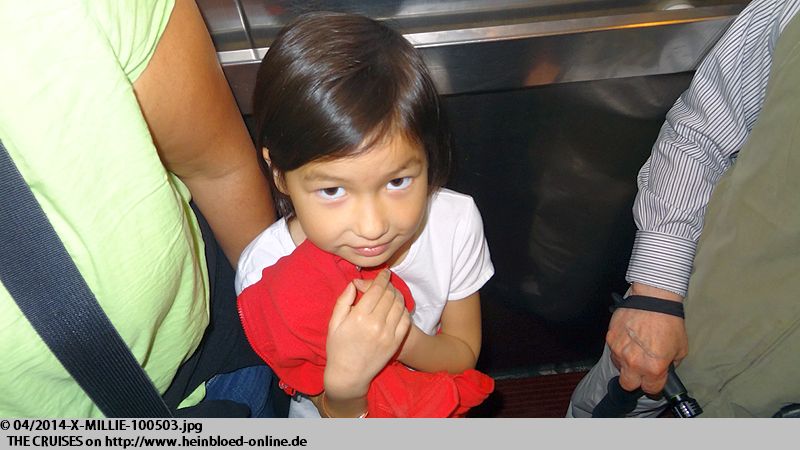 Es geht nach oben.
Für uns wurde ein Separee bestellt. Für alle, die das Vorurteil haben, dass man in China nur Reis ißt: nein - im Norden Chinas wächst kein Reis, sondern Getreide. Daher sind hier im Norden Nudeln und andere Teigwaren viel populärer. Chrissie hat alles vorbestellt, was meinen Vater glücklich machte. Mein Vater fühlte sich in seine Kindheit versetzt. Er bekam alles, was er als kleiner Junge, auch mit seinen Eltern und sieben Geschwistern bekam. Nur heute mit seinen Kindern und seinen Enkeln in seiner Heimatstadt hat ihm das doch ein paar Tränen in die Augen getrieben. Vielen Dank an Chrissie nochmals für den tollen Restaurantvorschlag. Der perfekte Ort für uns.

They ordered for us a private dining room. For all who has the prejudice that you only eat rice in China: no - in the Northern part of China rice is not growing but wheat. Therefore noodles and other dumplings are much more popular in the Norther part. Chrissie ordered everything what made my father happy. My father was taken emotionally to his childhood. He got exactly the food he got as little boy when he had dinner with his parents and his seven brothers and sisters. So few tear drops came when he was now in his home place with his own children and his grandchildren. Thanks again to Chrissie for this wonderful recommendation. The perfect place for us.

After we got 11 different types of dumplings they served a soup. Very little dumplings (size of a fingertip) were inside. The waitress turned her head away and scooped a scoop full of soup. Depending how many dumplings she got for you, your futured luck was different. My father and tour guide had the luck that no dumpling was in the scoop.

Nach dem elf unterschiedlich Sorten Teigtaschen kamen, wurde eine Suppe serviert. In der waren sehr kleine Maultaschen (Größe einer Fingerkuppe). Die Kellnerin drehte sich weg und schöpfte eine Kelle Suppe. Je nach dem, wie viele Teigtaschen, waren unterschiedliche Glückszenarien vorprogrammiert. Mein Vater und der Reiseführen hatten das Glück, dass sich gar keine Teigtaschen in der Kelle befanden.
Auf dem Weg nach unten, kann mein Vater noch etwas über die Historie dieses Restaurants lesen und sieht die Fotos seiner Vergangenheit in Shenyang.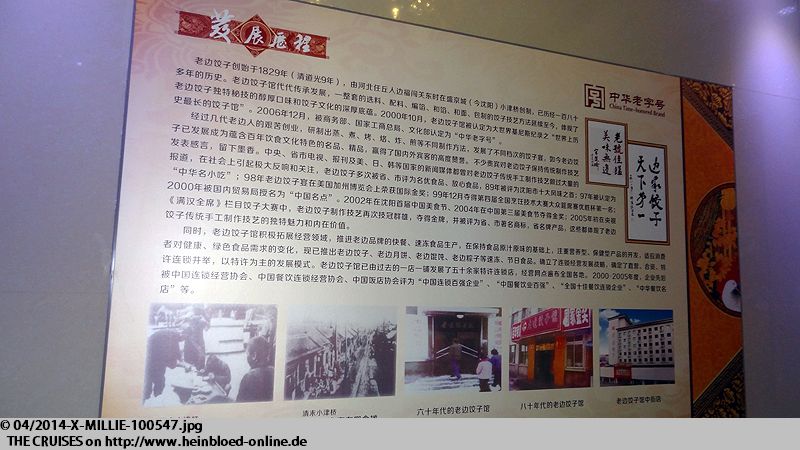 On the way down my father could read a lot of the history of the restaurant and saw pictures of his past in Shenyang.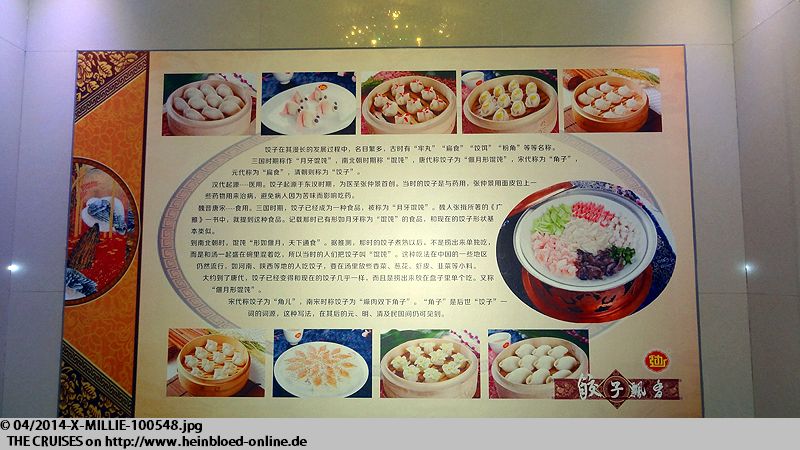 Draußen freut er sich doch, dass er wieder in der Hauptstraße steht, in der er schon als Kind entlang gegangen ist.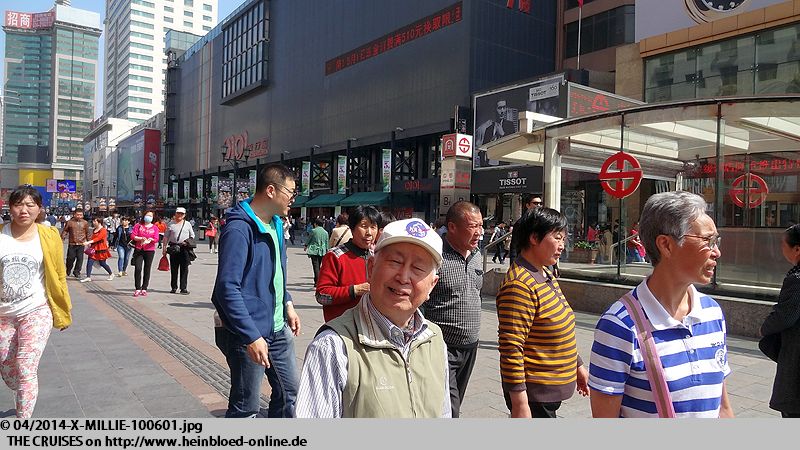 Outside he was happy to walk on the street he was walking on when he was a little boy.

We continued our tour by bus.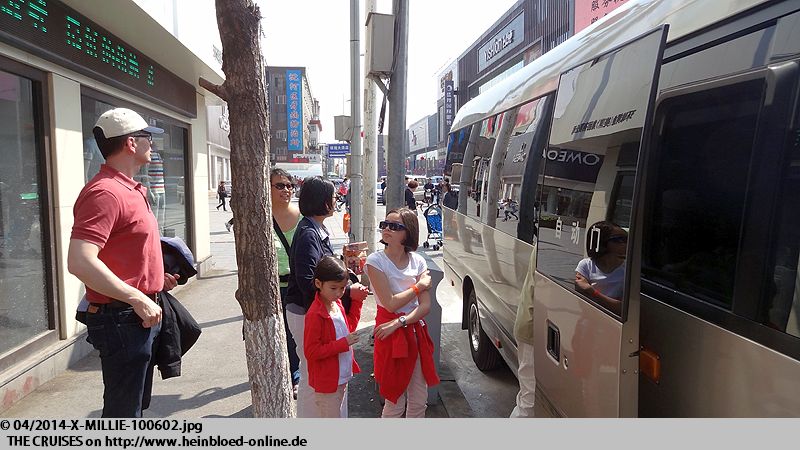 Es geht weiter in den Bus.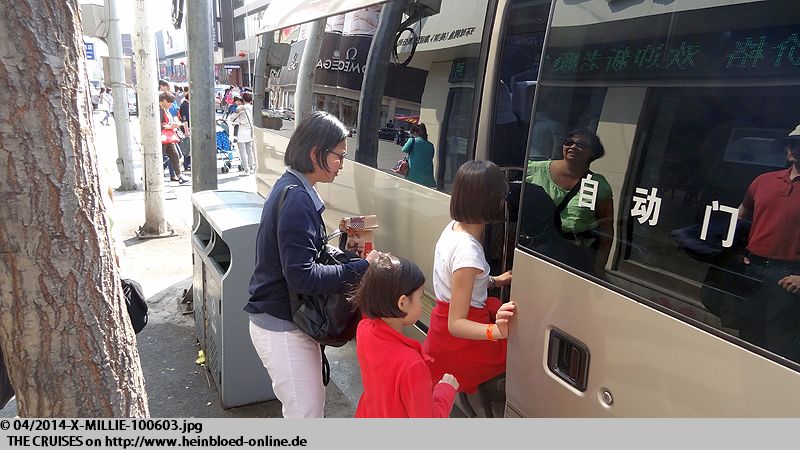 Only the kids were claiming. They are too Western. French Fries with mayonnaise and ketchup tasted nicer to them.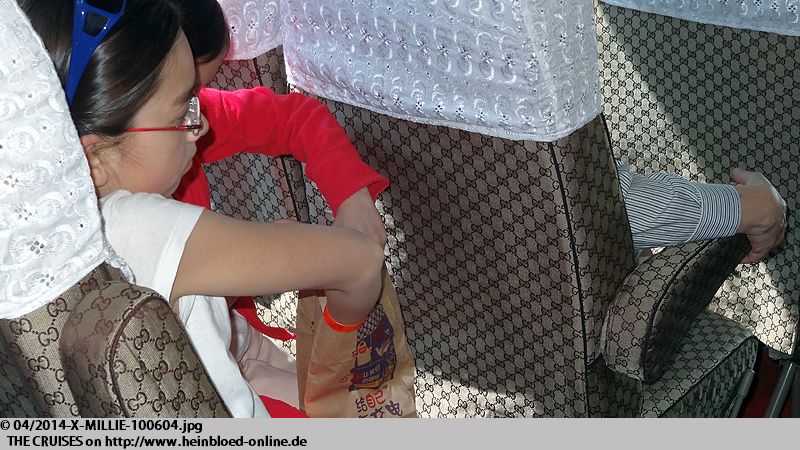 Nur die Kinder maulen. Sie sind nun mal zu westlich. Pommes Frites mit Mayonnaise und Ketchup schmecken doch besser...