Scroll down for English explanations - alternates with German explanations.

Endlich unser zu Hause für die nächsten 13 Nächte - allerdings minus zwei, die wir in Beijing sind. Die Vorfreude ist seit Ketchikan, Alaska im vergangenen Mai 2013 sehr verhalten. Damals lagen wir gemeinsam mit der ISLAND PRINCESS dort. Wir sind einer Schweizerin begegnet, die beide Schiffe kannte und auf uns auf der ISLAND PRINCESS "neidisch" war und uns sagte, wie schlimm es auf der CELEBRITY MILLENNIUM war. Seit dem haben wir jede Beurteilung gelesen, wobei wir diejenigen aussortiert haben, die nur mit X unterwegs sind nichts anderes kennen oder zum ersten Mal auf einer Kreuzfahrt sind.

Finally our home for the next 13 nights but minus two when we will stay in Beijing. My anticipation was somehow a little limited since last May 2013 in Ketchikan, AK. We were same time in port on ISLAND PRINCESS. We met a Swiss cruiser who knew both ships and she was "envy" on our stay on ISLAND PRINCESS and told us how bad it was on CELEBRITY MILLENNIUM. Since then we read every review but we sorted out those who were issued by guests who are on X exclusively and do not know anything else or novices on their first cruise.

From North Point I could see the cruise terminal but it disappeared in the mist.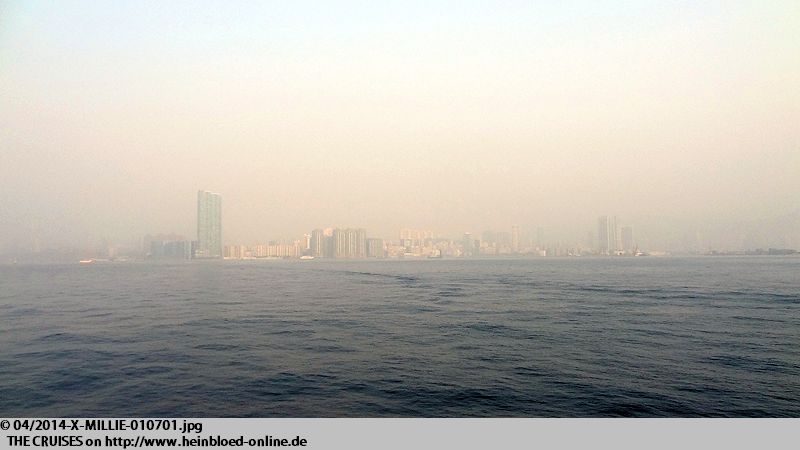 Vom North Point gucke ich auf das Cruise Terminal, aber im Dunst ist es verschwunden.
Fahre ich jetzt nochmals zurück oder probiere die andere Fähre der
New World First Ferry
nach Kowloon City aus.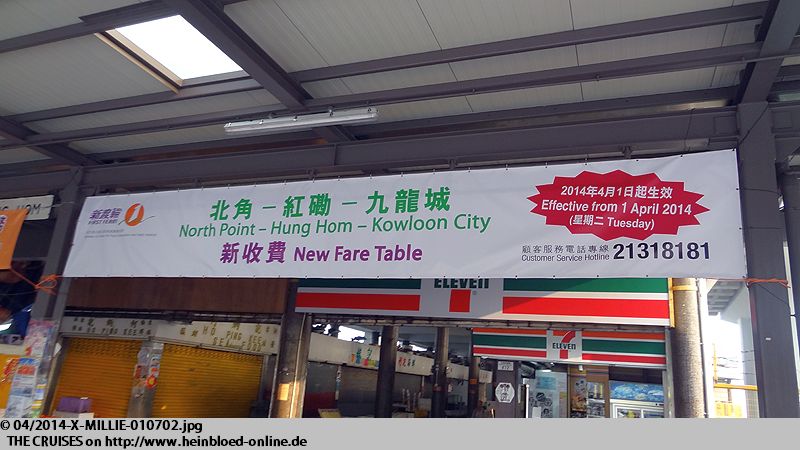 Should I go back again or should I try a different ferry to Kowloon City provided by New World First Ferry.

They did not start much more earlier and since April 01, 2014 my 5 HKD were not enough anymore as they increased the fare to 6.50 HKD.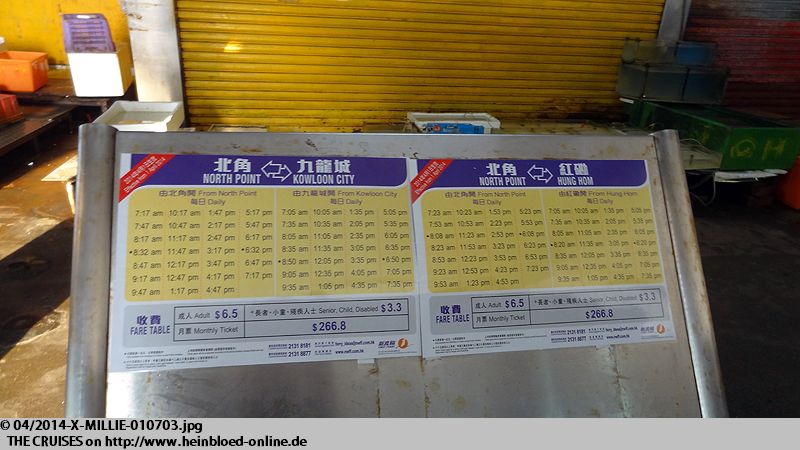 Viel früher starten sie auch nicht und seit 01.04.2014 reichen auch meine 5 HKD nicht mehr, da die Preise auf 6,50 HKD erhöht wurden.
Auf dem Weg zur Fähre kann man später wohl noch frischen Fisch kaufen.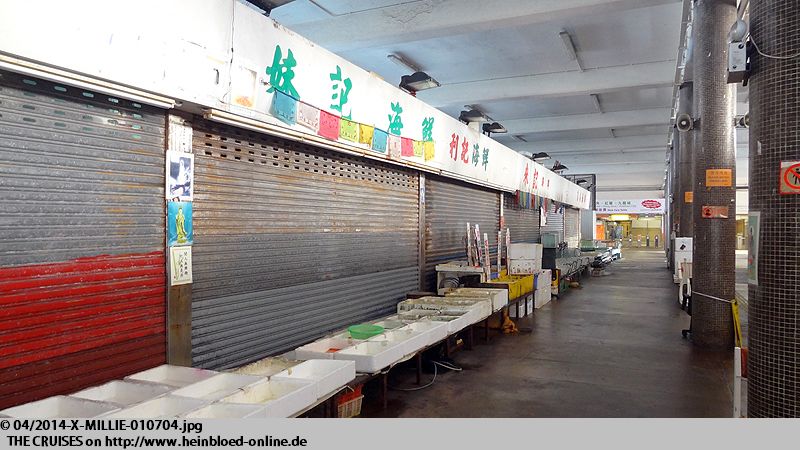 Later you can buy fresh fish on the way to the ferry.

Here I could not find any personalized ticket sale.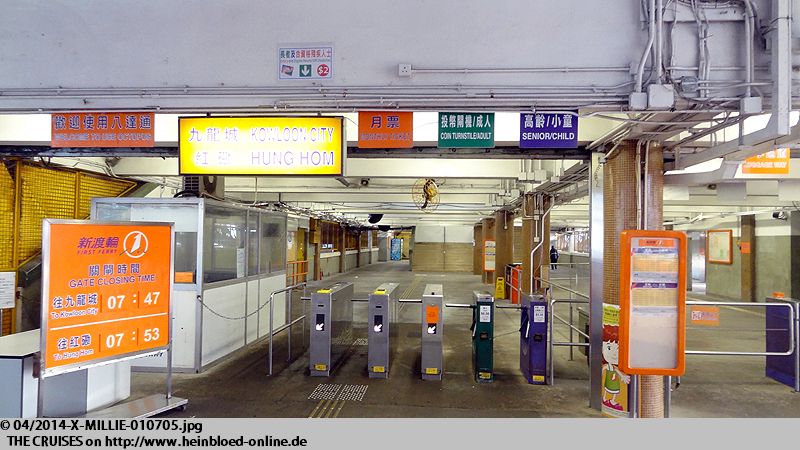 Hier gibt es keinen personalisierten Fahrkartenverkauf mehr.
Passend muss man den Betrag für das Drehkreuz einwerfen.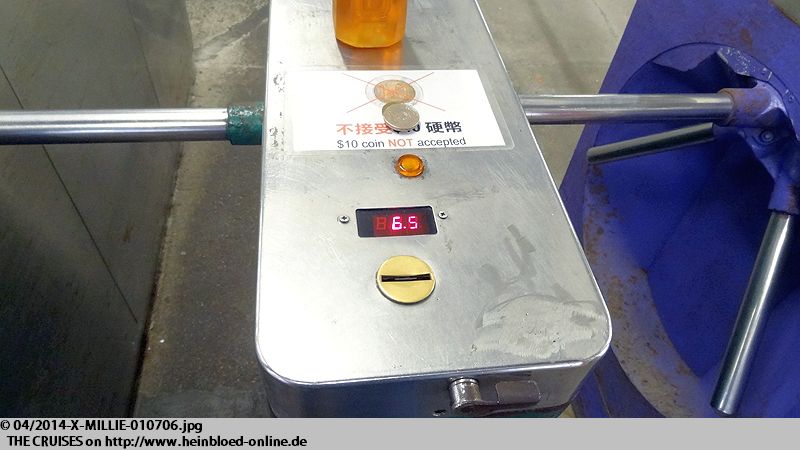 So you need to insert exact change to run the turnstile.

I went to Kowloon City and hoped that I can take any pictures of the CELEBRITY MILLENNIUM. But there was not any chance.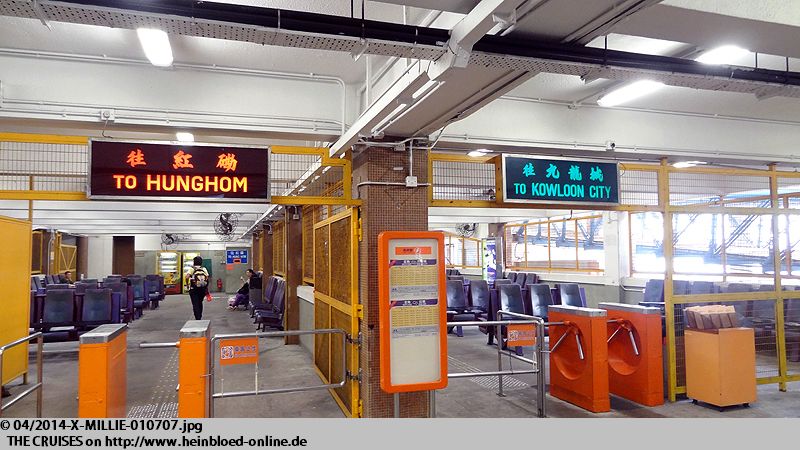 Ich fahre nach Kowloon City - in der Hoffnung, dass ich doch noch die CELEBRITY MILLENNIUM fotografieren kann. Aber leider habe ich keine Chance.
Die alten Sitze müssen noch im Fährterminal als Sitzgelegenheit herhalten.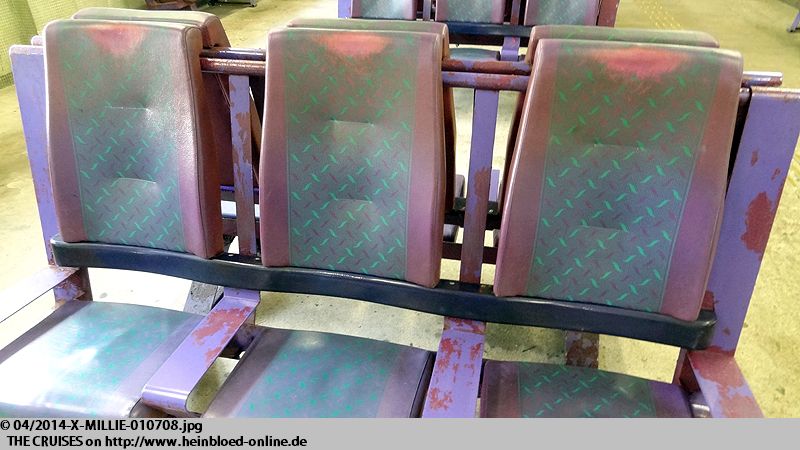 The old seats still need to be used in the ferry terminal.

They had no air-condition but a wall-mounted van.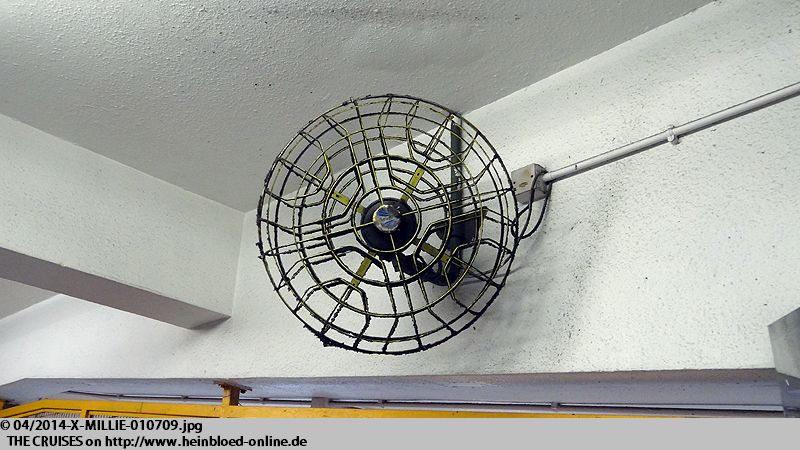 Klimaanlage gibt es nicht, aber einen Wandventilator.
Aber als wir ablegen müssen wir kurz im Wasser stehenbleiben, weil die STARRY METROPOLIS reinkommt. Die Form kommt mir sehr bekannt vor. Die Schwestern DELPHIN und VAN GOGH bzw. heute SALAMIS FILOXENIA kennt man sicherlich besser in unseren Breitengraden.

But when we need to set sail we need to stop in the water because STAR METROPOLIS was arriving. The shape of the ship looked very familiar to me. I think in Europe we might know her sisters DELPHIN and VAN GOGH or better today SALMIS FILXENIA much more better.

And finally SUPERSTAR VIRGO was appearing out of the fog... Later I went to the old Ocean Terminal to take more pictures.

Und dann erscheint noch die SUPERSTAR VIRGO aus dem Nebel... Später fahre ich aber nochmals zum alten Ocean Terminal, um sie dort nochmals zu fotografieren.