Scroll down for English explanations - alternates with German explanations.

Unsere Pässe werden wieder eingesammelt. U. a. ist wohl ein Butler oder ähnliches dabei, der einsammelt und herummault, dass die Kabinennummern auf seiner Liste und die wir nennen nicht übereinstimmen. Wann glaubt uns endlich jemand von Celebrity, dass wir selbst am Besten wissen, in welcher Kabine wir wohnen?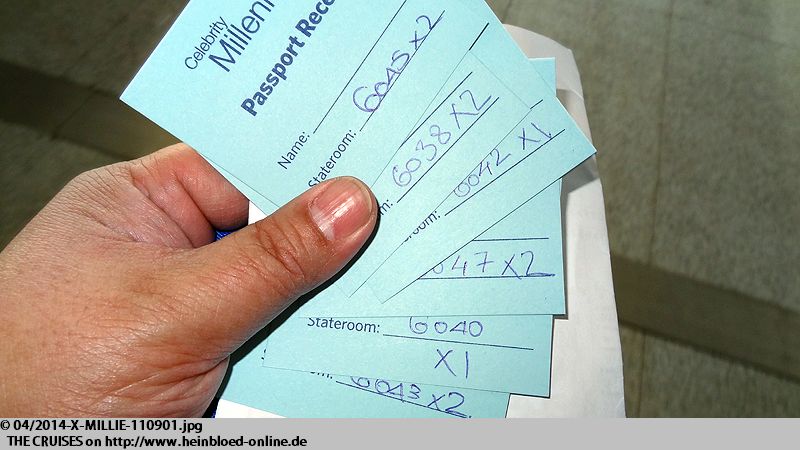 Our passports were collected again. One of the agents was the Butler or something like this who collected them and grumbled that the cabin numbers which we told him did not fit to those on his list. When would anyone from Celebrity would believe us that we knew best in which cabins we were staying?

Meanwhile my mood was so bad that nobody should ask me how it was... I only want to get off the ship. Before we reached the ship the 3rd copy was checked. Would Celebrity place their agents after the passport check you would not need a 3rd copy because he could see the original passport. But that would not be anymore in an air-conditioned area.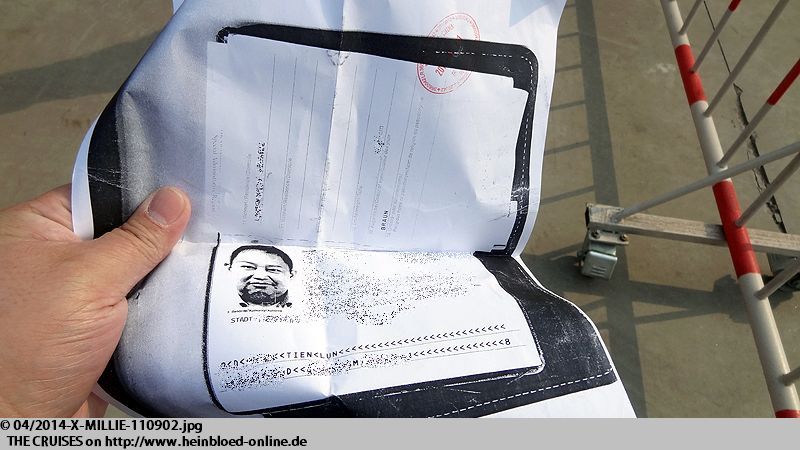 Mittlerweile bin ich so schlecht drauf, dass ich nicht einmal gefragt werden möchte, wie es war... Ich möchte nur noch vom Schiff runter. Bevor wir das Schiff erreichen, wird auf die 3. Kopie nochmals geguckt. Nun würde Celebrity sich nach dem Grenzbeamten platzieren, müsste man keine 3. Kopie erstellen, weil der Beamte hätte den Original-Pass gesehen. Aber da ist es ja nicht mehr klimatisiert.
Eine BÖSE ÜBERRASCHUNG. Im Programm vom 23.04.2014 steht, dass die Rückkehr an Bord auf heute 15.30 Uhr vorgezogen wurde, und man selbst haftet, wenn man das Schiff verpasst. Im Programm vom 21.04.2014 steht, dass die Gangway heute erst um 17.45 Uhr eingezogen wird. Das war das Programm, das wir und alle anderen unabhängigen Tourgäste bekommen haben, bevor wir vor zwei Tagen von Bord gegangen sind. Nirgendst ein Wort, dass man früher wieder an Bord sein muss.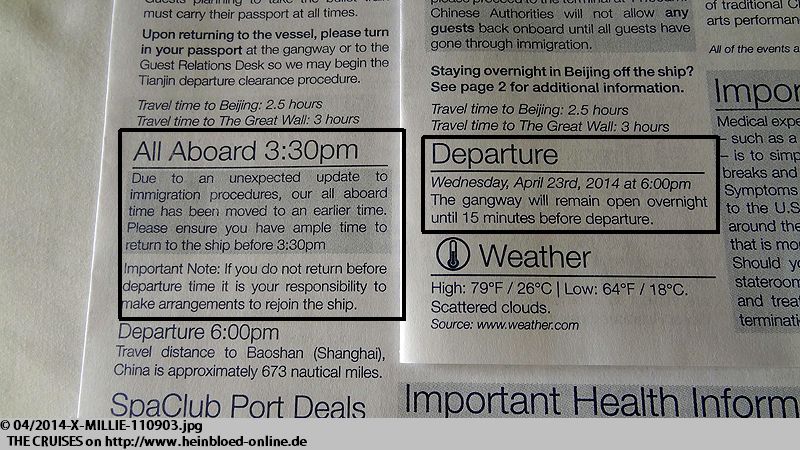 A BAD SURPRISE. In the programme of April 23, 2014 it was published that you need to be back today at 15.30 hrs and you are liable in case you missed the ship. In the programme of April 21, 2014 it was published that the gangway will be available until 17.45 hrs. That was the programme all independent tour guests got before they left the ship two days ago. No word about the need to be earlier back on board.

I assume that this sheet of paper meant that they did not sit all the night outside to collect the passports.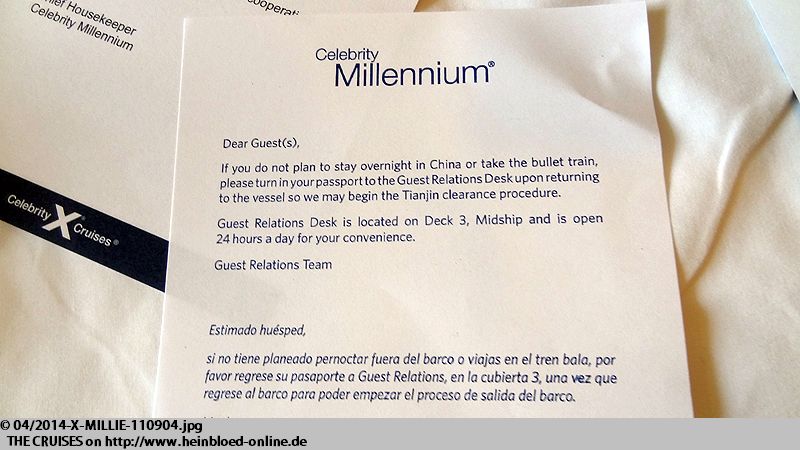 Ich nehme mal fast an, dass der Zettel zu bedeuten hatte, dass man nicht über Nacht draußen saß, um die Pässe einzusammeln.
Wir kriegen einen Anruf und werden gefragt, warum wir die Taiwan-Pässe meiner Eltern von dem chinesischen Reisedokumenten getrennt hätten, weil sie doch noch gebraucht würden. Ich sage denen, dass wir sie erst wieder in Kopenhagen brauchen, wenn wir in die Schengen-Zone einreisen. Aber sie bestehen darauf, dass das Schiff nicht abfahren kann, wenn ich die Pässe nicht runterbringe. Ich sage denen, dass die chinesische Behörden die Taiwan-Pässe meiner Eltern nicht sehen wollten. Aber das ist egal. Also bringe ich sie runter. Bei der Gelegenheit frage ich, warum wir eigentlich erst heute, wenn alle noch vormittags in Beijing sind unterrichtet werden, dass wir bereits um 15.30 Uhr zurück sein müssen. Man teilt mir mit, dass man entschieden hätte, dass er pünktlich abfahren will und weil er im vergangenen Jahr so lange aufgehalten wurde, hatte man kurzfristig angeordnet, dass alle bereits um 15.30 Uhr zurück sein müssten. Das lasse ich natürlich nicht unkommentiert: Alle sind in Beijing und man ordnet an, dass wir früher zurück sein müssten... Weiter komme ich nicht, um meinen Unmut zum Ausdruck zu bringen: Für Reklamationen ist nur die Rezeption zuständig. So eine besch... Organisation habe ich bislang in 64 Kreuzfahrten noch nicht erlebt. Was schätze ich Norwegian: Du kannst einem Senioroffizier etwas Negatives berichten: auch wenn er nicht zuständig ist. Er hat immer seinen Block dabei und macht sich Notizen mit deinem Namen und Kabinennummer und sagt: er kümmert sich darum. Da wird man nicht einfach weitergeschoben. So etwas gibt es nicht.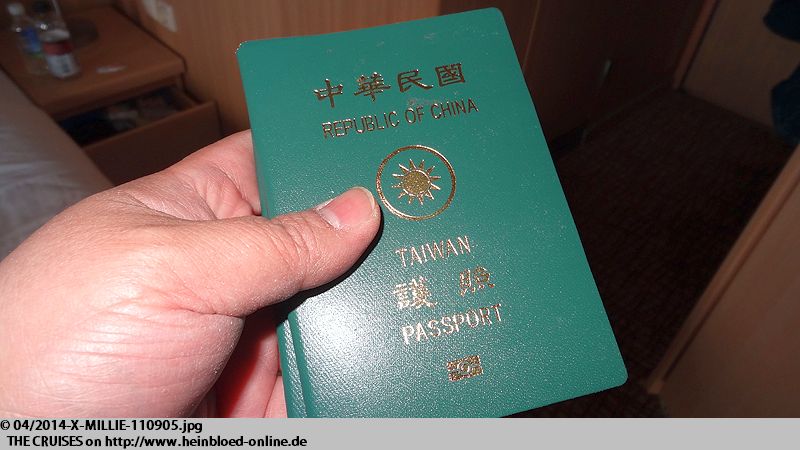 We got a call and were asked why we seperated the Taiwan-passports off from the Chinese Travel Documents of my parents as they were still need. I explained that we would need it again in Copenhagen, Denmark when we enter the Schengen-Zone. But they insisted to have them back as otherwise the ship could not sail. I told them that the Chinese authorities told us that they do not want to see the Taiwan-Passports. But they just did not care. So I took them downstairs. I used the occasion to ask how it came that we should be back at 15.30 hrs while most of the guests were still in Beijing in the morning. I was just told they decided to leave on time and due to their experience in the past they decided that everyone must be back by 15.30 hrs. My statement was only: everyone is in Beijing and you commanded us to be back earlier... I had no chance to say more to express that I was upset: For claims only the front desk is in charge. In 64 cruises I have never experienced a more sh... organisation. What I appreciate with Norwegian: you can tell a senior officer something bad: even he is not in charge. He has his little notepad with him and will write down your name and cabin number and will tell you: the will take care. Nobody would push you away. That does not exist.

Here they collected the alcohol you bought in the ports. You may take two bottles of wine with you in the port of embarkation for your own consumption.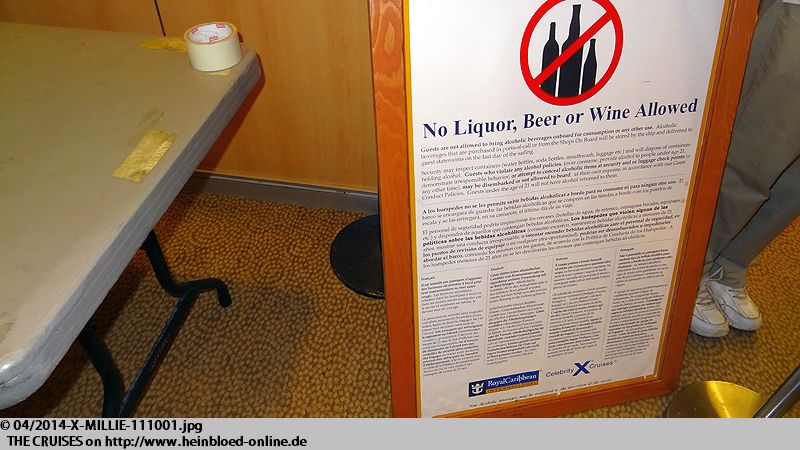 Hier wird der Alkohol gesammelt, den man unterwegs kauft. Man darf nur am Einschiffungshafen zwei Flaschen Wein zum eigenen Verzehr mitbringen.
Der lacht immer und begrüßt einen immer sehr freundlich: I Komang. Ihm ist es egal ob du in seinem Bereich wohnst oder nicht. Jeder, der vorbei kommt, bekommt immer ein herzliches Lachen und einen freundlichen Gruß. Machen andere auch, aber nicht mit der gleichen Freundlichkeit und Herzlichkeit. Seine Freundlichkeit steckt einfach an!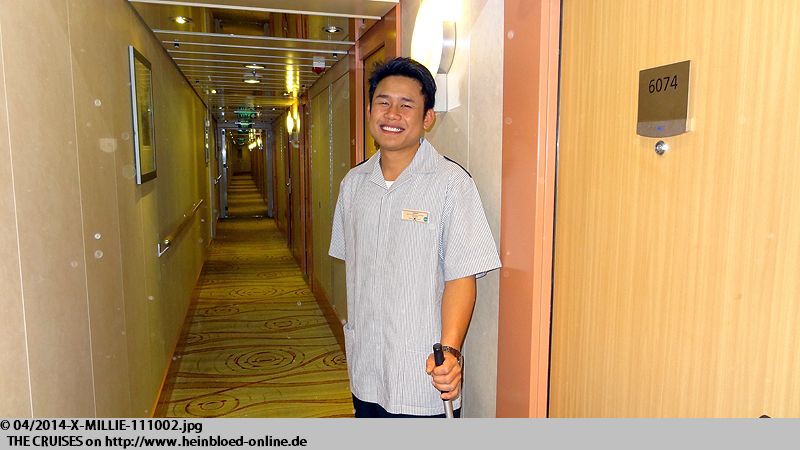 He was always smiling and greeted everybody very friendly: I Komang. He did not care if you stayed in his section or not: Everyone who passed by got always a cordial smile and a friendly greeting. Others did too but not with the same friendliness and cordiality. His friendliness was contagious.

I need something sweet for my nerves. I was not sure if chocolate cookies without sugar will give you the same kick. I need a party in my brain.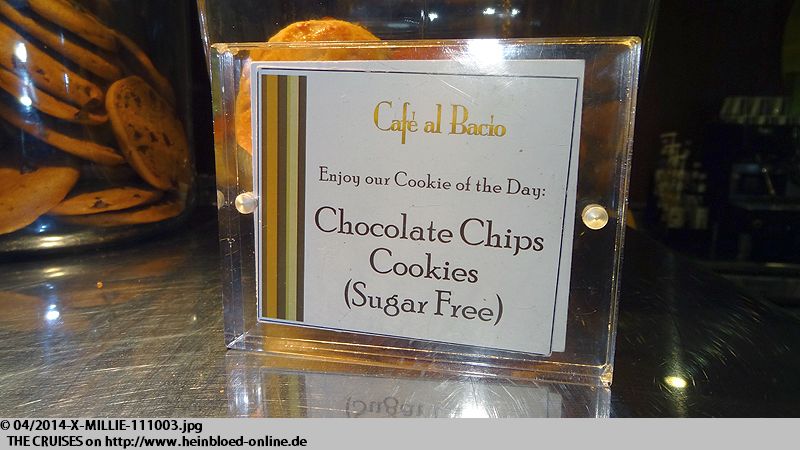 Ich brauche etwas süßes für meine Nerven. Ich bin mir nicht sicher ob Schokoladenkekse ohne Zucker den Zweck erfüllen. Schließlich muss mein Hirn eine Party feiern.
Bruno regt sich auch ab: allerdings im Fitness-Studio.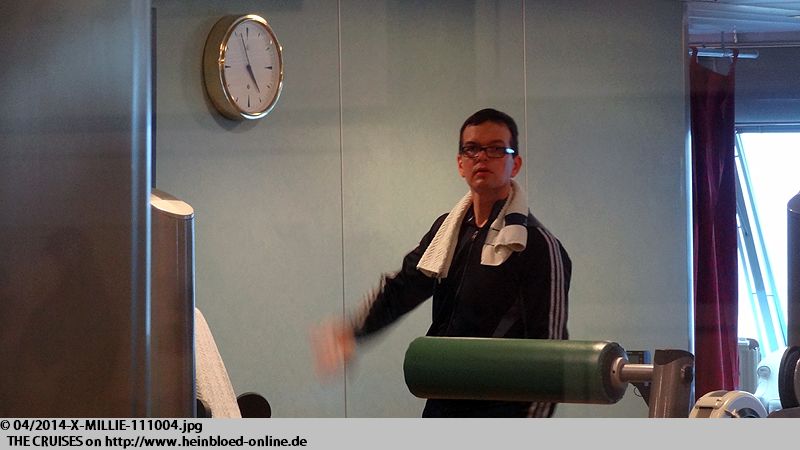 Bruno also need to calm down: but in the gym.

We went there to see him.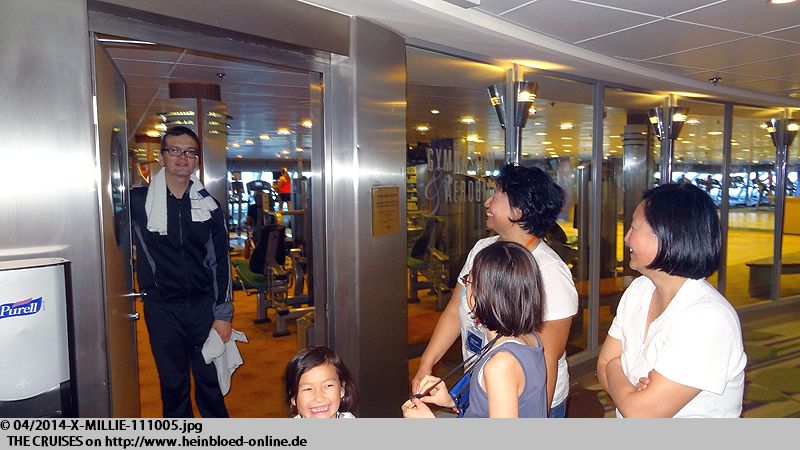 Wir gehen ihn kurz besuchen.
Unsere Wäsche ist auch zurück. Das wäre im Marriott in Beijing teurer gewesen. Wir haben uns vorher die Wäschereiliste schicken lassen.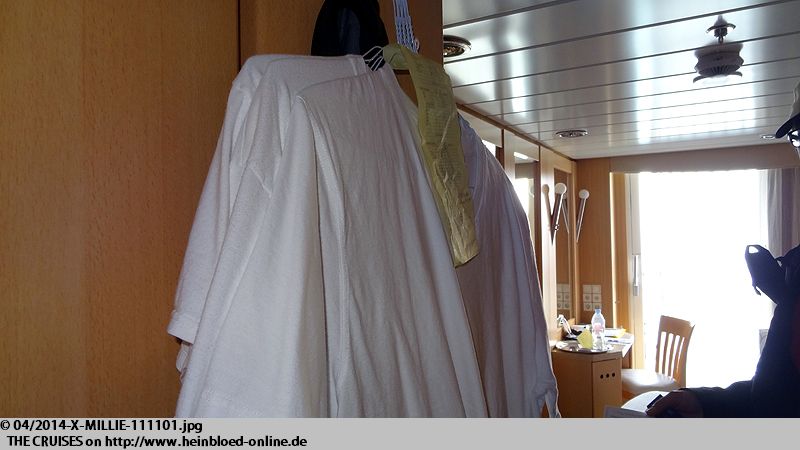 Our laundry was back too. It would be more expensive in the Beijing Marriott. We asked them for a laundry list ahead of our arrival.

And the paperwork of the night before.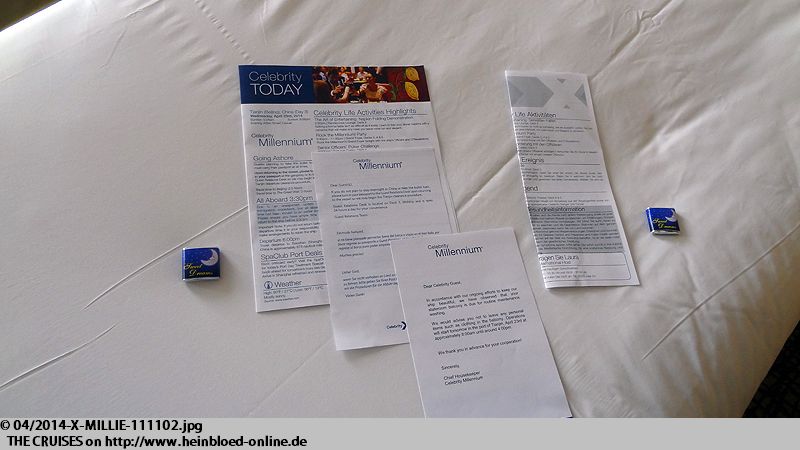 Und die Papiere der vergangenen Nächte.
So haben wir auch zwei Schokis.

So we got two pieces of chocolate.

By coincidence I noticed that my nieces got daily the children programme.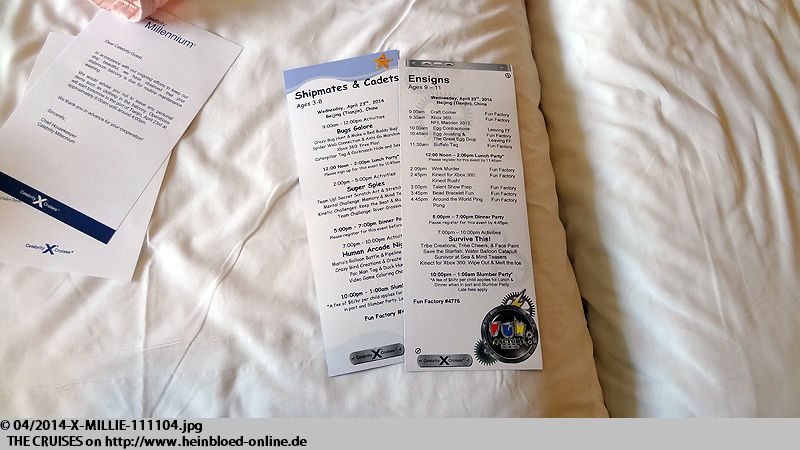 Zufällig bekomme ich mit, dass meine Nichten immer das Kinderprogramm bekommen.
Meine Karte funktioniert wieder nicht.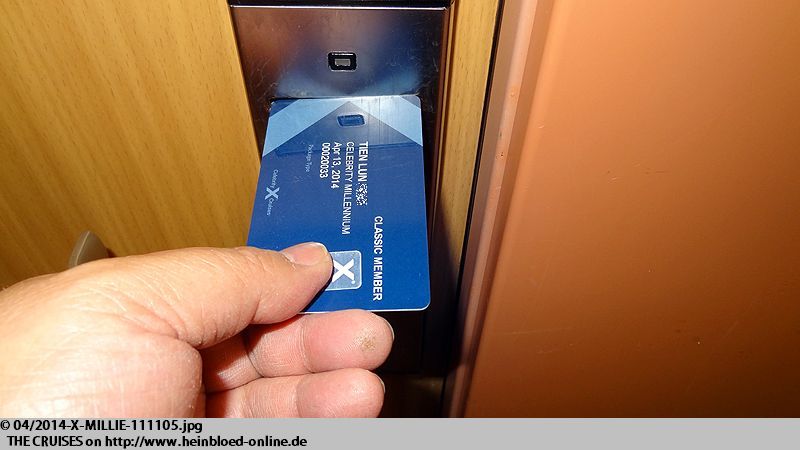 My card did not work again.

To avoid that Shubert need to remember another new folio-number I asked only for a keycard for the door.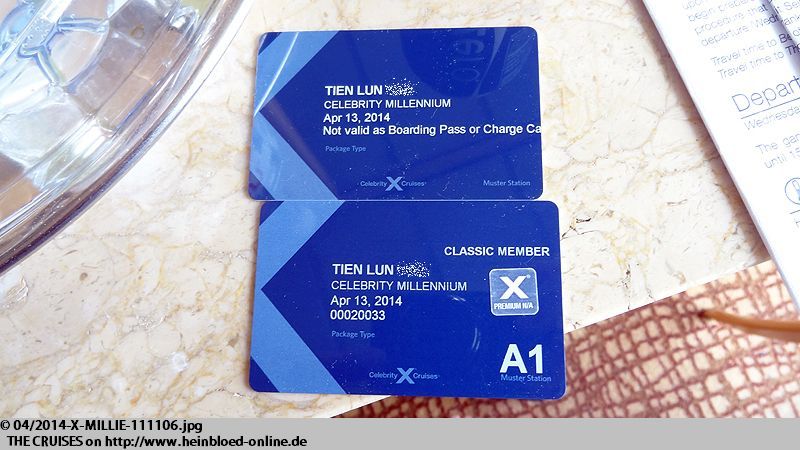 Damit Shubert nicht schon wieder eine neue Folio-Nummer sich merken muss, lasse ich mir eine Karte nur für die Tür geben.
Das Programm für den nächsten Tag - zum Glück Seetag.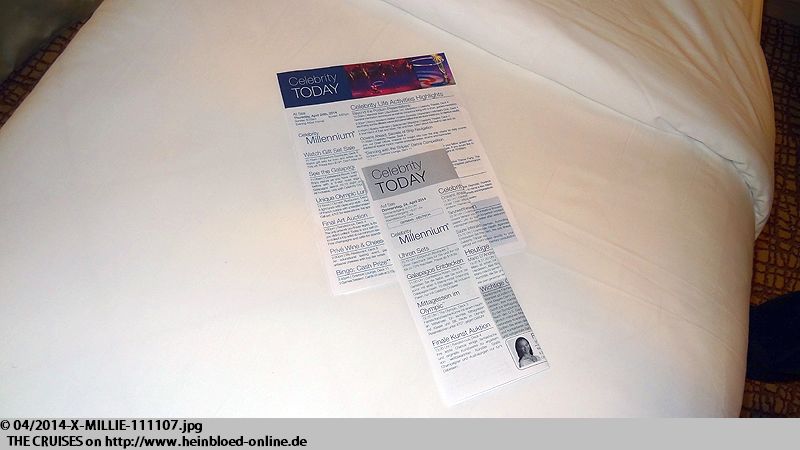 The programme for the next day - what a luck: day at sea.

O how nice: they cleaned the balconies that day.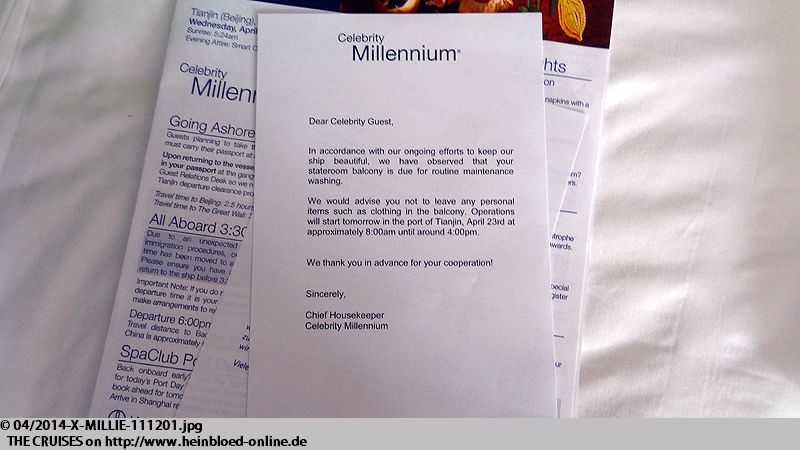 Oh wie schön: heute haben sie wohl die Balkone saubergemacht.
Irgendwie kommt uns das aber noch alles bekannt vor.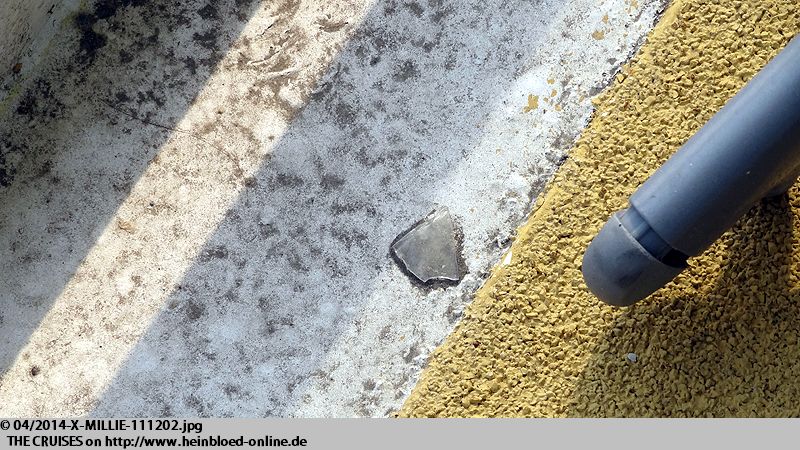 Somehow it looked familiar to us.

It looked like that nobody was here to clean the balconies. Later we heared that they had the good intention but due to the cole dust due to loading of cole it did not make too much sense and there were guests who complained that they become wet when they entered or left he ship.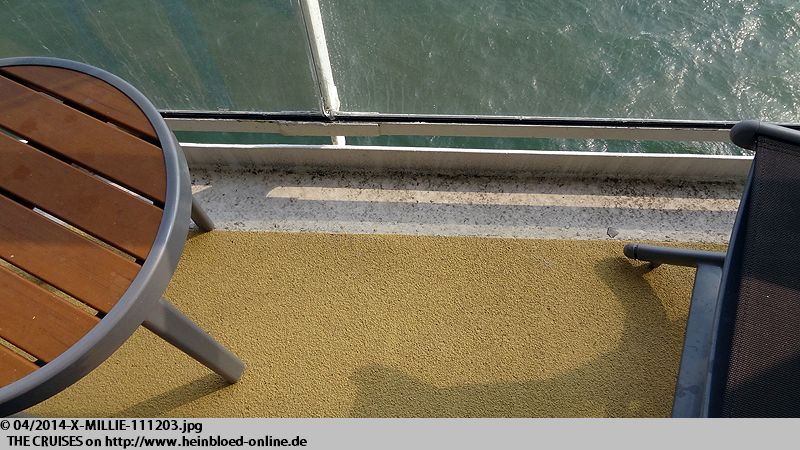 Bei uns sieht es nicht so aus, als ob jemand auf dem Balkon putzen war. Hinterher hören wir, dass sie wohl die gute Absicht hatten, aber wegen des Kohlenstaubes durch die Beladung von Kohle hatte es wohl wenig Sinn gemacht und es haben sich auf der anderen Seite Gäste wohl beschwert, dass sie beim Betreten und Verlassen des Schiffes nass wurden.
Die Sonne scheint. Der Wind ist ein bisschen kühl. Zeit für eine Abkühlung. Christine darf allerdings nicht mit, weil sie noch hustet.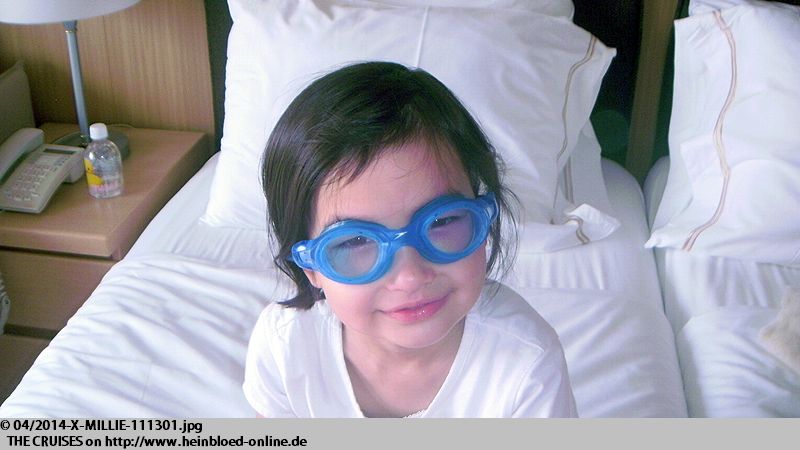 The sun was shining. But the wind was a little chilly. Time to cool down. Christine was not allowed to join as she still was coughing.

But Friederike was looking forward.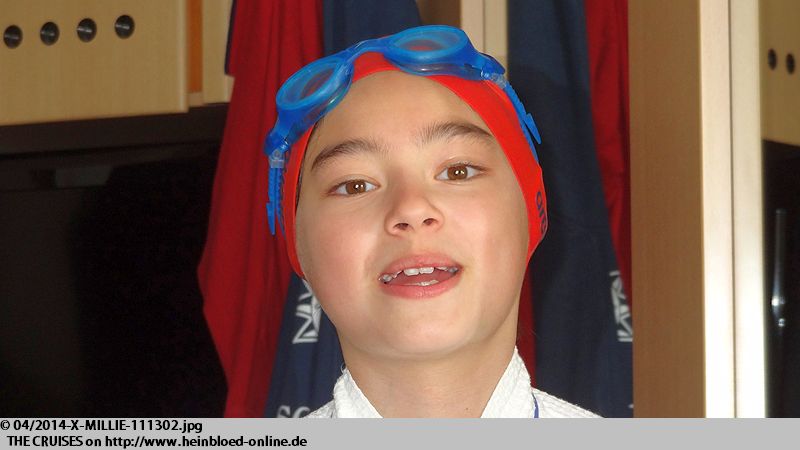 Aber Friederike freut sich darauf.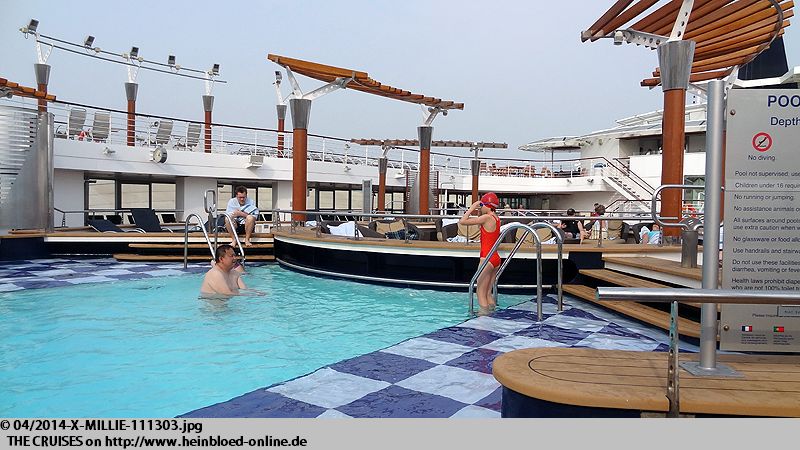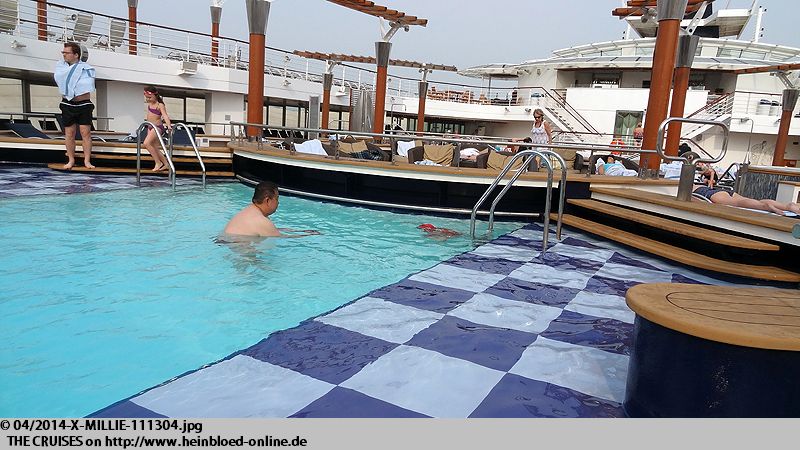 Leider habe ich vergessen den Akku der Unterwasserkamera aufzuladen. So gibt es nur ein Bild unter Wasser.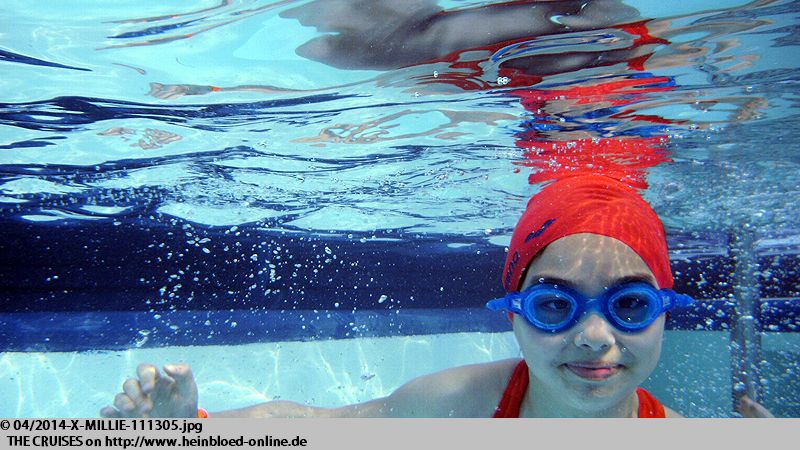 Unfortunately I forgot to recharge the battery of our underwater-camera. So I could only make one shot under water.

Zwar sah das gemütlich aus, aber es war viel zu kalt. So ziehen wir lieber in den Whirlpool um. War wärmer und später gibt es Burger und Pommes Frites. Alles was die Kinder glücklich macht.

It looked very comfortable but it was too cold. So we moved to the jacuzzi. It was warmer and later they had burger and french fries. Everything what made children happy.

We got the booking confirmation for The Olympic. Tonight we were guests of Martin's family. Officially children under 12 years are not welcome. But we knew from Ritesh that they normally try to put them in a private dining room so no other guests would be bothered. But unfortunately our group was too large for this solution. Since we went for lunch a couple of days before we asked because of the kids. We received following answer: "Well - you have such kids and such kids and we appreciate kids who know how to behave and appreciate fine dining. And we assume that your kids know how to behave..." And as 40 USD cover charge per kid might be a lot of money in case they only have some French Fries with Mayonnaise and Ketchup we asked too and were told: "We will find a solution! Sometimes we charge half or nothing depending how much they are eating. Do not worry about this!".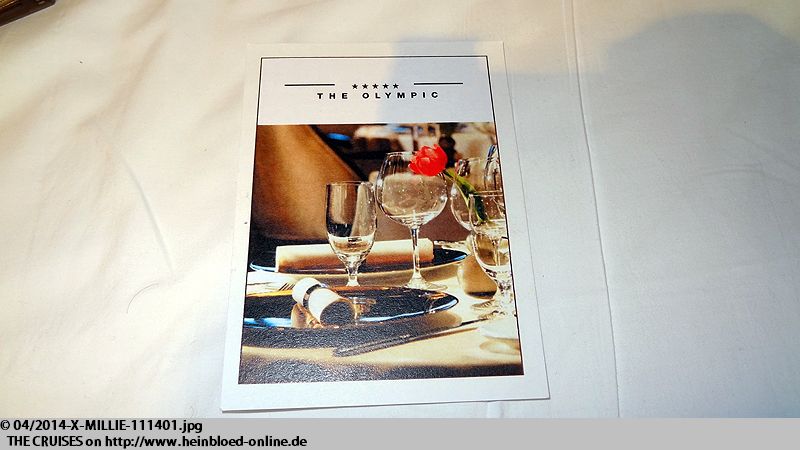 Die Reservierungsbestätigung für The Olympic kommt. Heute Abend sind wir Gäste von Martins Familie. Offiziell sind Kinder unter 12 Jahren in The Olympic unerwünscht. Von Ritesh wussten wir aber, dass man doch versucht sie dann in dem Separée unterzubringen, damit sie andere Gäste nicht stören. Nur ist unsere Gruppe hierfür zu groß. Nach dem wir ja vor wenigen Tagen beim Lunch waren, hatten wir mal wegen der Kinder gefragt. Wir bekamen da folgende Antwort: "Nun, es gibt solche und solche Kinder und Kinder, die sich gut benehmen können und gutes Essen schätzen, sind auch willkommen. Und wir gehen davon aus, dass sich Ihre Kinder gut benehmen...". Da ja nun 40 USD als Zuzahlung für ein Kind, das vielleicht hinterher nur Pommes Frites mit Mayonnaise und Ketchup haben will, recht viel wäre, hatten wir auch diesbezüglich nachgefragt: "Da werden wir sicherlich eine Regelung finden. Wir haben schon mal gar nichts oder die Hälfte berechnet, wenn die Kinder nicht so viel gegessen haben. Machen Sie sich diesbezüglich bitte keine Gedanken!".
Wieder erleben wir ein ganzes Team, das uns betreut. Wir bekommen Serviettenringe, Sitz- und Rückenkissen für die Kinder, eine fantastische Brotauswahl, Zitronen bzw. Limetten für das Wasser, einen Gruß aus der Küche und offenes Feuer...??? Schon lange habe ich auf US-Schiffen schon kein offenes Feuer mehr gesehen... Mir kann man gar nicht genug aufmerksamen und freundlichen Service bieten. Es sind alles Elemente eines tollen Abendessens, die ich alle LIEBE und SCHÄTZE und für die gerne bereit bin, auch etwas zuzuzahlen. Und ich muss sagen, dass es mir lieber ist, einen sehr gutes Niveau, das wir ja schon aus dem Murano auf der CELEBRITY EQUINOX zu halten und die Preise entsprechend anzupassen, als immer mehr einzusparen. Meistens immer das, was ich sehr schätze.

We experienced again a whole team which took care of us. We got napkin rings, seat and back cusions for the kids, a phantastic selection of bread, lemon and lime for the water, a greeting from the kitchen and open fire...??? Long time ago that I saw open fire on an US-ship... You cannot offer me enough attentive and friendly service. Everything was part of an outstanding dinner experience where I LOVE and APPRECIATE everything and for which I am willing to pay some extra money. And honestly I need to say that I prefer to keep a high good level which we knew from Murano on CELEBRITY EQUINOX and to adjust the prices but always to cut costs. Mostly they cut the things I loved.

Everybody enjoyed the starter which came. Here everything was erfect. I was not allowed to say anything bad as I was guest myself but there was not anything bad to tell.

Alle genießen die Vorspeisen, die kommen. Hier ist alles perfekt. Ich darf ja eh nicht meckern, weil ich ja Gast bin, nur hatte ich hier gar keinen Grund.
Zubereitung am Tisch: etwas, das viele andere eingespart haben und so genieße nicht nur ich die Spannung vor dem Essen. Wie gesagt: ein ganzes Team steht auf mehreren Arbeitsstationen bereit, damit wir ziemlich gleichzeitig den Hauptgang bekommen. Es wird noch richtig flambiert. Und entsprechend die Fischgerichte filetiert. Wir genießen den Hauptgang. Am Ende der Reise frage ich die Kinder, was das leckerste Essen, das sie an Bord bekommen... Die Seezunge aus The Olympic... Verwöhnte Gören!!!

Preperation at the table. Something many other cruise lines withdrew and so I enjoyed the tension before the meal started. As said: a whole team were ready at different workingstations so that we should get our entrees at the same time. Everything was flamed in reality. And the fish was filleted accordingly. We enjoyed the entrees. When I asked the kids what was the most yummy dish they got on the ship... The Dover sole in The Olympic... Spoiled kids!!!

As it should be correctly: they came by to remove the bread crumbs before we continued for the next course.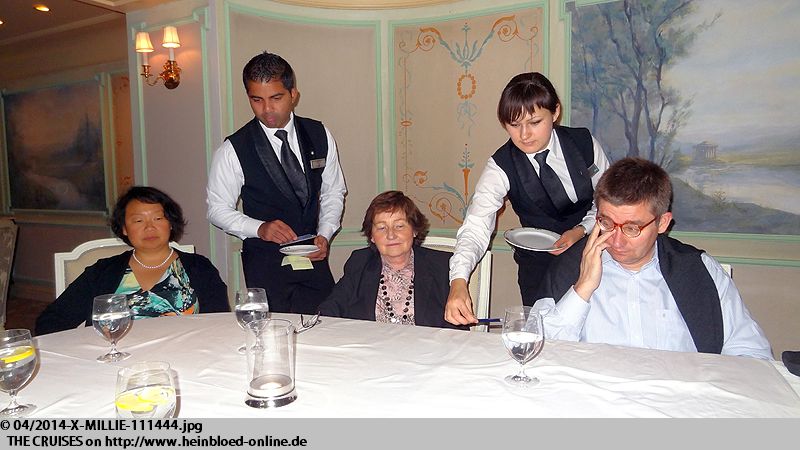 Wie es sich gehört, sie kommen vorbei, um die Krümmel zu entfernen, bevor es zum nächsten Gang geht.
Nur ein ganz kleiner winziger Patzer: da einer im Uhrzeigersinn läuft und der andere entgegen und bei mir müsste eigentlich die Runde enden... Und ich wurde einfach vergessen... Es war aber nicht schlimm, weil ich soviel tolles heute Abend hier erlebt habe, dass ich jetzt Bruno nicht bitte unseren Tischstaubsauger von Black & Decker (den hatte ich mal gekauft, als ich zuviel "Zurück in die Zukunft" gesehen hatte... und unbedingt auch etwas von von denen wollte... zuviel Product Placement) zu holen, mit dem wir zu Hause die Krümmel entfernen.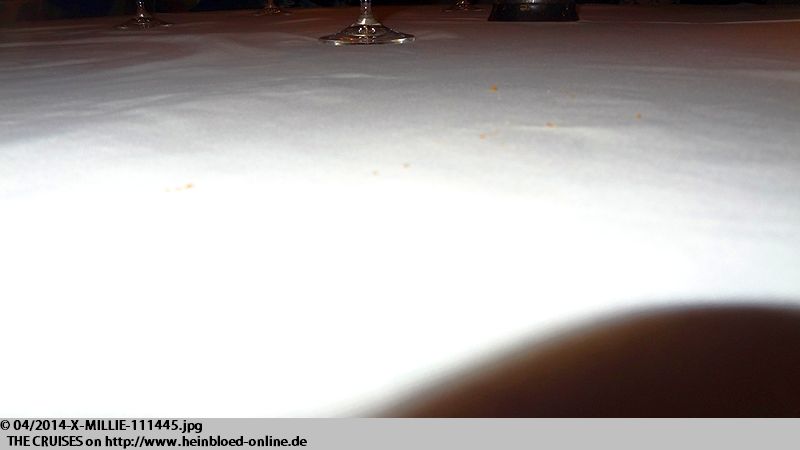 One tiny little blooper: one walked around clockwise and the other anti-clockwise and so the end of the round should be with me... And they forgot me... It was not bad at all because we experienced so many great things that I did not ask Bruno to grab our table vacuum cleaner of Black & Decker (I bought it when I watched "Back to the Future"... and I wanted something from them... to much product placement) to clear the crumbs like we do it at home.

They served cheese, desserts, coffee and petit fours. Everybody loved the dessert variation and the idea of sharing and trying a bite of everything thing. Everyone was happy and satisfied after the visit of The Olympic. Here you should come at least once and let them pamper you. Or like us multiple times.

Es kommen dann noch Käse, Nachtisch, Kaffee und Petit Fours. Besonders gut hat allen diese Desservariation zum Teilen gefallen, so dass man einfach etwas von allem probieren konnte. Alle sind glücklich und zufrieden nach dem tollen Besuch in The Olympic. Hier sollte man mindestens einmal vorbeikommen und sich verwöhnen lassen. Oder wie wir mehrmals.
iPod, iPhone, iPad, iBroadway... eine klassische Broadway-Show, die ich sehr genieße. Eine super Leistung. Viele Sachen, die ich sehr mag, wie "Defying Gravity" aus Wicked - Die Hexen von Oz, oder "Don't Stop Me Now" aus We Will Rock You oder "Footloose". Wieder reichte meine SD-Karte nicht, weil ich soviel fotografiert habe. Bisher habe ich aus einer anderen Show ein Stück von Frankie Valli and The Seasons "Let's Hang On" auf meinem iPhone heruntergeladen, um mich an die Kreuzfahrt zu erinnern. Die Darstellung von "Walk Like A Man" hier, führte dazu, dass ich später das sofort herunterladen musste. Zwei Sachen waren schade: auf der Bühne wurde als großes Finale "You Can't Stop The Beat" aus Hairspray aufgeführt. Das war zwar klasse, aber ich denke mal, so im Publikumsraum hätten man vielleicht alle zum Tanzen bringen können... und dass man mir nur Coke Zero im Theater anbietet, weil man keine Lust hat, mir ein Red Bull Zuckerfrei zu besorgen. Wir haben ja schon alles bezahlt und man weigert sich es zu holen... So macht man auch ein gutes Geschäft. Oder der berühmte Stern bei der Bestellung: dass nicht alle Getränke an allen Bars zu jedem Zeitpunkt verfügbar sind. Das wäre ehrlicher, wenn man es vorher weiss, dass bestimmte Getränke nur zeitlich und örtlich beschränkt verfügbar sind.

iPod, iPhone, iPad, iBroadway... a classical Broadway-show which I enjoyed very much. A great performance. Many things which I like like "Defying Gravity" from Wicked, or "Don't Stop Me Now" from We Will Rock You or "Footloose". Again my SD-card was not large enough to make all shots. So far I downloaded from another show Frankie Valli and The Seasons' "Let's Hang On" on my iPhone to remember a cruise. The presentation of "Walk Like A Man" made me downloading the song immediately. Two things were sad: the grand finale on stage was "You Can't Stop The Beat" from Hairspray. It was a great performance but I think if you would do in the audience you would make many guests dancing... and I got only Coke zero only in the theater when I asked for some Red Bull sugarfree. Everything was paid already and they refused to walk and get one... So they made a good business. Or the famous asterix when you ordered: not all beverages are available at all bars at all time. That would be more honest if you know before that the availability of some beverages were limited by time and place.