Scroll down for English explanations - alternates with German explanations.

Gegen 17.30 Uhr meldet sich der Kapitän auch über die Kabinenlautsprecher: Der Norovirus ist an Bord. Leider gibt es die Ansage nur in Englisch. Auch gibt es keine schriftlichen Informationen und Verhaltensinstruktionen in anderen Sprachen. Wir machen uns für die zweite formelle Nacht fertig.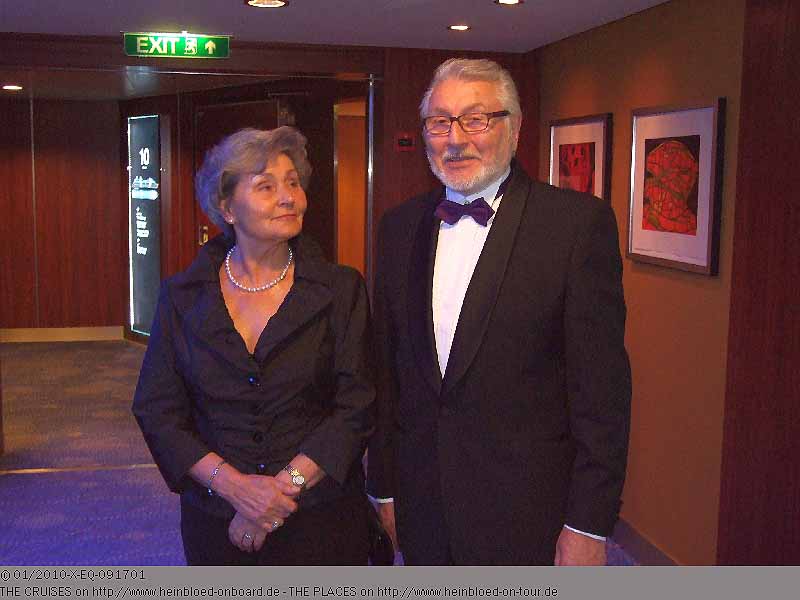 Around 05.30 pm the Captain came into our stateroom through the cabin loudspeakers. The norovirs was onboard. But the announce came only in English. No written information and instructions in other languages. We completed our preperations for the second formal night.

Katie and Charlie wanted to have a nice picture of themselves.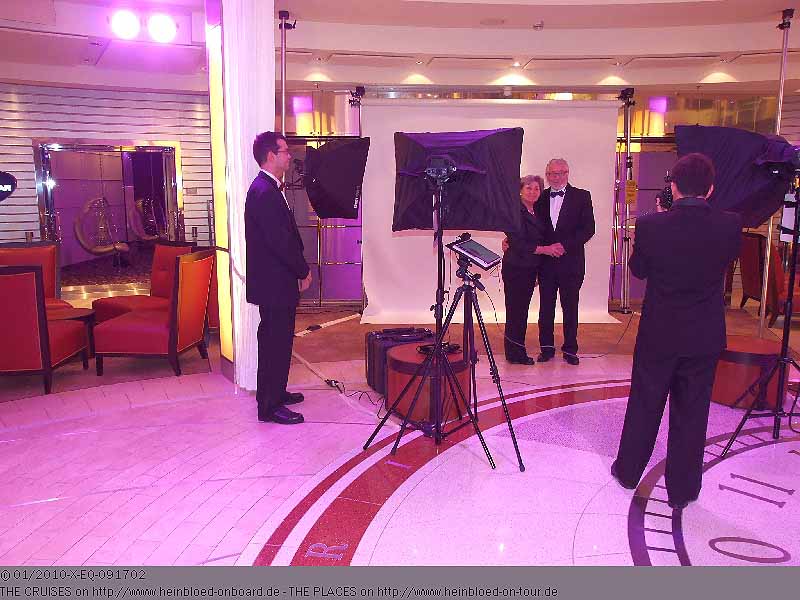 Katie und Charlie wollen sich doch mal schön fotografieren lassen.
Alle sieben Studios, die aufgebaut wurden, suchen wir nicht auf.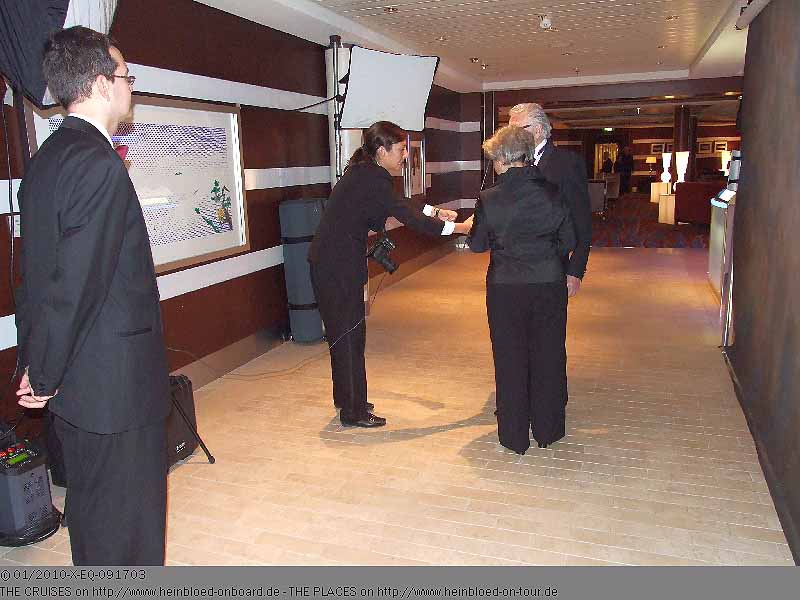 There were seven foto studios around the ship but we did not see them all.

They used alread face masks when they sanitzed.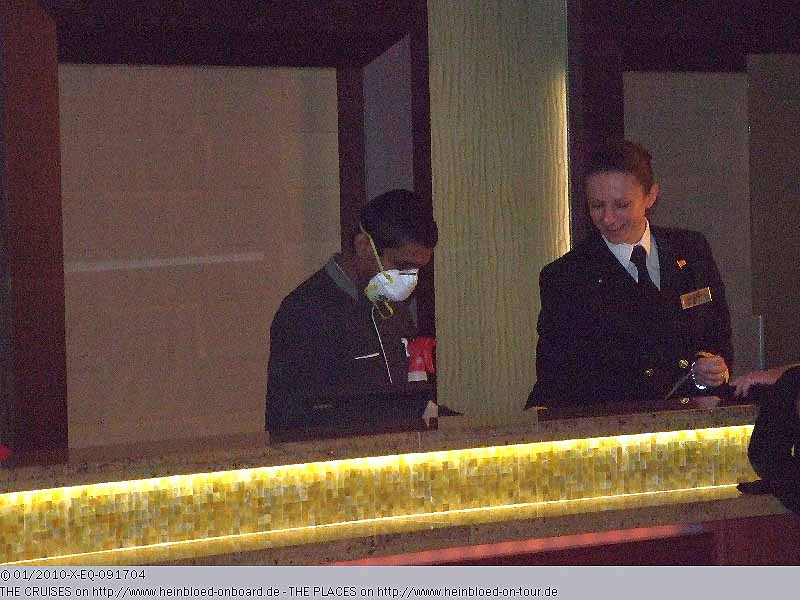 Es wird bereits mit Atemmasken gearbeitet, wenn desinfiziert wird.
Ich kaufe mir eine CD von Justin Wade und lasse sie mir signieren. In der Bar gibt es keine Getränkekarten mehr. Es gibt auch keine Knabbereien mehr.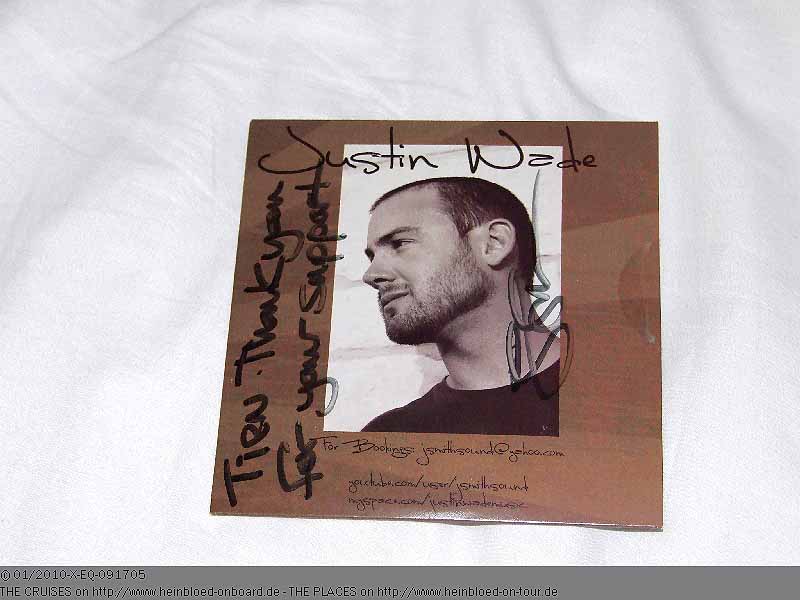 I bought a CD from Justin Wade and let him signed it for me. At the bars there were no bar menus anymore. And there were no snacks anymore available.

Wine seemed to be more harmless: A wine menu in the restaurant was obviously no larger risk.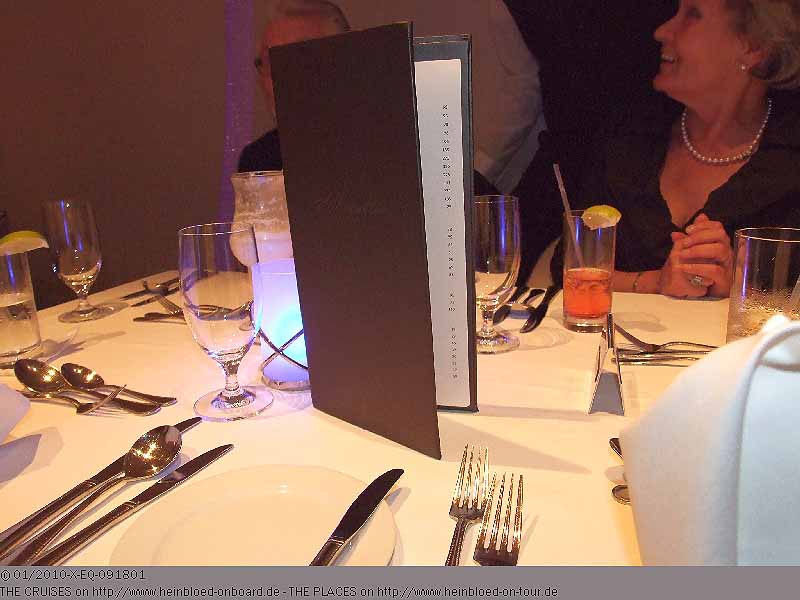 Wein ist anscheinend harmloser: Eine Weinkarte im Restaurant stellt anscheinend keine große Gefahr dar.
Es gibt keine Butter, Hummus oder Pesto mehr am Tisch - kein Brotkorb - kein Salz und Pfeffer.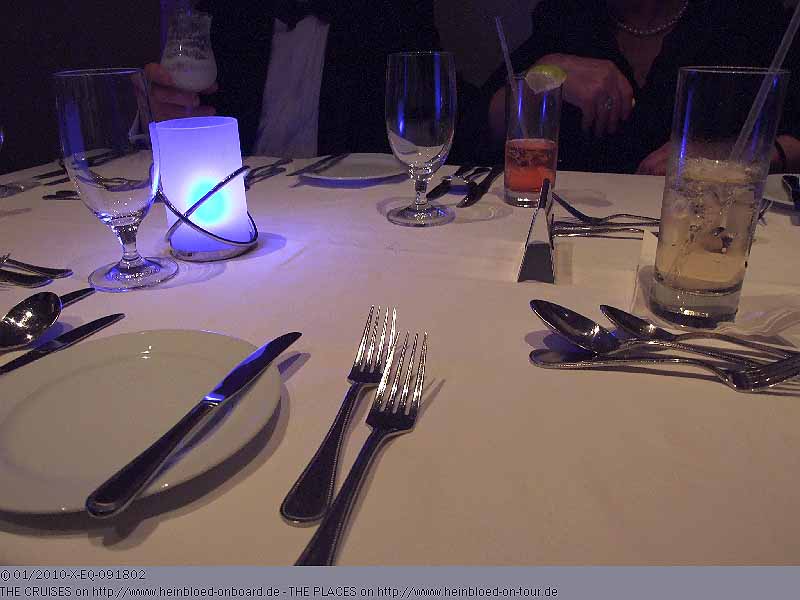 There was no butter, hummus or pesto on the table - no bread basked - no salt and pepper.

The butter were served piece by piece.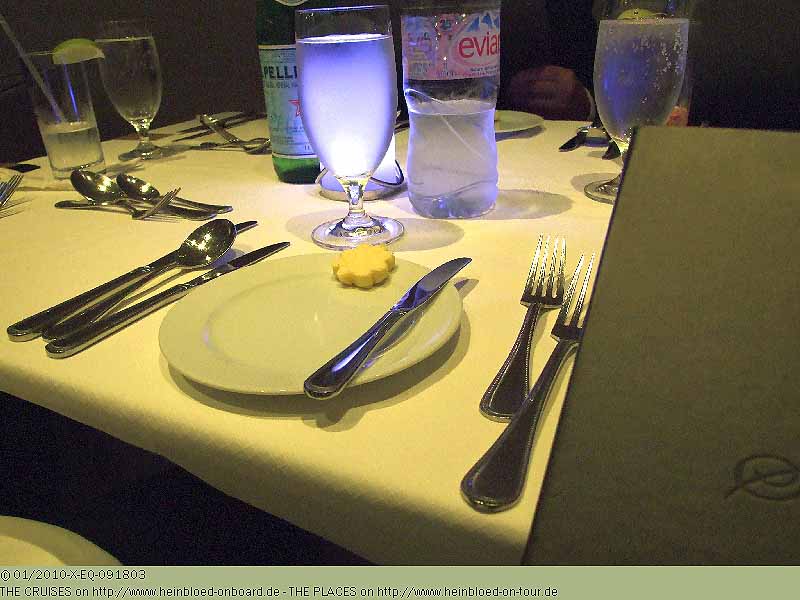 Die Butter wird einzeln gereicht.
Speisekarten gibt es trotzdem. Ich hätte jetzt angenommen, dass vielleicht eine Tafel vorbereitet wurde, auf der das Menü steht.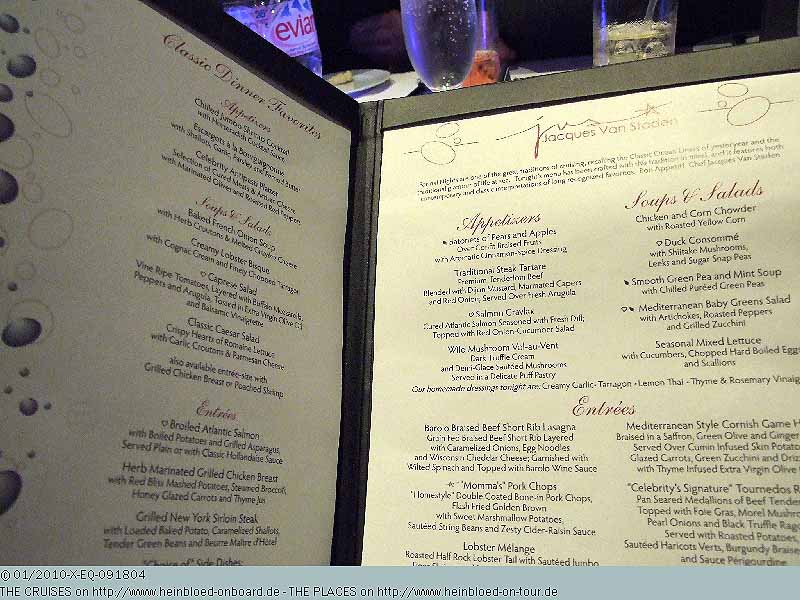 Menus were available. I guessed they would have a big black board where you can read the menu.

The bread was also served piece by piece.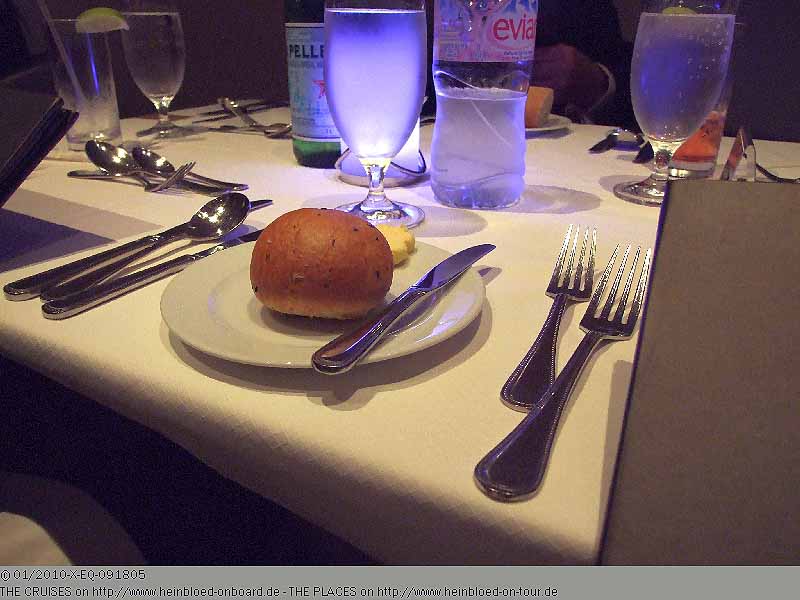 Auch das Brot wird einzeln gereicht.
Es gibt eine kurze Parade der Köche und sonstigen Offiziere und Maîtres. Viele Kellner sind jedoch nicht daran beteiligt, so dass der Service eigentlich weiterläuft.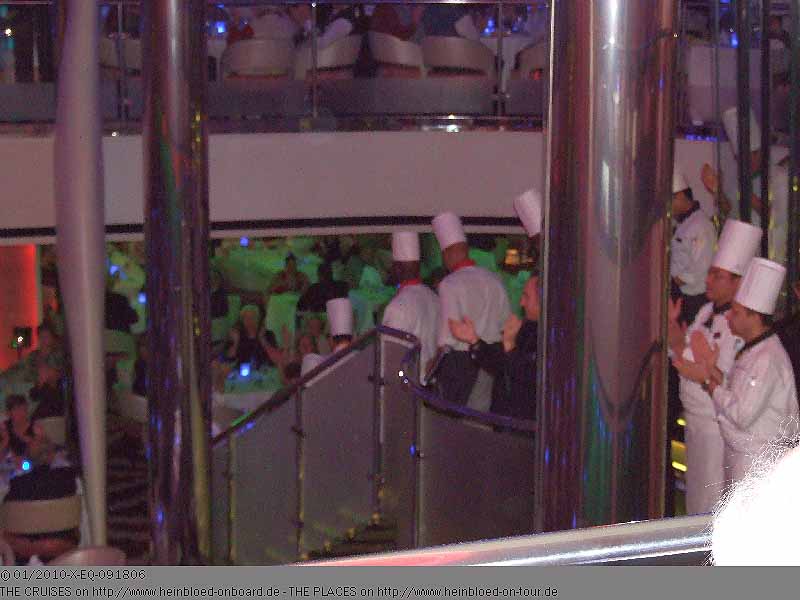 There was a short parade of the cooks and other officers and maîtres. Many waiters were working and continuing the service so there were not so marching in the parade.

We rescheduled our reservation 30 minutes ahead because we wanted to be in the show. But we got our first course after 35 minutes.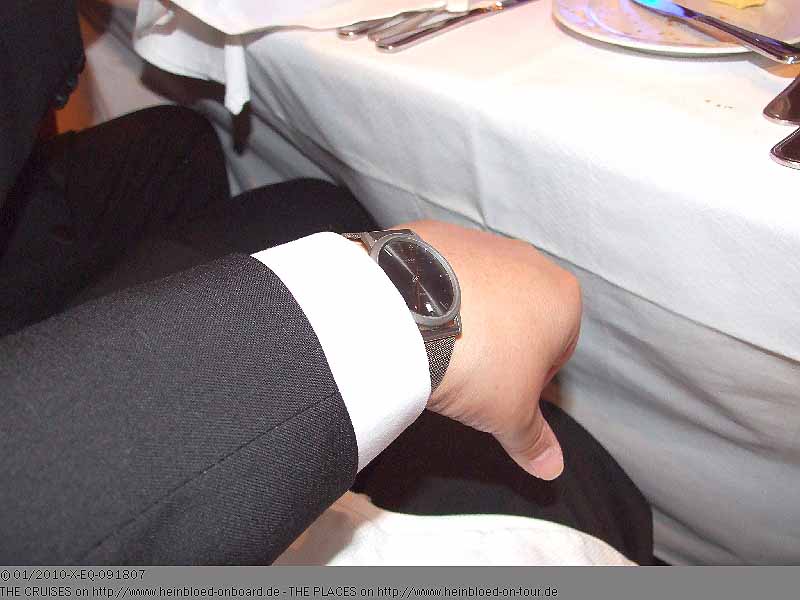 Wir haben die Reservierung um 30 MInuten vorgezogen, weil wir die Show sehen wollen. Nur erst nach 35 Minuten bekommen wir den 1. Gang.
Der Service läuft schleppend, weil die Kellner zusätzlich nochmals mit Salz und Pfeffer kommen. Nur da sie immer beim Auftragen fragen, ob man Salz und Pfeffer will, schicke ich sie weg, weil ich nicht prinzipiell Salz und Pfeffer brauche, sondern, wenn es ungewürzt ist. Ich sage ihm mehrmals, dass ich es erst probieren müsste, bevor ich ihm sagen kann, ob ich Salz oder Pfeffer brauche.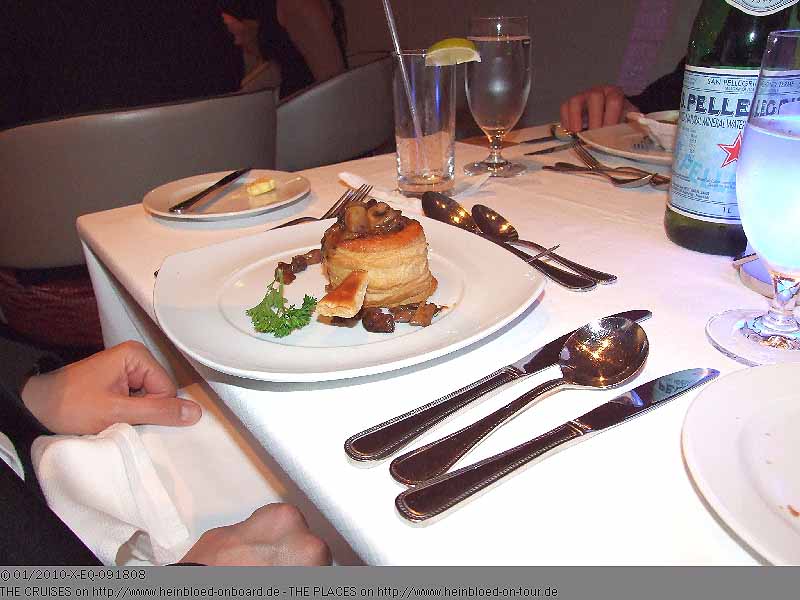 The service was slowed down because the waiter need to serve additional salt and pepper. I sent them away when they serve and asked immediately if I want some salt and pepper. It was not always that I need salt and pepper - only if it was not spiced. I told them frequent times that I need to taste it before I could tell him if I need salt or pepper.

The tartare was great. There was only one problem: no more bread at the table and I did not continue before I finally had more bread.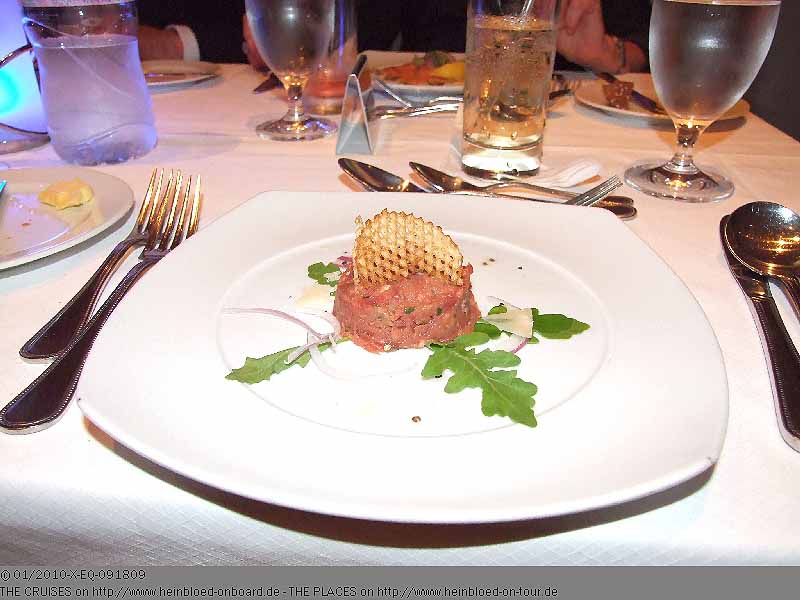 Das Tartar ist klasse. Nur ein Problem: es gibt kein Brot mehr am Tisch, so dass ich erst weiter anfangen kann, als ich endlich Brot bekomme.
Endlich kommt es.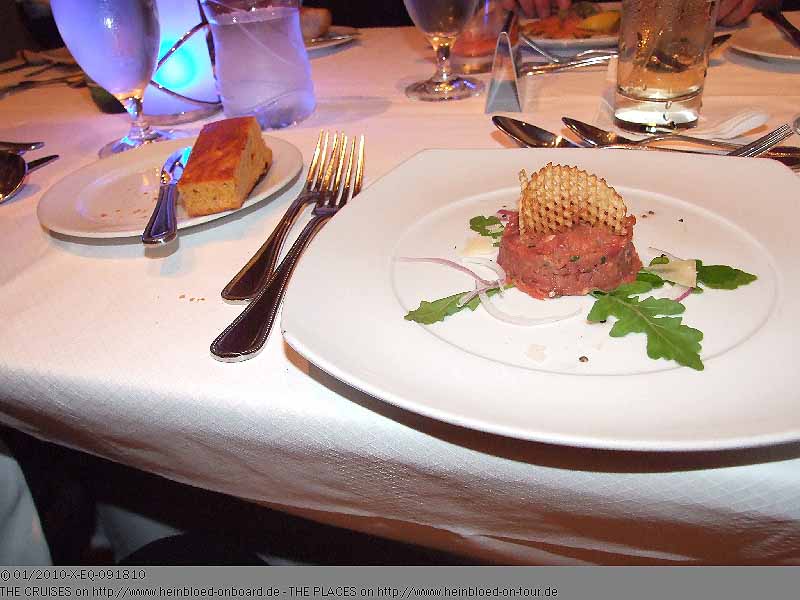 Finally it came.

The cilled mint-soup was not Bruno's world.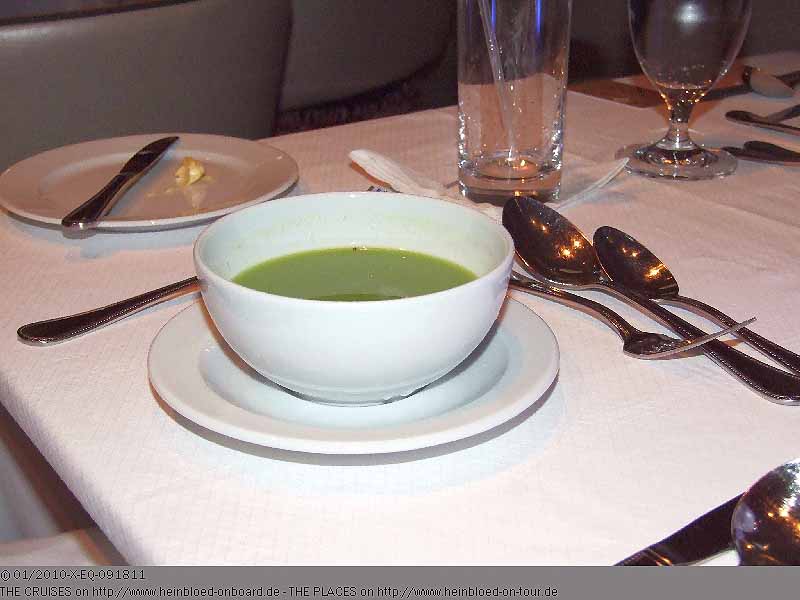 Bruno konnte mit der kalten Minzsuppe nichts anfangen.
So bestellt er sich auch eine Hühnercremesuppe,...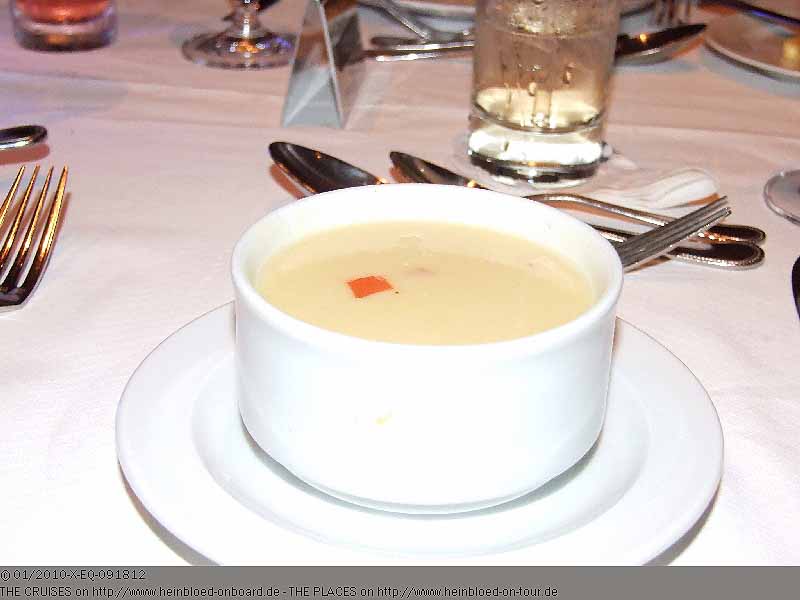 So he ordered a lobster bisque instead...

which you need salt and pepper for...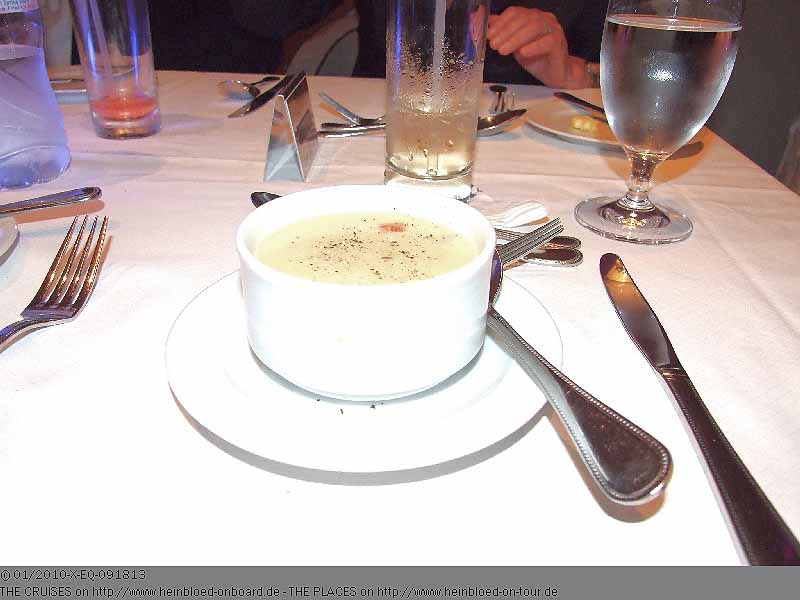 ...die man wie immer nachsalzen und nachpfeffern muss.
Der Salat.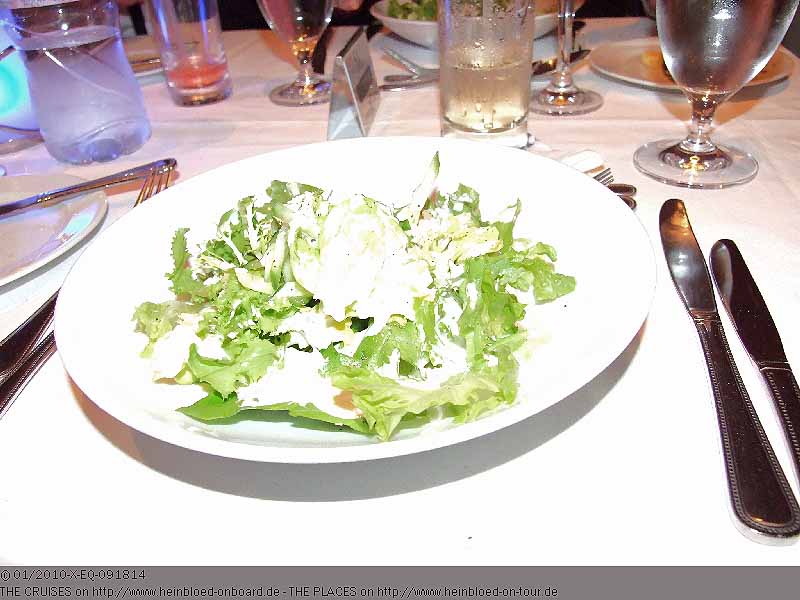 The salad.

It was lobster night.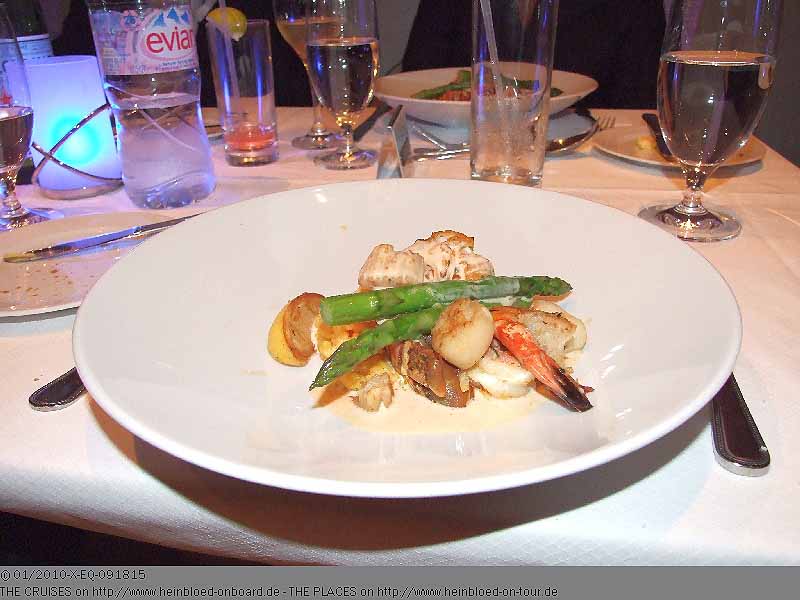 Es ist Hummerabend.
Bruno nimmt dieses Mal das Rind, ...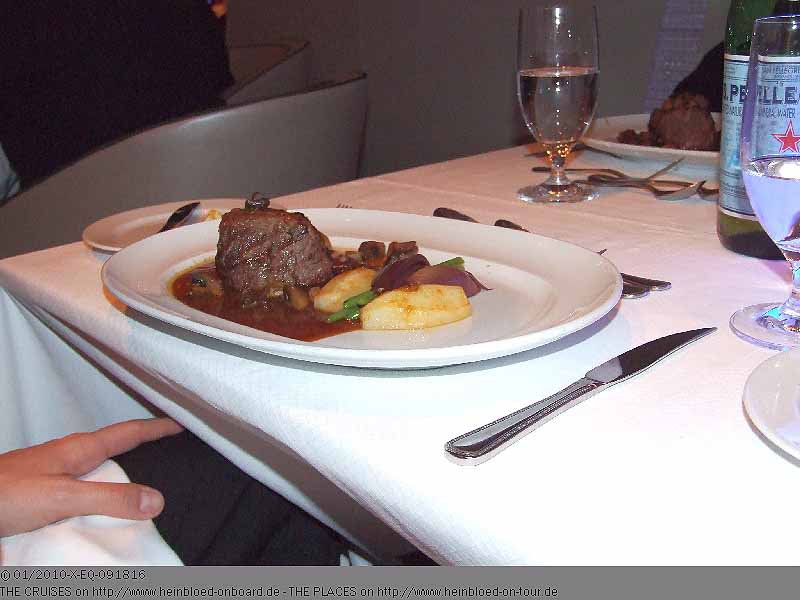 Bruno took the beef.

While I was taking lobster again although I had him last night. Did not look so healty anymore...or??? Katie's lobster was not prepared for an easy take-out-of-the-shell so I asked someone from waiters to do before she splashed herself. For the show it was too late again although we came 30 minutes earlier. The last straw was when all tables which came later got their first course after ten minutes and it went much more faster. Before we could escelate the situation our waiter did the only right thing: he asked his maître to come and to find a solution.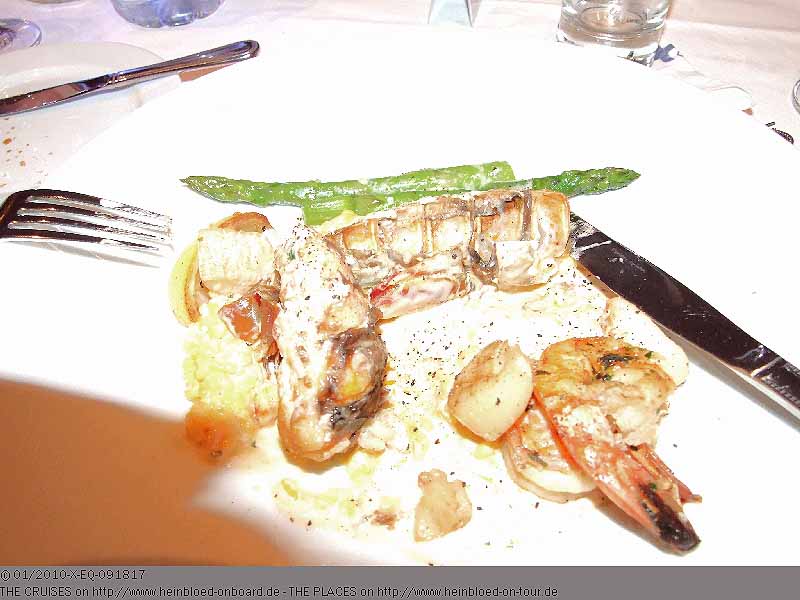 während ich den Hummer wieder nehme, obwohl ich ihn gestern Abend erst hatte. So gesund sieht er aber nicht aus... oder??? Katies Hummer ist nicht ausgelöst und so bitte ich jemanden von den Kellnern, dass er das übernehmen möge, bevor sie uns alle vollspritzt. Für die Show sind wir wieder zu spät, obwohl wir bereits 30 Minuten früher gekommen sind. Der Kragen platzt mir allerdings erst dann, als Tische, die nach uns kommen bereits nach 10 Minuten ihren 1. Gang haben und dass es dort alles zügiger geht. Bevor es zur Eskalation kommt, macht unser Kellner das einzig richtige: er bittet einen Maître zu uns um eine Lösung zu finden.
Die Lösung, die wir finden ist ganz einfach: so wie wir es schon mal im Todd English zuletzt auf der QUEEN MARY 2 praktiziert haben. Wir gehen zur Show und kommen danach wieder um unser Dessert und unseren Kaffee zu uns zu nehmen. Die Nachbarn gucken ein wenig komisch, weil wir nur das Dessert nehmen. Der Maître hat unseren Tisch nicht nochmals weiter gegeben und neu eindecken lassen. So konnten wir jederzeit wieder kommen. SELECT DINING in Perfektion.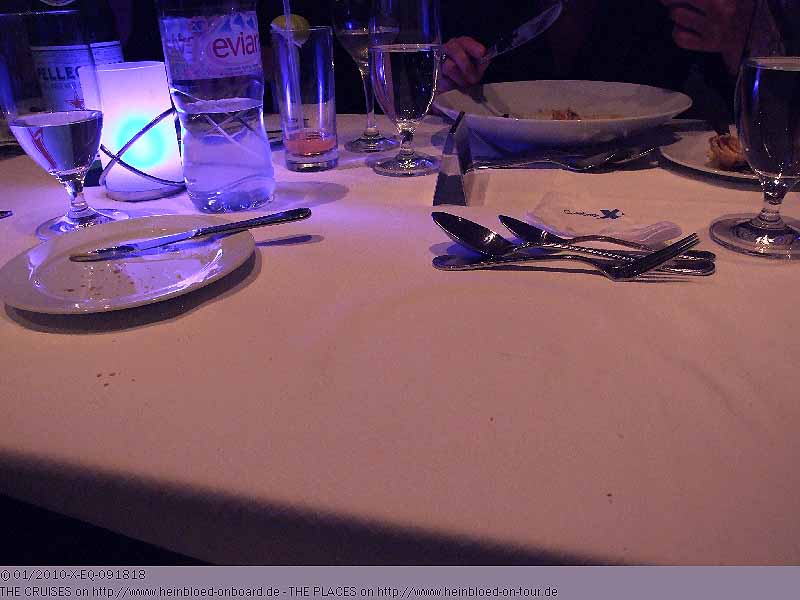 The solution we found was very simple as we did the same already in Todd English on QUEEN MARY 2: We went to the show and return after the show to have our dessert and coffee. The next table was surprised because we only had the dessert and nothing else. The maître arranged that the table was kept for us with fresh silverware and napkins. So we could return at any time. SELECT DINING in perfection.

There were also fine chocolate available for the coffee. But we did not want the Baked Alaska (without fireworks).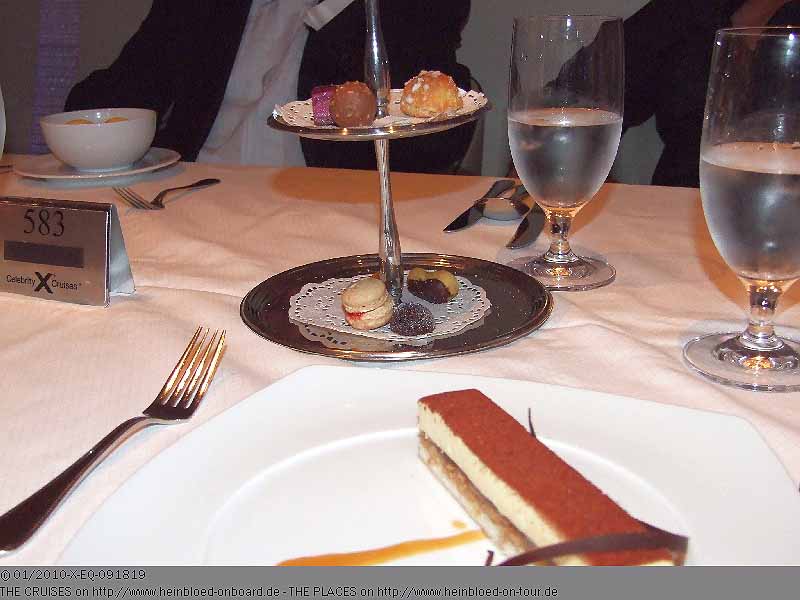 Neben des Desserts gibt es auch Pralinen zum Kaffee. Aber den angebotene Baked Alaska (ohne Feuerwerk) wollen wir nicht.
Nina Barough eröffnet den Gala-Abend.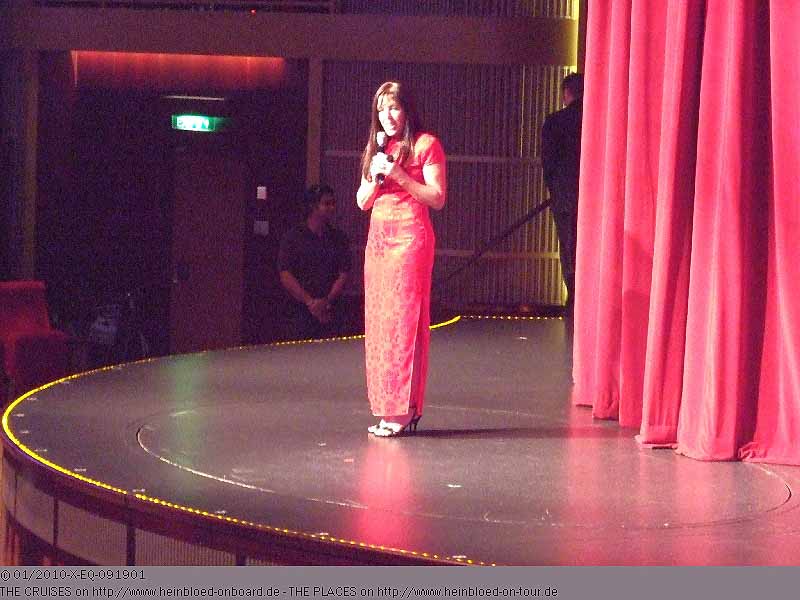 Nina Barough opened the gala-night.

The show called Remis.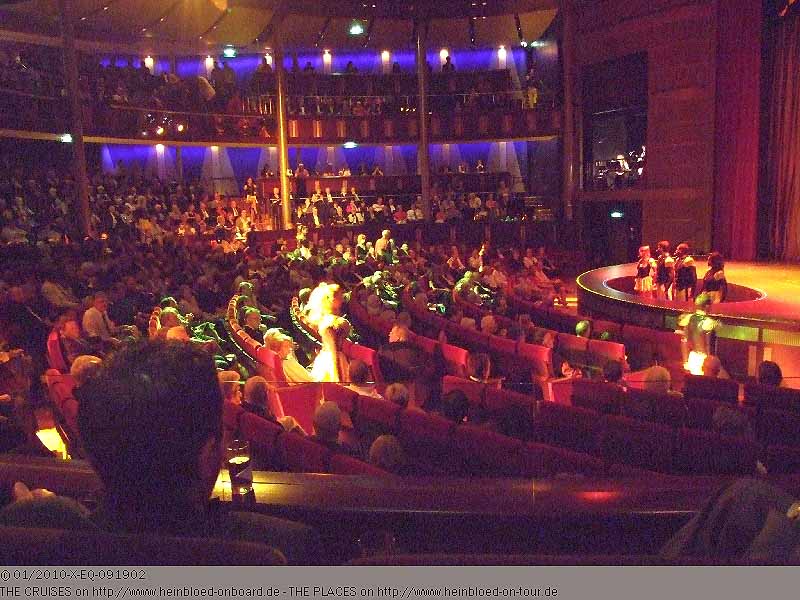 Die Show heißt Remix.
Den Ausdruck verbinde ich mit CD-Fehlkäufen und Überraschungen.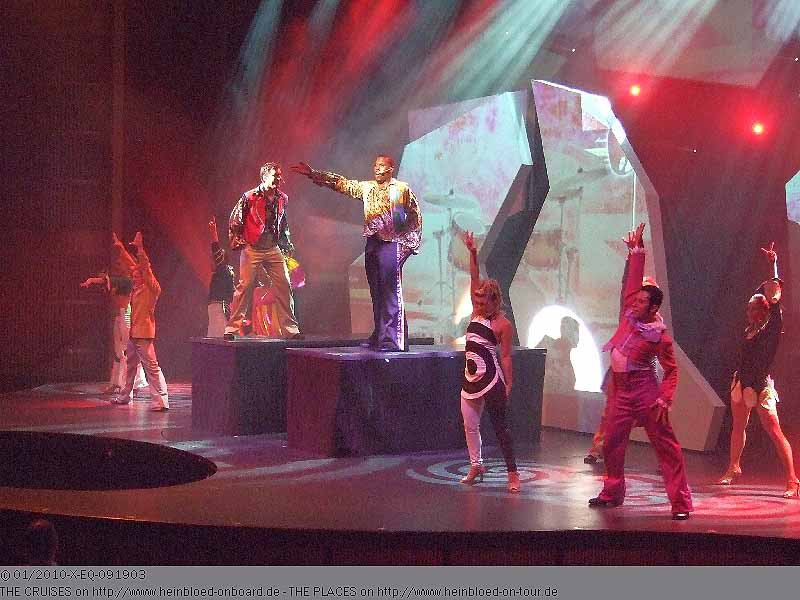 I associated with this expression some mispurchases of CDs and some surprises.

Remixes are variations of an original piece of music.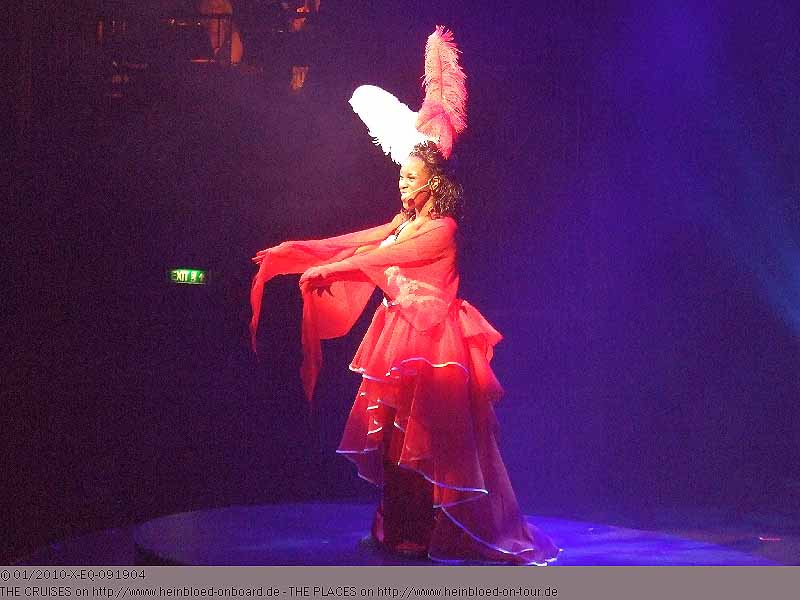 Remixes sind Abwandlungen des Original-Titels.
Und in der Tat findet es auf der Bühne genauso statt: vieles, was man mit dem Original verbindet...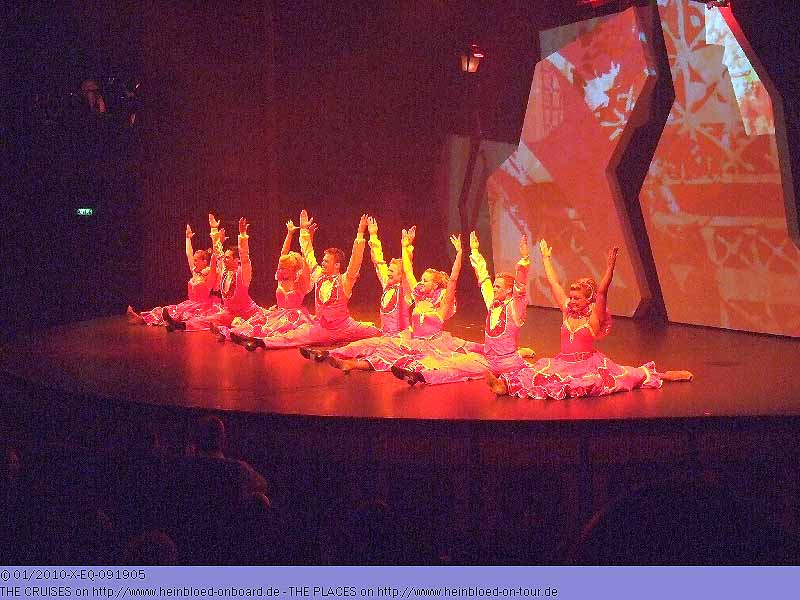 Indeed: on stage it happened exactly what I was thinking of: a lot which I associated with the original.

and some variations which you could like equally, worse or better....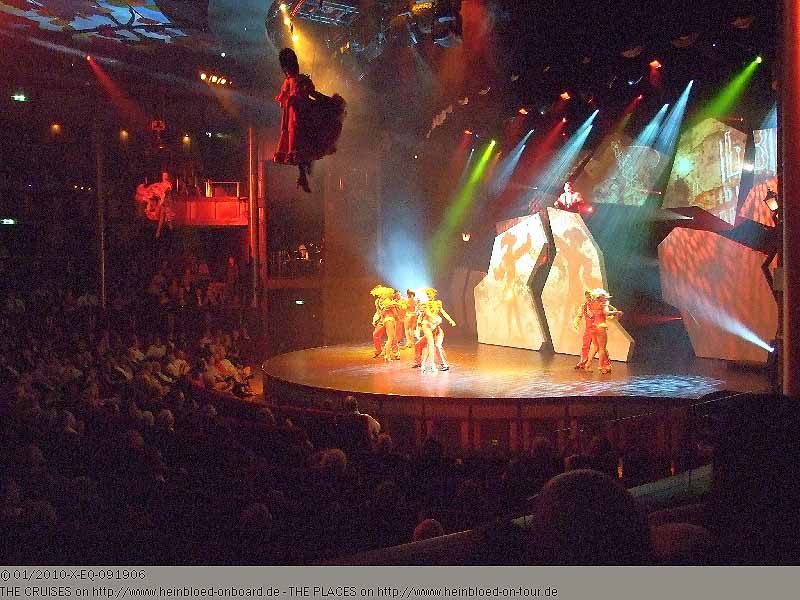 Und ein paar Variationen, die man nun entweder genauso gut leiden kann, besser oder schlechter...
Insgesamt aber eine sehr gute Show, die mir Spaß gemacht hat. Danach geht es zurück zum Dessert ins Silhouette-Restaurant.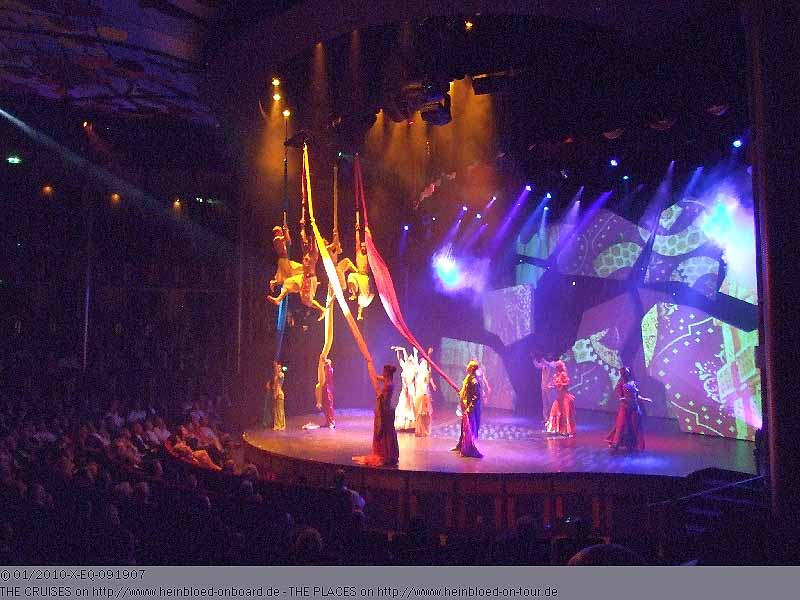 In total it was a great show where I had a lot of fun. Thereafter we went back to the Silhouette-Restaurant to have our dessert.