Scroll down for English explanations - alternates with German explanations.

Der Tag beginnt um 04.00 Uhr und sehr vielversprechend. Gegen 07.00 Uhr sind wir bereits am Flughafen Frankfurt, da über Nacht sehr wenig Schnee gefallen ist und mit -2°C es ungewöhnlich mild ist. Doch während wir in der Lounge warten, wird der Flughafen eingeschneit.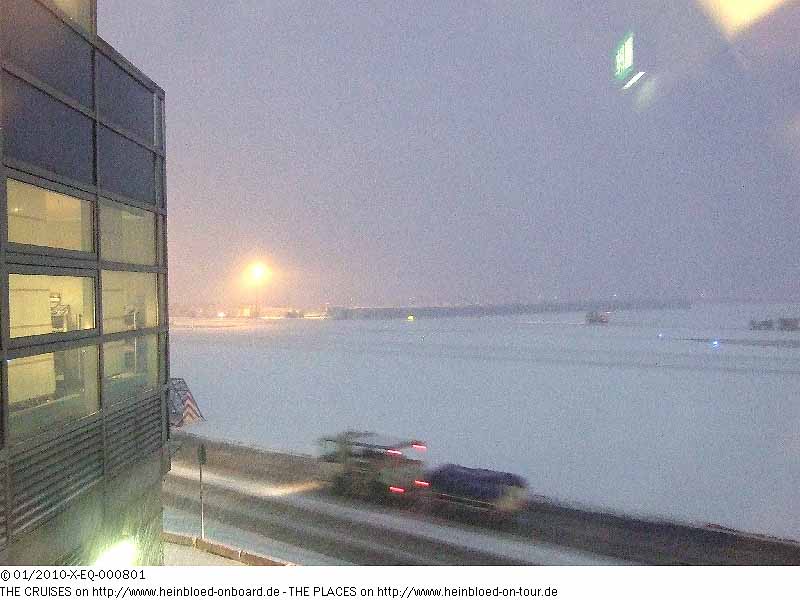 The day started at 04.00 am and it was very promising. Around 07.00 am we were at Frankfurt airport as there was snowing very less and with 30F it was very mild. But while we were waiting in the lounge the airport, we could see how the airport was snowed up.

From one moment to the next a delay of 70 minutes was announced. If they stay with this delay we could made it in theory to our connecting flight in Düsseldorf but non was able to garantee that it will stay with the 70 minutes. And more and more orange colored delays were announced on the departure screen. We went immediately to the counter of the lounge. Mrs Baumgärtner checked for us that our bags can be shipped on the direct flight from Frankfurt to Miami. We have the option: standy-by from Frankfurt - fully booked and none knew how many no-shows there will be - or ICE High-Speed-Train to Düsseldorf without baggage.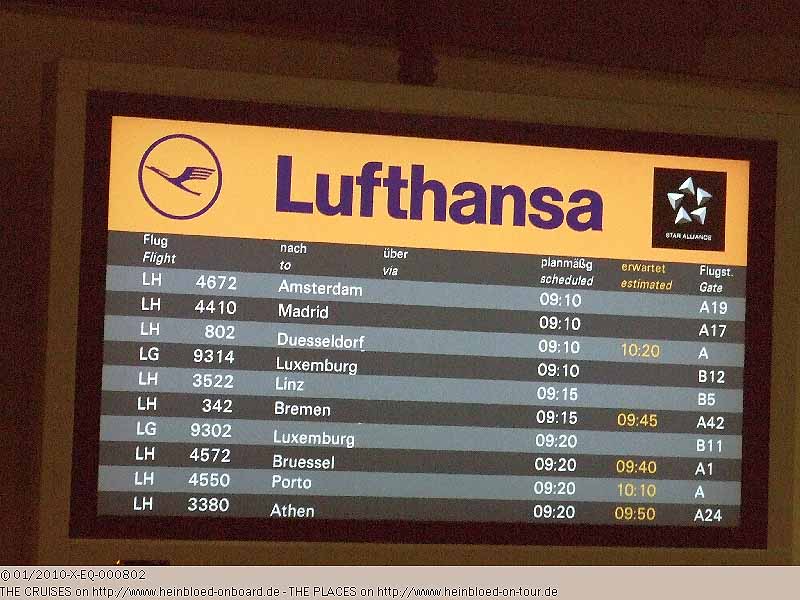 Von einem Moment zum anderen werden für unseren Flug 70 Minuten Verspätung angekündigt. Wenn wir pünktlich sind, wäre es theoretisch zu schaffen, aber keiner kann garantieren, dass es bei 70 Minuten bleibt. Und die orangen Uhrzeiten mit den Verspätungen fangen an auf den Bildschirm aufzuspringen. Wir gehen sofort zum Empfang der Lounge. Frau Baumgärtner klärt für uns ab, dass unser Gepäck auf den direkten Flug von Frankfurt nach Miami umgeladen wird. Wir stehen vor der Wahl: Stand-By ab Frankfurt - Die Maschine ist voll und keiner weiss, wieviele No-Shows gibt - oder ICE nach Düsseldorf ohne Gepäck.
In 30 Minuten würde ein ICE nach Düsseldorf fahren. Dann wären wir um 11.00 Uhr am Flughafen Düsseldorf. Noch sollen die Züge fahren. Ich darf 1. Klasse fahren. Bruno 2. Klasse. Aber da ich zum Glück eine BahnCard100 First habe, wird mein Lufthansa-Coupon für Bruno in der 1. Klasse akzeptiert.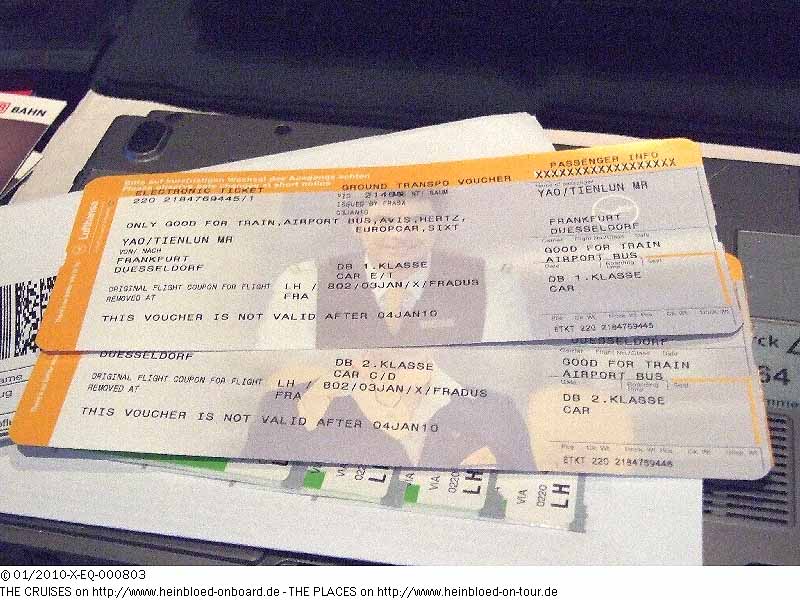 There would be a Düsseldorf-bound ICE High-Speed-Train in 30 minutes. We should be at 11.00 am at Düsseldorf airport. The trains should still run. I am allowed to travel 1st class but Bruno only 2nd class. But I have anyway an annual national pass for all trains in Germany in 1st class so they accepted my 1st class Lufthansa-Coupon for Bruno to use.

On the way to the train station we thought it was right to decide for the ICE High-Speed-Train because in this moment they suspened all landings and takes-off in Frankfurt.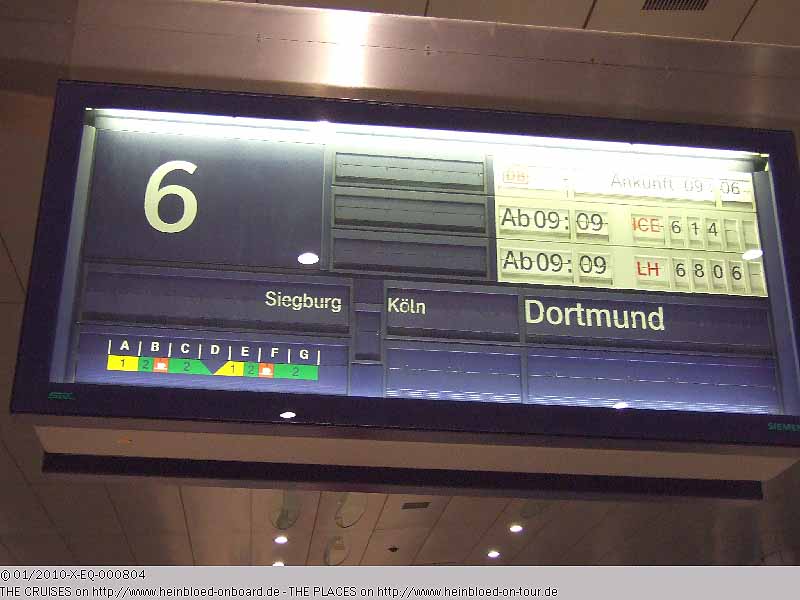 Auf dem Weg zum Fernbahnhof, denken wir dass es richtig war, uns für den ICE zu entscheiden, da in diesem Augenblick alle Starts und Landungen in Frankfurt eingestellt werden.
Unser ICE fährt am Fernbahnhof pünktlich ein, so dass wir sehr optimistisch sind.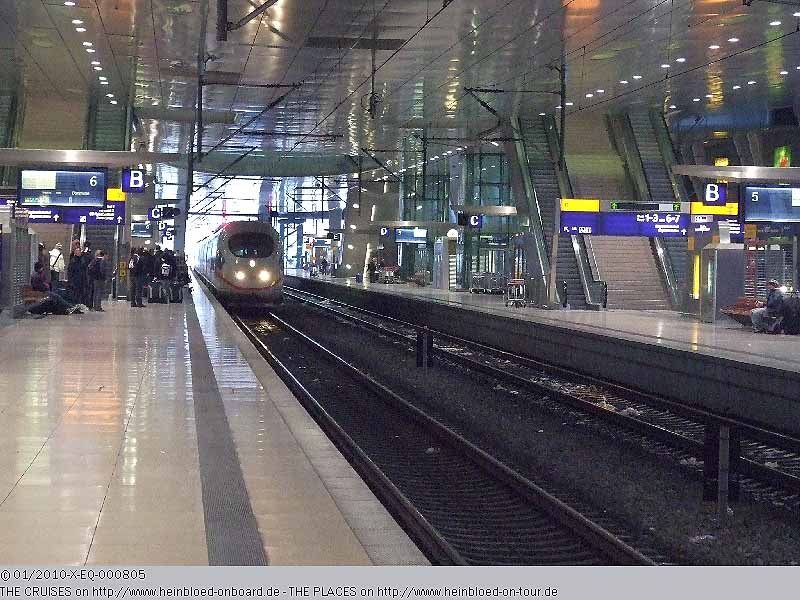 Our ICE High-Speed-Train arrived on time so that we were optimistic that we might make it.

Outside the train station the world become more white.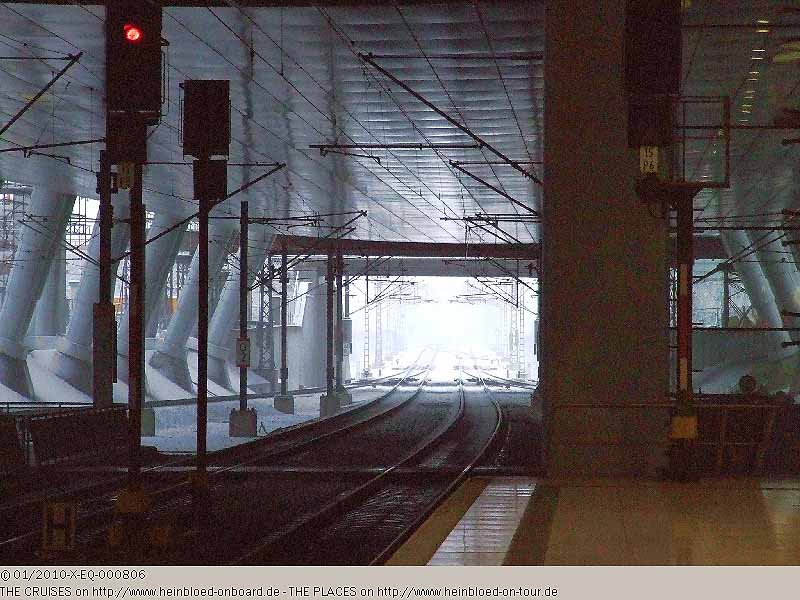 Draußen sieht die Welt weißer und weißer aus.
Ich ärgere mich, dass ich auf den Fahrkartenautomaten gehört, der meinte, dass man unbedingt reservieren soll, weil für diesen Zug eine hohe Nachfrage angekündigt wird. Also zahle ich die 11 EUR, damit wir bis Düsseldorf nicht stehen müssen. Aber im Zug ist alles leer. So bekommen wir sogar noch Plätze in der Panorama-Lounge und können dem Zugführer bei der Arbeit zugucken.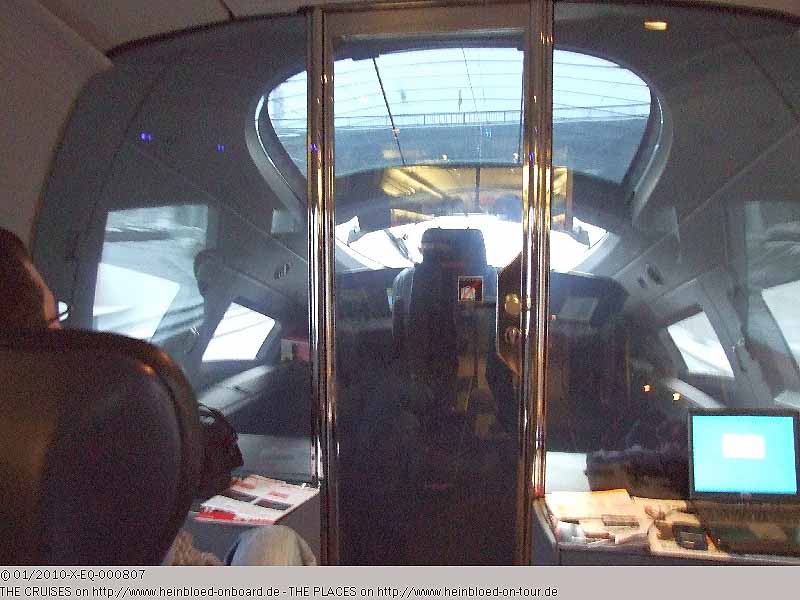 I am upset with myself because I listened to the ticket machine who told me that we should have a seat assignment as there should be a high demand for this train. So I payed 11 EUR (= 15 USD) that we do not to stand all the way to Düsseldorf. But train was totally empty. We even got seats in the Panorama-Lounge and can watch the train operator working.

We stopped somewhere in the great outdoors. We get more and more delay because the train took a safe detour-route through a tunnel at Cologne/Bonn-airport.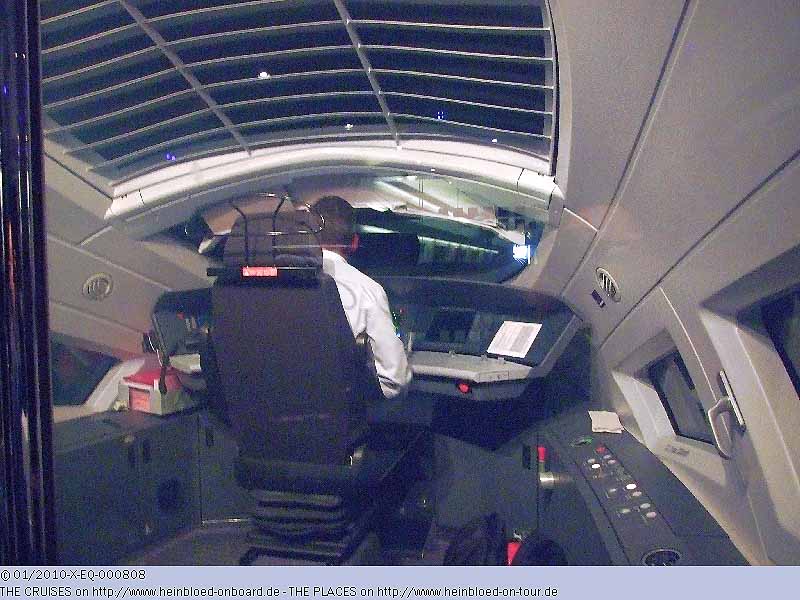 Wir halten auf freier Strecke. Die Verspätung steigt und steigt, weil wir einen sichereren Weg durch den Tunnelbahnhof am Flughafen Köln/Bonn nehmen.
Mit Pre-Cruise in Köln haben wir ja nicht geplant.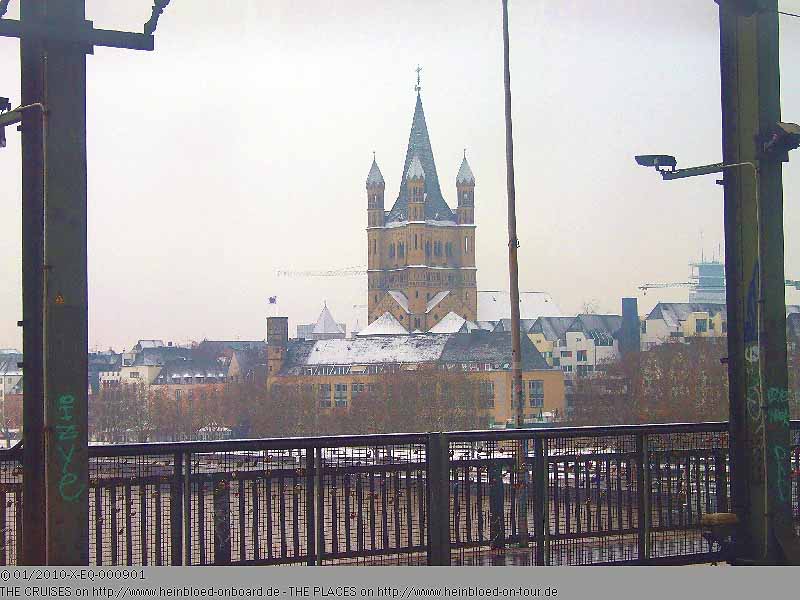 We did not expect to have a pre-cruise in Cologne.

So the Cologne Cathedrale welcomed us.

So begrüßt uns der Kölner Dom.
Und der Fahrer macht sich fertig, um den Zug zu verlassen, weil die Fahrtrichtung sich ändert und ein Kollege auf der anderen Seite den Zug übernimmt. Im Rausgehen schimpft er über die Probleme, die der Zug im Moment hat.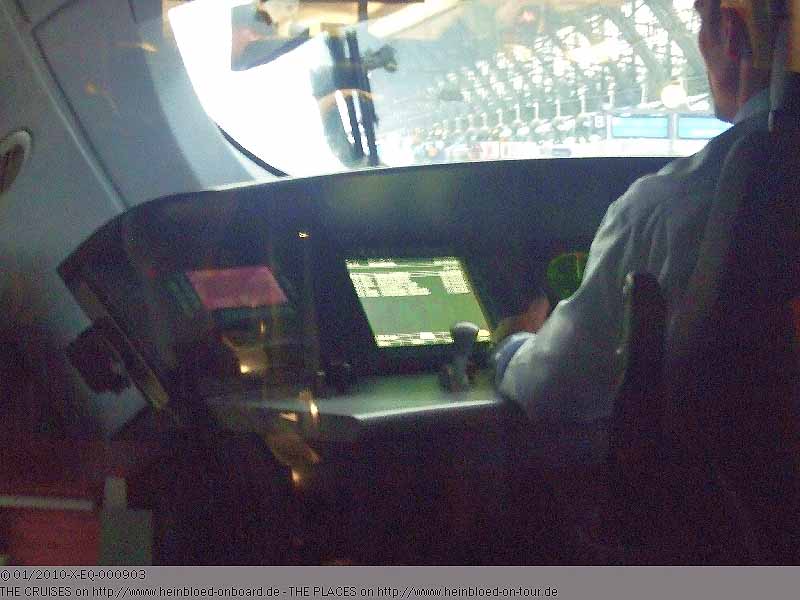 The train operator prepared to leave the train as the direction of travel should change and another operator will run now the train from the other end. But while he was leaving he railed on all problems the train had at this moment.

All the electronics shut down. When they switched to the other front end a disruption was reported.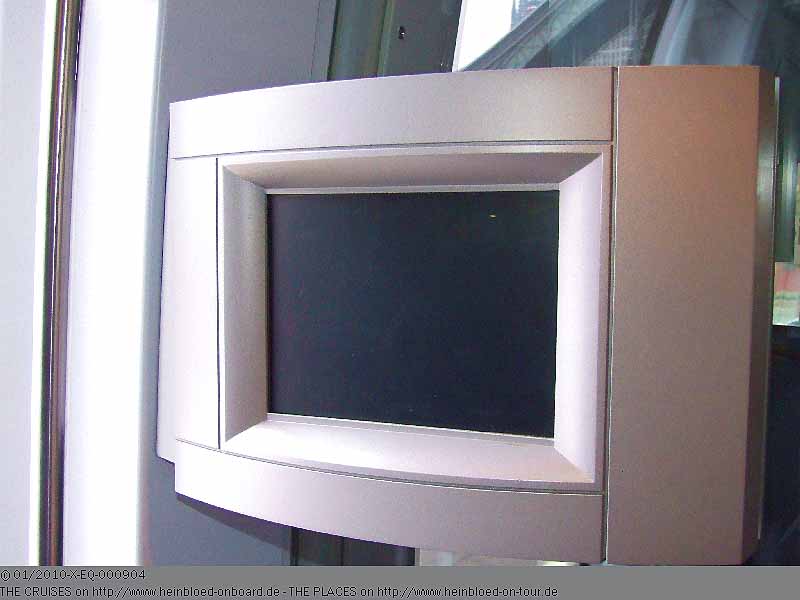 Auf einmal geht die komplette Elektronik aus. Bei der Umschaltung auf die andere Seite wird eine Triebkopfstörung gemeldet.
Da die Bahn wieder mal Salami-Taktik spielt, verpassen wir eine Umstiegsmöglichkeit zu einem direkten Zug zum Düsseldorfer Flughafen.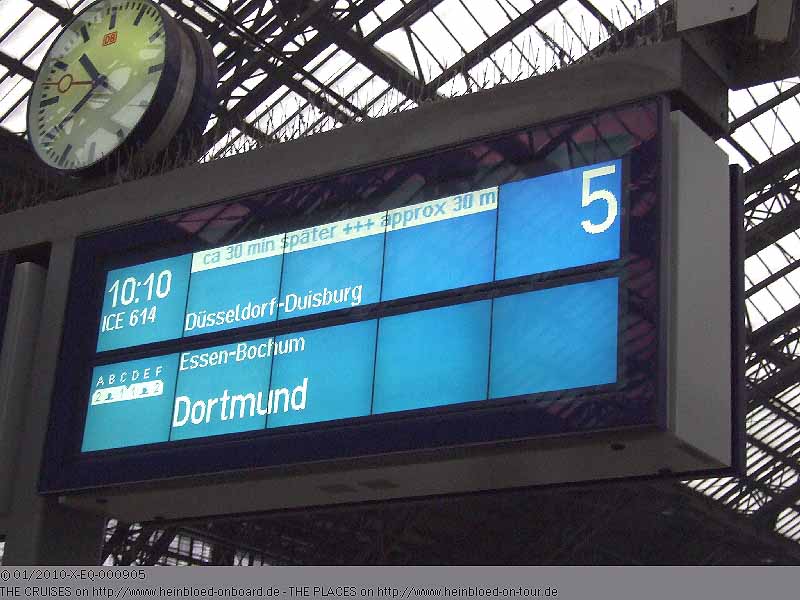 As usual German Railways loved salami slicing so we missed the next connecting train towards Düsseldorf Airport.

Now we can choose between the devil or the deep blue sea: so we choosed to change to an IC Long-Distance Train which should take us until 11.07 am to Düsseldorf Central Station.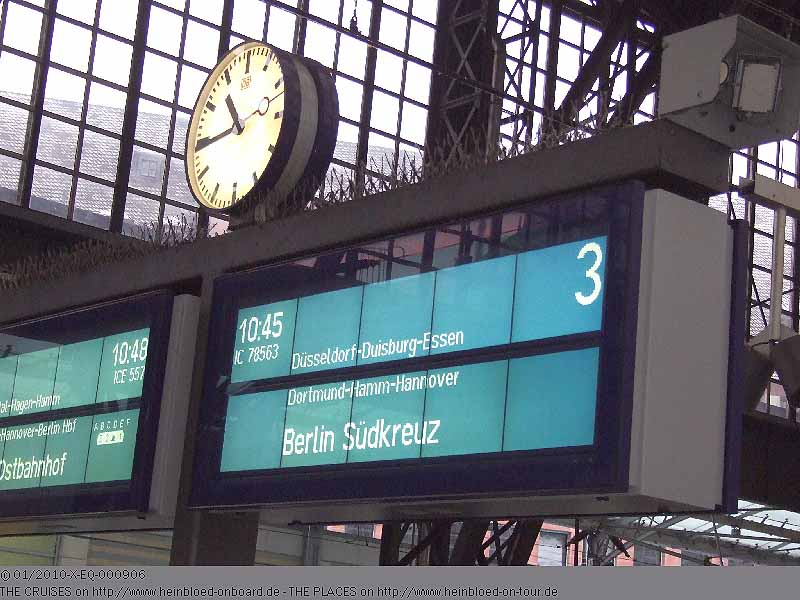 Nun haben wir wieder die Entscheidung: Pest oder Cholera und wir entscheiden uns in einen IC umzusteigen, der uns bis 11.07 Uhr bis Düsseldorf Hauptbahnhof bringen soll.
Leider hält unser Zug nicht am Flughafen, wie viele andere ICs und auch wir bekommen eine leichte Verspätung. Da wir uns auf die Pünktlichkeitsprognosen nicht mehr verlassen, entscheiden wir uns mit dem Taxi zum Flughafen zu fahren. Mit unseren letzten Euro. Denn wir haben ja nur noch US-Dollar bei. Der Taxifahrer versucht noch mit uns eine Spazierfahrt zu machen. Nur als ich zu erkennen gebe, dass ich in Düsseldorf aufgewachsen bin, fährt er mich auf den direkten Weg zum Flughafen.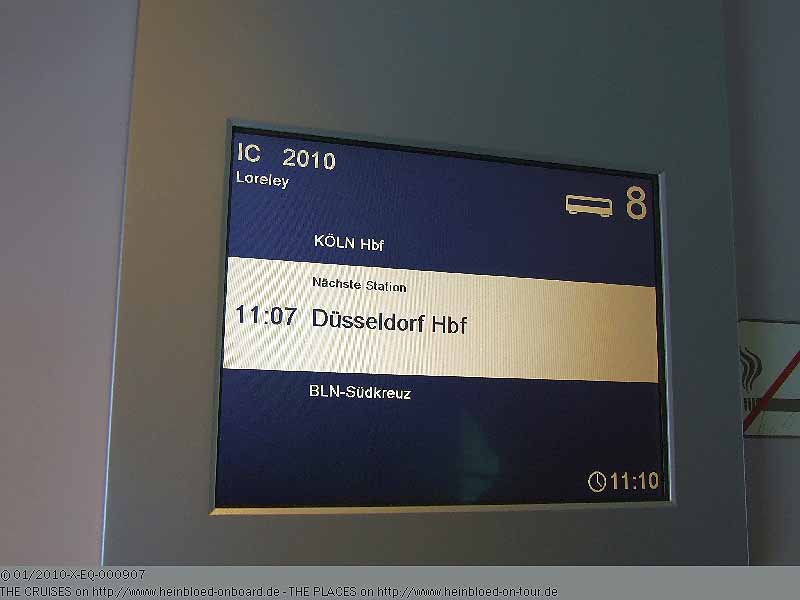 Unfortunately our train does not stop at the airport like many other IC Long-Distance-Trains and we got a slight delay. As we did not want to count anymore to German Railways' schedule announcement we dediced to take a cab to the airport. We payed with our very last Euros. We had only US-Dollars with us. The cab driver tried to give us a sightseeing-tour. But when I told him that I was raised in Düsseldorf he took us on the direct way to the airport.

We called a couple of times Lufthansa: No delay. But we need new boarding passes. They cannot tell anything on our baggage on LH 462 which should took off at 11.08 am. Due to the new security checks at the gate we did not left on lime.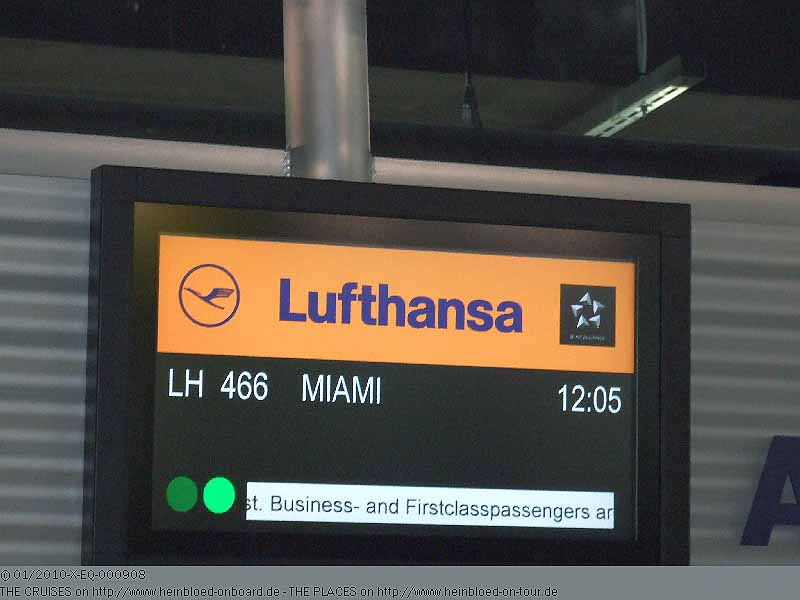 Wir haben mehrfach bei Lufthansa angerufen: Nein es gibt keine Verspätung. Wir sollen aber neue Bordkarten holen. Es kann nicht bestätigt werden, dass unser Gepäck auf der LH 462 sich befindet, die um 11.08 Uhr gestartet ist. Die Fummellei direkt vor dem Ausgang führt allerdings zu einem Riesenstau, so dass wir nicht pünktlich wegkommen.
Das hätten wir nicht gedacht, dass wir die Maschine tatsächlich erreichen. Bis zur Enteisung wird es etwa 13.30 Uhr bis dass wir abfliegen. An Bord treffen wir auch unsere Mitreisenden, die auch schon andere Mitreisende von der CELEBRITY EQUINOX getroffen haben.

We never expected to reach the flight. Until de-icing it was about 1.30 pm before we left the airport. Onboard we met our cruise-mates who met already other cruisers on CELEBRITY EQUINOX.

As Lufthansa Senator Frequent Flyer you can book the emergency row seats for youself and your travelmates. It was the row just in front of our cruise-mates. So we were not very much excited that they told us that they need to cancel the seat assignments to release the train tickets. But we got our seats back.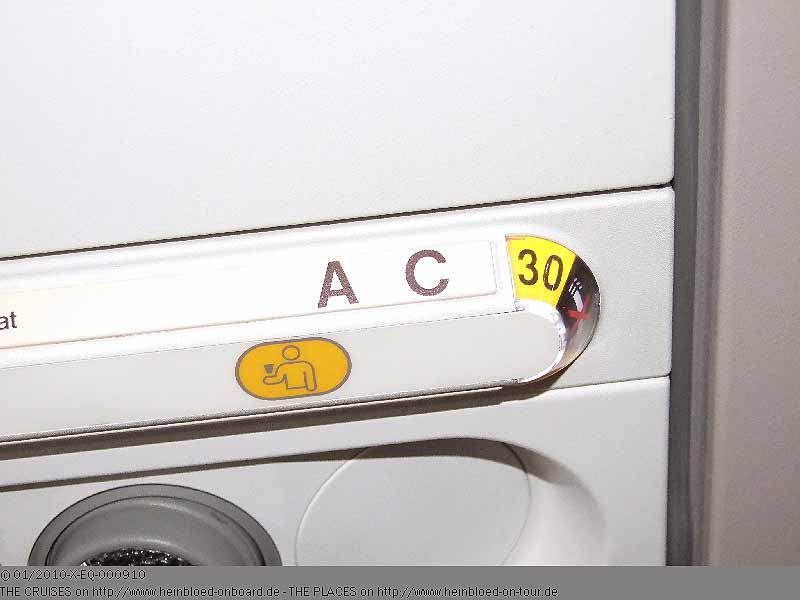 Als Senator kann man die Notausgangssitze für sich und seine Begleiter buchen. Es war auch die Reihe vor unseren Mitreisenden. Deswegen war unsere Begeisterung sehr gering, als man sagte, dass man uns pro-forma stornieren müsste, um die Bahnfahrten auszustellen. Aber wir haben die Plätze wieder bekommen.
Prima ist die Beinfreiheit...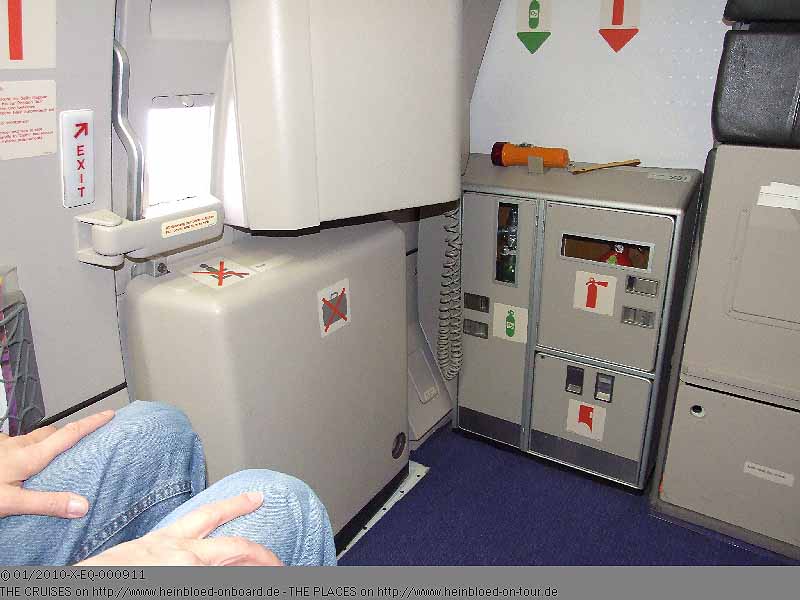 Very nice is the extra space for your legs.

Nice is also the face-to-face crew seats which made a nice talk to a flight attendant (here: Mrs Augustin) possible. Next time I'll have a saucer and a forrest-smell-spray with me. That's the central location of the lavatories of the Economy Class and I could use the saucer to collect money from the users of the lavatories and so it smells somehow bad here.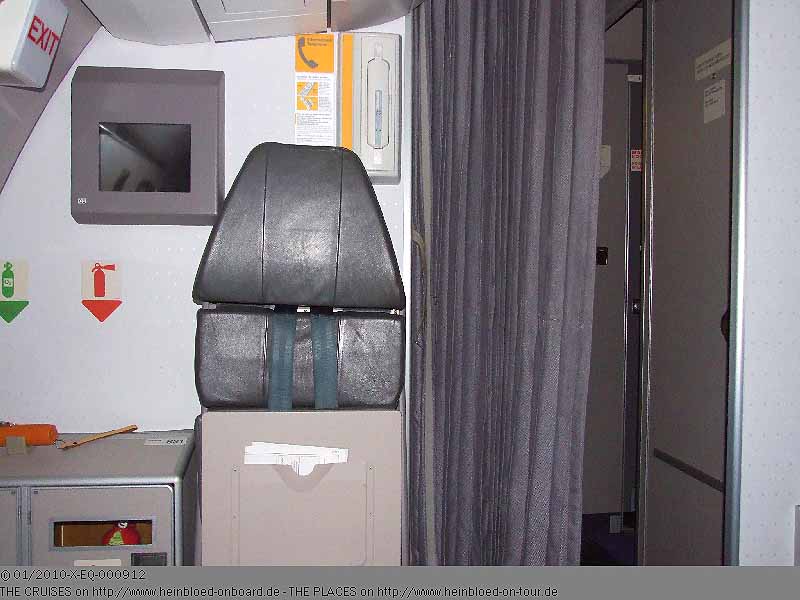 Prima ist auch der Crew-Platz, der uns zu einer netten Unterhaltung mit einer Flugbegleiterin (hier: Frau Augustin) verhilft. Allerdings werden wir das nächste Mal einen Unterteller und eine Tannenduftspray mitbringen: Das ist die zentrale Toilettenanlage in der Economy-Class und ich kann eigentlich von den Wartenden Geld für den Toilettengang abnehmen und daher stinkt es hier auch immer irgendwie.
Die Plätze haben auch andere Nachteile: es gibt ja keinen Stauraum mangels Vordersitz. Nur über diesen Sitzen hat Lufthansa die Zeitungsständer und das Kissen- und Deckendepot angelegt und wir dürfen ja nichts unten stehen lassen. Auch haben wir die Kontrollknöpfe für das Unterhaltungssystem an der Seite. Mit einem Portemonnaie in der Tasche macht sich bei jeder Bewegung das Licht an, ruft die Stewardess usw.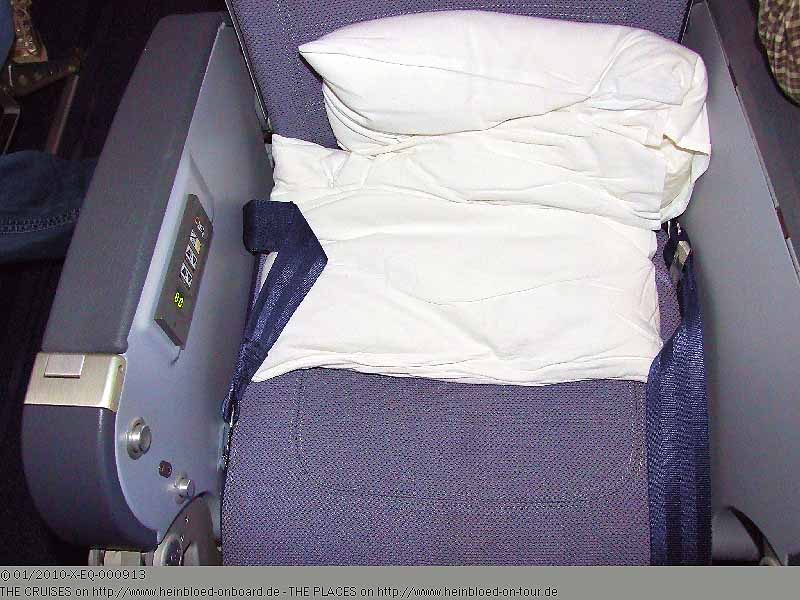 But these seats do also have some disadvantages as you have not stowage space in front of you. But in the overhead bins of our seats Lufthansa had all magazines, pillows and blankets and we were not allowed to stow anything on the floor. The control panel for the entertainment-system is on the side. With a wallet in your pocket each movement you will turn on the light, call the flight attendant etc.

Unfortunately Lufthansa installed TV-screen and table on one side what occured some problems to leave or to re-enter your seat if both are in use.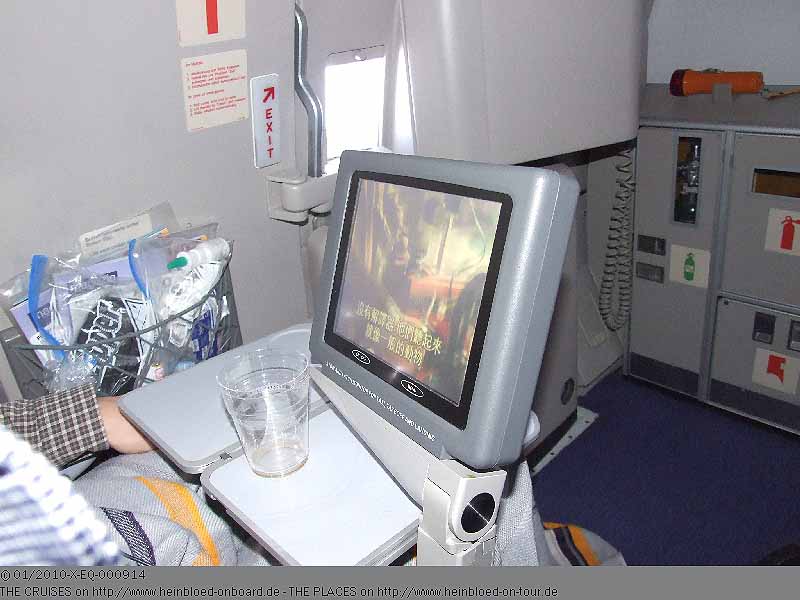 Außerdem hat Lufthansa blöderweise, Bildschirm und Tisch auf eine Seite eingebaut, was zu Problemen führt, wenn man mal rein und raus muss, und sowohl Tisch vollsteht als auch Bildschirm ausgeklappt ist.
Nach dem ich zuletzt bei United Pech hatte, dass das Audio-Video-System komplett zwischen Frankfurt und Washington ausgefallen ist, hatte ich dieses Mal "Glück". Es ist erst drei Stunden vor Landung ausgefallen. Als Trost bekomme ich eine Meilengutschrift noch an Bord und ein Stück Kuchen aus der Business-Class. Sowohl meine Flugbegleiterin als auch der Purser weigern sich jedoch, das Flyrobic Programm mir live vorzumachen, das ich gerade versucht hatte, mir anzusehen.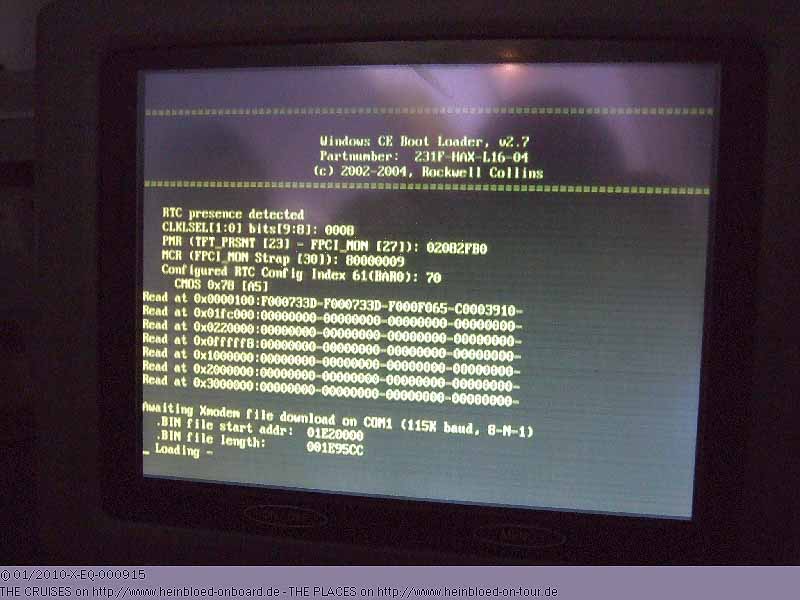 After I had unluck with United that the entertainment-system did not work all the time from Frankfurt to Washington DC I had "luck" this time: just three hours prior to landing it did not work anymore. As comfort I got a mileage credit and a piece of cake from the Business Class. But my flight attendant and the purser refused to show live the excercises from the Flyrobic programme which I tried to watch.

The food is typical German: Goulash... but the meat was so sinewy which would have been perfect to make Original-Chinese guests happy on a China-bound flight.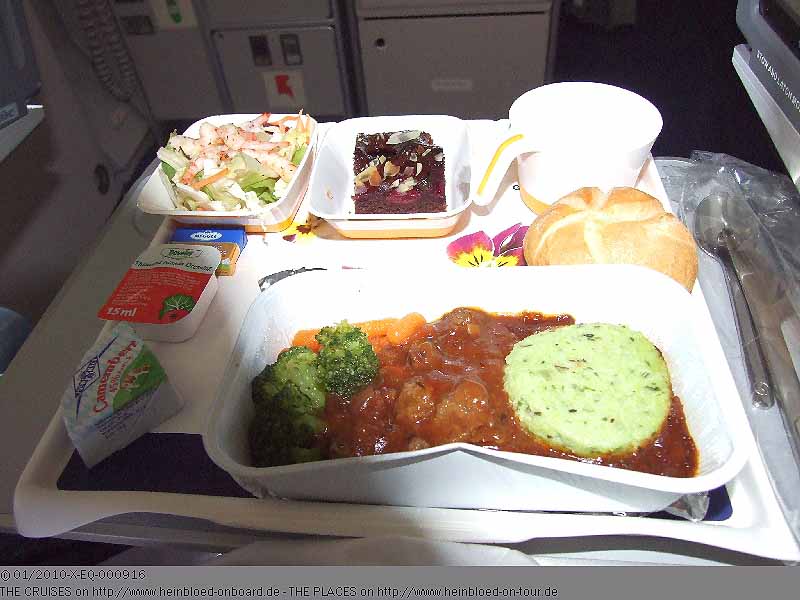 Das Essen ist ziemlich deutsch: Gulasch... aber das Fleisch so sehnig, wie für einen China-Flug um Original-Chinesen glücklich zu machen.
Erstaunt war ich über die 2. warme Mahlzeit, die es noch gab: Hühnerfrikassee. Das war etwas salzig für meinen Geschmack. Bei der Landung sehen wir die NORWEGIAN JEWEL sowie Schiffe von Celebrity, Royal Caribbean und Carnival, aber die Kamera ist schon verstaut, da Kamaras im Einwanderungs- und Zollbereich nicht erlaubt sind. Am Flughafen geht die Immigration einigermaßen zügig. Ich muss in eine Sonderkontrolle beim Zoll. Aber da wir ja kein Gepäck haben, dauert es auch nur eine Minute. Hier in Miami erfahren wir auch, dass Lufthansa in Frankfurt das Gepäck nach Düsseldorf geflogen hat. Die nächste Miami-Maschine landet erst um 16.30 Uhr. Um 17.00 Uhr startet die CELEBRITY EQUINOX ab Fort Lauderdale und nächster Stopp ist in zwei Tagen in George Town auf den Kaimanninseln. Dort hat Lufthansa keine Station. Wir müssen zum Flughafen selbst kommen und wir müssen mit dem Service von American Airlines rechnen, die diesbezüglich einen sehr schlechten Ruf haben. Positiv: unsere geplante Shopping Tour erfolgt auf Kosten von Lufthansa: 4 Koffer = 400 USD Einkauf.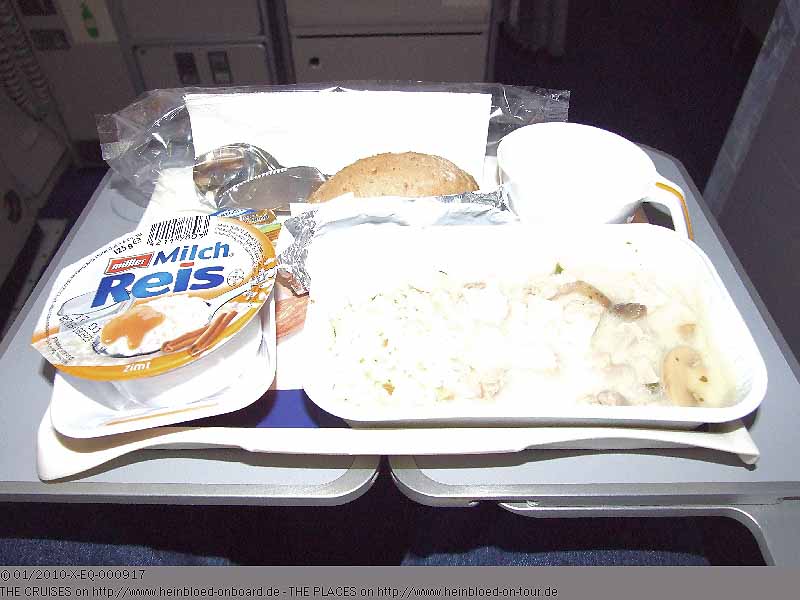 I was surprised to get a second hot meal: chicken fricassee. A little to salty for my taste. We saw NORWEGIAN JEWEL and ships from Celebrity, Royal Caribbean and Carnival during landing but the camera was already stowed away as cameras are not allowed in the immigration- and customs hall. Immigration went quite fast. I should go through a second inspection. But as I had no baggage it only took one minute. So we learned in Miami that Lufthansa shipped our bags to Düsseldorf. The next flight from Düsseldorf should arrive 4.30 pm the next day. 5.00 pm is set-sail of CELEBRITY EQUINOX from Fort Lauderdale and next stop should be two days later George Town on Cayman Islands. But Lufthansa has no station there. We should go ourselves to the airport and to collect all the bags from American Airlines who has a very bad reputation regarding lost baggage. It was good to know that our planned shopping tour should be on account of Lufthansa: 4 bags = 4 x 100 USD = 400 USD.

We ordered a car with AVIS with a lot of space for luggage. We found the way very quickly to the Doubletree Hotel. We booked a suite for 350 USD with two seperate bedrooms and two seperate bathrooms. Looked nice for the first view.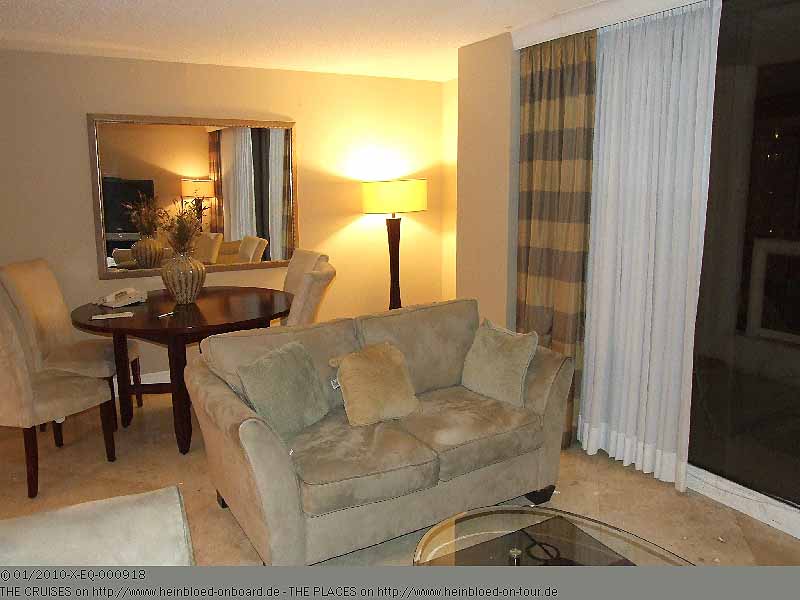 Unser Wagen, den wir für unser vieles Gepäck dimensioniert haben, erwartet uns bei AVIS. Wir finden auch schnell zum Doubletree Hotel. Wir haben eine Suite für 350 USD mit zwei Schlafzimmern und zwei Bädern gebucht. Sieht nett aus auf den ersten Blick.
Schöne Küche.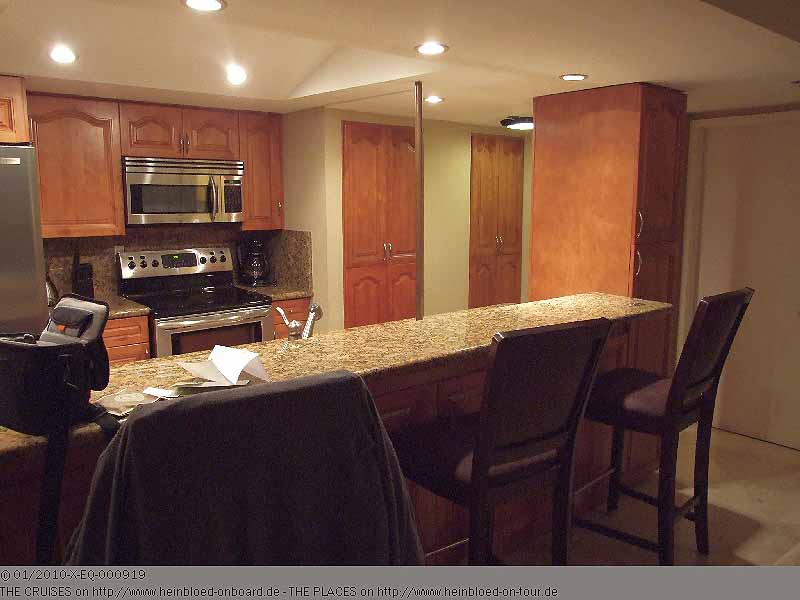 Nice kitchen.

Giant Flat-TV.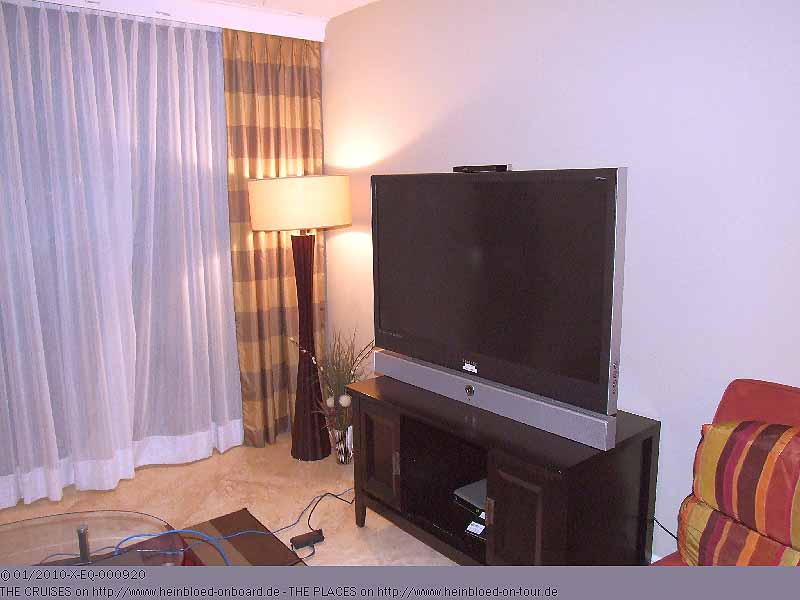 Riesen Flachfernseher.
Wundervoller Ausblick.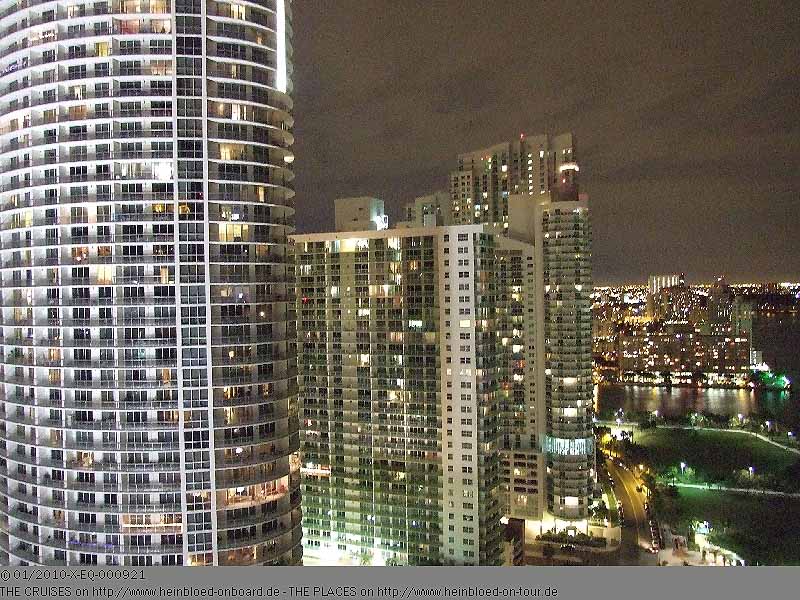 Nice view.

Biscayne Bay...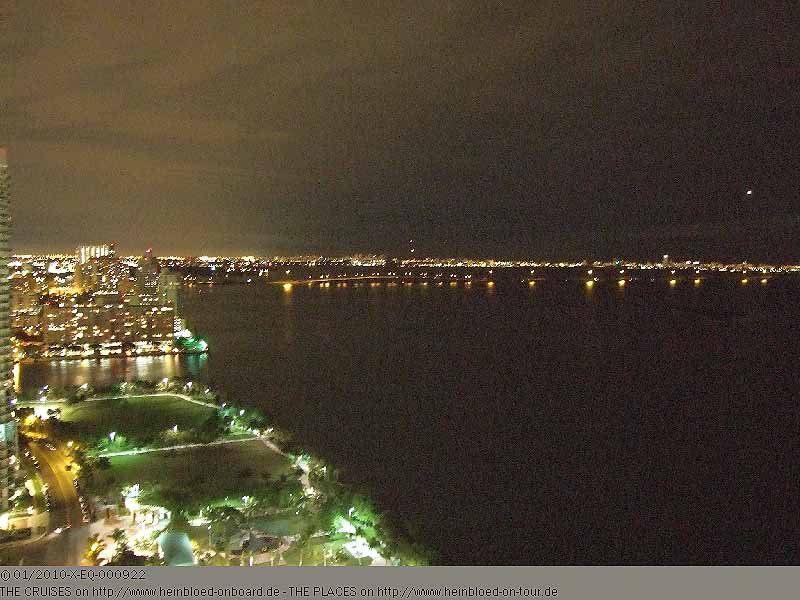 Biscayne Bay...
Nur das Cruise Terminal liegt um die Ecke wohl...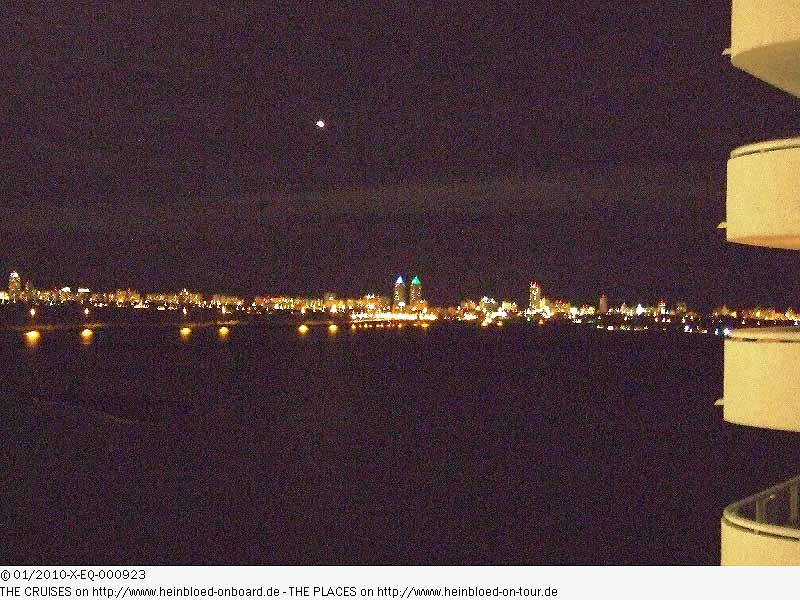 But the Cruise Terminal is around the corner.

Unfortunately the bed felt to pieces. There was no toilet paper. Around 10.00 pm we had four hotel-workers in our suite to fix the problem.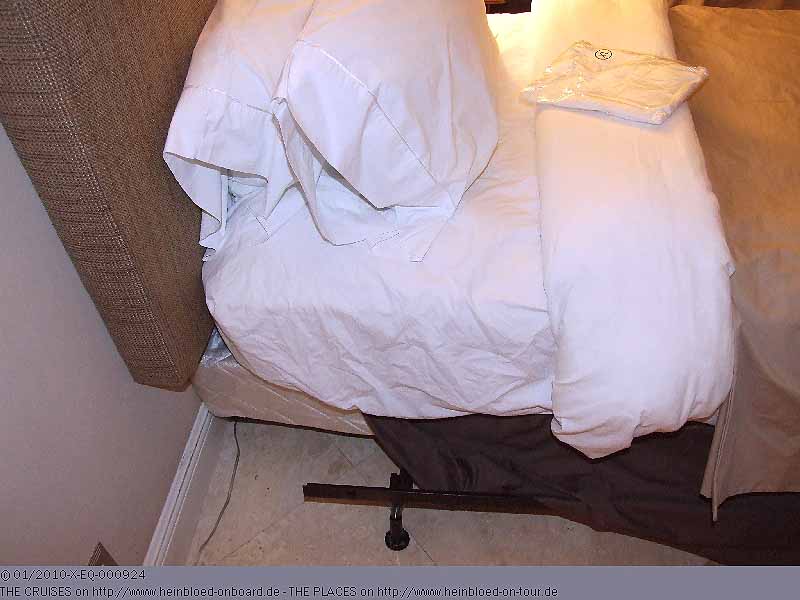 Leider fällt ein Bett schon auseinander. Es gibt kein Toilettenpapier. Gegen 22.00 Uhr haben wir vier Mitarbeiter vom Hotel in der Suite stehen.
Wir hätten unseren Käse mitbringen sollen, um hier die Camembert-Reifung nachzustellen.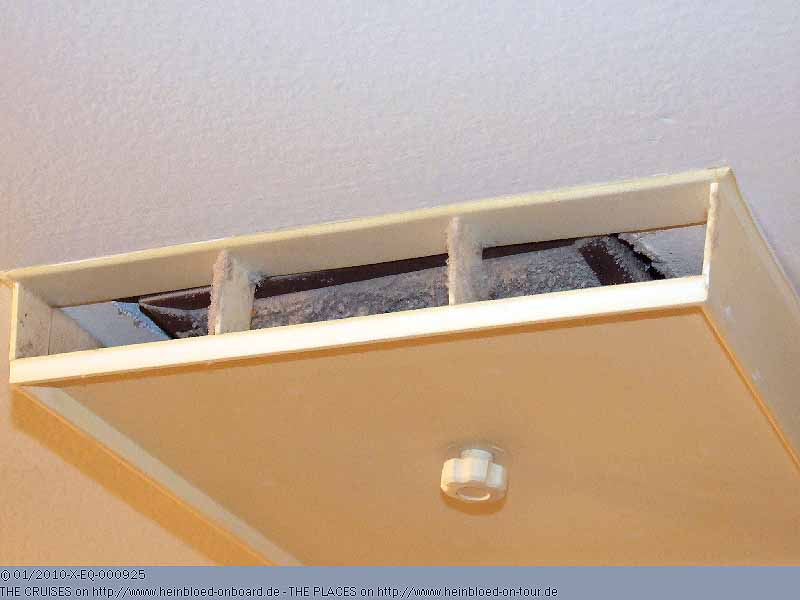 We should have brought our own cheese to make our own Brie-cheese.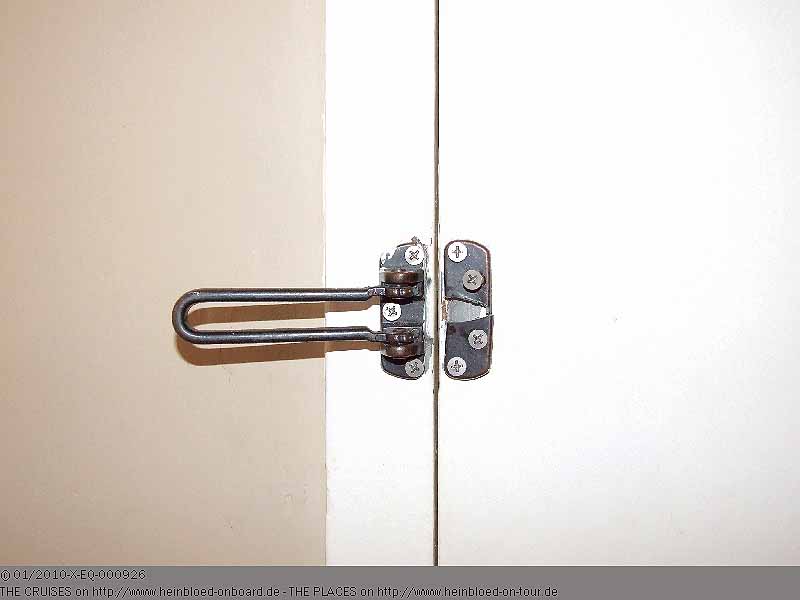 Hier ist anscheinend schon so oft eingebrochen worden, dass schon die Tür nicht mehr schließt.

So haben wir jemanden bis 22.30 Uhr, der uns mit seinem Akkuschraubbohrer zum Wahnsinn bringt. Nach vielen Telefonaten bekommen wir raus, dass die Gepäckermittlung in Düsseldorf ab 05.15 Uhr arbeitet. Dort wird aber Punkt 05.15 Uhr nur der Anrufbeantworter eingeschaltet. Es ist niemand bei Lufthansa in Düsseldorf zu erreichen, der dafür sorgen kann, dass unser Gepäck um 06.15 Uhr nach Frankfurt geladen wird. Bei der Hotline in den USA meldet sich immer nur die Warteschleife. Was ich am meisten bedauere: wir sind mit egyptnic (Nicole und Harald) in Fort Lauderdale verabredet. Wäre echt schade, wenn das Treffen ausfallen würde, da wir in Deutschland bislang keine Gelegenheit hatten, uns zu treffen.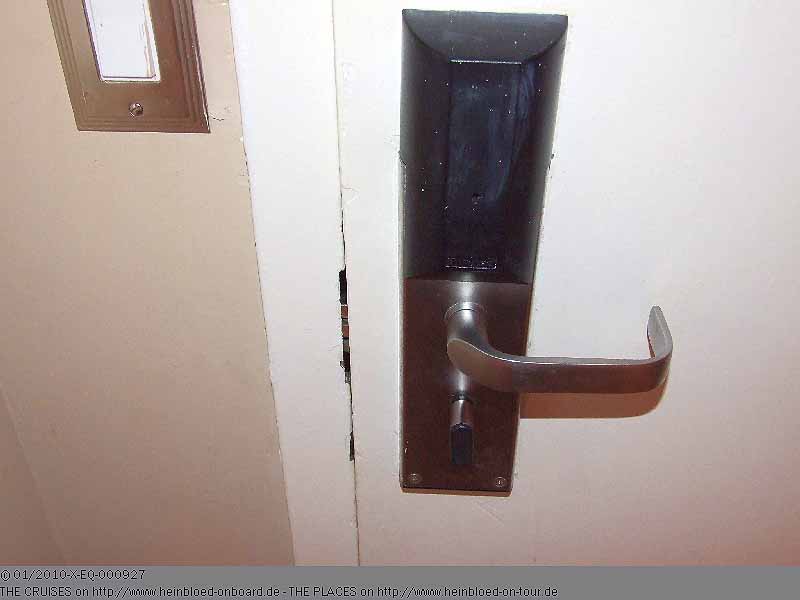 Until 10.30 pm we had someone with the electric screwdriver who drove us crazy. After many phone calls we found out that the baggage tracing in Düsseldorf will open from 05.15 am. But 05.15 am they just switched on the voicemail. You cannot reach anyone from Lufthansa in DÜsseldorf to ensure that our bags will be loaded on the 06.15 am flight to Frankfurt. At the call center in the US you can only reach a voicemail. I would deeply regret that we might not be able to meet egyptnic (Nicole and Harald from a German cruiser's forum) in Fort Lauderdale. It would be a shame to miss this meeting since we never had an occassion to meet in Germany.