Scroll down for English explanations - alternates with German explanations.

Um 06.00 Uhr ist noch nichts los... also der ideale Zeitpunkt für Frühstück.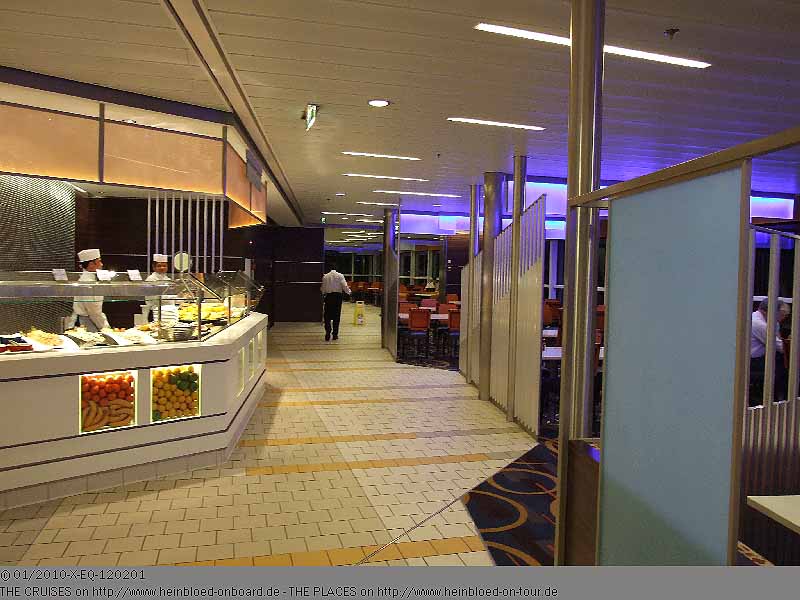 At 06.00 am there was nothing... so best time to have breakfast.

It became more and more crowd...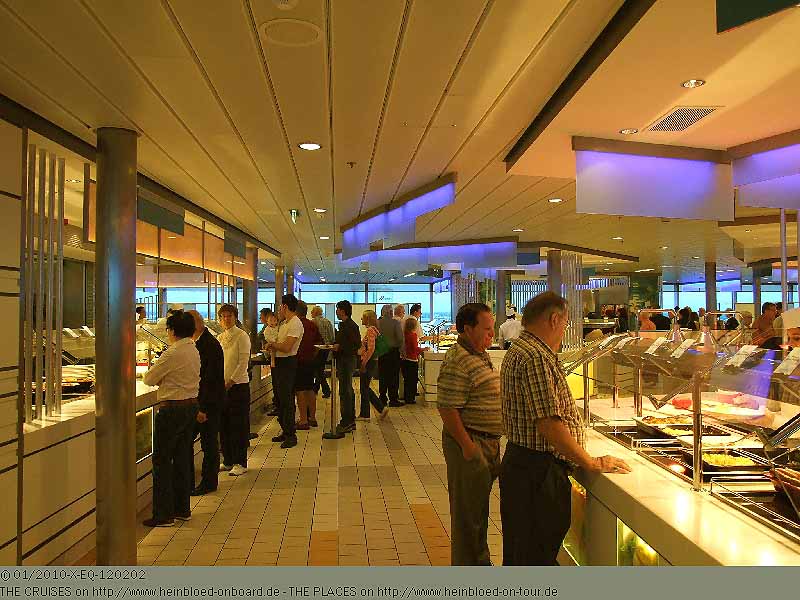 Es wird allerdings immer voller...
Vor allem, weil man sich ja nicht selbst bedienen darf, geht alles etwas langsamer.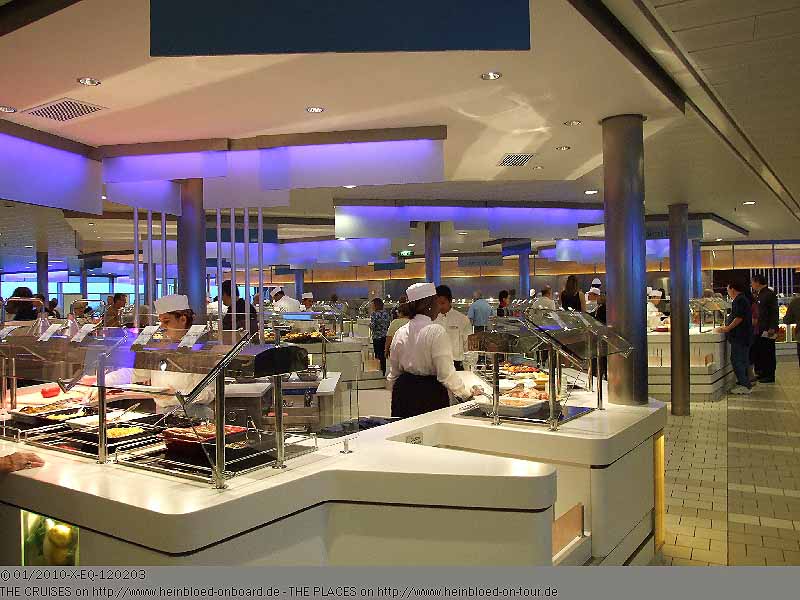 As you were not allowed to help yourself it took a little time.

Especially some appeared with their baggage in the buffet restaurant.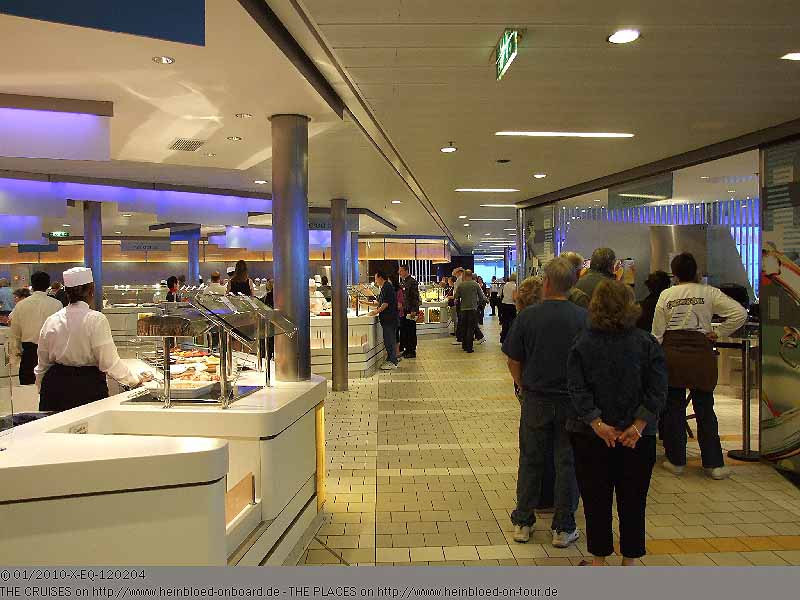 Vor allem, wenn einige schon samt Gepäck im SB-Restaurant auftauchen.
Lt. deutschem Programm sollte auf einer des Silhouette-Restaurants ein Express-Frühstück serviert werden und auf der anderen Seite ein Frühstücksbüffet aufgebaut sein. Ein Frühstücksbüffet finden wir nicht, zumal der Teil bereits geschlossen ist. Wir bekommen allerdings normales Frühstück aus der Karte. Die Maîtres haben irgendwie keinen Blick für so eine Situation und so hilft Charlie dem Mann aus seinem Rollstuhl raus.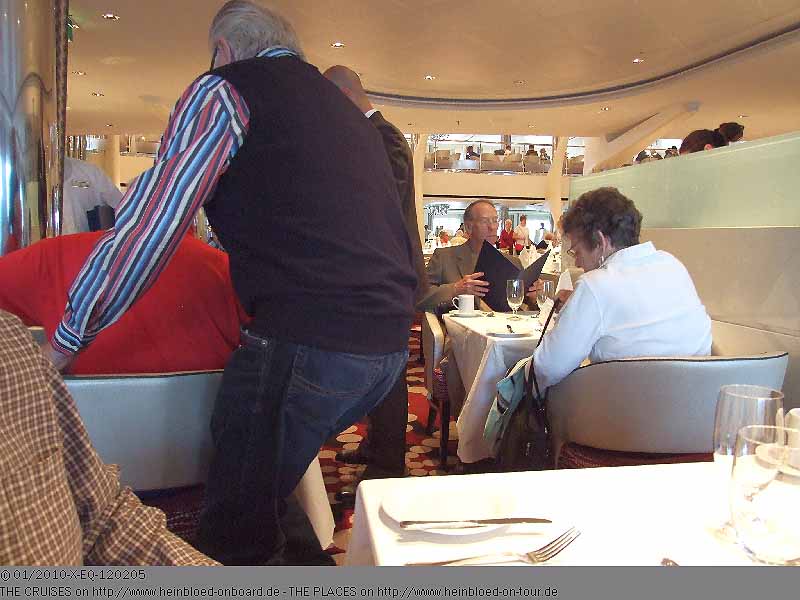 According to the German programme one side of the Silhouette-Restaurant should offer the express-breakfast and on the other side there should be breakfast buffet available. We did not find the breakfast buffet especially as this part was already closed. We got the regular breakfast from the menu. The maîtres do not have a view for such an situation so Charlie helped the gentleman out of his scooter.

Bruno's muffic was not baked to the end. So everything was sticky on the baking-tin.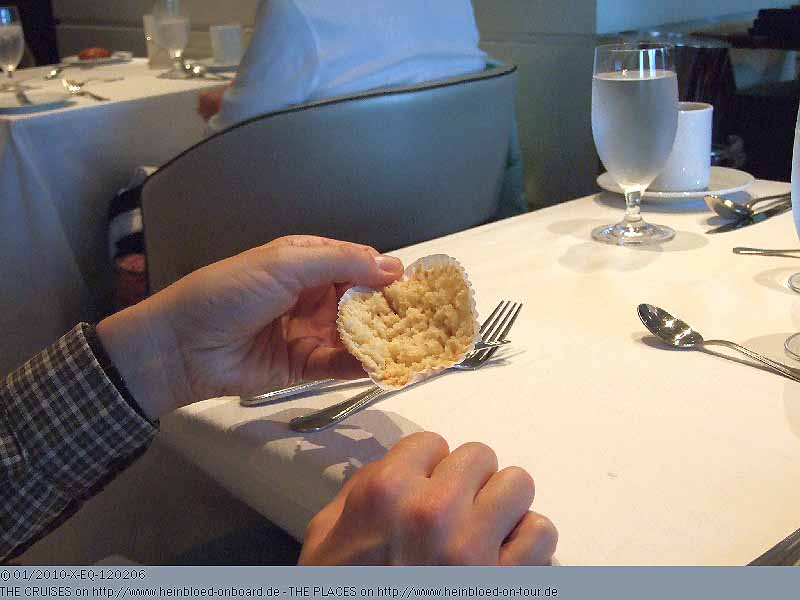 Brunos Muffin war nicht durchgebacken. Alles klebte an der Backform fest.
Als Charlie um etwas warme Milch für seinen Kaffee bat, wurde er nicht auf einen Kollegen verwiesen, sondern sie brachte ihm die Milch mit einem wunderschönen Lächeln.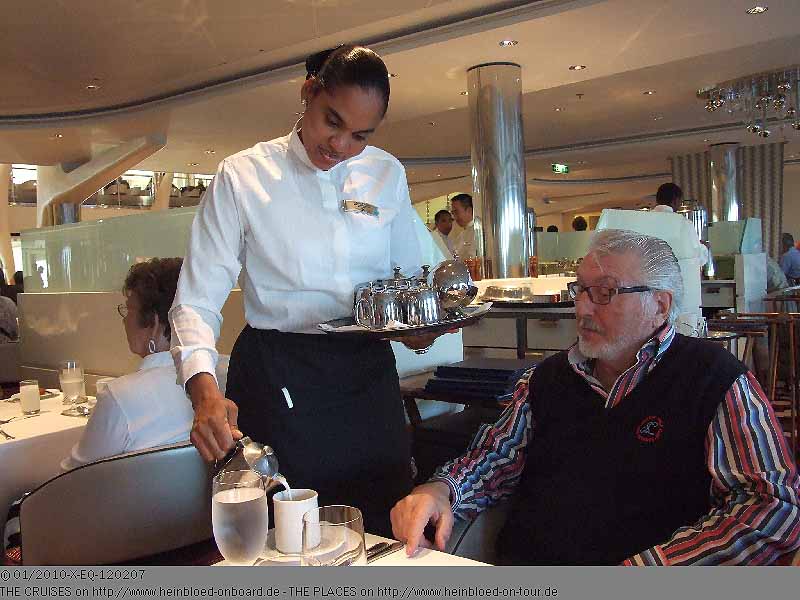 When Charlie asked for some hot milk for his coffee she did not call a collegue and got him his milk with a wonderful smile.

That were the melons which I tried to order the day before. There was a difference to the fruit plate.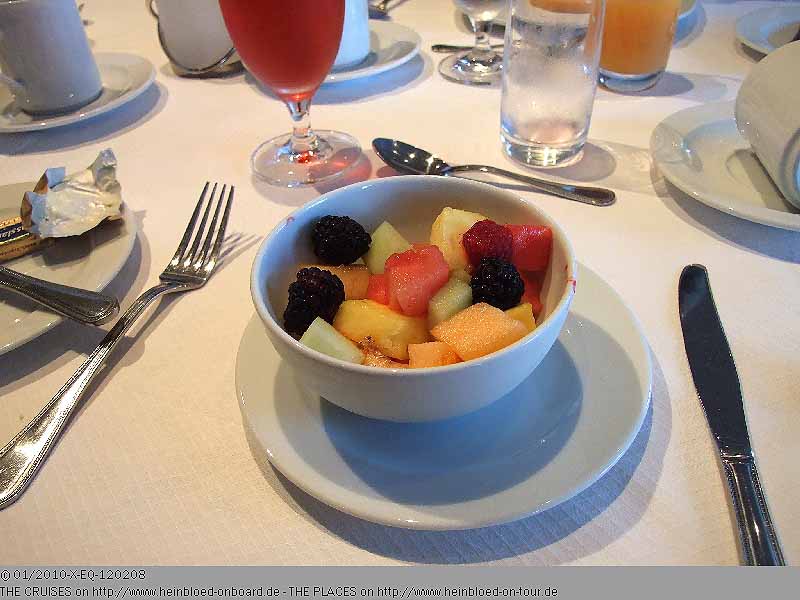 Das sind jetzt die Melonen, die ich gestern versucht hatte zu bestellen. Es gibt also in der Tat einen Unterschied zum Früchteteller.
Wieder habe ich meine Wurstplatte bestellt.

I ordered again my cold cut plate.

Two different waiters told me that there was no brioche available and so I took a croissant.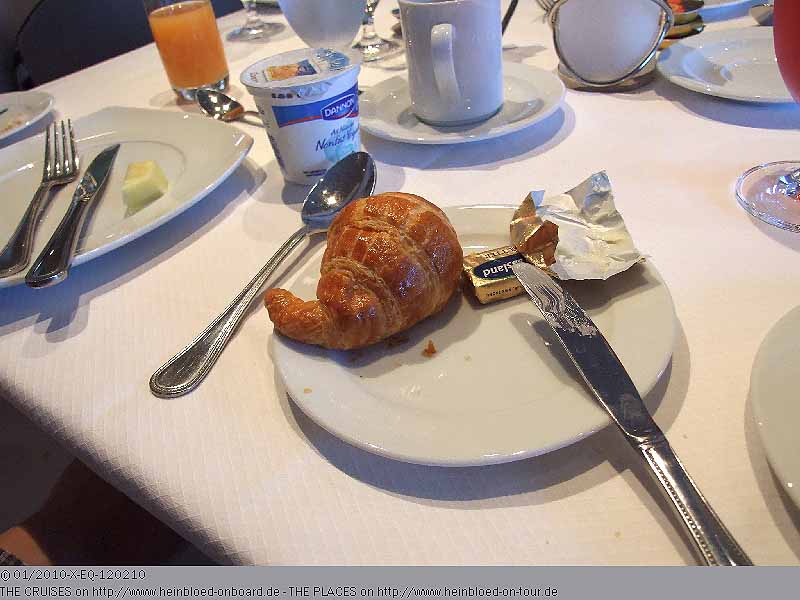 Von zwei verschiedenen Kellnern bekomme ich die Antwort, dass es keine Brioches gibt und daher nehme ich ein Croissant.
Ich bekomme vor meinem nächsten Gang das Besteck.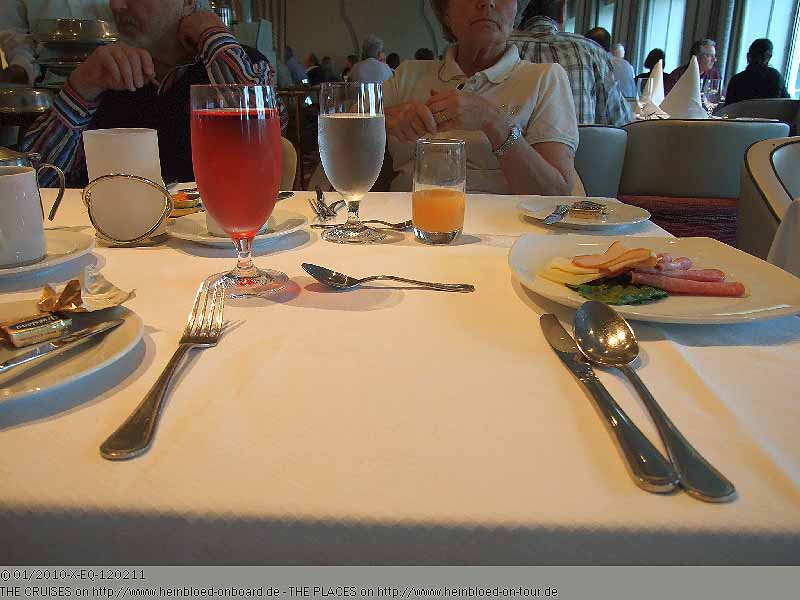 I got before my next course was served clean silverware.

And then I experienced the most perfect service: At first Katie got her plate served from the right side.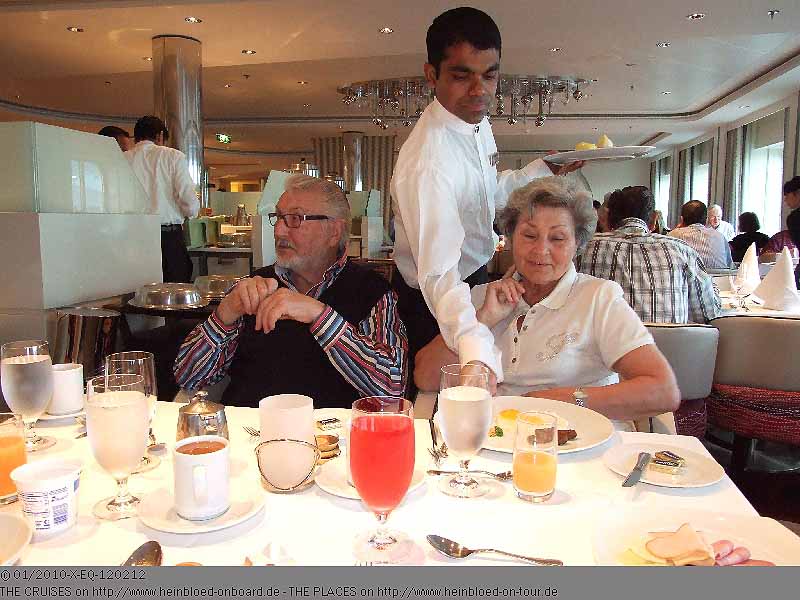 Und dann erlebe ich Service in Perfektion: Zunächst bekommt Katie von rechts serviert.
Und dann Charlie von rechts.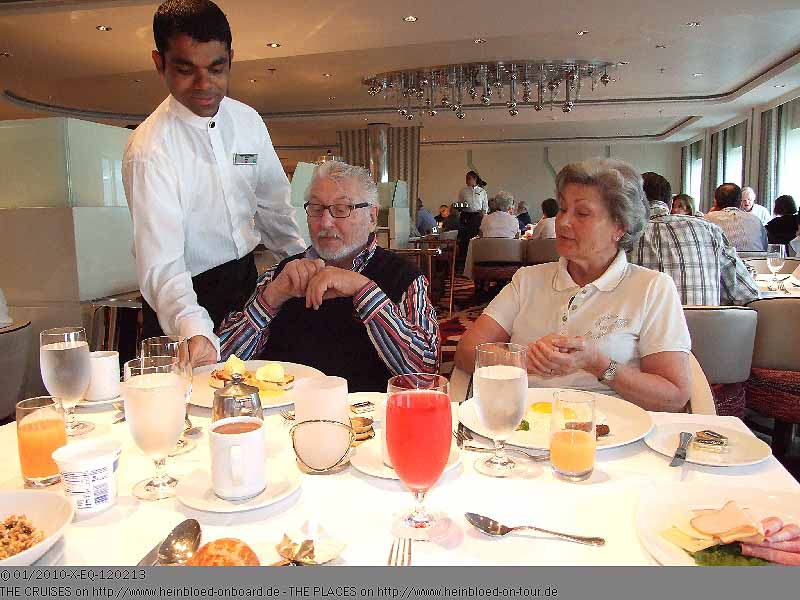 And then Charlie from the right side.

It was really a shame that the service level drifted apart so extremely in the Silhoutte-Restautrant.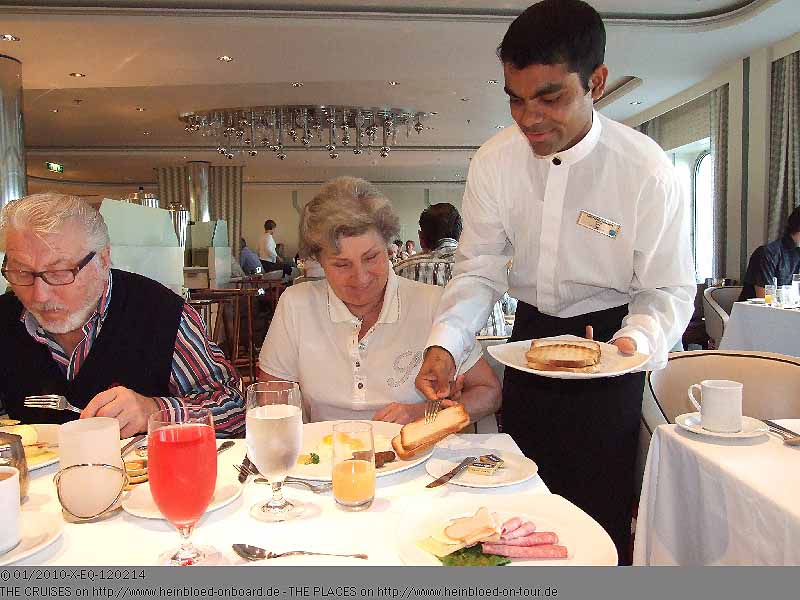 Echt schade, dass der Servicestandard im Silhouette-Hauptrestaurant so extrem auseinanderdriftet.
Das war ein echter Höhepunkt am Schluss. Auch der Barkellner vom Vorabend hat uns wieder erkannt und fragt, ob er uns Evian holen soll, statt des Eiswassers.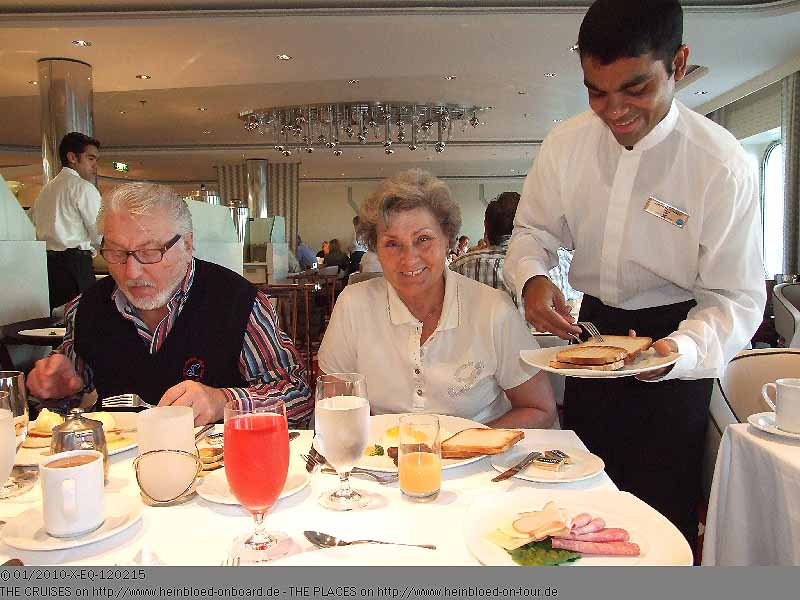 This was a true highlight at the end. Also the bar waiter remembered us from last night and offered us to get us some Evian instead of ice-water.

That was my very last meal.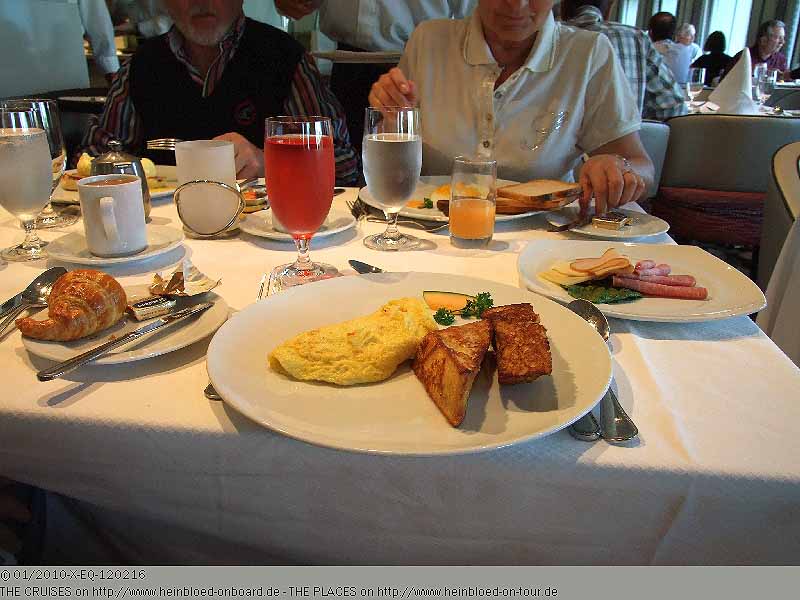 So sieht also meine Henkersmahlzeit aus.
Wie üblich baue ich mir wieder meine Sandwiches.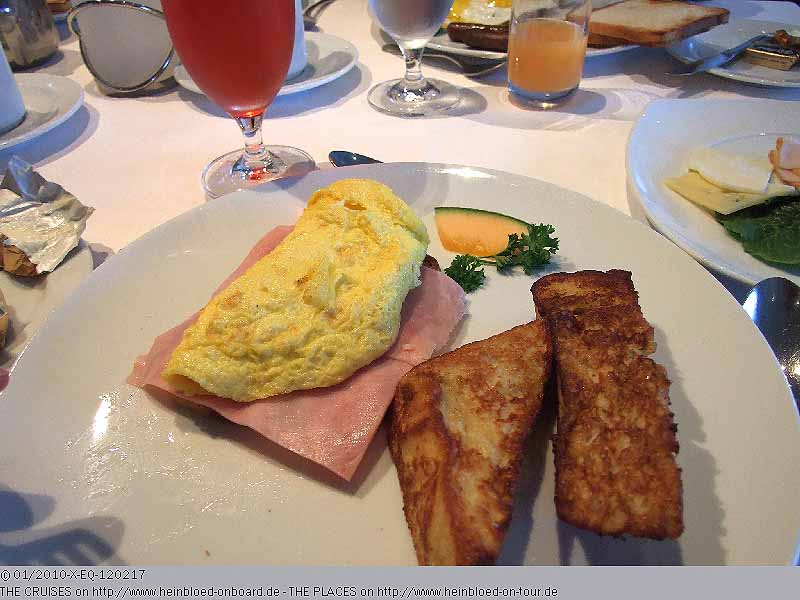 Again I was erecting my sandwiches...

And then there were brioches... two waiters did not like to walk an extra mile...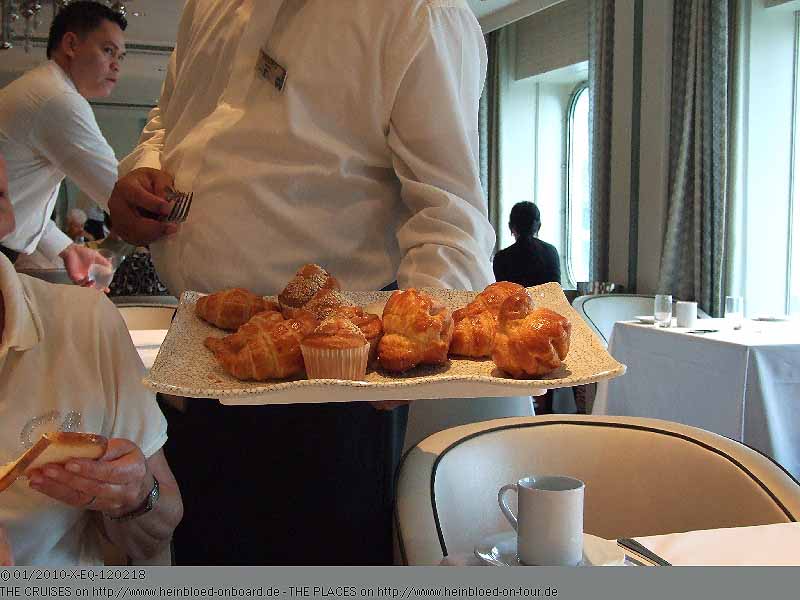 Und es gab doch Brioches... da hatten wohl zwei keine Lust welche zu holen...
Armstrong haben wir gefragt, ob er im Select Dining Bereich serviert. Er bestätigt das, allerdings hat er immer sehr weit hinten serviert. Hätten wir ihn (oder die Jungs vom 2. und 3. Abend) gehabt: wir wären uns vorgekommen wie elf Nächte im Muranos.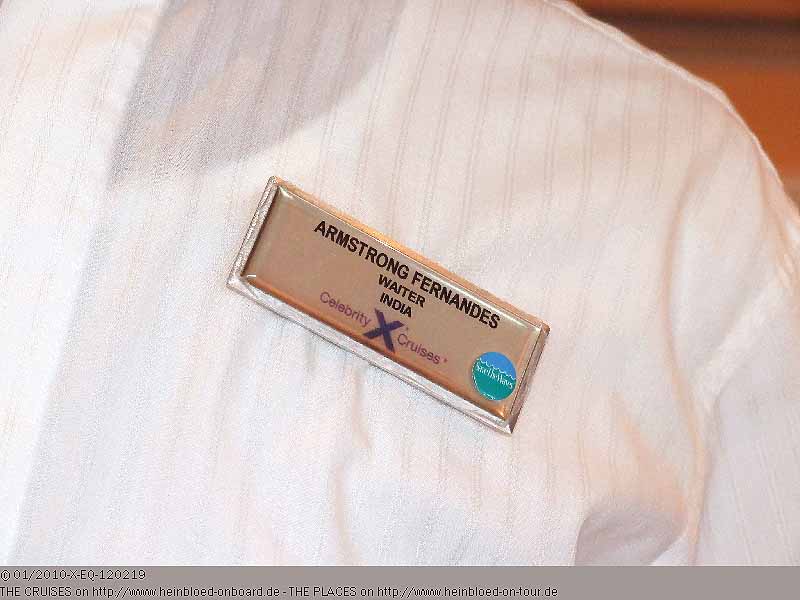 We asked Armstrong if he was serving in the select dining section. He confirmed but he was in the very rear part. Guessed we would have him (or our waiters from the 2nd and 3rd night): it would have been like dining eleven nights in Murano's.

Later we learned that there only two ways to get one of his table: 1. You are checking with ebay if there are some speculator who have passengers like me as their target and blocked his tables to auctioneer his table or 2. you order a private investigator in Essen, Germany to check for some skeletons in Inga's closet to have a pressuring medium to the requested table.

Später haben wir erfahren, dass es nur zwei Wege gab, an einen seiner Tische zu kommen: 1. Man guckt unter ebay, ob Spekulaten, die es auf Passagiere wie mich abgesehen haben, Tische blockiert haben, um sie meistbietend zu verhökern oder 2. Man beauftragt einen Privatdetektiv in Essen nach Leichen im Ingas Keller zu suchen, die man als Druckmittel benutzt, um einen Wunschtisch zu bekommen.
Ob wir es nächstes Mal mit einer Heckkabine es versuchen sollten???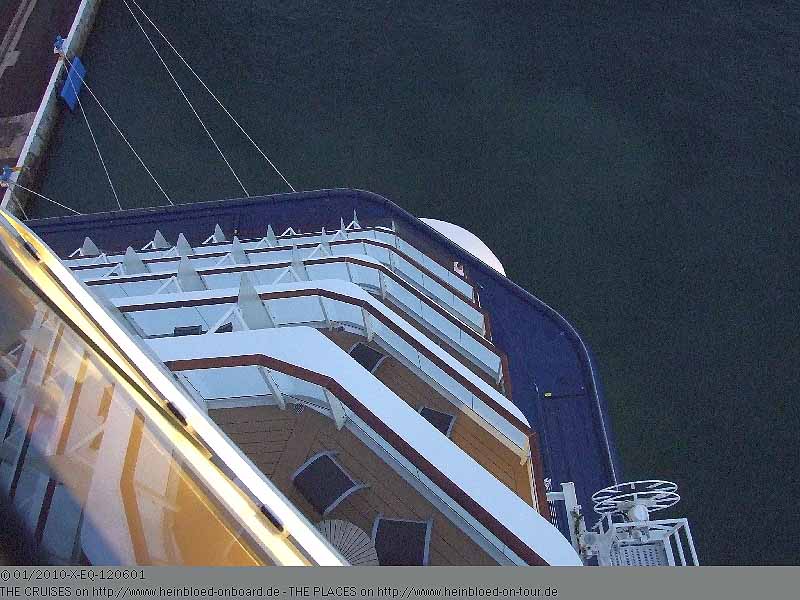 Should we try a cabin at the aft the next time?

My underwater camera became a full of water camera. You could see the water in the lenses.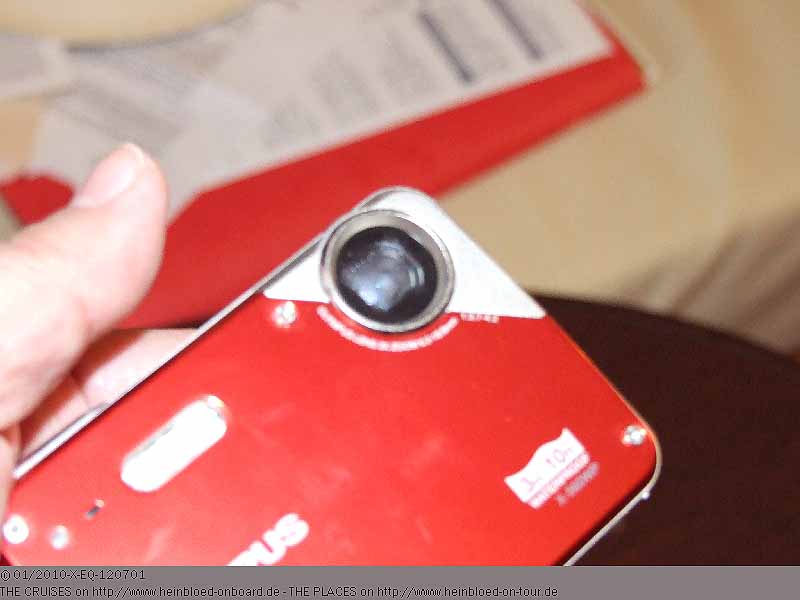 Meine Unterwasserkamera ist zur Vollwasserkamera geworden. Drinnen sieht man das Wasser in der Linse.
Unten sieht man schon, dass die Desinfektionsmittel überall schon verteilt werden. Jeder muss ran.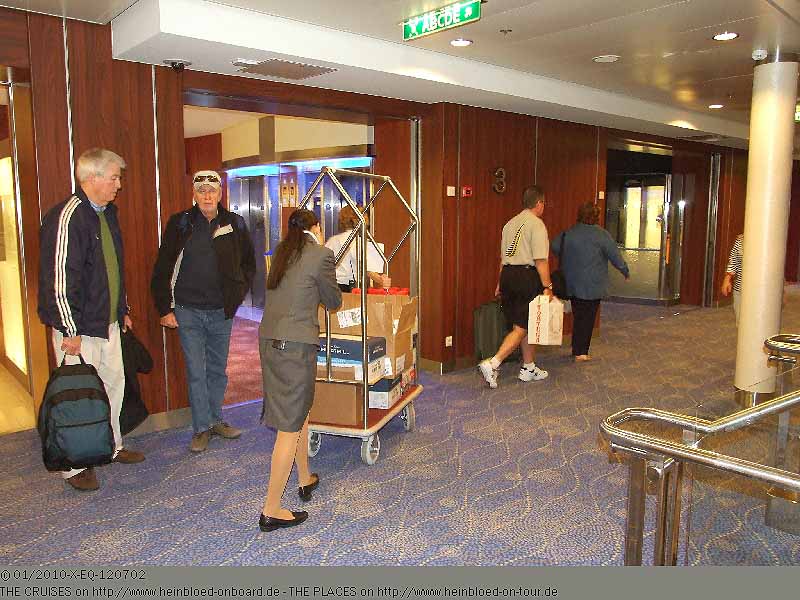 Downstairs they started to distribute the sanitizers. Everybody need to help.

In our hallway the stewards were working with breathing masks. I felt sorry for Hector as he need to do everything by himself. José left already homeward bound from the ship and his successor was not there already.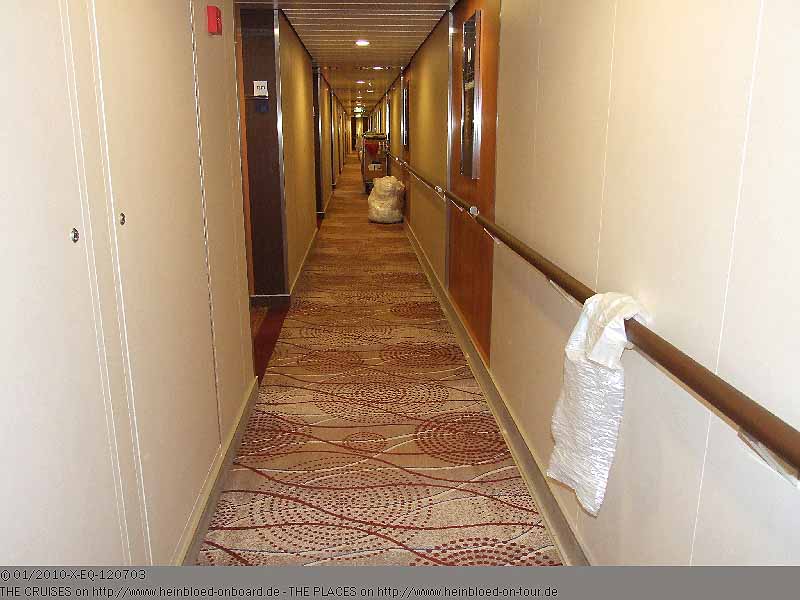 In unseren Gängen arbeiten die Kabinenstewards mit Atemmasken. Hector tut mir leid, da er alles alleine machen muss: José ist schon von Bord auf der Heimreise und sein Nachfolger noch nicht da.
Katie und Charlie lassen wir samt Gepäck im Café al Bacio, während wir ins Theater gehen. Dort läuft CNN. Man entschuldigt sich für den verspäteten Ablauf.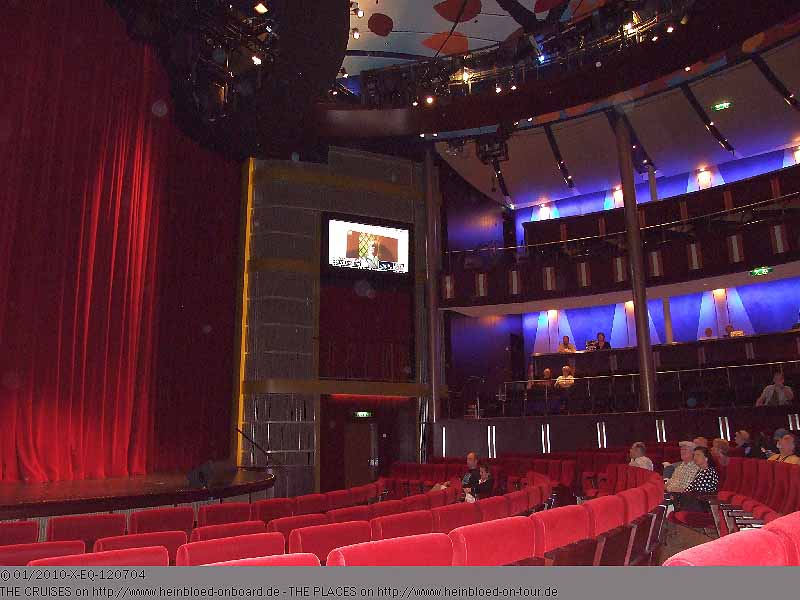 We left Katie and Charlie including all bags at the Café al Bacio while we went to the theatre. There you can watch CNN. The crew apologied for the delay.

Everybody was standing at the exit and all bags. We just sit downstairs and relaxed.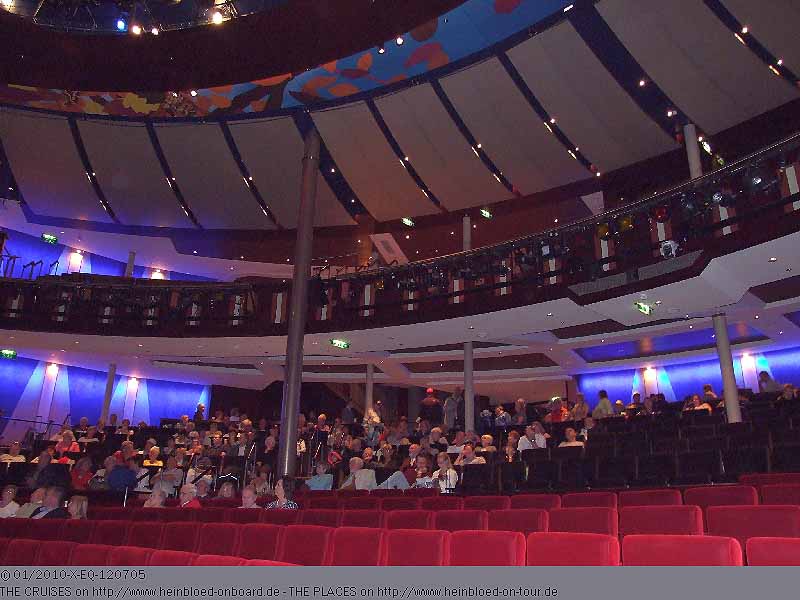 Alles steht oben mit Gepäck und wartet am Ausgang. Wir warten unten in Ruhe.
Mit etwa zehn Minuten Verspätung kommt die Durchsage 34, 35 und 36 werden aufgerufen. Es ist ca. 10.00 Uhr.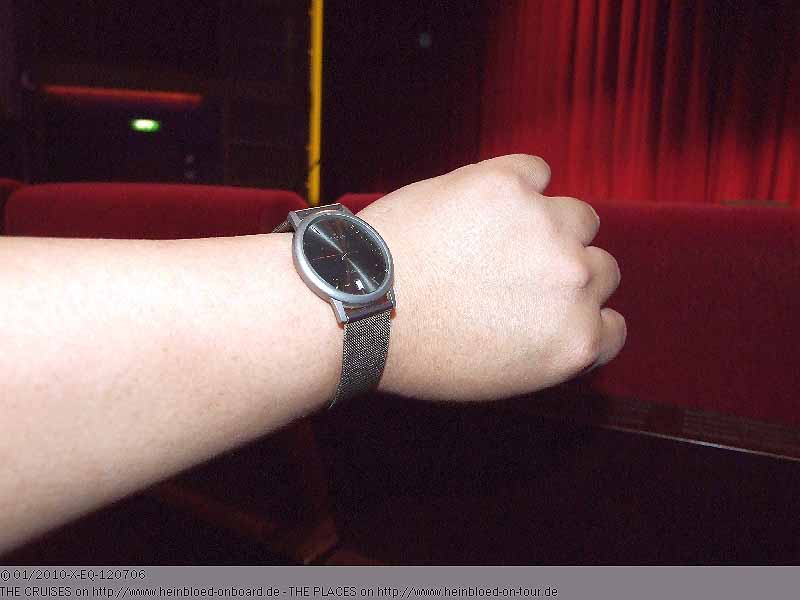 With a delay of about ten minutes the announcement for 34, 35 and 36 came. It was about 10.00 am.

The queue ended at the theatre. So we stayed in Café al Bacio and watching the Guru's entertainment. He tried to prepare the guests for the document checks ashore.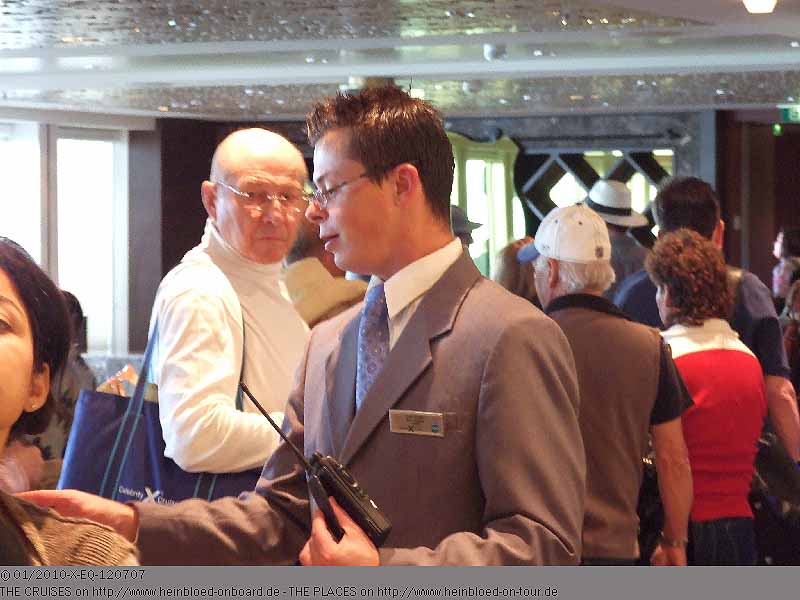 Die Schlange reicht jedoch bis zum Theater, so dass wir einfach im Café al Bacio warten und dem Guru bei seiner Unterhaltung zugucken. Er versucht die Massen bereits auf die Kontrollen vorzubereiten.
Wir warten lieber nochmals 30 Minuten.

We preferred to wait another 30 minutes.

The price board was still there.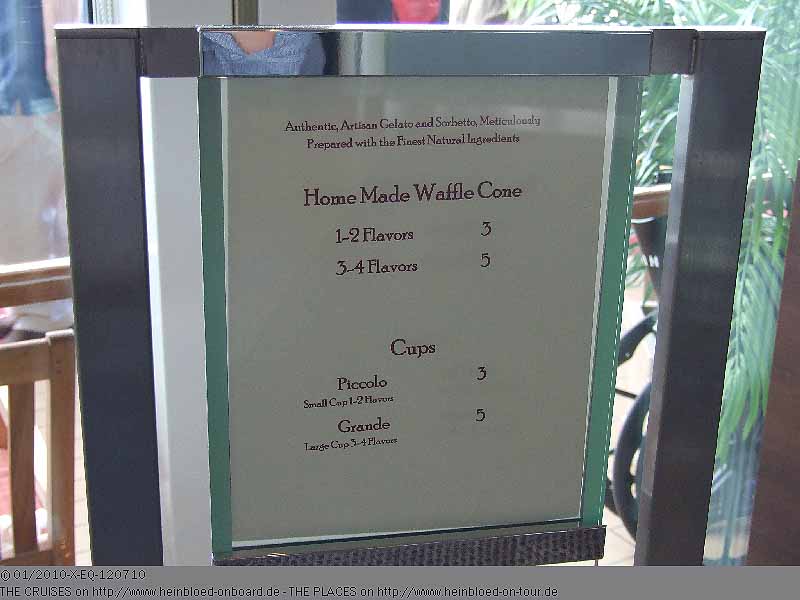 Das Preisschild hängt noch.
Aber wir bekommen kein Eis mehr.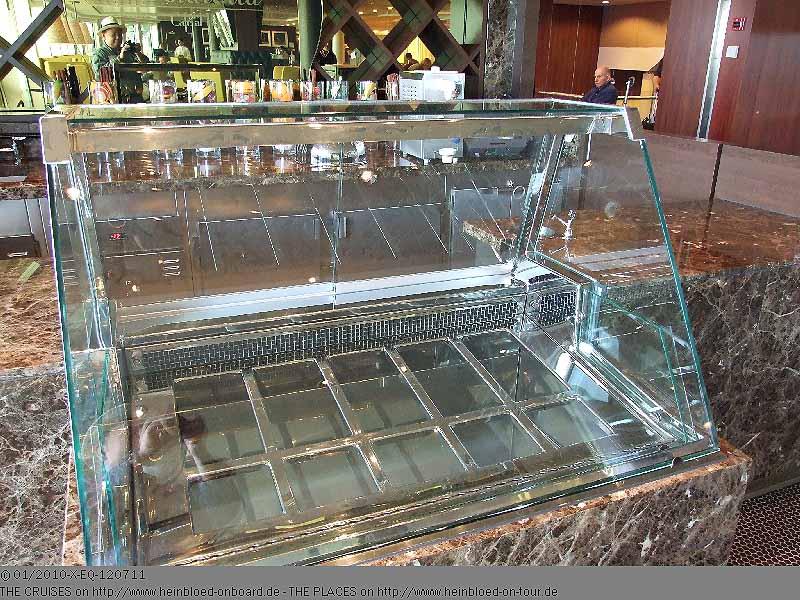 But we do not get anymore ice-cream.

Moeve (Alexandra) left the ship. What did her face said??? Was she happy that she had more responsibility for the group soon??? Was she looking forward to the snow in Germany??? Or was she just sad that the nice voyage was coming to the end??? I guess it was from everything a little - but we felt the same - but we did not look forward for the snow in Germany!!!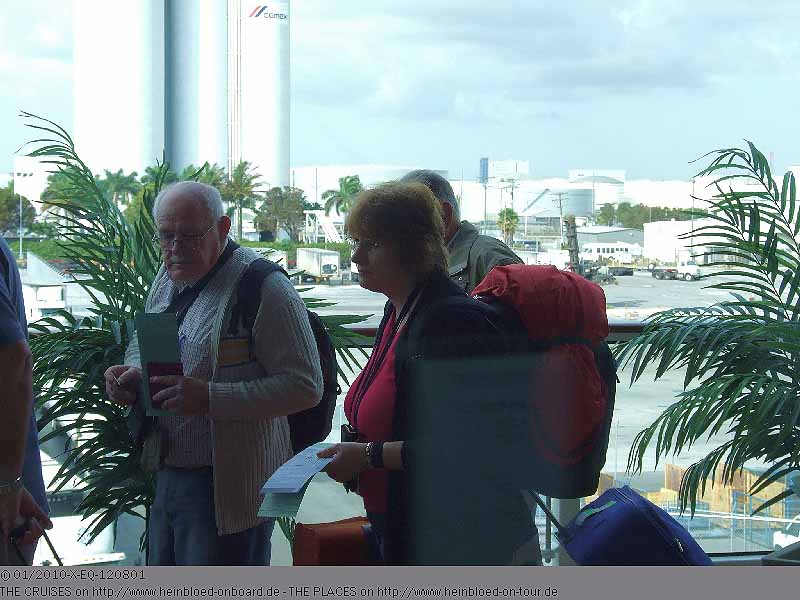 Da verlässt moeve (Alexandra) das Schiff. Was sagt ihr Gesichtsadruck? Ist sie froh, dass sie die Last der Gruppenleitung bald los ist??? Freut sie sich auf den Schnee in Deutschland??? Oder ist sie traurig, dass diese schöne Reise zu Ende geht??? Wahrscheinlich ist das von allem etwas - aber genauso fühlen wir uns auch - nur auf den Schnee in Deutschland freuen wir uns nicht!!!
Die Anzeige ist wohl nicht für mich bestimmt.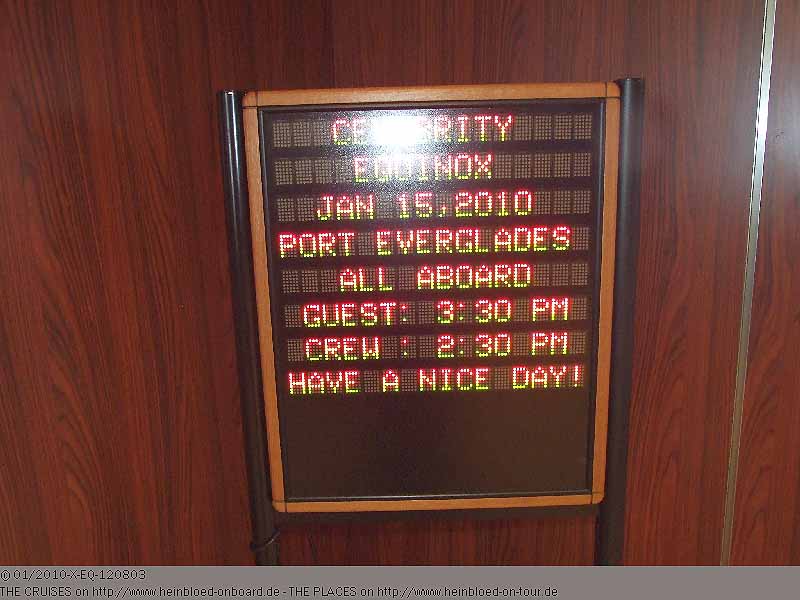 This was not displayed for me - I guess.

I was not allowed anymore to take pictures... so let me tell what happened then: Just after leaving the ship the first time our passports were check. Then there was a junction where one agent sorted out US-citizens and Canadians and delegate them downstairs. Only on request you got the information that international guests need to continue to walk. This was a dead end = waiting lounge (at the time we were arriving). I was just cleaning the lenses of my camera when after few seconds the rumor made the round that also Non-US-citizens may walk back and walk downstairs as well. I was so shocked that I came on the botton when everybody started to run.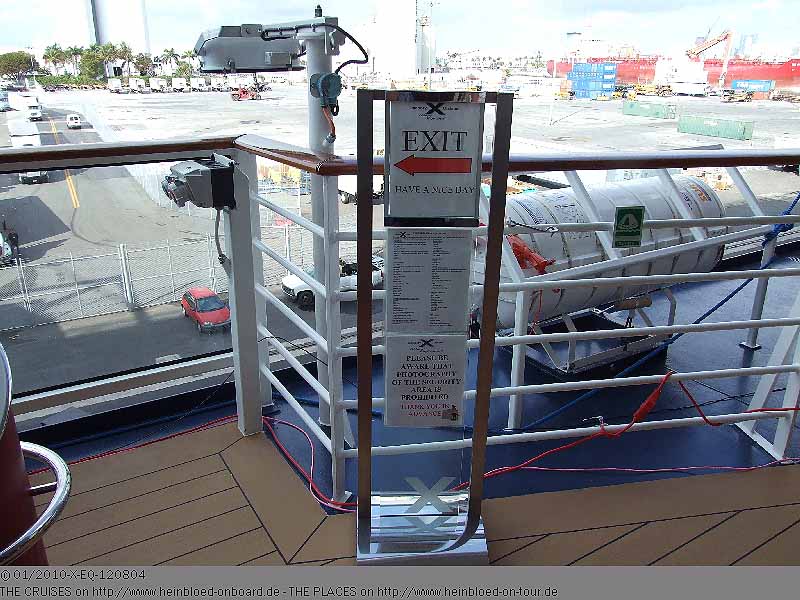 Ich darf also nicht mehr fotografieren... also erzähle ich mal, wie es weiter ging. Sobald wir das Schiff verlassen haben, wurde schon zum 1. Mal der Reisepass kontrolliert. Dann stand an einer Weiche eine Mitarbeiterin, die die US-Bürger und Kanadier nach unten weiterschickte. Erst auf Nachfrage wurde uns erklärt, dass wir als internationale Gäste weiterlaufen müssten. Das war jedoch eine Sackgasse = Warteraum (zu dem Zeitpunkt als wir kamen). Ich bin gerade dabei meine Kamera zu reinigen, als nach wenigen Sekunden ein Gerücht losging, dass jetzt auch Nicht-US-Bürger wieder zurück und runterlaufen können. Vor lauter Schreck habe ich auf den Auslöser gedrückt, als der Run losging.
Unten eine Halle, die richtig schön voll war. Leider war unklar, wo 36 eigentlich war und auch die Mitarbeiter von RCI wussten es nicht so genau. Irgendwann haben wir es gefunden. Gepäckträger gab es keine mehr. Wir müssen mit Gepäck dann eine Riesenschlange bilden. RCI-Mitarbeiter haben aber die Schlange nicht so ganz unter Kontrolle, weil undisziplinierte immer versuchen, eine Abkürzung zu nehmen. Die Absperrbänder stehen unbenutzt in der Ecke. Als alle US-Bürger und Kanadier abgefertigt sind, werden auch diese Schalter für internationale Gäste freigegeben. 15 Minuten bevor wir die Abfertigung erreichen gibt es mal wieder einen freien Gepäckträger, der jeden Cent Wert ist.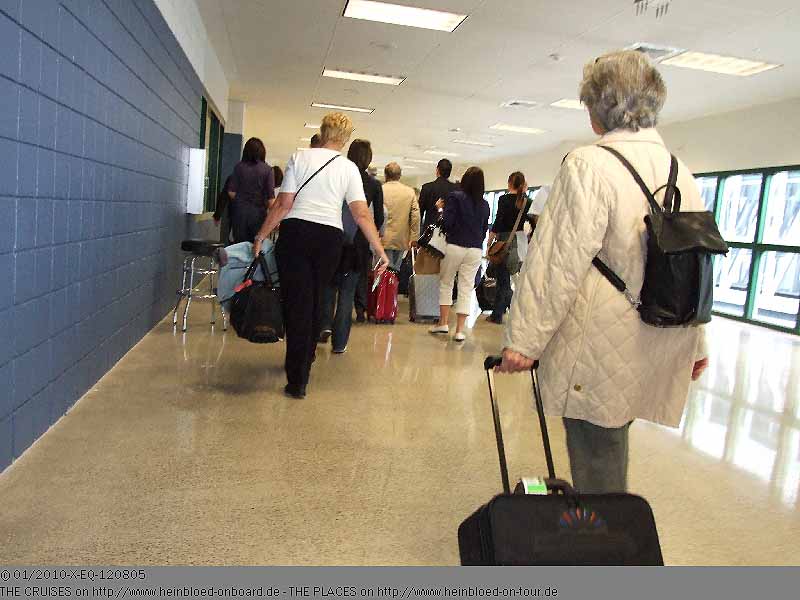 Down in the hall it was absolutely full. It was unclear where 36 was and even the RCI-agents did not know it either. Later we found it. No porters were available. We had to queue up an endless line. But the RCI-agents did not have the control of the queue because guests without discipline tried to made shortcuts everytime the queue winded. They did not use the guiding belts to organize real queues so they were left in the corners. When all US-citizens and Canadians were checked these counters were open for international guests as well. 15 minutes before we reached the counters a porter was availalbe who was worth each cent.

Around noon we were outside and the porter helped to find a suitable taxi without queuing up.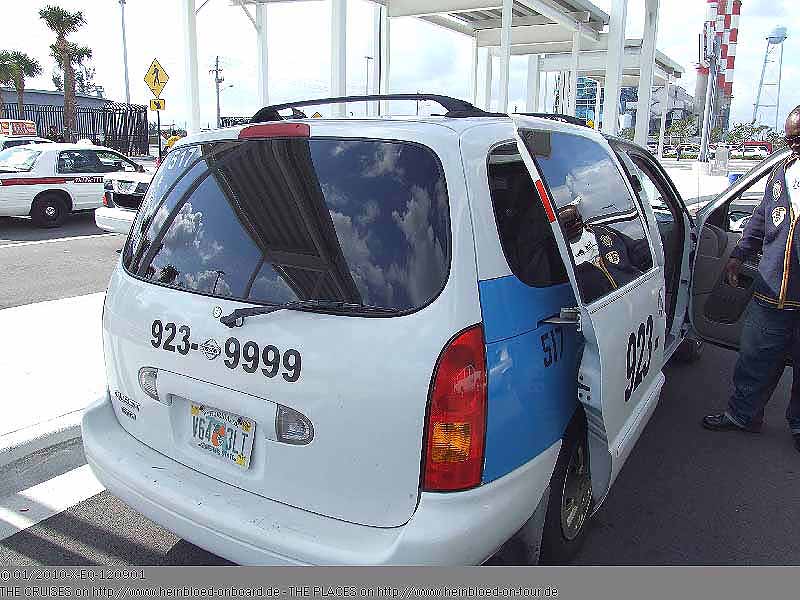 Gegen 12.00 Uhr sind wir raus und der Gepäckträger sucht dir ein passendes Taxi, ohne dass du Schlange stehen muss.
Die Fahrt zum Flughafen kostet 12,90 USD. Weil der Taxifahrer keine Lust hat, uns zu HERTZ reinzufahren, gibt es weniger Trinkgeld. Die anderen warten praktisch mitten auf der Ausfahrt, während ich unseren Wagen suche.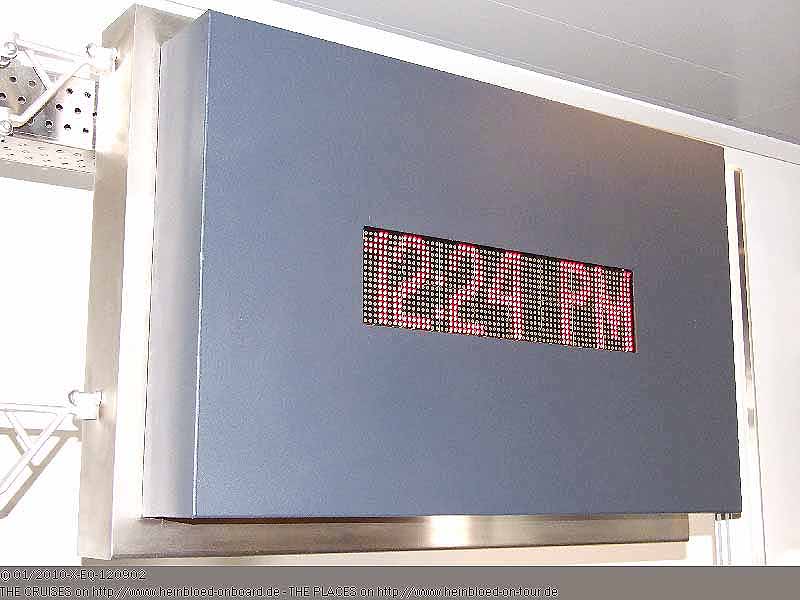 The ride to the airport was 12.90 USD but as the driver refused to get us into HERTZ area. So his tip was less than normal. So the others waited in the exit area while I was looking for the car.

As I was later than 60 minutes than planned my name was not anymore on the board so I need to queue up for some minutes and got us this wonderful car. This should become my next car.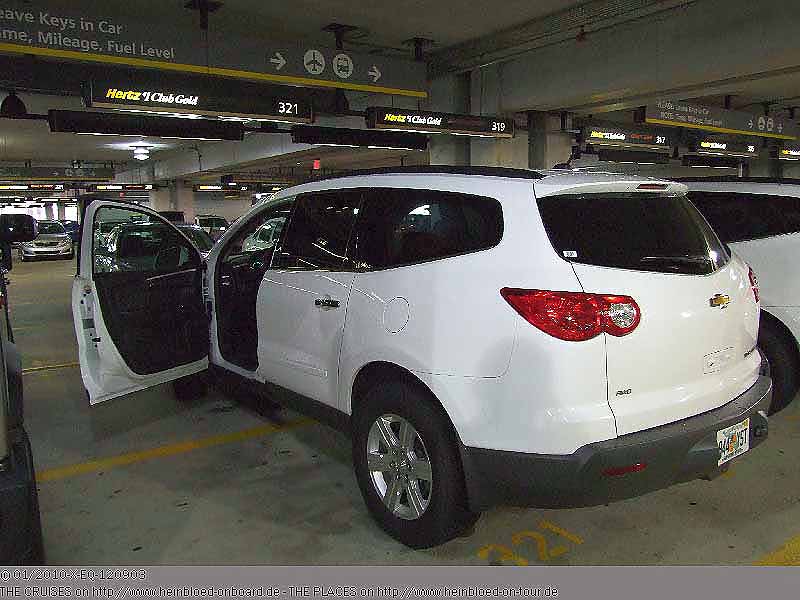 Da ich aber mit mehr als 60 Minuten Verspätung den Wagen abhole, steht mein Name nicht mehr auf der Anzeigentafel und ich muss mich kurz anstellen, und hole für uns dieses wunderbare Auto heraus, das ein echtes Kofferraumwunder ist. Das wird mein nächstes Auto...
Mit dem neuen Navi von HERTZ ist alles viel einfacher...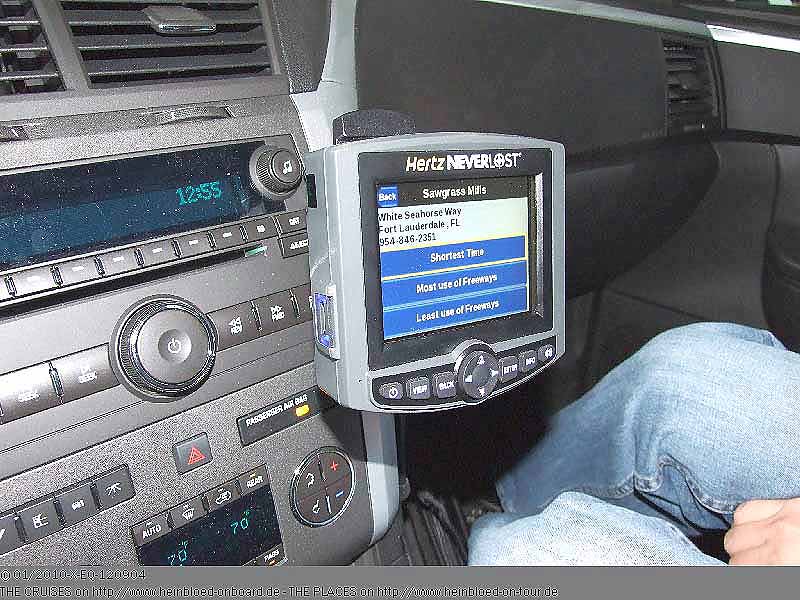 With the new GPS from HERTZ everything became easier...

A giant queue also at the exit.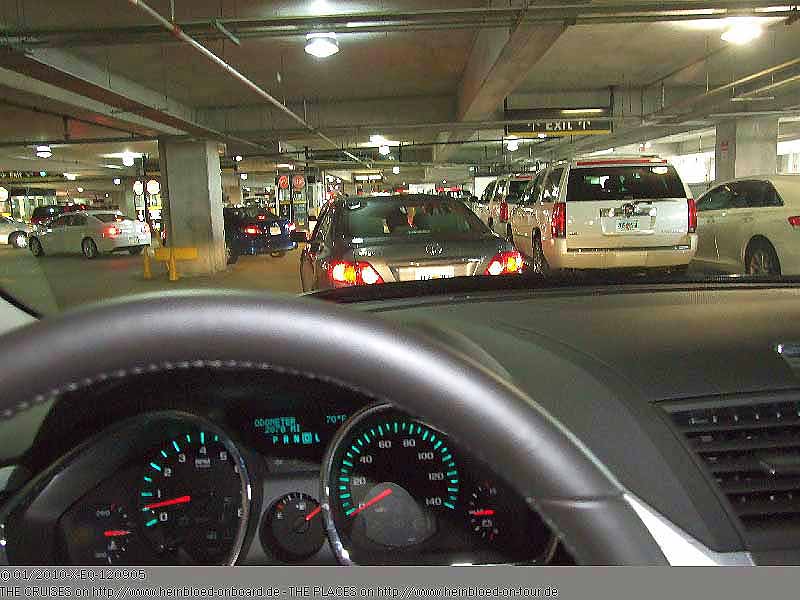 Eine Riesenschlange leider auch bei der Ausfahrt.
Wir fahren zu Sawgrass Mills und essen erst Mal Chinesisch: P. F. Chang (eine etwas gehobenere US-Kette). Noch haben wir den Geschmack von Silk Harvest im Mund.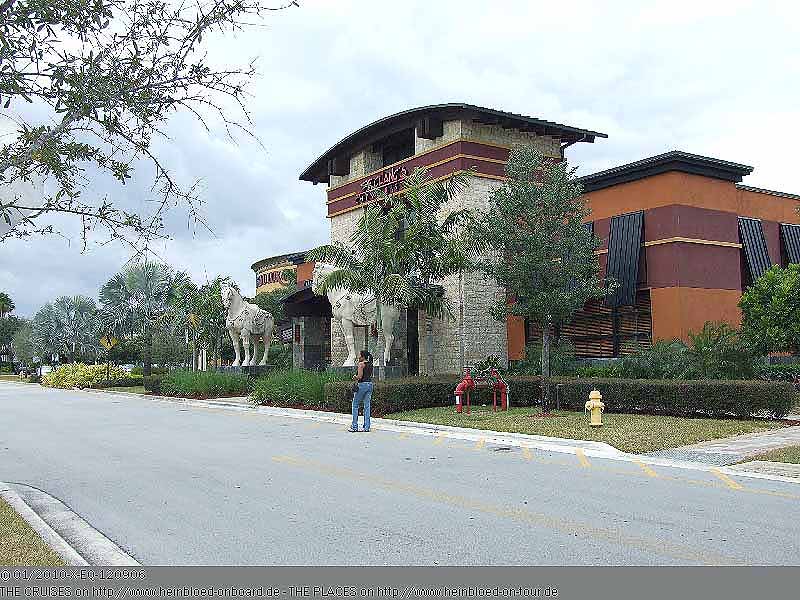 We went to Sawgrass Mills and had some Chinese lunch: P. F. Chang (a better US-chain). We still had the flavour of Silk Harvest in our mouth.

There was no need to season the soup subject you wanted.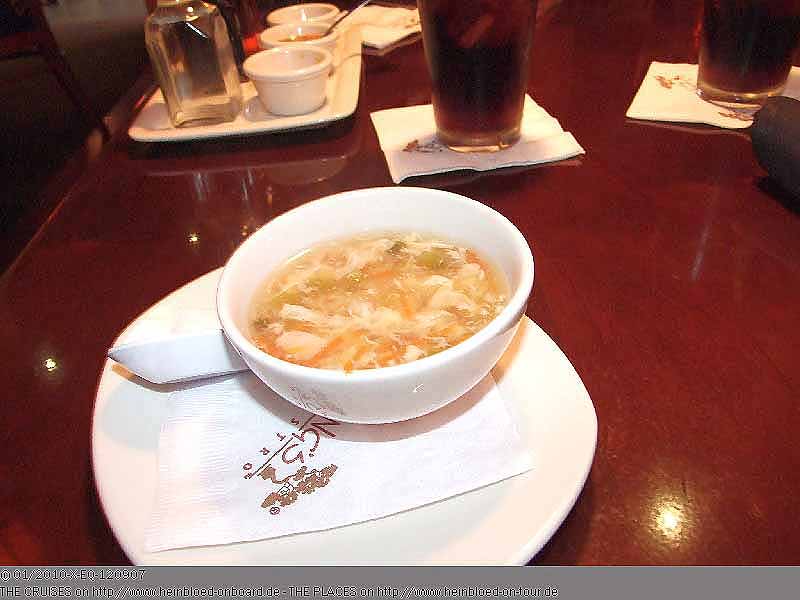 Die Suppen musste man nicht, aber konnte man etwas nachwürzen.
Das Rennen um die Wan-Tan-Suppe hat P. F. Chang gemacht. Aber das war ja leider auf dem kompletten Schiff ein Problem, dass alle Suppen ziemlich ungewürzt waren. Vor allem: Die Wan-Tan entsprechen mehr dem chinesischen Original.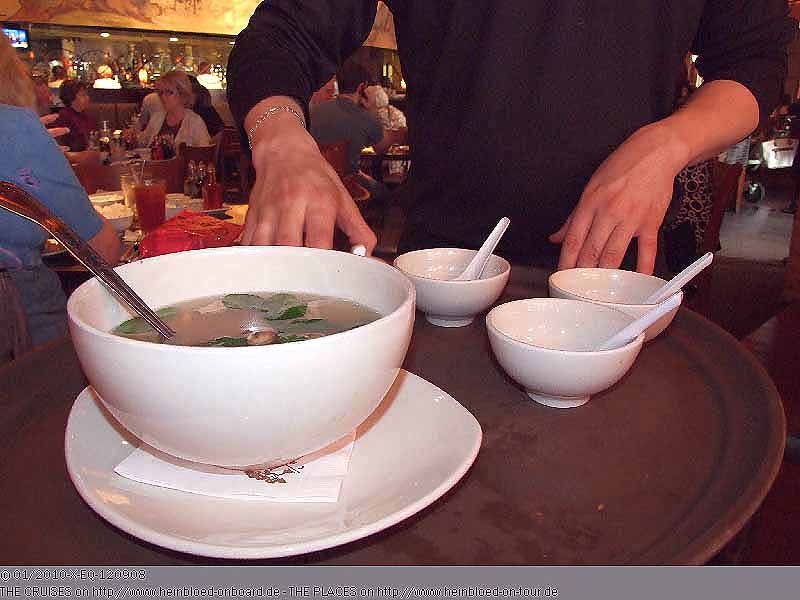 P. F. Chang won the battle on the Won-Ton-Soup. But this was a problem of the whole ship that all soups seemed to be underseasoned. But here: the won-tons was more Chinese original style.

But with all other food Silk Harvest won.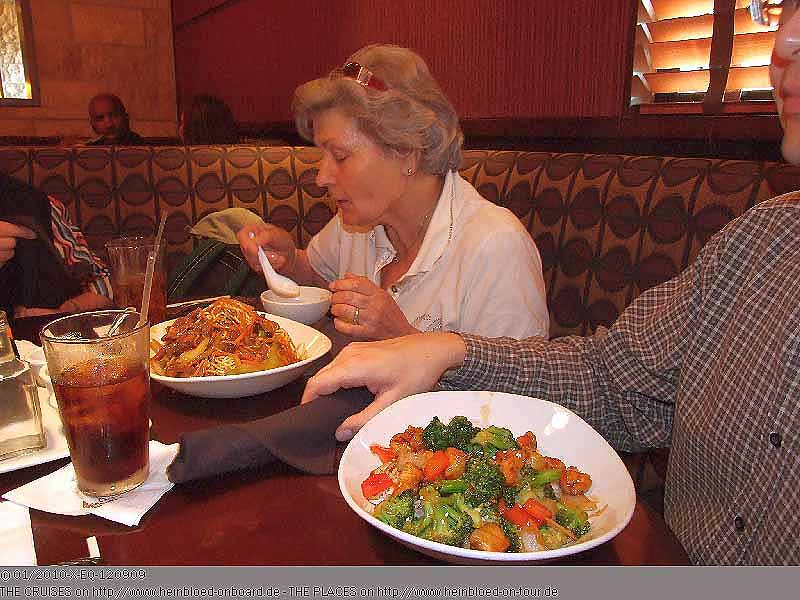 Bei allem anderen hat aber das Silk Harvest gewonnen.
Zum EInkaufen bleibt uns nur noch eine Stunde Zeit. Hier sollte man schon einen ganzen Tag einplanen.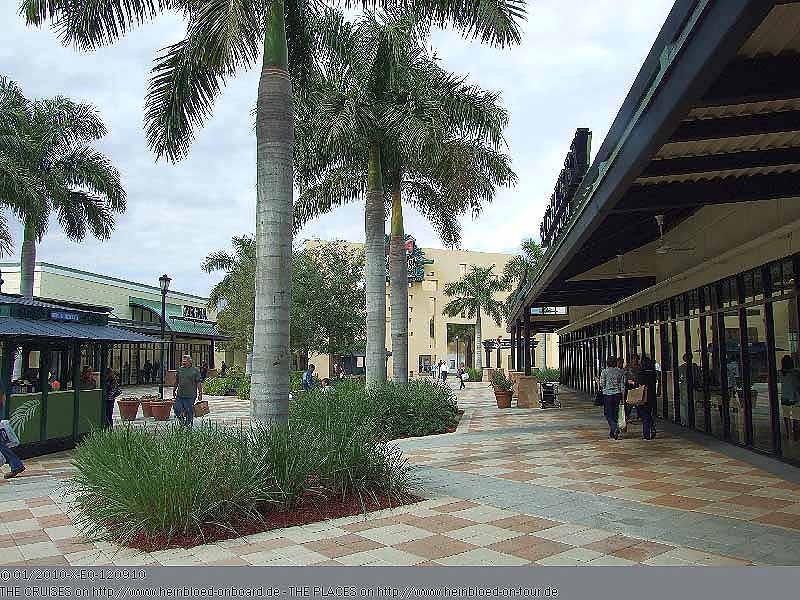 Only about one hour time was left to do some shopiing. You better plan a whole day here.

The dimensions were so large that you cannot walk all the ways. We used the car from one entrance to the next.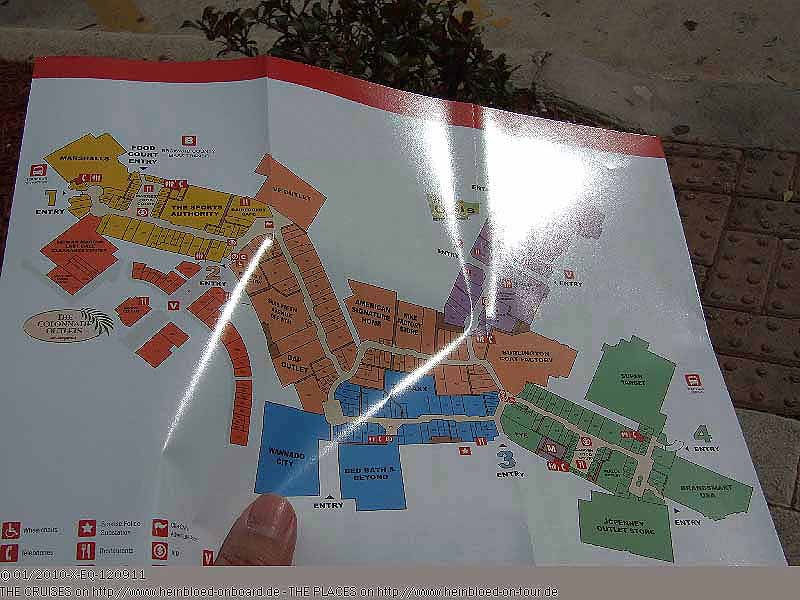 Diese Dimensionen sind fußläufig gar nicht mehr erschließbar. Wir fahren von einem EIngang zum anderen.
Da bei der Gepäckkontrolle wieder mal ein TSA-Schloss verloren gegangen ist, kaufe ich schon mal eines nach und einen Ersatz.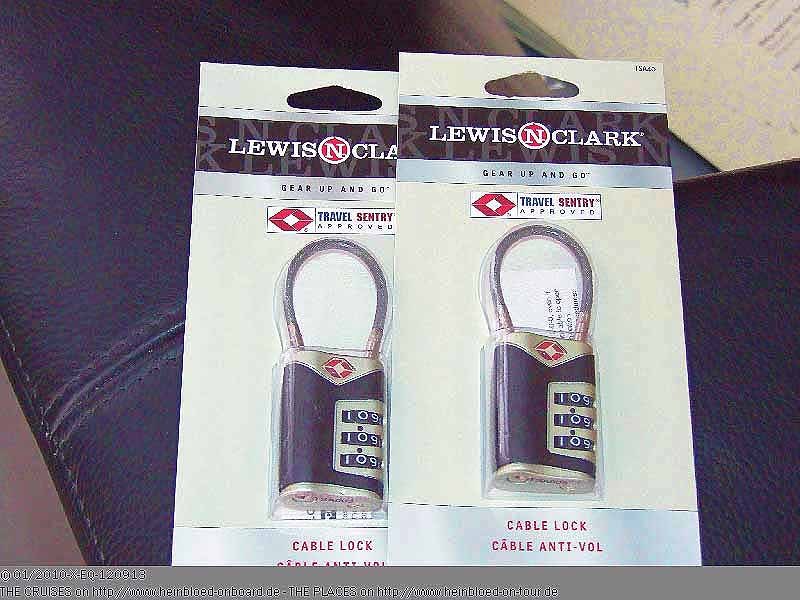 Due to the baggage check one of the TSA locks get lost. I bought a replacement and one more for the future.

On the way to the airport we passed the corporated offices of Carnival and NCL.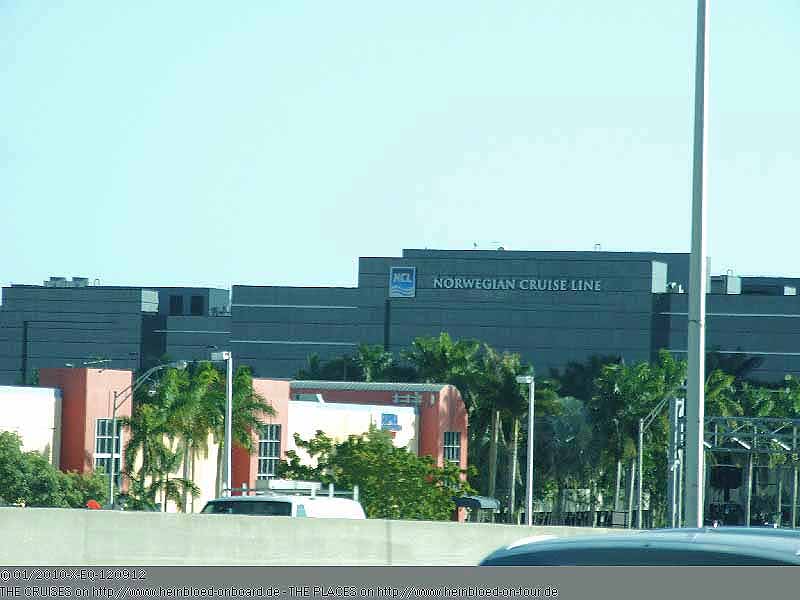 Auf dem Weg zum Flughafen kommen wir an Carnival vorbei und auch an NCL.