Scroll down for English explanations - alternates with German explanations.

Irgendwie denke ich, dass heute aber besonders schlampig geputzt wurde. Aber man klärt mich auf, dass ein anderes Desinfizierungsmittel im Stundentakt eingesetzt wird, aber dieses darf nicht trocken poliert werden, sondern muss an der Luft trocknen.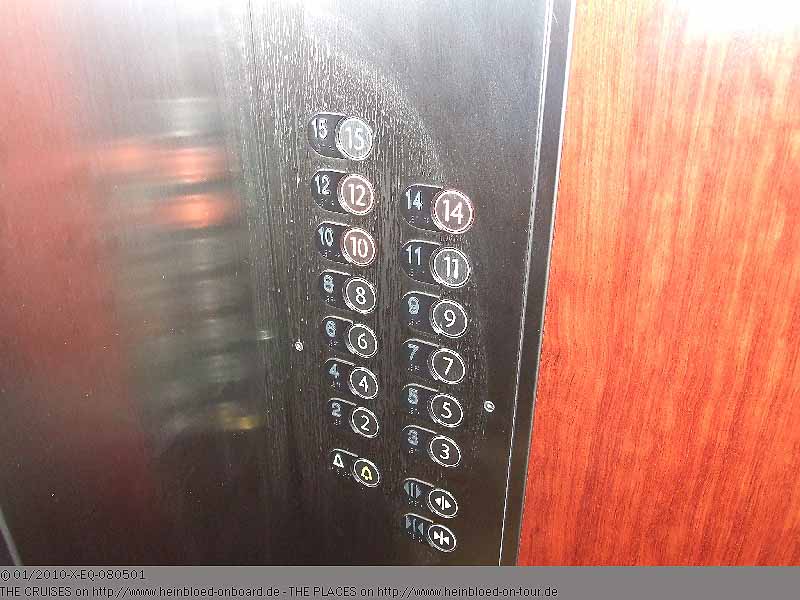 Somehow I had the impression the were cleaning very sloppy this day. But they explained that they used now another sanitizer every hour. But they cannot polish them dry and had to let it air-dried.

The did not become calmer.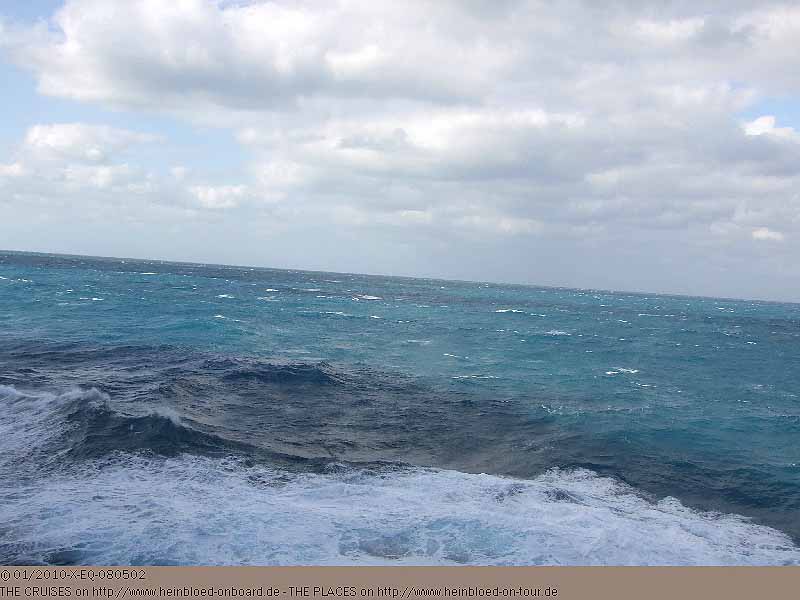 Die See wird nicht ruhiger.
Wir hängen im Café al Bacio herum. Dort gibt es diese Jungs (
These Guys
) - die Acapella-Gruppe. Leider singen sie nie sehr lange. Würde ich an deren Stelle auch nicht tun. Eine Gruppe von Russen interessiert es nicht, dass alle anderen im Café hier sitzen, um den Gesang zu hören. Sie unterhalten sich so laut weiter, als ob sie alleine an Bord wären.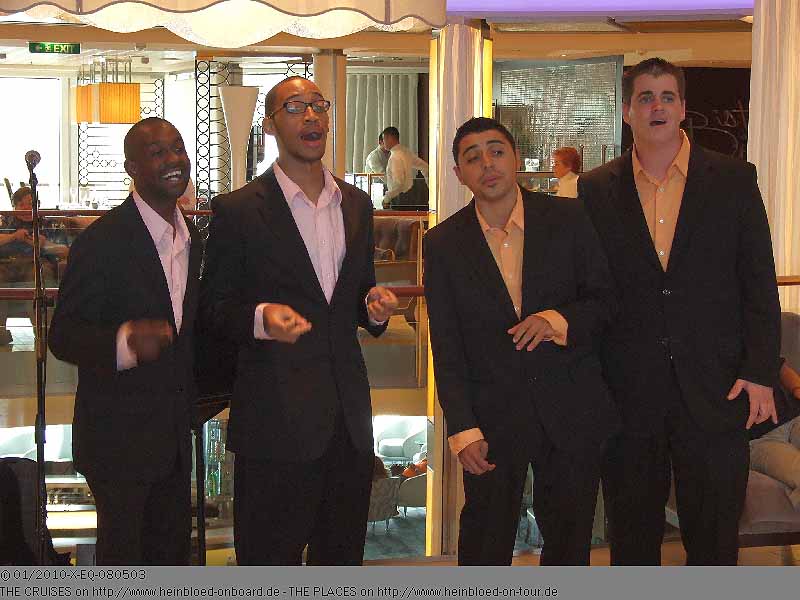 We hanged around in Café al Bacio. There were real These Guys - the acapella-group. Unfortunately they did not sing very long. I would not do it either. A group of Russians were not so much interested that all others in the Café wanted to listen to the songs. They talked so loud as if they would be just alone here.

But basically we were there because of Justin Wade. Here you can learn more about him: https://www.youtube.com/user/jsmithsound und https://www.myspace.com/justinwademusic. Have fun by wathing it. Maybe you can share my ecstasy for his music.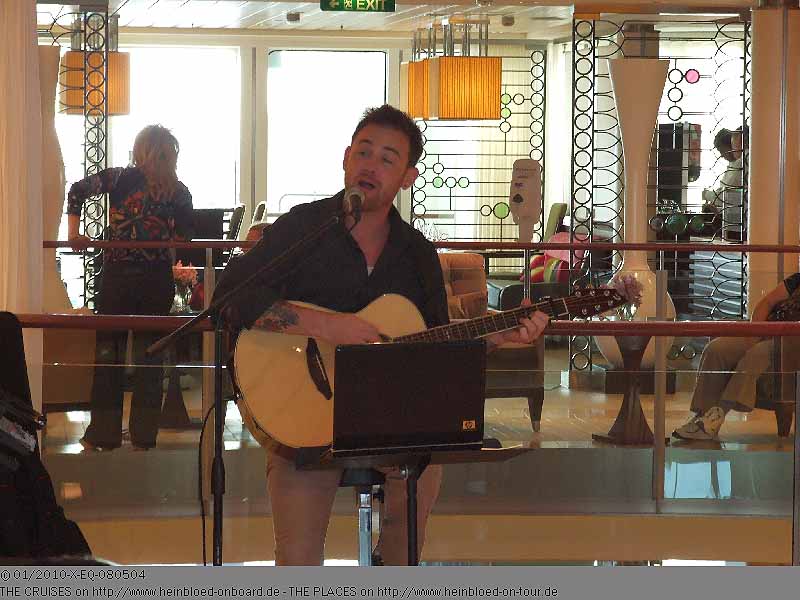 Hauptsächlich kommen wir aber wieder wegen Justin Wade. Man kann sich hier über ihn informieren:
https://www.youtube.com/user/jsmithsound
und
https://www.myspace.com/justinwademusic
. Viel Spaß beim Angucken. Vielleicht könnt ihr meine Begeisterung für seine Musik teilen.
Der beste Eistee an Bord... Frisch gebrüht...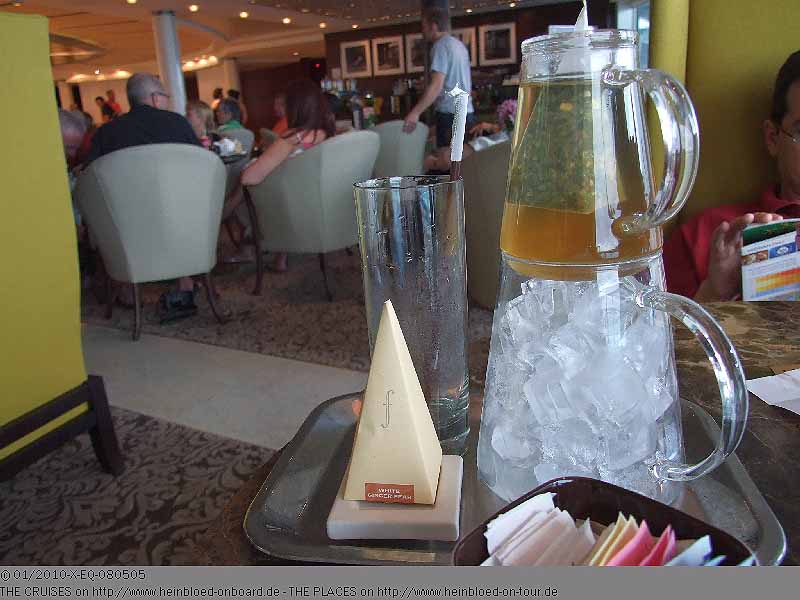 The very best iced tea on board... Freshly brewed...

... and then you put the upper pot hot tea into the can full of ice cubes. Unfortunately not free of charge. Cost of 5 USD.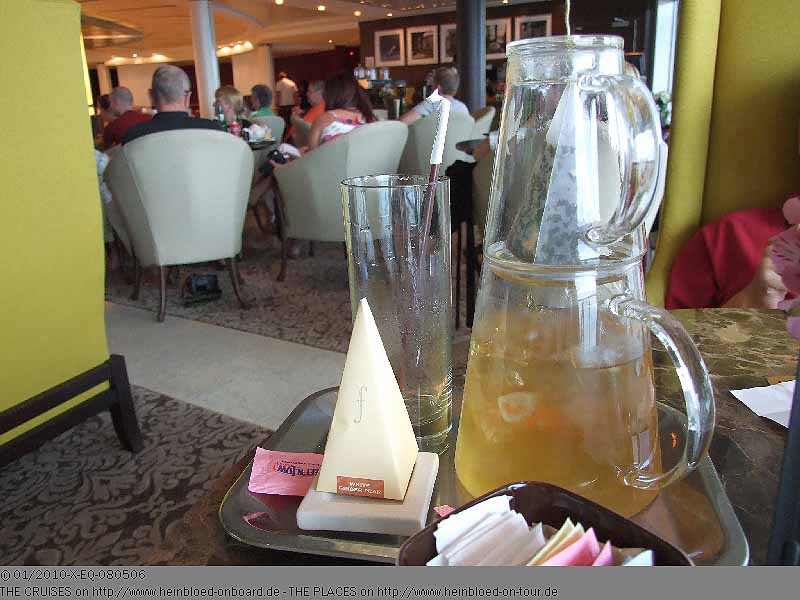 ... und dann wird die obere Kanne heißer Tee in die Kanne mit den Eiswürfeln gekippt. Leider ist der nicht umsonst, sondern kostet 5 USD.
Abends geht es ins Murano. Die aktuelle Zuzahlung beträgt 35 USD.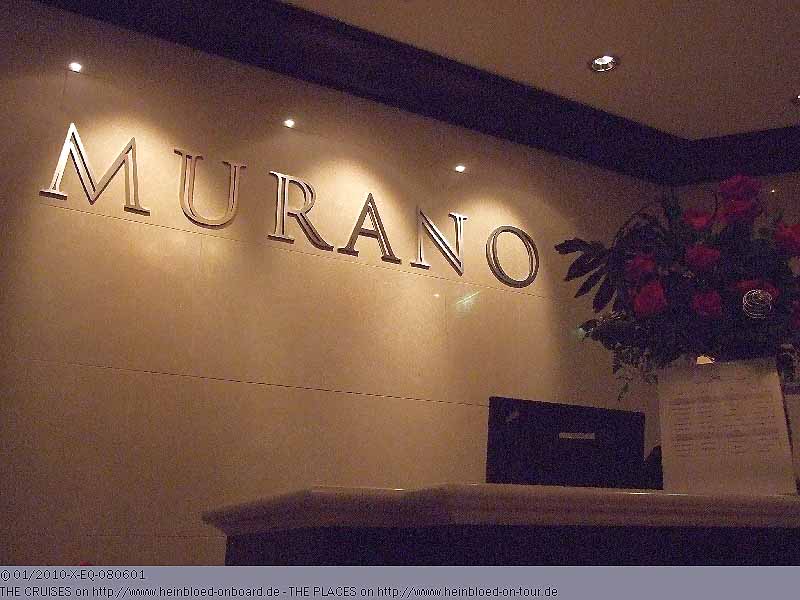 In the evening we went to Murano. The actual cover charge is 35 USD.

A very nice ambience where you only need smart casual all the time even it is formal night on board.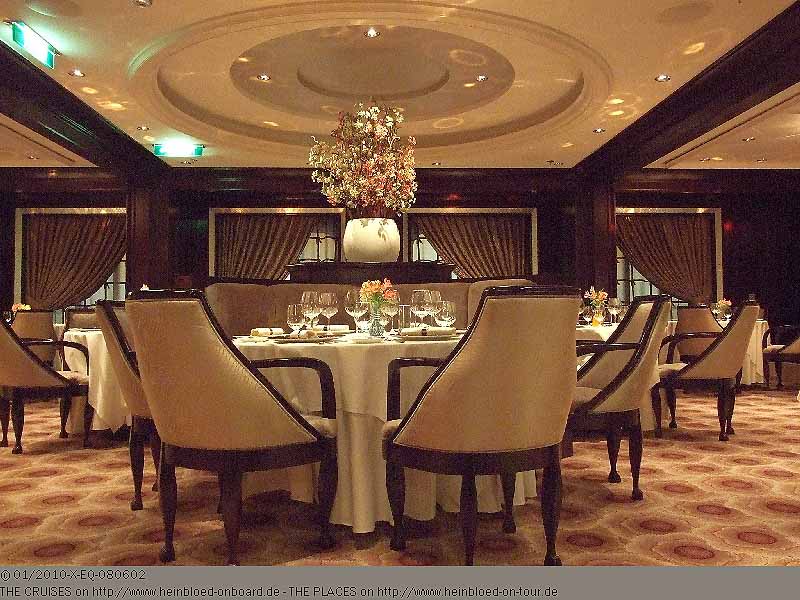 Ein wunderschönes Ambiente, in dem immer smart casual gilt, auch wenn formelle Nacht wäre.
Daher waren zwei Sachen für mich unverständlich: dass Hawaii-Shirts und Cargo-Hosen akzeptiert wurden und dass man seine eigenen Plastik-Wasserflaschen mitführen darf.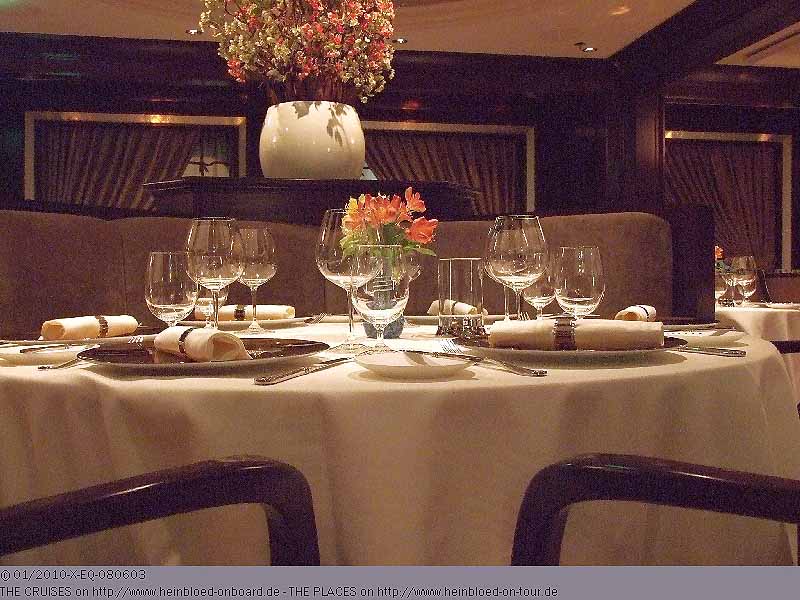 So two things I did not understand: Hawaii-shirts and cargo-pants were accepted and that you can bring your own plastic bottles into the restaurant.

There was no bread basket on the table but a perfect service which would not gave us a chance to pick the bread basket on the table.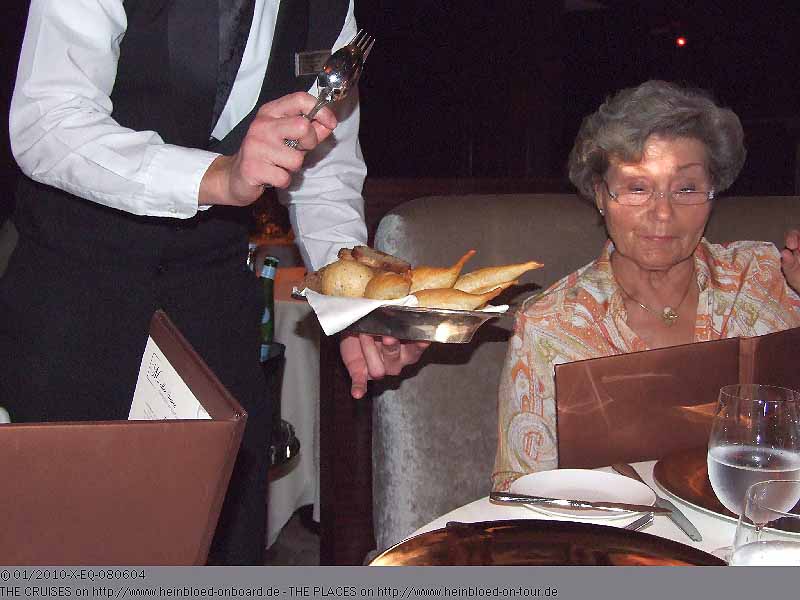 Es gab keinen Brotkorb auf dem Tisch, sondern einen perfekten Service, der uns nicht mal die Chance gegeben hätte, nach dem Brotkorb am Tisch zu greifen.
Die Baguettes sahen lustig aus... mit dem Schwänzchen...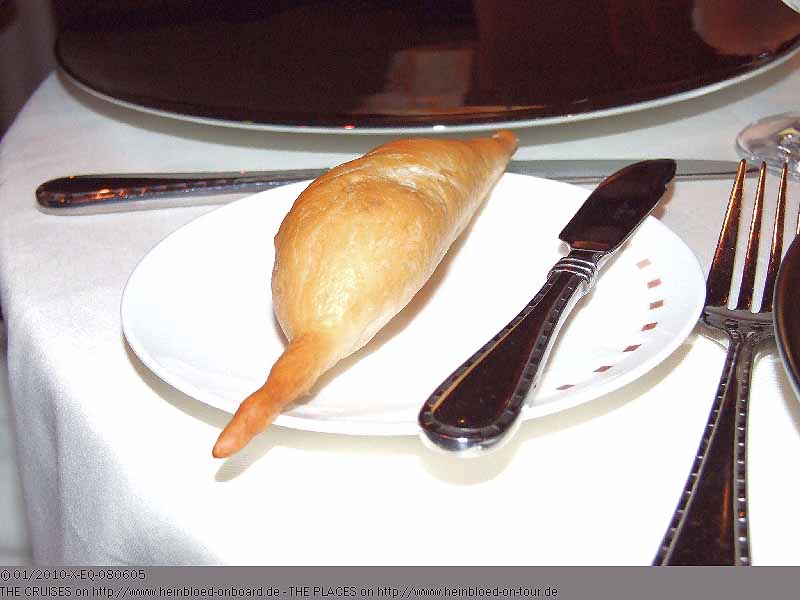 The baguette looked very funny... with a little tail.

An amuse bouche opened the menu.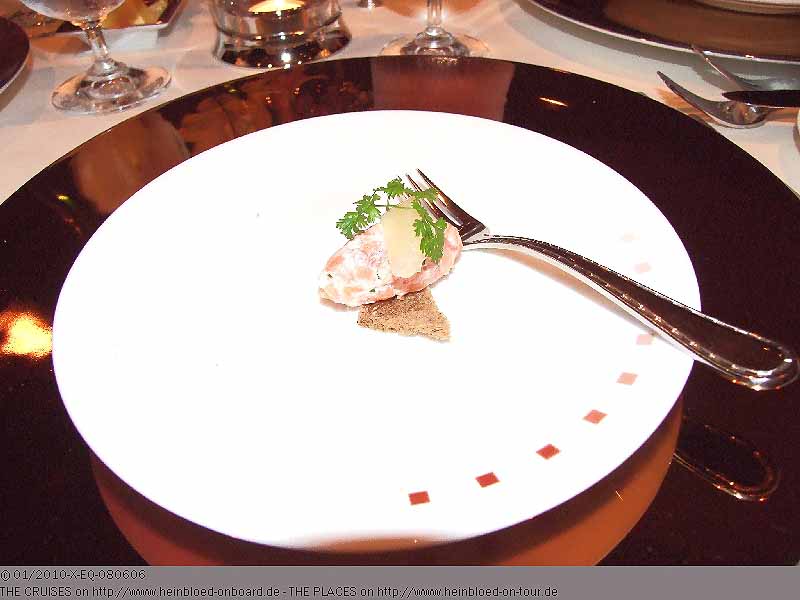 Ein Gaumenkitzler eröffnet das Menü.
Ihr müsst Bruno fragen, wie gut es war... denn ich durfte mal nicht bei ihm probieren...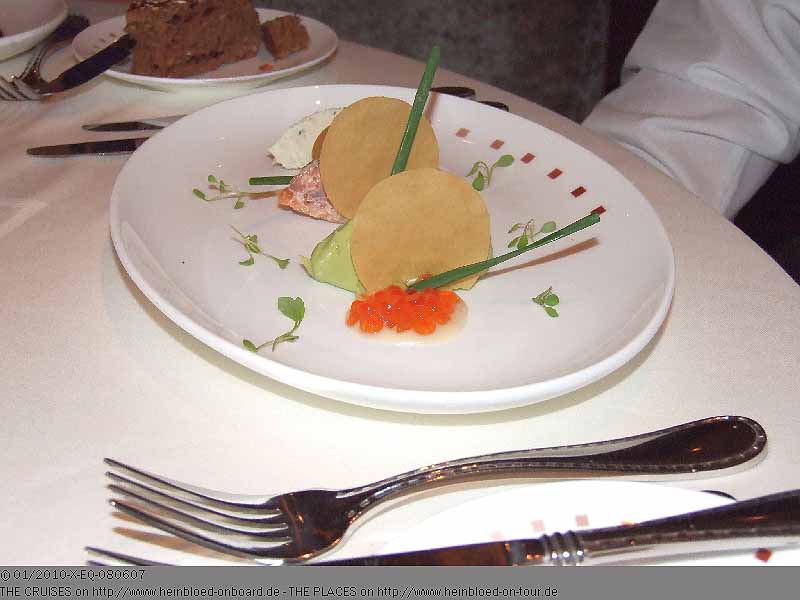 You need to ask Bruno how good it was... I was not allowed to try.

But he was not allowed either to try my scallop.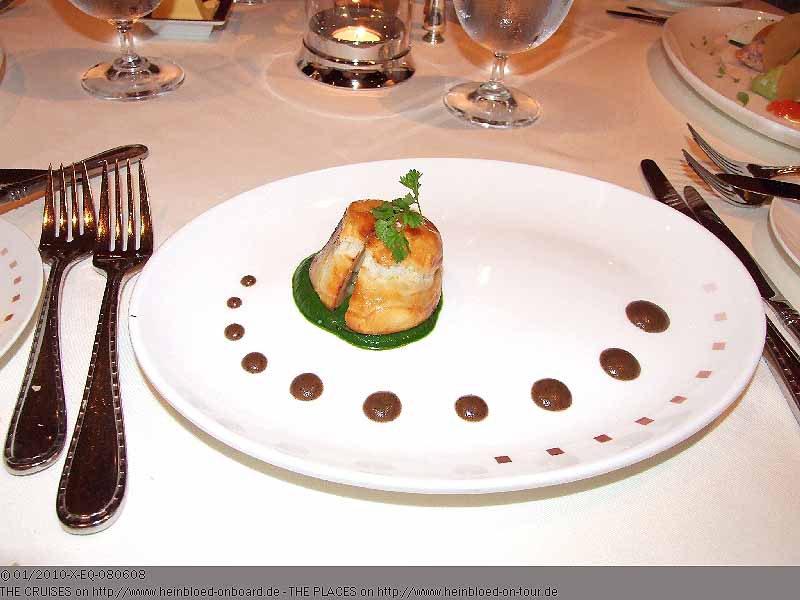 Er durfte aber auch nicht meine Jakobsmuscheln probieren.
Einfach lecker.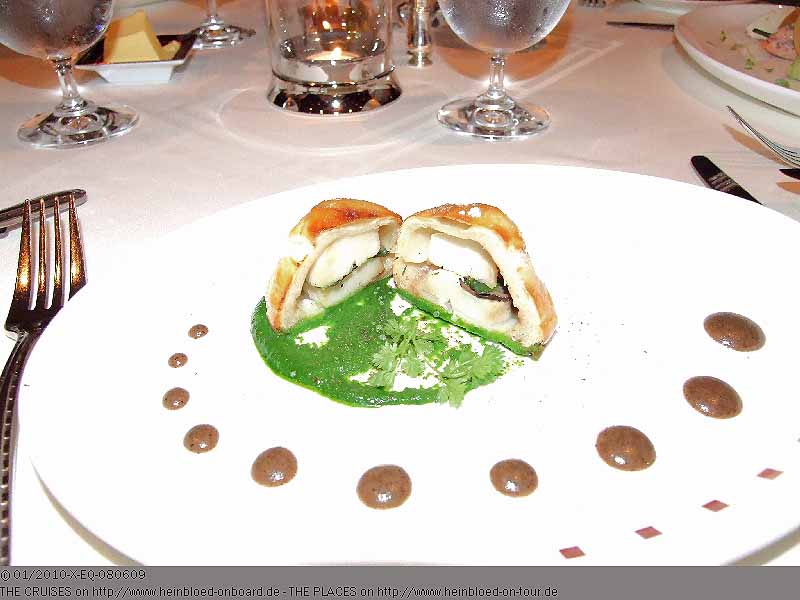 Just yummy.

There must be a difference between the lobster bisque in the Silhouette-Restaurant which you can expect for 35 USD (or with us 30 USD).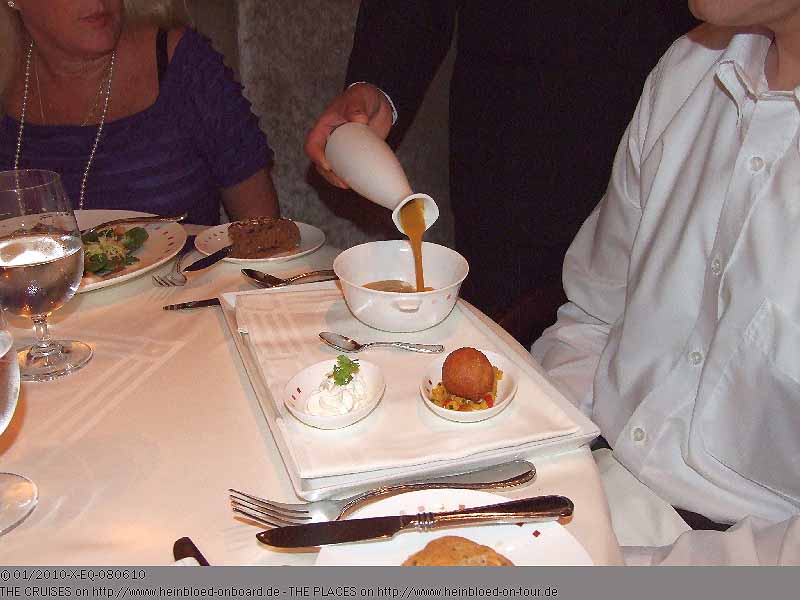 Es gab doch einen kleinen Unterschied zu der Hummercremesuppe im Silhoutte Restaurant, den man für 35 USD (bzw. bei uns 30 USD) erwarten durfte.
Aber leider auch hier: nachwürzen war leider erforderlich.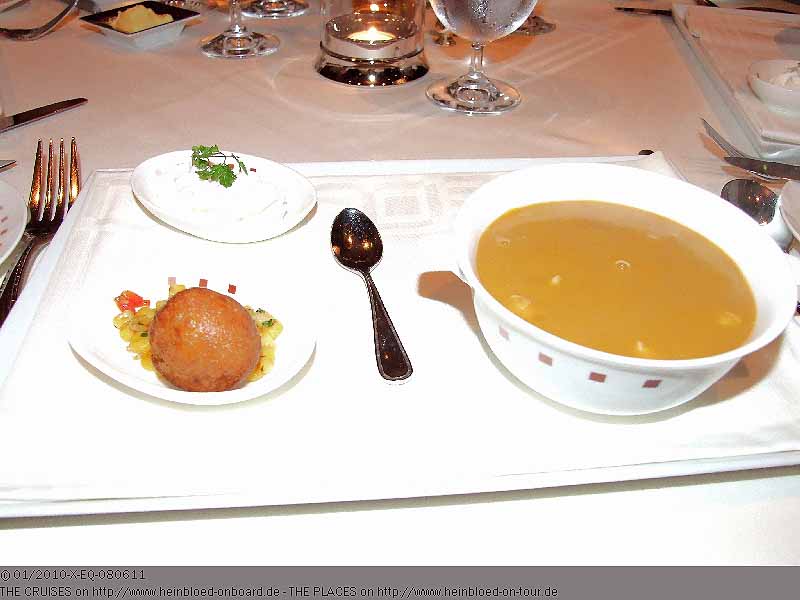 But here as well: post-seasoning was necessary.

This should be the sea food risotto which was on the menu of the Silhouette-Restaurant. Or vice versa. There is always one dish available on the menu of the Silhouette-Restaurant from the various Celebrity-speciality-restaurants. But this looked totally different and much more better. And my beloved pepper-service.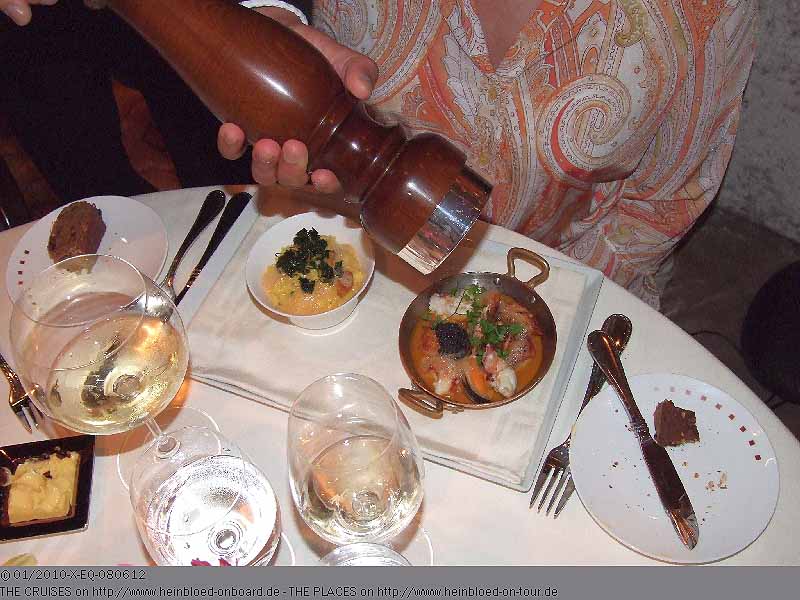 Das sollte eigentlich das Meeresfrüchte Risotto sein, das mal auf der Karte vom Silhouette-Restaurant stand. Oder umgekehrt. Es wird ja im Silhouette Restaurant immer ein Gericht aus den diversen Celebrity-Zuzahlrestaurants vorgestellt. Nur das sieht ja doch etwas anders und vor allem besser aus. Und mein geliebter Pfefferservice.
Keine Ahnung mehr, was Charlie sich dort bestellt hatte.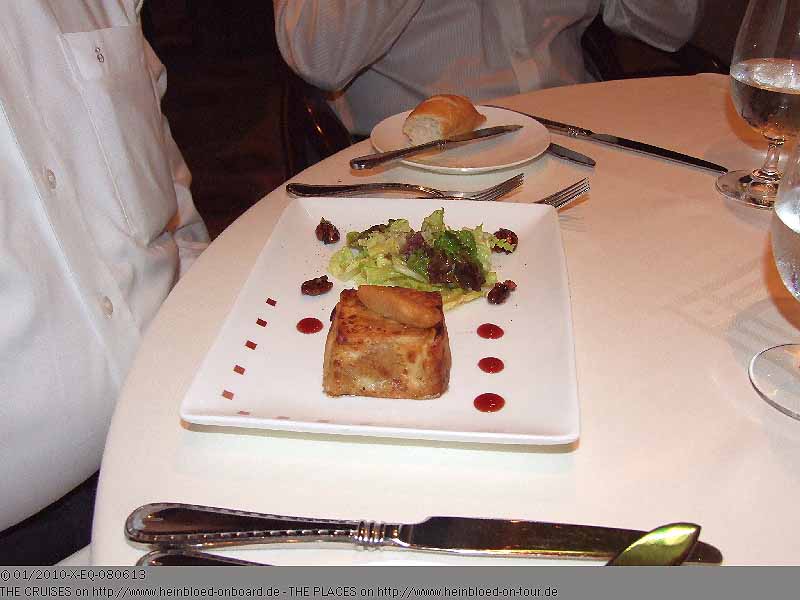 No idea anymore what Charlie ordered.

My surf and turf. Bruno said that this FIlet Mignon met closely to his favorite filet mignon from L'Étoile on MSC FANTASIA.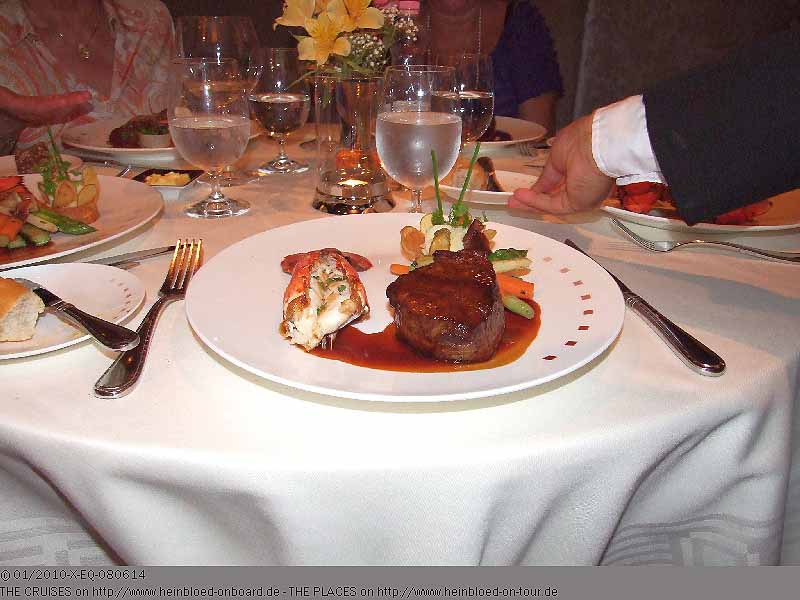 Mein Surf und Turf. Bruno meint, dass das Filet Mignon seinem Lieblings-Filet Mignon aus dem L'Étoile auf der MSC FANTASIA am nähesten kommt.
Fachgerecht wird der Hummer am Tisch aus der Schale geholt.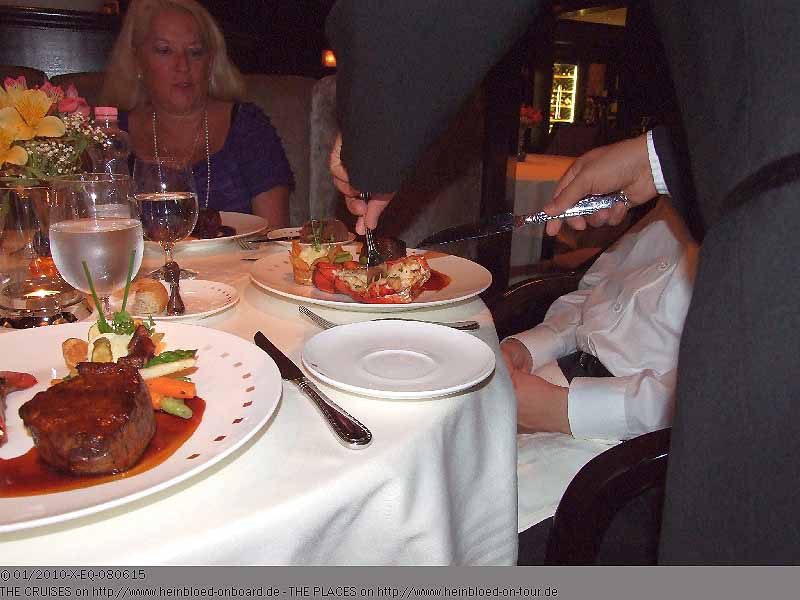 The lobster was taken out of the shell very professionally.

Certainly the lemon butter came before we had a chance to pick our silverware.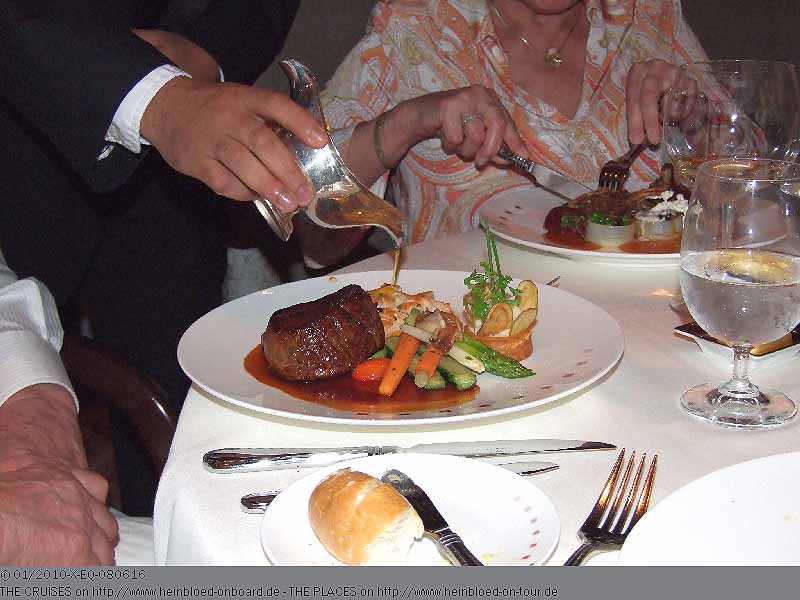 Selbstverständlich kommt die Zitronenbutter, bevor es uns gelingt, das Besteck in die Hand zu nehmen.
Beim Dessert gibt es keinen Streit: alle bekommen alles. Warum steht kein Rollstuhl bereit??? Hoffentlich sieht mein Arzt dieses Bild nicht...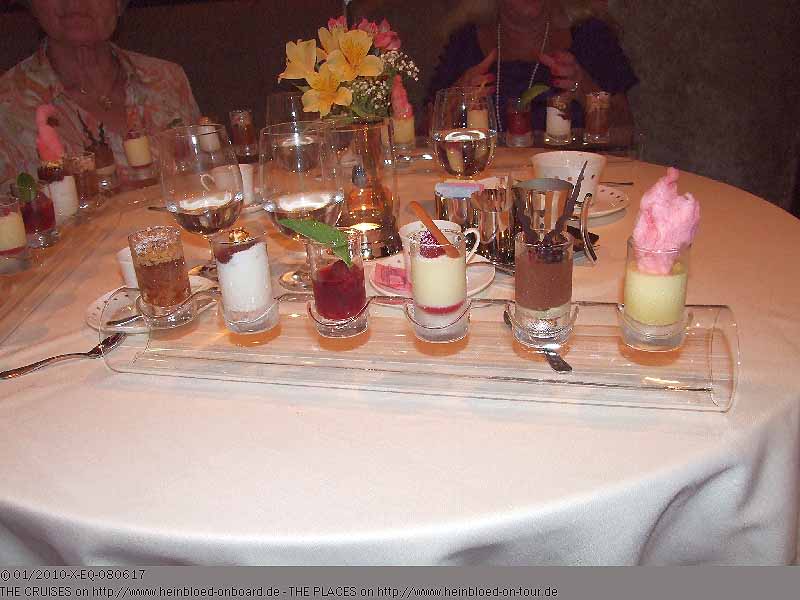 With the dessert we had no trouble. Each of us got each of the various desserts. Why was there no wheelchair??? I hope that my doctor will not see this picture.

Of course some goodies at the end... The coffee was on them: because ellbon (Robin) hat three coffee coupons and we had two. Perfect. Only the wine coupons were not accepted as they were only valid for the housewise in the Silhouette-Restaurant which were not served here.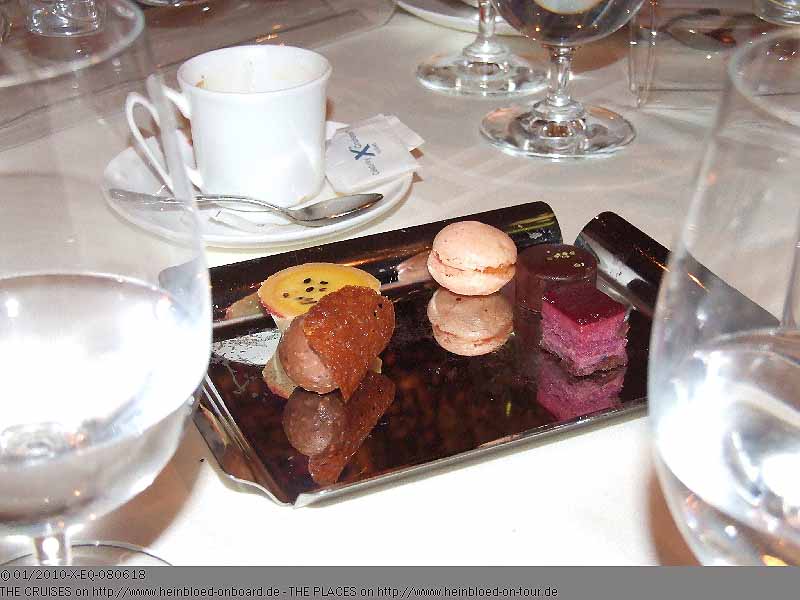 Und natürlich noch das Leckerli ganz am Schluss... Der Kaffee geht auf das Haus. Denn ellbon (Robin) bringt drei Kaffeecoupons mit und wir haben zwei. Perfekt. Nur unsere Weincoupons werden nicht anerkannt. Die gelten nur für die Hausweine im Silhoutte-Hauptrestaurant, die hier nicht ausgeschenkt werden.
Insgesamt erleben wir den perfektesten Service am ganzen Schiff. Nur eine Kleinigkeit würde es von 99,9% auf 100,1% bringen: schwarze Servietten für Gäste mit dunklen Hosen. Die gibt es sogar im Hauptrestaurant bei NCL... Das Murano hat sich in die Reihe von unseren Lieblingsschiffsrestaurants eingereiht: Todd English, Pinnacle Grill und L'Étoile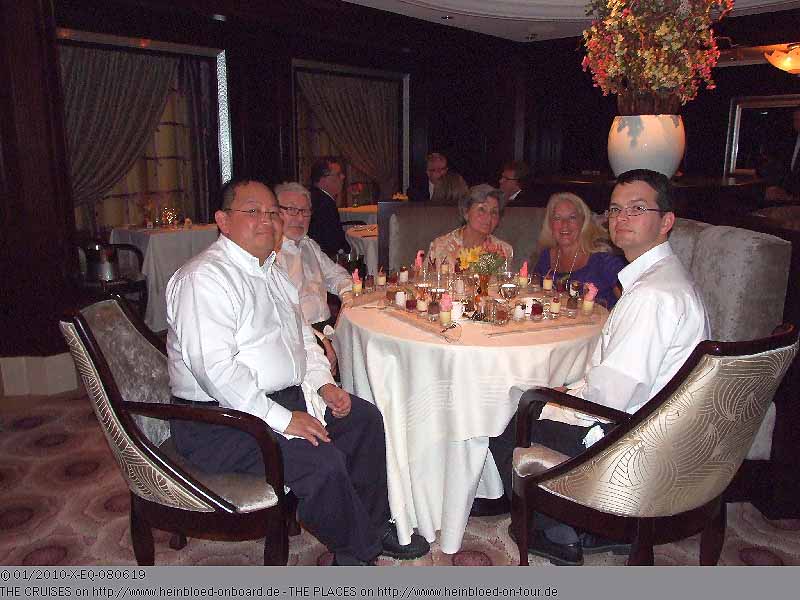 In total we experienced the most perfect service on the whole ship. Just a small thing would make it from 99.9% to 100.1%: black napkins for guests with dark pants. That you get even in the main restaurant on NCL... Murano joined in our favorite ship restaurants like Todd English, Pinnacle Grill and L'Étoile.

You can also book a private room for special occassions.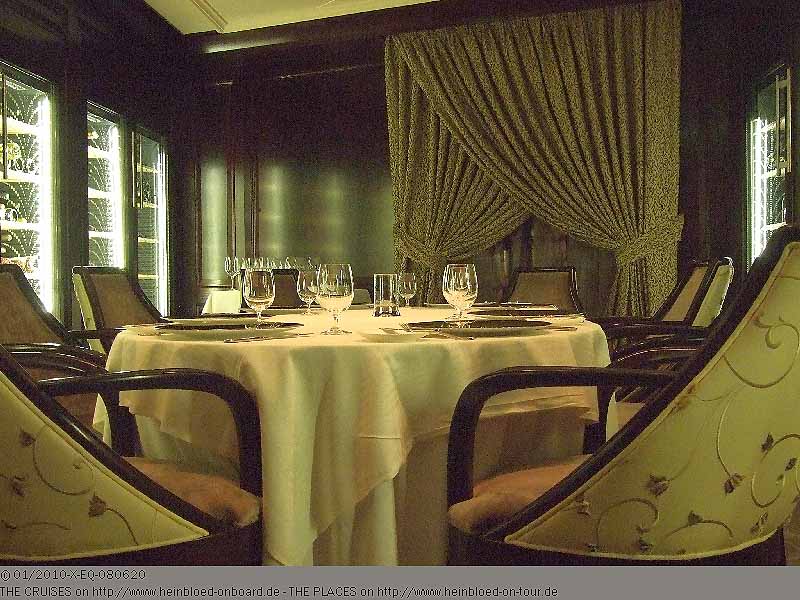 Übrigens kann man im Murano auch einen separaten Raum für kleine Feiern buchen.
Umgeben vom Weinvorrat inkl. einer Riesen Flasche Champagner.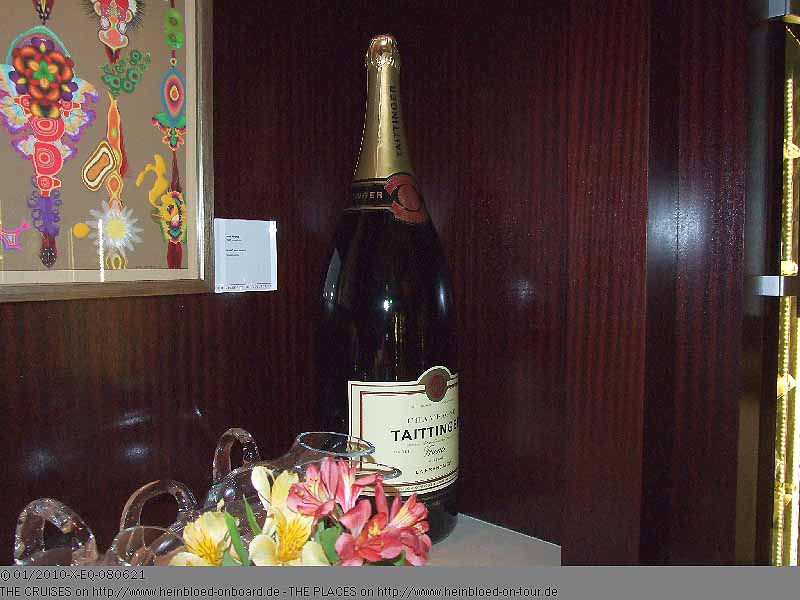 Around you find their wine stock and a magnum bottle of champagne.