Scroll down for English explanations - alternates with German explanations.

Weiter geht es zum Monkey-Business, das mitlerweile 5 USD Eintritt kostet. Zum Zeitpunkt der Buchung waren es 2 USD, aber wir wurden von Victor informiert, dass die Preise gestiegen sind.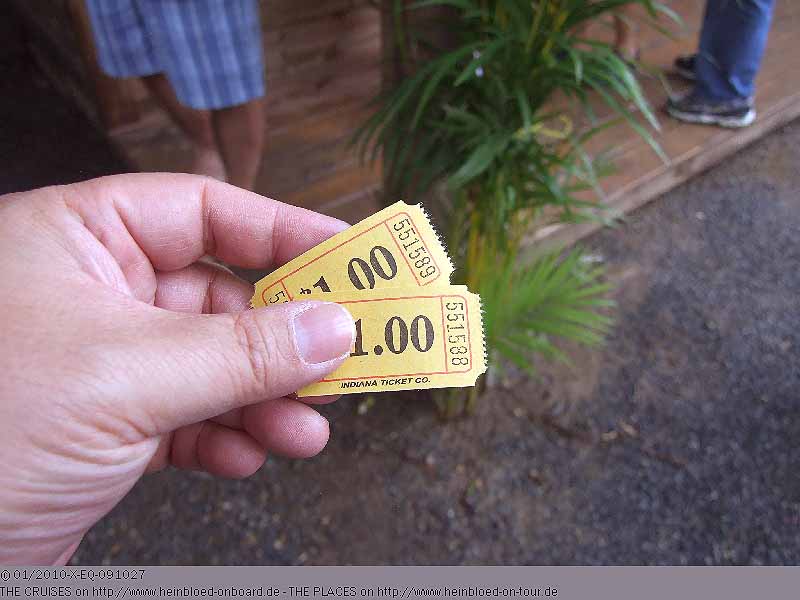 We continued to the Monkey Business which costed now 5 USD admission fee. At the time of booking it was 2 USD but Victor kept us informed about the new prices.

In theory credit cards were accepted. But the authorisation network did not run so you could only pay in cash.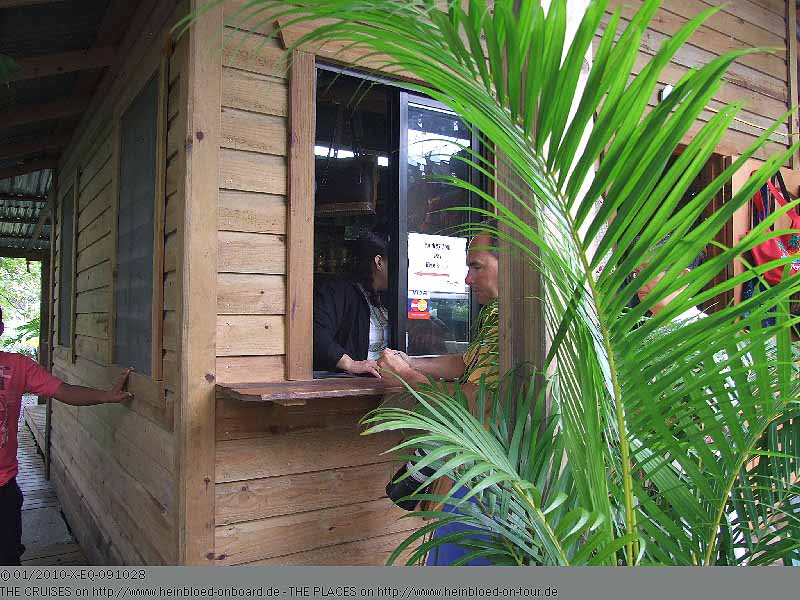 Es wurden theoretisch Kreditkarten angenommen. Nur lief irgendwie das Authorisierungsnetz nicht, so dass man bloß in bar zahlen konnte.
Wer die Infrastruktur eines Zoologischen Gartens erwartet hat, dürfte enttäuscht worden sein.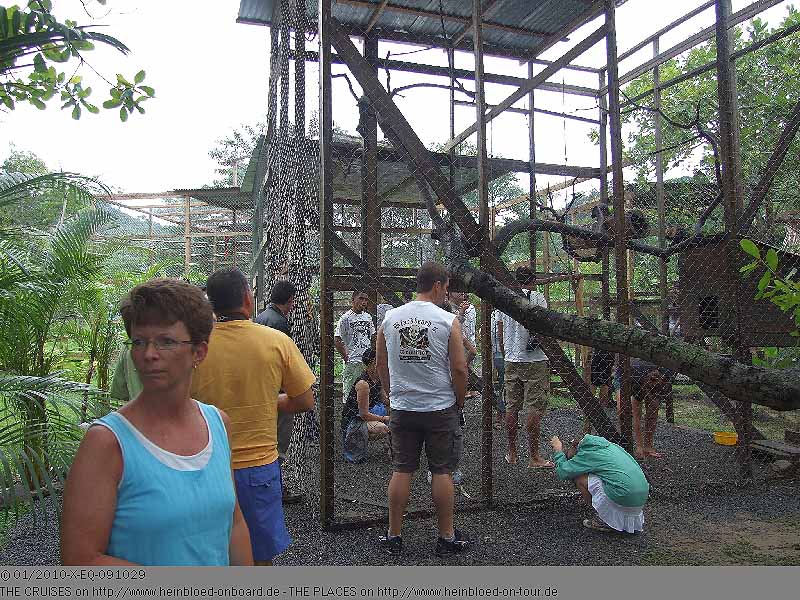 Who was expecting the infrastructure of a zoological garden might be disappointed.

You see some animals like you would see in the nature. In a tight atmosphere - but without the need to do a long jungle tour.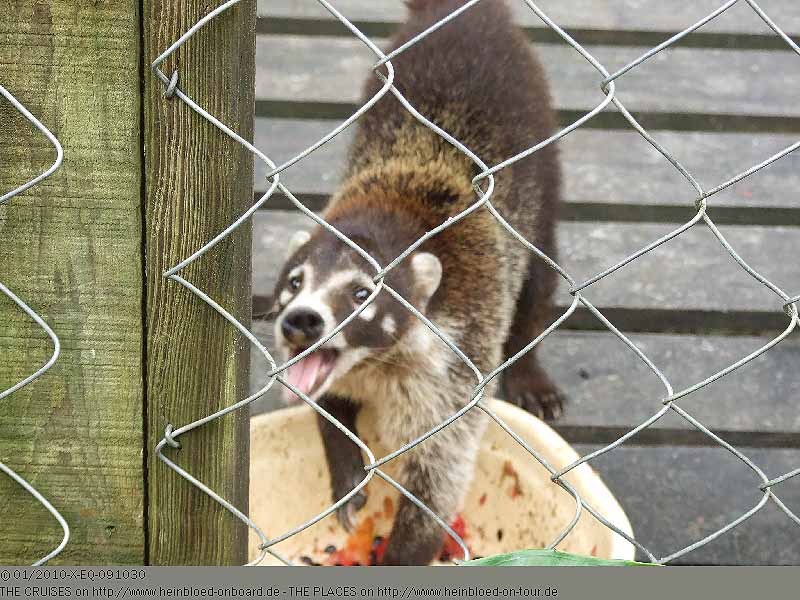 Man sieht ein paar Tiere, wie sie hier in der Natur vorkommen. Auf engen Raum zwar, aber ohne, dass man eine lange Dschungeltour machen muss.
Wenn die Fluggesellschaften immer weiter die Gepäckmitnahme einschränken, bleiben Scott nur noch zwei Alternativen: eine kleine Kompaktkamera oder eine Nudisten-Kreuzfahrt... Ein echter Profi geht natürlich auf Nudisten-Kreuzfahrt, bevor er auf seine Ausrüstung verzichtet - oder???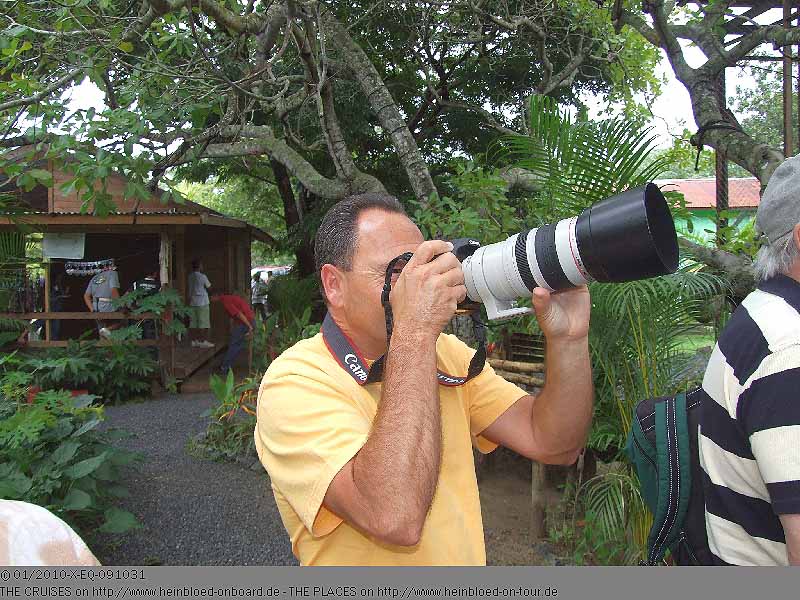 If the airlines will restrict more and more the carriage of baggage Scott will have only two alternatives: a small compact camera or a cruise for nudists... A true professional will go on a nudist cruise before he would waive his photo equipement - or???

Somehow sweet.

Irgendwie süß.
Man konnte auch in die Käfige rein und sich aus der Sicht der Tiere alles mal ansehen.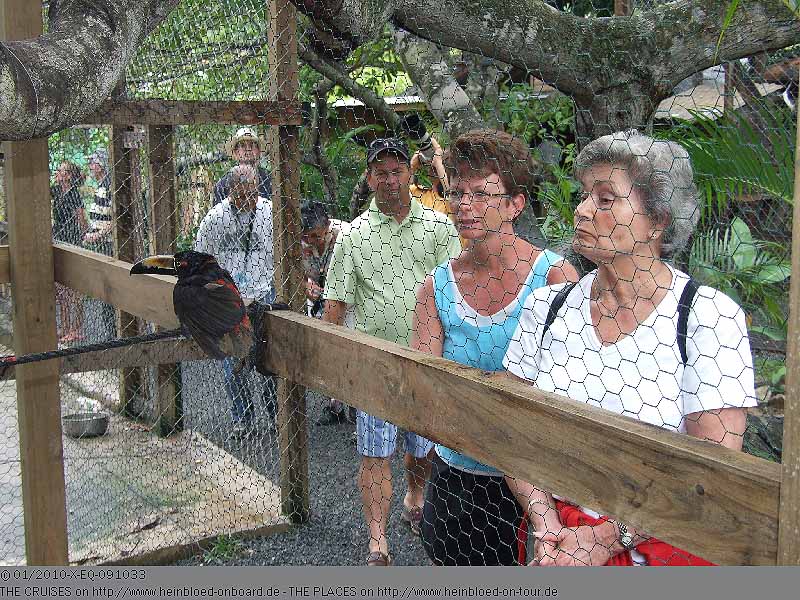 You could also go into the cages to see it from the view of the animals.

So you had the chance to take pictures without any fence.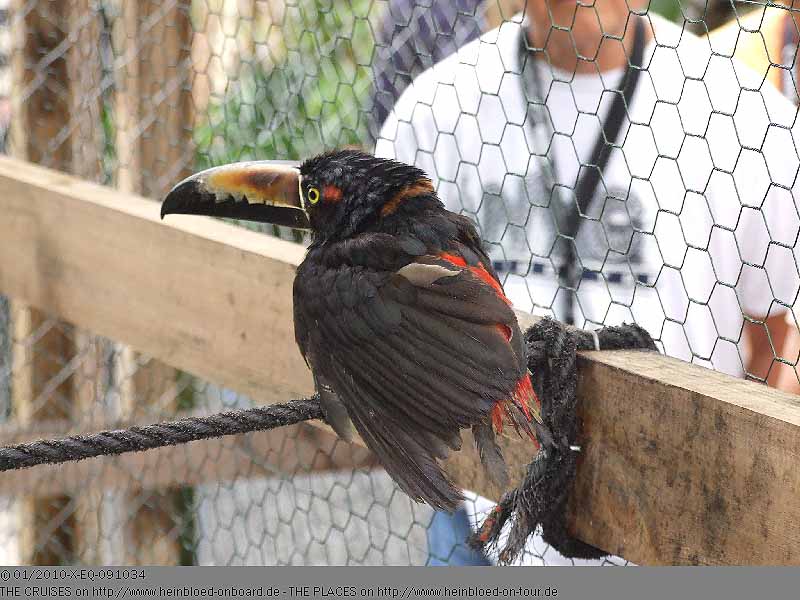 So konnte man auch ohne Zaun etwas fotografieren.
Welche Sprache beherrscht er wohl???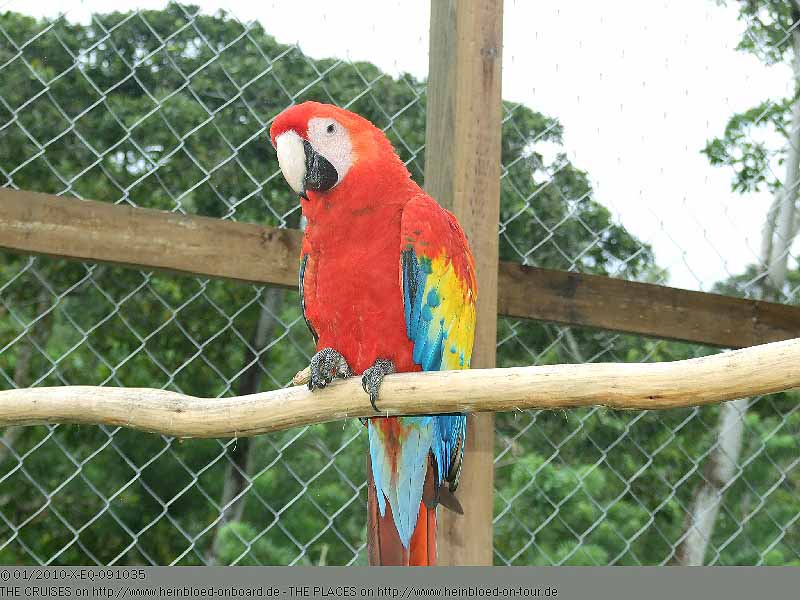 Which language he might speak???

This was possible as well.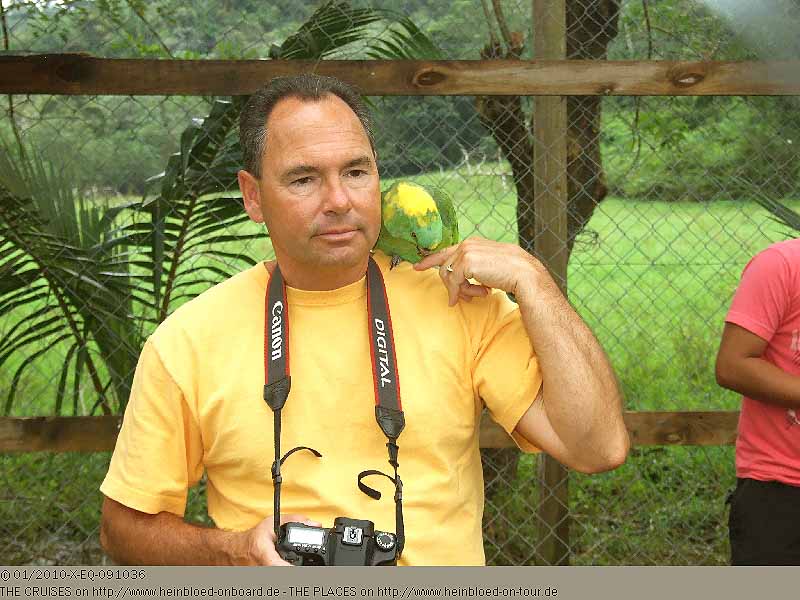 Auch das war möglich.
Hier wollte ich lieber schnell wieder raus... So schön wie sie auf der Stange sitzen, so weniger schön, war es natürlich von ihnen getroffen werden...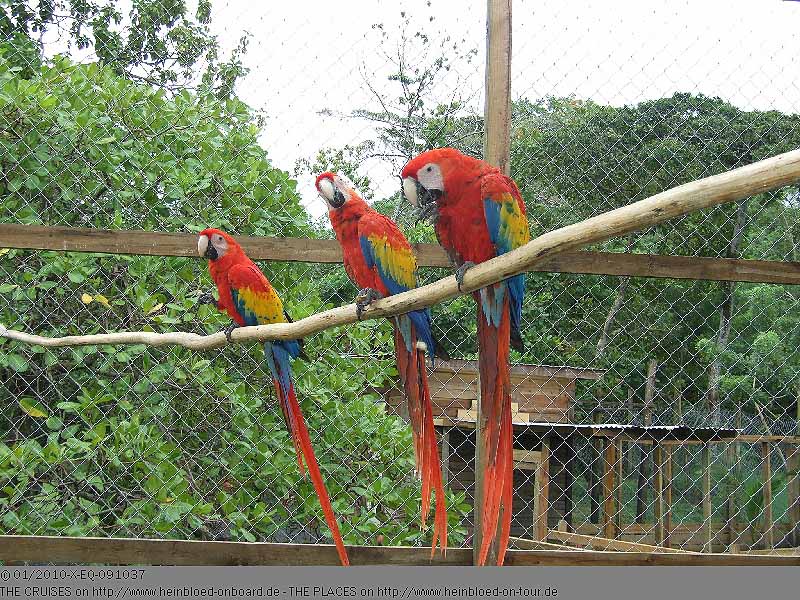 Here I wanted to get quickly out... As nice as they sit on the bar... as bad it was to get hit by them on a natural way...

The little knew how to open a purse and what to look for...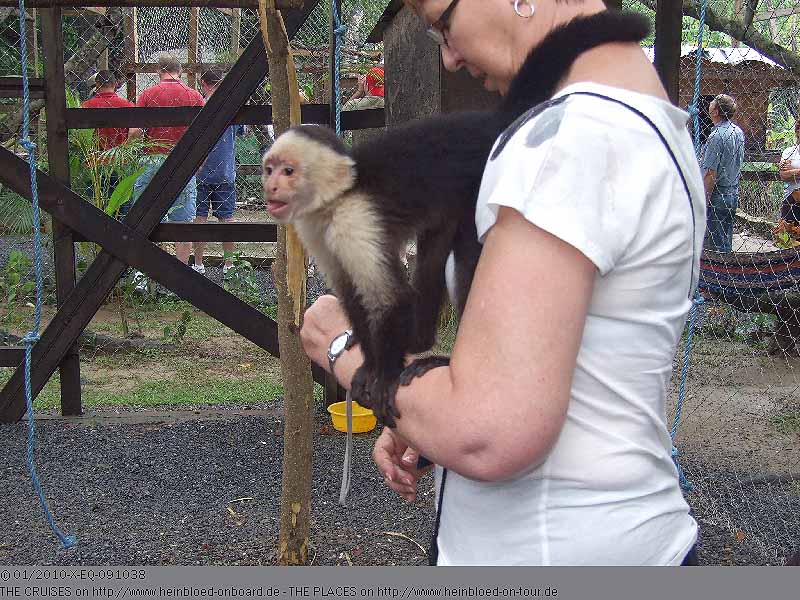 Der kleine weiss schon, wie man die Damenhandtaschen öffnet und wonach man suchen muss...
Man kommt immer nur mit einem Führer durch den kleinen Park, damit nichts passiert.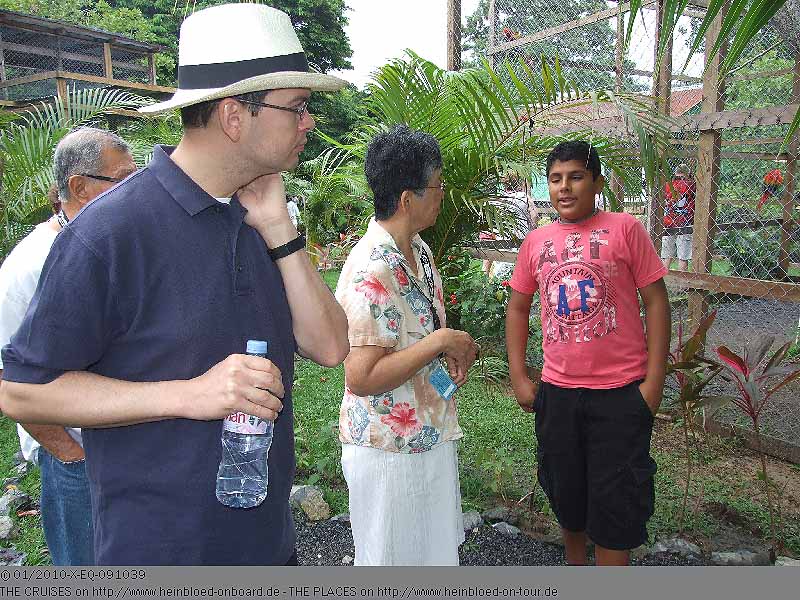 You had only access with a guide to make sure that nothing will happen.

By the way: my I introduce Victor Bodden himself.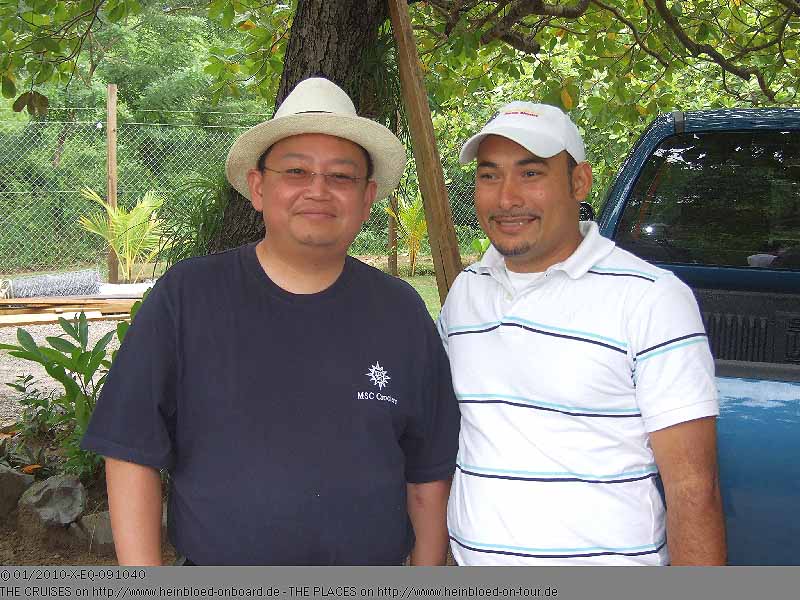 Das ist übrigens Victor Bodden persönlich.
Weiter ging es Roatan Schmetterlings Garten. Das kostete 7 USD Eintritt. Auch hier funktionierte das Lesegerät für die Kreditkarten nicht.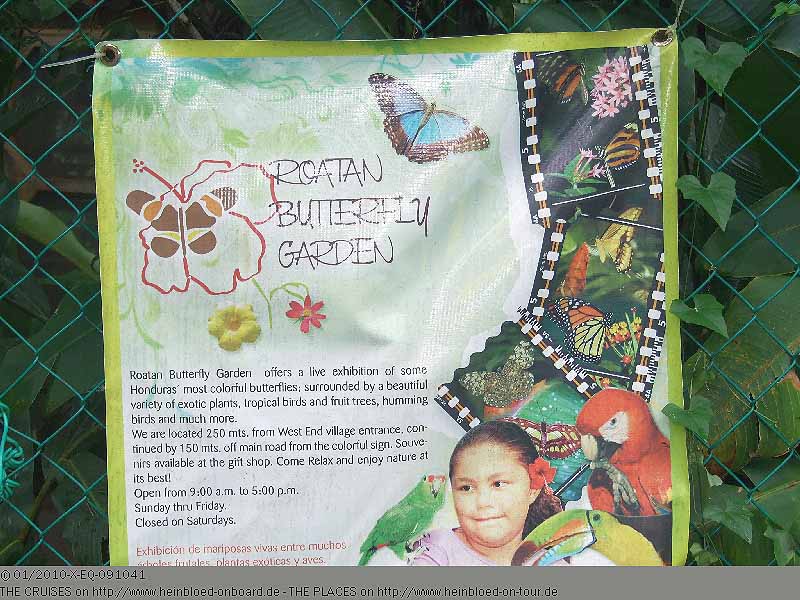 We continued to Roatan's Butterfly Garden. The admission fee was 7 USD. But here the card reader did not work either.

Looked nice but dangerous... he was not a pure vegetarian.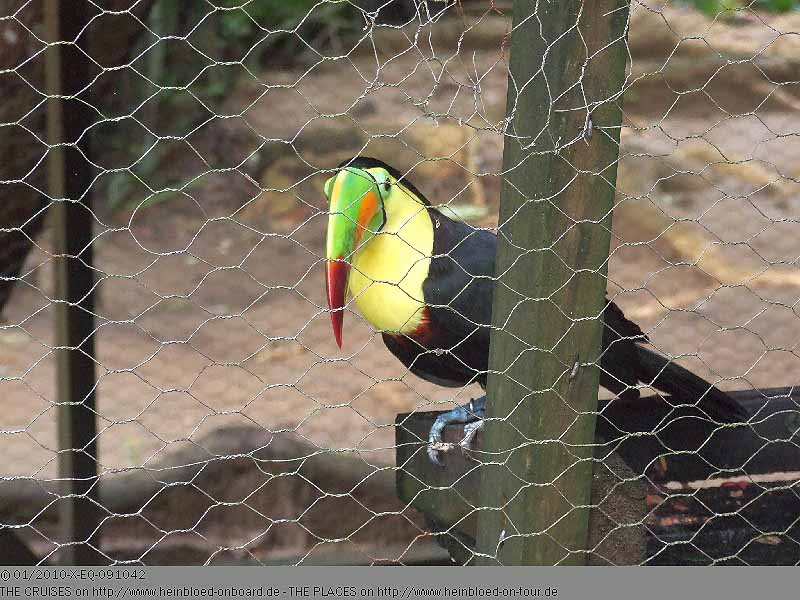 Sieht schön aus, aber gefährlich... lebt nicht ausschließlich vegetarisch.
Alle behaupten, dass ich einen Vogel hätte, weil ich blogge, haben vollkommen Recht. In der Tat habe ich einen Vogel, aber es macht mir Spaß. Und offensichtlich haben manche von euch auch einen Vogel, weil ihr euch das auch noch antut es zu lesen, was ich schreibe.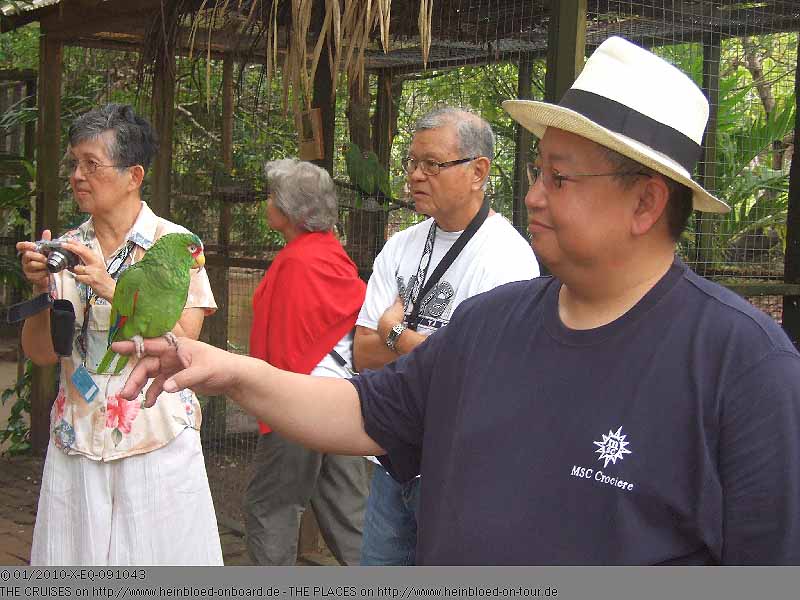 Everybody who thought that I have bats in a belfry (or in German: to have a bird...) were totally right... indeed I had a bird and it is fun. Some of you who all I wrote as well...

Many of the birds were fed until they could be released back to wild life.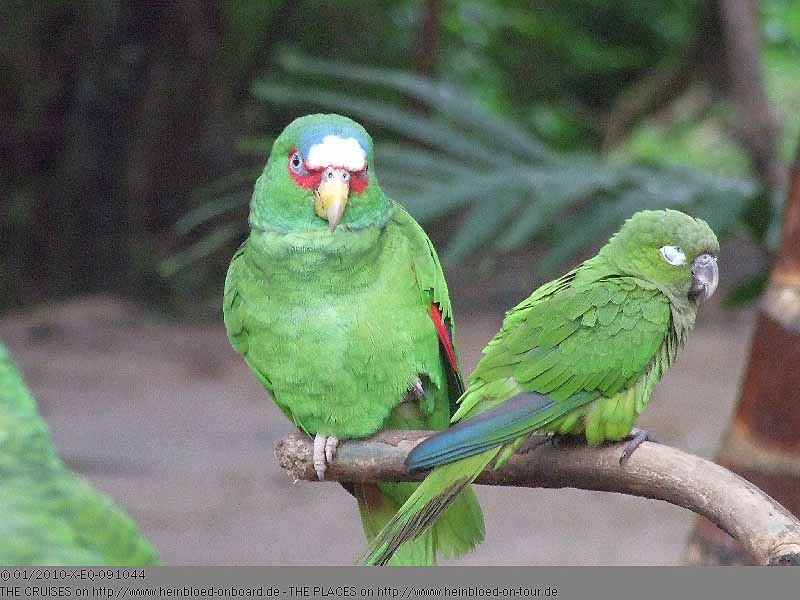 Viele der Vögel werden hier wieder hochgepäppelt, bevor sie wieder in die Wildnis entlassen werden.
Der Vogel bei Katie im Deutschunterricht.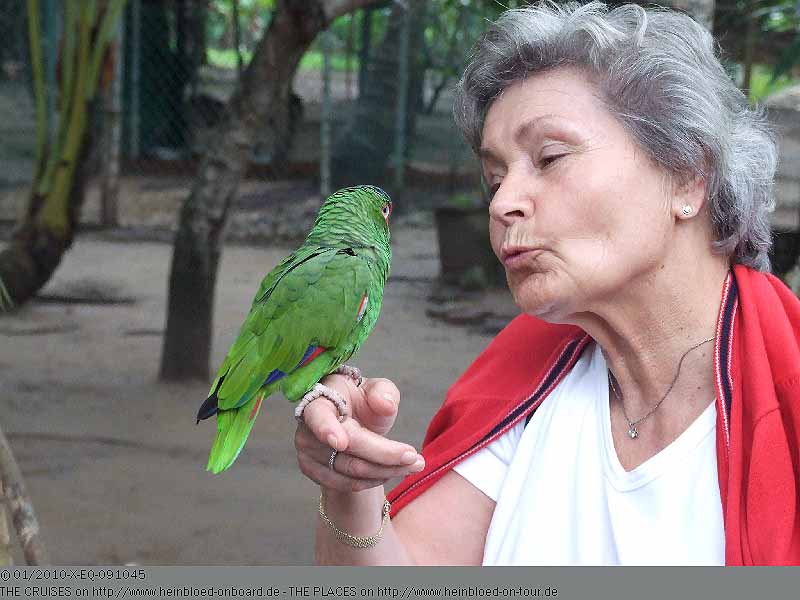 The bird took German lessons with Katie...

The parrots were found partly without any feather. Here they can recreate from their trauma. One of the parrots recognized his tantalizer and bited off a piece of his finger.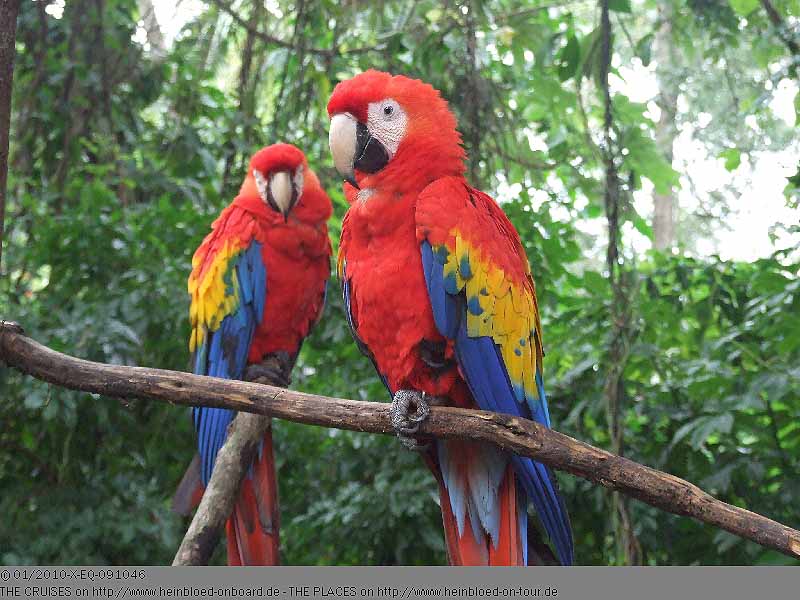 Die Papageien wurden z. T. ohne Federn aufgefunden. Hier können sie sich wieder von dem Trauma erholen. Einer der Papageien hat wohl seinen Peininger erkannt und ihm ein Stück Finger abgebissen.
Die Rehkitze laufen nach Schließung des Parks frei herum. Sie wurden schon freigelassen und kamen aber immer wieder zurück, weil sie von ihrer Mutter nicht mehr angenommen wurden.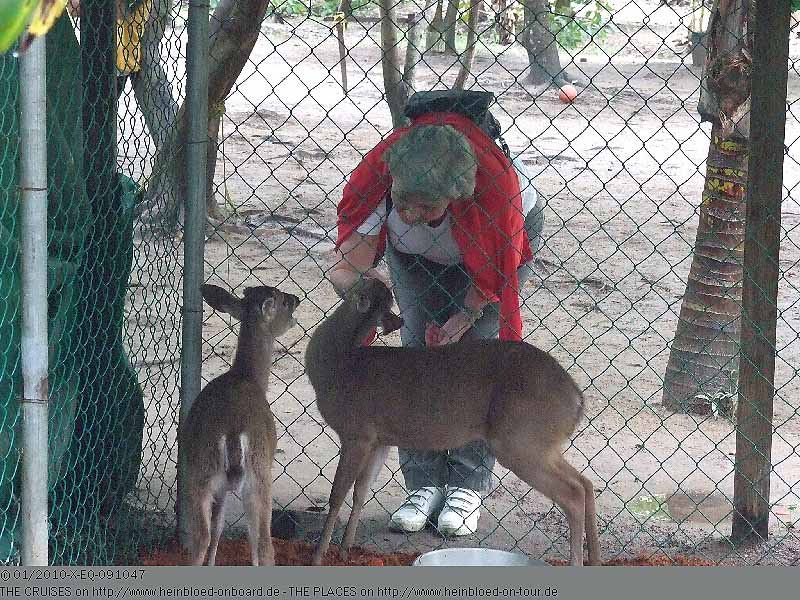 The fawns will be released to walk around in the park when the park was closed. They were released and came back because they were not anymore accepted by their mother.

We continued to the butterfly hall. There were odd ducks like me.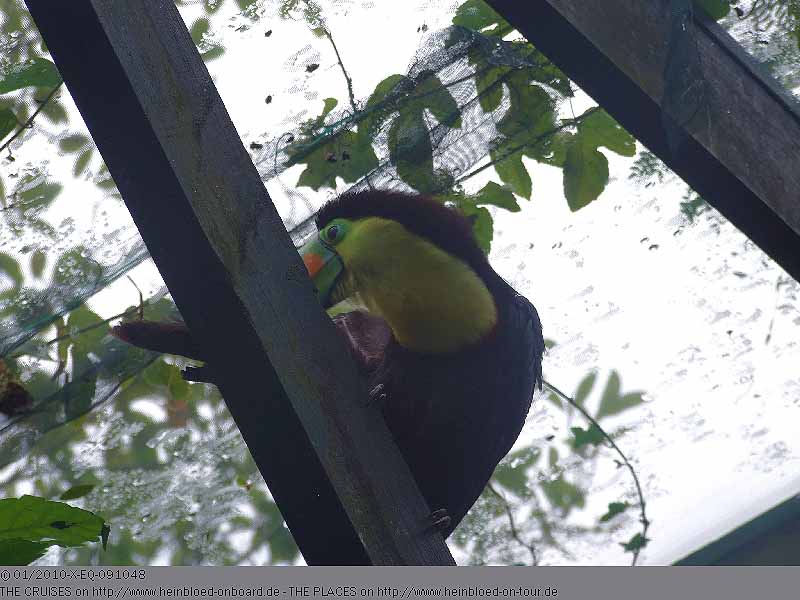 Weiter geht es in die Schmetterlingshalle. Dort gibt es so schräge Vögel, wie mich.
Sieht der nicht genauso irre aus???

Did he look as odd???

Finally to the butterflies.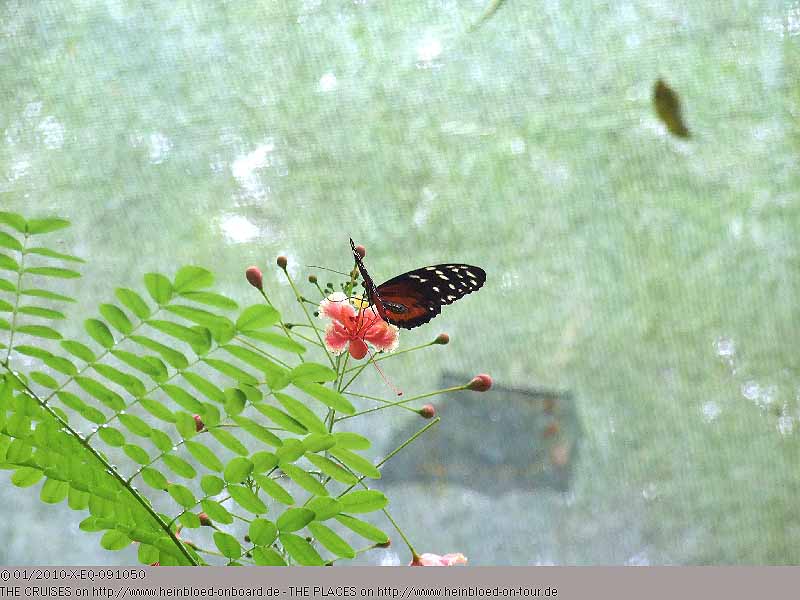 Endlich geht es zu den Schmetterlingen.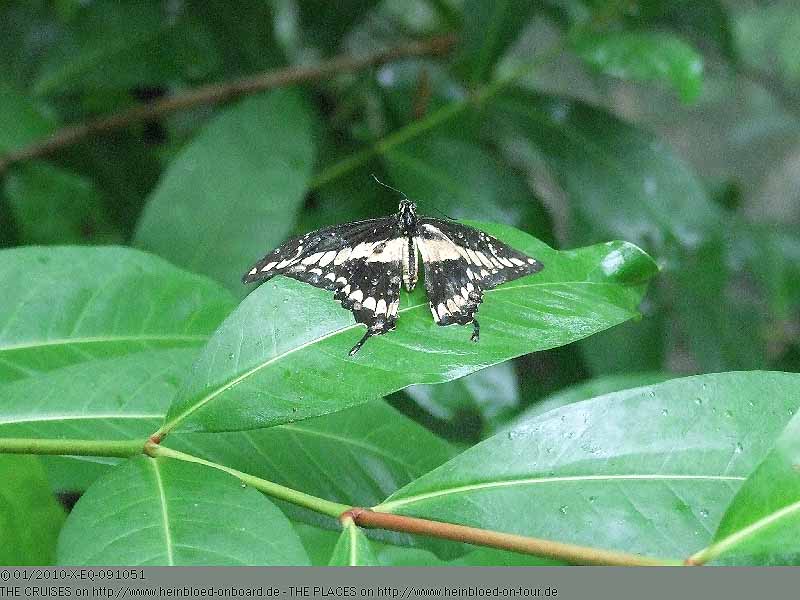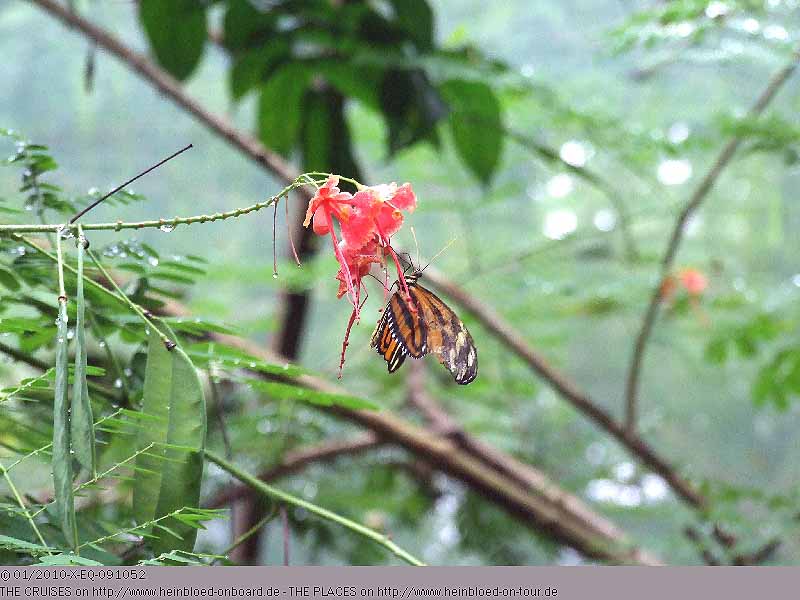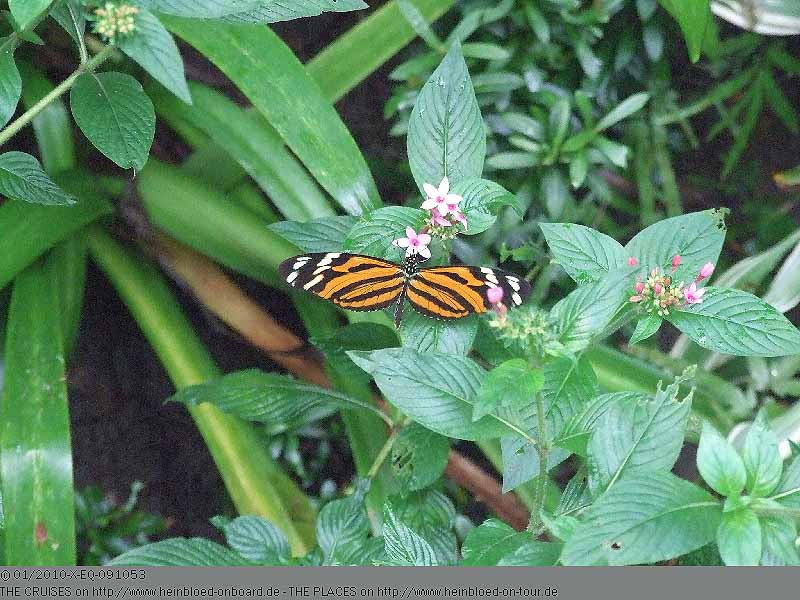 This visit was worth.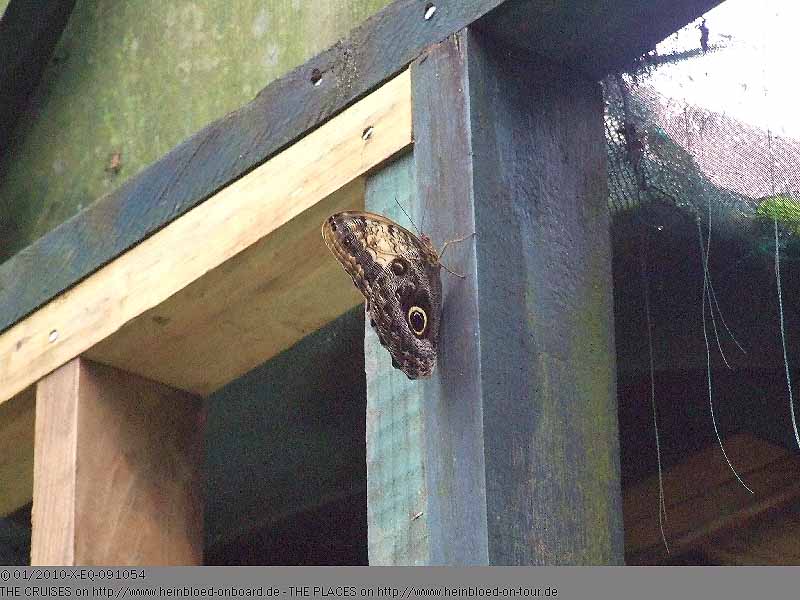 Der Besuch hat sich gelohnt.
Es geht weiter nach Westend. Aber da es regnete, mochten wir nicht aussteigen.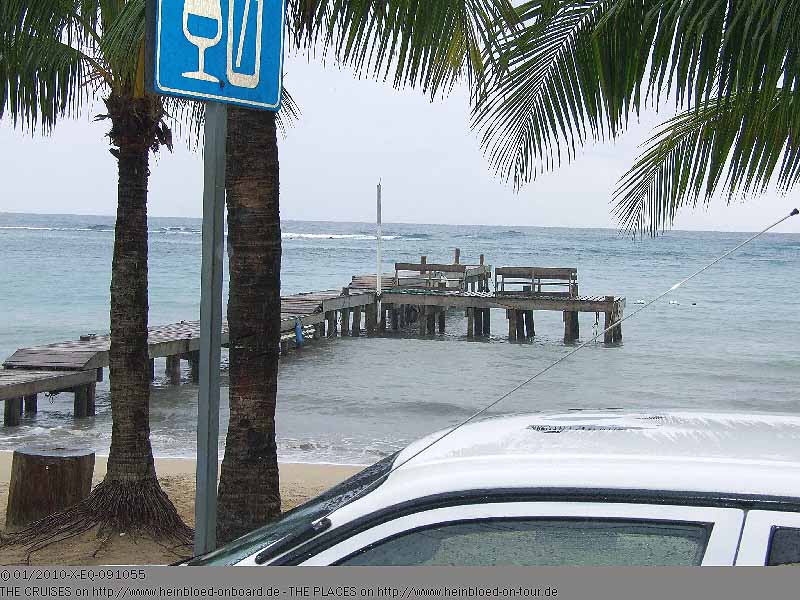 We continued to Westend. But as it was raining we did not like to walk around.

There were few nice shops here around.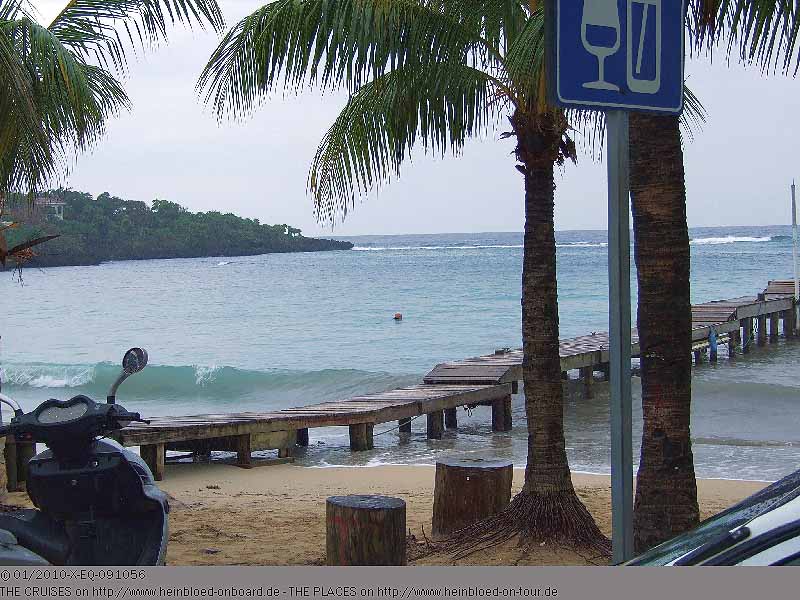 Es gibt hier rund herum schöne Geschäfte.
Ein Aufenthalt bei Sonnenschein mit einem kurzen Bad in der Karibik wäre es wert gewesen.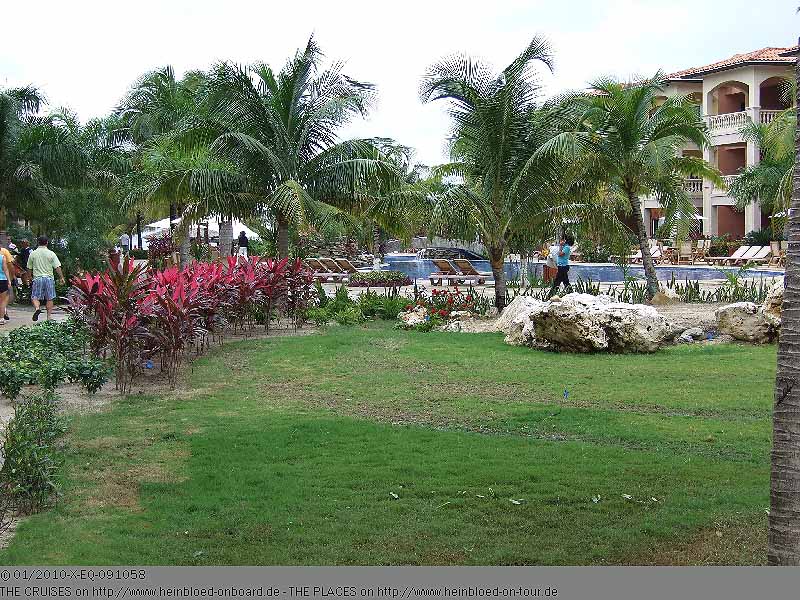 A stay with sunshine with a short bath in the Caribbean Sea would be very nice.

But it should not be this day.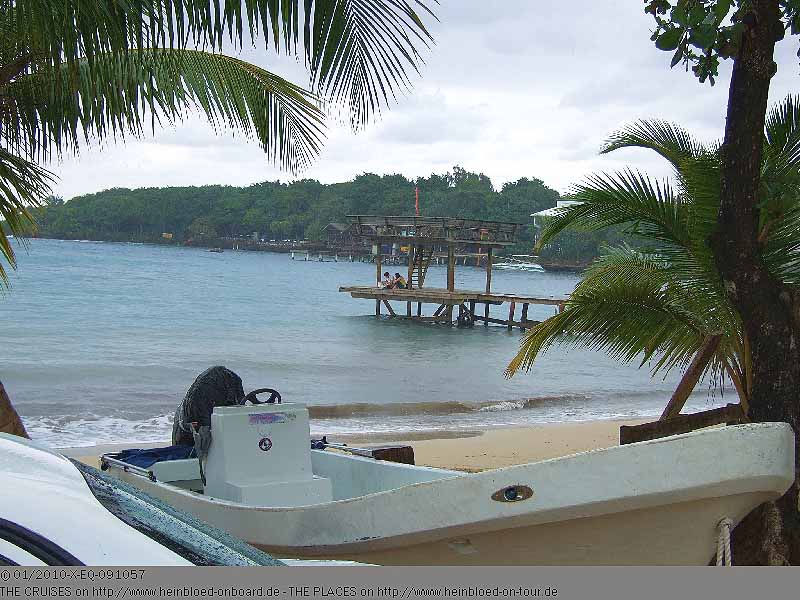 Aber das soll heute nicht sein.
Weiter geht es zu einem weiteren Resort, das noch Time-Sharing-Teilhaber sucht.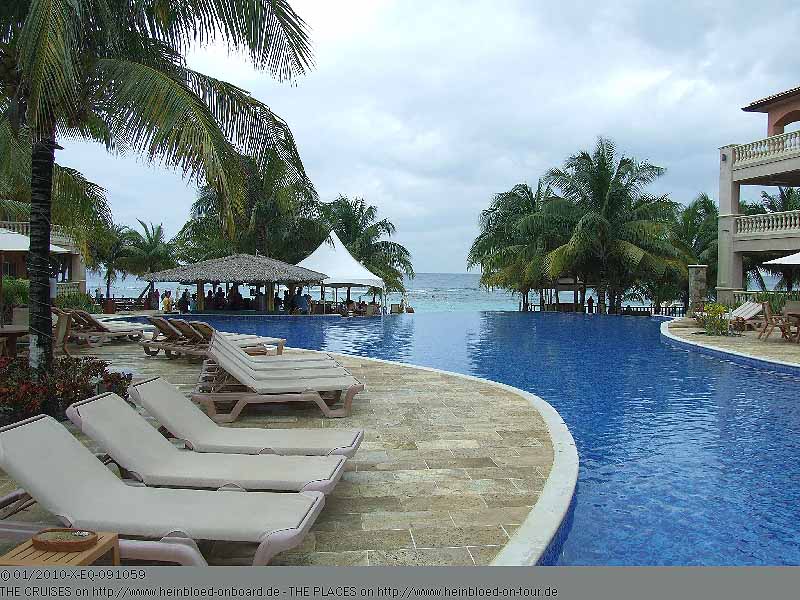 We continued to another resort which was open for further time-sharing-investors.

Here were beach life - come rain or shine.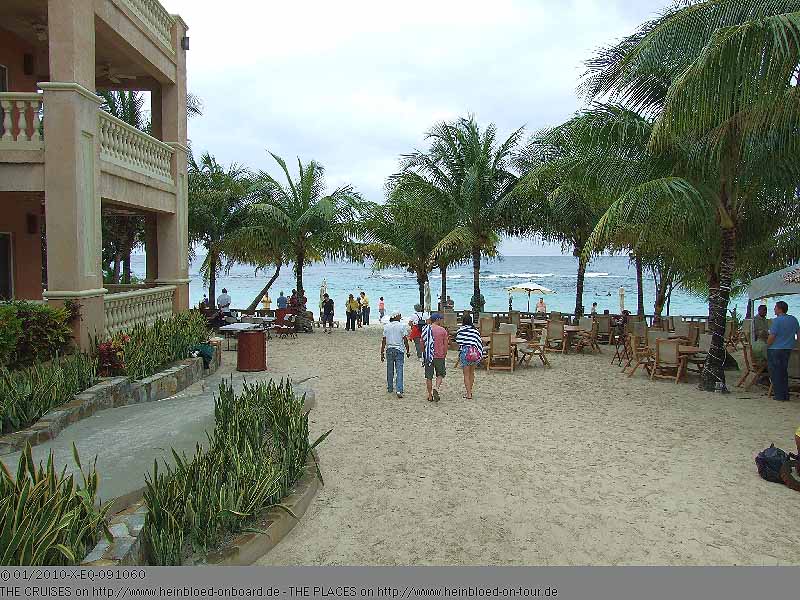 Hier am Strand wird wohl bei Regen und Sonne gebadet.
An der Strandbar herrscht reger Betrieb.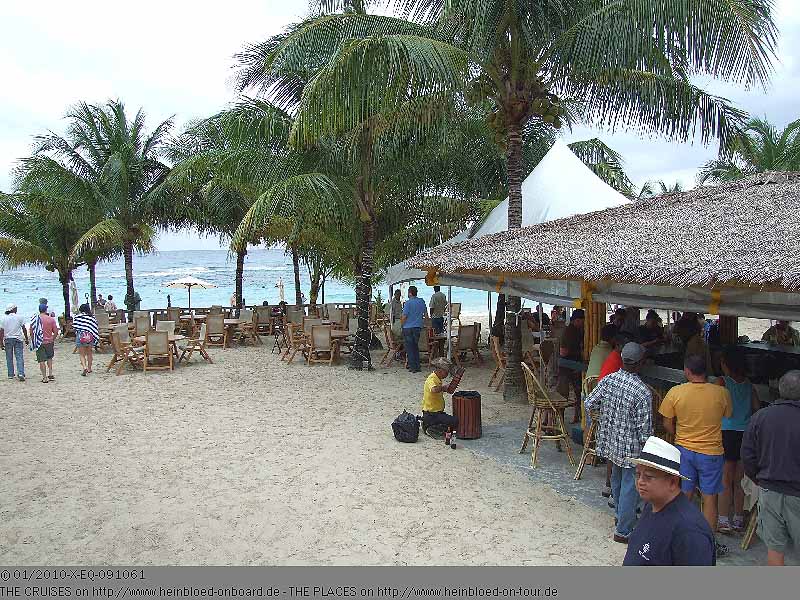 The beach bar was very busy.

Some greetings to Austria... we did not go to the water... but put our feet into the water... but you see other did their swimming.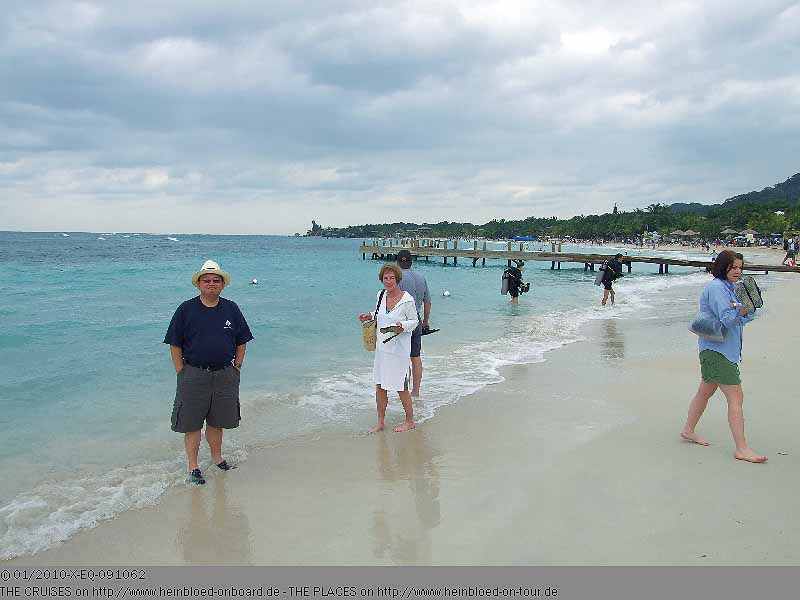 Schönen Gruß nach Österreich... wir haben hier nicht gebadet... aber zumindest mal die Füße ins Wasser gesteckt... aber andere haben hier gebadet...
Schöner Wasserfall, der den Pool einspeist.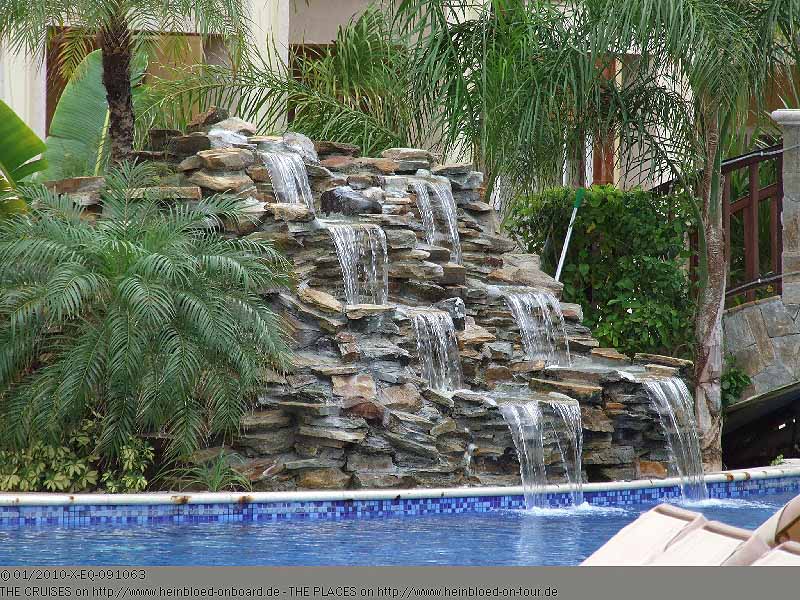 A nice waterfall to feed the pool.

Cheers!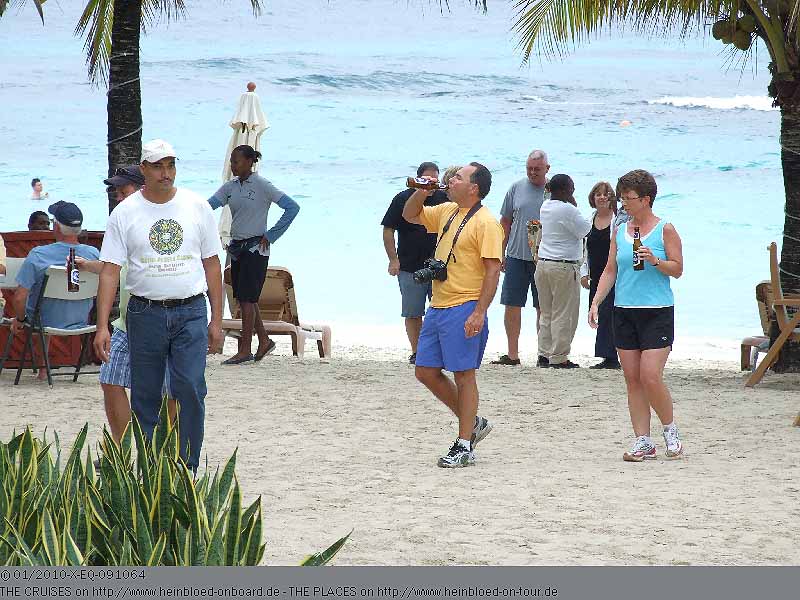 Prost!
Und noch ein weiteres Resort liegt auf dem Weg zurück zum Cruise Terminal.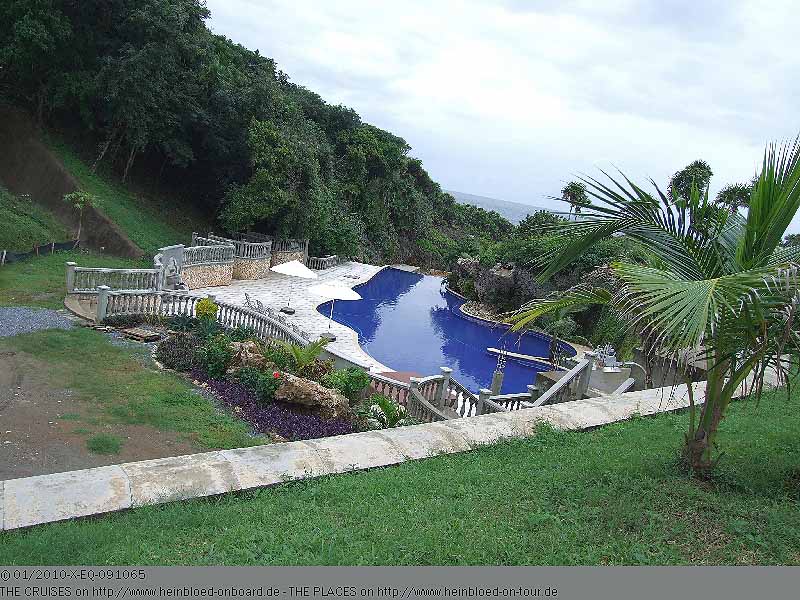 And another resort was on the way back to the cruise terminal.