Scroll down for English explanations - alternates with German explanations.

Formelle Nacht wird anscheinend bei Celebrity nicht so ernst genommen: Polo-Shirt, Jeans sind wohl für die formelle Nacht akzeptabel geworden. Wir freuen uns darauf, dass der Hummus nicht angetrocknet ist und die Brotauswahl zu der Besetzung des Tisches passt und auch schon da steht und nicht erst wie zuvor 20 Minuten nach unserer Ankunft an den Tisch gestellt wird.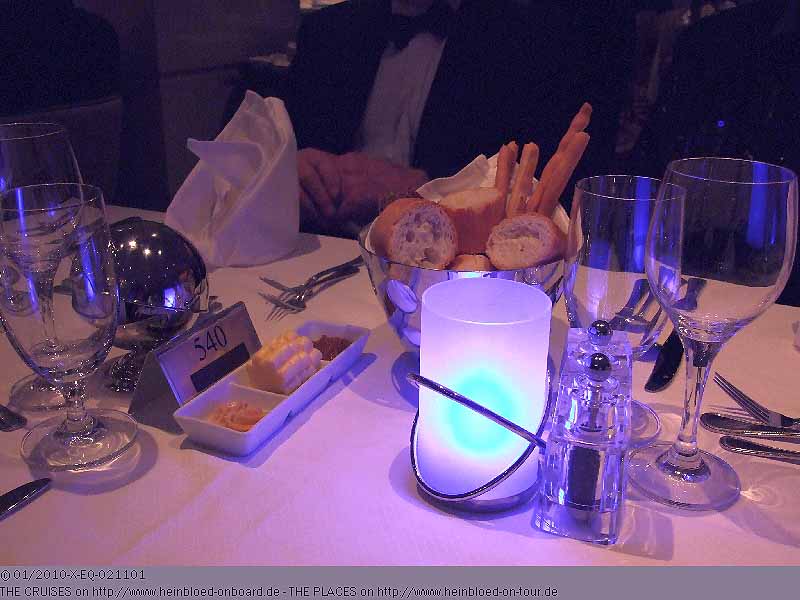 They do not take it very seriously with the formal nights with Celebrity: Polo-Shirt and Jeans were well accepted for the formal night. We were happy that the Hummus was not dried out and the choice of bread fit to the occupation of the table and it was available at the right time and not like before 20 minutes after we came.

I did not like to have quail. Again lamb shank. We had it already yesterday. No lobster so far. So I prefered to have three starters and no main course.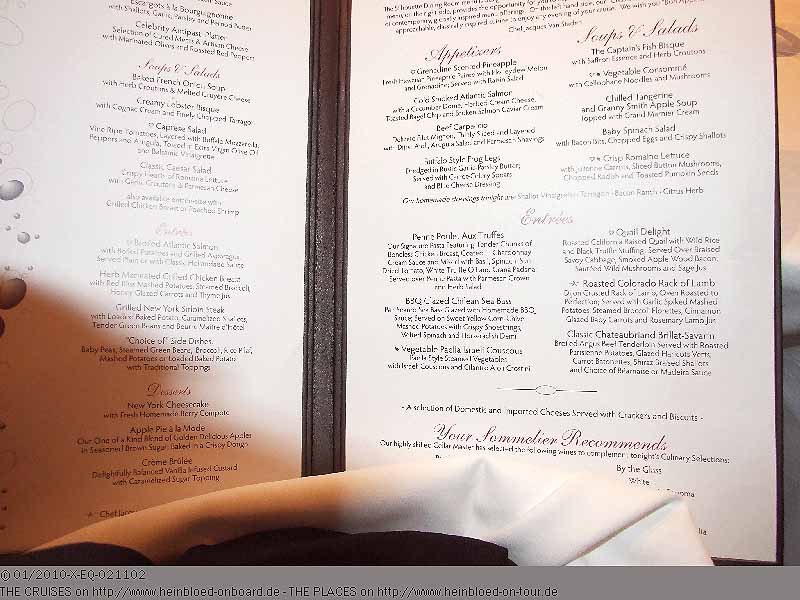 Ich habe keine Lust auf Wachteln. Schon wieder gibt es Lammhaxe. Das gab es gestern schon. Hummer gibt es keinen. So nehme ich kurzer Hand drei Vorspeisen und kein Hauptgericht.
Bruno hatte zunächst die Carpaccio.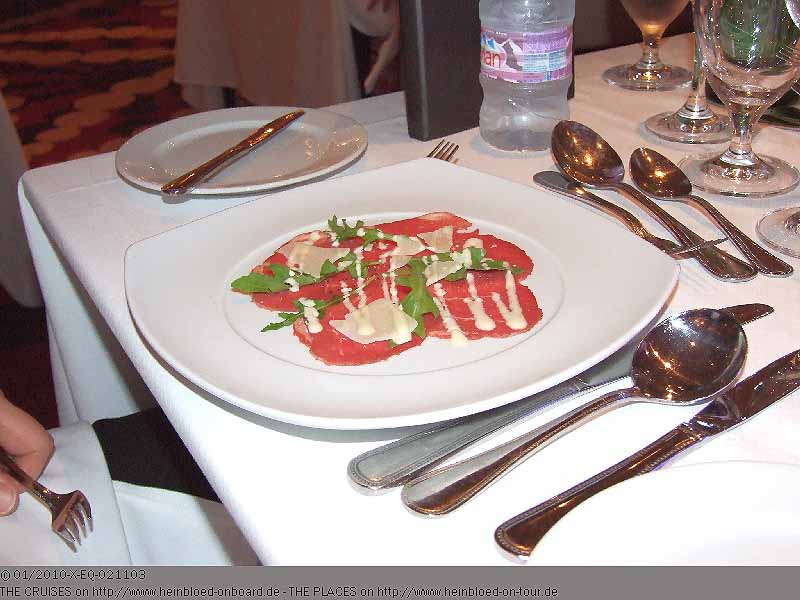 Bruno had first his Carpaccio.

I took the shrimp cocktail but on CENTURY it was presented nicer...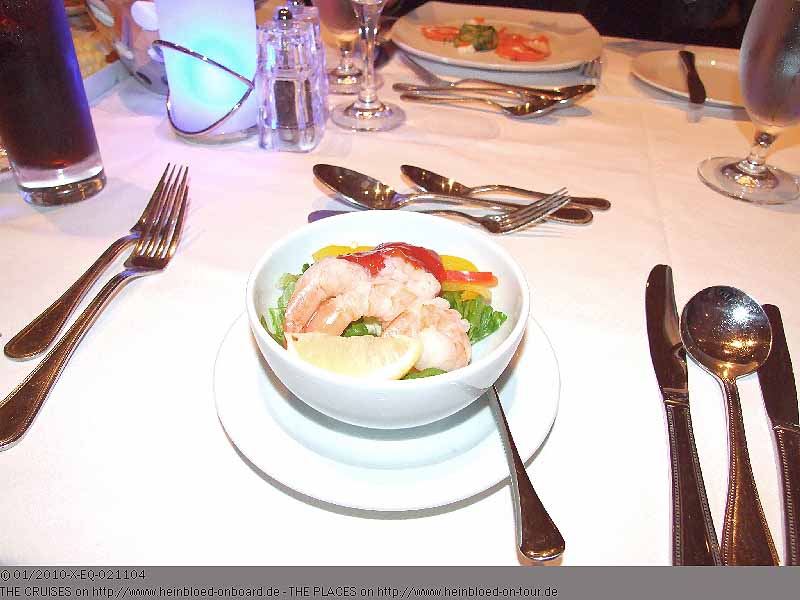 Ich nehme den Shrimpcocktail, der auf der CENTURY aber schöner angerichtet wurde...
Die Salatsauce kommt direkt nach dem der Salat serviert wurde und selbstverständlich wurde Katie als erste gefragt, welchen Dressing sie haben möchte.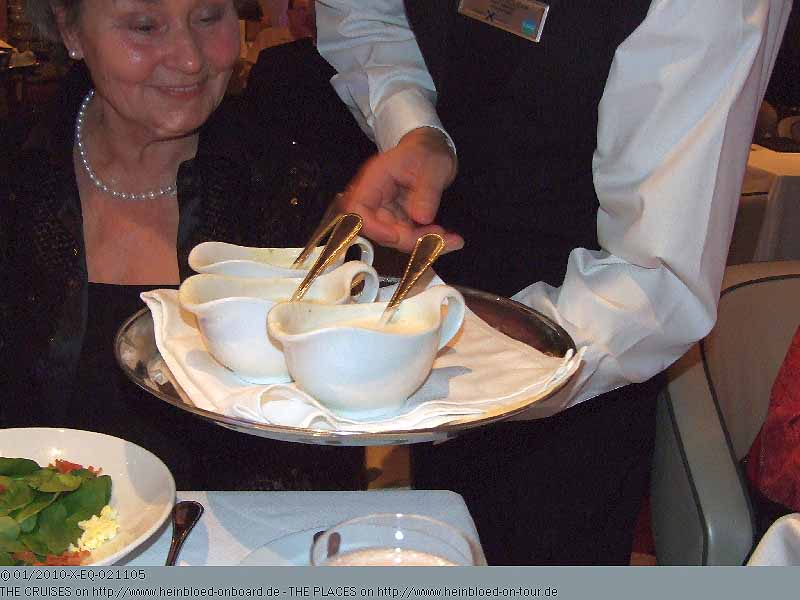 The salad dressing came right after the salad was served and naturally Katie was the first one who was asked which dressing she would like to have.

The Baby-Spinach-Salad was a good reason to go again with Celebrity: very tasty.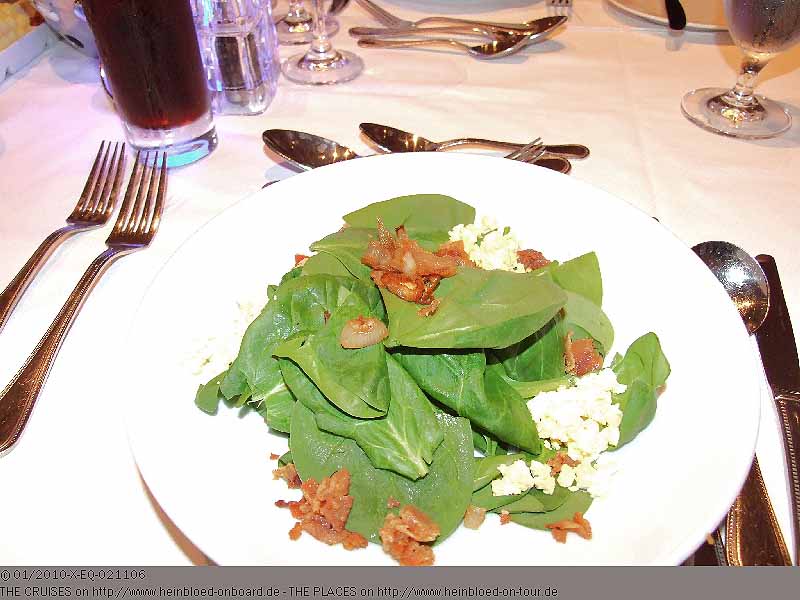 Der Baby-Spinat-Salat wäre wieder ein Grund mit Celebrity zu fahren: richtig lecker.
Bruno nimmt die Pasta, in der sich genau ein Stückchen Huhn und zwei Pilze befinden.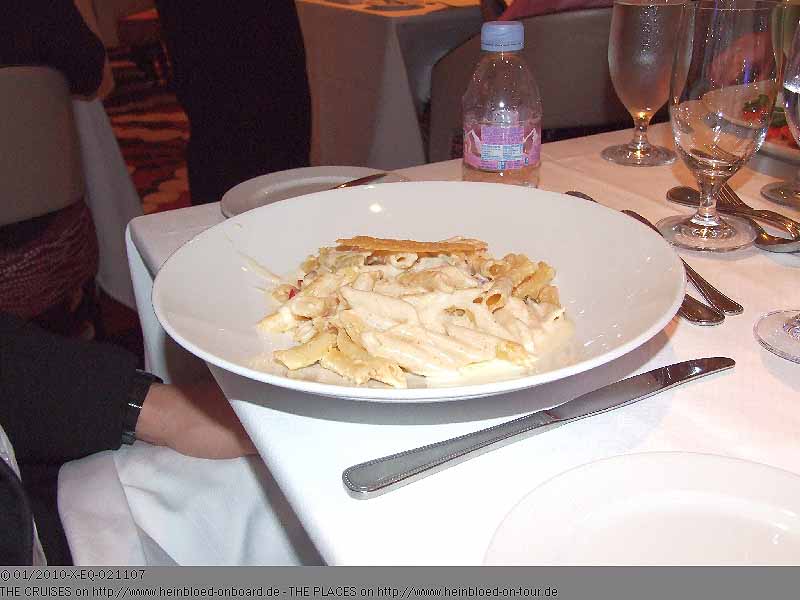 Bruno took the Pasta but only can found exactly one piece of chicken and two little pieces of mushroom.

Due to other reviews I read I was well prepared to the Antipasta-Plate from Tuscan Grille. And that was why I took it... I was happy that due to the good bread selection I could make some open face sandwiches... But it was correct: it has nothing to do with a classical ITALIAN Antipasta.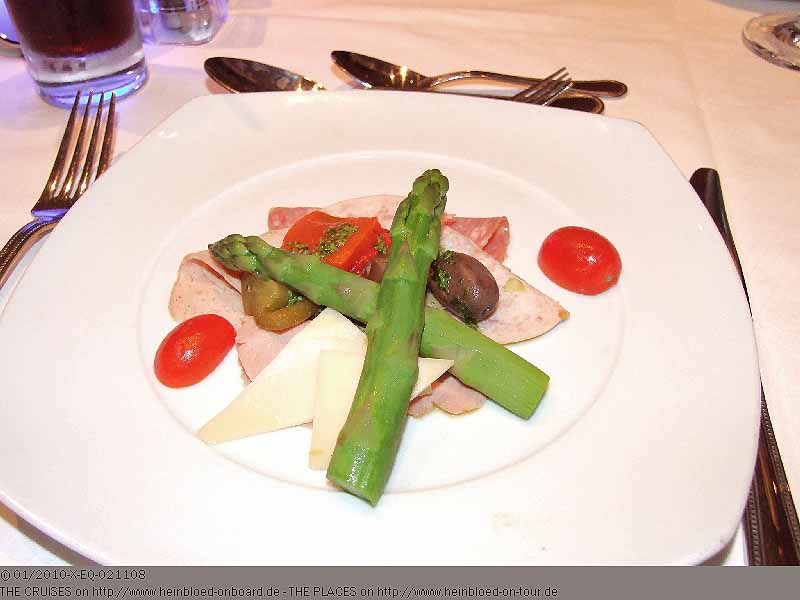 Ich war ja schon durch die Reiseberichte auf den Antipasta-Teller vom Tuscan Grille vorbereitet. Und deswegen hatte ich ihn genommen... Ich war froh, dass ich aufgrund der guten Brotauswahl heute Abend mir ein Brötchen schmieren konnte... Ansonsten stimmt es schon: mit einer klassischen ITALIENISCHEN Antipasta hatte das ganze wenig zu tun...
Als Dessert nehme ich die Apfel-Kaltschale, die eigentich bei den Suppen und Salaten stand, da ich kein klassisches Dessert wollte.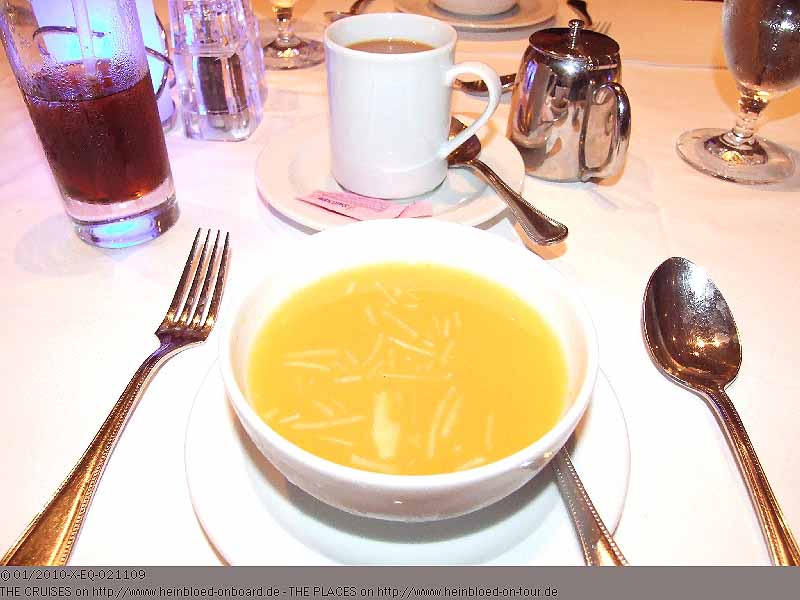 As dessert I took the chilled apple soup which was no part of the dessert menu.

Bruno took the blueberry frozen yoghurt.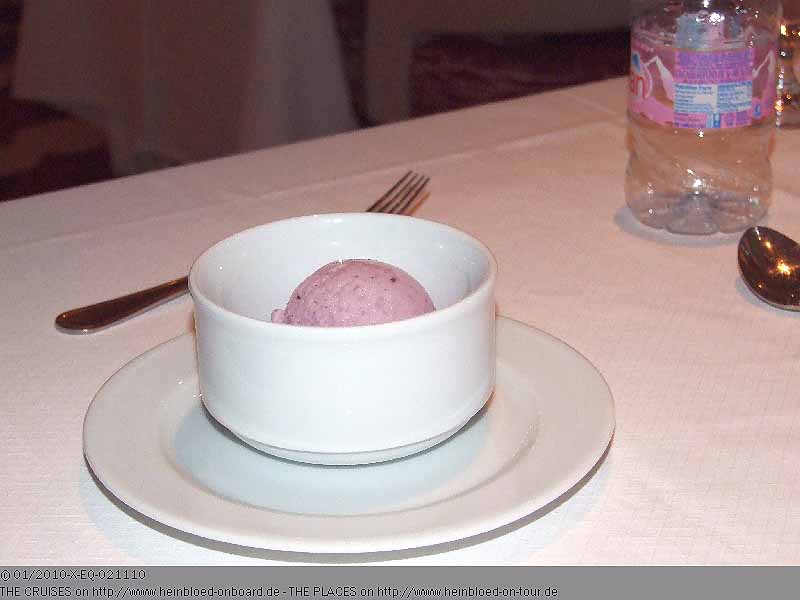 Bruno nimmt den Frozen Joghurt mit Heidelbeergeschmack.
Wir hatten übrigens die Tischreservierung kurzfristig um 30 Minuten vorgezogen, um noch rechtzeitig beim Captain's Toast zu erscheinen. Das war gut so. Wenn man um 20.45 Uhr im Theater sein will, sollte man spätestens um 19.00 Uhr essen gehen.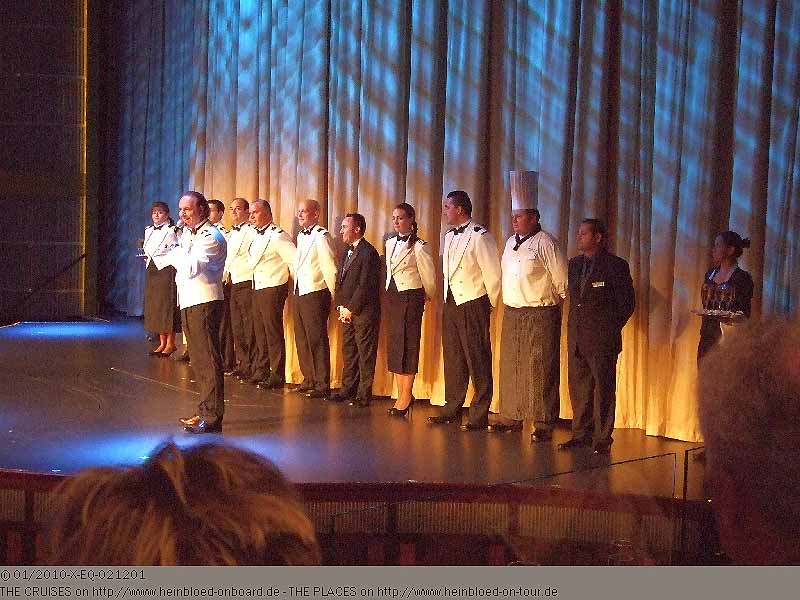 We rescheduled the table booking 30 minutes ahead at short notice to be right on time at the Captain's Toast. This was a good decision. If you need to be 08.45 pm in the theater you better should start your dinner at 07.00 pm.

Hotel Director, Food & Beverage Manager and Cruise Director... Raffaele Bernardini (from Italy), Donald Cameron (from Scotland) and Gary Walker (from England)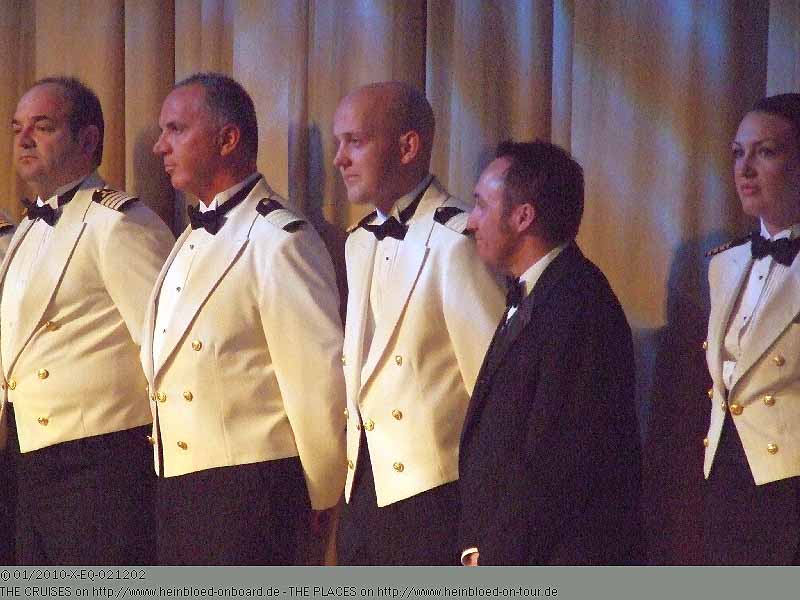 Hoteldirektor, Food und Beverage-Manager und Kreuzfahrtdirektor... Raffaele Bernardini (aus Italien), Doanld Cameron (aus Schottland) und Gary Walker (aus England)
und natürlich der Executive Chef... Steve van der Merwe (aus Südafrika)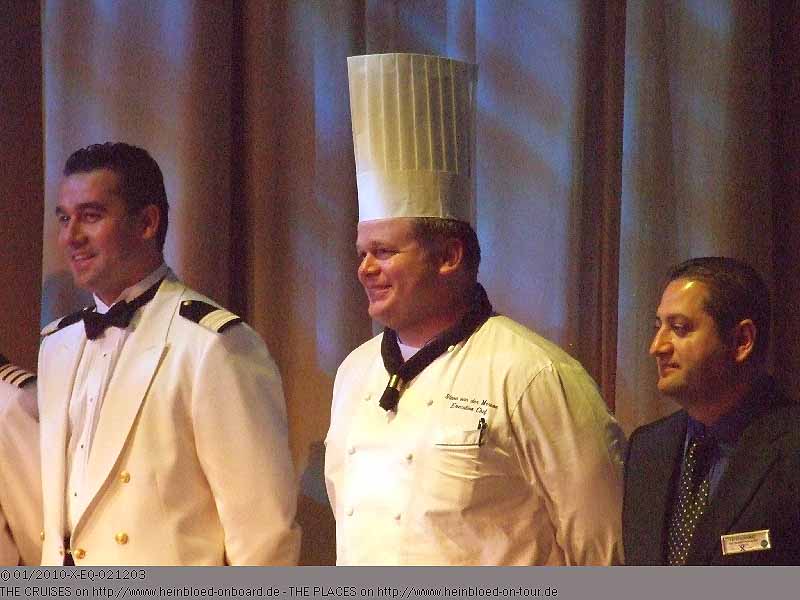 and of course the Executive Chef... Steve van der Merwe (from South Africa)

Every guest got a glass when entering the theater for the toast. But for me there was no anti-alcoholic alternative available. No juice, no water. It reminded me to MSC FANTASIA...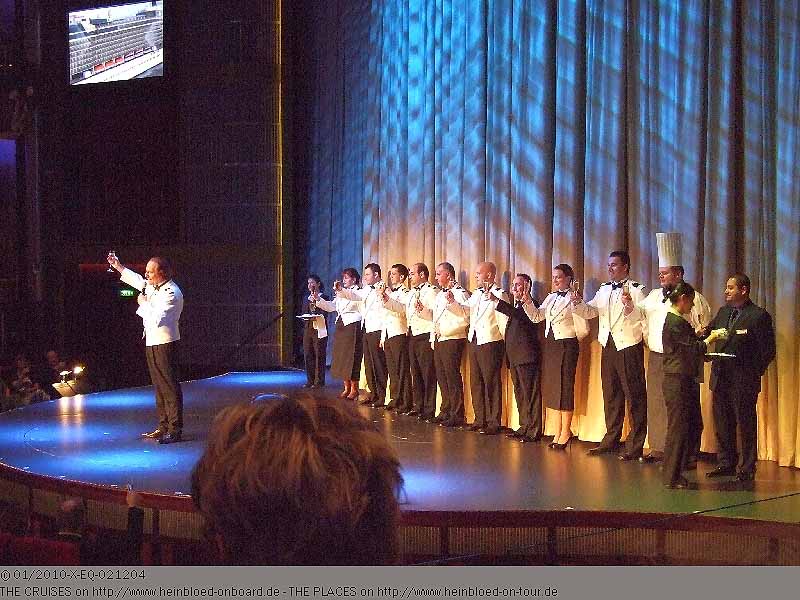 Jeder bekommt ein Glas beim Betreten des Theaters zum Anstoßen. Aber es gab für mich keine anti-alkoholische Alternativen. Kein Saft, kein Wasser. Sind ja schon Zustände wie auf der MSC FANTASIA...
Wer vorne links sitzt, bekommt einen besonderen Service: eine Gebärden-Übersetzerin.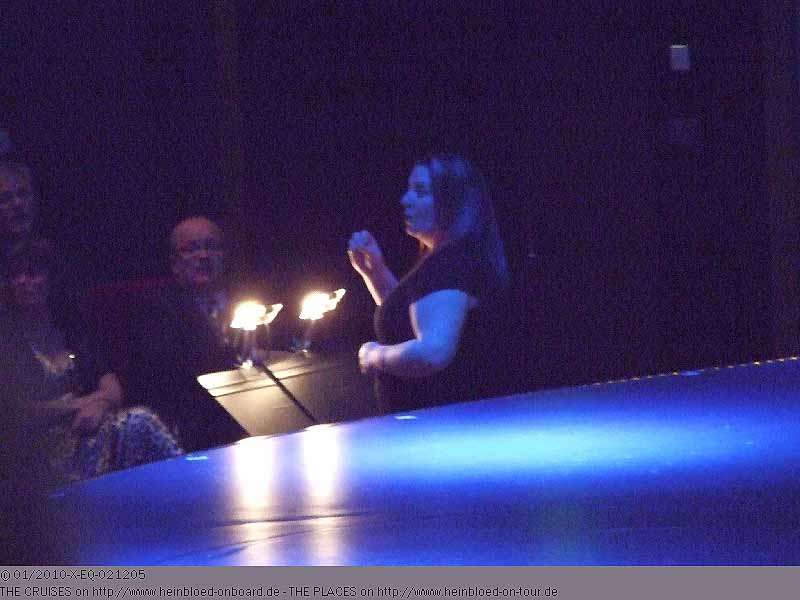 Who sat in left front part of the theater got a special service: Sign language interpretation.

The show was called Limelight and the story is simply told: Last show - everybody is to leave and they decide to sing one more time their favorite songs of the season.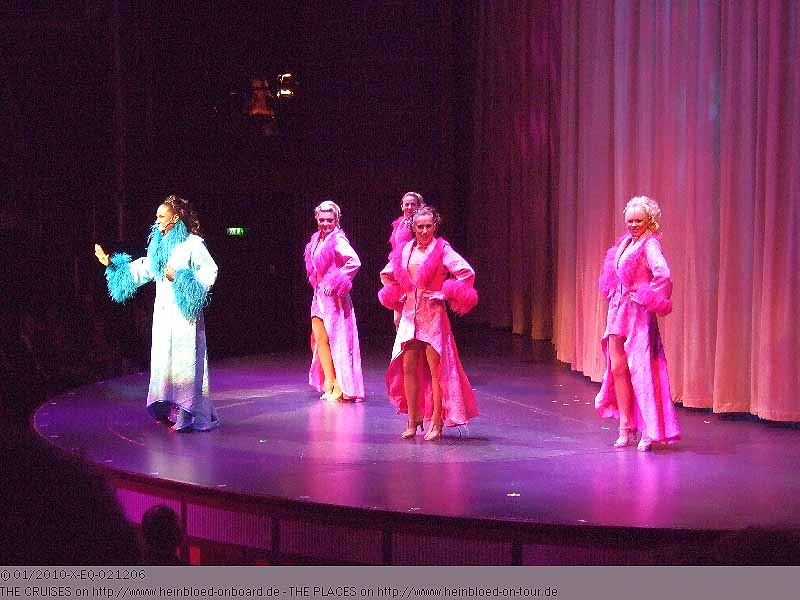 Die Show heißt Limelight und die Rahmenhandlung ist einfach erzählt: Letze Show, alle trennen sich und man beschließt die Lieblingslieder der Saison zu singen.
Es gibt also Dreamgirls...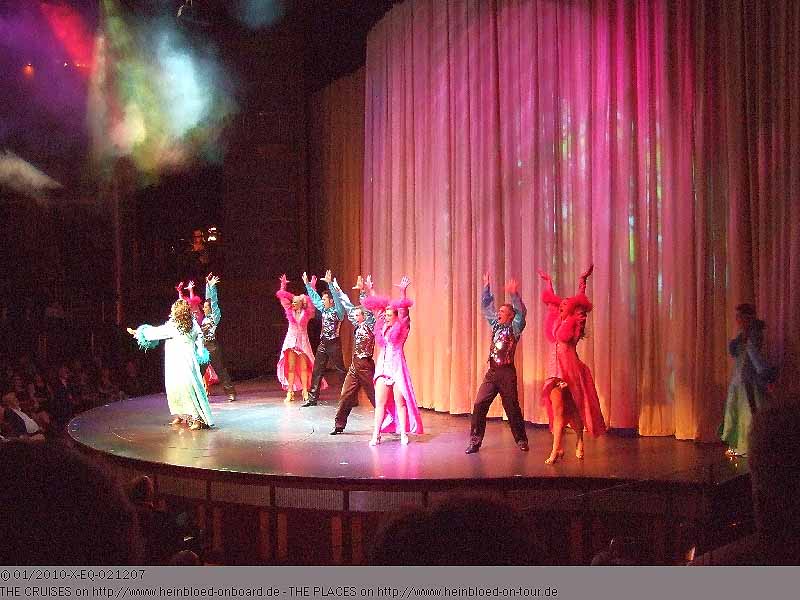 So you have Dreamgirls...

Hairspray, La Cage aux Folles, Chicago and many many more what was well known by everyone.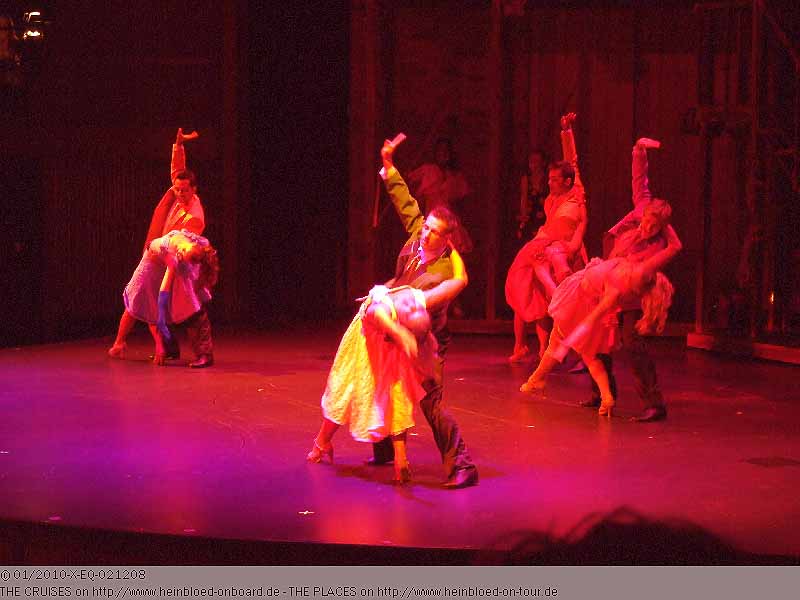 Hairspray, La Cage aux Folles, Chicago und vieles vieles mehr, was jeder kennt.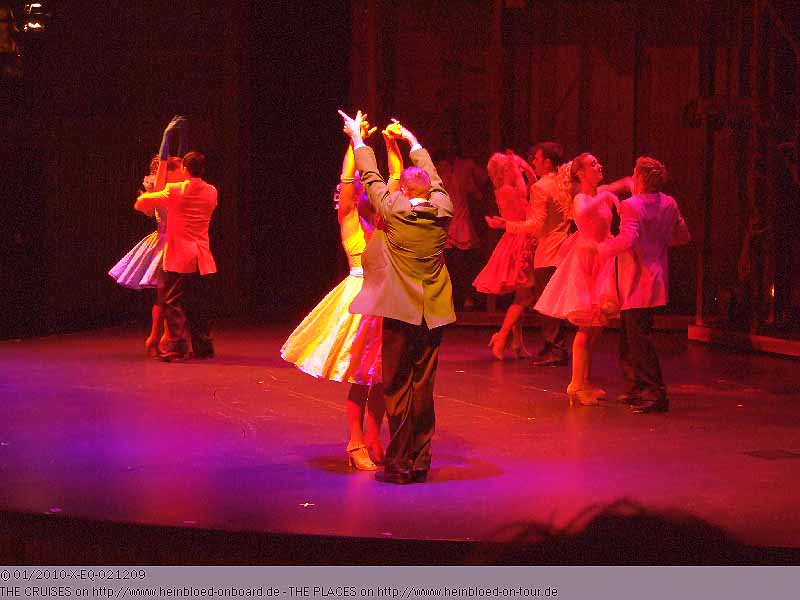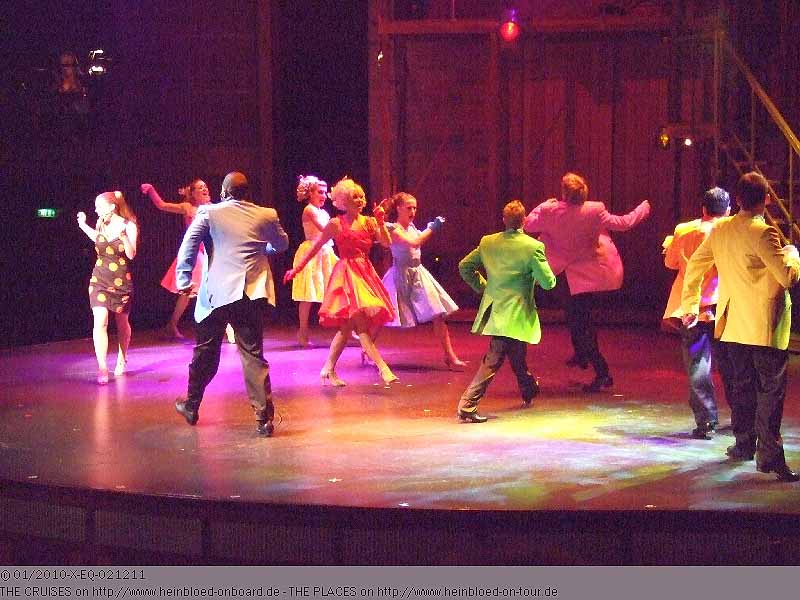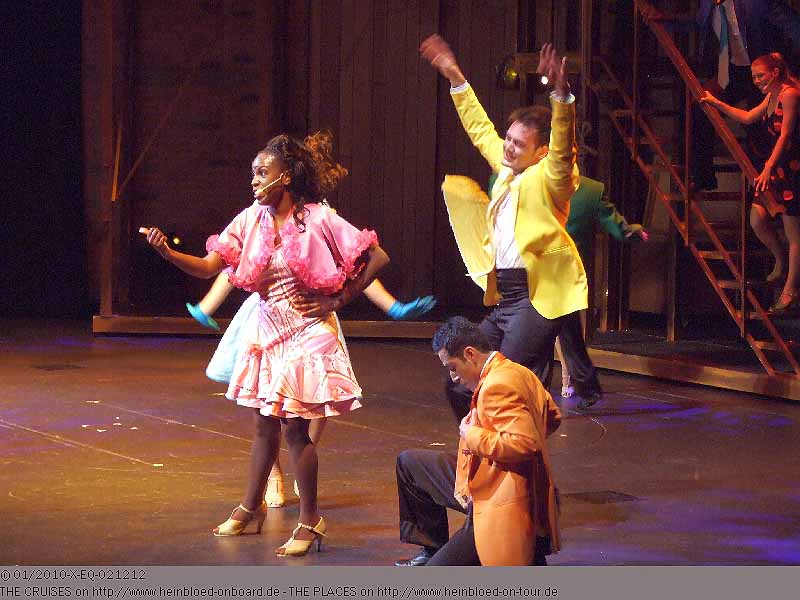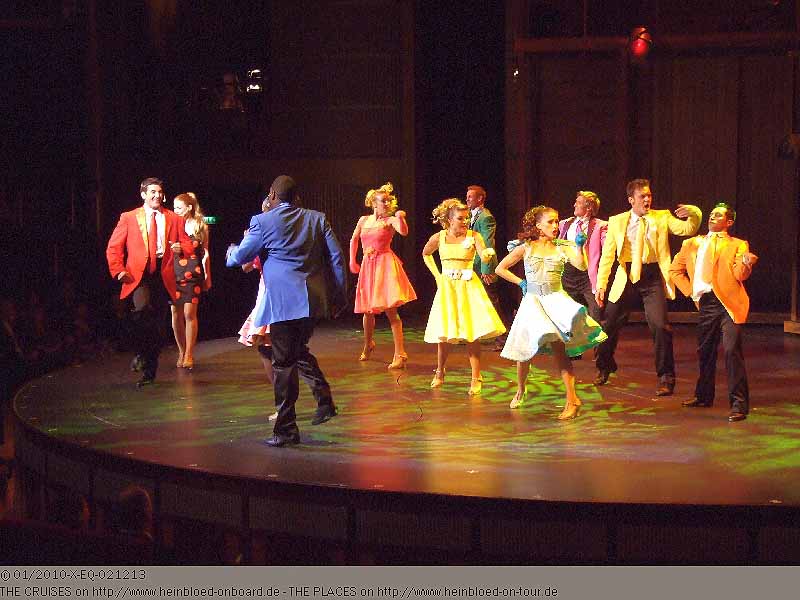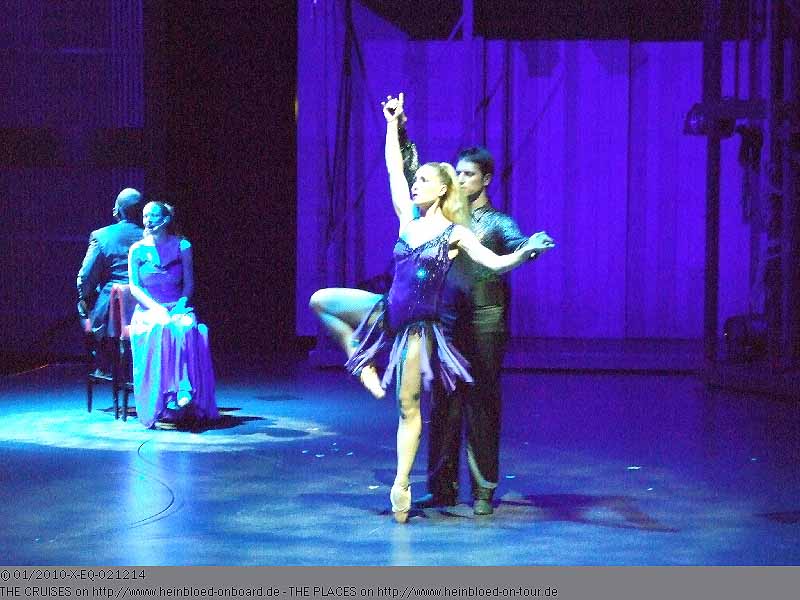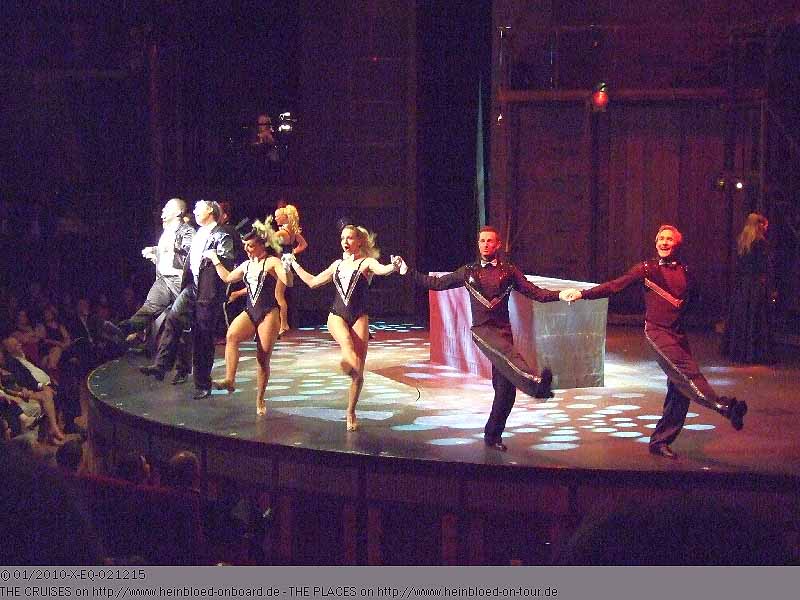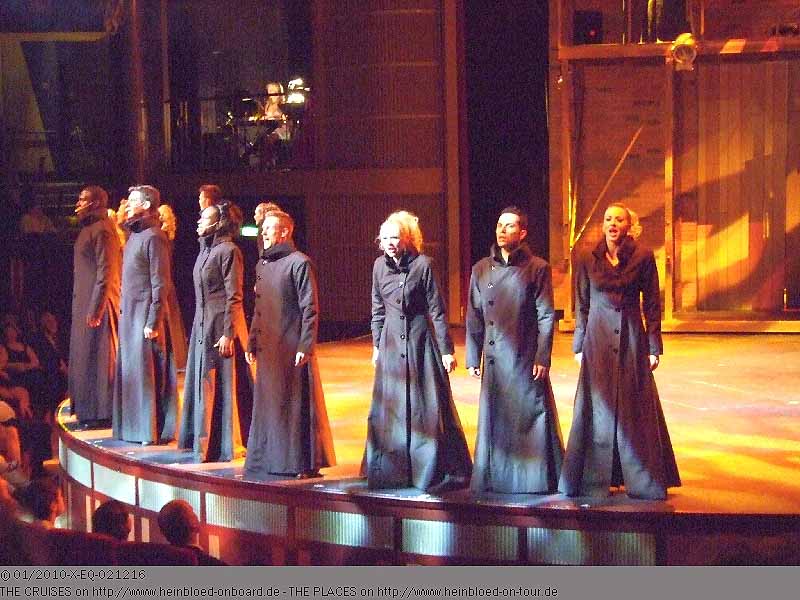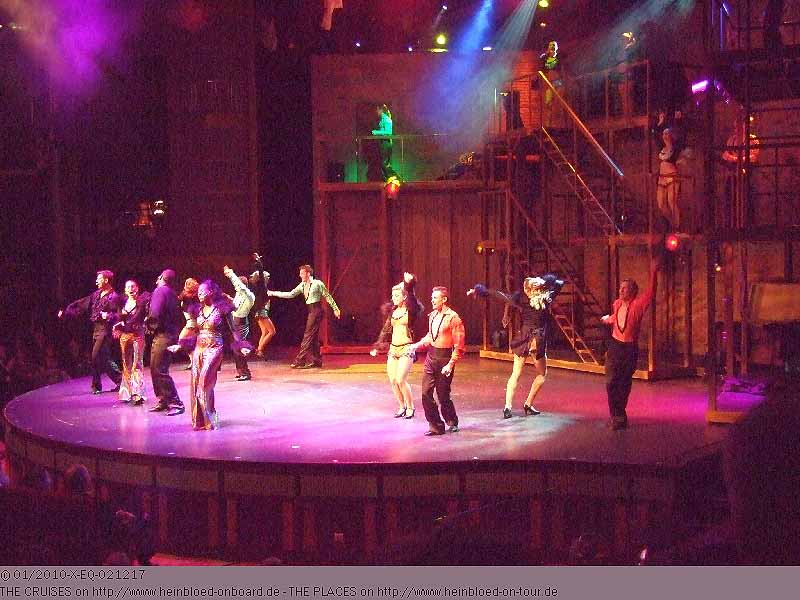 When parts of the dancers and singers ran into the audiance with Mamma Mia everybody was standing up, dancing, singing and screaming. It could be the highlight and the end.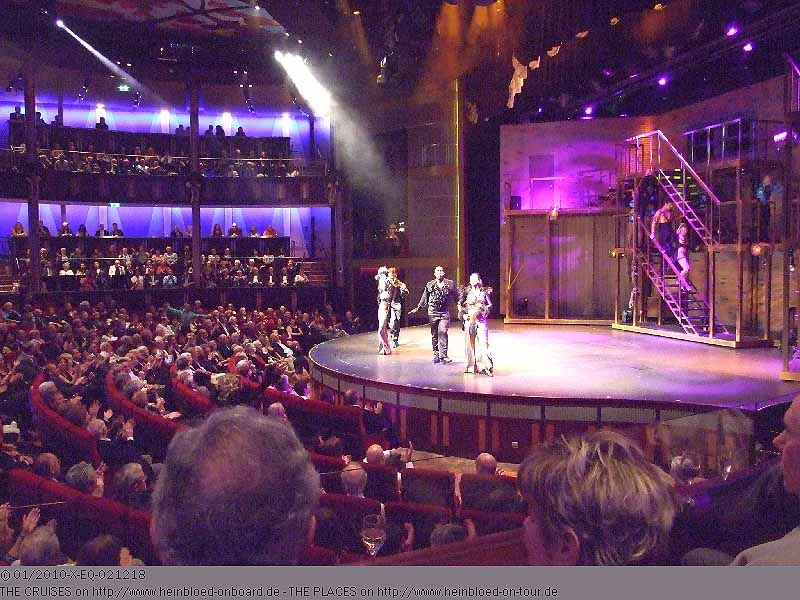 Als bei Mamma Mia ein Teil der Tänzer ins Publikum läuft, tobt natürlich der Bär. Viele stehen auf und tanzen mit. Eigentlich hätte es der krönende Abschluss sein können.
Aber das Finale ist nochmals besser: richtig wie im Zirkus.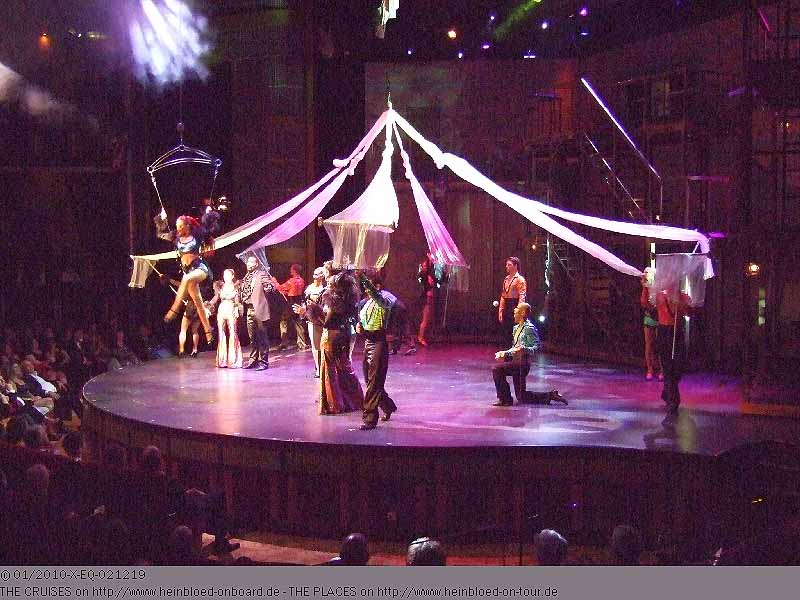 But the finale was much more better like a true circus.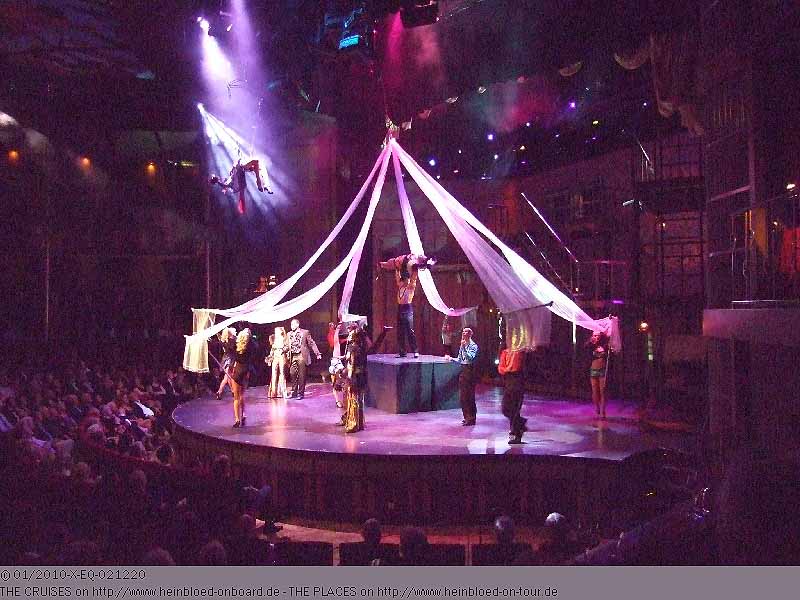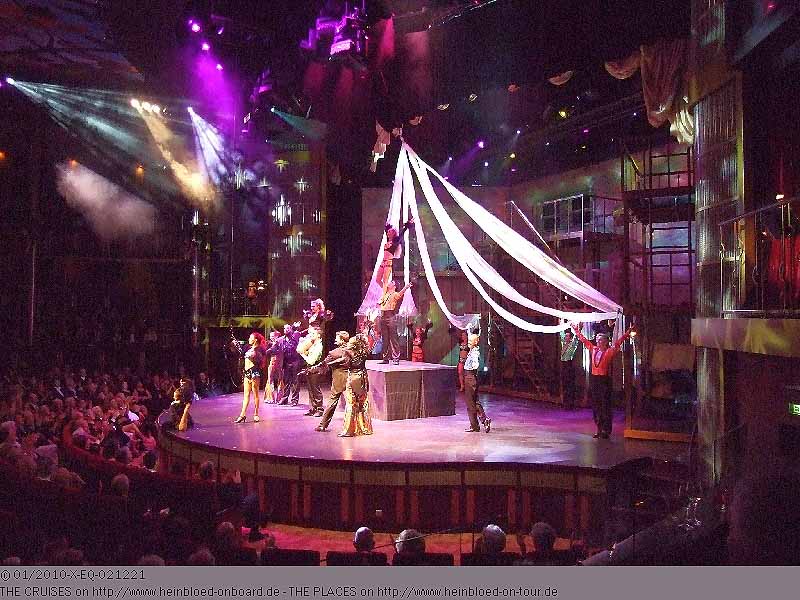 A all-over great and perfect performance if the sound equiment would not had a break down the very last seconds... And if I would have been so tired: I would have seen the 2nd show again...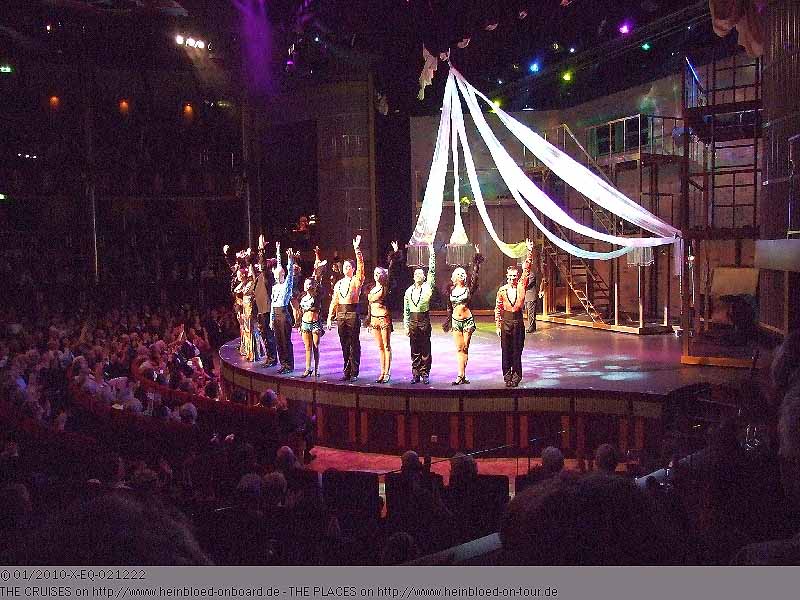 Eine rundum gelungene erstklassige Vorstellung, wenn nicht bei den letzten paar Takten nicht die Mikrofonanlage ausgefallen wäre... Und wenn ich nicht so müde gewesen wäre: ich hätte mir die 2. Show auch nochmals angeguckt.
Auf dem Weg aus dem Theater gab es Acapella-Musik... und auch hier, wenn ich nicht so müde gewesen wäre... Ein sehr schöner Tag geht zu Ende... Wir denken über eine Transatlantik schon mal laut nach...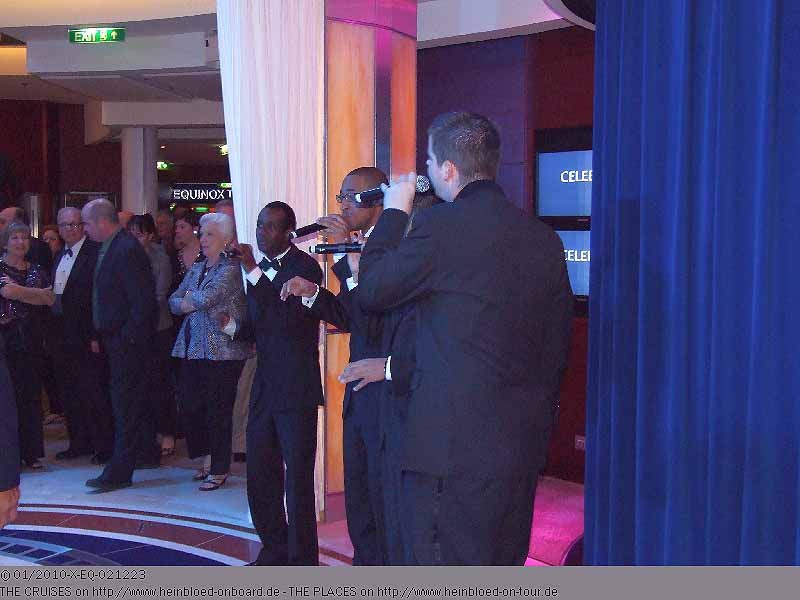 On the way out of the theater there was Acapella-Music available... again: if I would not have been so tired... A wonderful day terminated... It's the first time to think loud of a long transatlantic crossing...