Scroll down for English explanations - alternates with German explanations.

Die vielen Heinzelmännchen an Bord, die auch für uns tätig sind, manchmal sichtbar wie hier und manchmal unsichtbar...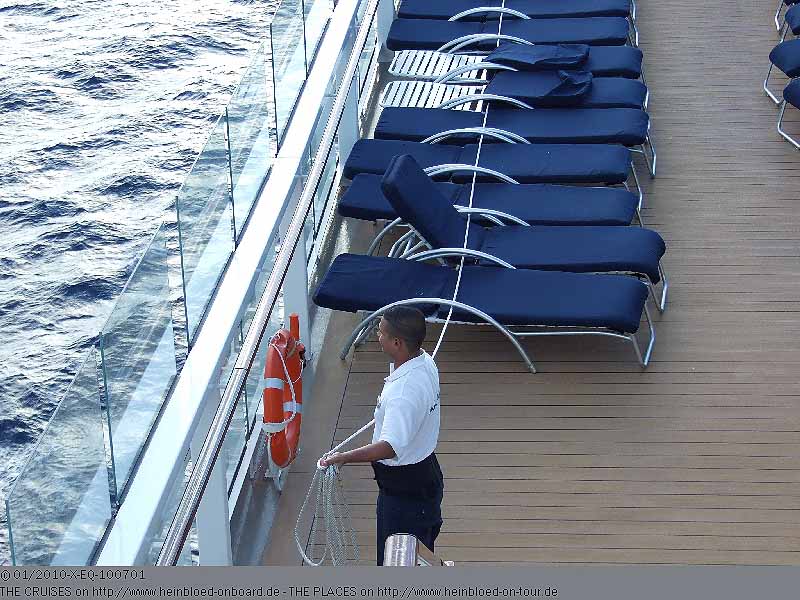 All the good guys who were working for us: some you can see and so many behind the curtains...

The Persian Garden - for Aqua Class and Suiteguests included in the cruise fare. For all others 20 USD per day.

Der Persian Garden - für Aqua Class- und Suitengäste im Preis inbegriffen. Für alle anderen 20 USD pro Tag.
Ich war schon sehr gespannt.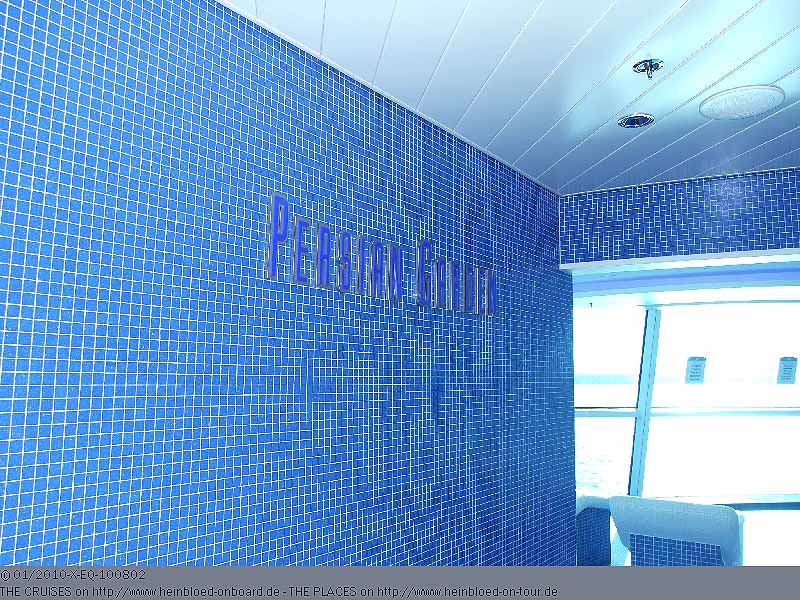 I was very curious.

... but then I was somehow disappointed as there were...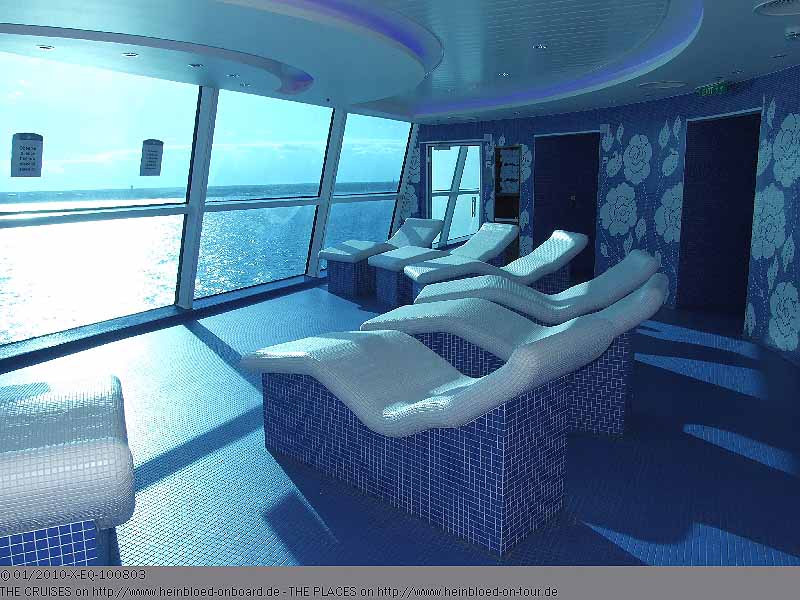 ... und dann irgendwie enttäuscht: das war es nämlich...
Neun Liegen...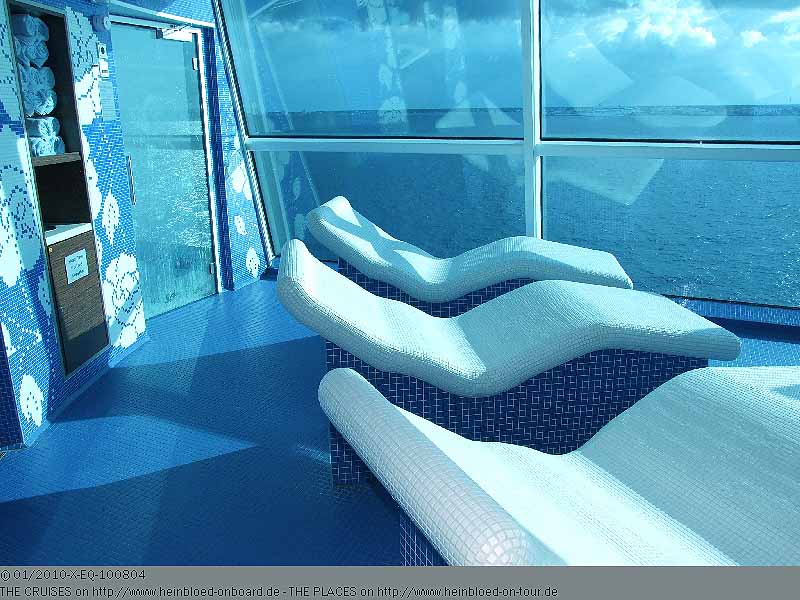 nine sun loungers...

and two steam bathes - each one for ladies and gentlemen.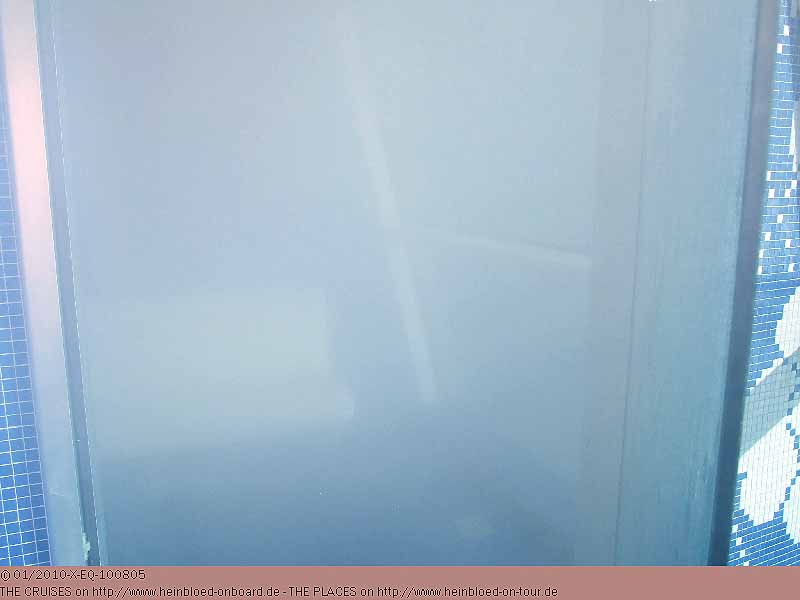 und je ein Dampfbad für Damen und Herren.
Ich könnte mir vorstellen, dass es an einem Seetag hier ziemlich voll ist. Die Umkleidekabinen und die Saunen befinden sich außerhalb.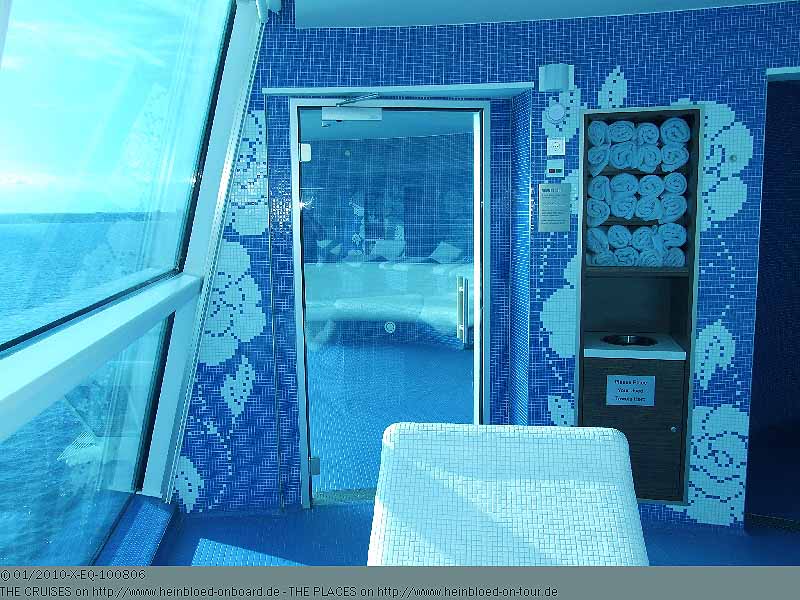 I could imagine it should be quite busy here on days on sea. Changing rooms and saunas were outside.

So I liked the spa area on NORWEGIAN GEM more.

Schade: da liegt die NORWEGIAN GEM doch vorne mit ihrem Spa-Bereich...
Ich will endlich an Land... vor uns liegt Cozumel.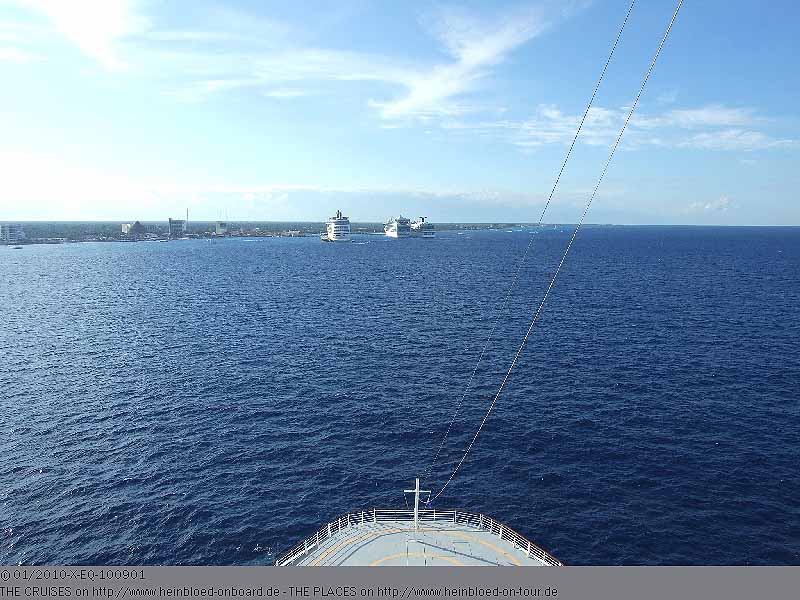 I wanted to go ashore... there was Cozumel.

No - this should be the day of the ships which I did not have in good memories. Could not it be the ADVENTURE OF THE SEAS which I had no photos of. But it came like it came: NAVIGATOR OF THE SEAS...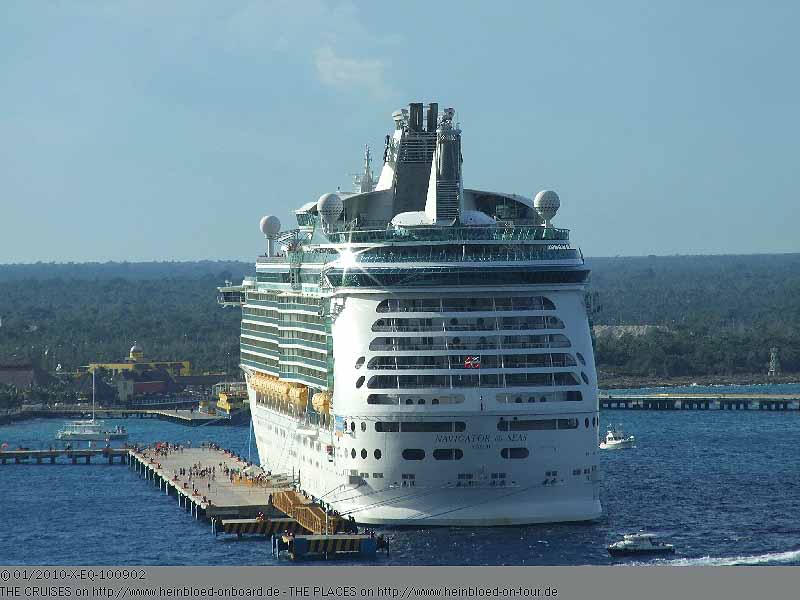 Nein - das ist wohl der Tag der Schiffe, die wir nicht so in guter Erinnerung haben. Hätte es nicht die ADVENTURE OF THE SEAS sein können, die ich noch nicht vor der Kamera hatte... nein - es ist wie es kommen musste: NAVIGATOR OF THE SEAS...
Vielleicht ist es ja auch ein Zeichen, dass ich es nochmals versuchen soll, aber so blöd, wie RCI Miami reagiert hat, die nächste Zeit sicherlich nicht.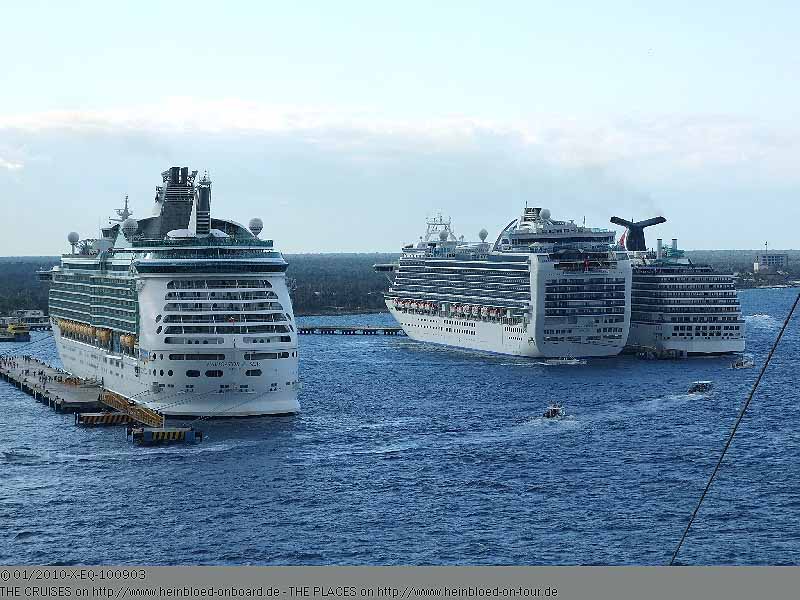 Maybe it was again a sign that I should try it again but due to RCI Miami's reaction definately not so soon.

As I was a shipspotter I took so many pictures of her.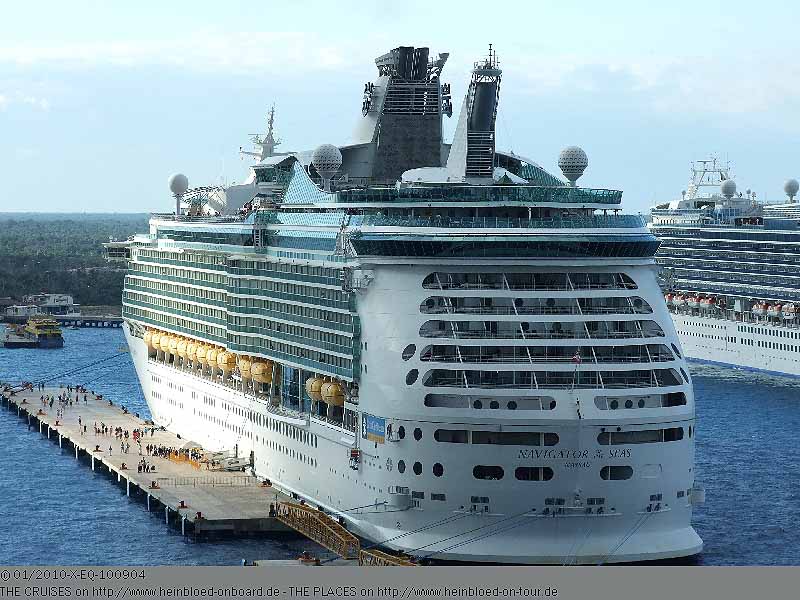 Als Shipspotter wird natürlich trotzdem fotografiert.
Wieso kann sie nicht dort liegen, wo die CARNIVAL LEGEND liegt und die CARNIVAL LEGEND, wo wir anlegen sollen. Das wäre perfekt gewesen.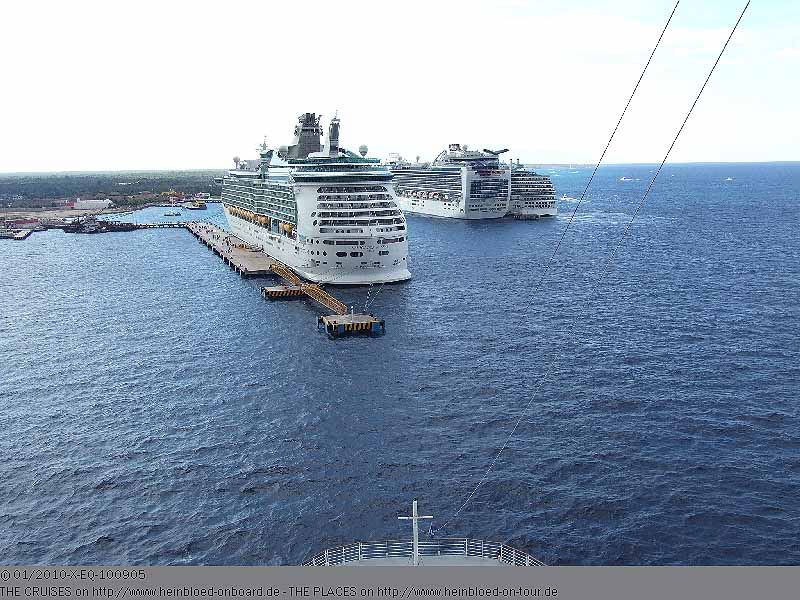 Why cannot she be at the berth where CARNIVAL LEGEND was and CARNIVAL LEGEND here... That would have been totally perfect for me.

Another ship was approaching... blue funnel: MSC or NCL???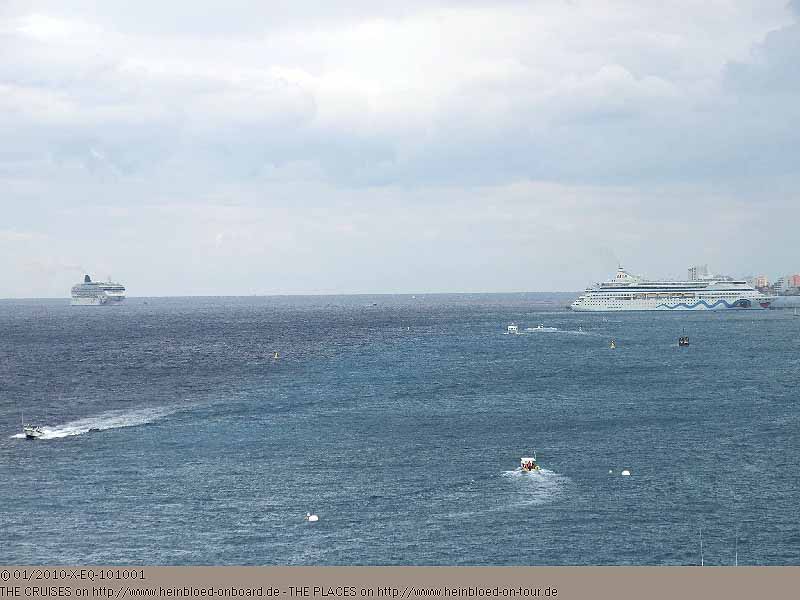 Hinten kommt noch ein Schiff... blauer Schornstein: MSC oder NCL???
Sieht nach der NORWEGIAN DAWN aus.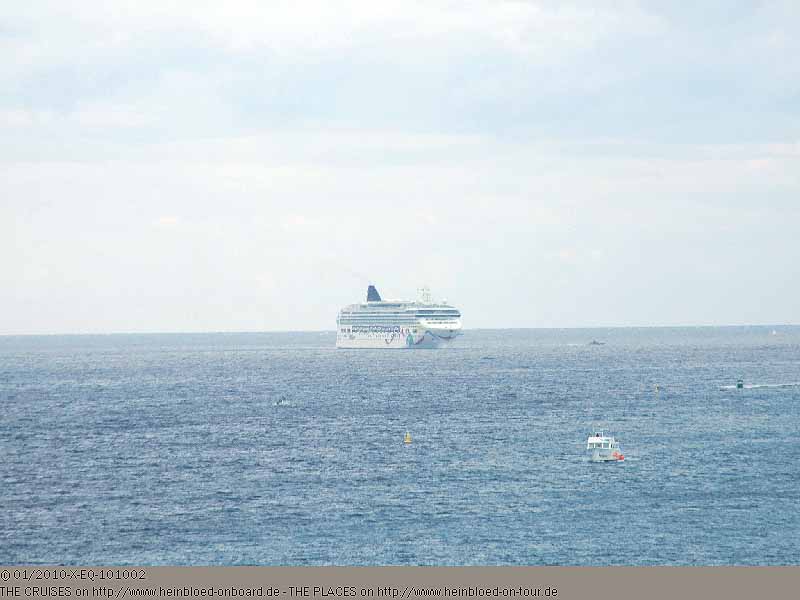 Looked like NORWEGIAN DAWN.

There were requests how to use the ATM onboard. Therefore you do not find a translation for this part. Just for the German reading fans as there are no instructions in German on the ATM.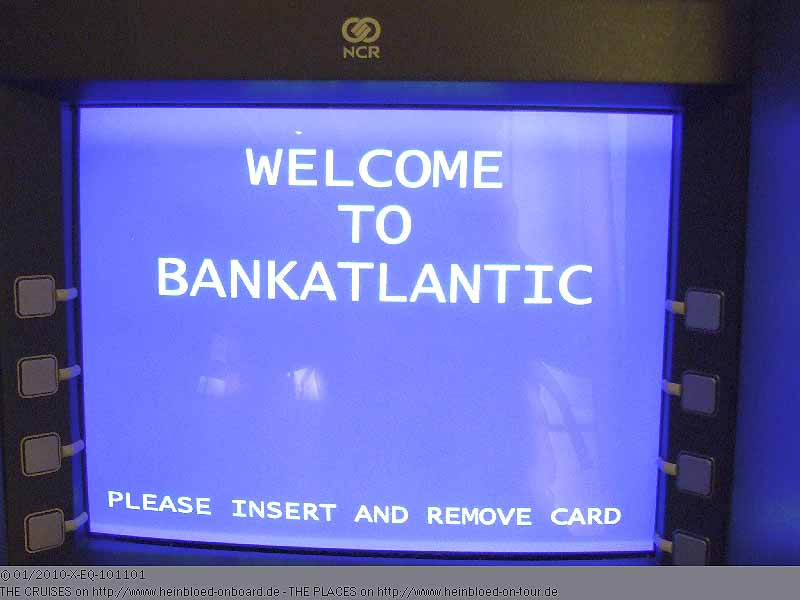 Es gab eine E-Mail-Anfrage wegen der Geldautomaten. Ja - die normale maestro-Karte (ehemals EC-Karte) wird angenommen. Die Bedienung erfolgt aber nicht wie in Deutschland. Karte reinstecken und gleich wieder rausziehen.
Leider gibt es keine deutsche Menüführung. Daher auf Englisch.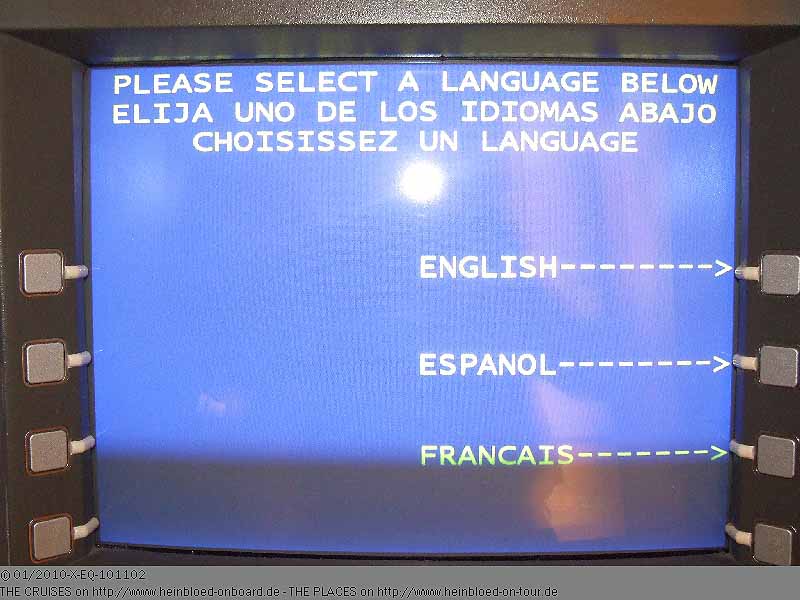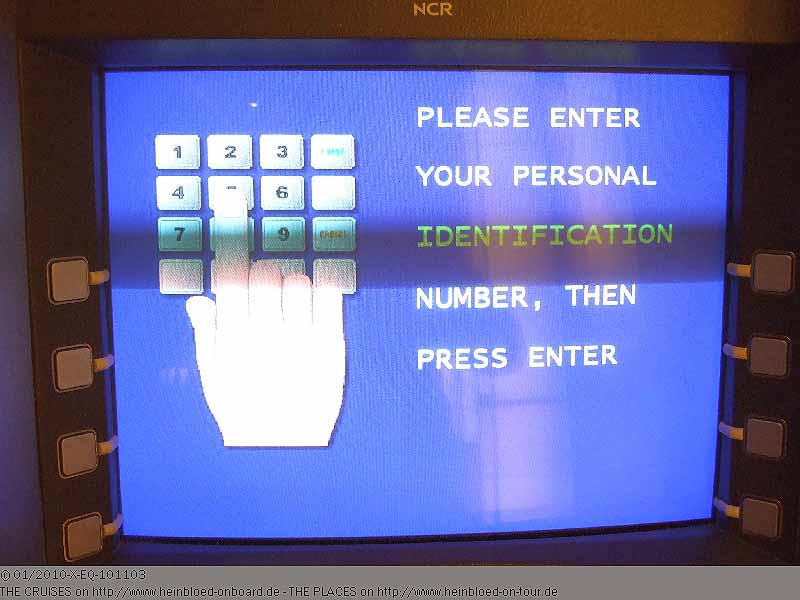 Geheimzahl eingeben und mit "ENTER" (in grün) bestätigen.
Wenn du nur 60 USD willst: einfach Fast Cash drücken - aber da es bestimmt bei deiner Bank eine Fixgebühr gibt, wird es sich vielleicht nicht rechnen: ansonsten WITHDRAWAL drücken.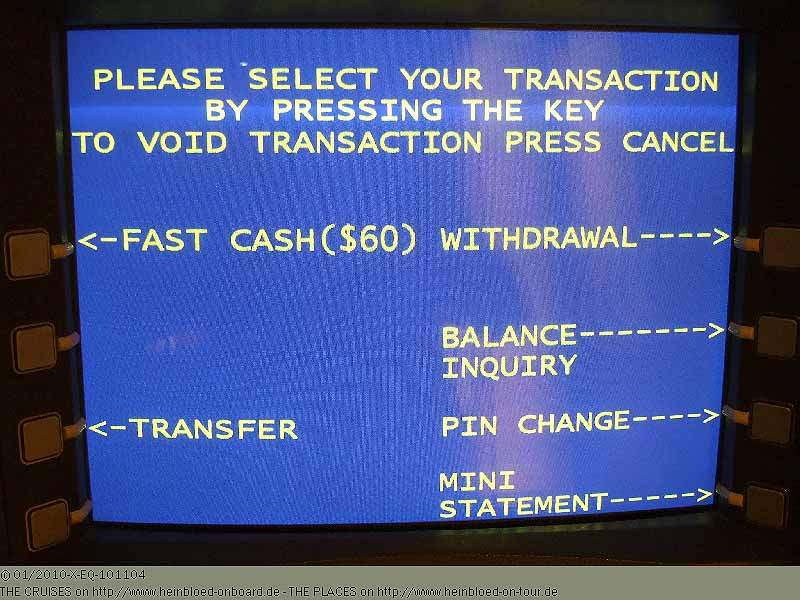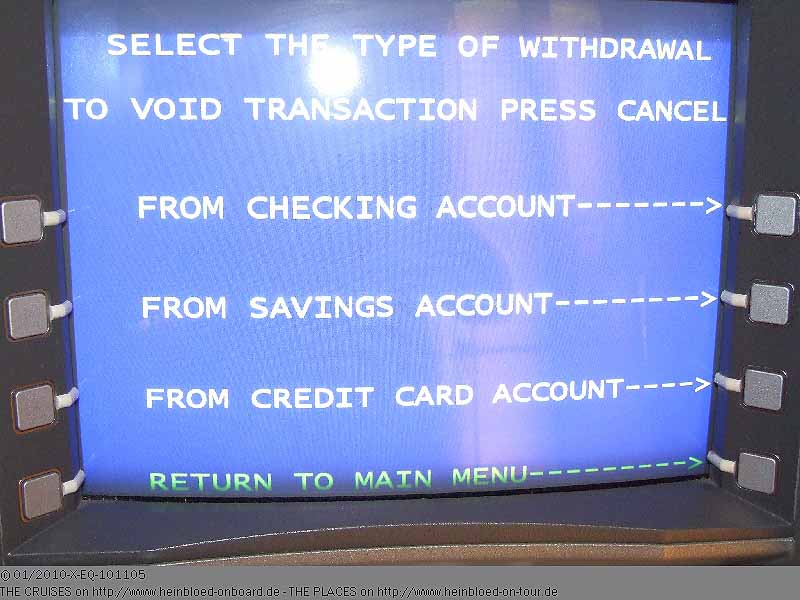 Auch wenn es die maestro-Karte ist und eigentlich ein "checking account" im engeren Sinne wäre: auf "From Credit Card Account" drücken.
Betrag oder "other amount" (anderer Betrag (muss durch 20 teilbar sein)) drücken.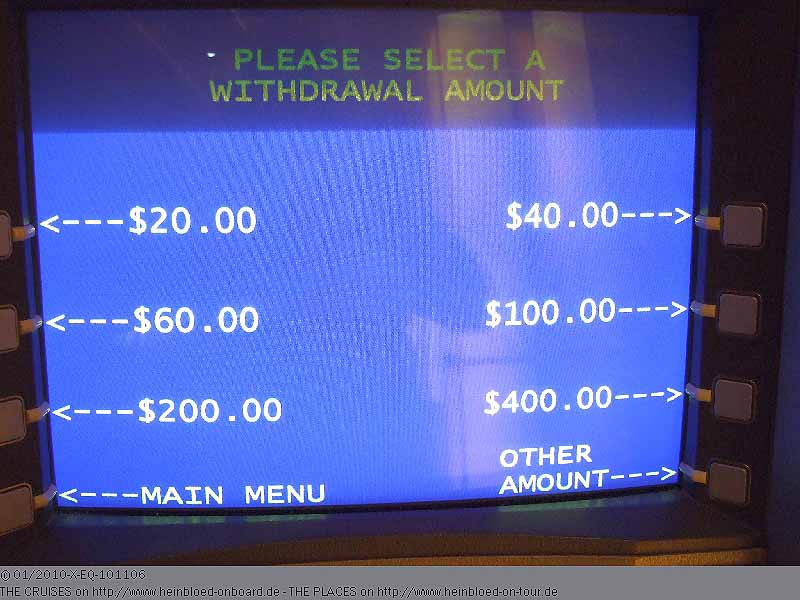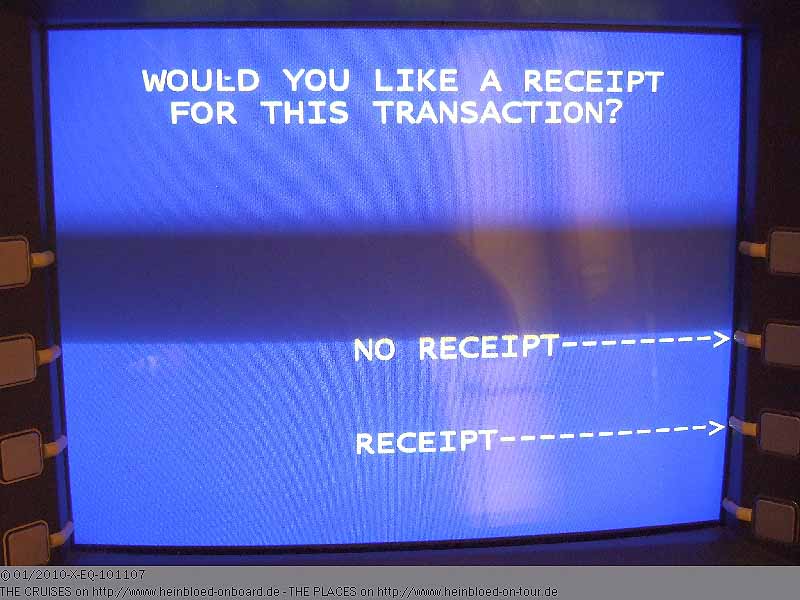 No receipt (kein Beleg) oder Receipt (Beleg) drücken.
Die US-Bank stellt für die Nutzung des Geldautomaten eine Zusatzgebühr in Höhe von 6 USD in Rechnung. Entweder du akzeptierst sie und bekommst das Geld "To accept fee and continue" oder eben nicht... "To cancel, without fee". Ein Automat steht neben der Rezeption und einer am Casino.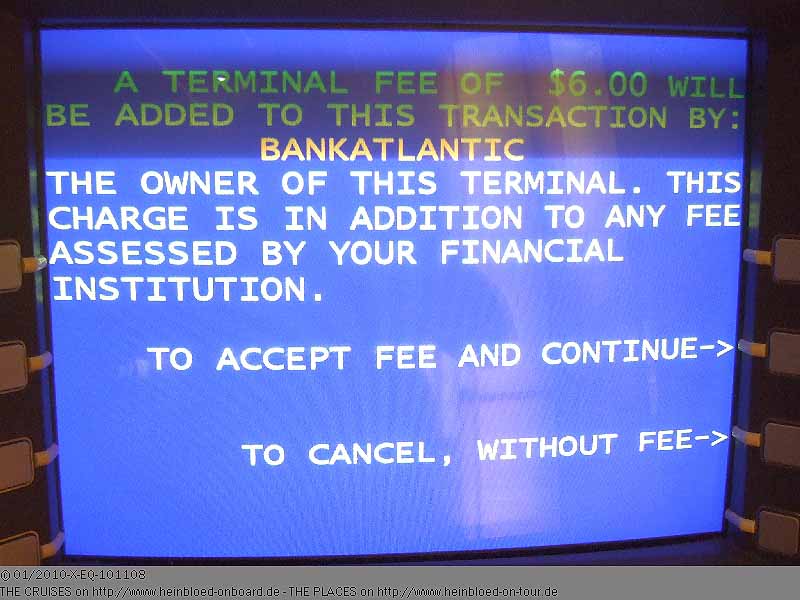 Also important for all of you: they charge 6 USD for the use of the ATM.

We were at the International Cruise Terminal... how would be the name of the other one???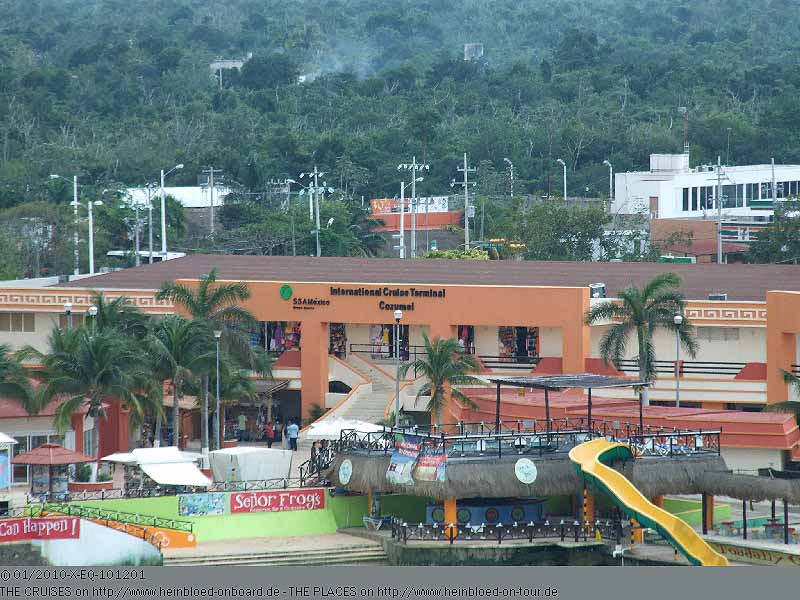 Wir sind also am International Cruise Terminal... wie mag wohl der andere heißen???
An diesem Pier nebenan legen wohl auch ein paar Ausflugsboote ab, die die Passagiere von den Kreuzfahrtschiffen aufnehmen.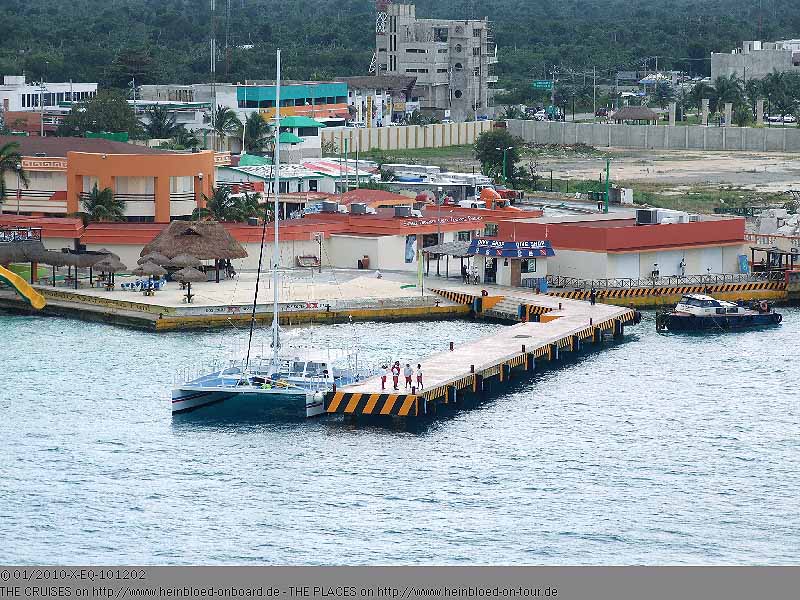 Next to us there was this pier for the excursions boats for the ship's tours.

Here was an information booth avaiable which was unattendant.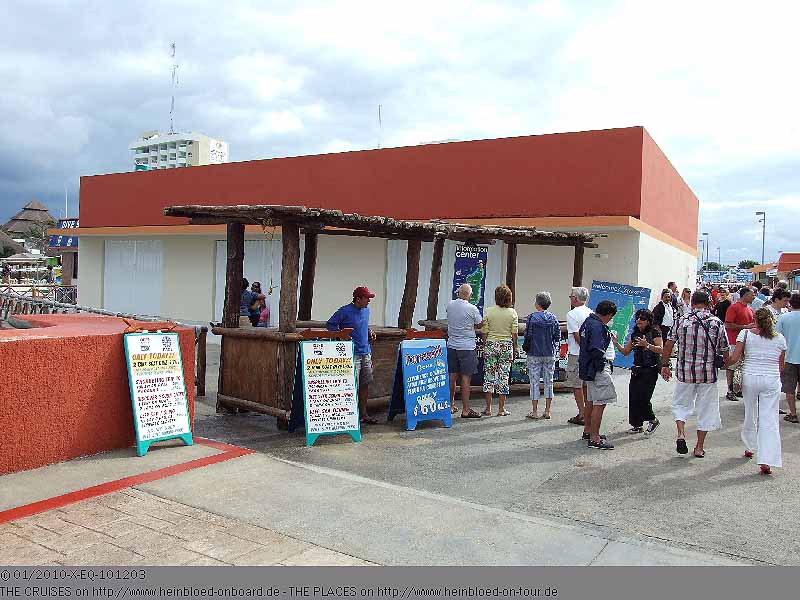 Hier gibt es einen Infostand, der leider unbesetzt war.
Die üblichen Tourangebote.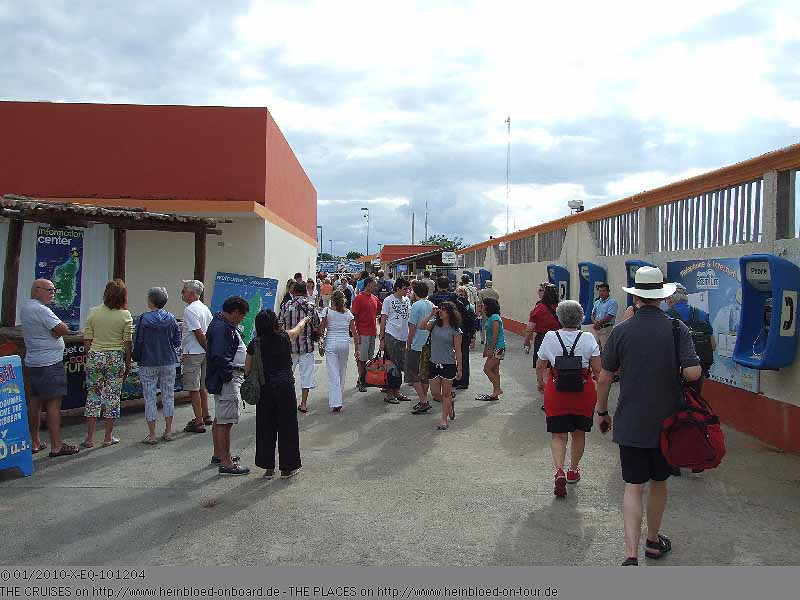 The usual tour offers.

Maybe you should grab this map.

Vielleicht sollte ich diese Karte mitnehmen...
Scheint alles ein wenig verwinkelter zu sein.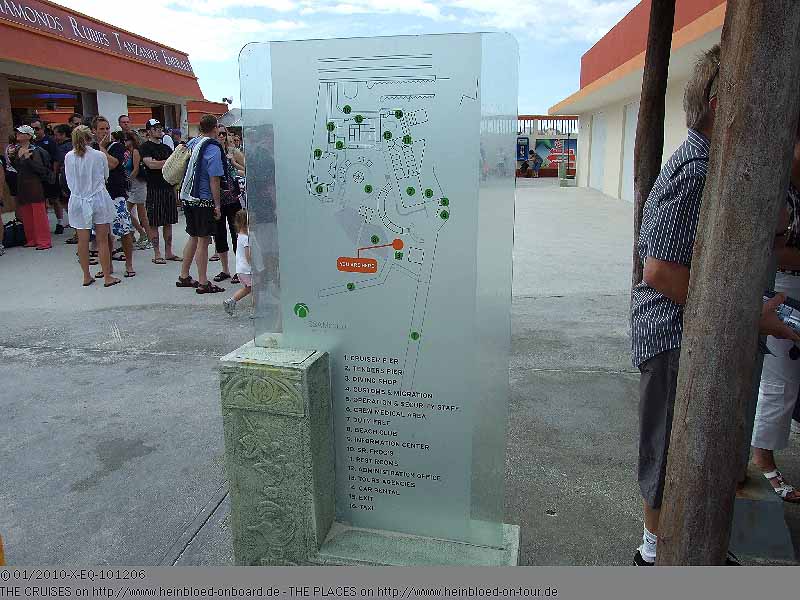 Looked like a village with little narrow alleys.

A nice view but we were pushed to get to the ferry.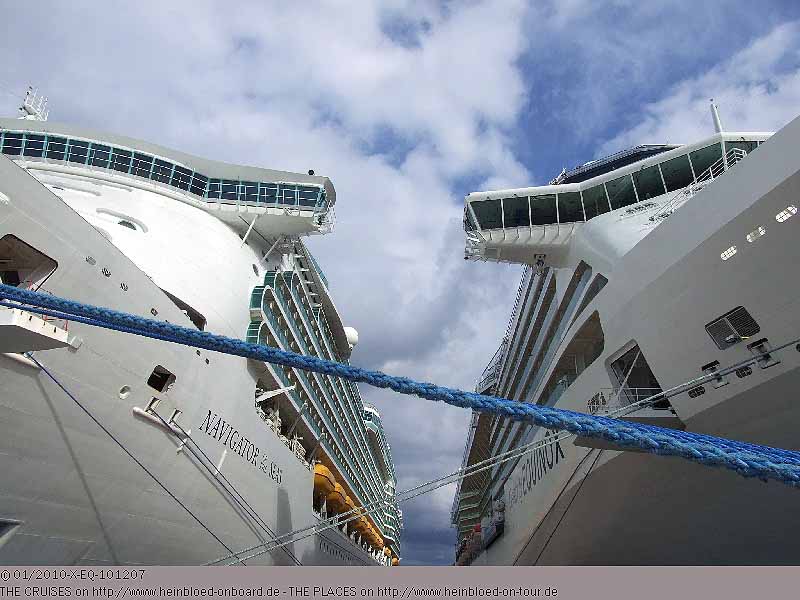 Ein schöner Anblick, aber ich werde getrieben, dass ich zur Fähre komme.
Bestimmt ergibt sich bei der Rückkehr eine Gelegenheit schöne Aufnahmen der Schiffe zu machen.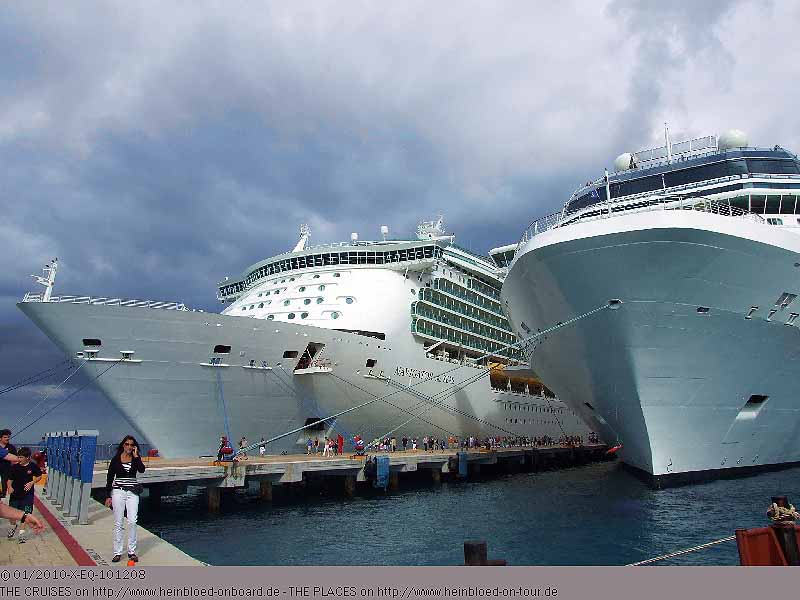 I should have a chance once we are back to take some more nice pictures of the ships.