Scroll down for English explanations - alternates with German explanations.

Sicherheitshalber rufe ich mal bei Gaby an, weil ich nicht weiss, ob der Ausflug überhaupt bei dem stattfindet. Wir haben sind über egyptnic (Nicole und Harald) mit ihr in Kontakt gekommen. Auf ihrer Homepage
https://cahuita.npage.com
kann man sich über ihr Angebot informieren.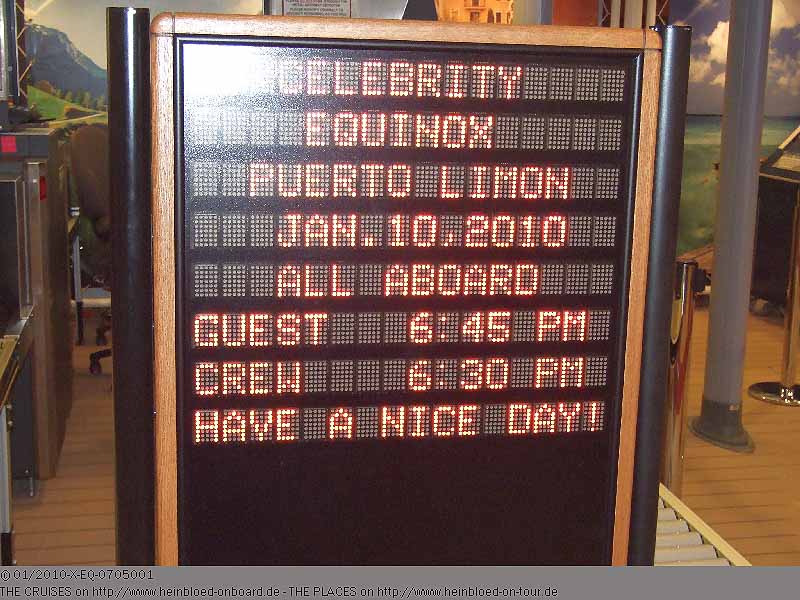 To make sure I just called Gaby if the tour will start due to this weather. We knew her from egyptnic (Nicole and Harald). You can check her website https://cahuita.npage.com. Currently her website is in German. The English version is under construction. But she also offers tours in English.

As Gaby is a small operator she was not allowed to enter the port area. So we need to get outside where she waited for us. Because it was raining dog and cats and due to her draft CELEBRITY EQUINOX could not berth at the cruise ship quay the walk to the exit was extremely long. A shuttle was not offered by port or ship. When we walked back to the ship there were taxi which returned from tours who offer for 1 USD a shuttle service. Whenever you mention Gaby's name you was directed to the exit to fid her.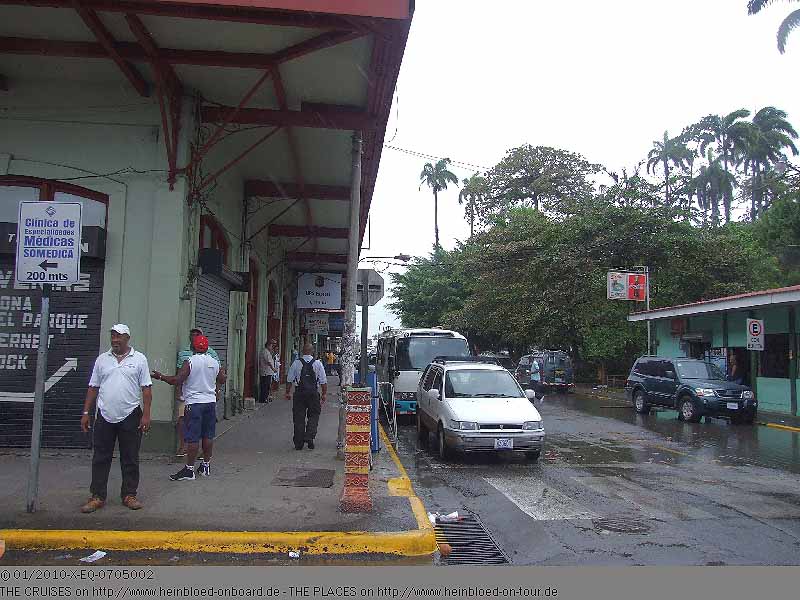 Da Gaby als kleine Veranstalterin nicht in den Hafen einfahren darf, müssen wir nach draußen, wo wir von ihr erwartet werden. Nur heute ist der lange Marsch ärgerlich, weil es in Strömen regnet und die CELEBRITY EQUINOX wegen ihres Tiefgangs nicht am Kai Kreuzfahrtschiffe angelegt hat und die Wege besonders lange sind. Ein Shuttle wurde ja hafen- oder schiffsseitig nicht angeboten. Als wir zum Schiff zurückwollen, gibt es allerdings von den Taxen, die von ihren Touren zurück sind, ein Angebot für 1 USD zum Schiff gebracht zu werden. Zu Gaby werden wir durchgewunken, sobald wir ihren Namen erwähnen und den Weg zu ihr suchen.
Der Bus ist von Charlie Soto, mit dem die anderen cruisecritic.com-Mitglieder gebucht haben. Ich denke mir zunächst nichts dabei, weil Gaby vielleicht dort den Bus bestellt hat.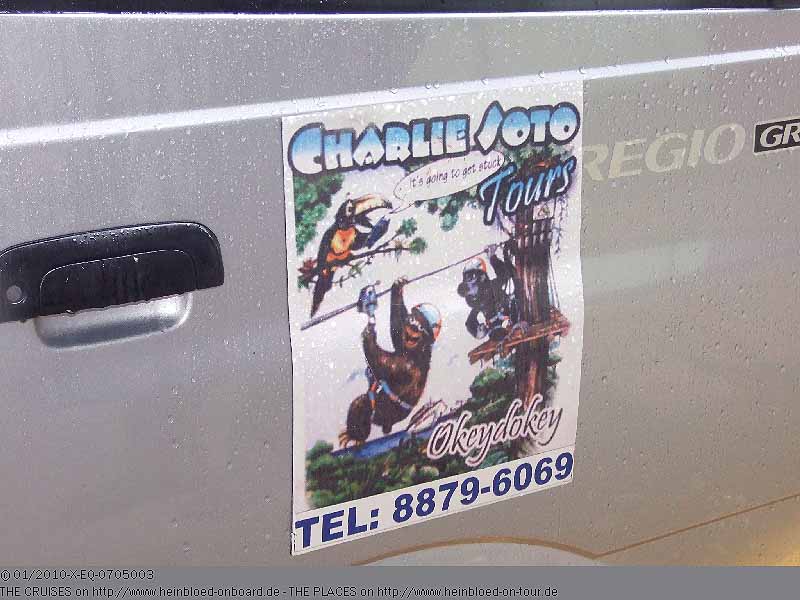 That was Charlie Soto's bus. Other cruisecritic.com-members booked a tour with him. I did not take too much attention as Gaby might charter the bus from them.

But then the bus driver asked what we were doing in his bus... I have not entered yet so far...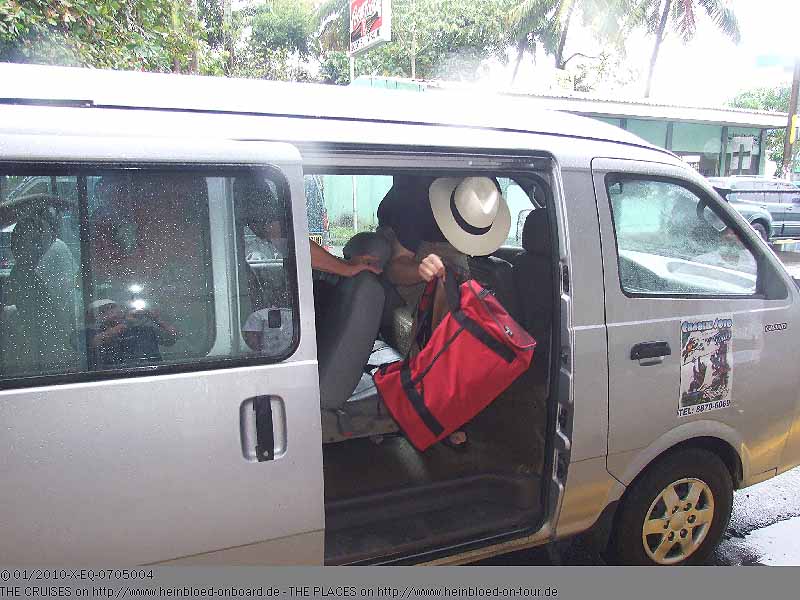 Aber irgendwann fragt der Fahrer, was wir eigentlich in seinem Bus machen... Zum Glück war ich noch nicht eingestiegen...
O. K. wollen wir mal sagen... von der Form her, hätte man es sicherlich verwechseln können... war ja auch ein Mini-Bus...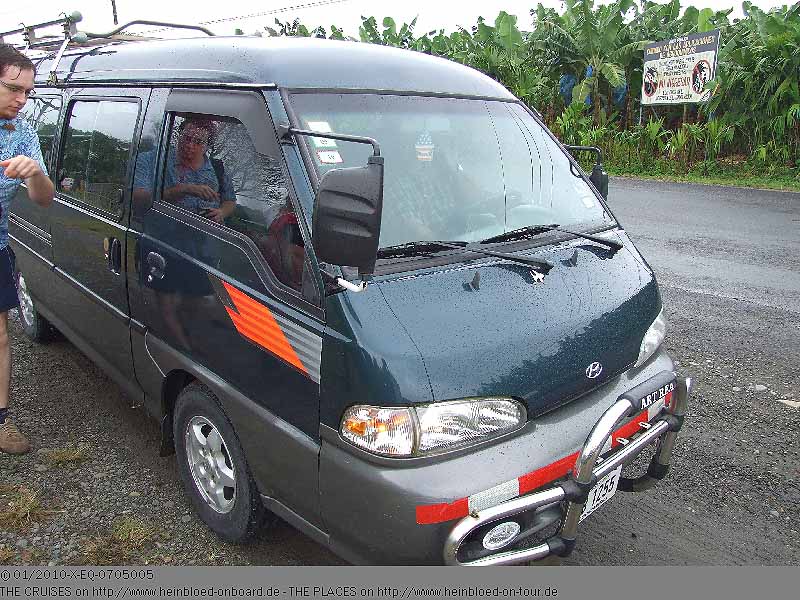 O. K. Let us say it this way... the shape might be very similiar so you can mix up the buses... it was a mini-bus as well somehow...

The first point was a Chiquita banana-plantage.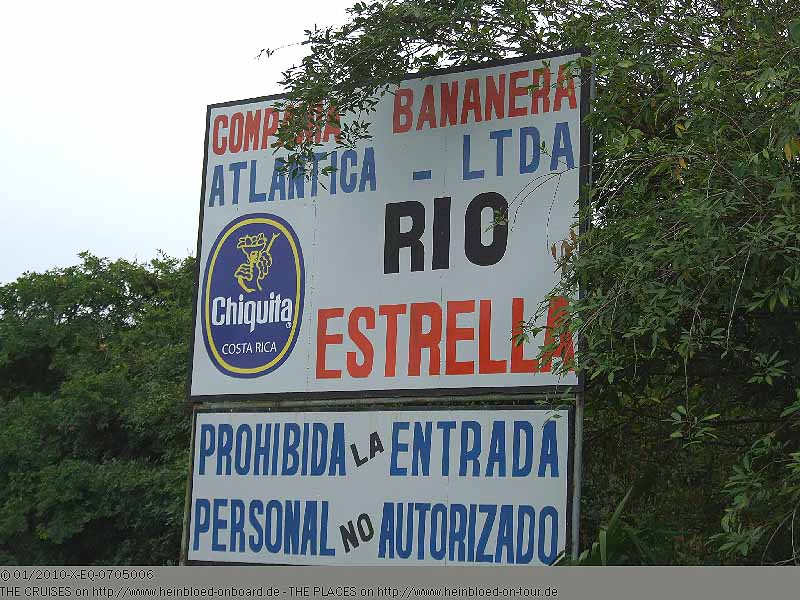 Zunächst geht es zu einer Chiquita Bananen-Plantage.
Allerdings wird der Aufenthalt hier nicht empfohlen, wenn hier gespritzt wird.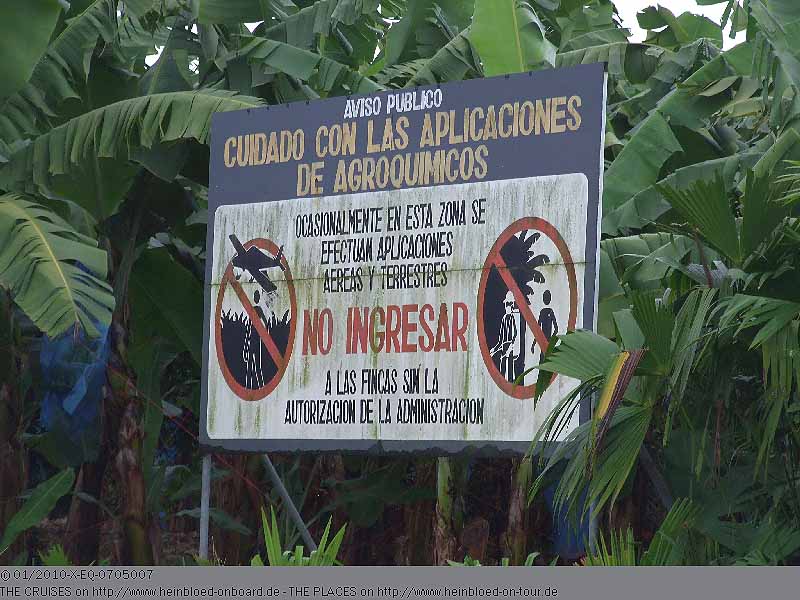 But a stay was not recommended if they were spraying.

Gaby helped us to get closer to the ecology and economy of the country. And the consequeces for environement and men.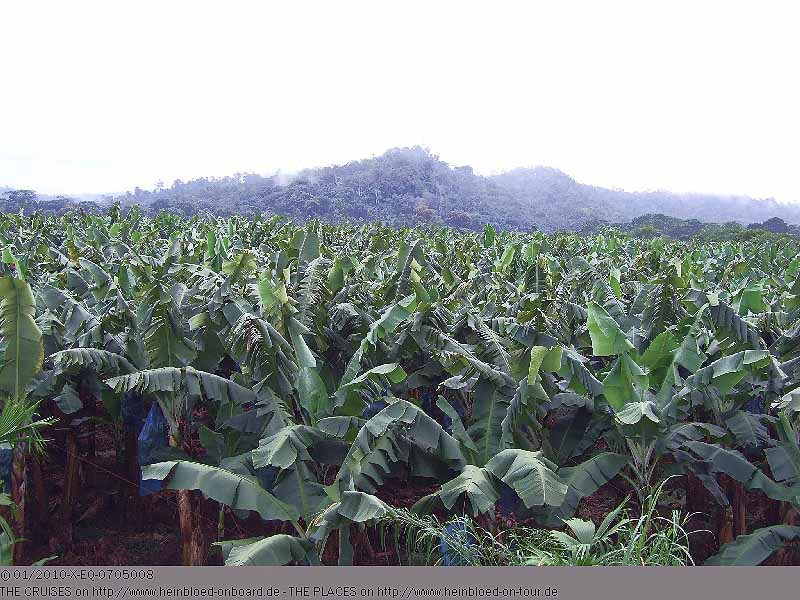 Gaby bringt uns Ökologie und Ökonmie des Landes näher. Und die Folgen für Umwelt und Mensch.
Wir kaufen eh seit einiger Zeit bevorzugt Bio-Bananen.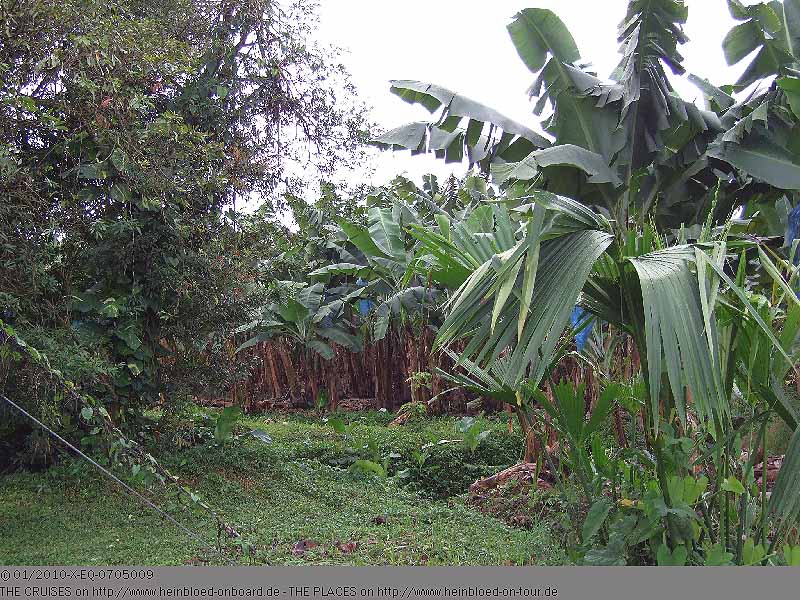 But we preferred anyway to buy organic bananas.

She showed us how they manipulated the plant to get them ready for the market.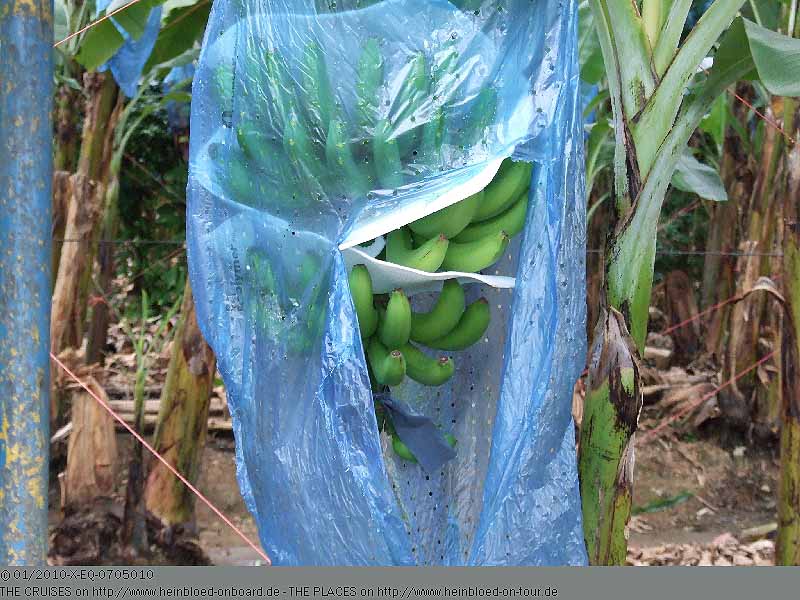 Sie zeigt uns, wie die Pflanzen manipuliert werden, um eine gewisse Marktfähigkeit zu erreichen.
Das nächste Mal nehme ich mir bestimmt ein paar feuchte Reinigungstücher mit, falls ich dort etwas angefasst habe.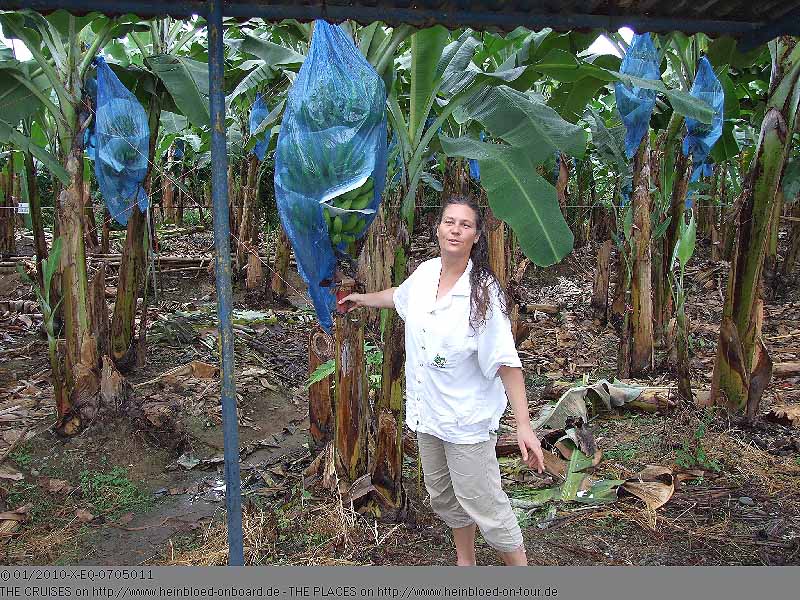 Next time I should have some wet tissues with me for the worst case I touched something there around.

A millipede was crossing the road. But I was unable to count if it was really "milli" (1,000) as a car was approching.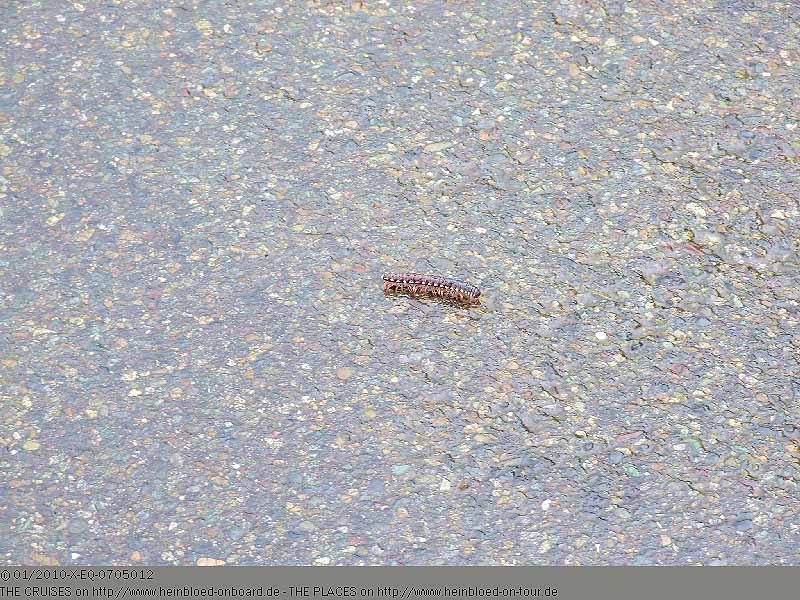 Ein Tausenfüßler kommt uns auf der Straße entgegen. Nur schaffe ich es nicht, nachzuzählen, ob es wirklich 1.000 Beine sind, weil ein Auto kommt.
Als wir am
Cahuita-Nationalpark
ankommen schüttet es in Strömen. Zum Glück haben wir das Aquapac mit, so dass wir die Kamera auch über Wasser ein wenig schützen können.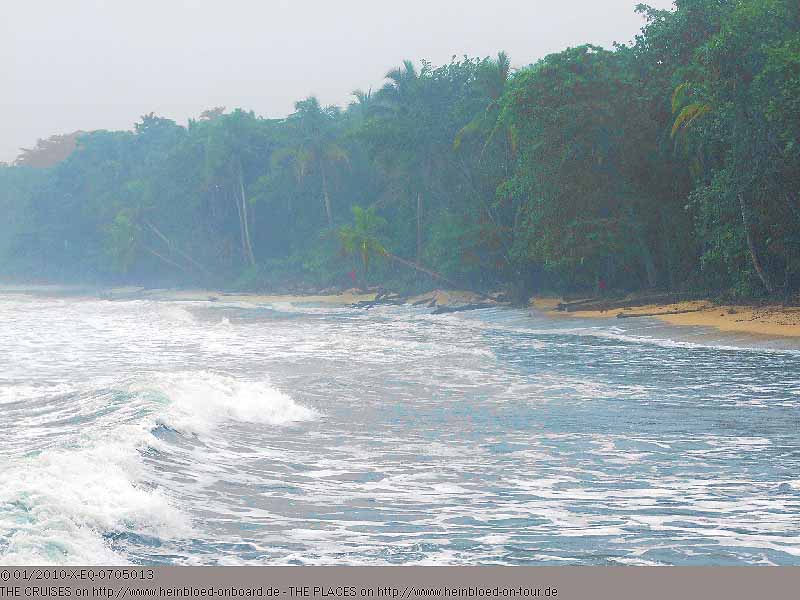 When we arrived at Cahuita-National Park it was raining "cats and dogs" again. We had luckily our Aquapac with us so that we could protect the camera against water somehow.

At least there was Coke... welcome in the rain forrest...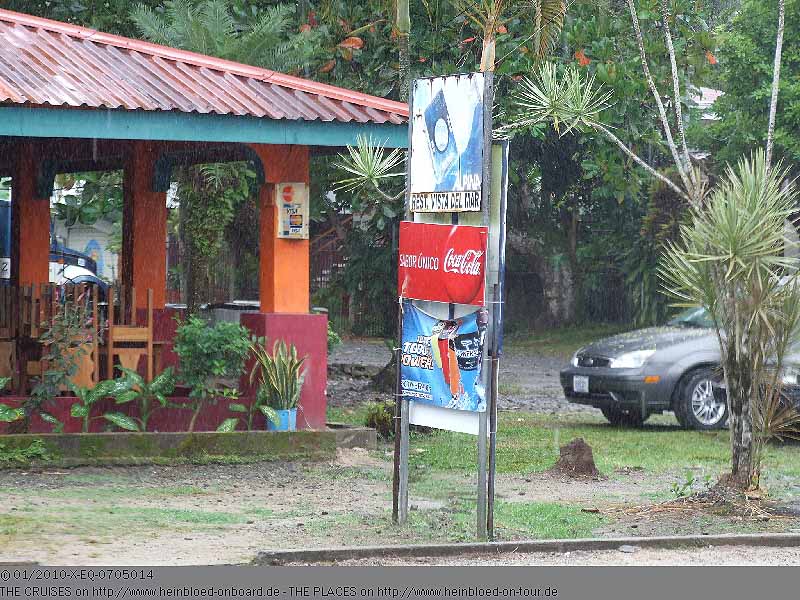 Zumindest gibt es hier Coca-Cola... willkommen im Regenwald...
Das Wetter ändert sich von einer Minute zur anderen. Was wäre allerdings ein Regenwald ohne Regen?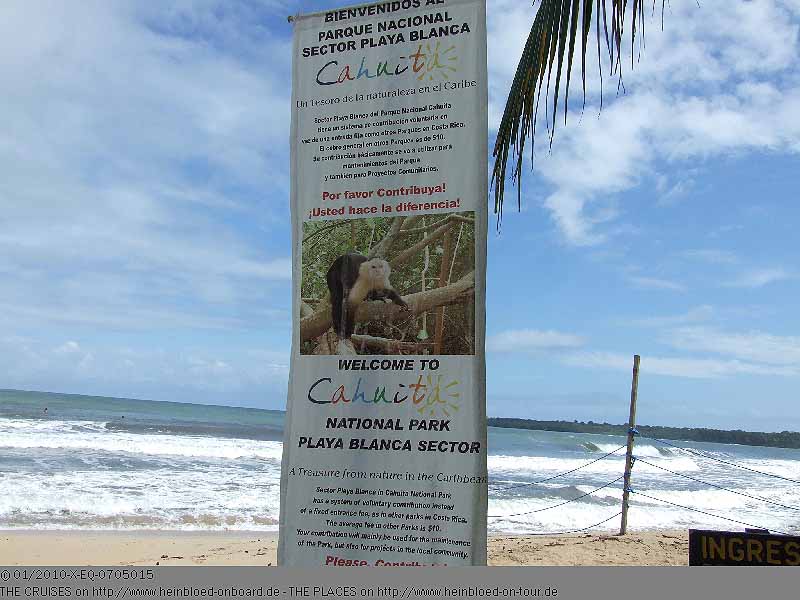 The weather changed from one minute to the next. But what would be a rain forrest without rain?

It was not allowed to take them as souvenirs.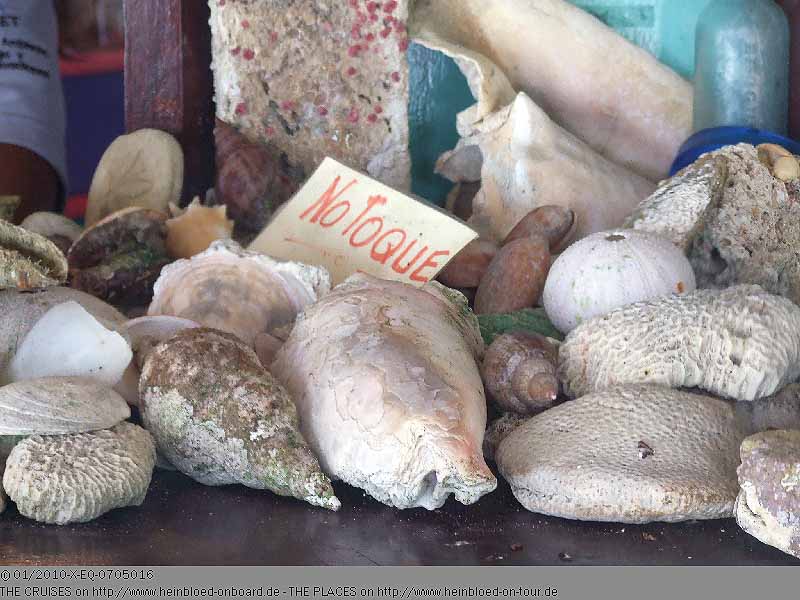 Das darf man nicht als Souvenir mitnehmen.
Letzte Möglichkeit eine Toilette aufzusuchen...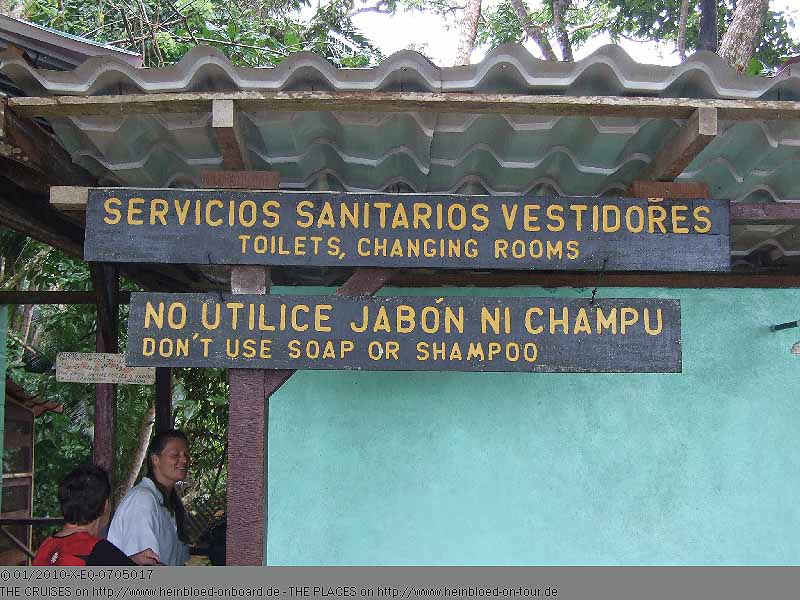 Last chance to see a rest room...

But it was good that I took Immodium (lactose intollerance - nothing to do with norovirus...). So there was no need for me to use one. I think this restrooms were sponsored by Tranquility. Here you had a good chance to aquire new customers by giving them some samplers. I discovered a market gap as well: I would organise in German senior residences as therapy to keep them busy circles who are crocheting the cover for rolls of toilet paper on hat shelf. And these I would sell with a roll of toilet paper for a lot of money. So I could refinance my next cruise. Who likes to run when you sit already to the cashier to ask for some toilet paper???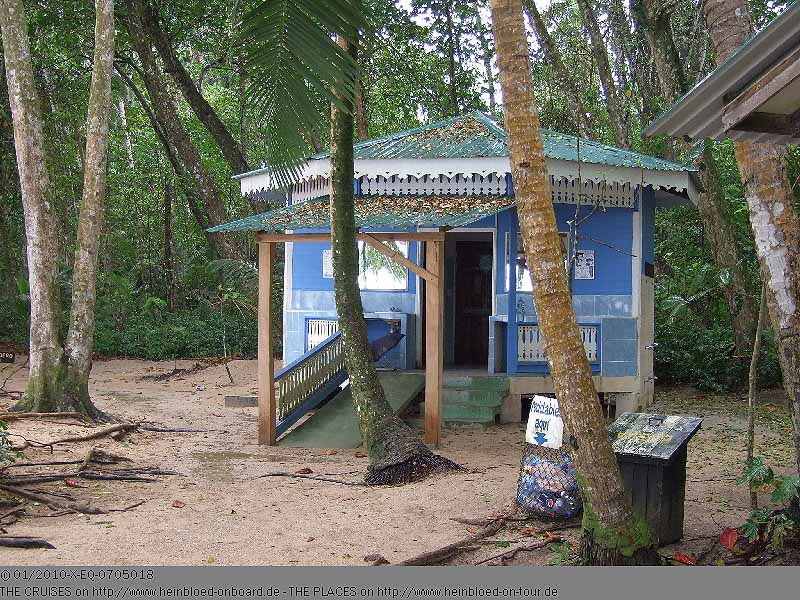 Aber gut, dass ich sicherheitshalber eine Immodium genommen habe (Laktose-Intolleranz - hat nichts mit Norovirus zu tun...). So komme ich nicht in die Verlegenheit sitzend die Toilette nutzen müssen. Diese Anlage wird bestimmt von
Attends
usw. gesponsort. Hier lassen sich bestimmt neue Kundenkreise mit Proben erschließen. Und ich habe eine Marktlücke entdeckt: ich werde als Beschäftigungstherapie für deutsche Seniorenresidenzen die Klorollenhüllen für die Hutablage häkeln lassen. Und die werde ich mit einer Rolle weichem Toilettenpapier hier teuer verkaufen. So hätte ich meine nächste Kreuzfahrt finanziert. Wer rennt schon gerne, wenn er sich bereits gesetzt hat, nochmals zum Kassenhäuschen, um sich Papier zu besorgen???
Das erste Vögelchen ist zu sehen...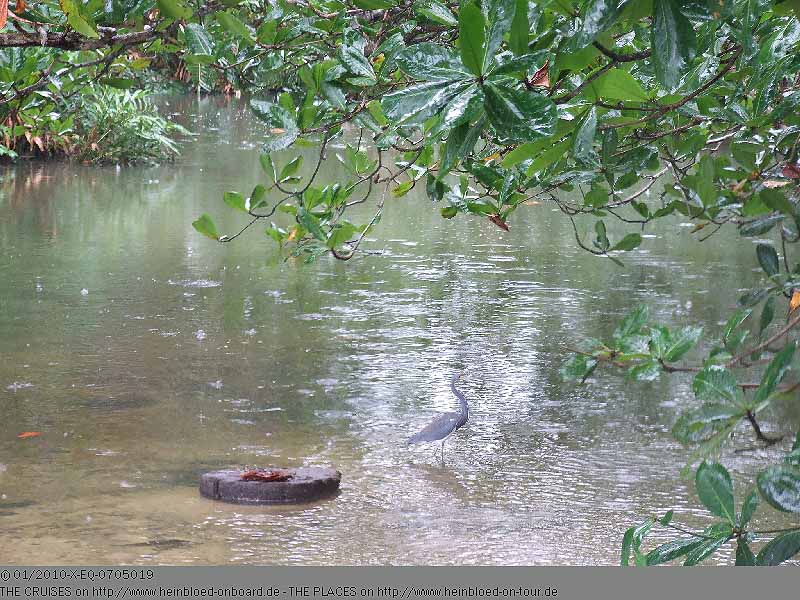 The first bird to see...

In this area it was forbidden to swim as the waves were too rough.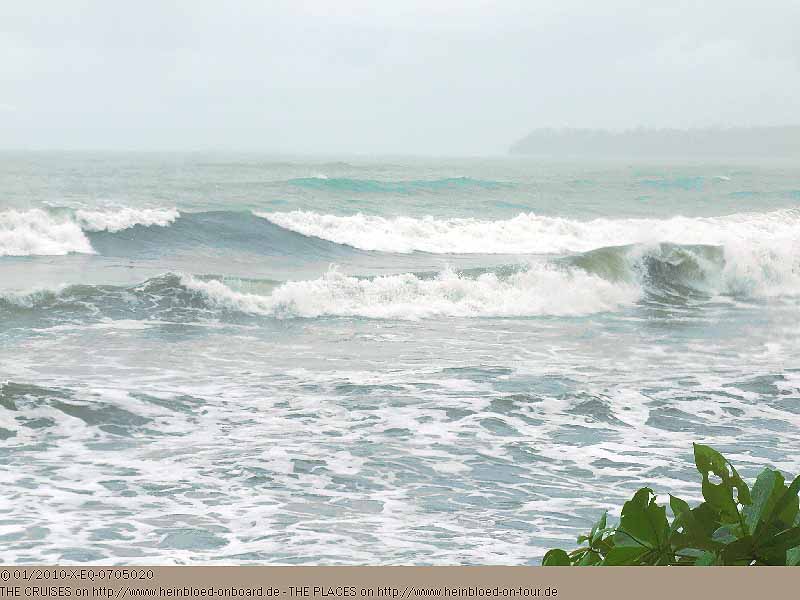 In diesem Abschnitt besteht Badeverbot, weil die Wellen zu hoch sind.
Es wird extra gewarnt... Aber vollkommen ungefährlich für Nicht-Schwimmer - oder???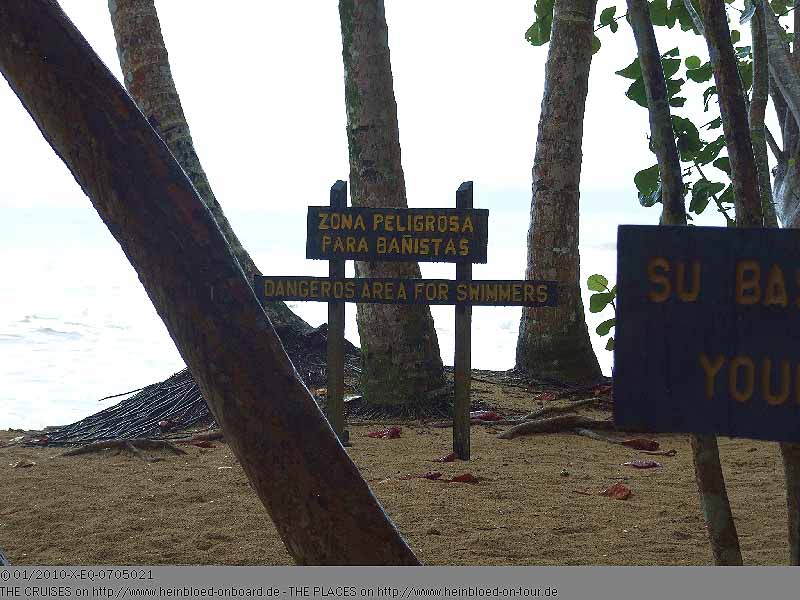 They gave extra warnings... but totally harmless for non-swimmers - or???

Gaby said that the best would be to use umbrellas.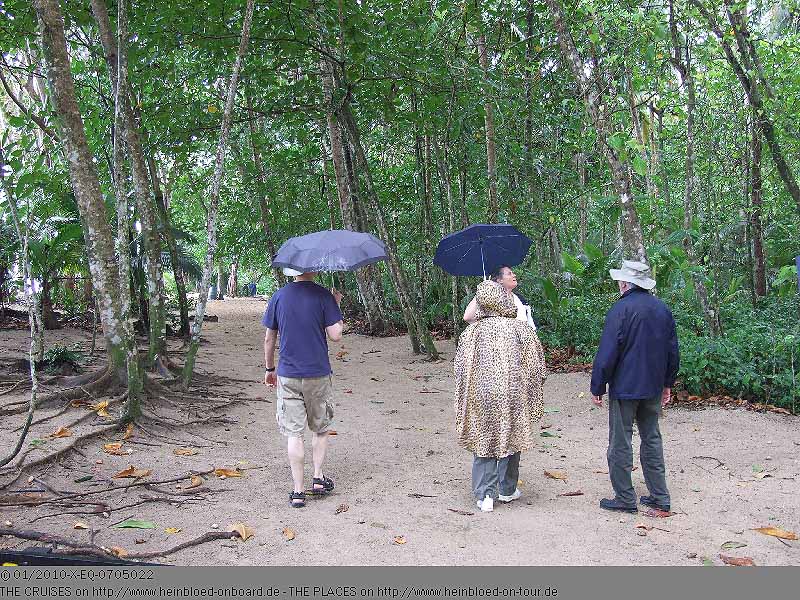 Gaby meint, dass wir mit Regenschirmen am Besten weiterkommen...
So sieht es aus, wenn ein Ausflug ins Wasser fällt... und die Palme mit dazu...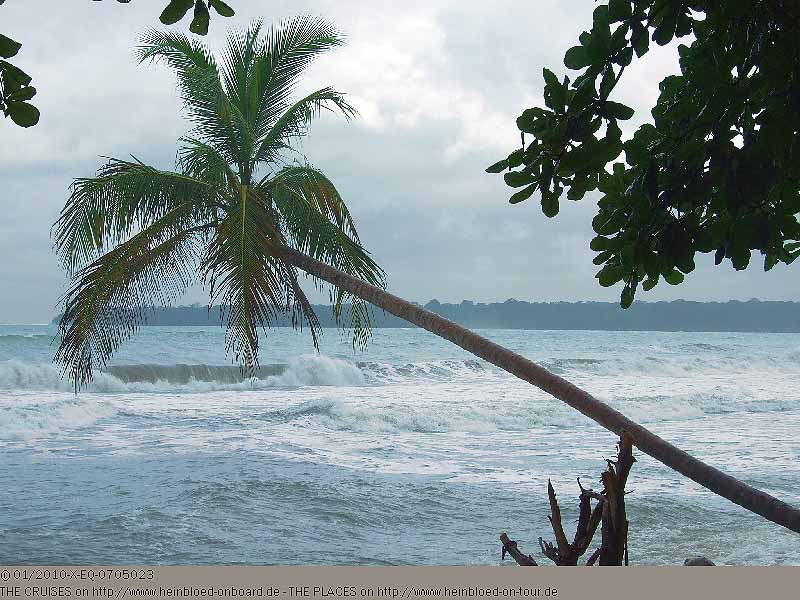 It looked this way if your tour become wet... and the palm as well...

Such nice blossoms were the highlights of the tour.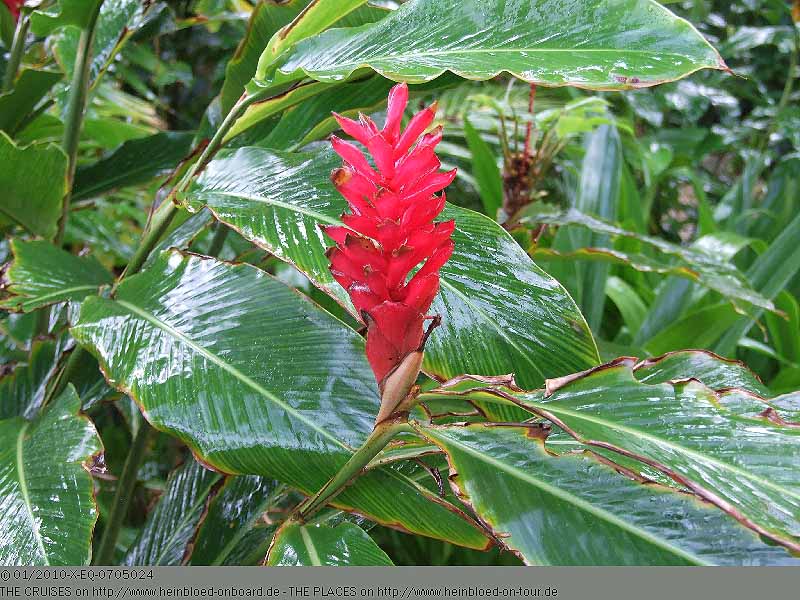 Solche schöne Blüten bilden die Höhepunkte dieser Tour.
Gaby wäre der Tod jedes Hoteldirektors auf einem Kreuzfahrtschiff... Sie fasst alles an, um uns die Sachen näher zu bringen...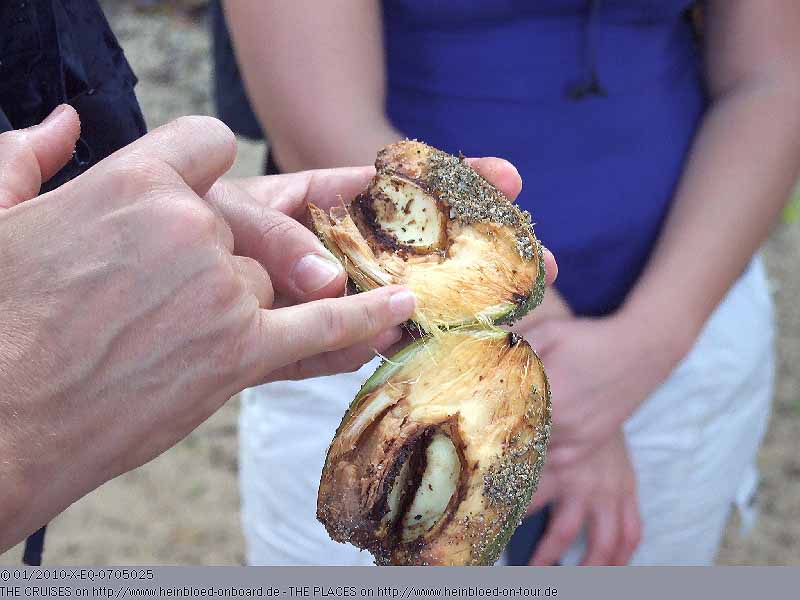 Gaby would be the death for each hotel director on a cruise ship... She touched everything that we can make acquaintance with it.

A termite net.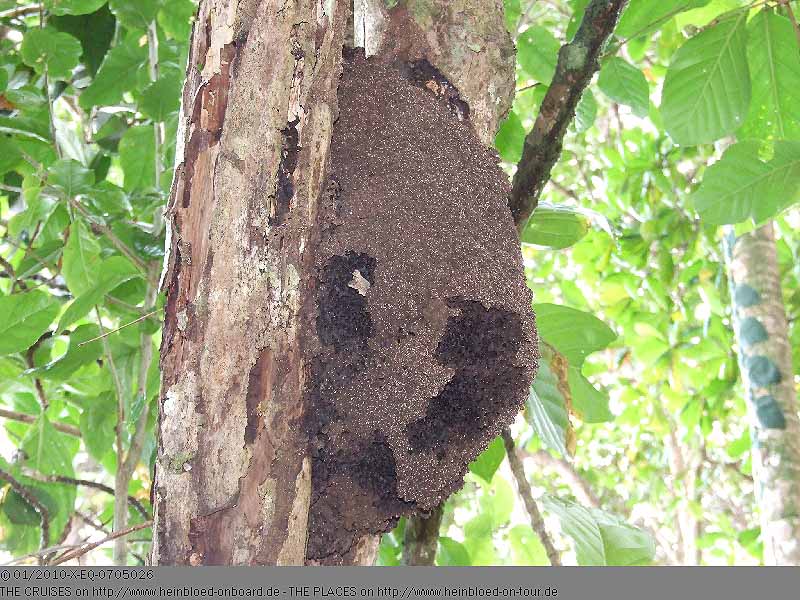 Ein Termitennest.
Autobahnen gibt es nicht, aber Termitenstraßen...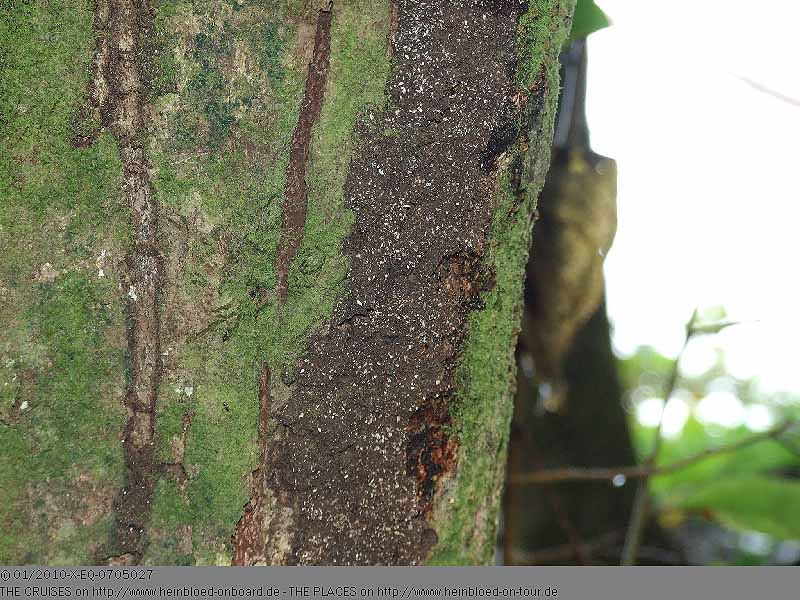 There were no highways but termite trails...

She looked that we did not destroy of the infrastructure of the termite.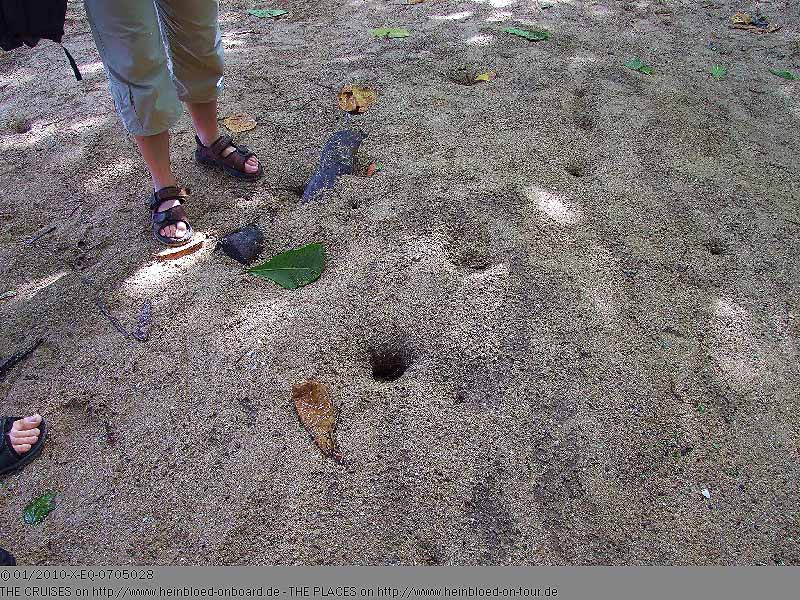 Sie achtet streng darauf, dass wir nichts irgendwas an der Infrastruktur der Termiten zerstören.
Es wird soviel an Wissen vermittelt: am besten bringt man ein Diktiergerät mit, aber ich erinnere mich nicht mehr daran, was so besonderes an dem Baum war. Ich glaube die rote Farbe...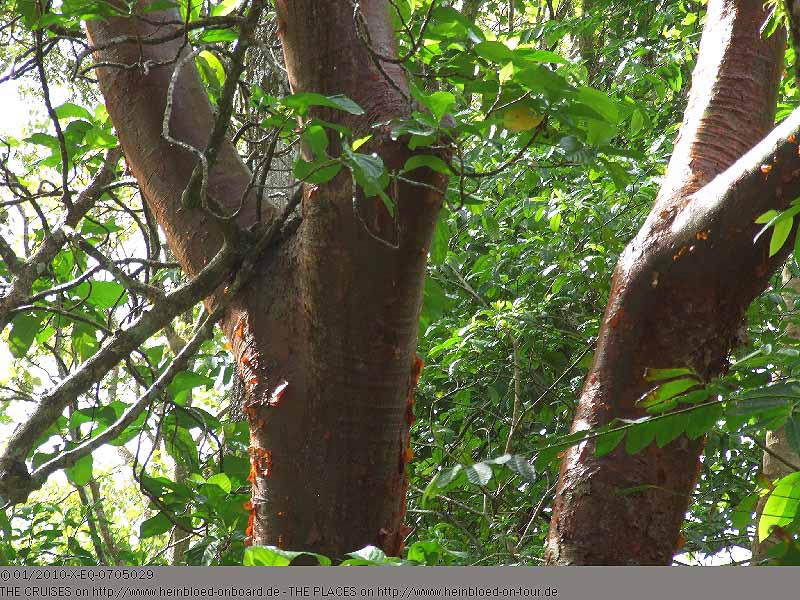 The transferred so much knowledge: best would be to have a voice recorder with you. I cannot remember so much details what she gave us. Something was special with this tree: maybe it was the red colour...

A wesp net.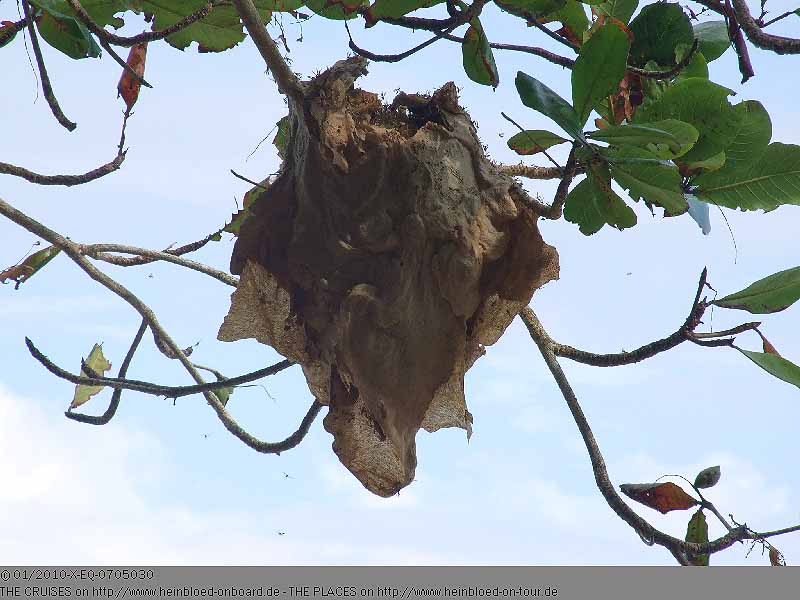 Ein Wespennest.
Auch Richard ist begeistert über die Motive, die sich hier für seine Kamera finden lassen.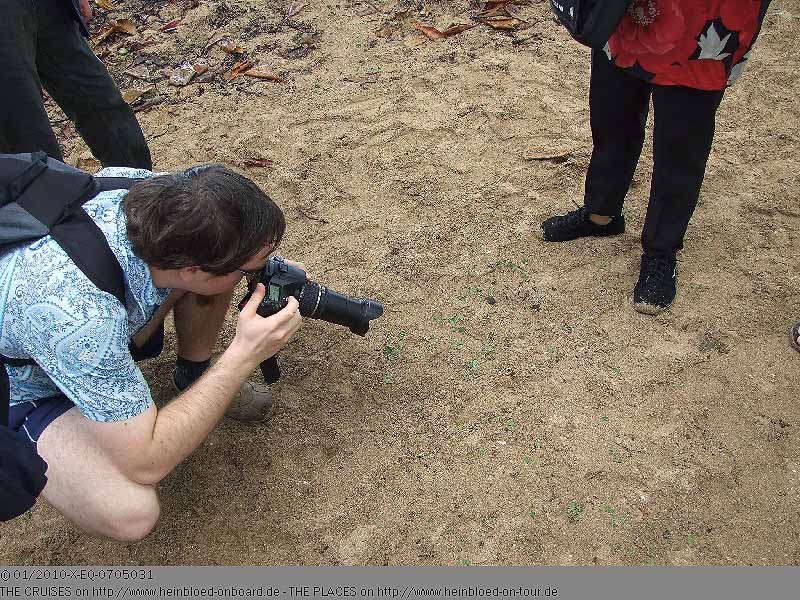 Richard was also very excited about the motives he could for his camera.

I always wanted to know how you get coffee into the package...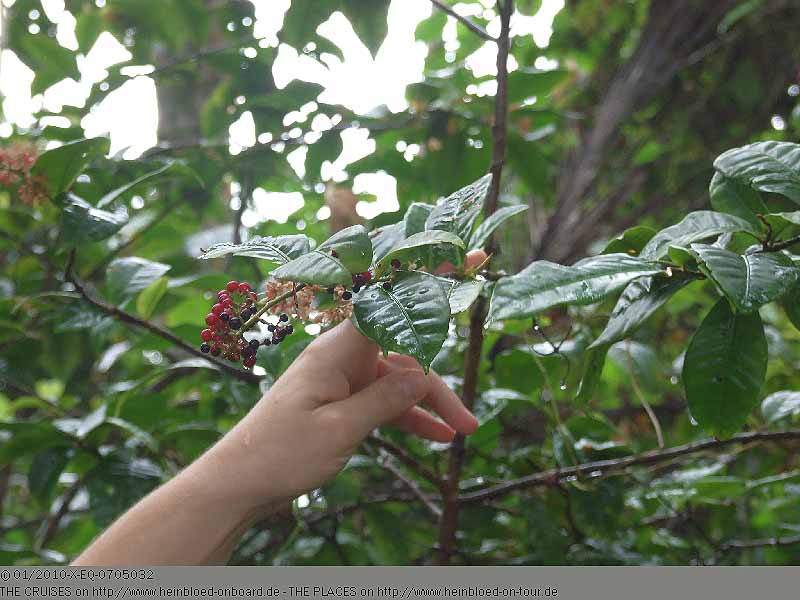 Ich wollte schon immer mal wissen, wie Kaffee in die Packung kommt...
Sprachlos werde ich allerdings, als sie Kaffeebohnen auspackt und uns die weitergehenden Produktionsstufen erklärt... Nur die Kaffeemühle und eine Kaffeemaschine fehlt, um eine Verköstigung zu machen.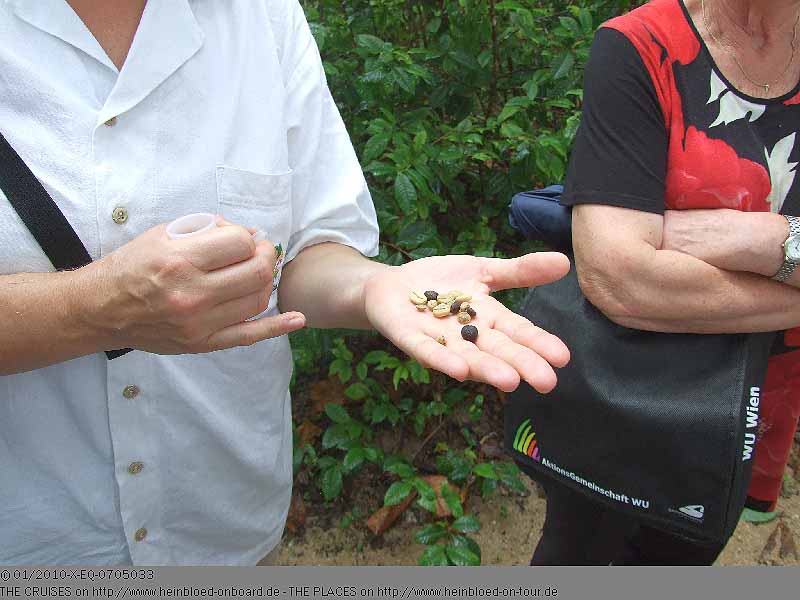 But I became speachless when she unpacked coffeebeans and explained the further processing steps... Only a coffee mill and a coffee machine was missing to offer a coffee tasting.

Gaby told us how she rescued this plant as she get lost from the ground during a storm. Without being fixed again she will not survive.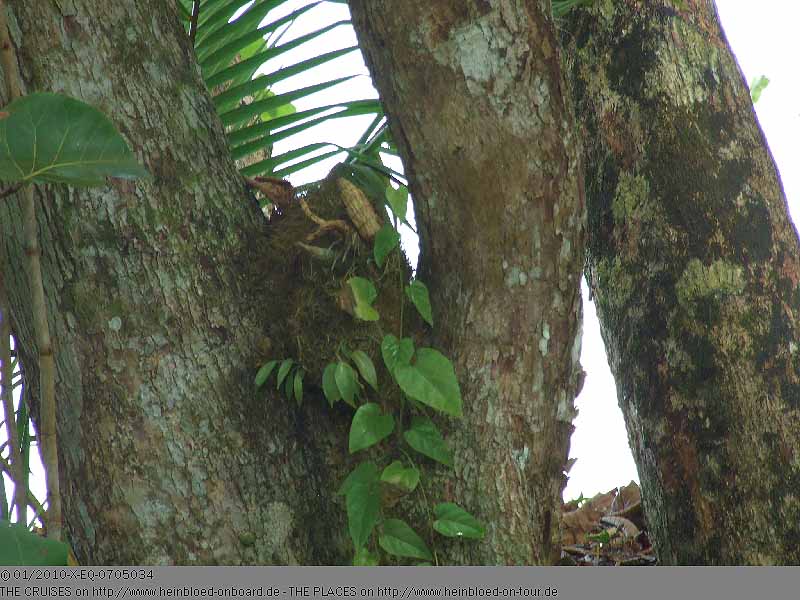 Gaby berichtet uns über ihre Rettungsaktionen für diese Pflanze, die wohl sich während eines Sturms von ihren Verankerungen gelöst hat und sonst nicht überlebensfähig wäre.
Mich wundert es, dass Tarzan von Liane zu Liane schwingen konnte. Das wirkt auf mich eher wie ein Mikado-Spiel. Bis dass er sich für die richtige Liane entschieden hat, müssten doch die Bösen ihn längst erwischt haben.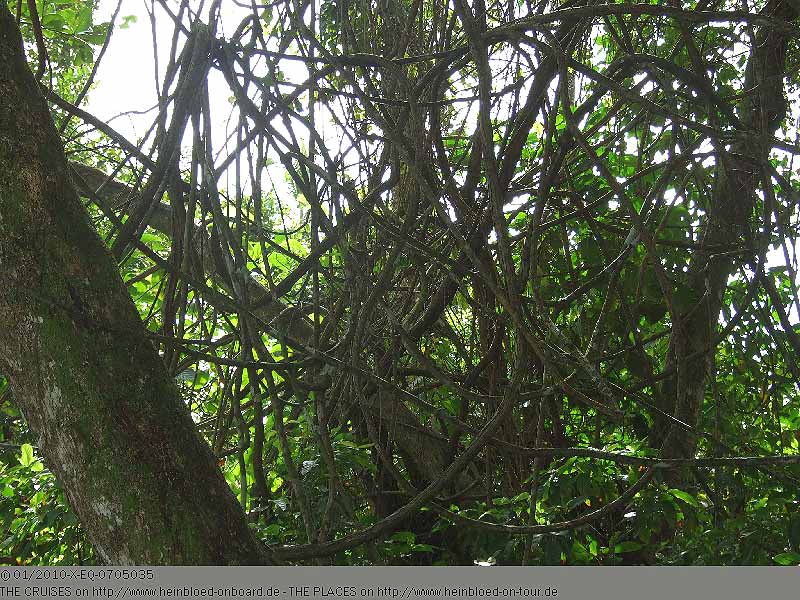 I was surprised that Tarzan was able to swing from one liane to the liane. It reminds me more to jackstraw. Before he decided which liane should be the best the bad boys should have caught him.

We should attend the beauty of this tree... Ahhh... I was grown up in a big city: no idea what she was telling about...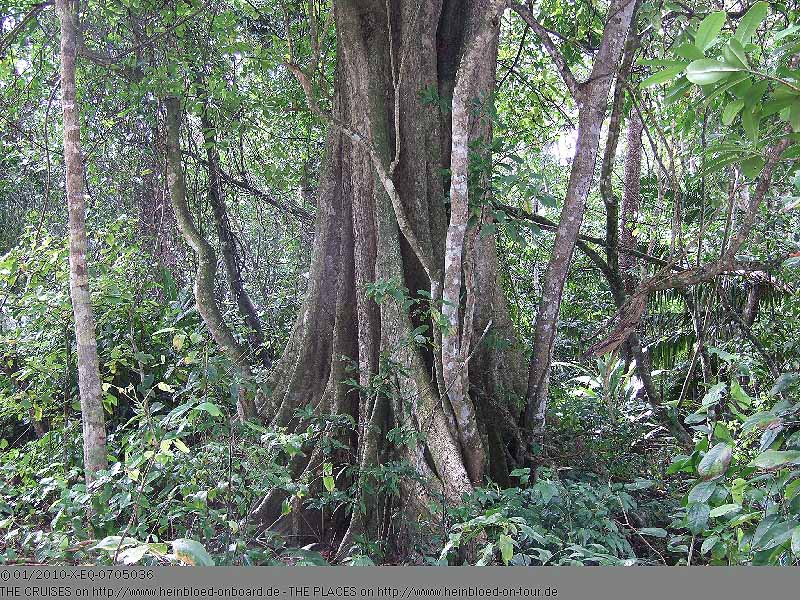 Wir sollen auf die Schönheit dieses Baumes achten... Aha... ich bin ein Großstadtkind und habe keine Ahnung, wovon sie spricht...
Sie schnappt sich einen verletzten Krebs. Nur weil sie keinen 1.-Hilfe-Kasten mithat, wird dem Krebs die fehlenden Beine nicht angenäht usw. usw.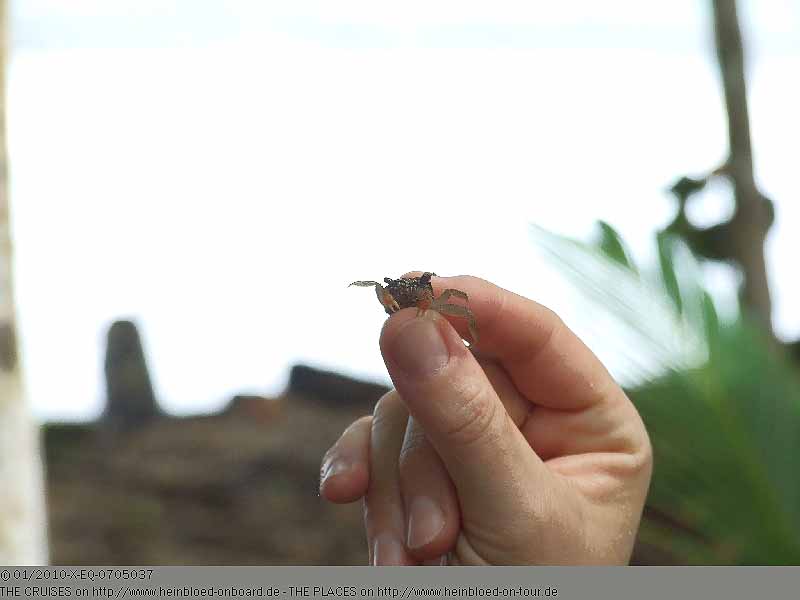 She took the injured crab. Only because she had no first-aid-bag with her she was not sewing the missing leg to the leg etc. etc.

Something was very special... best would be to make the tour and ask her again... I forgot it... (Appendix: it was a Noni-plant which should have a good influence to your health.).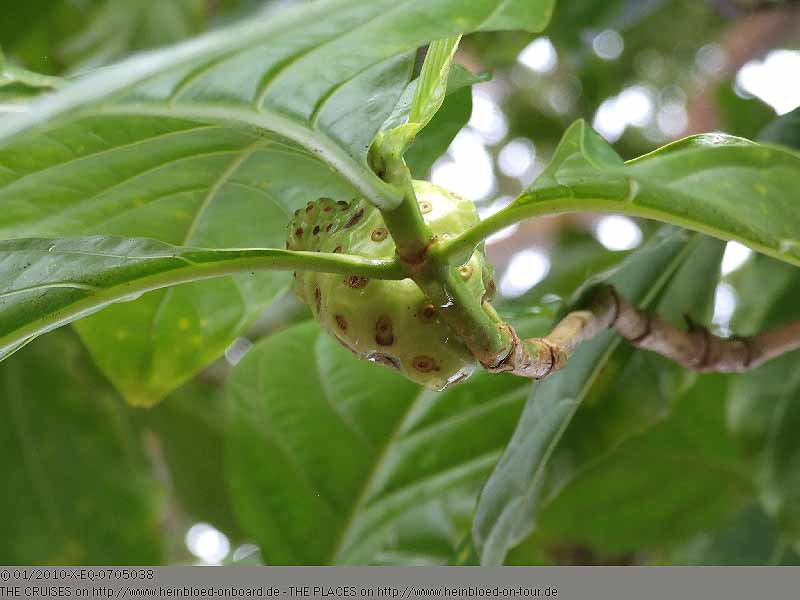 Irgendwas war mit der Pflanze... am Besten selbst hinfahren und nochmals nachfragen... ich habe es vergessen... (Nachtrag: es ist eine Noni-Pflanze, die einen gesundheitsförderdernden Nutzen haben soll).
Fragt mich nicht, was mit dem Stamm besonderes war. Ich habe soviel Natur in einer Stunde gesehen, wie sonst in zwei Jahren...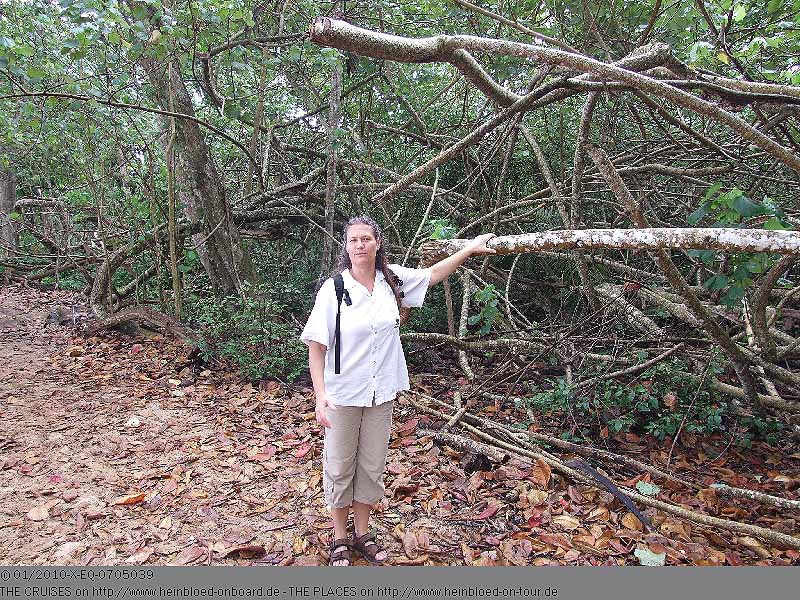 Do not ask me what was so special with this trunk. I had so much nature for one hour like I had for I had all the last two years.

We walked already 0.6 miles. Because it rained and the sandy way was wet it was like walking 6 miles... Why cannot there be a zip line avaialbe in this national park???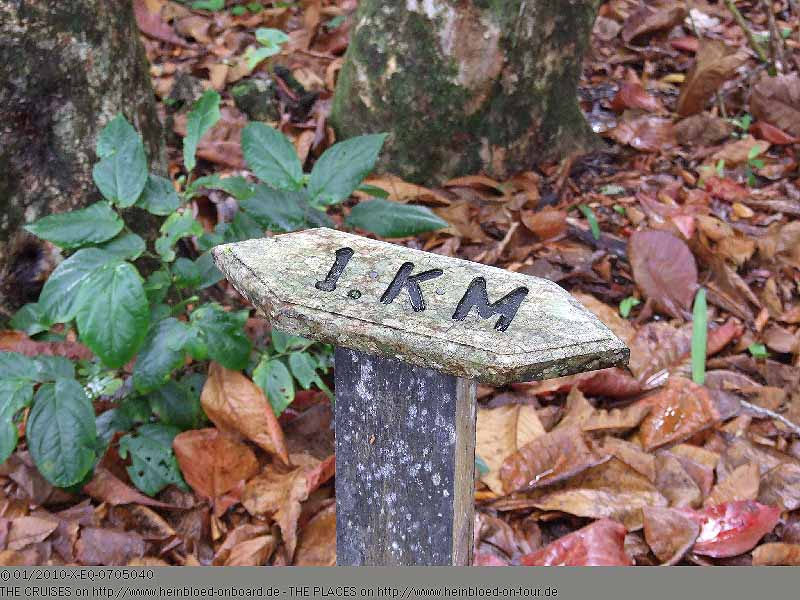 Wir sind schon 1 km gelaufen. Weil es regnet und der Sandweg feucht ist, kommt es mir schon vor wie 10 km... Wieso kann man keine Seilbahn durch den Nationalpark legen???
Endlich werden Brüllaffen entdeckt.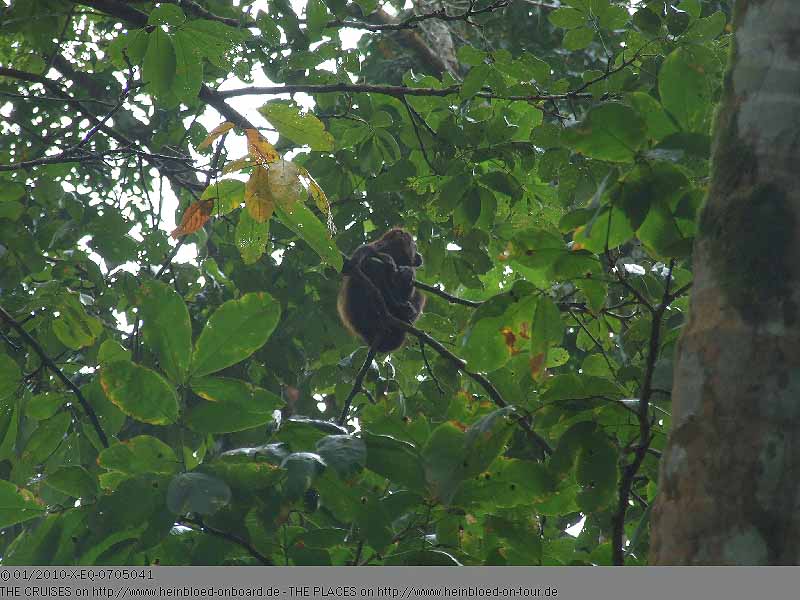 Finally howler monkeys were discovered.

That were the crabs who obviously lived as vegetarians.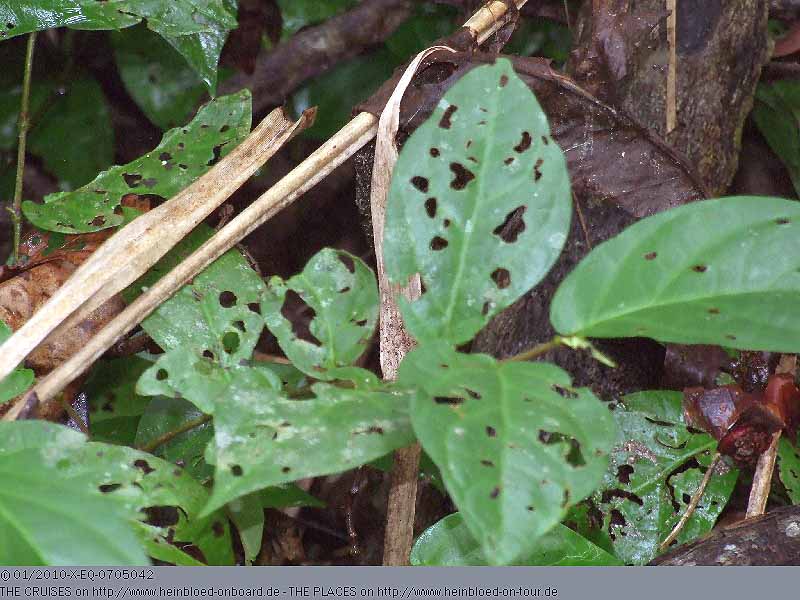 Das waren wohl auch wieder Krebse, die vegetarisch sind...
Nur wenn man ganz still ist, hat man die Chance sie auch zu sehen. Die Einheimischen, die nur zum Strand wollen, denken sowieso, dass wir nicht richtig ticken und laufen einfach weiter, während wir uns auf Zehenspitzen an den Öffnungen vorbeischleichen.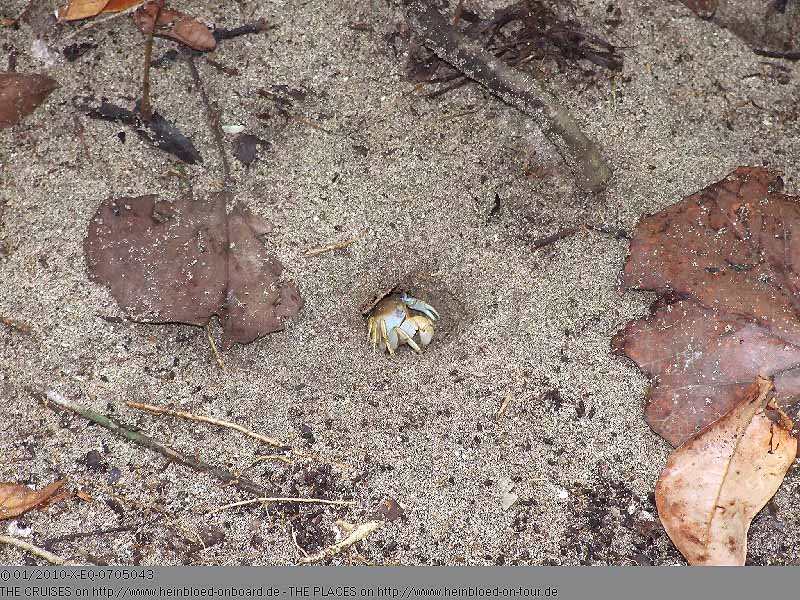 Only when you were absolutely silent you had a chance to see them. The locals who wanted to walk to the beach only thought that we had a cooccoo and just walked while we moved on our tiptoes when we passed their holes.

At the Suarez Creek we arrived the point of return.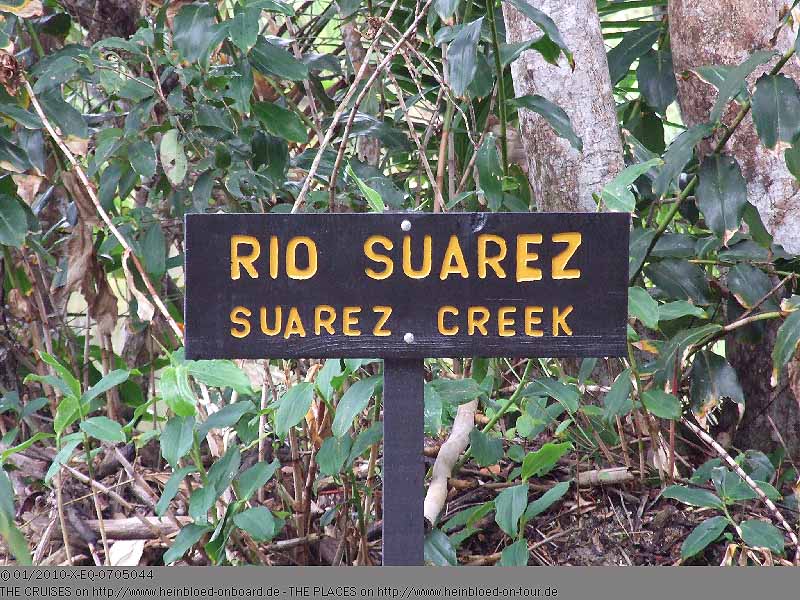 Am Suarez Fluss ist zum Glück der Wendepunkt erreicht...
So weit sind wir an dieser Bucht gelaufen. Wie bekommt hier ein Taxi???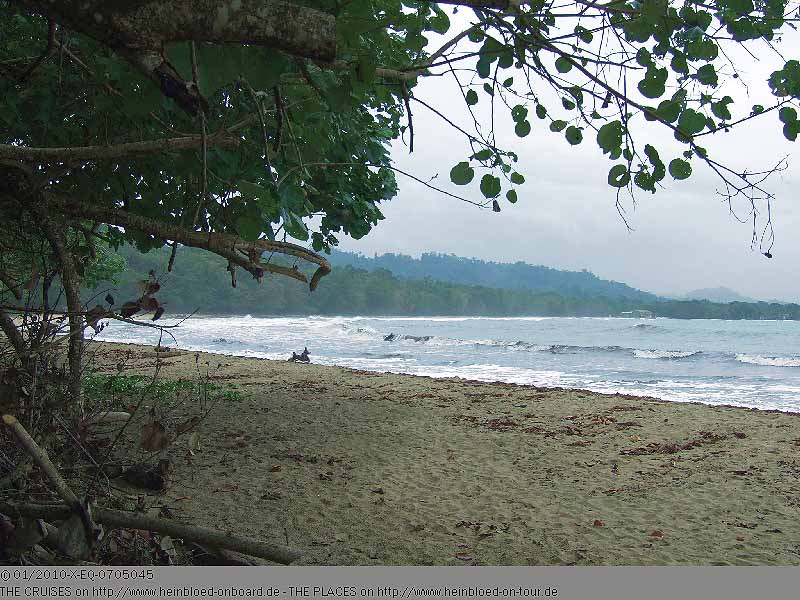 We walked so far away to this bay. How do I get a taxi???

Looked like rain again.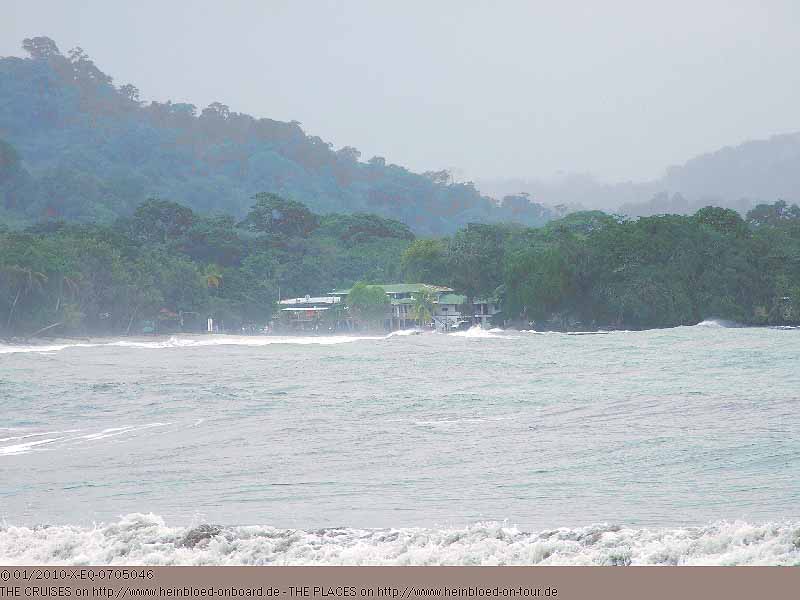 Und es sieht schon wieder nach Regen aus...
Das Wetter bringt mich zur Verzweiflung.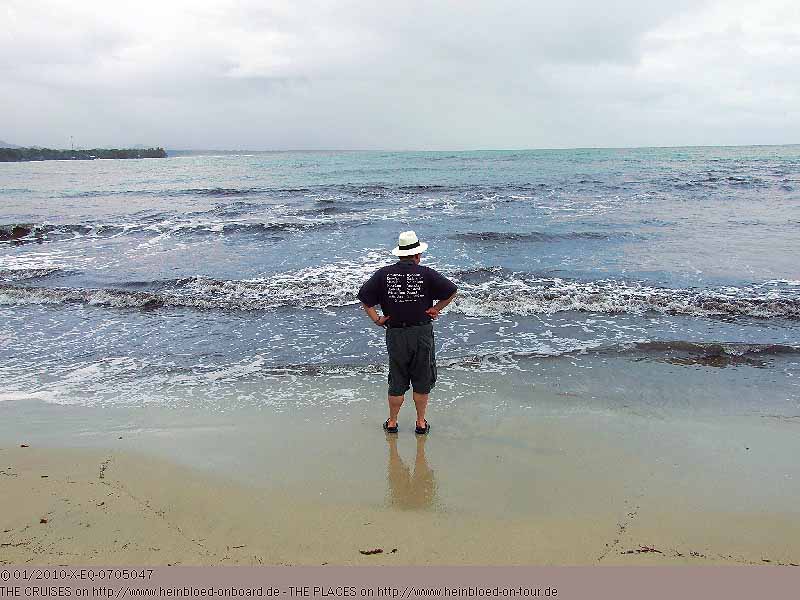 The weather made me desperate.

Gaby walked and checked for animals which we could take pictures of.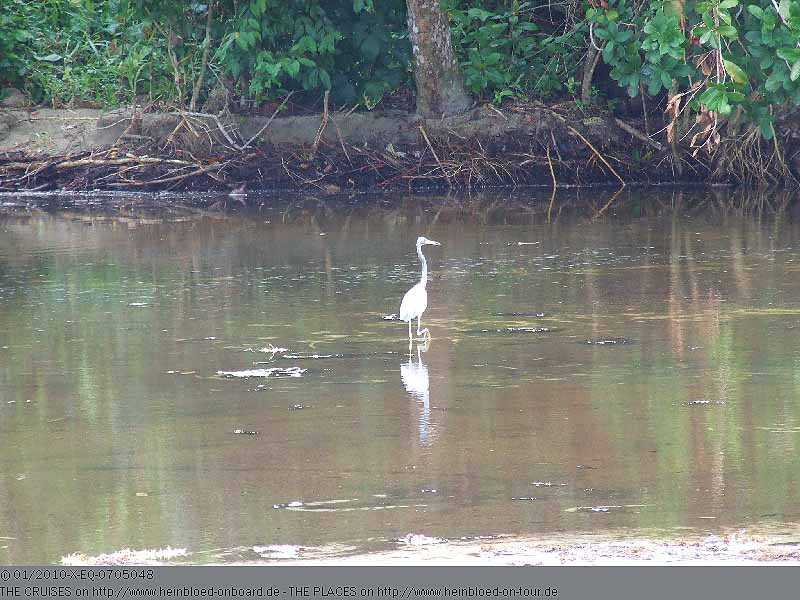 Gaby rennt los und sucht nach Tieren, die wir fotografieren können.
Hier fließt normalerweise der Fluß ins Meer. Nur im Moment ist wohl Trockenzeit, denn das Wasser des Flusses endet kurz vor dem Meer.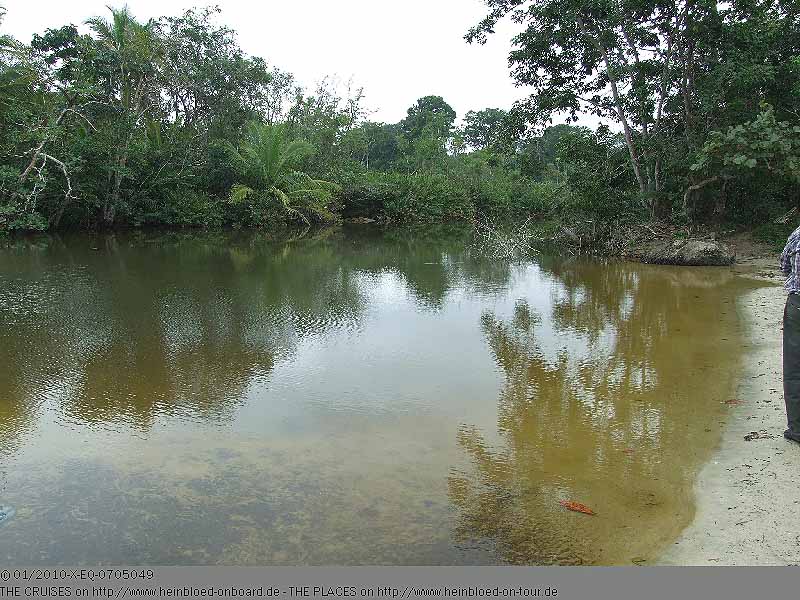 Here normally a river flows into the sea. But at the moment it was dry time and so the water of the river ended before it reached the sea.

More birds.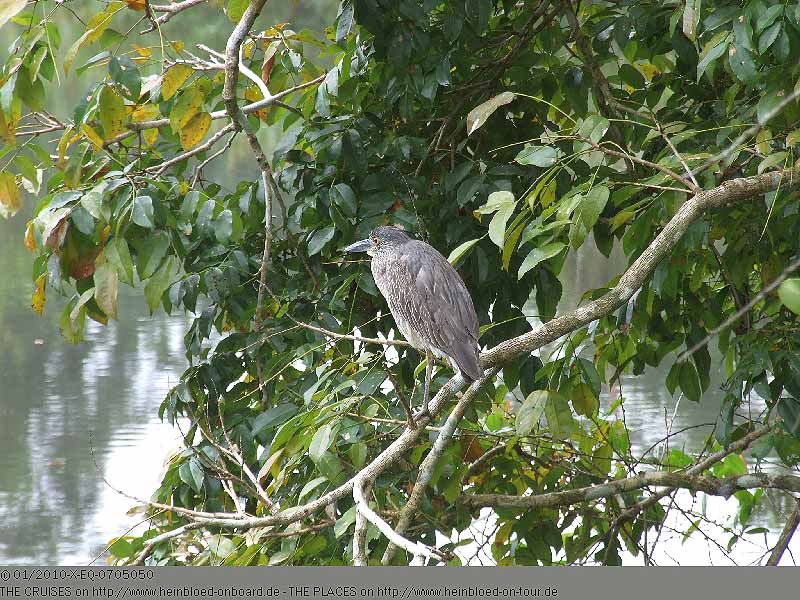 Noch mehr Vögel...
Es geht wieder zurück...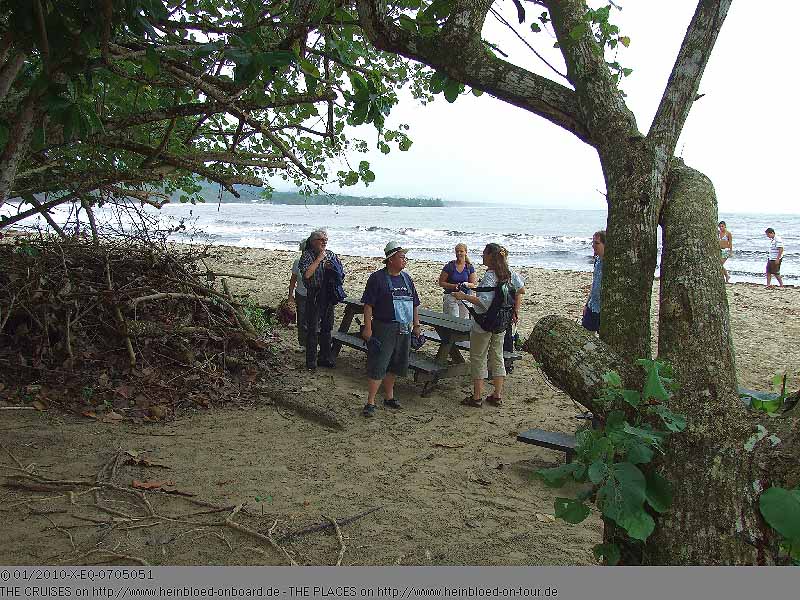 We finally returned...

And again a crab.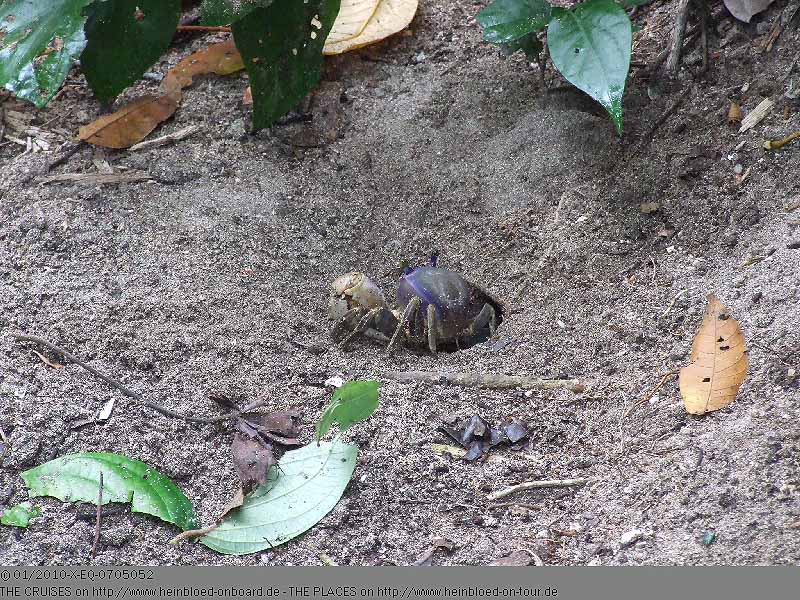 Und wieder ein Krebs.
Ein Weisskopfäffchen (korrekt: Kapuzineraffen / Cebus capucinus) knackt eine Tüte Snacks. Aber als Ernährungsphysiologin für Affen wird die Tüte ungerösteter und ungesalzener Erdnüsse von Gaby zum Verzehr freigegeben...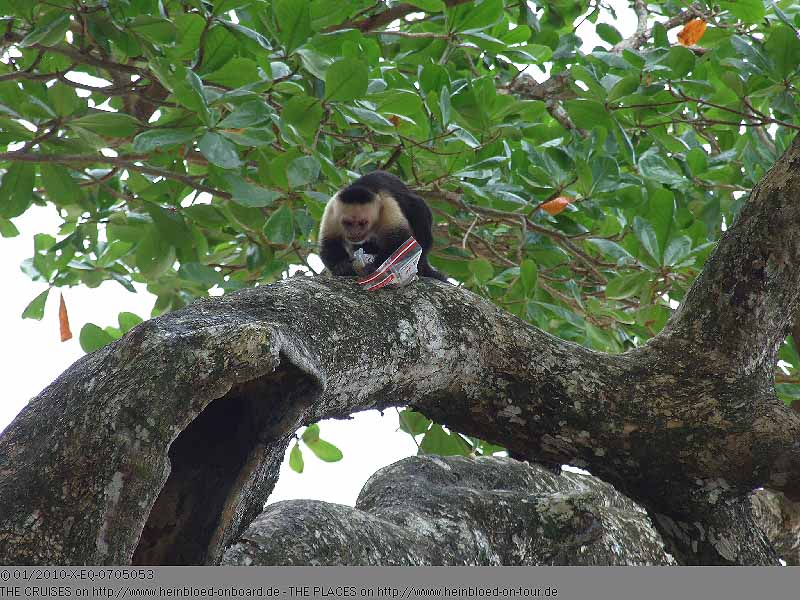 A little capuchin money opened a bag with snacks. As nutritionist for monkeys the bag of unroasted and unsalted was approved by Gaby for consumption.

With some sun we left Cahuita National Park. We hoped that it would stayed this way.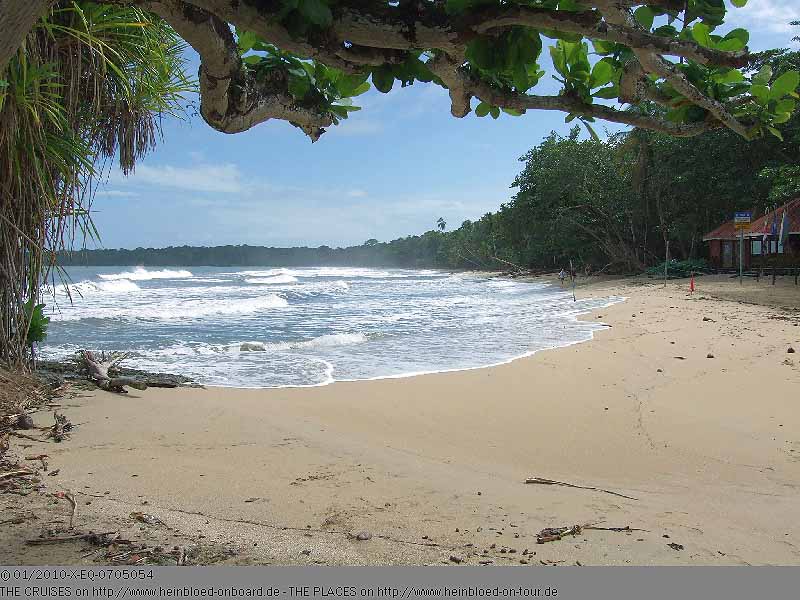 So verabschieden wir uns mit ein bisschen Sonne vom Cahuita Nationalpark. Hoffentlich bleibt es so.