Scroll down for English explanations - alternates with German explanations.

Da vorne ist also Südamerika... Kolumbien... Cartagena... ein Teil der Welt, in der ich noch nie war.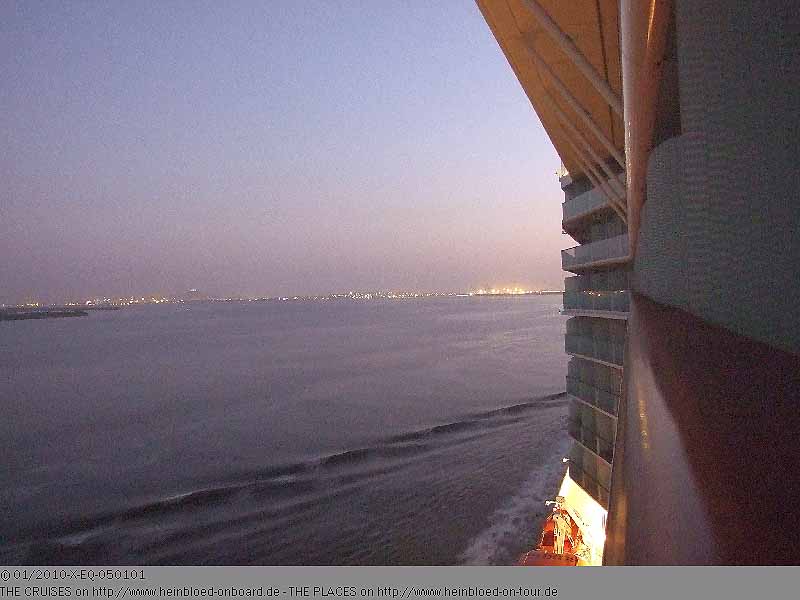 There was South America... Colombia... Cartagena... a part of the world where I have not ever been...

But maybe the Captain took a wrong route and we just arrived in Miami... Does not look like a South American slum quarter...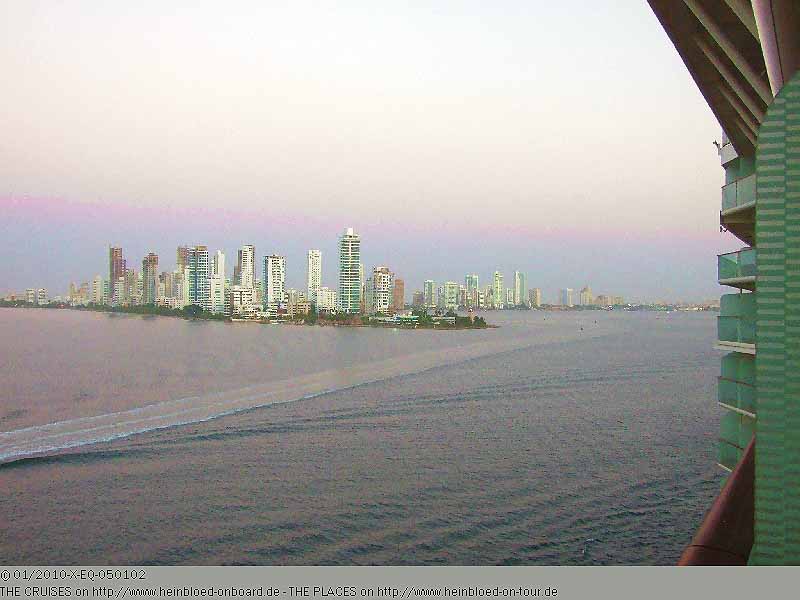 Aber vielleicht hat sich der Kapitän verfahren und kommen gerade in Miami an... Da sieht ja gar nicht so aus, wie südamerikanische Slumviertel...
Wir sind in Landnähe: Per SMS werde ich über Celebritys Aktivitäten auf meiner Kreditkarte informiert. Bruno und Charlie hatten ja Tage zuvor Pech und hatten ja Probleme mit ihren Karten aufgrund des Softwareproblems in Deutschland. Uns wird jedoch bestätigt, dass nur täglich der zusätzliche Betrag blockiert wird.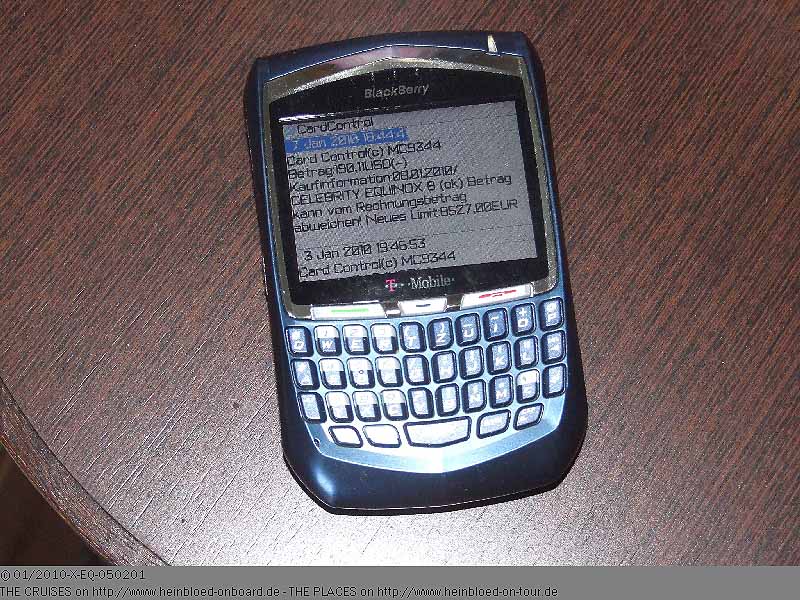 We were close to shore: I got a text message about Celebrity's activities on my credit card. Bruno and Charlie were unlucky because of a general softwareproblem in Germany. But they told me that they only block the day-by-day consumption on the credit card.

A separation between bank counter and front desk like we knew from CENTURY was not here anymore. You can manage everything at the front desk. You can cash USD-travellers checks without charges.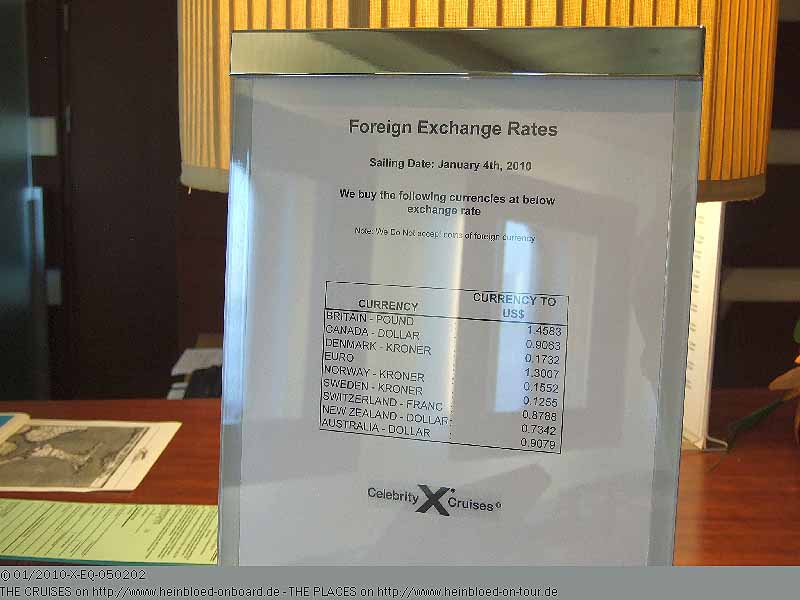 Eine Trennung zwischen dem Bankschalter und der Rezeption, wie wir es von der CENTURY kannten gibt es hier nicht. Man kann alles an der Rezeption erledigen. Auch USD-Reiseschecks kann man kostenlos sich auszahlen lassen.
So können wir immer verfolgen, was moeve (Alexandra) und ihre Gruppe so treiben...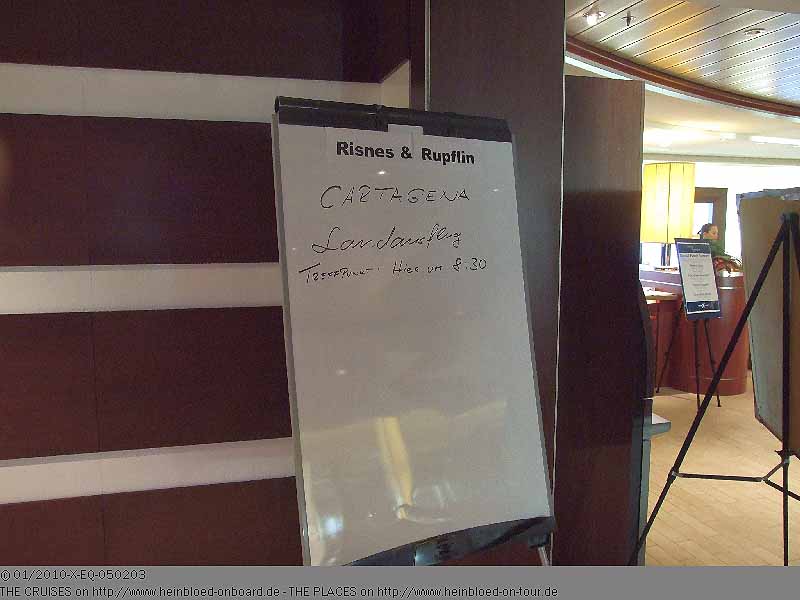 Here we can see what moeve (Alexandra) and her group were doing all the time...

To the manager on CENTURY in January 2008... Would everything happened like we experienced this morning I would be now maybe Celebrity Elite Member instead of NCL Latitudes Gold Member. No hints that someone was refusing to work. Within seconds and minutes I got my brioche, my cranberry juice and my green tea.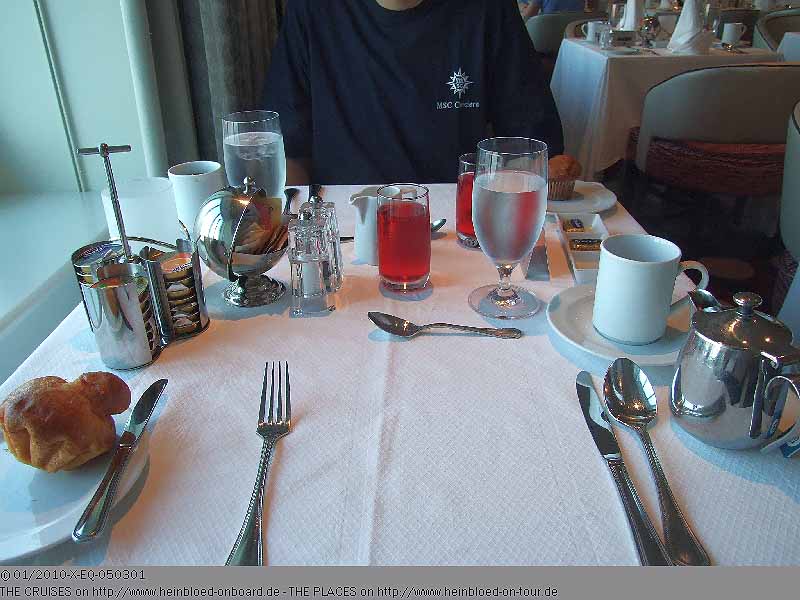 An die Schiffsführung von der CENTURY damals im Januar 2008... Wäre es so gelaufen, wie hier heute morgen: wir wären jetzt Celebrity Elite Mitglieder statt vielleicht NCL Latitudes Gold Mitglieder. Keine Spur von Arbeitsverweigerung. Innerhalb von Sekunden und Minuten, hatte ich beriets mein Brioche, meinen Cranberry-Saft und meinen grünen Tee.
Eine Stewardess, die wohl wusste, dass der Gast am Nachbartisch diese Käseteilchen sehr liebt und gezielt eines anbietet, bitte ich auch um eines: wirklich sehr lecker...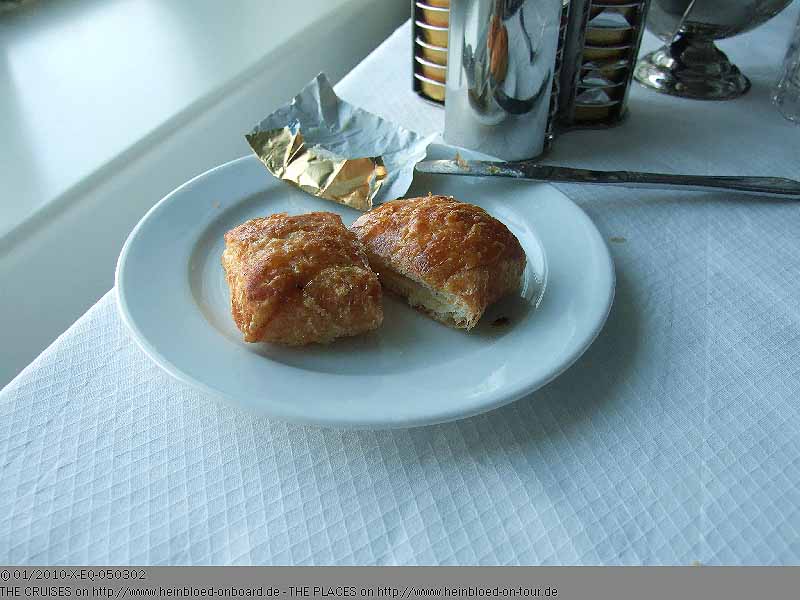 A stewardess who knew that the guest at the next table loved cheese pastries offerd him such one. So I asked also for one: very nice.

My silverware was cleared without comments. No comment that it was Celebrity's Policy that you have to keep your silverware.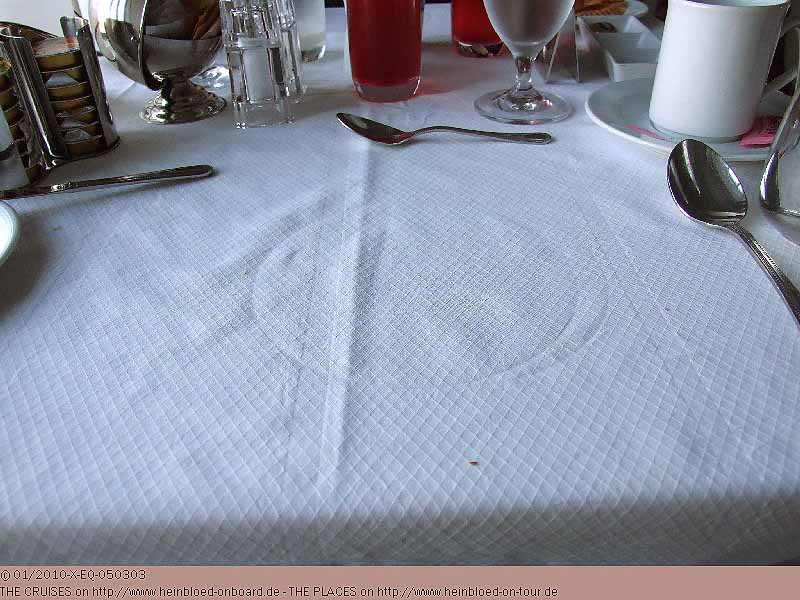 Mein Besteck wird ohne Murren abgeräumt: Kein Kommentar, dass es Celebritys Policy sei, dass man das Besteck behalten muss.
Es wird mir mit meinem Omelette auch frisches Besteck gebracht. Für mich ist das ein Höhepunkt dieser Reise. Wenn nicht schon in Viersen ein Platz nach ihm benannt worden wäre, dann würde ich es tun: unser Kellner Remigius.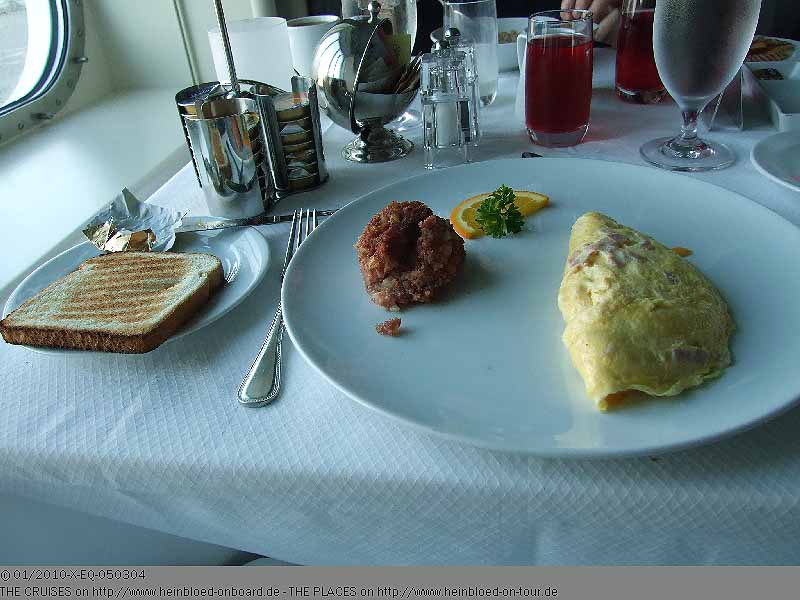 For my omelette I got new silverware. For me it's absolutely the highlight of my voyage. Would there not already a square in Viersen, Germany named after him, I would do it: Our waiter Remigius.

They used the pier for cruises as well as for cargo. But all the buses were waiting.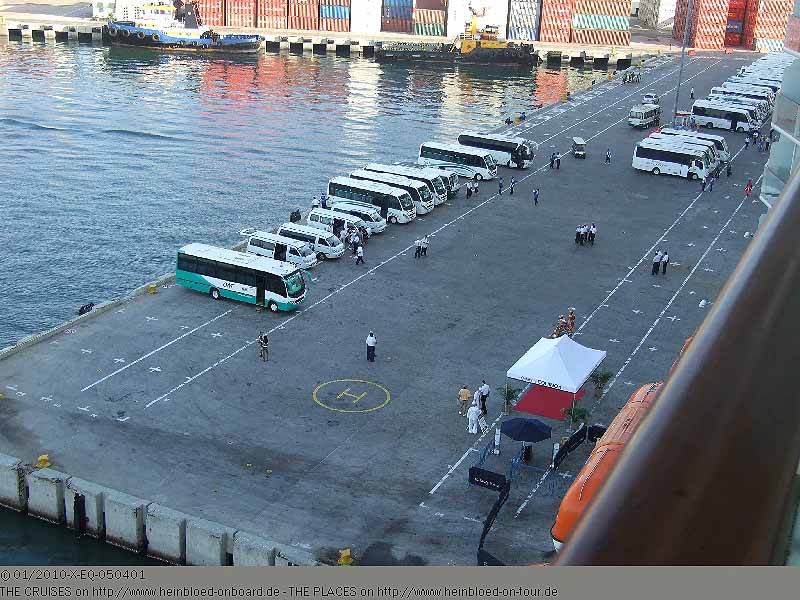 Der Pier wird wohl sowohl für Kreuzfahrten als auch für Fracht genutzt. Aber die Busse stehen schon bereit.
Man wird hier farbenfroh empfangen.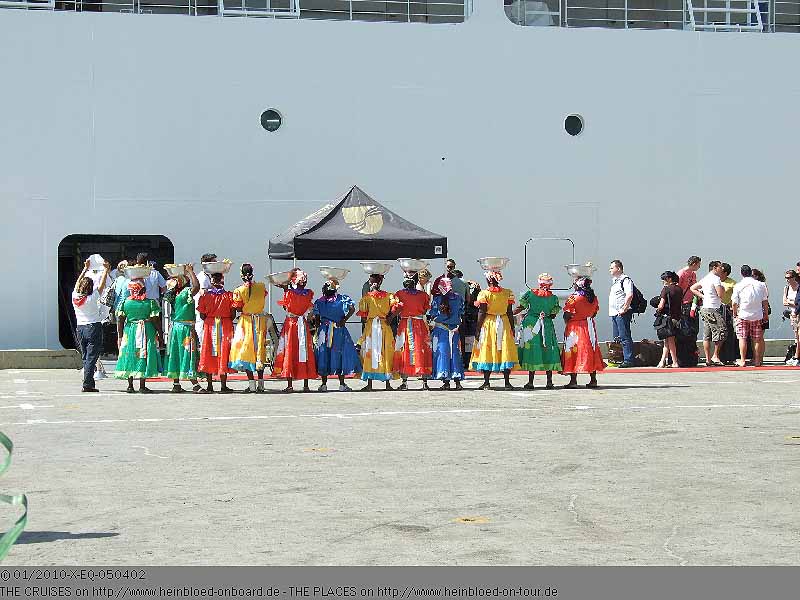 The welcome was very colorful.

There was a small kiosk to get information on the town.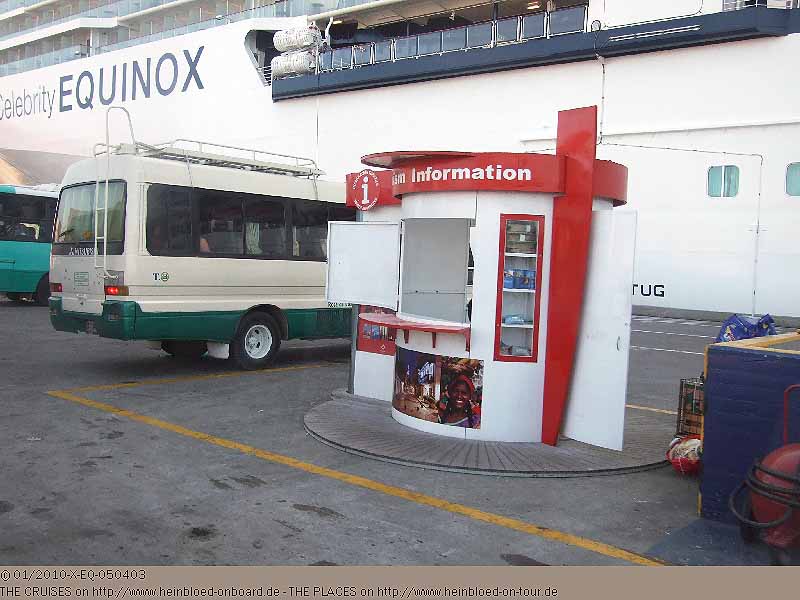 Ein kleiner Kiosk steht bereit, um sich über die Stadt zu informieren.
Das eigentliche Cruise Terminal liegt hier rechts im Bild. Man läuft vom Schiff nur wenige Minuten dorthin.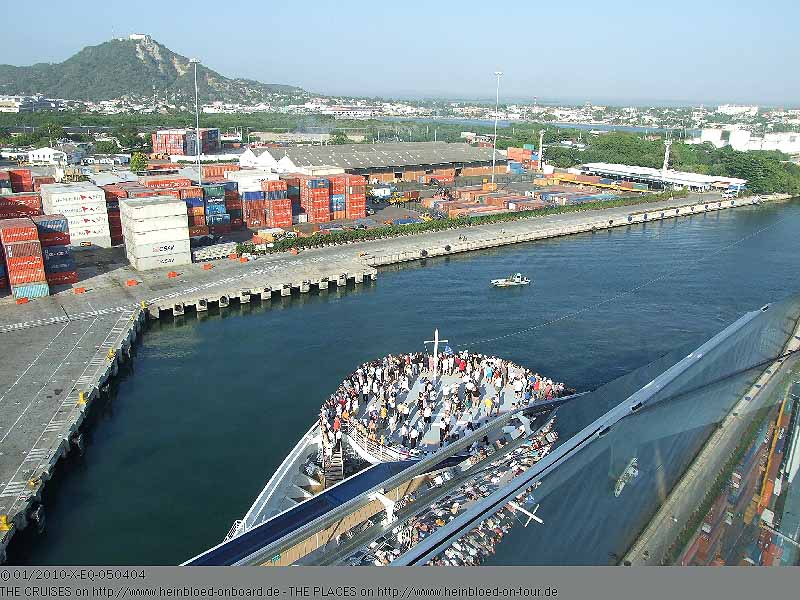 The true cruise terminal is right of this picture. You just walk few minutes to this place.

Here again to see the distance between the ship and the cruise terminal from La Popa.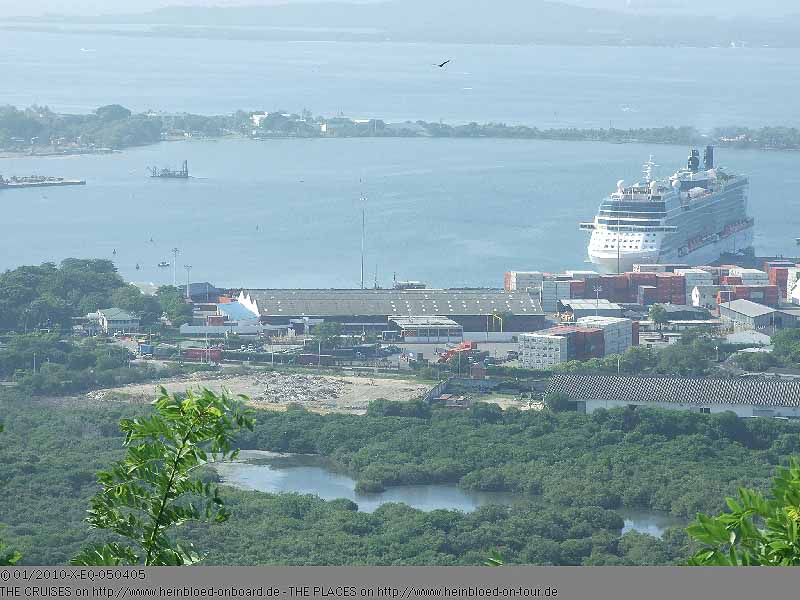 Und hier nochmals die Ansicht zwischen Schiff und Cruise Terminal vom La Popa.
Es werden aber kostenlose Shuttlebusse gestellt, die die Distanz überbrücken.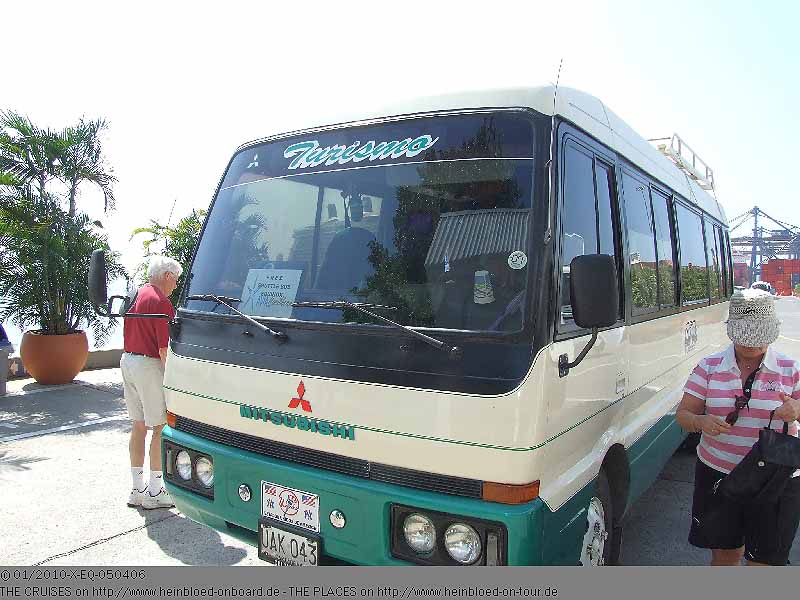 There were also complimentary shuttle buses to bridge the distance.

Here on the right was the portshop where you can get tickets for internet: 1 USD für 15 minutes and 5 USD für 2 hours.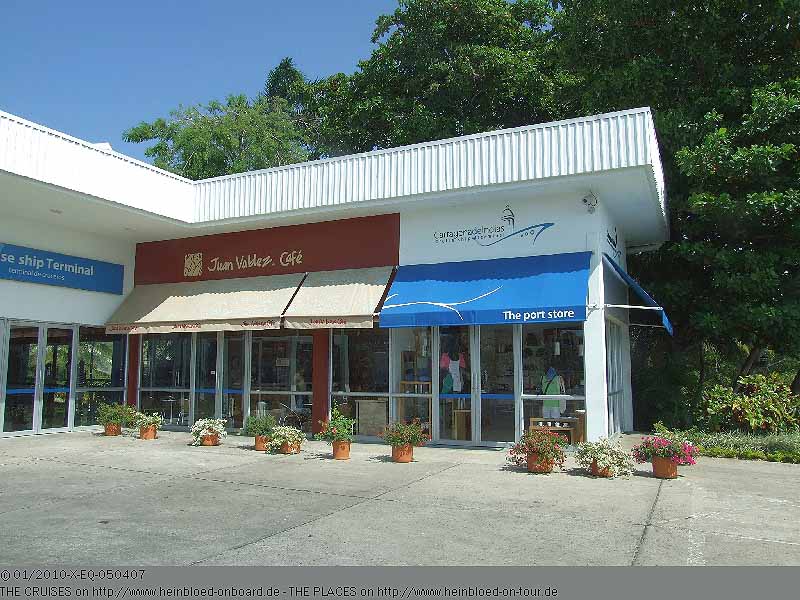 Hier rechts im Portshop gibt es auch Tickets für das Internet: 1 USD für 15 Minuten und 5 USD für 2 Stunden.
Ich nehme jedoch den Shuttlebus von Seabourn, wenn ich mir schon das Schiff nicht leisten kann. Der Shuttle von Seabourn ist etwas bequemer und moderner...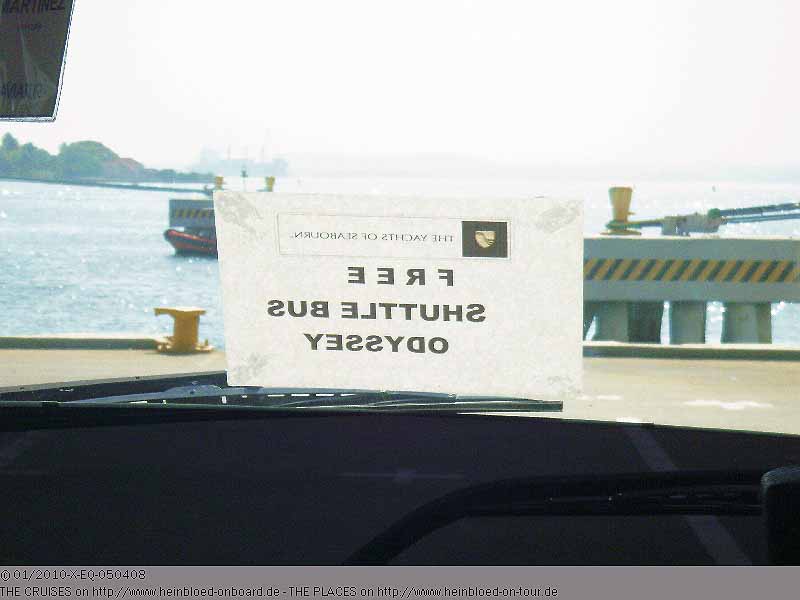 I used the shuttlebus from Seabourn as I could not afford they voyages. Seabourn's shuttle was more comfortable and modern...

In the park there was a WiFi-Zone but as described: buy ticket first. Here you get also something to drink. But with me it did not work: I got an IP-address but the DNS-server did run. After 1-2 minutes everything get stucked. Not just we me but also with all other WiFi-users. I got back my money without major discussion.

Im Park gibt es die WLAN-Zone, aber wie beschrieben: erst Ticket kaufen. Hier bekommt man auch etwas zu trinken. Nur bei mir lief es nicht: IP Adresse habe ich bekommen und der DNS-Server lief auch. Aber nach 1-2 Minuten bleibt alles stehen. Nicht nur bei mir, sondern auch bei anderen WLAN-Nutzern. Das Geld bekomme ich aber anstandslos zurück.
Ist wirklich eine nette Infrastruktur dort.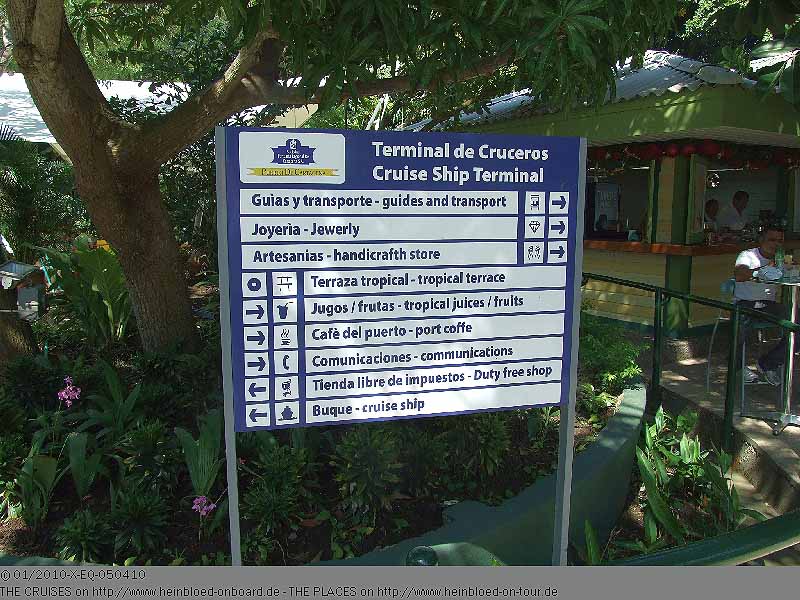 A very nice infrastructure.

Duty Free Sales - and a tons of souvenirs and coffee from Colombia.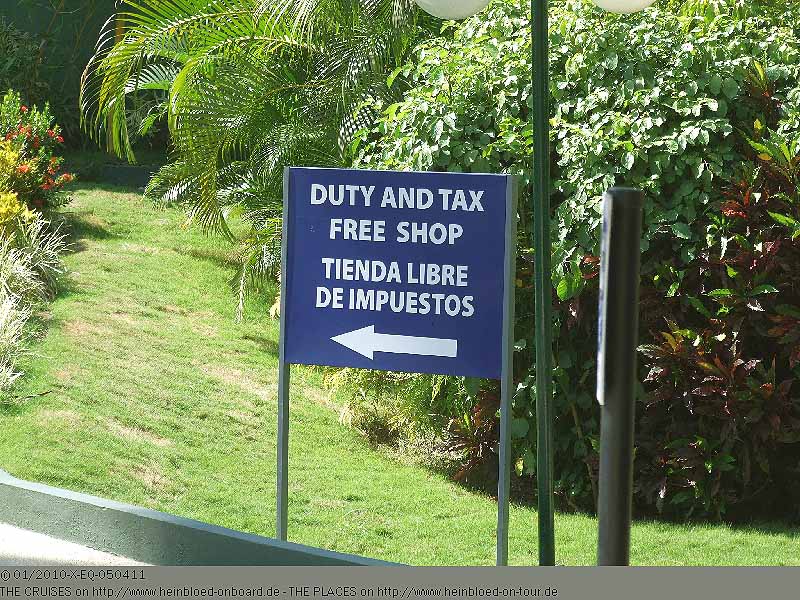 Duty Free Verkauf - und auch jede Menge Souvenirs und Kaffee aus Kolumbien.
Die üblichen Touren. Wir kommen ja von der Tour zurück. Katie und Charlie werden angesprochen, ob sie eine Tour machen wollen. Als die Taxifahrer merken, dass sie Deutsch sprechen, holen sie einen Taxifahrer, der Deutsch kann.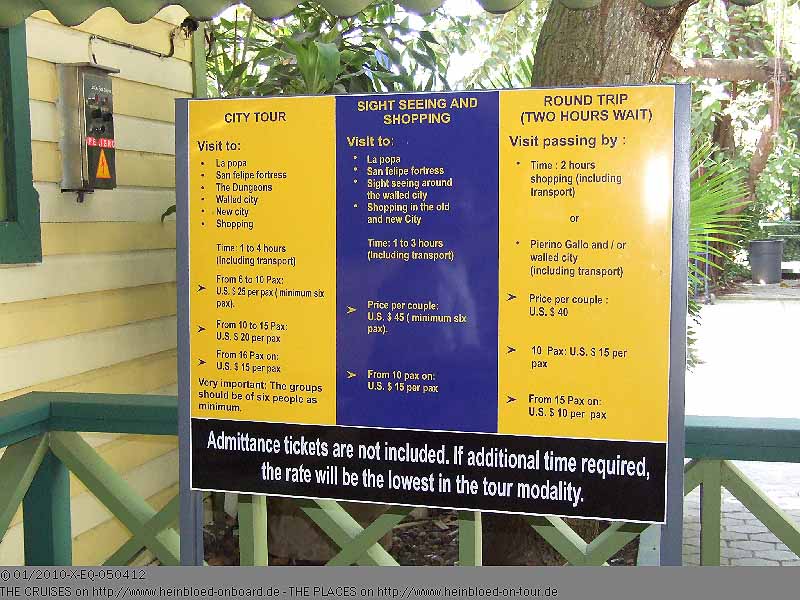 Tours as usual. We just came back from our tour. But they asked Katie and Charlie if the want to do a tour. When the cab drivers found out that they only speak German they grabbed a cabdriver who spoke German.

Here some prices for orientation. But all local currency (COP = Colombia Pesos). Later we bought something for 225,000 COP which was equal to 115.00 USD (January 27, 2010: 100 COP = 0.05 USD)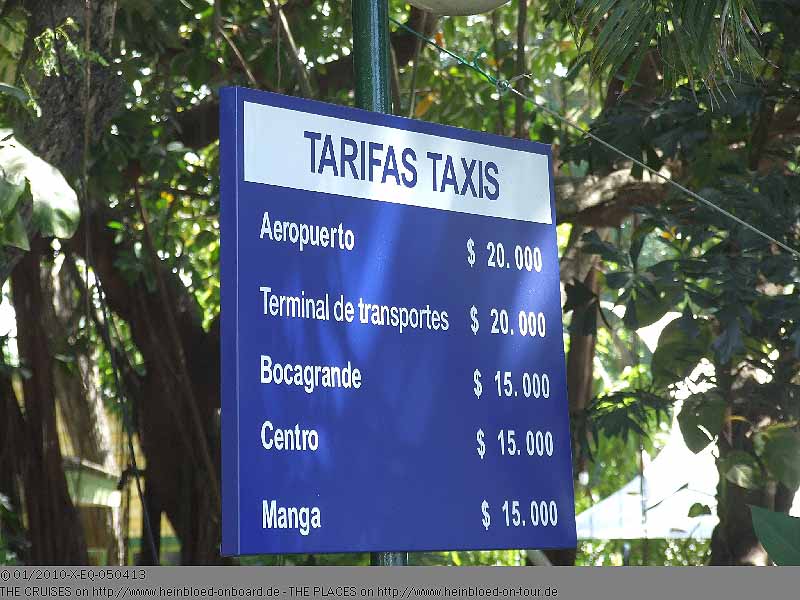 Hier mal ein paar Preise zur Orientierung. Aber alles einheimische Währung (COP = Colombia Pesos). Später kaufen wir etwas für 225.000 COP und das entspricht ca. 81 EUR (27.01.2010: 100 COP = 0.04 EUR)