Scroll down for English explanations - alternates with German explanations.

Lt. deutschem Tagesprogramm soll die Rezeption des Aqua Spas um 06.00 Uhr besetzt sein... das stimmt offensichtlich leider nicht...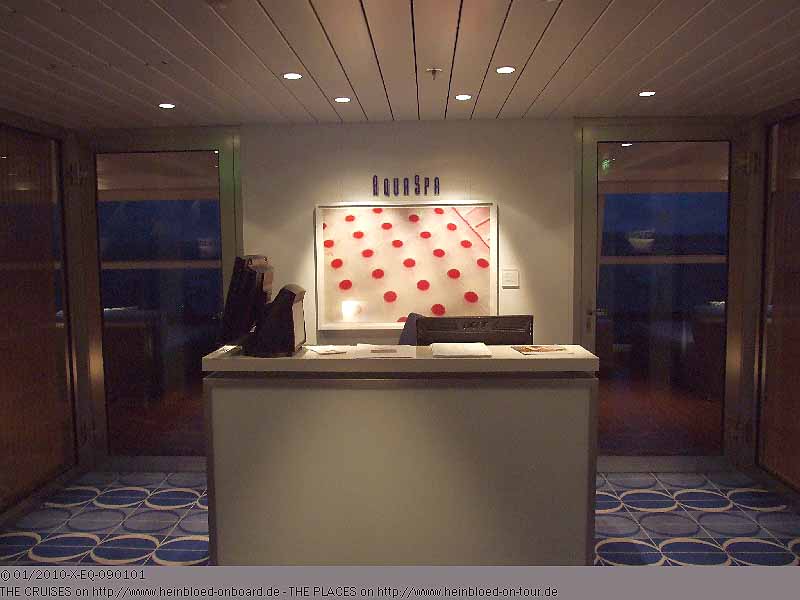 According to the German programme the reception desk of Aqua Spa should be occupied from 06.00 am... but that did not seem to be true...

So I had a look into the relax rooms at the bow of deck 11.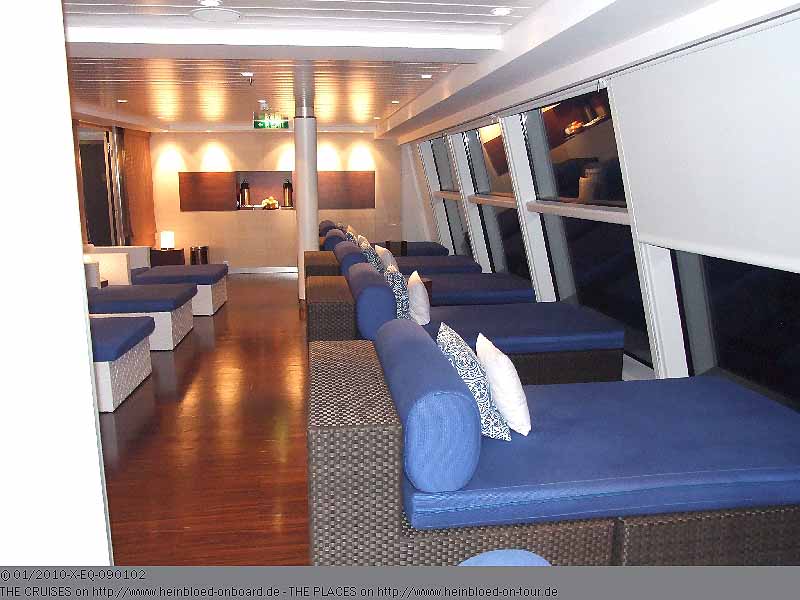 Also gucke ich mir in Ruhe die Ruheräume am Bug des Deck 11 an.
Es gibt sogar Getränke.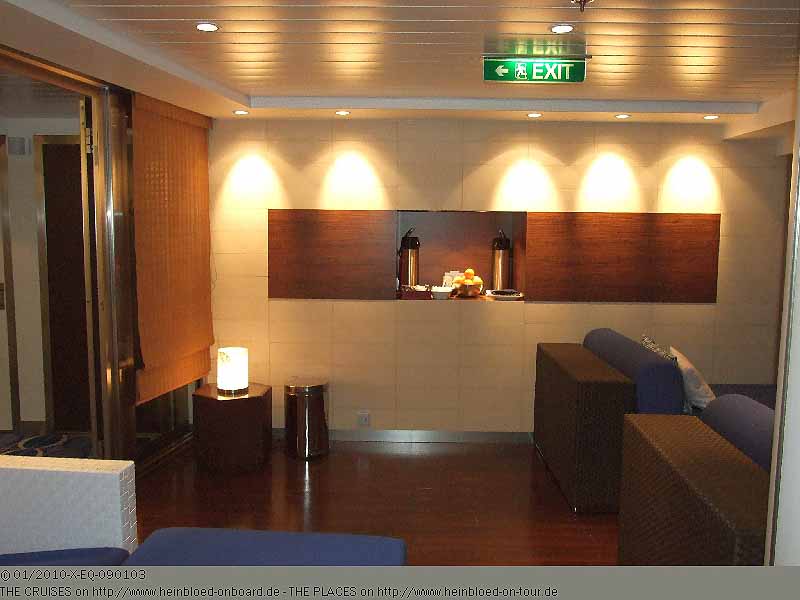 Few beverages were available.

Looked very nice.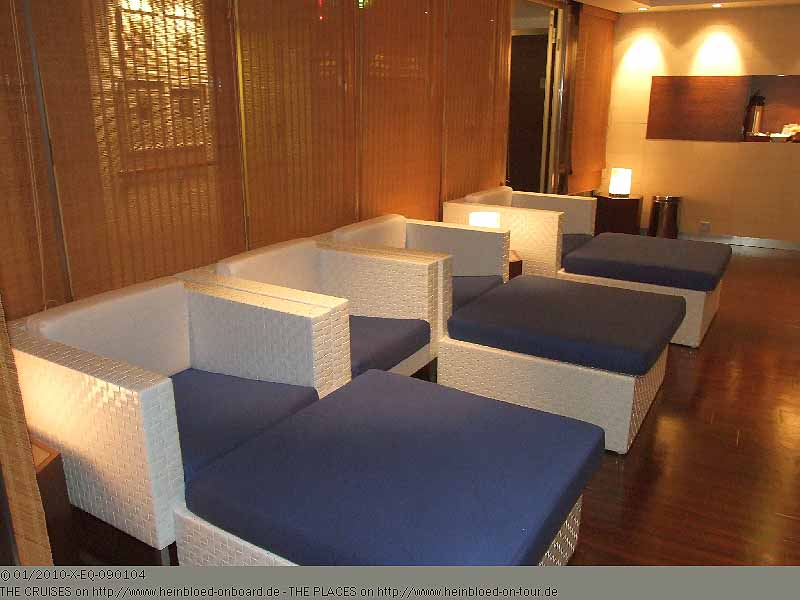 Sieht ja alles sehr nett aus.
Über diese Treppe gelangt man zu dem Hauptempfang des Aqua Spas auf Deck 12.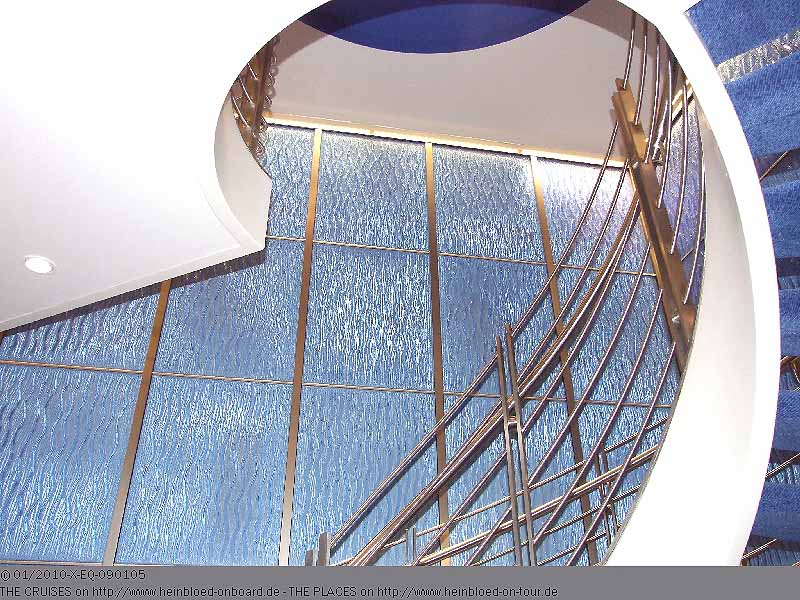 You get over this stairs to the main reception of the Aqua Spa at deck 12.

Outside it was raining dogs and cats.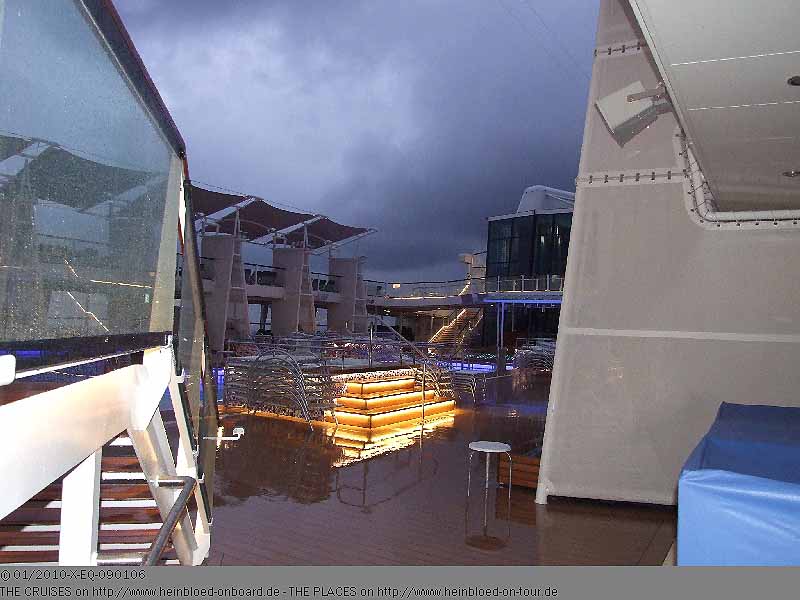 Draußen regnet es in Strömen.
Land in Sicht.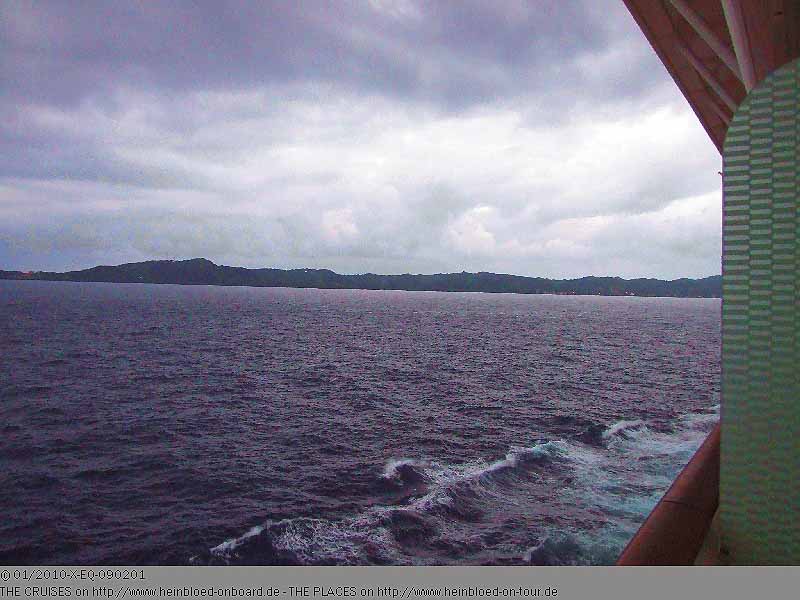 Land on sight.

As it was raining I watched the entry from the Sky Observation Lounge. At this time I had her all for me alone.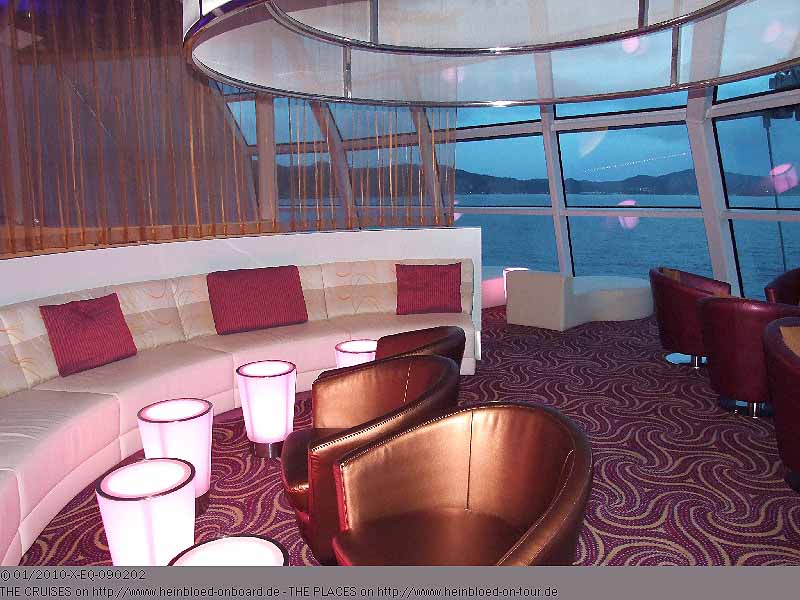 Da es regnet, gucke ich mir die Einfahrt lieber aus der Sky Observation Lounge an. Um diese Zeit habe ich sie ganz für mich alleine.
Oh, was erwartet uns denn da???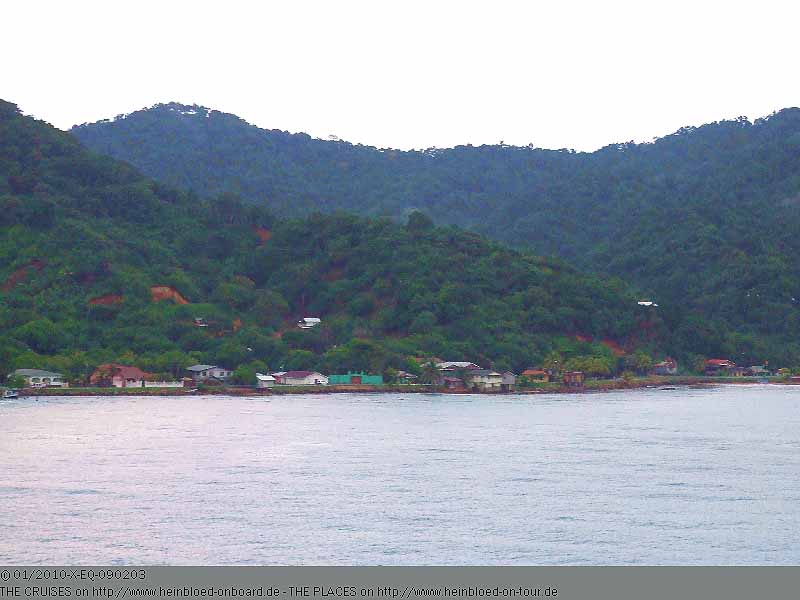 Oh, what was that expecting us???

Looked like true wild life???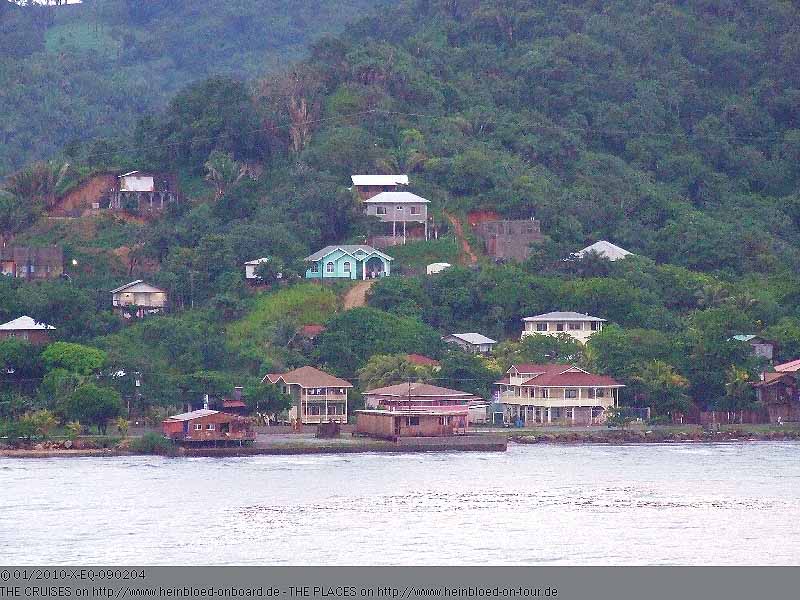 Sind wir dieses Mal richtig in der Wildnis???
Bis jetzt waren wir immer an einem großen Hafen, in dem nebenbei auch Kreuzfahrtschiffe angelegt haben.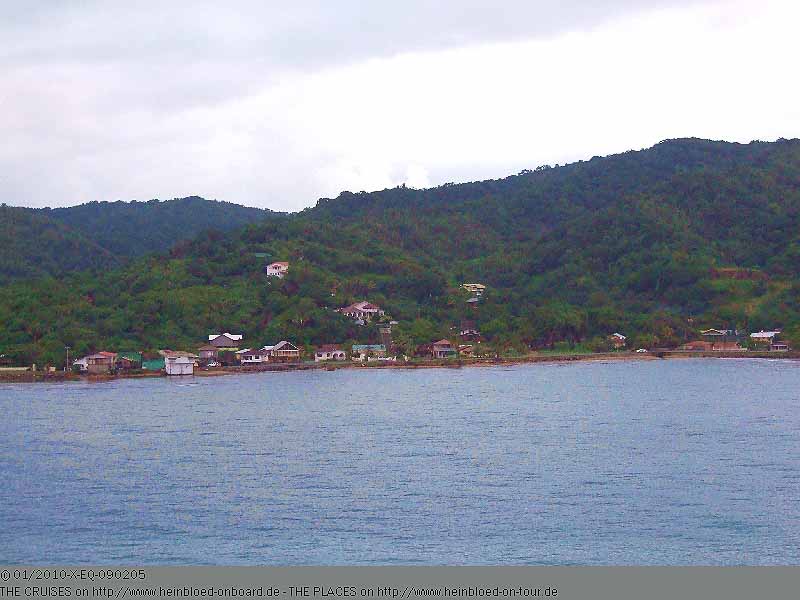 We berthed so far at big ports where also some cruise ship berthed.

But here no crane to see so far.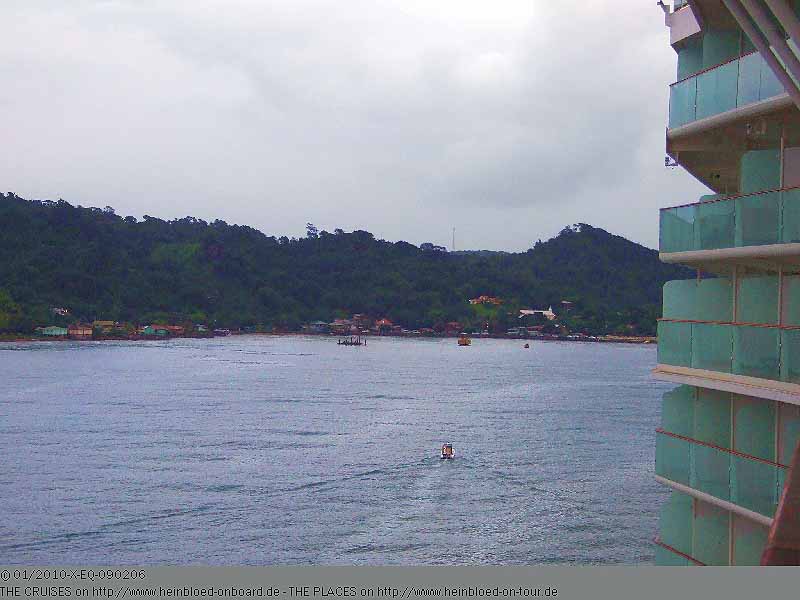 Nur hier sind keine Kräne in Sicht.
Als wir festmachen, werden die kleinen Fischer verscheucht.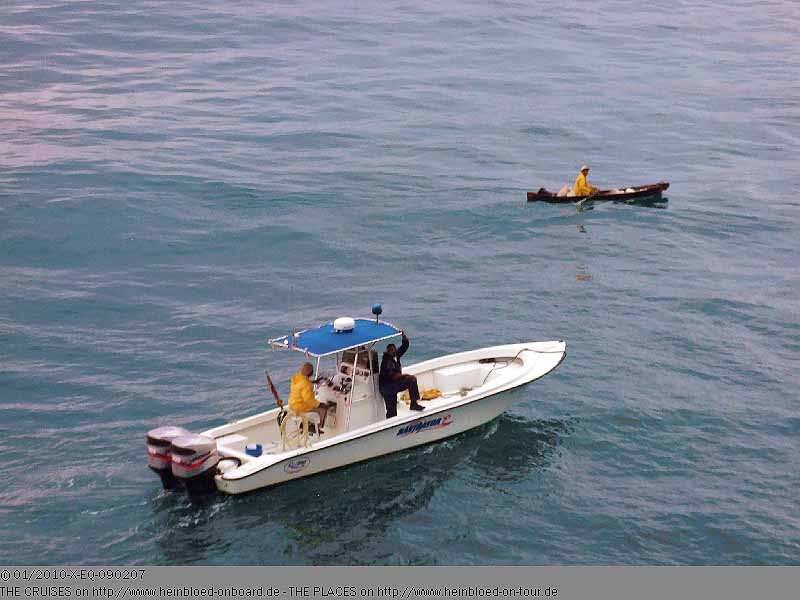 When we berthed small fisherman boats were sent away.

We arrived at the cruise terminal. It looked like a true cruise terminal where no cargo ships were handled.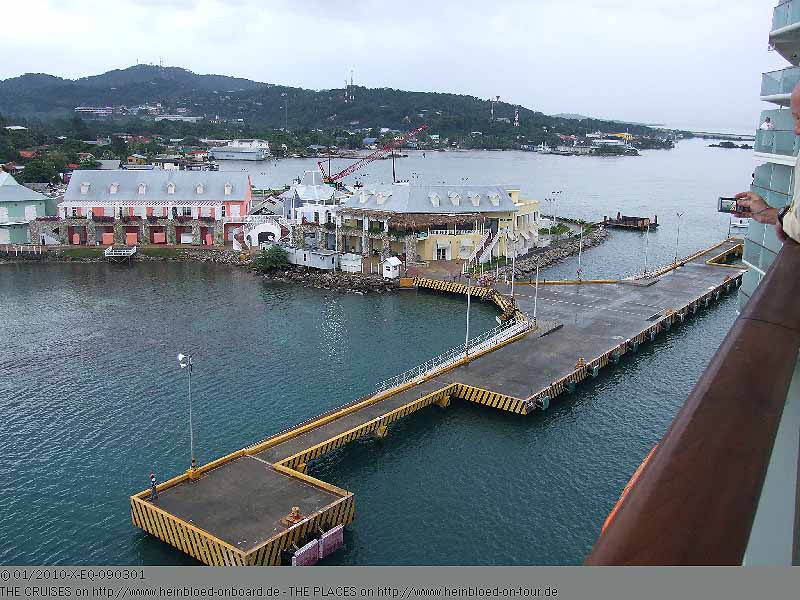 Wir kommen am Kreuzfahrtterminal an. Ein reines Kreuzfahrtterminal, an dem nicht nebenbei noch andere Frachtschiffe abgefertigt werden.
Z. T. muss auf solchen Inseln festgemacht werden.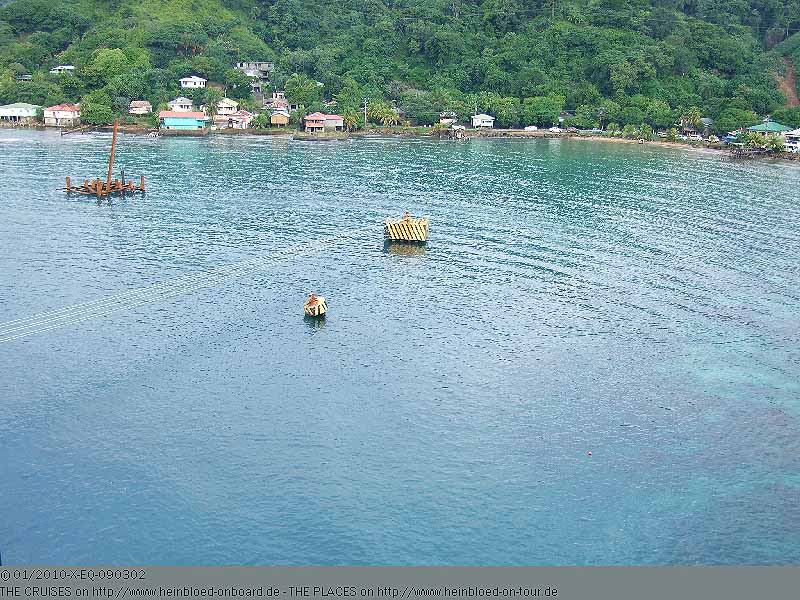 They need such islands to fix the ships.

A group of local musicians were rocking us the first minute before we berthed.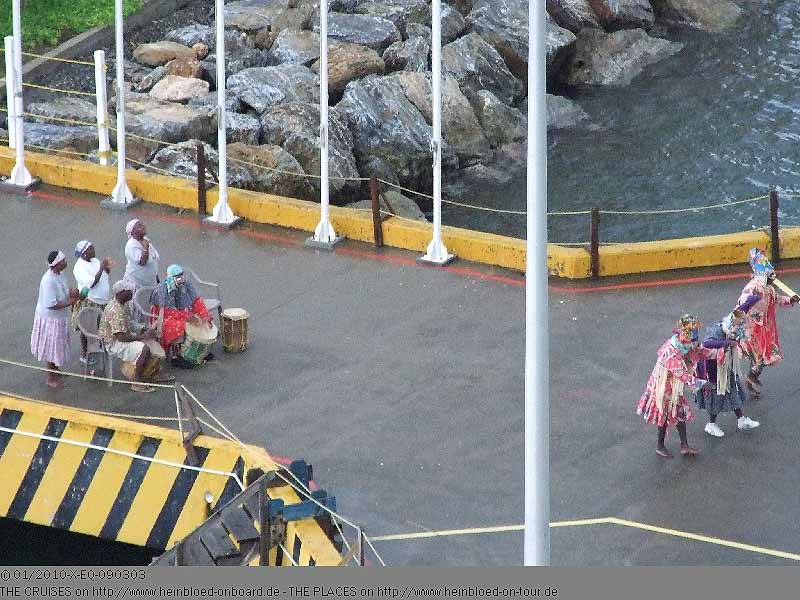 Eine Gruppe einheimischer Musiker ist schon vor dem Anlegen voll dabei uns einzustimmen.
Das scheinen schon Reihen voller Taxen zu sein, die sich anstellen.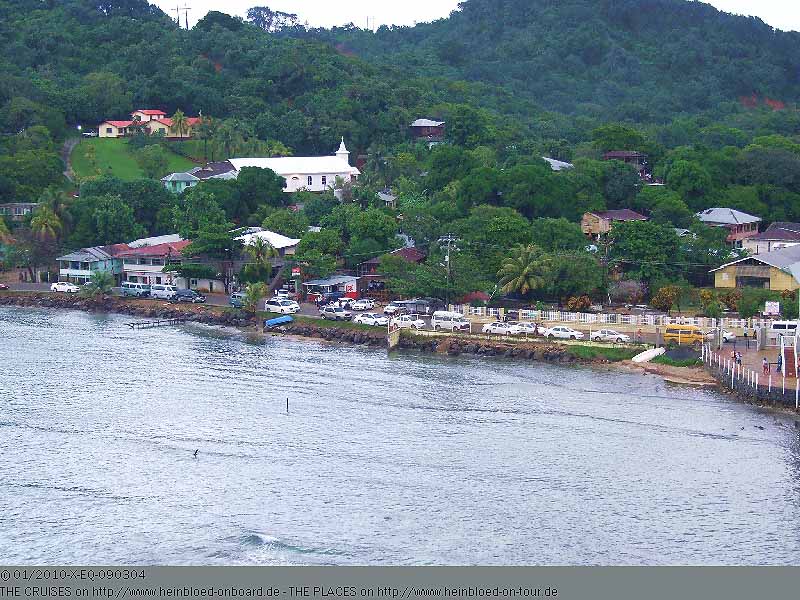 Seemed to be a long row of taxis which were queuing for us.

On the pier for tender boats some excursion boats used to board their passengers as well. Very practical.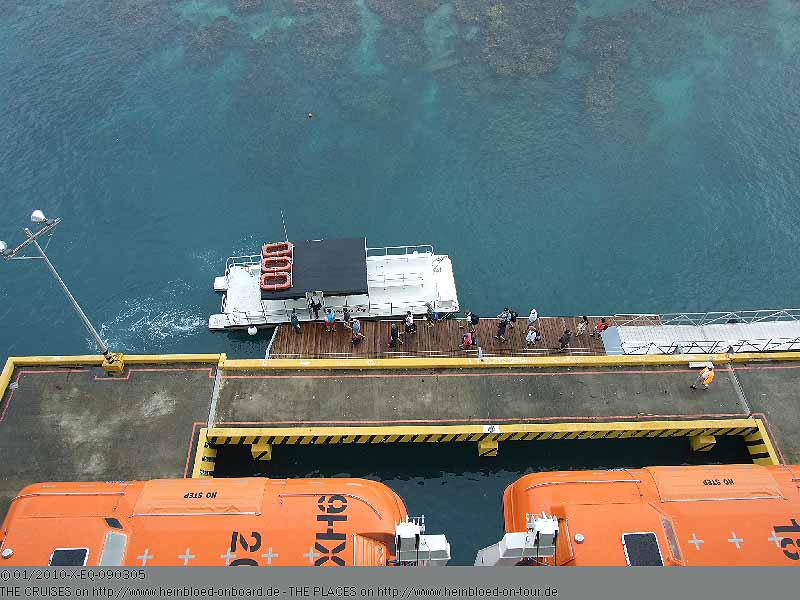 Durch die Anleger für die Tenderboote werden auch die Ausflugsboote bestiegen. Das ist äußerst praktisch.
Von unserem Balkon aus, können wir das kristallklare Wasser sehen.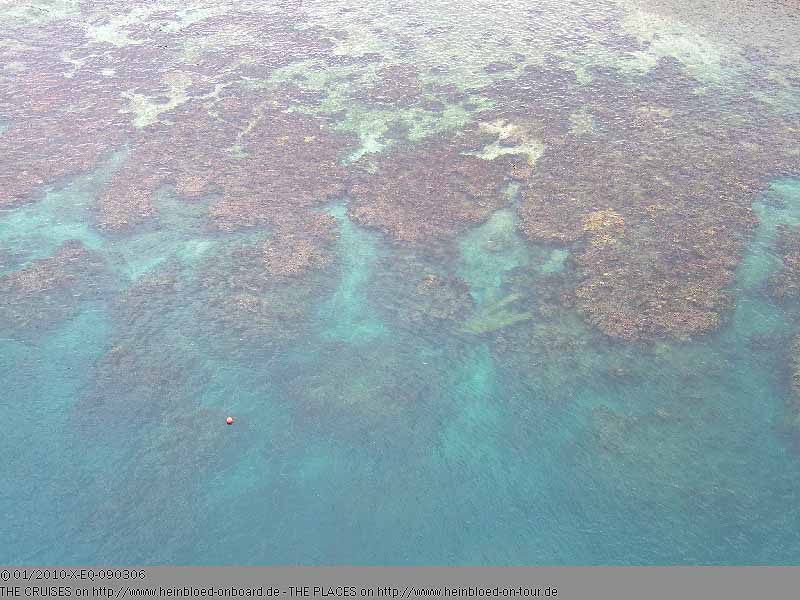 From our balcony we can see the crystal clear water.

Hapag-Lloyd set up for their guests the tender boat station.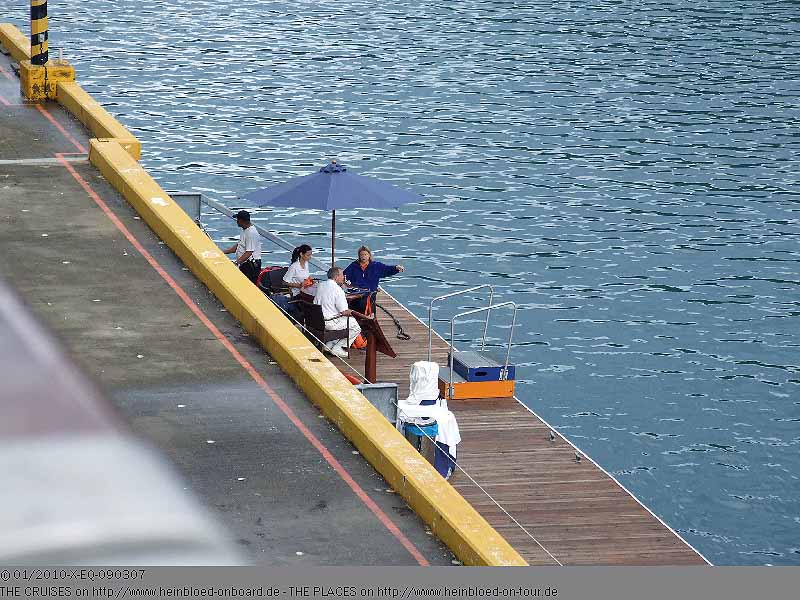 Hapag-Lloyd baut für seine Kunden die Tenderbootstation auf.
Auf der anderen Seite wird die Tenderbootstation für NCL aufgebaut.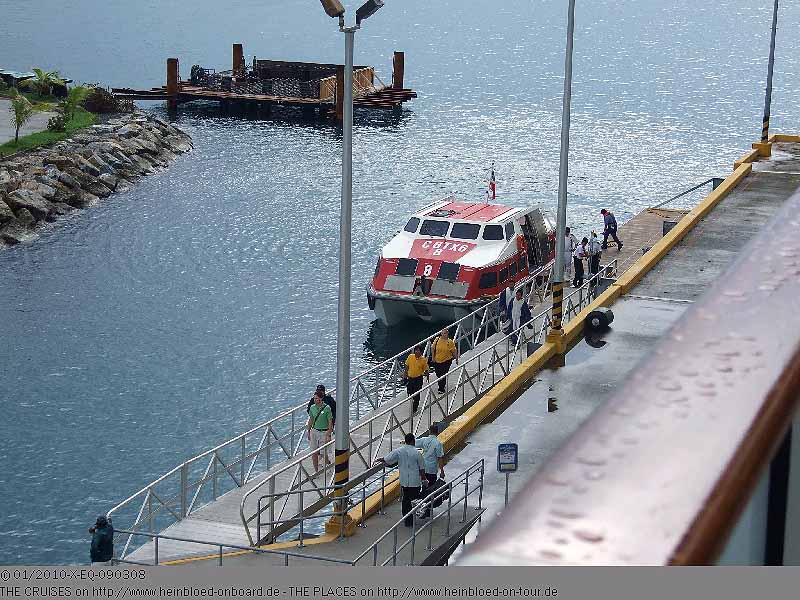 On the other side NCL set up their tender boat station.

For a small tip the group let take you some pictures.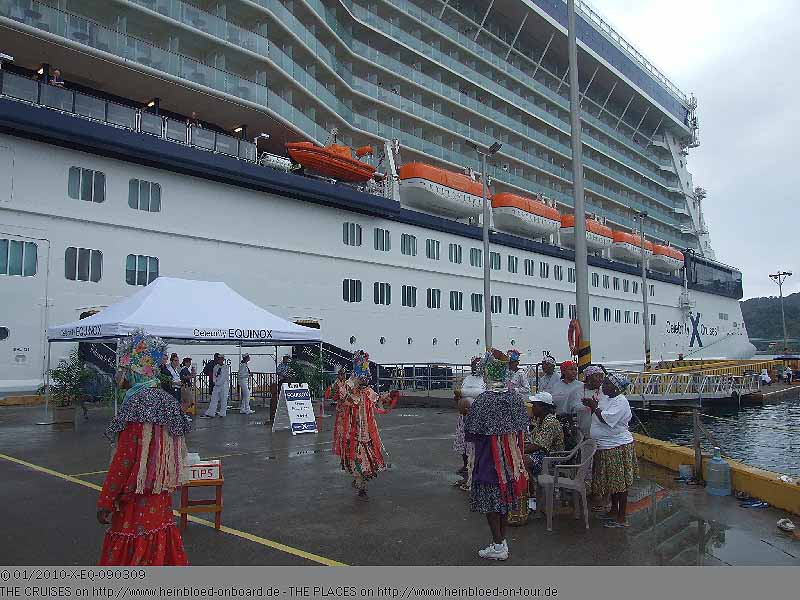 Gegen ein kleines Trinkgeld lässt sich die Gruppe auch gerne fotografieren.
Am Informationsstand bekommt man Tipps und Karten.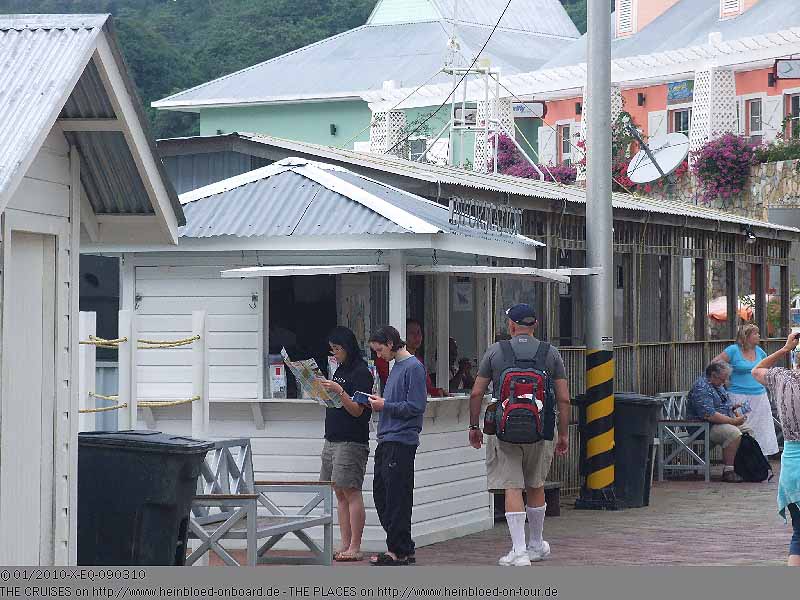 At the information stand you get recommendations and maps.

The Town Center was a cruise complex with a lot of shops and restuarants.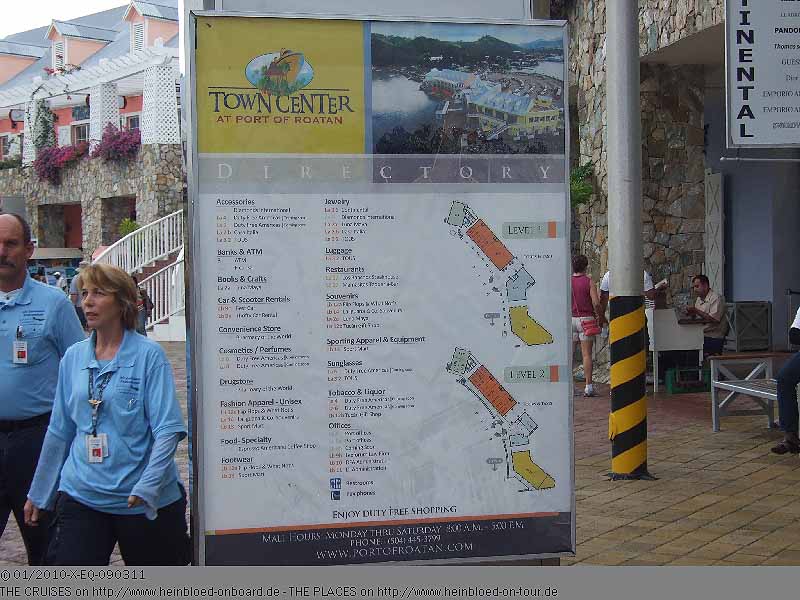 Das Town Center ist der Kreuzfahrtkomplex mit vielen Geschäften und Restaurants.
Hier ist die Gasse, die zu den Touren führt: links Taxen, in der Mitte die Stände der Tourenanbieter und rechts die Busse.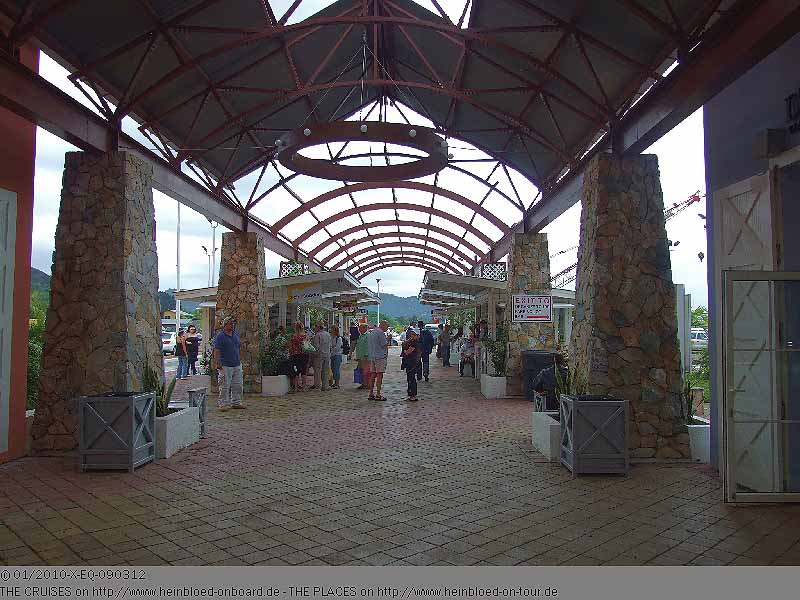 This was the alley which take you to the tours: left taxis and in the center the stands of the tour operators and right the buses.

Opposite there was an island you need to pay admission fee if you want to stay there a day.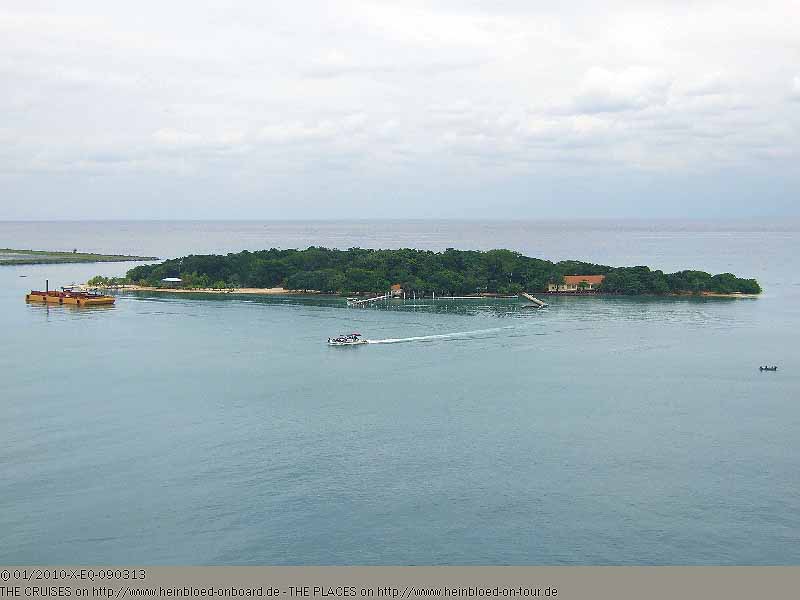 Gegenüber einer der Inseln, für die man Eintritt zahlen muss, wenn man auf ihr einen Tag verweilen will.
Auf der Steuerbordseite des Silhouette-Restaurants auf Deck 3 wird wieder ein Express-Frühstück serviert. Alle bekommen das gleiche zu Essen. Keine Extra-Würste möglich.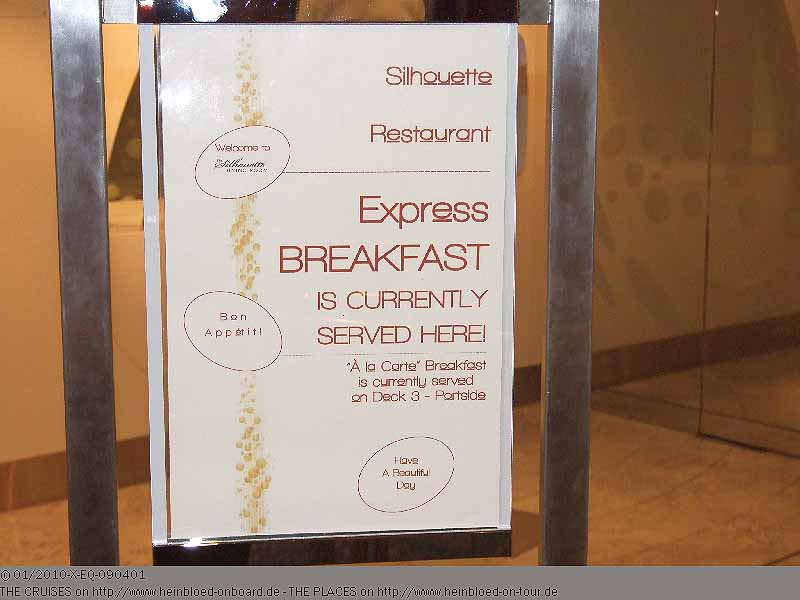 On the starboard side of the Silhouette-Restaurant on Deck 3 they served again an Express-Breakfast. Everbody get the same breakfast. No extras possible.

We went to the other side because we did not want to leave immediately from the ship. Like again we got immediately everything on my table.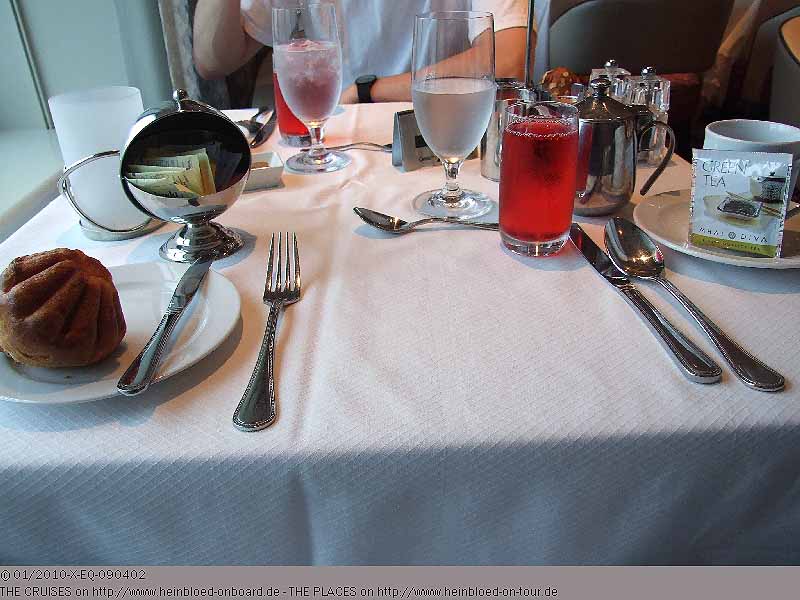 Wir gehen zur anderen Seite, weil wir nicht sofort von Bord wollen. Wie üblich geht es ruckzuck, bis dass wir alles am Tisch haben.
Meine Wurst- und Käseplatte kommt.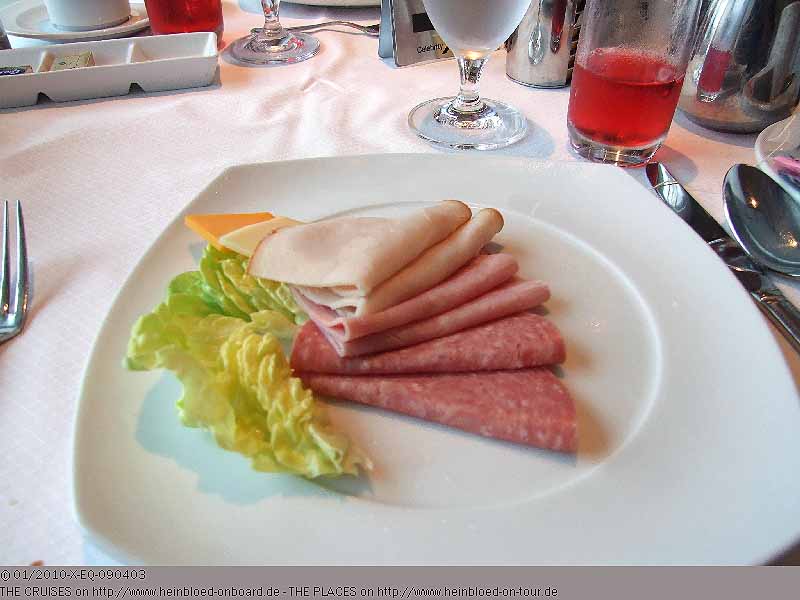 My plate of cold cut (charcuterie) and cheese came.

I wanted some fried eggs and some corned hashed browns. To save space I layed off like a professional my cold cut on my egg-plate.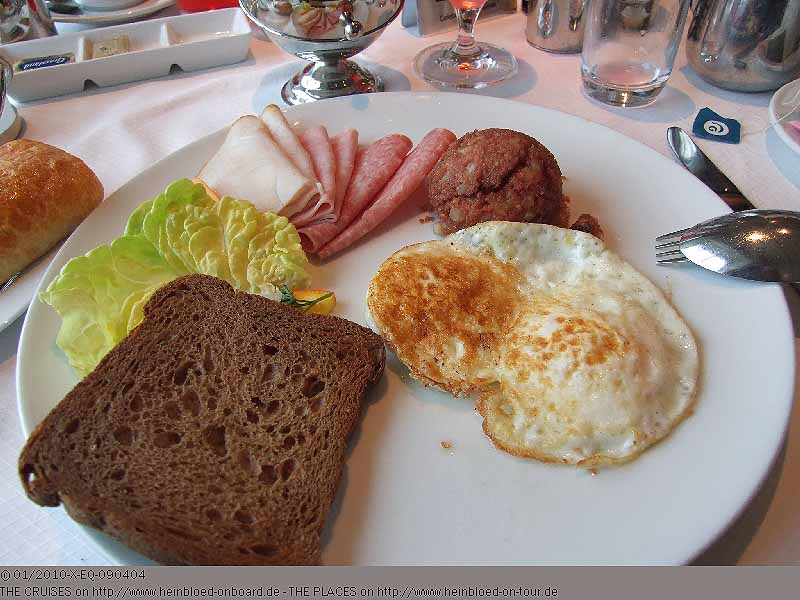 Ich wollte ein paar Spiegeleier und etwas "Labskaus". Um Platz zu sparen, trage ich wie ein Profi meinen Aufschnitt auf den Eierteller auf.
Dabei werde ich von José beobachtet. Er fällt unter den Maître auf: er ist nämlich kein großgewachsener, der über die Köpfe der Gäste hinwegguckt, um nur zu sehen, ob ein Tisch frei ist. Er arbeitet abends im Tuscan Grille und guckt den Gästen in die Augen und sucht den Kontakt. Er hört zu, weil er auf Augenhöhe mit einem spricht und schaut nicht auf die Gäste herab (im wahrsten Sinne des Wortes). Er kommt um meinen leeren Teller zu holen, bevor ich die letzte Scheibe runtergeholt habe. Ihm liegt eine Frage auf der Zunge, aber er bringt erst mal den leeren Teller weg und dann kommt er wieder und fragt nach, ob ich vielleicht in der Gastronomie arbeiten würde. Er war übrigens gestern beim Brunch der einzige, dem ich mal meine Beobachtungen anvertraut habe. Ich habe ihm gesagt, dass ich das alles unheimlich toll finde, aber nicht verstehe, warum eigentlich Celebrity die Chance nicht nutzt, der Beste zu sein und es am Besteck scheitert. Er bittet um Erläuterung und zum ersten Mal sehe ich jemanden wie bei Asterix und Obelix, die die Gesichtsfarbe innerhalb von Bruchteilen von Sekunden ändert, als ich ihm erkläre, dass ein Kellner erklärt hätte, dass es Celebrity's Policy sei, dass das Besteck nicht ausgetauscht wird. Ich komme nicht dazu, weiterzusprechen. An dieser Stelle, erklärt er mir, dass es natürlicherweise nicht Celebrity's Policy sei, dass man das Besteck weiternutzt. Das war alles, was ich wissen wollte. Er lässt es nicht dabei, sondern folgt mir und sieht in der Tat, dass wohl der Kellner zwar meinen Teller abgeräumt hat, aber in der Tat das Besteck wieder auf meinen Platzt gelegt hat. Er kommt persönlich mit frischem Besteck und ersetzt meines und lässt auch das Besteck der anderen ersetzen. Den Rest des Brunches erhalten wir immer frisches Besteck, so wie es sein sollte.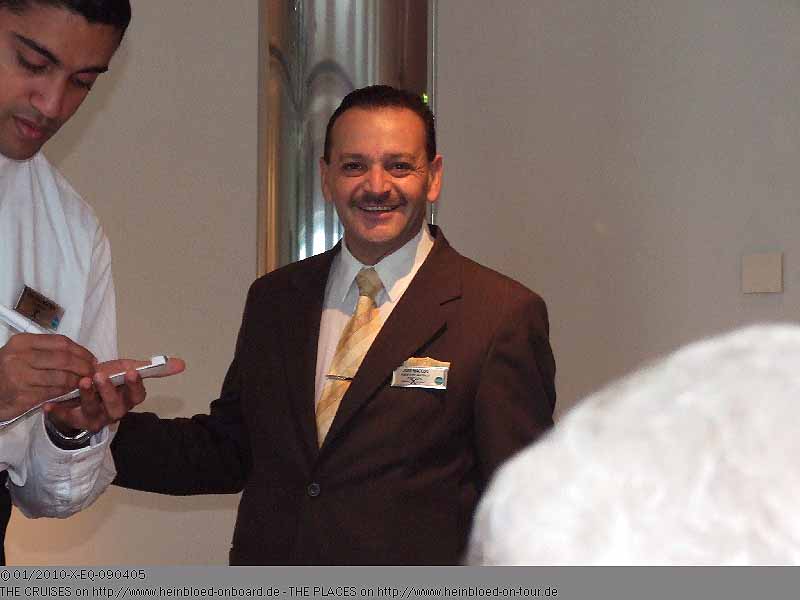 José observed me when I did it. It's easy to identify him of all maîtres: he is not a tall long man who looked over the guests to check if a table was vacant. He was working in the evening in the Tuscan Grille and looked his guests into the eyes to get a contact. He listened because he was facing his guests and did not look down to you (physically). He came to get my empty plate before I layed off the last slice. You could see that he had a question but he took away first the empty plate. Then he returned and he asked if I worked in the gastronomy. He was by the way the only maître whom I talked frankly about my observations at the brunch. I told him that I was wondering that Celebrity had the chance to the best of the bests but had the small silverware problem. He asked for explainations and it was the very first time that someone changed within moments like you normally know from the cartoons of Asterix and Obelix when I told him that some waiter said that it was Celebrity's policy to keep the dirty silverware. I had no chance to continue. Of course he said what I expected: that it was no policy of Celebrity to keep the silverware. He did not let me just go and followed me to make sure that everything was allright with us. Then he saw me returning to my seat and saw that my dirty plate was taken away but the dirty silverware was put back on the table. He came with fresh silverware and replaced my silverware. Further he arranged that all others get fresh silverware as well. From now we got for the rest of the brunch fresh silverware.

One of the waiters we know from Silk Harvest was thanking us for our visit. We asked if they made a doggy-bag. He told us that it was no standard in restaurants like Silk Harvest to arrange doggy-bags. While I was taking the picture I wished him to have fun because I know that he will need a doggy bag again in few days. Bruno choked on his bite and we promised to have a look for a Chinese restaurant on Roatan to ask for a doggy bag box. Nobody should stay that Celebrity did not do their best to let their guests feeling and behaving like home.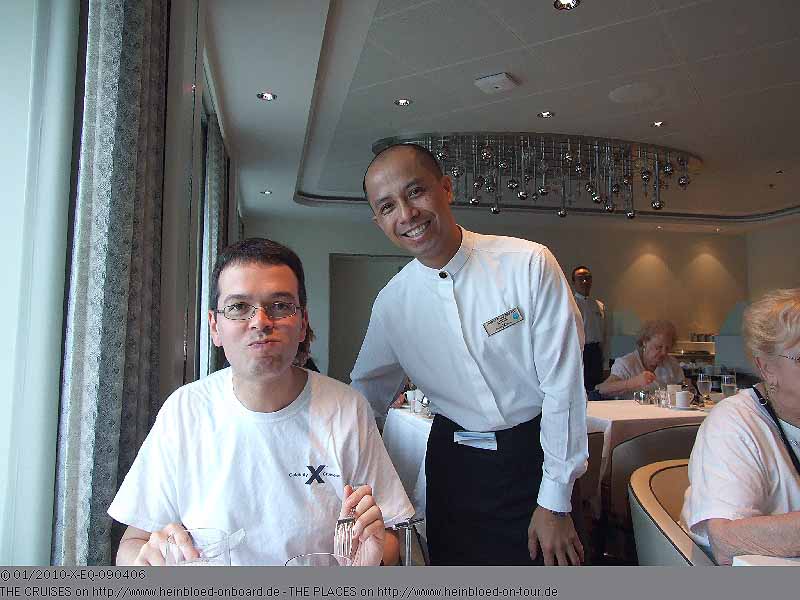 Einer der Kellner, der uns zuvor im Silk Harvest bedient hat, und sich nochmals bei uns für unseren Besuch bedankt. Wir erkundigen uns, ob tatsächlich ein Doggy-Bag gepackt wurde. Er teilt uns mit, dass es in einem Restaurant wie dem Silk Harvest nicht üblich sei, die Reste einzupacken und mitzugeben. Während ich fotografiere und Bruno gerade etwas kaut, wünsche ich ihm viel Vergnügen, weil ich weiss, dass in ein paar Tagen vielleicht wieder eine Mitnahmebox gebraucht wird. Bruno verschluckt sich darauf hin... und wie versprechen auf Roatan nach einem China-Restaurant zu suchen und ihm eine Mitnahmebox zu besorgen. Niemand soll sagen, dass Celebrity nicht dafür sorgt, dass man sich wie zu Hause fühlt und sich entsprechend benehmen kann.
Die CARNIVAL DREAM kommt. Leider nicht mehr zu uns, da seit einiger Zeit Carnival ein eigenes Terminal auf Roatan betreibt.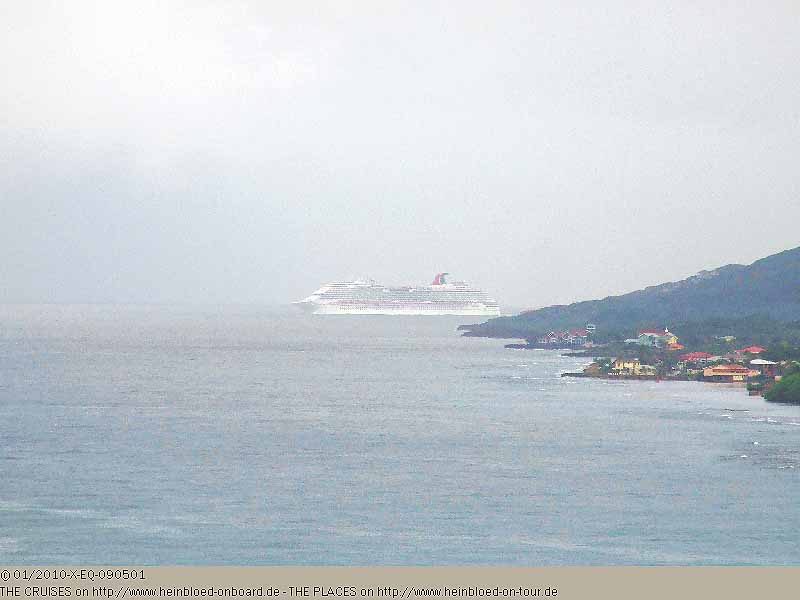 CARNIVAL DREAM came. But not to us since Carnival had a terminal of their own on Roatan.

When we came back from breakfast we could find the ship between the trees.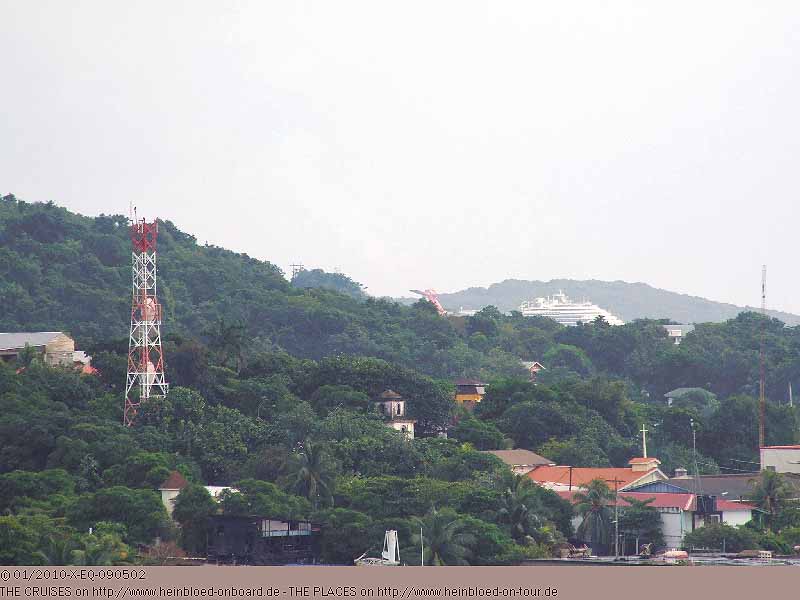 Als wir vom Frühstück wiederkommen können wir das Schiff zwischen den Bäumen erkennen.