Scroll down for English explanations - alternates with German explanations.

Um drei Uhr kann ich nicht mehr schlafen. Gegen 05.30 Uhr würde ich doch mal gerne ein Kreuzfahrtschiff sehen. Als ich den Concierge nach einem guten Aussichtspunkt frage, bringt er mich auf das ehemalige Dachgartenrestaurant, das leider während des Hurricanes Andrew zerstört wurde. Von hier aus, kann ich schon die NORWEGIAN SKY und die CELEBRITY CENTURY sehen.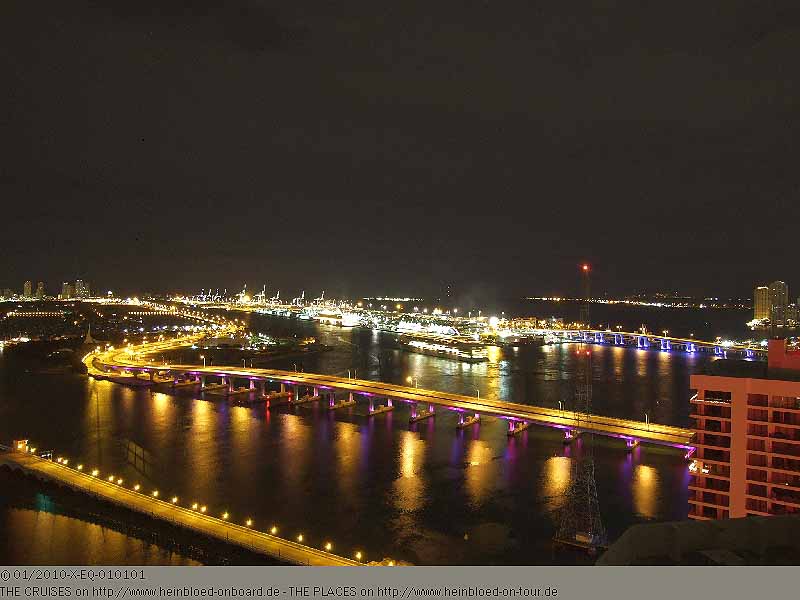 Around 3 am I cannot sleep anymore. Around 5.30 am I would like to see the cruise ships. When I asked the concierge for a good spot with a great view he took me to the former roof garden restaurant which was destroyed by hurricane Andrew. From I could see NORWEGIAN SKY and CELEBRITY CENTURY.

It's a shame that we did not get the view to the cruise terminal although requested. But anyway we do not want to return to this hotel again.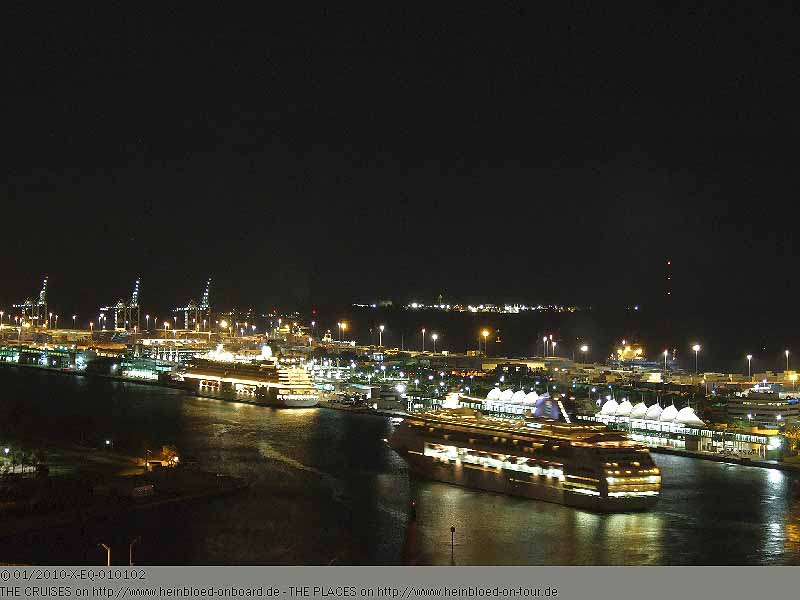 Echt schade, dass wir keinen Blick in die Richtung bekommen hatten, obwohl extra angefragt. Wir wollen ja eh nicht mehr in das Hotel zurück.
Und auch von hier ein wunderbarer Blick auf die Skyline von Miami. Um 07.00 Uhr bekommen wir Frühstück auf Kosten des Hotels nach unseren Problemen von gestern.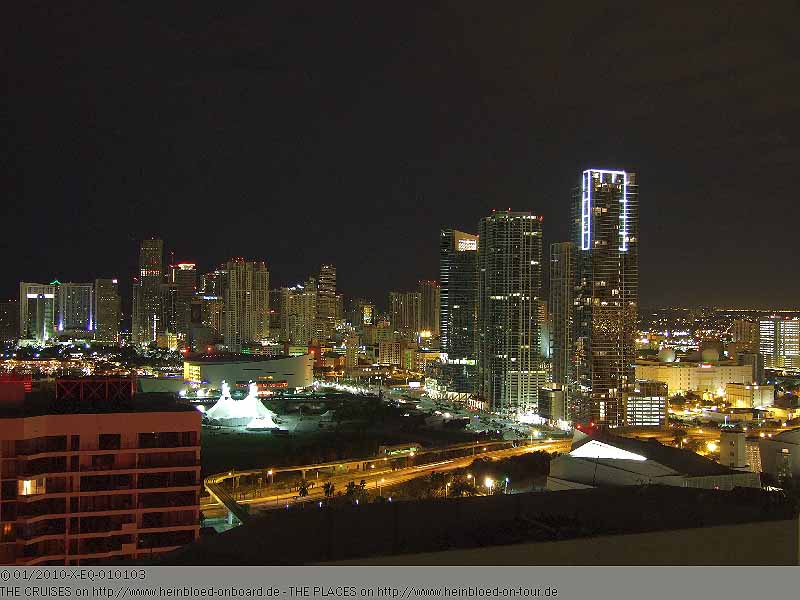 And here a beautiful view to Miami's skyline. At 07.00 am we got free breakfast due to our problems we had last night.

Somehow I totally forgot to ask for mail the day before.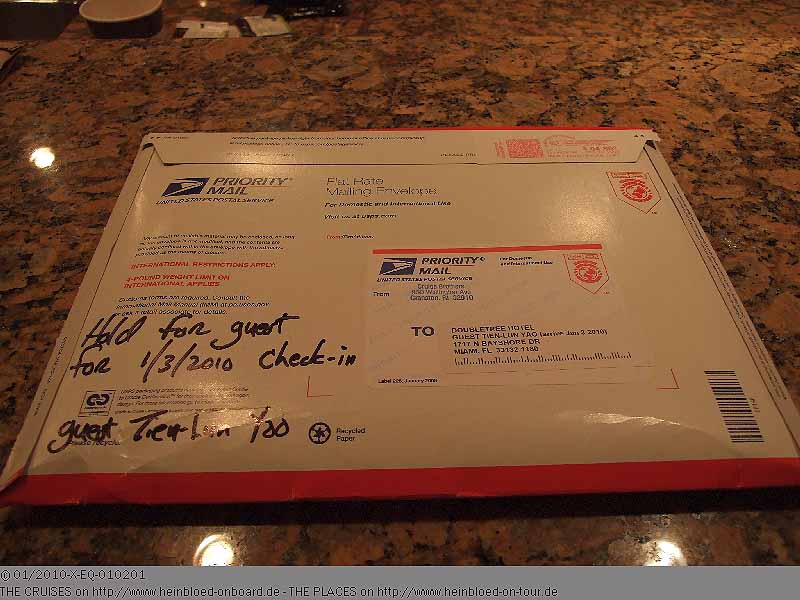 Irgendwie hatte ich gestern vergessen nach der Post zu fragen.
Und wenn man "Friends of Dorothy" (etwas für Insider, die uns schon länger kennen...) ist, dann bekommt man
Dorothy
auch etwas Gutes, auch wenn man mal ausnahmsweise nicht bei ihr gebucht hat: Disney Kataloge für meine Mitarbeiterin und Celebrity Couponbücher.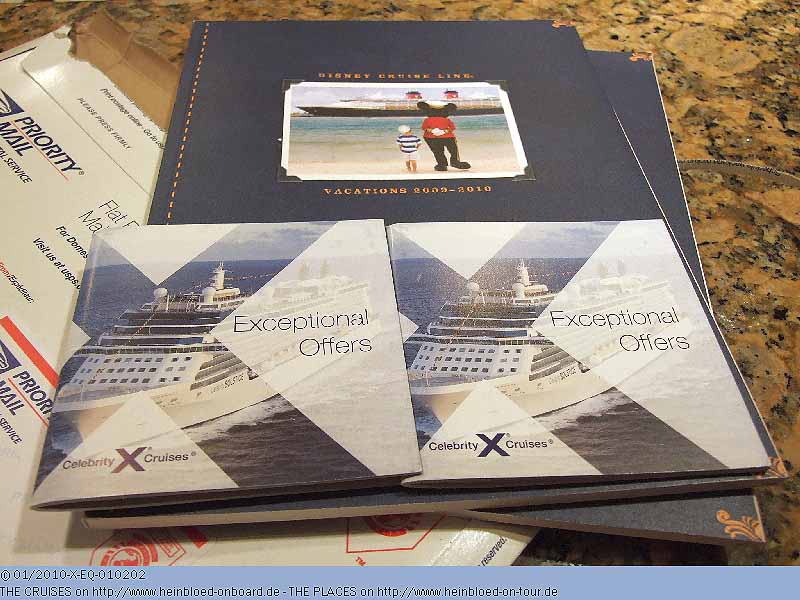 And if you are "Friends of Dorothy" (something for Insiders who know us for some time...) than you get from Dorothy some goodies even you have not booked with her for this time: DIsney catalogues for my co-worker and Celebrity Couponbooks.

Wine...

Wein...
20% mehr Internet-Minuten...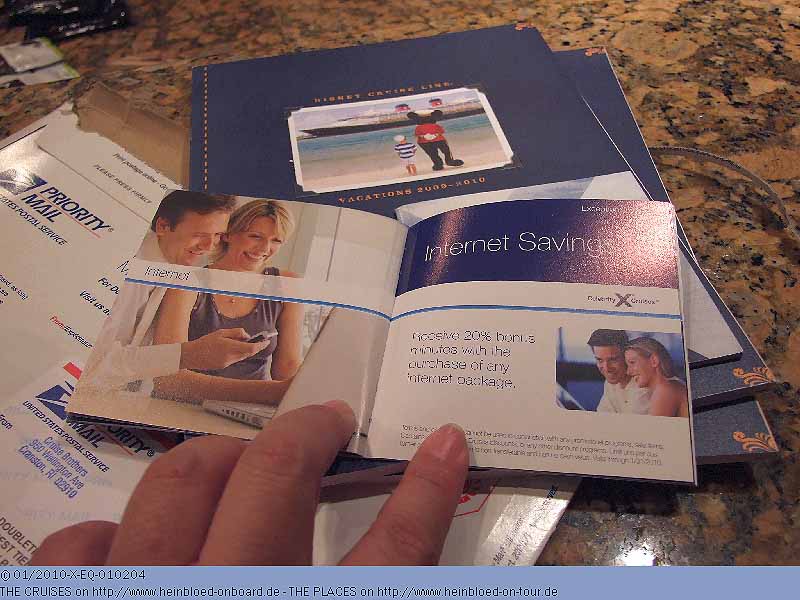 20% more Internet-Minutes...

A laundry bag for 29.00 USD...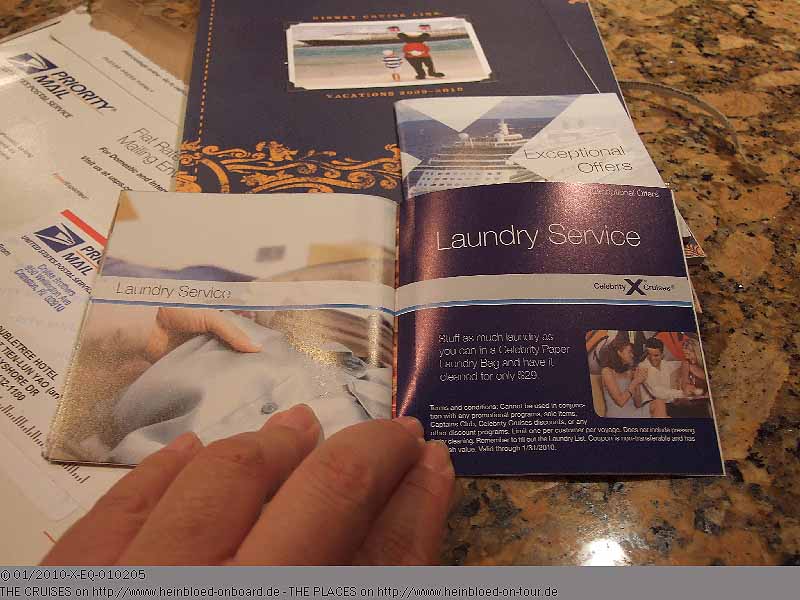 Einen Sack Wäsche für 29,00 USD...
Logo-Shirts... Wir wissen schon, warum wir meistens bei ihr buchen.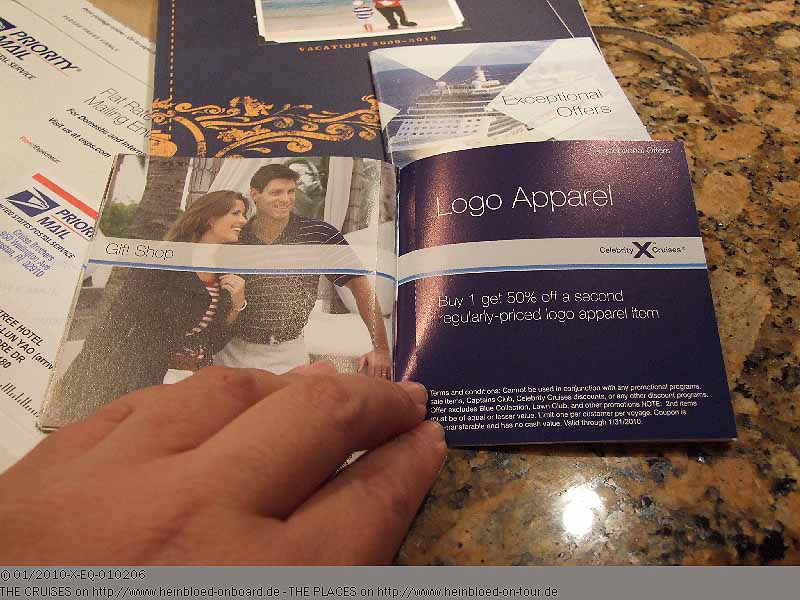 Logo-Shirts... We know why we mostly book with her.

At 08.00 am we reached Lufthansa in the US. We got the information that two of four bags were on the way to Maimi but from Düsseldorf i. e. no chance to make it until 05.00 pm in Fort Lauderdale. And two are still in Düsseldorf. I did not make sense to become mad: we went for shipspotting: MAJESTY OF THE SEAS...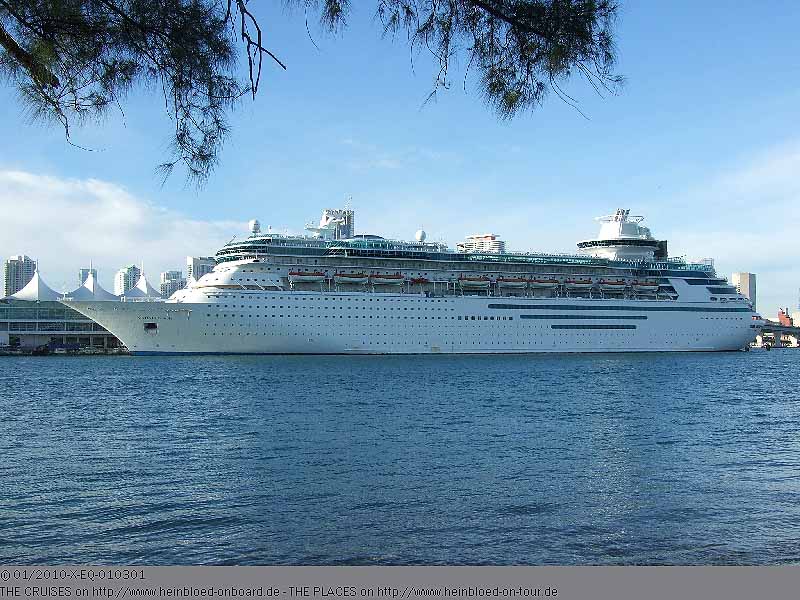 Um 08.00 Uhr erreichen wir Lufthansa in den USA. Wir erhalten die Mitteilung, dass zwei von vier Gepäckstücken auf dem Weg nach Miami sind, aber von Düsseldorf aus, d. h. auch die haben keine Chance bis 17.00 Uhr in Fort Lauderdale zu sein. Und zwei sind noch in Düsseldorf. Jede weitere Aufregung macht keinen Sinn: wir gehen zum Shipspotten: MAJESTY OF THE SEAS...
Ich stelle Bruno die CRYSTAL SERENITY vor und welche Vorteile sie hat, aber Bruno weigert sich mein Taschengeld zu erhöhen...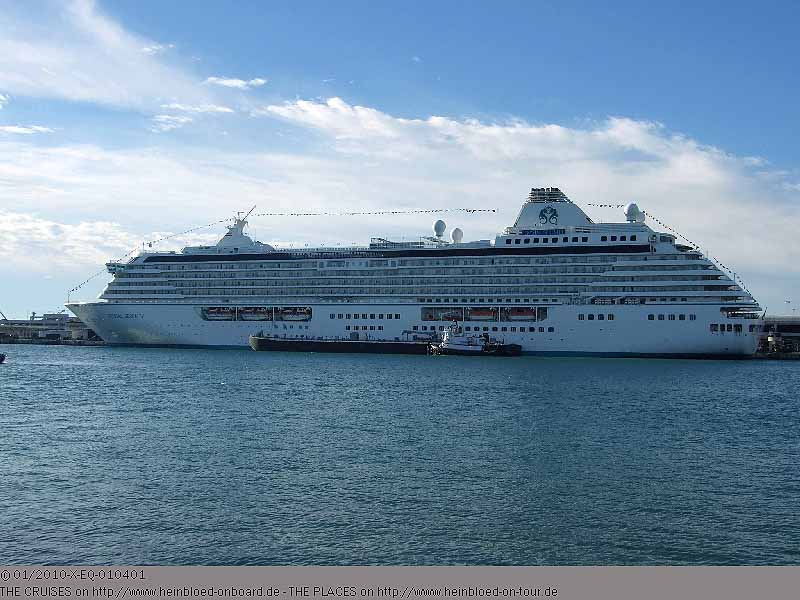 I introduced Bruno CRYSTAL SERENITY and told him about the advantages but Bruno refused to increase my pocket money...

CELEBRITY CENTURY... why cannot I get the other missing ships for taking pictures... why always CELEBRITY CENTURY???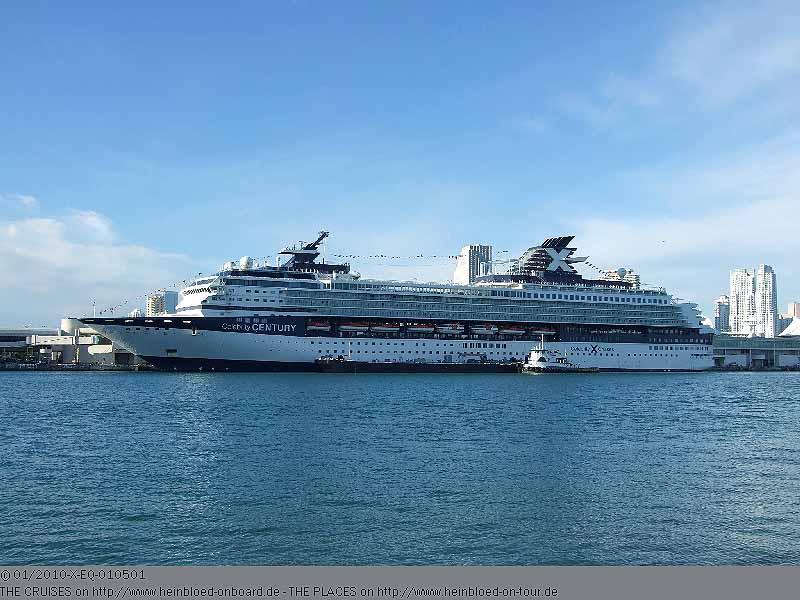 Die CELEBRITY CENTURY... warum kann ich nicht mal die anderen fehlenden Schiffe mal vor die Kamera bekommen... warum immer nur die CELEBRITY CENTURY???
Als ich die CARNIVAL IMAGINATION fotografiere kommt die Küstenwache in meine Richtung.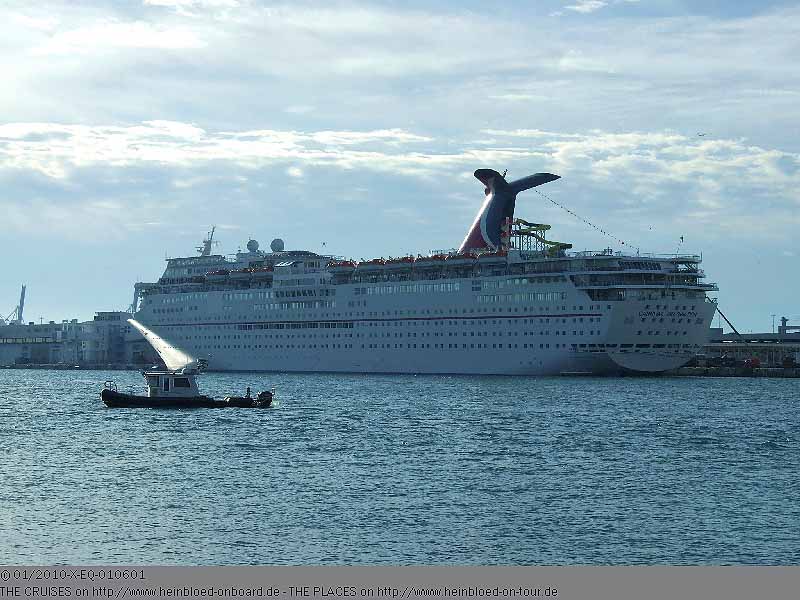 When I started to take pictures of CARNIVAL IMAGINATION the Coast Guards came closer towards my position.

Therefore no better pictures from NORWEGIAN SKY. We need to go shopping urgently. But at around this time only stores like Walmart were open. So we stayed there about one hour to buy the most essentials.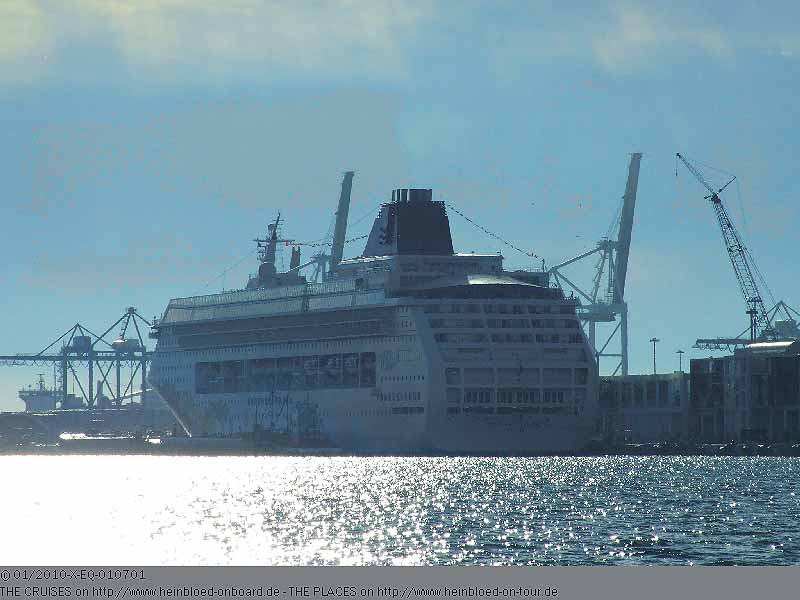 Daher gibt es auch keine besseren Aufnahme von der NORWEGIAN SKY. Wir müssen jetzt dringendst einkaufen. Um diese Zeit haben aber nur so Märkte wie Walmart geöffnet. So verbringen wir dort eine Stunde, um das notwendigste zu kaufen.
Wenige Minuten vor 11.00 Uhr erreichen wir Abfahrtsstelle der
Riverfront-Cruise
in Fort Lauderdale, wo uns bereits egyptnic (Nicole und Harald) erwarten. Gemeinsam machen wir die Riverfront Cruise. Ich hoffe, dass wir tiefer in den Hafen fahren, als
Carrie B
. So gucke ich mir ein weiteres Mal die Grundstücke an, die mal als Altersruhesitz im Auge habe...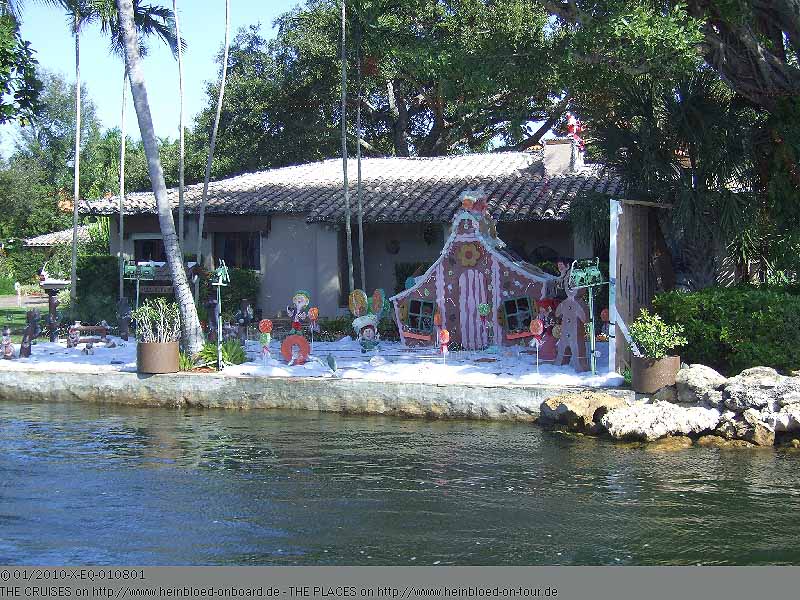 Few minutes before 11.00 am we made it to the departure point of the Riverfront-Cruise in Fort Lauderdale where egyptnic (Nicole and Harald from a German cruiser's forum) were waiting for us. Together we made the Riverfront Cruise. I hope that get deeper with them into the port than with Carrie B.. So I was checking again which real estate we should buy for our retirement...

Nothing for my garden.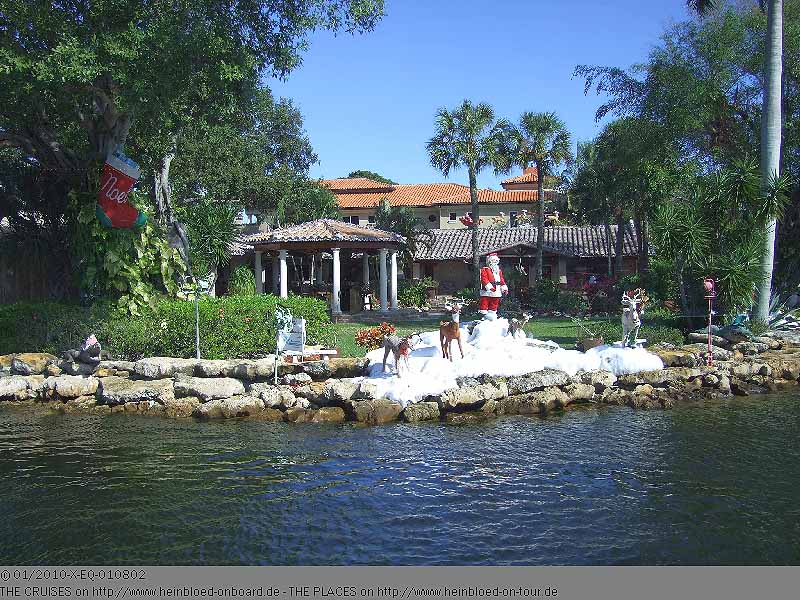 So etwas käme aber nicht in meinen Garten.
Ein Eckgrundstück wäre ja schon sehr praktisch.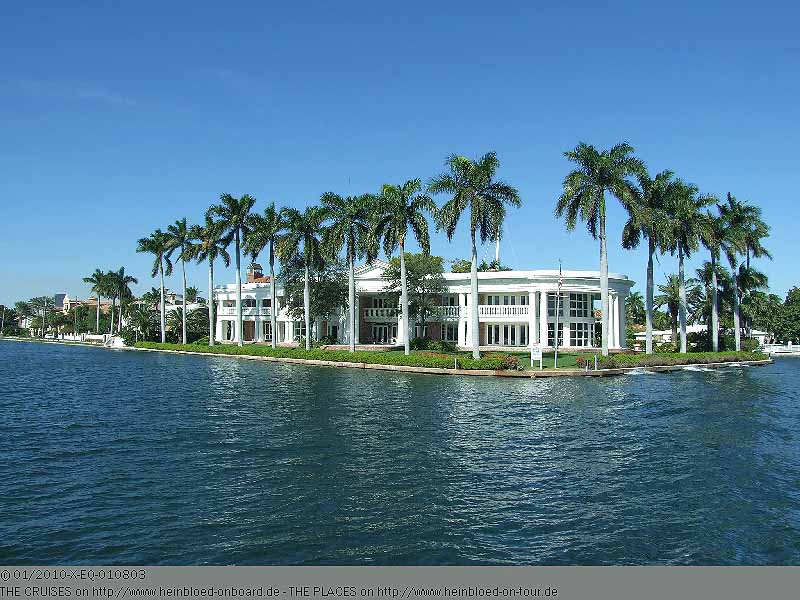 I like places at the corners.

Weather looked nice.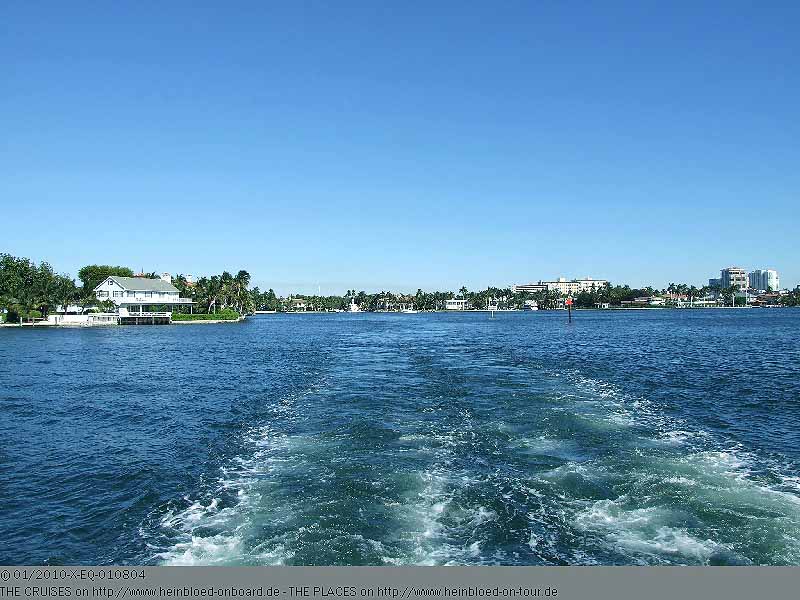 Das Wetter sieht toll aus.
Nur warm ist es nicht, so dass kaum jemand auf dem Freideck ist.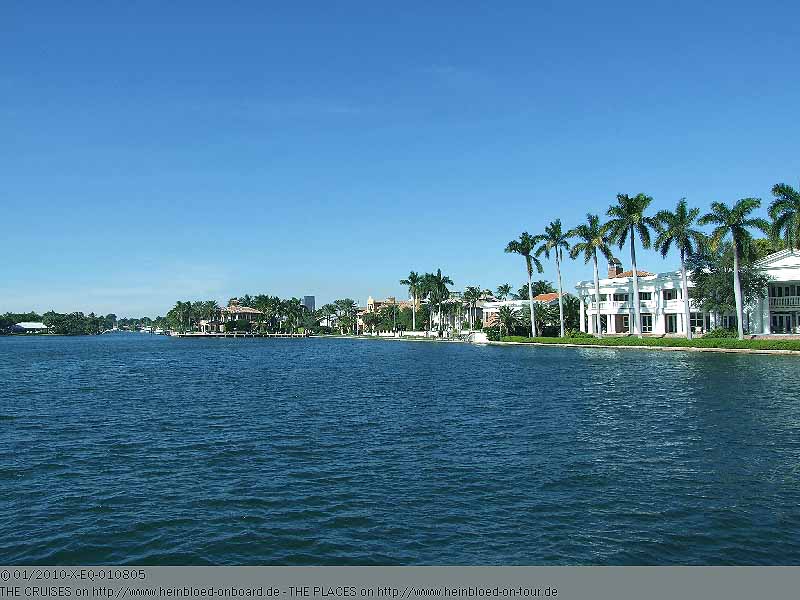 But it was not warm so only very few stayed on the open deck.

Hyatt at Pier 66. Next time I am staying here. No matter how much it is. If Bruno will not increase my pocket money he can stay in a Youth Hostel.

Das Hyatt am Pier 66: Nächstes Mal wohne ich auch hier. Egal wieviel das kostet. Wenn Bruno mein Taschengeld nicht erhöht, kann er ja in der Jugendherberge übernachten...
Hier sollen die besten Restaurants der Stadt sein, meint der Sprecher.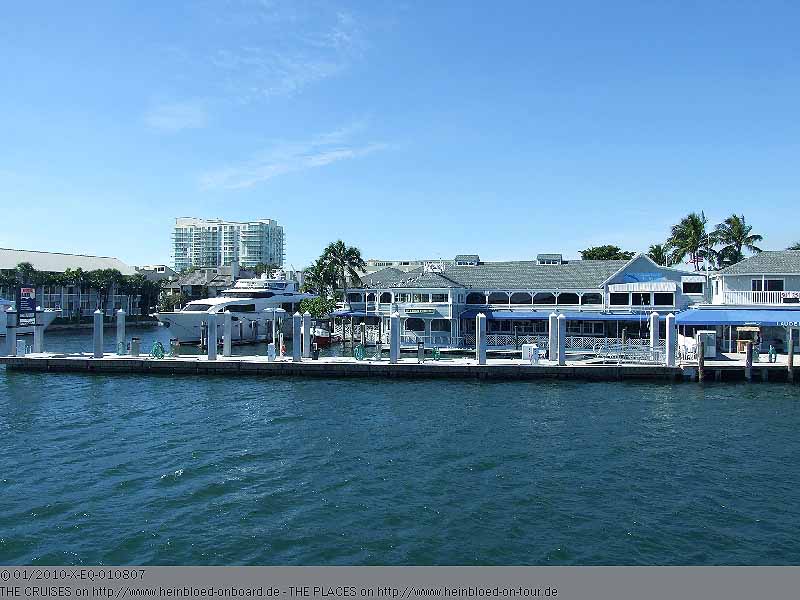 There should be the best restaurants in town, said the live-narrator.

Even we might not make it in Germany to see them... but in Fort Lauderdale: egyptnic (Nicole and Harald).

Wenn wir es kaum schaffen, sie in Deutschland zu treffen... aber in Fort Lauderdale: egyptnic (Nicole und Harald).
Das sind übrigens Katie und Charlie, oder auf Deutsch Katharina und Karlheinz, unsere Mitreisenden bzw. mein Vermieter in Salzgitter während der Woche.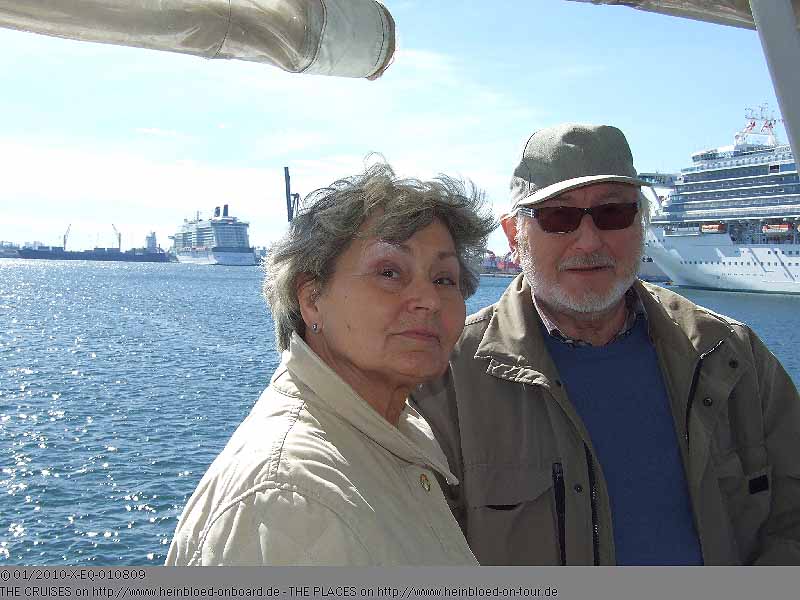 By the way these are Katie and Charlie - or in German Katharina and Karlheinz - our cruise-mates or my landlords in Germany during the weekdays.

My Holland America Bag was so for not (yet) replaced by NCL... We enjoyed the sun... but why was it so cold....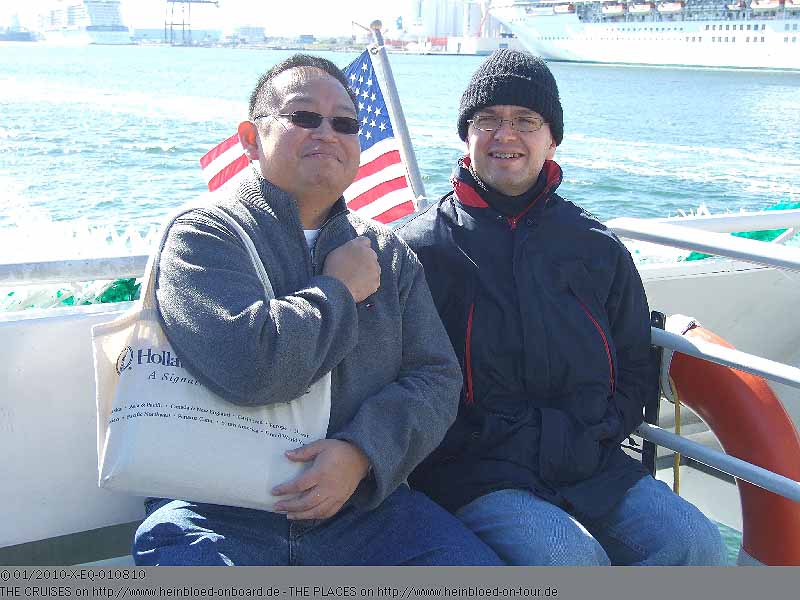 Meine Holland America Tasche wurde leider (bislang noch) nicht von NCL ersetzt... Wir genießen die Sonne.... wenn es bloß nicht so kalt wäre...
Wir fahren aber zumindest soweit rein, dass wir UNSERE CELEBRITY EQUINOX sehen können.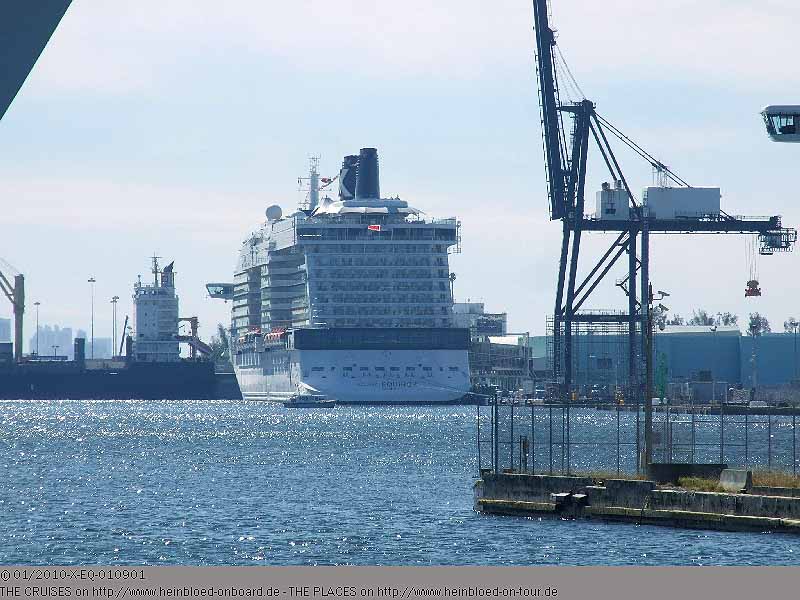 We went so far into the port that we can see OUR CELEBRITY EQUINOX.

And I was quite happy that the did not turned yet so we had the nice balcony side.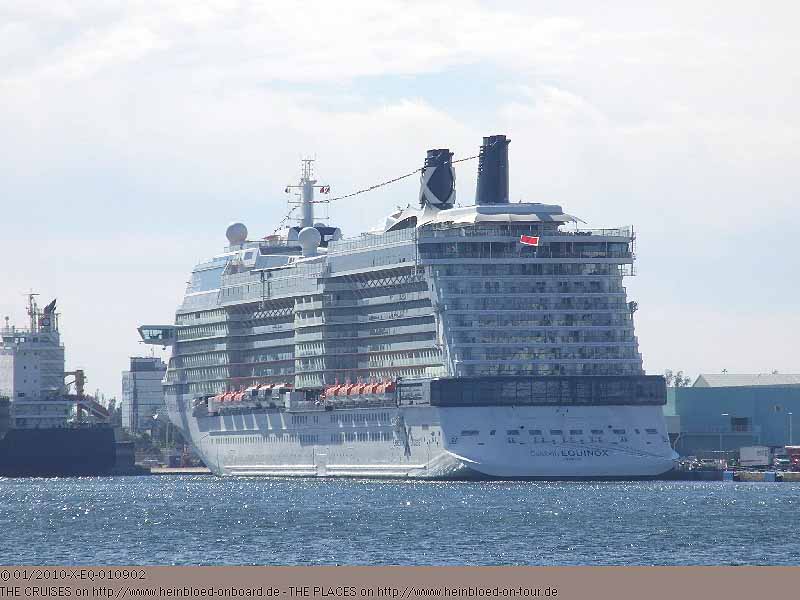 Und ich freue mich, dass sie noch nicht gedreht hat, so haben wir die schöne Seite auf unserer Balkonseite.
Von hier aus, können wir nur die GRAND PRINCESS gut sehen, eine alte Bekannte von früher.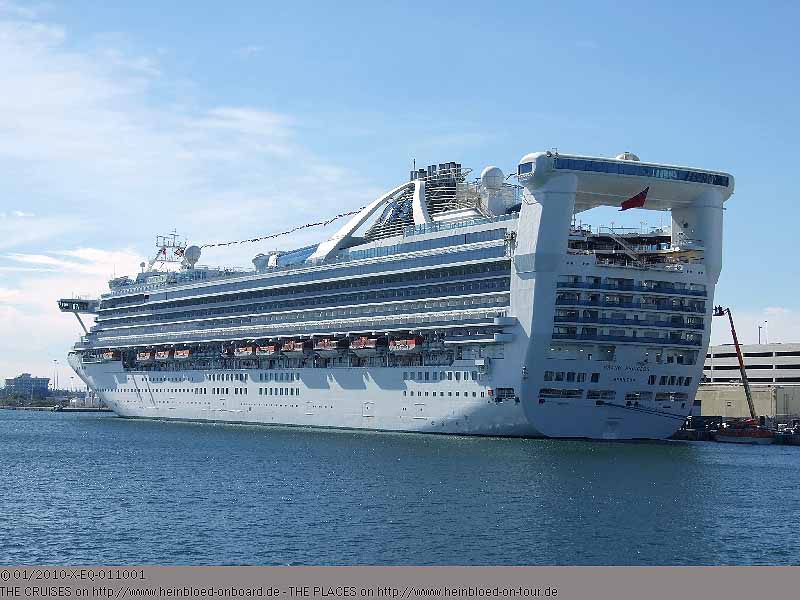 From here we could see GRAND PRINCESS - an old fellow from then.

Later when we left we could also see her from the front.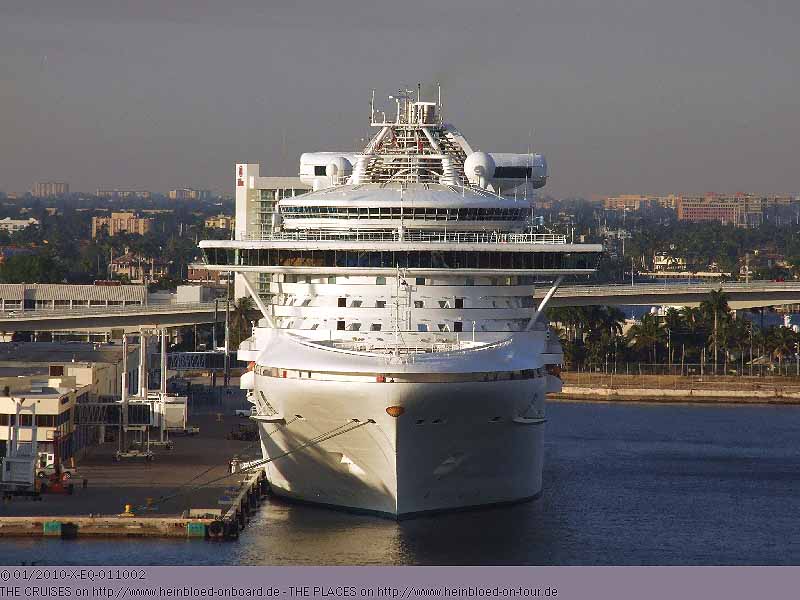 Später bei der Ausfahrt sehen wir sie auch noch von vorne...
und mal von der anderen Seite.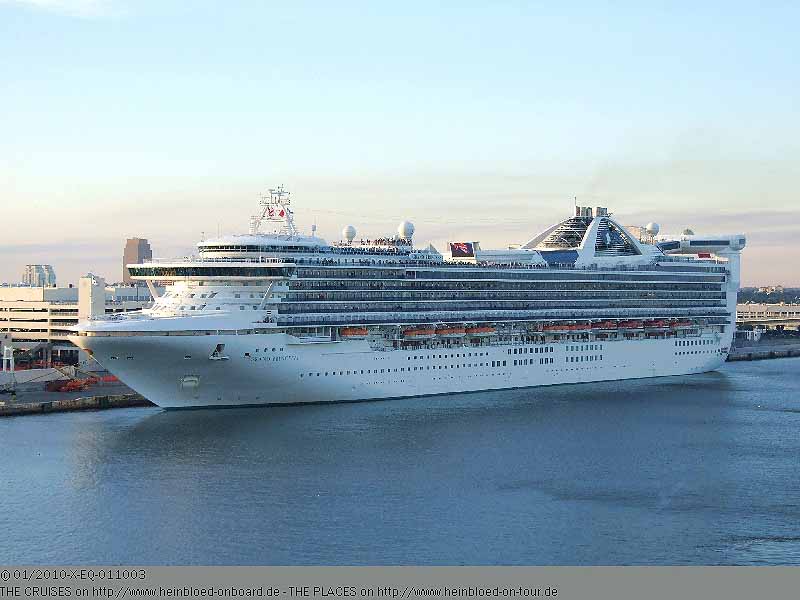 and from the other side.

Time to get to the port... but our ship was missing...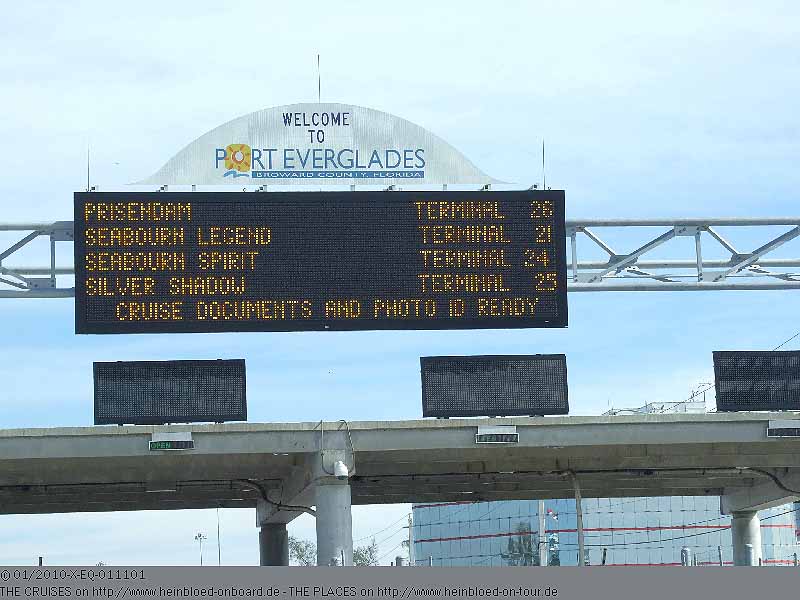 Für uns wird es Zeit, in den Hafen zu kommen... aber unser Schiff fehlt...
Aber hier ist sie endlich angezeigt, wenn auch etwas unscharf...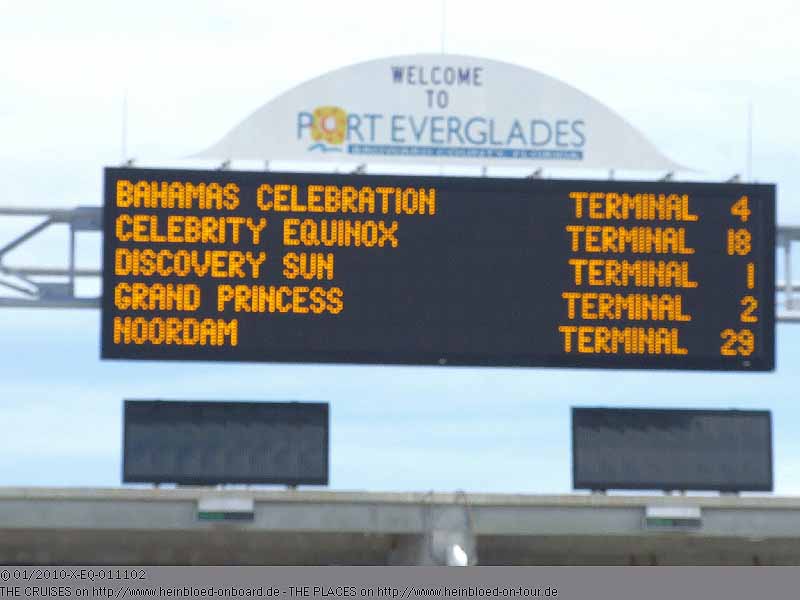 But finally she appeared - but somehow not very clear.

Against presentation of our XPRESS-Pass and all passports we got an entry permission into the port.

Gegen Vorlage eines XPRESS-Passes und aller Reisepässe, erhalten wir für heute eine Einfahrtserlaubnis in den Hafen.
So laden wir kurz das Gepäck von Katie und Charlie zumindest schon mal vor dem Terminal ab und gucken uns schon mal das Schiff von außen an, bevor wir den Wagen zum Flughafen bringen.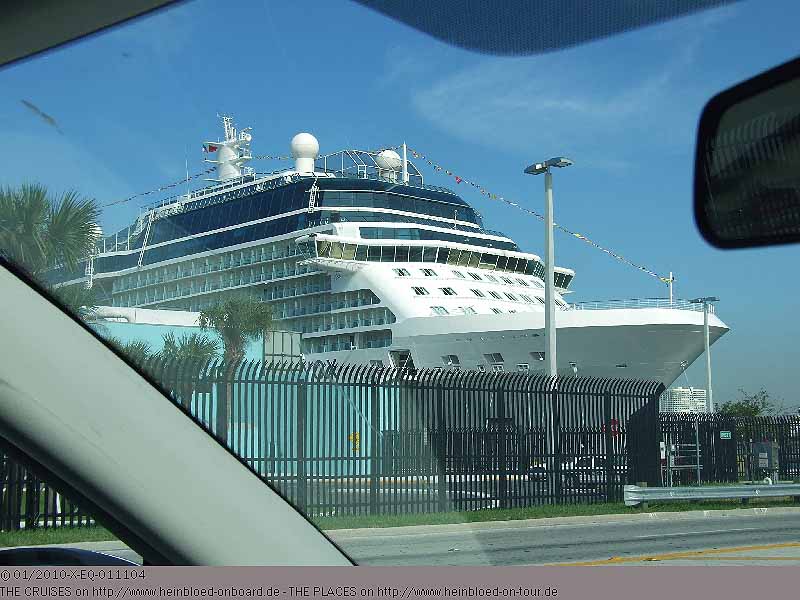 So we unload Katie's and Charlie's baggage in front of the terminal and have look to our ship from outside before we returned our car to the airport.

With this kind of vehicle it might be cheaper to accept AVIS' EZFuel-Option: Upto 75 miles and they fill up and you pay only a flat rate of 13.98 USD. Very practical.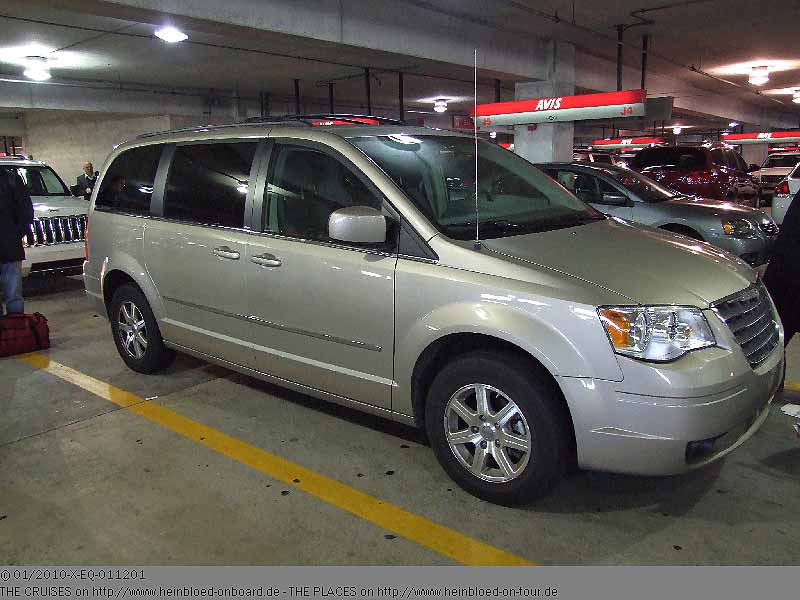 Bei dem Schlachtschiff dürfte es billiger sein, die EZFuel-Option von AVIS in Anspruch zu nehmen: Bis 75 Meilen und sie tanken auf und wir zahlen pauschal 13.98 USD. Äußerst praktisch.
Für AVIS besteht nach wie vor kein Shuttle-Arrangement. Ich habe aber eh keine Lust, alle Terminals abzuklappern, wenn soviele Schiffe im Hafen sind.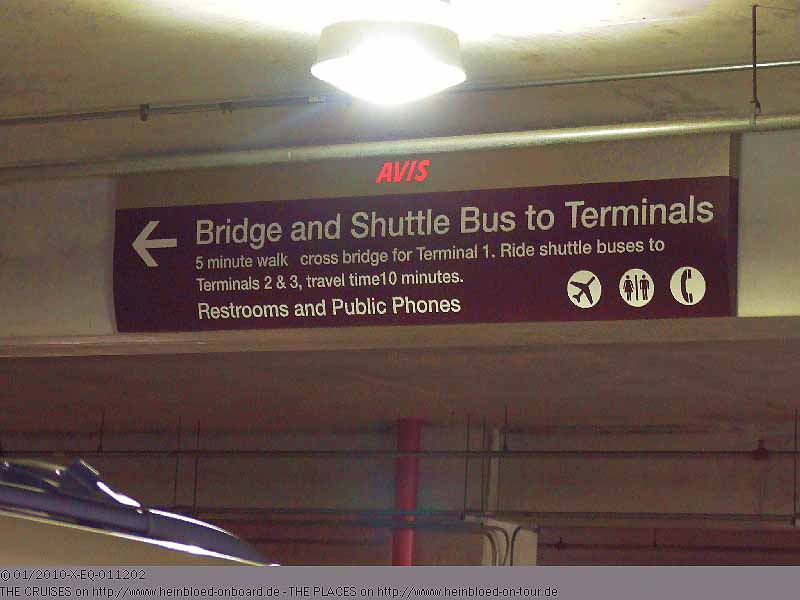 For AVIS-customer there was no shuttle arrangement available. But I had no interest to go from terminal to terminal when so many ships were in port.

So we followed the signpost to the terminals...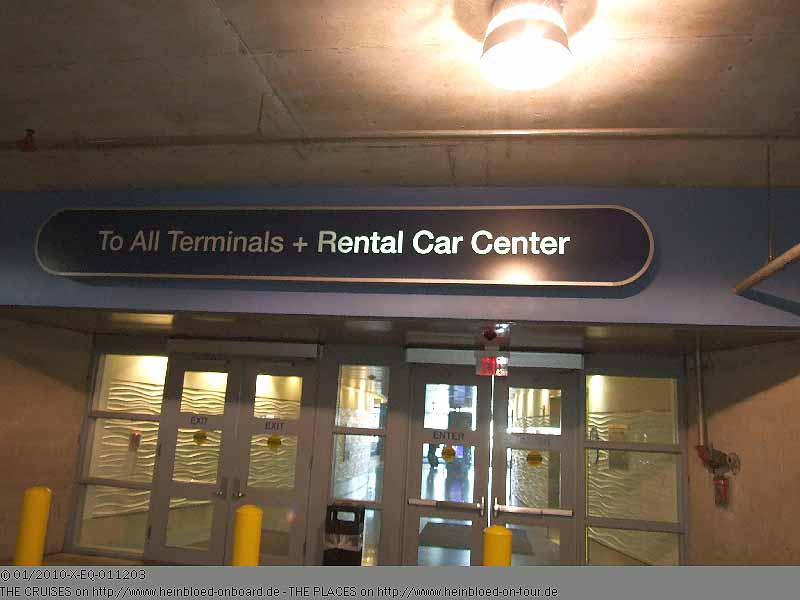 So folgen wir den Schildern zu den Terminals.
Rüber zum Terminal 1.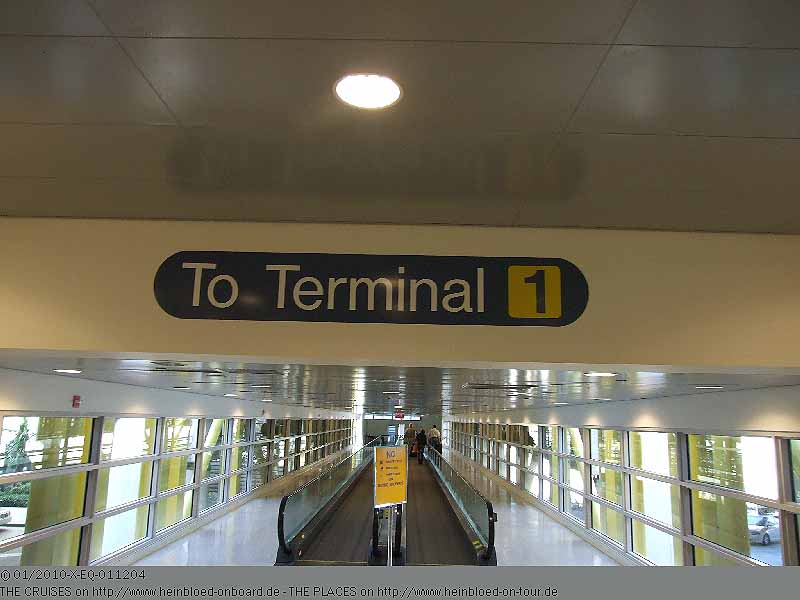 to Terminal 1

and then down and up to Ground Transportation. We saw in the terminal all other companies but Celebrity. So we cannot check for their offer for a transfer.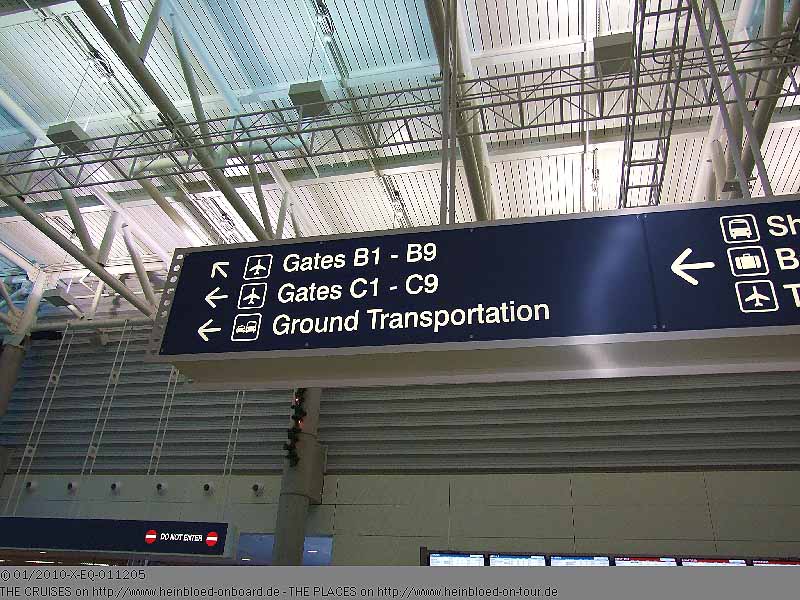 Und dann runter und rauf zu Ground Transportation. Wir treffen im Terminal alle andere Gesellschaften an. Nur Celebrity nicht. So können wir uns kein Angebot für einen Transfer geben lassen.
Im Taxi erfahren wir, dass es einen Minimum-Preis von 10 USD gibt, wenn man vom Flughafen oder Hafen irgendwo hin will. Vom Flughafen gibt es noch zusätzlich 2 USD Aufschlag. Für uns spielt es eh keine Rolle: wir zahlen nämlich 19.00 USD inkl. Trinkgeld vom Flughafen zu Hafen und das sicherlich billiger als alle anderen Transfermöglichkeiten, die am Flughafen angeboten wurden, zumal wir keine Minute auf ein freies Taxi gewartet haben.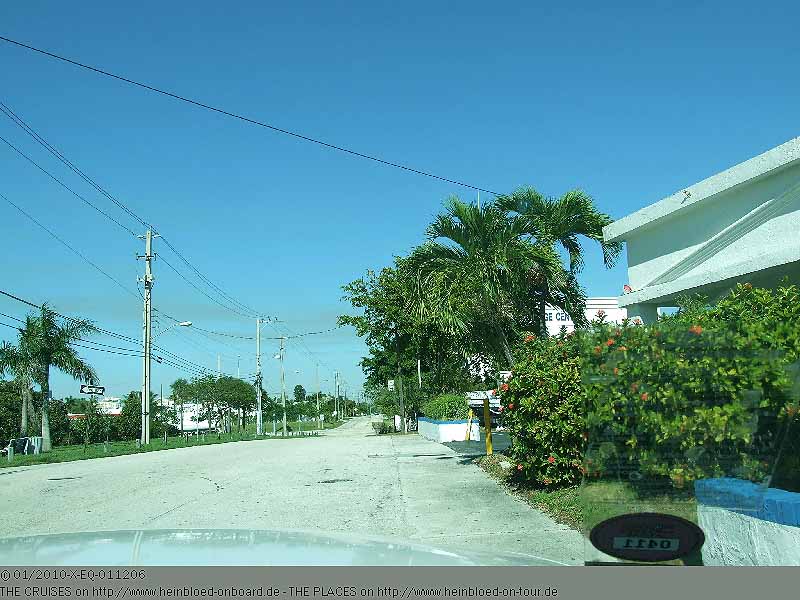 In the taxi we learned that there is a minimum rate of 10 USD if you start at the airport or port. From the airport there is a 2.00 USD surcharge. That was for us not so imporatant because we paid 19.00 USD incl. tipping from the airport to the port and this should be cheaper than any other transfer option which were offered at the airport as we did not need to wait any minute to get a cab.

Terminal 18 was built for OASIS and ALLURE OF THE SEAS. That's why there was the modern signposts.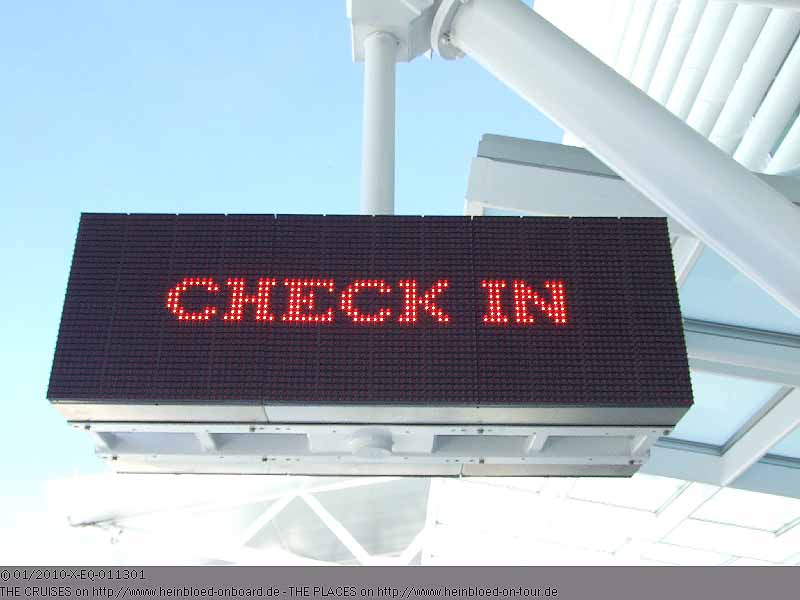 Terminal 18 wurde ja extra für die OASIS und ALLURE OF THE SEAS gebaut. Daher moderne Wegführung.
Wir müssen nach links.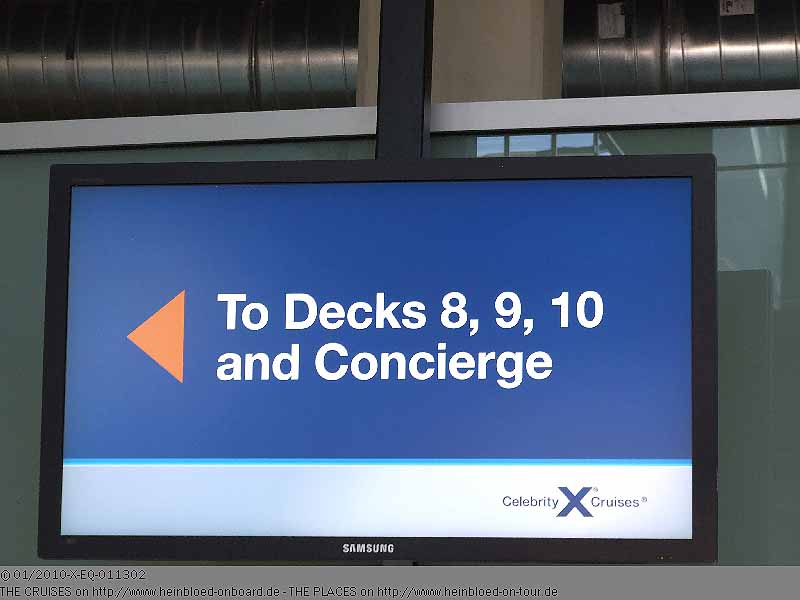 We need to make a left-turn.

Why do we need to go the counters far far away???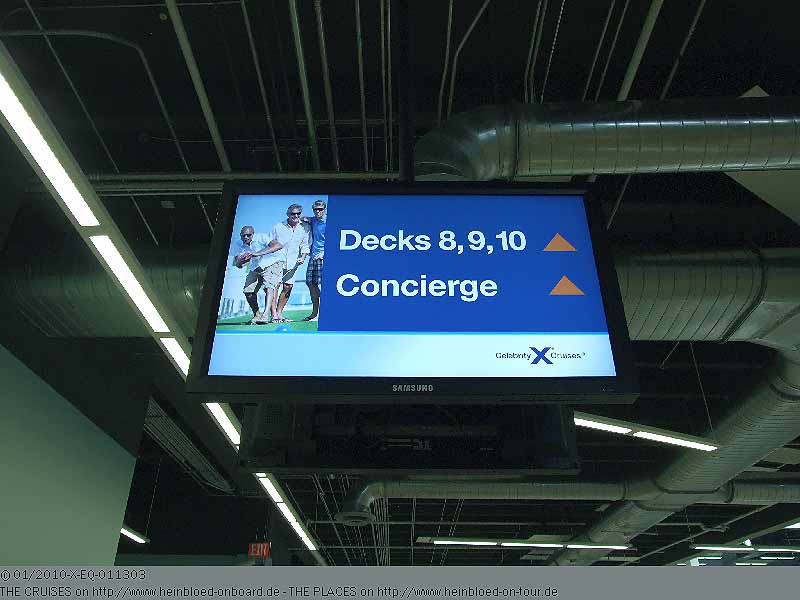 Und warum müssen wir als Concierge Class Gäste ganz nach hinten???
Da genügend Schalter offen stehen, kommen wir sofort dran. Es gibt sogar beim Check-in deutschsprachige Mitarbeiter. Allerdings wird mir im Check-in-Bereich das Fotografieren untersagt.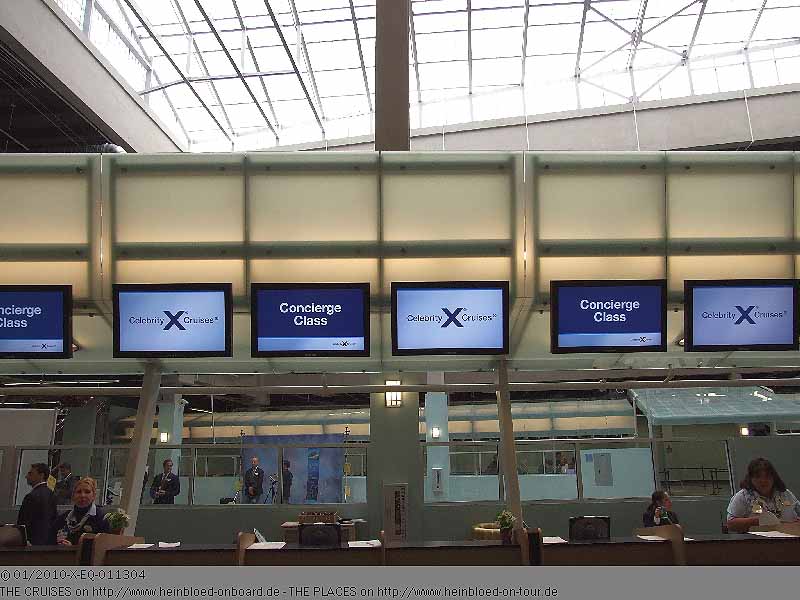 As there were enough vacant counters we were served asap. There was even a German speaking agent at the counter. But they did not allow me to take further pictures in the check-in area.

We continued to the bridge level.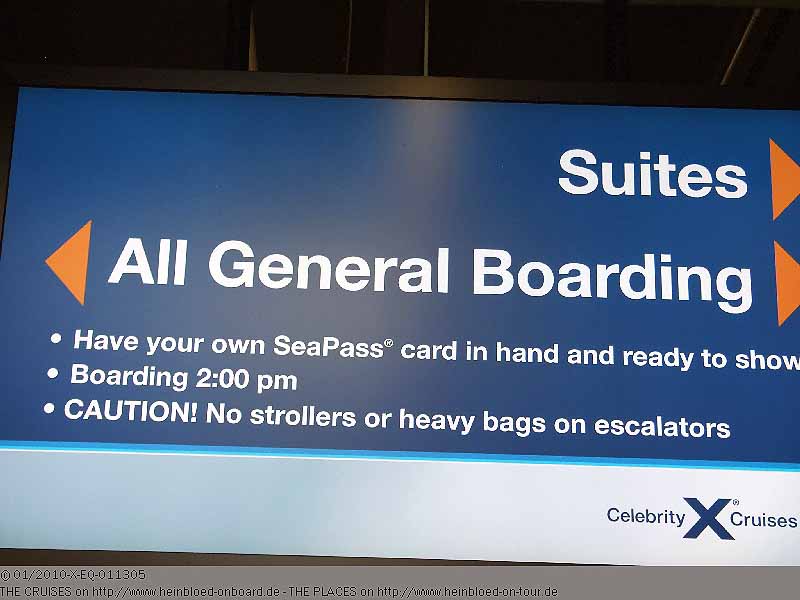 Weiter geht es nach oben zur Brückenebene.
Dort kann man schön auf das Geschehen unten gucken: der weiteste Weg zum Check-In-Schalter ist der kürzeste weiter nach oben... Ob ich hier allerdings mit 5.000 anderen Gästen warten möchte, möchte ich doch mal bezweifeln.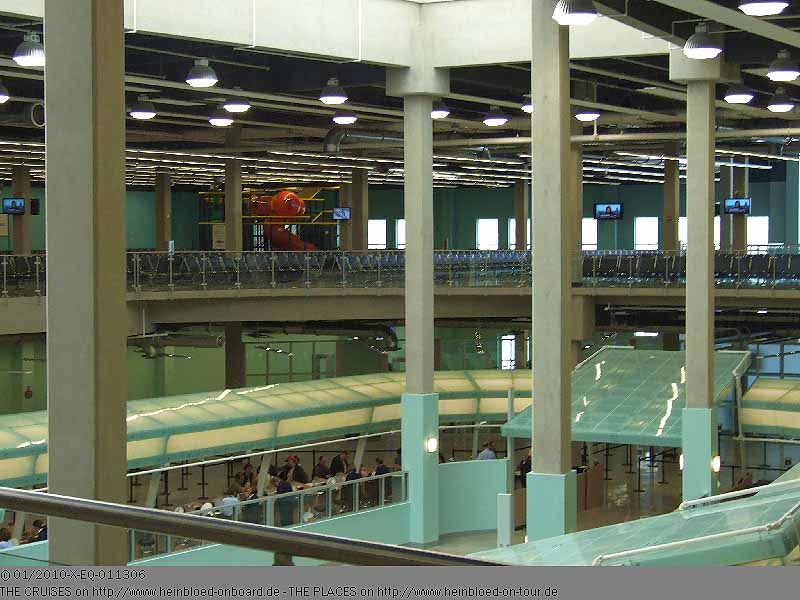 There you have a nice view about the activities downstairs: the way far far away downstairs is the shortest way upstairs. But I doubted that if I would like to wait with 5,000 other guests in this hall.

But it was quite spacious. Here they took the pictures for our boardpass. Downstairs they made already the typical embarkation pictures which you can buy for 19.95 USD. To watch the pictures in your stateroom you need to register your bordpass here.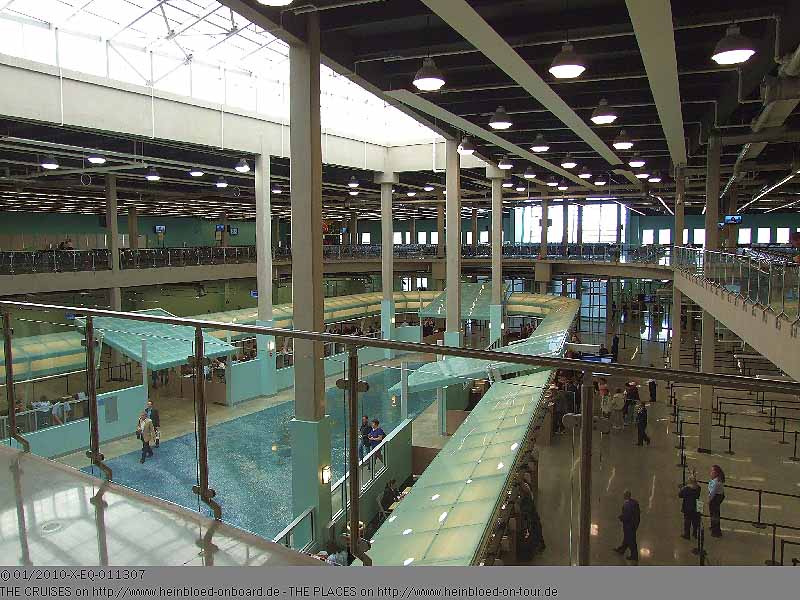 Andererseits ist das alles sehr großzügig gebaut. Hier werden wir auch erst für die Bordkarte fotografiert. Bereits unten wurden die obligatorischen Einschiffungsfotos gemacht, die man für 19,95 USD hinterher bekommt. Um sie am Bildschirm in der Kabine betrachten zu können, muss man seine Bordkarte einlesen lassen.