Scroll down for English explanations - alternates with German explanations.

Mittags gehen wir dann doch mal ins Oceanview Café. Vor dem Restaurant werden die Angebote der Spezialitätenrestaurants vorgestellt und man kann seine Tische für das Select Dining buchen, wenn man noch wie wir alles im Internet vorgebucht hat.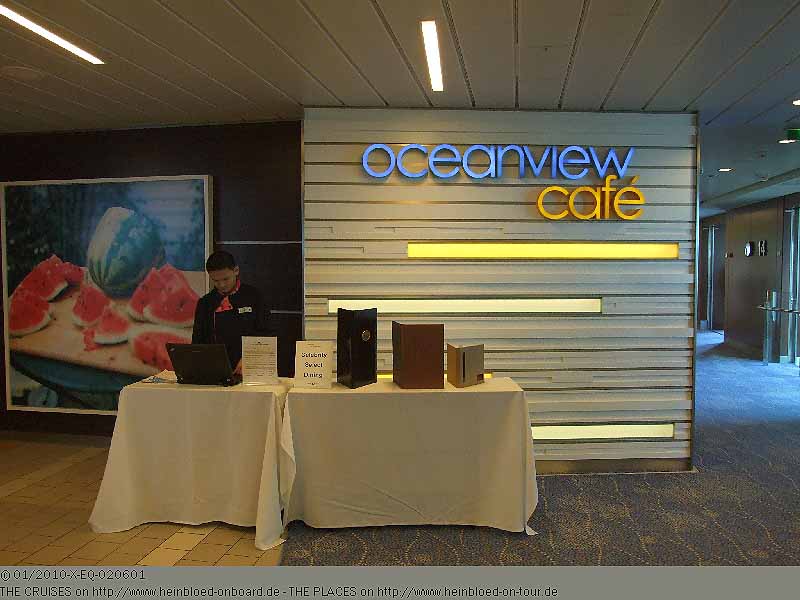 We went to Oceanview Café for lunch. In front the of entrance they introduced the various speciality restaurants and you can book your table for Select Dining if you did not do it like us in internet already.

It was quite spacious and friendly so I felt there very comfortable.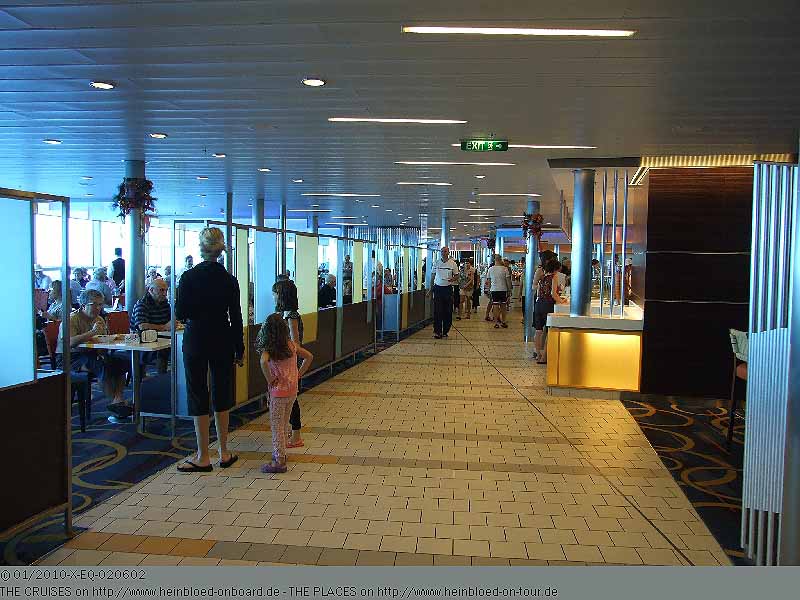 Das ganze wirkt doch recht großzügig und freundlich, so dass ich mich auch auf Anhieb wohlfühle.
Man muss schon viel Zeit mitbringen, um alles einmal zu entdecken. Nicht alle Bereiche werden mehrfach angeboten.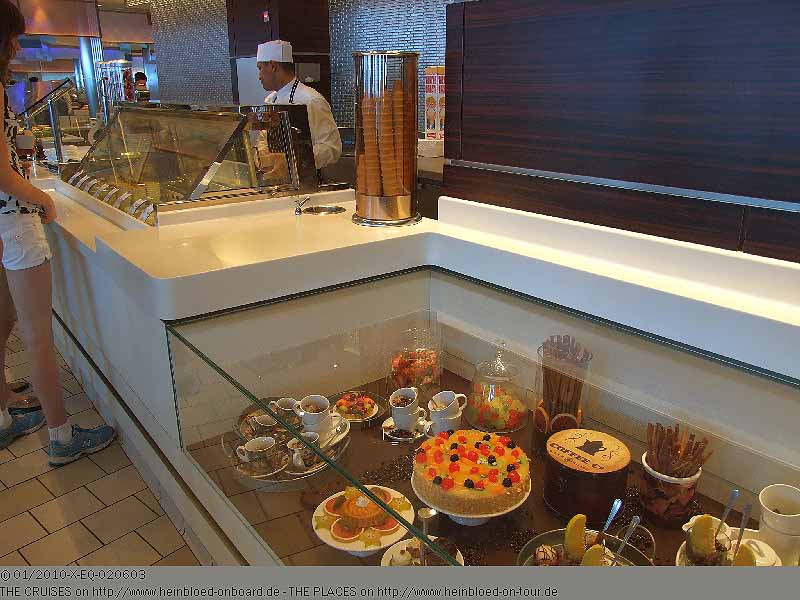 You need to have a lot of time to discover everything. Not all offers were available on multiple stations.

How friendly she smiled for the camera.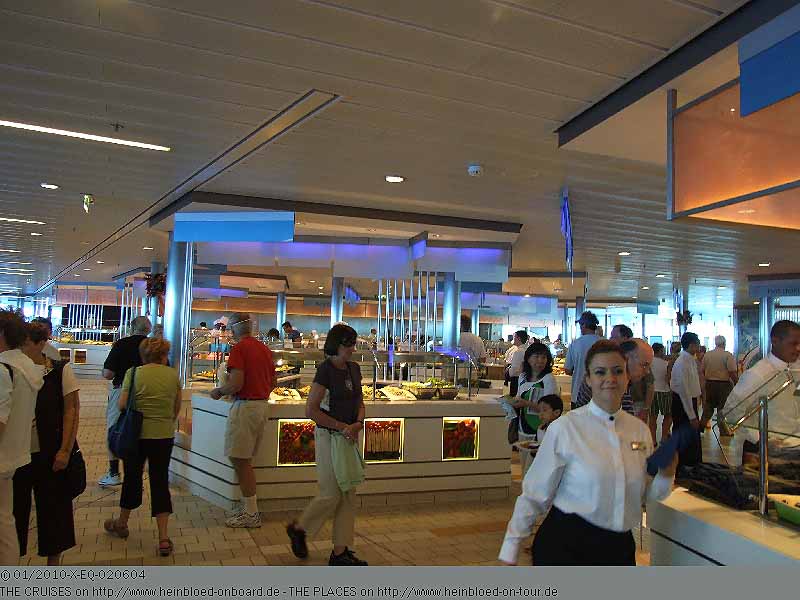 Wie freundlich sie in die Kamera lächelt.
Viele Gesellschaften argumentieren ja damit, dass man Angst vor Bruch hat, dass sich Gäste verletzen könnten. Anscheinend hier an Bord nicht. Hier gibt es Porzellan.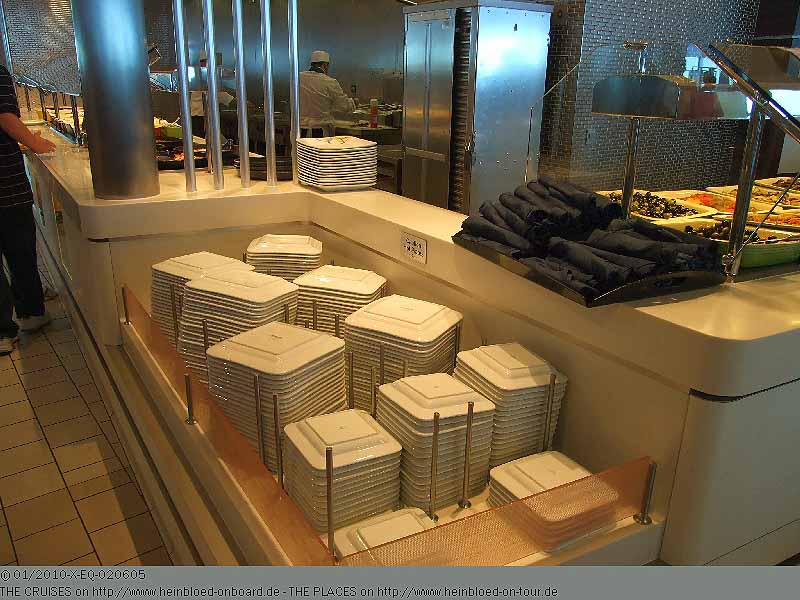 Many companies said that they are afraid of broken china and guests might injured. But obviously not here on this ship. Here you get true china.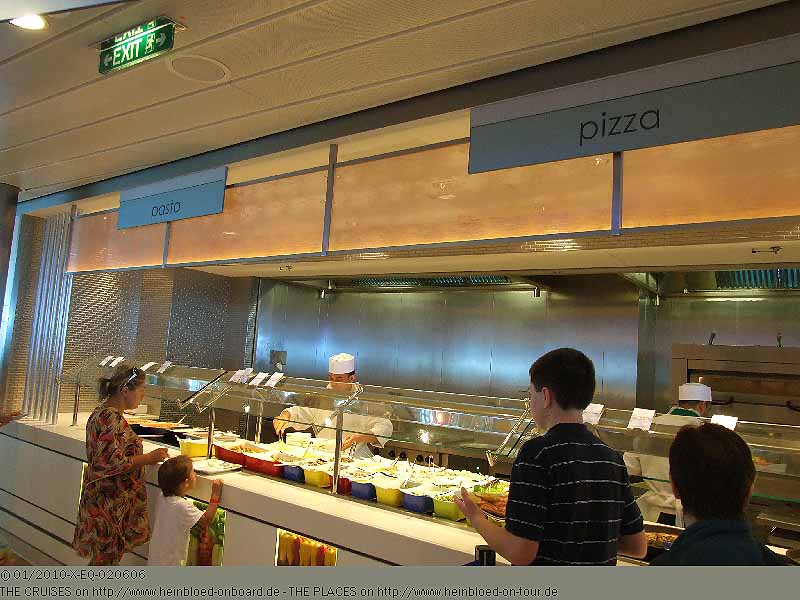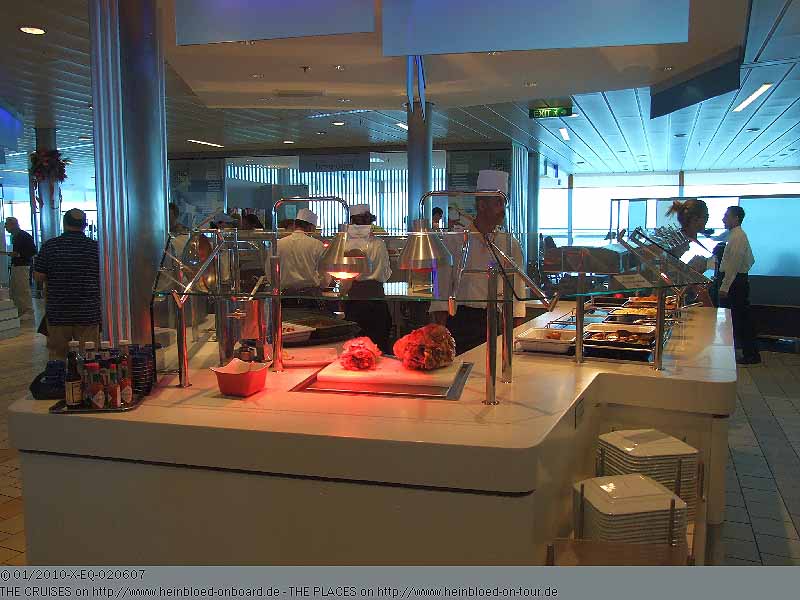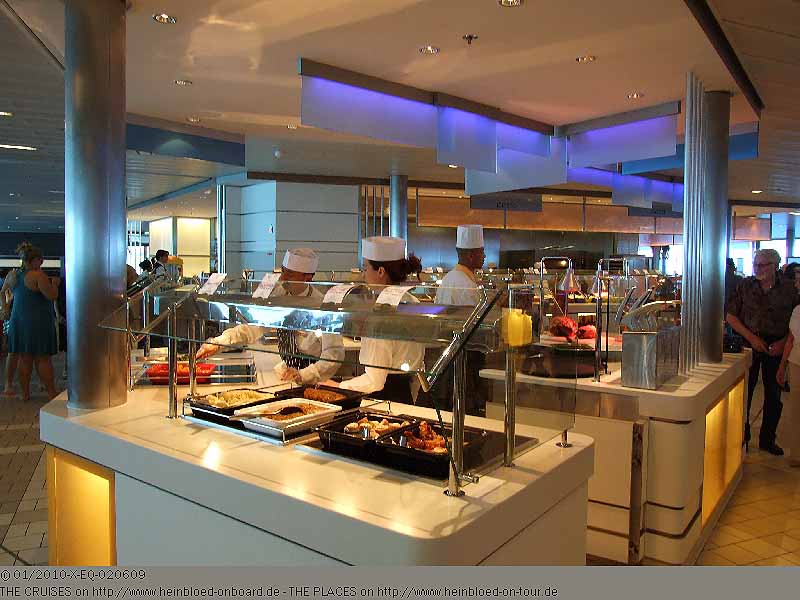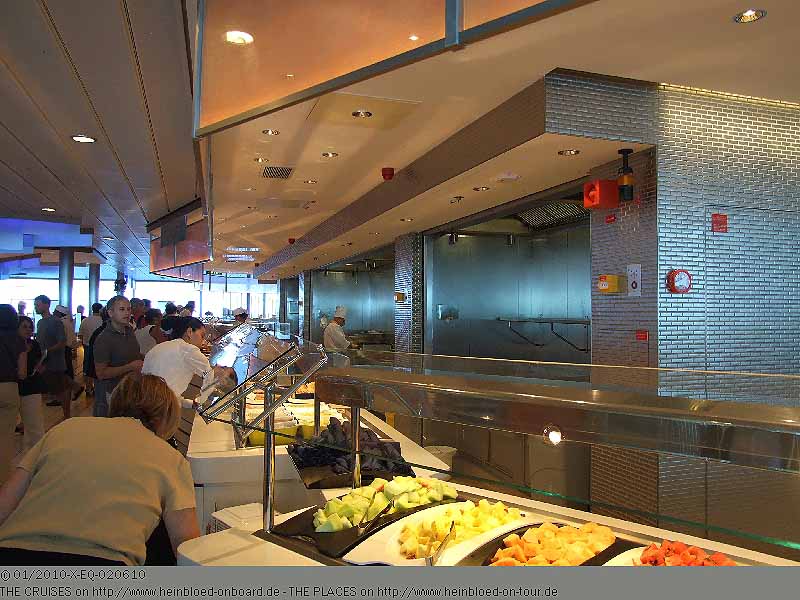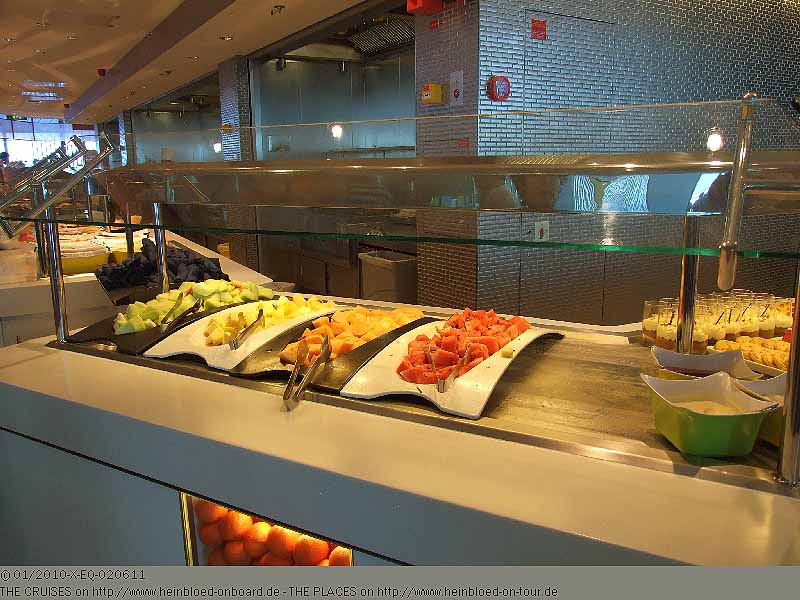 Wir setzen uns nach draußen in den Windschatten. Alle Preise enden auf 50 Cent oder glatte Dollar. Unsere Soda- und Wasserpässen werden anstandslos akzeptiert. Ein Kellner hat gerade den Nachbartisch sauber gemacht. Ein vollbeladenes Ehepaar (mit einem undefinierbaren ostdeutschen Dialekt) kommt raus und der Kellner zeigt ihnen an, dass der Platz gerade frei und sauber sei. Statt einem freundlichen "No thank you": "Was soll ich denn mit diesem Platz, da sitzt man ja viel zu tief und nicht in der Sonne", aber in einem Tonfall, der wohl in dem Dialekt normal ist, aber man sieht dem Kellner an, dass er sich fragt, ob er das nächste wieder jemandem den Platz anbieten sollte.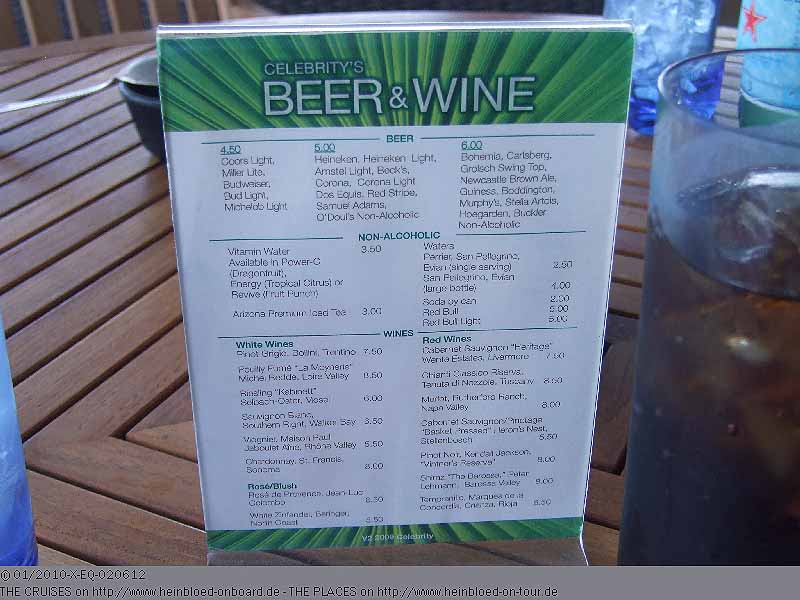 We sat outdoor to the lee. All prices are 50 Cent or full dollars. Our soda- and waterpackages were accepted without discussion. One waiter finished clearing and cleaning the next table. A fully loaded German couple (with unidentified East German dialect) came out of the café and the waiter showed them that these seats were just vacant and clean and offered them the seats. Instead of a friendly "No thank you": (in translation:) "What should we do with these seats. You sit too deep and do not sit in the sun." but in a way (which might be normal for this dialect) but I can fully understand the waiter's reaction in his face if he would offer again someone vacant seats.

What was totally great: The selection of bread. Even the Germans will like it.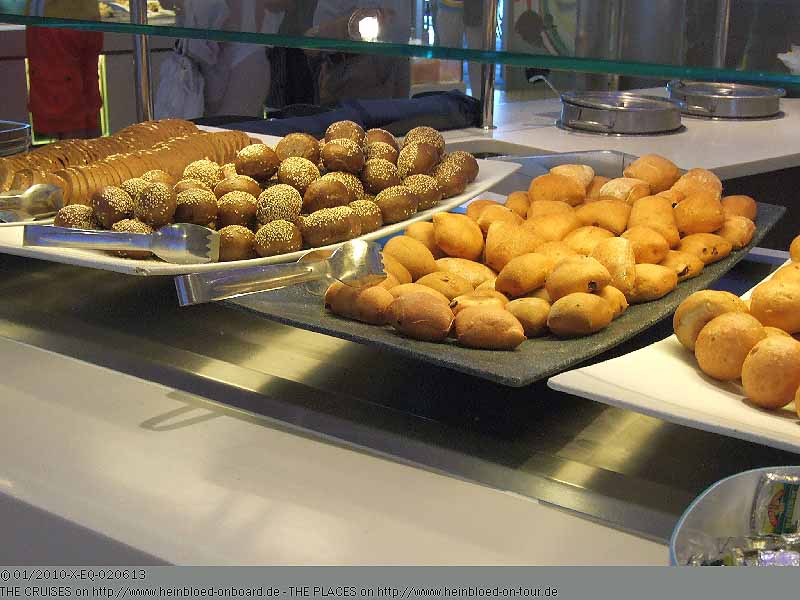 Was absolut klasse ist, ist die Brotauswahl. Da werden sich auch deutsche wohlfühlen.
Ich wollte ja bloß ein Häppchen, aber das sah wirklich alles so lecker aus... Ich muss wohl doch wieder MSC buchen, um abzunehmen...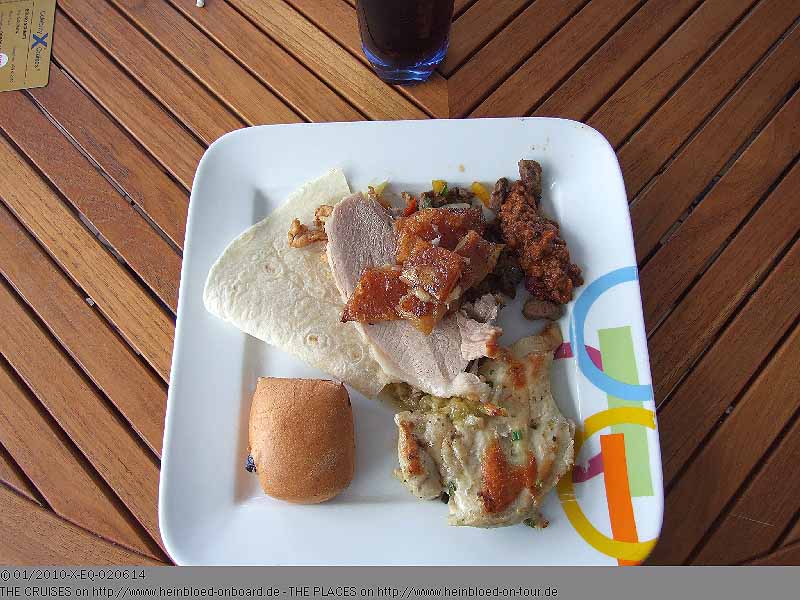 I wanted to have a little bite but it looked so great... I need to book MSC again to loose weight.

We went to Bistro on Five but I did not expect it this way.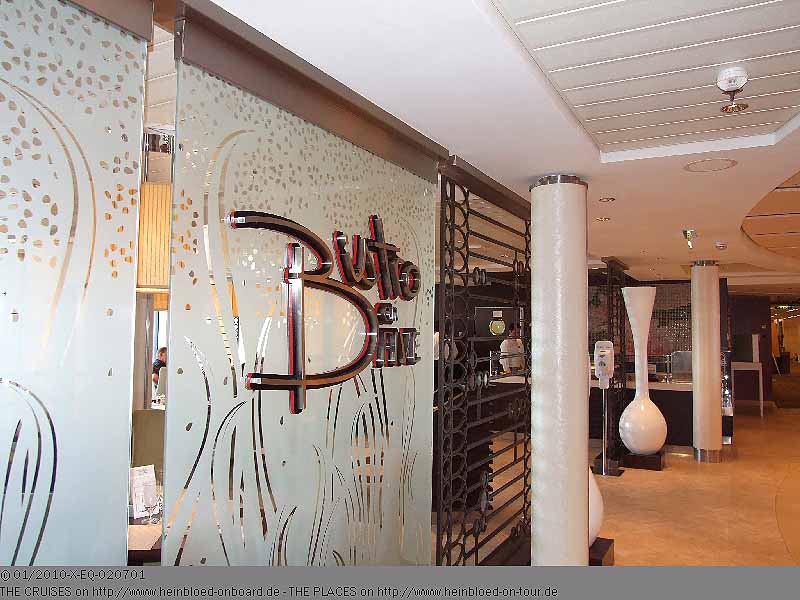 Wir gehen zum Bistro on Five, was ich mir eigentlich anders vorgestellt hatte.
Deswegen überraschte mich die Crepes-Station, die von 06.00 Uhr bis 02.00 Uhr läuft und die vielen Leckerlies... War es nicht als etwas Gesundes für zwischendurch gedacht...???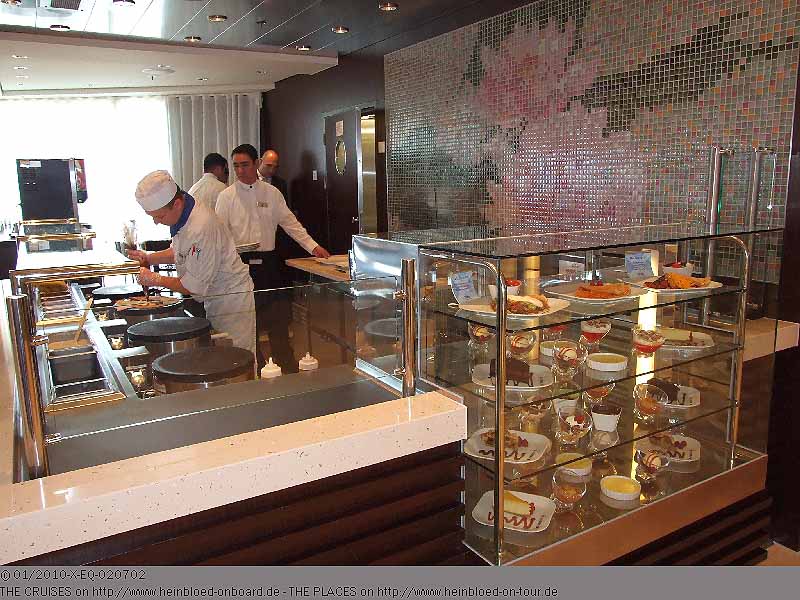 So I was surprised to find the Crepes-Station which run from 06.00 am to 02.00 am and the many goodies... I thought it should be something healthy for in between...???

We went over to Café al Bacio. Some was created too deep and narrow...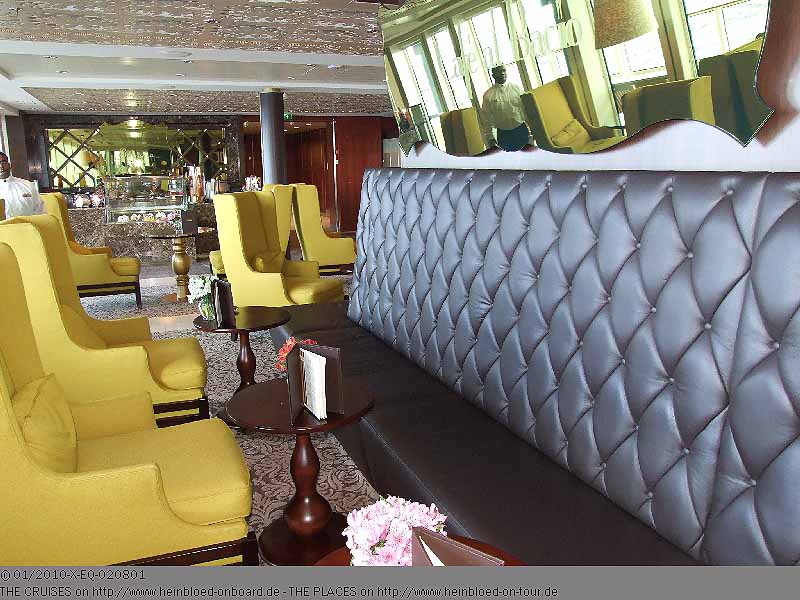 Wir gehen rüber zum Café al Bacio. Manches ist doch recht eng und tief...
Aber die Kaffeespezialitäten sind sehr gut und auch sehr bei den Offizieren beliebt.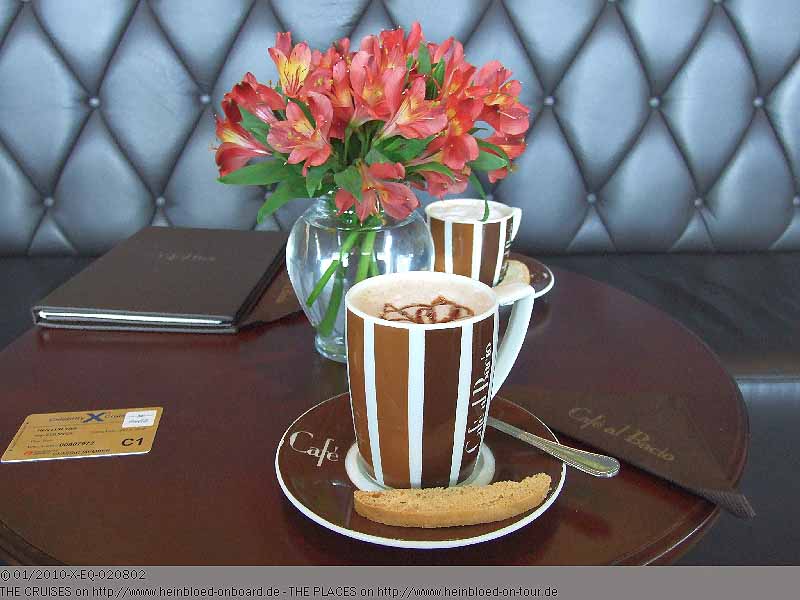 But the coffee specialities were very good and very popular with the officers.

There was very nice guitar music available. I need to check for this name once I have a programme with me (It is Justin Wade). His first song was "The Way you look tonight" so he could even play Hip-Hop, Punk or Hard Rock I would have stayed....One of my favorite songs. No - but just a nice voice to hear and a great selection of songs.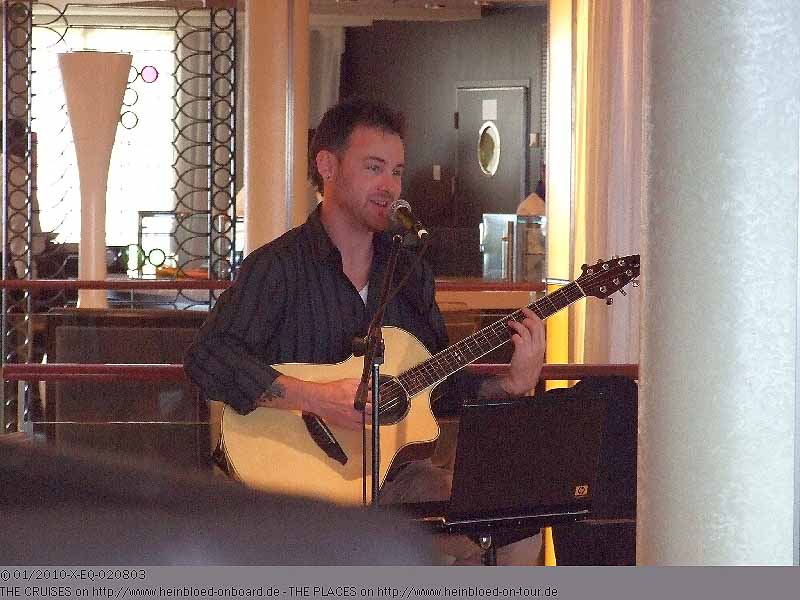 Es gibt sehr schöne Gitarrenmusik. Ich muss mal den Namen raussuchen, wenn ich ein Programm bei mir habe. (Nachtrag:
Justin Wade
). Da sein erstes Stück "The Way you look tonight" war, hätte er sogar Hip-Hop, Punk oder Hard Rock spielen und singen können: ich wäre lange geblieben... Einer meiner Lieblingsstücke... Nein - sehr schöne Stimme und tolle Liederauswahl.
Beim Eis kann ich doch nicht nein sagen... Ich hatte ja keinen Nachtisch vorhin am Büffet. Die anderen haben ja bei den Petit Fours zugeschlagen.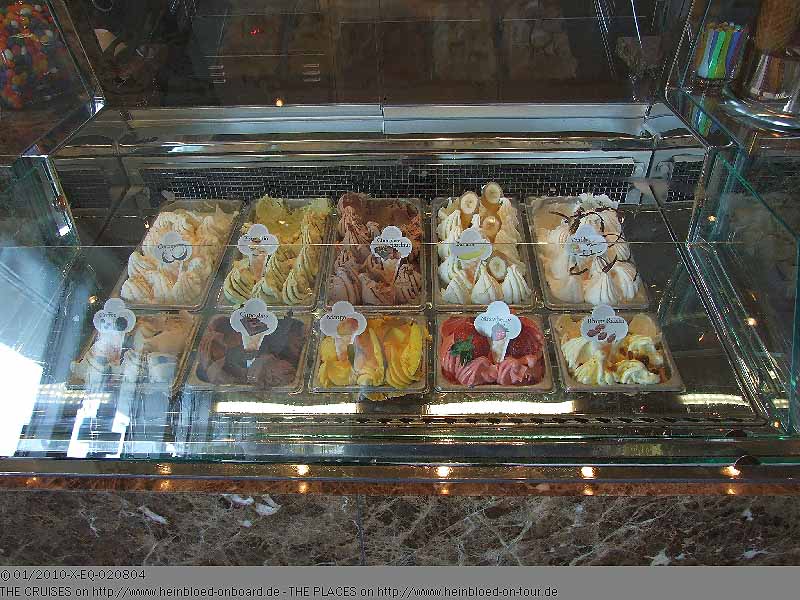 I was unable to say no with this icecream-selection... I did not have a dessert at the buffet. All others took already some Petit Fours but not me.

But you have to pay a cover charge but worth every cent.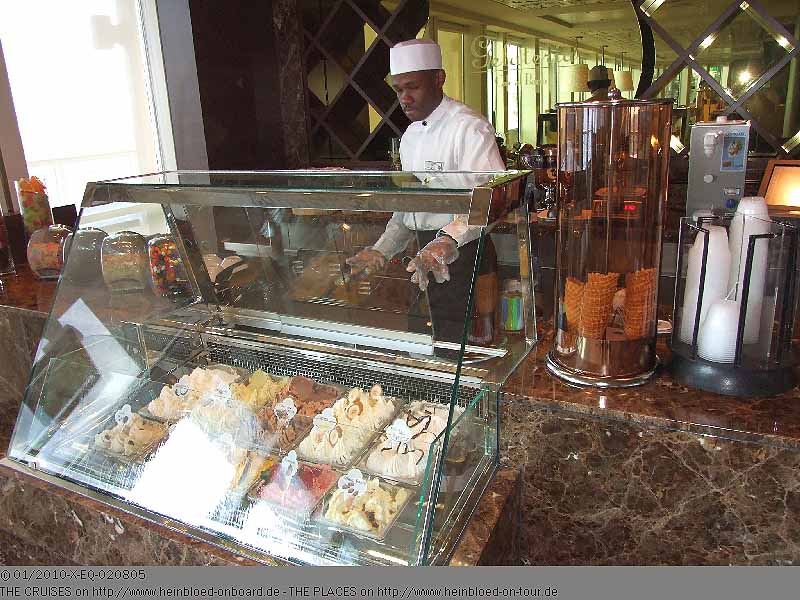 Allerdings ist das zuzahlungspflichtig, aber jeden Cent Wert.
Im EQUINOX THEATER wird geprobt.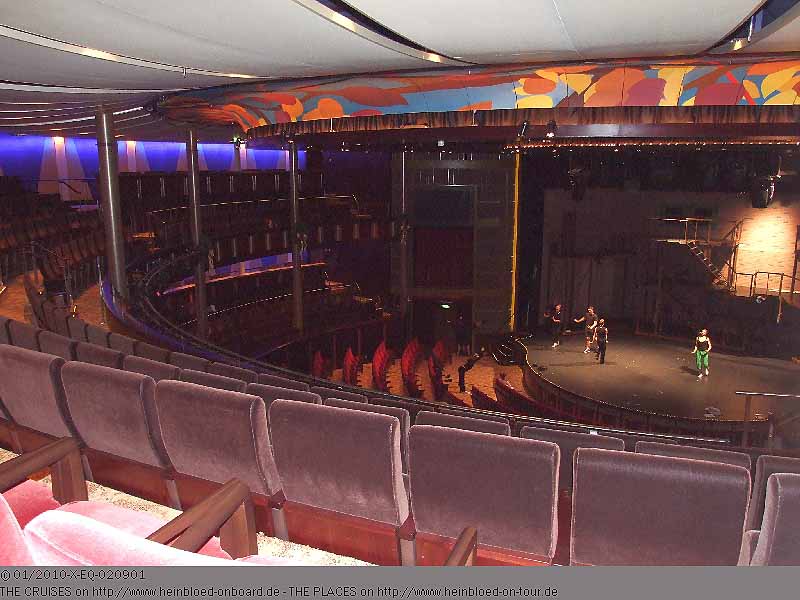 Reharsal in EQUINOX THEATER.

But I did not like to much the promenade. You can not walk around bow and aft and the view was obstructed by the life boats. And the pure paradise for smokers as the smoking policy on board is very restrictive. In your stateroom or on balconies no smoking is allowed anymore.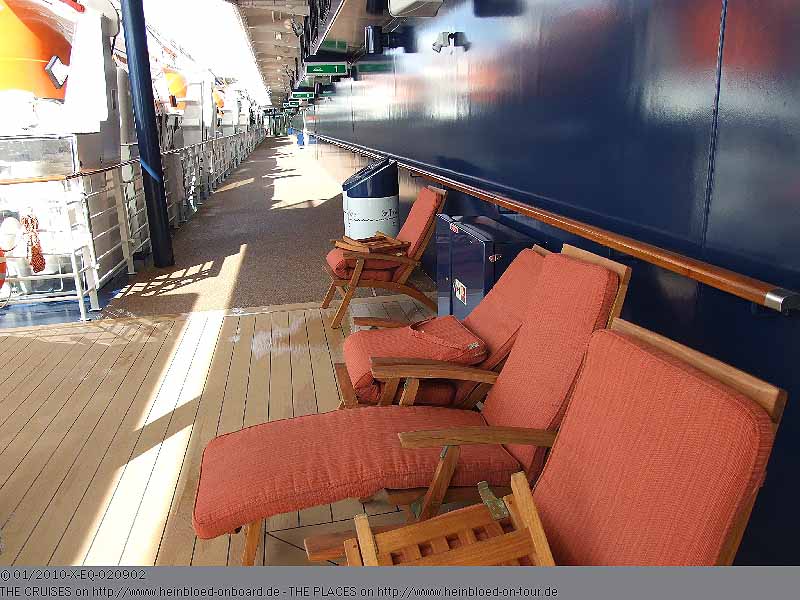 Nur die Außenpromenade gefällt mir nicht so gut. Man kann nicht ganz weder am Bug noch am Heck laufen und die gesamte Sicht ist mit Rettungsbooten eingeschränkt. Und das reinste Raucherparadies, da ja die Raucherpolicy sehr restriktiv ist. In den Kabinen und Balkonen geht gar nichts mehr.
Die Disco reizt einen ja doch...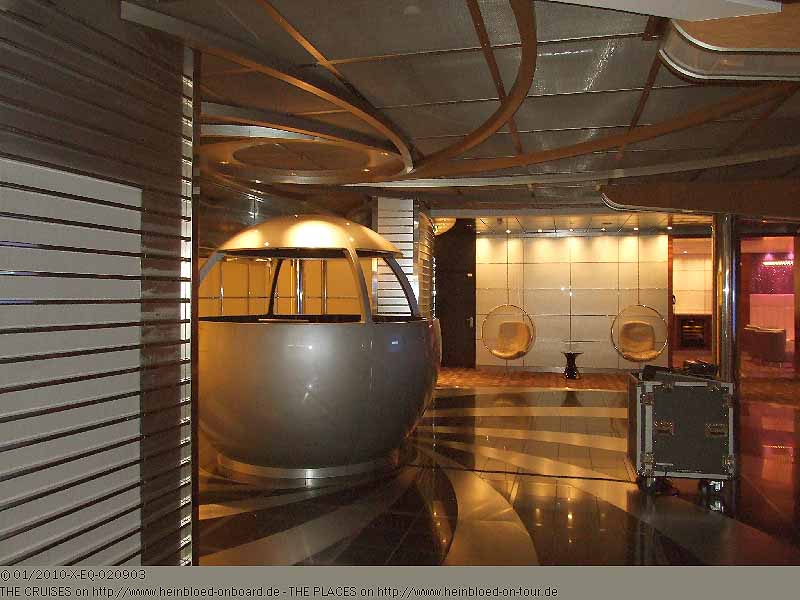 The disco attracted our attention.

Create yourself ladies shoes. Ladies: leave your shoes home and create your own for just 169 USD:.. You choose the single parts and let them construct your shoes you like.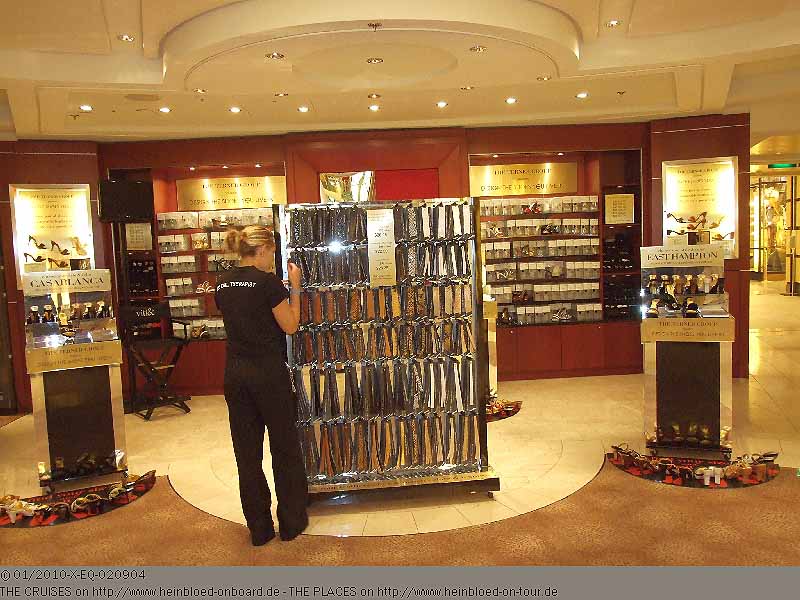 Damenschuhe zum Selberbauen: Liebe Leserinnen: einfach mal die Schuhe zu Hause lassen, und für 169 USD selbst Schuhe designen... Man sucht sich die Einzelteile selbst aus, und lässt sich den Schuh bauen, den man möchte.
Wir gehen rauf in die Sky Observation Lounge. Hier lässt es sich bestimmt gut aushalten.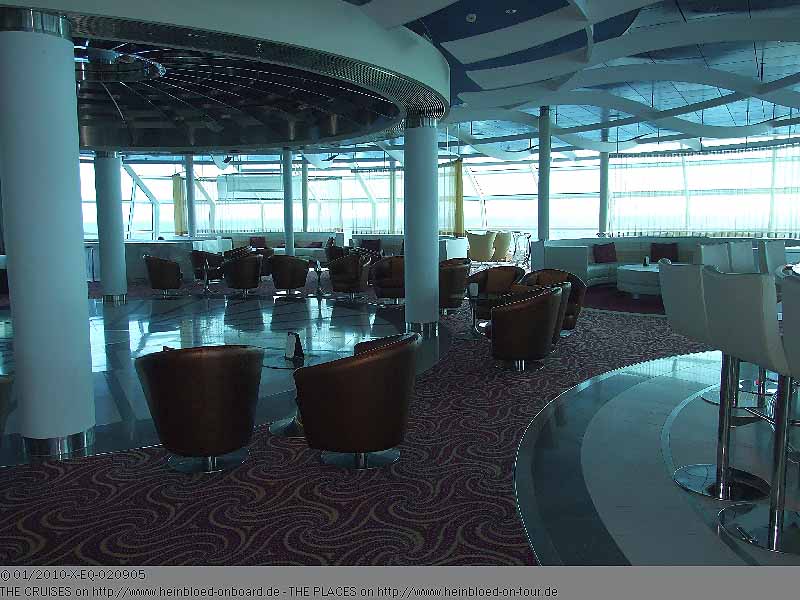 We went up to the Sky Observation Lounge. Here you can stay all day long and have a good time.

Why need it be so colorful on NCL's Jewel-Class-Ships??? Can't you just build a new NCL-ship which is designed descrete and harmonic???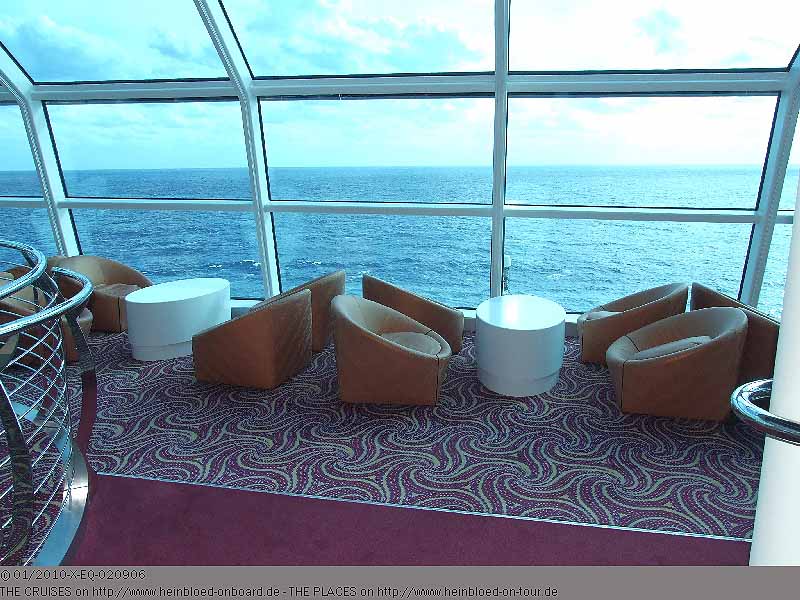 Warum muss eigentlich auf den Jewel-Class-Schiffen bei NCL alles so poppig bunt sein??? Kann man nicht auch mal ein NCL-Schiff neubauen, das mal so schön diskret und harmonisch designed ist???
Und falls ich mal ein Nickerchen machen will...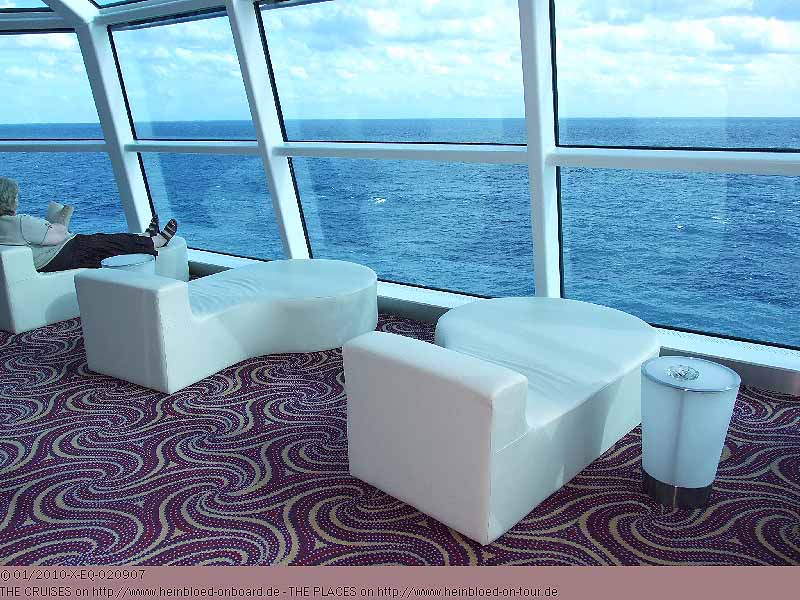 And if you need a nap...

Must be great if a band plays here.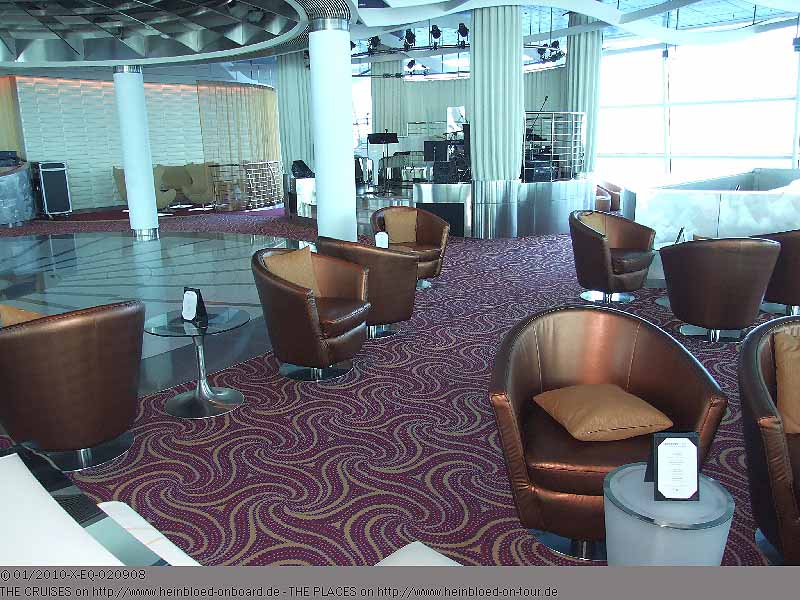 Muss bestimmt toll hier sein, wenn die Band spielt.
Es wird schon alles für die Elite-Mitglieder des Captain's Club vorbereitet... Das dauert, bis dass wir das erreichen... es sei denn, dass wir 12-tägige Kreuzfahrten in der Concierge-Klasse aufwärts machen: Bekommen wir dann zwei, drei oder vier Fahrten angerechnet???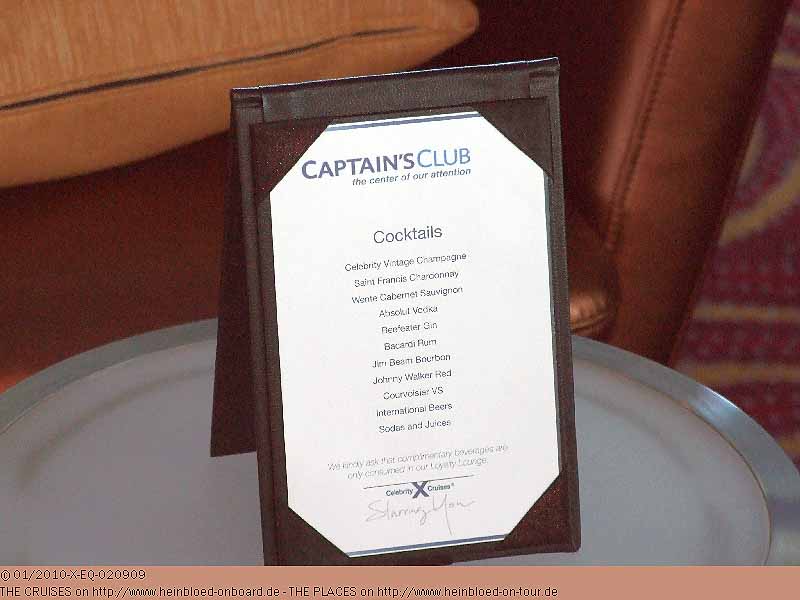 They prepared already for the Elite-Members of the Captain's Club... It will take a long time until we get this tier... only if we do 12-nights cruises in Concierge-Class and higher categories. Do we get two, three or four credits???

The thinker (originally from Auguste Rodin "Le Penseur") as puzzle.

Der Denker (im Original von Auguste Rodin ("Le Penseur") als Puzzle.
Im Fitness-Studio, das wir ja leider nicht nutzen können, weil unsere Sportsachen noch in den fehlenden Koffern sind.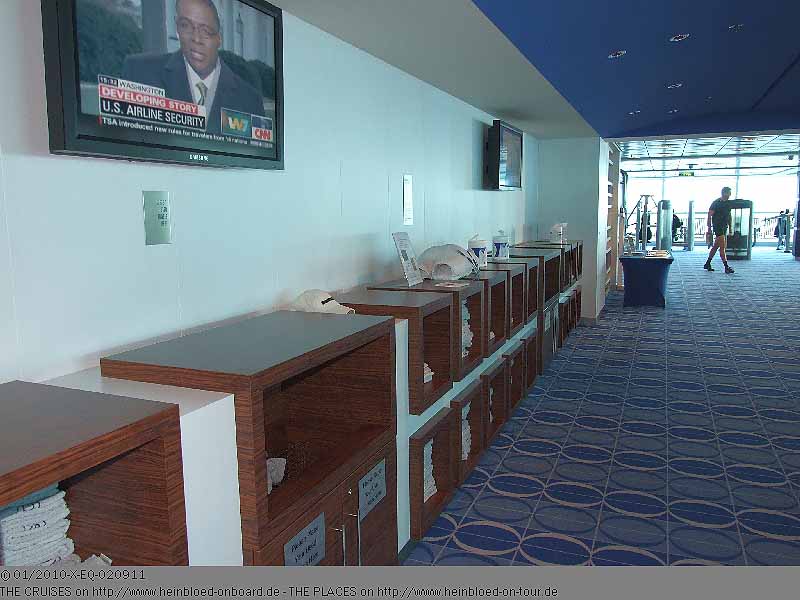 In the gym which we cannot use as our sport equiment was in our missing bags.

But for a day on sea it was "quiete". Only a certain range of pieces of sport equipment were in use.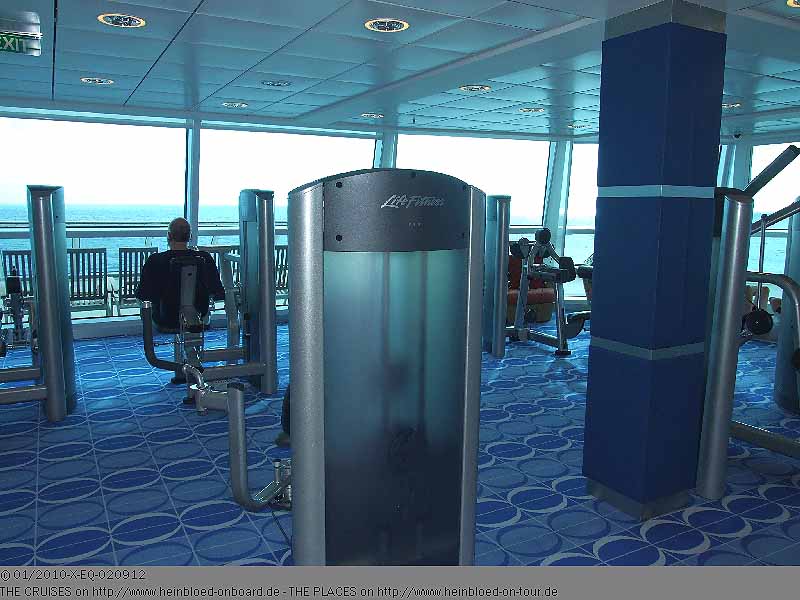 Aber für einen Seetag ist es "ruhig". Nur bestimmte Geräte werden stark genutzt.
Oben auf dem Sonnendeck: Raggae.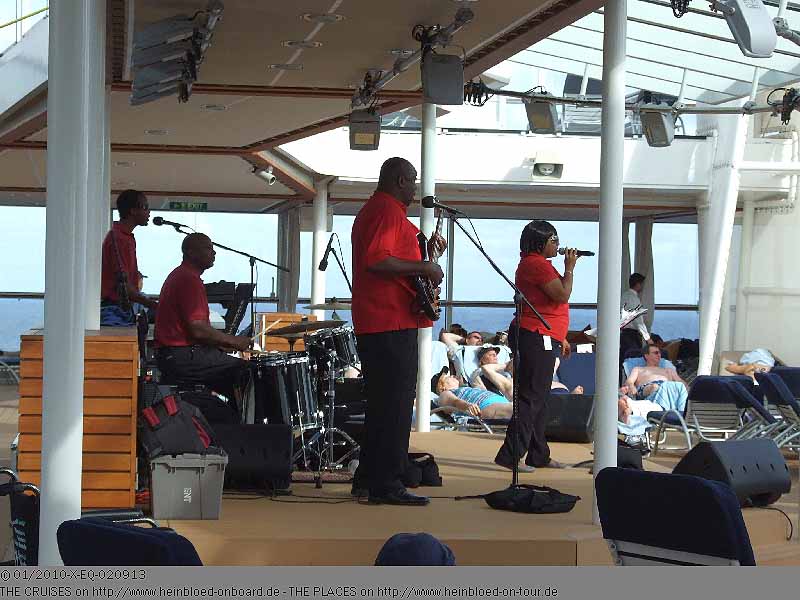 On the sundeck: Raggae.

There were only English books in the library on deck 10. One part of the books were on deck 11. The foreign section has a lot of French and Spanish books but only few Germans.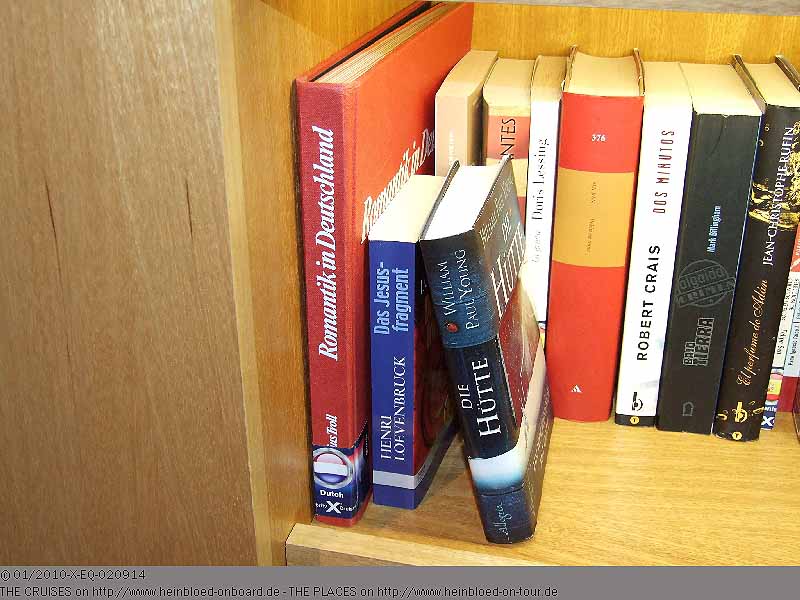 In der Bücherei auf Deck 10 stehen nur englische Bücher. Ein Bereich der Bücher steht auf Deck 11. Die ausländische Abteilung hat viele französische und spanische Bücher, aber leider kaum deutsche.
Ein Smoking wird gebracht, der auch Bruno passt.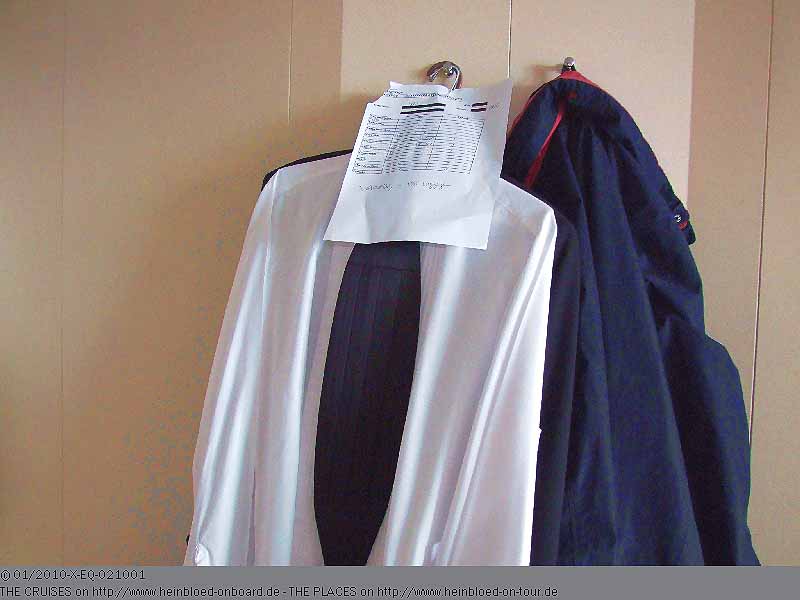 One tuxedo was delivered which fit to Bruno.

Until it fits to me our assistant stateroom attendant José who was on duty need to walk six times in to the basement. He did not just run an extra-mile but a true marathon. I was not allowed to join him to ease his work.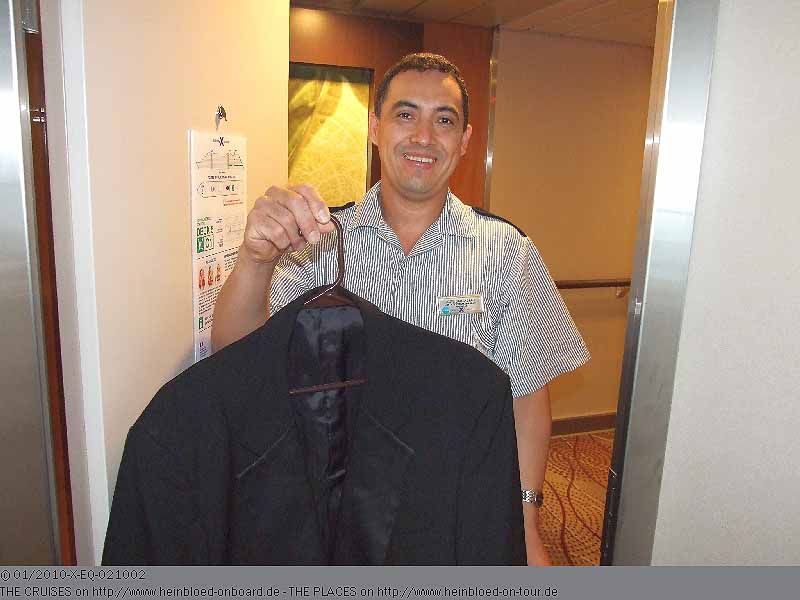 Bis dass mir alles passt, muss unser Hilfssteward José, der Dienst hat, sechsmal in den Keller. Er ist daher nicht nur eine Extrameile gelaufen, sondern schon einen Marathon. Ich darf nicht mit, um ihm die Arbeit zu erleichtern.
Was total klasse ist: seitlich kann man den Bauchumfang individuell einstellen, so braucht man eigentlich immer nur die Länge der Hosen anzugeben. Auch wenn es undankbar klingen mag, weil ich ja nun keine 120 USD für das Leihen zahlen musste und ihn umsonst geliehen bekommen habe: es hätte mir ein sauberes Gefühl gegeben, wenn ich nicht noch die Abrechnungsbelege von meinen Vornutzern in den Taschen gefunden hätte und wenn das ganze nicht Polyester gewesen wäre.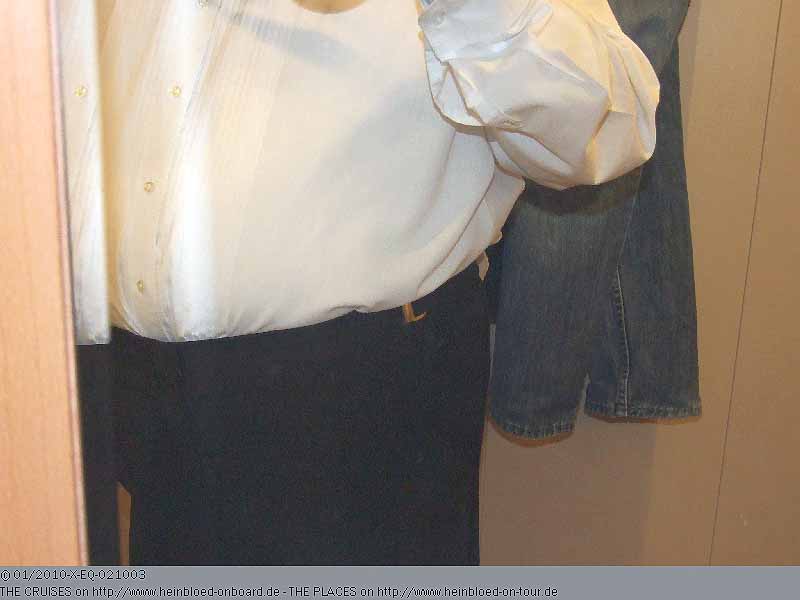 What was totally great: you can set individually around your waist the correct size so you only need to indicate the length of the pants. I might sound unthankful because I did not pay 120 USD for the rental and got it for free: it would have given me a better and cleaner feeling if I would not have found receipt from the previous cruiser who had the tuxedo before and if not all material was made of polyester.