Scroll down for English explanations - alternates with German explanations.

Eine Überraschung kommt rein: C. COLUMBUS.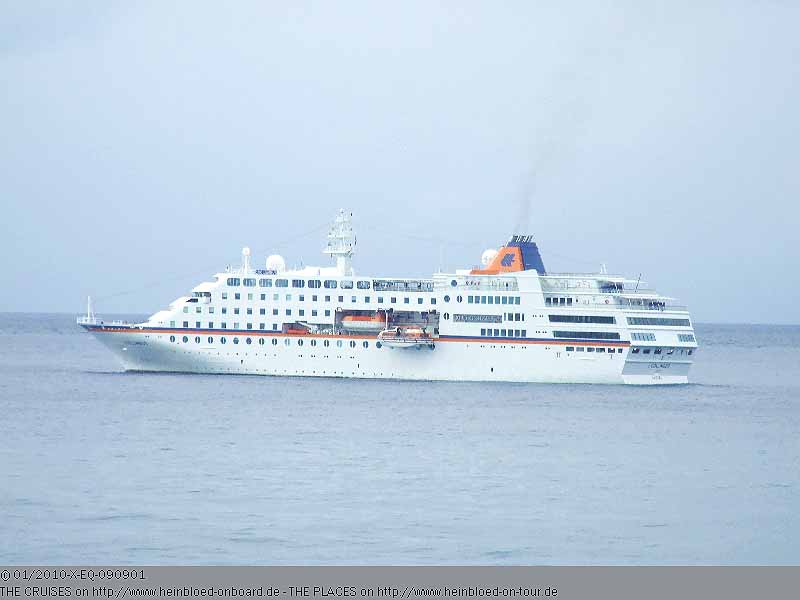 A surprise came in: C. COLUMBUS

But first of all they just released a tender boat to get the equipment for the tender boat station ashore.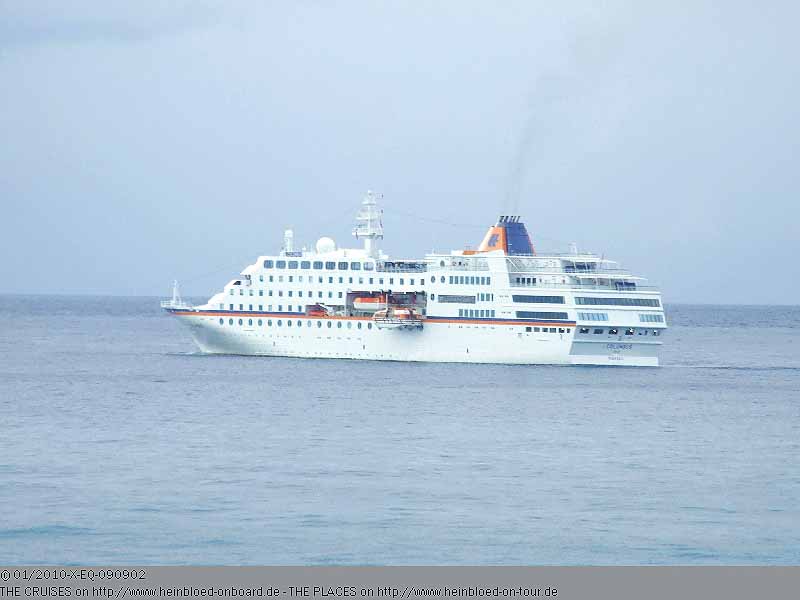 Zunächst lässt sie jedoch nur ein Tenderboot aus, um die Ausrüstung für die Tenderstation an Land zu bringen.
Danach sucht sich die C. COLUMBUS eine neue Stelle, an der sie ankern kann.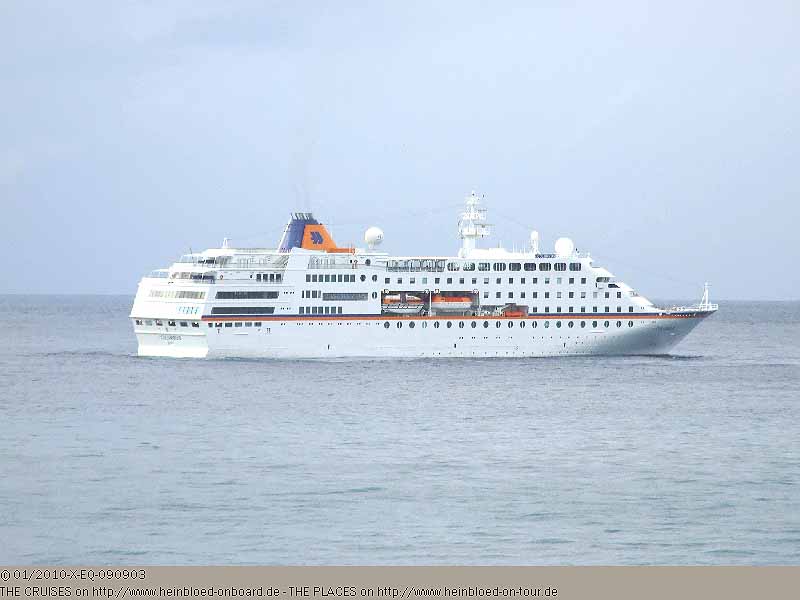 Then C. COLUMBUS looked for a new place where she could anchoring.

So we saw her during the morning on different locations in the port.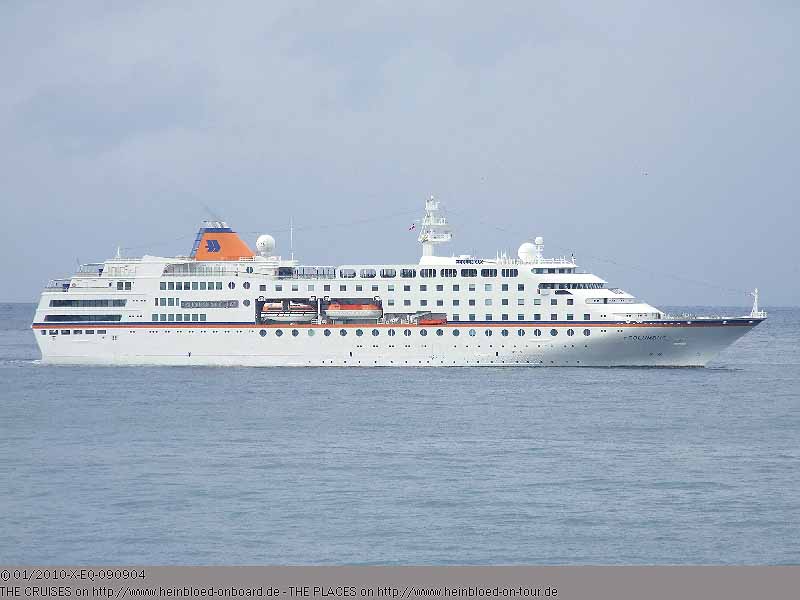 So sehen wir sie im Laufe des Vormittags an verschiedenen Positionen im Hafen.
Schade, dass sie nicht mehr in die Große Seen fährt.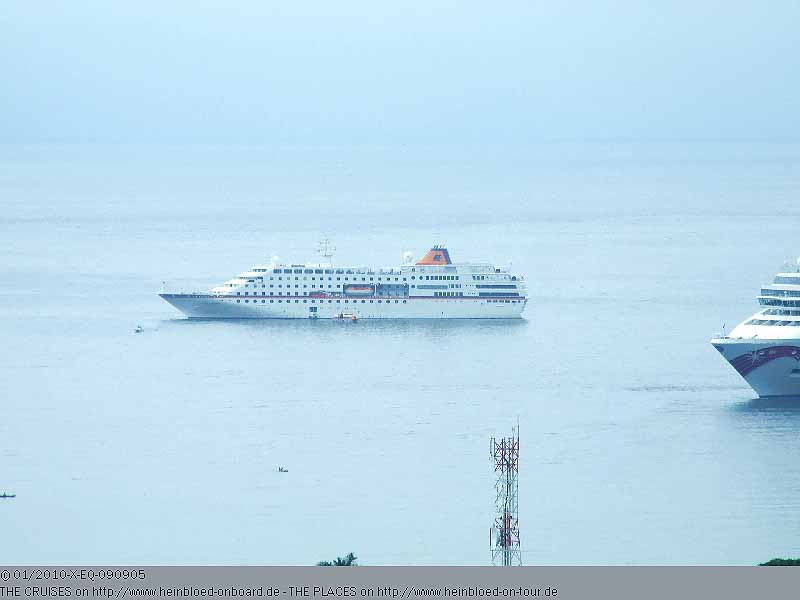 It is a shame that she does not offer anymore the cruises to the Greak Lakes.

That was the last watch we had before she left.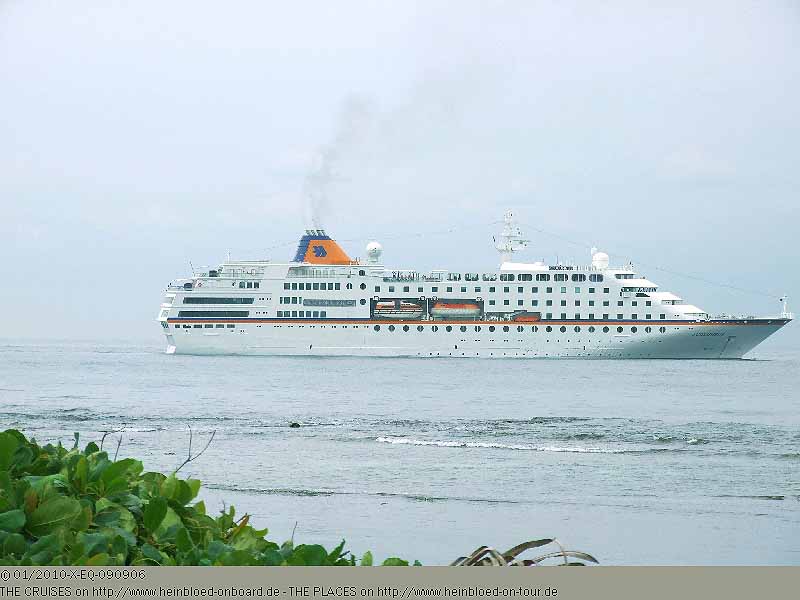 Das ist der letzte Anblick, bevor sie vor uns allen wieder weg ist.
Auch die NORWEGIAN JEWEL ist da, als wir vom Frühstück kommen. Der Klappe für den Tenderausgang ist bereits offen.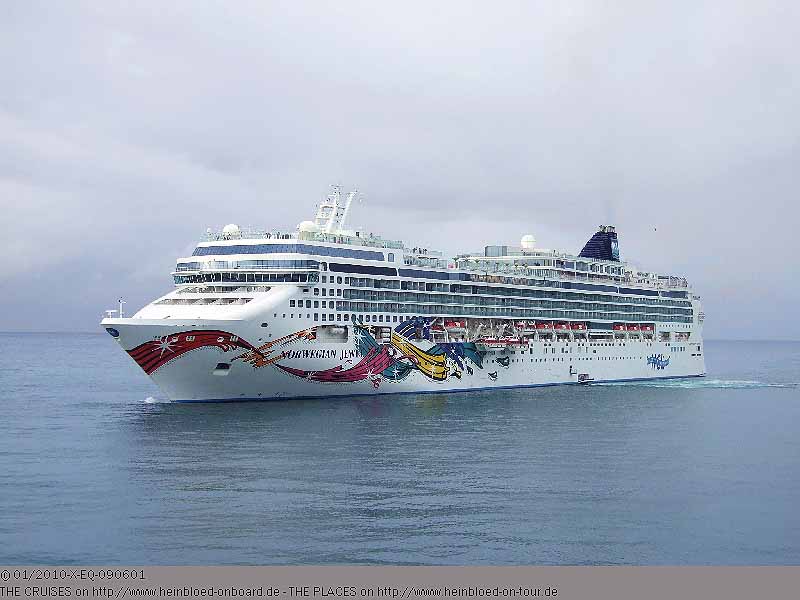 NORWEGIAN JEWEL was there when we came from breakfast. The shutter for the tender exit was already open.

The tender boats were already released. From stateroom 8566 which we had on NORWEGIAN GEM you should see us now.

Die Tenderboote sind heruntergelassen. Von der Kabine 8566, die wir ja mal auf der NORWEGIAN GEM haben, müsste man uns ja jetzt sehen.
Nach und nach kommen die Tenderboote zu Wasser.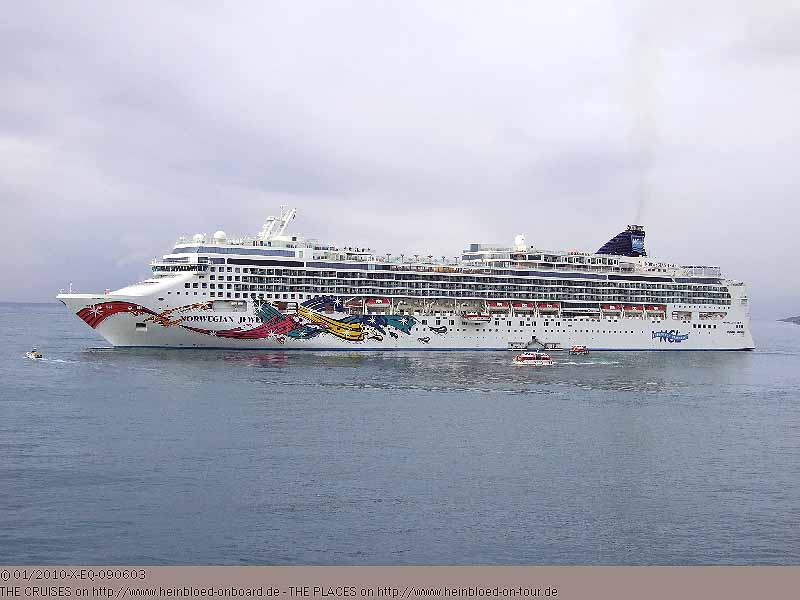 By and by all tender boats were now in the water.

All boats were in action.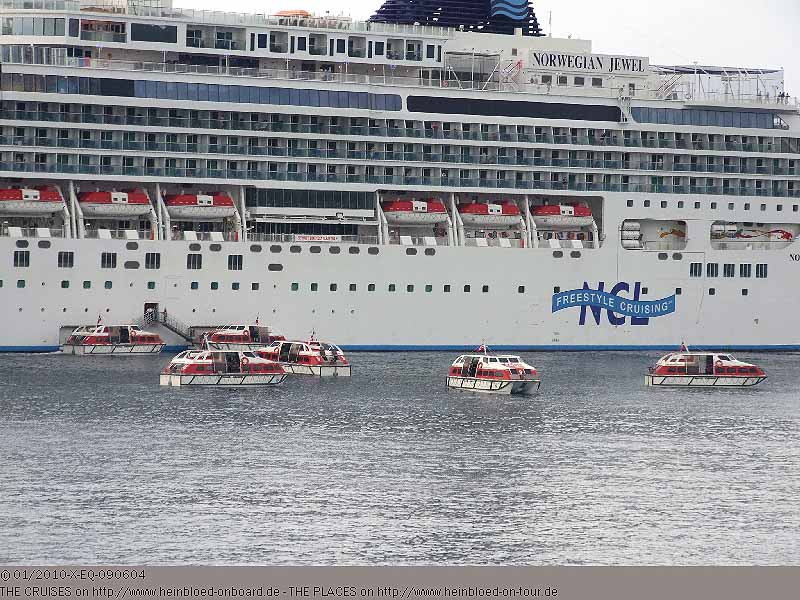 Alle Boote warten auf ihren Einsatz.
Hier müssten auch Freunde von uns sitzen. Ich kenne sie gut genug, dass sie bestimmt das ganze Schiff auf den Kopf gestellt hat, damit sie im 1. Tender sitzen. Sie sind mitlerweile eh Latitudes Platin-Mitglieder und haben Priority Tendertickets.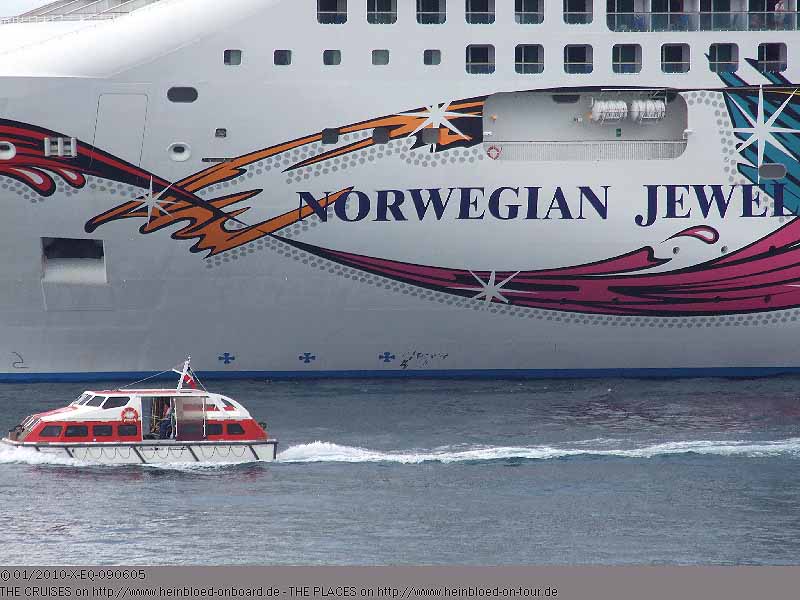 I think that our friends should be there. I knew them well enough to know that they did everything on the ship to be in the first tender. But they were anyway already Latitudes Platinum-Members and should have priority tendertickets.

I was funny to had an appointment for a private tour from different ships.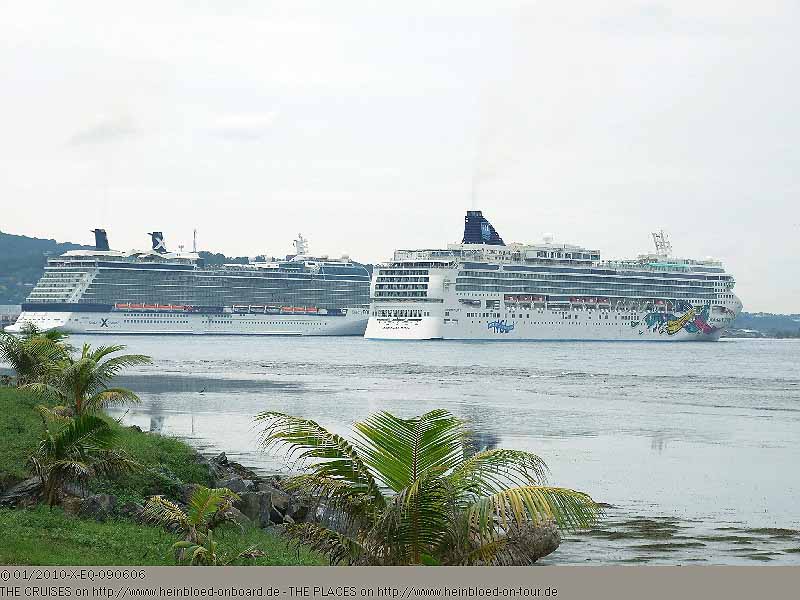 Ist schon witzig, wenn man sich zum gemeinsamen Ausflug von unterschiedlichen Schiffen verabredet.
Später, als wir fahren, dürfen die Tenderboote nicht fahren.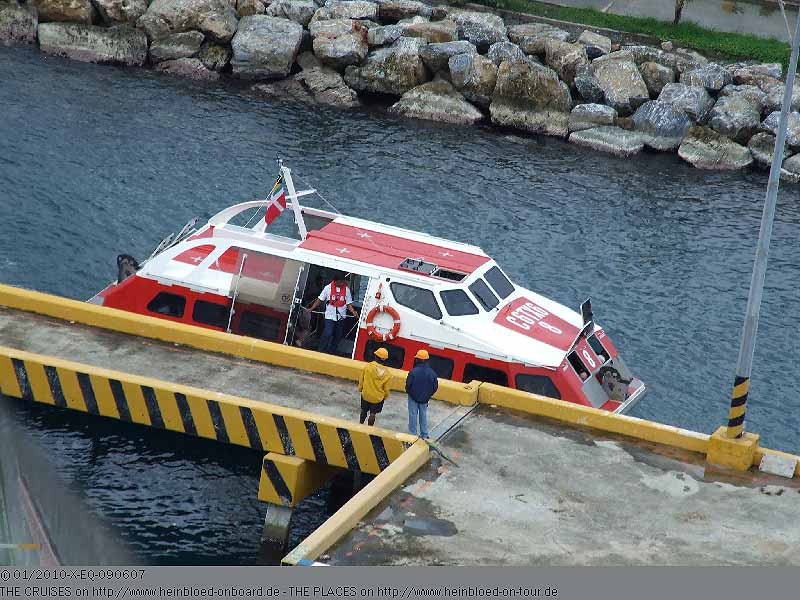 Later we learned that the tender boats were not allowed to leave when we were leaving.

So we did not find them on the open deck to wave us because the tender boat service to NORWEGIAN JEWEL was suspended 20 minutes before the sailing of CELEBRITY EQUINOX.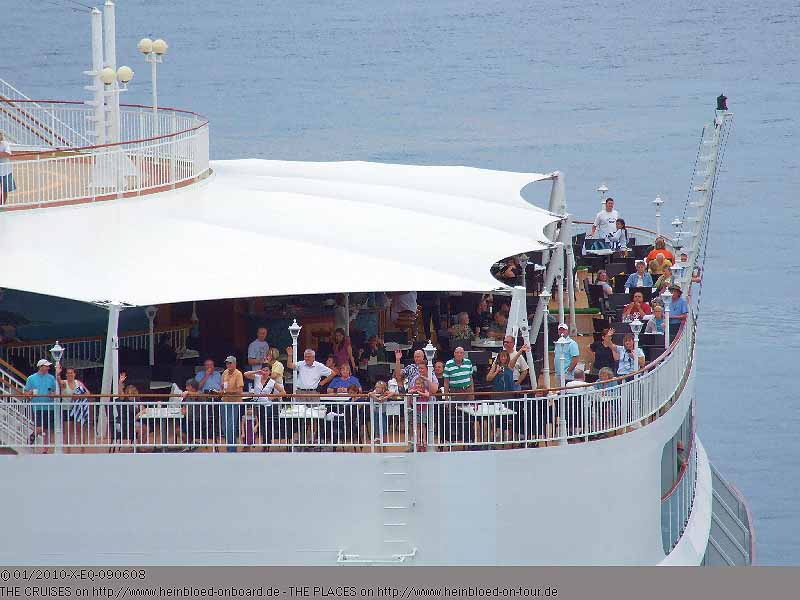 So finden wir sie nicht hier auf dem offenenen Deck, damit sie uns rüberwinken, weil der Tenderbootbetrieb zur NORWEGIAN JEWEL ca. 20 Minuten vor Ablegen der CELEBRITY EQUINOX unterbrochen wurde.
Das war schade.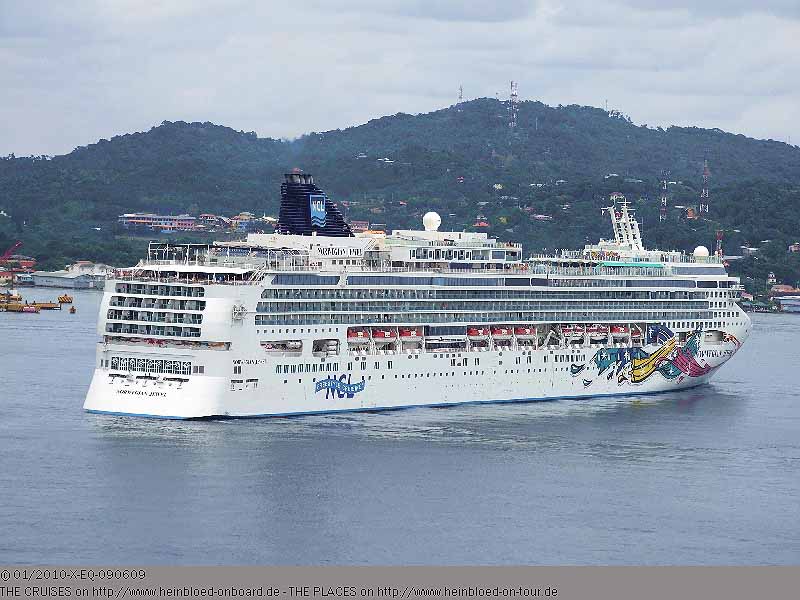 I was sorry for that.

But let us introduce our friends who came here with the first tender.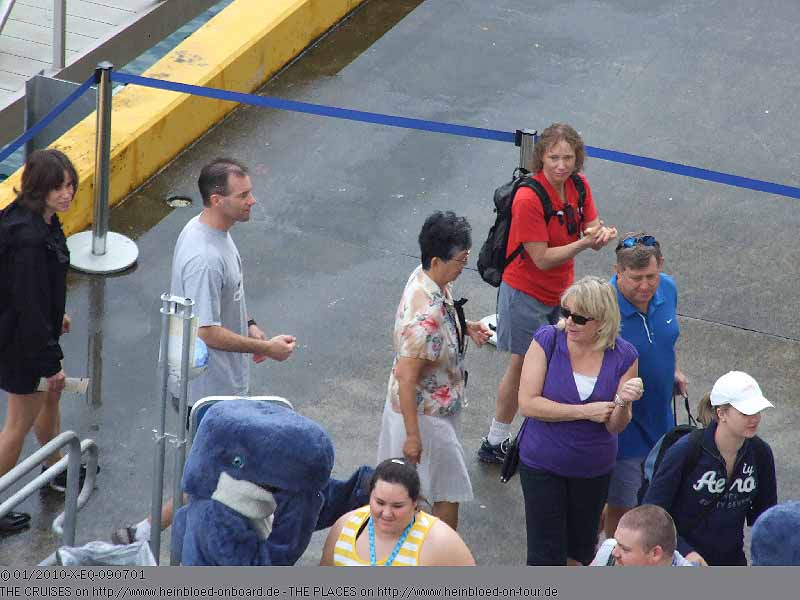 Aber stellen wir mal die Freunde vor, die hier mit dem 1. Tender an Land gespült werden.
paiagirl (Frances und Eddie aus cruisecritic.com) aus Kalifornien.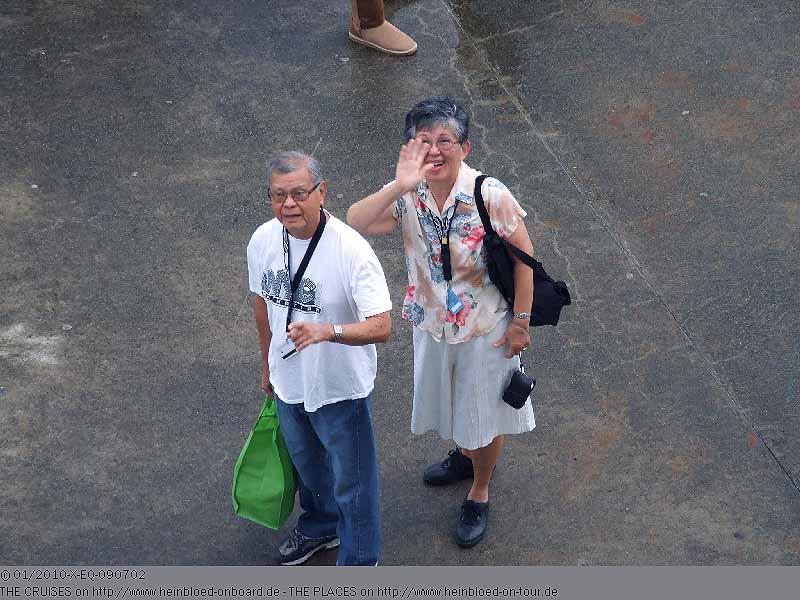 paiagirl (Frances and Eddie from cruisecritic.com) from California.

Bobs cruising (Bob from cruisecritic.com) waited at the terminal too and made acquaintance.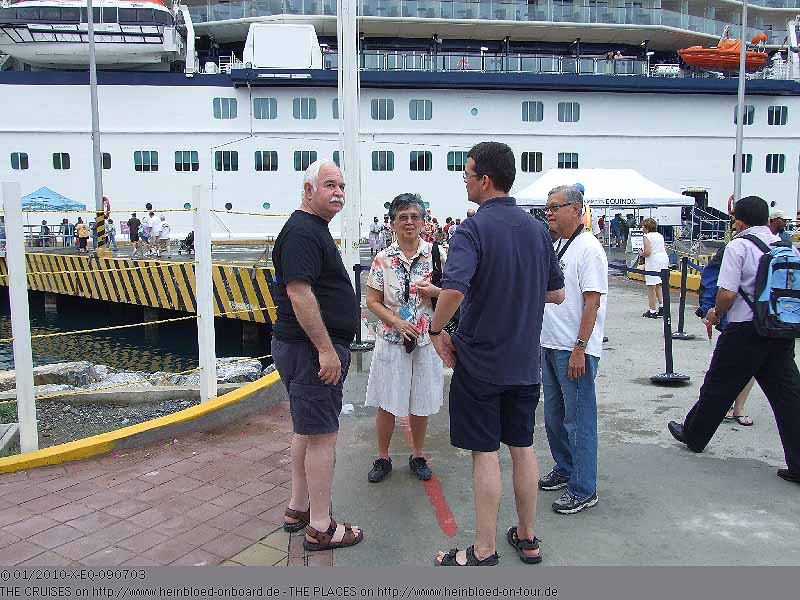 Bobs cruising (Bob aus cruisecritic.com) wartet ebenfalls am Terminal und so lernen sich alle mal kurz kennen.
Später sitzen sie auf der Bank und winken uns zu, als wir schon wieder an Bord sein müssen.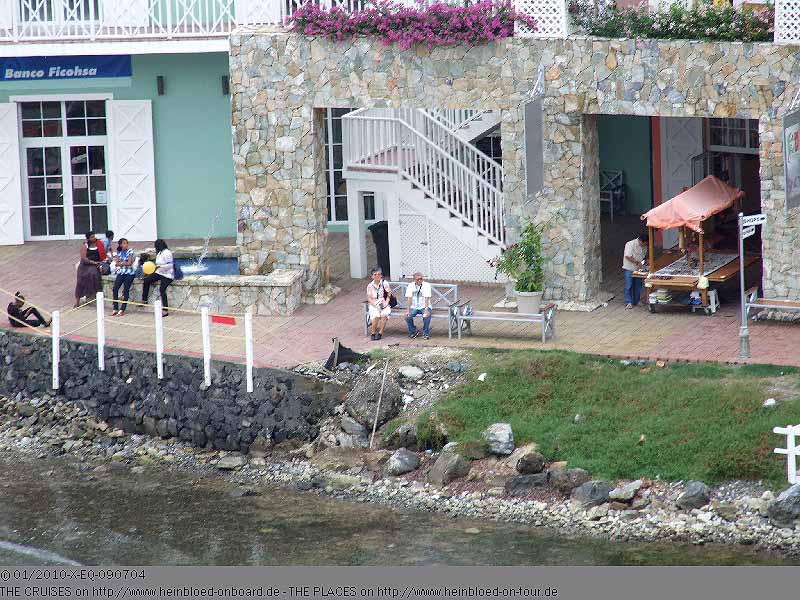 Later they sit on the bench and waved us when we need to back on board.

Now they tried to get back on their ship to wave from their ship to us. They reported that NCL became a little worse. Obviously the water boiler in the staterooms was not available anymore. And they canceled the welcome champagne too. Maybe it was good that we started our research for alternatives.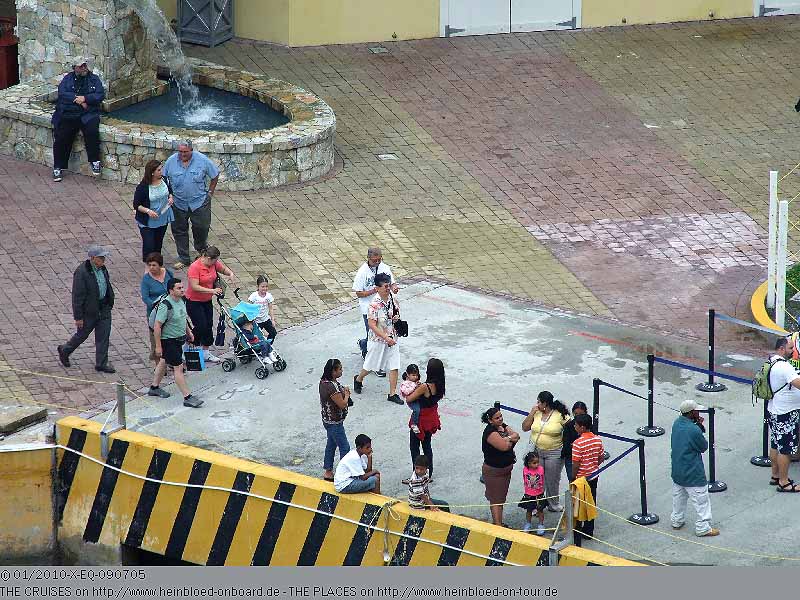 Nun versuchen sie doch noch zum Schiff zu kommen, um uns von dort aus zuzuwinken. Sie berichten uns, dass es leider auf der NCL wieder etwas schlechter geworden ist. Offensichtlich gibt es auf den Kabinen auch den Wasserkocher nicht mehr. Und auch wohl der Willkommenssekt wurde gestrichen. Vielleicht ist es gut so, dass wir uns schon mal nach Alternativen umsehen.
Bislang waren wir noch nicht auf gemeinsamer Kreuzfahrt, das blieb anderen vorbehalten, die hier immer mitlesen und mit ihr im Schwarzen Meer unterwegs waren.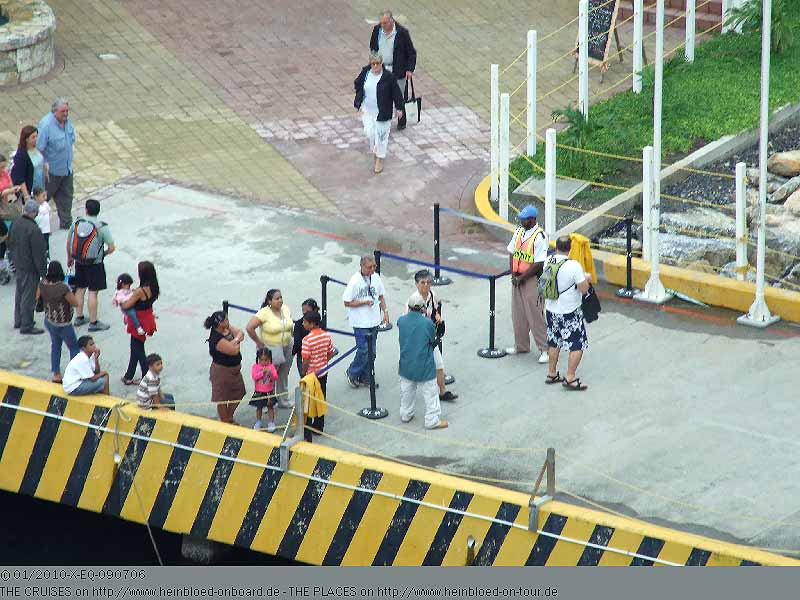 We never went cruising together. This pleasure was limited to some friends reading the blog and went with her to the Black Sea.

Now they were in the tender boat. But nobody knew that they need to stay there until we left.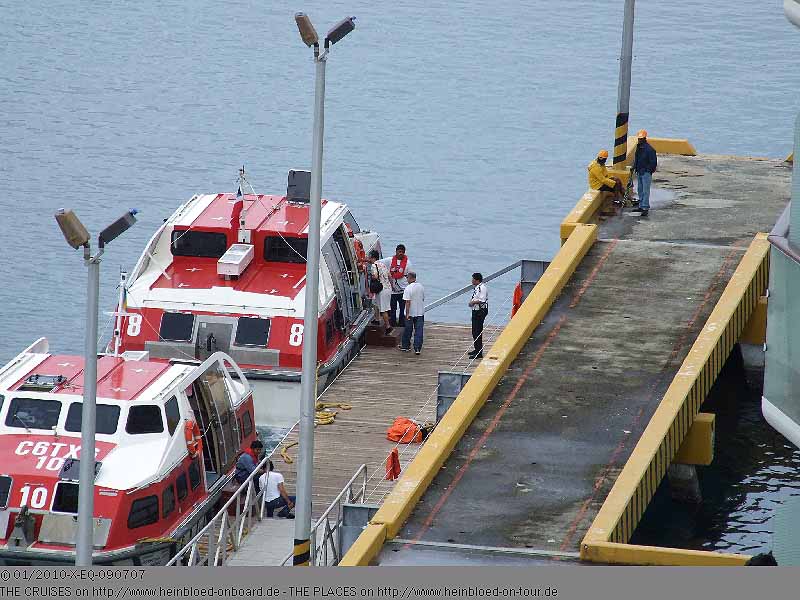 Und nun sind die im Tenderboot. Schade, dass keiner von uns weiss, dass der Tender hier erst wieder fahren darf, wenn wir abgelegt haben.
Im Innen gucke ich mich immer noch um und entdecke immer wieder neue Eindrücke.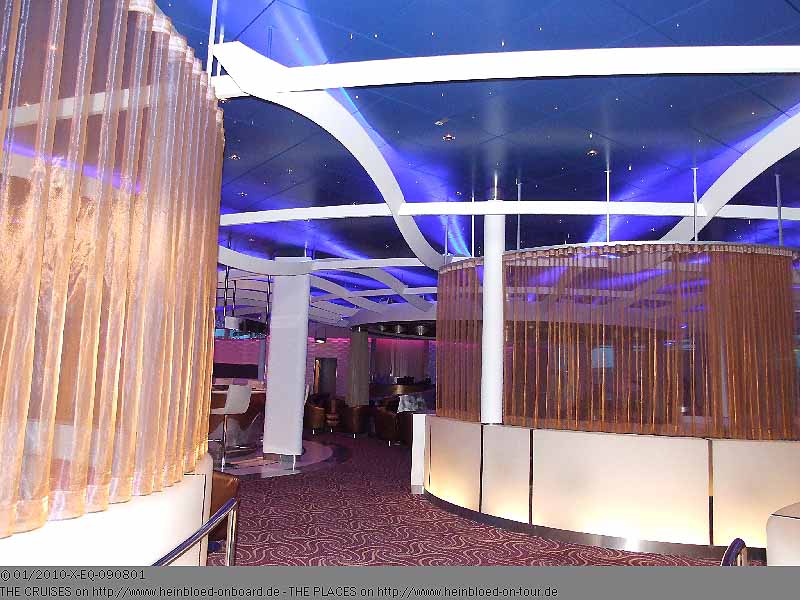 Some new impressions from the interior of our ship.

Sky Observation Lounge appeared from my taste too cool. That was why I was not there very often. I prefer HAL's Crow's Nest.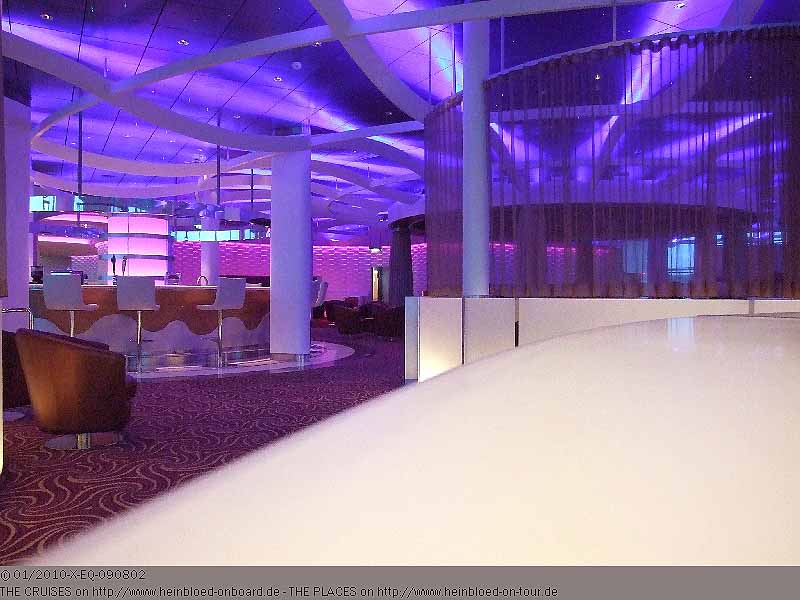 Die Sky Observation Lounge wirkt mir zu cool. Deswegen bin ich dort eigentlich recht selten. Da mag ich lieber das Crow's Nest bei HAL.
Die öffentlichen Toiletten sind sehr chic und es gibt sogar Stoffhandtücher.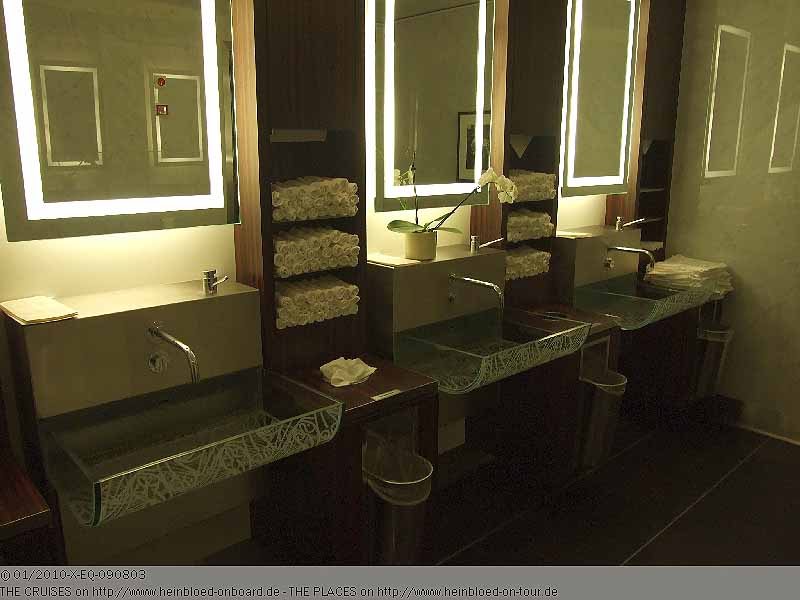 The public toilets were very attractive and you get linen towels.

If you used the urinals you had time to philosophize... Were on the ladies' room cooking recipes??? I the men's room's cabinet there was nothing because they thought it could occur unnecessary long stays there...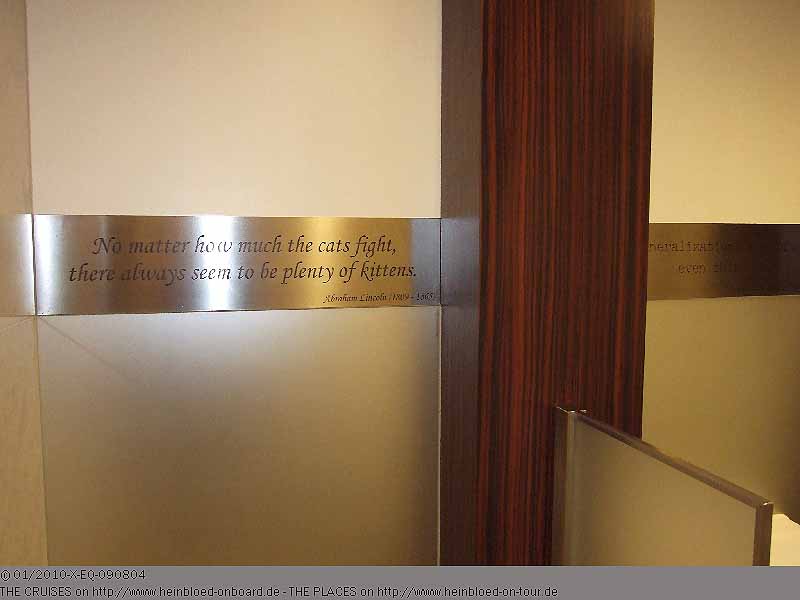 Beim Urinieren hat man Zeit zum Philosophieren... Gibt es in der Damentoilette Küchenrezepte??? In den Kabinen der Herrentoiletten gibt es nichts, weil man wohl kein Interesse hat, dass manche unnötig lange darin verweilen...