Scroll down for English explanations - alternates with German explanations.

Vor der Fahrt bekommen wir am Bus etwas Wasser. Die Fahrt soll zehn Minuten dauern. Leider kommen noch sieben Minuten hinzu weil drei Gäste zu spät am Bus erscheinen. Wir fahren und fahren und das schon länger als zehn Minuten und plötzlich wendet der Bus...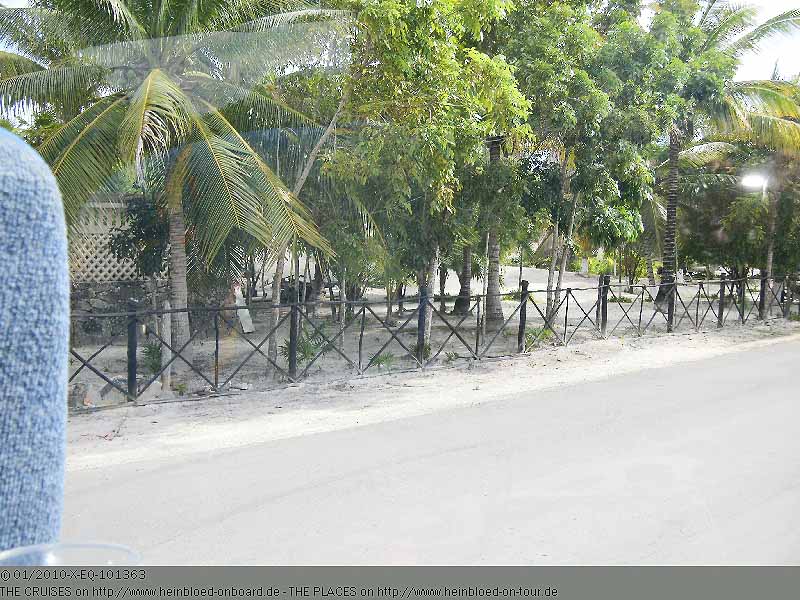 Before we continued we got some water. The ride should be ten minutes. But unfortunately we had to add seven minutes because three guests were late. We rode and rode and more than ten minutes and then the bus made a u-turn.

When he met another bus of the same company...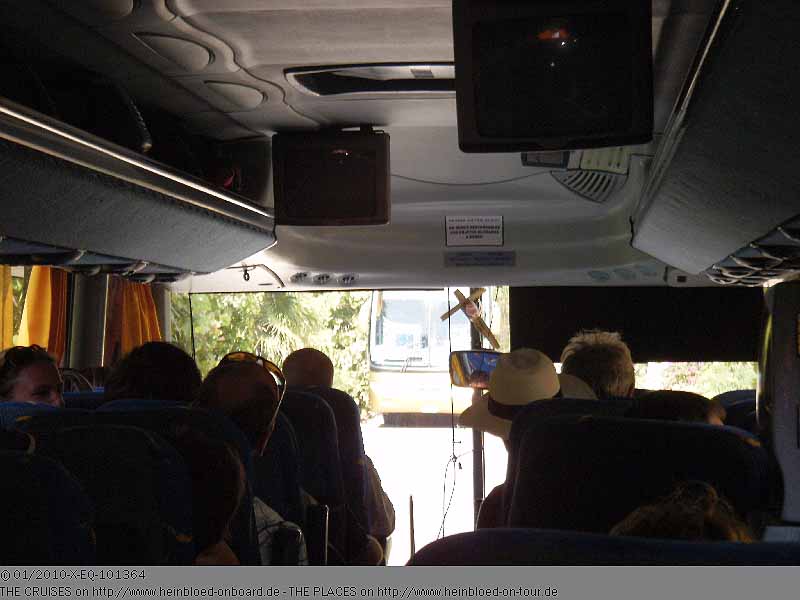 Als er dann einen weiteren Bus der gleichen Gesellschaft trifft,...
wendet er schon wieder und fährt in die Richtung weiter, dem anderen Bus hinterher und in die Richtung, in die er schon vorher gefahren ist. Die Tour wird doch alle 21 Tage angeboten. Wieso kennen die Jungs den Weg nicht???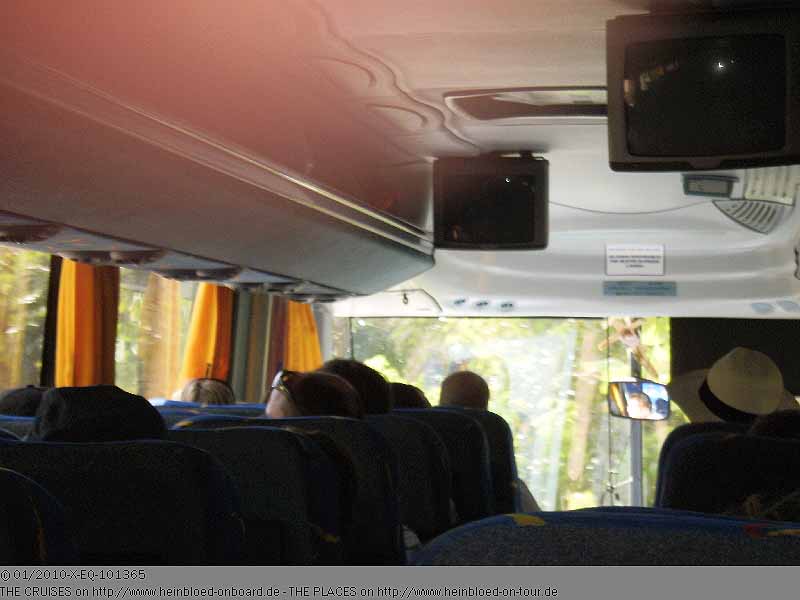 he made a u-turn again and continued to the same direction like before all u-turns. They offered the tour every 21 days. How could it be that the guys do not know the way???

Meanwhile it was 02.10 pm and we had not arrived yet. Originally we should leave at 03.00 pm back for the ferry. What kind of beach-break incl. lunch was this???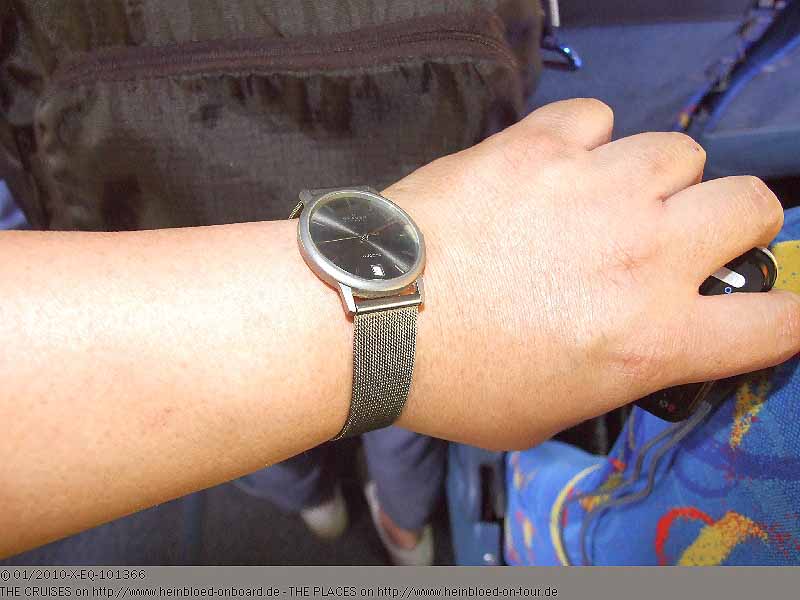 Mitlerweile ist es 14.10 Uhr und wir sind noch nicht da. Ursprünglich hieß es, dass wir um 15.00 Uhr wieder zur Fähre zurückfahren. Was für ein Beach-Break inkl. Lunch ist das???
Wir sind endlich da:
Aki'in Beach Tulum
.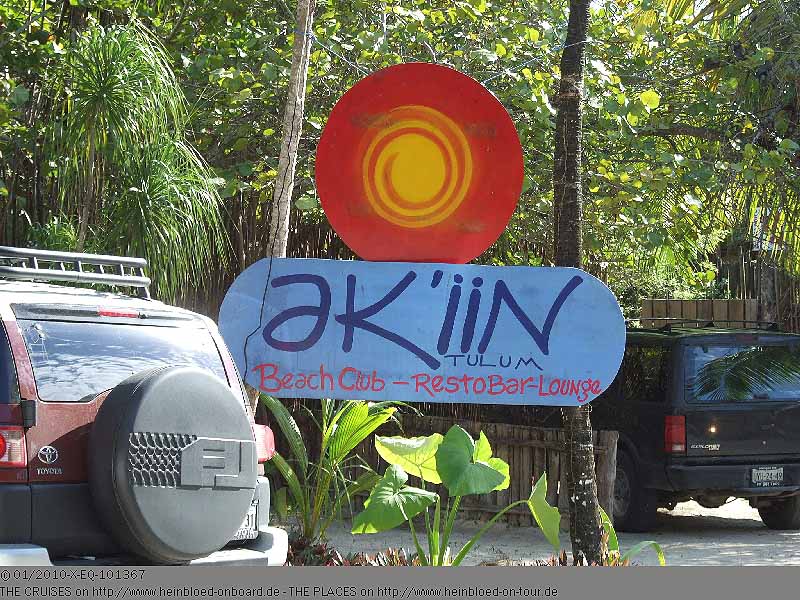 Finally we made it: Aki'in Beach Tulum.

To make it possible that we can enjoy a little the beautiful sandy beach our departure was rescheduled to 03.30 pm.

Damit wir diesen schönen Sandstrand doch etwas genießen können, wird die Abfahrt auf 15.30 Uhr verschoben.
Eigentlich ist das eine Schande. Leider können wir den Strand nicht genießen. Bevor wir gepackt haben, habe ich extra am Ausflugsbüro nachgefragt: Nein... sie brauchen nur Ihre Badesachen mitzunehmen... Badetücher werden gestellt und Umkleidekabinen sind vorhanden. Von wegen... die Reiseleitung wusste nichts davon und meint, dass es keine Badetücher gibt.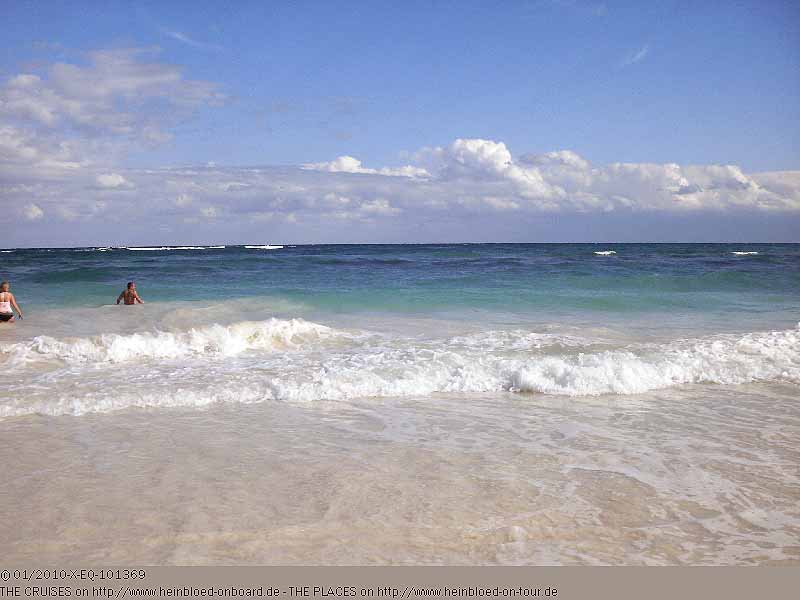 It was a shame. Unfortunately we could not enjoy the beach. Before we packed we called the shore excursion desk: No... you only need to take your swim suits with you... Towels will be provided and changing rooms are available. But this was a lie... die tour guide did not know anything about it and let us know that no towels will be provided.

And the changing rooms... who like public viewing...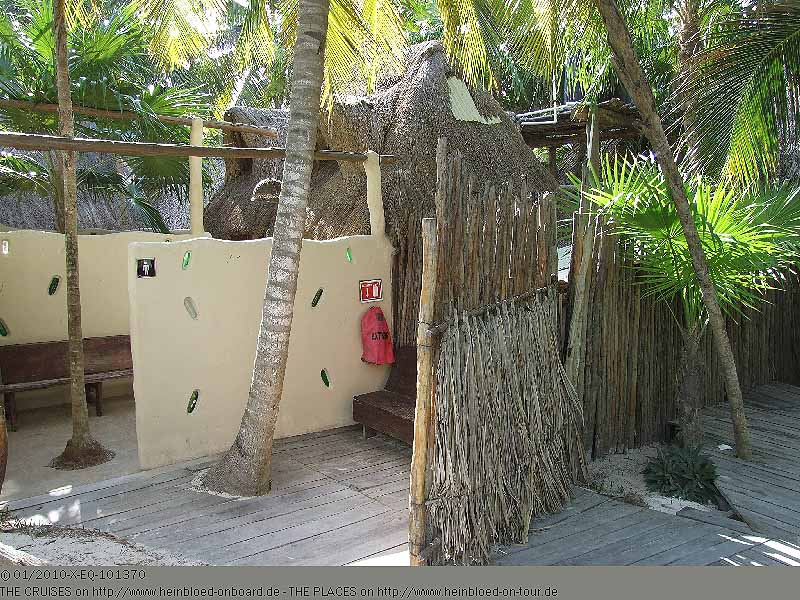 Und die Umkleidekabinen... wer es öffentlich mag...
Echte Umkleidekabinen mit Kleiderhaken und einer Sitzgelegenheit gibt es hier nicht. Duschen und WC ja...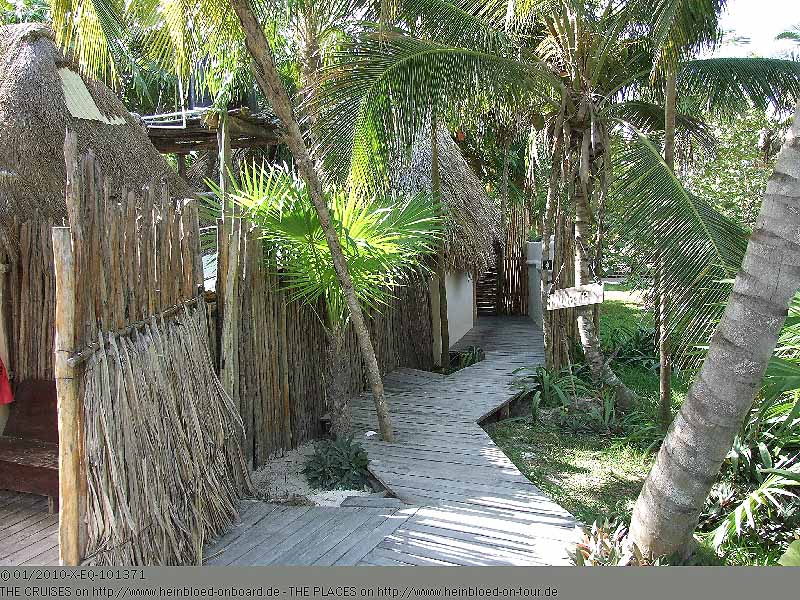 True changing rooms with hooks and a seat were not available. Showers and toilets: yes...

The buffet was nice but not very rich.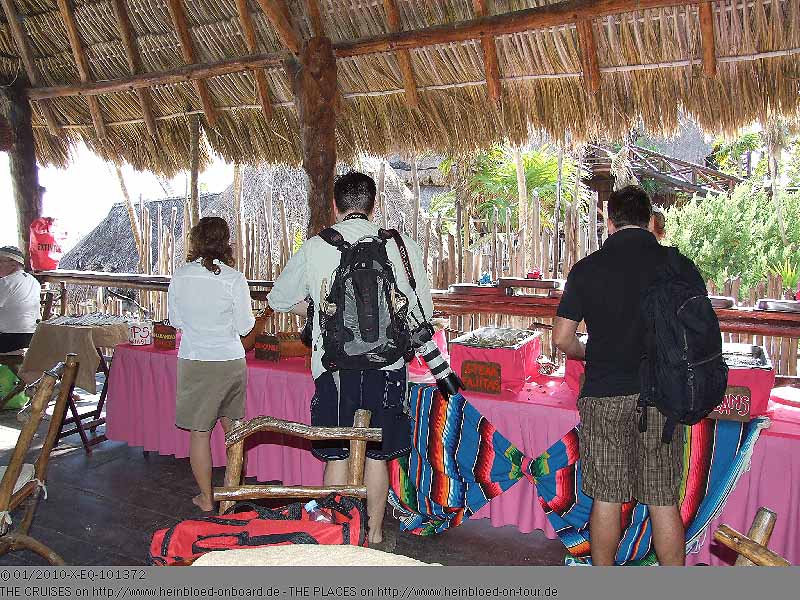 Das Buffet war lecker, aber nicht besonders reichhaltig.
Nichts, was ich auch in Boston oder Darmstadt bekommen könnte.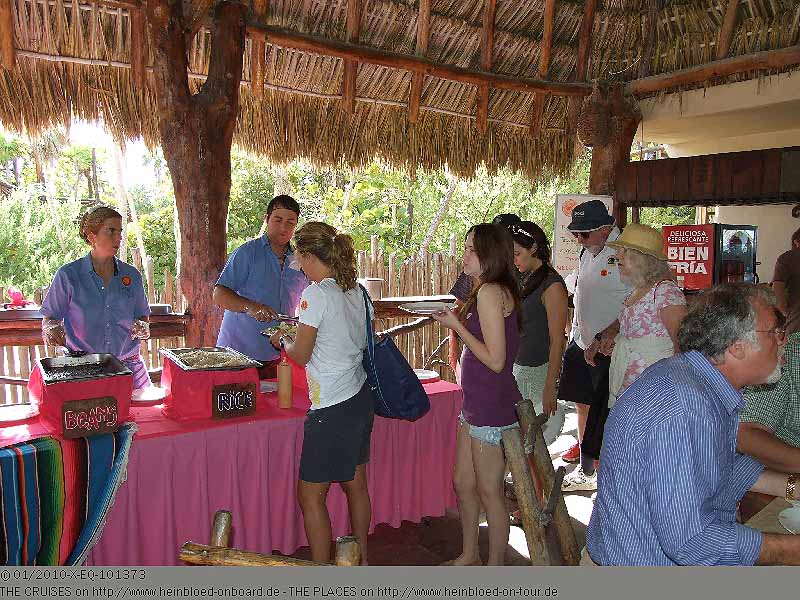 Nothing special you cannot get in Boston or Darmstadt, Germany as well.

The tortilla were so uniform shaped that it was clear that they were not handmade.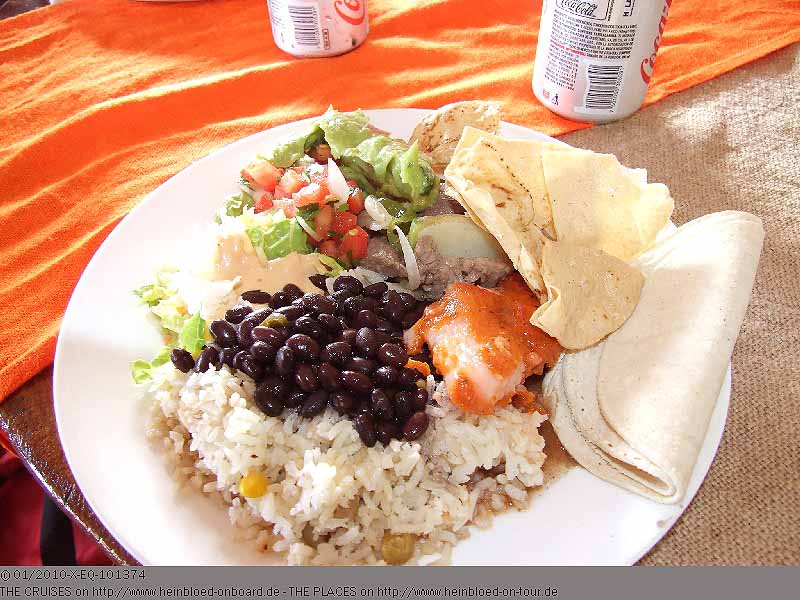 Die Tortilla sind so gleichmäßig, dass klar ist, dass es sich hier um Convenience Ware handelt.
Ein Softdrink ist kostenlos. Alkohol gibt es zu den Preisen.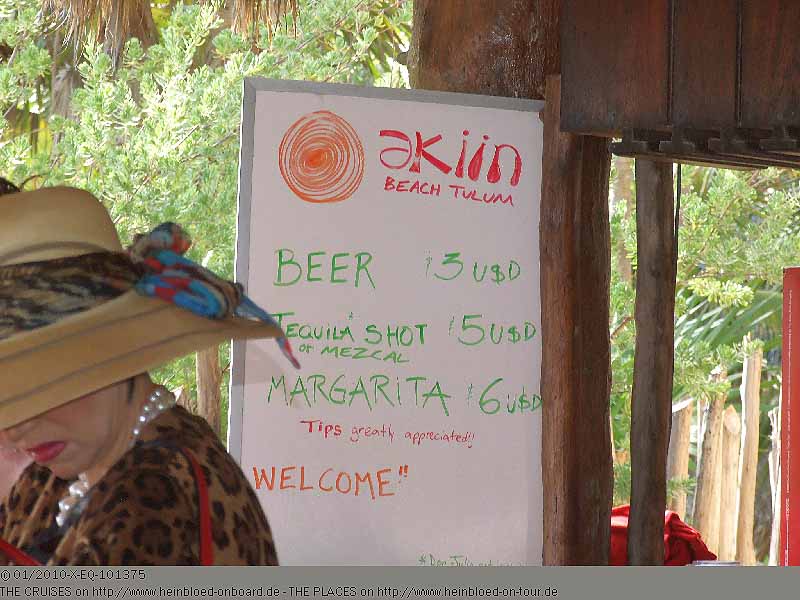 One soft drink was free. Alcohol was available to buy.

Massage on the beach was very fine: one dollar per minute. One German tourist mixed up something: he wanted to have some pictures and booked a 5-minute-treatment. The therapist asked another client who booked her already if she would accept a 5-minute-break. After his five minutes he wanted more and treated her like a prostitute. The other male travel-mates were screaming and celebrated the (doubtful) hero and took pictures. The request of the therapist to clear the bank was not attended by him. The group leader had no success either. I hate such habit.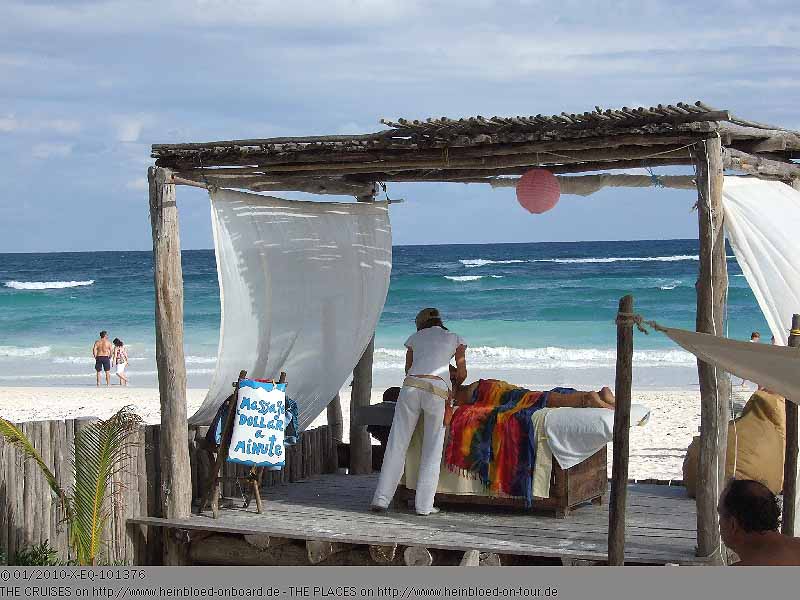 Die Massage am Strand war eine feine Sache: pro Minute ein Dollar. Ein deutscher Tourist verwechselt hier jedoch etwas: er will unbedingt fotografiert werden und bucht eine 5-Minuten-Massage. Die Therapeutin fragt eine andere Kundin, die sich bereits angemeldet hat, ob sie vielleicht 5-Minuten warten würde. Nach fünf Minuten will er mehr und behandelt sie wie eine Prostituierte. Unter dem Gegröhle der mitreisenden Männern lässt er sich als (zweifelhaften) Helden feiern und fotografieren. Den Wunsch der Therapeutin, dass er die Bank freigeben soll, folgt er nicht. Auch die Reiseleitung hat keinen Erfolg. So etwas kotzt mich an.
Hier hätten wir länger bleiben sollen.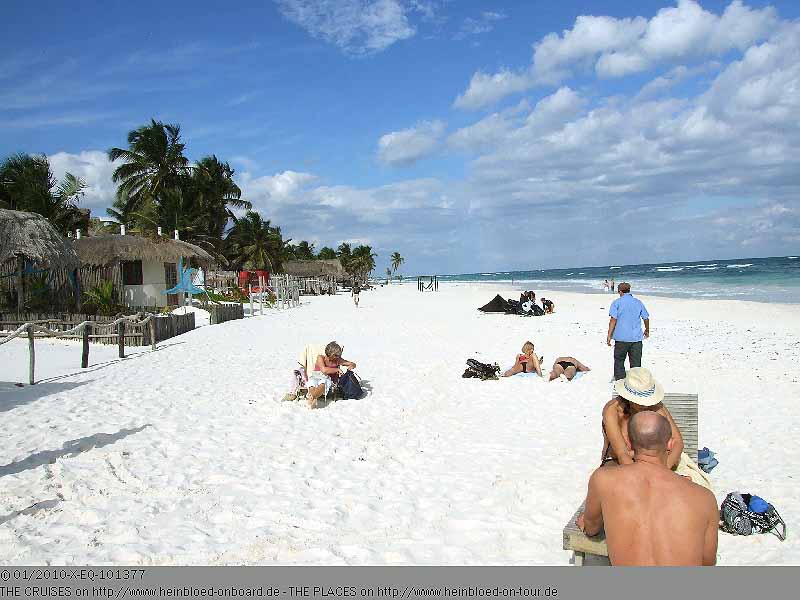 Here we should have stayed longer.

We never saw Richard without his camera... (these words should come from a person like me... ha ha ha...)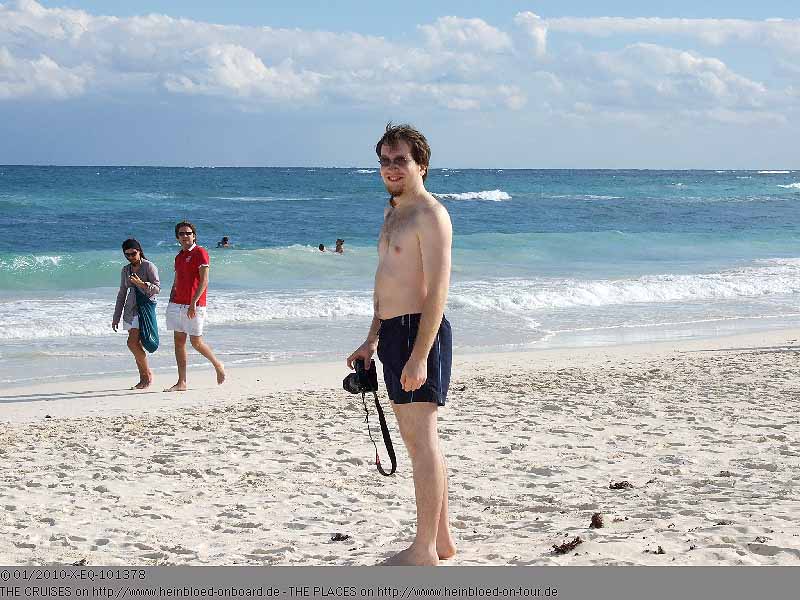 Richard erleben wir nie ohne Kamera... (das muss ausgerechnet ich schreiben... ha ha ha...)
Wenigstens mal das Wasser berühren, wenn wir schon keine Badetücher dabei haben, um uns abzutrockenen.

At least feeling the water when we do not have any towels with us.

Was not this place just beautiful?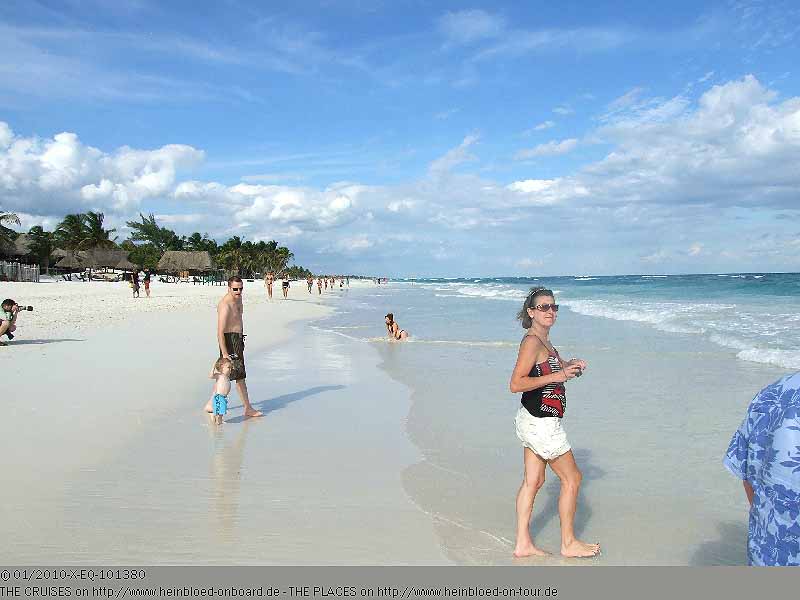 Ist das nicht schön hier?
Katie freut sich auch und hält ihre Füße ins Wasser.

Katie was happy like us and put her feet into the water.

The crab was fed up to the back teeth when so many photographers came and returned to the sea.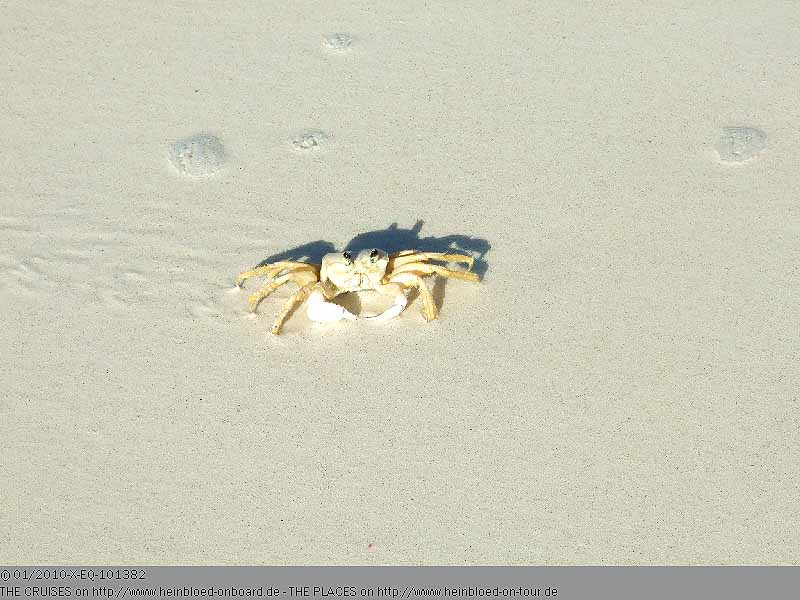 Der Krebs hat die Schnauze voll, als ihn er von den ganzen Fotografen umzingelt wird und zieht sich ins Meer zurück.
Durch den anderen Touristen wurde meine Zeit stark verkürzt. Ich bitte Guadaloupe aus Argentinien mich im Sitzen zu massieren, damit ich auf das Meer schauen kann. Sie fragt warum und ich sage ihr, dass sie täglich das wunderschöne Meer sieht und ich nur leider heute es sehen kann und daher ich nicht liegen möchte. Ich hatte zuvor schon daneben gestanden und das Kharma absorbiert, das sie bei der anderen Kundin ausgestrahlt hat. Es tat genauso gut, wie die Massage an sich. Wer immer den Ausflug bucht: bevor es ans Büffet geht: unbedingt Therapie-Zeit bei Guadaloupe sichern...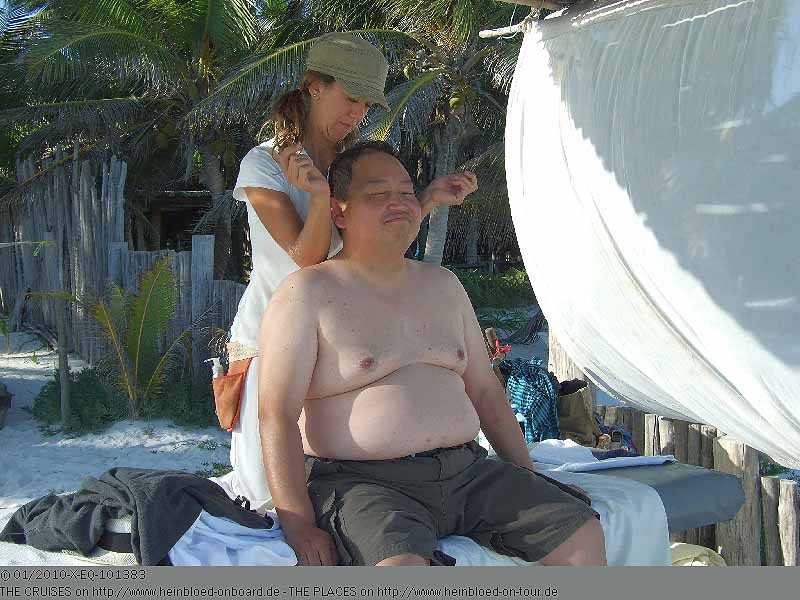 Due to the other tourist my time was extremely short. So I asked Guadalouope from Argentina to let me have the massage while I was sitting so I could see the sea. She asked why and I explained that she can the wonderful sea every day but me just today and therefore I did not want to lie with my face down. I standed all the time next to her and absorbed already her Kharma she was radiating with the other customer. It was as good as the massage itself. Who ever booked this shore excursion: before you see the buffet make sure to book an appointment with Guadaloupe...

At 04.30 pm we should depart from Playa del Carmen... could be a little tight.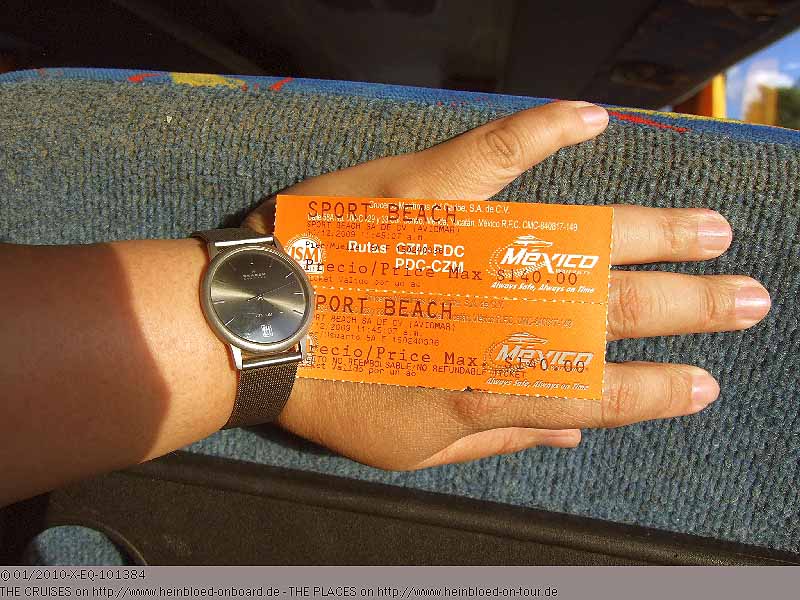 Um 16.30 Uhr sollen wir in Playa del Carmen abfahren... das dürfte etwas knapp werden...
Wir parken etwas weiter weg und werden durch den Ort gejagt. Dem Fahrer gebe ich ein Trinkgeld. Das Trinkgeld des Führers behalte ich ein... So stelle ich sicher, dass wir noch einer Apotheke ein Mittel gegen Seekrankheit kaufen können. Danach hat er sich sein Trinkgeld auch verdient.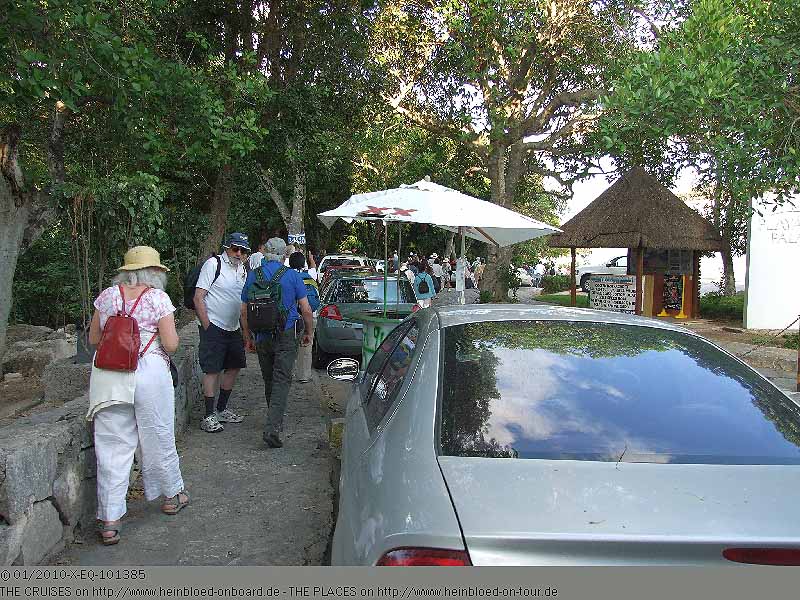 We arrived and were driven like cattle through the village. I tipped the driver and kept the tip for our tour guide... So I made sure that he will stop at a pharmacy to buy some pills agains motion sickness. After that he deserved his tip.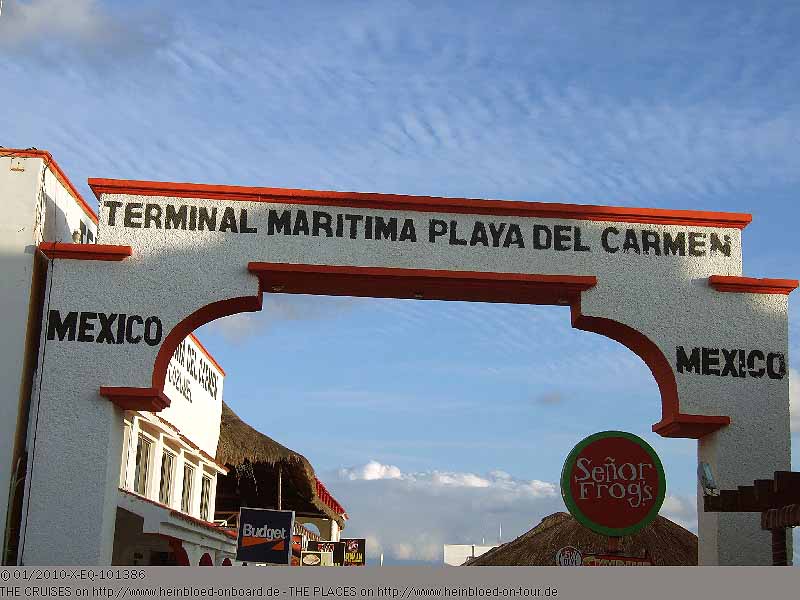 Wir kommen an und werden weiter getrieben. Auf langsamere Gäste wird keine Rücksicht genommen.
Ein Dollar-Automat... hätte ich das vorher gewusst, dann hätte ich mir die 6 USD auf dem Schiff sparen können.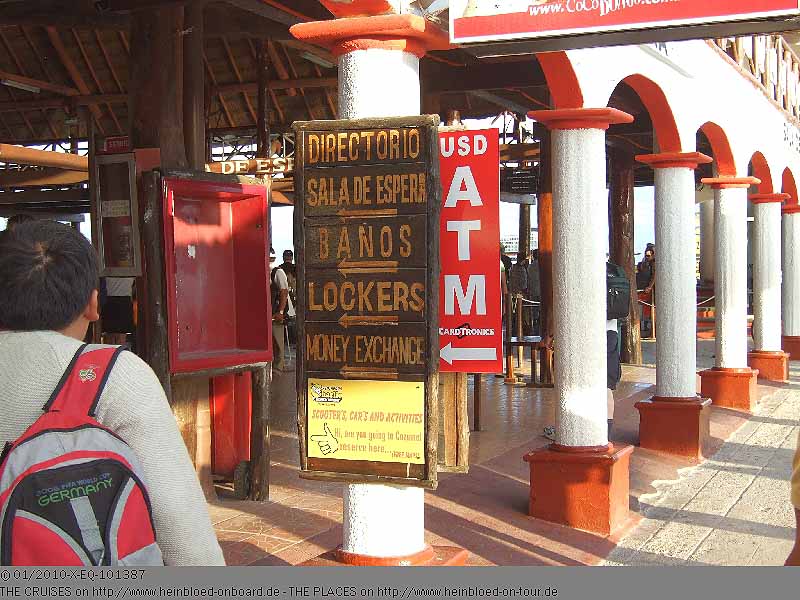 An USD-ATM... Should I had known it earlier I would not spend the 6 USD on the ship.

Katie invited all others with a round of pills agains motion sickness. A lot of our cruise-mates appreciated. One thing Celebrity should have taken care of if they use a fast ferry.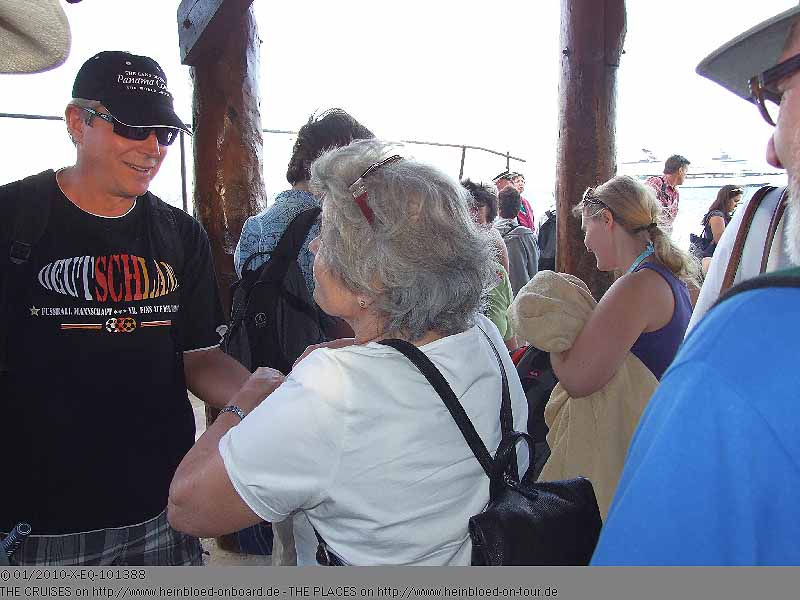 Katie schmeißt eine Runde mit Tabletten gegen Seekrankheit. Viele nehmen das dankbar an. Eigentlich eine Sache, um die sich hätte Celebrity kümmern müssen, wenn die eine Schnellfähre nutzen...
und auch auf der Rückfahrt werden Tüten verteilt. In den letzten Reihen liegen schon ein paar Halbleichen...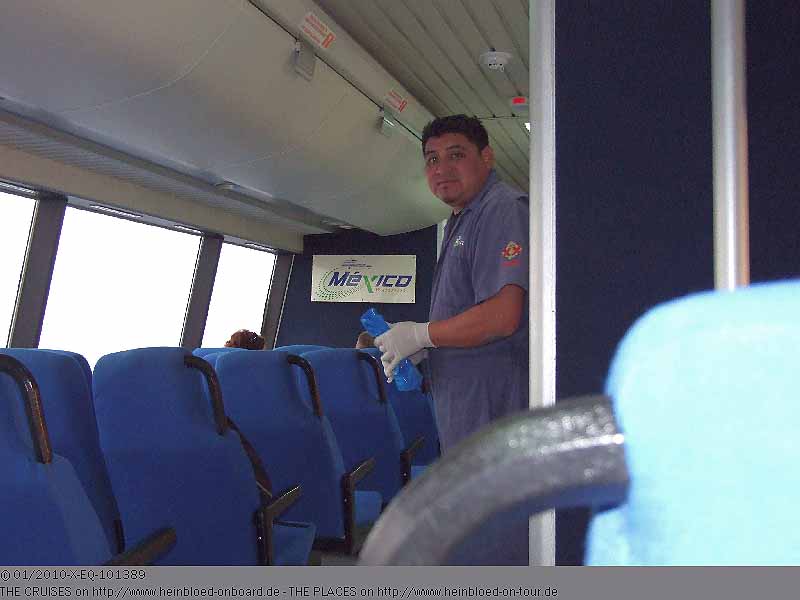 On the return journey bags were handed over too. In the last rows there were some half-died bodies...

The high-speed-ferry had also something good: I could transfer my pictures by WiFi free of charge... subject you were close enough to a port...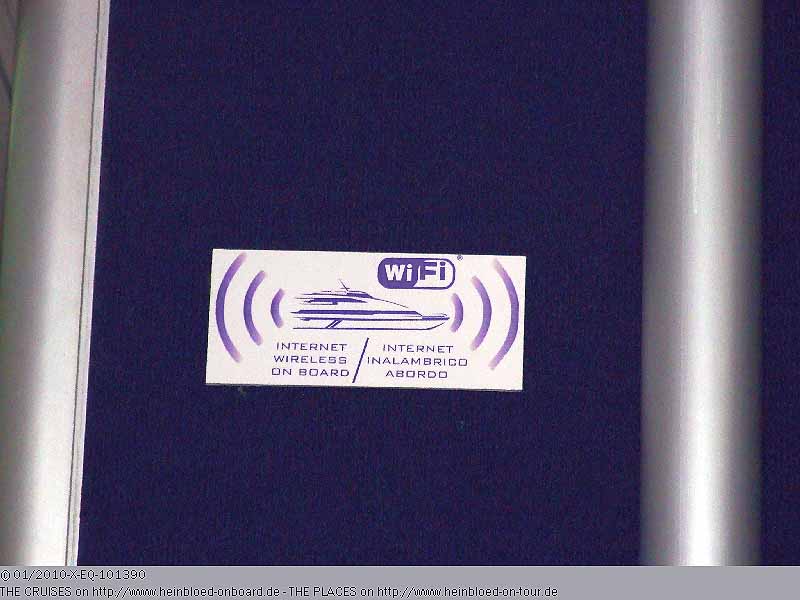 Die Schnellfähre hat auch was positives: ich kann mit dem kostenlosen WLAN Bilder übertragen... sofern wir in Hafennähe sind...
17.40 Uhr kommen wir in Cozumel an. Um 17.45 Uhr sollen wir an Bord sein.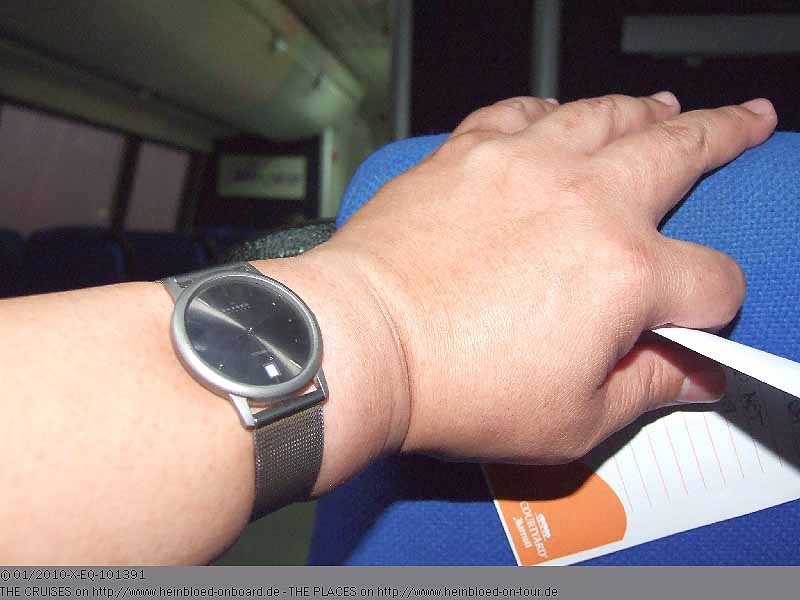 05.40 pm we arrived in Cozumel. At 05.45 pm we should be back on board.

It was already dark when this picture was taken.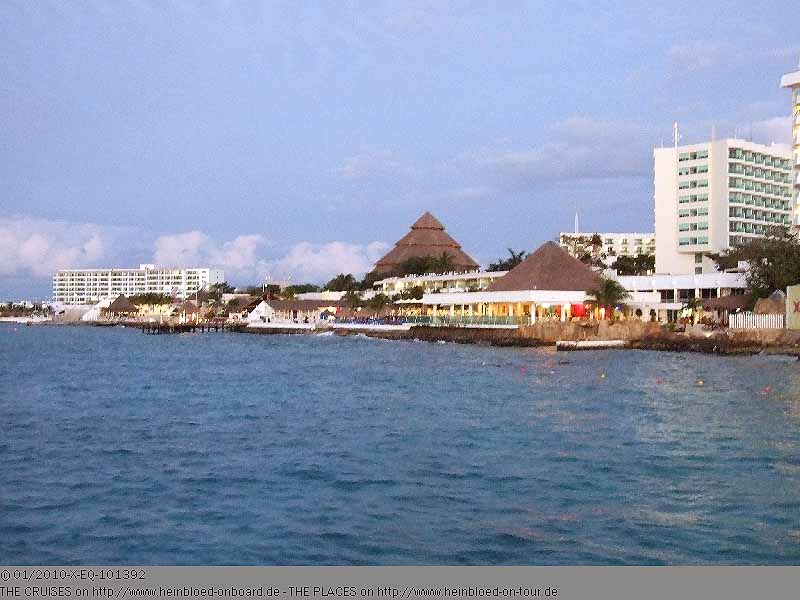 Eigentlich ist es schon dunkel, als dieses Bild entsteht.
Ich lasse mal alle anderen vorgehen. Alle anderen Schiffe sind leider schon weg.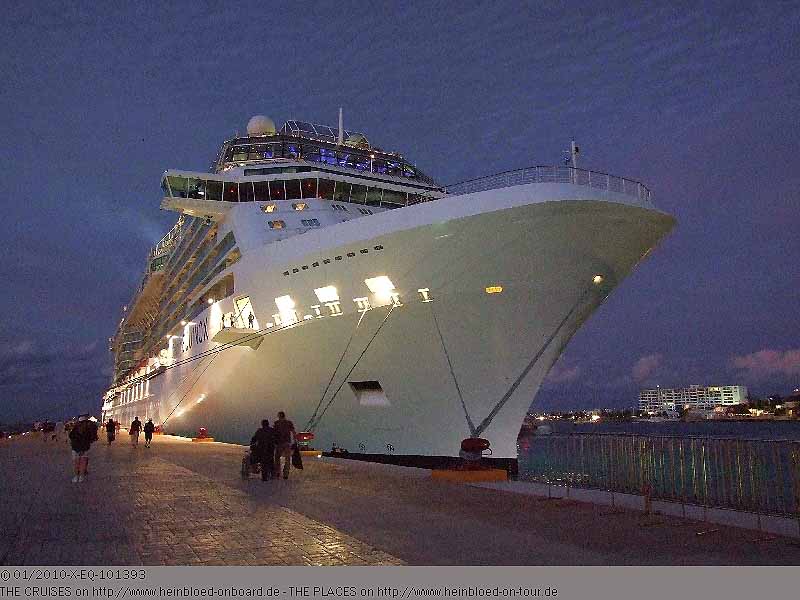 I let all others going first. All other ships left already.

I was upset because we were back so late. But we were not the last group arriving at the ferry terminal.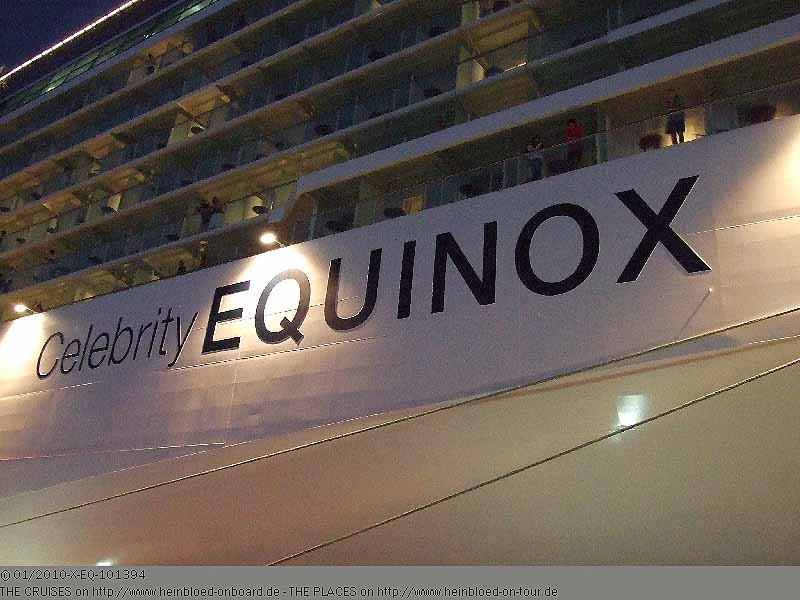 Mich ärgert es, dass wir erst so spät zurück sind. Aber wir waren nicht die letzte Gruppe, die am Fährterminal eintraf.
Oben auf der Brücke wird schon alles für das Auslaufen vorbereitet. Mit einem Schub aus dem Horn jagt man mich in das Schiff.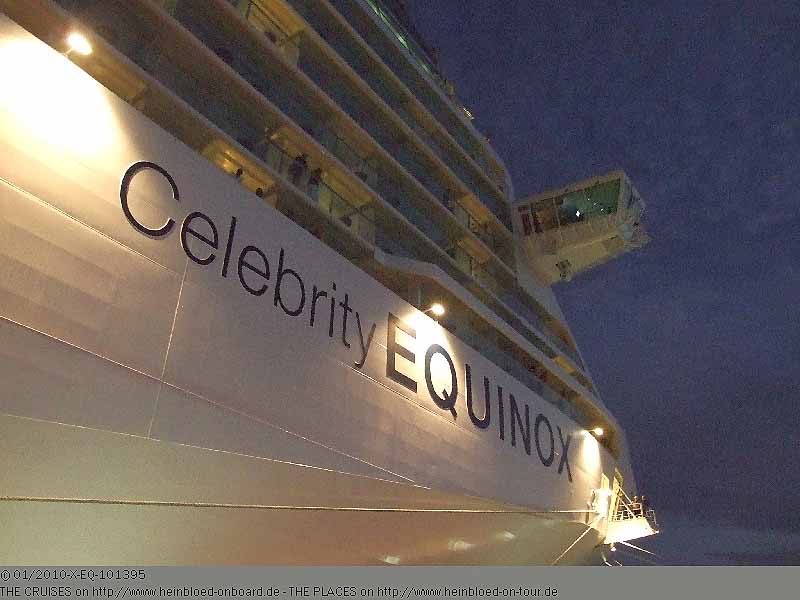 On the bridge they were preparing everything for the sailing. With a blow out of the horn they get me quickly to the ship.

When I came the second gangway was already stowed away.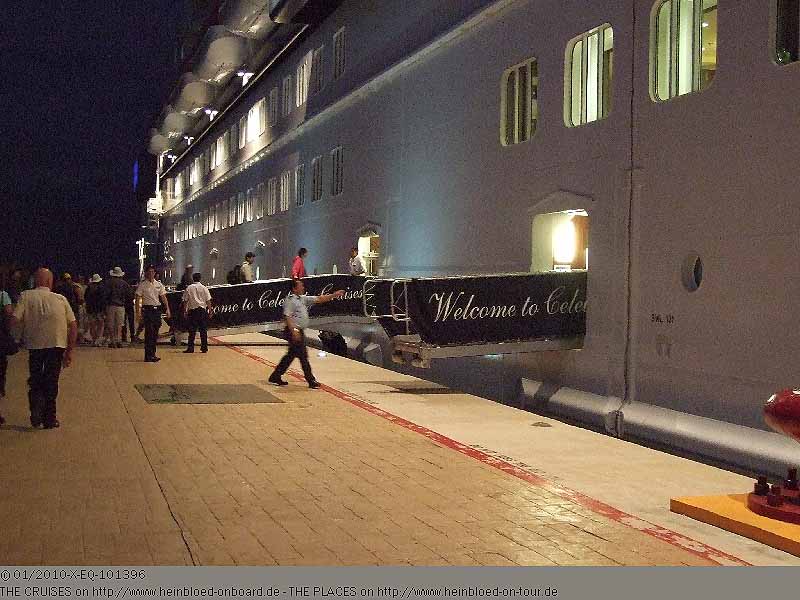 Als ich komme ist eine der zwei Brücken bereits eingezogen.
Wir sollen endlich an Bord.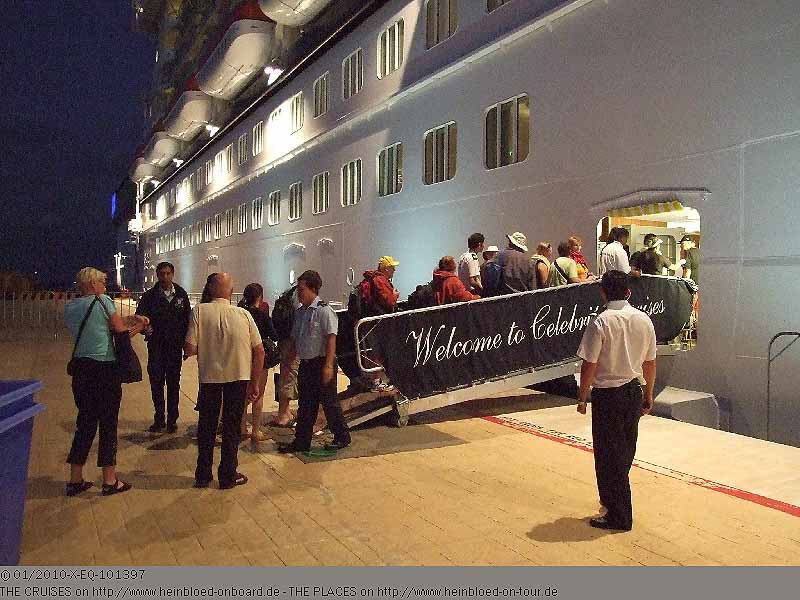 We should finally get on board.

None was behind me on the pier.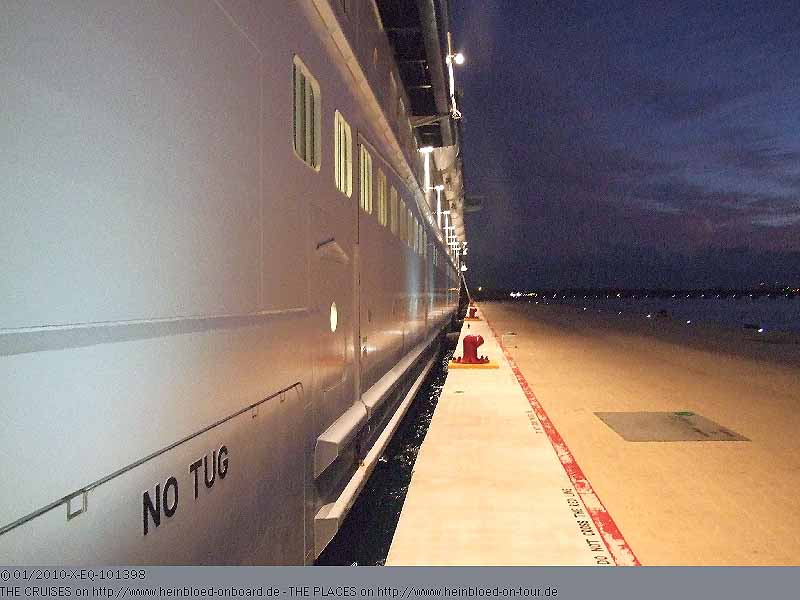 Nach mir ist keiner mehr am Pier.
Offiziell bin ich der letzte Gast wieder an Bord. Bruno sagt, dass schon die Wache angerufen hätte...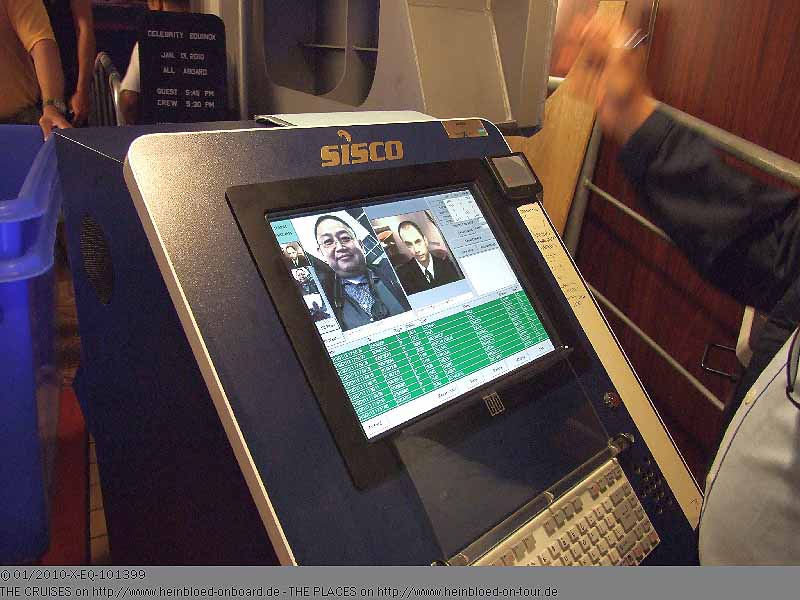 Officially I was the last guest on board. Bruno told that the security already called....

Celebrity was unlucky because we went already to Tulum with Carnival when we called Calica. Therefore we were able to compare. Here our guide explained us how the Mayan language worked and not just as much to order something in the jewelry store... He had a folder with him.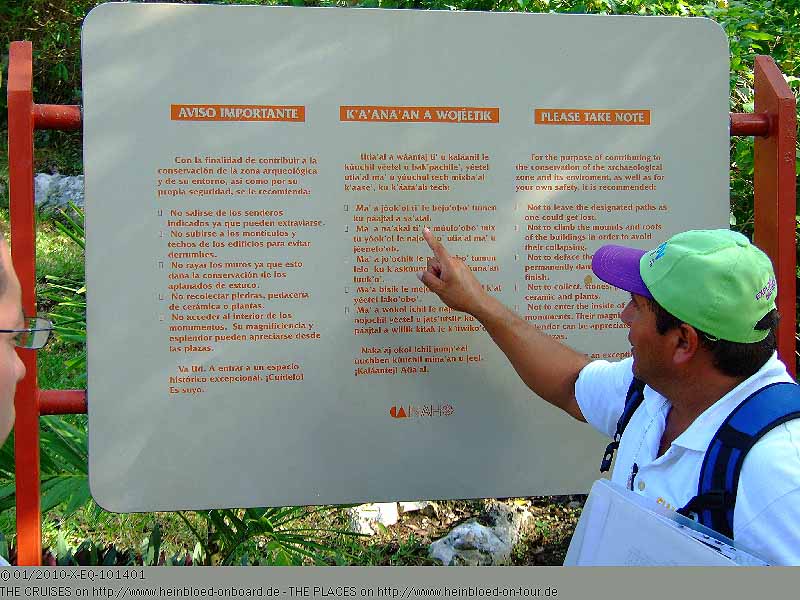 Celebrity hatte ausgerechnet Pech, dass wir schon mit Carnival in Tulum waren, als wir in Calica angelegt haben. Daher haben wir Vergleichsmöglichkeiten. Hier hat uns der Führer mal an dieser Tafel erklärt, wie die Mayanische Sprache aufgebaut ist und nicht nur um Namensanhänger zu bestellen... Er führt auch eine Mappe mit.
In dieser Mappe waren Zeichnungen von den Erscheinung während der Sonnenwende usw., so dass wir uns am jeweiligen Ort ein Bild davon machen konnten, wie es dann ausgesehen haben müsste. Wir haben den Führer um die tollen Zeichnungen beneidet. Er hat noch versucht uns Replikate in Tulum zu beschaffen, leider ohne Erfolg. Unser Celebrity-Führer hatte nur sich selbst mit...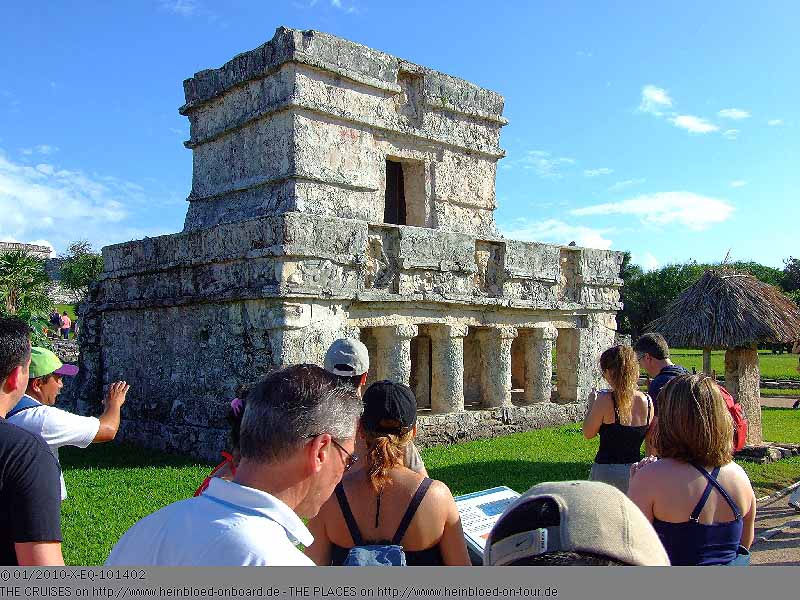 In this folder there were drawings of the appearances around solstice so we could picture it how it was at each single spot. We envied our guide because of the great paintings. He tried to get us some replicats in Tulum but without success. Our Celebrity-guide had only himself with him...

We came in the afternoon. It was not as full and warmer. Our guide took the time to stop at the wall we need to pass and allured the iguanas by feeding them with blossoms.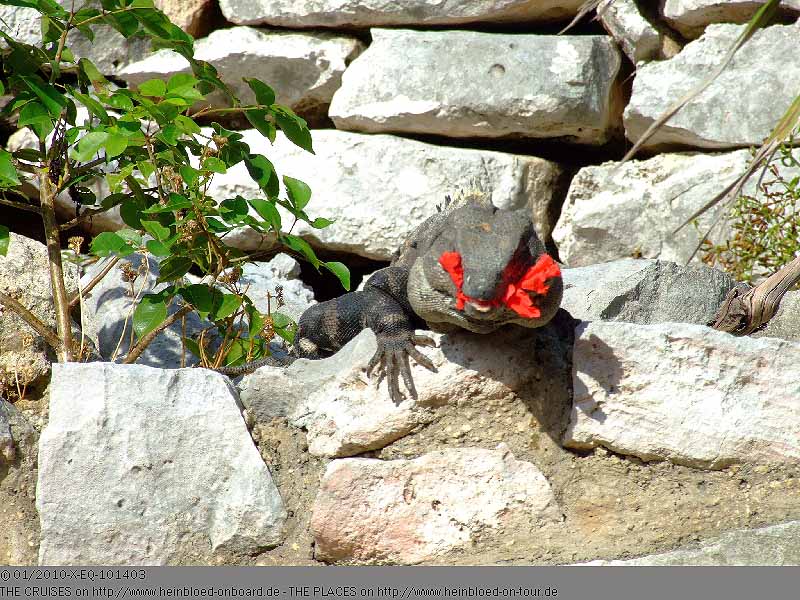 Wir kamen nachmittags. Da war es nicht so voll und wärmer. Unser Führer hat mal an der Mauer, durch die wir laufen musste einen Halt gemacht und mit Blüten Leguane angelockt, um sie zu füttern.
Dann hat er für uns Blüten gepflückt, damit wir sie selbst füttern konnten.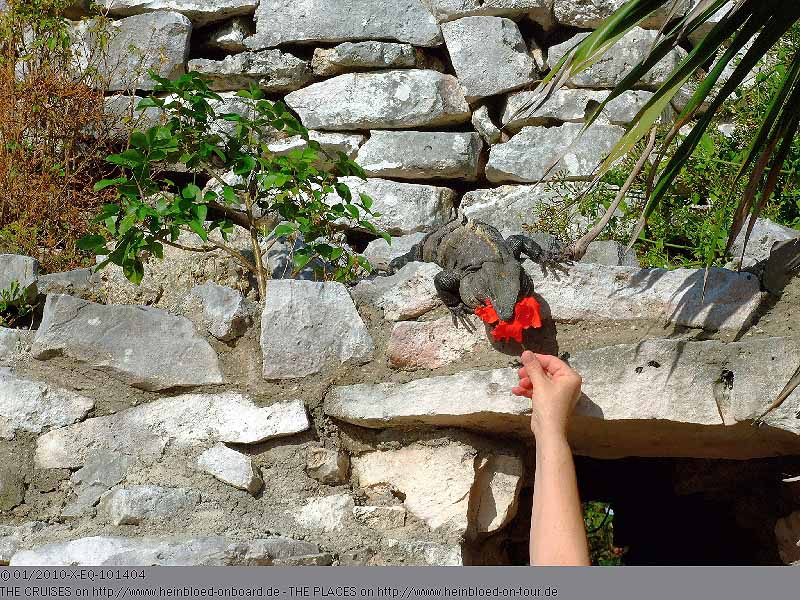 Then he picked for some blossoms that we had a chance to feed them ourselves.

In total it was much more calmer that the iguanas ran on the grass. One corner of Tulum we had not seen so far and again this time we had no chance to see. Next time again with Carnival and as afternoon excursion from Calica: it was shorter and better...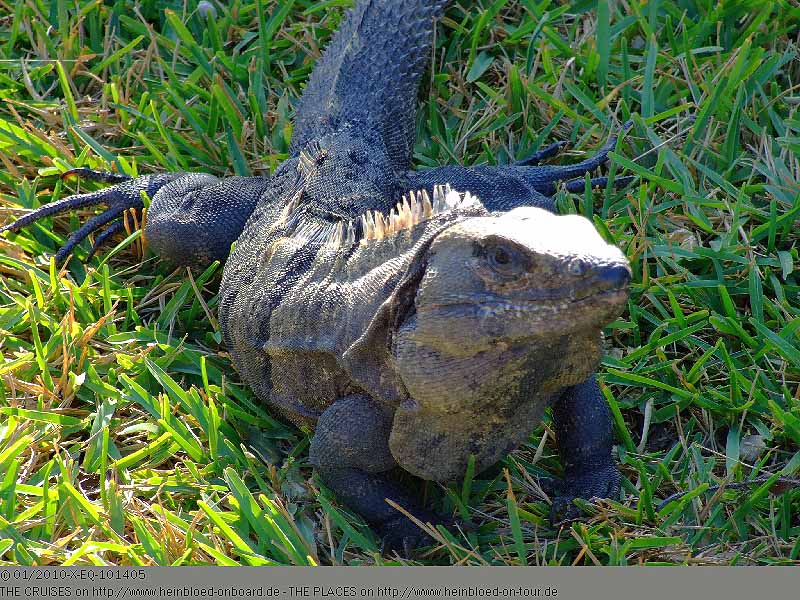 Insgesamt war es ruhiger, so dass auch die Leguane auf dem Rasen rumliefen. Eine Ecke von Tulum haben wir damals nicht gesehen und dieses Mal wieder nicht. Das nächste Mal wieder mit Carnival und dann wieder als Nachmittagsausflug von Calica aus: war kürzer und besser...