Scroll down for English explanations - alternates with German explanations.

Da noch nicht alle von den Landausflügen zurück sind, nutzen wir die Leere des Schiffes, um mal in Ruhe ein paar Aufnahmen in den Spezialitätenrestaurants zu machen.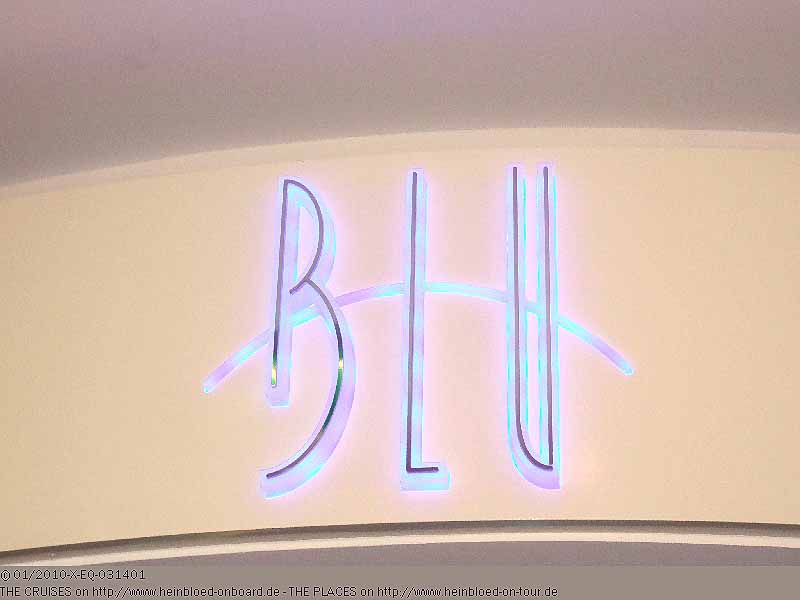 As not all passengers were back from their shore excursions we used the empty ship to take some pictures of the speciality restaurants.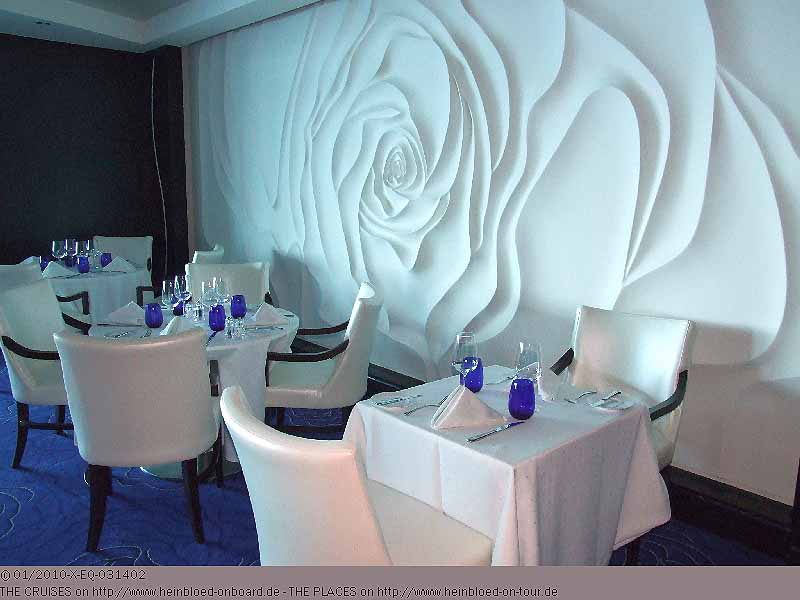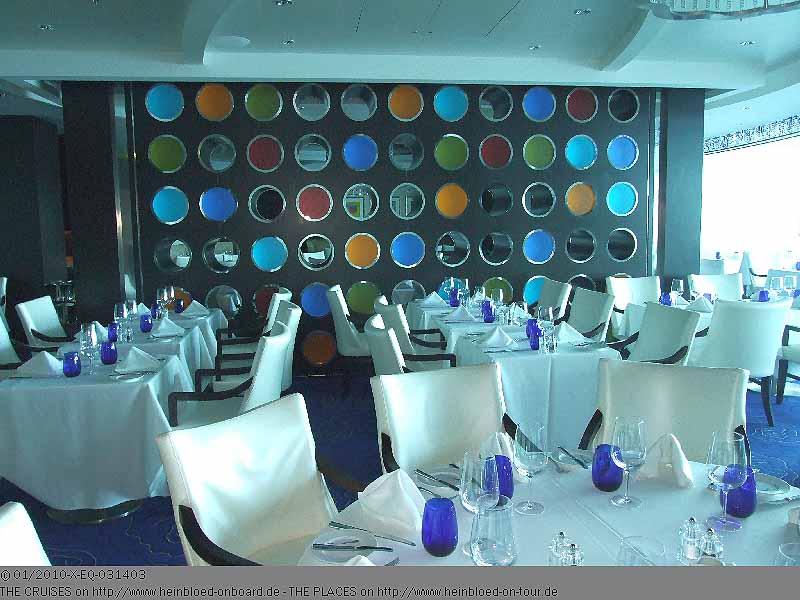 Later during this voyage... they deserved it that I took the pictures with the ship of their competitor in the background: CARNIVAL LIBERTY... I could have taken this picture also from another angle...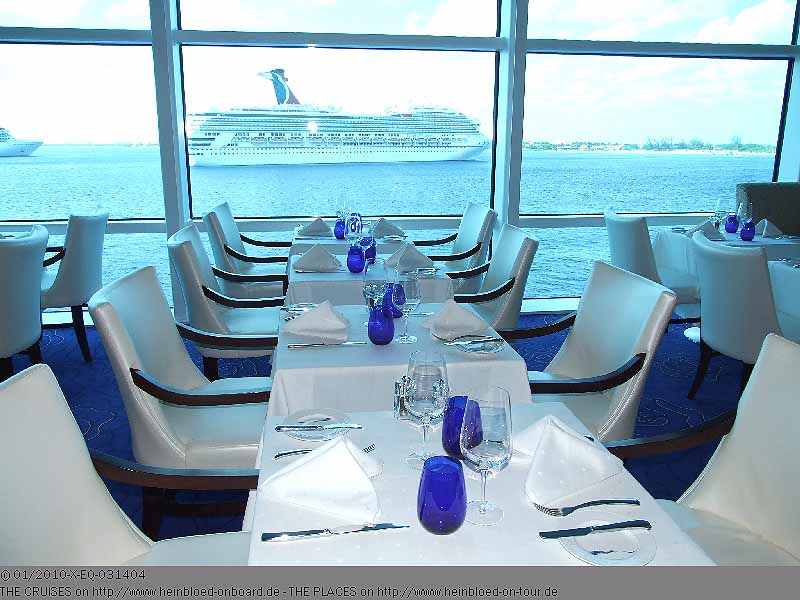 Im späteren Verlauf der Reise... das haben sie verdient, dass im Hintergrund des Bildes das Schiff der Konkurrenz ist: CARNIVAL LIBERTY... Ich hätte das Bild auch aus einem anderen Blickwinkel aufnehmen können.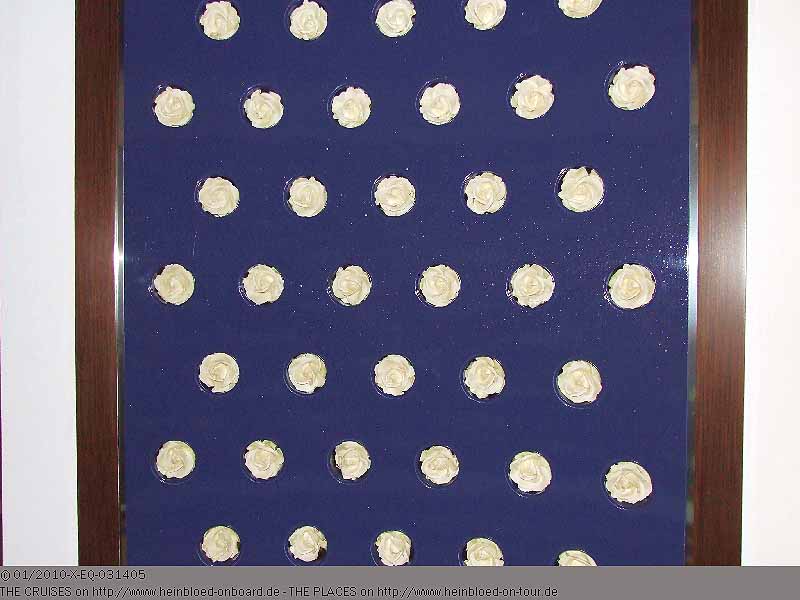 For Peter (from the German ncl-fans.de-forum... as promised... as part of the pictures you requested for...)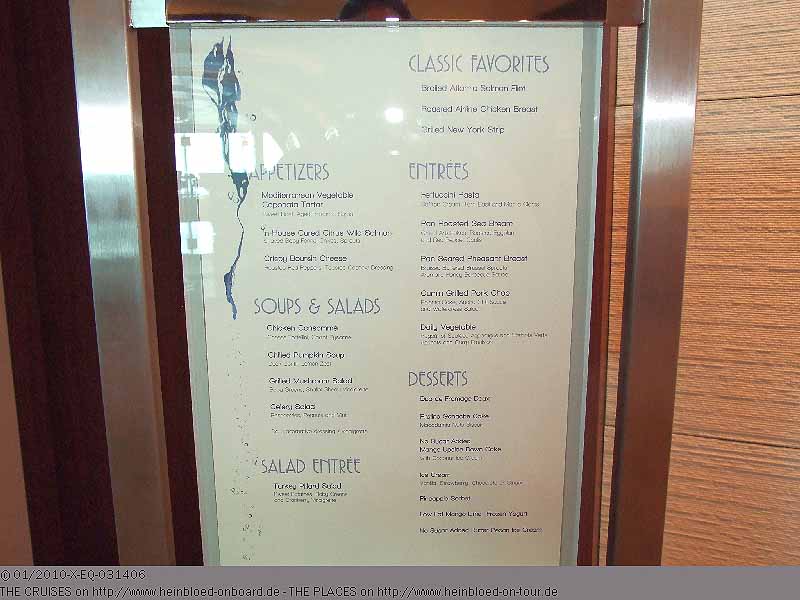 Für Peter (aus dem ncl-fans.de-Forum... wie versprochen... als Teil der Bilder, die du angefragt hast...).
Der Tuscan Grille erwartet uns in einigen Tagen. Die Zuzahlung beträgt mitlerweile 30 USD. Dafür hat man aber auch den schönsten Ausblick am Heck.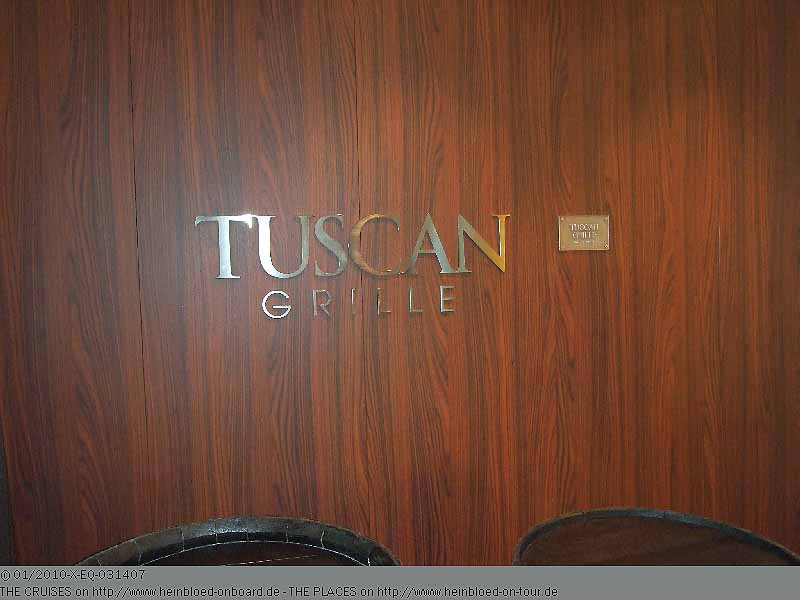 The Tuscan Grille should expect us in a couple of days. The cover charge was increased to 30 USD. But you get the nicest view from the aft.

You walk through their wine treasury into the restaurant.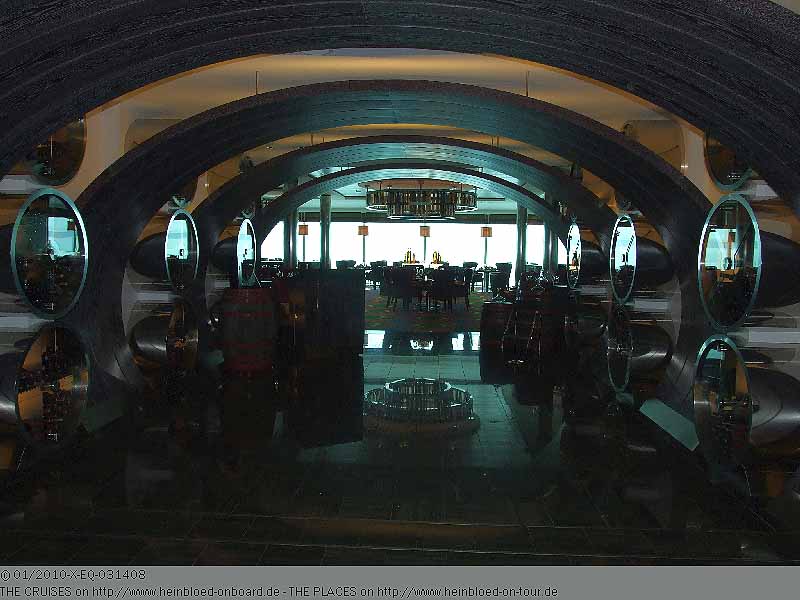 Man läuft quasi durch die Weinschätze in das Restaurant.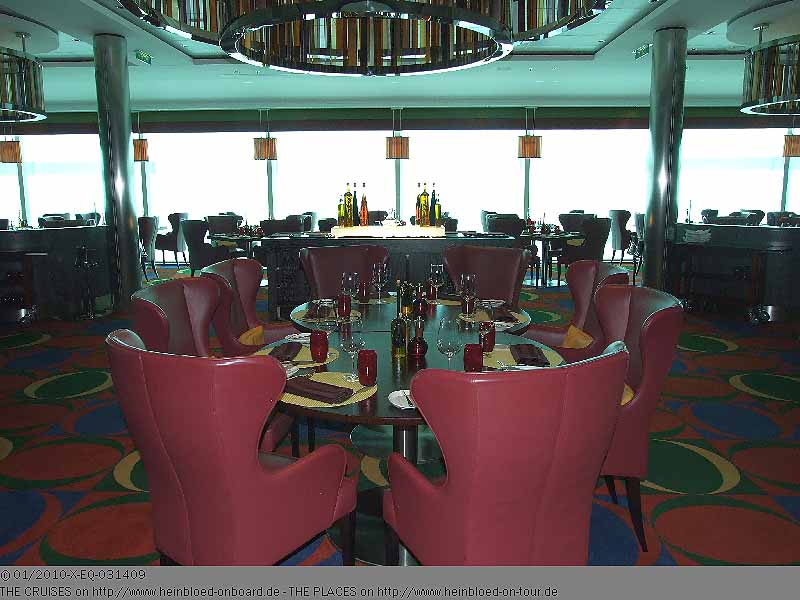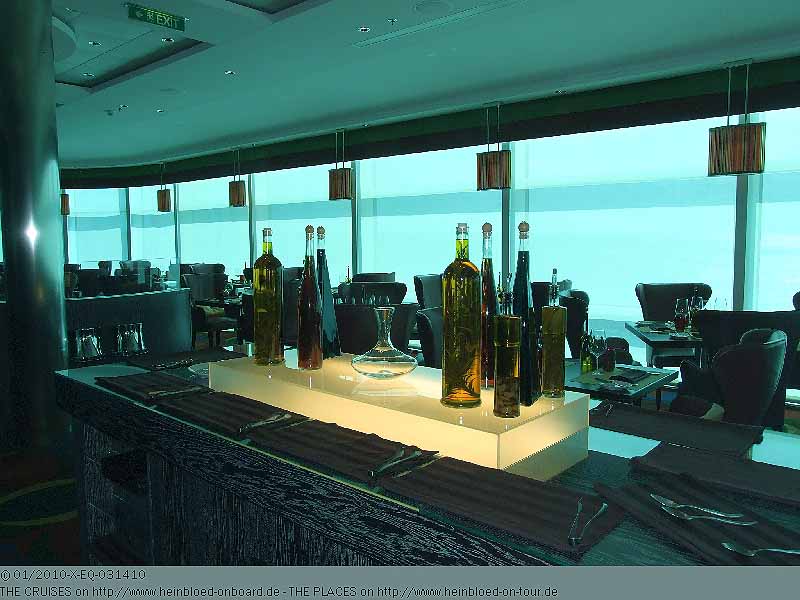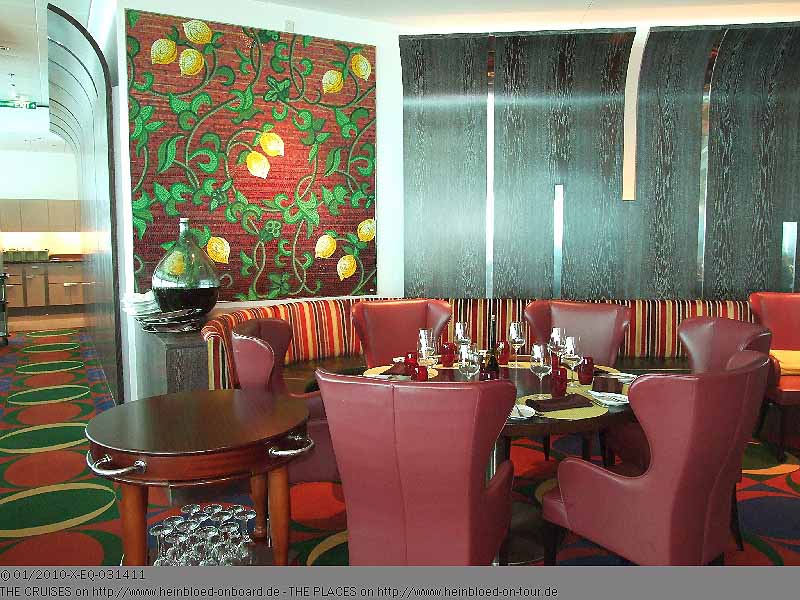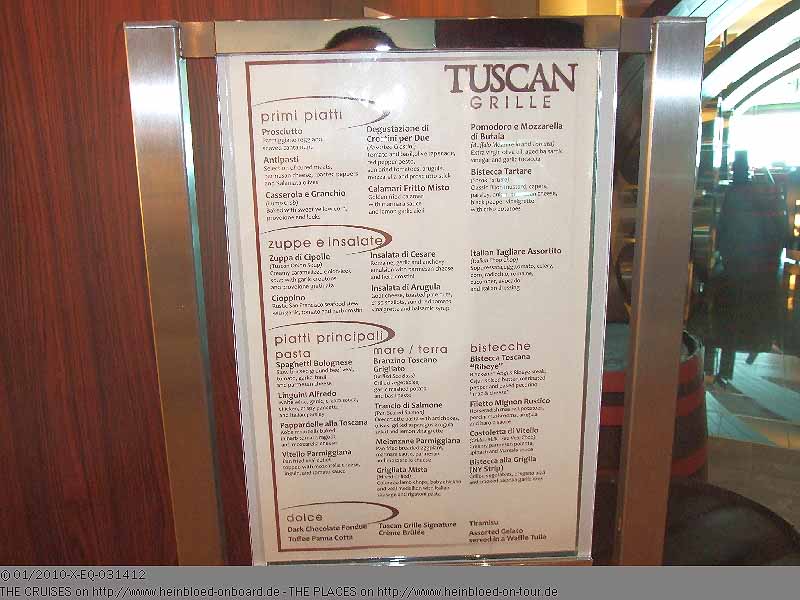 Weiter geht es ins Silk Harvest. Mitlerweile 25.00 USD pro Person. Aber da wir bereits im vergangen Jahr gebucht und bezahlt haben, gelten für uns noch die alten Preise.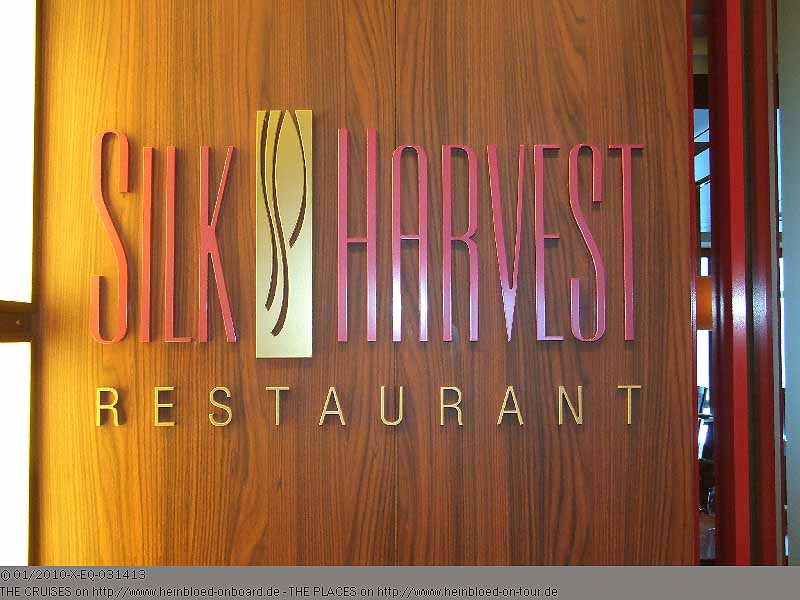 You continue to Silk Harvest. Meanwhile 25.00 USD cover charge. But as we booked in the last year and paid the old prices applied to our visit.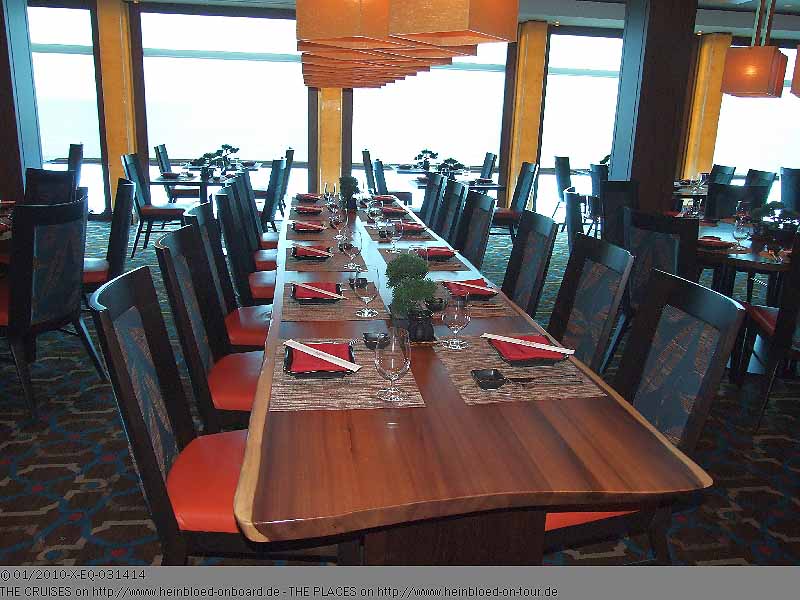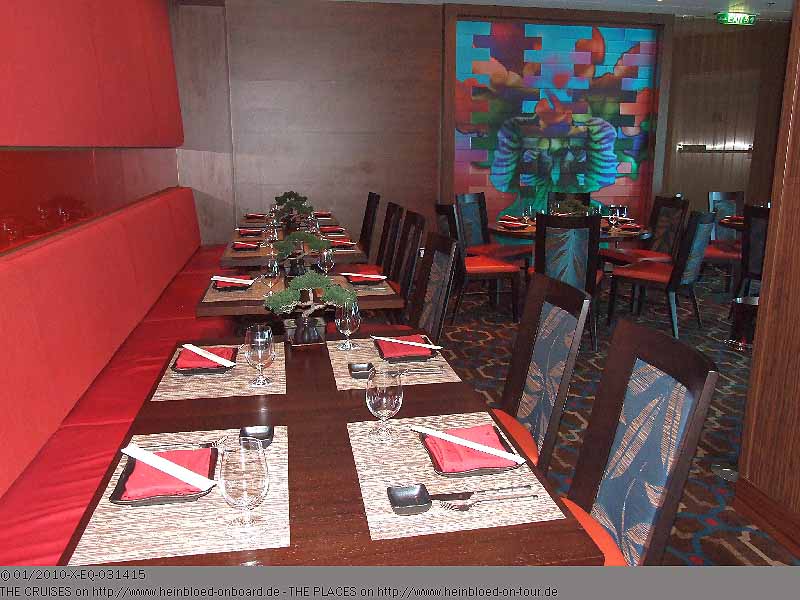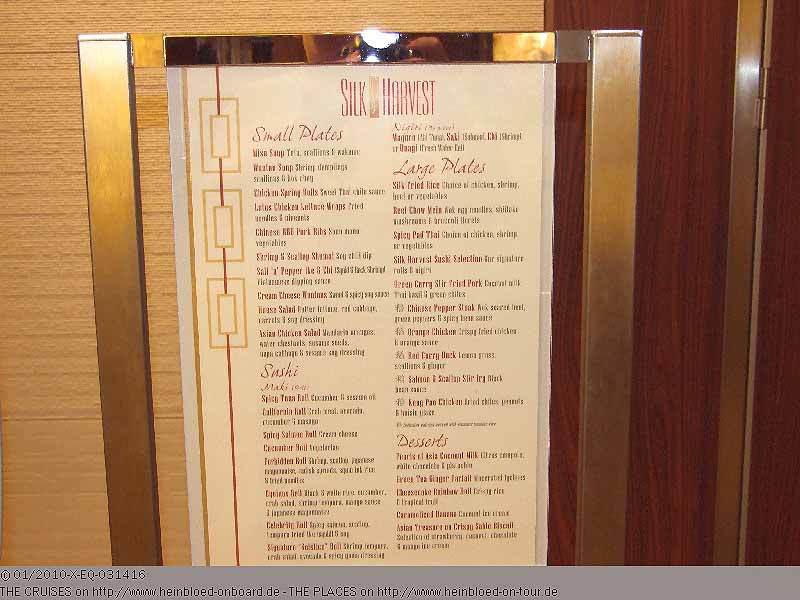 Das ist übrigens die Ensemble Lounge, die den Michael's Club, das Murano und die anderen bisherigen drei Spezialitäten Restaurants miteinander verbindet.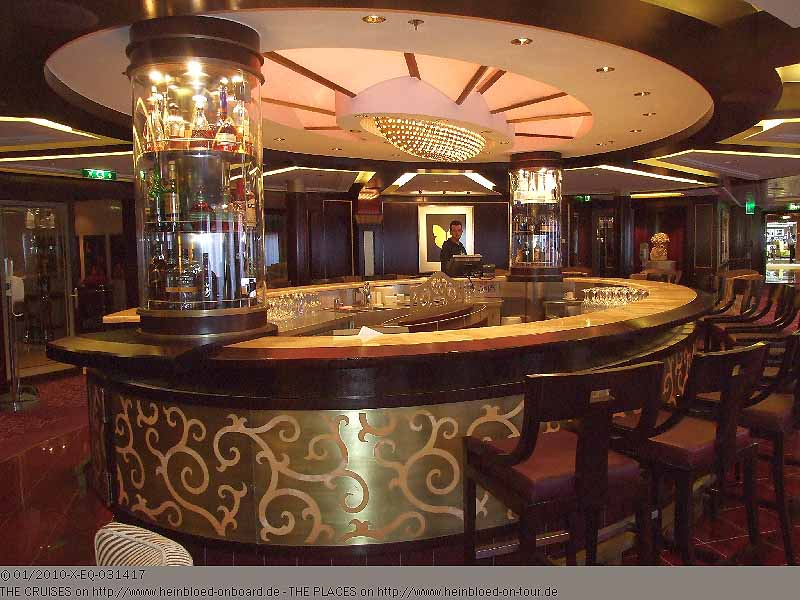 That's by the way the Ensemble Lounge which connects Michael's Club, Murano and the other three speciality restaurants.

It was very nice to sit there and you had a great musical entertainment. Later the night we had some jazz music.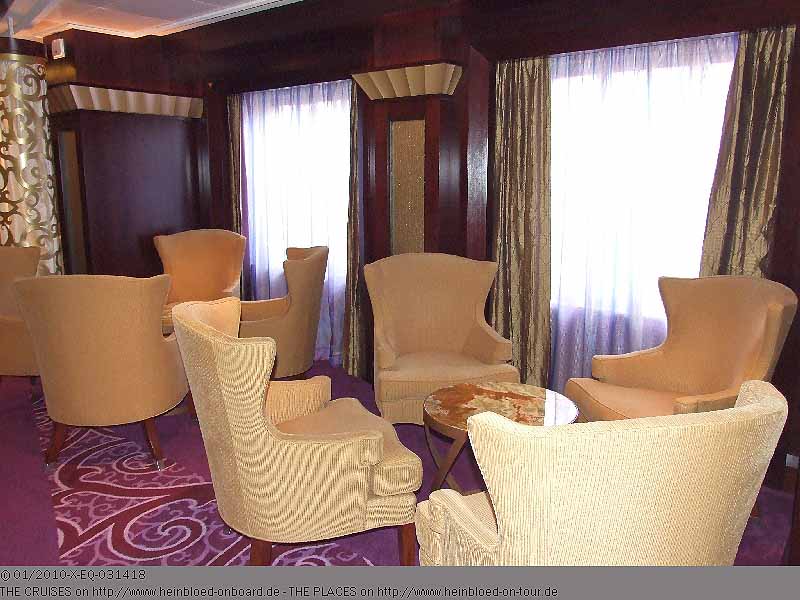 Man sitzt hier ausgesprochen gemütlich und abends mit einer schönen Musikunterhaltung. Später am Abend sind wir hier bei Jazzmusik.
Nun noch ins Murano. Hier findet man übrigens fast immer einen Maître, der auch Zugriff auf die anderen Reservierungen hat und immer weiterhelfen kann, wenn man mal etwas umbuchen möchte.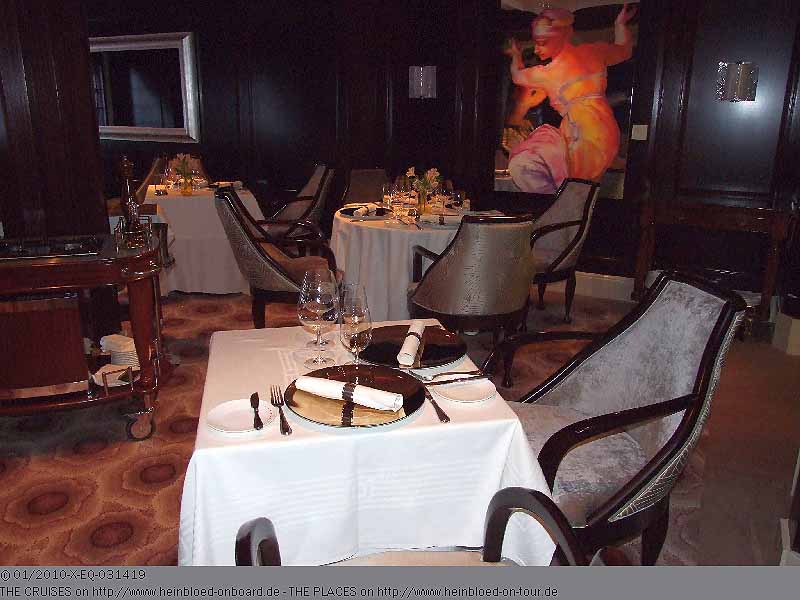 Let's go to Murano. Here you find mostly all-day one maître who has also access to all other reservations and can assist you if you need to reschedule some reservations.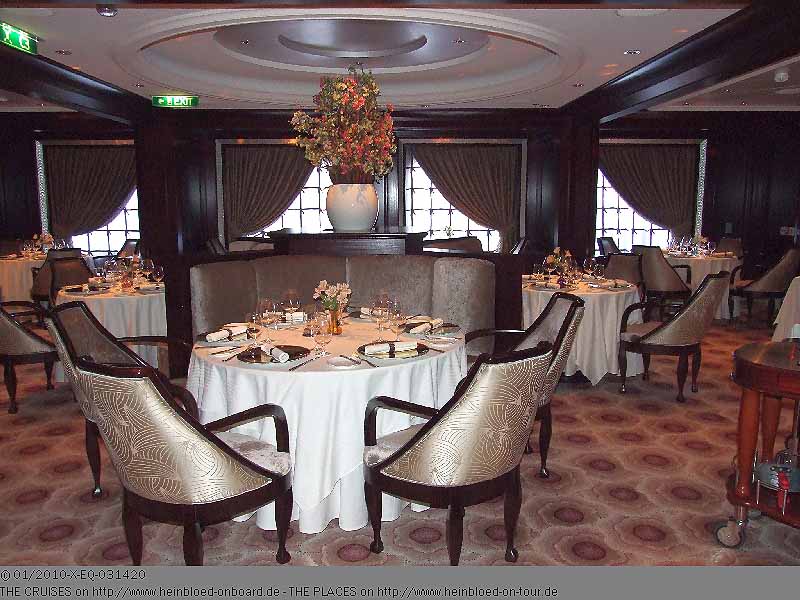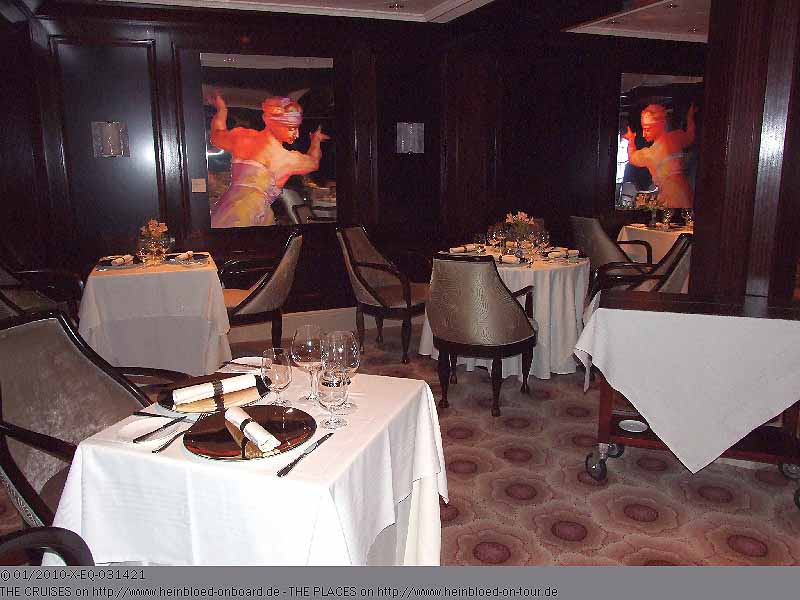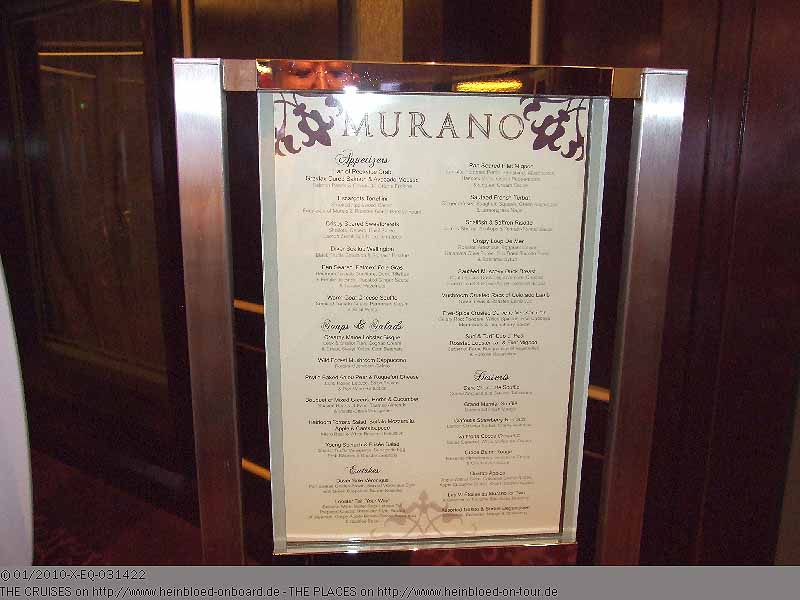 Den Michael's Club kennen wir bislang nur von der Connections Party und von der Seenotrettungsübung. Bislang hatten wir noch keine Gelegenheit uns in Ruhe umzuschauen. Es soll hier ein sehr guter Pianist spielen.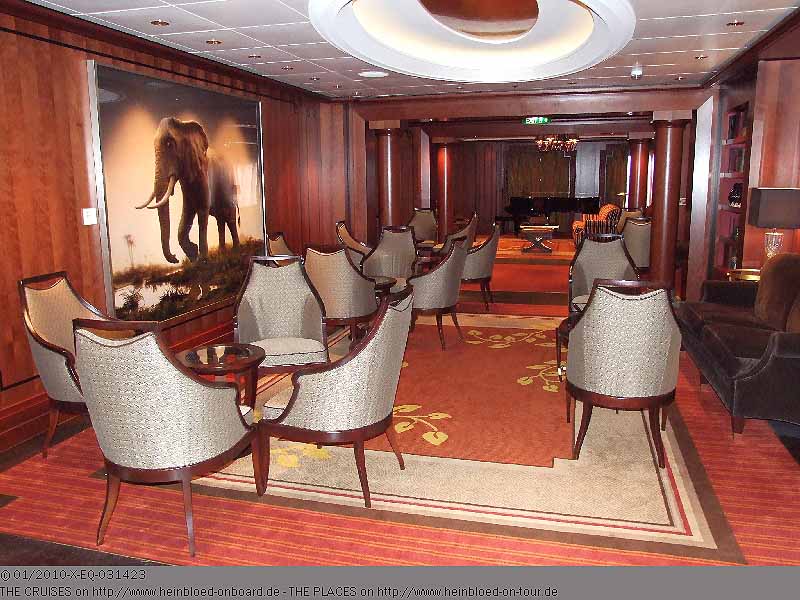 We knew Michael's Club only from our Connections Party and from the life drill. So far we had no occassion to look around. There should be a very good pianist available in the nights.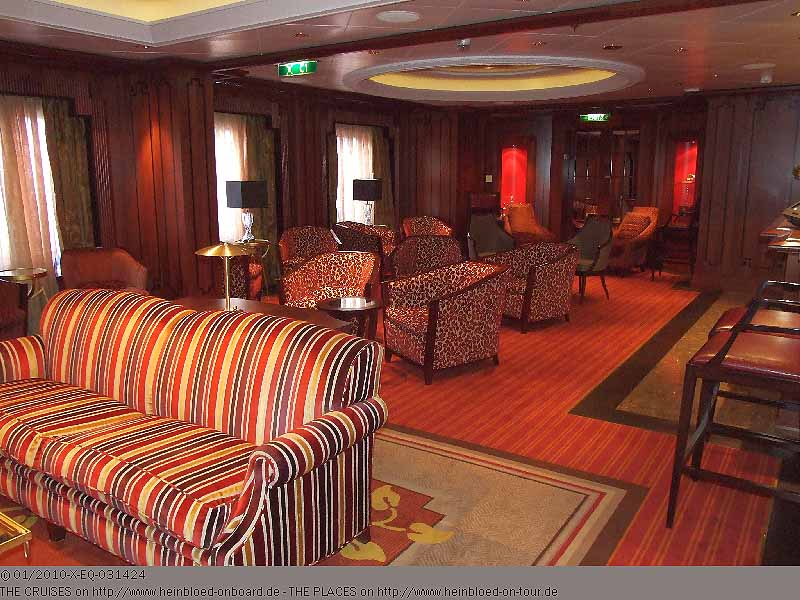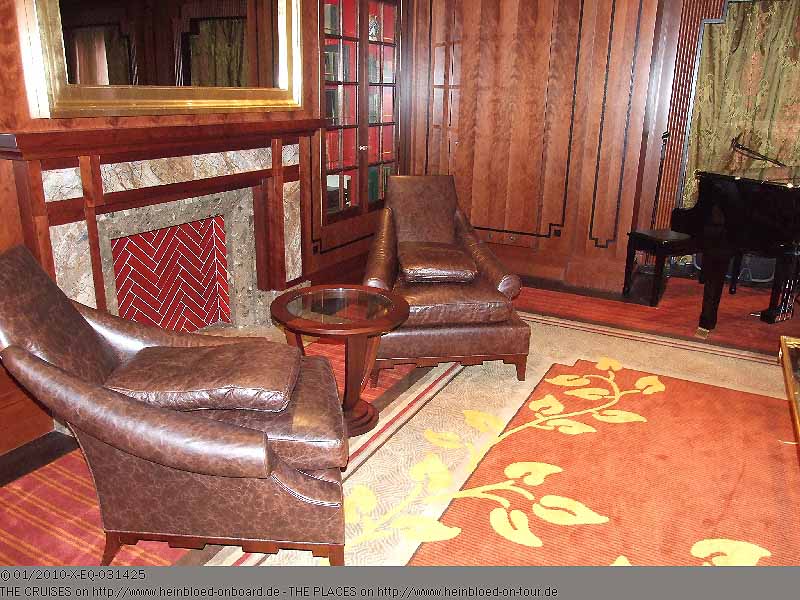 This night we experienced the most perfect service so far (incl. day 6) with the same standards we only know from CUNARD. We hoped that we did not bring our waiters into trouble because of the comparison. The pesto was green like it should be. Hummus was not dried out. Butter was matt. A breadbasket which was filled that it was enough for all of us at the table. They placed the napkins on our knees. They helped the lady to get into her seat and the waiter placed himself so Katie could tell me what she would like to order and I can translate discretely and no need to cry. The BAR-waiter (there was a sommelier for wines and he was in-charge for all other beverages) filled Bruno's and my glass without ice-cubes and remembered our packages we had. We just need to confirm if we like it like last night.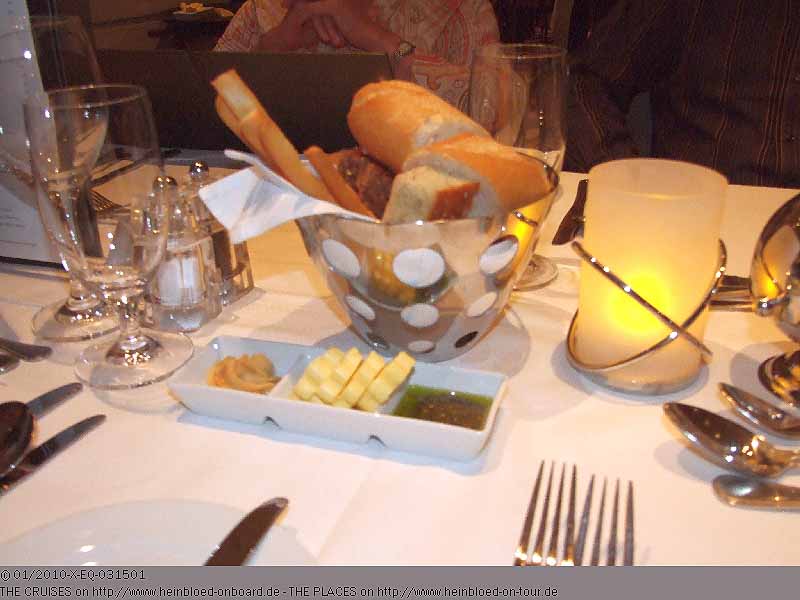 Heute Abend erleben wir den perfektesten Service, den wir bislang (inkl. Tag 6) erleben durften und wie wir ihn nur bislang bei CUNARD kennengelernt haben. Hoffentlich bekommen unsere Kellner deswegen keinen auf den Deckel. Die Pesto ist grün, wie sie sein soll. Auf dem Hummus ist nichts trocken. Die Butter matt. Ein Brotkorb, in dem ausreichend für alle gefüllt ist. Die Servietten direkt auf den Schoß gelegt. Der Dame in den Stuhl geholfen und vor allem bei der Aufnahme der Bestellung sich so hingestellt, dass Katie mir alles so sagen konnte und ich die Bestellung so weitergeben konnte, dass keiner schreien musste. Der BAR-Getränkesteward (es gibt den Sommelier für die Weine und den für die anderen Bargetränke) gießt Bruno und mir das Eiswasser ohne Eis ein und erinnert sich an unsere Packages, die wir haben. Wir müssen nur bestätigen, was ob wir es wie gestern Abend wollen.
Das Essen ist auch fantastisch: die Ziegenkäsepastete... lecker...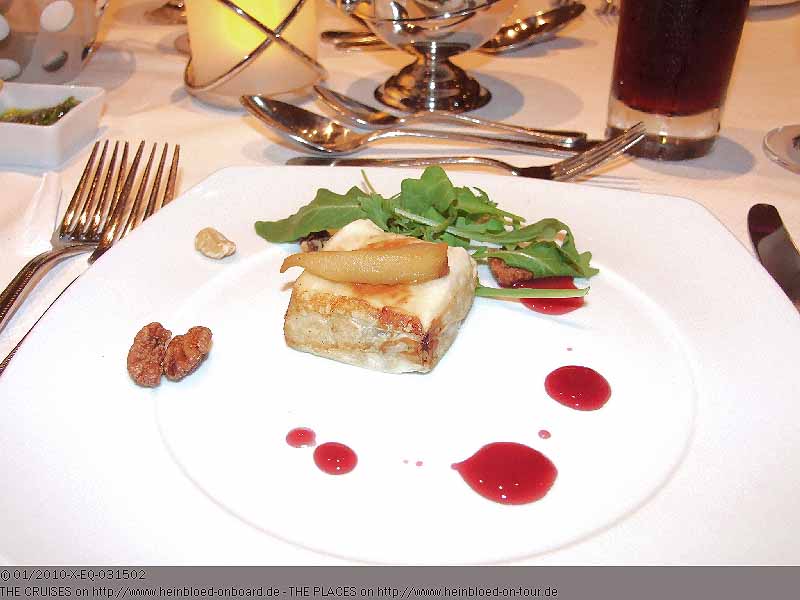 The food was fantastic: goat cheese pastry was really yummy.

Our waiter placed his assitant right behind him with all dressings. On the way to us he saw that one fork was missing. Immediately he returned to his station, put everything on the station, brought me a fork before he tried to serve again.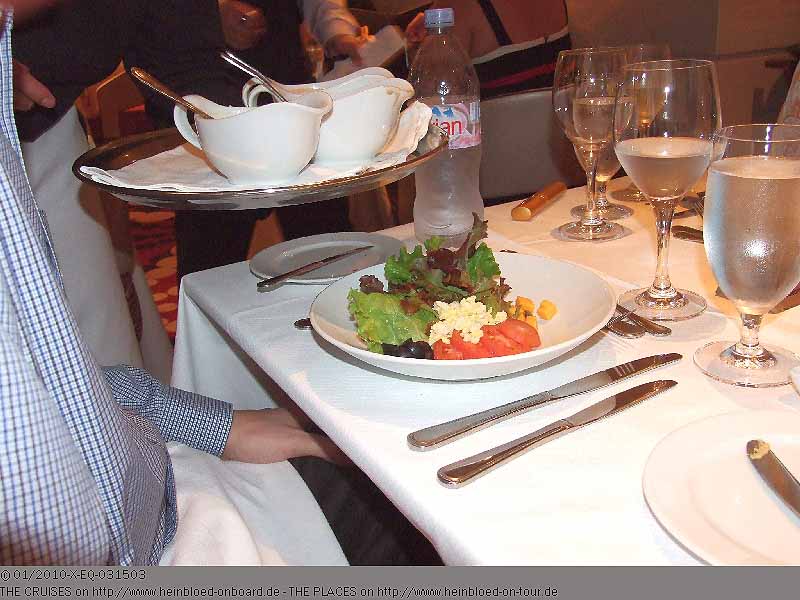 Unser Kellner platziert seinen Assistenten direkt hinter sich mit den Salatdressings. Als er auf dem Weg zu uns ist, merkt er, dass eine Gabel bei mir fehlt. Sofort macht er kehrt, stellt alles ab und bringt mir zunächst nur die Gabel und setzt nochmals neu an.
Und diejenigen, die meine Blogs kennen: ich bin nicht der große Salatesser. Aber hier mache ich es bloß, weil ich den Service so toll finde.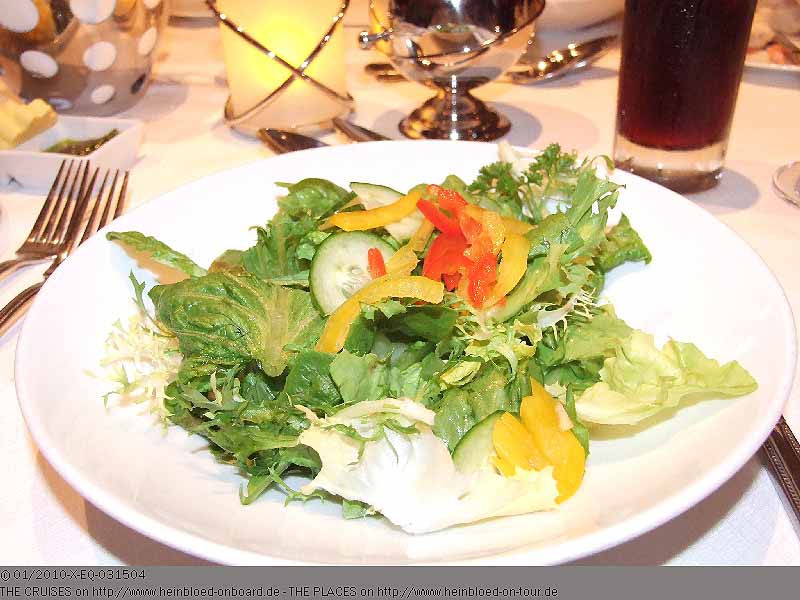 And those of you who know my blog: I am not the salad man. But I was ordering just the salad because I loved this great service.

Bruno and his fish...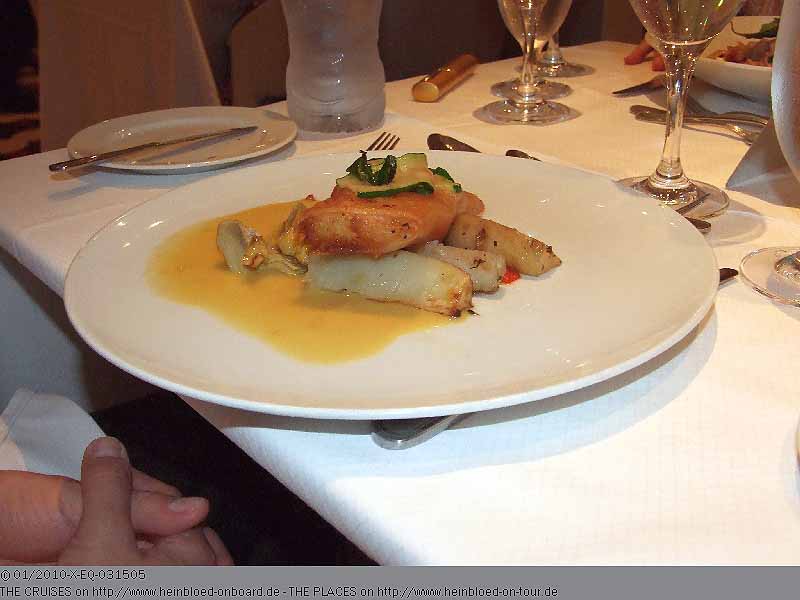 Bruno und sein Fisch...
Ich nehme Lamm... aber es gibt schon den dritten Tag hintereinander Lamm... aber irgendwie habe ich ansonsten nichts gefunden...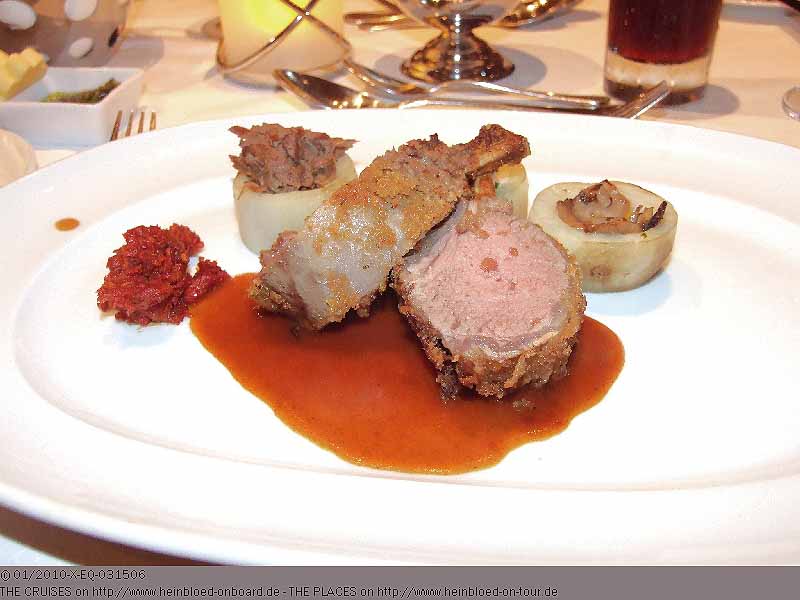 I took lamb... but we had three consequetive days lamb... but i did not find anything else...

ellbon (Robin) told us that they still present on CELEBRITY CENTURY all desserts on a tray to let you select... Why not on CELEBRITY EQUINOX??? Beautiful, but too American style sweet...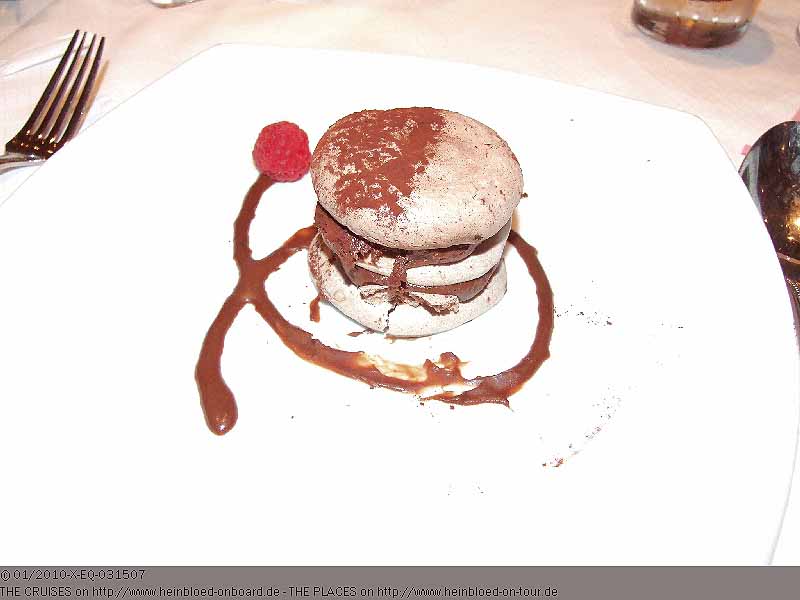 ellbon (Robin) hatte uns erklärt, dass nach wie vor auf der CELEBRITY CENTURY die Desserts auf einem Tablett vorher gezeigt wurden... Warum eigentlich nicht auf der CELEBRITY EQUINOX??? Traumhaft schön, aber viel zu amerikanisch süß...
Die Frozen Joghurts sind immer gut und nicht so extrem süß.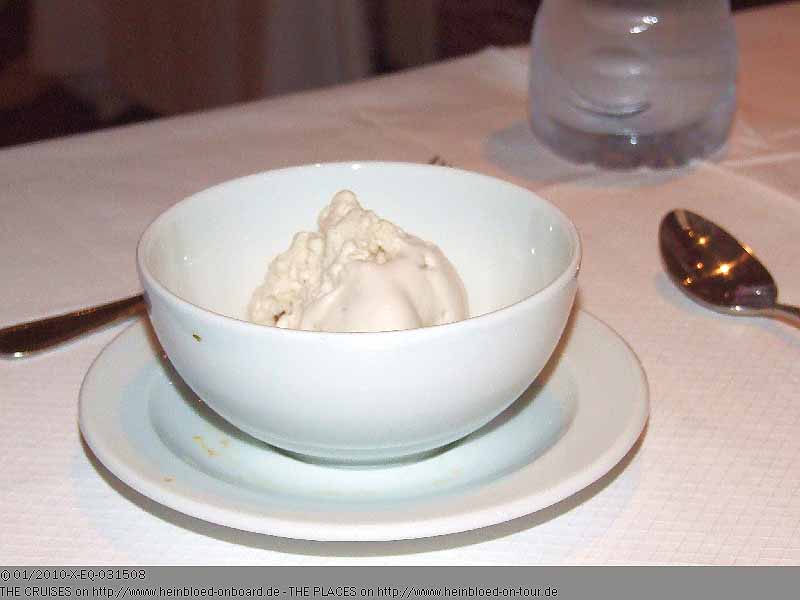 Frozen Yoghurts were always good and not so extremely sweet.

On the way out we saw ellbon (Robin) and ssCRUISERS (Scott and Sandy) right on the table from our first night. I was not sure why Scott's face was so red... was it the service or the conversation???... I would never know... But maybe it was the 1st sunburn from the 7-miles-beach.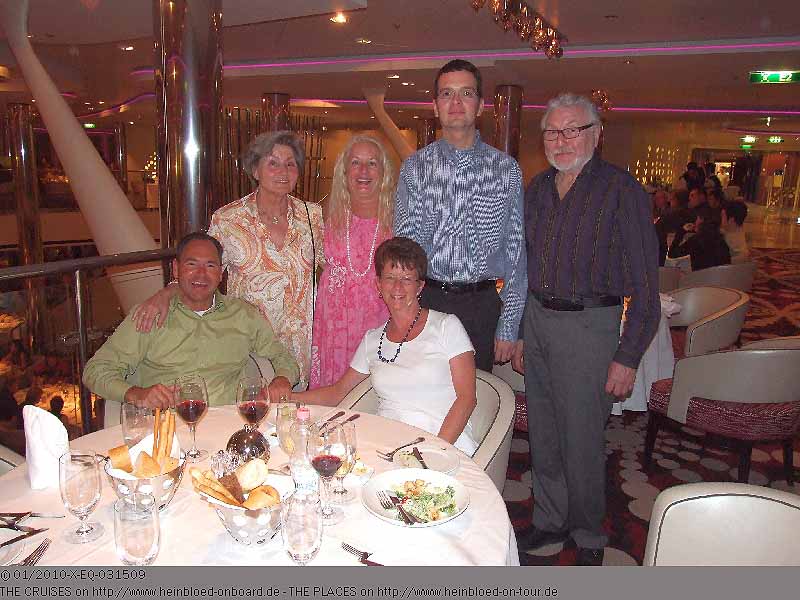 Auf dem Weg nach draußen sehen wir noch ellbon (Robin) und ssCRUISERS (Scott und Sandy) am Tisch von unserer ersten Nacht. Ob das am Service lag, oder an den Tischgesprächen lag, dass Scott so rot angelaufen ist, werden wir nie erfahren... Vielleicht war es auch nur der 1. Sonnenbrand vom 7-Miles-Beach...
Und auch erst am Ausgang entdecken wir, dass wir eine Nachspeise immer hier öffentlich zubereitet wird. Wir ziehen später noch durch die Ensemble Lounge, Passport Bar und genießen ein paar Cocktails. Davon gibt es aber keine Bilder...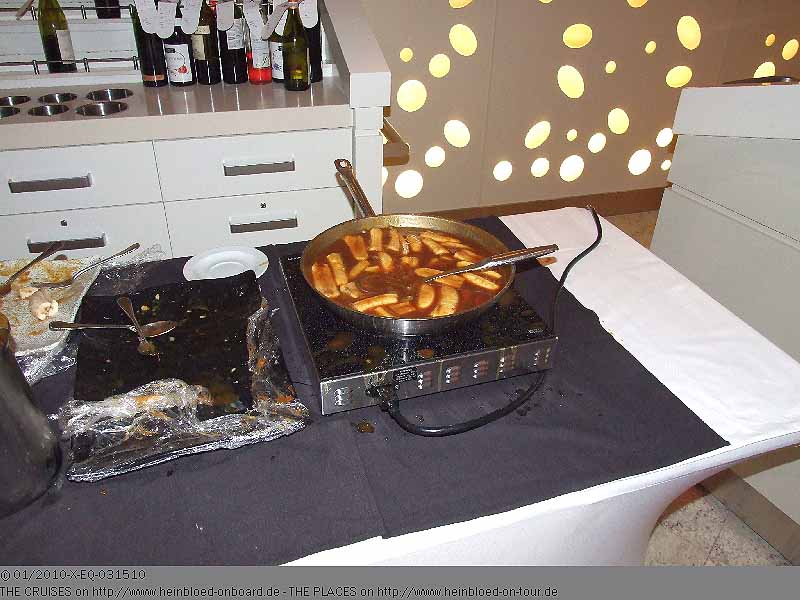 At the exit we saw that one dessert was made in the public. We went later to Ensemble Lounge, Passport Bar and enjoyed some cocktails... Sorry - no pictures...