Scroll down for English explanations - alternates with German explanations.

Was ja ganz praktisch ist: die Fußablage in der Dusche, kann man auch zum Reinigen und Trocknen der Schuhe benutzen.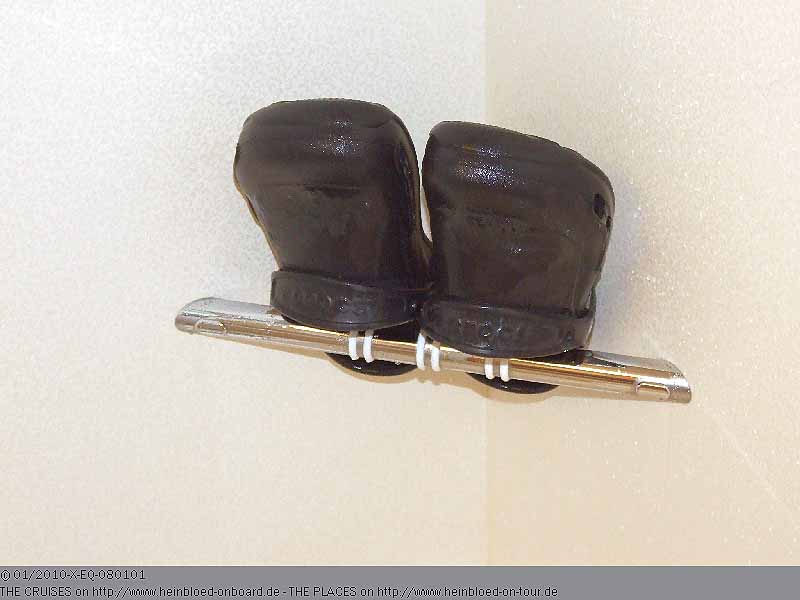 What was very practical: the feet rack in the shower which you could also use to clean and dry your shoes...

One of the drawers went out of the anchorage. We informed our stateroom attendant the morning and one hour later it was fixed.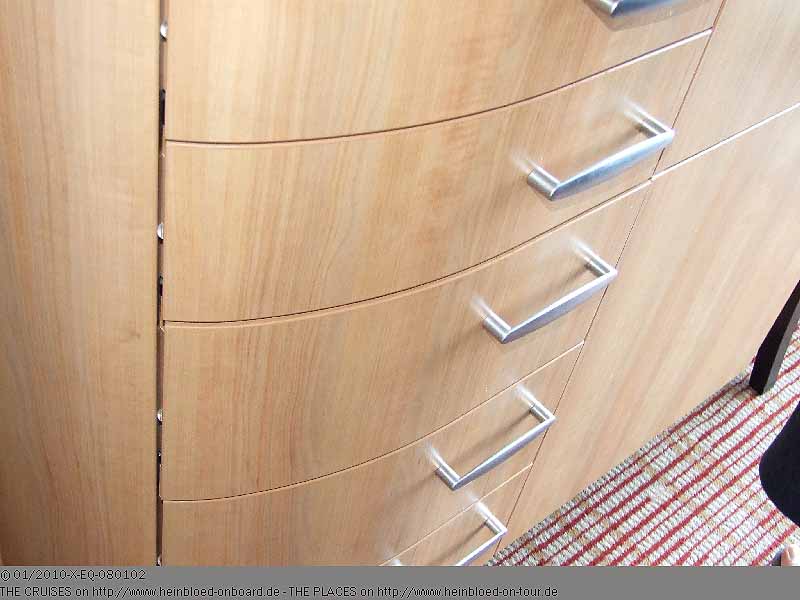 Eine der Schublade hat sich aus der Verankerung gerissen. Wir haben es morgens unserem Steward gesagt und eine Stunde später, war alles gefixt.
Seit heute gibt es auch Nachrichten in Deutsch im Fernsehprogramm. Bislang funktionierte es nicht.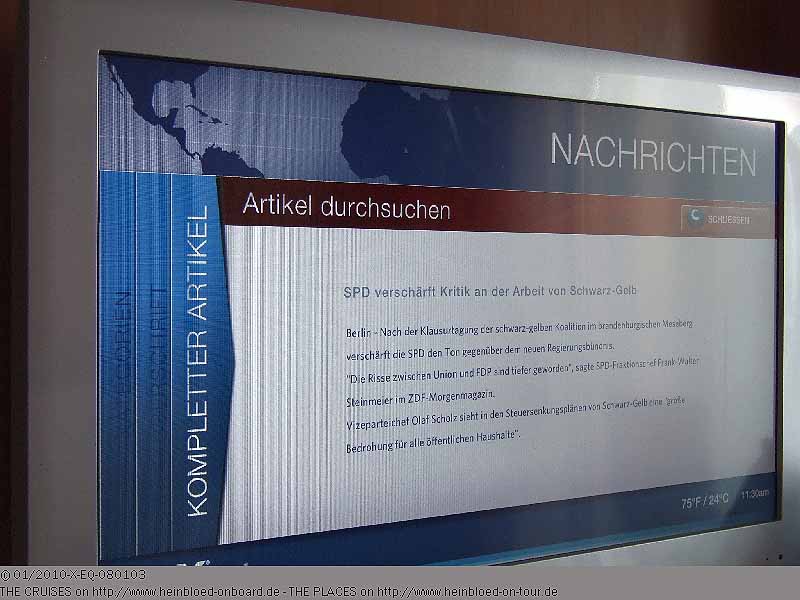 Since this morning we had also news in German languange on the TV-screen. So far it did not worked.

We could get a registration for the on board phone network. T-Mobile and Vodafone (both German networks) worked to receive phone calls.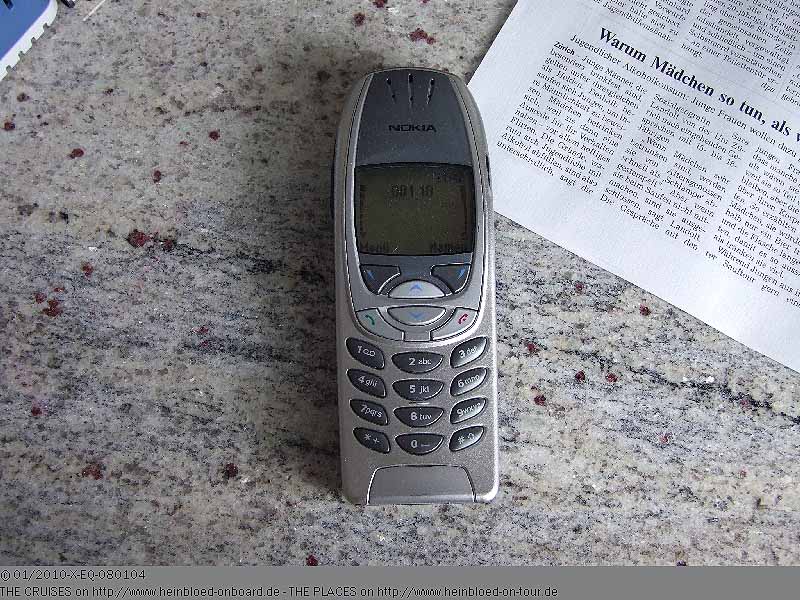 Wir können uns ins Bordnetz einloggen. Sowohl T-Mobile und Vodafone funktionieren, um Gespräche entgegen zu nehmen.
Nur wenn man hinaustelefonieren will, sollte man einen Vertrag mit beiden haben oder extra einen besonderen Auslandsdienst vereinbaren, der nicht über das normale Prepaid-Abkommen läuft, sonst kommt "Nummer gesperrt".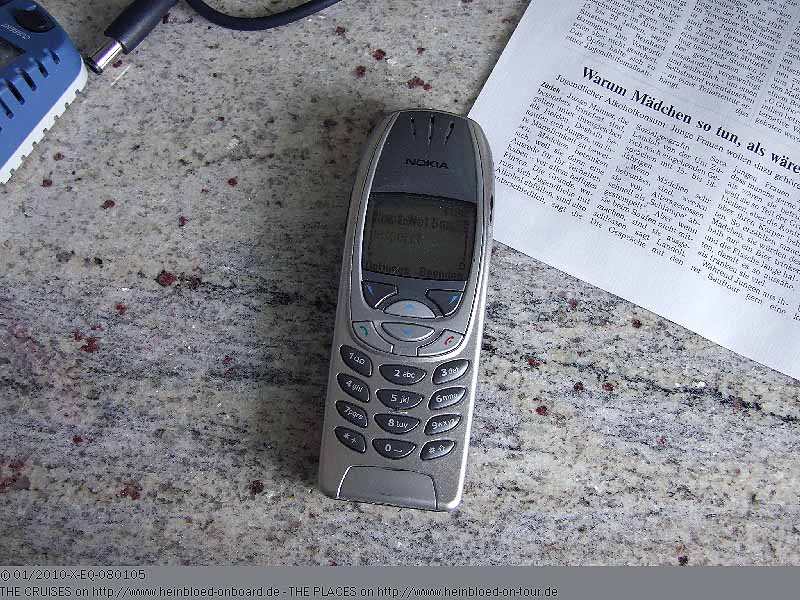 Only if you want to make phone calls from the ship you should have a subspription or have a special international contract which might not be covered by the regular prepaid-coverage otherwise you get "Number disabled"

Unfortunately all public announcements were not broadcasted on the TV-screen. May cruise lines offer on the typical navigation information or webcam channel the announcements. But here you get nothing.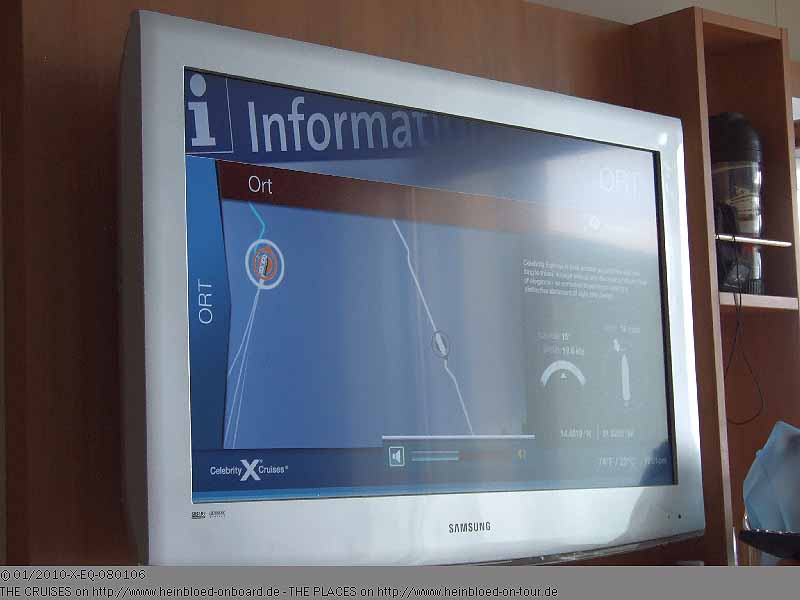 Leider werden die Ansagen nicht auf das Fernsehsystem übertragen. Bei vielen Gesellschaften werden die Ansagen hier auf dem typischen Navigationsprogramm oder auf dem Webcam-Kanal übertragen. Hier ist aber nichts.
Auch ist das immer ein wenig eigenartig, dass das Schiff immer hin- und zurück über verschiedene Routen zwischen dem letzten Hafen und dem aktuellen Standort fährt.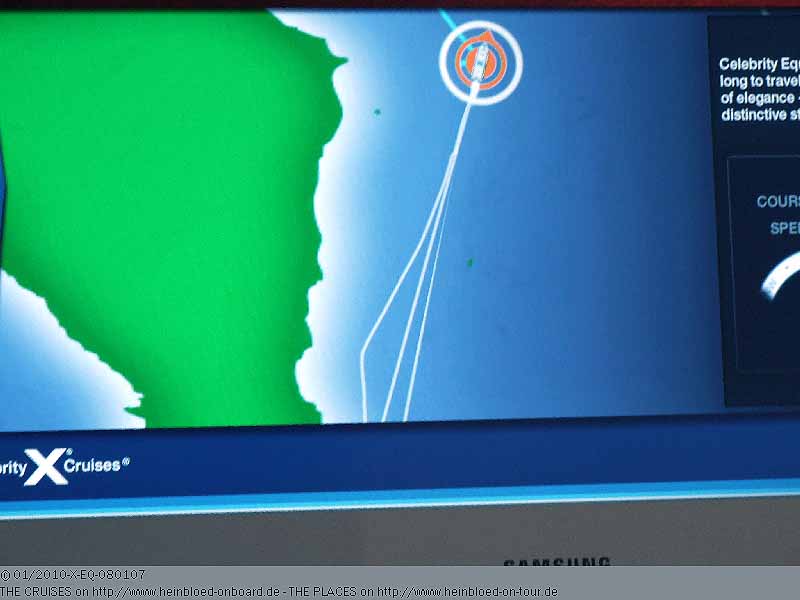 Also a little strange that the ship went forward and back via different routes between the last port and the next port and the actual position.

They had too much blue cheese on board and need a way to reduce their stock. They came very frequently somehow.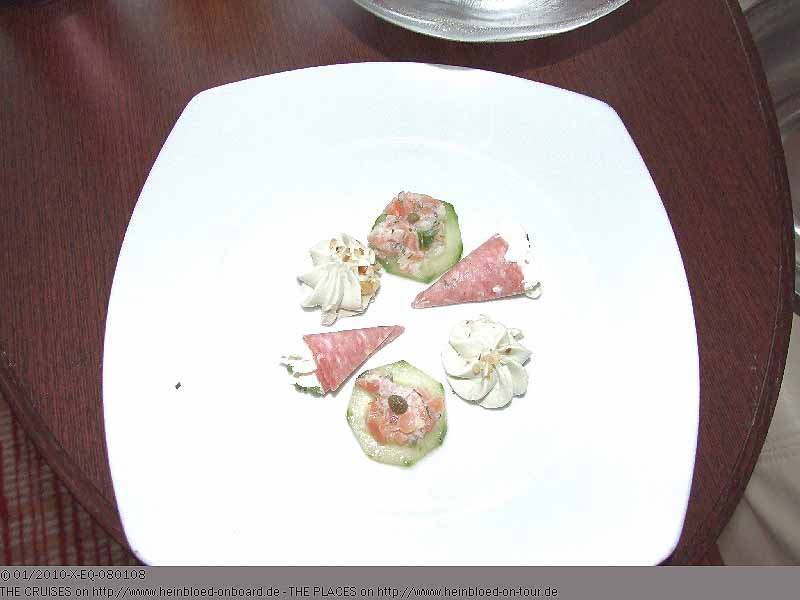 Irgendwie müssen die Vorräte an Blauschimmelkäse abgebaut werden. Die kommen verhältnismäßig oft auf den Canapételler.
Keinen Tag ohne Post...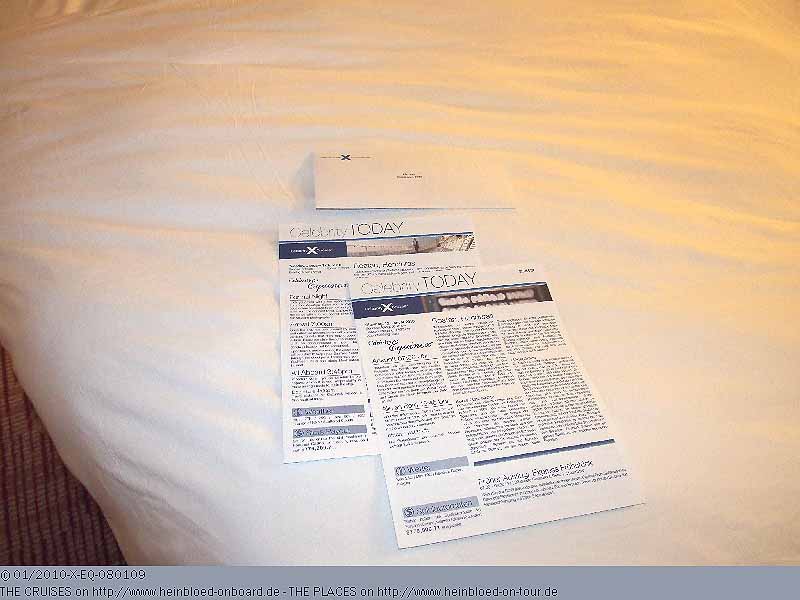 No day without mail.

I was not so stupid that I thought I put my laundry into a shoe bag. There were some of fibres...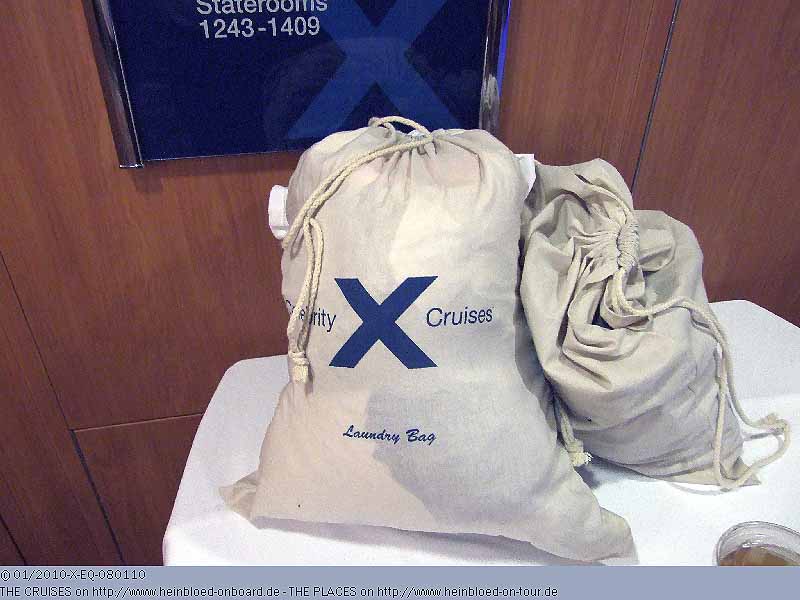 So blöd bin ich doch nicht, dass ich meine Wäsche wohl in einen Schuhsack gesteckt habe. Es gibt doch welche aus Stoff.
Schon morgens werden die Desserts in der Vitrine im Bistro on Five aufgebaut. Gegessen haben wir sie nie.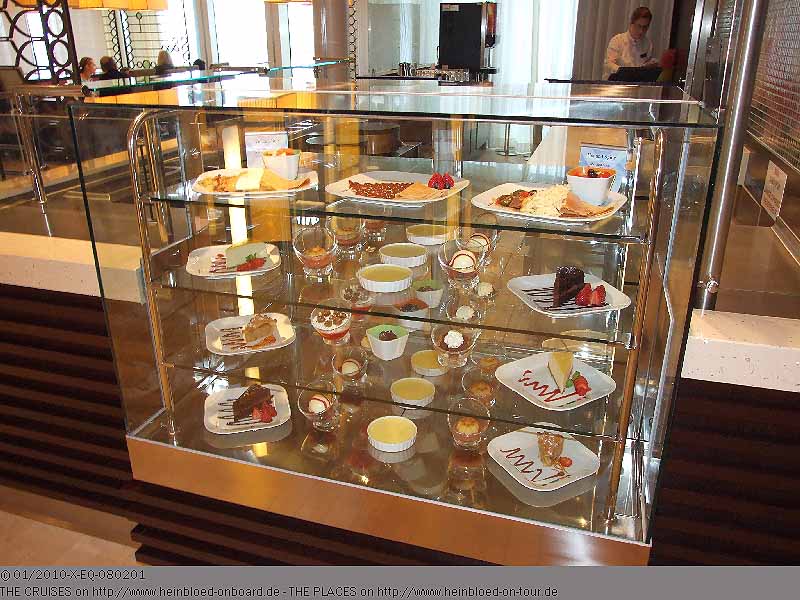 In the morning all desserts were displayed in the Bistro on Five. We never tried them.

At 10.00 am we should have brunch. But just this morning we waked up so early that we had to have some little croissants in Café al Bacio to bridge the time.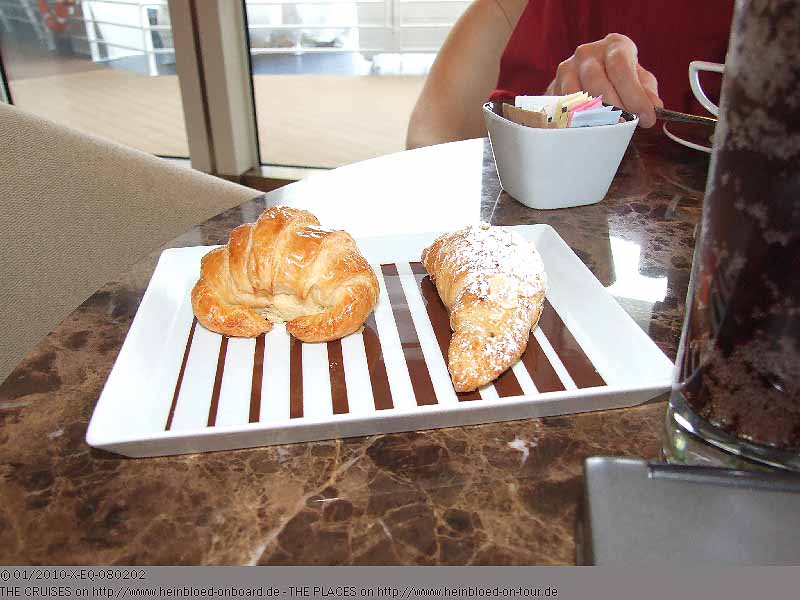 Es gibt um 10.00 Uhr Brunch. Nur ausgerechnet heute Morgen sind wir früh wach und so gönnen wir uns kleine Croissants im Café al Bacio um die Zeit zu überbrücken.
Draußen ist die See nicht besonders ruhig.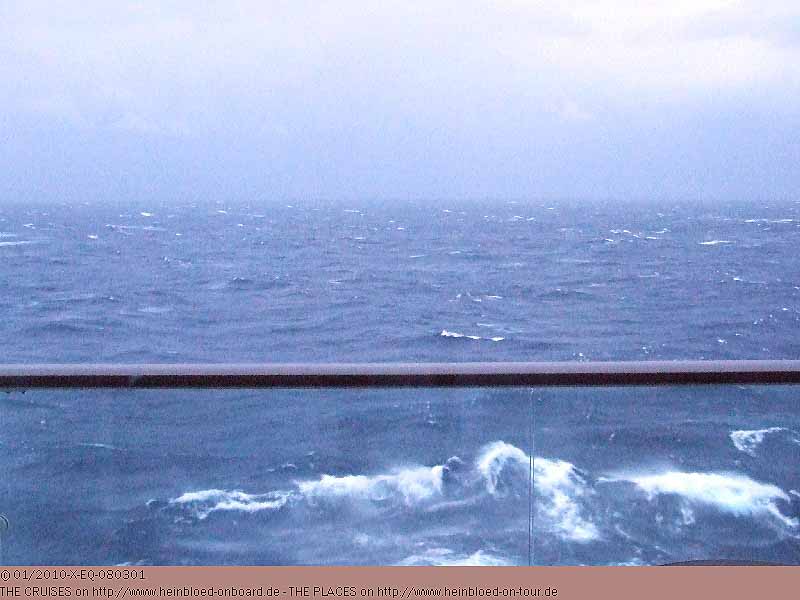 Outside the sea was not very calm.

So there were not so many on the sundeck. It was interesting to see which some of them tried carageously to arrange blanket and towel on a sunbed without had it blown away before they had a chance to sit.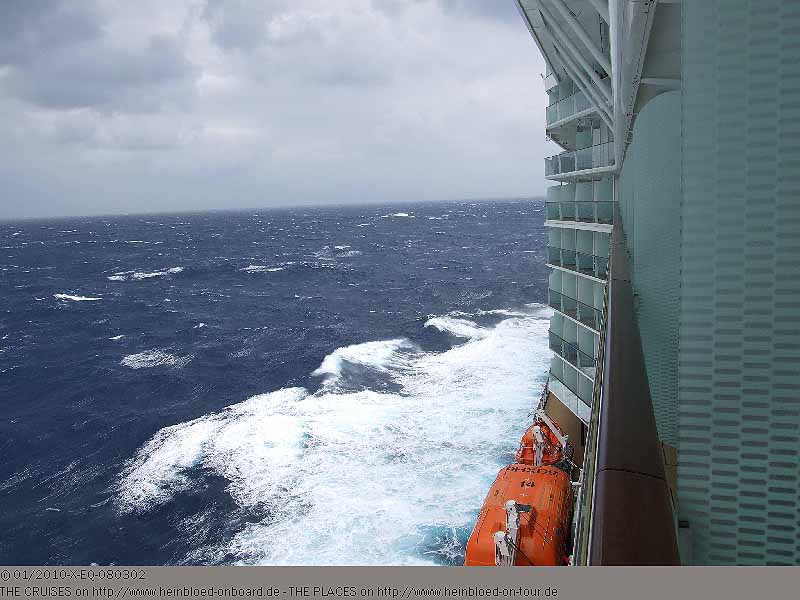 So sind nicht so viele auf dem Sonnendeck. Ist allerdings interessant zuzugucken, wie manche sich doch tapfer versuchen, Wolldecke und Liegetuch ordentlich zu platzieren, ohne dass bis zum Aufsitzen der Wind wieder alles weg geweht war.
Draußen findet ein Manöver statt.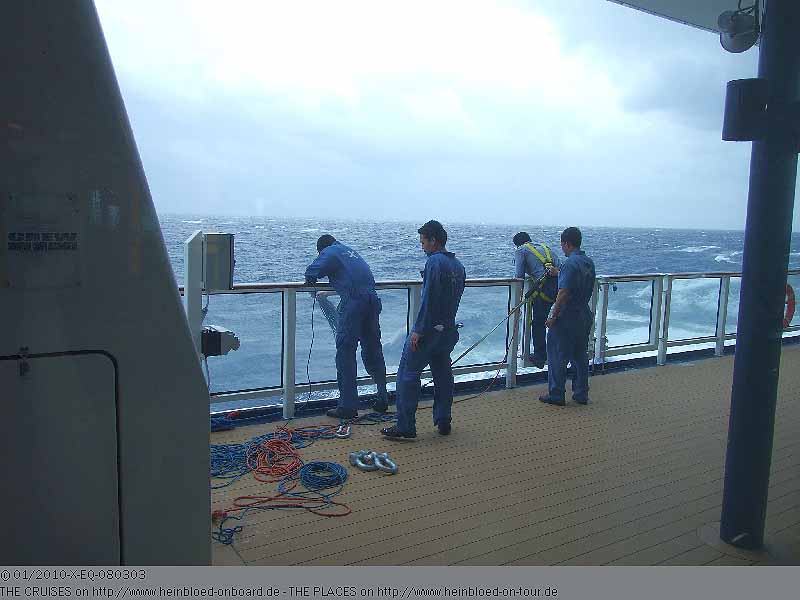 Outside a manoeuvre was hold.

Something was thrown overboard and collected again???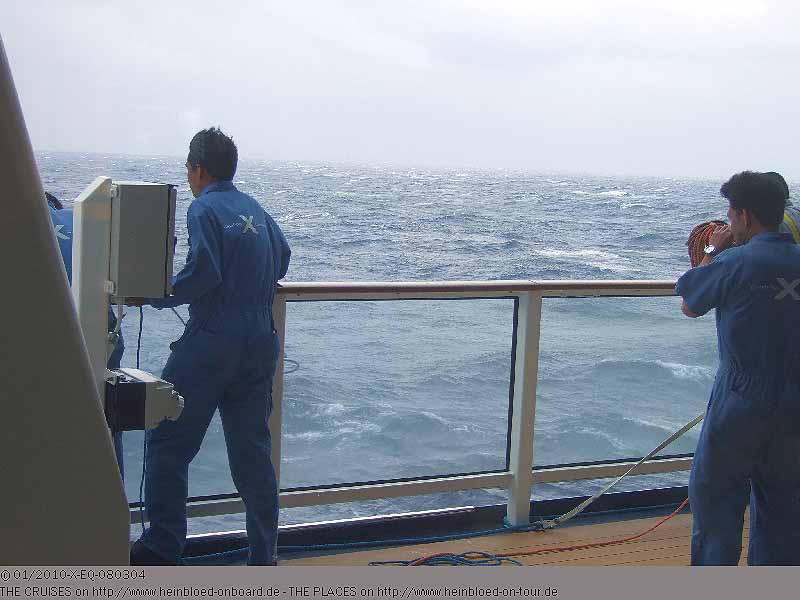 Irgendwas wird über Bord geworfen und wieder eingesammelt???
Oder ist doch jemand von Bord gegangen???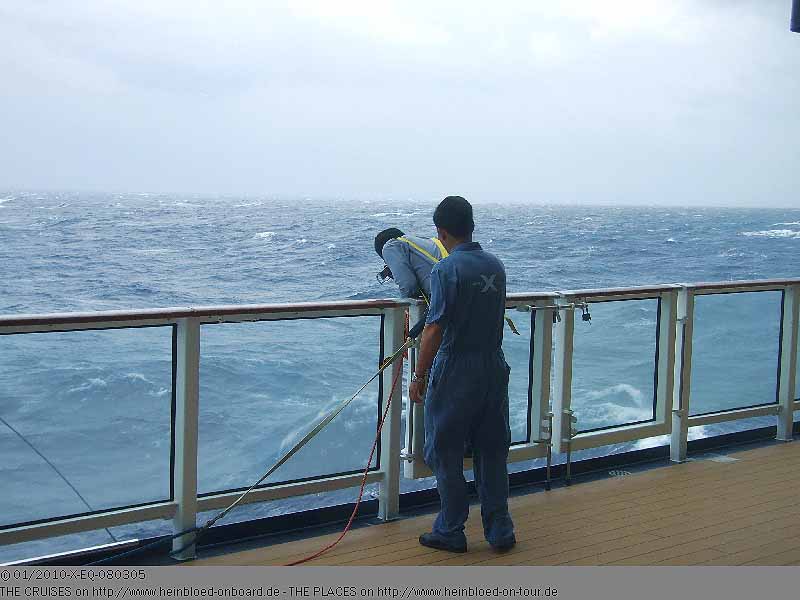 Or did someone go overboard???

Or did they just clean here somthing??? With this weather???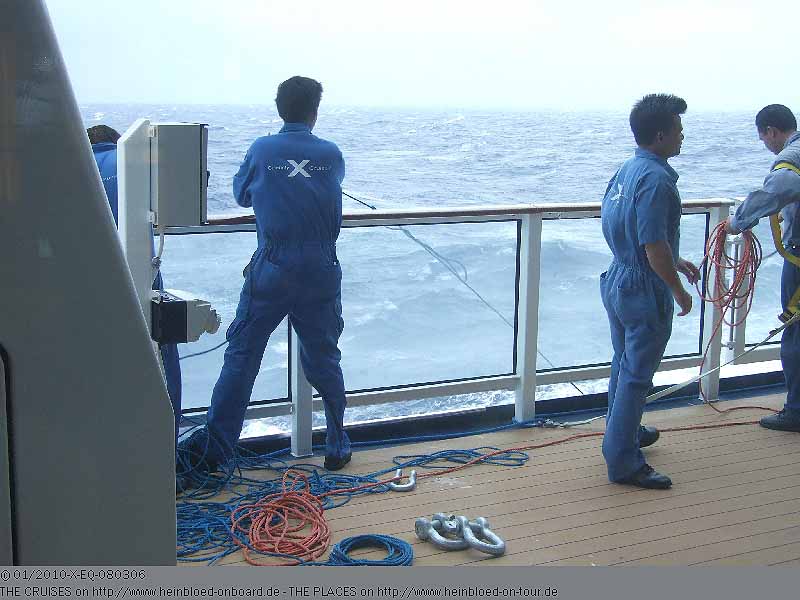 Oder wird hier bloß etwas sauber gemacht??? Bei dem Wetter???
Der Sicherheitsgurt??? Wozu???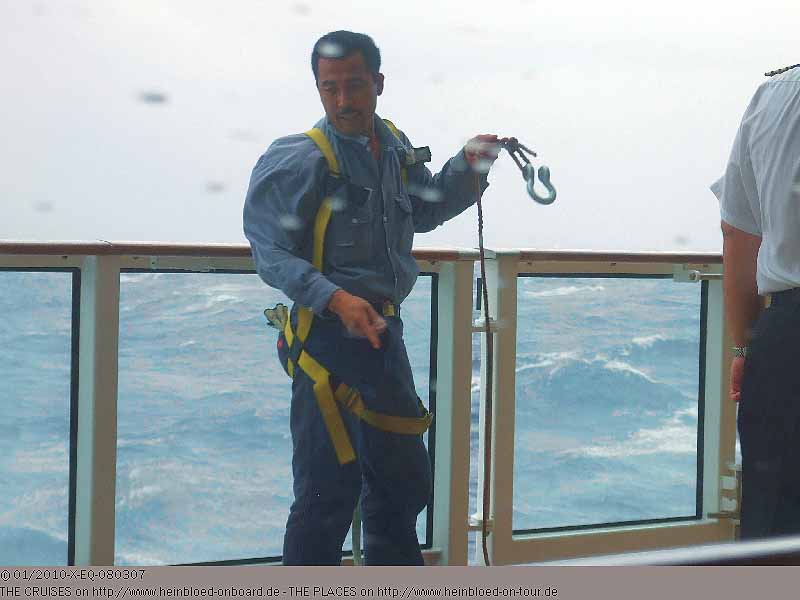 Safety harness??? What for???

At 10.00 am we went to brunch.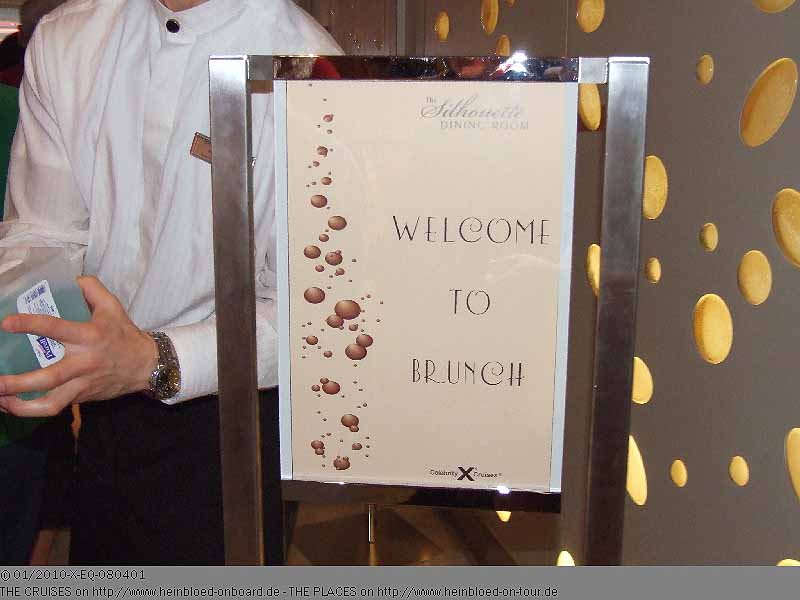 Um 10.00 Uhr geht es zum Brunch.
Die Massen warten schon, dabei läuft es bis 13.00 Uhr und es wird immer aufgefüllt. Wer so gegen 11.30 Uhr/12.00 Uhr kommt, hat mehr Platz um das Büffet herum.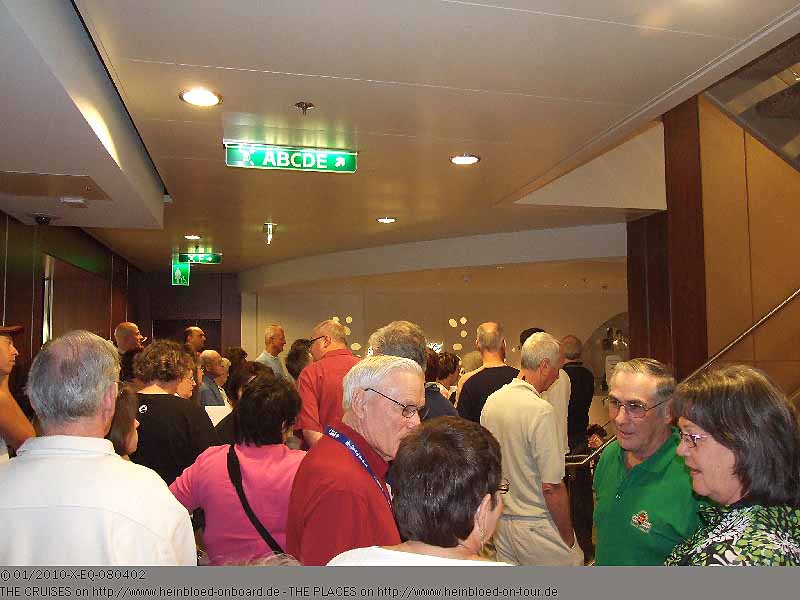 All were waiting outside although you could have it until 01.00 pm and they refilled all. We came around 11.30 am/12.00 noon had more space to see the buffet.

I was very impressed because I expected to have something like Brasserie 30 on Royal Caribbean.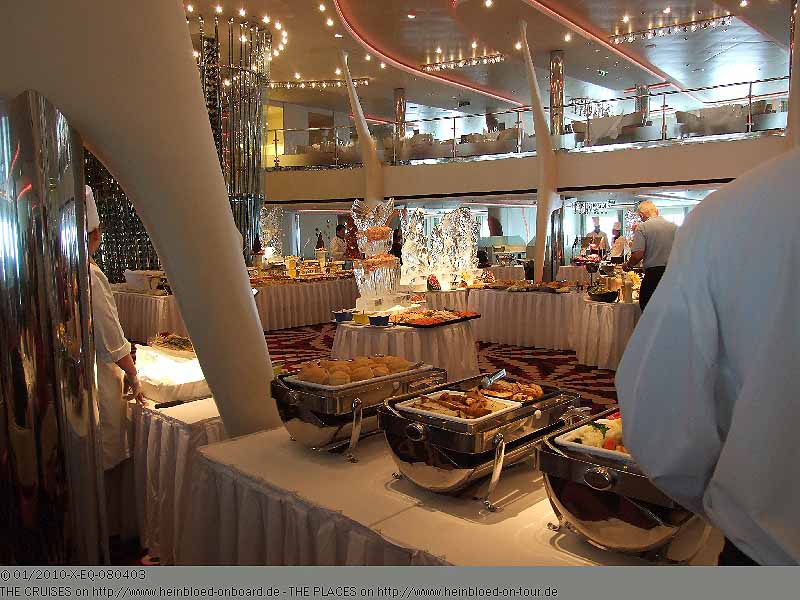 Ich war schwer beeindruckt, da ich eigentlich mit Brasserie 30 wie bei Royal Caribbean gerechnet hätte.
Stattdessen ein Mitternachtsbüffet, das tagsüber stattfand.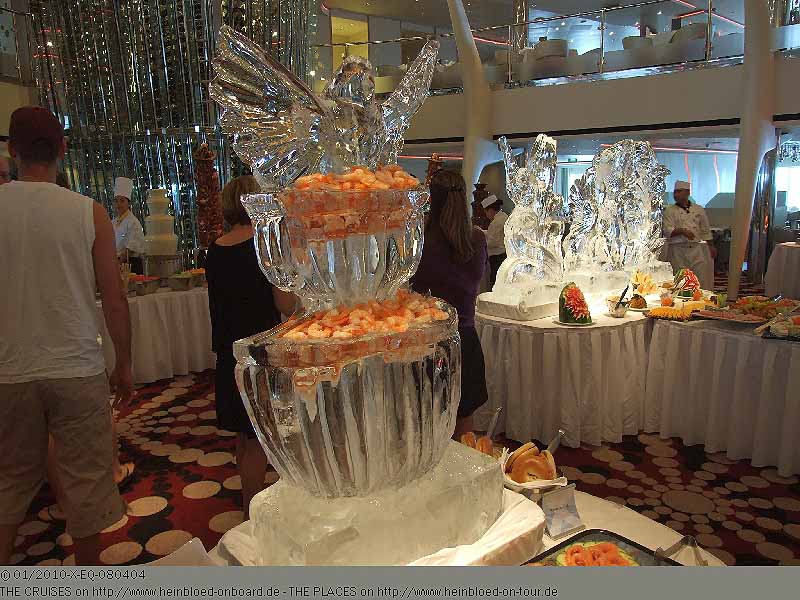 Instead you got a midnight buffet which was hold during the day.

A very good idea. Midnight buffet has two disadvantages: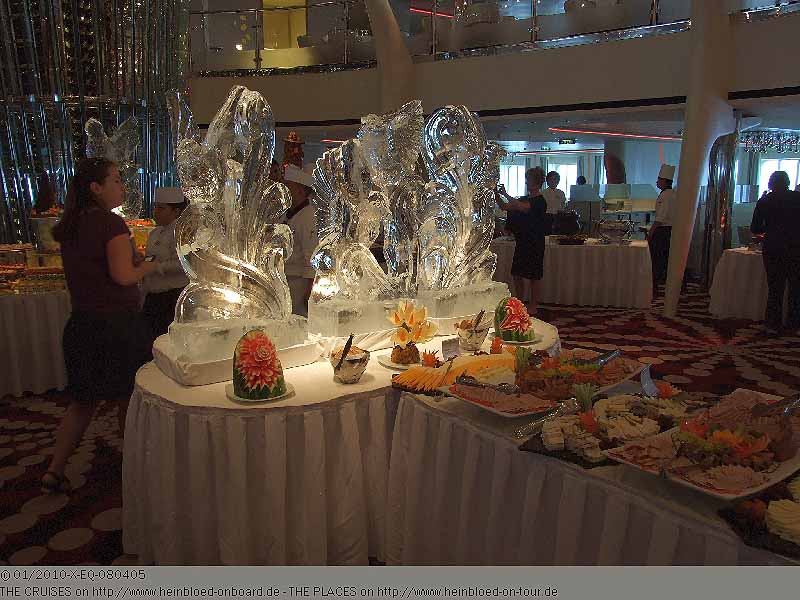 Eine sehr gute Idee: Mitternachtsbüffet haben zwei Nachteile:
1. Sie finden Mitternacht (oder kurz davor statt), ein enormer Aufwand für die Crew, die ja kaum Ruhe findet.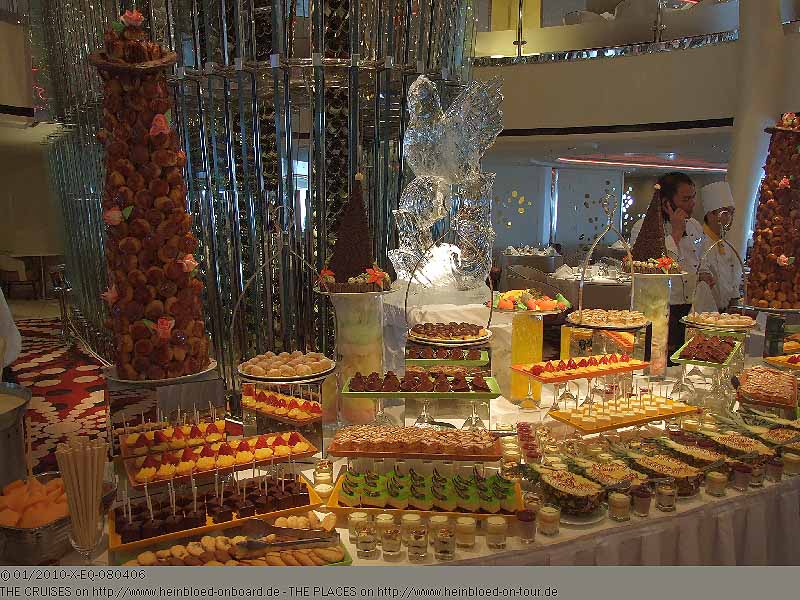 1. They are hold around midnight (or just ahead of...), an extreme effort for the crew who has barely time to rest.

2. From the nutrition it is totally wrong to have such quantity of food and many guests are already sleeping.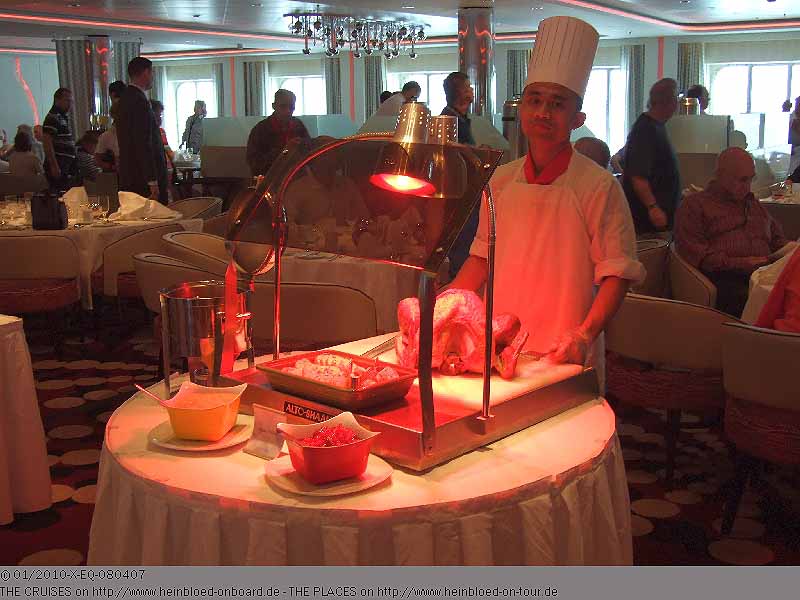 2. Ernährungsphysiologisch ist es eh verkehrt, nachts noch soviel zu sich zu nehmen und viele sind schon im Bett.
Daher finde ich es gut, die Schönheit des Mitternachtsbüffets mit einer doch notwendigen Mahlzeit zu verbinden.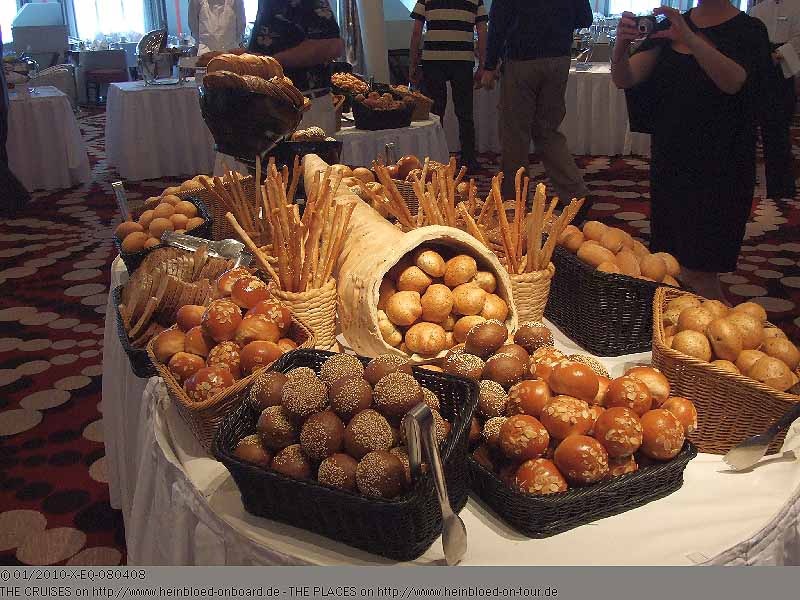 That was why I liked the idea to combine the beauty of a midnight buffet with the mandantory need to offer a lunch.

Who did not find anything was blame himself.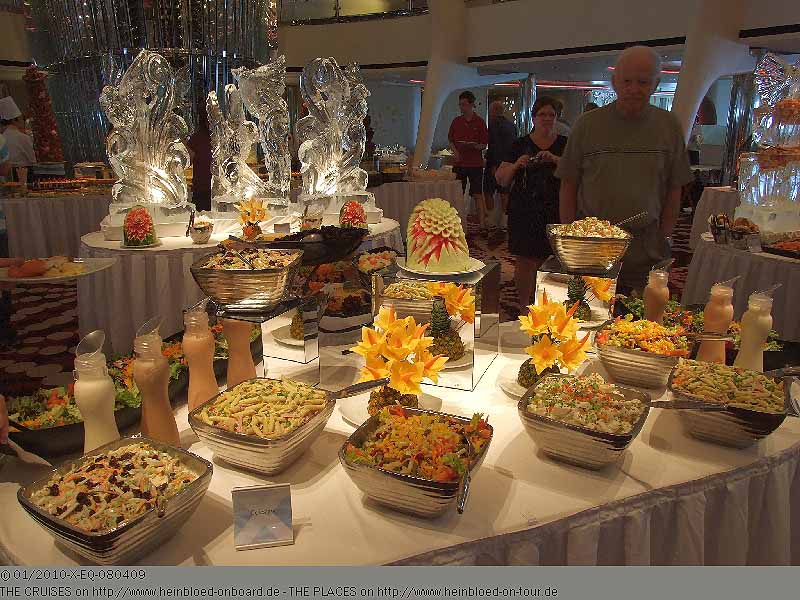 Wer hier nichts findet, ist selber schuld!
Kalt, warm, süß, herzhaft.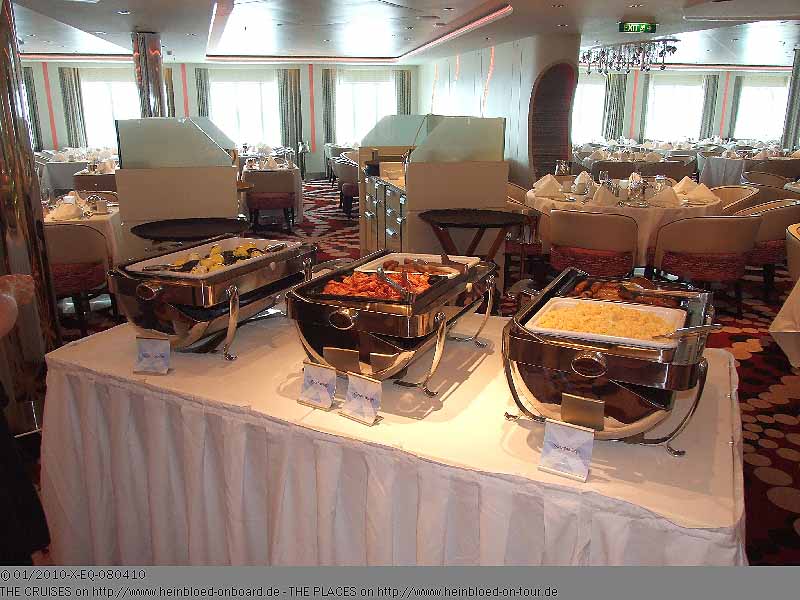 Cold, hot, sweet, salty.

I liked it very much.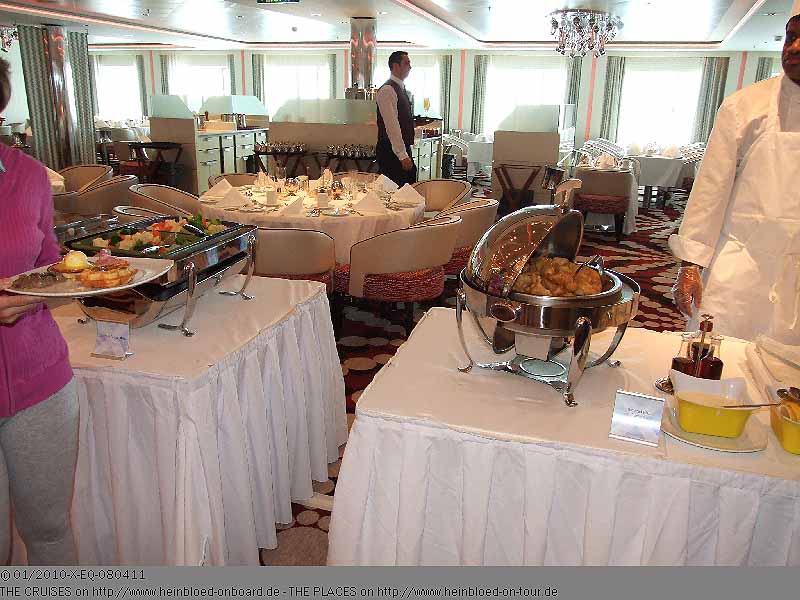 Hat mir sehr gut gefallen.
Das einzige, was ich vermisst habe: eine Durchlaufmöglichkeit zum Fotografieren...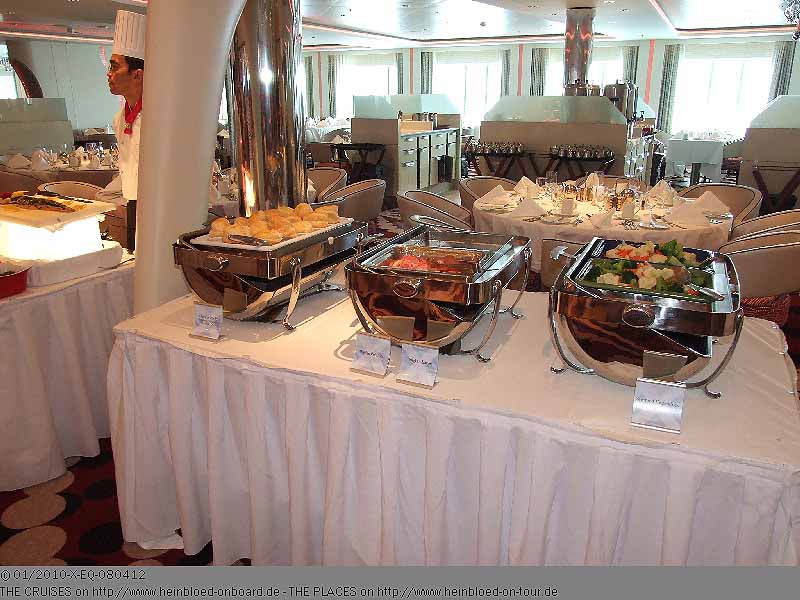 The only thing I was missing just a round just for fotographers...

As it was a little rough sea there were not so many on the sun deck so they had to open the upper tier of the Silhouette-Restaurant.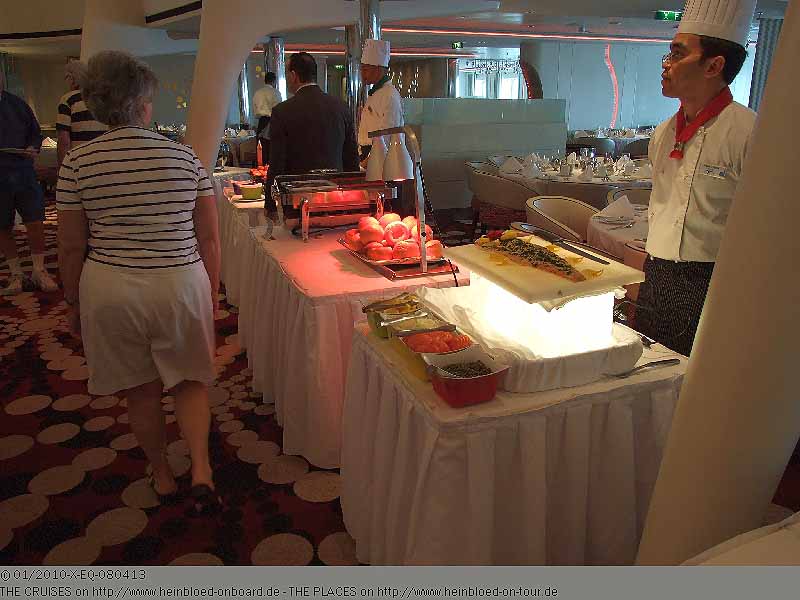 Dadurch, dass es etwas stürmischer war, waren wenig auf dem Sonnendeck und daher musste sogar der obere Teil des Silhouette-Restaurants geöffnet werden.
Hühnerfrikassee im Blätterteilpastete... meins...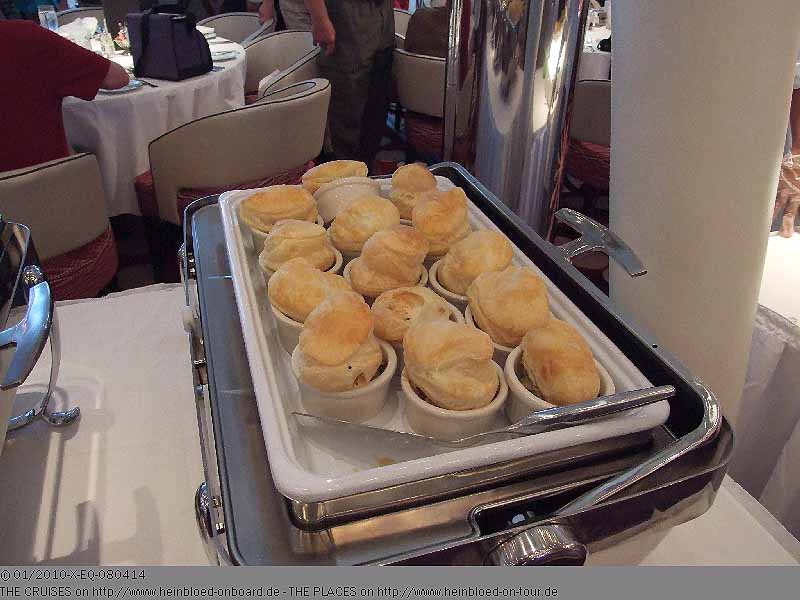 Chicken vol-au-vent... mine...

The offered champage against payment. But the waiters did not came as frequently as you may like it.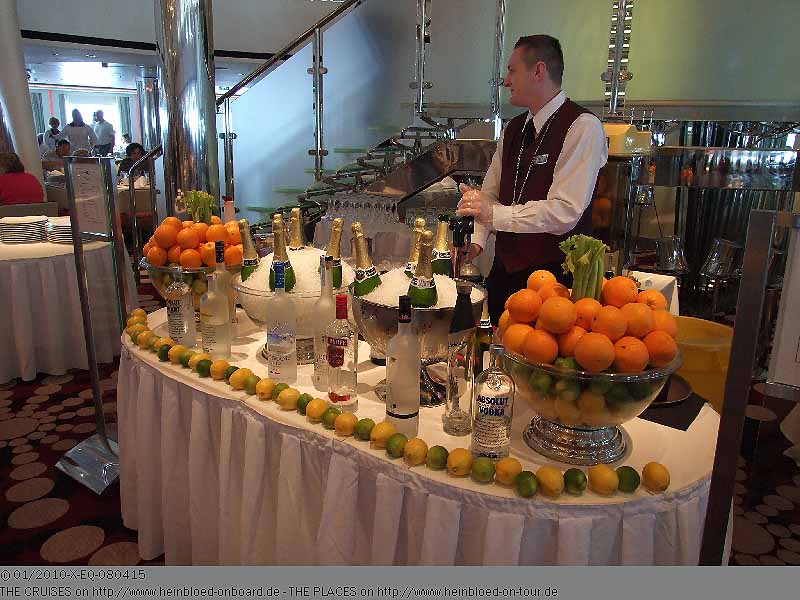 Auch Sekt wurde gegen Bezahlung angeboten. Leider liefen die Kellner mit dem Sekt nicht sehr oft durch, wie man es sich wünschen würde.
Wir haben wohl Glück gehabt, dass es vielleicht noch stattgefunden hat. Was ich hier vermisse: einen Glasschutz, wie wir ihn bei NCL am Büffet hatten. Wenn hier ein Passagier hier niest... igitt...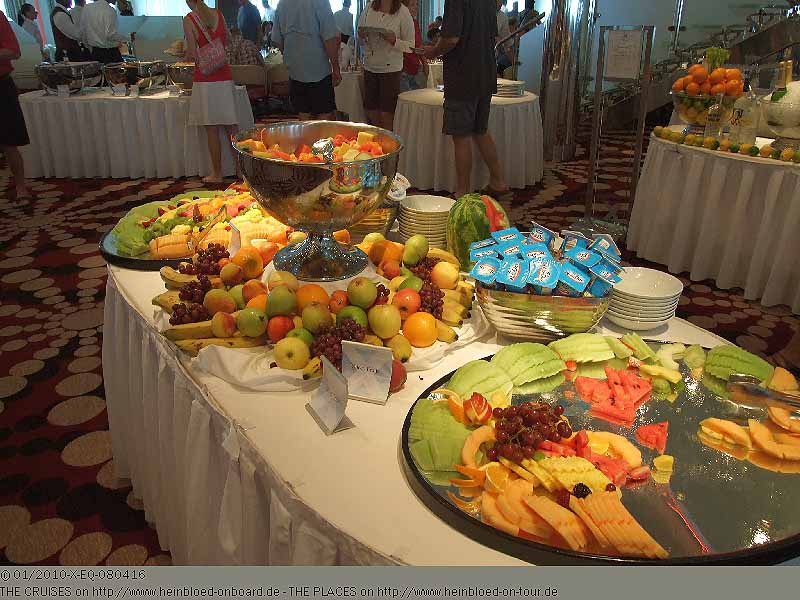 We were lucky that the buffet was offered. What I missed: a glass protection like we know from NCL's buffet: If one passanger had to sneeze... ihhh....

Some food were freshly made like waffles which occured some waiting lines.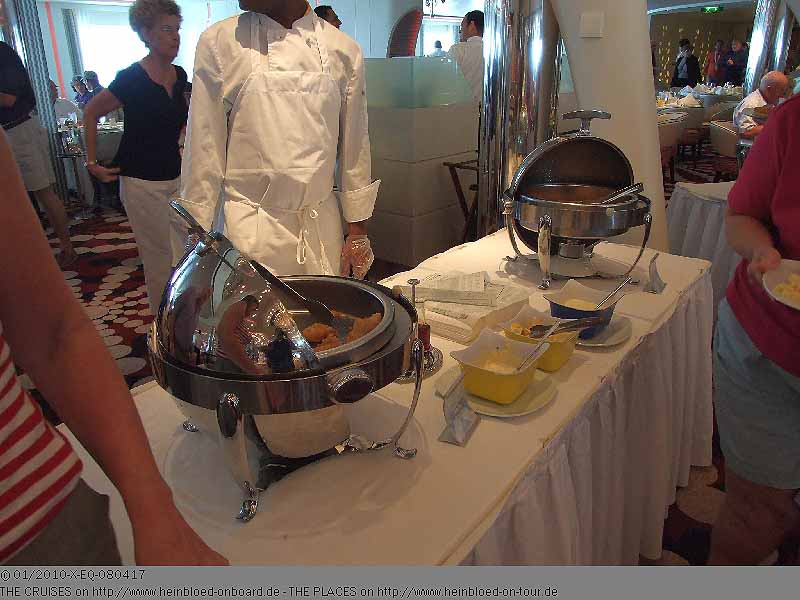 Einige Sachen wurden auch frisch erst zubereitet, wie z. B. Waffeln usw., was manchmal zu kleinen Stangen führte.
Zumindest sollte man es sich angesehen haben, auch wenn man nichts essen möchte.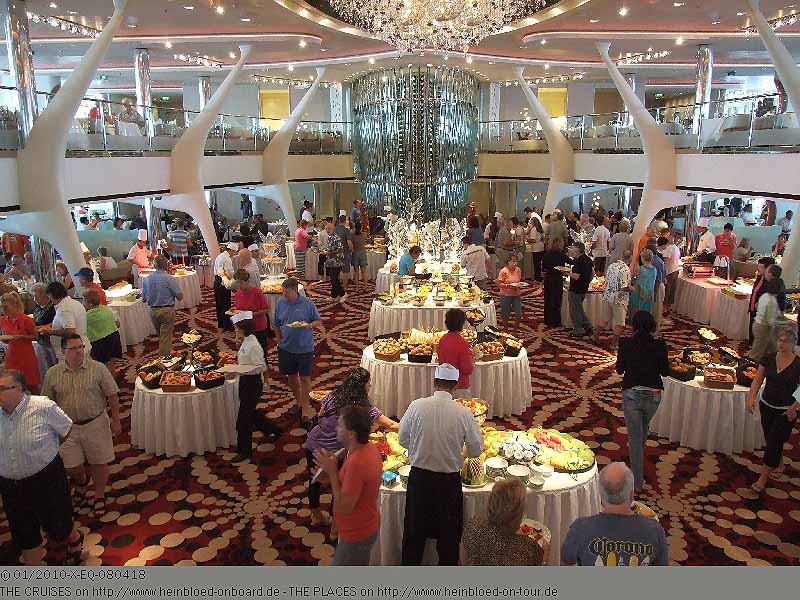 You should see it even you disliked to eat.

The white-chocolate fountain was not as occupied as the brown-chocolate-fountain.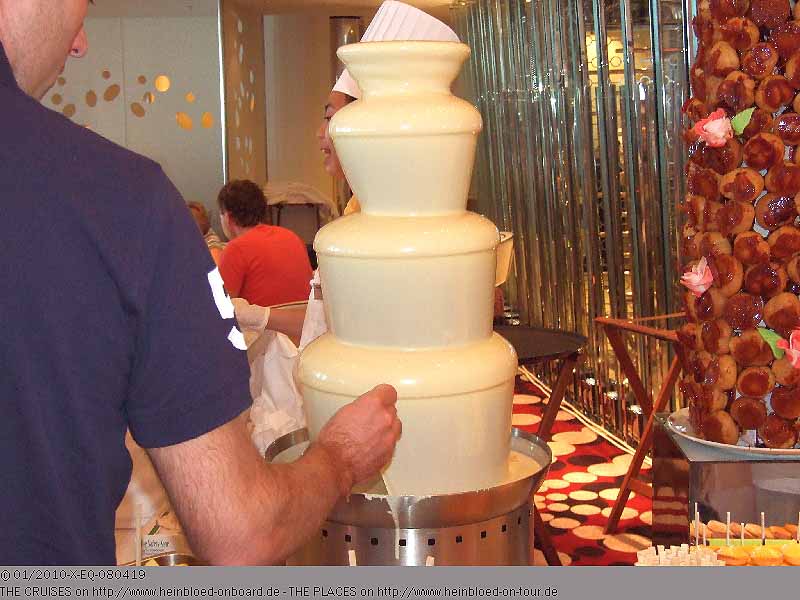 Der Brunnen mit weißer Schokolade war i. d. R. nicht so belegt wie der Brunnen mit brauner Schokolade.
Einfach klasse, was hier geleistet wurde. Ich bin kein Büffet-Freund, aber auch das hat sogar mich überzeugt, mal wieder es beim nächsten Mal zu versuchen.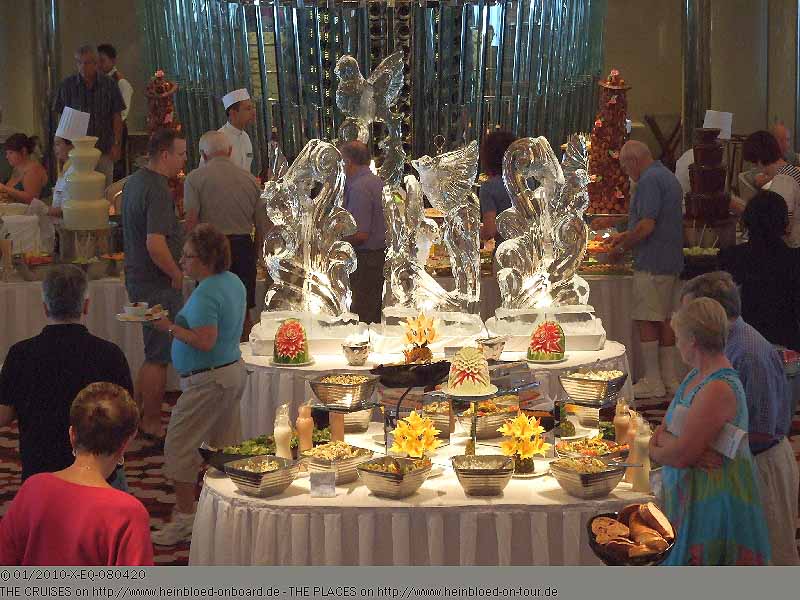 It was great to see what they did. I was not the friend of buffets but this effort convinced me to try it again next time.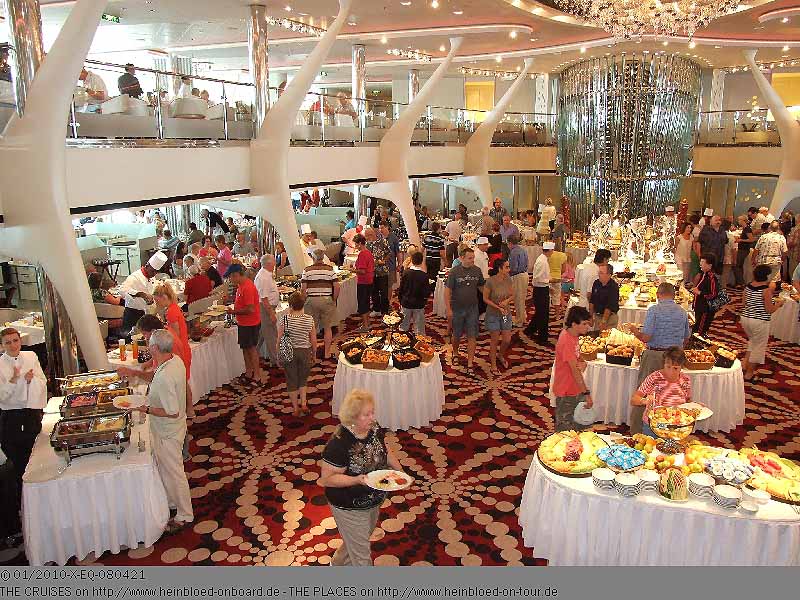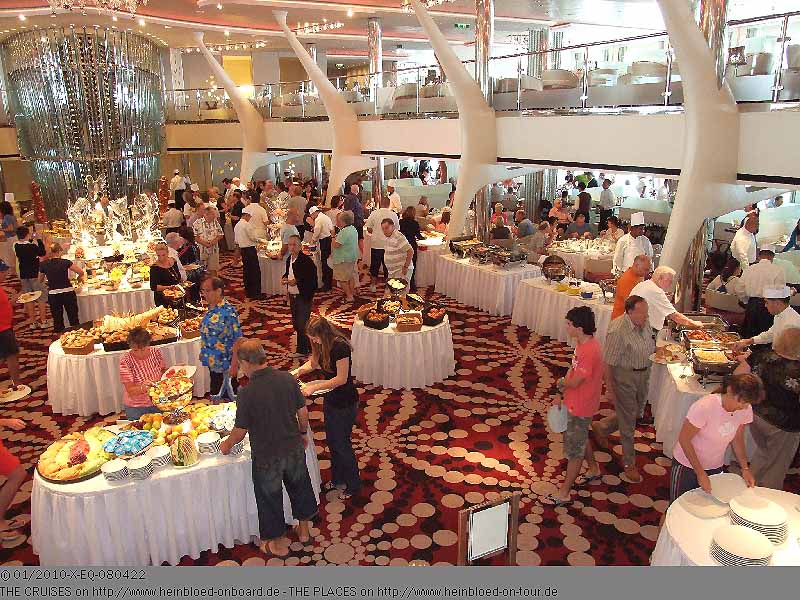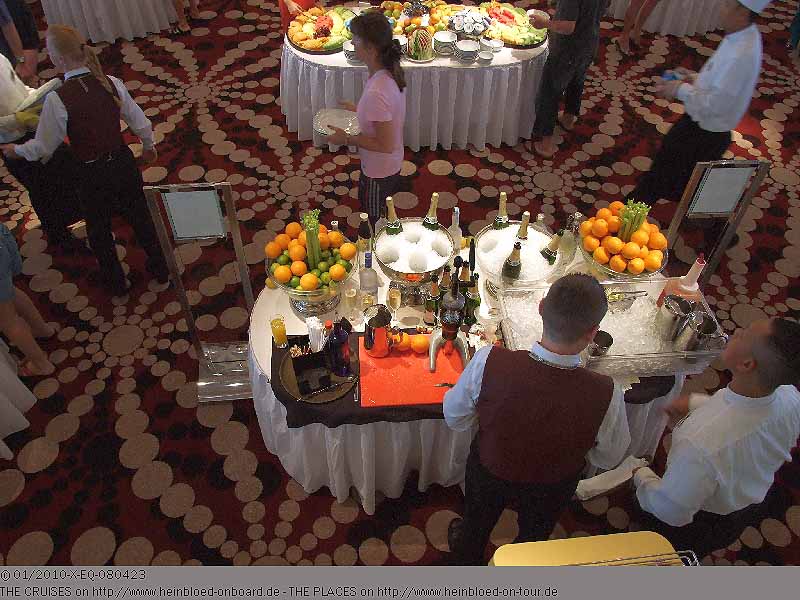 Das Jazz-Trio spielt in einer Ecke, so dass man sich wie beim schönen Jazz-Frühschoppen fühlt.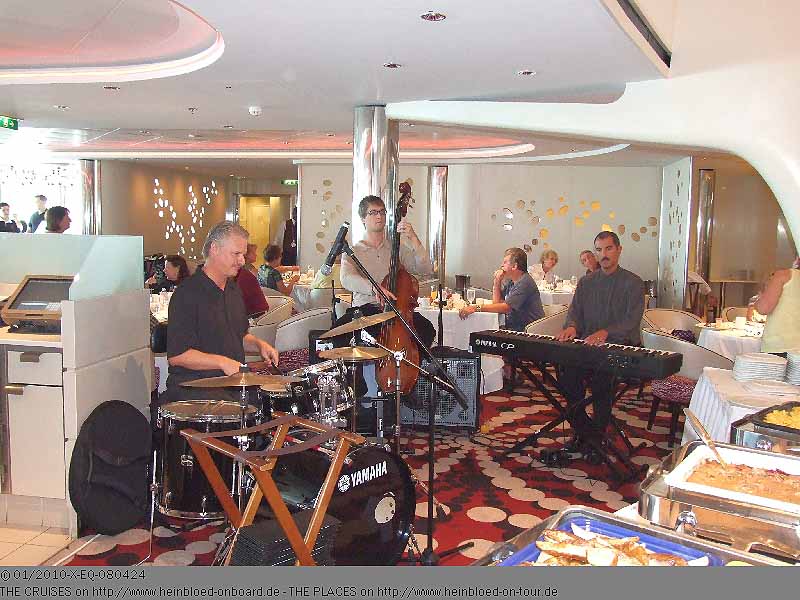 The jazz-trio was playing in the corner so you felt like being at a jazz morning pint.

Breadshell filled with mushroom ragout.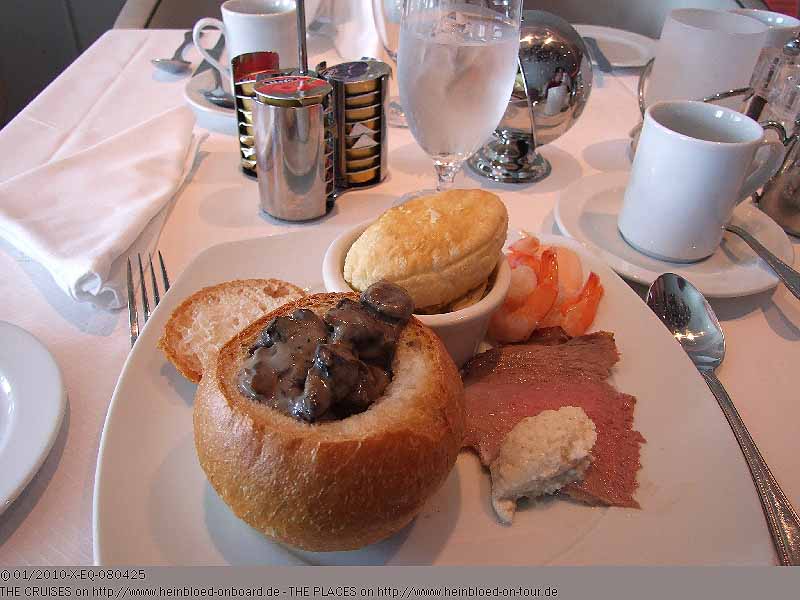 Mit Champignon-Ragout gefülltes Brot.
Fish und Chips ohne Chips, sonst hätte ich es in Zeitung eingewicket bekommen: fand ich sehr originell. Ich wollte lieber einen deutschen Kartoffelsalat dazu.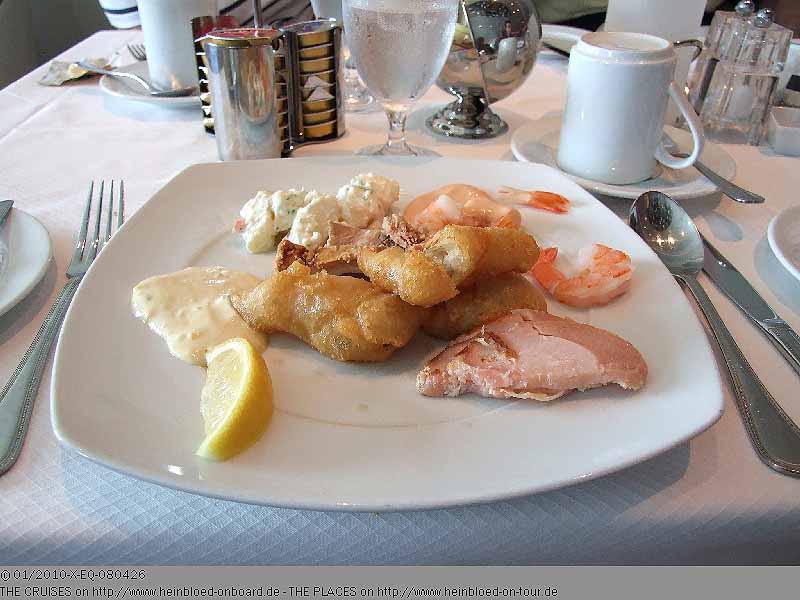 Fish and chips without chips which you normally get in news paper: was a nice idea. I preferred to have some German potato salad with my fish.

As great the food was as great was the service. You should feel like on a family brunch and the hostess should be bewared of unnecessary house work: They took the silverware from my dirty plate and placed it back on the table.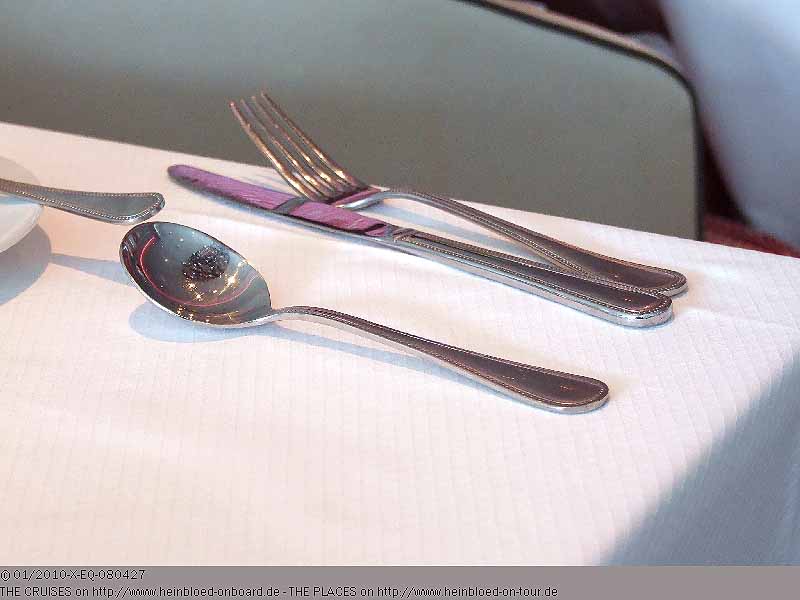 So schön und toll, wie das Essen war, so klasse fand ich auch den Service: Man wollte, dass man sich wie einem Familien-Brunch fühlt und die Gastgeberin vor unnotwendiger Hausarbeit schützen: Mein Besteck wurde vom Teller genommen und wieder auf die Tischdecke platziert.
Ich fand es auch echt gut, dass man immer einen Tisch freigelassen hat, so dass man einfach das benutzte Geschirr ablegen konnte, weil man nicht immer die Zeit fand, sofort alles zu abzuräumen.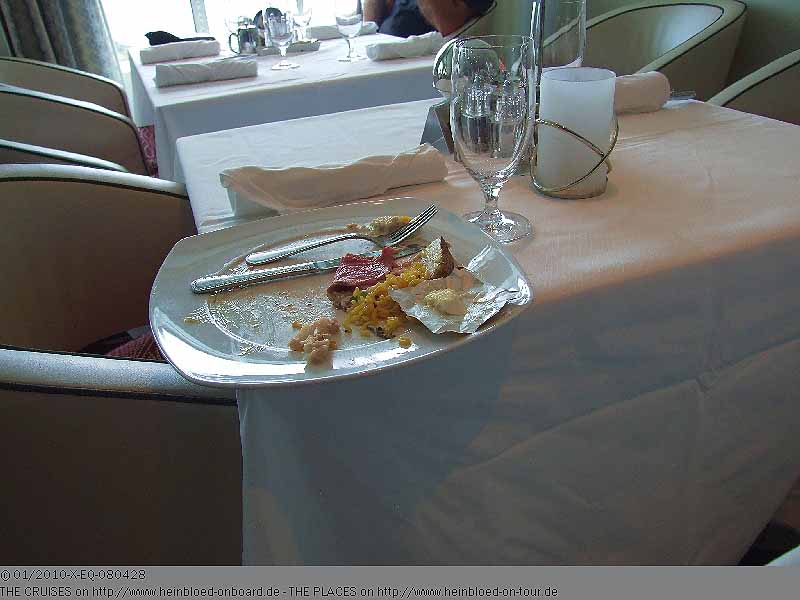 It was also very nice that the left occassionally one table untaken so you could place the used plate because they did not find the time to clear the table.

No more jokes: I did not find it very funny anymore: Two waitress cleared the table but knocked over a glass of water. Her only reaction was "Oops". They talked to eachother in their native language. But it sounded like "Was just water.". There are cruise lines which does not allow any conversation in their native languages when guests are present. They did not take care of the wet chair. I warned other guests which were placed there that the chair was wet and they were happy to know and requested another table. When the waitresses did not show up to dry the chairs I called a maître who passed by. He apologied that the crew had too much to do and took the chair away. But his body language said something else: why could not I just keep my mouth and had to bother him.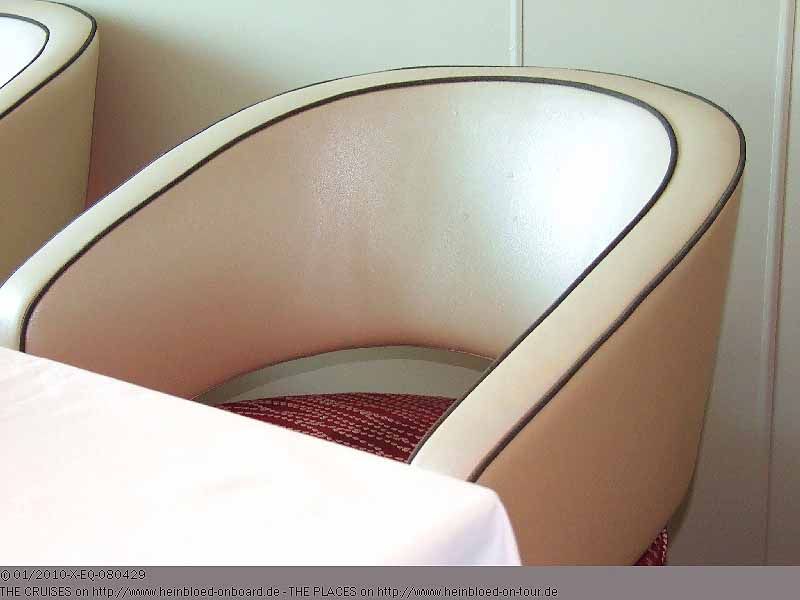 Spaß beiseite: ich fand es nicht mehr komisch. Zwei Kellnerin räumen ab und ein Glas Wasser kippt um. Sie machen nur "Oops". Untereinander unterhalten sie sich in ihrer Sprache. Es bedeutet wohl: "Ist ja bloß Wasser". Es gibt übrigens auch Gesellschaften, bei denen ist es verboten, sich vor Gästen in der Heimatsprache sich zu unterhalten. Sie kümmern sich nicht um den nassen Sessel. Ich weise andere Gäste, die dahin platziert wurden auf den nassen Sessel hin und sie freuen sich darüber und wollen einen anderen Platz. Als immer noch von den Kellnerinnen keiner wiederkommt, rufe ich einen Maître, der vorbeiläuft. Der entschuldigt das Personal mit Überlastung und tauscht den Sessel aus. Allerdings seine Körpersprache sagt: hättest du nicht einfach die Klappe halten können und mich in Ruhe lassen können.
Ein anderer Fall: Bruno ist am Büffet und jemand füllt Kaffee nach. Er bemerkt aber nicht, dass die Kanne tropft und auch auf den Sitz. Er geht und ich hole ihn zurück und frage ihn, ob er die Kaffeeflecken nicht entfernen möchte. Seine erste Frage: sitzt dort jemand? Notdürftig macht er die Flecken weg und meint, dass es reicht. Zum Glück trägt Bruno keine weiße Hose und legt sich selbst eine Serviette auf die feuchten Flecken auf dem Polster. Ein echtes Familien-Brunch wie zu Hause also... Das ganze erinnert uns an die NAVIGATOR OF THE SEAS. Sandancer (Elaine und Lysle aus cruisecritic.com) haben die gleichen Erfahrungen gemacht, aber auch nur in Europa auf der NAVIGATOR OF THE SEAS. In der Karibik wäre die NAVIGATOR OF THE SEAS ein Spitzenprodukt. Sie erklären uns auch warum: irgendwie denkt die Crew auf der NAVIGATOR OF THE SEAS, dass die Europäer alle Trinkgeldpreller seien: deswegen wäre der Service besonders schlecht, was sie selbst im vergleichbaren Zeitraum erlebt haben. Das erklärt auch, warum marcookie (Marc) es zuvor auf der Transatlantik es anders wahrgenommen hat, als wir. Aber warum eigentlich auch auf der CELEBRITY EQUINOX?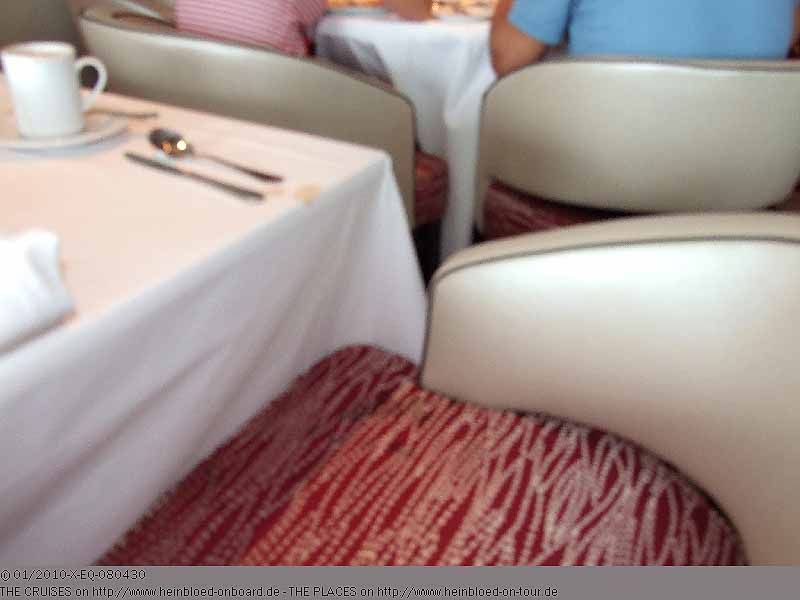 Another issue: Bruno was at the buffet and someone refilled the cofffee. But he did not remark that the can was leaking and coffee went on Bruno's seat. He moved away and I got him back and asked him if he did like to removed the coffee. His first question: was the seat taken? He removed it in a rough-and-ready way and said it sould be enough. Bruno had luckily no white pants and placed a napkin on the wet coffee dot. A true family-brunch like at home... That reminded me all to NAVIGATOR OF THE SEAS. Sandancer (Elaine and Lysle from cruisecritic.com) made the same experience but only in Europe as well on NAVIGATOR OF THE SEAS. In the Caribbean NAVIGATOR OF THE SEAS would be great product. And they were able to explain the reasons: somehow the crew on NAVIGATOR OF THE SEAS thought that Europeans are tipping bilks: that is why the service there is extremely bad which they experience themselves in a similiar time frame. That would explain why marcookie (Mark) made totally different experience while he was on the transatlantic crossing then we just did the next cruise after him. But why on CELEBRITY EQUINOX?