Scroll down for English explanations - alternates with German explanations.

Hier hat sich doch einiges getan, seit dem wir vor zwei Jahren da waren... Sieht alles zivilisierter aus.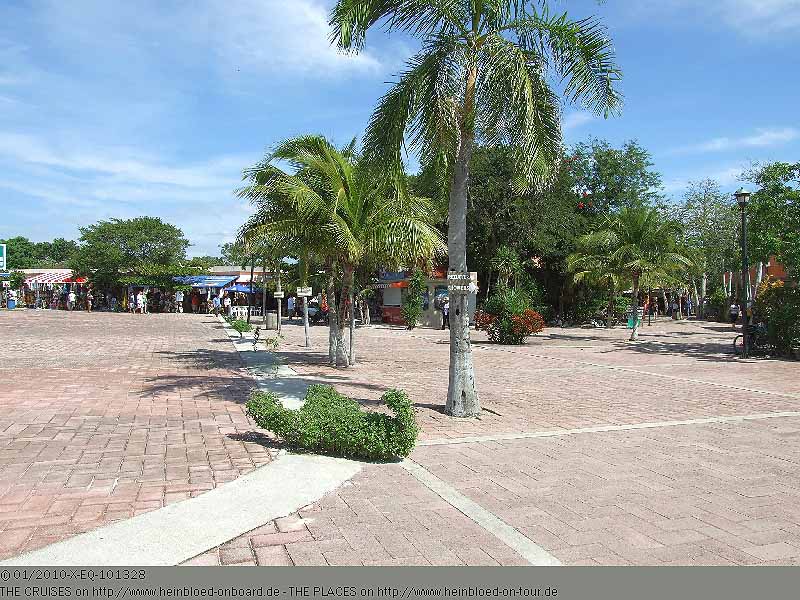 Something has changed for the last two years since we were here... Looked more civilized...

We were pushed in transit through Lapis jewelry Center. I thought, that was not here two years ago. Supposed to the be last toilets in whole Mexico... let's say before your reach the Sites of Tulum.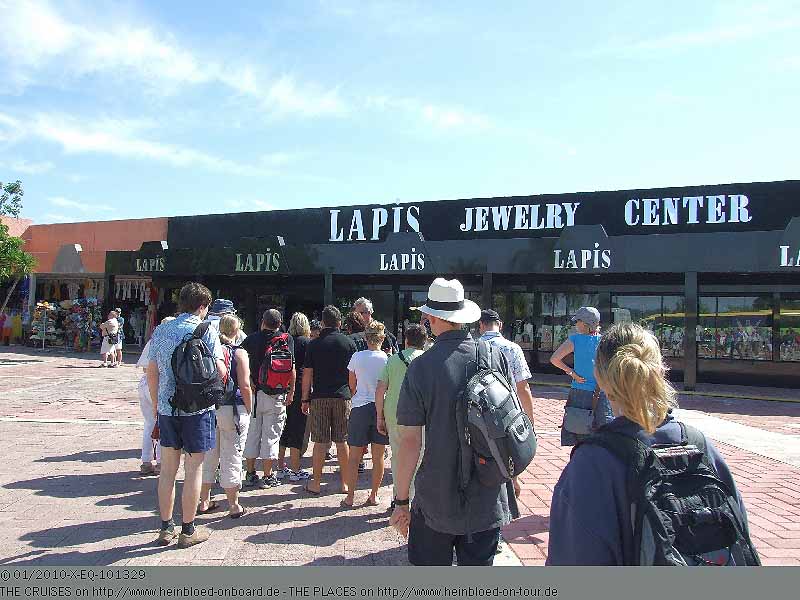 Wir werden alle bei Lapis jewelry Center durchgeschleust. Das war vor zwei Jahren wohl noch nicht da, glaube ich. Angeblich die letzten Toiletten in ganz Mexiko... zumindest vor den archäologischen
Stätten von Tulum
...
So viele Busse hatte wir vor Jahren gar nicht in Erinnerung.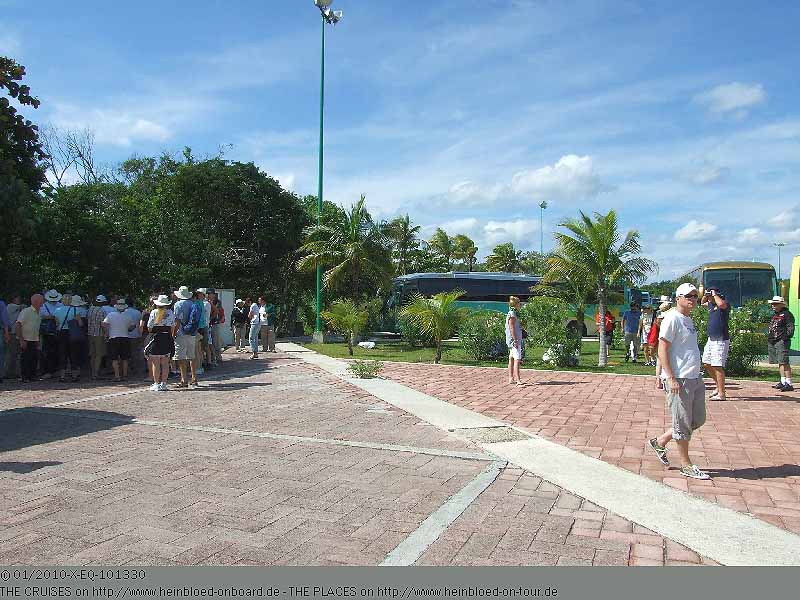 We did not have so many buses in our memories.

Inside nice and cool.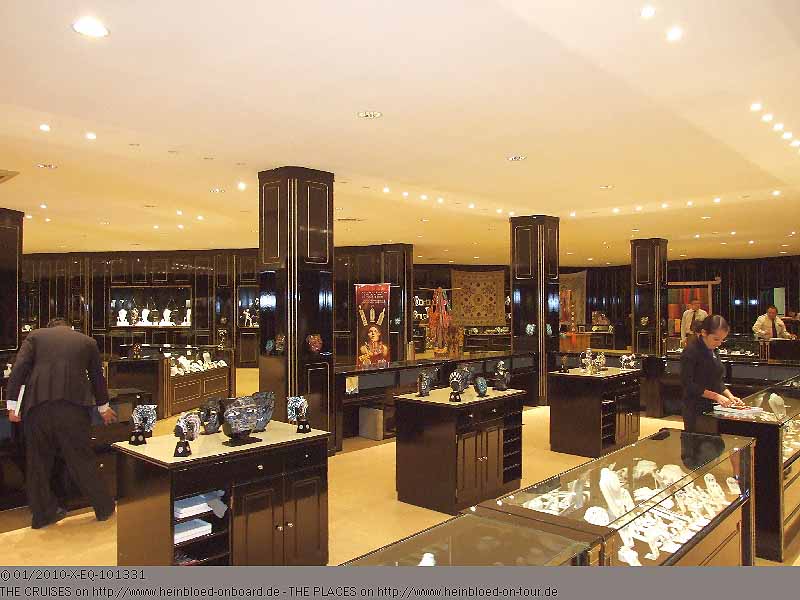 Drinnen ganz nett und kühl.
Hier wird uns Mayanisch erklärt und dass wir hier Namensanhänger bestellen können. Allerdings geht das von unserer Besichtungszeit ab, da man dann 20 Minuten früher wieder zurück sein muss, um die Aufträge zu platzieren.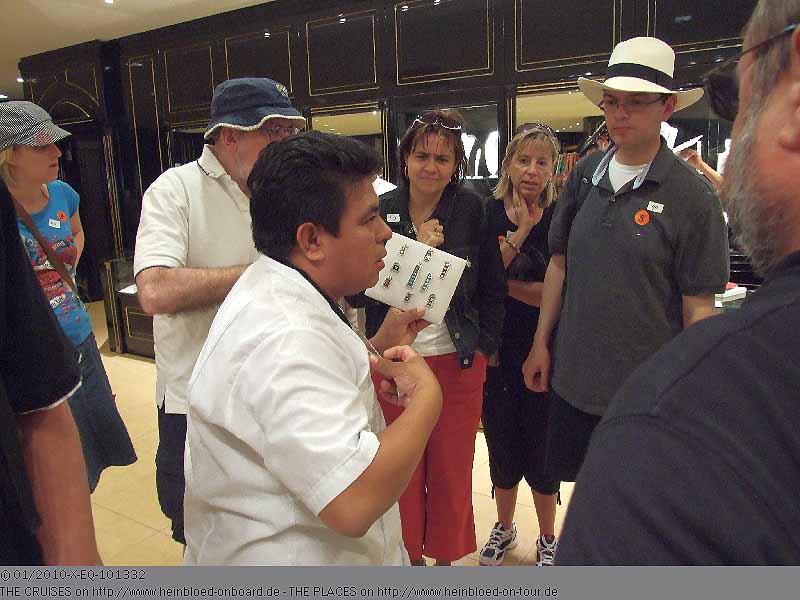 Here we were informed how Mayan language works as far as we wanted to order a named pendant. But we would loose 20 minutes from our time for the visit as they need it to make the pendant.

The toilets were clean. On the flush did not work properly. Very nice was the complementary beverage dispenser... In hot countries it is extremely important to get back in your body what you lost.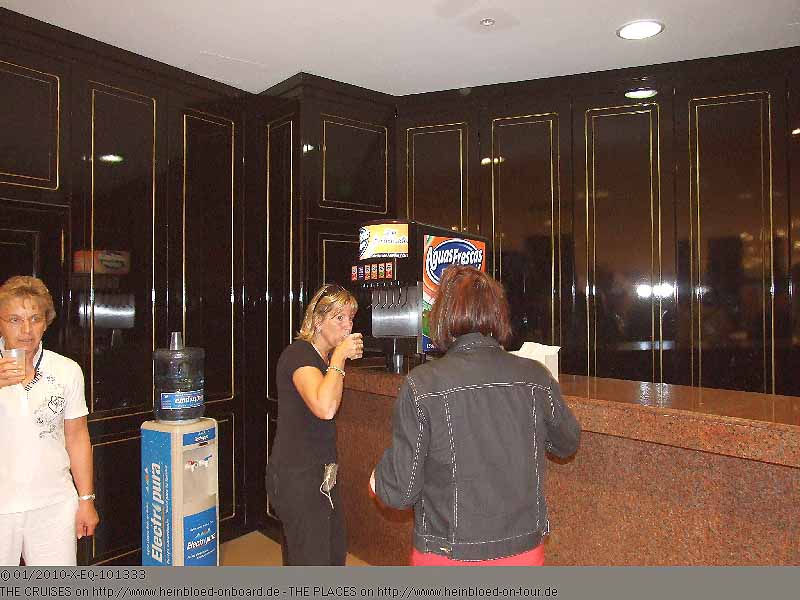 Die Toiletten sind sauber. Nur die Spülung funktionieren nicht so richtig. Ganz praktisch sind die kostenlosen Getränkespender... In heißen Ländern ist es wichtig, dass man das was man ausgeschieden hat, wieder zu sich nimmt...
Aha... wir sollen direkt zur Kasse...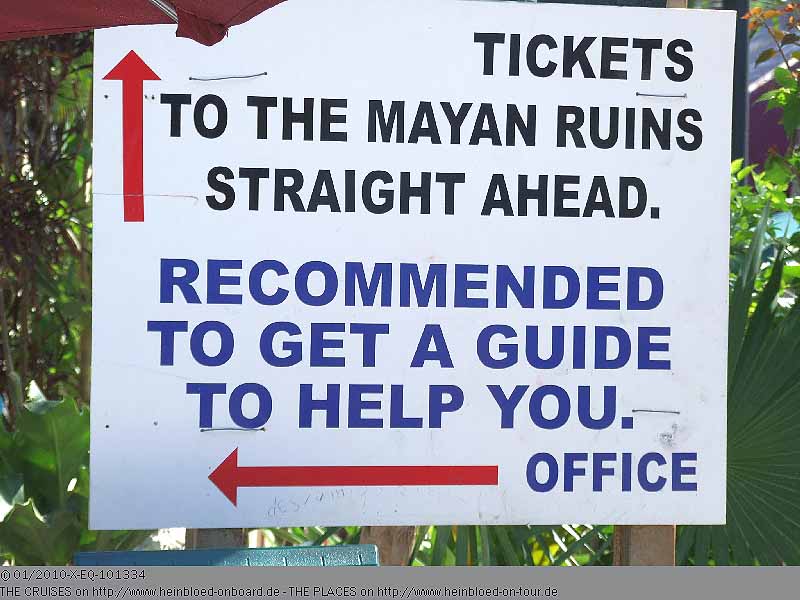 Ahh... we should proceed directly to the cashier.

For those who were too lazy to walk there was a shuttle available for 4 USD. We used it the last time as it was a moddy piste after the rain. Meanwhile the road was tared and it was dry anyway. So we walked.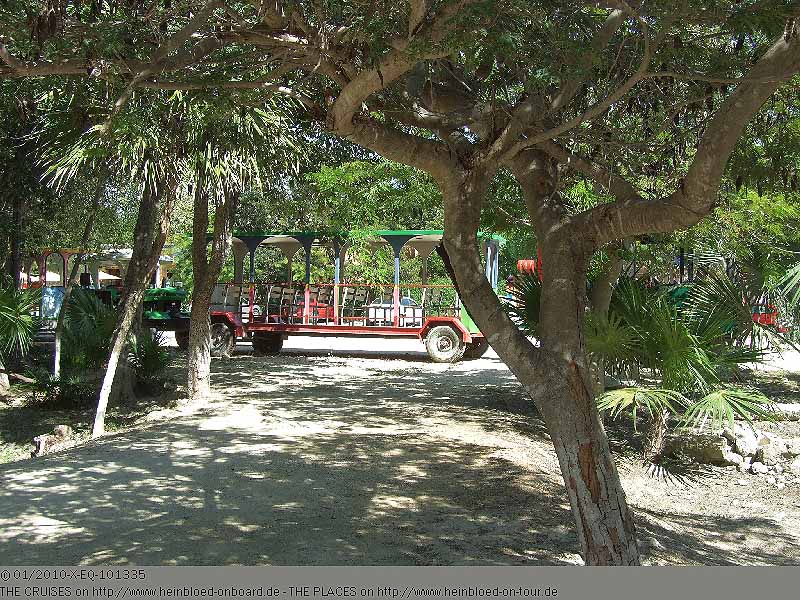 Für Lauffaule gibt es wieder die Bahn, die wohl 4 USD kostet. Wir haben sie das letzte Mal genutzt, weil es durch eine Schlammpiste nach Regen ging. Zwischenzeitlich wurde die Straße geteert und es ist trocken. Also laufen wir.
Übrigens: das ist eine klare Beschilderung: Busnummer und die Gesellschaft. Schließlich habe ich bei Celebrity gebucht und nicht bei der mir unbekannten Gesellschaft.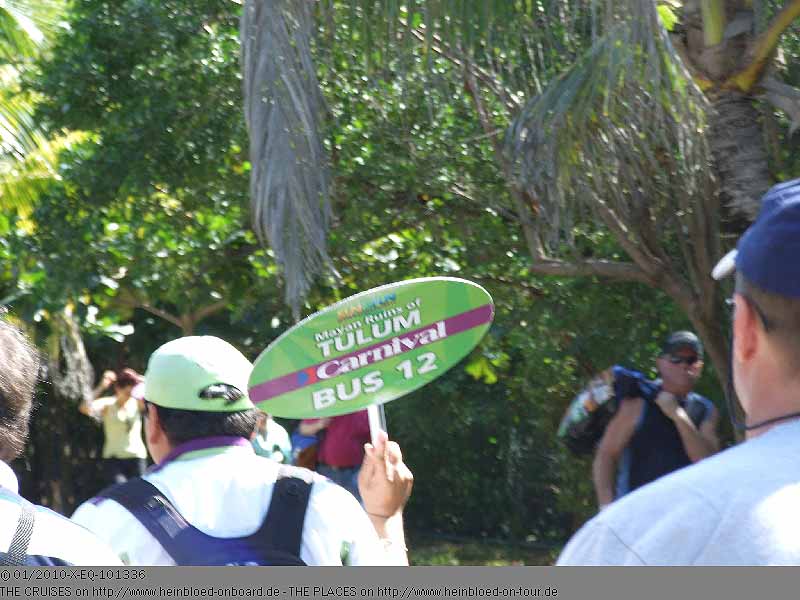 By the way: that was a clear signpost: bus number and the company. We booked with Celebrity and not with unknown company.

During the walking time from the toilets in the jewelry store and the cashier they must have erected some toilets there.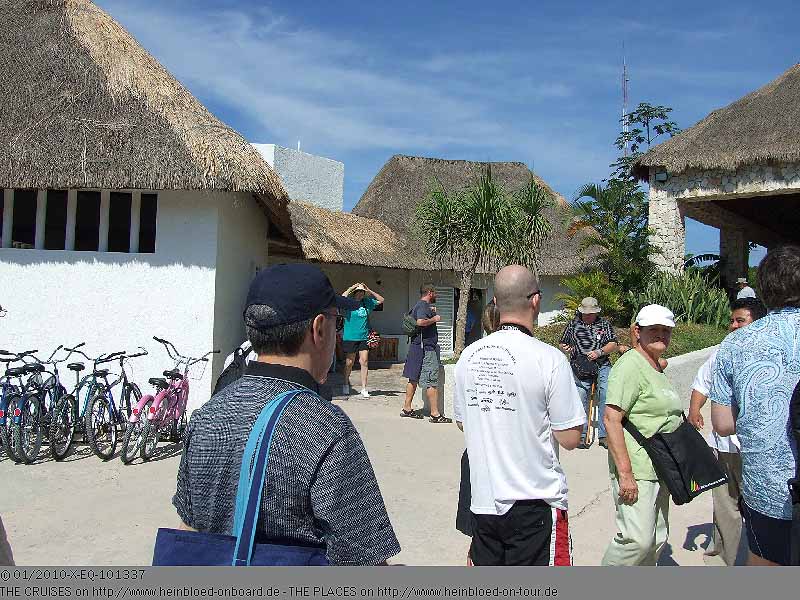 Während der wir von der Toilettenanlage beim Juwelier bis zum Kassenhäuschen laufen, sind wohl zwischenzeitlich öffentliche Toilettenanlagen an der Kasse gebaut worden...
Wir gehen aber eh vorbei, weil wir Sammeltickets haben.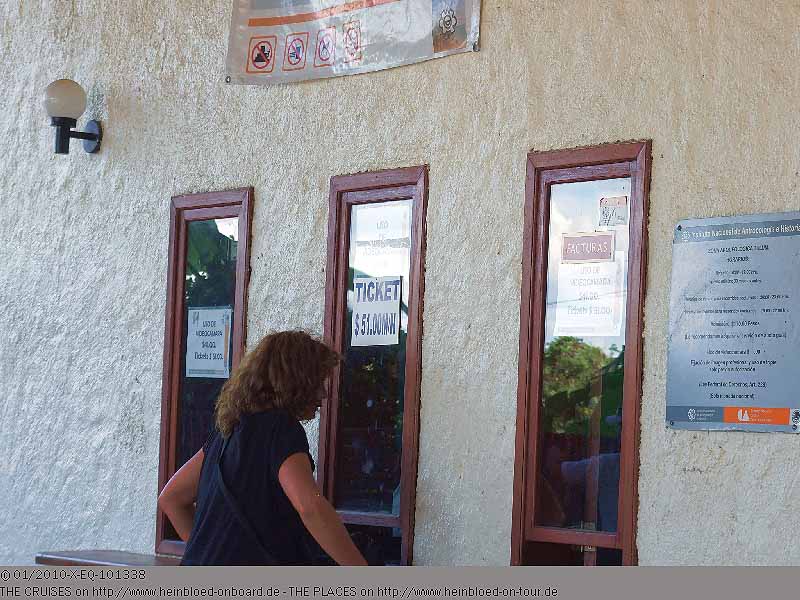 We had pass anyway as we had a group ticket.

The way we were taken trough Tulum we call in German pig's gallop. We had no time to read any instructions.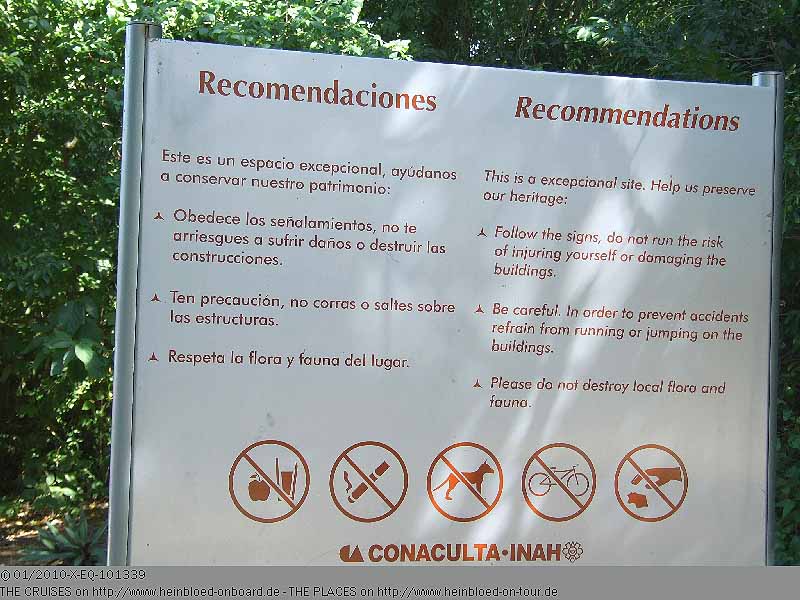 Wir laufen im Schweinsgalopp durch. Nicht mal Zeit, um uns die Verhaltensregeln durchzulesen haben wir.
Das Schild haben wir noch von unserer letzten Führung in Erinnerung. Nur jetzt laufen wir daran vorbei.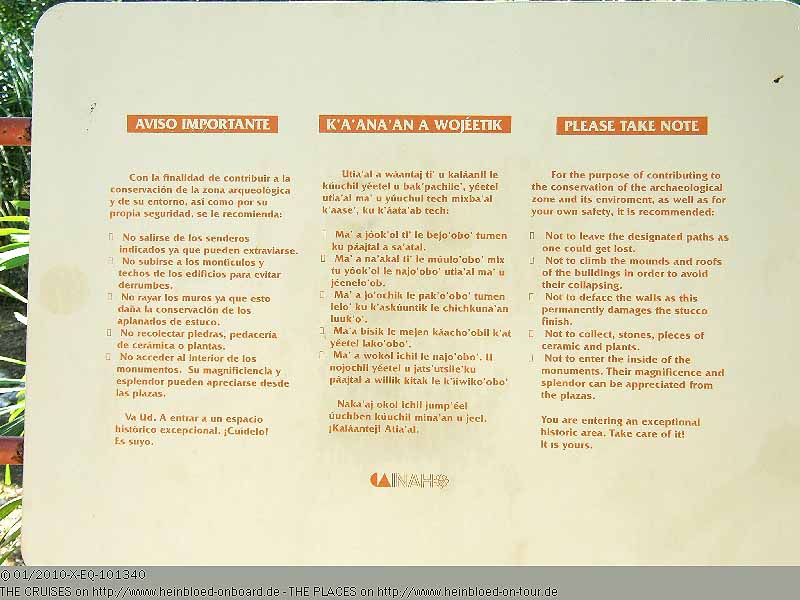 We remembered this sign from our last visit. But now we just passed.

Through the wall we had to walk nonstop.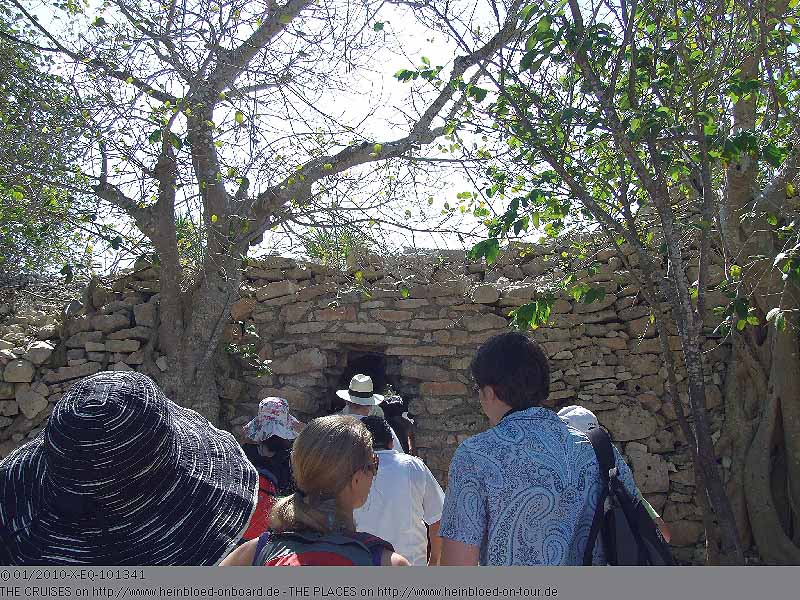 Durch die Mauer geht es nonstop.
Kurzerhand werden wir aufgestellt und alles von einem Punkt aus erklärt. Katie und Charlie verstehen leider nichts und gucken sich alleine um. Wir folgen ihnen wenige Minuten später.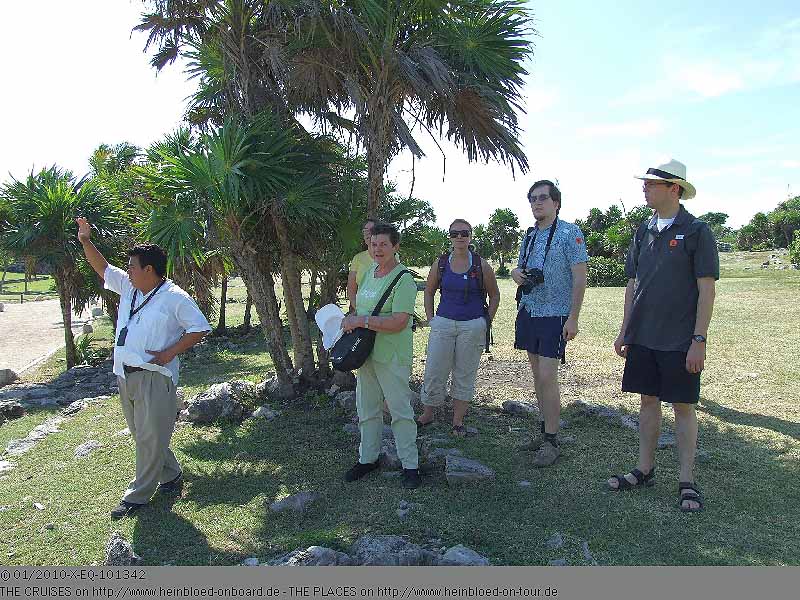 Quickly we were positioned to get explaination from one single point. Katie and Charlie did not understand anything so they looked around by themselves. We followed them few minutes later.

We had luck with the weather.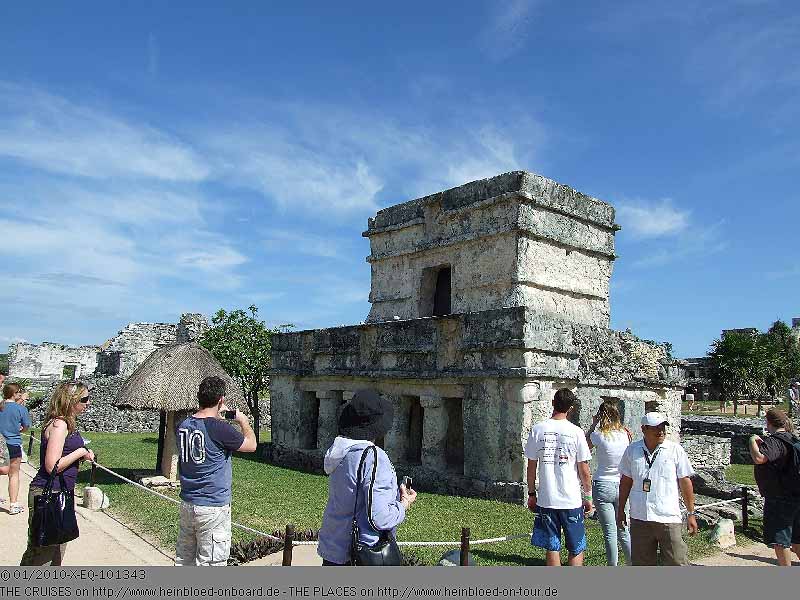 Mit dem Wetter haben wir Glück.
Der Strand ist immer noch so schön, wie vor zwei Jahren.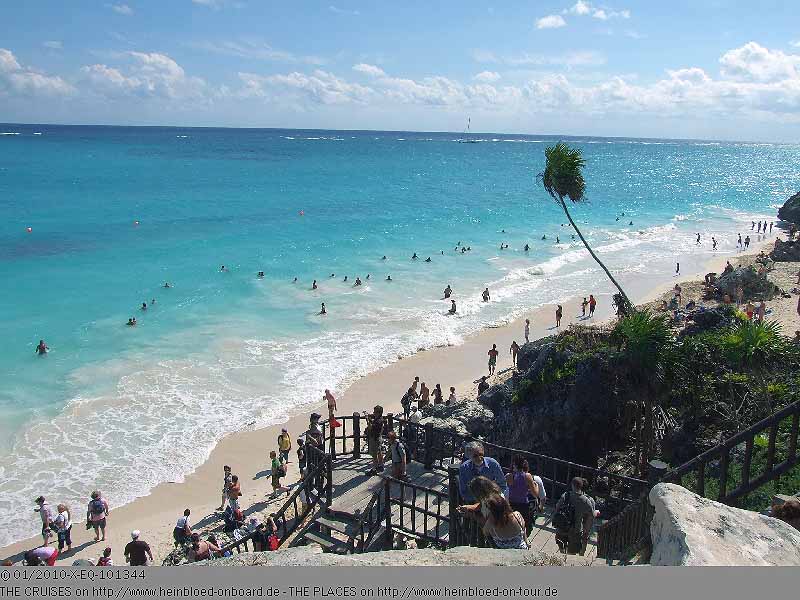 The beach was still beautiful like two years ago.

Here you can stay a while.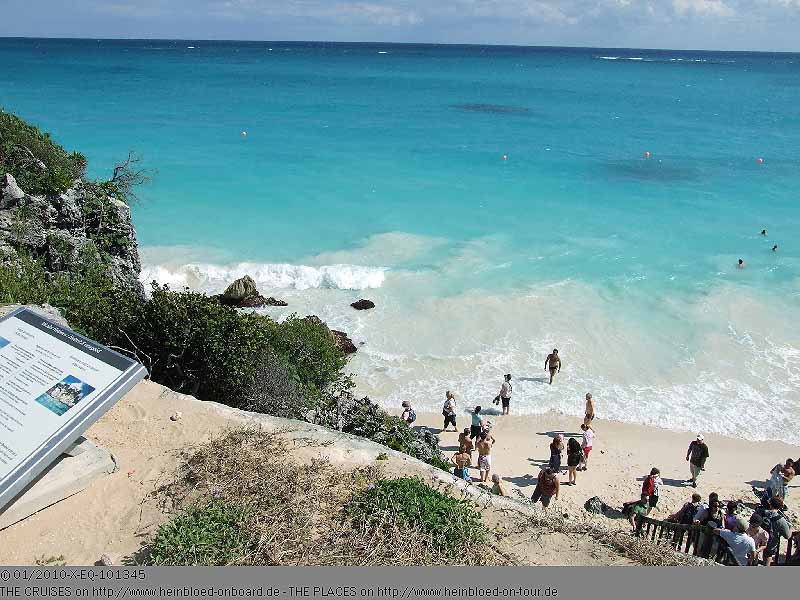 Hier ließe es sich aushalten.
Die Schilder sind wohl neu.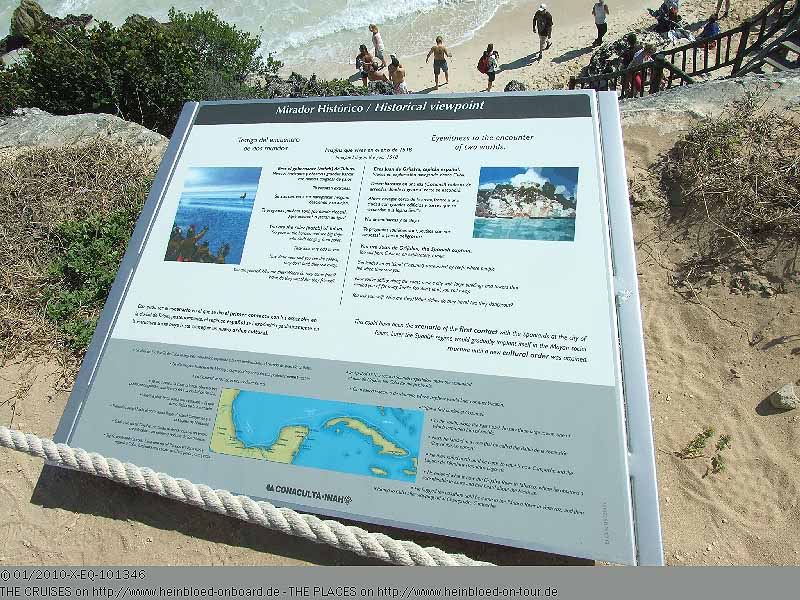 The signpost looked new.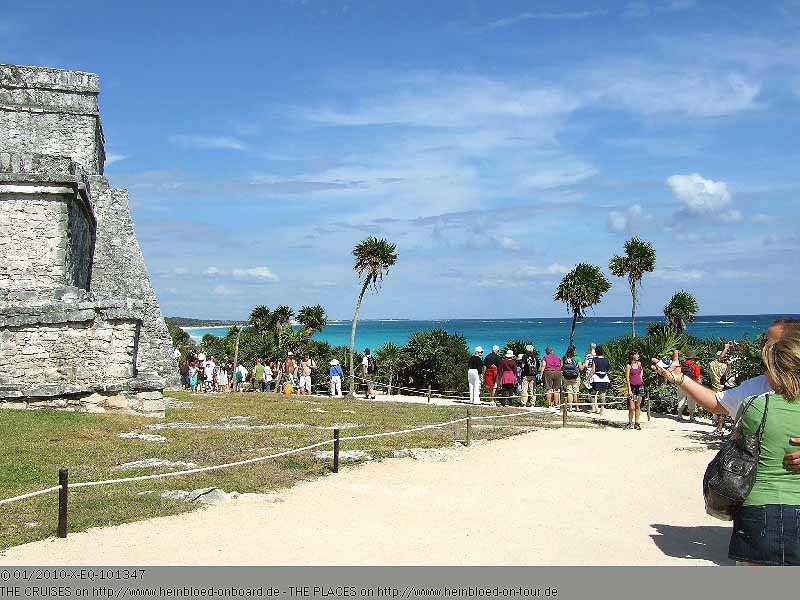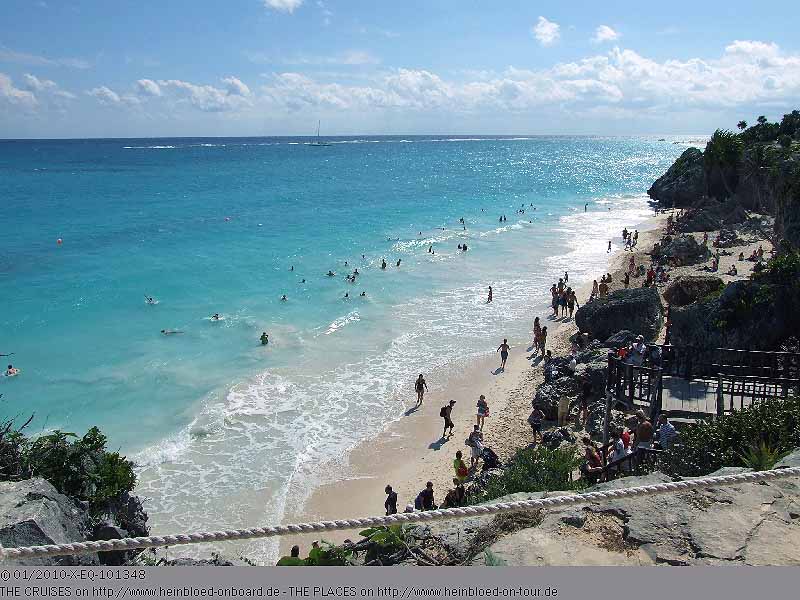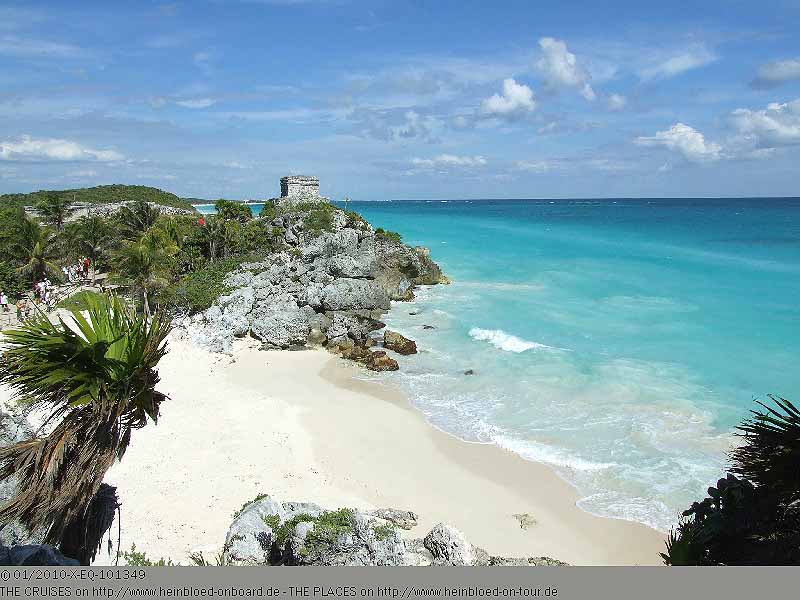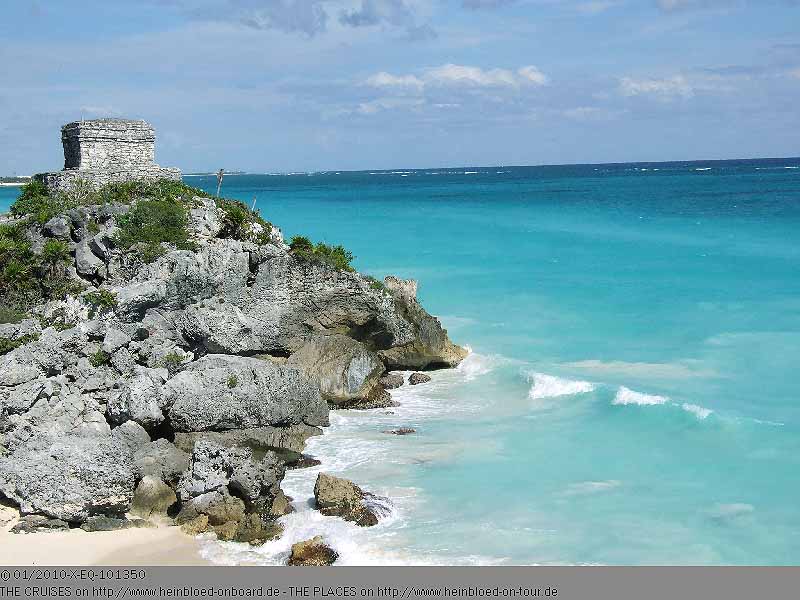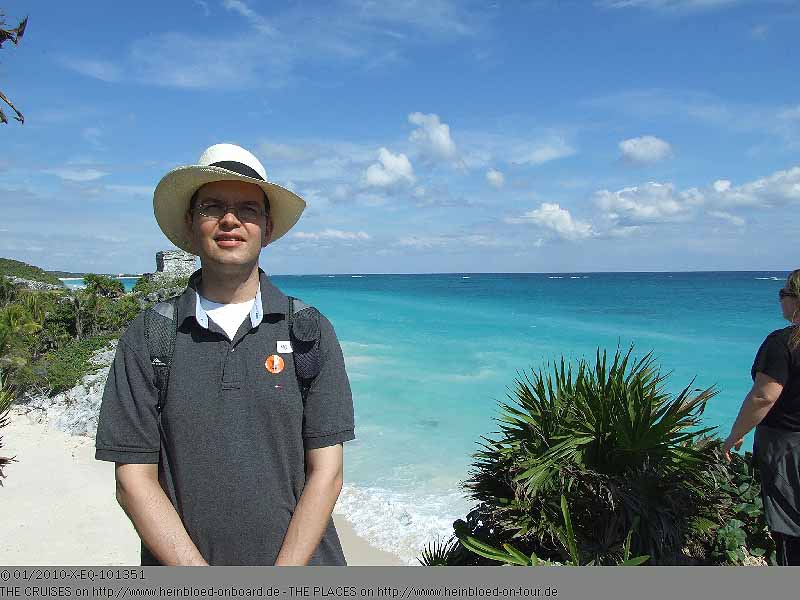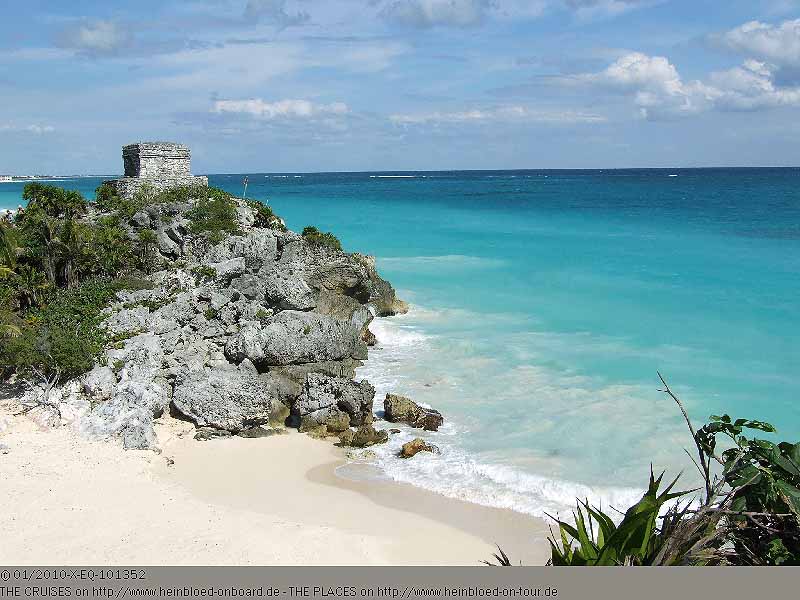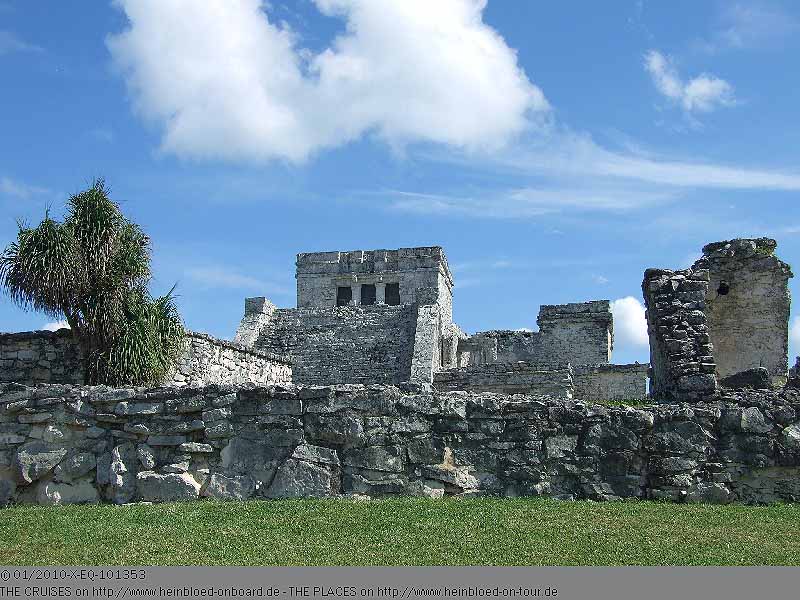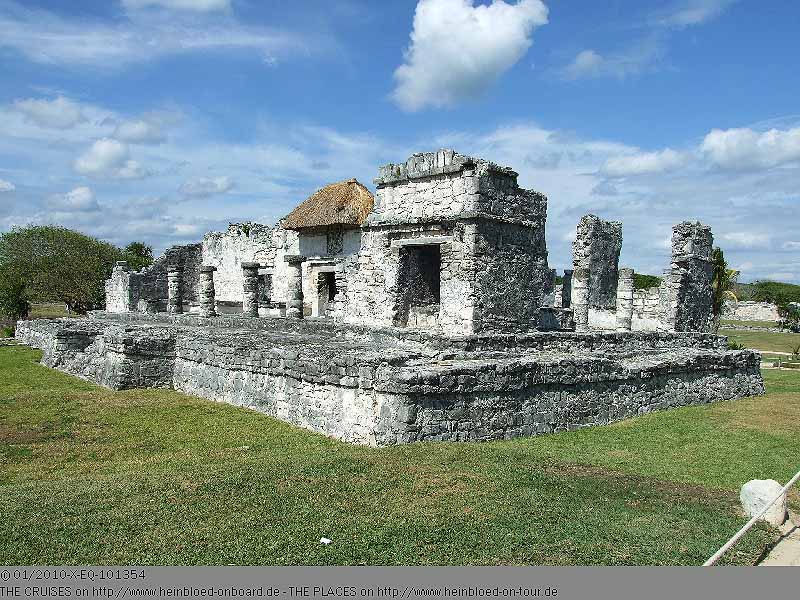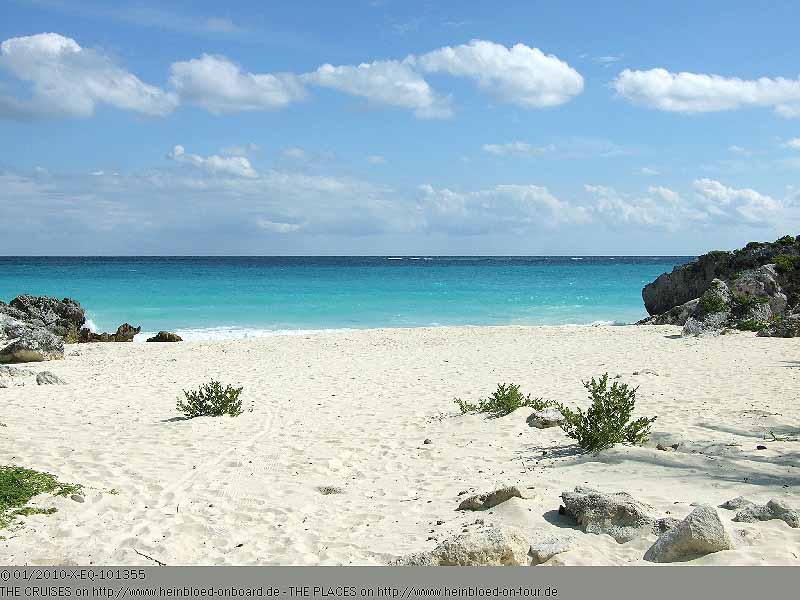 Und um 13.30 Uhr müssen wir wieder am Bus sein.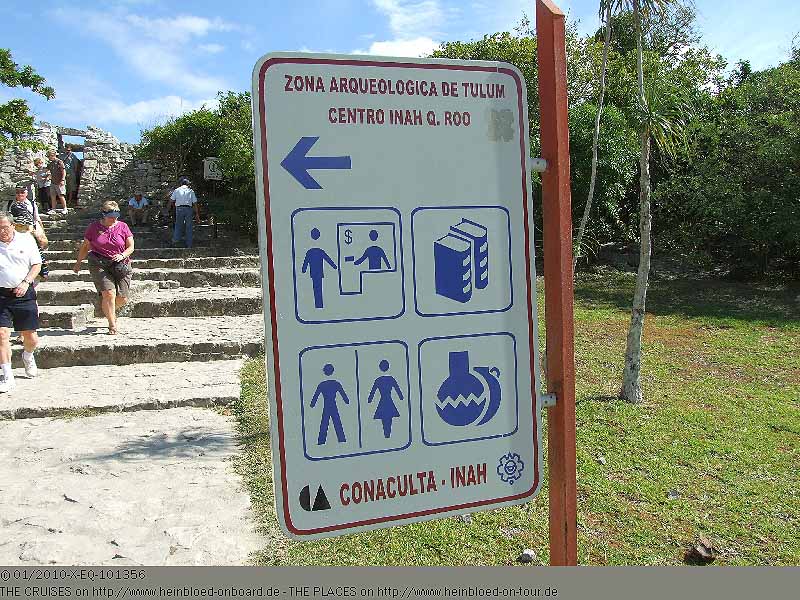 At 01.30 pm we should be back at the bus.

Many were too lazy too walk and took the tractor bus.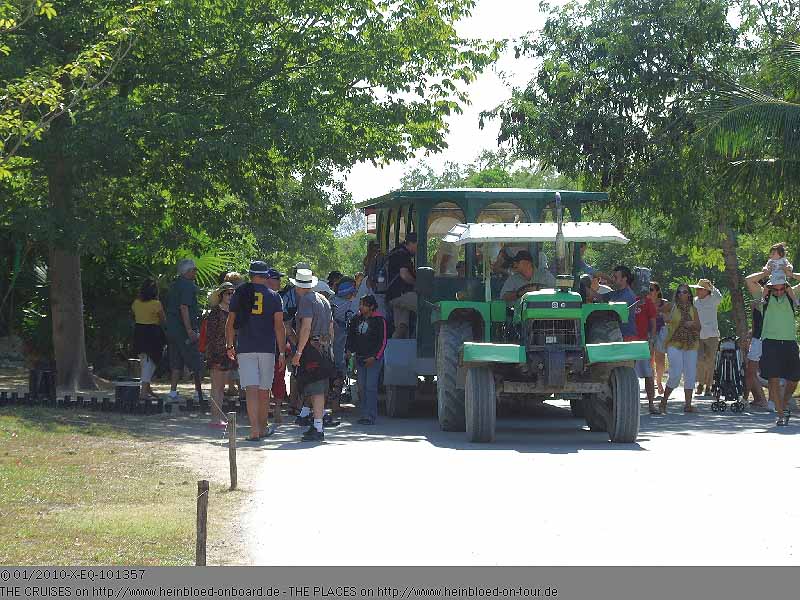 Viele haben keine Lust zum Laufen und nehmen den Traktorbus.
Und die Toilettenanlagen wurden zwischenzeitlich nicht wieder abgebaut... also keine Fata Morgana, sondern Realität...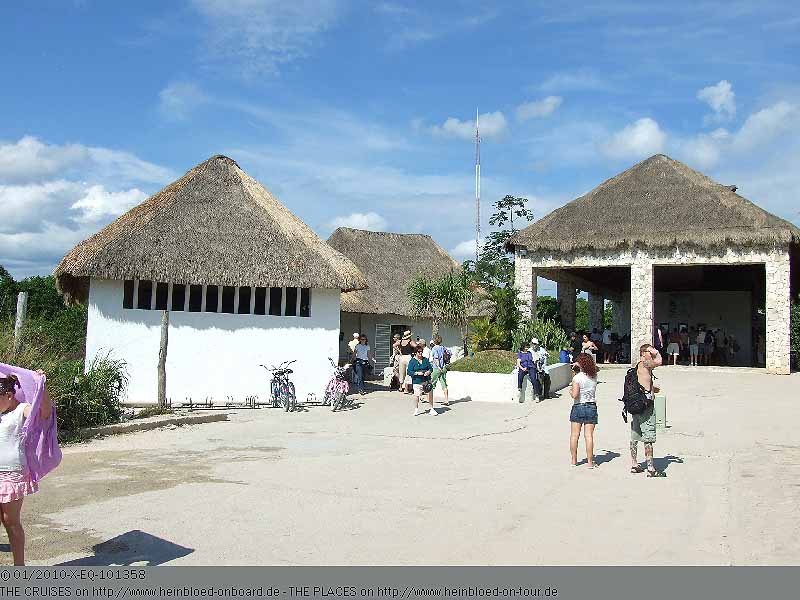 And the toilets were not destroyed while we were inside... so no mirage but reality.

Here a chewing gum-tree was growing... (should be a rubber tree... someone who misused the internet... might have translated condom tree).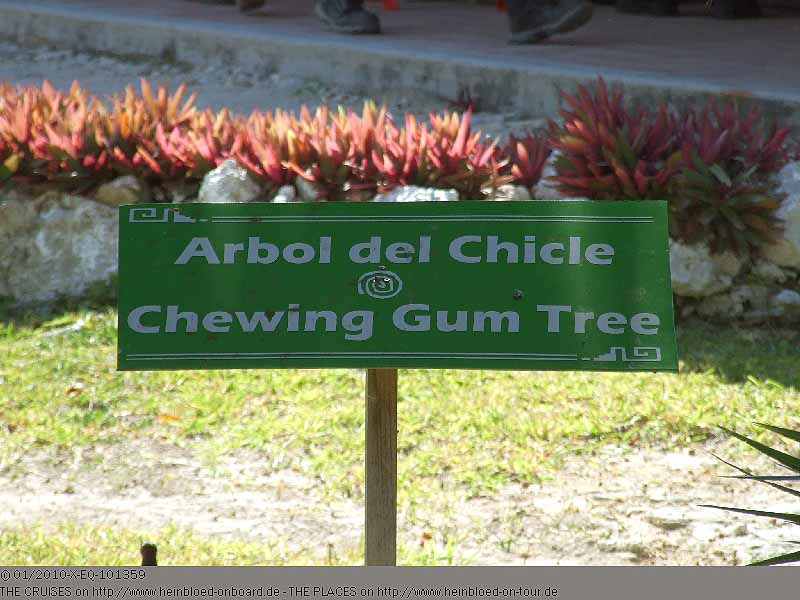 Hier wächst der Kaugummi-Baum...
Übrigens wenn ich das nächste Mal wieder nach Tulum fahre, bestelle ich mir einen deutschsprachigen Fremdenführer vor. Wenn es Celebrity gut mit uns gemeint hätte, dann hätten sie uns ja so etwas organisieren können. Für den Teil in Tulum hätte es vollkommen ausgereicht.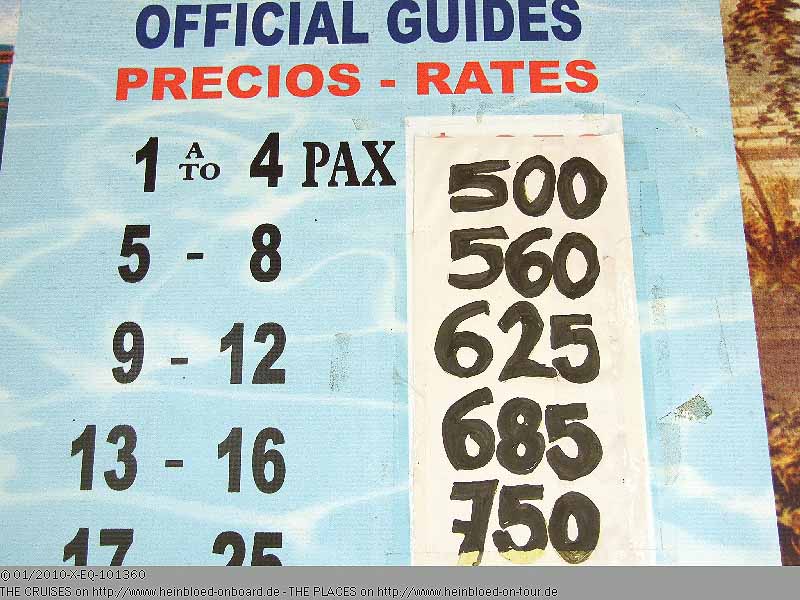 By the way: next time when we go to Tulum again I will order a German speaking tour guide. If Celebrity would really take care of their customers then they could order us a local German-speaking guide in Tulum.

Looked more like improvisation.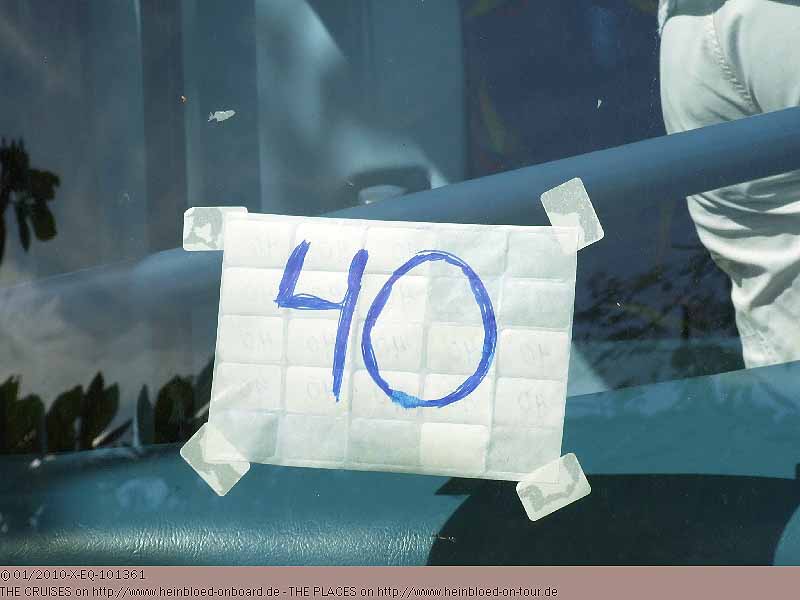 Bei uns sieht alles ein wenig improvisiert aus...
Andere Gesellschaften haben offensichtlich Profis beauftragt.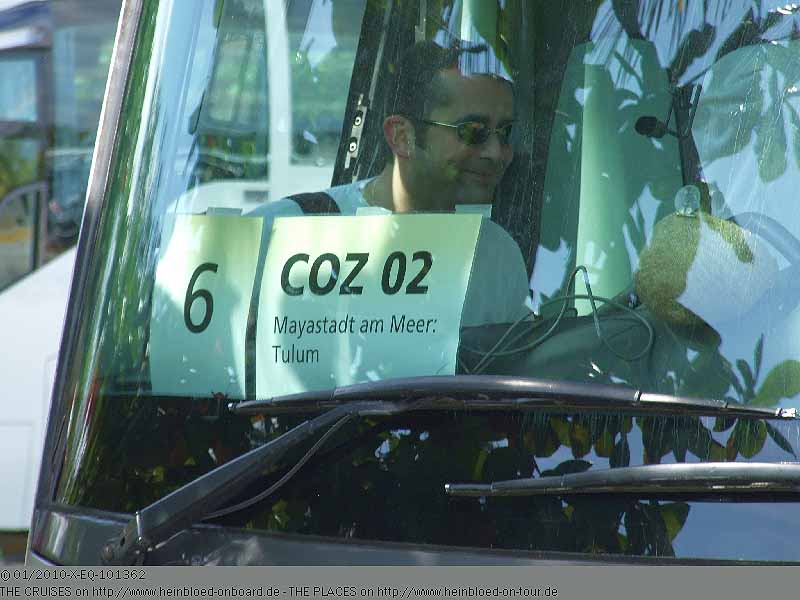 Other companies ordered professionals for their guests.