Scroll down for English explanations - alternates with German explanations.

Es geht weiter zu einer ehemaligen Insel, die zum Yachthafen ausgebaut wurde. Hier sehen wir auf das moderne Panama City rüber.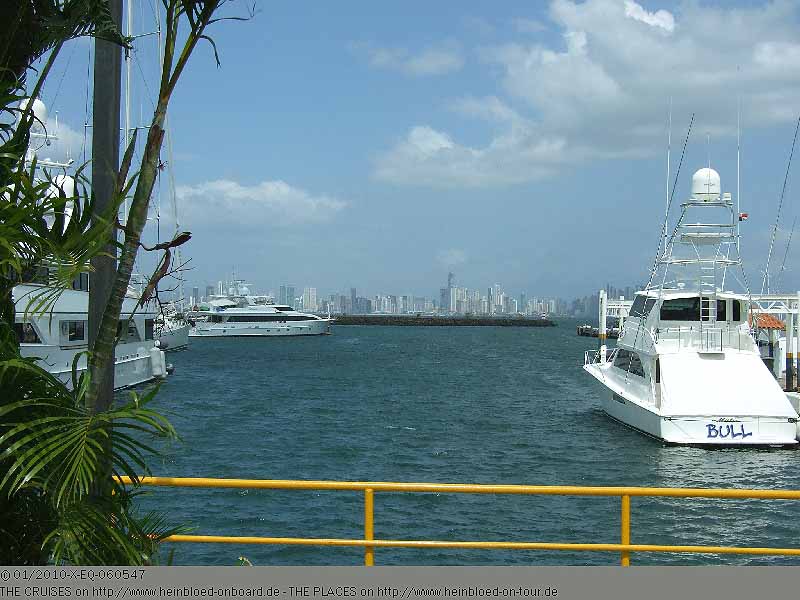 We continued to a former island which was now a marina. Here you have a great view to the modern Panama City.

As cruiser you were allowed to buy here at the Duty Free Shop. For 14 USD per box we purchased some cigarettes for our smoking co-workers. No cruisecard control was made.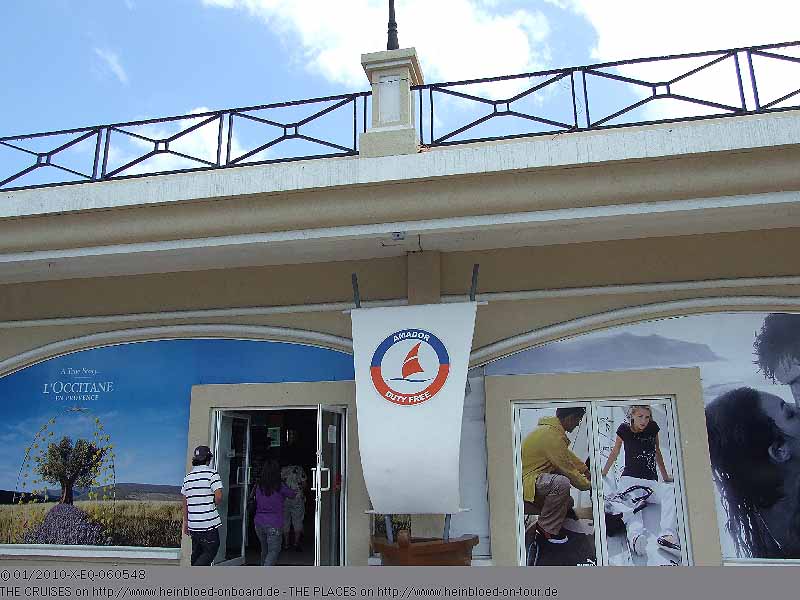 Hier im Duty Free Shop dürfen auch Kreuzfahrer einkaufen. Für 14 USD pro Stange kaufen wir für unsere rauchenden Mitarbeiter Zigaretten. Die Bordkarte wurde gar nicht kontrolliert.
Links ist Nord- und rechts ist Südamerika: verbunden durch die Puente de las Americas (bis 2004 die einzige Straßenverbindung zwischen Nord- und Südamerika).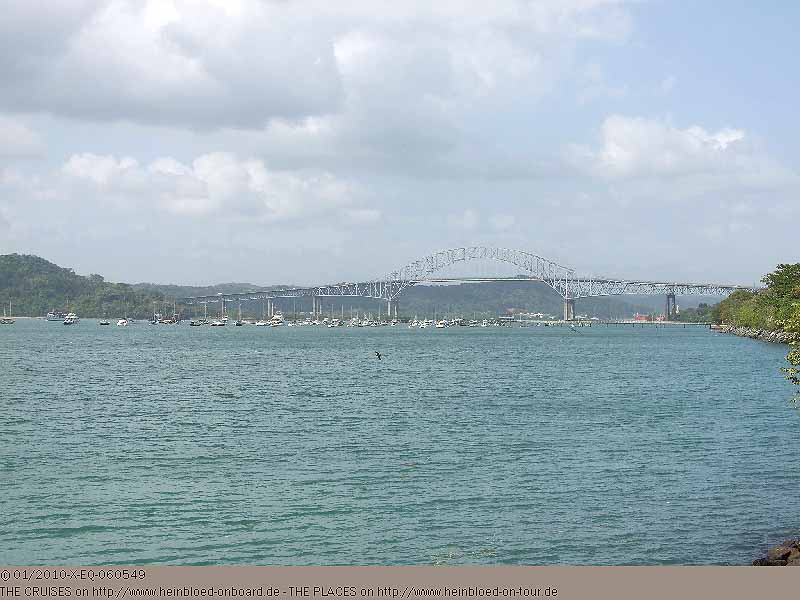 Left is North and right is South America: connected by the Puente de las Americas (until 2004 the only road connection between North- and South America).

Here the four ethnic population group were represented of which the Panamese people were consisted.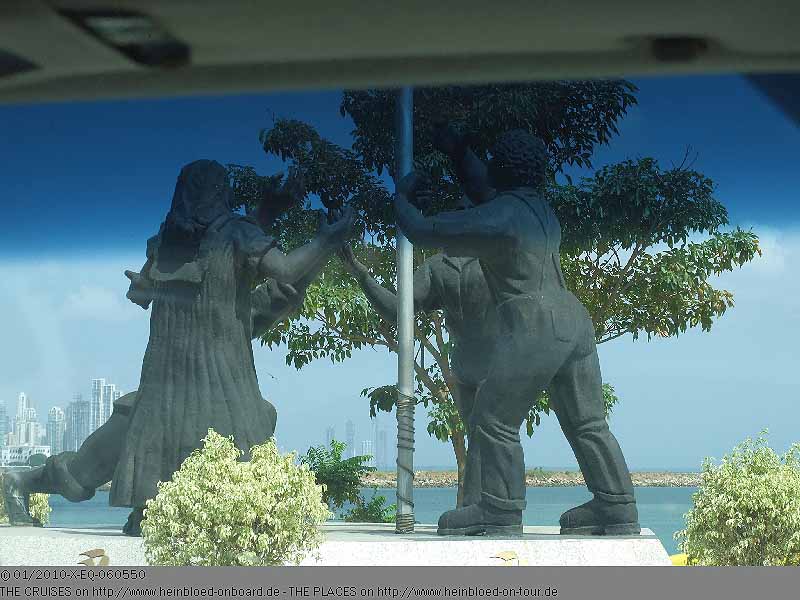 Hier werden die vier ethnischen Bevölkerungsgruppen dargestellt, aus dem sich das panamesiche Volk zusammensetzt.
Das ist eine NO-GO-Zone: sogar die Polizei weigert sich nachts wegen der Gang-Aktivitäten hier vorbeizuschauen, wenn etwas ist.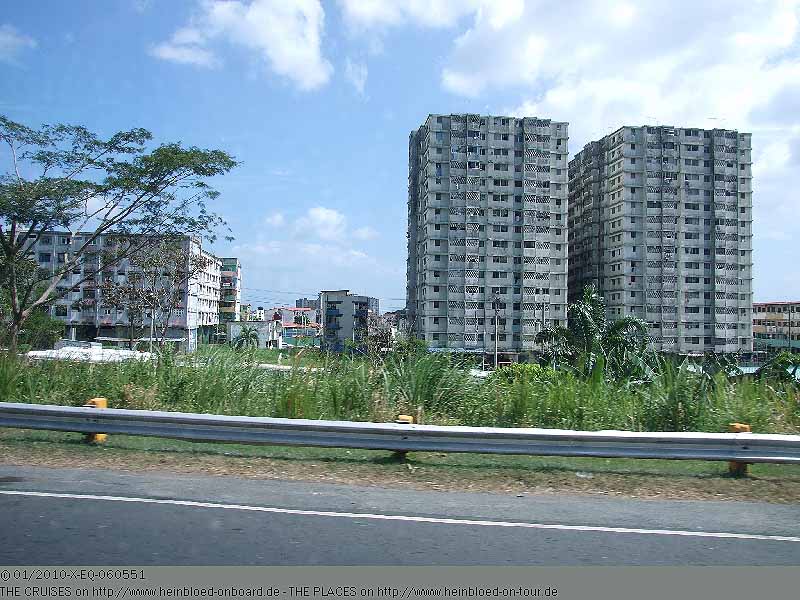 That was a NO-GO-Zone - even the police refused to come in the night time due to the gang-activities if they were called.

From the car we had a sneak view to the modern Pananma. It went very fast. Due to national holiday there was no traffic congestion. Panama is well popular with retired people as it is much more cheaper than in the US but has an US-oriented infrastructure. Maybe it could be something for us in the future. Was not Colón also homeport???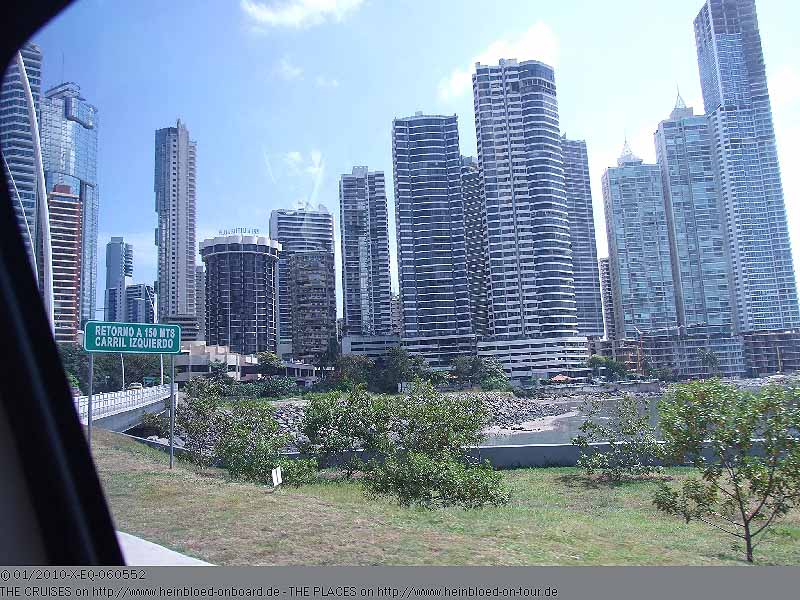 Vom Auto aus gucken wir uns, das moderne Panama an. Es geht sehr schnell: wegen des Feiertages ist dort keine Verkehrsprobleme. Panama ist als Ruhesitz sehr beliebt, da es billiger ist als die USA selbst, aber eine US-orientierte Infrastruktur bietet. Vielleicht wäre das ja etwas für uns. Ist nicht Colón auch Basishafen???
Das ist Balboa, der wohl im Auftrag Columbus Panama entdeckt hat.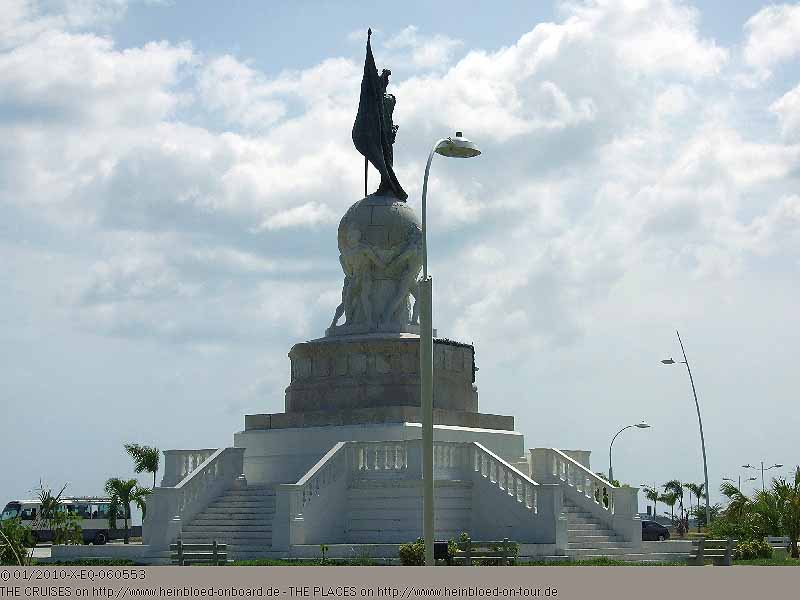 That was Balboa who discovered Panam on behalf of Columbus.

We continued to the old historical town (Casco Viejo). As there was a Chinese minority in Panama there was of course a China-Town. Later it was easier for me to ask in Mandarin for carbonated mineral water than in Spanish or English just to find out that there was not any available.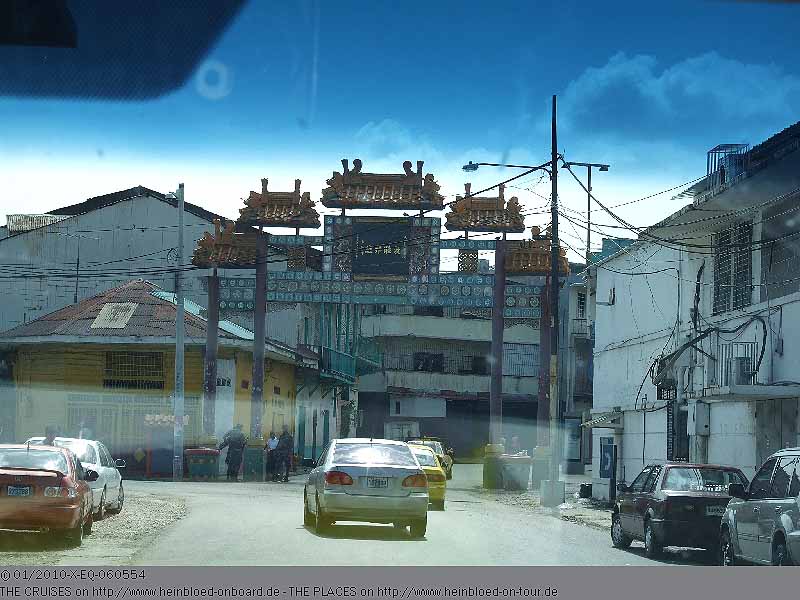 Weiter geht es in die Altstadt (Casco Viejo). Da es auch in Panama eine chinesische Minderheit gibt, gibt es natürlich auch ein China-Town. Im späteren Verlauf war es einfacher für mich in Chinesisch nach Mineralwasser mit Kohlensäure zu fragen, als in Spanisch oder Englisch, nur um herauszubekommen, dass es keines gibt.
Rudy bittet uns, nicht auffällig zu fotografieren, da es von manchen falsch verstanden werden kann.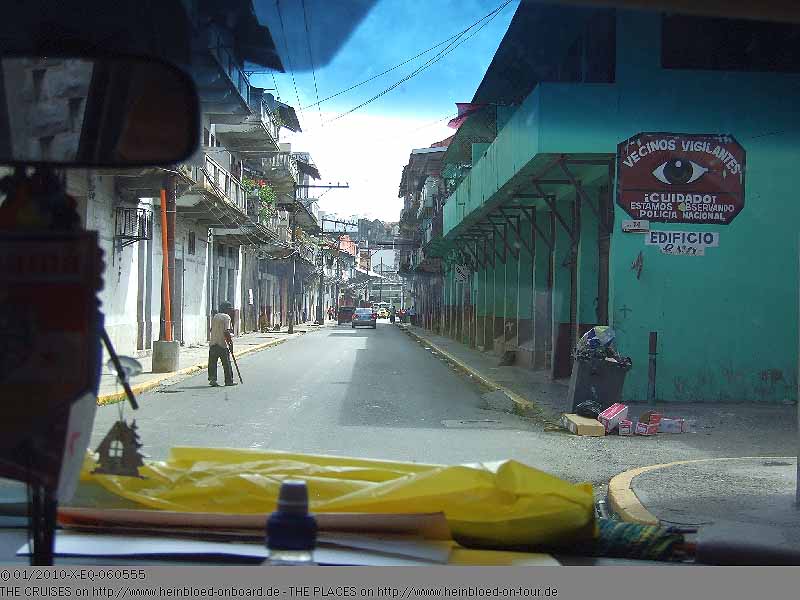 Rudy asked us to take pictures without attracting too much attention as some might misunderstand the situation.

Where did he take us??? Rudy explained that Casco Viejo is a UNESCO World Culture Heritage. In ten years we would experience that place like we experienced Cartagena.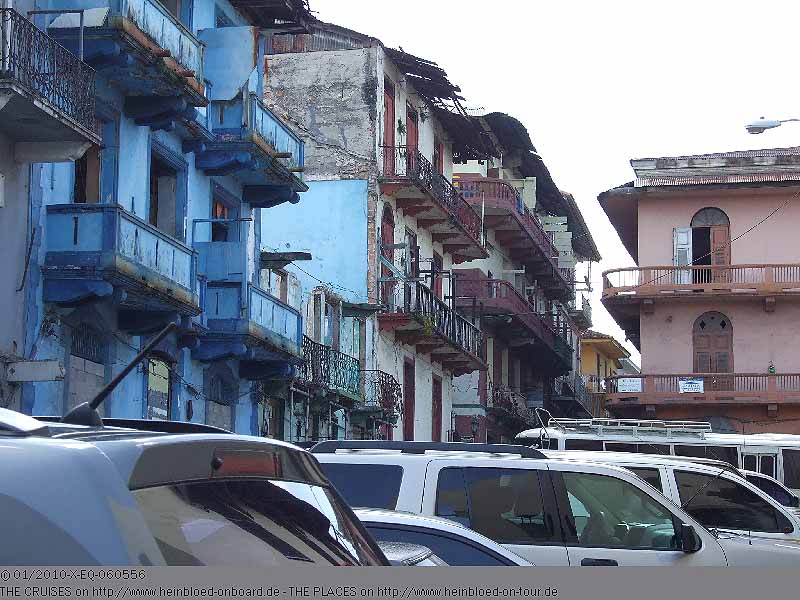 Wo sind wir nur hingeraten? Rudy klärt uns jedoch auf, dass auch die
Casco Viejo zum UNESCO-Weltkulturerbe
erklärt wurde. In zehn Jahren würde es hier so aussehen, wie wir es in Cartagena erlebt haben.
Es ist nur etwas erstaunlich, dass eben überall Grünoasen gibt, die sauber und gepflegt wirken, während rundum alles baufällig ist.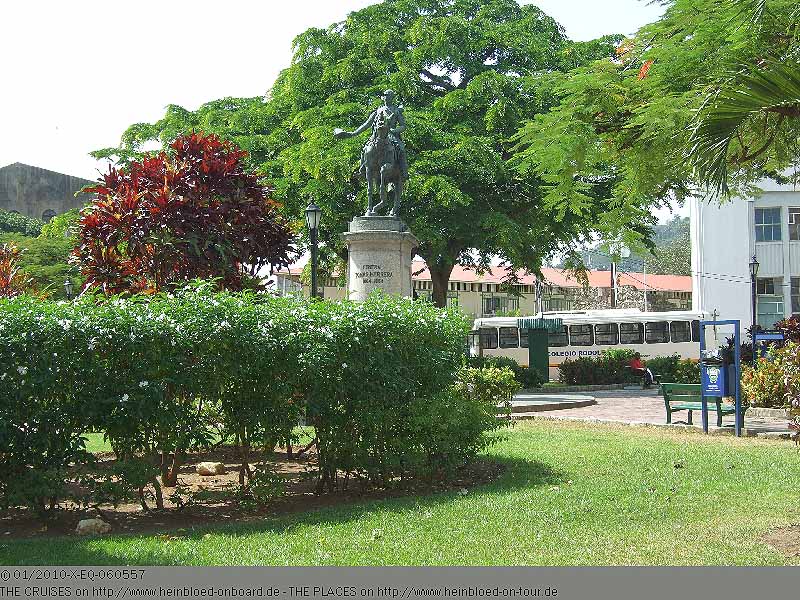 It was only surprising to find green oasises which appeared very clean and maintained while around everything appeared so ruinous.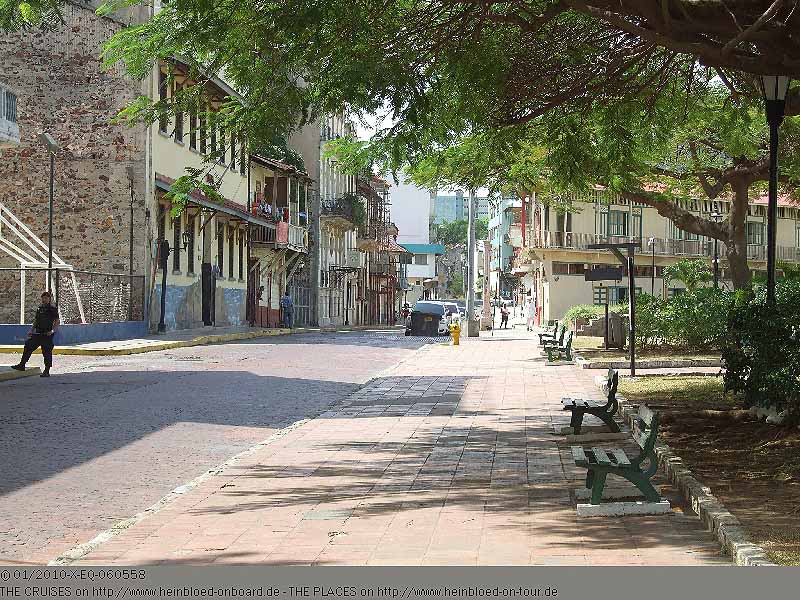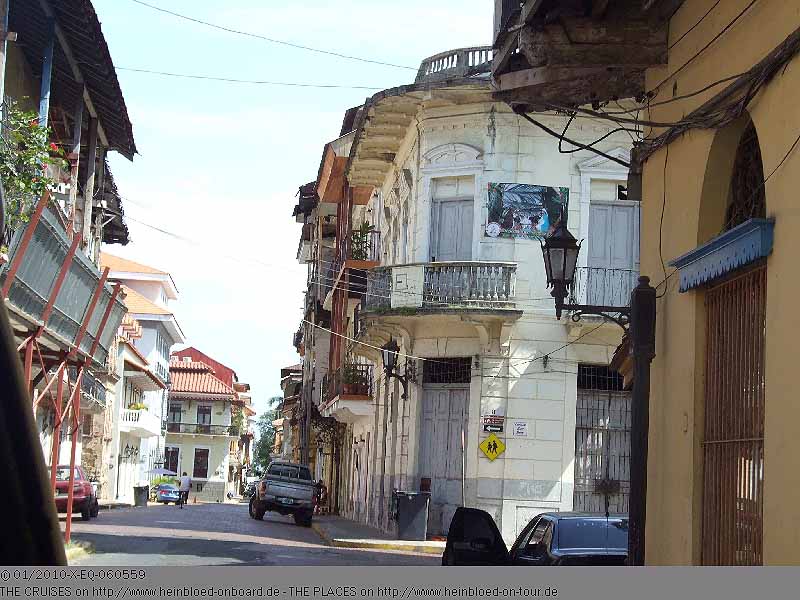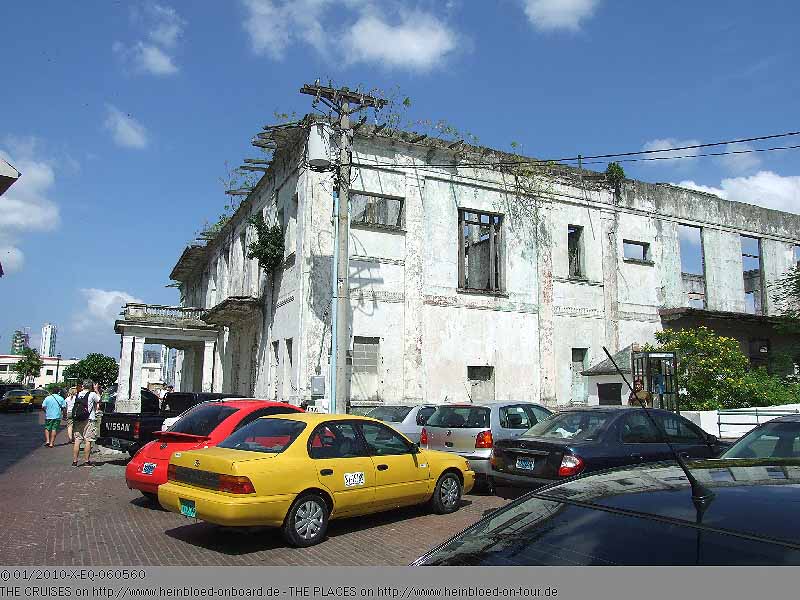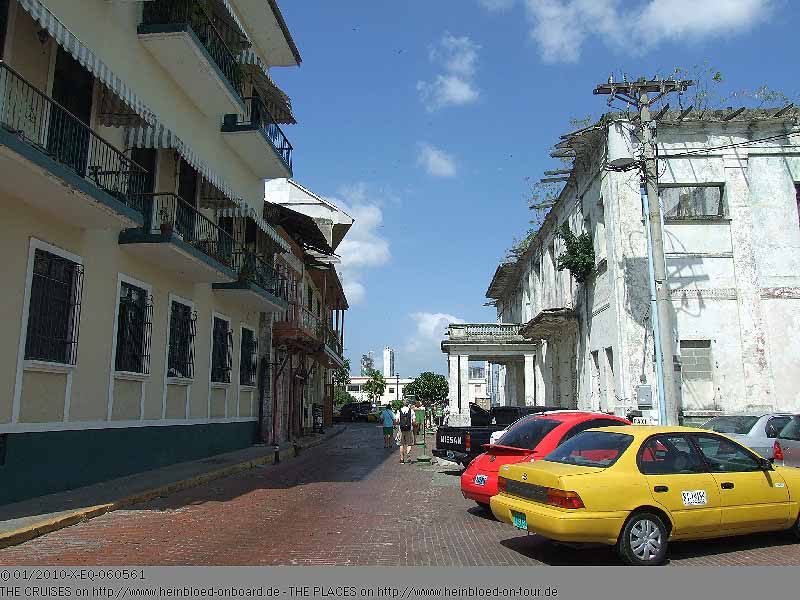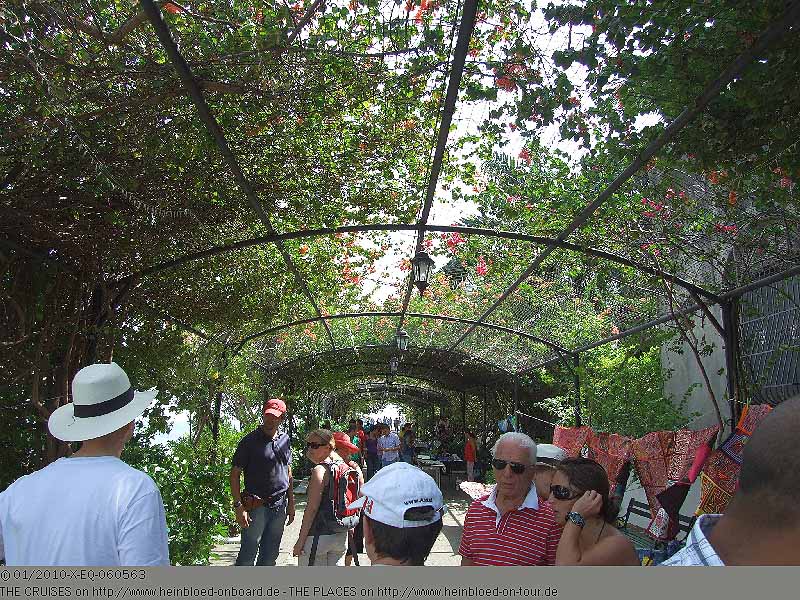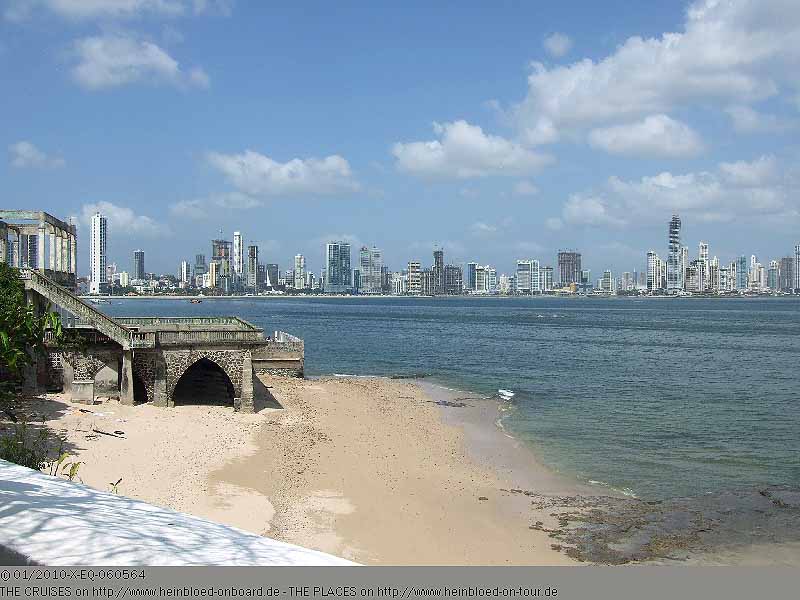 Finally a picture from the whole group after one preferred to have its own picture with a dolphin. But now there was no dolphin around and so not be excluded in the group it need to complete the group on the picture.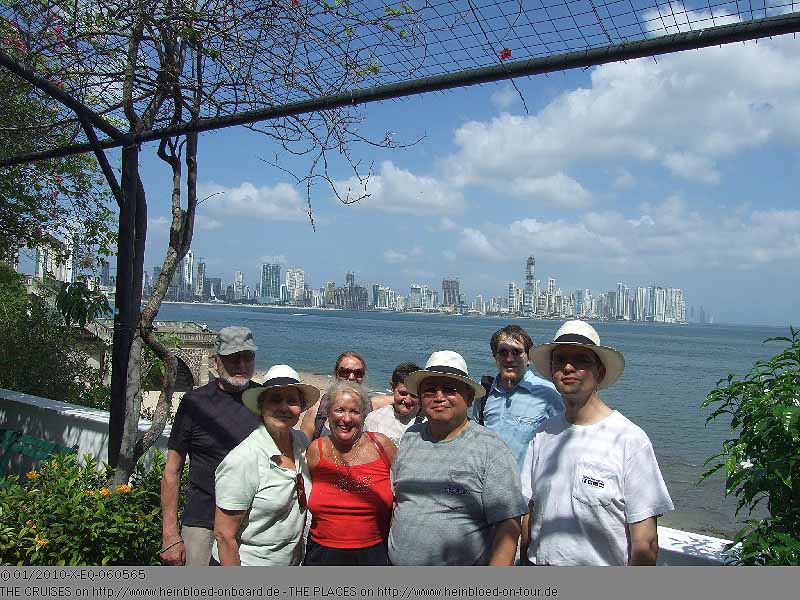 Endlich mal ein Gruppenbild, nach dem am Morgen manche lieber sich alleine mit dem Delphin ablichten ließen. Da aber kein Delphin weit und breit ist, blieb wohl nichts anderes übrig, als sich dazuzustellen, um doch nicht ganz aus der Gruppe rauszufallen.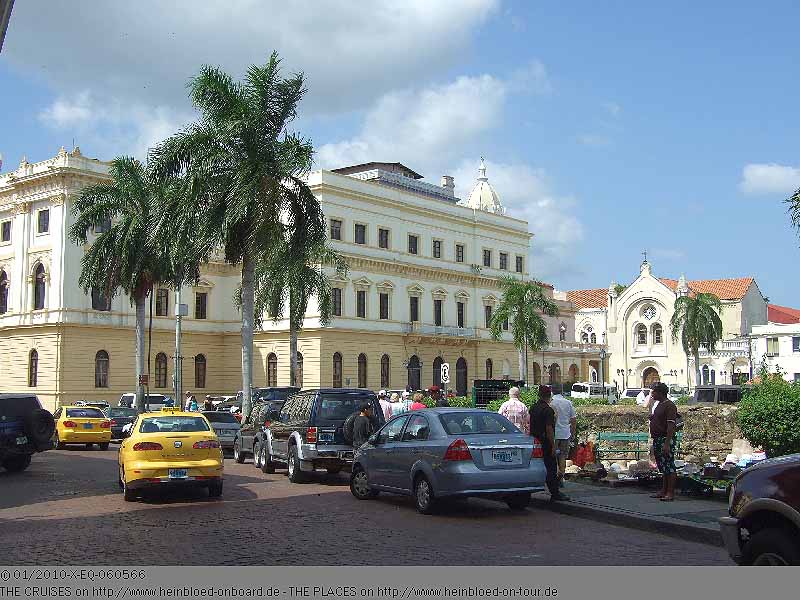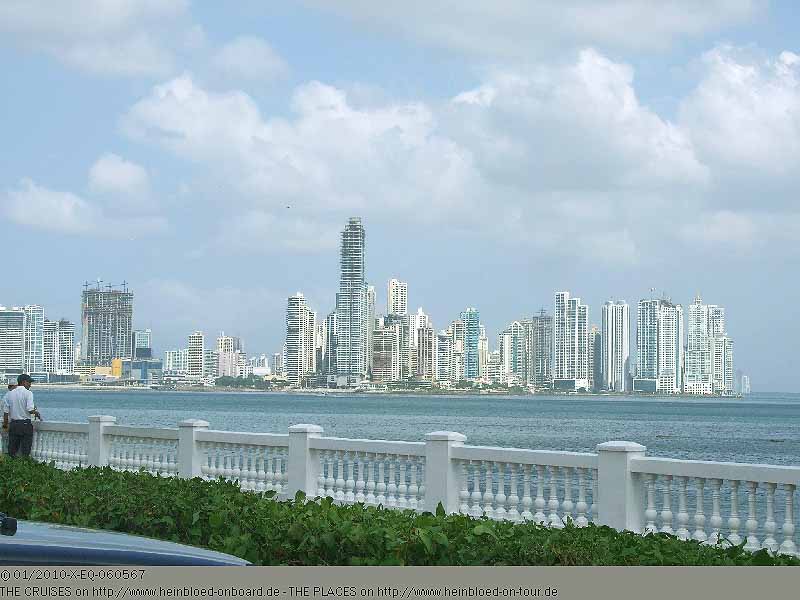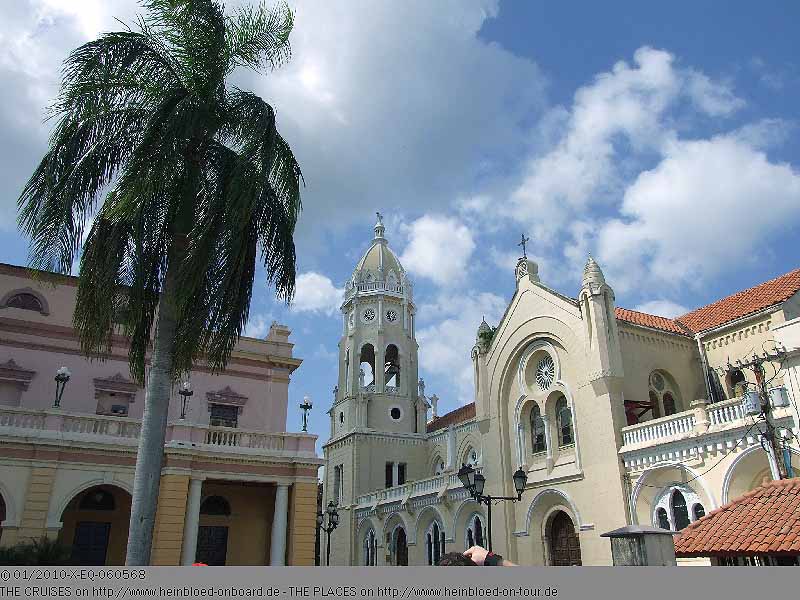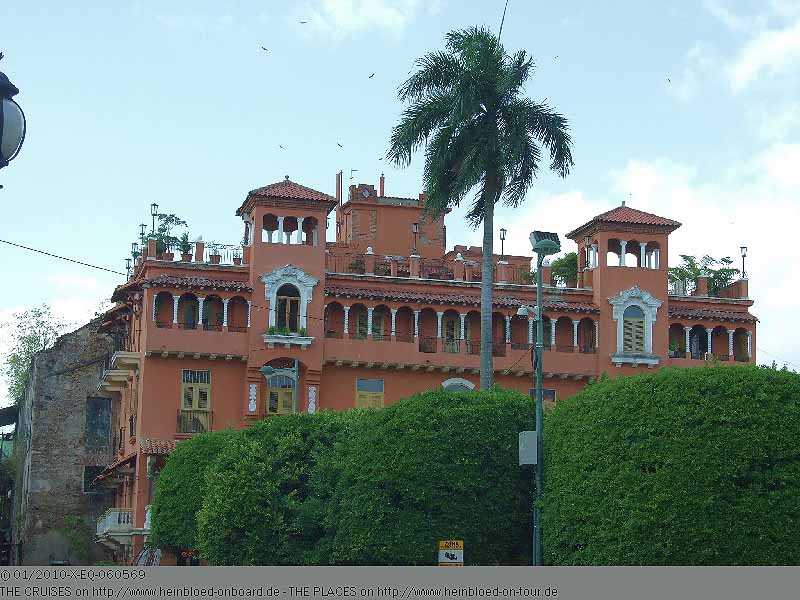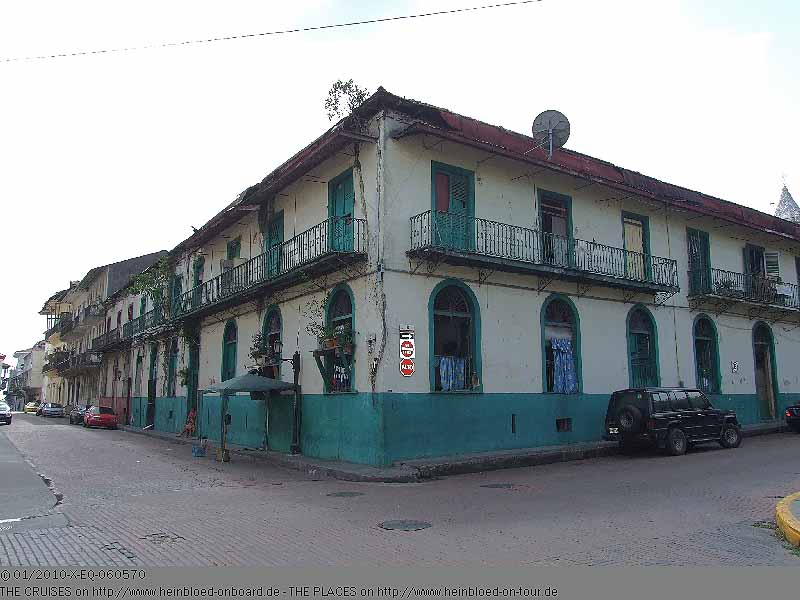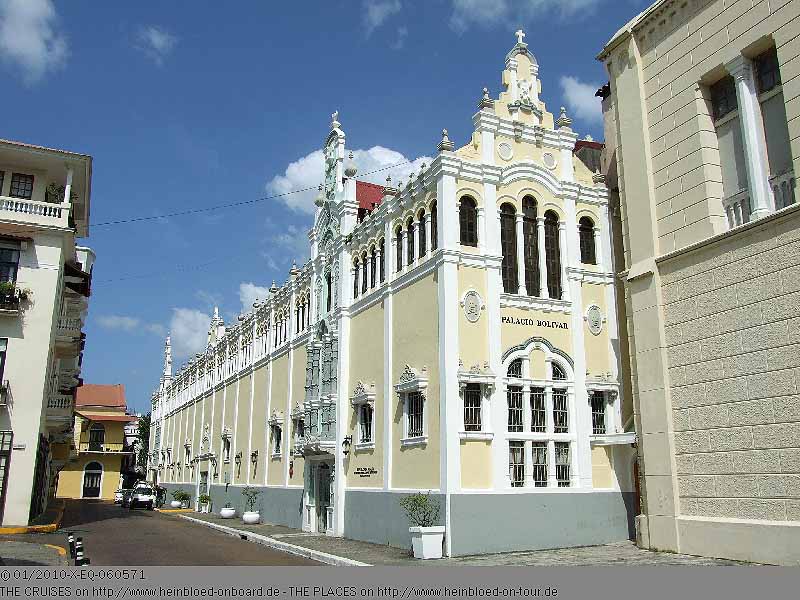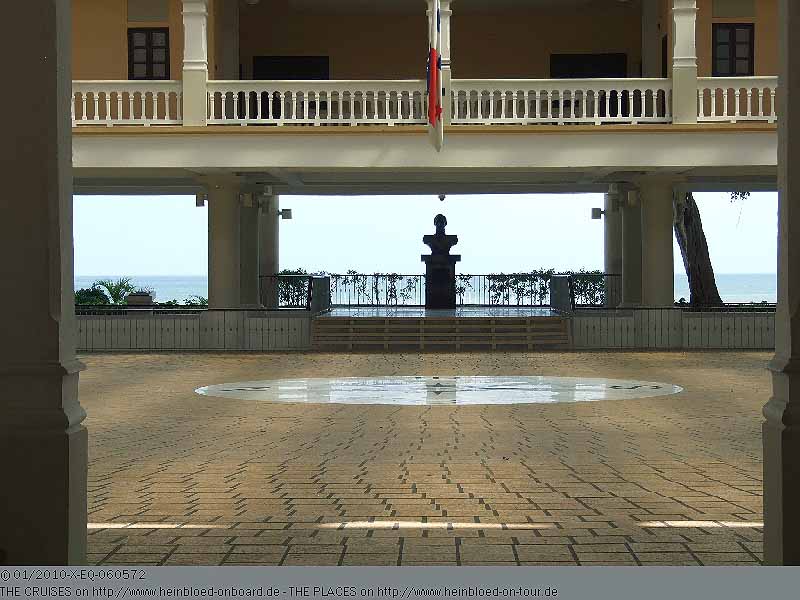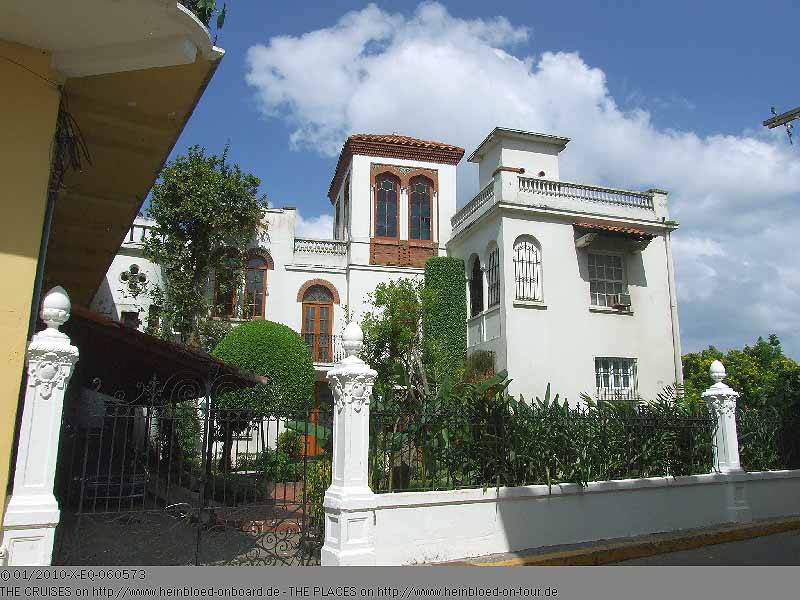 Über uns kreisen die Aasgeier.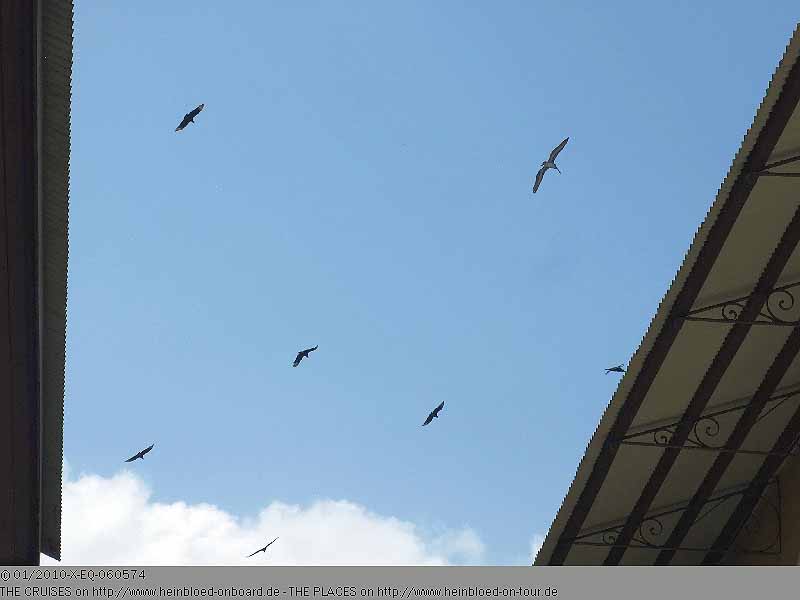 In the sky the vultures flying their circles over us.

One was waiting on the roof.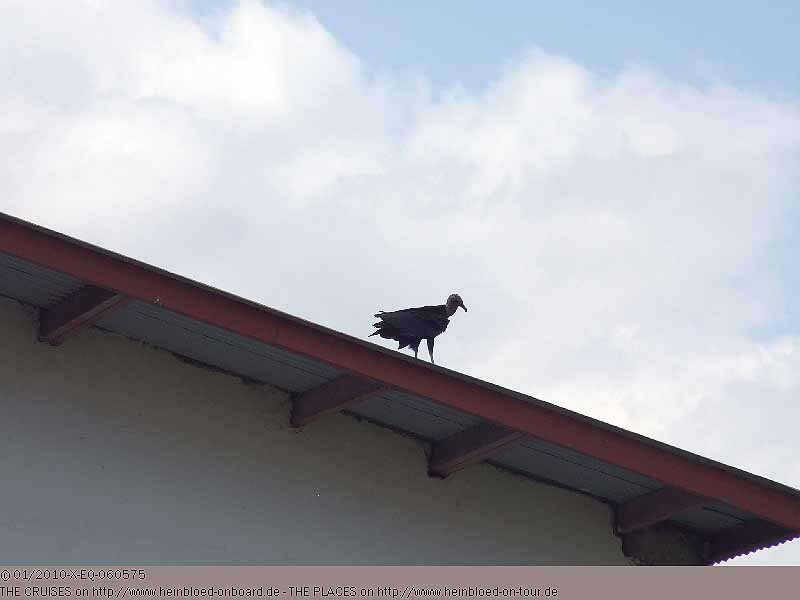 Oben auf dem Dach wartet schon einer.
Wir dürfen uns sogar der Wache des Präsidenten nähern, ohne dass wir negativ auffallen.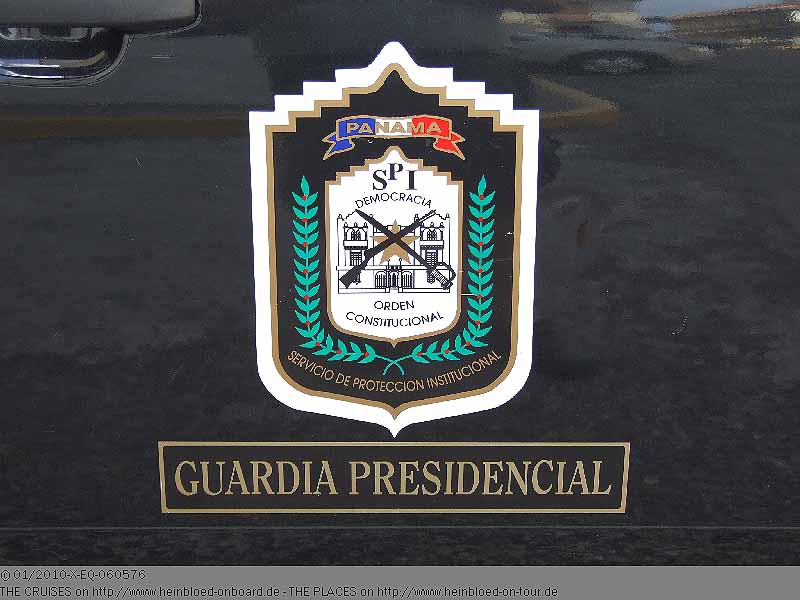 We were allowed to watch closer the guards of the presidents without attracting any attention.

We were allowed to take pictures of the egret in the inner court.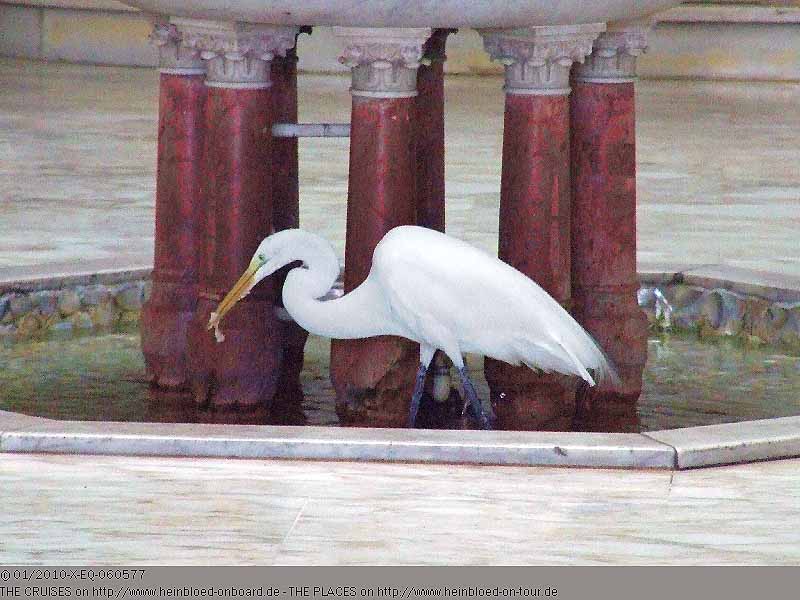 Sogar seinen Reiher dürfen wir in seinem Innenhof fotografieren.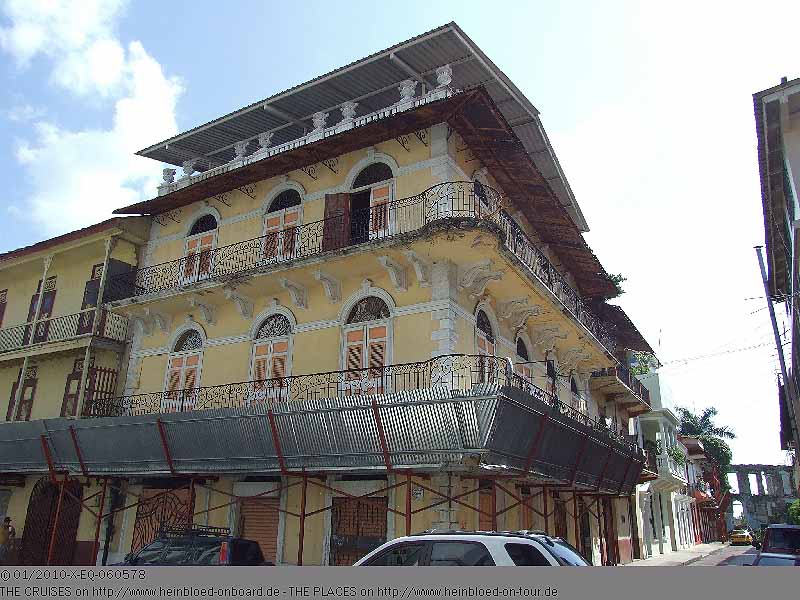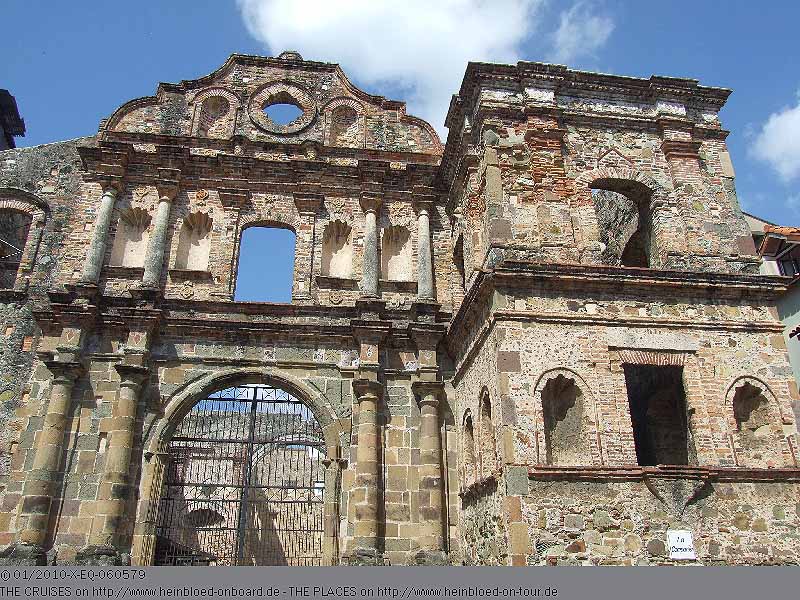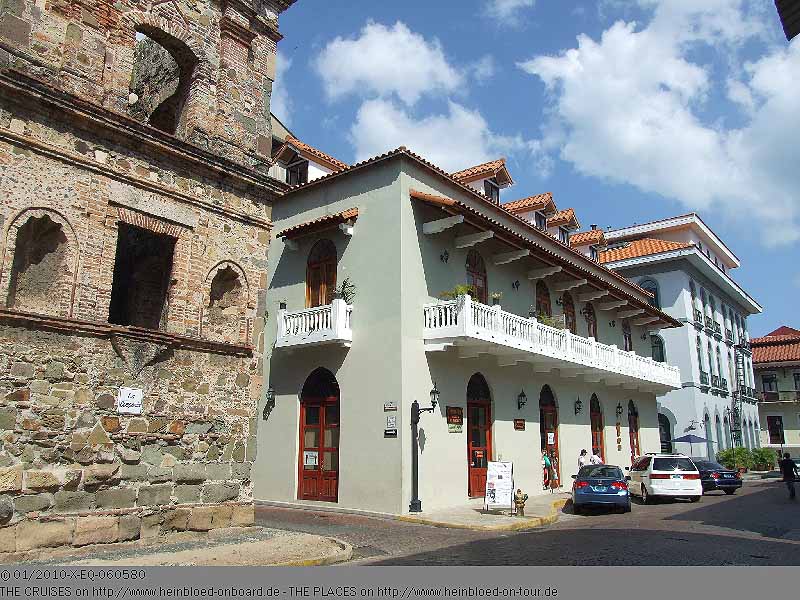 So we would not see this again with our next visit because the structure with the population will change in the restored quarters.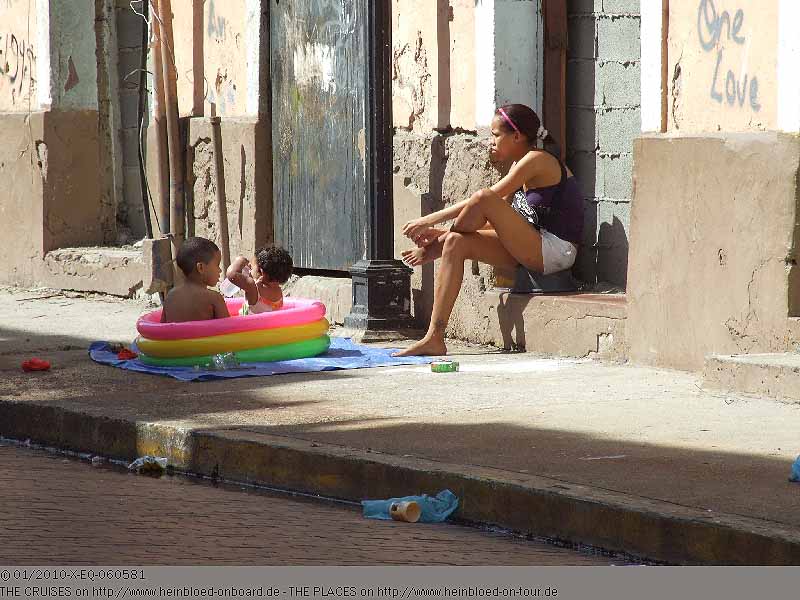 So etwas werden vielleicht beim nächsten Besuch nicht mehr sehen, weil sich Bevölkerungsstruktur in dem restaurierten Viertel sich geändert hat.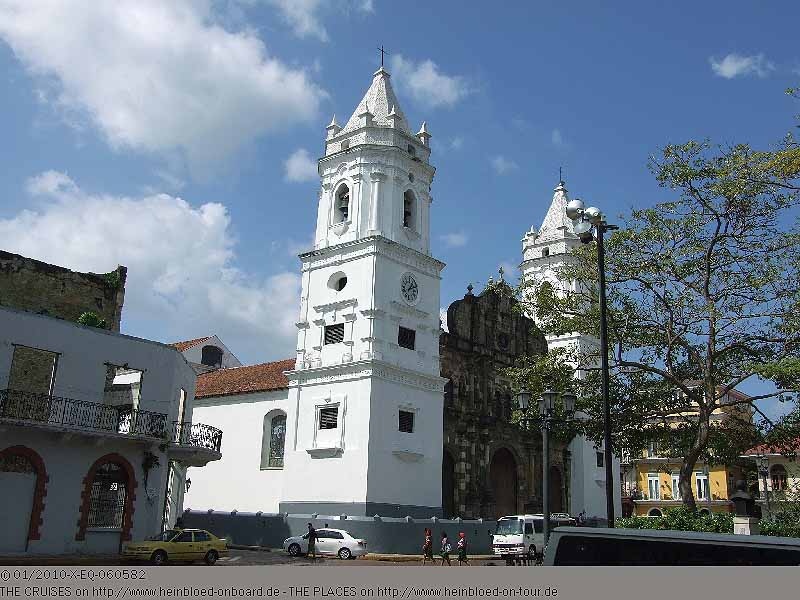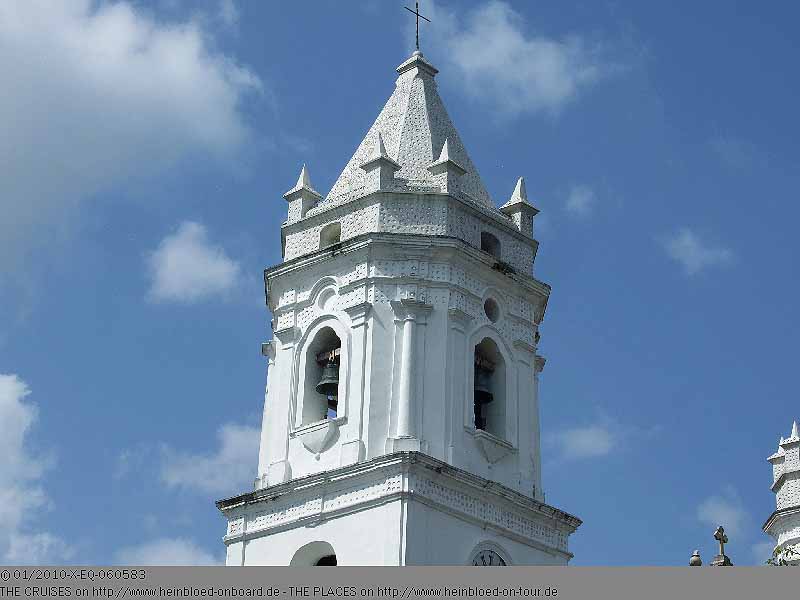 Es geht zurück nach Colón. Rudy empfiehlt uns dort nicht auf eigene Faust umzusehen, da die Kriminalität dort außerhalb des Cruise Terminals sehr hoch ist. Falls wir mal eine RCI- oder Cruise West-Kreuzfahrt ab Colón machen sollten, hätten wir die Möglichkeit in seinem Bed und Breakfast (
Pattys Casitas
) unterzukommen und auch
Transfers
kann er für uns arrangieren und natürlich auch weitere Attraktionen Panamas zeigen. Da wir nicht bei der UNO sind und ein Simultanübersetzer fehlt, kommt es zu gewissen Spannungen, die man billigend in Kauf nehmen muss, wenn man zweisprachige Touren macht. Da sich eh niemand an die Verkehrsregeln hält, überholt uns sogar ein Reisebus.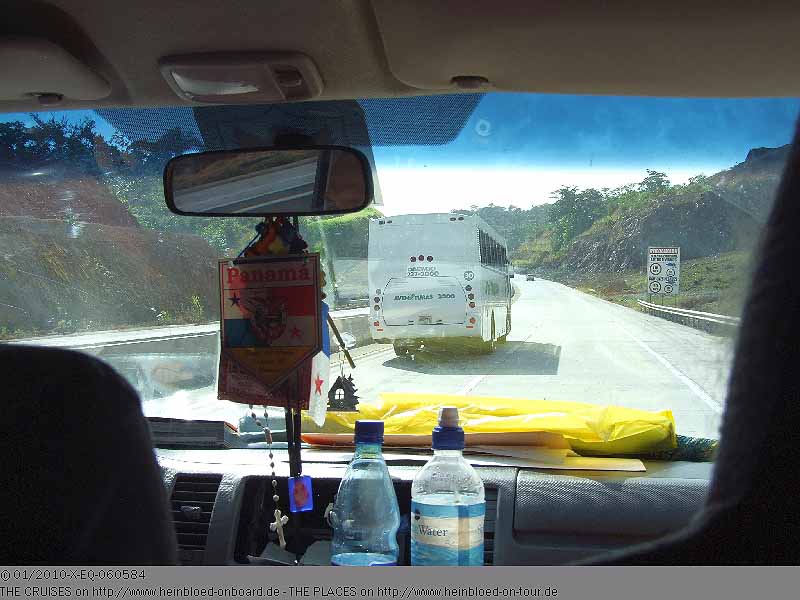 We returned to Colón. Rudy recommended us not to do anything ourselves as the crime outside the Cruise Terminal is quite high. If we would ever started an RCI- or Cruise-West-cruise from Colón we could stay pre-cruise with their Bed and Breakfast (Pattys Casitas) and it would be also possible for him to arrange transfers for us as well as he can show us further attractions in Panama. As we were not with the United Nations we did not have a simultan interpreter so there were some tensions which you need to accept if you accept a bilingual tour. As none was interested too much for traffic rules a tour bus passed us.

Right on time and safe and sane Rudy drop off our group at the cruise terminal. He checked for me for a place where I can go into the internet before he returned home. It was no comparison to Cartagena because everything was in one city and here we had to bridge long ways. We saw a lot and we hope for the next time that Rudy will show us the new locks and not just the Indians at the ships but in their original natural enviroment. We accept his recommendation for our next visit in Panama.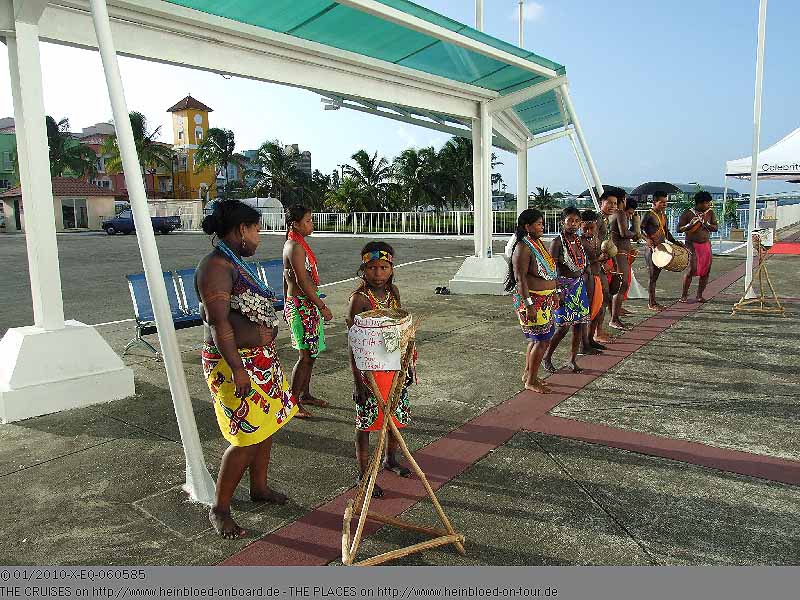 Rudy setzt uns sicher wieder ab. Er stellt sicher, dass ich irgendwo surfen kann, bevor er wieder nach Hause fährt. Es war kein Vergleich mit Cartagena, weil dort alles kompakt zusammen war und hier längere Wege überbrückt werden mussten. Wir haben vieles gesehen und beim nächsten hoffen wir, dass wir mit Rudy die anderen neuen Schleusen sehen und die Indianer nicht nur am Schiff, sondern in ihrer ursprünglichen natürlichen Umgebung. Diese Empfehlung nehmen wir gerne mit für unseren nächsten Aufenthalt in Panama.