Scroll down for English explanations - alternates with German explanations.

Was auffällt: es gibt gar kein Schild, dass die Kabine gemacht werden soll.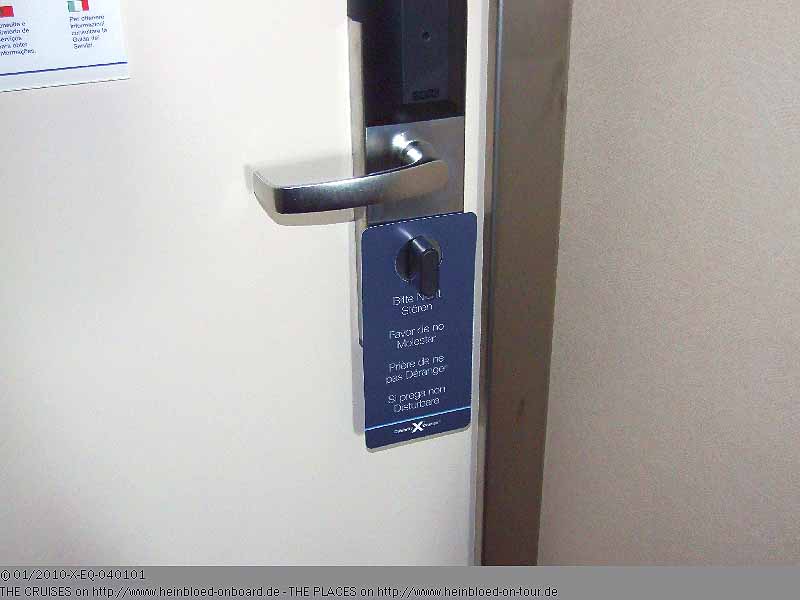 What attracted my attention: there is no sign to ask to make the cabins...

I found finally the sliding door - but it was only available towards the bow i. e. from the aft elevators facing forward.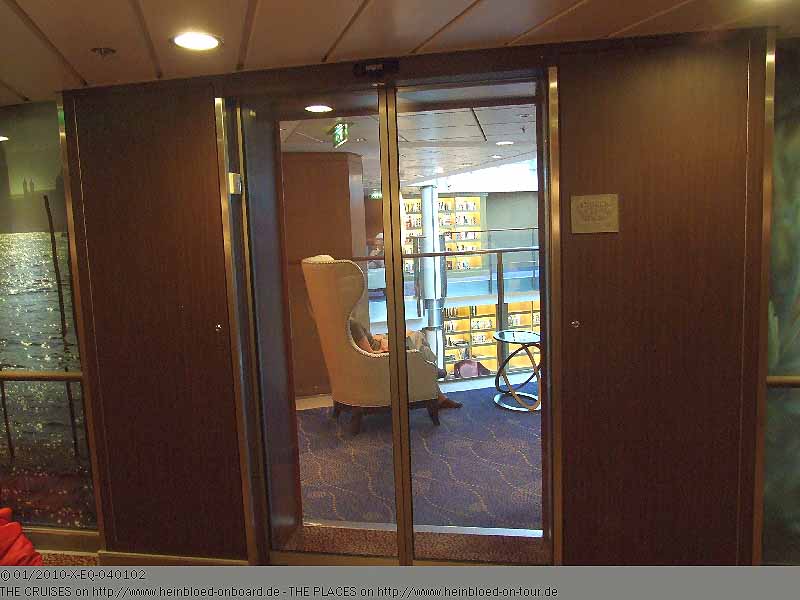 Ich habe nun doch die Schiebetür gefunden. Es gibt sie allerdings nur in einer Richtung. D. h. von der hinteren Aufzuganlage Richtung Bug.
Mit unserem Wasser Package müssen wir genau sagen, welche Größe wir wollen. So holen wir uns zwei kleine mal zwischendurch, damit wir nicht immer mit den großen Flaschen über das Schiff oder auf die Ausflüge laufen zu müssen und füllen sie um. Der Verzehr wird jedes Mal mit der Karte erfasst.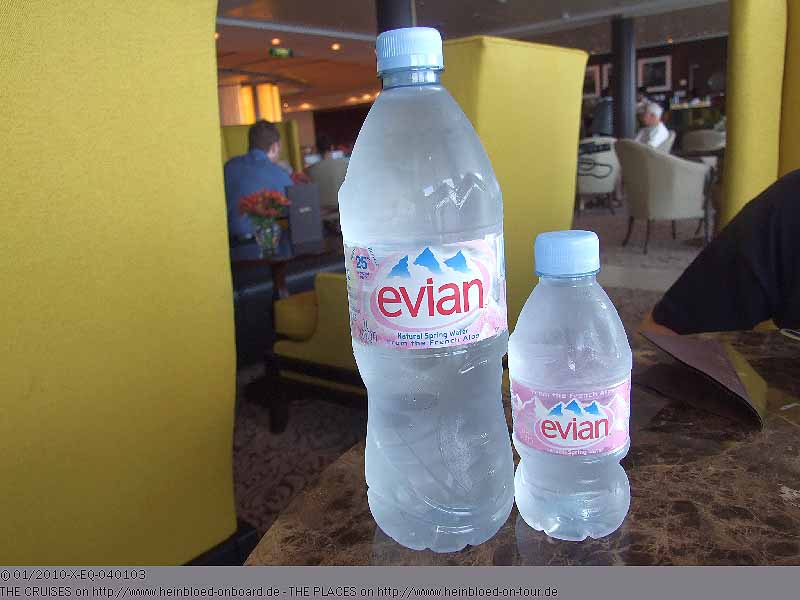 With our water package we need to say which size we want. So we took two small bottles so that we did not need carry all the time the large bottles on the ship or on shore excursions and so we use them to refill. But they need the card to release a bottle.

A bottle of wine was waiting for us as a sursprise.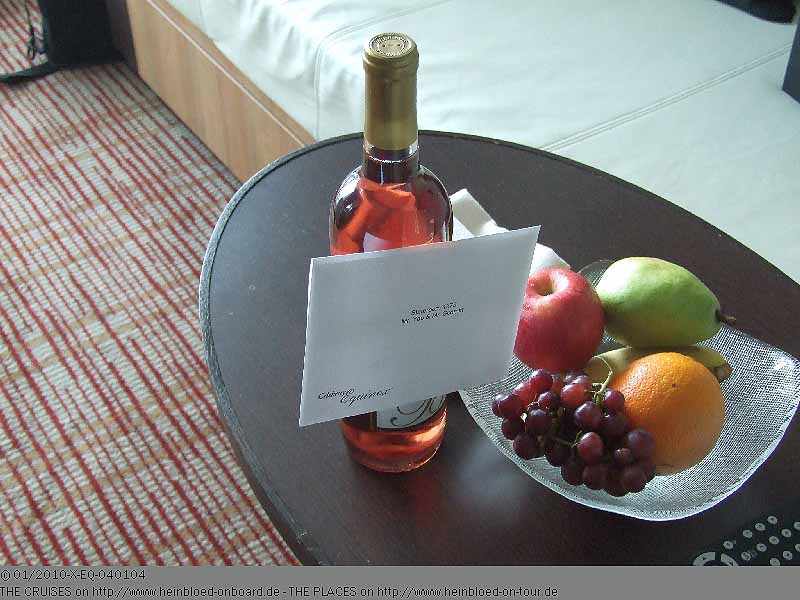 In der Kabine erwartet uns eine Überraschung: eine Flasche Wein.
Sie kommt von Ljubi, die sich um die Rückführung unseres Gepäcks gekümmert hat. Wir haben Cristina und Ljubi für ihre Bemühungen Schokolade von Hachez zukommen lassen, die ja im Gepäck war. Darüber haben sie sich gefreut. Ljubi meint, dass es gar nicht notwendig gewesen wäre und sie doch nur ihren Job gemacht hätte. Wir meinen, dass es schon etwas mehr war, als nur den Job zu machen, wenn man dem Gast das Gefühl einer gewissen Geborgenheit gibt und wollten das zum Ausdruck zu bringen. Sie bedankt sich daher nochmals, weil sie unsere Geste sehr nett fand und auch wohl es nicht selbstverständlich ist, dass sich ein Gast auf diese Art und Weise für die Dienste bedankt.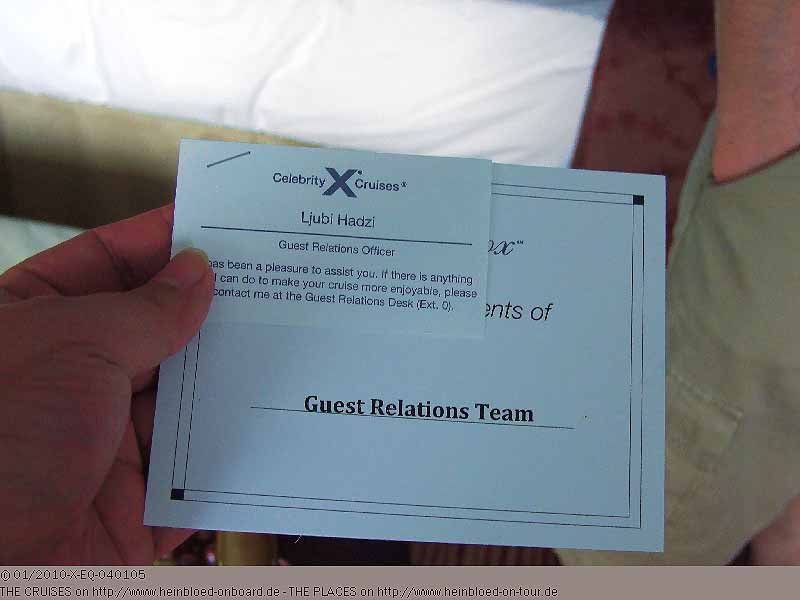 This came from Ljubi who took care of the return of our bags to us. We gave some chocolate from Hachez (some of Germany's best chocolate) to Cristina and Ljubi for their efforts which was in the baggage. They were were excited about the gesture. Ljubi said that there was no need and she only did her job. We thought that it was more than just doing the job if you give your guests the feeling of a special care and wanted to express it by the gesture. She thanked again because she appreciated our gesture and said that this was not standard that guests thanks on this way.

We got the copy of the German "The Welt" newspaper. So we learned how cold it is in Germany.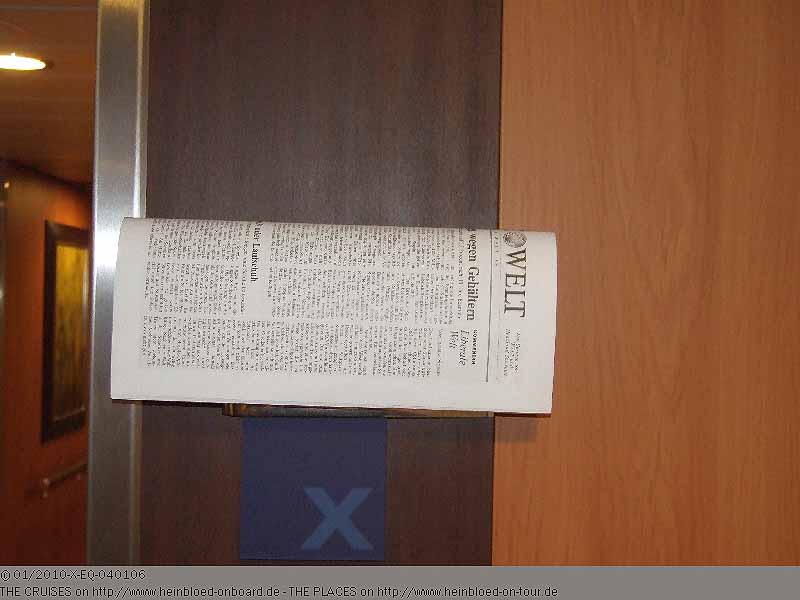 Über die Ausgabe der "Die Welt" erfahren wir immer regelmäßig, wie kalt es in Deutschland ist.
Wir sind darüber verwundert, dass auch Bilder durch den Fernseher in der Kabine gezeigt werden, bei denen wir nicht unsere Karte einlesen ließen. Es wird eine Gesichtserkennungssoftware eingesetzt. Weil wir beim Einschiffungsfoto zwei Bordkarten haben einlesen lassen, erscheinen die Fotos sowohl auf dem Fernseher von Katie und Charlie aus auch uns.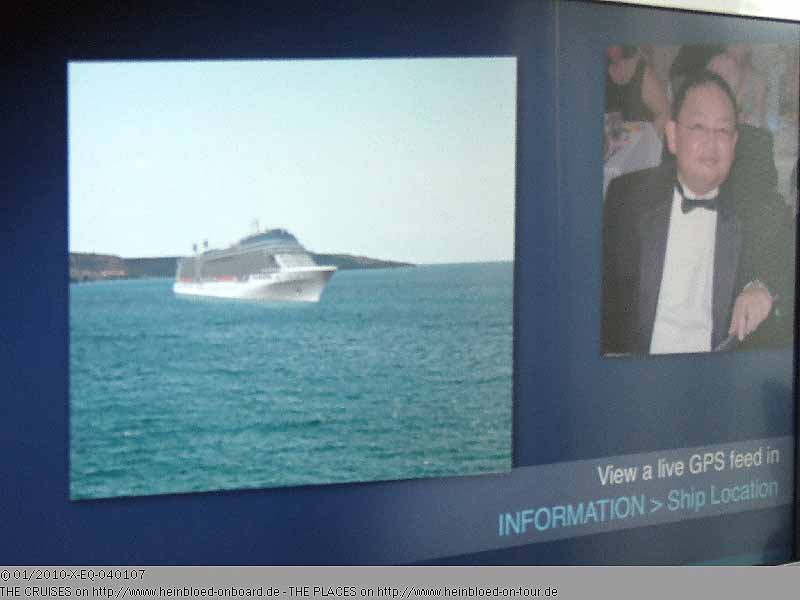 We were surprised that also pictures were on the cabin TV for we did not show our cruise cards. They used a face-scanning system. Because they read two cruise cards with the embarkation photo all new photos appeared with Katie and Charlie and with us.

Occassionally you get the cream cheese. But not daily and not continously.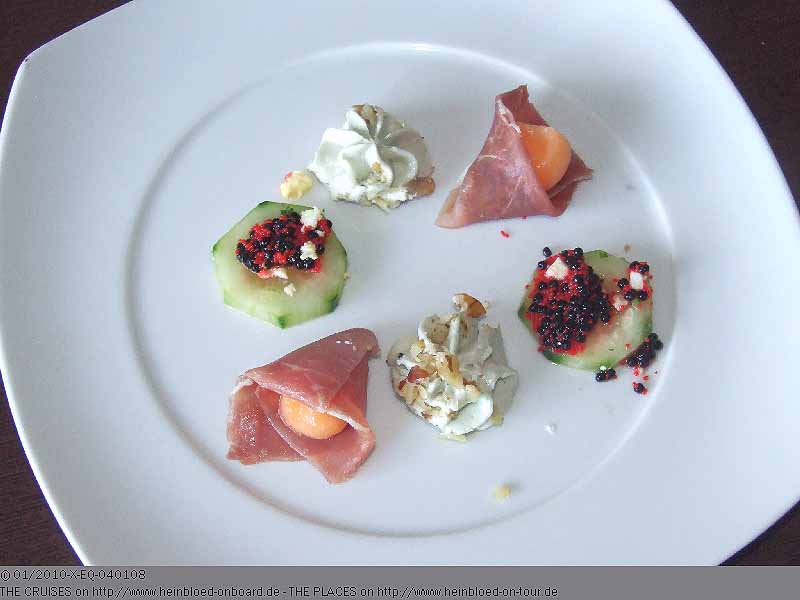 Es kommt gelentlich mal Frischkäse wieder zum Vorschein, aber nicht alles und nicht regelmäßig.
Am Übergang zum Solarium fälllt diese Cabana oder wie man es immer nennen will auf.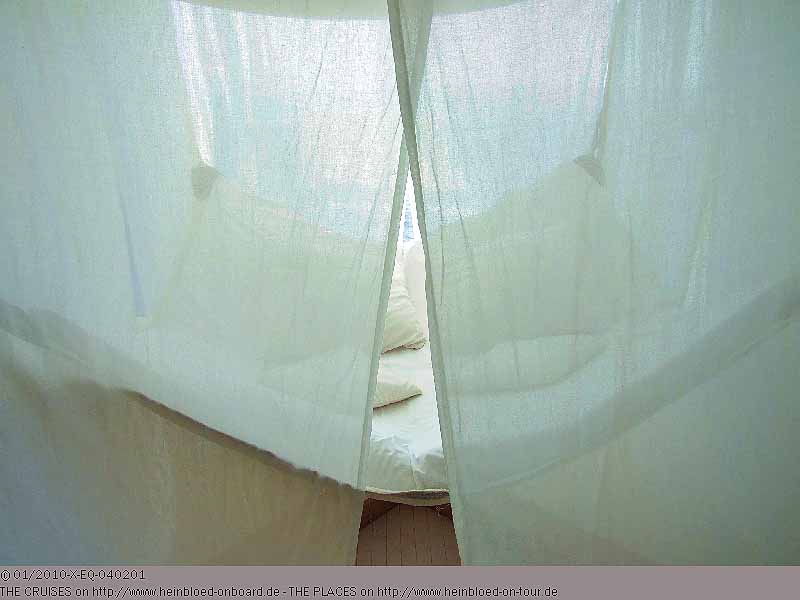 At the entrance to the Solarium I saw the cabana or how ever you would like to call it.

I only saw one single and no idea if you have to rent them like on EURODAM or not. Later I found out: first come first serve - and free of charge.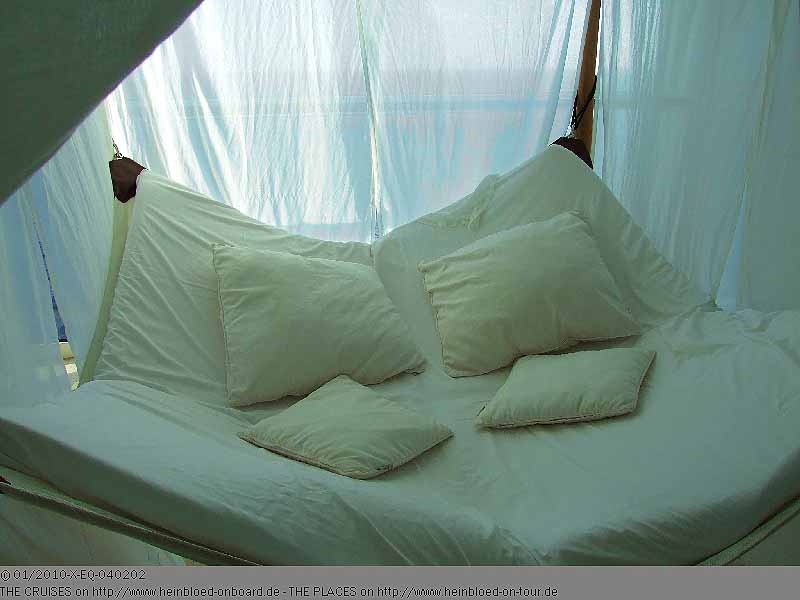 Ich sehe nur eine einzige und keine Ahnung, ob man sie wie auf der EURODAM mieten muss oder nicht. Hinterher bekomme ich heraus: der erste mahlt zuerst... und das kostenlos.
Wie man sieht: nicht nur mir macht der Anblick dieser Wasserspiele Spaß.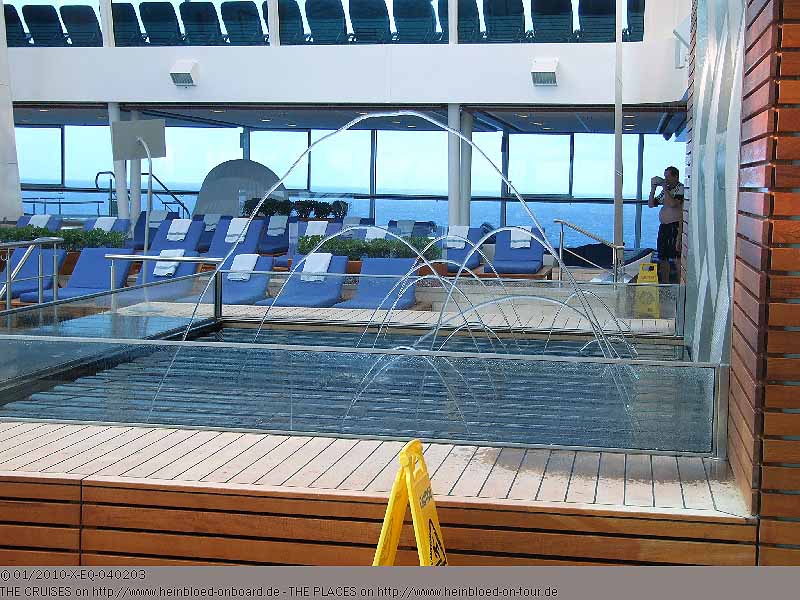 Not just me was impressed watching the water plays.

You had the chance to prepay photopackages and to save money.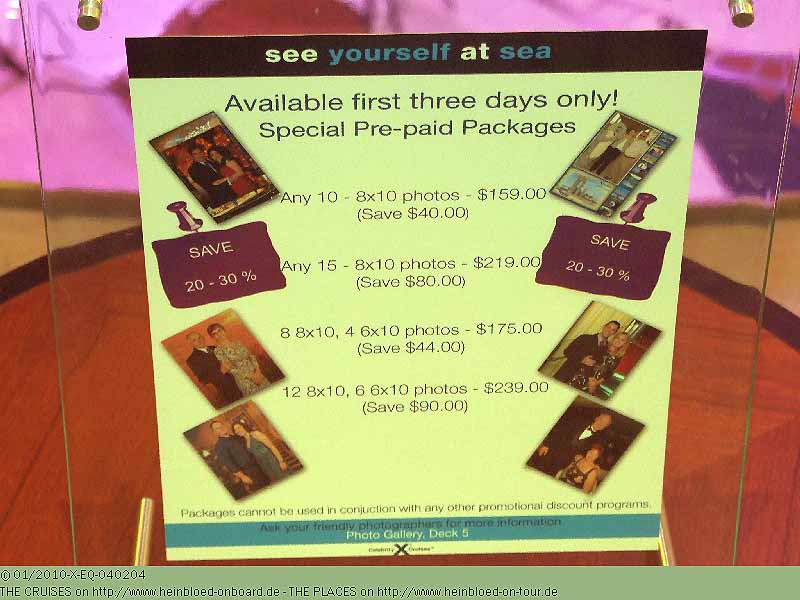 Man hat die Möglichkeit bis heute Fotopakete im Voraus zu bezahlen und somit Geld zu sparen.
Nur so Duty-Free-mäßig finde ich die Preise nicht. Die linke Fuji-Kamera hatten wir auch im Wal-Mart im Visier und kostet an Land 149.00 USD zzgl. Steuern und hier steuerfrei 189.00 USD.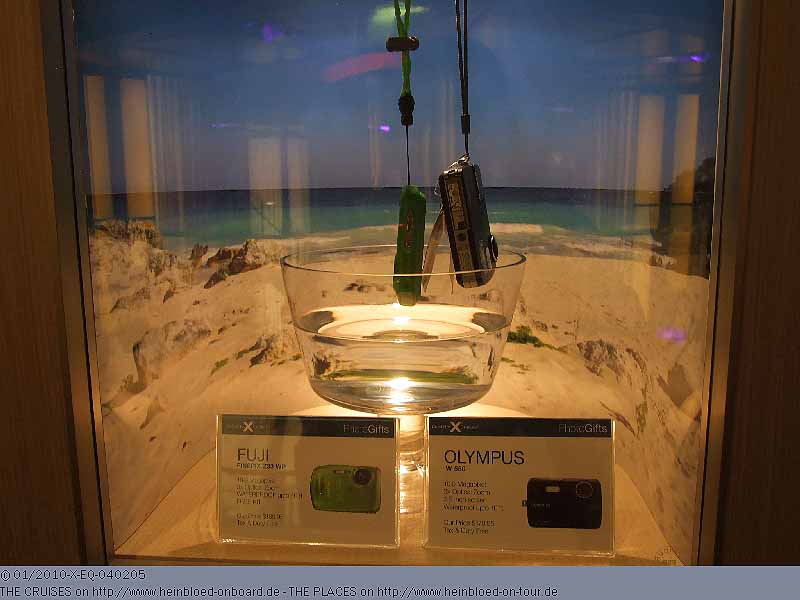 But it was not so Duty-Free-price-level. The left Fuji-camara we could also buy with Wal-Mart ashore for 149.00 USD plus tax and here tax-free 189.00 USD.

The Molecular Bar offered various vodka-cocktails. But there was no liquid nitrogen onboard so no show for your eyes.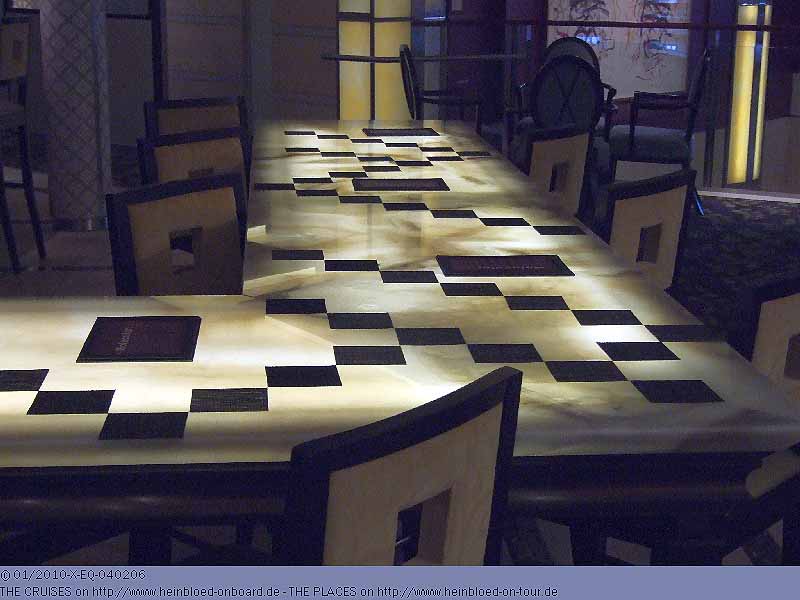 Die Molecular Bar bietet verschiedene Wodkacocktails an. Leider gibt es keinen flüssigen Stickstoff an Bord, so dass nichts für das Auge angeboten wird.
Wir gehen wieder mal zum Aqua Spa Café zum Frühstück.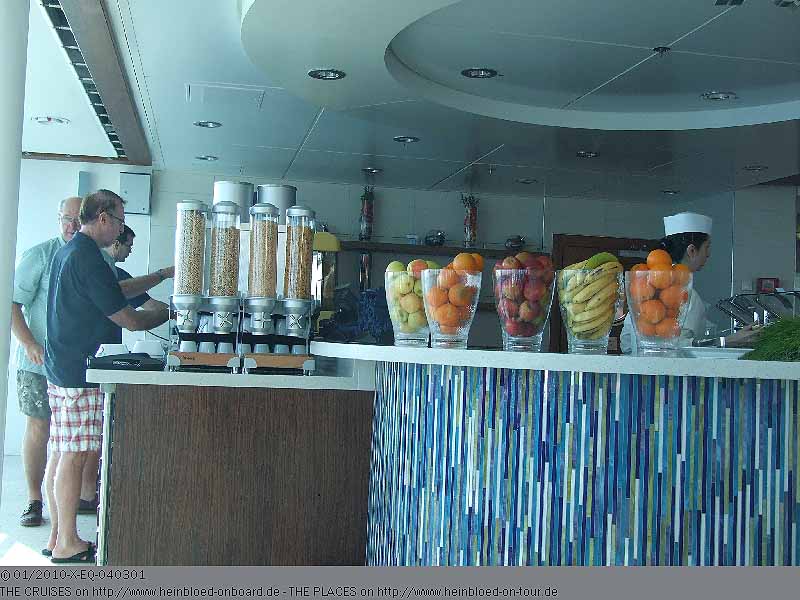 We went for breakfast again to Aqua Spa Café.

There were giant fruit-blocks.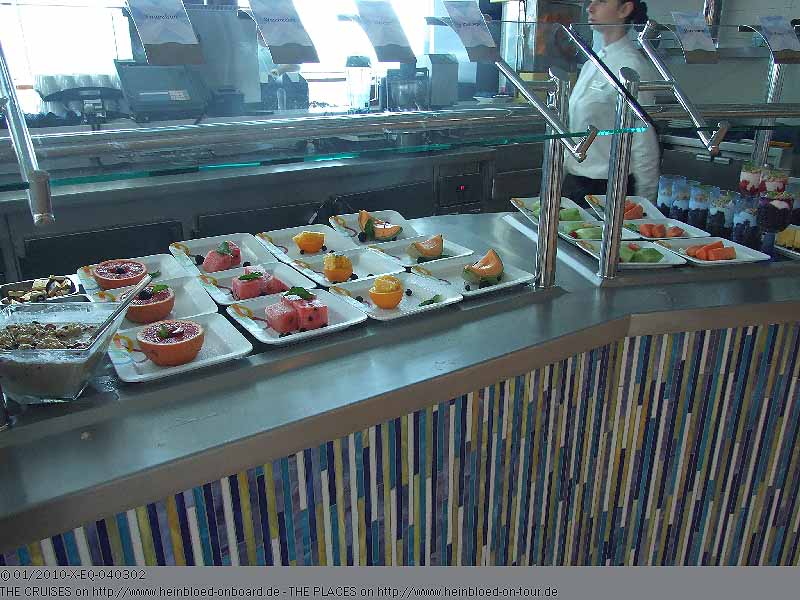 Es werden Riesen-Frucht-Blöcke angeboten.
Und die leckersten BIO nochmals BIO... Brioche mit allem möglichem Gemüse für die Liebhaber von herzhaften Brioches und Obst für die süßen.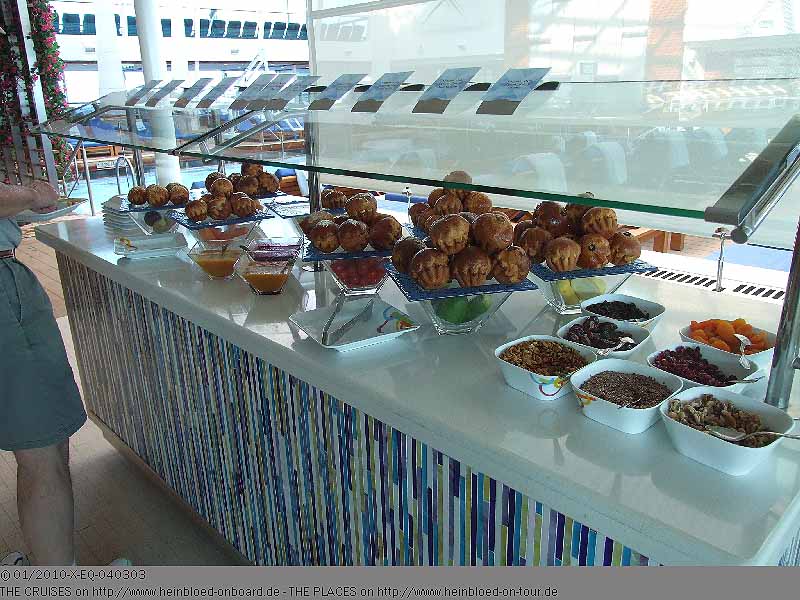 And the most yummy ORGANIC once again ORGANIC... Brioche with all kind of vegetables for lovers of salty Brioches and fruits for sweet-ones.

On request I got an egg-white-omelette with mushrooms and spinach but some flavour was missing. Bruno brought me a fresh squeezed orange juice. Days later we learned that it should be charged: 2.50 USD. Someone must placed his orange juice on the desk by mistake maybe to fill a cup of coffee and Bruno might took it by mistake.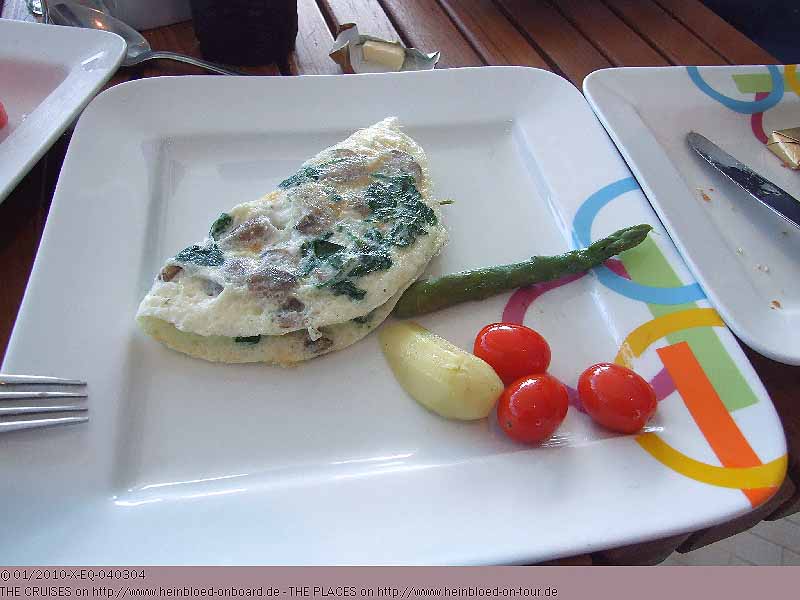 Auf Bestellung erhalte ich ein Eiweiß-Omelette mit Pilzen und Spinat, aber da fehlt geschmacklich einfach etwas. Bruno bringt mir einen frisch gepressten Orangensaft mit. Tage später erfahren wir, dass er wohl 2.50 USD kostet. Da hat wohl jemand am Getränkebüffet sein Glas wohl irrtümlich abgestellt, um sich vielleicht einen Kaffee abzufüllen und Bruno es irrtümlich mitgenommen
Kleingebäck gibt es auch immer am Café al Bacio.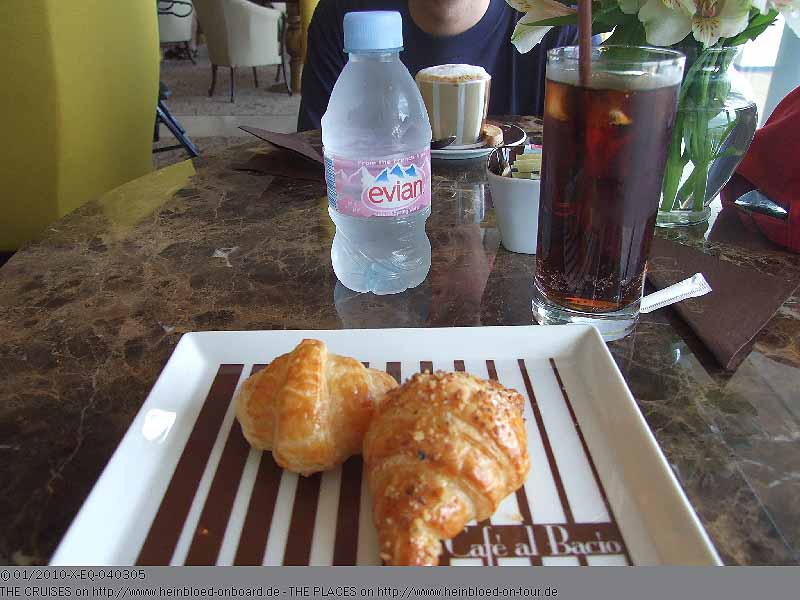 Small pastries were always available at Café al Bacio.

We went visiting ellbon (Robin) who had an Aqua Class-cabin. If you like to visit her: her stateroom is easy to find: the place with the most Hard-Rock-Café-bears. So just ask any stateroom attendants.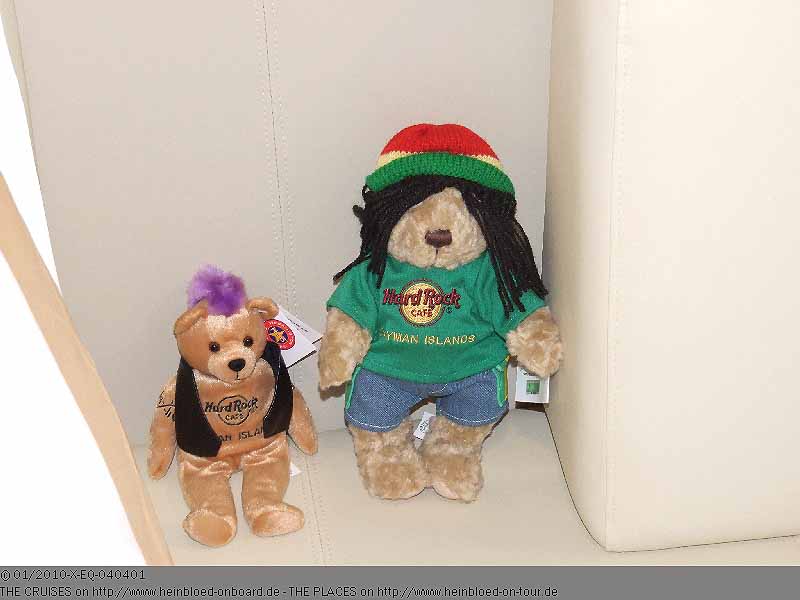 Wir gehen ellbon (Robin) besuchen, die über eine Aqua Class-Kabine verfügt: Wenn ihr sie besuchen wollt: ihre Kabine ist immer leicht zu finden: dort wo die Hard-Rock-Café Bären sind. Also einfach mal die Kabinenstewards fragen...
Der Unterschied zu unserer Concierge-Class-Kategorie: sie bekommt täglich noch Mineralwasser.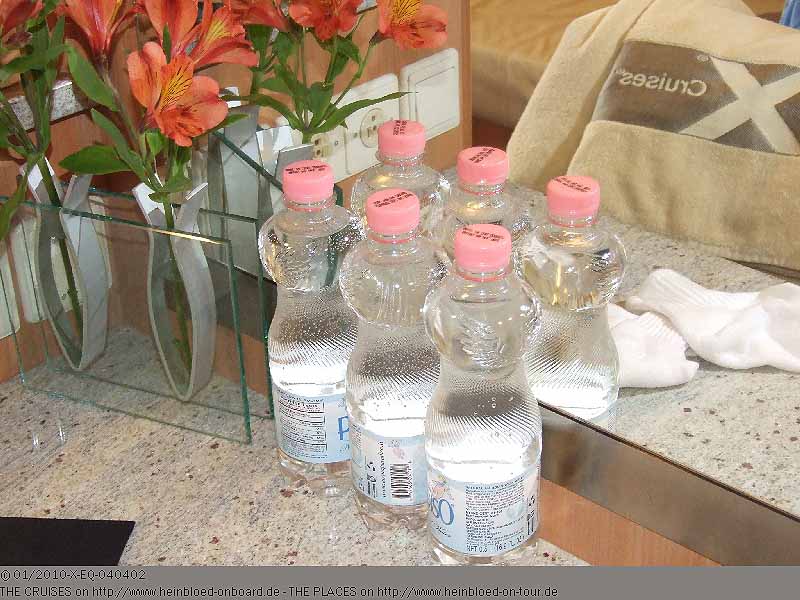 The difference to our Concierge-Class-category: she got daily mineral water.

And a carafe of cold tea which was not replaced yet so far.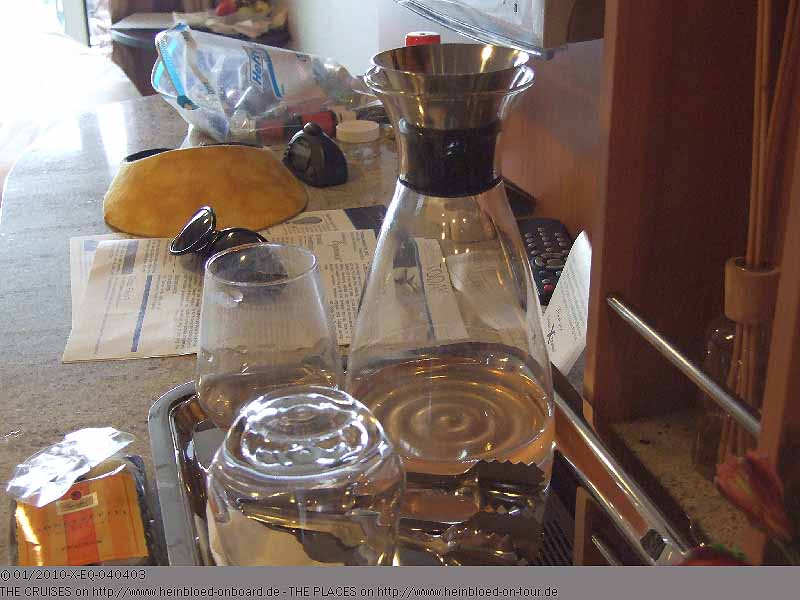 Und einen Krug mit kaltem Tee, der allerdings hier noch nicht ausgetauscht wurde.
Im Gegensatz zu uns, besteht hier quasi fast die Brauseanlage, wie wir sie auf jedem NCL Schiff haben: eine Handbrauseanlage mit größerem Duschkopf.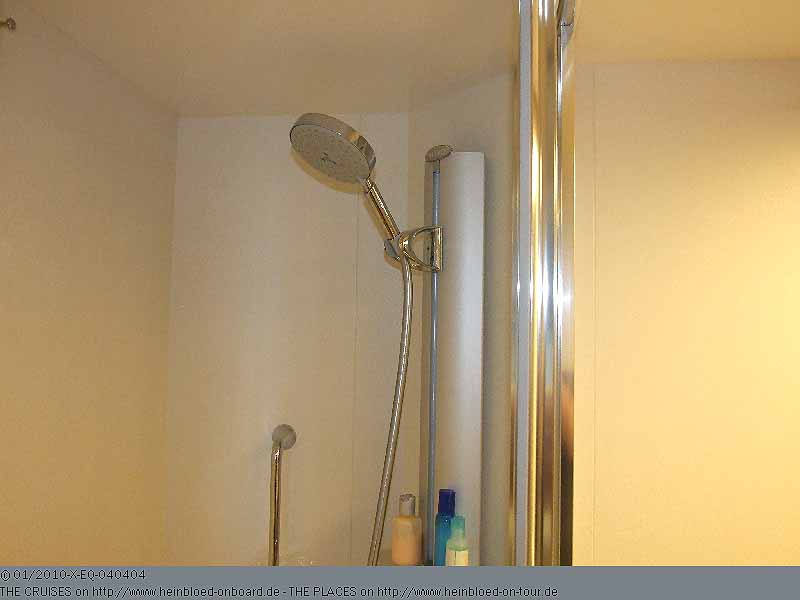 Contrary to us you have shower equipment like you have on every NCL-ship: a hand shower set with a large shower head.

But you get additionally shower fuctions from the side which we only knew from our NCL-Courtyard-Suite.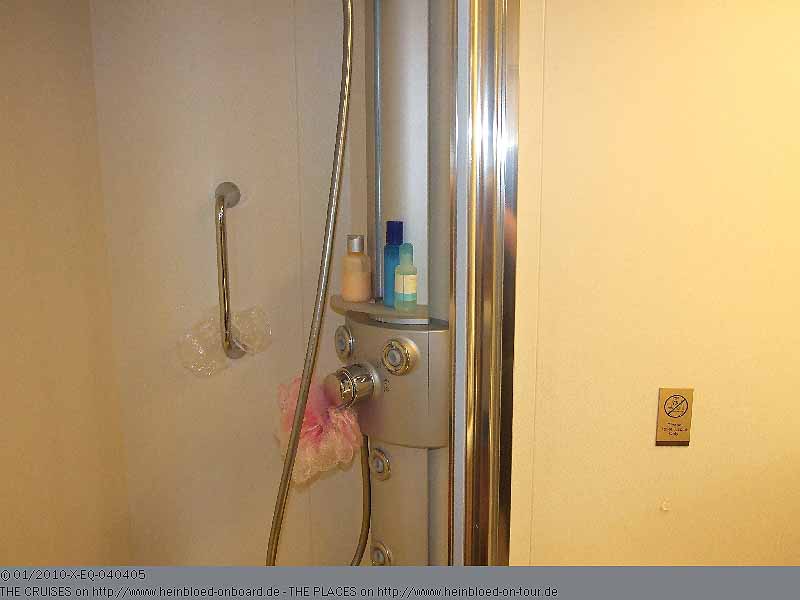 Allerdings noch mit den seitlichen Massageduschfunktionen, wie wir sie bislang nur von unserer NCL-Courtyard-Suite her kennen.
Uns hätte die Kabine ca. 200 EUR mehr pro Person zum Zeitpunkt der Buchung gekostet.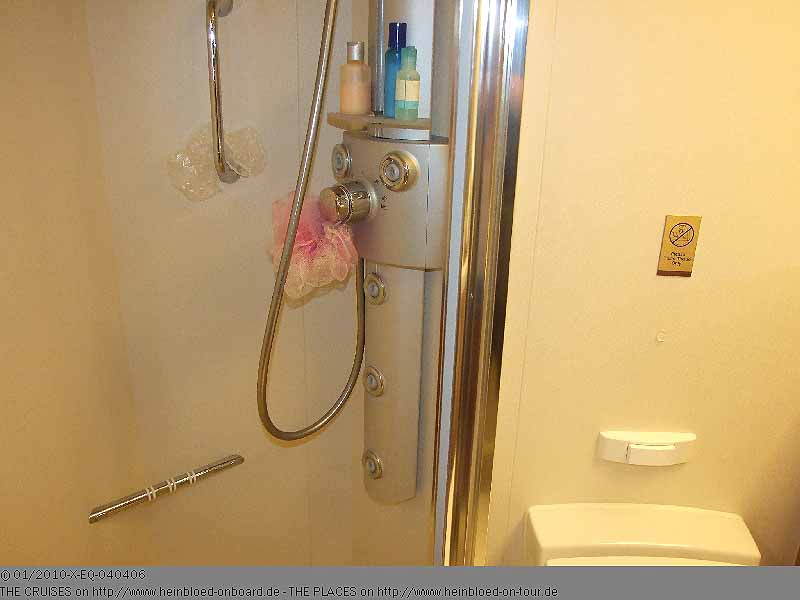 At the time of booking the difference was about 300 USD per person.

The fluffy frottebathrobes were also available with us.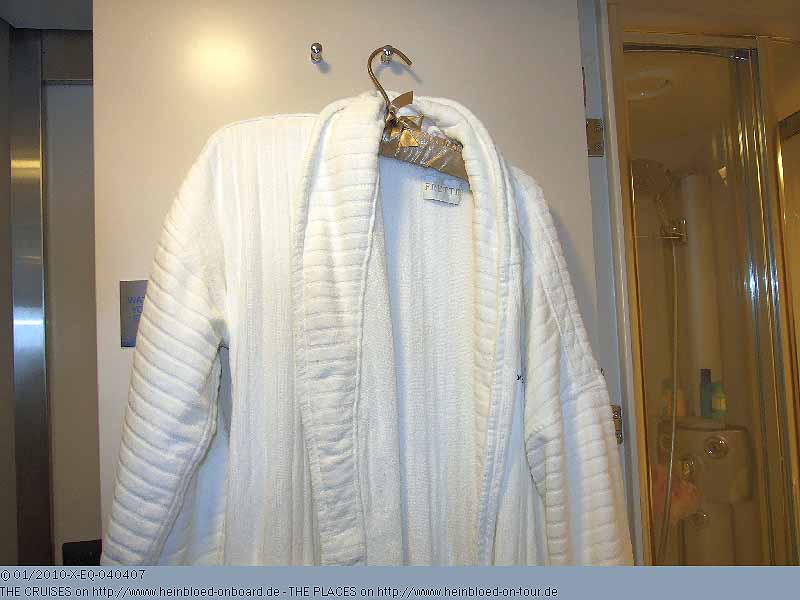 Die dicken Frotteebademäntel gibt es allerdings auch schon in unserer Kabinenkategorie.
Was sehr praktisch ist: die Lage ihrer Kabine 1525 hat einen direkten Zugang zum Ruhebereich des Spas.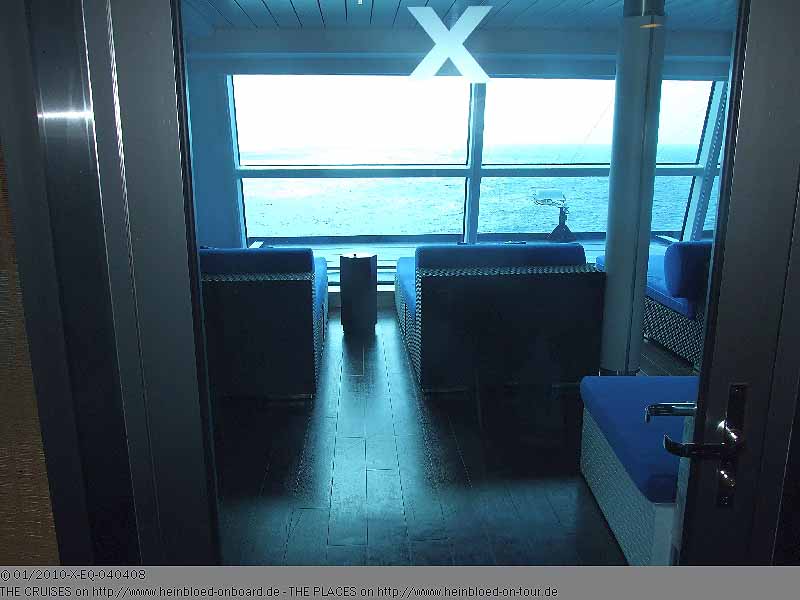 What was very practical with the location of her stateroom 1525: the direct access to the rest area of the spa.