Scroll down for English explanations - alternates with German explanations.

Was wirklich schade war: während wir in der Seenotrettungs"übung" saßen, war die PRINSENDAM ausgelaufen. Ich hätte sie so gerne fotografiert, weil ich immer noch davon träume, mal mit ihr durch den Nord-Ostsee-Kanal zu fahren.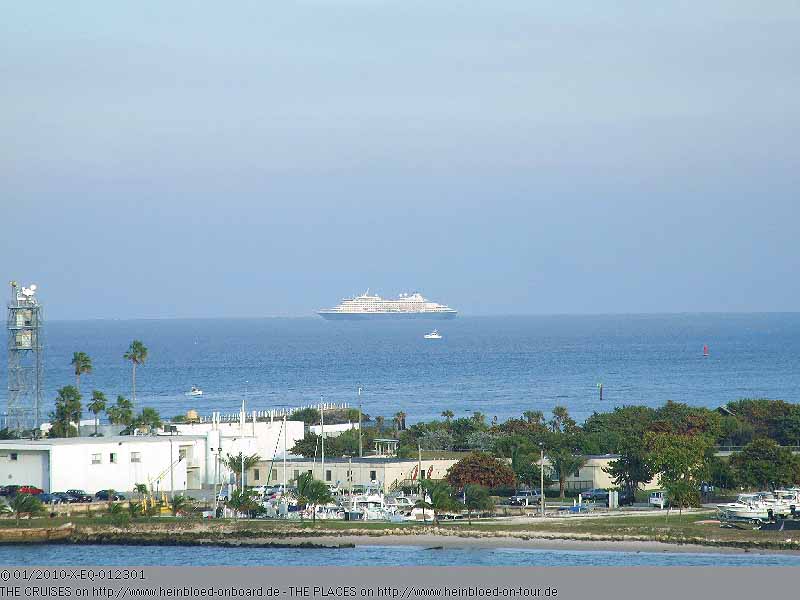 It was a shame: while we were sitting in the life drill PRINSENDAM set sail. I wished I had a chance to take pictures of her as I was still dreaming to cruise on her through the Kiel-Canal.

It was very remarkable: she did not go so far although she left already one hour ago.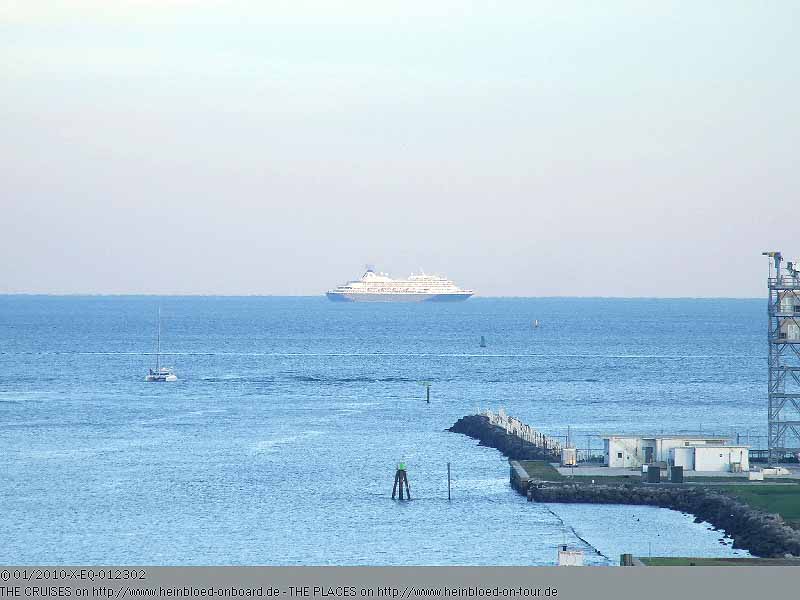 Das bemerkenswerte war jedoch, dass sie irgendwie nicht weitergekommen ist, obwohl sie bestimmt schon mindestens eine Stunde unterwegs war.
Irgendwie kamen wir immer näher und näher an sie heran.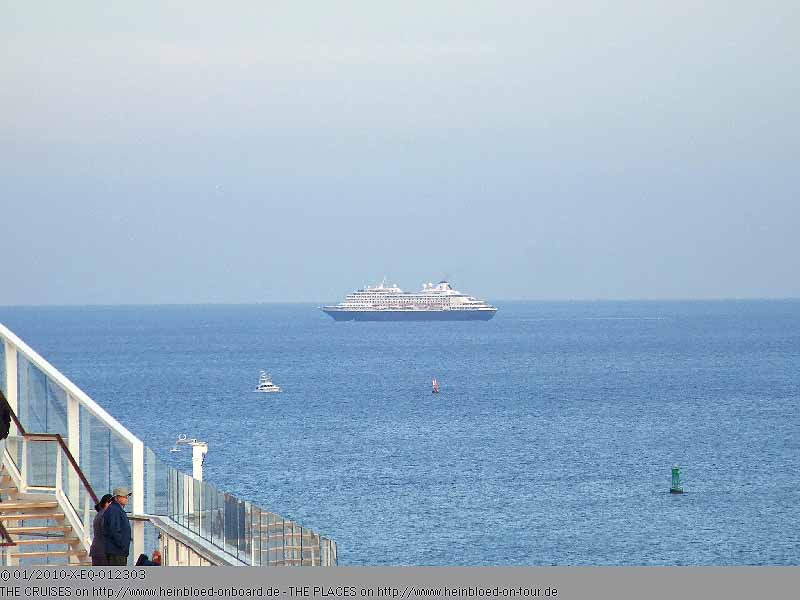 Somehow we got closer and closer to her.

I saw it when I enlarged the picture: that was no buoy in the sea but a small orange boat which approached.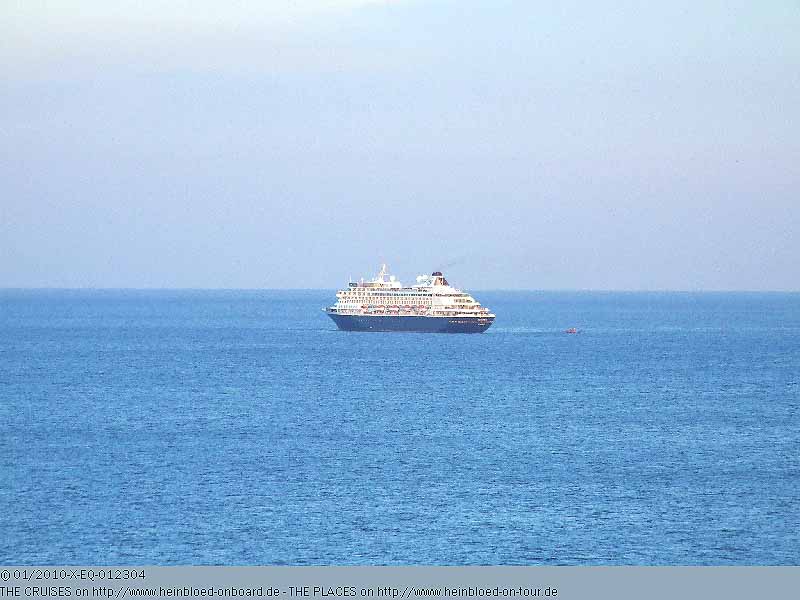 Erst beim Vergrößern der Bilder habe ich es gemerkt: Das ist gar keine Boje im Meer, sondern ein kleines oranges Boot, das sich ihr nähert.
Näher ging es nicht und einen größeren Zoom habe ich leider auch nicht.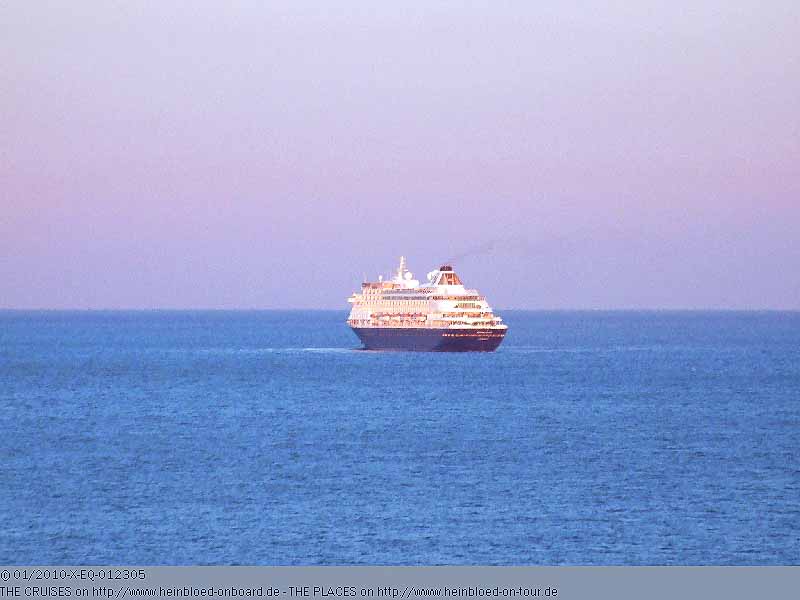 We could not get closer and I had no larger zoom.

A little later we came close by.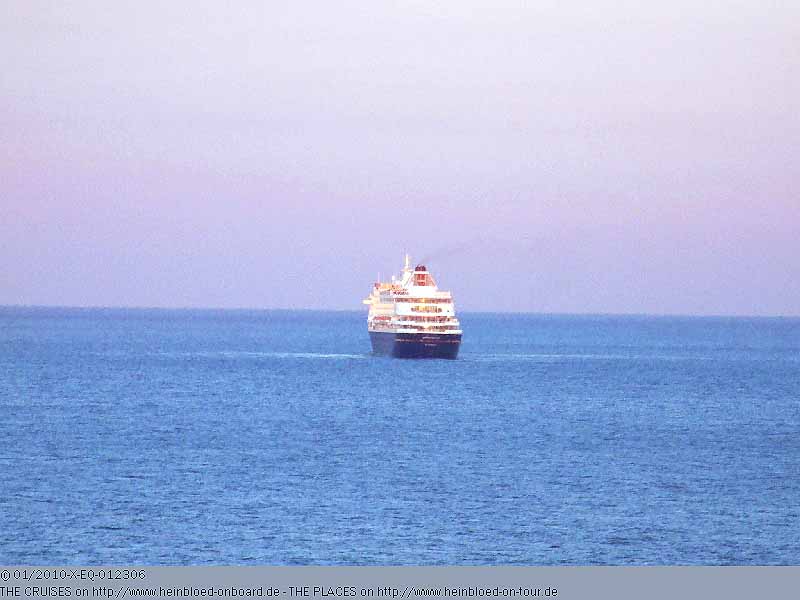 Irgendwann kommen wir nah an ihr heran.
Und hier sieht man auch erst das Boot wieder wegfahren.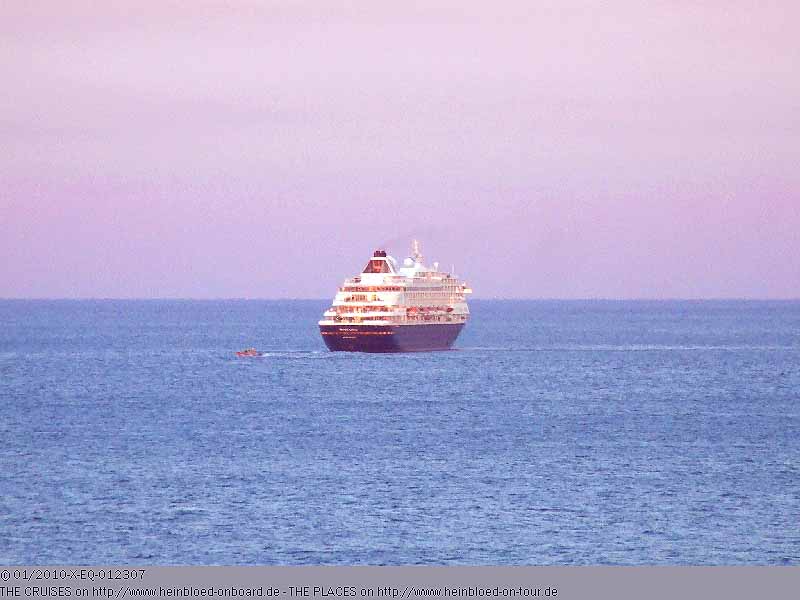 And here you can see how the boat left.

What might happened that they stayed all the time there?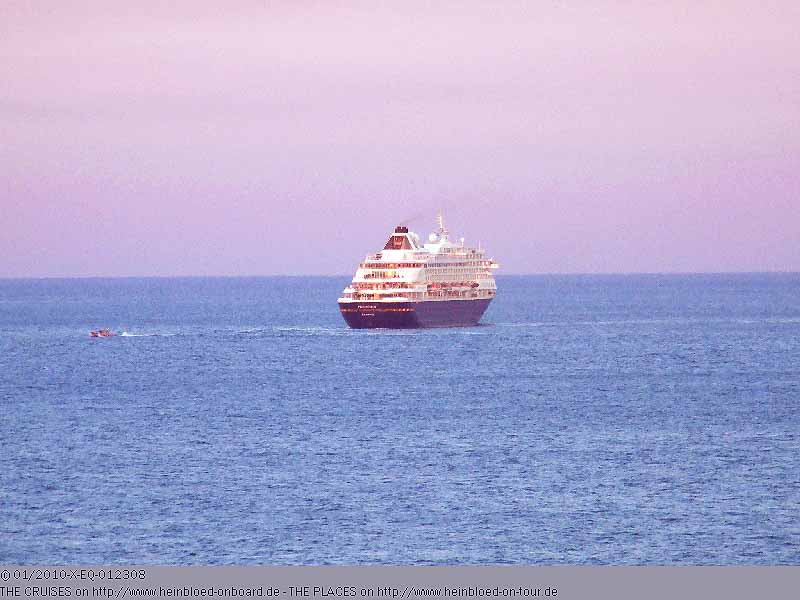 Was mag da wohl passiert sein, dass sie so lange noch dort ausgeharrt hat?
So ist das leider die beste Aufnahme, die ich von ihr machen konnte.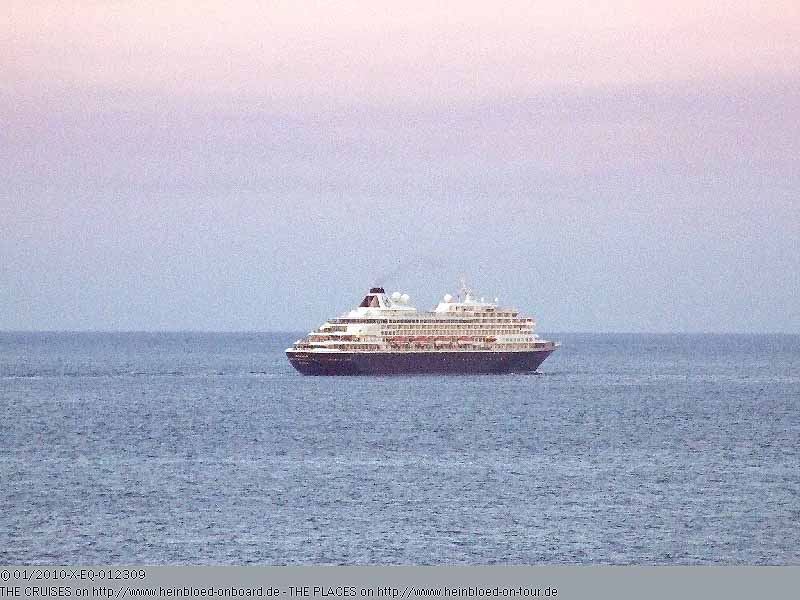 Unfortunately that was the best shot I could made of her.

Very unpleasant was the berth of BAHAMAS CELEBRATION.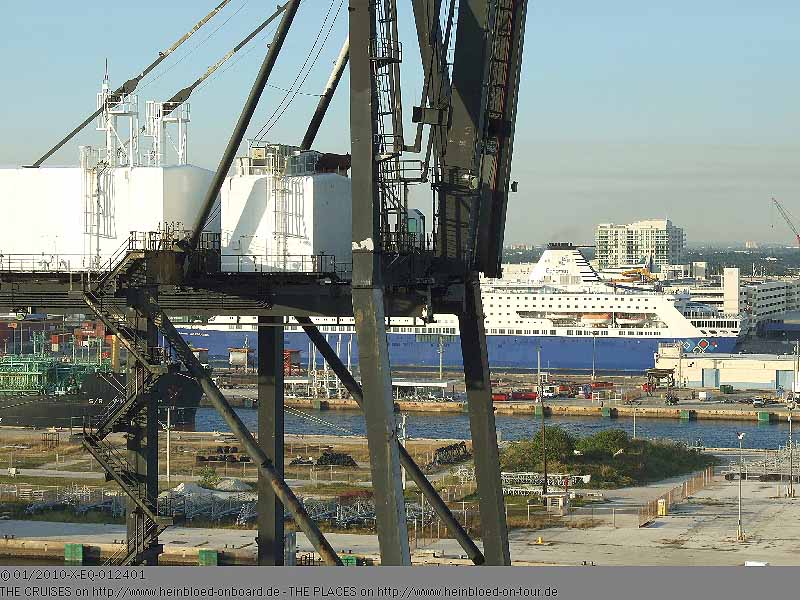 Ganz unglücklich lag die BAHAMAS CELEBRATION.
Auch bei unserer Ausfahrt konnte ich sie nicht besser auf das Bild bekommen.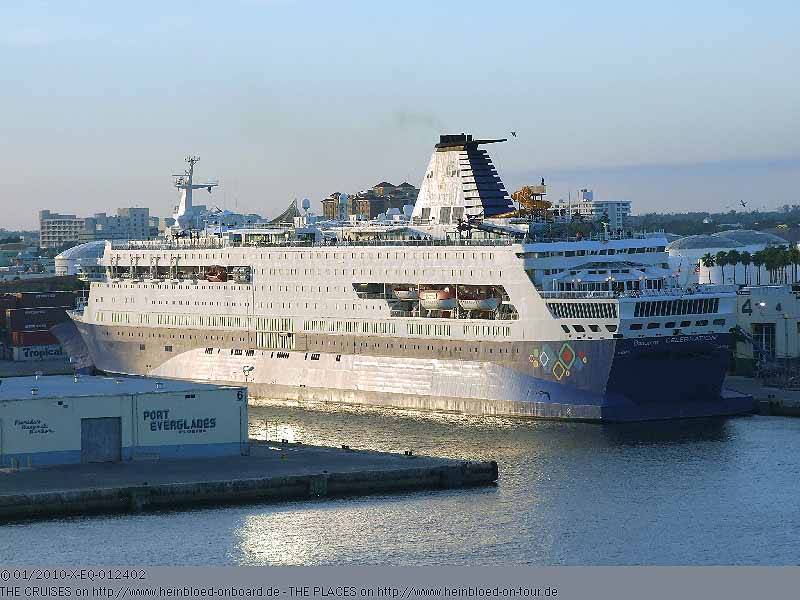 Even when we left our berth there was no better chance to get a better picture.

It was due to the sun: but anyway - I did not like very much the STAR PISCES-style cruises on old ferry ships.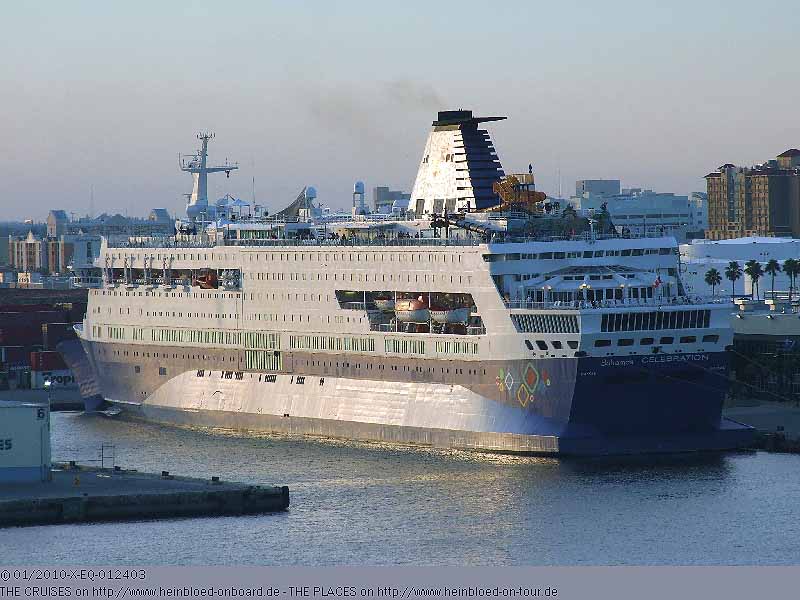 Lag an der Sonne: aber so Fahrten auf alten Fähren wie damals auf der STAR PISCES sind nicht mein Ding.
Die nachfolgenden Aufnahmen wurden mit unserer neuen Unterwasserkamera gemacht. Denn unser Aquapac ist im Gepäck und Lufthansa zahlt ja... Schade, dass es in Deutschland keine so schönen Gepäckanhänger gibt und man in den USA wohl wirklich gute Gepäckanhänger bekommt.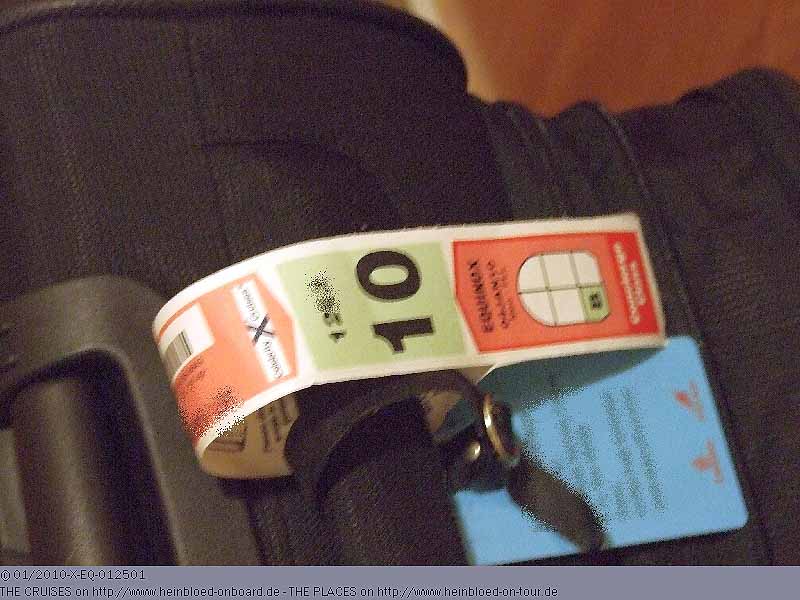 Following shots were taken by our new underwater camera. Our Aquapac was still in our baggage and Lufthansa paid... It was a pity that you do net get in Germany so nice baggage tags and you get such good baggage tags in the US.

When we sailed away we saw SILVER SHADOW a little better. Normally we should have seen her from John U. Lloyd Beach State Park to take pictures if we did not have our baggage problems.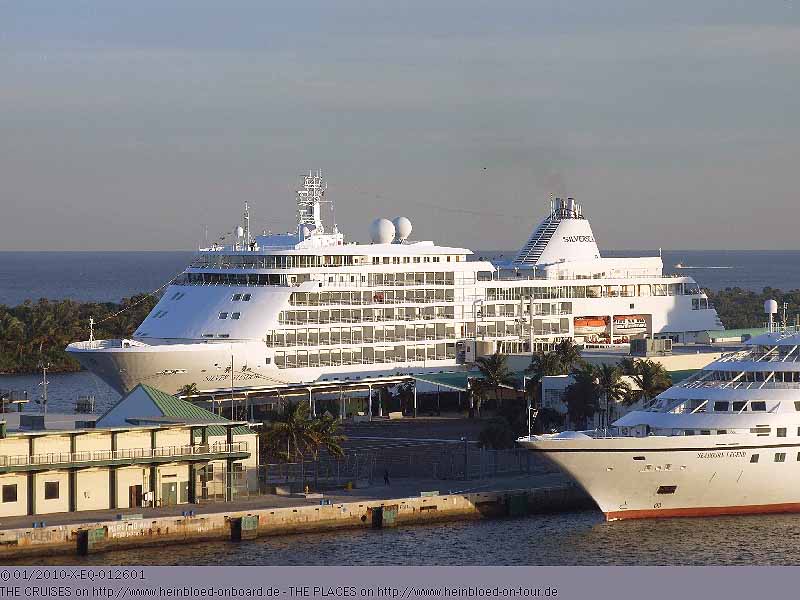 Bei der Ausfahrt sehen wir die SILVER SHADOW nochmals genauer. Wir hätten sie ja morgens besser noch vom
John U. Lloyd Beach State Park
fotografieren können, wenn wir nicht die Gepäckprobleme gehabt hätten.
Andererseits: sie lag ja genau vis-às von den Coast Guards und die mögen es nicht, wenn man auf ihr Grundstück läuft, um Kreuzfahrtschiffe zu fotografieren.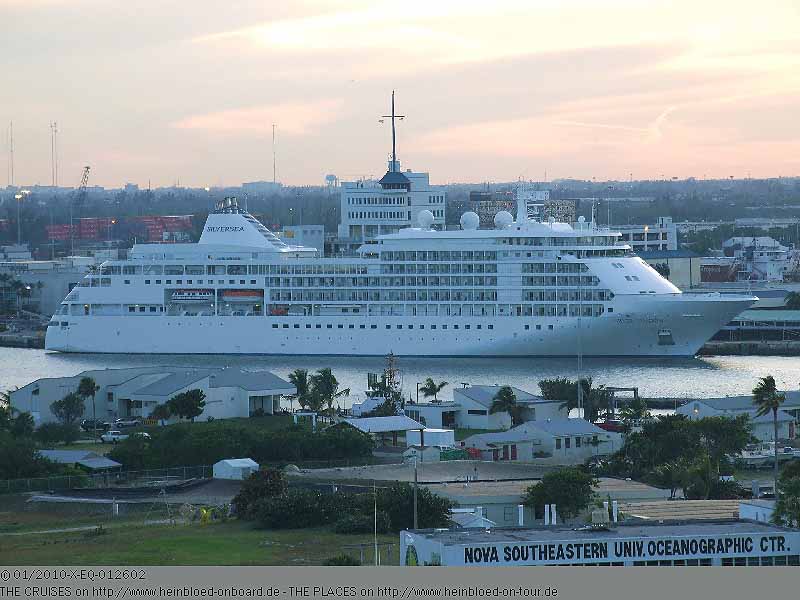 But otherwise: she was just adjustent to the Coast Guards and they dislike if you enter their yard to take pictures of cruise ships.

Also SEABOURN SPIRIT was there but hidden.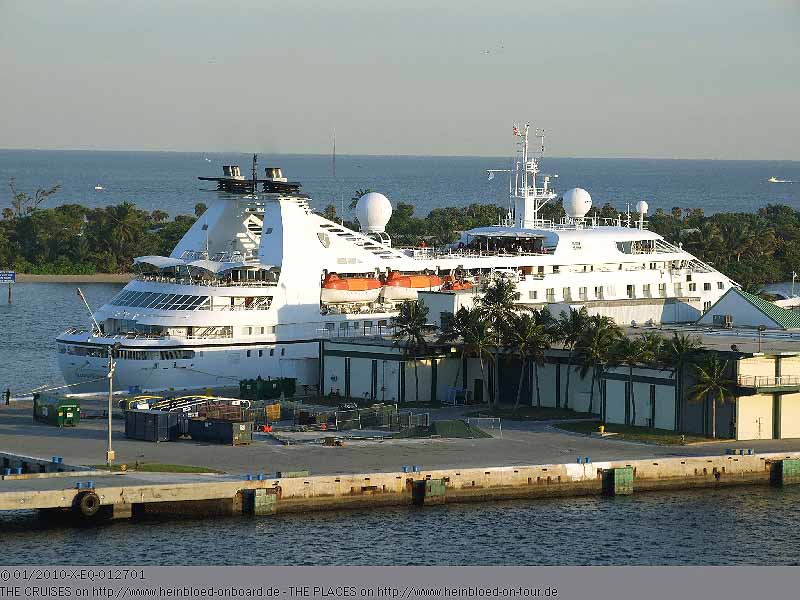 Auch die SEABOURN SPIRIT lag noch für uns versteckt da.
An der Stelle schon mal werden wohl alle Wohlhabenden abgefertigt.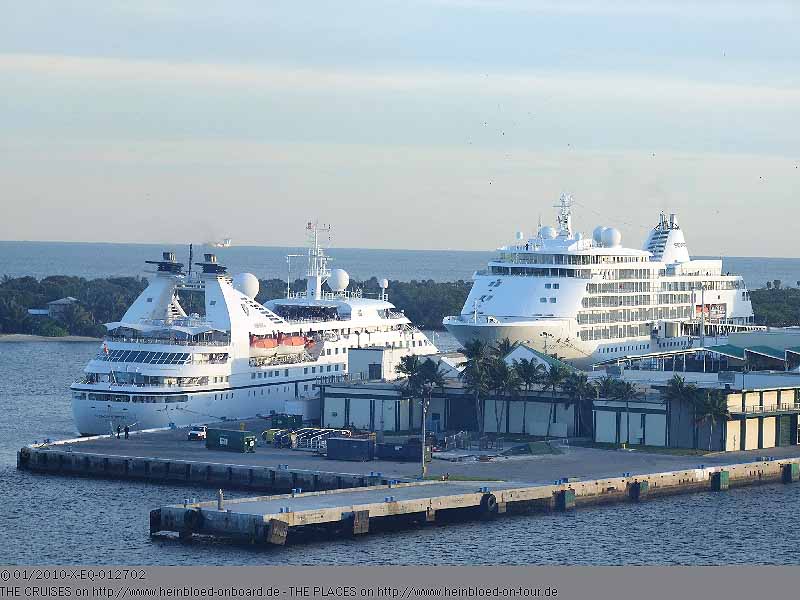 All who have money will be handled there.

There were three of the so-called Ultra-Luxury-ships there. But Bruno still disliked to increase my pocket money that we can afford such a travel.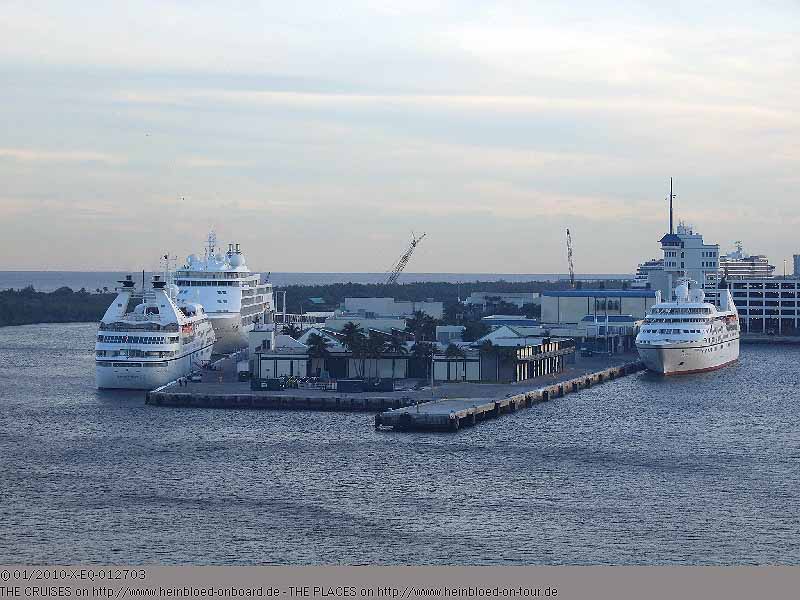 Denn es sind ja eigentlich sogar drei Ultra-Luxus-Schiffe beieinander. Und Bruno hat immer noch keine Einsicht, mein Taschengeld zu erhöhen, damit wir uns mal so eine Reise leisten können.
Gibt es gar keine Raucherpolitik an Bord der SEABOURN SPIRIT???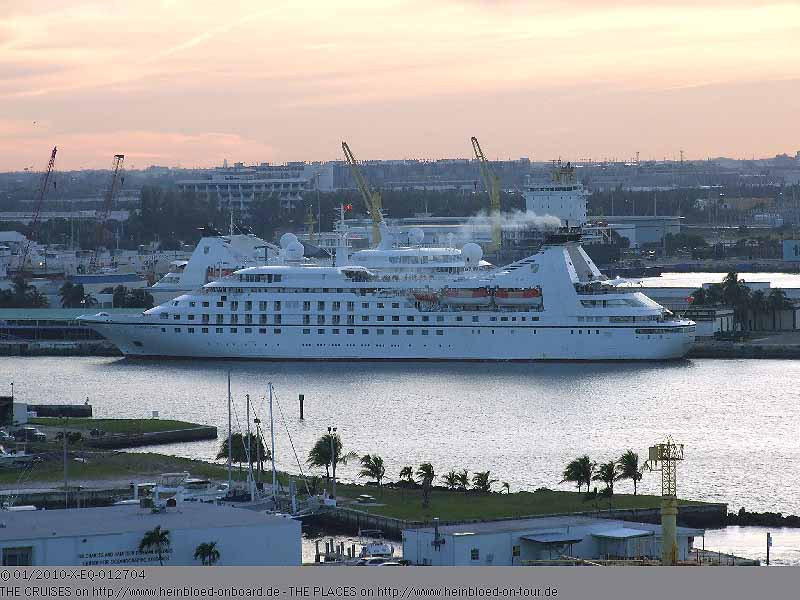 Was there no smoking policy on SEABOURN SPIRIT???

A lot of smoke.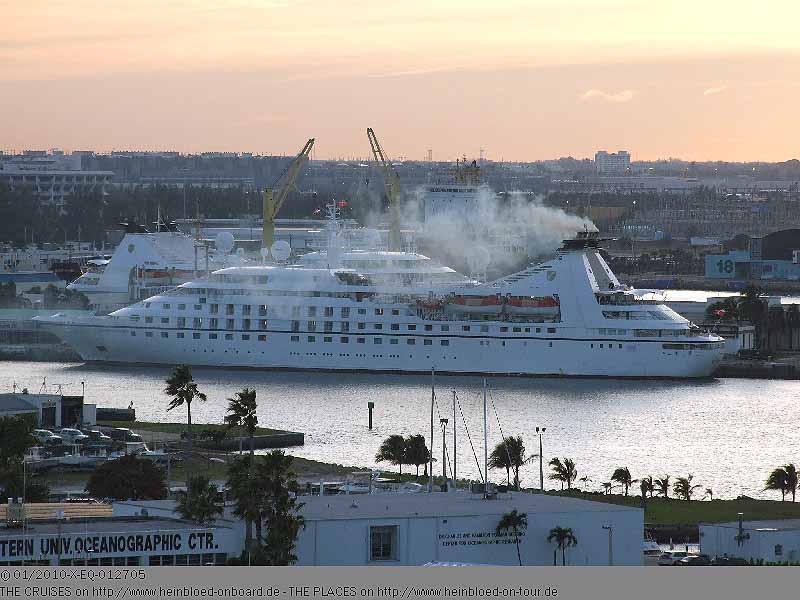 Es qualmt ganz schön.
Die Lage ist gar nicht mal so übel zwischen dem Knick und dem überhängenden Dach zwei Decks über uns.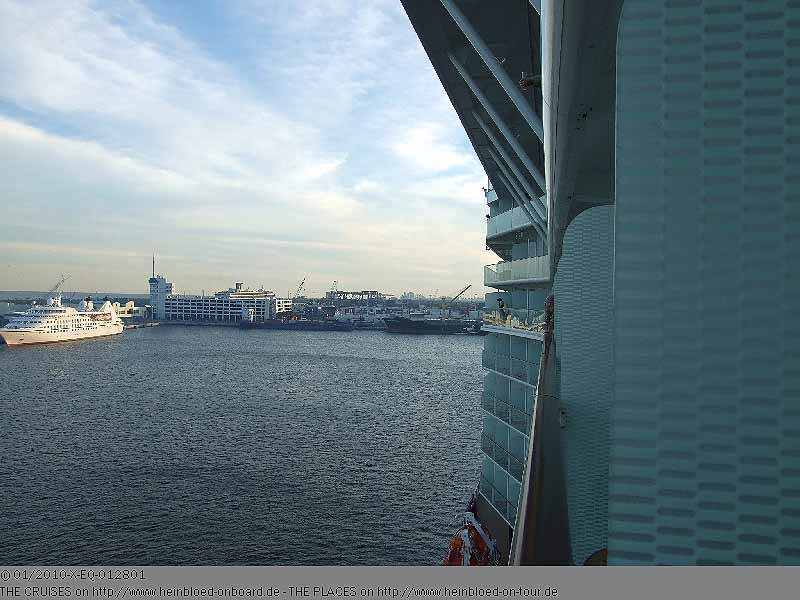 The location was not so bad between the kink and the overhanging roof two decks on top of us.

We just enjoyed the set-sail from Fort Lauderdale.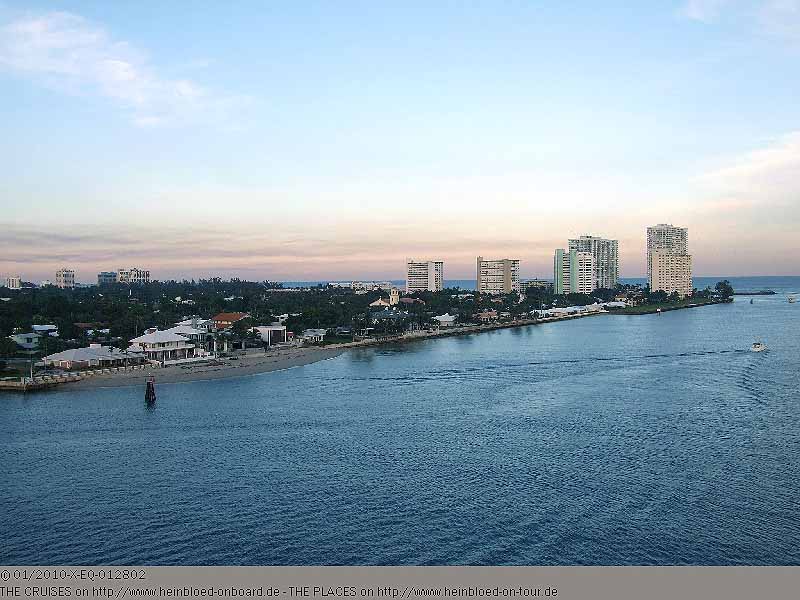 Wir genießen nun die Ausfahrt von Fort Lauderdale.
Rechts ist der John U. Lloyd Beach State Park, an dem ich vermutlich meistens shipspotten würde.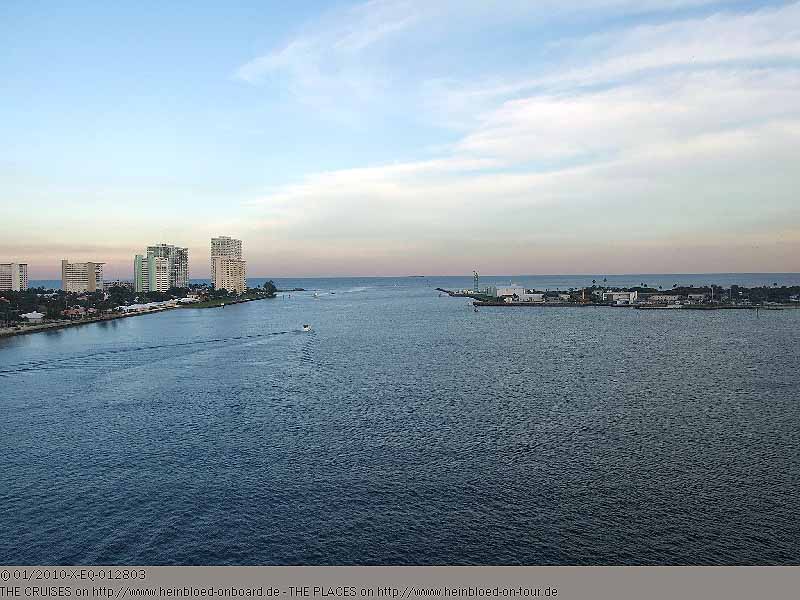 On the right John U. Lloyd Beach State Park where I mostly will be for shipspotting.

Again Hyatt at Pier 66 but this time from our verandah.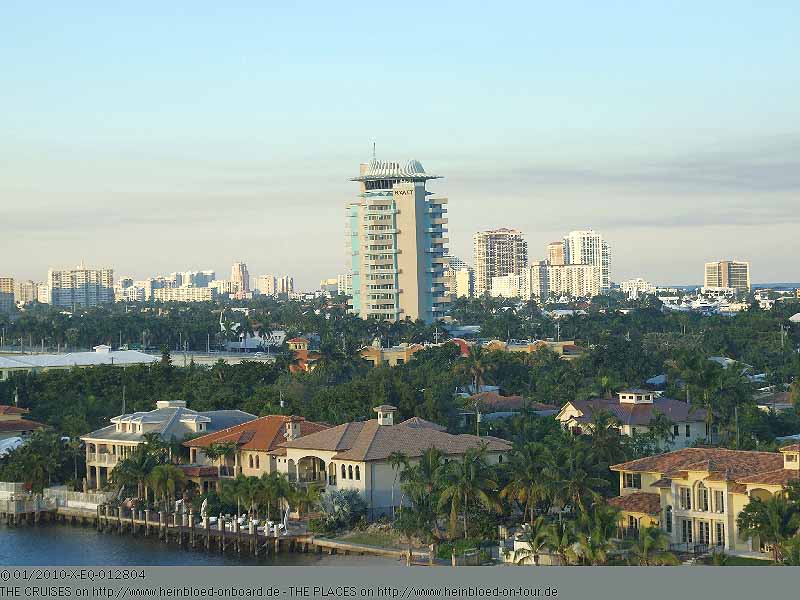 Nochmals das Hyatt am Pier 66 - nun von unserem Balkon aus.
Da es alles Privatstrände sind, leider niemand, der uns winkend verabschiedet. Vermutlich bei den vielen Schiffen pro Tag, hätten anschließend die Physiotherapeuten ganz schön was zu tun.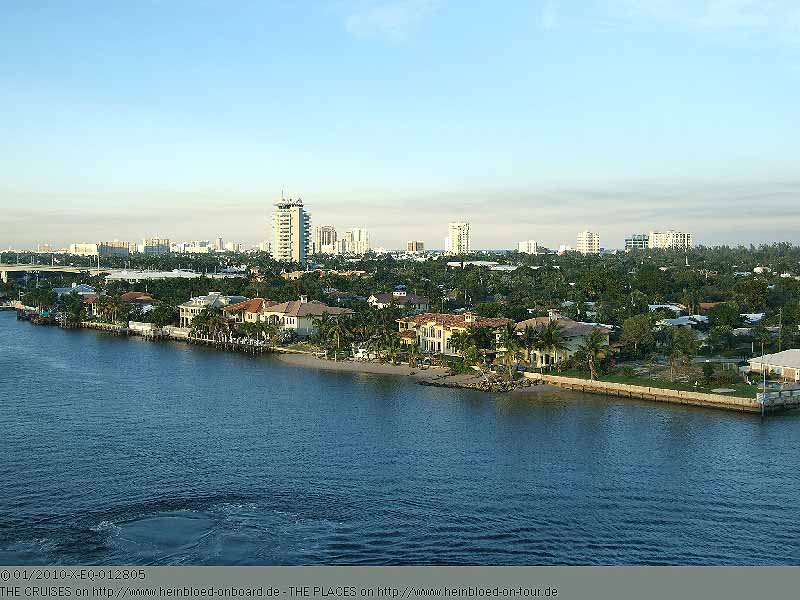 These were all private beaches so none was there to wave us and bid farewell. But after bidding farewell with so many ships it would be a great business for physiotherapists after all ships left.

Katie and Charlie enjoyed their verandah.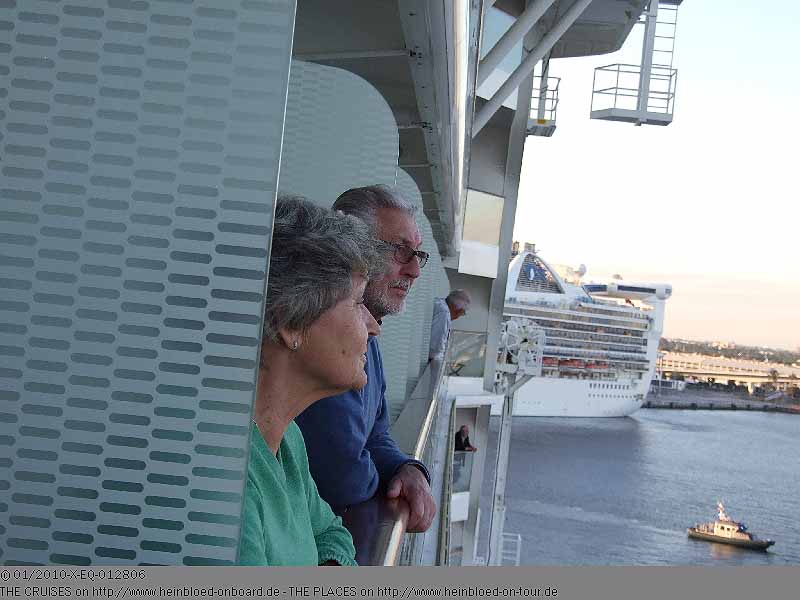 Katie und Charlie genießen auch ihren Balkon.
Um 300 m näher zu sein, begebe ich mich doch mal auf das offene Sonnendeck, obwohl der Wind ziemlich pfeift und es kalt ist.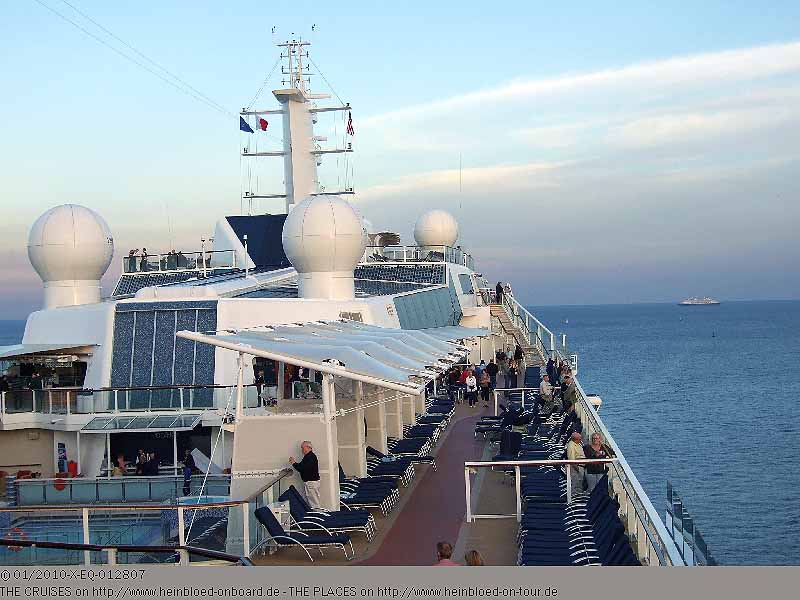 To be closer around 900' I went on the open deck although it was very windy and cold.

Very disappointing that you cannot go to the bow.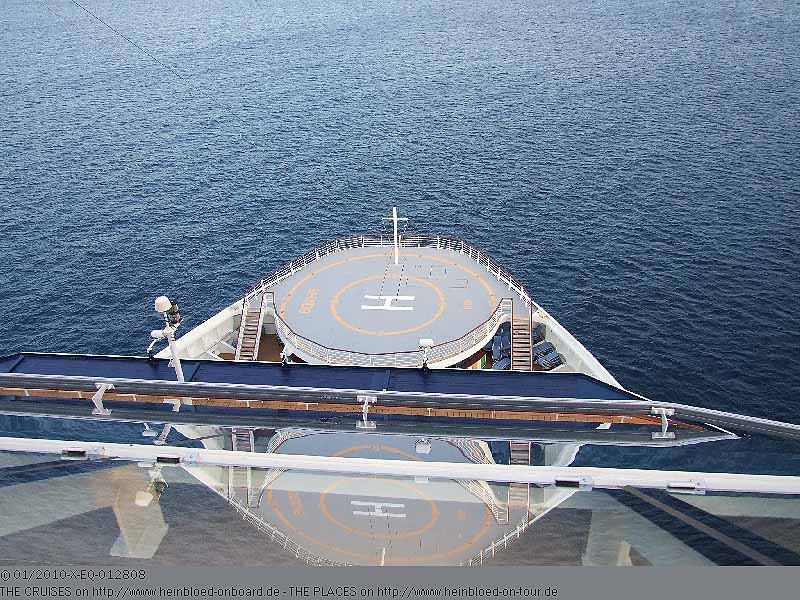 Schade, dass man nicht ganz nach vorne an die Bugspitze darf.
Irgendein kleines Kreuzfahrtschiff nimmt die Verfolgung mit uns auf.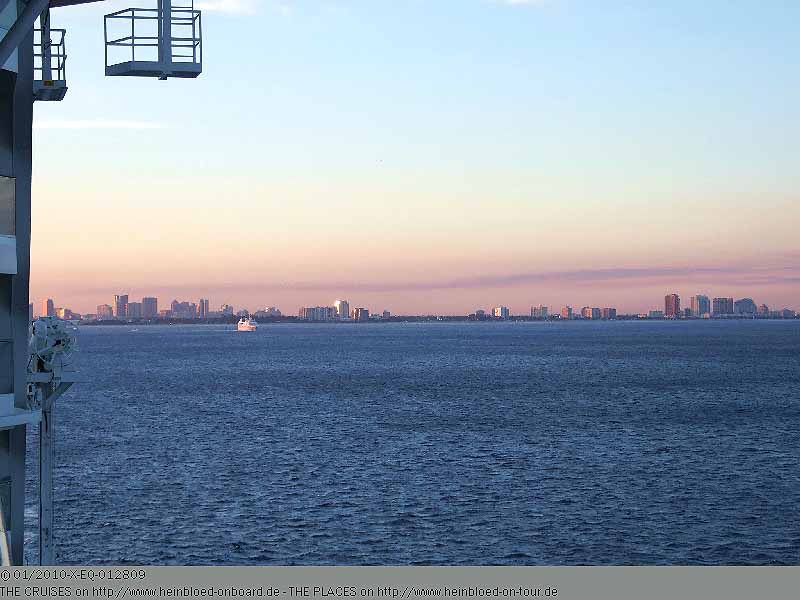 A small cruise ship followed us.

Should be one of the Seabourn-Yachts.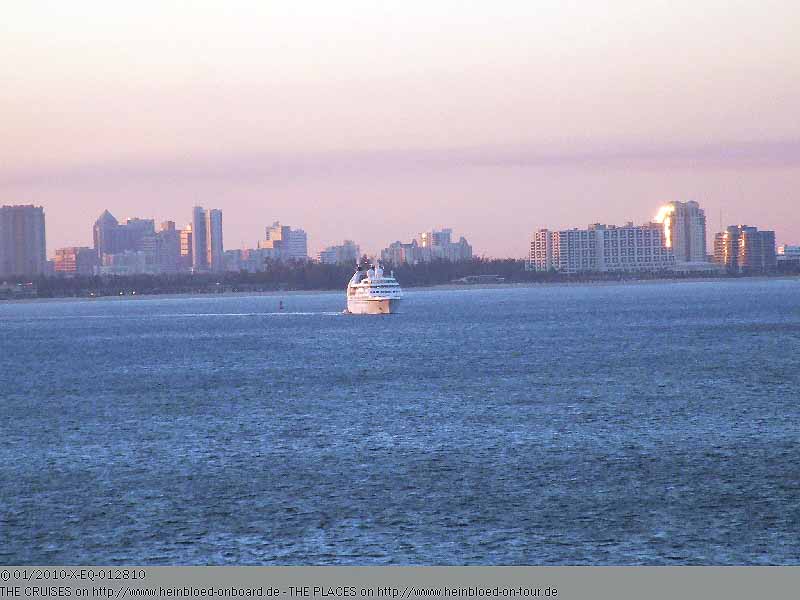 Es muss einer der beiden Seabourn-Yachten sein.
Hieß nicht Abendrot, dass es am nächsten Tag gutes Wetter gibt??? Auch für unseren Seetag???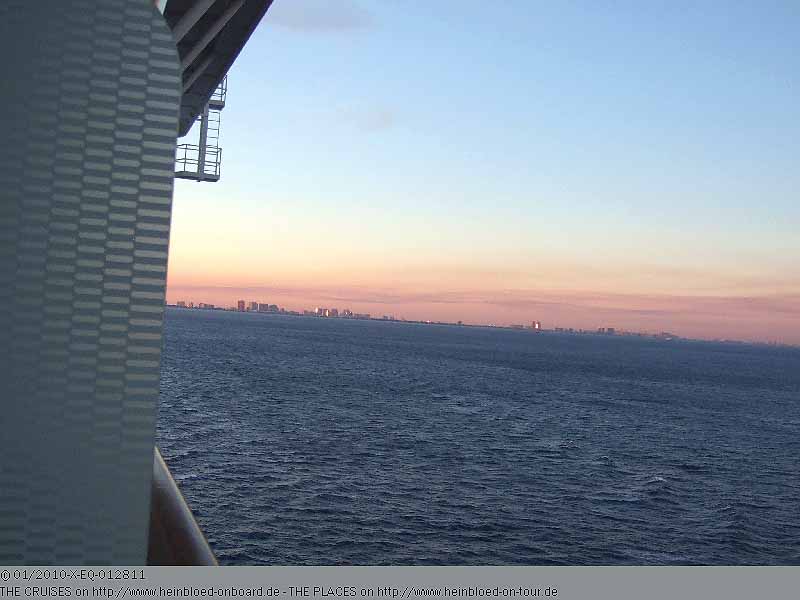 Does not afterglow means good weather for the next day??? For our day on sea too???

With our Soda- and Waterpackage we did not have luck. The 1st bar on the sundeck insisted us to pay the tax. The 2nd bar had no more stickers and asked us to find another bar. The question should be: maybe they should give us some drinks on "credit" and try to get some stickers while we were waiting. Maybe other guests will come and ask as well... Finally we got some in Café al Bacio.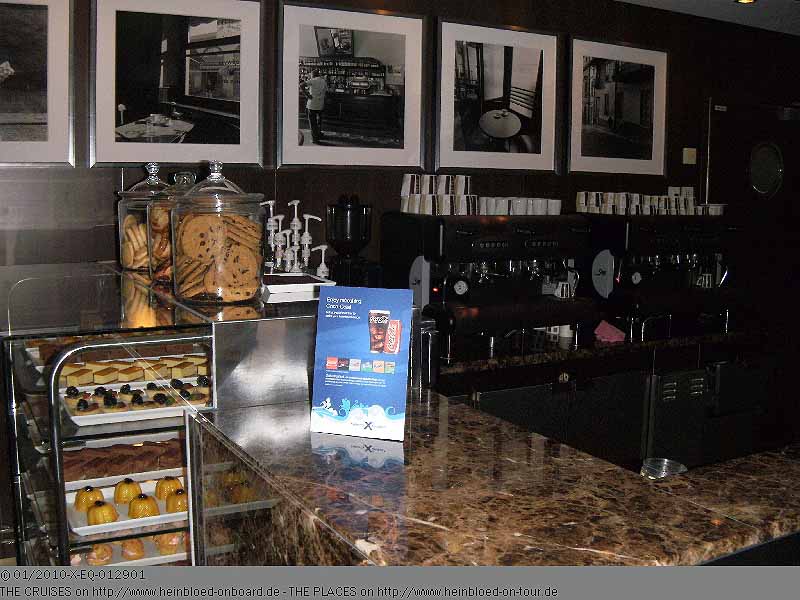 Mit dem Soda- und Wasserpackage hatten wir bislang Pech. Die 1. Bar am Sonnendeck bestand auf die Tax. Die 2. Bar hatte keine Sticker mehr und meinte, dass wir uns eine andere Bar suchen sollten. Die Frage wäre, ob man uns nicht vielleicht hätte etwas auf Vorschuss zu trinken bringen sollen, und dann sich mal ein paar Stickers besorgen sollte. Es kommen vielleicht ja noch weitere Gäste, die fragen... Im Café al Bacio werden wir fündig.
Abgesehen davon werden wir schon optisch eingeladen hier zu verweilen.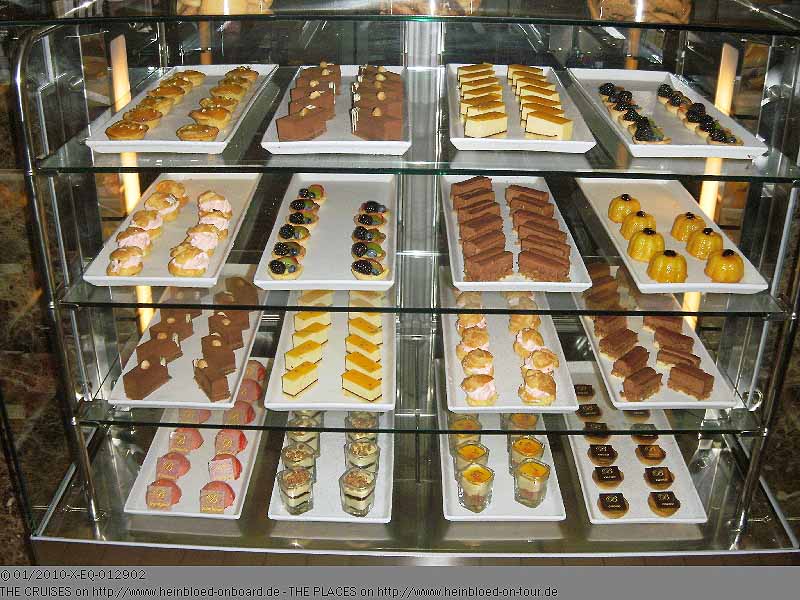 But anyhow that was an invention to stay.

And we got a nice and friendly service. Joaquim sold us a soda-package (and you should also get Tonic-Water...) for 5 USD plus 15% per day and a Water-Package for 11.74 USD (incl. 15%) per day. He released a manual bill which can be booked the next day. So you do not need to sell with tax and you can make your customers happy from the very first beginning.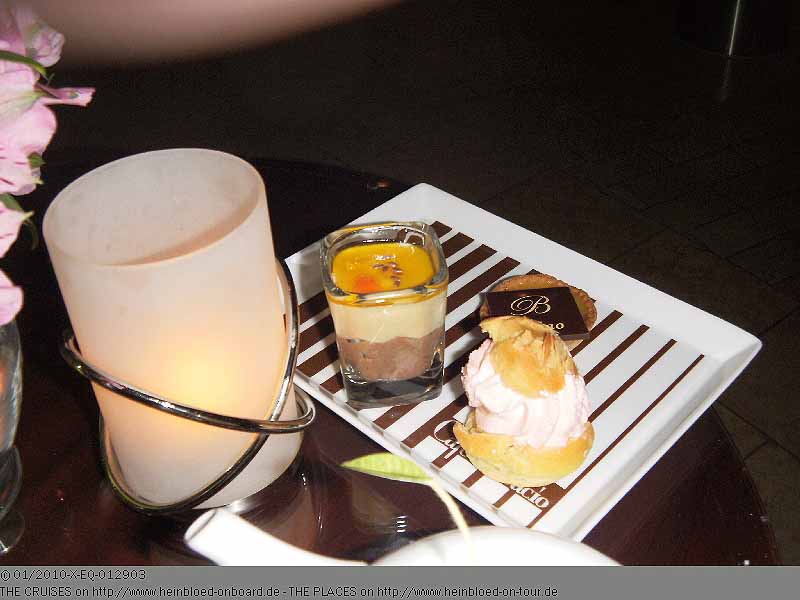 Hinzu kommt ein netter freundlicher Service. Joaquim verkauft uns einen Soda-Pass (mit dem es auch Tonic-Water geben soll...) für 5 USD plus 15% pro Tag und auch das Wasserpaket für 11,74 USD (inkl. 15%) pro Tag. Hierfür stellt er uns einen manuellen Beleg aus, der erst ein Tag später verbucht wird. D. h. man muss also nicht immer mit Tax verkaufen und kann den Gast auch schon am Anfang einer Kreuzfahrt glücklich machen.
Bruno hat er sowieso schon zu 50% eingewickelt, da der Kaffee in Ordnung ist. Allerdings haben wohl die Preise ziemlich angezogen, seitdem wir damals im Cova Café auf der CENTURY waren. Für einen Cappucino wird 4 USD plus 15% fällig. Für mein Kännchen Oolong-Tee in der interessanten Pyramidenform auch. Nur die Petit Fours sind immer noch kostenlos. Joaquim versucht Bruno direkt zu 100% zu überzeugen und erklärt ihm, wann er wo welche gute Muffins an Bord bekommt...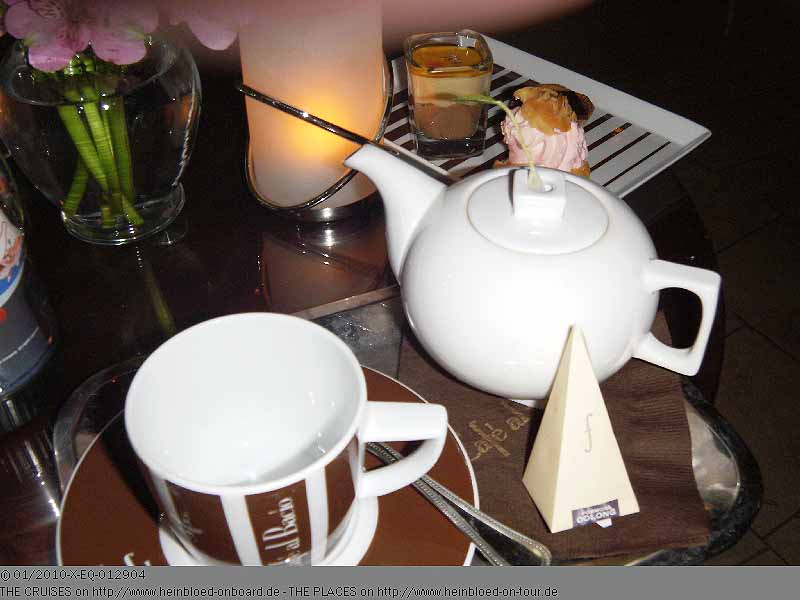 Bruno was convinced to return for 50% as they had great coffee. The way he liked it. But they increased the prices since our last visit in Cova Café on CENTURY. For a cappucino you have to pay 4 USD plus 15%. For my Oolong-Tea in this interesting pyramid-shape as well. Only the petit-fours were still complimentary. But Joaquim tried to convince Bruno for 100% to return and explained where and when he can get the best muffins onboard.

I could add a bulb fitting and used it as lamp.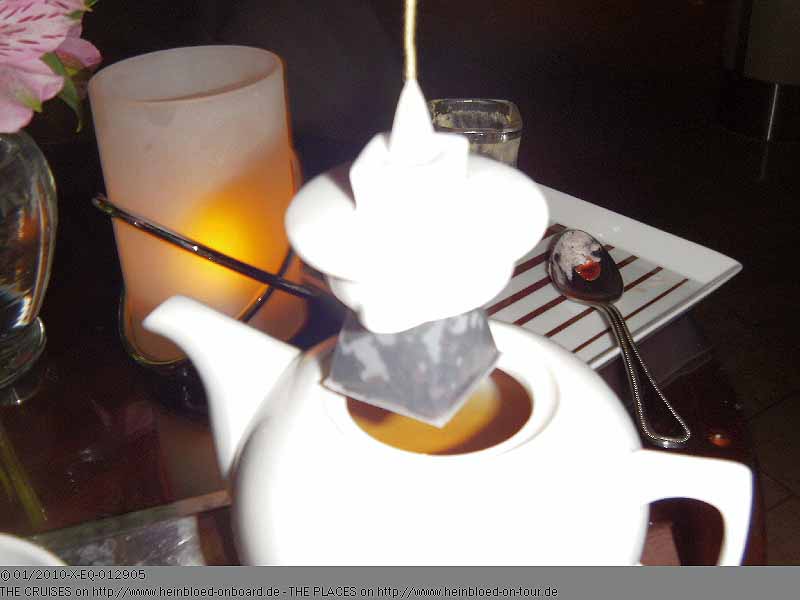 Ich könnte ja noch eine Fassung eindrehen und als Lampe verwenden...
Für das Abendessen haben wir uns mit ellbon (Robin aus cruisecritic.com) verabredet. Wir haben das Select Dining und die Tische bereits alle reserviert. So sollen wir zum Deck 4 in den oberen Teil des Silhouette Restaurants auf der Steuerbordseite. Der Empfang ist etwas chaotisch. Es gibt nämlich keine Luiza mit einem Flat-PC (wie auf der NORWEGIAN GEM), die direkt im Speisesaal die freien Tische erfasst. So kommunizieren die Maîtres und Assistenten über ihre Ärmel, Kragen wie in Agentenfilmen und müssen die Eingaben über die Belegung am Empfang machen, während sie versuchen dich zu empfangen und einen freien Tisch zuzuteilen. Wir kommen zu fünft an einen 6-er Tisch. Die Kellner wurden bereits positiv in anderen Reiseberichten beschrieben. Um es vorweg zunehmen: wenn das euer Stil ist und euch das reicht: Mir leider nicht. Der Service heute Abend wäre für mich ein k.o.-Kriterium, der nicht auf ein Schiff mit dem Anspruch passt. Wir sagen bereits dem Kellner am Empfang Bescheid, dass wir zwei deutsche Karten benötigen. Sie müssen immer erst hergerichtet werden. Die Butter am Tisch ist schon fast zerflossen, die Oberfläche von der Pesto schwarz, da vertrocknet, dass ich es zunächst für eine schwarze Olivenpaste hielt und gleiches gilt für den Hummus.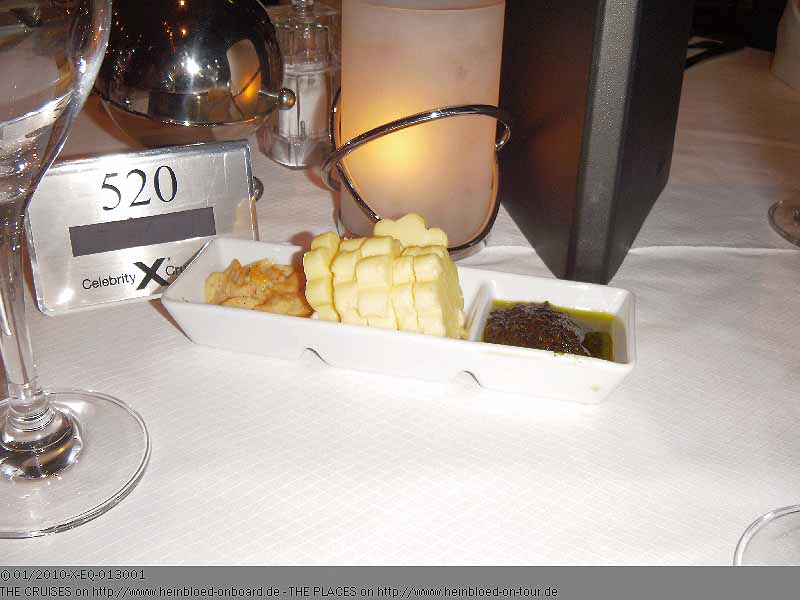 For dinner we met ellbon (Robin from cruisecritic.com). We had Select Dining and made all reservations. So we should go to the upper tier on Deck 4 of the Silhouette-Restaurant on starboard. The reception was somehow chaotic. There was no Luiza with a Flat-PC (like on NORWEGIAN GEM) who entered all vacant tables in the dining room. So Maîtres and assistents through their sleeves, collars like in spy-movies and need to enter the information of the occupation at the reception desk while they tried to give you their attention and to allocate you to a vacant table. We got with five a table for six. The waiter were already mentioned by their names in another review I read. To come to the final point: if it was your stlye and you liked it: but I was not satisfied. The service this night would be for me an k.o.-criteria which might not fit to the standard of the cruise line. We asked already the waiter for two German menus. They must prepare them on request. The butter on the table was nearby to melt. Hummus was already dried out at the surface and Pesto was dried out as well and became black so that I thought it should be a black olives spread.

Everything took verly long and if you were watching them and used to know how it works with NCL Freestyle: they were excercising. Until we got the German menus (but you get them only for the right half with the daily offers in German) and someone put the napkin on your legs it took an eternity. It was about 20 minutes until the bread came. And just so few (from each of the special rolls just one) that the basket was empty when I took the last.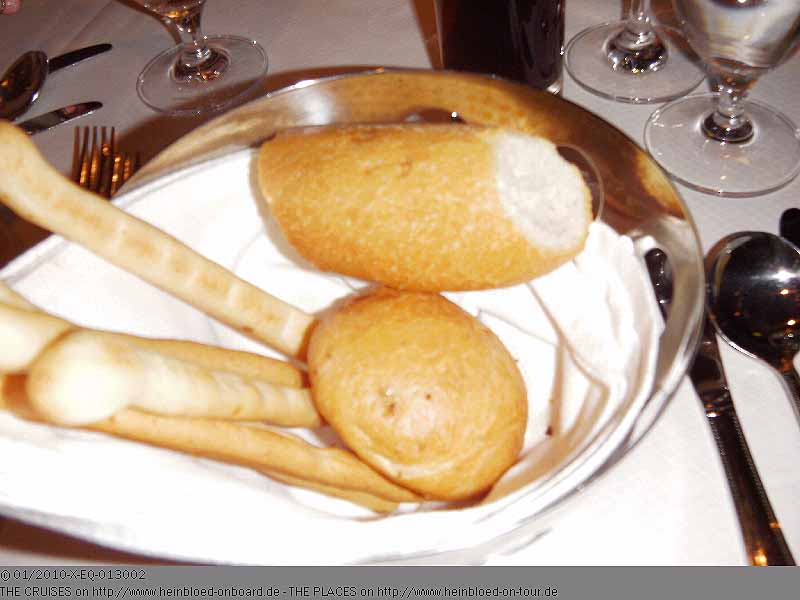 Es dauert sehr lange und wenn man zuguckt und die Freestyle-Abläufe von NCL her gewohnt sind: Sie üben noch. Bis dass die deutschen Karten kommen (und dann gibt es nur die rechte Hälfte mit dem Tagesangebot in Deutsch) und die Serviette auf die Beine gelegt werden, dauert es ewig. Auch bis das Brot kommt: ca. 20 Minuten. Und auch nur so wenig (von jedem Spezial-Brötchen eins), dass der Korb so leer ist, als ich als letzter nehme.
Was mir überhaupt nicht gefällt: ich kenne es so, dass zunächst die Damen gefragt werden, und das in einer Reihenfolge, die den Respekt widerspiegelt. Unser Kellner macht lieber seinen Rundlauf, weil es für ihn leichter ist. Es mag sein, dass es andere weniger stört: mich schon.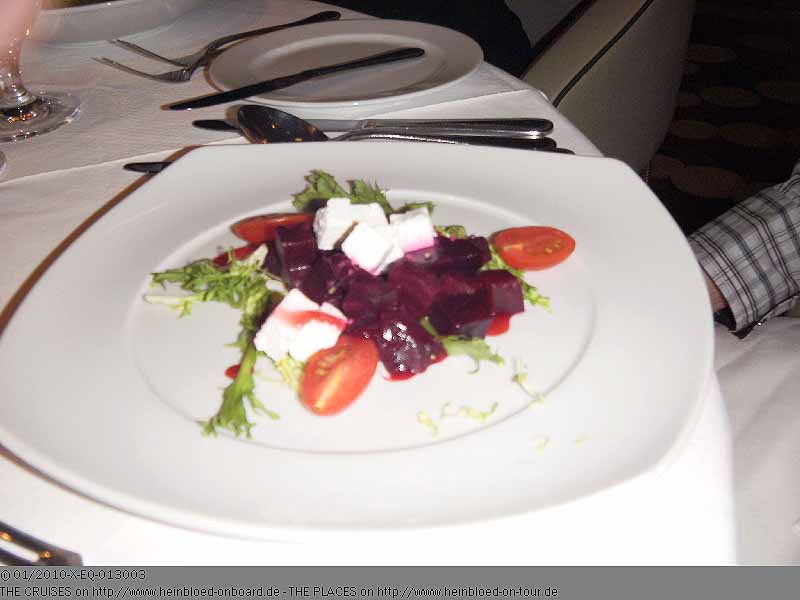 What I did not like: I knew it this way that at first ladies on the table were asked for their orders - in the order of the respect to show. But our waiter prefer to walk once around the table what was easier for him. It might be that others liked it but I did not.

I had as starter the goat cheese tarte. Not as good as with NCL. Especially I had the impression that they processed all the cream cheese which was hated in other reviews.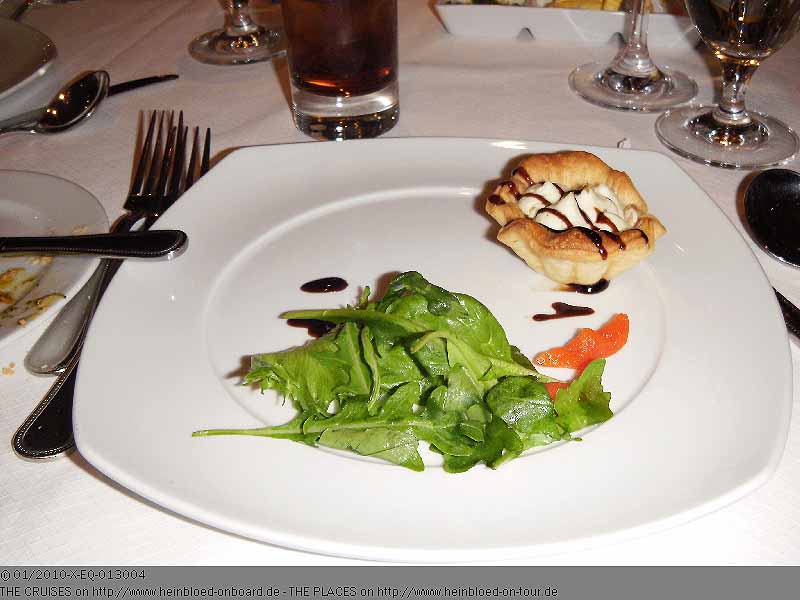 Ich hatte als Vorspeise die Ziegenkäsetarte. Nicht ganz so gut, wie bei NCL. Vor allem hatte ich den Eindruck, dass hier der ganze Frischkäse verarbeitet wurde, den andere in deren Reiseberichten verschmäht haben...
Was ich überhaupt nicht mochte: während wir alle am Tisch essen, wird das Besteck für die nächsten Gänge bereits nachgelegt. Ich kenne es so, dass man das macht, wenn man abgetragen hat und auf den nächsten Gang wartet. Das ganze erinnert mich an NAVIGATOR OF THE SEAS.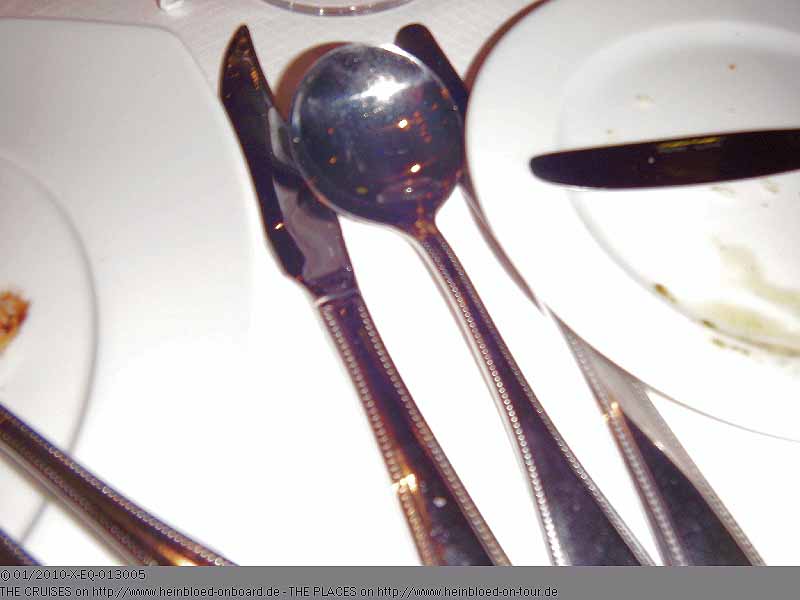 What I hated all the time: while we were eating they add or replace the silverware for the next course. I knew it that you finish your course, clear the table and while you were waiting for the next course you replace or add the silverware. It reminded me to NAVIGATOR OF THE SEAS.

There was a soup on the menu from the Normandie-Restaurant (one of the Speciality-Restaurant on a Millenium-Class-Ship): It was a mushroom cream soup like we knew from NCL's Le Bistro but served in a bread bowl. But here it was not mine. 75% left over in the cup but no waiters were interested and asked.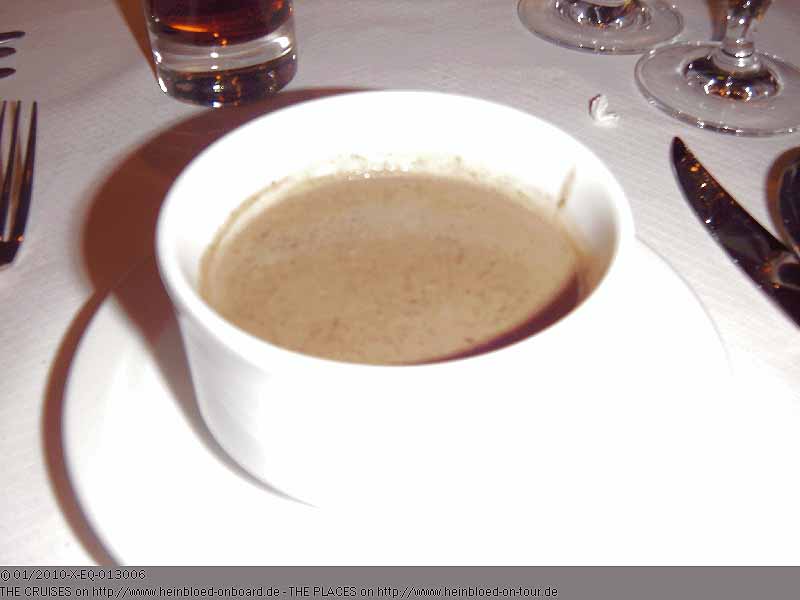 Es gibt auf der Karte eine Suppe aus dem Normandie-Restaurant (das ist ein Zuzahlrestaurant auf einem der Millenium-Class-Schiffe): Es ist die Pilzcremesuppe, die wir bei NCL immer im Le Bistro bestellen und in einer Brotschale serviert wird. Aber hier ist es nicht meins. Dass 75% in der Suppentasse geblieben sind, hat keinen Kellner beim Abtragen interessiert.
Der Salat wird gebracht. Kein Dressing. Unser Kellner bedient erst mal den Nachbartisch. Dann kommt erst auf Nachfrage der Dressing.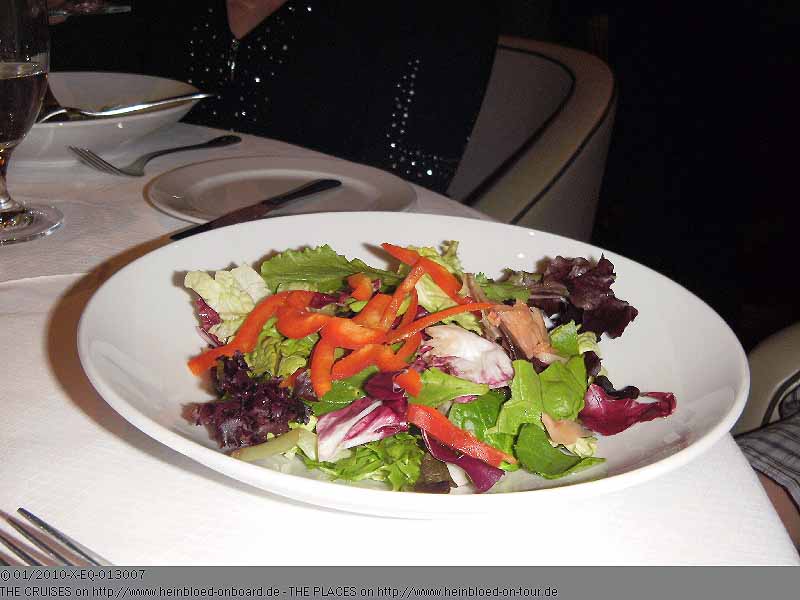 We got the salad. No dressing. Our waiters served the other table. Then I got the dressing on request.

My "wife" had as ususally the fish and it was good (just for insider).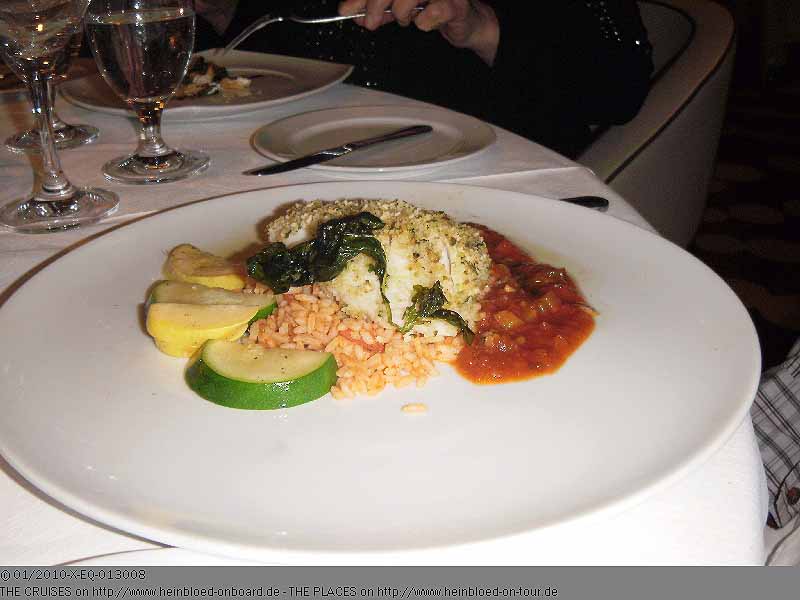 Meine "Frau" hatte wie immer den Fisch und der war gut (Etwas für Insider).
Es gab Prime Rib. Auch hier wurde erst einmal der Nachbartisch weiterbedient. Als ich nach Meerrettich nachfrage, kommt er, als mein Essen kalt ist. Und erst nach dem ich fast meinen Hauptgang aufgegessen habe, kommen die Fragen am Tisch, ob es uns geschmeckt hat.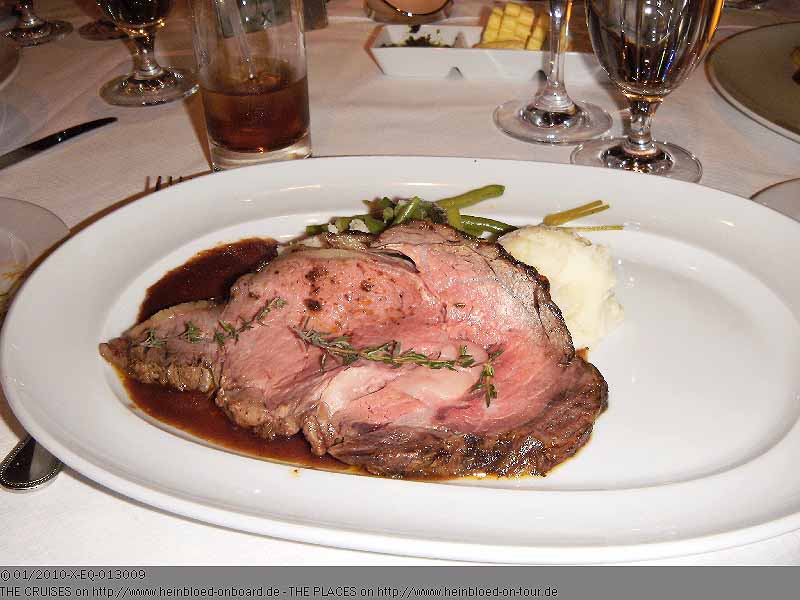 I had Prime Rib. But again: the other tables were served. When I asked for the horse raddish, I got it when my meat was cold. After I nearly finished the main course the question came how we liked it.

Finally we had Vanilla Lychee Frozen Yoghurt. We did not go for the show. We were overtired and I was awake for nearly 48 hours. I truly hoped that the service will not continue this style... but to tell it in advance: on the 2nd day I experienced that you can have it all totally different style.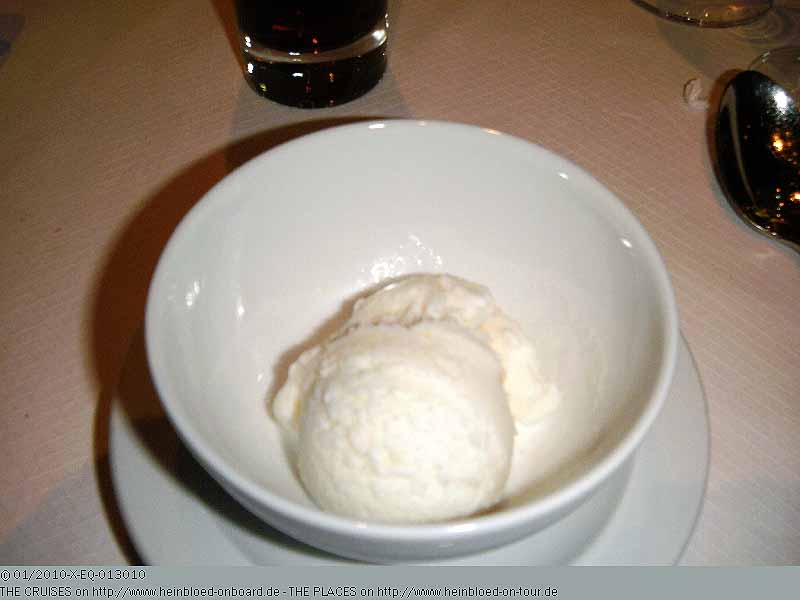 Am Schluss gibt es noch Vanille Lychee Frozen Joghurt. Auf die Show verzichten wir. Wir sind total übermüdet und ich ja schon fast seit 48 Stunden auf. Hoffentlich geht der Service nicht in dem Stil weiter... und um es vorweg zu nehmen: am 2. Tag erfahre ich, dass es auch anders geht.